This ragù alla Bolognese is a hearty, slow-simmering sauce that is a perfect comfort food for cozy Winter evenings, Sunday suppers and holidays.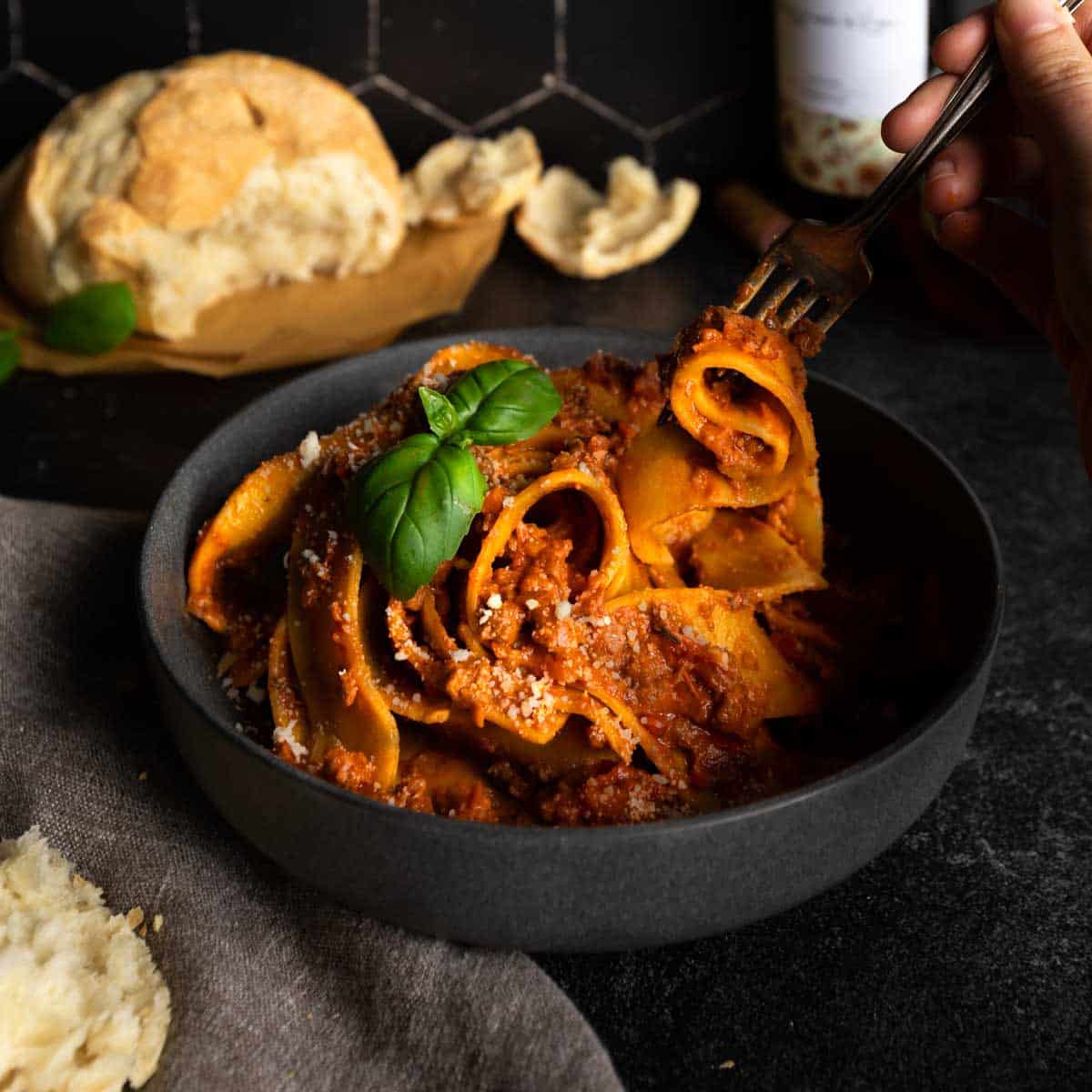 This traditional beef Bolognese sauce recipe is an irresistible family favorite. This classic recipe is fantastic for pairing with fresh pasta ribbons, creamy polenta, lasagna, pizzas and more!
Try this ragu in our favorite Lasagne al Forno recipe! If you need a quick Italian red sauce recipe, try our San Marzano marinara sauce, instead.
What is Ragù alla Bolognese? The History of an Italian Classic
Ragù alla Bolognese (often referred to in English as 'beef Bolognese sauce') is a classic Italian recipe originating from the city of Bologna in Emilia Romagna, Italy. Today, ragu alla Bolognese refers to a meat sauce that has been simmered with aromatic vegetables, wine, milk and a touch of tomato puree.
Throughout the years, there have been many interpretations of this meat sauce. In fact, the very first renditions of beef Bolognese did not use any tomato products. Some recipes call for pancetta while others replace the ground beef with ground pork, veal, mushrooms or chicken livers.
Our version of this recipe uses a classic soffrito, ground beef, red wine, milk, and San Marzano tomatoes. The ingredients are slowly simmered together to create a rich, flavorful sauce with lots of umami and a tender, velvety texture.
What are the differences between a ragù and Bolognese?
A ragù refers to any slow cooked meat sauce. Ragu alla Bolognese is a specific type of slow-simmered meat sauce that originated in Bologna, Italy. Therefore, this recipe is both a "ragu" and a "Bolognese".
Ingredients for Beef Bolognese
Like lots of Italian cooking, this traditional ragu alla Bolognese transforms humble ingredients into a delicious meal. Here's what you'll need: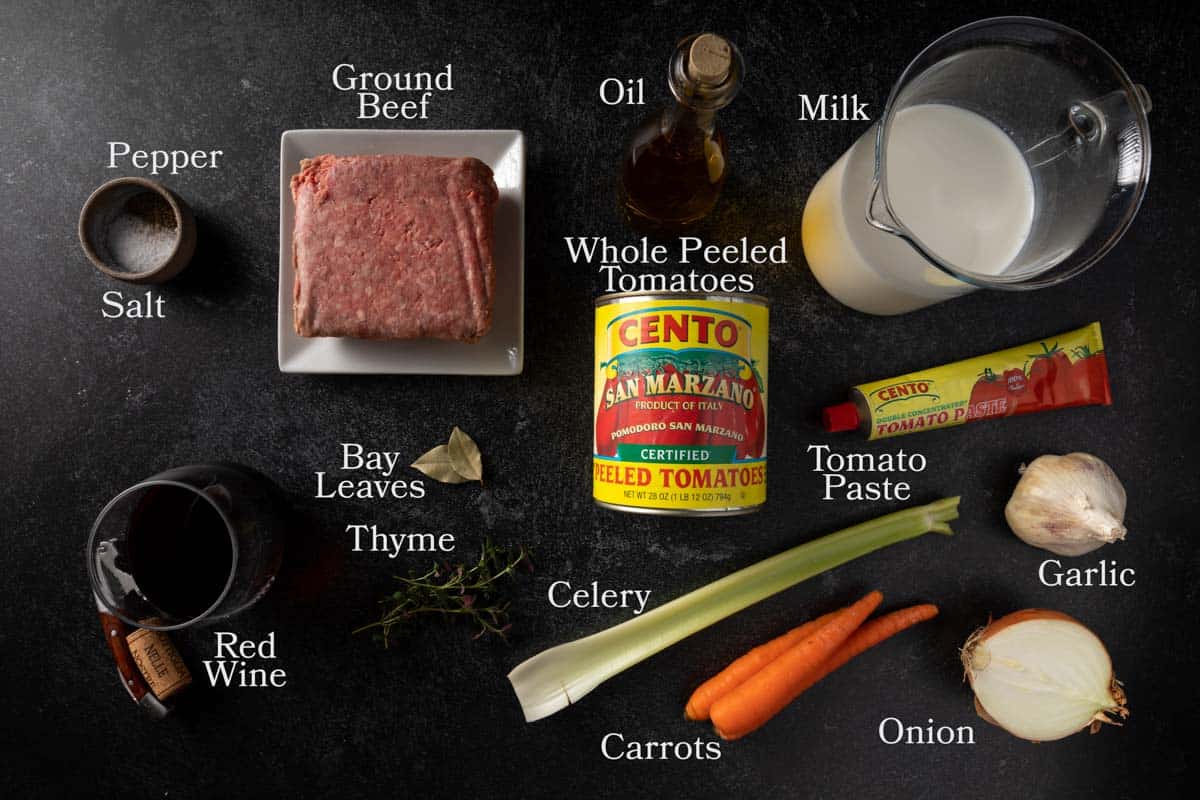 Soffrito - Onions, carrots, celery and garlic sautéed in olive oil is the aromatic base for beef Bolognese and many other classic dishes throughout the Mediterranean.
Ground Beef - Veal, pork (or a combination of all three) can be substituted.
Tomato Paste - Tomato paste is an important ingredient that adds a richness of flavor and helps to thicken the sauce.
Red Wine - We like to use a dry red wine for its depth of flavor. However, for a slightly lighter sauce, many chefs use white wine instead. To avoid alcohol all together, you can use beef or chicken stock.
Whole Milk - Many Americans are surprised to see milk in Bolognese recipes. However, milk is a key ingredient in a classic Italian Bolognese. Milk's natural lactic acids help to tenderize the ground meat while lending a velvety richness to the sauce.
Whole Peeled Tomatoes - We recommend using San Marzano tomatoes for any tomato based sauces. Albeit being a bit more expensive, these heirloom plum tomatoes (hailing from the DOP village of San Marzano) have the perfect balance of rich sweetness and lower acidity. Their natural balance paired with fewer seeds and denser flesh make them perfect for tomato sauce. Cento is a popular brand here, in the US.
Thyme & Bay Leaves - These herbs add a subtle herbaceous flavor. We also like to serve the finished sauce with fresh basil.
How To Make This Sauce
This Beef Bolognese recipe uses simple cooking techniques. The same easy steps are used in many meat sauce recipes. However, the superior flavors and textures of this recipe are thanks to a gentle simmer over the course of an extended cooking time. Don't rush it!
While this recipe does take time, most of the cooking time is passive. You can go about your day while the sauce simmers on the back of the stove. Build a fire, read a book or make your own hand cut pappardelle pasta while the Bolognese cooks!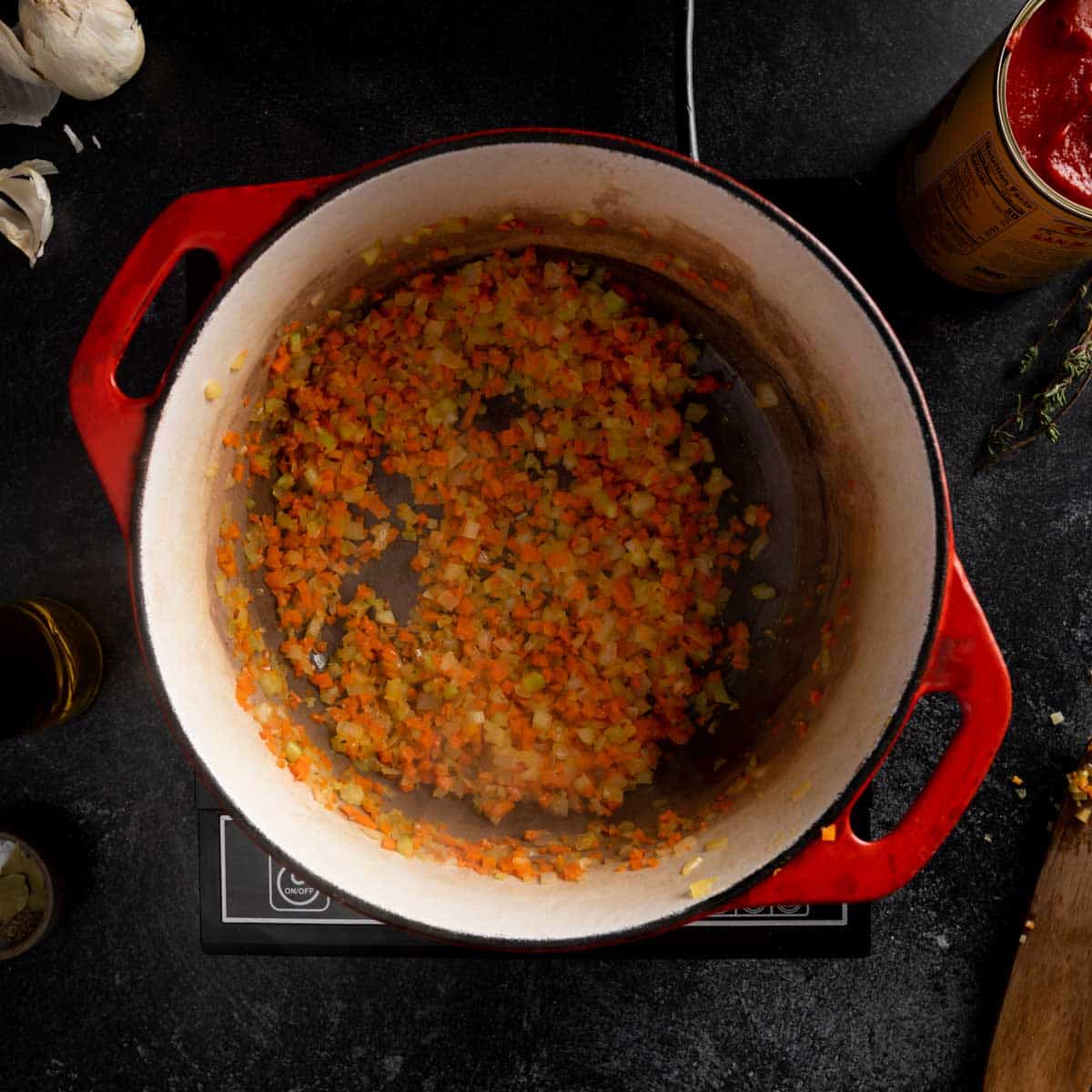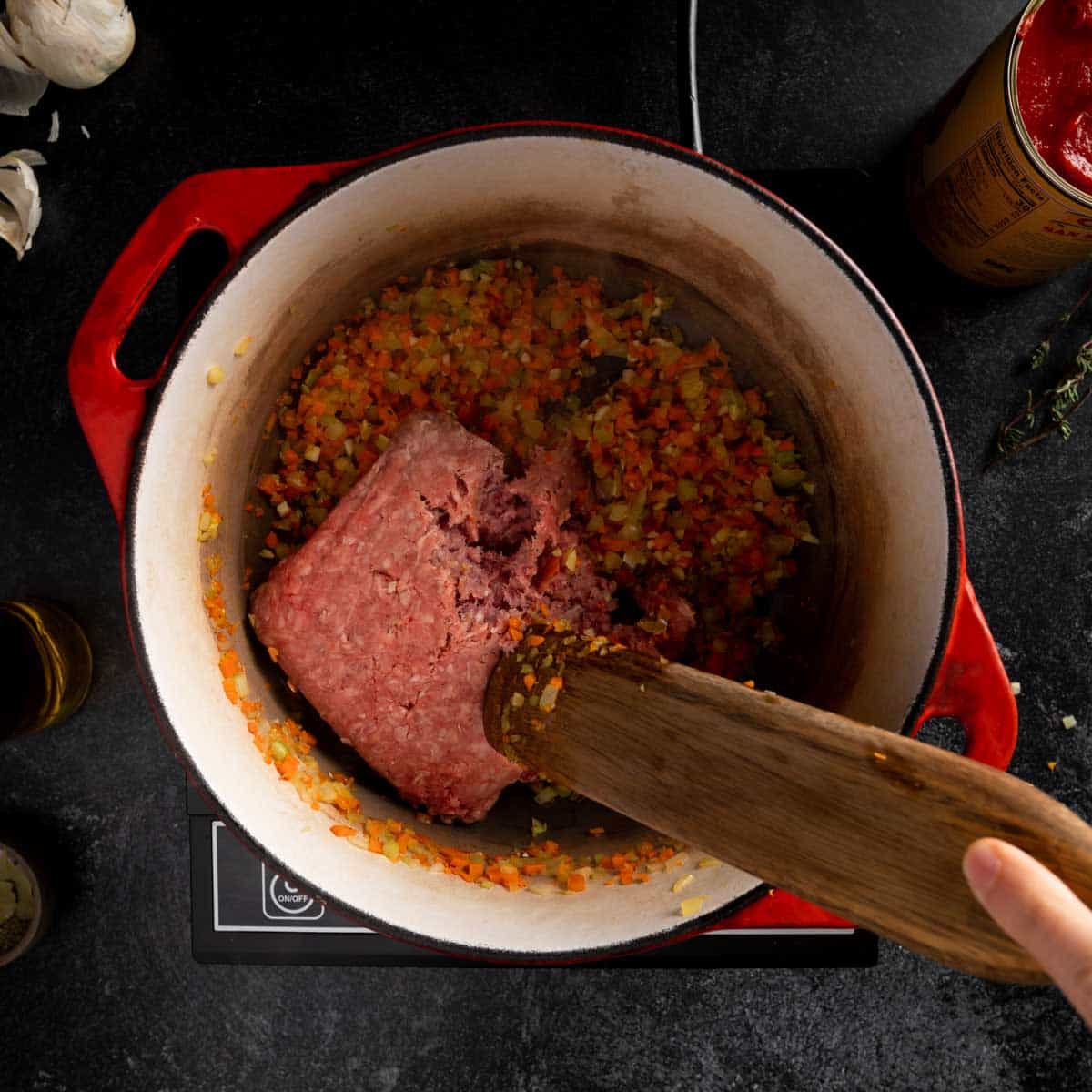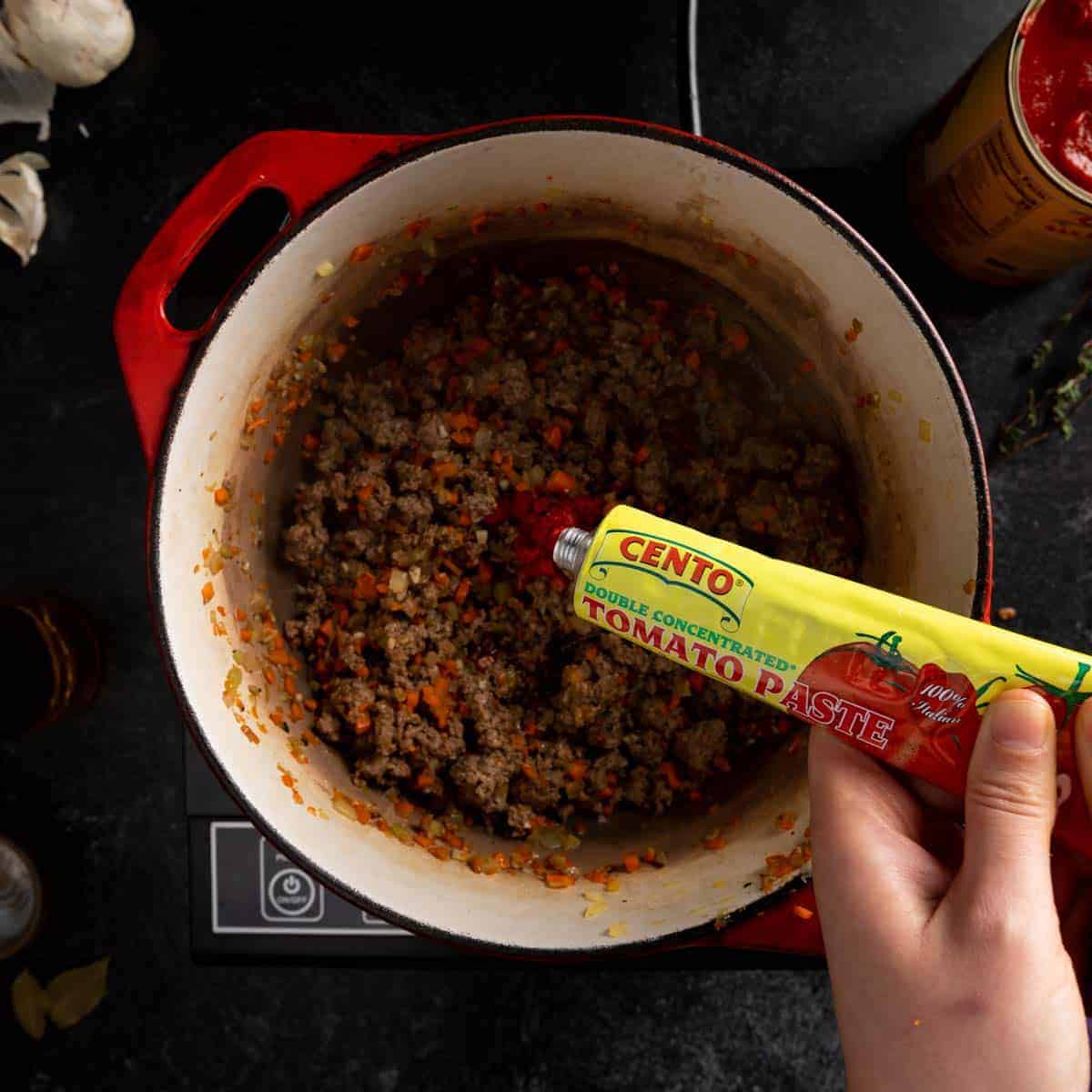 Chef's Note: Do not cover the sauce while cooking. To create an intensely flavored Bolognese, the sauce needs to reduce. Cook the sauce uncovered to allow the steam to evaporate.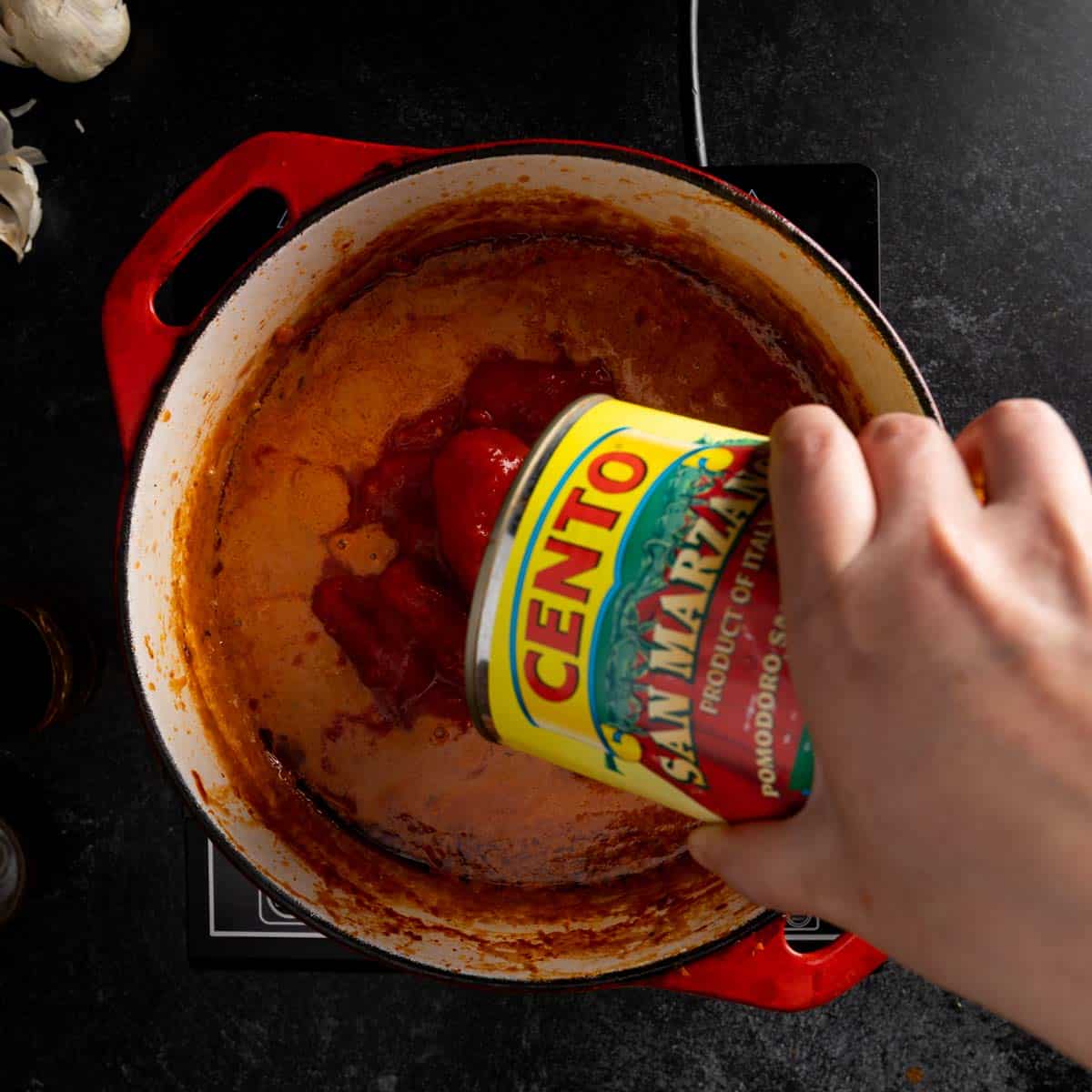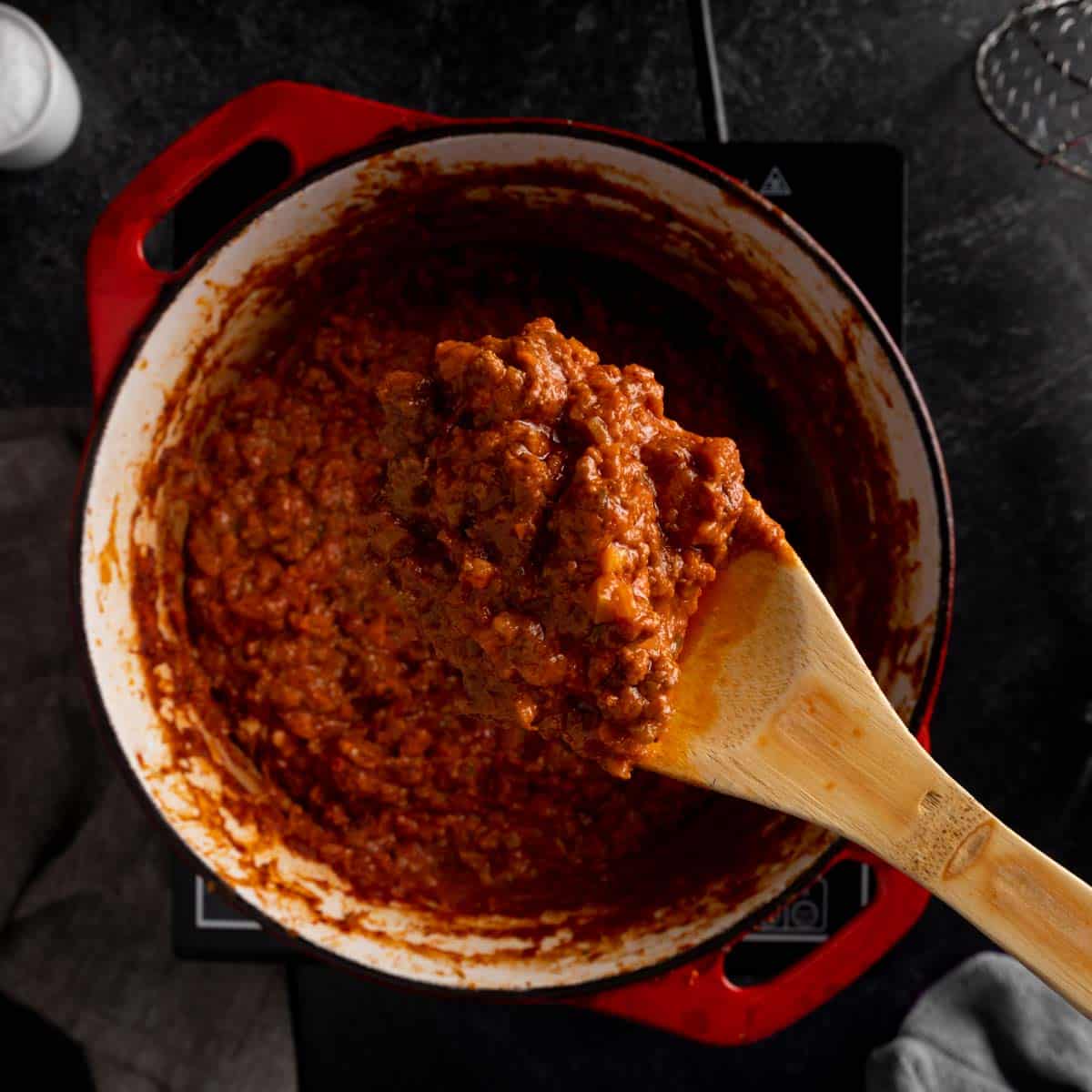 Serving Suggestions
Our favorite way to enjoy this Beef Bolognese recipe is with homemade pasta. Traditionally, ragu alla Bolognese is served with fresh tagliatelle pasta. In our home, we tend to prefer tagliatelle's slightly wider cousin: pappardelle.
Homemade pappardelle pasta is a simple, hearty pasta shape that is easy to make at home. Fresh pasta always impress us and our dinner guests! Check out our easy recipe below.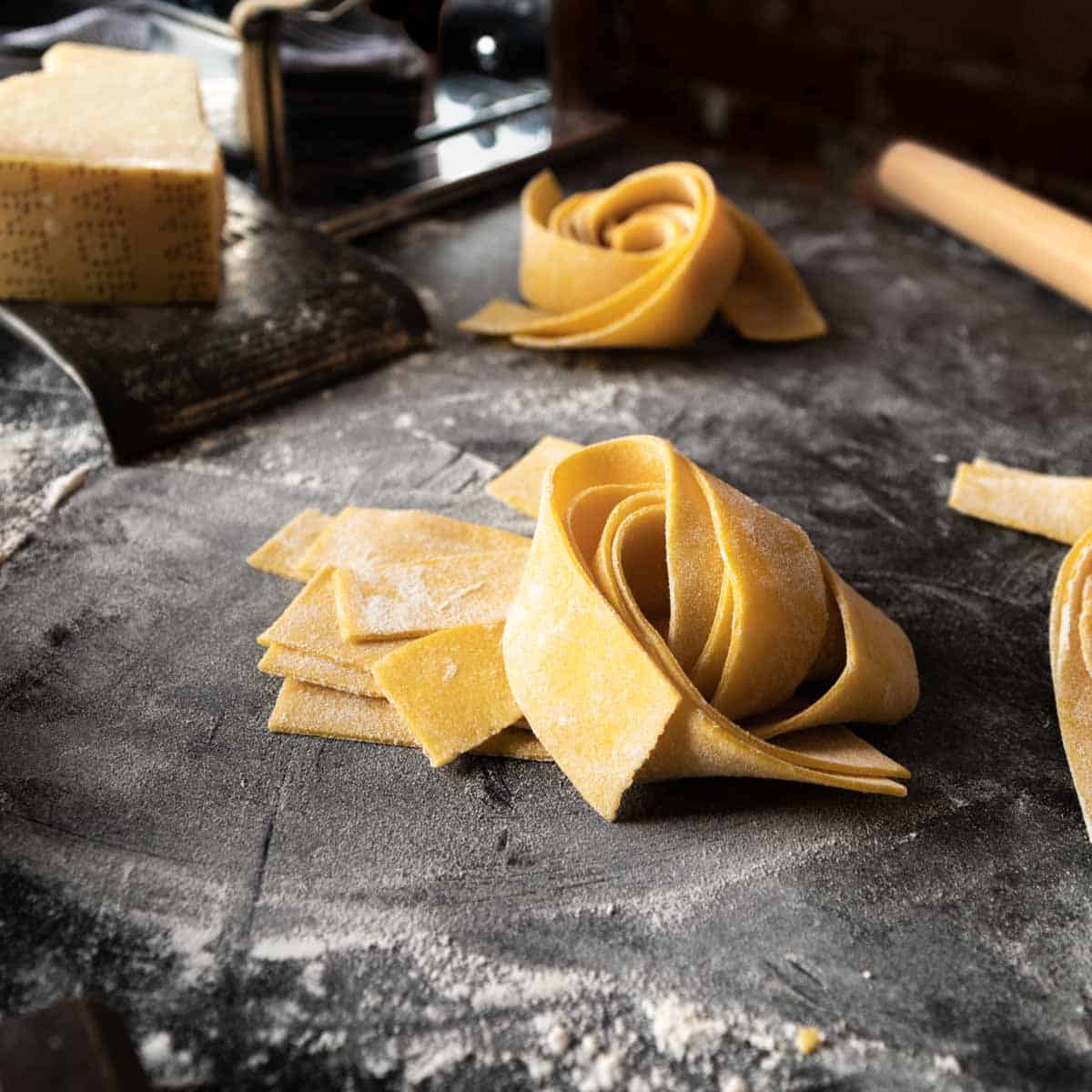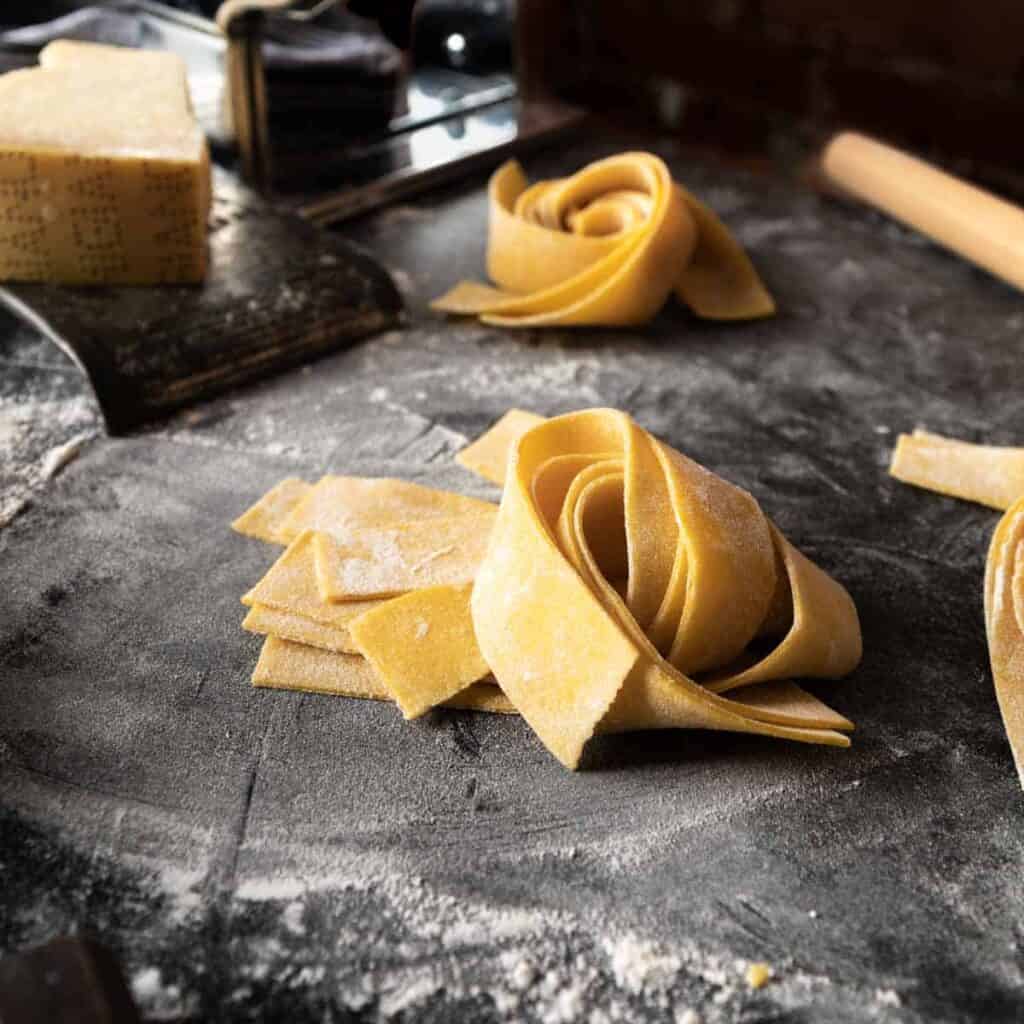 This simple pappardelle recipe is a hand cut noodle made from our favorite pasta dough recipe. It's an easy shape to make that requires no special equipment and pairs perfectly with hearty sauces!
We like to serve our Pappardelle alla Bolognese with extra Parmesan or Pecorino cheese, crusty bread and fresh basil leaves. It pairs lovely with a fresh green salad like our Arugula & Prosciutto Salad or our Tuscan Kale Salad.
Pasta & Bolo - A Match Made in Heaven
This thick meat-based sauce is best paired with hearty pasta shapes. For ribbon style pastas, we recommend serving this recipe with pappardelle, tagliatelle or fettuccine. For bite-sized pasta shapes, this recipe pairs best with thick and chewy shapes like paccheri, rigatoni, large shells or farfalle.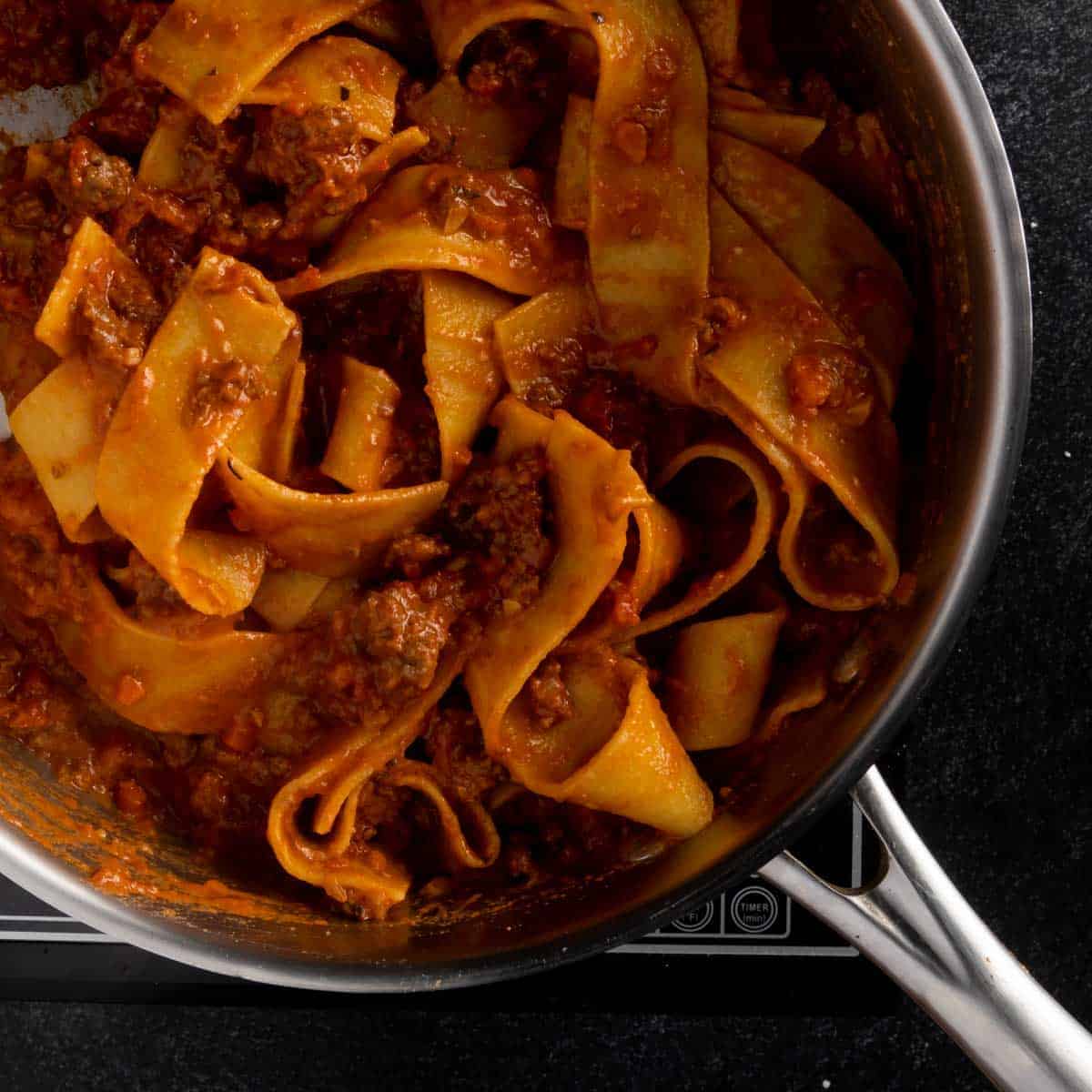 Pro Tip: The KEY to making Bolognese into an irresistibly rich pasta dish is to finish cooking the pasta directly in the sauce with a bit of pasta water! In the States, we are often guilty of spooning a quick meaty sauce on top of a pile of rinsed or oiled spaghetti. This is NOT the way! Here's what to do:
Transfer a few portions of Bolognese sauce into a deep skillet (or, if you are serving a big crowd, you can do this directly in the dutch oven).
Boil the pasta until al dente. Then, use a spider tool to transfer the pasta directly into the skillet of sauce.
Add about ½ - 1 cup of the starchy, salty pasta water.
Vigorously stir the pasta into the sauce until the mixture thickens and the sauce clings to each bite of pasta. If you'd like, you can also stir in some Pecorino or Parmesan cheese. Deliziosa!
Lasagne Al Forno (Beef Bolognese Lasagna)
In addition to the simplistic pasta and Bolognese sauce, this recipe is also used to make a classic Italian lasagna. This authentic interpretation of lasagna pairs sheets of fresh pasta dough with hearty layers of Bolognese sauce and a creamy Parmesan besciamella (bechamel) sauce. It's rich, creamy, cheesy and an absolutely outstanding recipe. Check out our entire Lasagna al Forno (Lasagna Bolognese) post for the recipe!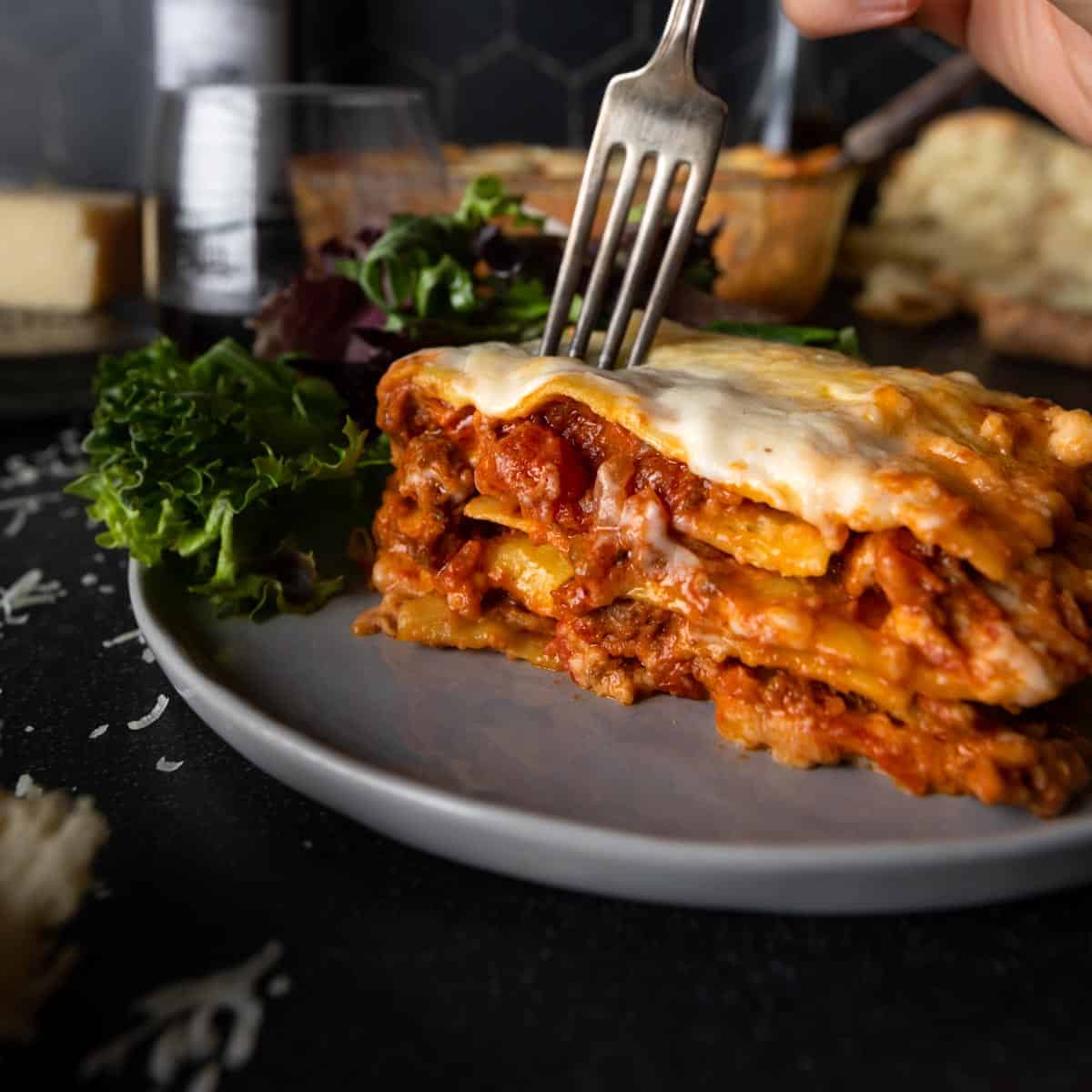 Other Ways To Enjoy This Ragu Recipe
Beef Bolognese does not have to be served on pasta, of course. Here are a few other suggestions:
Polenta - This is a great option for gluten free diners! In some regions of Italy, you'll find ragu alla Bolognese served over a creamy polenta porridge.
Pizza - Bolognese pizza is another great meal and a great way to use up some leftovers. Use your favorite homemade or store-bought pizza crust, a couple cups of Bolognese sauce and some slices of fresh mozzarella for a delicious lunch or dinner.
Sloppy Giuseppe - Think of this one like a deconstructed meatball sub or fancy Italian-style sloppy Joe! 🙂 Sandwiching some hot Bolognese on a crusty ciabatta roll makes for a decadent lazy lunch!
Roman-Style Gnocchi - Unlike potato gnocchi, Roman gnocchi is made from semolina flour. The egg dough is punched into circles and oven baked for a creamy, custard-like delight. This dish is simple to make, great for feeding a crowd and is absolutely delicious with Bolognese.
Best Wine Pairings for Italian Bolognese
Italian cuisine was made for pairing with fine wines! This Bolognese recipe is rich, savory, and balanced with lots of natural acidity. Therefore, it pairs best with vibrant red wines that have mouth-watering acidity and/or grippy tannic structure.
There are thousands of grape varietals that can be a good pairing for Beef Bolognese. Here are a few of our favorite Italian wines for serving with this ragu recipe:
Chianti - We're not talking about the wicker-basket-Chianti your grandma used to drink. (Those wines tended to be sweetened and were of generally poor quality.) Instead, opt for a Chianti from a reputable producer. Chianti is made from the Sangiovese grape from a hilly village in Tuscany. These wines are medium bodied, acid-driven and range from young, tart expressions to Earthy, herbaceous and oak-aged beauties. Ask your local wine shop for a recommendation. A good bottle doesn't have to be expensive. You can find great expressions of Chianti in the $15 - $35 range.
Barbaresco & Barolo - Known as the King & Queen of Italian wines, these Piedmont villages produce incredible expressions of the nebbiolo grape. This thick skinned grape is known for big tannic structure that pairs wonderfully with the beef and tomatoes in this sauce. These wines are made to age and have tasting notes ranging from berries and roses to black tea and smoke. They do tend to be more expensive. However, if you're looking for a more cost effective expression of nebbiolo, ask your sommelier for a Langhe rosso.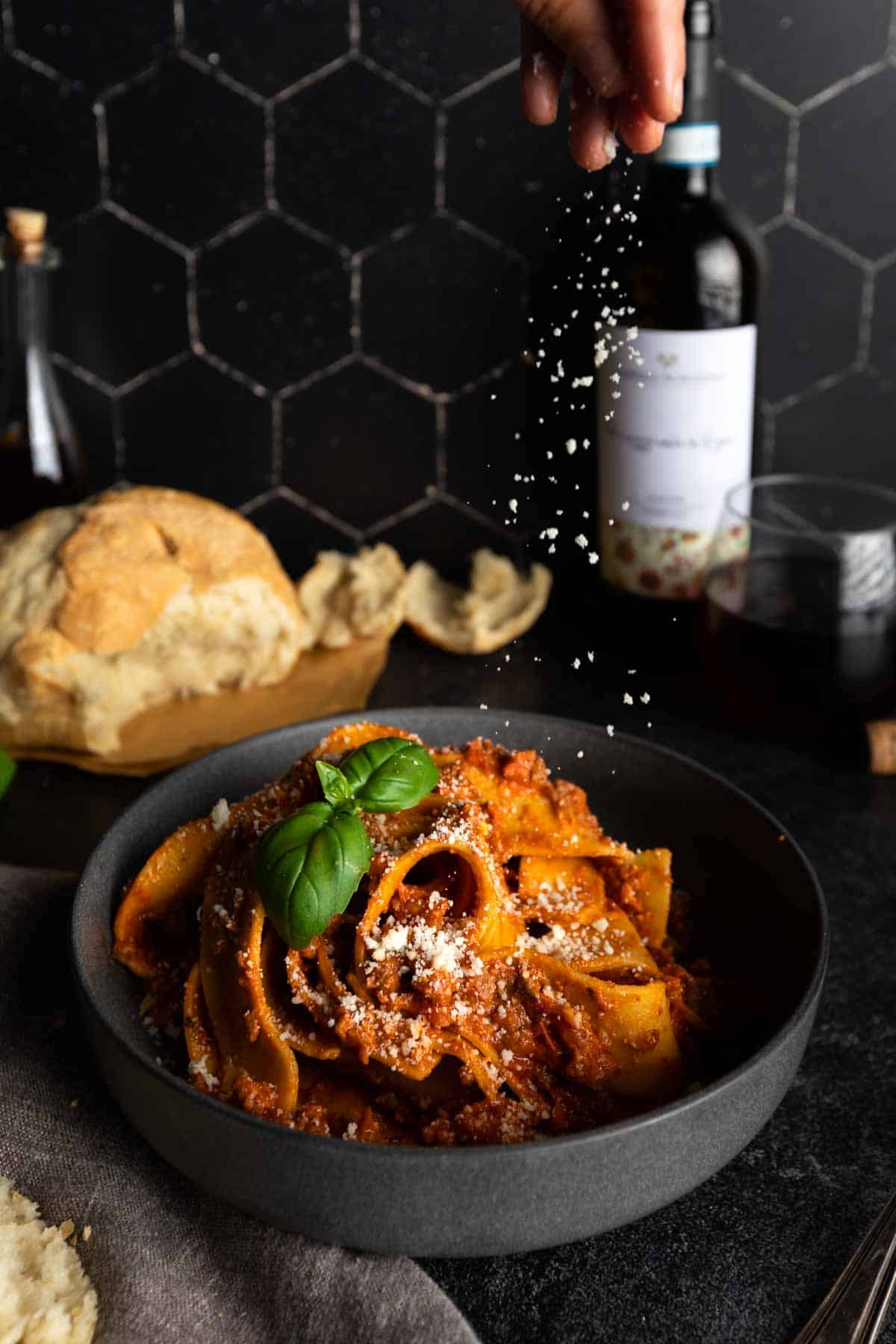 Storing
This Ragu alla Bolognese can be stored in the fridge or freezer. (Sometimes it's even better the next day!) To ensure the Bolognese is safe to eat, allow the sauce to cool completely (to at least 40° Fahrenheit) within 4 hours time. (It helps to keep the sauce uncovered while stirring frequently to allow steam to escape).
Refrigerator: Beef Bolognese can be stored in an air-tight container in the refrigerator for about 3 days. We recommend storing the sauce in glass or enamel to prevent staining plastic, when possible.
Freezer: Bolognese freezes very well. Once cooled, you can store this recipe in an airtight container or freezer safe bag. For the best quality, we recommend freezing for up to 3 months.

* After 3 months, frozen Ragu alla Bolognese is still safe to eat but may have declined slightly in quality.
Reheating
Like any reheated food, Ragu alla Bolognese must be reheated to a minimum temperature of 155° Fahrenheit (68° celsius) for safe consumption.
Bolognese can be reheated over medium heat on the stove top, in short intervals in the microwave or in a sealed bag in a sous-vide water bath.
Recipe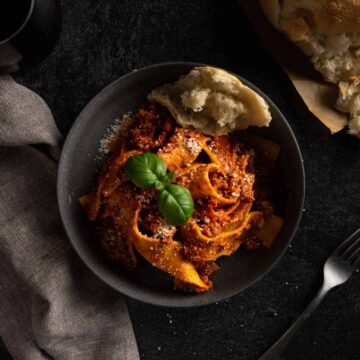 Ragu alla Bolognese (Beef Bolognese Recipe)
This classic Italian favorite slowly simmers for hours to create a flavorful, tender meat sauce perfect for a big, comforting meal.
ADJUST SERVINGS
Special Equipment
1 Large Dutch Oven

(or Heavy-Bottomed Stock Pot)
Ingredients
¼

Cup

olive oil

½

large

yellow onion

finely chopped

1

medium

carrot

finely chopped

1

stalk

celery

finely chopped

3

cloves

garlic

minced or grated

1

pound

ground beef

or veal

6

ounces

tomato paste

1 small can

1

Cup

dry red or white wine

or chicken or beef stock (We used an inexpensive Chianti)

2

Cups

whole milk

28

ounces

whole peeled tomatoes

1 large can, certified San Marzano tomatoes recommended

2

bay leaves

5 - 6

sprigs

fresh thyme
Fine kosher salt*

to taste, about 2 - 3 Tablespoons

Freshly-ground black pepper

to taste, about ½ - 1 Tablespoon
Instructions
Gather, measure and prepare the Ragu alla Bolognese ingredients as listed. To view metric measurements, toggle the US Customary/Metric switch at the top of this recipe card.

In a large dutch oven or heavy-bottomed stock pot, heat olive oil over medium heat. Add onion, carrot, celery and garlic and sautée about 10 - 15 minutes or until aromatic and tender.

Increase heat to medium-high and add ground beef. Use a wooden spoon to break up the meat, season with salt and pepper and cook until browned. Once browned, add tomato paste and stir to combine.

Add red wine, stir, and bring to a simmer uncovered for 5 - 10 minutes until alcohol has mostly cooked off and the liquid has reduced in the pot. Add milk and stir. Reduce heat and allow the mixture to simmer gently, uncovered, for 30 - 45 minutes until the milk has greatly reduced. (See Note: a.)

Add whole peeled tomatoes, bay leaves and thyme. Bring to a gentle simmer and cook uncovered, stirring occasionally and breaking up the tomatoes, for 2½ - 3½ hours or until the sauce is very thick and flavorful. Remove thyme and bay leaves. Adjust seasonings to taste and serve with polenta, fresh pasta, or in another recipe as suggested.
Notes
foodworthfeed recipes are developed using Diamond brand kosher salt. If using iodized or table salt, reduce quantities by about half.
a. Many Bolognese recipes will add a small amount of milk towards the end of the cooking process. Instead, for this recipe, the meat is simmered in milk for an extended amount of time. This process helps to reduce the water content out of the milk while utilizing the lactic acids to help tenderize the meat. 
* A Note About Salt
Unless otherwise noted, all recipes on The Sage Apron are developed using Diamond Crystal Kosher salt. It is a great all-purpose salt for cooking and baking. If using table salt, reduce quantities by about half.
Nutrition
Calories:
313
kcal
|
Carbohydrates:
14
g
|
Protein:
14
g
|
Fat:
20
g
|
Saturated Fat:
7
g
|
Polyunsaturated Fat:
1
g
|
Monounsaturated Fat:
11
g
|
Trans Fat:
1
g
|
Cholesterol:
46
mg
|
Sodium:
385
mg
|
Potassium:
701
mg
|
Fiber:
3
g
|
Sugar:
9
g
|
Vitamin A:
1904
IU
|
Vitamin C:
18
mg
|
Calcium:
133
mg
|
Iron:
3
mg