This quick spinach pesto recipe uses simple ingredients to make an irresistibly delicious sauce for pastas, pizzas, bruschetta and more.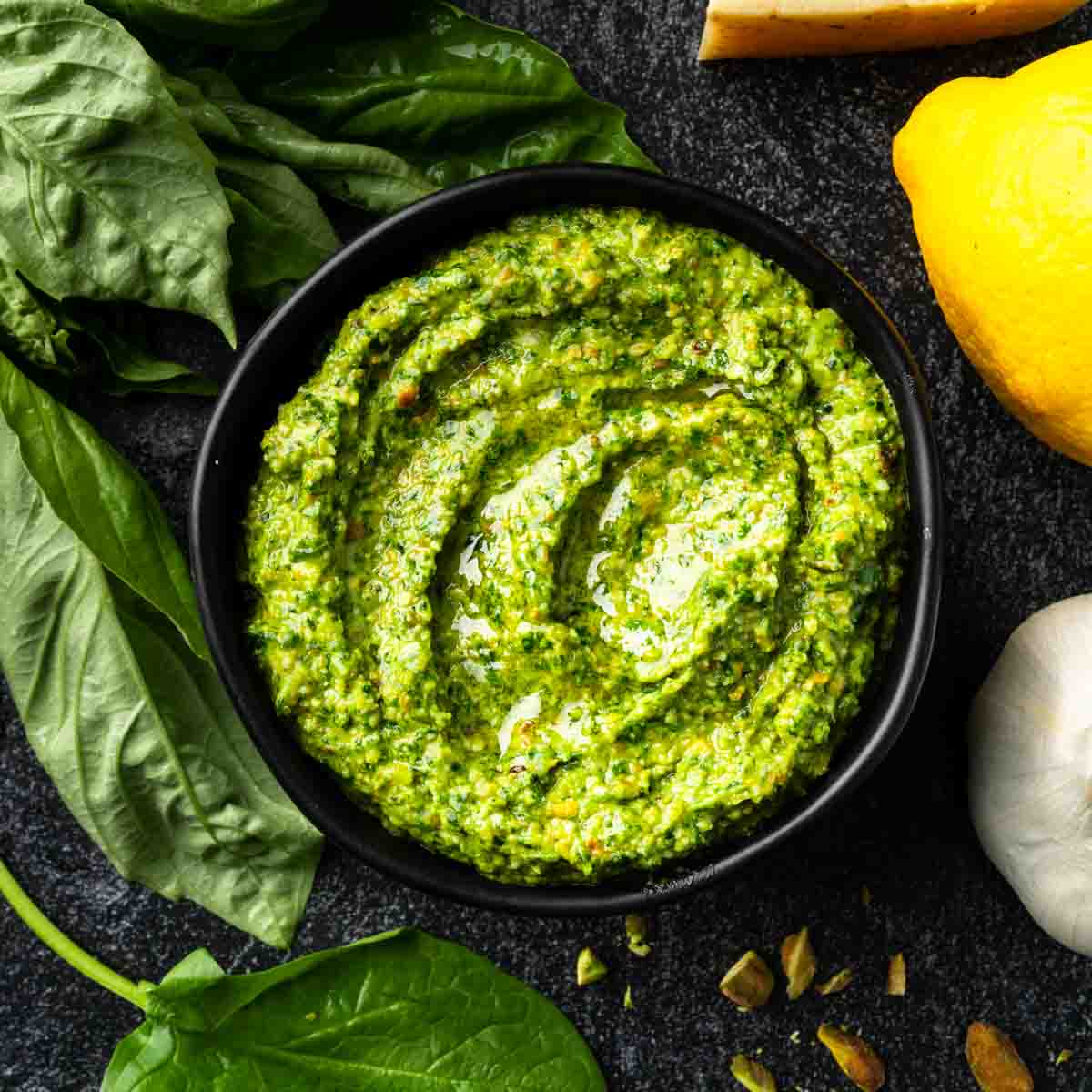 For a simple pesto pasta recipe, try our spaghetti alla pesto recipe.
Jump to:
Why You'll Love This Recipe
Super fast! This recipe is made in a food processor and only takes 5 minutes from start to finish!
Fresh, flavorful ingredients - Homemade pesto is bursting with fresh and vibrant flavors. So much better than anything you can buy in a jar!
So versatile. Pesto sauce is a great accompaniment for tons of foods. Try it on pastas, pizzas, sandwiches and more. See our Serving Suggestions for more ideas.
Healthy - Spinach pesto is made with whole, nutrient-dense ingredients. It is rich in calories but very low in saturated fats and a naturally good source of protein, vitamins and antioxidants.
Adaptable - This recipe is easy to adapt to your personal preferences and restrictions. The recipe can be made without nuts or sans dairy.
Perfectly balanced - This recipe is bursting with flavors from ground nuts, herbaceous basil and sweet spinach. It's salty, cheesy, garlicky and zesty with notes of lemon. The spinach helps to balance these flavors and results in a beautiful textured sauce that isn't too bitter.
Ingredients & Substitutions
This easy pesto sauce recipe is a flavorful play on an Italian classic. Here's what you'll need: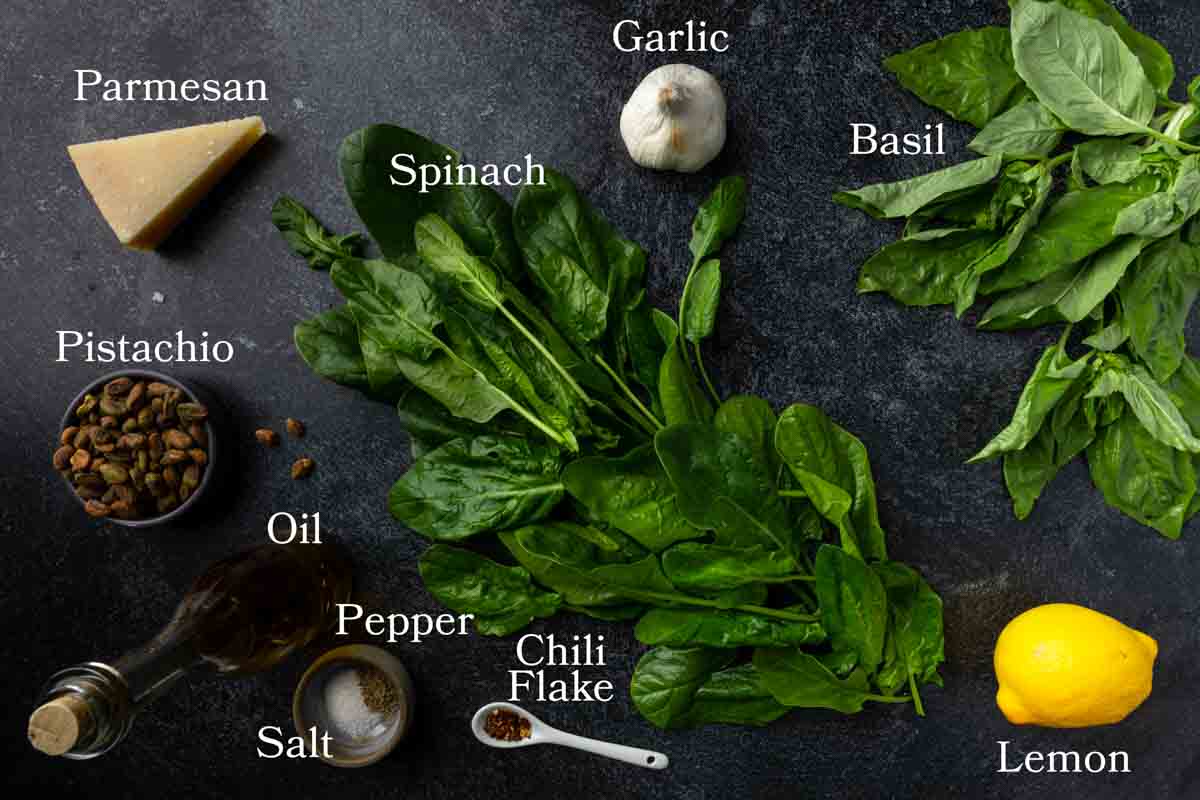 Spinach - Spinach adds tons of nutrients and volume to the sauce while lending a fresh and mild flavor that helps balance the intensity of the other ingredients.
Basil - Fresh basil is paramount to that classic pesto flavor.
Garlic
Lemon juice and zest
Pistachios - You can use raw nuts but I prefer to use roasted or oven-toasted nuts for a more pronounced flavor. You can also use the traditional pine nut, walnuts, almonds or cashews. To make this recipe nut free, substitute an equal amount of sunflower or pumpkin seeds.
Parmesan - I like to freshly grate Parmigiana Reggiano directly in my food processor. Feel free to use a vegan parmesan, Grana Padano or another hard aged cheese. For another vegan alternative, you could omit the cheese or season with nutritional yeast, to taste.
Chili flakes - Optional, for a little kick.
Olive oil - Use a good olive oil that is nice and flavorful without too much bitterness or astringency.
Salt & Black Pepper
Pro Tip: Reviving Wilted Greens - Homemade spinach pesto is best when made from crisp, freshly picked basil and spinach leaves. If your greens are a bit sad and limp, don't worry! To crisp the basil and/or spinach start by trimming the stem ends. Then, submerge the greens in an ice water bath for 15 - 30 minutes. During that time the leaves will perk up and become crisp.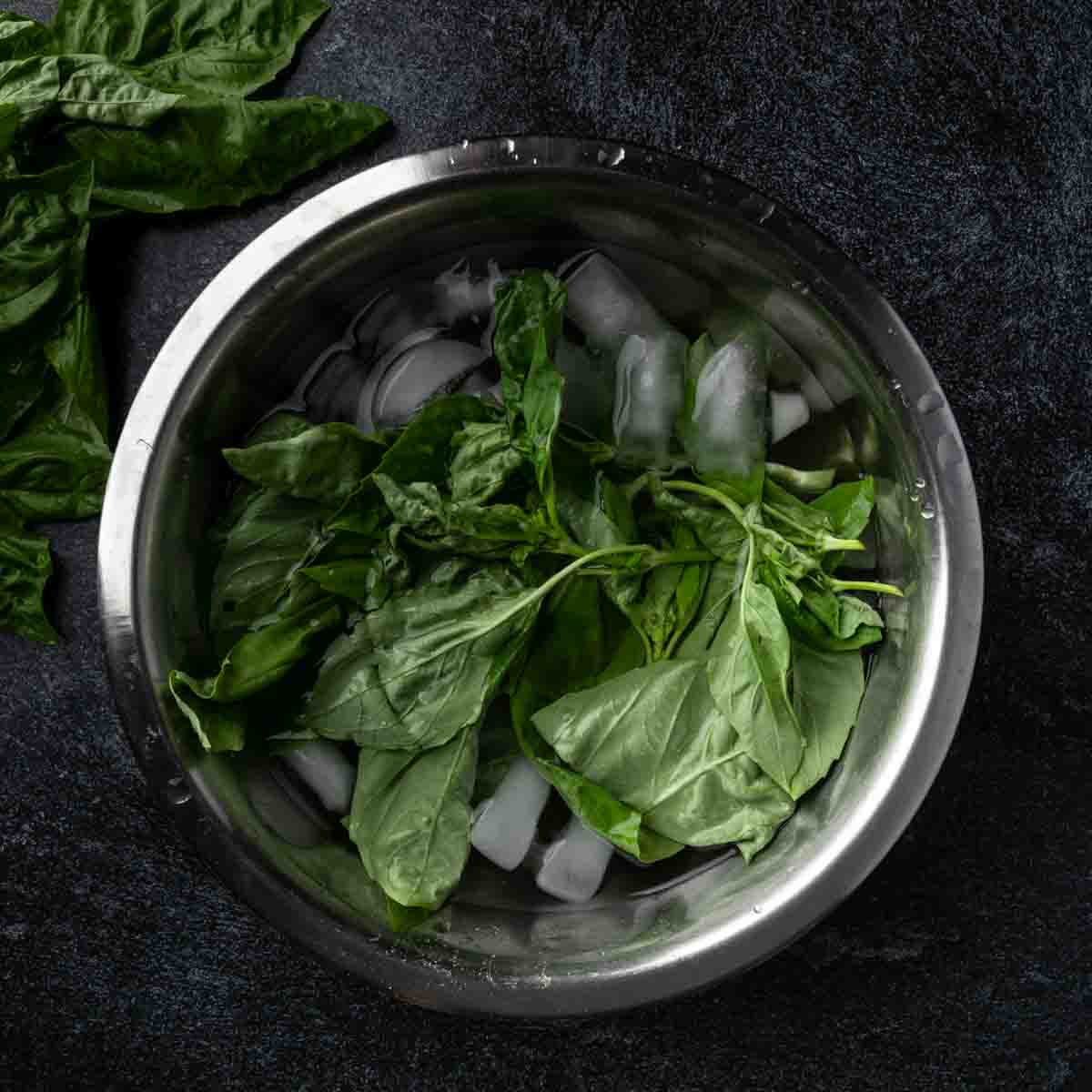 How To Make Quick Spinach Pesto
1. Start by cubing some Parmesan cheese and adding it to a food processor fitted with the blade attachment. Process the cheese on high speed until finely grated.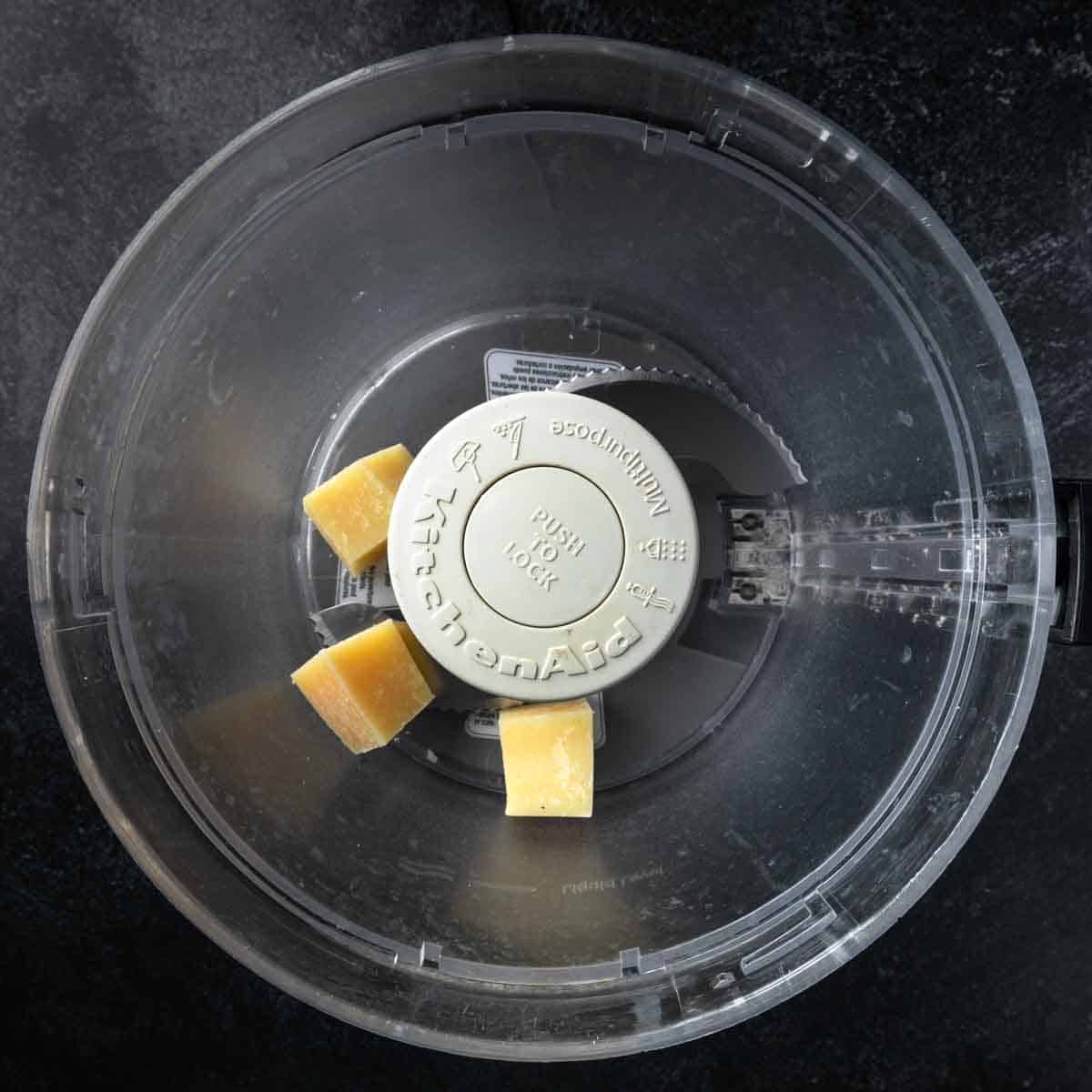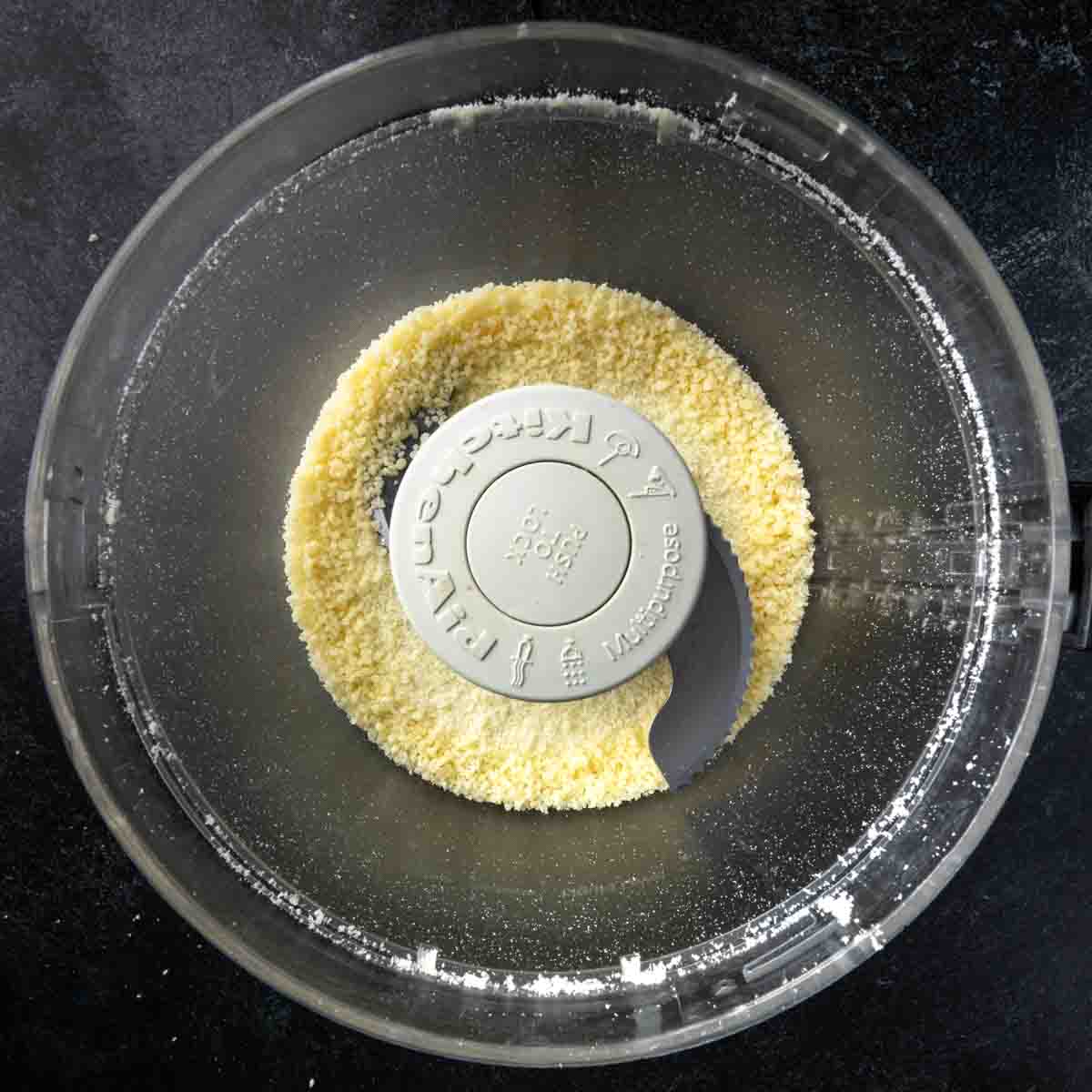 2. Next add the spinach, basil, garlic, pistachios, lemon juice and zest, some salt, black pepper and chili flakes, if using. Pulse the mixture 20 - 30 times or until the ingredients are well integrated and finely ground to the texture of course sand. You may need to scrape the sides of the processor a few times.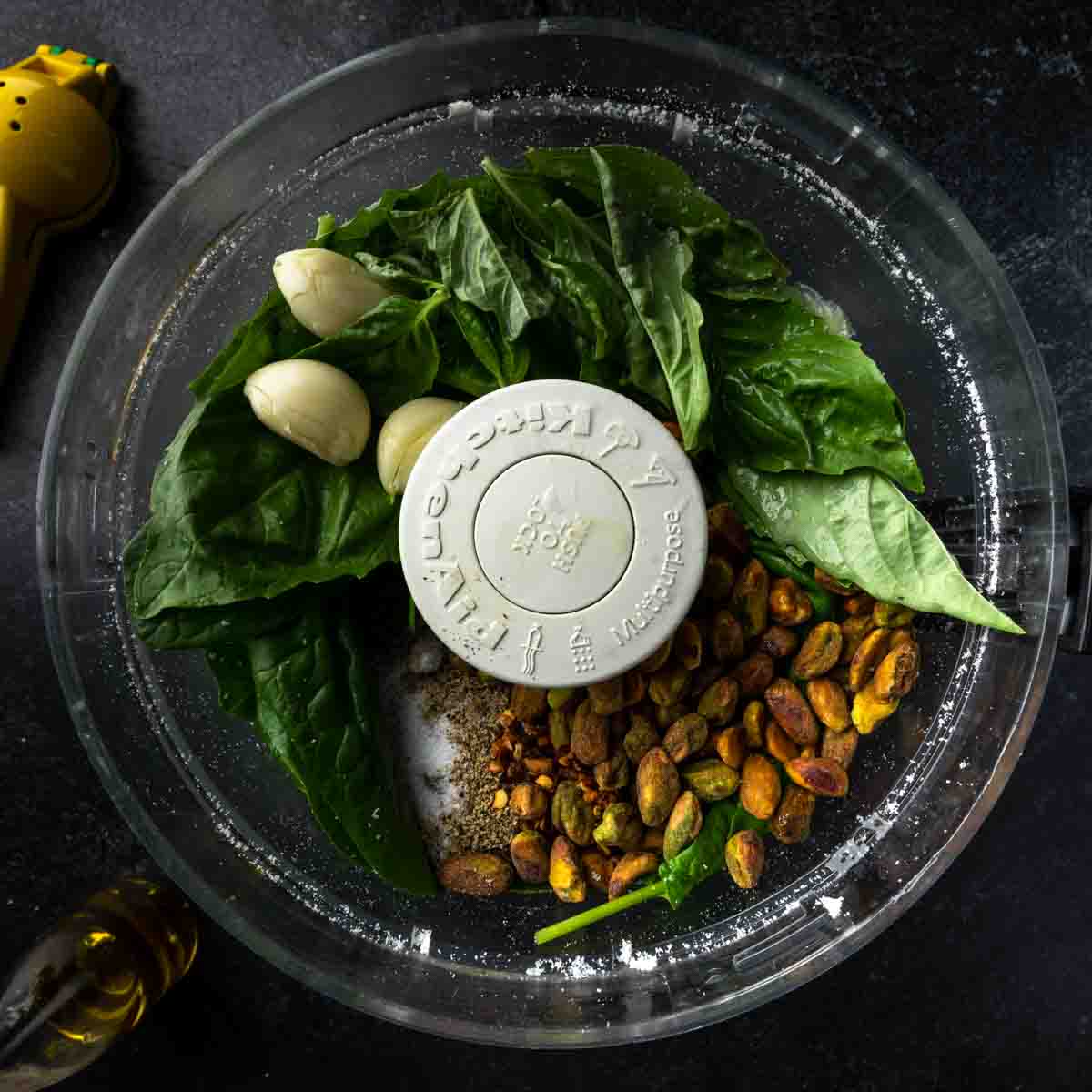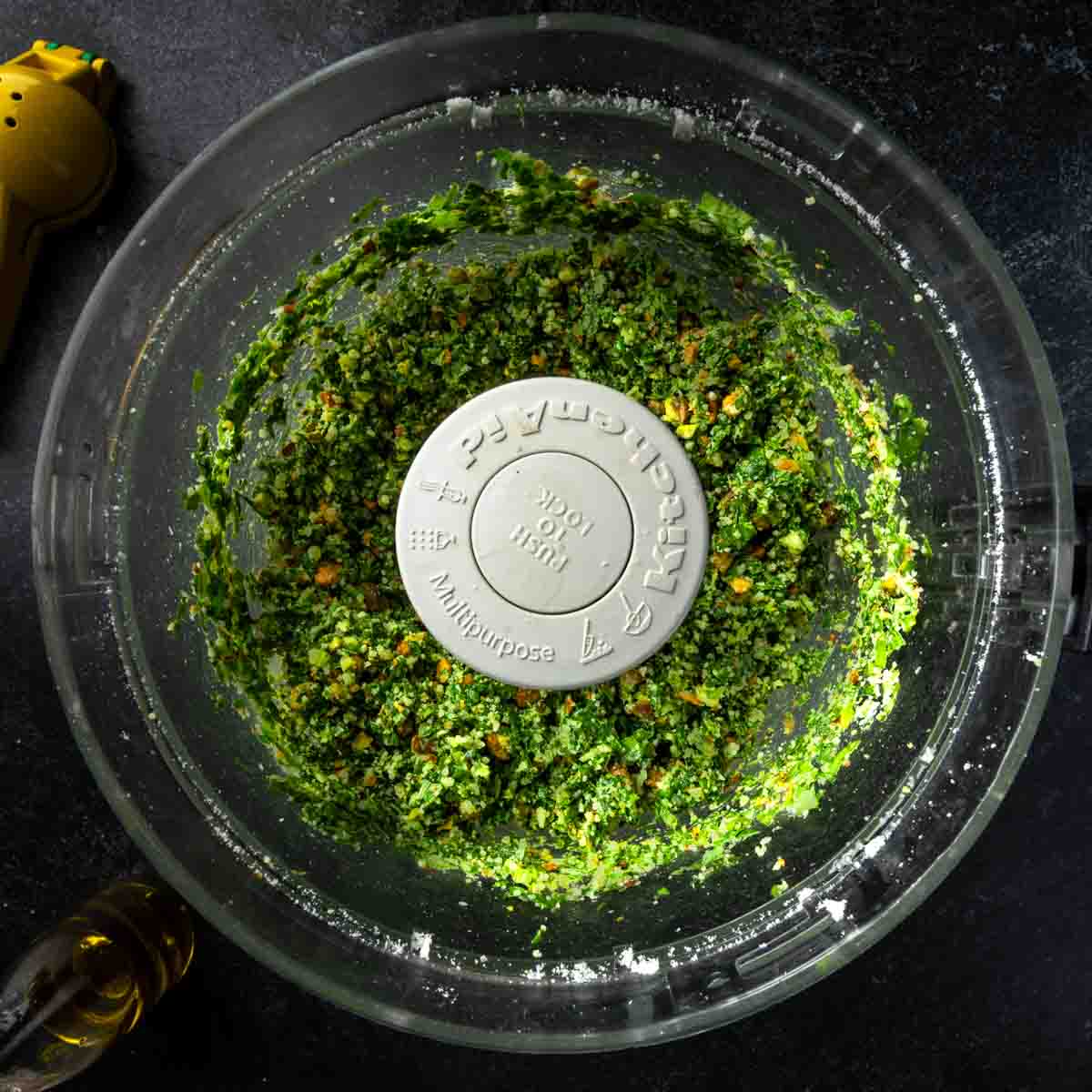 3. Continue to process the pesto on medium speed while slowly drizzling in the olive oil. For a thicker paste, 2 - 3 Tablespoons of olive oil may be enough. For a pesto with a thinner saucy consistency, I like to use 4 -5 Tablespoons of olive oil. Adjust salt, pepper and additional lemon juice, to taste.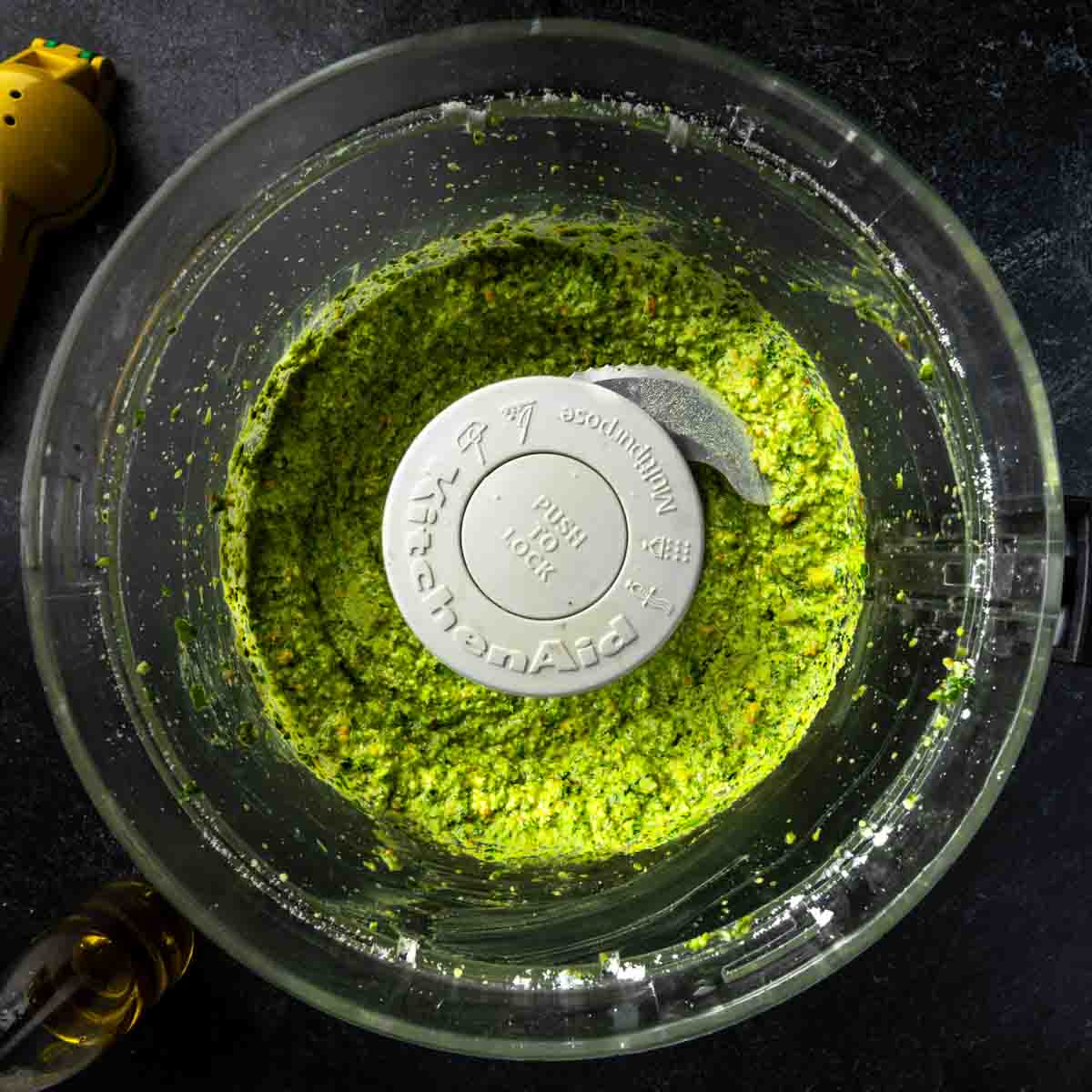 Chef's Note: Does Blending Olive Oil Make it Bitter? - You may have heard that blending olive oil at high speed will make it unpleasantly bitter. It is true that certain olive oils may release a bitter flavor when blended. However, it is most prevalent in freshly-pressed olive oil that contains high levels of phenols.
Personally, I have never found much of a flavor difference when blending the olive oils that I use. If you are worried about possible bitterness, I recommend processing the pesto until just combined or hand whisking in the olive oil, a little at a time.
That's it! I prefer a pesto sauce that has a fine gritty texture however you can puree the sauce until it is smooth or whisk in the oil by hand to leave it on the chunkier side.
Spinach pesto can be used immediately but if you have time to let it rest in the refrigerator for a couple hours, the flavors will meld together making it even more delicious.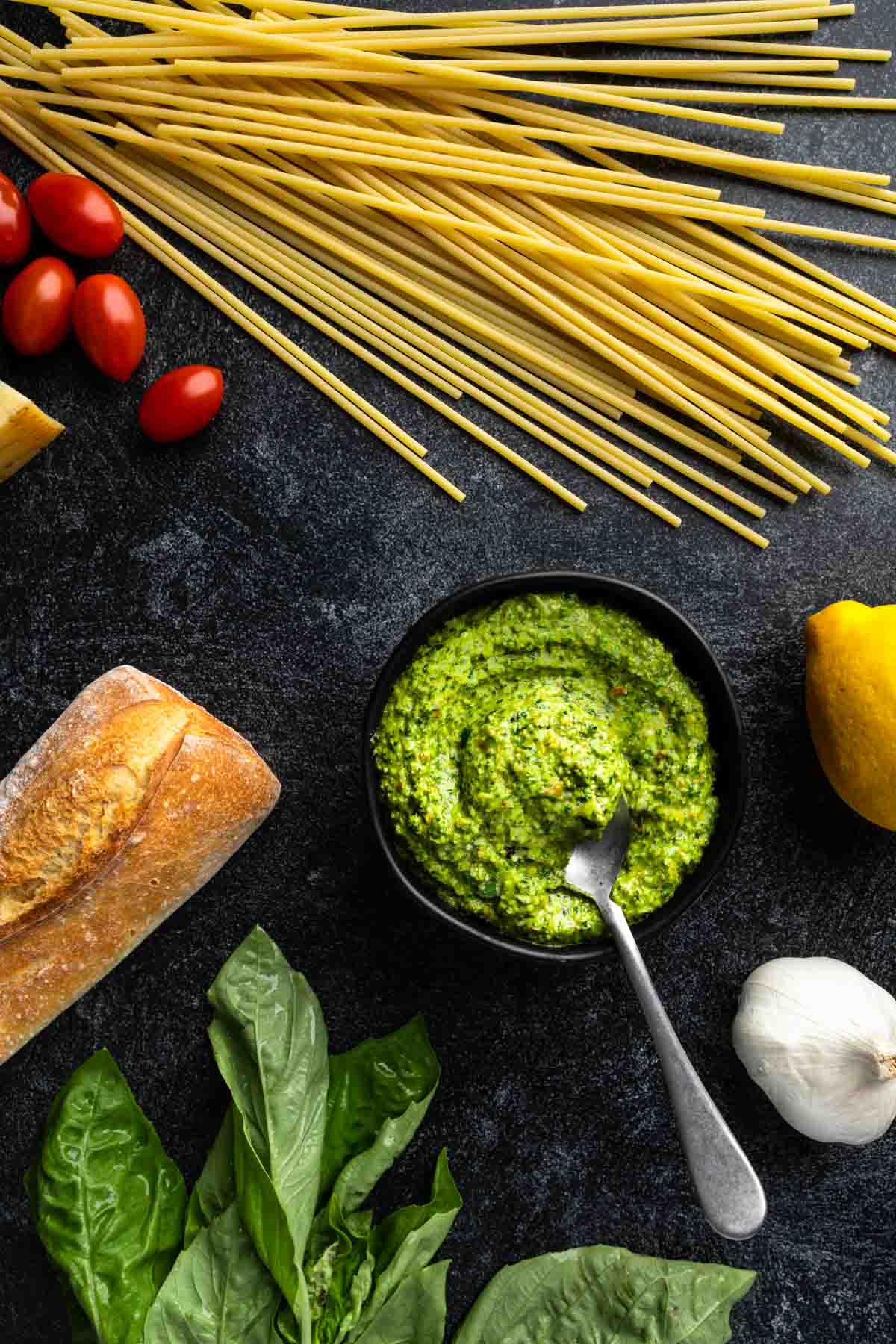 Serving Suggestions
You can use this spinach pesto recipe in any recipe calling for pesto or on any dish that needs a burst of flavor. Here are some of our favorite ways to use this recipe:
Pasta - For a simple meal, toss pesto with your favorite pasta or gnocchi. We especially like pesto with long, fork-twirling noodles like our homemade fettuccine or in our classic spaghetti al pesto recipe.
Pasta Salad - Don't forget cold pasta! Pesto makes the perfect dressing for chilled pasta salads.
Pizzas and Flatbreads - Finish your favorite pizzas with a drizzle of pesto. Especially good on pizzas with burrata and prosciutto!
Sandwiches - I like to mix pesto with a little mayo for a flavorful spread on all sorts of sandwiches or add it into a gooey tomato grilled cheese.
Soups - A drizzle of pesto is fantastic on a roasted tomato soup, chicken noodle or minestrone!
Bruschetta, Crostini and Fancy Toasts - Grilled breads with ingredients like tomatoes, mozzarella, ricotta, avocado, and charcuterie are elevated with a drizzle of fresh pesto. Try it on our Grilled Peach and Burrata Bruschetta.
Meats & Seafood - Pesto is a great condiment to add flavor to simple proteins like pork roast, steaks, chicken, salmon and shrimp. It's fabulous with our Grilled Honey Balsamic Chicken.
Vegetables - Spinach pesto is a great flavor booster for roasted fingerlings, asparagus, broccoli, Brussels sprouts and other simply prepared vegetable dishes.
Tomatoes - Pesto and tomatoes are like bread and butter - they go together perfectly! It's lovely on fresh tomato salads, and tossed in dishes with sun-dried or oven roasted cherry tomatoes.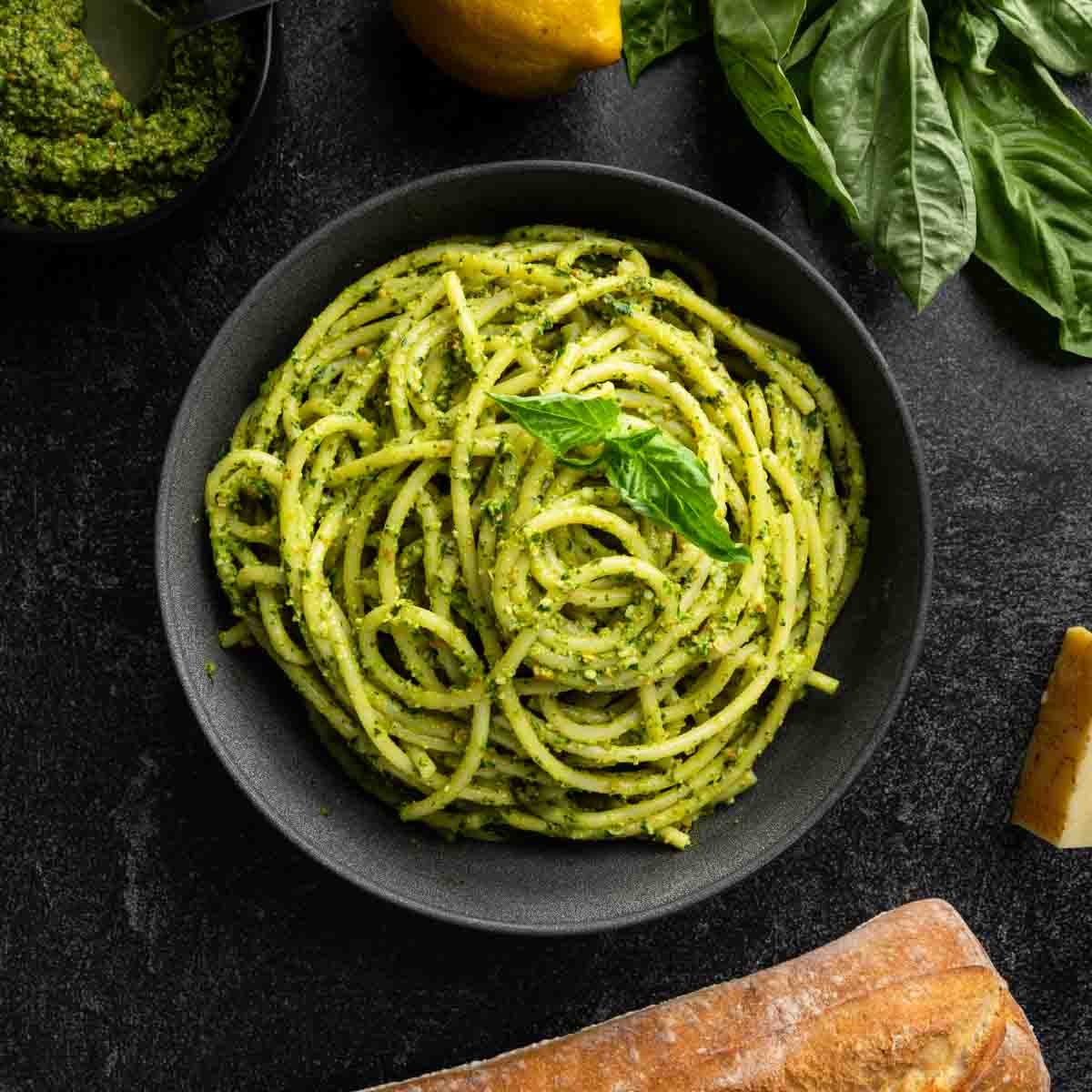 Pro Tip: Keep it Vibrant, Fresh & Cool
Traditionally pesto is an uncooked sauce with a vibrant green color and bright, punchy flavors. To maintain the pestos' color and sharp flavors, avoid cooking this sauce!
While some recipes may call for baking dishes with pesto, keep in mind that the heat will significantly dull the fresh flavors (and the pretty green color will become mucky and brown).
Instead, we recommend using pesto as a finishing sauce, applied away from the heat - after dishes are fully cooked.
Storing & Saving
Homemade pesto is best when consumed fresh. It can be used immediately or kept in an airtight container in the refrigerator for 4 - 5 days.
Pro Tip: Oxidation - To prevent oxidation, I recommend keeping the refrigerated pesto sauce leveled in a jar, and topped with a thin layer of olive oil. The layer of oil will help to preserve the pestos pungent flavors and maintain the bright green coloring.
Pesto sauce can also be made ahead of time and frozen for future use. Freeze pesto sauce in an airtight, freezer-safe bag for 2 - 3 months. Thaw overnight in the refrigerator. The freezer will perfectly preserve the fresh pesto flavors, but the sauce may lose a little of its bright coloring.
Frequently Asked Questions
Why is my pesto bitter?
Bitter pesto is generally due to the naturally astringent notes of processed herbs, nuts, garlic and olive oil. It can also be due to old, stale olive oil or from over-processing the sauce.

To avoid bitter pesto, do not over mix. Process until just combined. If using freshly pressed olive oil that has high levels of phenols, slowly whisk in the olive oil by hand.

To balance an already bitter pesto sauce you can increase the levels of lemon juice, black pepper and/or chili flake. You can also try to offset the bitterness with a pinch of sugar or drop of honey.
Why did my pesto turn brown?
Brown pesto is the result of oxidation or heat.

For the best results, eat pesto when it is very fresh. To avoid oxidation while storing, cover the surface of the pesto with a thin layer of olive oil.

Pesto sauce is intended to be enjoyed raw. Cooked pesto sauce will naturally turn a dull green or brown color.
Is pesto healthy?
Yes! Pesto sauce in naturally high in calories, however, the sauce is made from fresh ingredients that are rich in a variety of nutrients, antioxidants and vitamins and low in saturated fats.
Can pesto be made without nuts?
Yes! To make this recipe nut free you can simply omit the pistachios or substitute an equal amount of sunflower or pumpkin seeds.
Can pesto be made vegan and/or dairy free?
Yes! To make pesto sauce dairy free and vegan you can omit the Parmesan cheese or substitute nutritional yeast (or a vegan parmesan alternative), to taste.
Recipe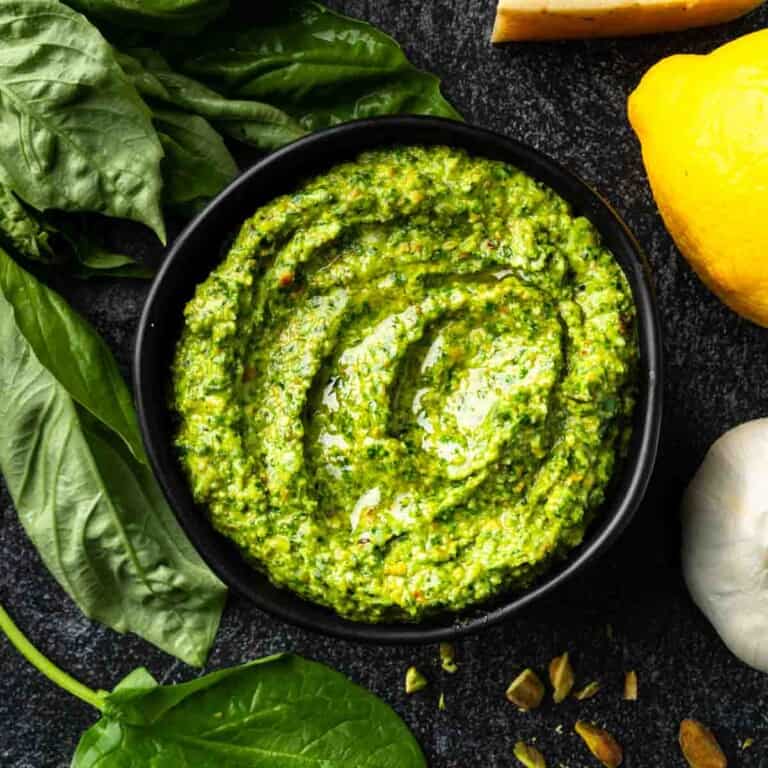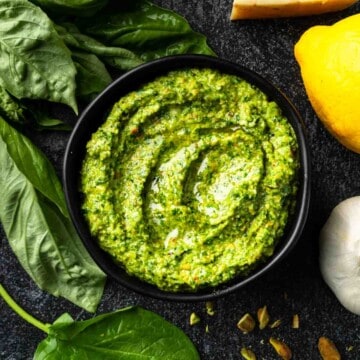 Quick Spinach Pistachio Pesto
This easy Italian pesto recipe is the perfect balance of sweet basil and spinach with garlic, lemon, pistachios and salty Parmesan cheese. It's perfect for pastas, pizzas and more!
ADJUST SERVINGS
Special Equipment
1 Food Processor with Blade Attachment

(Pesto can also be made in a high-speed blender, with an immersion blender or by hand with a mortar and pestle.)
Ingredients
2

ounces

Parmesan cheese

cut into 1 inch cubes

½

bunch

spinach

(3 ounces)

washed, dried and thick stems removed

½

handful

fresh basil

(1 ounce)

washed and dried

½

Cup

pistachios

raw, roasted or lightly toasted

3

cloves

garlic

2 - 3

Tablespoons

lemon juice

freshly squeezed, to taste

Zest of 1 lemon

1

teaspoon

fine kosher salt*

to taste

½

teaspoon

Freshly-ground black pepper

to taste

½

Cup

olive oil

preferably extra virgin olive oil (See note: a.)
Instructions
In a food processor fitted with the blade attachment, add cubes of Parmesan cheese. Process on high speed for 20 - 30 seconds or until finely grated.

Add spinach, basil, pistachios, garlic, lemon zest and juice, salt, black pepper and chili flake to the food processor. Pulse 20 - 30 times, scraping the bowl as necessary, until well incorporated and ground to the texture of coarse sand.

While processing on low or medium speed, slowly stream in olive oil until the desired consistency is reached. (See note: a.) Adjust seasonings, as desired.

Spinach pesto can be served immediately but the flavors will improve if refrigerated for a couple of hours before serving. Store in an airtight jar covered with a thin layer of olive oil to prevent oxidation.
Notes
a. You can add olive oil to your pesto until the desired consistency is reached. I have found 4 - 5 Tablespoons of oil ideal for a creamy pasta sauce consistency. For a thicker spread for sandwiches and toasts, you may only need 2 Tablespoons of olive oil. 
* A Note About Salt
Unless otherwise noted, all recipes on The Sage Apron are developed using Diamond Crystal Kosher salt. It is a great all-purpose salt for cooking and baking. If using table salt, reduce quantities by about half.
Nutrition
Calories:
160
kcal
|
Carbohydrates:
3
g
|
Protein:
4
g
|
Fat:
15
g
|
Saturated Fat:
3
g
|
Polyunsaturated Fat:
2
g
|
Monounsaturated Fat:
10
g
|
Cholesterol:
4
mg
|
Sodium:
341
mg
|
Potassium:
173
mg
|
Fiber:
1
g
|
Sugar:
1
g
|
Vitamin A:
1670
IU
|
Vitamin C:
7
mg
|
Calcium:
93
mg
|
Iron:
1
mg