This balsamic and brown butter pasta sauce is perfect for pairing with all sorts of simple and stuffed pasta dishes. This emulsified sauce is rich and buttery with notes of toasted nuts, fresh herbs and the subtly sweet and tangy flavor of balsamic vinegar.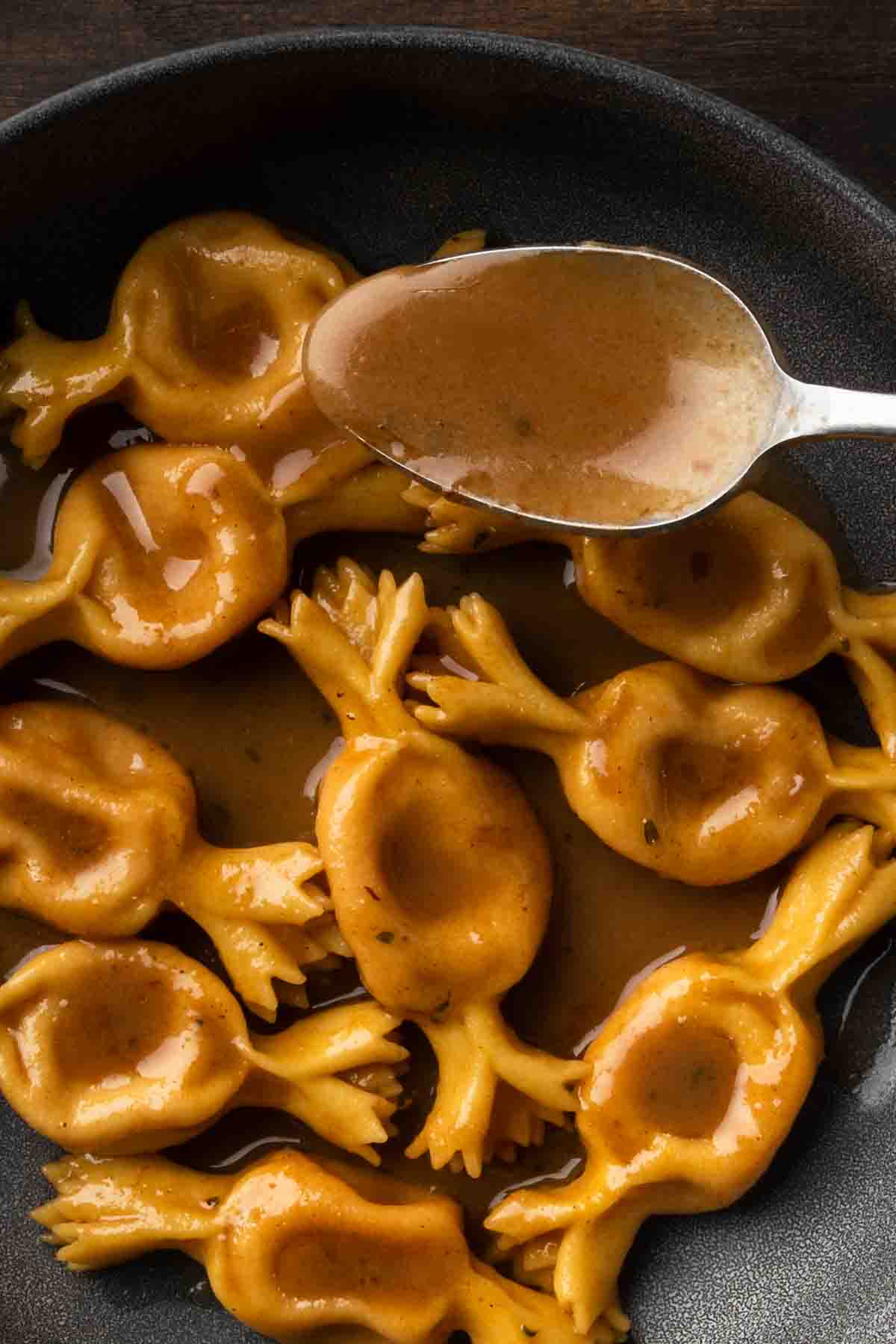 Adding a touch of balsamic vinegar to a classic brown butter sauce provides a depth of flavor and a touch of acidity that helps balance the richness of the sauce. Try this recipe on any pastas stuffed with squash or pumpkin. It's sensational served with our sweet potato caramelle (pictured) and sings with any rich pasta dish made with braised beef or pork.
Jump to:
Why You'll Love This Simple Sauce
Made from just 4 everyday ingredients (plus salt and pepper)
Less than 15 minutes from start to finish
Perfect pairing for ravioli, tortellini & other stuffed pastas (store-bought or homemade!)
Silky and emulsified (no pools of butter fat in your bowl!)
Downright delicious! - If you're anything like me, you'll be licking the bowl.
Ingredients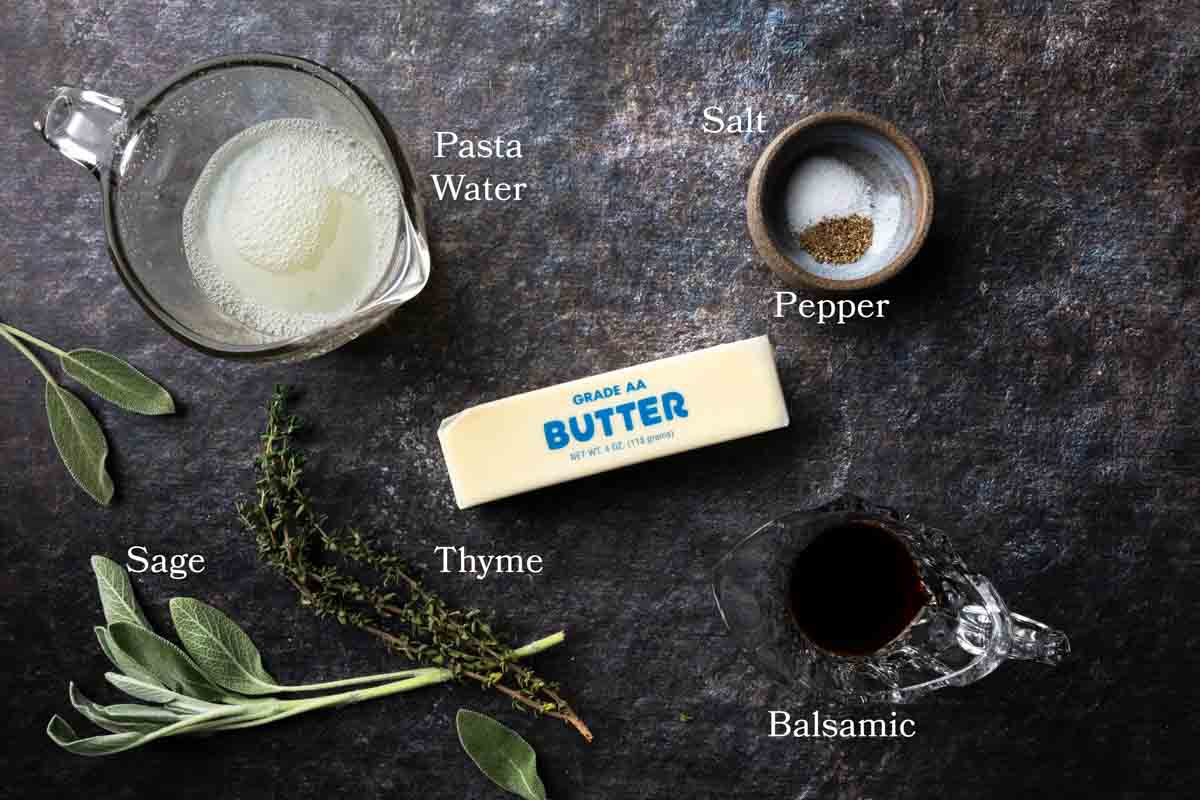 Butter
Balsamic Vinegar
Thyme, Sage or a sprig of both
Starchy Pasta Water - I like to add an extra Tablespoon of semolina flour to my boiling pasta water to create a starchier emulsion that helps to thicken sauces. To prepare this sauce gluten free, see our Pro Tip below.
Salt & Pepper
Pro Tip: Serving This Sauce Gluten Free - To make this recipe without pasta water, you can substitute vegetable of chicken stock. Thicken the sauce by reducing over a low simmer, or by adding a small amount of cornstarch slurry. It's delicious when served with roasted Brussels sprouts and other veggies and proteins.
How To Make Balsamic Brown Butter Sauce
The base of this sauce is a classic brown butter (also known as beurre noisette). Browning butter is the process of toasting the milk solids so that they develop a rich and nutty flavor profile. It deeply intensifies the butter flavor and is delicious when used in both sweet and savory recipes.
The only tools you need are a sauce pan (I like to use a light colored pan that is large enough to toss my pasta in) and a sauce whisk (or a flat whisk). This is an emulsified butter sauce that requires lots of whisking to become smooth and silky!
Start by melting butter in a lightly-colored saucepan or pot over medium heat. (Using a light colored pan will help you to see when the milk solids are toasty and golden - and not black and burnt!)
Initially the butter will become quite foamy. Continually stir the butter, scraping up any foamy bits that stick to the sides or bottom of the pan. As the butter gets warmer, the milk solids (white specks) will visibly separate from the butter fat.

As the butter cooks, it will begin to sputter and spit. This is okay! In order for the butter to brown, first the butters' natural water content needs to steam away. If the butter is boiling too violently, lower the heat slightly to maintain a gentle simmer.
When the sputtering subsides, add in the sage leaves and/or thyme. Watch closely! The milk solids will begin to toast quickly and turn from brown to black within moments. Continue stirring.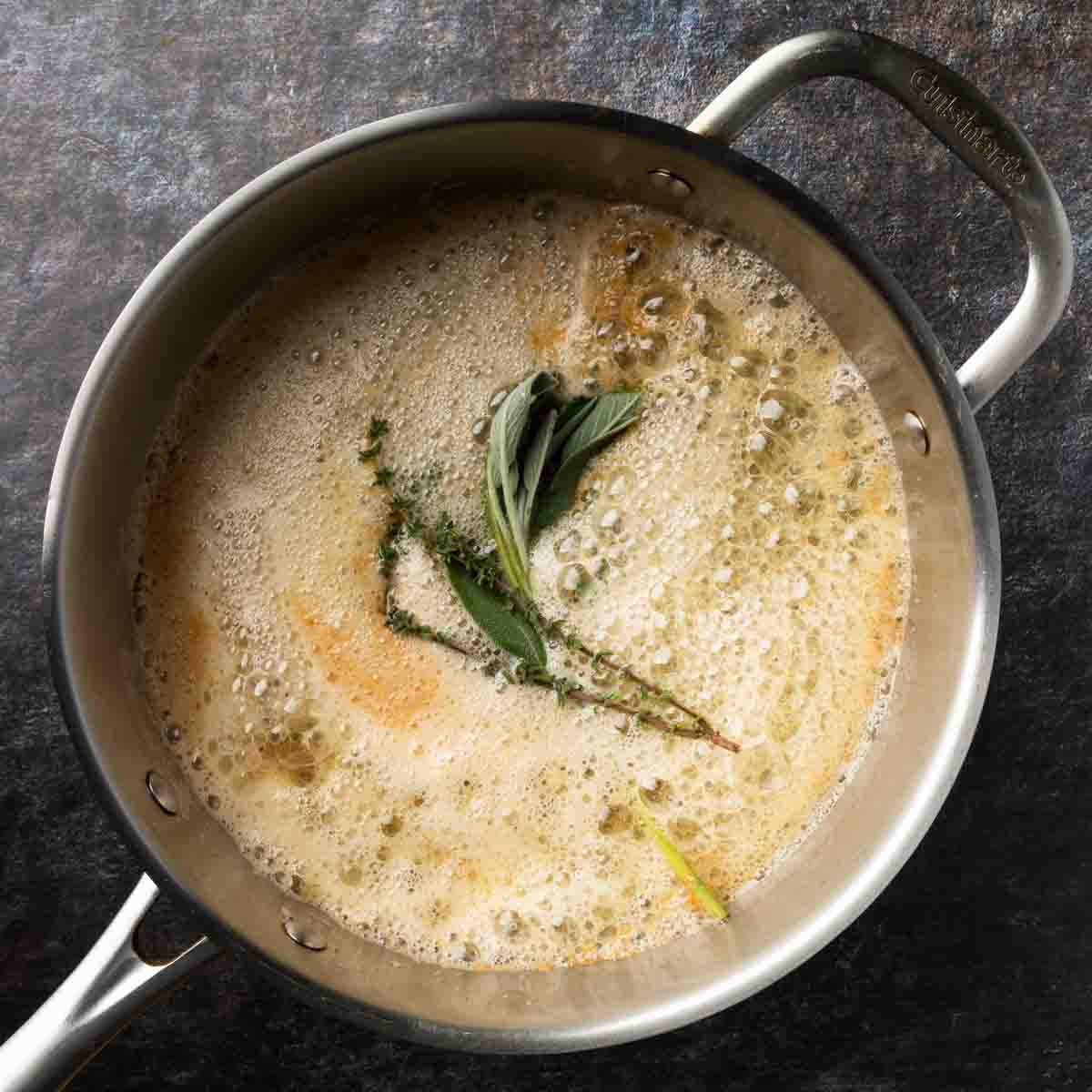 Once the butter begins to turn to a light golden color, remove the pan from the heat. Continue cooking and stirring off of the heat for about a minute, or until the solids have become a medium brown color and the butter smells like roasted hazelnuts. Add the balsamic vinegar and whisk together.

The butter sauce can be set aside now until ready to combine with the cooked pasta.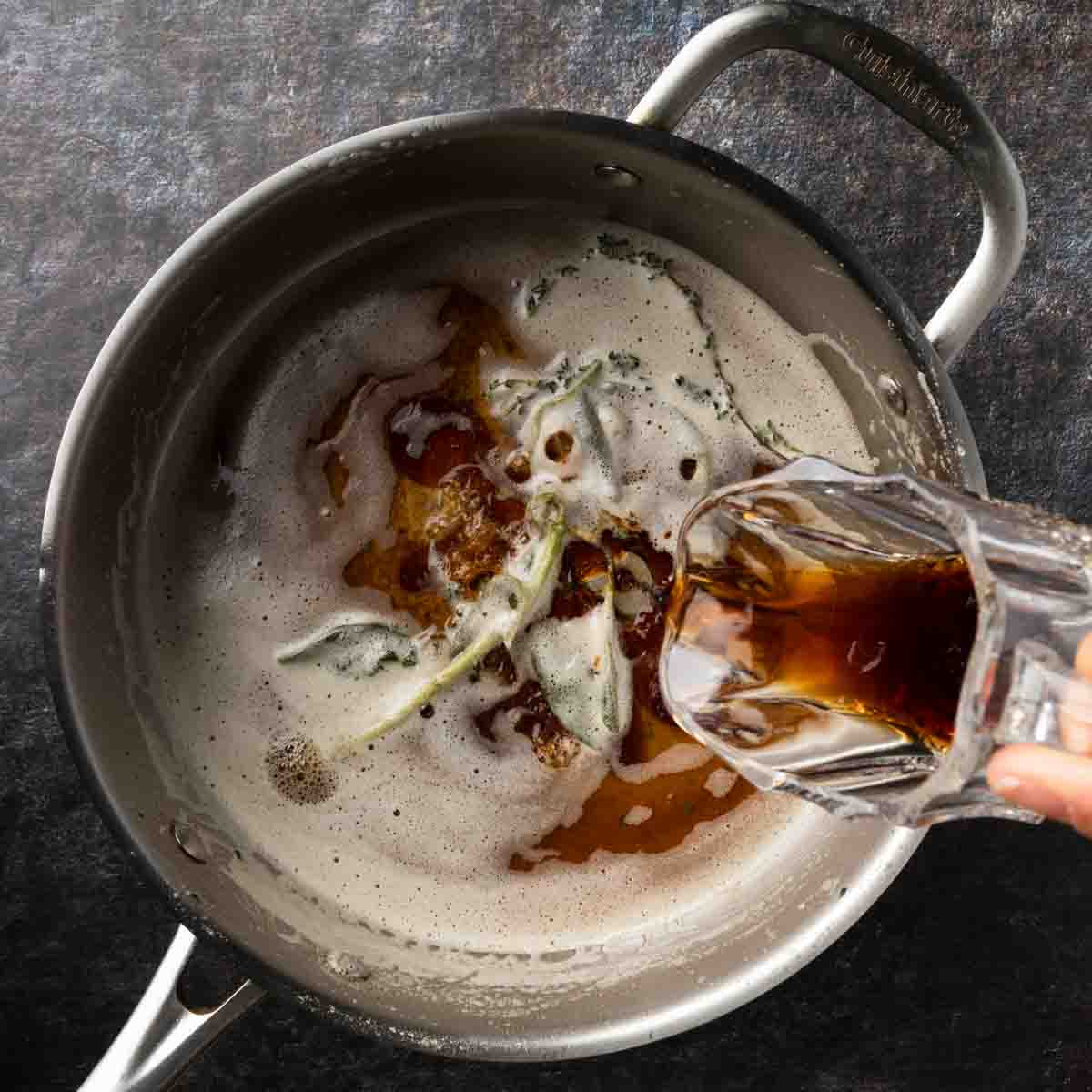 When cooking the pasta, add 1 Tablespoon of flour to the boiling pasta water - this step helps to ensure your water has a rich starch content that will properly thicken the sauce and help it adhere to the pasta.
When the pasta is nearly ready, return the sauce to the stove and warm over medium-low heat. While whisking, bring the sauce to a gentle simmer, being careful not to overheat and burn the butter. Gradually whisk in about ½ Cup of hot starchy pasta water.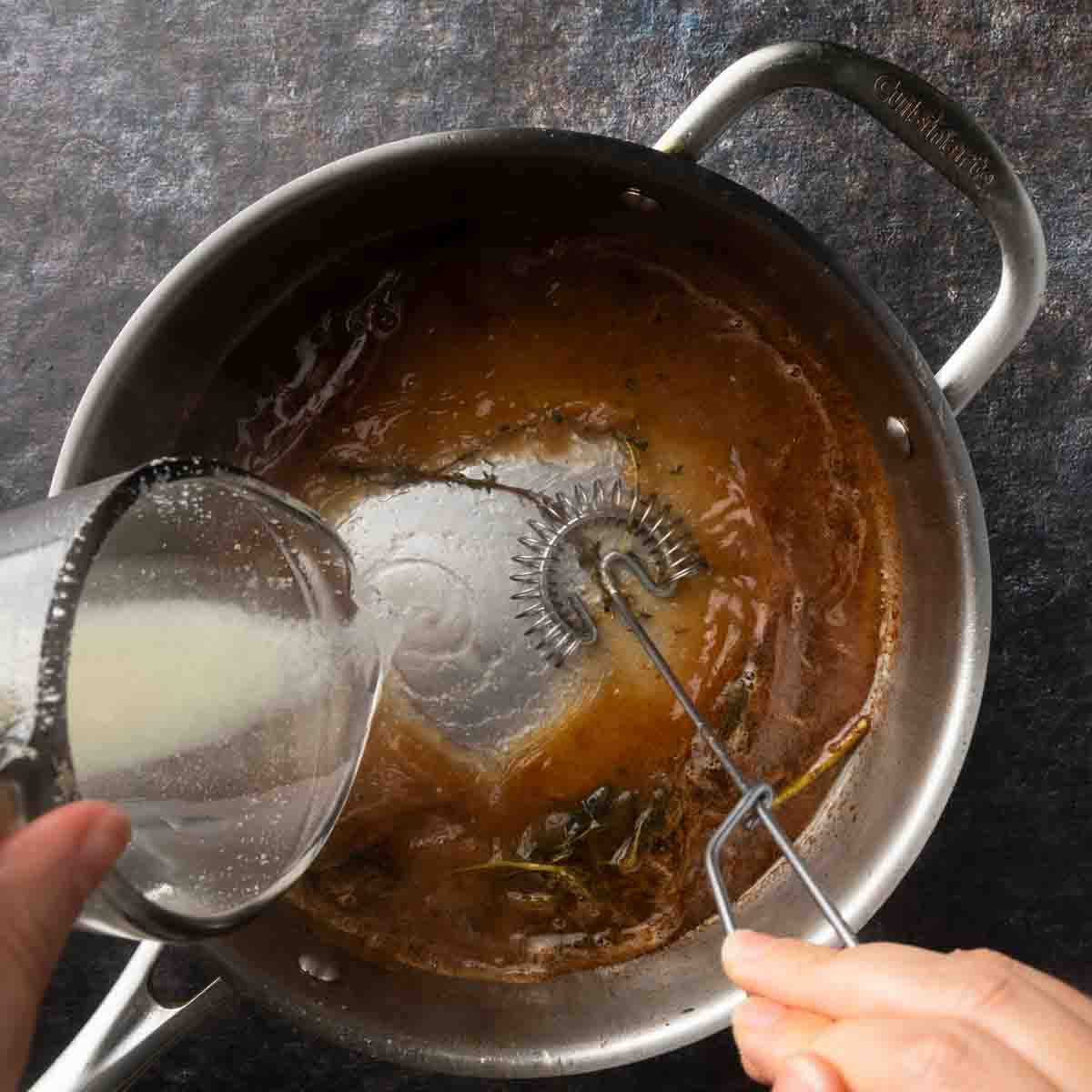 Whisk vigorously until the sauce is simmering, smooth and cohesive. Season to taste with salt and a few cracks of freshly ground black pepper. Remove the sage and/or thyme.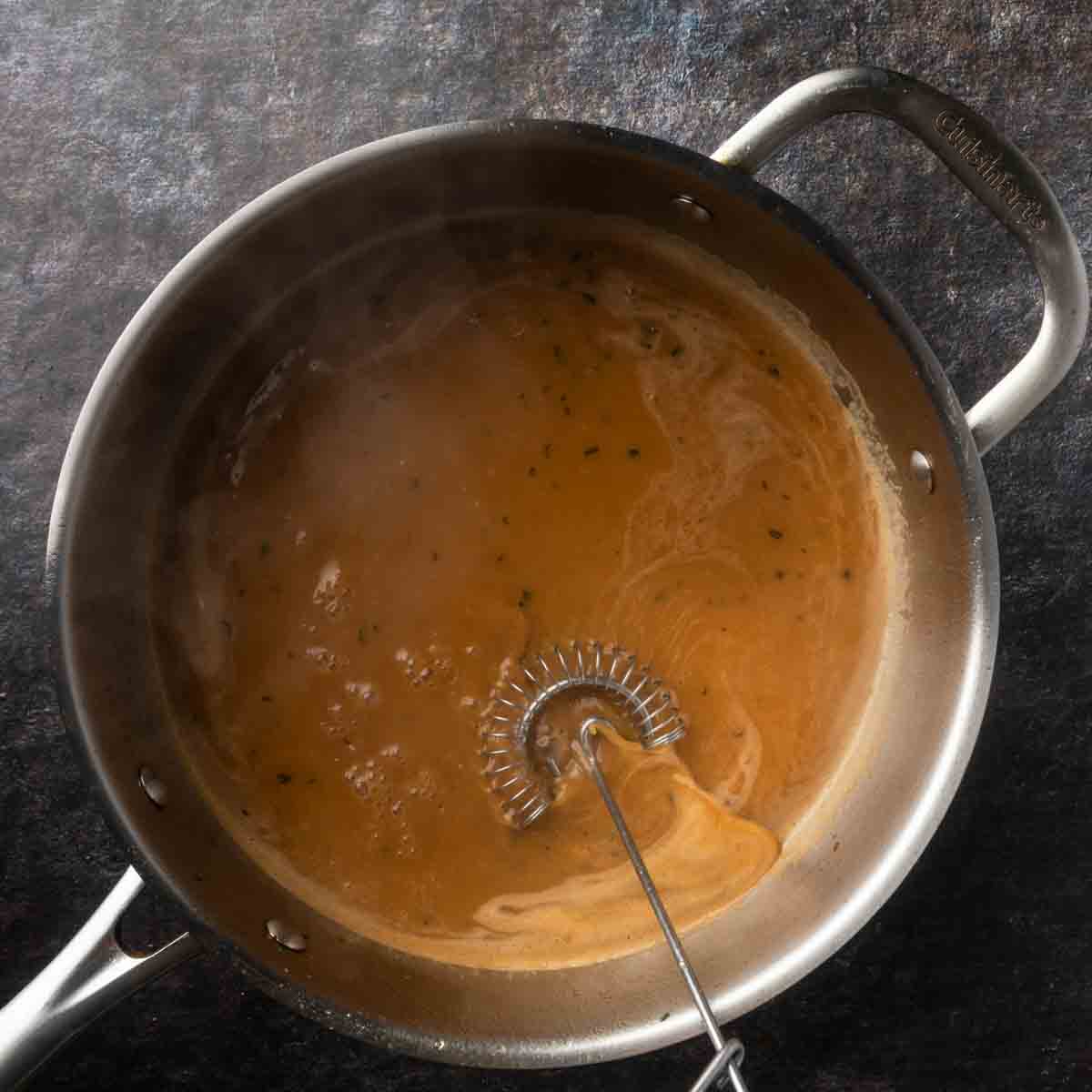 Pro Tip: Season after Simmering - Always wait until the sauce has simmered and reduced to adjust the seasoning. The amount of salt needed will vary depending on if you used salted or unsalted butter, and how salty your pasta water is. A thicker, more reduced sauce will taste saltier than a thinner sauce.
Using a spider straining tool, transfer the cooked pasta directly into the sauce. Cook over medium-low to medium heat for a few minutes, stirring constantly, until the sauce has thickened and is clinging to the pasta. Remember, the sauce still needs to be a little bit loose - the pasta will continue to absorb the sauce and it will continue to thicken slightly as it is served. For the best results, serve the pasta in warmed bowls.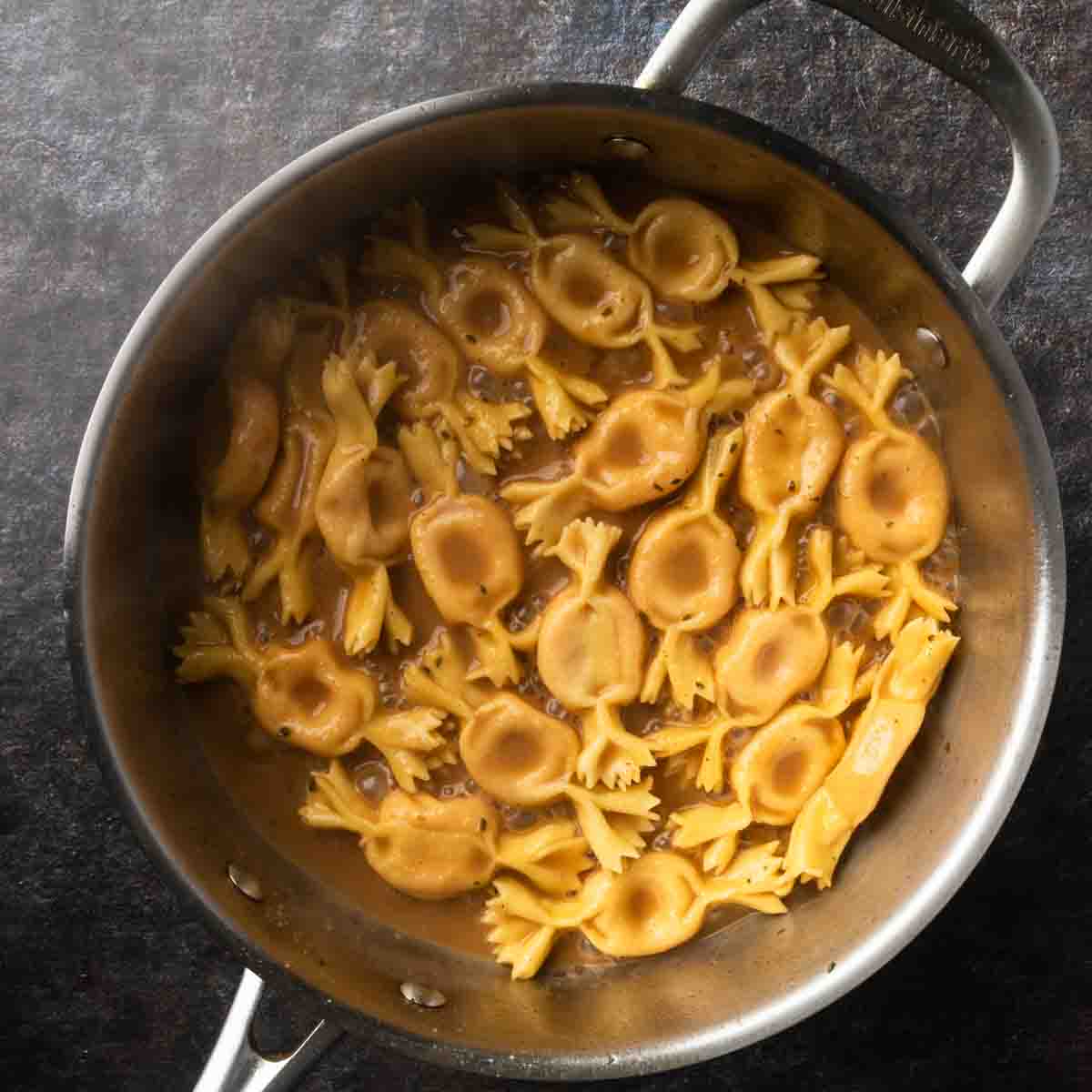 Serving Suggestions
This sauce is perfect for pairing with ravioli and other stuffed pasta dishes. With a store-bought ravioli, it makes for a really quick and simple weeknight dinner recipe. To make your own ravioli, check out our easy tutorial. Here, we demonstrate 5 easy methods to make ravioli either with our easy homemade pasta dough recipe or with store-bought wonton wrappers.
The brown butter and balsamic flavors go especially well with pastas stuffed with pumpkin, squash or sweet potato. It's our go to sauce for our handmade sweet potato caramelle (candy shaped pasta) recipe.
I also love this sauce tossed with noodles and it makes for a quick and yummy side dish with some egg noodles and grated Parmesan cheese.
Pasta Toppings
To complete the dish and make it look like a snazzy restaurant entree - you have many options. You can finish it simply with a few thyme leaves and shaved Parmesan. For a little texture, you can use some toasted breadcrumbs with sage and/or a sprinkle of crushed and toasted pecans, walnuts or hazelnuts.

When using this sauce with a naturally sweet pasta filling, like pumpkin or sweet potato, I like to top the dish with a few pieces of salty bacon, pancetta or crispy prosciutto. (Cook the meat in the pan first, draining any excessive fats, to add a bit of extra flavor to the sauce.) Mamma Mia!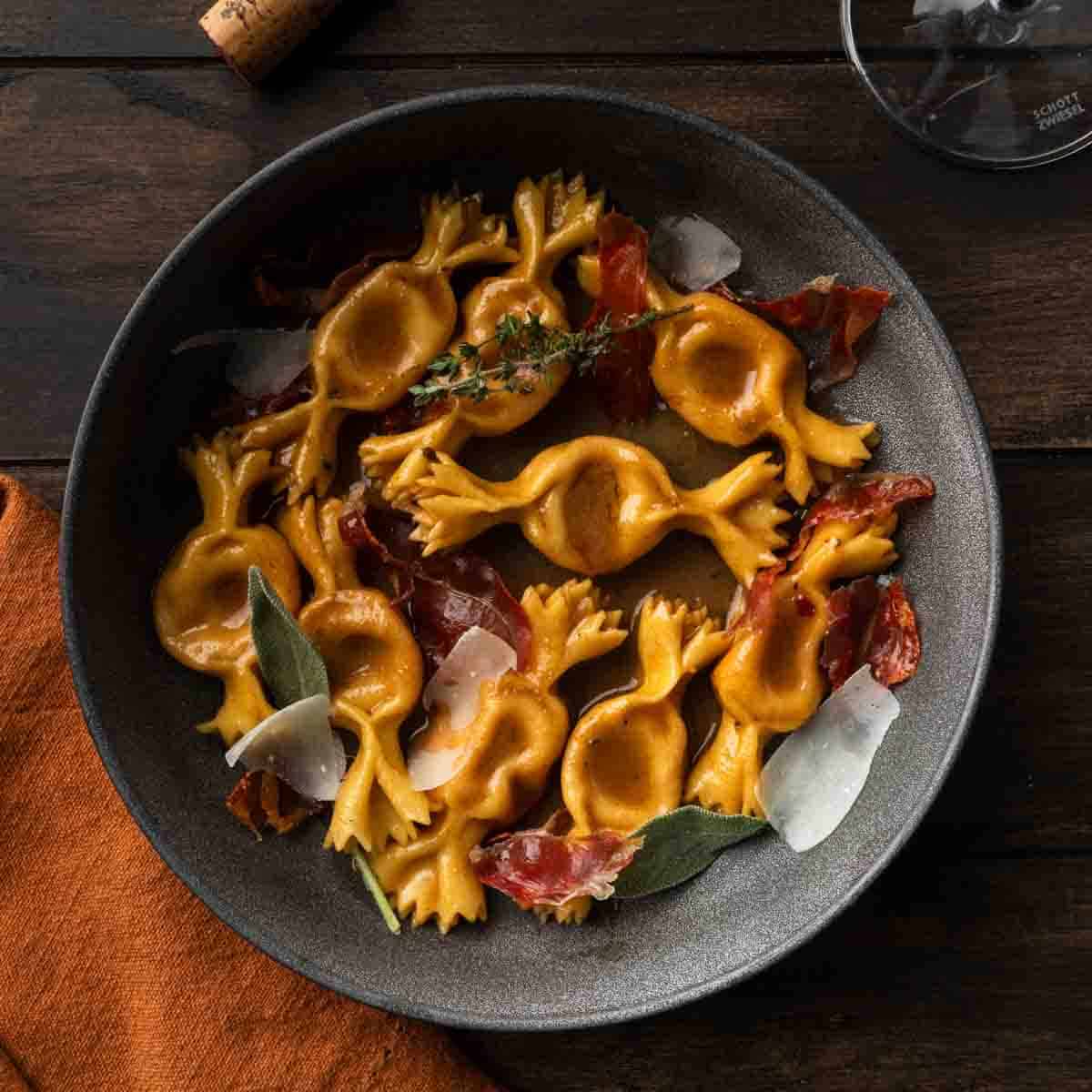 Making Ahead & Storing
To make this sauce ahead of time I recommend bringing it to the stage where you whisk in the balsamic vinegar. Transfer the brown butter and vinegar (with herbs, if using) to an airtight container. Allow to cool at room temperature, cover and refrigerate for up to 2 weeks.
When ready to serve, melt the sauce over medium-low heat. Bring to a simmer and finish the cooking process, as written, with starchy pasta water (or stock). While simmering, whisk vigorously until the sauce comes together.
Frequently Asked Questions
Can this sauce be made gluten free?
Yes. As written this sauce contains some gluten from the starchy pasta water. To prepare this sauce gluten free, substitute the starchy pasta water for vegetable of chicken stock. Cook over a low simmer and thicken with a corn starch slurry, as desired.
Why did my sauce break?
This style of butter sauce is an emulsion. An emulsion can "break" (a separation of the fats and liquids) for several reasons. The most common reasons are adding the liquid too quickly, not whisking or stirring enough or cooking at too hot of a temperature.
How do I fix a broken butter sauce?
If your sauce is broken, return the pan to a low and gentle simmer. Vigorously whisk the sauce until it begins to come together. If the sauce is very thin, you may need to add a touch more butter. If the saucy is clumpy and thick, you may need to add a touch more pasta water. The ideal ratio for a butter sauce is about 1:1 fat to liquid.
You May Also Like...
Check out our entire collection of pasta recipes for handmade shapes, sauces and complete dishes.
Recipe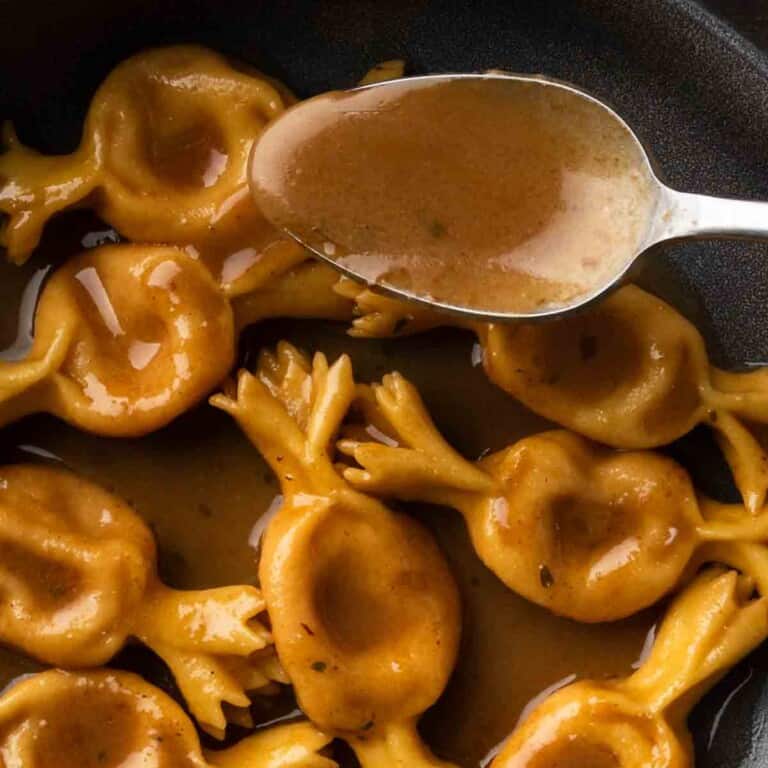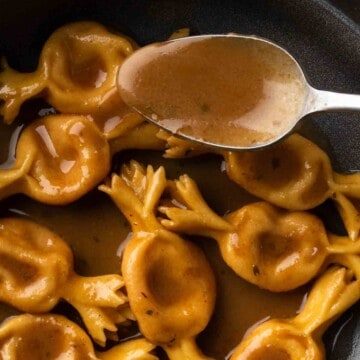 Balsamic Brown Butter (Pasta Sauce)
This simple sauce is perfect for serving with ravioli and other yummy pasta dishes.
ADJUST SERVINGS
Special Equipment
Sauce Whisk

((or Flat Whisk))
Ingredients
8

Tablespoons

butter

(1 stick)

cut into Tablespoon pieces

3

springs

fresh thyme and/or sage

2

Tablespoons

balsamic vinegar

½ - ¾

Cup

starchy pasta water

as needed (See Notes: a. & b.)

fine kosher salt*

to taste

Freshly-ground black pepper

to taste
Instructions
In a lightly colored sauce pan, melt the butter over medium heat. Stir often. The butter will seperate into milk solids and butter fat. At first the butter will be foamy, then boil (be careful, the butter may spit out of the pan), and finally begin to caramelize as the foam subsides. (If the butter begins to boil rapidly, reduce heat to simmer).

Add the sage and/or thyme. Watch closely, stirring often until the milk solids (white specks) begin to caramelize (about 5 - 10 minutes). Continue stirring until the butter is brown, nutty and very aromatic. Remove from heat immediately to avoid burning.

Carefully whisk in the balsamic vinegar. Set aside while you prepare the pasta.

When ready to serve, return the sauce to a low to medium-low heat and bring to a gentle simmer. While whisking vigorously, slowly stream in the starchy pasta water. Continue to simmer and whisk for 1 - 2 minutes until the sauce comes together into a thick silky emulsion. Season with salt and black pepper, to taste. Remove the herbs and discard.

If serving with pasta: Add the cooked pasta directly to the sauce pan. Continue cooking on low heat, stirring constantly, for 1 - 2 minutes until the sauce has thickened and is clinging to pasta. Serve immediately in warm bowls.
Notes
a. This sauce is naturally thickened by starchy pasta water. I find that pasta water is often not starchy enough (unless you're boiling several batches). To create a starchier water that will thicken the sauce better, I like to add 1 Tablespoon of semolina flour to my boiling pasta water. 
b. To prepare this sauce without pasta water, substitute the water for vegetable or chicken stock. Allow the sauce to simmer until thickened and/or thicken the sauce with a cornstarch slurry. This version is gluten free and lovely on roasted vegetables. 
* A Note About Salt
Unless otherwise noted, all recipes on The Sage Apron are developed using Diamond Crystal Kosher salt. It is a great all-purpose salt for cooking and baking. If using table salt, reduce quantities by about half.
Nutrition
Calories:
423
kcal
|
Carbohydrates:
3
g
|
Protein:
1
g
|
Fat:
46
g
|
Saturated Fat:
29
g
|
Polyunsaturated Fat:
2
g
|
Monounsaturated Fat:
12
g
|
Trans Fat:
2
g
|
Cholesterol:
122
mg
|
Sodium:
372
mg
|
Potassium:
41
mg
|
Fiber:
0.2
g
|
Sugar:
2
g
|
Vitamin A:
1491
IU
|
Vitamin C:
2
mg
|
Calcium:
26
mg
|
Iron:
0.4
mg