This classic ravioli recipe features four Italian cheeses enveloped in silky, homemade pasta dough! It's a simply delicious recipe that pairs well with all of your favorite pasta sauces!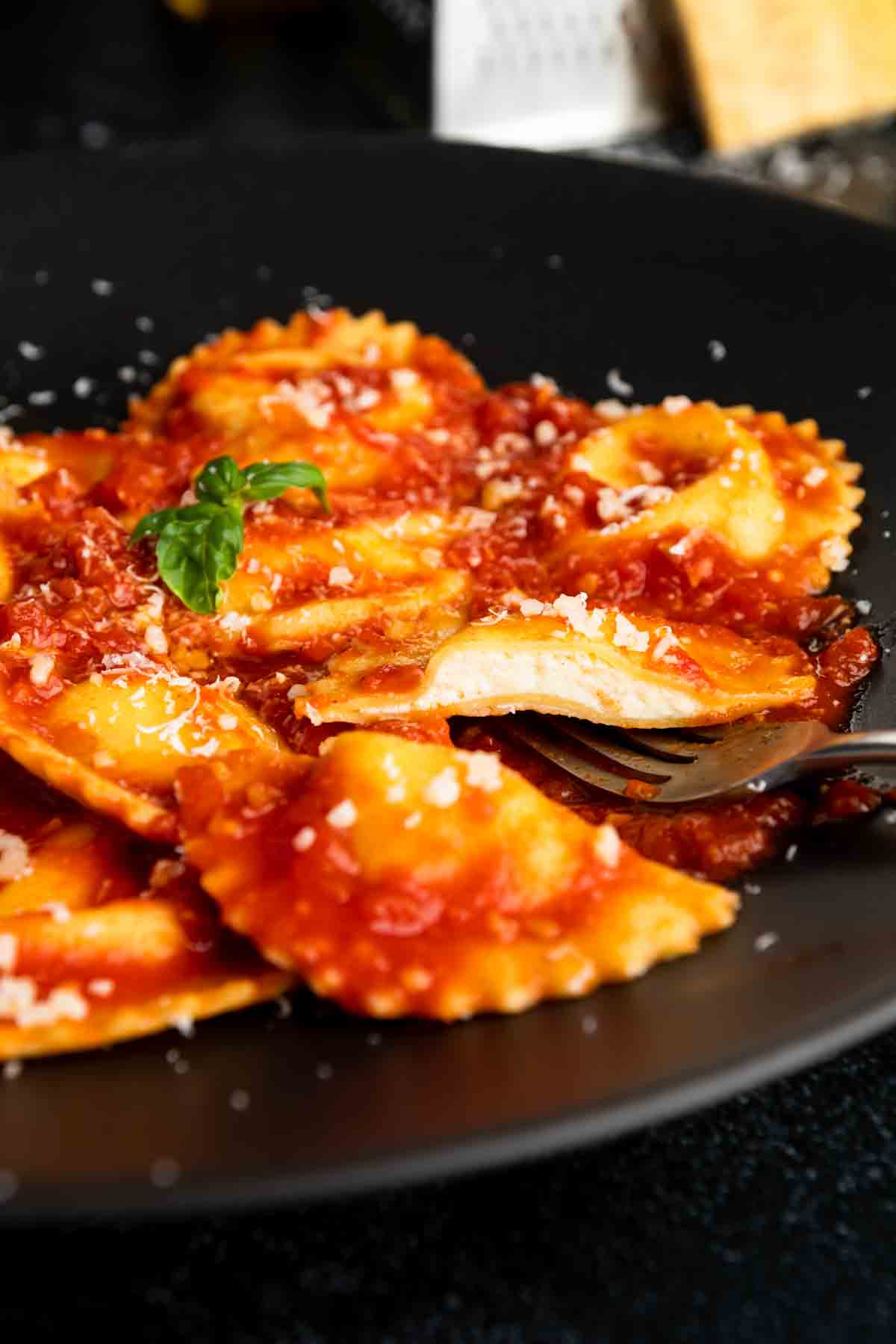 Homemade ravioli are so delicious and fun to make! In this post we demonstrate making ravioli with a ravioli stamp tool. However, this recipe can be used to make ravioli using several different methods. Check out our complete How To Make Ravioli tutorial for five different ways to make ravioli (including the easy wonton wrapper method).
This recipe is made using our foolproof Homemade Semolina Pasta Dough. We even made our own homemade ricotta cheese (but store-bought is fine, too!).

Italian cheese ravioli can be delicious is all sorts of sauces. As pictured, we recommend serving this recipe with our quick San Marzano Tomato Sauce recipe.
Ingredients
Four cheese ravioli is as simple as it sounds! Here's what you need: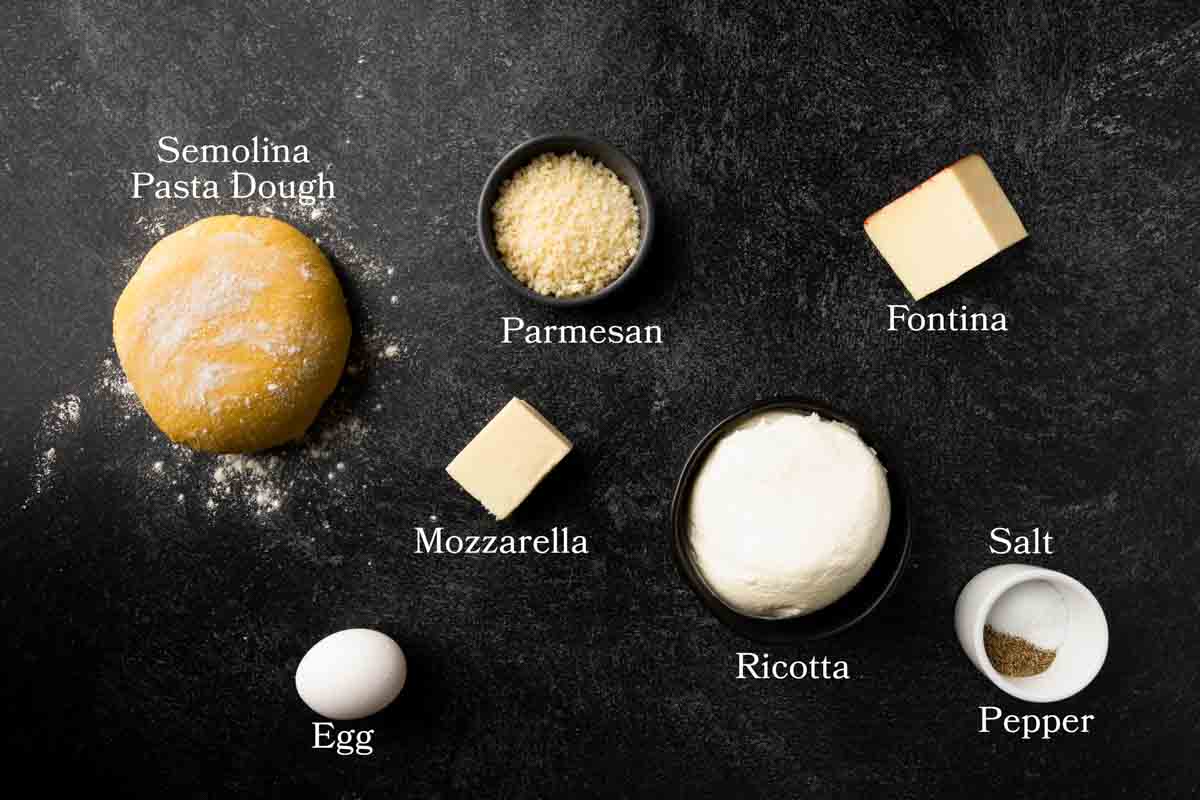 Semolina Pasta Dough
Semolina Flour
Bread Flour
Whole Egg
Egg Yolks
Water
Four Cheese Farce (Ravioli Filling)
Whole Milk Ricotta (You can make our homemade ricotta with just 3 ingredients.)
Whole Milk Mozzarella
Fontina
Parmesan
Whole Egg
Salt & Pepper
How To Make This Recipe
Four cheese ravioli are made in three major steps. I recommend making the pasta dough first. As the dough rests, you can prepare the ravioli filling, called farce.
After your dough and filling is made, it is time to shape the ravioli! There are SEVERAL ways that you can make homemade ravioli. As demonstrated, I am using the Ravioli Stamp Method.
If you don't have a ravioli stamp, or want to explore other ways of making fresh ravioli at home, be sure to check out my complete ravioli making guide.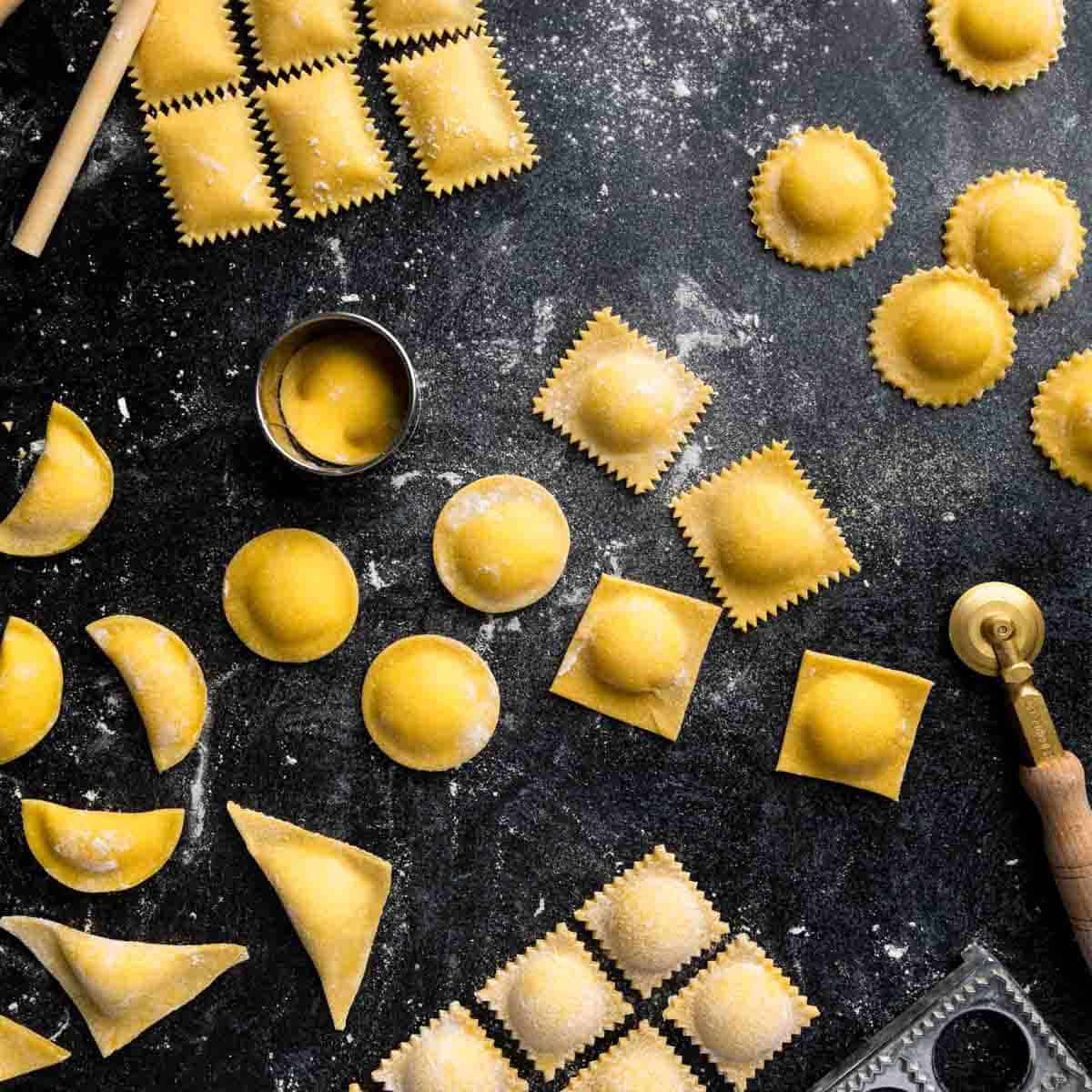 Homemade Pasta Dough
The key to successful ravioli that don't tear or burst is the proper type of pasta dough. My multi-purpose recipe for pasta dough works great for cut noodles and filled pastas alike.
If you are new to making pasta, I recommend checking out my full Homemade Semolina Pasta Dough post for more detailed instructions, tips and tricks.
How To Make Ravioli Pasta Dough
1. To make homemade semolina pasta dough, start by combining equal parts of semolina and bread (or all-purpose flour). Create a well in the center of the flour and add the whole egg, egg yolks and 1 Tablespoon of water.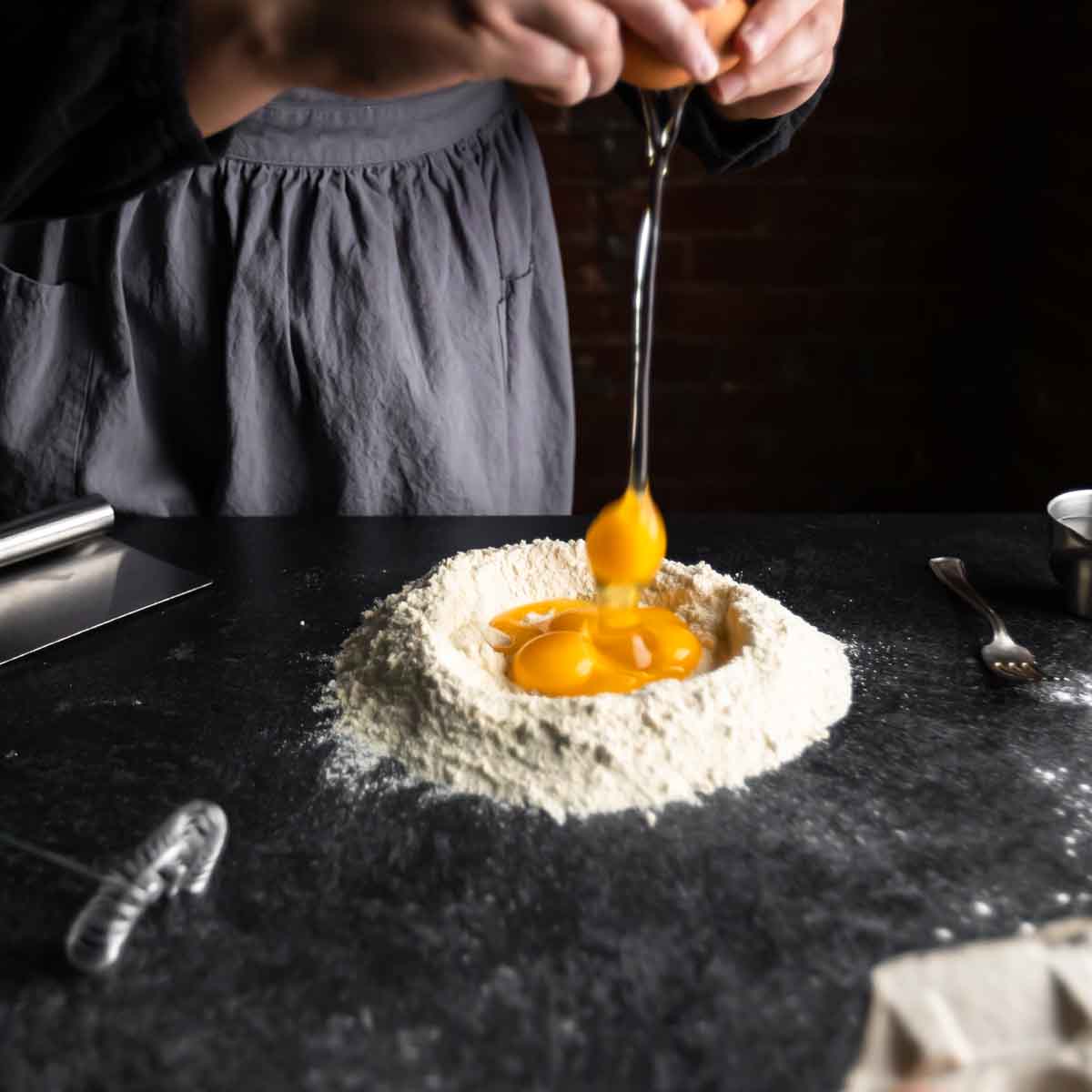 2. Then, use a fork to whisk the eggs into the flour creating a smooth paste in the center of the well. As the dough stiffens, switch to using a bench scraper to combine and chop the shaggy dough together. Add additional water, a little at a time, until all of the flour can be incorporated.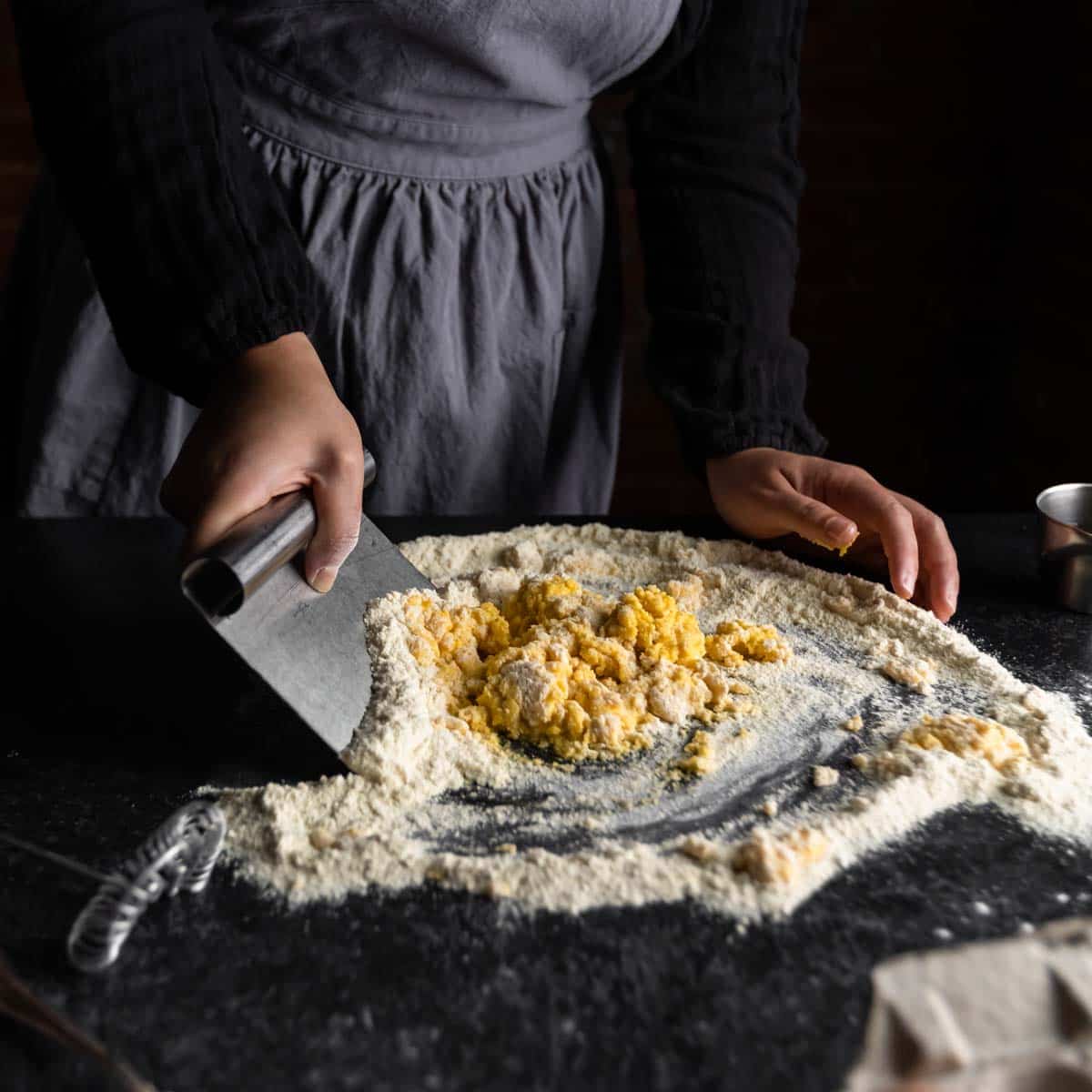 3. Knead the dough together with your hands until homogenous and elastic. Then, shape the dough into a ball.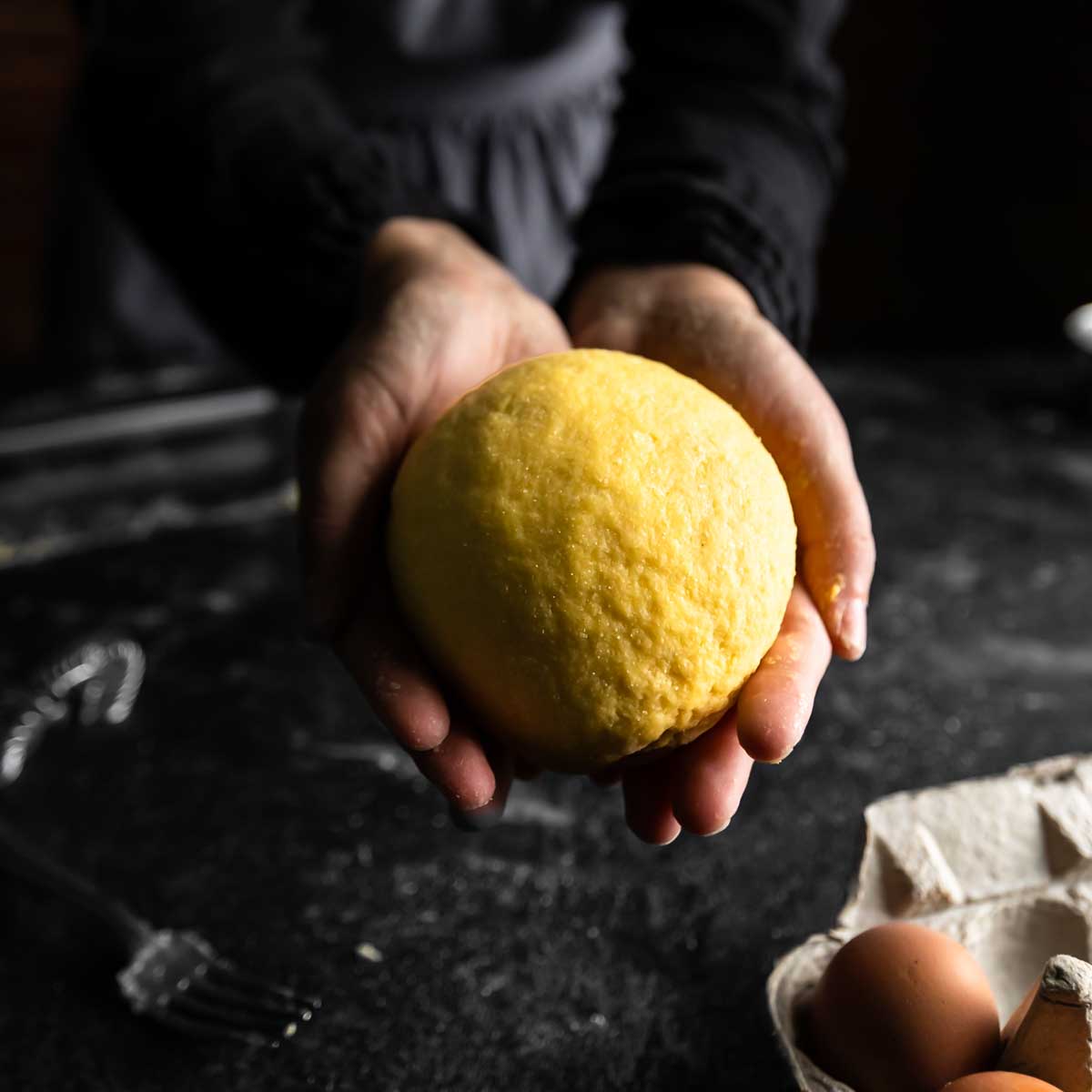 4. Cover the dough with a damp kitchen towel (or plastic wrap. Allow the pasta dough to rest for 30, or more, minutes. After resting, the dough is ready to be sheeted. In the meantime, make the four cheese ravioli filling.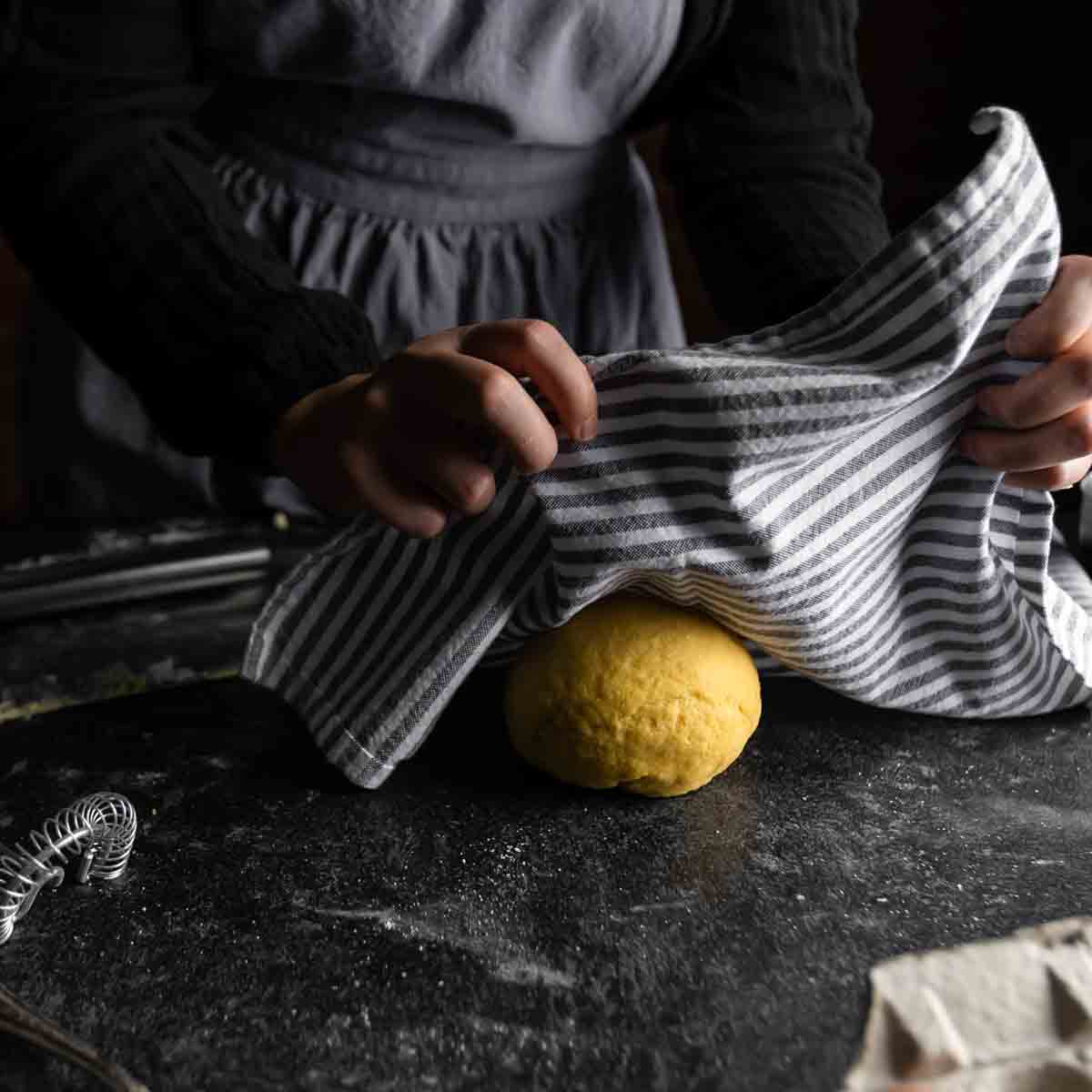 Can I Make This Recipe with Wonton Wrappers?
Sure! While I HIGHLY recommend making your own fresh pasta - really, nothing beats it - you don't have to. If you'd like, you can skip the fuss and use pre-made wonton wrappers. I usually find them in refrigerated section of my grocery store or local Asian markets.
To make four cheese ravioli using wonton wrappers, I recommend folding square wrappers on the diagonal to create triangular shaped ravioli. Circular wonton wrappers can be stacked with two pieces, or folded over to create mezzaluna (half moon shaped) ravioli.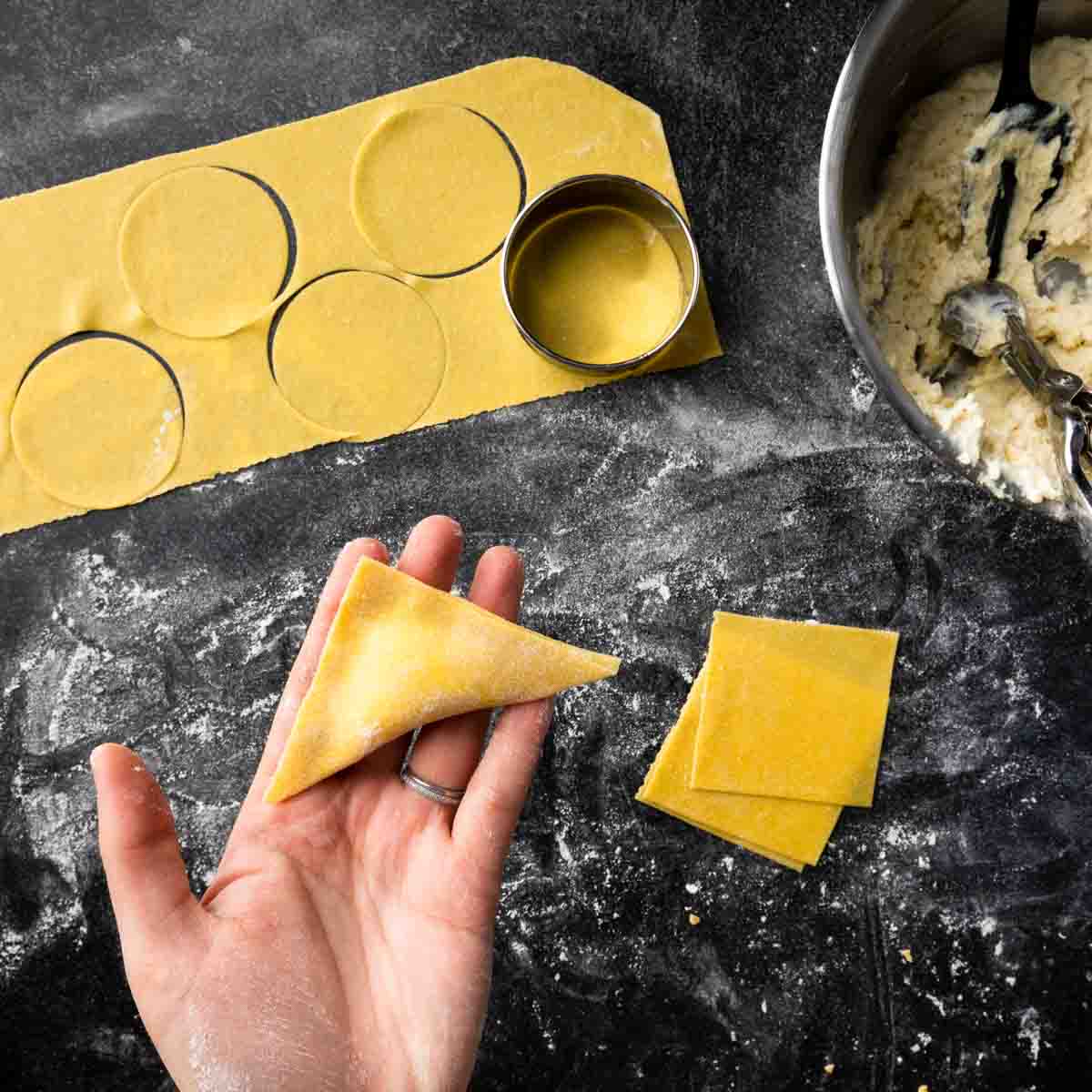 Four Cheese Farce
This four cheese ravioli filling is the perfect balance of creamy, melty and salty cheeses. The key to making this ravioli recipe successful is to make sure your filling is dry.
Since ricotta cheese can often contain excess liquids, I recommend straining the ricotta through cheesecloth or a fine mesh strainer for 20 - 30 minutes. You can let it strain while you make the dough. (If making our homemade ricotta recipe, I recommend chilling the cheese before making this filling.)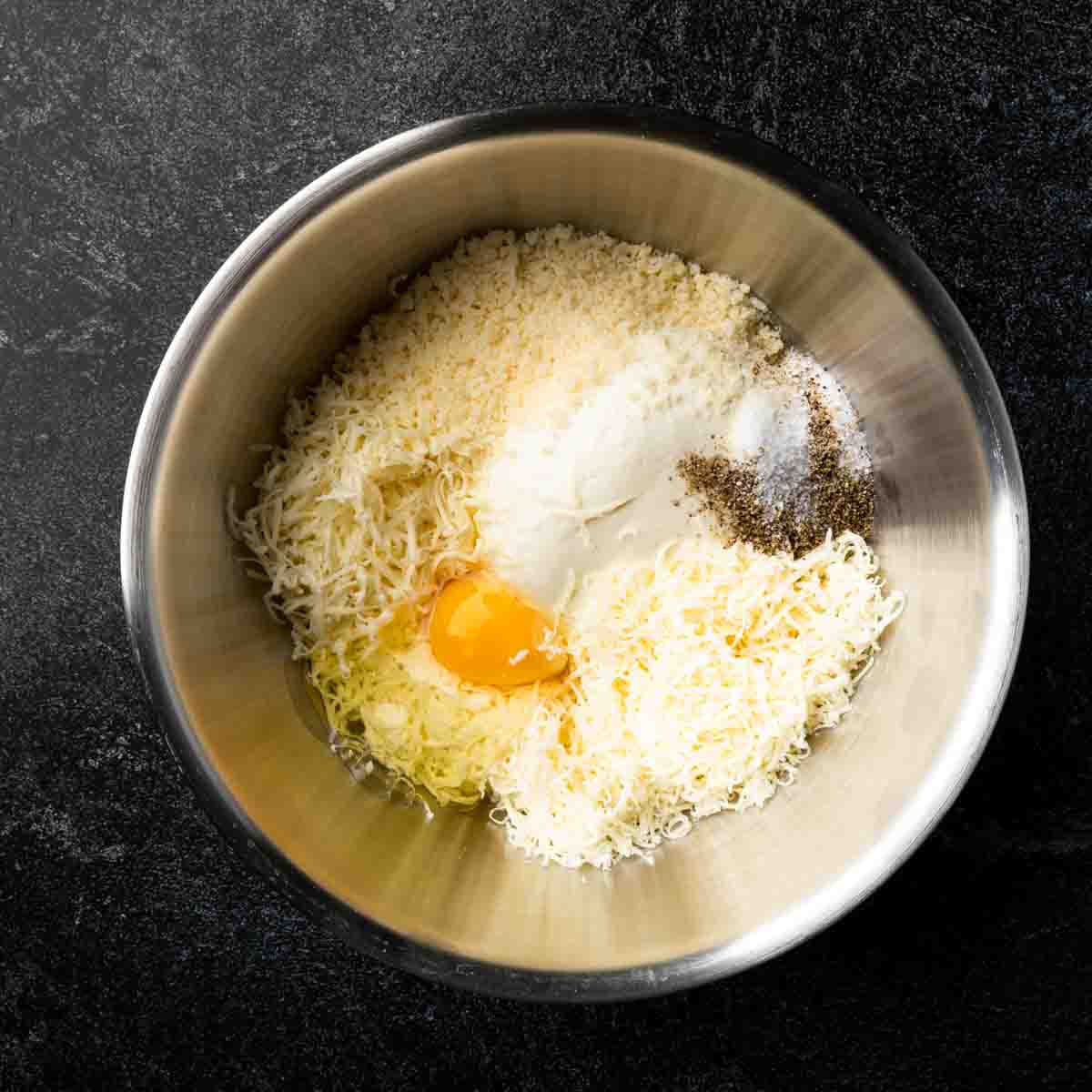 Combine the cheeses, a whole egg, salt and pepper in medium mixing bowl. Stir until well combined. You can use it immediately or let it chill in the refrigerator until you're ready to make ravioli. It is easier to shape ravioli when the filling is chilled.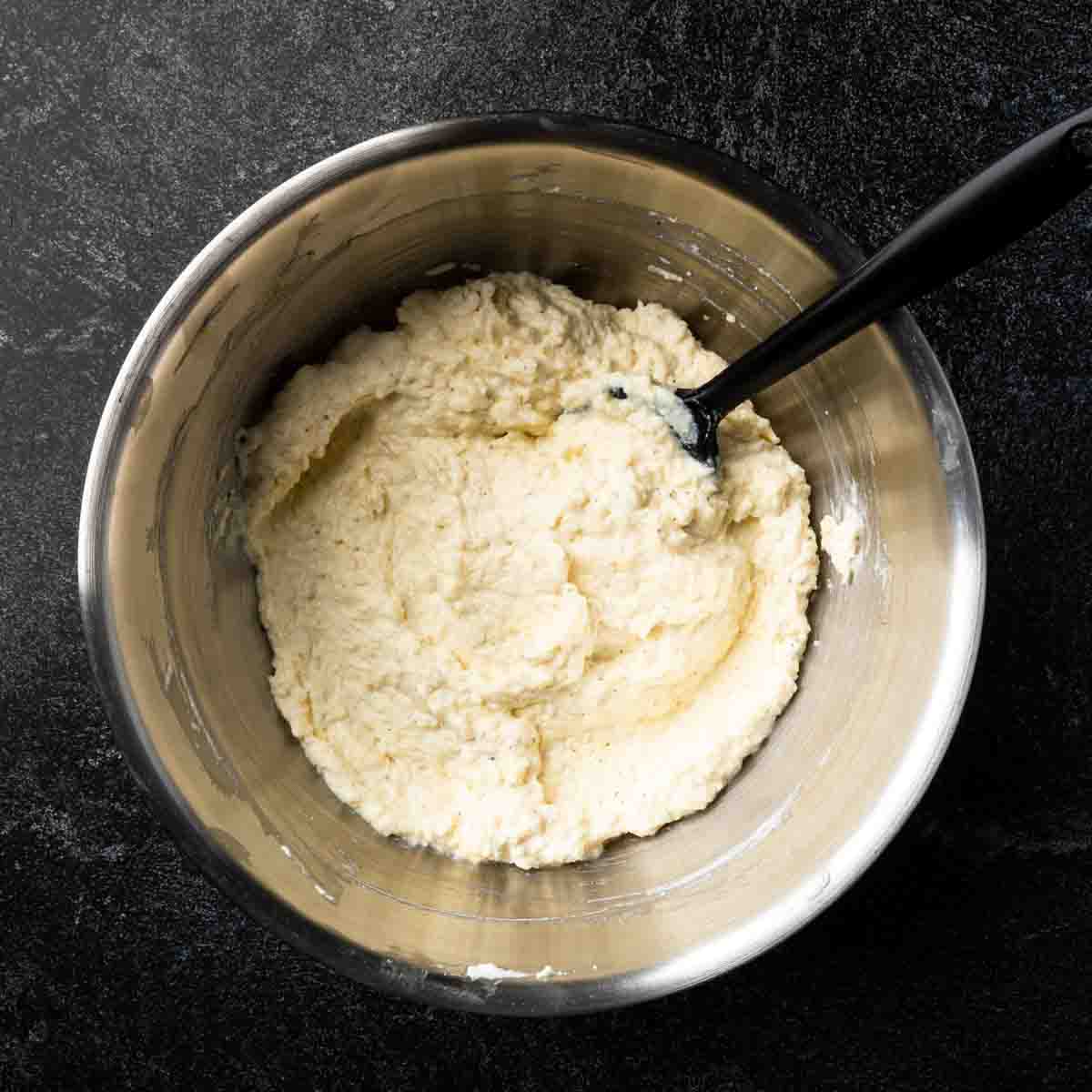 Shaping Handmade Ravioli
As I mentioned, there are many ways to make homemade ravioli. With this four cheese ravioli recipe, I used the ravioli stamp method. If you don't have a ravioli stamp, you can use a cookie cutter or check out the five methods demonstrated in my How To Make Italian Ravioli post.
How To Sheet Pasta Dough for Ravioli
1. First, use a bench scraper to divide the dough into 4 equal portions. It is easiest to roll and shape one quarter of the dough at a time. In the meantime, be sure to keep the remaining pieces of dough covered with plastic wrap or a damp kitchen towel to prevent drying.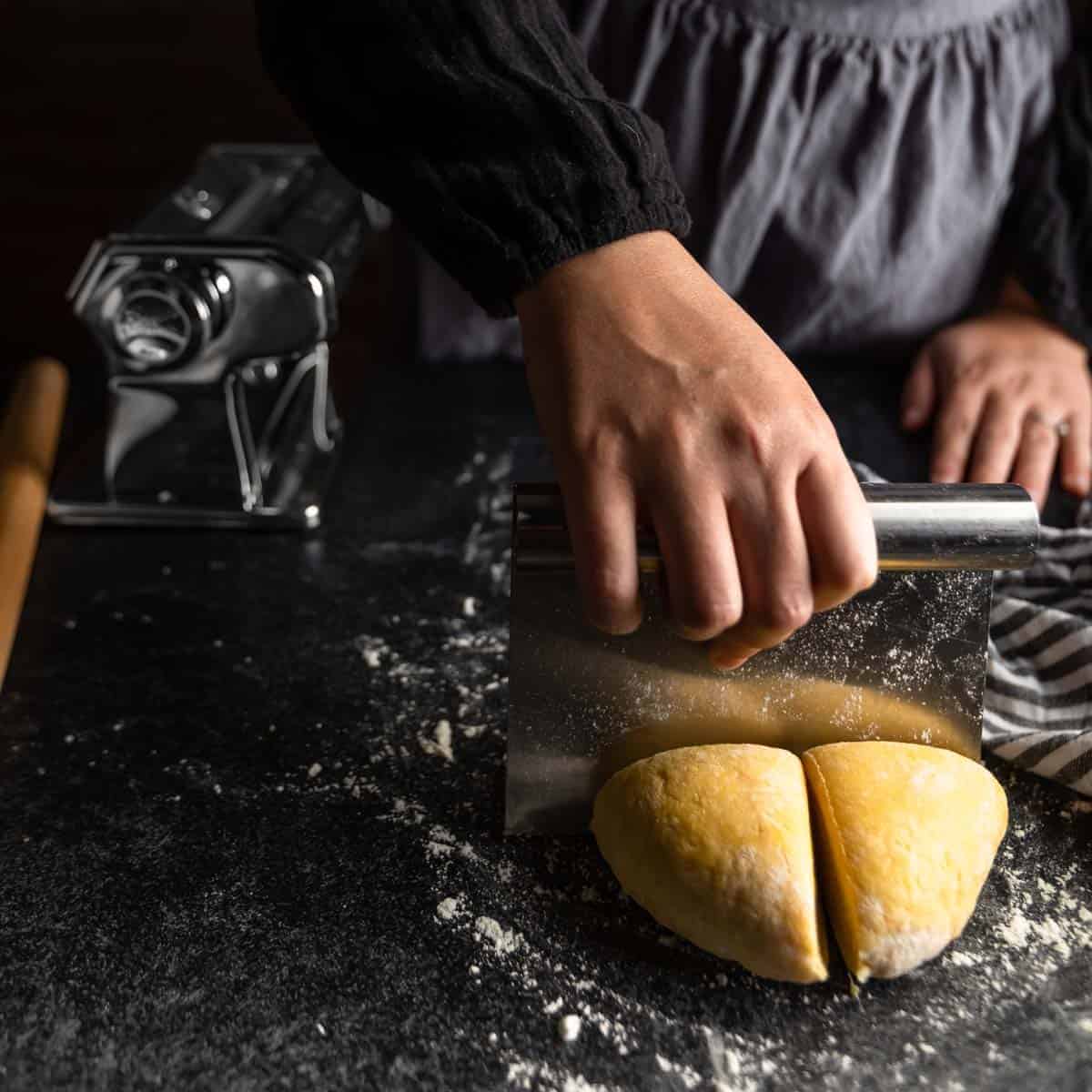 2. Roll the dough through the machine's widest setting. At this stage, your dough will likely be in a thick, elongated oval shape. Fold the dough in thirds over itself, like a pamphlet, and use the rolling pin to seal the dough. Roll the dough through the pasta machine's widest setting again, twice. Repeat this folding and rolling process two – three times.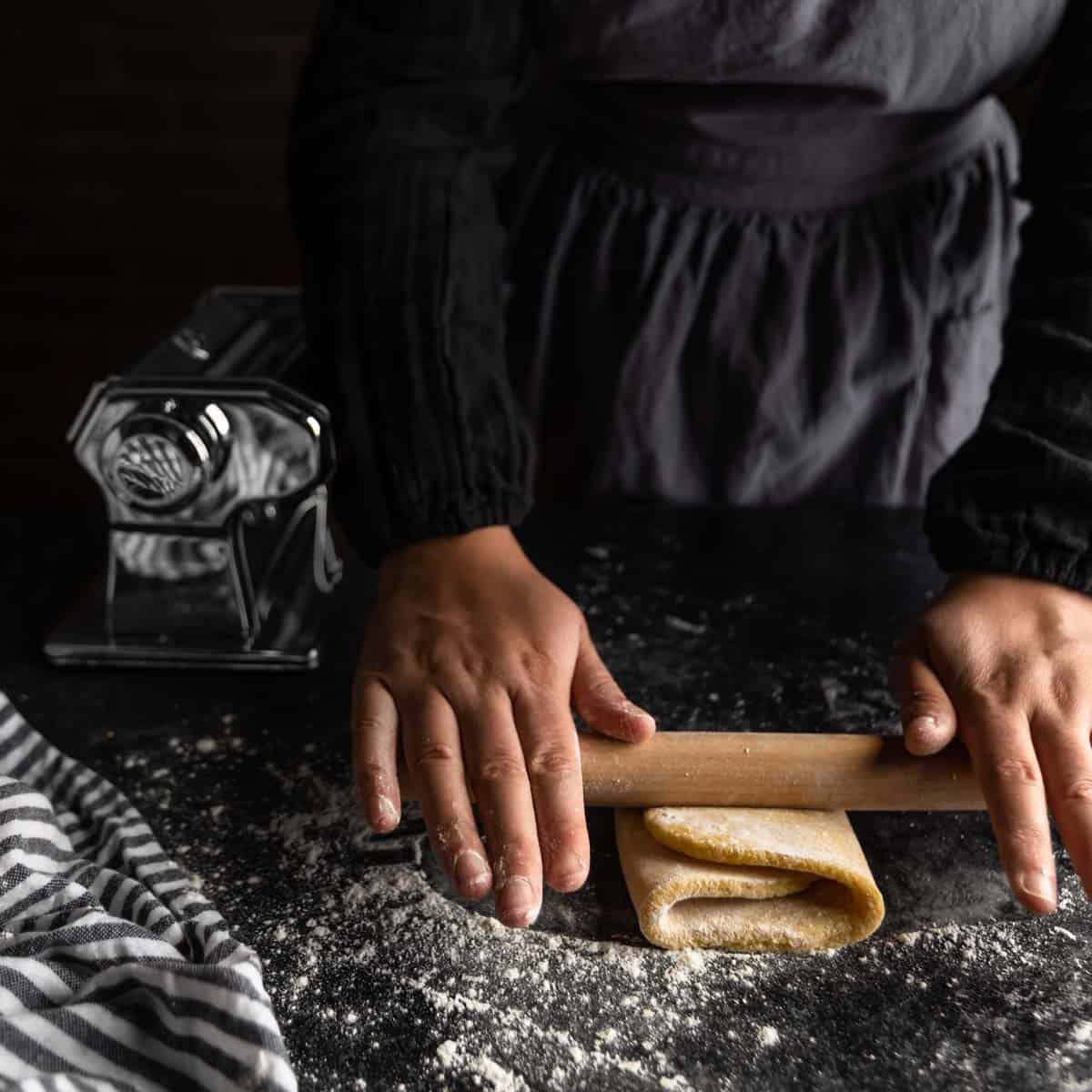 3. Once the dough has been folded and the rectangular shape has been achieved, you can roll your dough to one millimeter thick (slightly thicker than a credit card). Adjust the machine's thickness setting, one increment at a time.

I recommend rolling the dough through each setting twice. If at any point the dough seems to resist rolling, springs back or shrinks – allow the dough to rest (to relax the gluten), covered for ten, or so, minutes.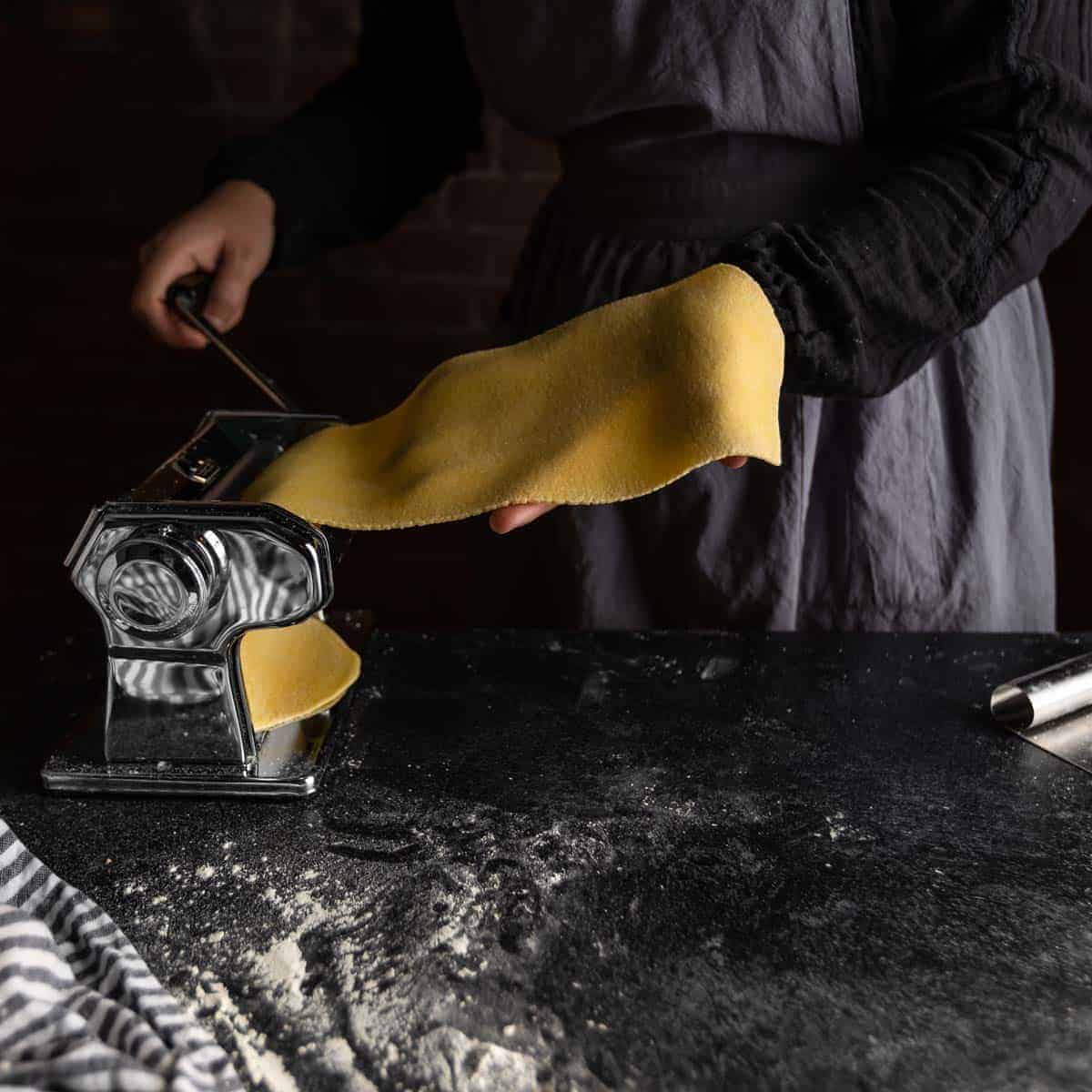 Pro Tip: Silky Sheets of Pasta - For the smoothest, silkiest sheets of pasta, I recommend rolling the dough to the thinnest setting. (Optional) Then, fold the dough back up and run it through the machine again, starting back at the thickest setting. Continue sheeting until desired setting is reached.
Ravioli Stamp (or Cookie Cutter) Method
1. First, lay one sheet of pasta dough down on a clean floured work surface. Use the ravioli stamp to lightly mark the dough. Be careful not to cut into the dough at all, just leave light indentations to help you visualize the spacing/ how much filling you will need.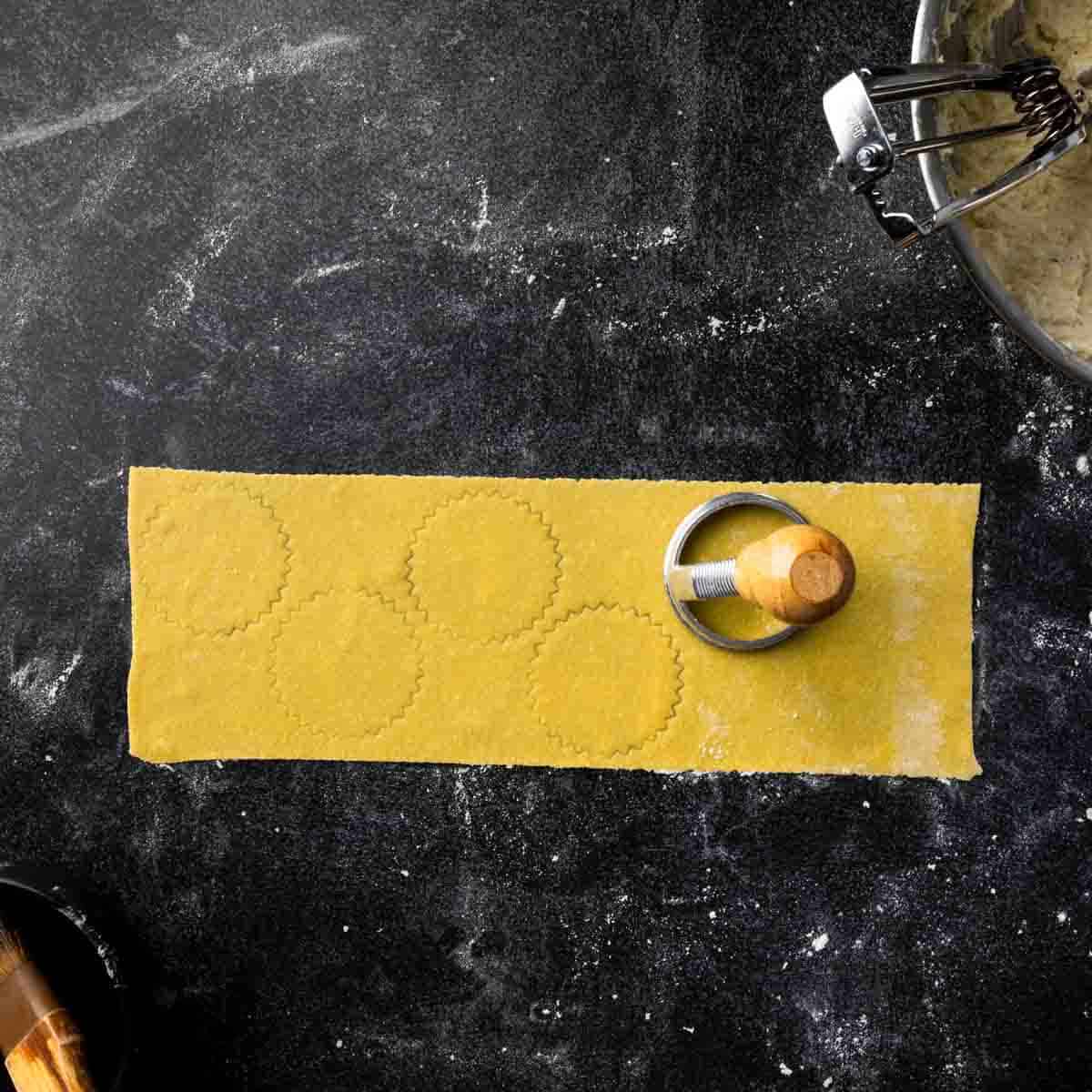 2. Then, with a lightly dampened pastry brush, moisten the dough around the indentations. Be cautious not to add too much additional moisture. Just a small amount is needed to help seal the edges.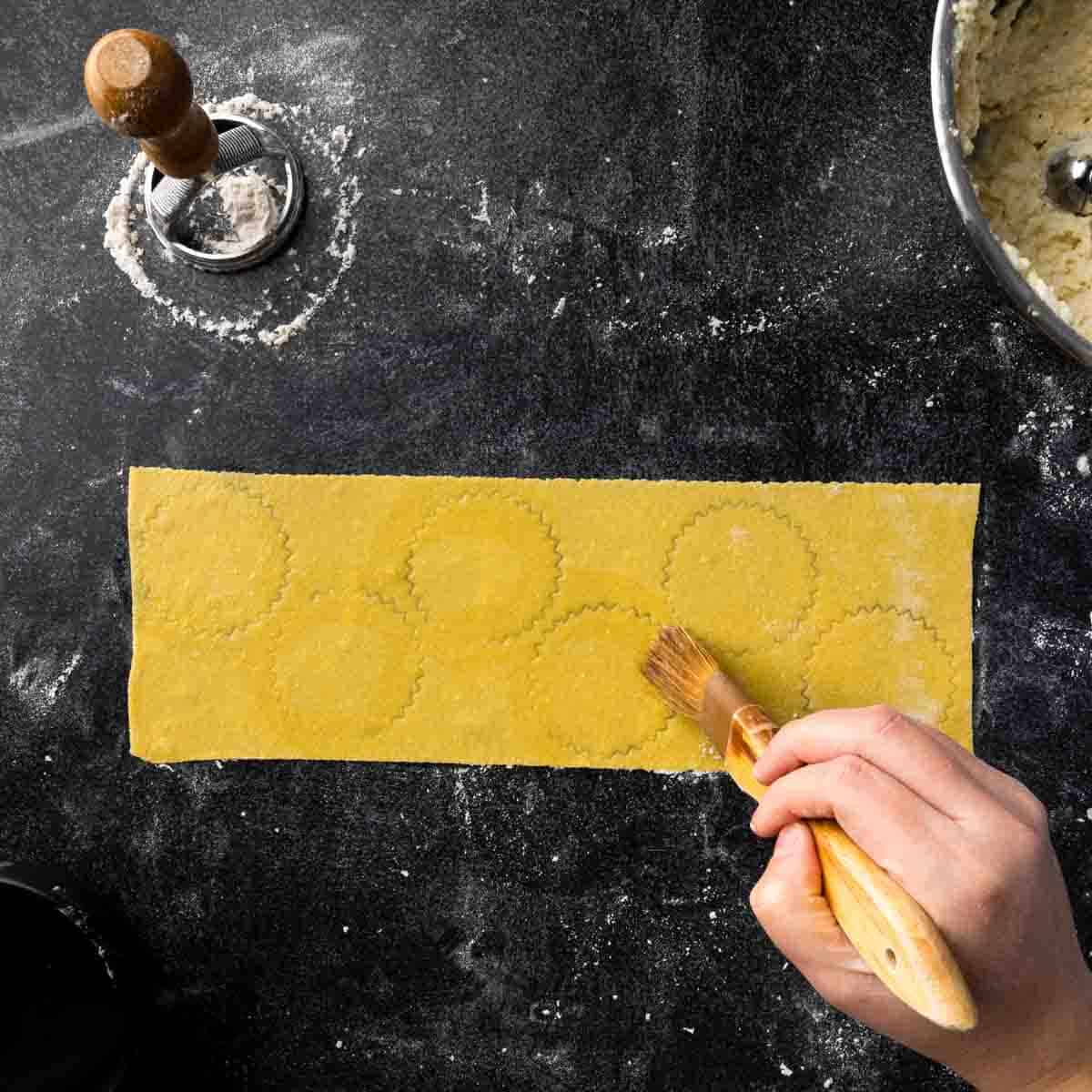 3. Scoop or pipe 1 Tablespoon mounds of four cheese filling into the center of each indentation.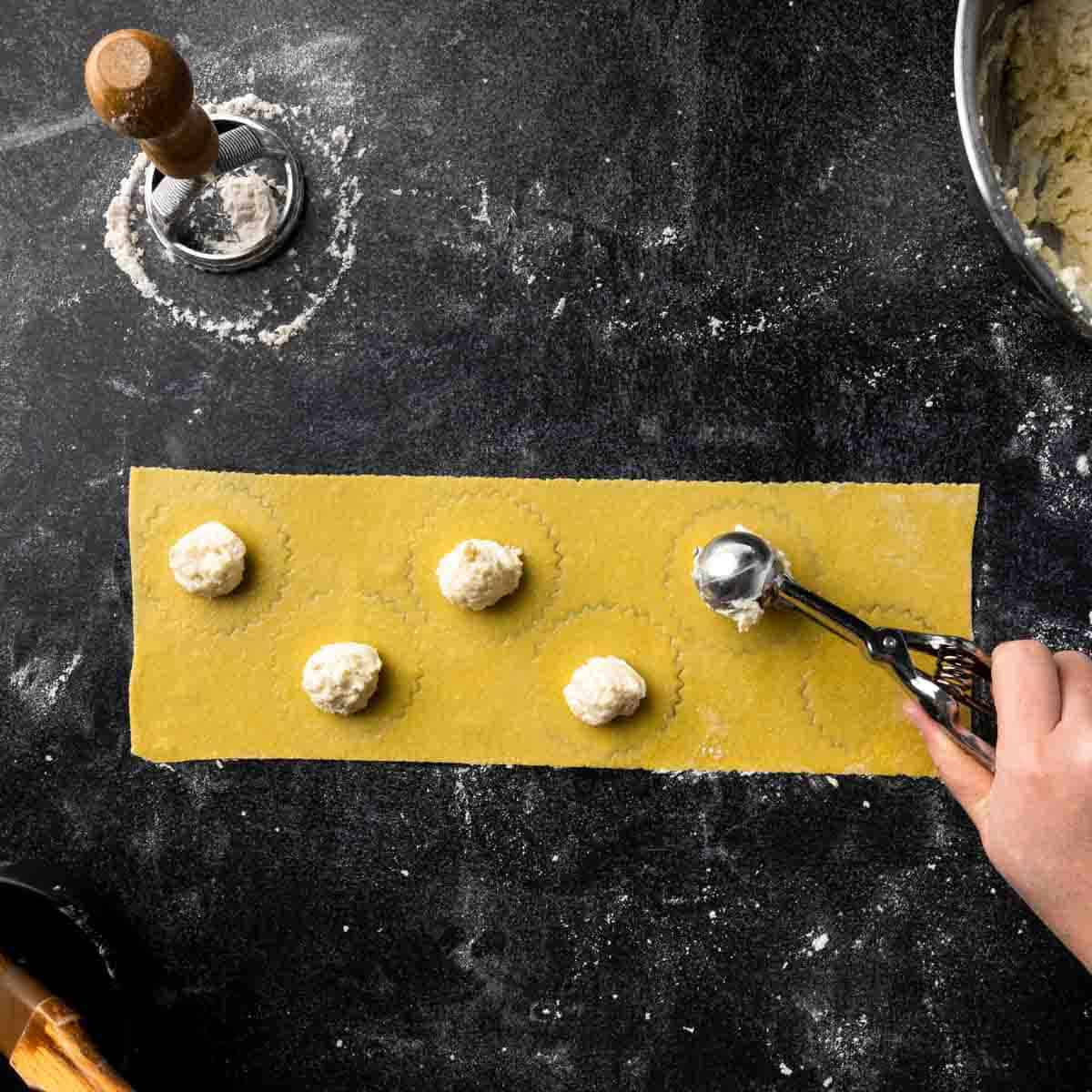 Pro Tip: For speed and portioning purposes, it is easiest to use a 1 Tablespoon cookie scoop and a circular ravioli stamp. If using a square, triangular or other ravioli stamp shape, I recommend using a piping bag and trying to mimic the shape of the ravioli with the filling. Either way, be careful to leave the edges clear of filling so create a good seal.
4. Next, lay a second sheet of pasta dough over the four cheese filling. Use dry, floured fingertips to seal the dough around the lumps of filling. Be careful to avoid air pockets.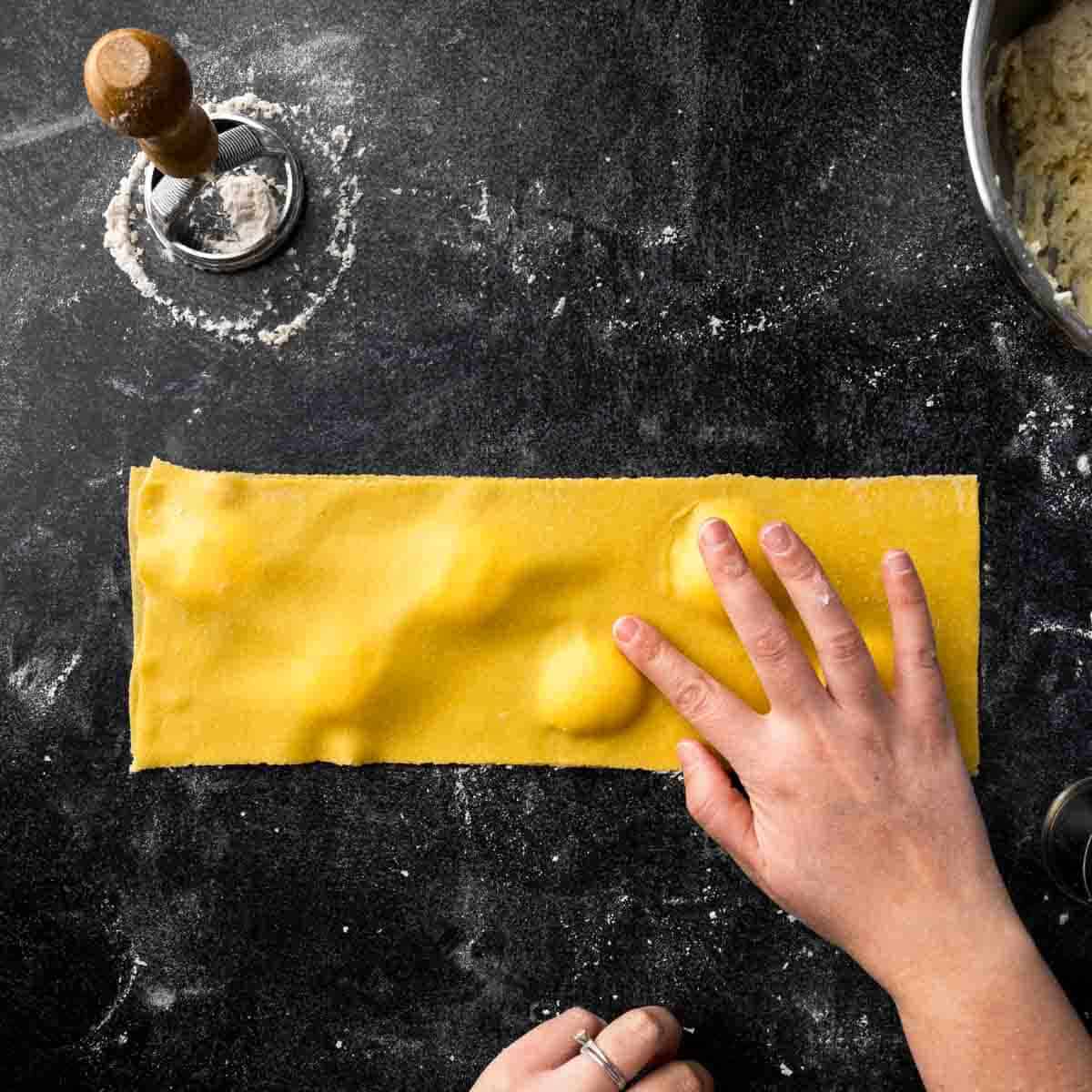 Optional: If desired, you can use the dull edge of a cookie cutter (or shot glass) to help shape the filling into a perfect circle. After sealing the dough together, use the floured tool in a gentle circular sweeping motion.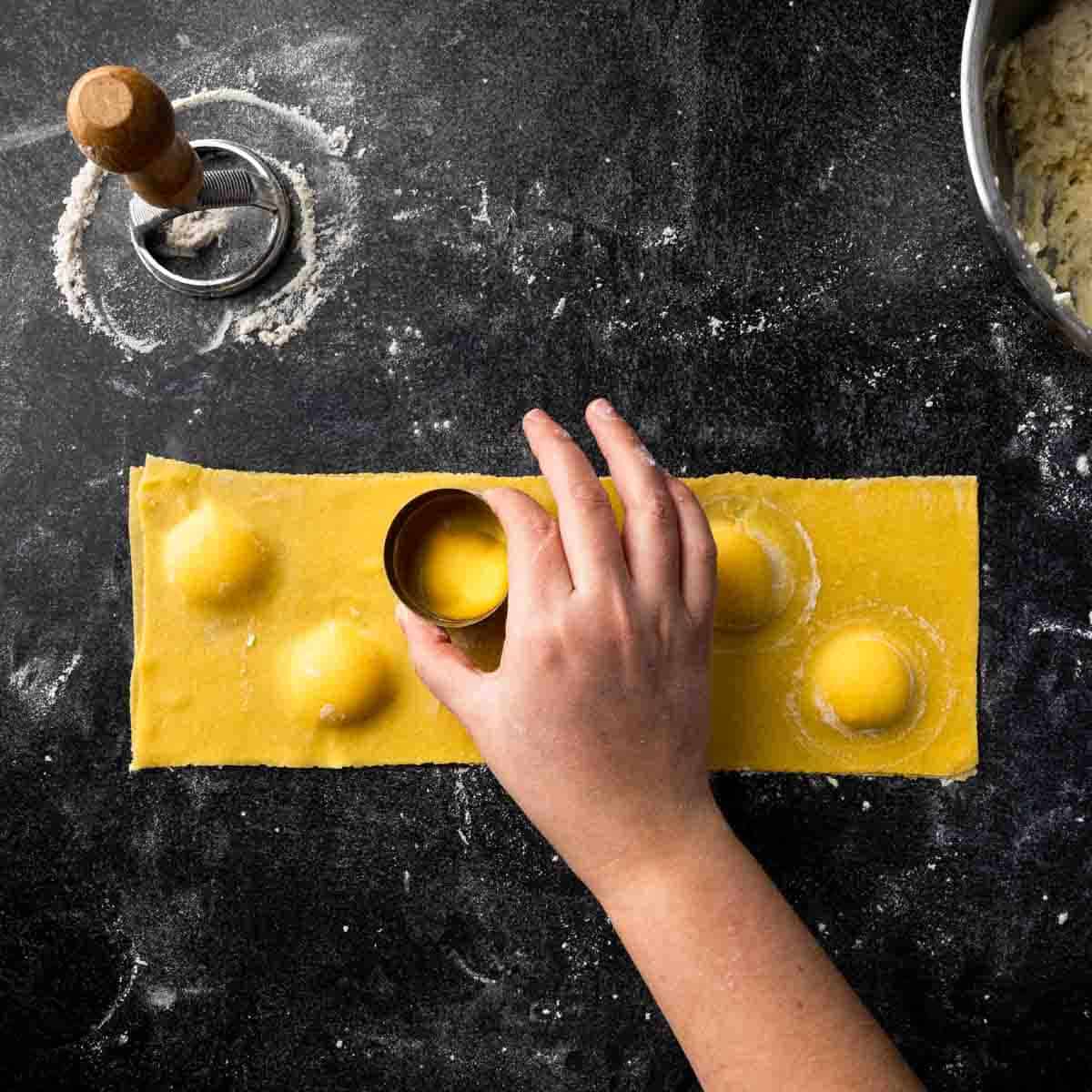 5. Dip the ravioli stamp in a bit of flour and punch out ravioli one by one. It helps to wiggle the stamp as you press, to help make sure it is cutting through the pasta at all edges. Flour the stamp (or cookie cutter), as necessary. Be sure to save all of the excess pasta scraps to re-roll into more sheets of pasta. Use your fingertips to ensure each ravioli is properly sealed.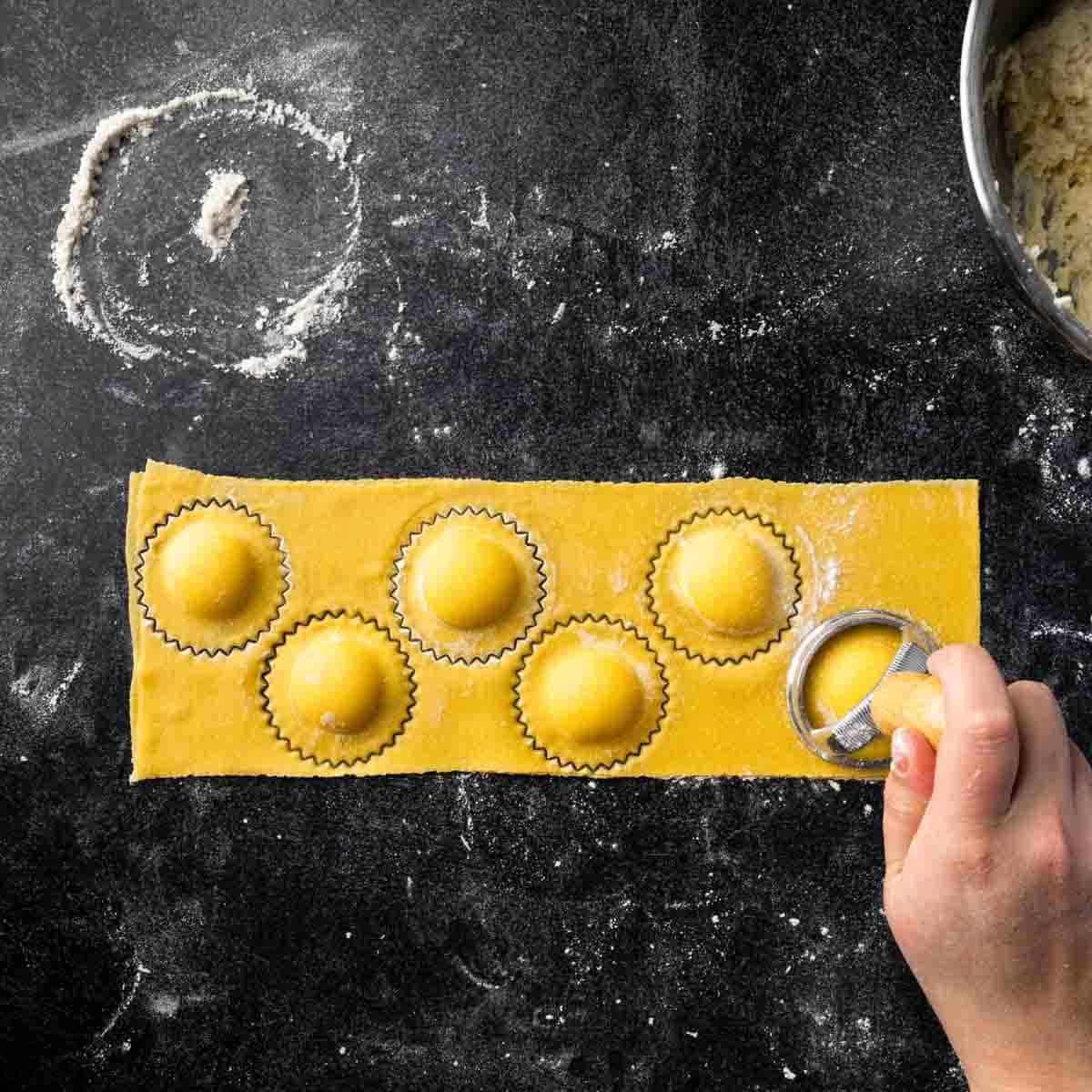 Does Fresh Ravioli Need To Be Dried?
No, not really, but it doesn't hurt. Fresh ravioli can be boiled immediately. However, since handmade ravioli takes time to make, your first batches of ravioli will inevitably have some time to dry.
Dry ravioli on a baking sheet dusted with semolina flour (or a mesh drying rack). After 20 - 30 minutes, flip the ravioli to allow the other side to dry, as well. Fully dried pasta may take a few additional minutes to boil.
How To Cook Ravioli
Bring a large pot of water to a rolling boil. Salt generously.
Drop ravioli into the water one at a time.
Boil for 6 - 8 minutes or until pasta is done to your liking.
Use a slotted spoon or spider utensil to gently remove ravioli from the water.
Sauce and serve immediately! Buon appetito!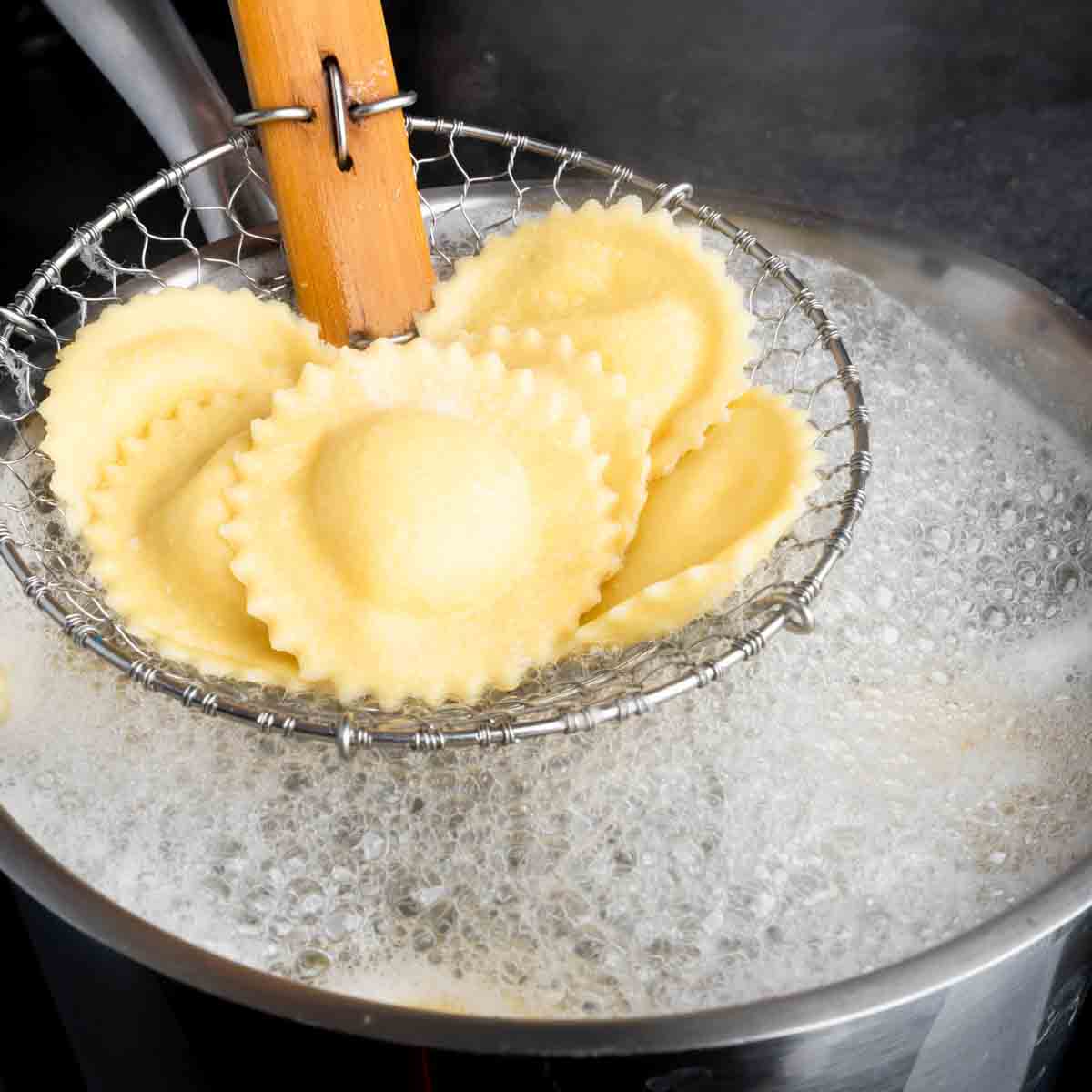 Can This Recipe Be Made Ahead of Time?
Yes! Four cheese ravioli can be made ahead of time and kept refrigerated for 2 - 3 days. Keep the ravioli in a single layer on the semolina dusted drying tray covered with a clean kitchen towel.
Homemade ravioli can also be frozen but the quality does deteriorate rather quickly. If freezing, I recommend transferring them to a sheet pan in the freezer as they are made, one at a time. Once completely frozen (overnight), the frozen ravioli can be transferred to a freezer safe bag. Ravioli can be frozen for up to 1 - 2 weeks.
To freeze for longer amounts of time, I suggest freezing the pasta dough and four cheese filling separately. Both the dough and the filling can be frozen for 2 - 3 months.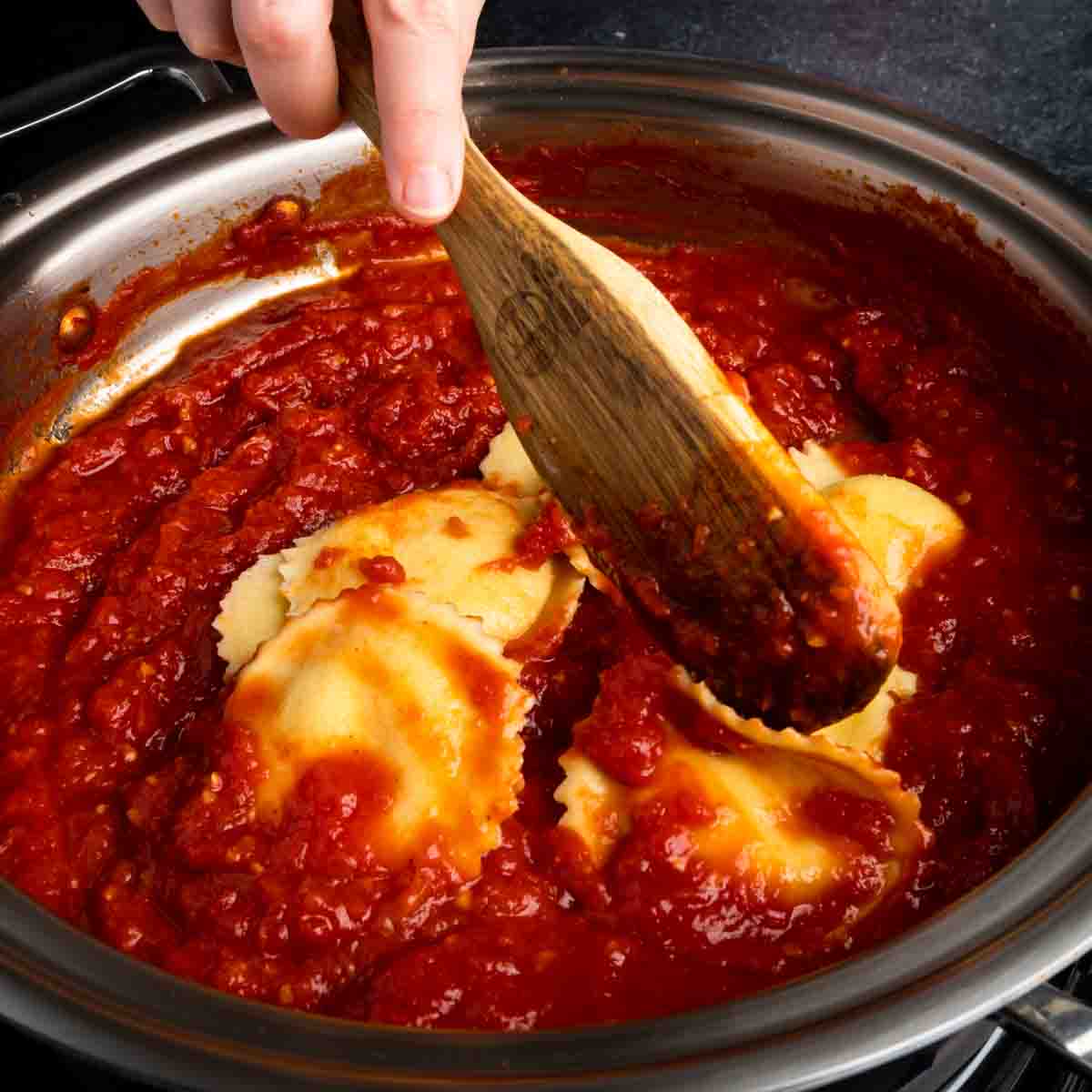 Sauce Suggestions
Four cheese ravioli goes wonderfully with most pasta sauces! Personally, I usually just pair this recipe with a quick and simple San Marzano Tomato Sauce. Other sauces that would be delicious include:
Alfredo Sauce
Pesto - Try it with our Quick Spinach Pesto
Amatriciana
White Wine Cream Sauce
Mushroom Sauce
Recipe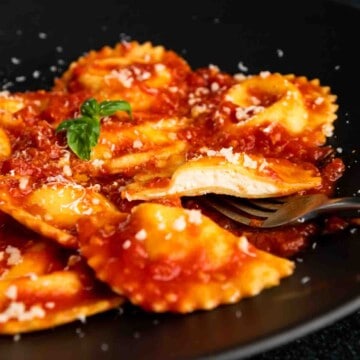 Four Cheese Ravioli
This classic ravioli recipe uses the perfect balance if creamy, melty and salty Italian cheeses!
ADJUST SERVINGS
Special Equipment
Pasta Machine

(Optional but recommended)

1 Tablespoon Cookie Scoop or Piping Bag

Pastry Brush

Ravioli Stamp, Cookie Cutter or Brass Pasta Wheel.

Spider Tool or Slotted Spoon
Ingredients
Semolina Pasta Dough
1 ¼

Cups

semolina flour

plus more for drying ravioli

1 ¼

Cups

bread flour (or all-purpose flour)

plus more to prevent sticking

1

large

whole egg (About 1 ¾ ounces)

room-temerature

5

large

egg yolks (About 6 ¾ ounces)

room-temperature

Water

as needed, about 2+ Tablespoons

sea or kosher salt

as desired, for seasoning during boil
Four Cheese Filling
16

ounces

whole milk ricotta cheese drained of excess moisture (See our homemade ricotta recipe.)

2

ounces

whole milk mozzarella

finely shredded

2

ounces

Fontina cheese

finely shredded

1

ounce

Parmesan cheese

finely shredded

1

large

whole egg

room-temperature

1¼

teaspoons

fine kosher salt*

1

teaspoon

Freshly-ground black pepper
Instructions
Semolina Pasta Dough
Gather, measure and prepare the Semolina Pasta Dough ingredients as listed.

In a medium mixing bowl, add semolina and bread flours and whisk to combine. Transfer flour mixture in a mound on a smooth, clean work surface. Use the bottom of the mixing bowl to shape a well in the center of your flour.

Add the egg, egg yolks and about 1 Tablespoon of water to the well. Using a fork, begin to whisk the eggs and water together until smoothly combined. Continue whisking, while slowly bringing flour into the eggs to form a smooth paste.

Once most of the pasta flour is incorporated and the dough begins to come together, switch from using the fork to using your bench scraper. Scrape the dough up from your work surface and fold it over itself. Use the bench scraper to chop the mixture together and evenly distribute the flour throughout a shaggy dough. If the dough is too dry to come together, drizzle a little additional water over the mass of dough and continue to combine with the bench scraper.

Use your hands to pull the dough together and knead. Use the mass of dough to pick up any scraggly dough scraps or loose flour on your work surface. The dough should be firm and may be slighlty tacky but should not stick to your hands or the work surface.

Once all the flour is incorporated and dough is homogenous, form into a ball. Cover the dough with a damp towel or plastic wrap to prevent drying. Allow the dough to rest for at least 30 minutes or overnight in the refrigerator.
Four Cheese Filling
To Drain Ricotta: Set ricotta cheese in cheesecloth or a fine mesh strainer over a jar. Allow excess moisture to drain from the cheese for 20 minutes, or until dry.

In a medium bowl, add ricotta, mozzarella, fontina, Parmesan, a whole egg, salt and pepper. Stir until well combined. Use immediately or refrigerate until ready to shape ravioli.
How To Shape Ravioli
Once the pasta dough has rested, you can begin sheeting your pasta. Using a knife or bench scraper, divide your dough into six equal portions. Work with one portion at a time, keep the remaining dough covered with your damp cloth (or plastic wrap). Flour your dough, work surface and kitchen tools as needed, to prevent sticking. 

With a rolling pin, or on the widest setting of your pasta maker, begin to roll out and flatten your dough into an elongated oval. Fold the tapered ends of your oval dough over itself, in thirds. Repeat twice for each piece of pasta dough.

Sheet pasta dough to 1 millimeter thick. If using a pasta machine, adjust settings one at a time and roll the dough through each setting twice.

Lay a sheet of pasta dough on a lightly floured work surface. Use a ravioli stamp (or cookie cutter) to lightly indent the pasta to help you plan where to put the filling. Scoop or pipe 1 Tablespoon of Four Cheese Filling into the center of each indentation.

With a barely damp pastry brush, lightly moisten the dough around each lump of filling. Place a second sheet of pasta dough over the filling. Use dry, floured fingertips to seal the dough around each lump of filling. Be careful not to trap any air bubbles.

Use a floured ravioli stamp (or cookie cutter) to punch out each ravioli. Transfer ravioli to a semolina dusted baking try to dry. Dust excess flour off of the pasta scraps and gather into a ball to reroll. Repeat the ravioli making process with remaining dough and filling. I usually yield 45 - 50 ravioli.

To Boil Ravioli: Set a large pot of water to rapid boil. Season generously with salt. Drop ravioli into the boiling water one at a time. Boil for 6 - 8 minutes or until your desired doneness is reached. Use a spider tool (or slotted spoon) to gently remove each ravioli from the water. Serve immediately with sauce of your choice. Buon appetito!
* A Note About Salt
Unless otherwise noted, all recipes on The Sage Apron are developed using Diamond Crystal Kosher salt. It is a great all-purpose salt for cooking and baking. If using table salt, reduce quantities by about half.
Nutrition
Calories:
610
kcal
|
Carbohydrates:
58
g
|
Protein:
32
g
|
Fat:
27
g
|
Saturated Fat:
15
g
|
Polyunsaturated Fat:
2
g
|
Monounsaturated Fat:
8
g
|
Trans Fat:
0.01
g
|
Cholesterol:
330
mg
|
Sodium:
1782
mg
|
Potassium:
279
mg
|
Fiber:
3
g
|
Sugar:
1
g
|
Vitamin A:
984
IU
|
Calcium:
422
mg
|
Iron:
3
mg