Homemade Italian Pappardelle is a great place to begin your pasta making journey! The wide ribbons of pappardelle noodles are one of our favorite, simple shapes to make!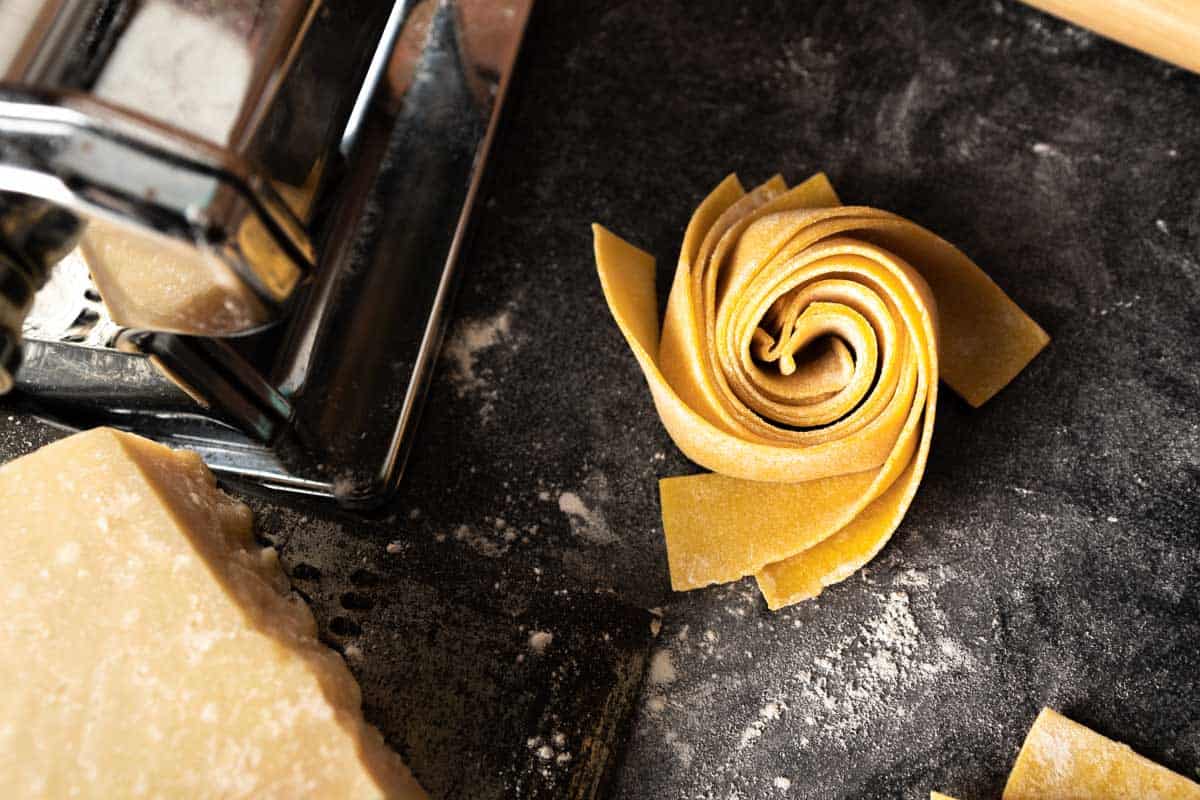 These fresh pasta noodles pair perfectly with rich, hearty sauces - like our traditional Ragu alla Bolognese (beef meat sauce). This pasta shape is easy to make entirely by hand, or with a pasta machine.
What is Pappardelle?
Pappardelle is a ribbon noodle shape originating from the Tuscany region of Italy. These long noodles are wide, flat and best suited for hearty pasta sauces. Pappardelle can be made from different styles of pasta doughs and can have straight or scalloped edges.
This homemade pappardelle recipe uses an egg and semolina based pasta dough that has a rich flavor and silky texture. Pappardelle is similar to fettuccine and tagliatelle pasta shapes, but is generally a wider, hand-cut noodle. Pappardelle ribbons are typically cut to be about 1 inch (or 2 - 3 centimeters) wide
When translated from Italian to English, the word pappardelle means "to gobble up". It's a fitting name for a delicious ribbon pasta that will have you twirling, chewing and slurping!
Is Pappardelle the same as Tagliatelle?
Pappardelle looks and tastes very similar to tagliatelle. They are both ribbon style noodles that are generally made fresh from an egg based pasta dough. The difference is that tagliatelle originates from Emilia-Romagna and is only 6 millimeters wide.
Pappardelle comes from further South in the Tuscan region of Italy and is 3 - 5 times as wide (about 2 - 3 centimeters). They both work best with a rich sauce. In your kitchen, you can feel free to use tagliatelle and pappardelle interchangeably without effecting your recipe too much.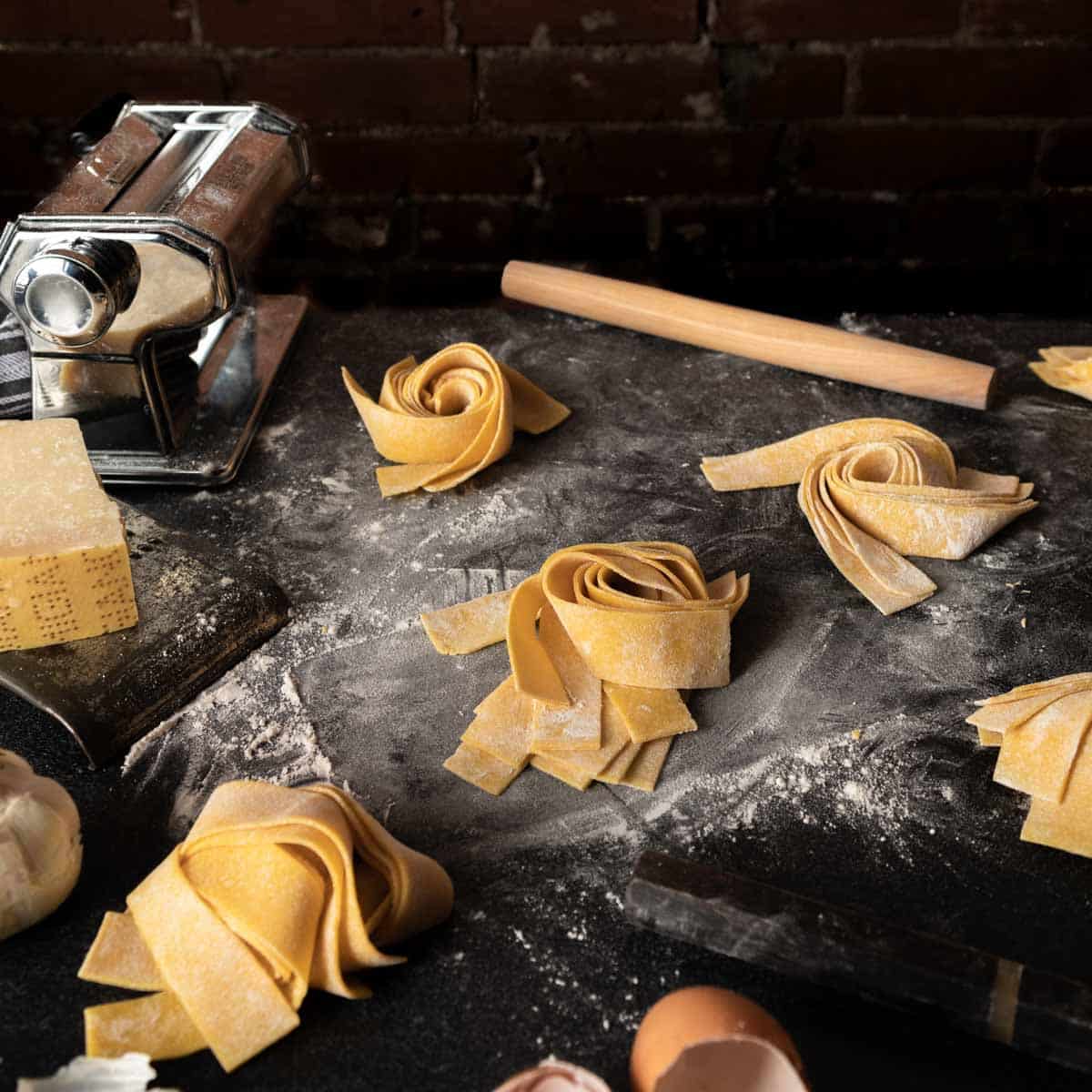 Ingredients & Equipment Needed for Pappardelle
Our favorite thing about making homemade pappardelle pasta is that the recipe calls for just a few ingredients and hardly any special equipment. This pasta shape is great for those making pasta for the first time! However, once you're a pasta pro - you'll find yourself returning to this simple shape for lots of comforting meals and cozy recipes. Here's what you'll need:
Ingredients
Egg Yolks & 1 Whole Egg - For rich flavor and silky smooth texture!
Semolina Flour - For sauce-clinging ability!
Bread Flour (or all-purpose flour) - For fresh pasta's characteristic chew!
Water - Just a splash, to bring the dough together.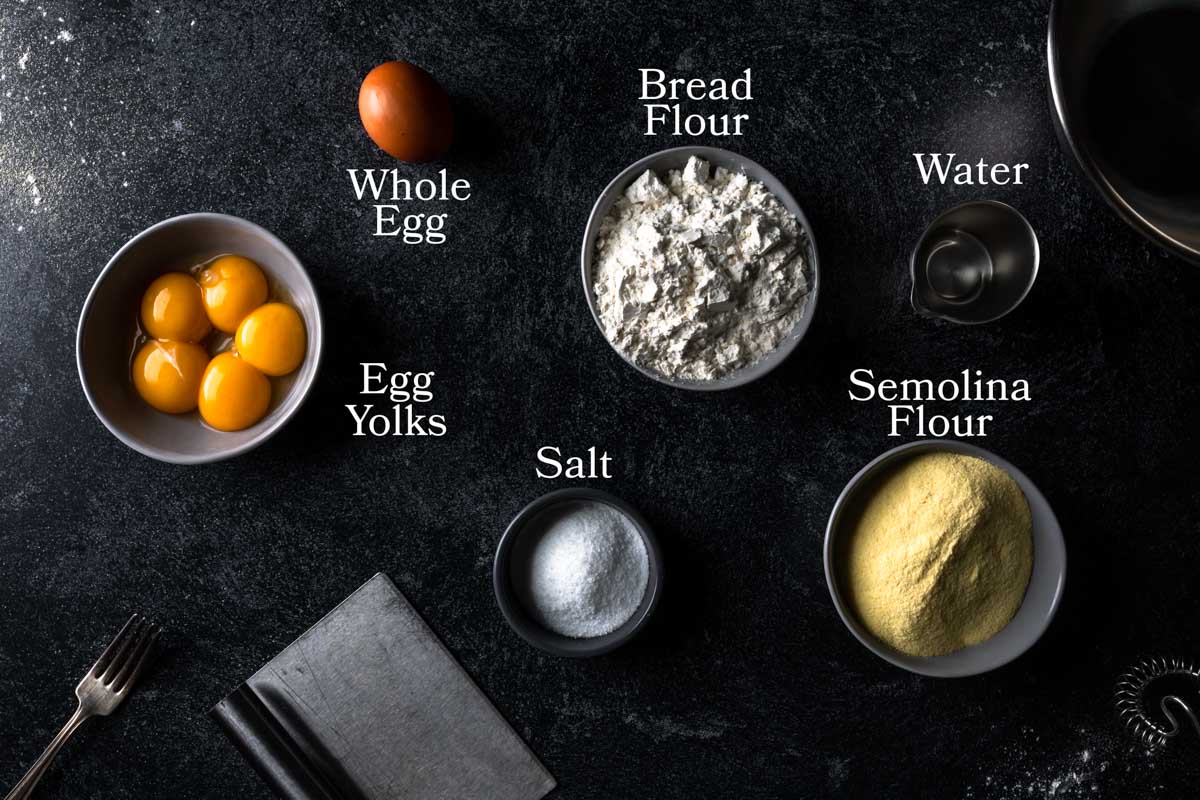 Equipment
Other than these simple tools you will need a clean countertop or work surface, a pot of boiling water, a delicious pasta sauce and some hungry bellies!
Bench Scraper (for hand-made pasta) or a Kitchen-Aide mixer for a little help!
Rolling Pin or a Pasta Machine - Personally, I like to use my Marcato Atlas 150 machine or a mini rolling pin for sheeting pasta. However, a regular rolling pin, or even a wine bottle can work too!
Sharp Knife (or a Straight or Fluted Pasta Wheel) - If you're going to get serious about pasta making, I recommend investing in some brass pasta wheels. Although, for this simple pappardelle pasta shape - a simple kitchen knife will do the trick!
How To Make Homemade Pasta
Our fresh egg pasta dough is easy to make by hand, as demonstrated below. To see our instructions for how to make this recipe in a Kitchen-Aide stand mixer, head to our entire Semolina Pasta Dough post for step-by-step instructions.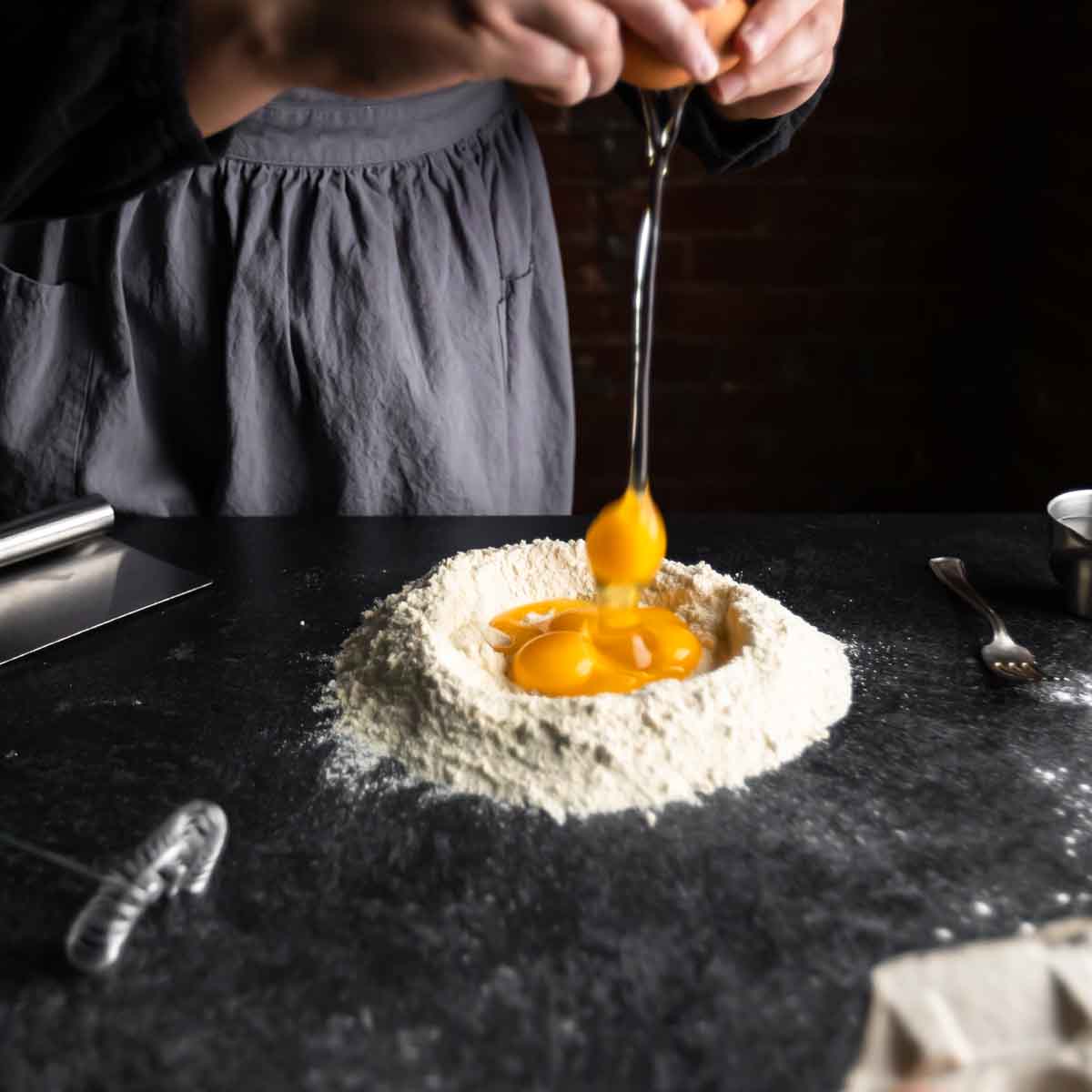 Sift or whisk flours together and mound them onto a clean work surface. With your hand (or the bottom of a small bowl), make a well in the center of the flour mixture.
Add egg yolks and one whole egg into the center of the well. Then, add a little water.

Chef's Note: Proper Hydration - The amount of water you will need will vary from batch to batch depending on many factors including your specific brands of flour, your eggs, and the humidity of your own kitchen. Start with about one tablespoon of water and increase the water content, as needed to pull the dough together.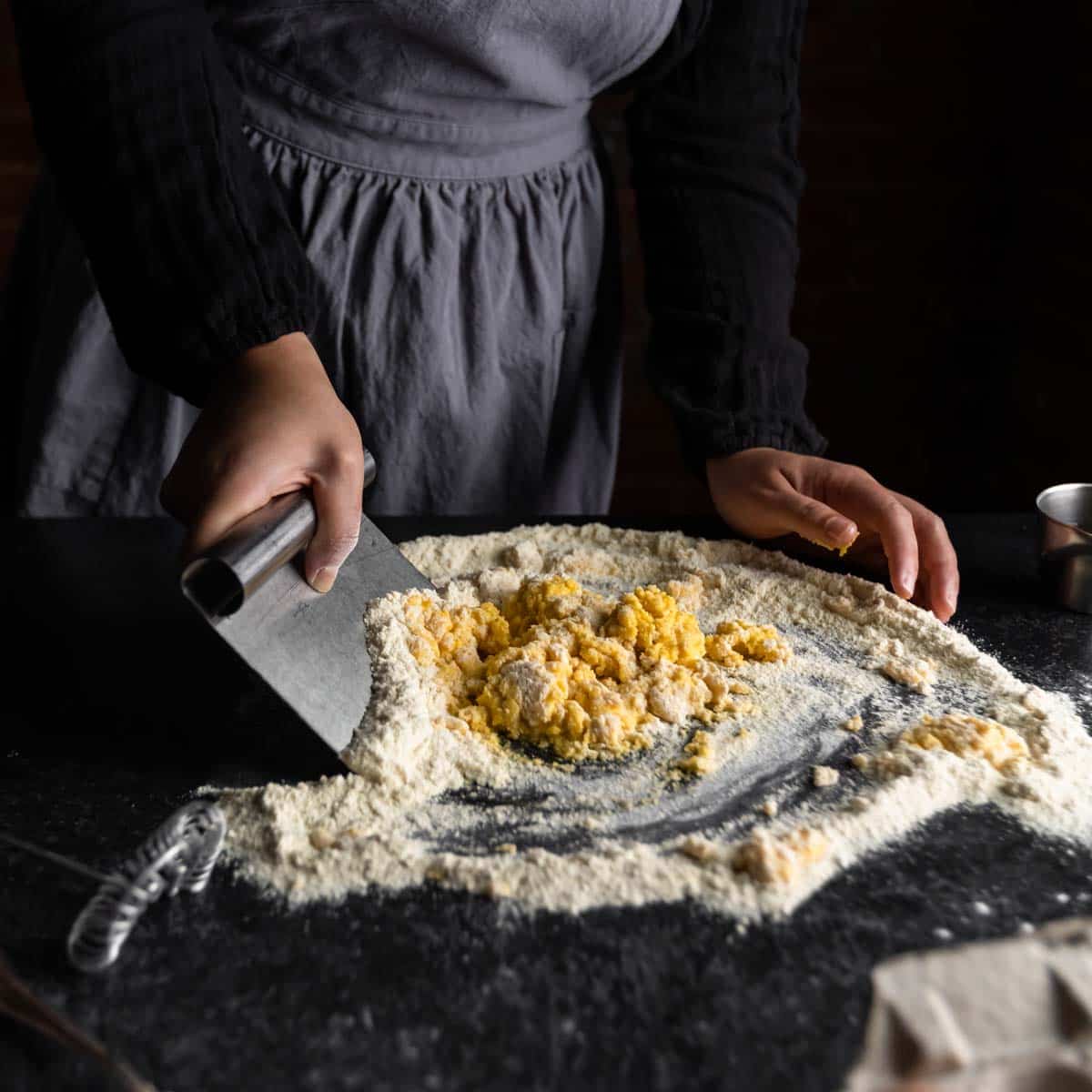 Use a fork to whisk the water and egg mixture in a circular motion. Once combined, slowly start whisking flour into the center of the well. Continue to pull flour from the edges of the well into the center. A thick, paste-like dough will form.
Once most of the pasta flour is incorporated and the dough begins to come together, switch from using the fork to the bench scraper. Scrape the dough up from your work surface and fold it over itself. Use the bench scraper to evenly distribute the flour throughout the shaggy dough.

Note: If the dough is too dry to come together, drizzle a little additional water and continue to combine with the bench scraper. You want to have a dough that is easily pliable, but not sticky. If sticky, the dough has too much excess moisture and a little additional flour can be added.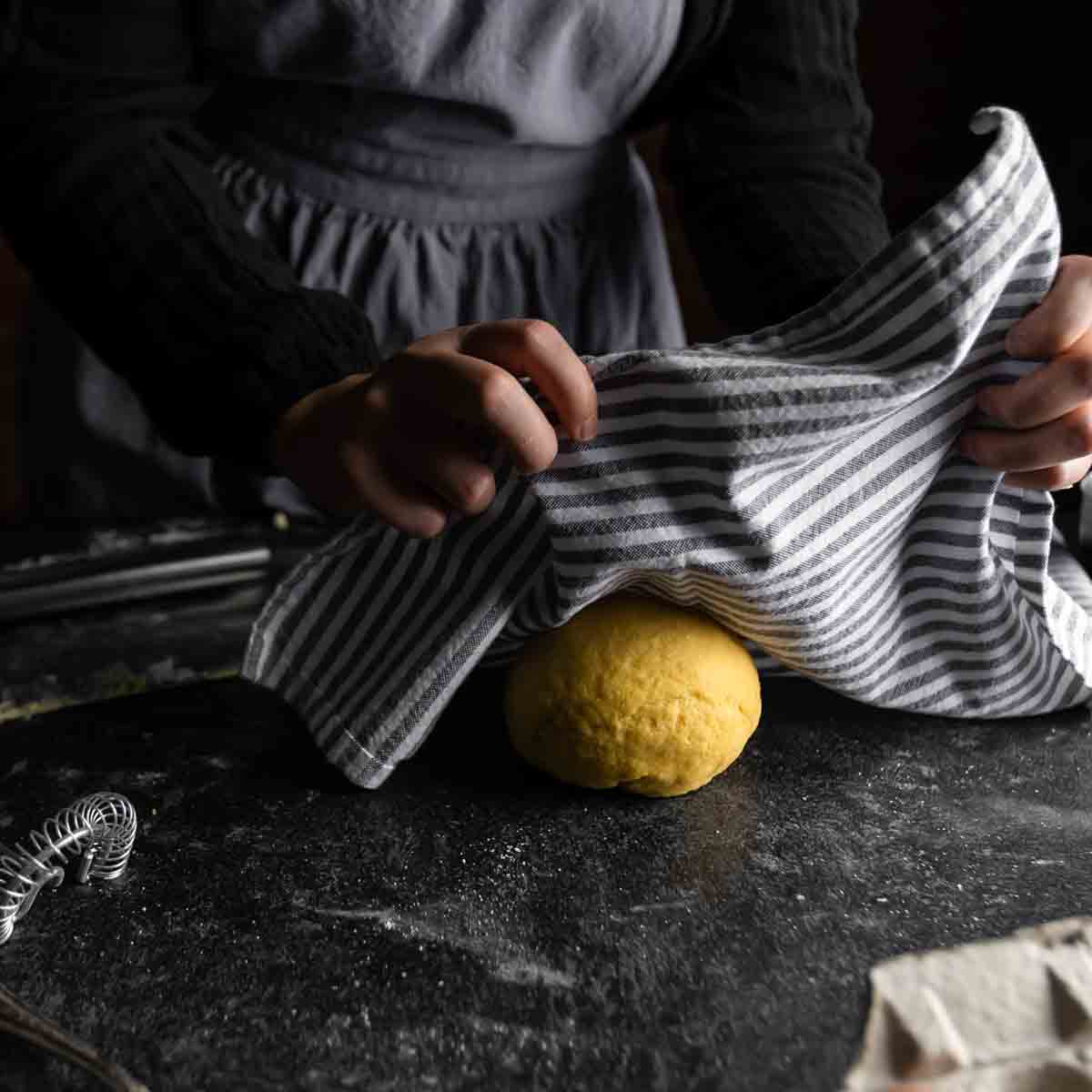 With your hands pull the dough together and use the mass of dough to pick up any stray scraps of dough or loose flour on your work surface. Knead briefly, with the heel of your hand, until the dough is cohesive and shape into a ball.
Allow the ball of dough to rest, covered in plastic wrap or a damp towel until ready to be shaped.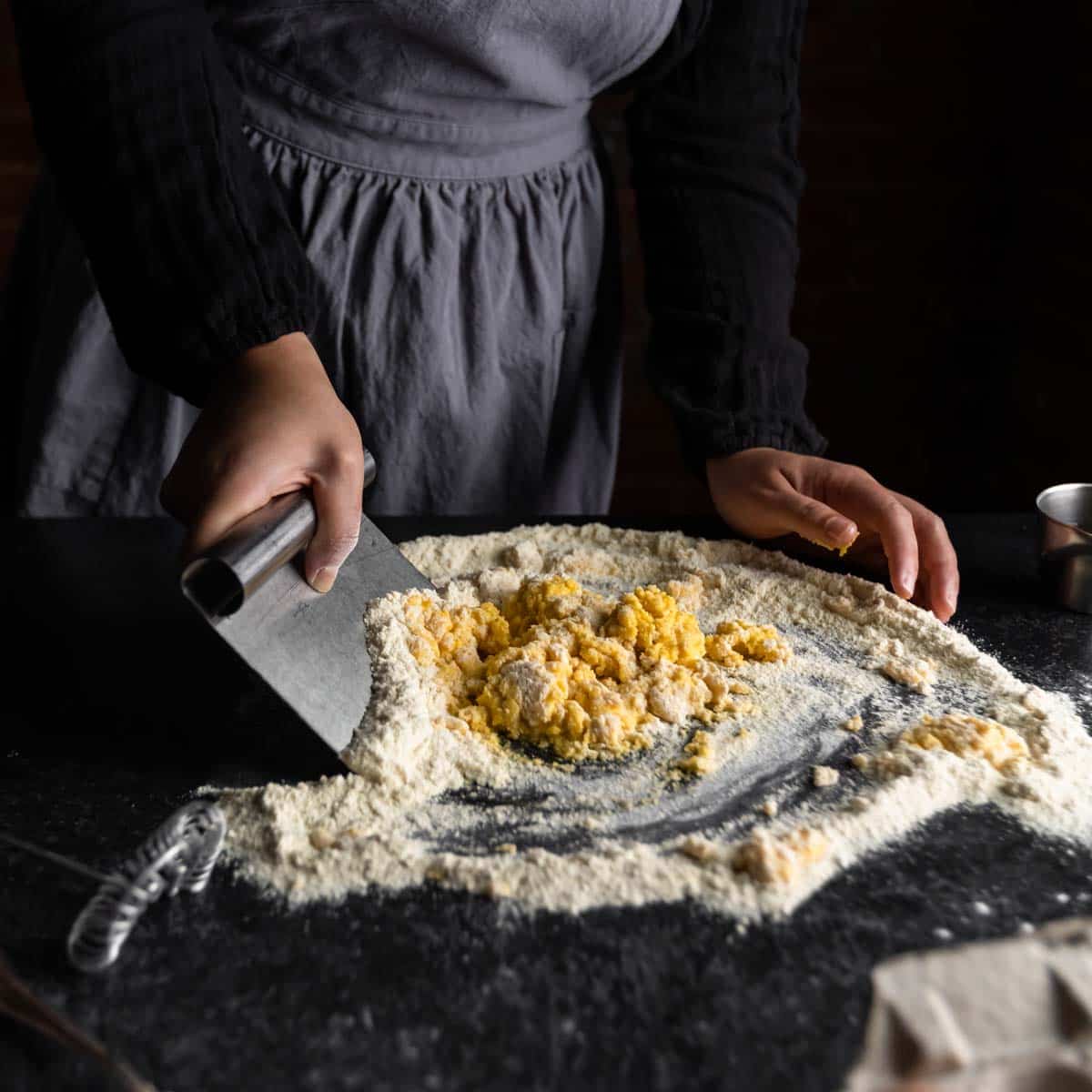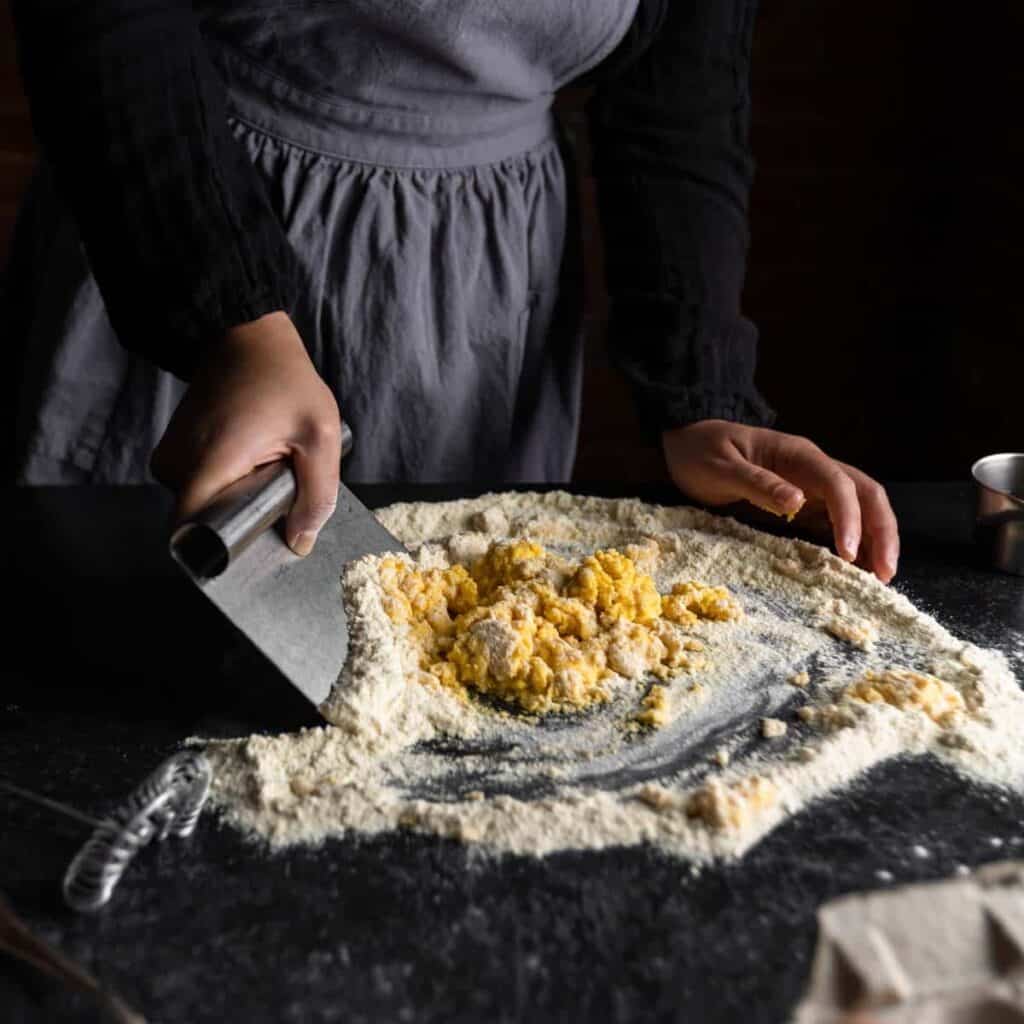 (How To Make Fresh Pasta)
Follow the link for our scratch pasta recipe and guide with Step-by-Step instructions, best practices and How To videos!
The Thick & Thin of Hand-Cut Noodles
Once the pasta dough is made and has rested, it's time to sheet the pasta. To make pappardelle, you need to sheet the dough into long rectangles. You can do this by hand, with a small rolling pin or with a pasta machine.
We make pappardelle both ways, however, for consistency, I like to use a pasta machine, whenever possible. We use a simple hand-crank pasta machine that has lasted us for years! You could also use the Kitchen-aide pasta rolling attachment or a similar motorized pasta sheeter. For more information on sheeting this pasta dough, check out this visual guide from our Semolina Pasta recipe post.
Sheeting the Pasta Dough with a Rolling Pin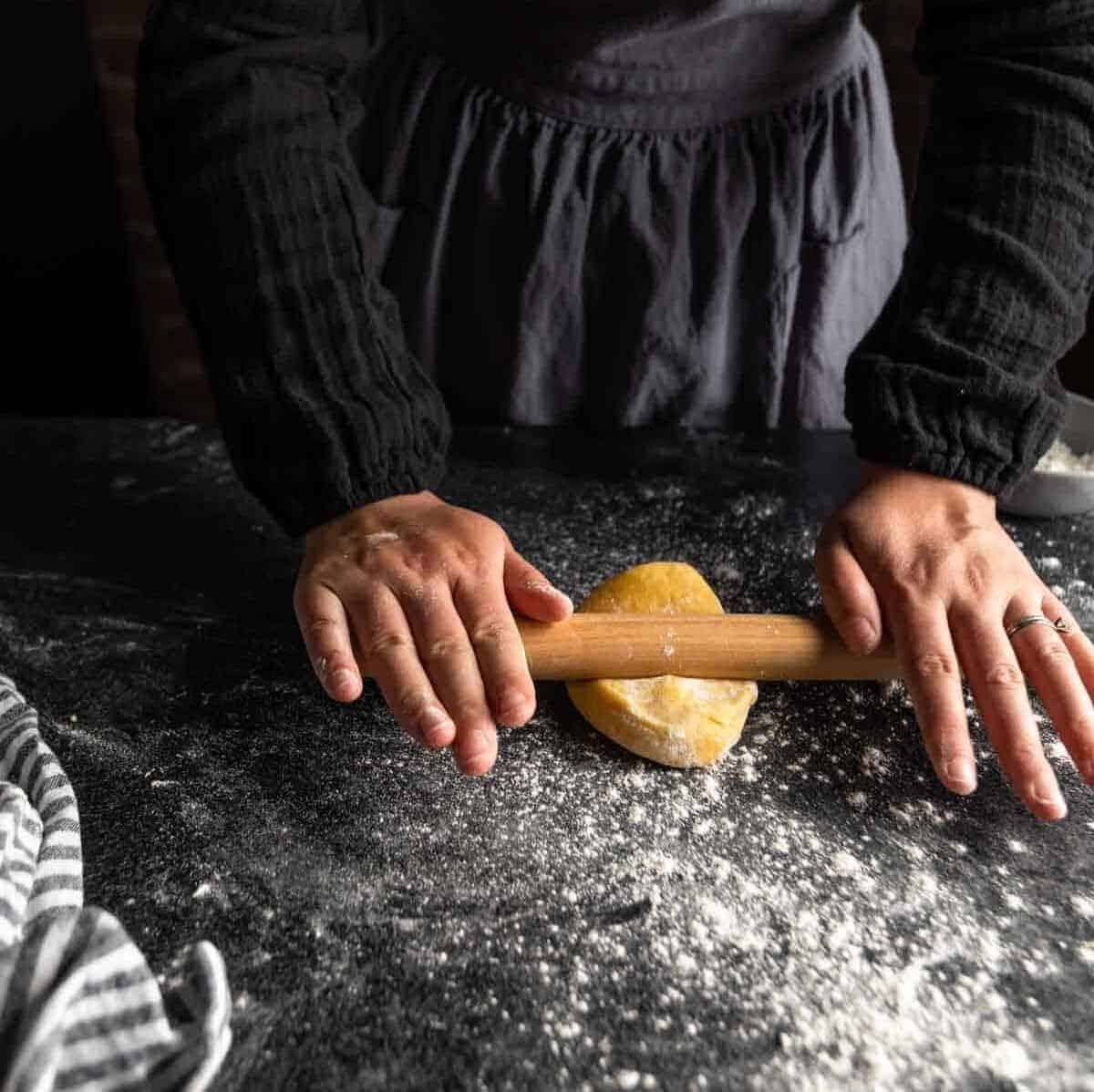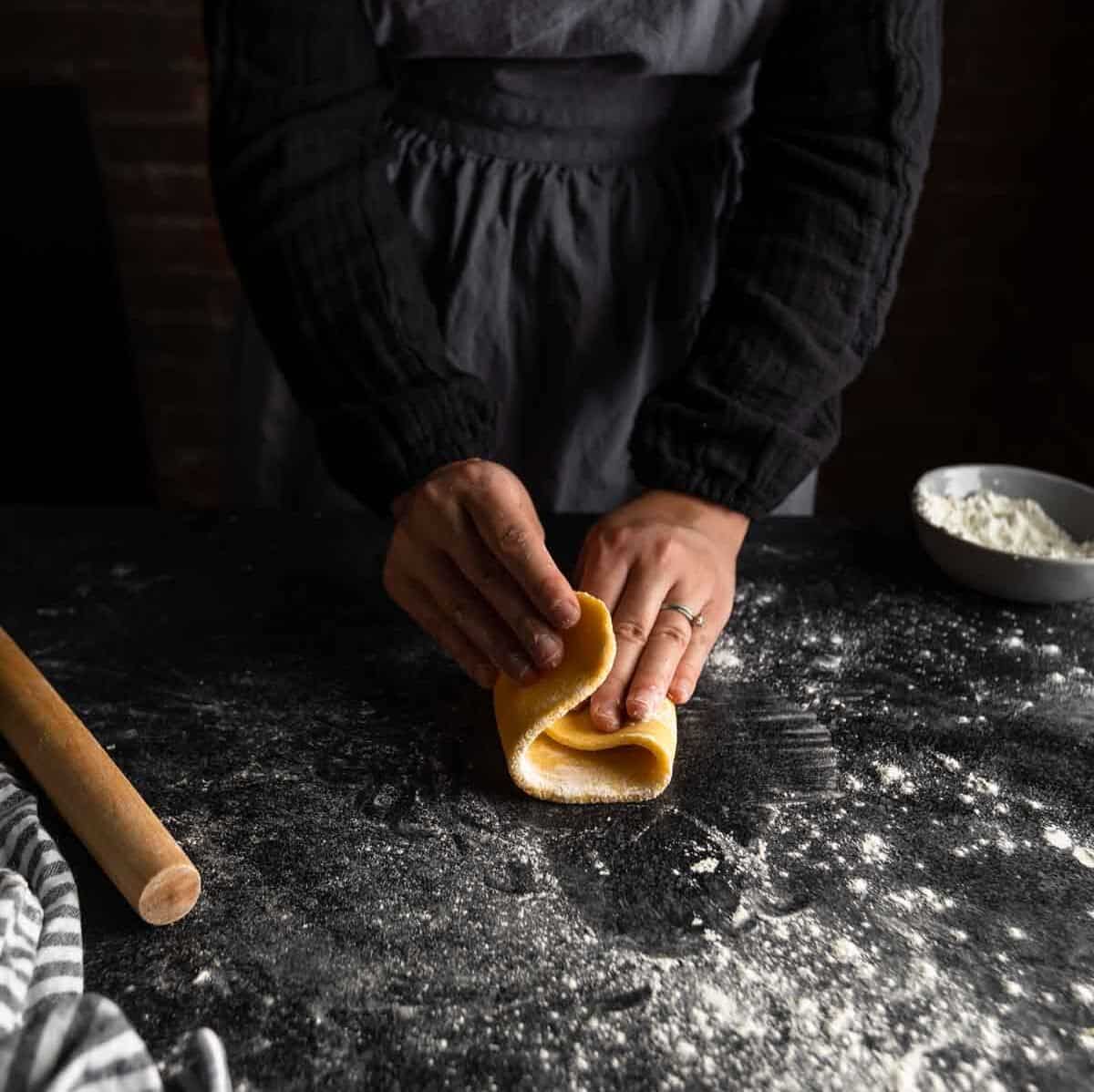 To sheet the pasta dough by hand start with one-sixth of the pasta dough. Roll the dough into a thick, elongated oval.
Then, fold the oval over-itself, like a letter. Folding the dough this way helps to create pasta with a classic chewy texture. Use a rolling pin to flatten the folds.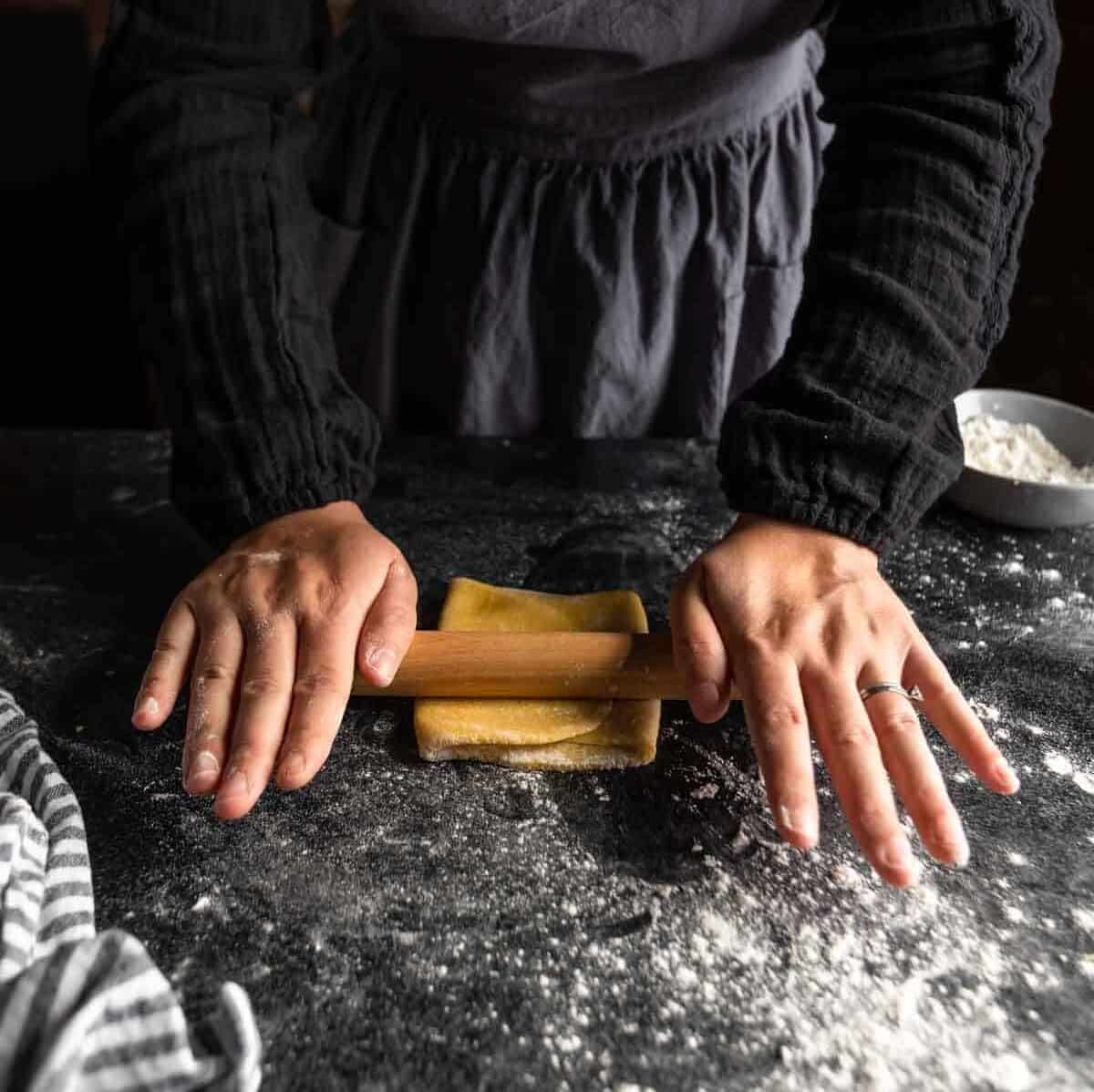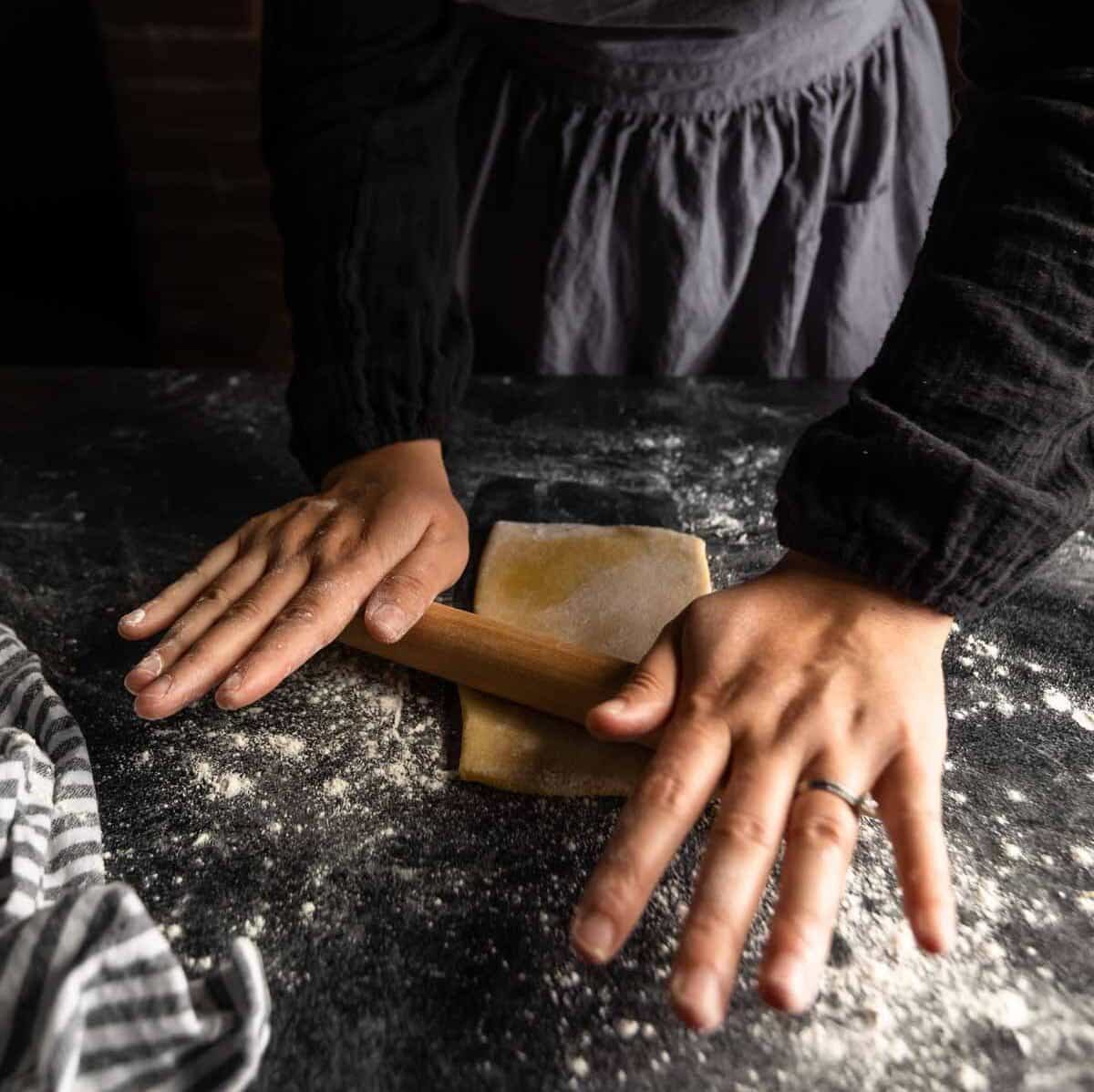 Repeat this process 2 - 3 times to develop gluten and shape the dough into a smooth-sided rectangle. To help keep the rectangular shape, occasionally roll outwards towards the doughs' corners.
Use a rolling pin to continue to thin the rectangle of dough.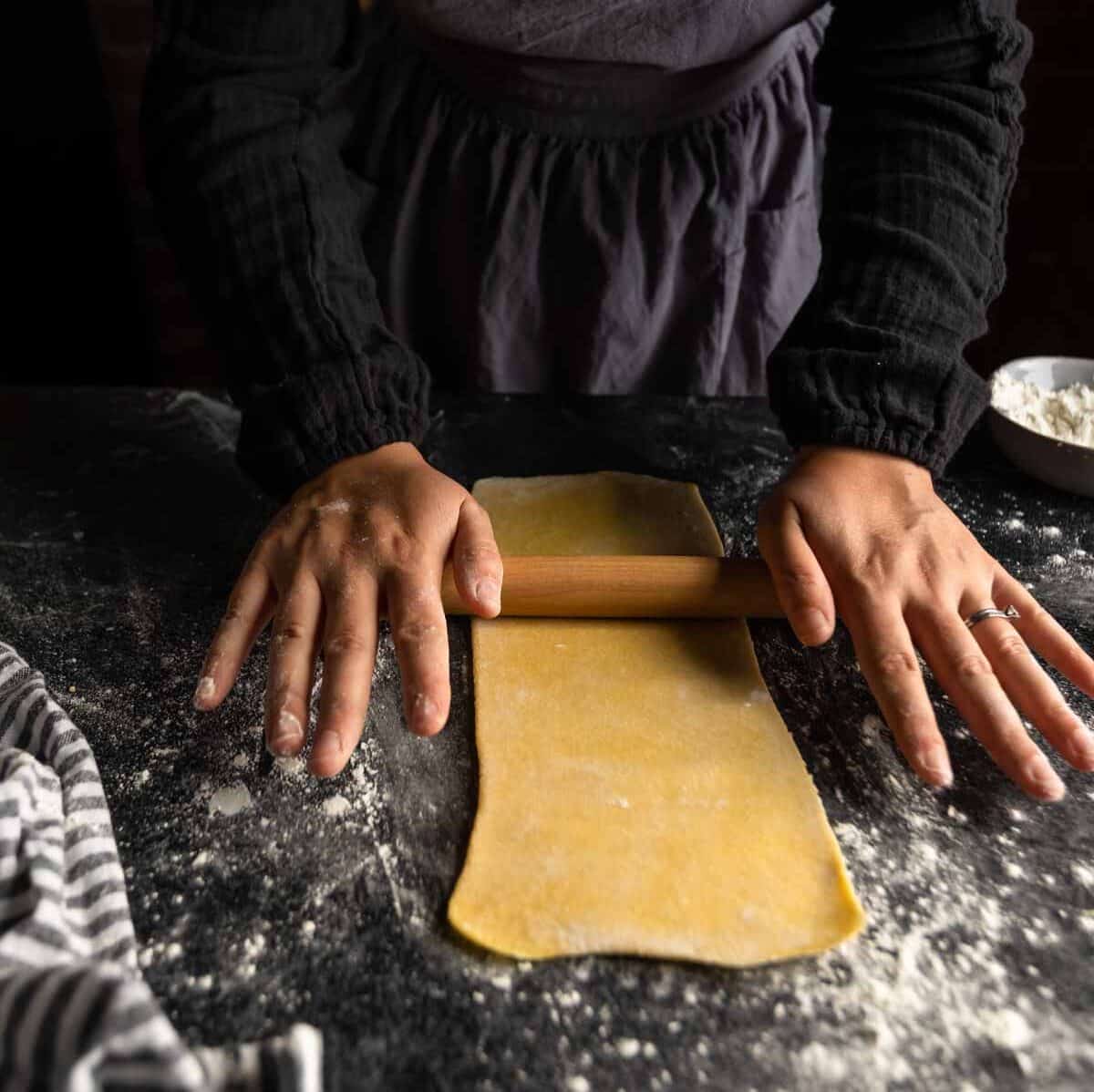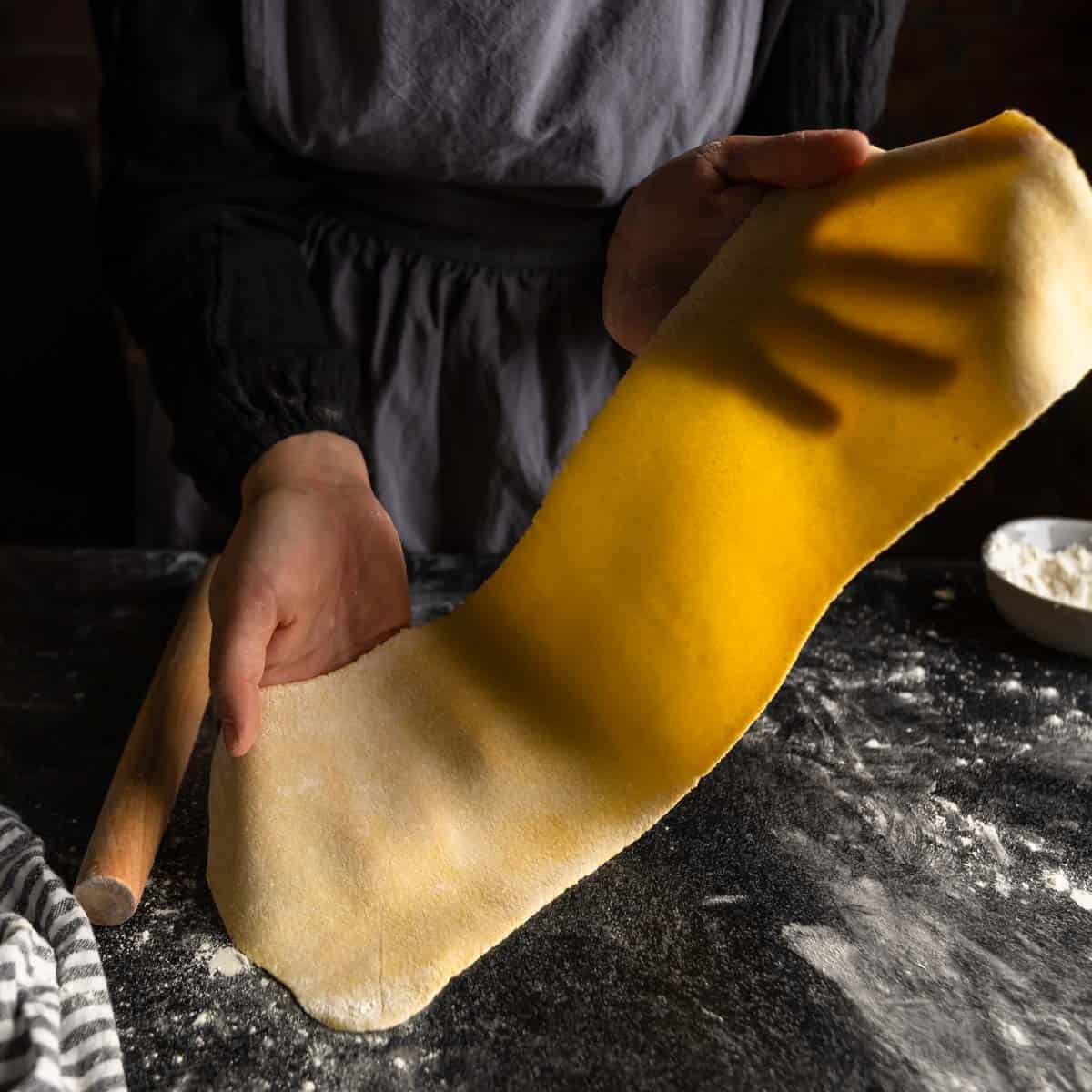 Continually roll the pin away from you in a single direction to create a long, thin rectangle of dough.
The thickness of the pasta is up to you, but try to keep the dough thin enough to be translucent and about about the thickness of a credit card (1 millimeter).
Sheeting the Pasta Dough by Machine
To sheet the pasta with a machine, start by shaping and folding the dough, like a letter, as pictured above. (Photos 1 - 3 under Sheeting Pasta Dough by Hand). Then roll through the machine to the desired thickness.
Make sure you start on the machines widest setting and slowly thin the sheet of pasta by passing it through each subsequently thinner setting. I like to run the dough through each setting twice.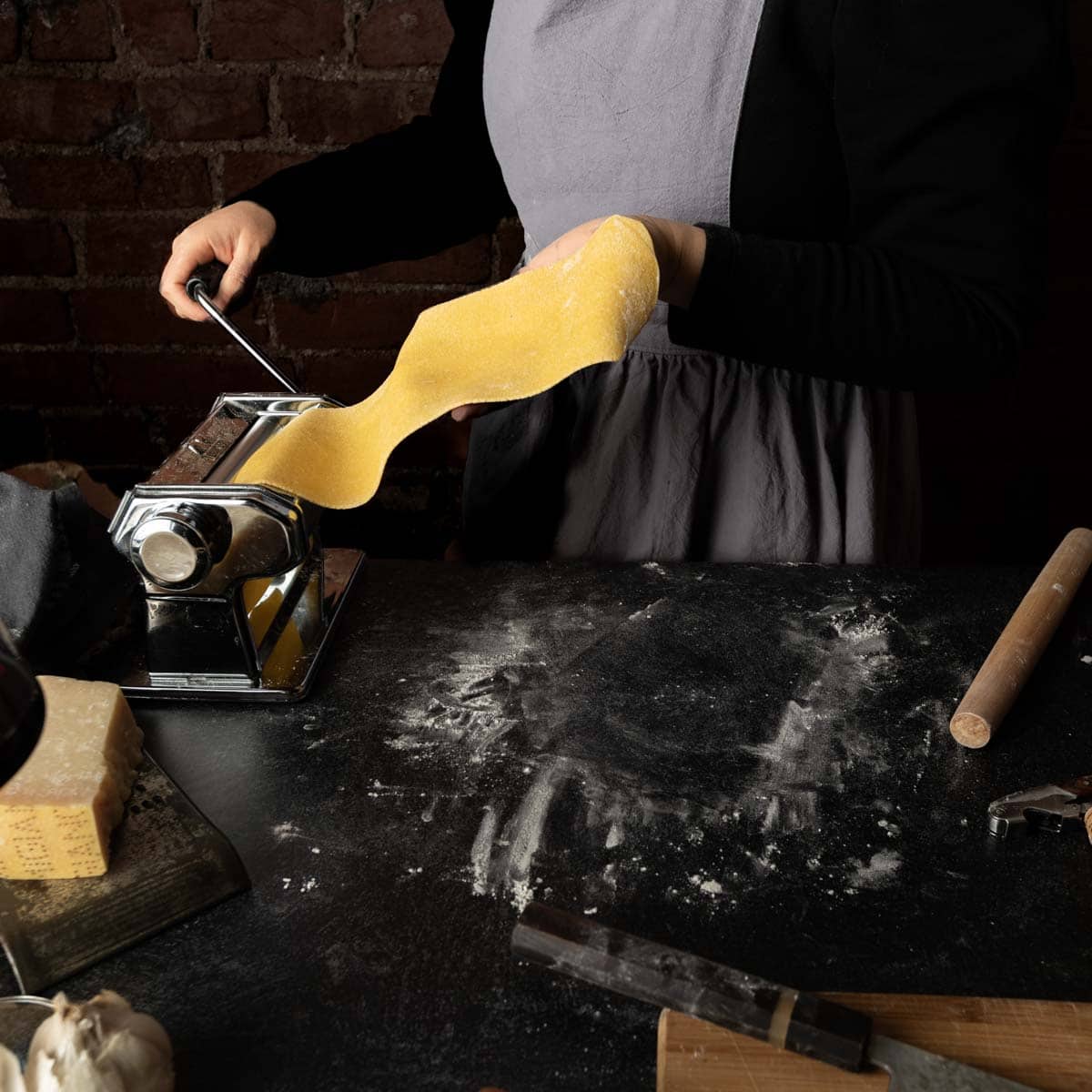 Cutting the Noodles by Hand
Once your pasta is sheeted, it is time to cut the dough into wide ribbons. Start by trimming the dough to the desired length. I don't typically measure, but I like noodles about 10 - 12 inches (25 - 30 centimeters) long. You can make yours longer or shorter.
Pasta Wheel: If you are using a straight or fluted edge pasta wheel, you can simply lay the sheet of pasta flat and slice the noodles vertically along the sheet of dough. (You can use a ruler or rolling pin to help guide you.)
Knife: To cut the dough with a knife, start by dusting the top of the pasta sheet with additional flour. (You can stack a couple of trimmed pasta sheets for faster noodle cutting.) Then, lightly roll the dough over itself, like a tube. Use a sharp, dry knife to cut broad noodles. Finally, unravel the folded dough to reveal your perfect pappardelle!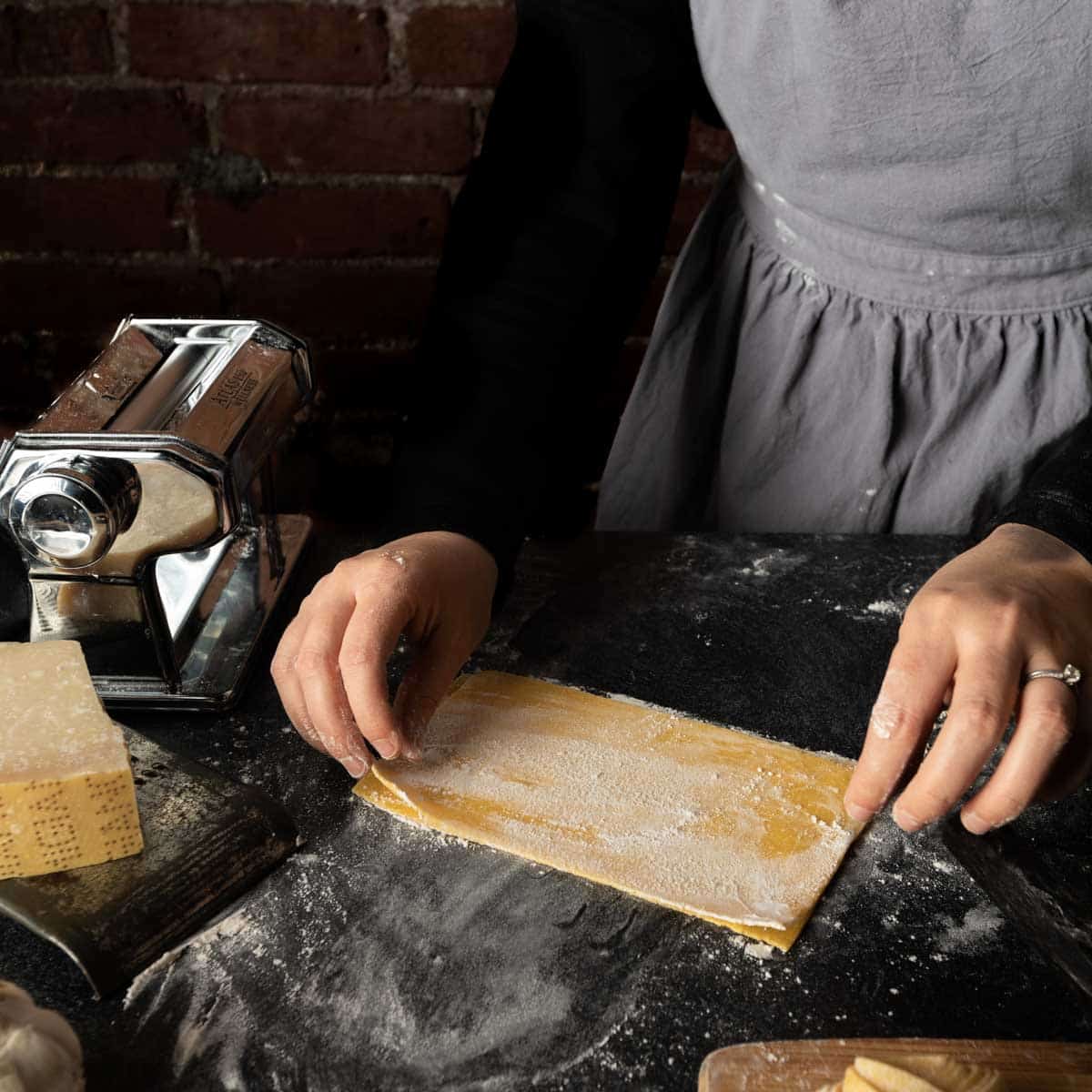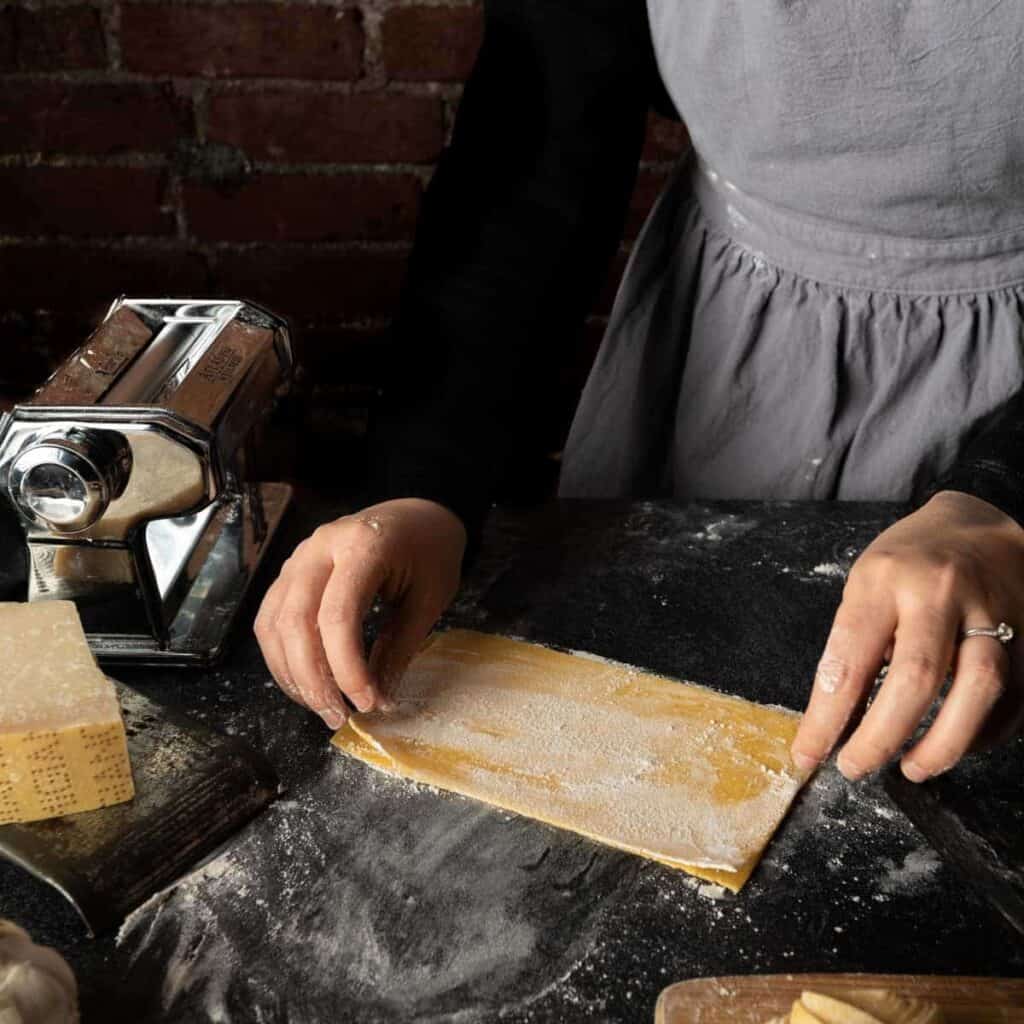 Make sure pasta sheets are well floured to prevent sticking together.
Loosely fold or roll the dough into a tube, lengthwise.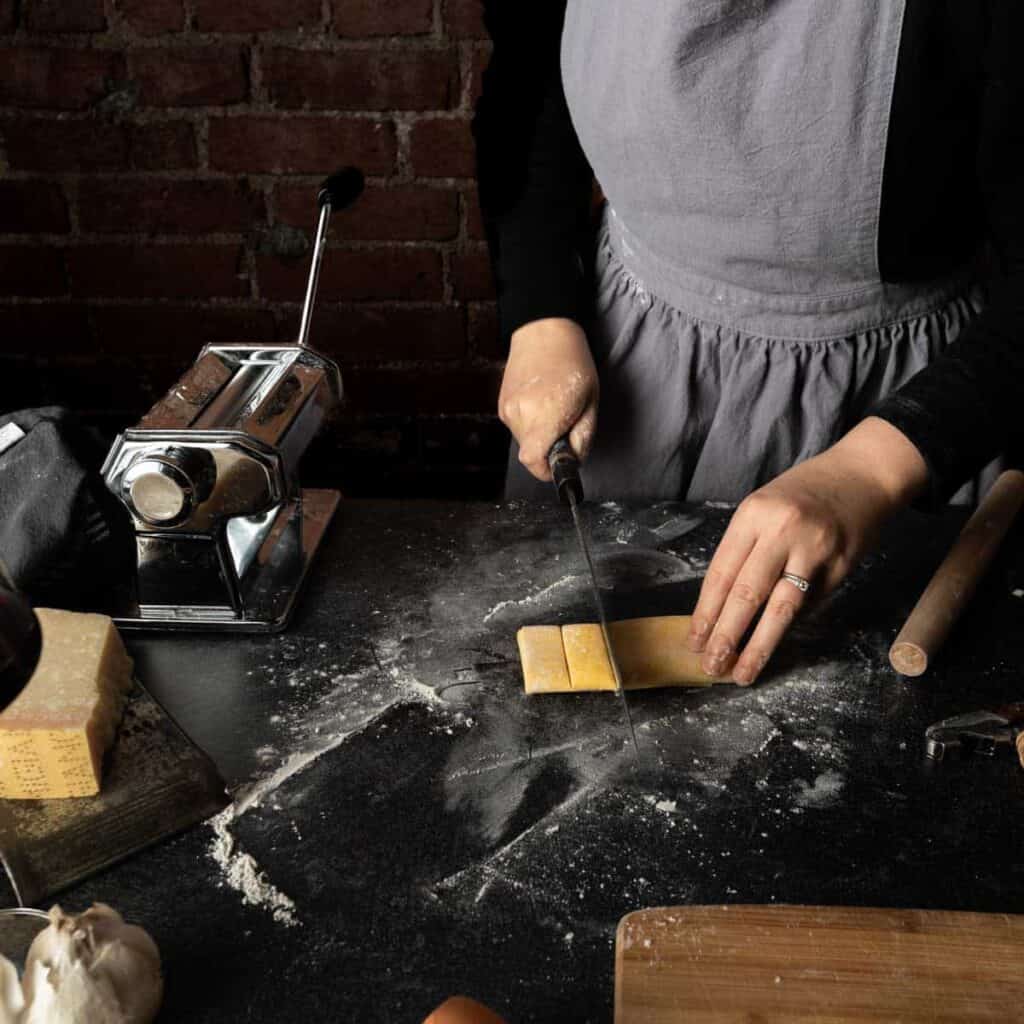 Use a sharp knife to slice wide pappardelle noodles from the rolled dough.
Perfect Pappardelle
How Thick Should I Make Pappardelle? The thickness of the pappardelle pasta is up to you. We tend to like our pappardelle to be a little thicker so it stands up well to rich and hearty sauces. Somewhere around 1 - 1.5 millimeters thick (slightly thicker than a standard ID or credit card) makes for a nice, toothsome pappardelle. For a lighter, more citrusy sauce, sheet the pasta a little thinner at about .7 or .8 millimeters.
Marcato Pasta Machines - Settings 5, 6 or 7 (thicker > thinner)
KitchenAide Pasta Attachment - Settings 2 or 3
How Wide Should I Make Pappardelle? According to Italian law, pappardelle pasta is anywhere from about 3 centimeters to 5 centimeters wide. So, wider than fettuccine or tagliatelle but not as wide as a standard lasagna noodle. I generally cut my pappardelle pasta about 1 inch thick.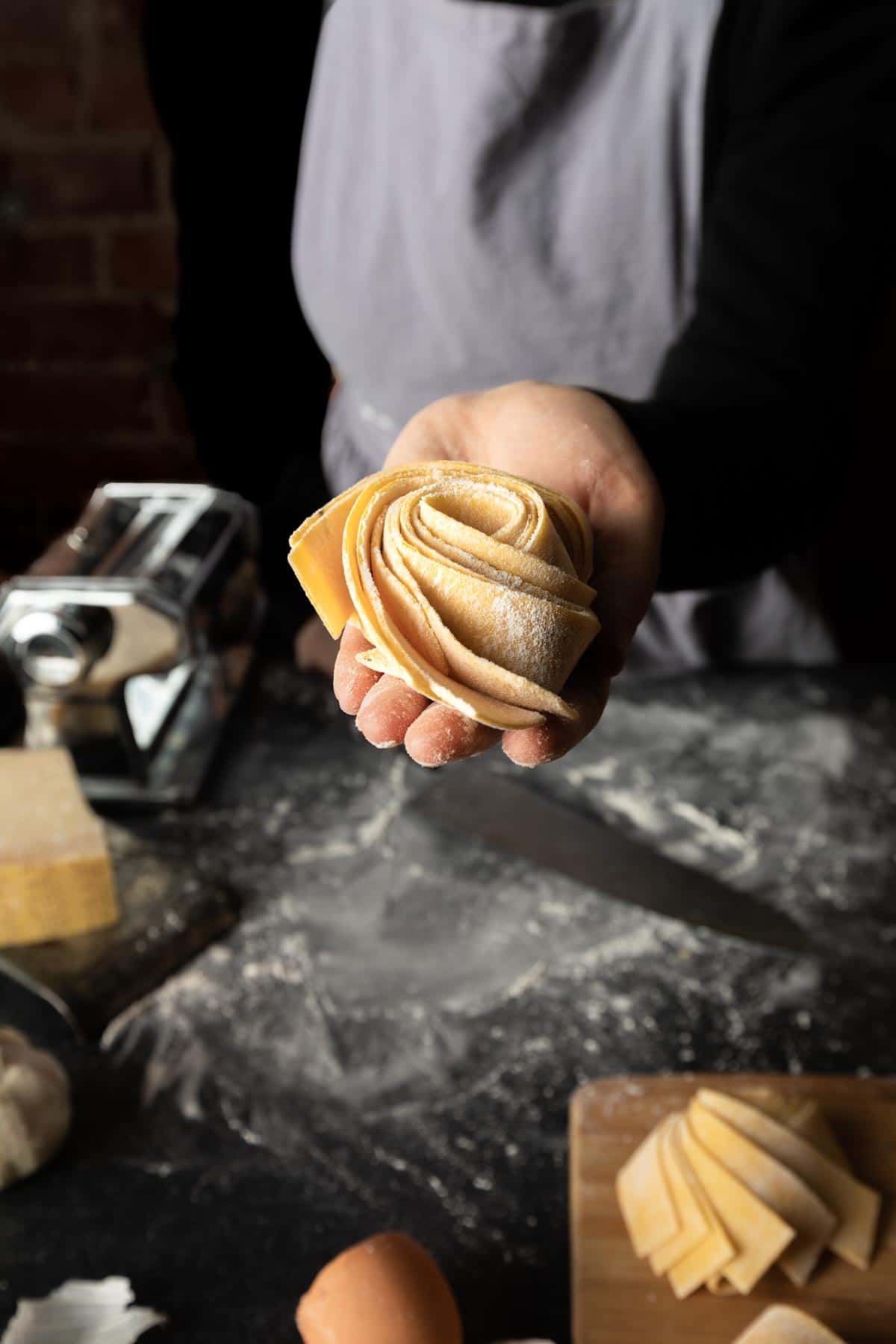 Drying & Cooking the Noodles
Drying: Fresh pasta is best served after a brief drying time. During the pasta drying process, the pappardelle ribbons will become porous and better absorb the flavors of your pasta sauce. Special equipment like pasta drying racks and mesh screens are available, but not necessary. I typically dry my pasta for a short amount of time while I am finishing cooking. In that case, I just lay my pappardelle noodles flat on a lightly floured sheet pan while I finish my sauce and bring my water to a rapid boil. For longer drying, you can also dry pappardelle in portioned nests. The nests help to prevent breakage when the pasta is fully dried and more brittle. Be sure the pappardelle noodles are well floured to prevent sticking together while in the nest shape.
Cooking: To cook the pappardelle pasta, bring a pot of water to a rapid boil. Then, generously salt the water. (Keep in mind, this recipe does not use any salt in the pasta dough and is reliant on seasoning from a heavy-handed salt water bath.) The exact time it takes your pasta to cook will be determined by the thickness of your noodles and how long the pasta was dried. Our pappardelle typically cooks in about 8 - 12 minutes but you should taste a piece to check for it's proper doneness.
Once the pasta is al dente, we recommend using a kitchen spider tool to transfer the wide noodles directly into your sauce. Finish cooking the pappardelle directly in the sauce, stirring often, with a splash of the pasta water for a couple of minutes until the sauce has thickened and is clinging to each glorious noodle.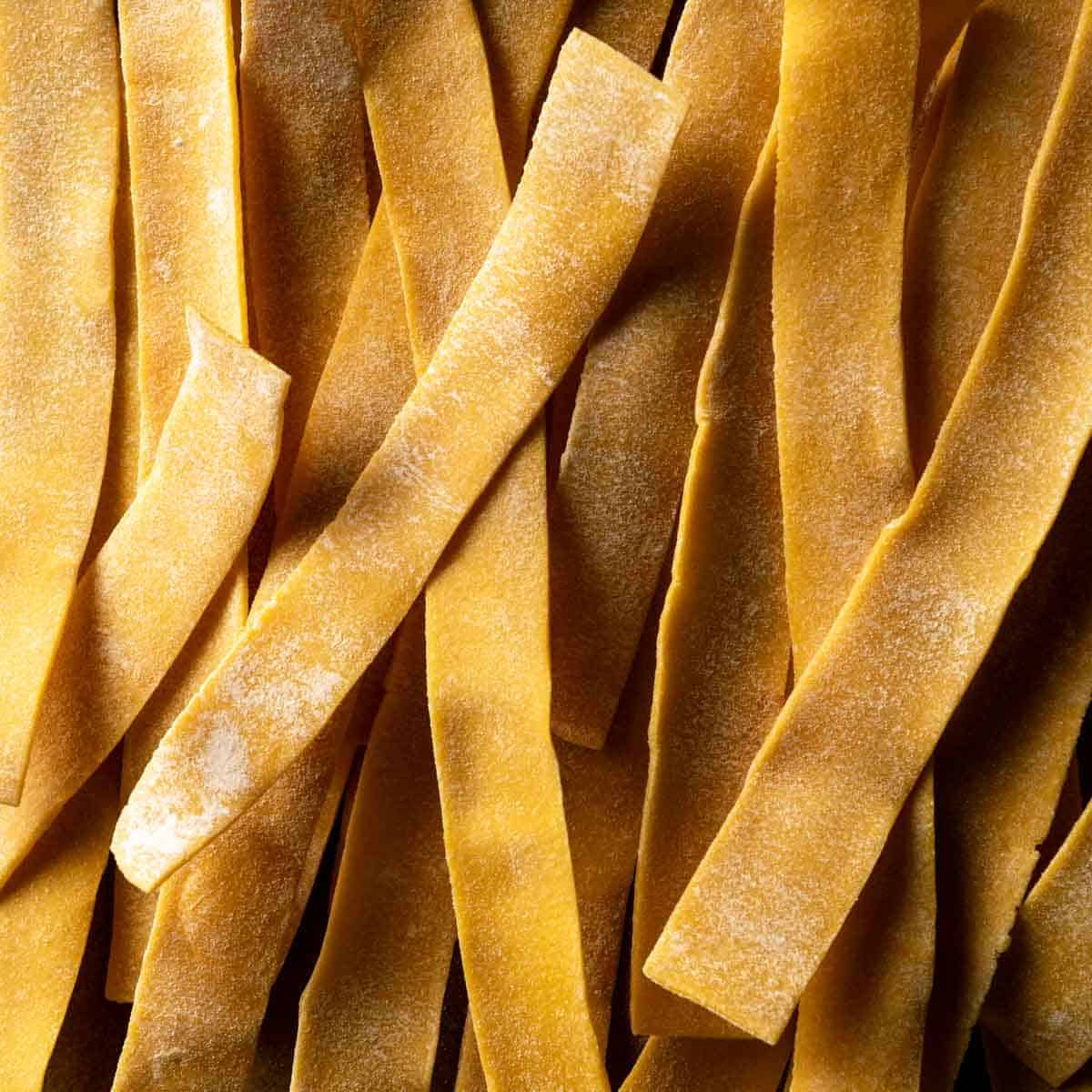 Serving Suggestions
Pappardelle pasta is the perfect pairing for rich sauces and hearty meat and mushroom dishes. It's an easy recipe that makes for an impressive dish. Here are a few of our favorite serving suggestions:
Bolognese Sauce - This traditional beef ragu is the perfect pairing for the wide stands of pappardelle pasta and a generous serving or Parmesan cheese! Check out our favorite slow-simmering bolognese recipe for a delightful Sunday supper!
Amatriciana - The Roman's answer to a meat ragu has tomatoes, guanciale, garlic and pecorino cheese. While traditionally served with bucatini, pappardelle creates a beautiful canvas for this flavorful sauce.
Other Ragus - Other hearty sauces can also be great pairings for this pasta shape. Think mushrooms, veal, wild boar, braised rabbit or duck confit!
Matsutake Pasta with Miso Butter - This original recipe is a simple way to show off handmade pasta and one of Autumn's most delicious delicacies!
Vodka Sauce - These noodles are perfect with a quick and simple Vodka sauce. It works well with our 'Nduja Vodka Sauce recipe.
Beef Stroganoff - Just like a simple egg noodle, pappardelle is perfect for sopping up the creamy sauce on a classic stroganoff style meal.
Osso Buco - These flavorful braised lamb shanks are often served over a bed of creamy polenta. However, a bed of pappardelle is a great way to enjoy all of the flavorful white wine braising liquids and zesty gremolata.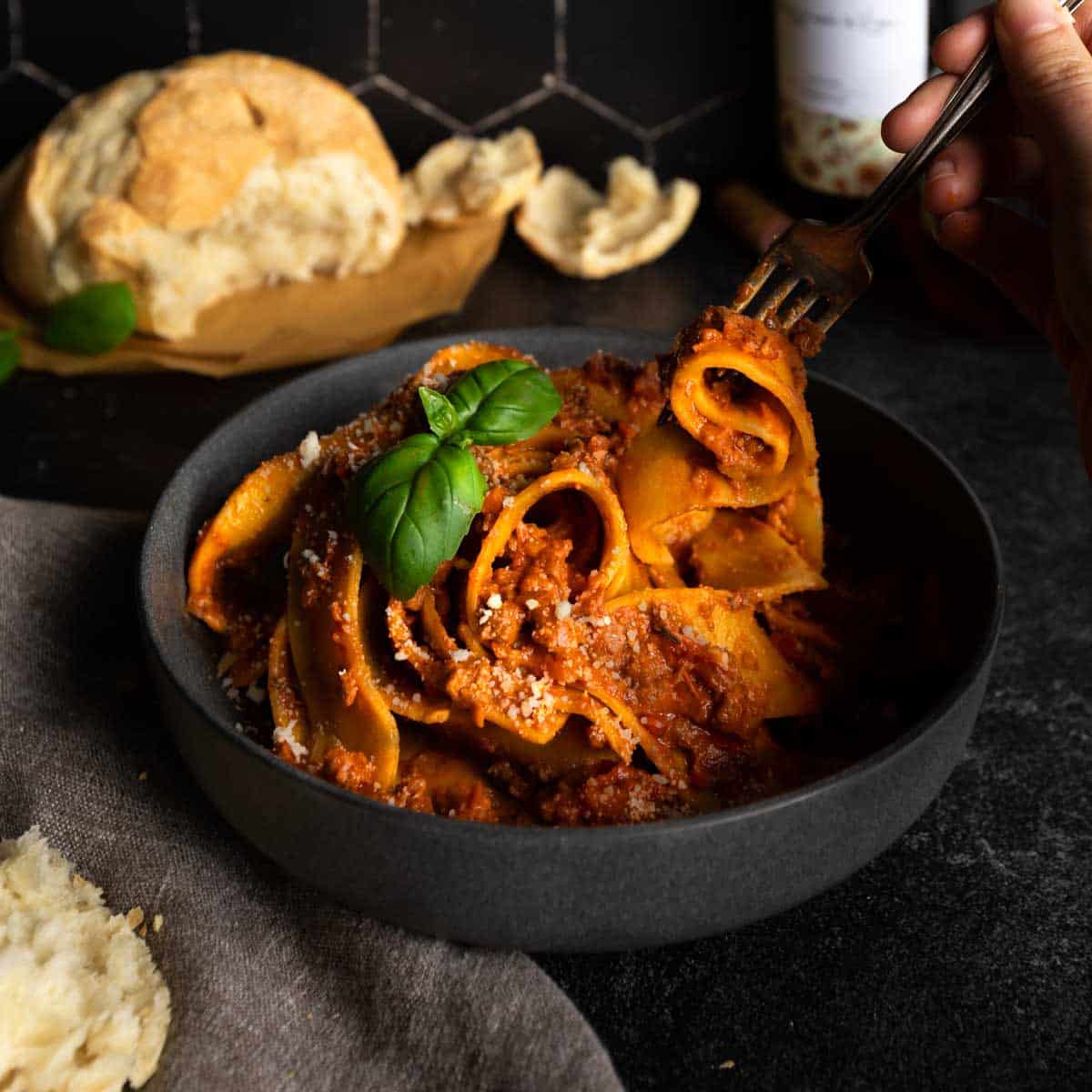 Recipe
Homemade Italian Pappardelle (Fresh Pasta Recipe)
Fresh pappardelle pasta is easy to make, fun to eat and sure to impress! This recipe uses our tried and true semolina egg pasta dough and can be made with pasta machine or completely by hand!
ADJUST SERVINGS
Special Equipment
Bench Scraper

Rolling Pin (We use a mini rolling pin)

Sharp Knife (or Brass Pasta Wheel)

Spider Kitchen Utensil (or Colander), for draining

Pasta Machine (Optional)

Ruler (optional)
Ingredients
1 Pound (454 grams) Fresh Pasta Dough (We use this, Semolina Pasta Dough Recipe, See the full post, here.)
1¼

Cups

semolina flour

1¼

Cups

bread flour (or all-purpose flour)

plus more to prevent sticking

1

large

whole egg

room-temperature

5

large

egg yolks

room-temperature

Water

as needed (about 2+ Tablespoons)

Fine kosher salt*

as desired, for seasoning during boil
Instructions
Fresh Pasta Dough
If using our Homemade Semolina Pasta Dough recipe, gather, measure and prepare the recipe ingredients as listed. For the most consistent results, we recommend using metric weight measurements whenever possible.

In a medium mixing bowl, add semolina and bread flours and whisk to combine. Transfer flour mixture in a mound on a smooth, clean work surface. Shape a well in the center of your flour.

Add the egg, egg yolks and about 1 Tablespoon (15 milliliters) of water to the well.

Using a fork, begin to whisk the eggs and water together until smoothly combined. Continue whisking, while slowly bringing flour into the eggs to form a smooth paste.

Once most of the pasta flour is incorporated and the dough begins to come together, switch from using the fork to using your bench scraper. Scrape the dough up from your work surface and fold it over itself. Use the bench scraper to chop the mixture together and evenly distribute the flour throughout a shaggy dough. If the dough is too dry to come together, drizzle a little additional water over the mass of dough and continue to combine with the bench scraper. 

Use your hands to pull the dough together and knead. Use the mass of dough to pick up any scraggly dough scraps or loose flour on your work surface. The dough should be firm and may be slighlty tacky but should not stick to your hands or the work surface.

Once all the flour is incorporated and dough is homogenous, form into a ball. Cover the dough with a damp towel or plastic wrap to prevent drying. Allow the dough to rest for at least 30 minutes or overnight in the refrigerator. Once rested, you can begin sheeting your pasta to make homemade pappardelle.
How To Shape Homemade Italian Pappardelle Pasta
Using a knife or bench scraper, divide your fresh pasta dough into four equal portions. Work with one portion at a time, keep the remaining dough covered with your damp cloth or plastic wrap to prevent drying. 

Flour your dough, work surface and kitchen tools as needed, to prevent sticking. With a rolling pin, or on the widest setting of your pasta maker, begin to roll out and flatten your dough into an elongated oval. Fold the tapered ends of your oval dough over itself, in thirds (like you would a letter) so your folded dough is approximately the shape of a 13 centimeter (5 inch) square or rectangle (*or the width of your pasta maker, if using). 

Repeat Step 2 twice, for a total of three folds. If your dough seems too moist and is sticking, you can fold in a little extra flour during this process. 

Sheet pasta with a rolling pin or pasta maker to 1 - 1½ millimeters thick (slightly thicker than the width of a credit card).

Trim the sheeted pasta dough to the desired noodle length (about 10 inches or 25 centimeters). Lightly flour the trimmed sheets of pasta to prevent sticking. Stack 2 - 3 sheets of floured dough over each other, for quicker cutting.

Pasta Wheel: With a straight-edge or fluted pasta wheel, slice sheets of dough into 1 inch (2½ centimeter) ribbons. Use a ruler for consistency and to keep a straight line, if desired. Sharp Knife: Starting at the short ends, fold the sheets of dough into a loose log. With a sharp knife, slice the log of dough into noodles about 1 inch (2½ centimeters) wide. Once sliced, immediately unroll each pappardelle ribbon and toss in a little additional flour, if at all moist or sticking.

Allow the shaped pappardelle pasta to dry on a pasta drying rack, floured sheet pan or mesh pasta screen. If using at a later date, pappardelle can be shaped into portioned nests for drying. (If making nests, be sure to toss ribbons in addditioanal flour to prevent sticking.) Dried pappardelle can be boiled immediately or kept in a paper bag in a cool, dry place for up to one week.
How To Cook Homemade Italian Pappardelle Pasta
Bring 4 – 6 quarts (4 – 6 liters) of water to a rolling boil. Season the water with salt, as desired. (We typically use about 2 – 3 Tablespoons of salt).

Add pappardelle pasta to the pot and cook for about 8 - 12 minutes or until al dente. The exact cooking time will depend on the thickness and dryness of your pasta. We recommend tasting a piece of the pappardelle to determine the ideal doneness.

Transfer the cooked pasta from the boiling water directly into your sauce using a spider utensil (or drain pasta using a colander). Enjoy Homemade Italian Pappardelle immediately with your favorite sauce and cheeses, quanto basta (as desired). Enjoy!
Notes
a. These instruction explain making our Semolina Pasta Dough recipe by hand. If you would like to make this recipe with a stand mixer or food-processor, please head to the Semolina Pasta post for detailed instructions. The original post includes quick, How-To videos and all of our tips and tricks to making delicious, fresh pasta. 
b. Unused scraps of pasta dough can be rerolled to create more pasta. To reuse scraps, brush away any excess flour sticking to the dough scraps. Then, bunch and gather all scraps into a ball. (You can continually add more scraps to the ball.) Keep the scrap dough covered in plastic wrap or a damp kitchen towel to prevent drying. Allow the scrap dough to rest for 15 – 30 minutes before re-rolling and sheeting again. 
* A Note About Salt
Unless otherwise noted, all recipes on The Sage Apron are developed using Diamond Crystal Kosher salt. It is a great all-purpose salt for cooking and baking. If using table salt, reduce quantities by about half.
Nutrition
Calories:
281
kcal
|
Carbohydrates:
46
g
|
Protein:
11
g
|
Fat:
5
g
|
Saturated Fat:
2
g
|
Polyunsaturated Fat:
1
g
|
Monounsaturated Fat:
2
g
|
Trans Fat:
1
g
|
Cholesterol:
185
mg
|
Sodium:
20
mg
|
Potassium:
119
mg
|
Fiber:
2
g
|
Sugar:
1
g
|
Vitamin A:
250
IU
|
Calcium:
33
mg
|
Iron:
2
mg