This 'nduja vodka sauce pasta is a flavorful sausage and tomato cream sauce with a spicy kick! It's a quick and delicious recipe that we just can't get enough of!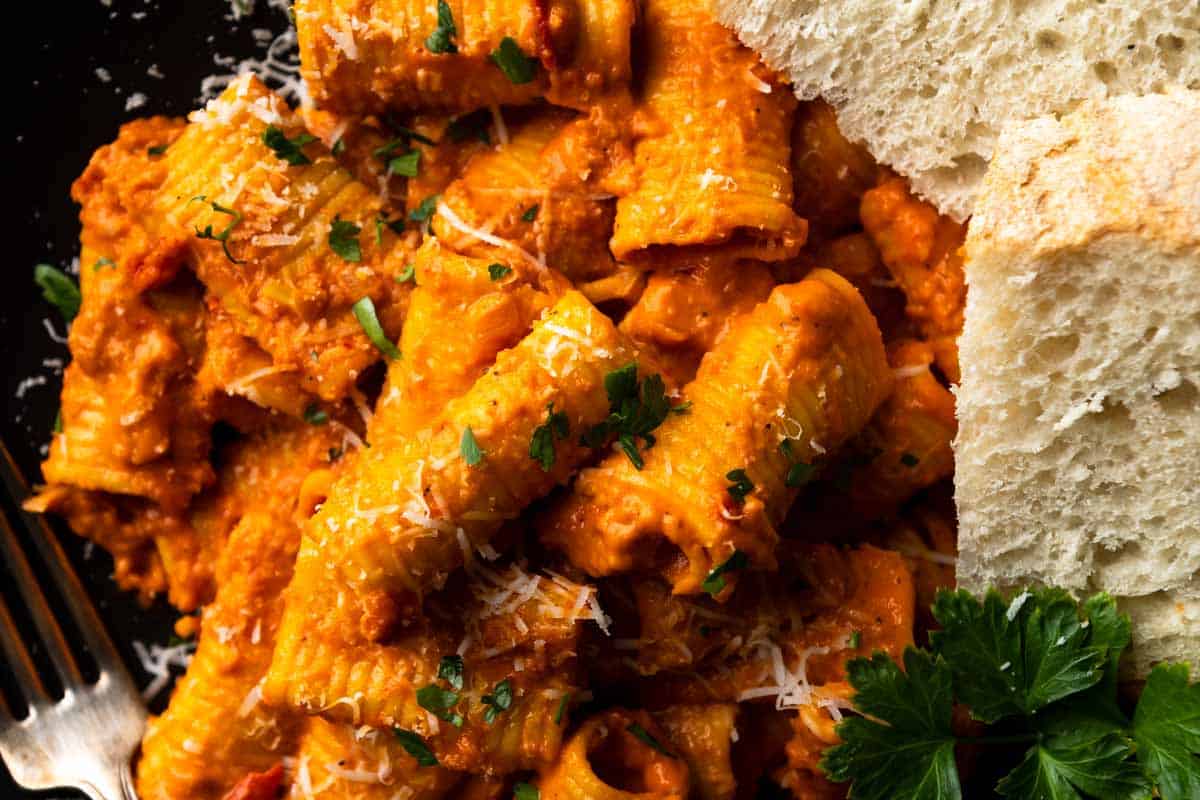 This recipe was photographed with our Handmade Rigatoni! For another delicious meat sauce, check out out recipe for Beef Bolognese!
Ingredients
This 'nduja pasta recipe is simple enough for a busy weeknight dinner or tasty enough for a special occasion. Here's what you'll need: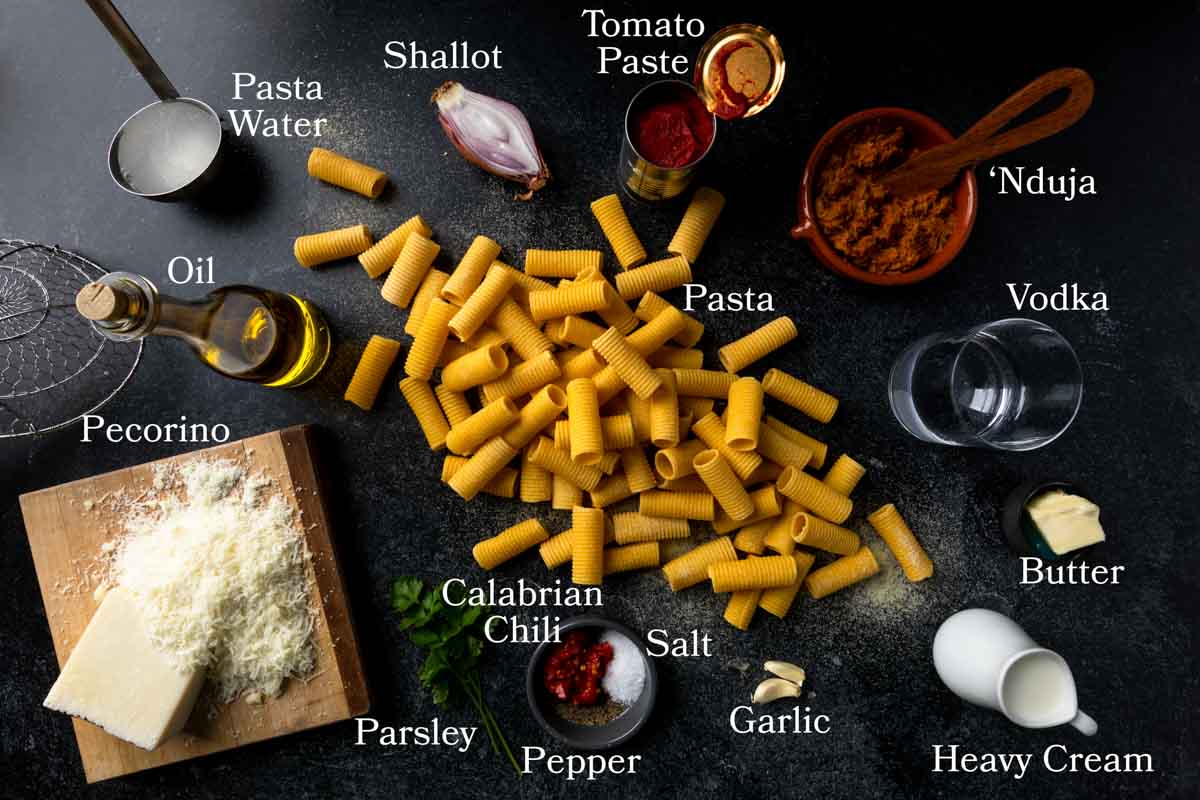 Pasta - We used our handmade rigatoni recipe but you can use any fresh or dried pasta shape that you like.
'Nduja - Read more about this spreadable pork sausage below!
Tomato Paste
Vodka
Butter
Heavy Cream
Pecorino Cheese - Parmesan or Grana Padana work well, too.
Shallot - or a small piece of red onion
Garlic
Calabrian Chilies - Optional, depending on how spicy you like it! We use oil-preserved Calabrian chili peppers from a jar. These small red chili peppers from Southern Italy have a nice balance of fruity sweetness, smoke and spiciness. You can also substitute a pinch of dried red chili flakes.
Olive Oil
Parsley
Salt & Black Pepper
Pasta Water - Essential for creating a rich sauce that clings to each bite of pasta!
Parsley - Optional, for garnishing.
What is 'Nduja?
'Nduja is a spicy fermented pork sausage, originally from the southern Italian region of Calabria. This spicy salami is made with fatty cuts of ground pork and lots of Calabrian chili peppers. The peppers give this sausage a kick of spice and a vibrant red or orange color. Meanwhile, the high fat content keeps 'nduja soft with a spreadable consistency.
'Nduja salami has big meaty flavors, packed with umami, a fiery heat and a slightly sour fermented note. The flavors are similar to that of an andouille sausage, or a spicy chorizo. Since 'nduja is not as regulated as some other Italian salumi, some versions will be spicier or more mild.
You can purchase 'nduja sausage at some grocery stores, specialty cheese and meat shops or online. Our favorite brand of 'nduja is made by La Quercia Cured Meats and can be delivered straight to your doorstep.
Pasta Perfect
'Nduja pasta sauce can be served with any shape of fresh or dried pasta that you like. Personally, we like to serve this recipe with a short pasta, like rigatoni. As pictured, we made this our 'nduja vodka sauce pasta with our own fresh pasta recipe shaped into handmade rigatoni.
To make your own rigatoni (or other tube shaped noodles!), check out our recipe and tutorial: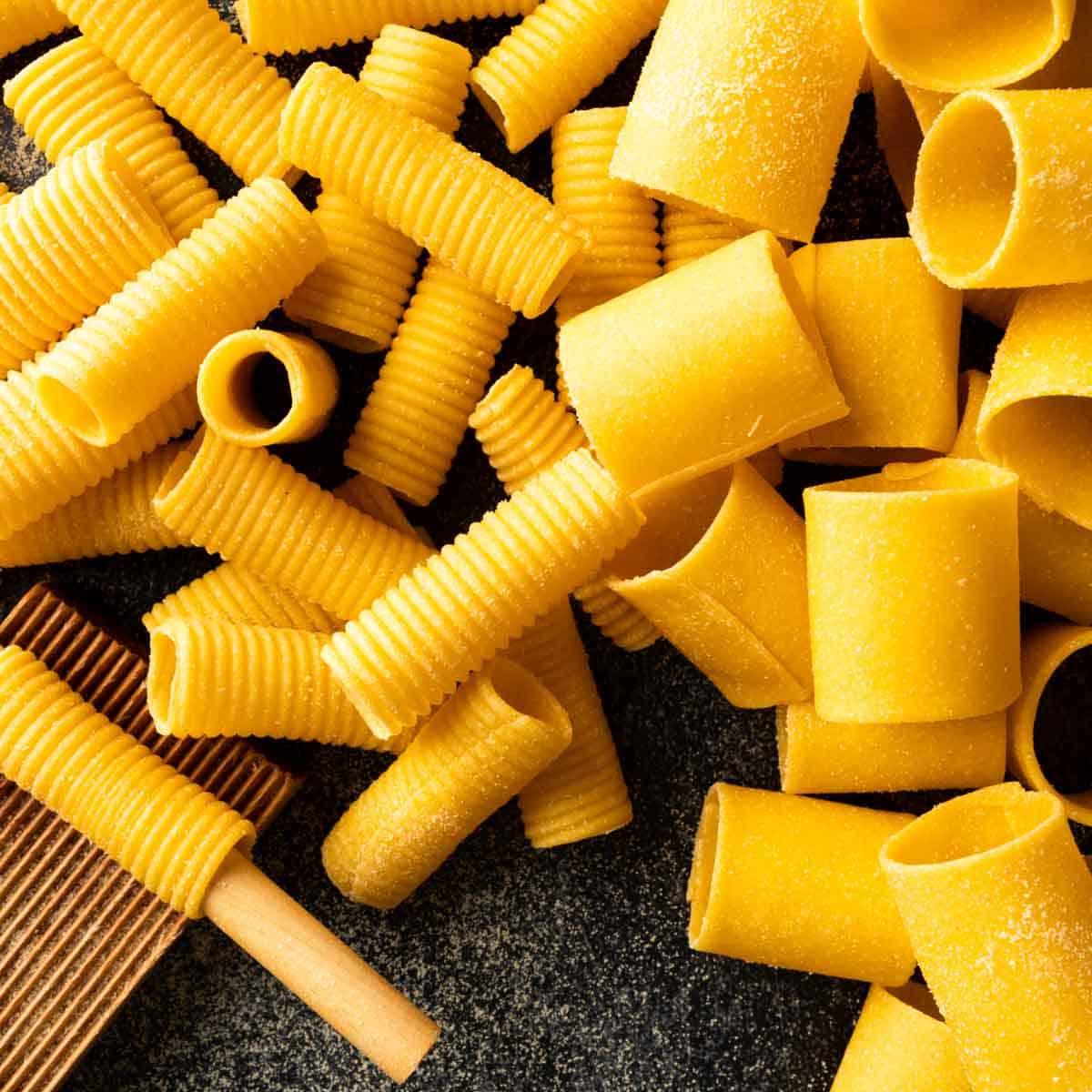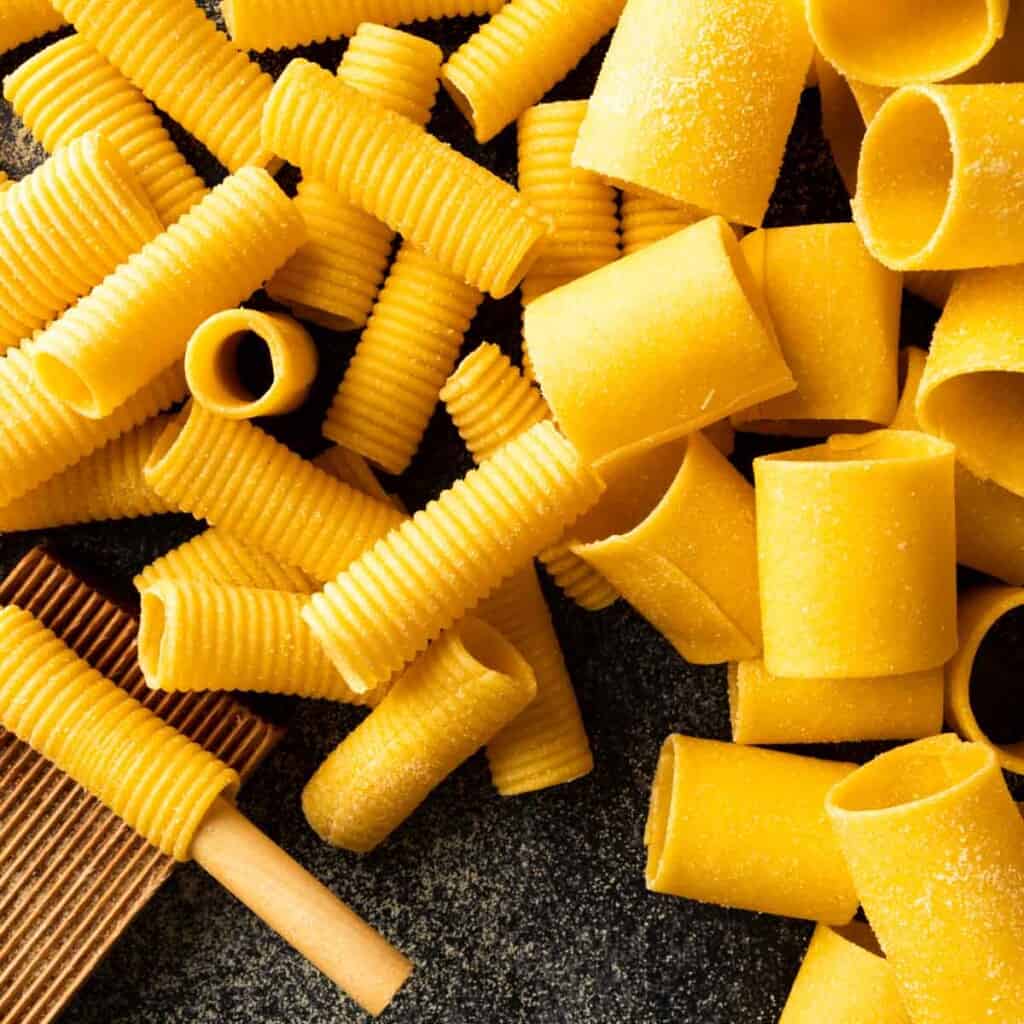 With our multi-purpose semolina pasta dough, you can create beautiful tube-shaped pasta - without an extruder!
How To Make This Recipe
This recipe comes together in less than 30 minutes. Here's how it's done:
Cooking the Pasta
1. Start by heating your water to cook the pasta. Set a large pot of water to boil. Season the boiling water with a generous sprinkle of sea salt.
Try to time cooking your pasta so that it is done around the same time as your sauce. If you are using a boxed and dried pasta, begin cooking the noodles according to package directions during Step 2, below. For fresh, quicker-cooking pastas, begin boiling in Steps 3 or 4. Either way, be sure to reserve a cupful of the cooking water before draining the pasta.
Chef's Note: Perfectly Cooked Pasta - We recommend slightly undercooking your pasta during the boil. The pasta will finish cooking for a few minutes directly in the 'nduja vodka sauce. For that perfect al dente bite, reduce the boiling time by 1 - 2 minutes.
Making The Sauce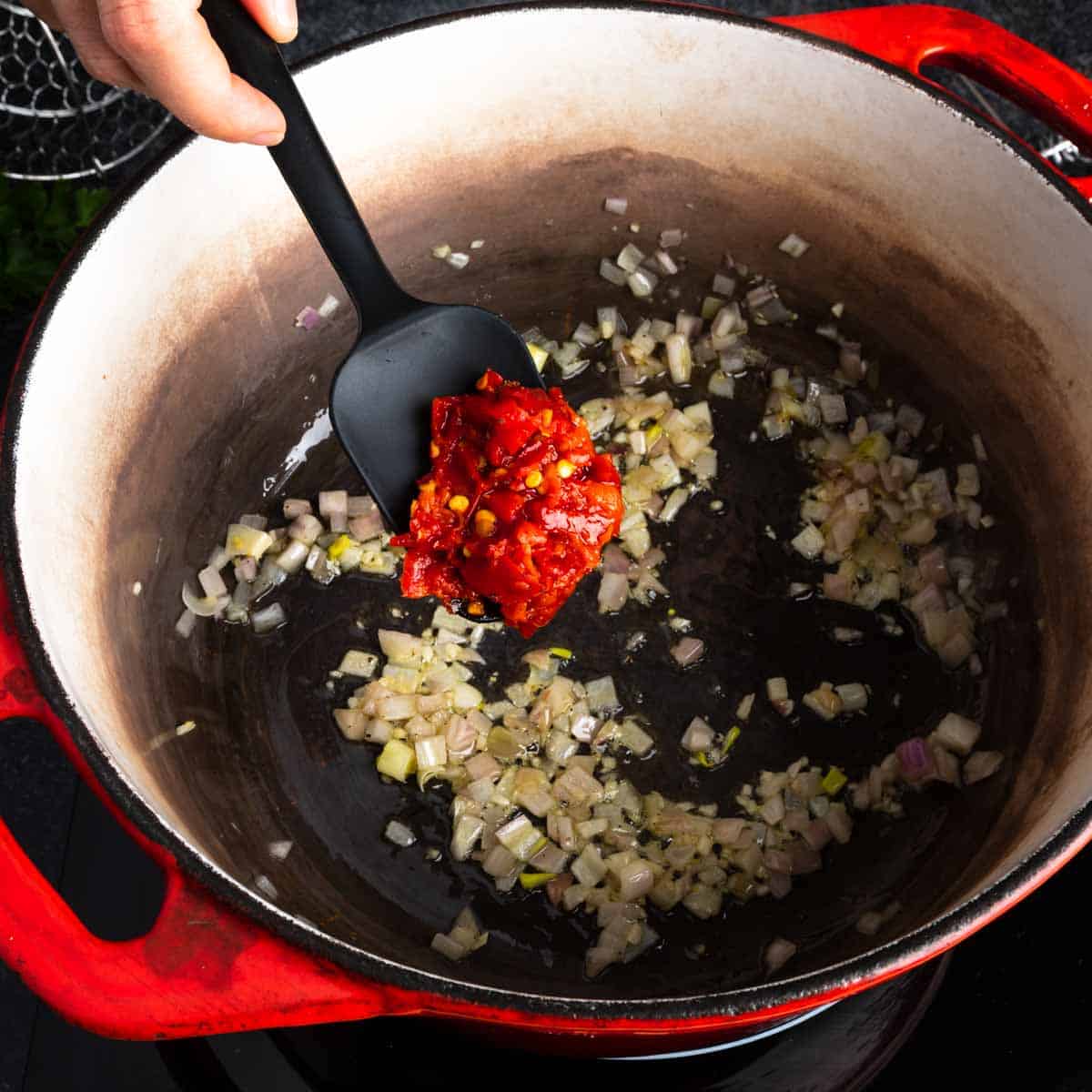 2. Meanwhile, in a deep, large skillet or dutch oven, heat olive oil over medium heat. Add diced shallot, garlic and Calabrian chili peppers (if using) and saute for a few minutes, until the onions are softening.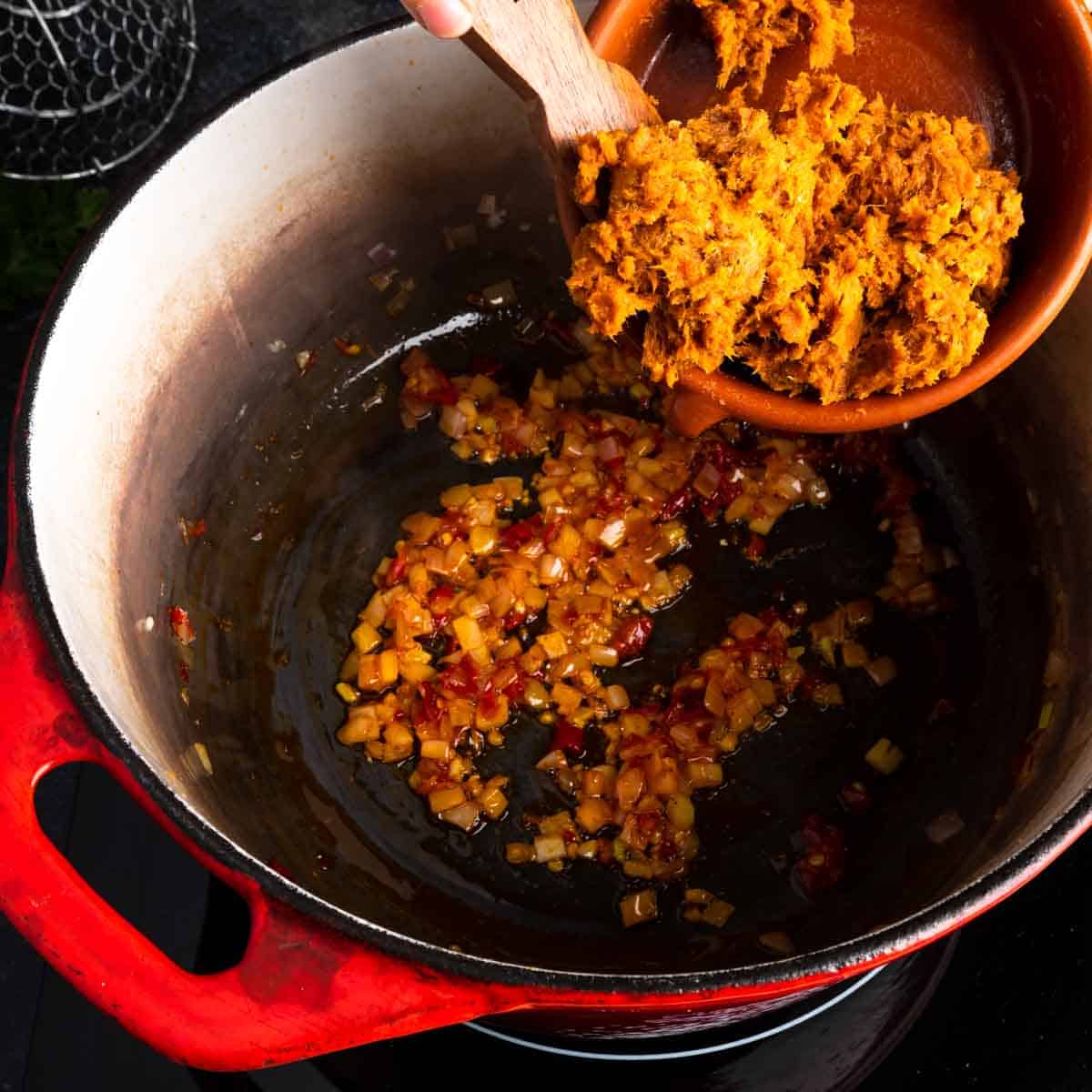 3. Next, add in the 'nduja sausage and the tomato paste. Stir with a wooden spoon, while cooking until the ingredients have combined into a thick paste.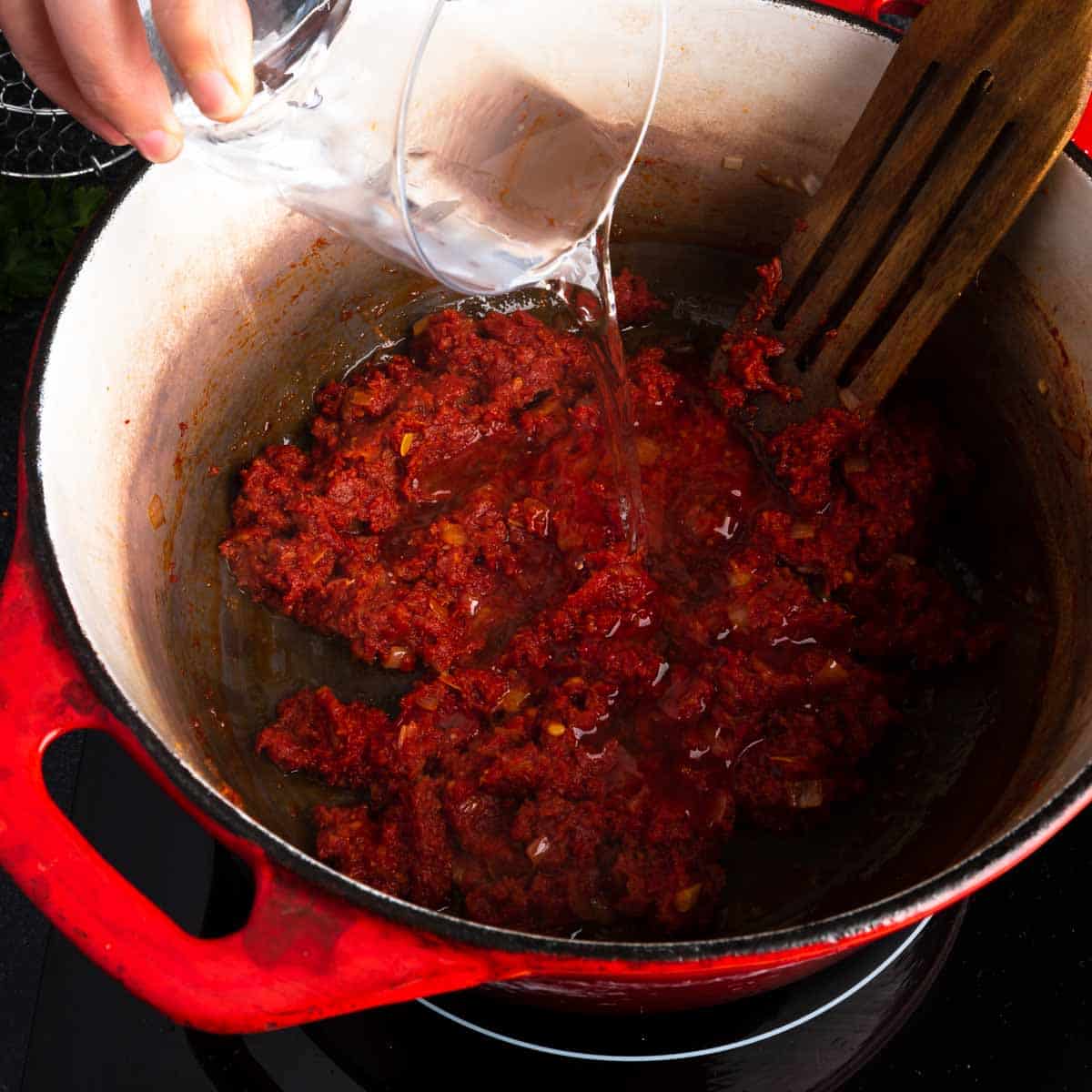 4. Add the vodka and stir into the sauce as it bubbles and steams. Then, stir in a little cream and reduce to low heat. The 'nduja tomato sauce will be very thick but will be thinned out later, with a bit of pasta water.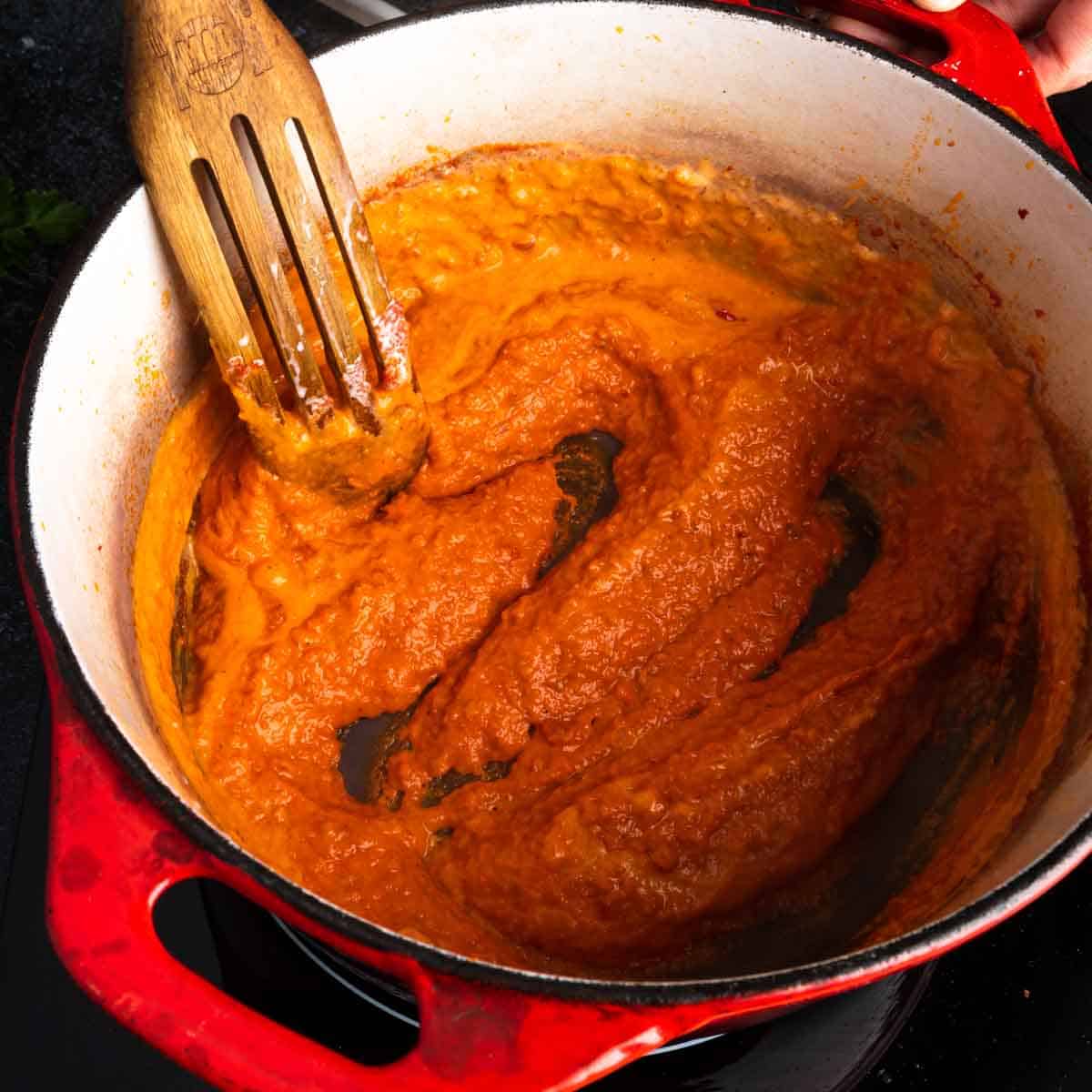 5. Once ready, transfer the slightly undercooked cooked pasta directly into the 'nduja sauce and stir to combine. Add in about ½ to 1 Cup of the pasta water, while stirring, until the desired consistency is reached.
6. Finally, add in the pecorino cheese and the butter. Stir and cook for an additional 1 - 2 minutes until the cheese and butter have melted and the sauce is thickly clinging to every bite of pasta. Serve immediately with a sprinkle of chopped parsley, more cheese and a side of crusty bread. Buon appetito!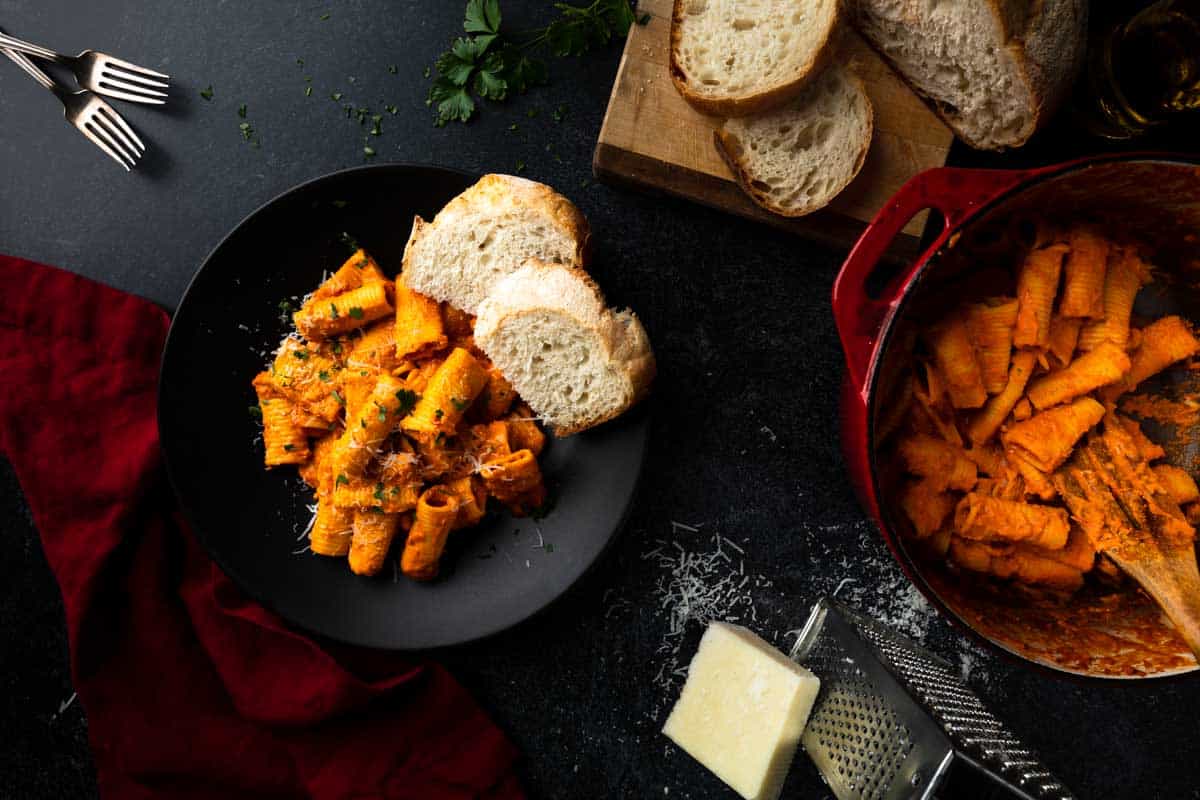 For a complete meal, serve this recipe with our Tuscan Kale Salad with Parmesan Tahini Dressing.
More Recipes To Try
If you enjoyed this 'nduja pasta dish, check out some of our other favorite recipes!
Recipe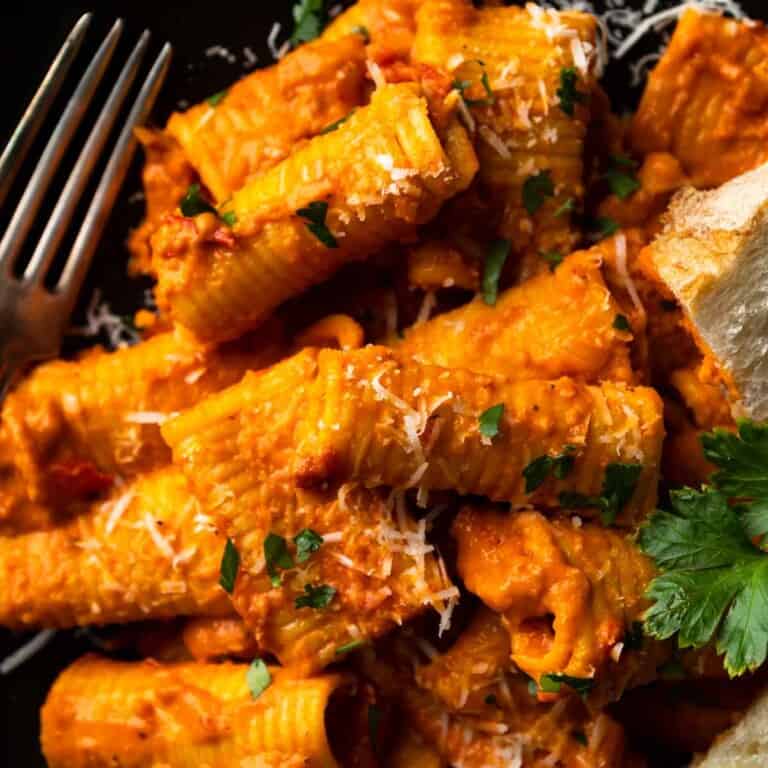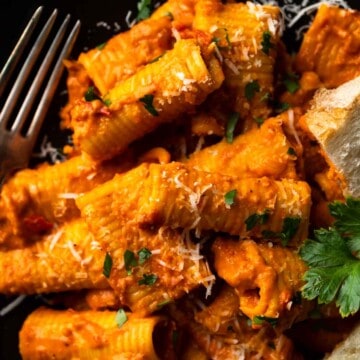 'Nduja Vodka Sauce Pasta
This 'Nduja pasta dish is served in a spicy tomato vodka cream sauce. It's rich, filling and so delicious!
ADJUST SERVINGS
Ingredients
1

pound

pasta

dried or fresh, we used homemade rigatoni

Fine kosher salt*

to taste

2

Tablespoons

olive oil

½

medium

shallot

small diced

2

cloves

garlic

peeled and minced

1

Tablespoon

oil preserved Calabrian chili optional, or

1 teaspoon

crushed red pepper

¼

pound

'Nduja

6

ounces

tomato paste

½

Cup

vodka

½

Cup

heavy cream

room temperature

½ - 1

Cup

salted pasta water

reserved from the pot

2

ounces

Pecorino cheese shredded, plus more for serving (About

½ Cup

)

2

Tablespoons

butter

softened

Freshly-ground black pepper

to taste

1

handful

parsley leaves

chopped, optional garnish
Instructions
Gather, measure and prepare the ingredients as listed.

For the pasta: Set a large pot of water over high heat and bring to a rapid boil. Once boiling, salt pasta water generously, to taste. Boil pasta until just slightly undercooked (it will finish cooking for a few minutes in the sauce). Try to time cooking your pasta so it is ready around the same time as the 'nduja vodka sauce.

For the 'nduja vodka sauce: In a large pot or dutch oven, heat the olive oil over medium heat. Add the shallot, garlic and Calabrian chili (if using) and cook for about 5 minutes.

Add the 'nduja and tomato paste and stir to combine. Cook for 1 - 2 minutes until hot and cohesive. Pour in the vodka and stir, allowing the sauce to bubble. Continue cooking for 1 minute, then lower the heat to low and stir in the heavy cream.

When the pasta is just slightly undercooked, transfer it directly into the 'nduja vodka sauce. Be sure to reserve

1 Cup

of the salted pasta water. Add

½ Cup

of the pasta water, stirring and cooking for 2 - 3 minutes. The sauce should be thick but add in an additional splash or two of pasta water, as needed, to achieve the desired consistency.

Finally, add in the pecorino cheese and butter. Stir 1 - 2 minutes or until the cheese has completely melted into the sauce and the pasta is cooked to your liking. Taste and season with additional salt and black pepper, as desired. Serve immediately garnished with chopped parsley (if using), extra cheese and a nice crusty bread. Buon appetito!
* A Note About Salt
Unless otherwise noted, all recipes on The Sage Apron are developed using Diamond Crystal Kosher salt. It is a great all-purpose salt for cooking and baking. If using table salt, reduce quantities by about half.
Nutrition
Calories:
336
kcal
|
Carbohydrates:
12
g
|
Protein:
9
g
|
Fat:
24
g
|
Saturated Fat:
11
g
|
Polyunsaturated Fat:
2
g
|
Monounsaturated Fat:
9
g
|
Trans Fat:
1
g
|
Cholesterol:
59
mg
|
Sodium:
890
mg
|
Potassium:
637
mg
|
Fiber:
3
g
|
Sugar:
7
g
|
Vitamin A:
1305
IU
|
Vitamin C:
17
mg
|
Calcium:
146
mg
|
Iron:
2
mg