This San Marzano tomato sauce recipe is quick, simple Italian red sauce recipe bursting with vibrant flavors.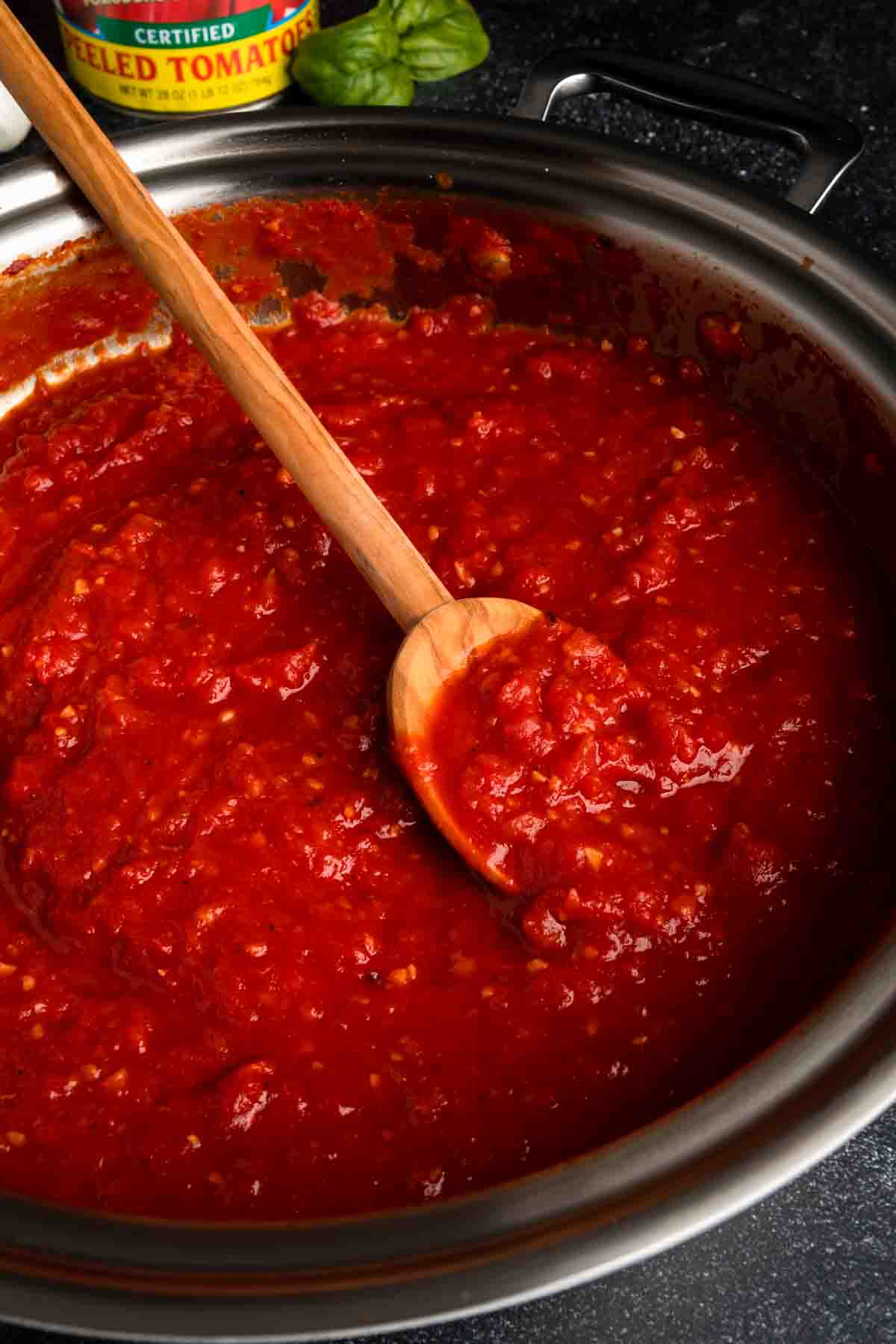 This simple marinara sauce recipe uses San Marzano tomatoes for a bright, flavorful sauce in only thirty minutes. It's our super easy, go-to red sauce for all sorts of classic Italian recipes like spaghetti, lasagna, pizzas and more.
For a simple scratch-made Italian meal, serve this sauce recipe with our Homemade Semolina Pasta Recipe. For a slow-simmered meat sauce recipe, try our classic Ragu alla Bolognese.
Ingredients
For this recipe you will need canned San Marzano tomatoes, olive oil, fresh garlic, tomato paste, a touch of granulated sugar and salt and pepper.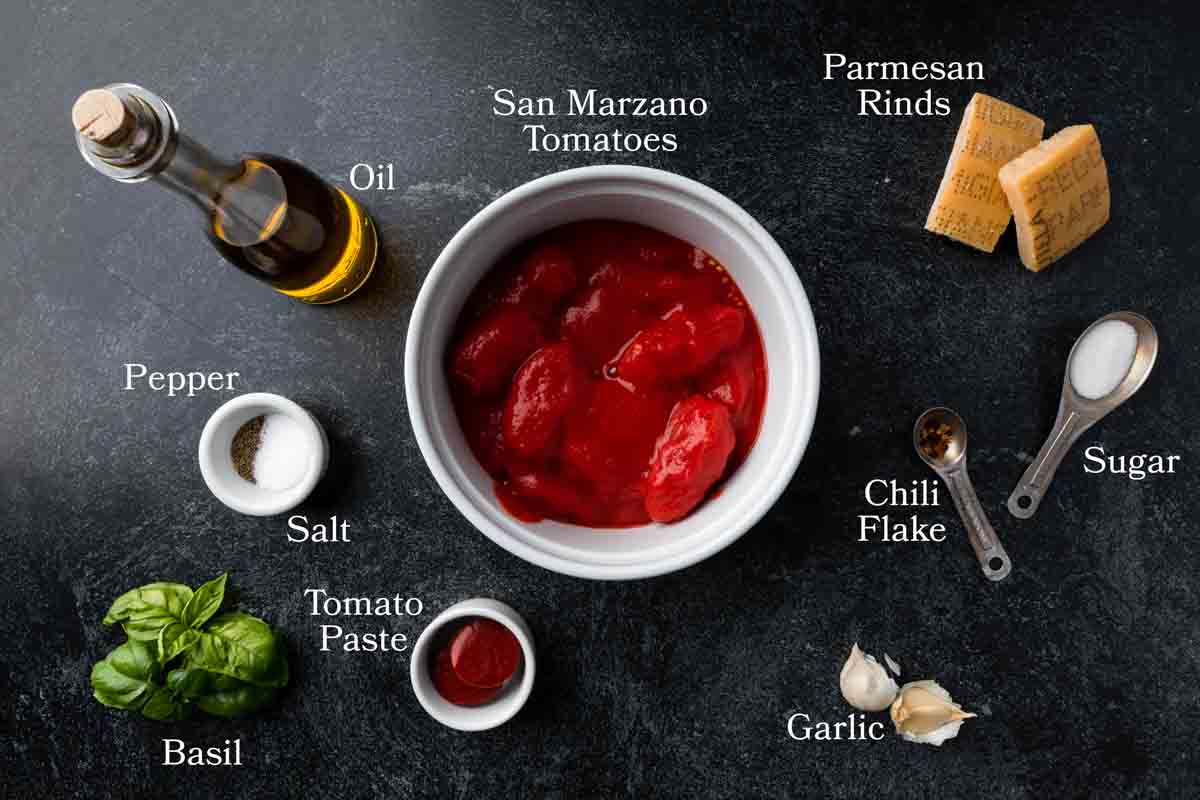 San Marzano Tomatoes - Look for cans labeled "DOP Certified". More on these below!
Optional Ingredients: crushed red pepper flakes, Parmesan rind, fresh or dried basil, fresh or dried oregano (not pictured). More suggestions below.
Chef's Note: Making The Sauce Your Own - Marinara sauce is a quick recipe with minimal ingredients. It's a great recipe that can be made quickly and easily with a few pantry staples. Feel free to explore other flavors that enhance tomatoes. Here are a few suggestions:
Spicy Marinara - Add Calabrian chili or dried chili flakes
Umami - For more umami add a Parmesan rind, a dash of MSG, a Tablespoon of miso paste or a splash of fish sauce.
Herbs - I generally make my San Marzano sauce with a sprig of fresh basil. It's a classic pairing that works well in all of my favorite Italian dishes. If using this sauce for pizza I recommend using oregano, instead. Of course, dried herbs can be used, too. If using dried herbs, I recommend adding them with the minced garlic.
Aromatics - I developed this recipe without onions to make it quicker and easier. I don't really miss them in this recipe. However, a classic marinara would usually include onion and you are welcome to add some. I recommend sautéing a ¼ Cup of small diced onion in the olive oil before adding the garlic.
What are San Marzano Tomatoes?
San Marzano tomatoes are a variety of heirloom plum tomato that hail from the region of San Marzano near Naples, Italy.
Characteristics: These tomatoes have a richer concentration of flavor with a lower water content, less seeds and a sweeter, less-acidic flavor. The tomatoes are smaller than other plum tomatoes with a thick skin and a narrow girth.
Certification: San Marzano refers to both the variety of the tomato AND the region that the tomatoes are grown in. The San Marzano region is prized for growing the most flavorful tomatoes for sauce and Italians take sauce very seriously. For this reason, true San Marzano tomatoes hailing from the proper region are mandated, by law, to be D.O.P. certified. (Similar to the way Parmesan cheese, for example, is classified.)

To clarify, the VARIETAL of San Marzano can be grown anywhere (including your back yard!), but to be D.O.P. certified, the tomatoes must be BOTH the varietal and from the proper region.
What To Look For: San Marzano tomatoes are available in the canned tomato aisle of most US grocery stores. Since they are a certified product, they do tend to be more expensive. True San Marzano tomatoes will always display a D.O.P. certification on the label and can only be sold in cans when whole peeled (never diced, crushed or pureed).
Substitutions: Of course, this sauce can also be made with other whole peeled tomatoes and "San Marzano Style" tomatoes but, admittedly, the flavor isn't quite as good.
Why San Marzano Tomatoes Make the Best Sauce
The sweet and concentrated flavors of San Marzano tomatoes make them the perfect varietal for Italian tomato sauces. Here's why:
Lower water content = more concentrated tomato flavor
Only sold whole peeled = fewer preservatives and additives
Sweeter flavor = no need for long cooking times
Lower acidity = easier digestion
Tender texture = velvety sauces in minutes
How To Make This Recipe
1. The first step is to crush the tomatoes. Since San Marzano tomatoes are only sold whole peeled, you will have to crush them yourself. You can use a potato masher, if you want, but I like to channel my inner nonna and crush them by hand.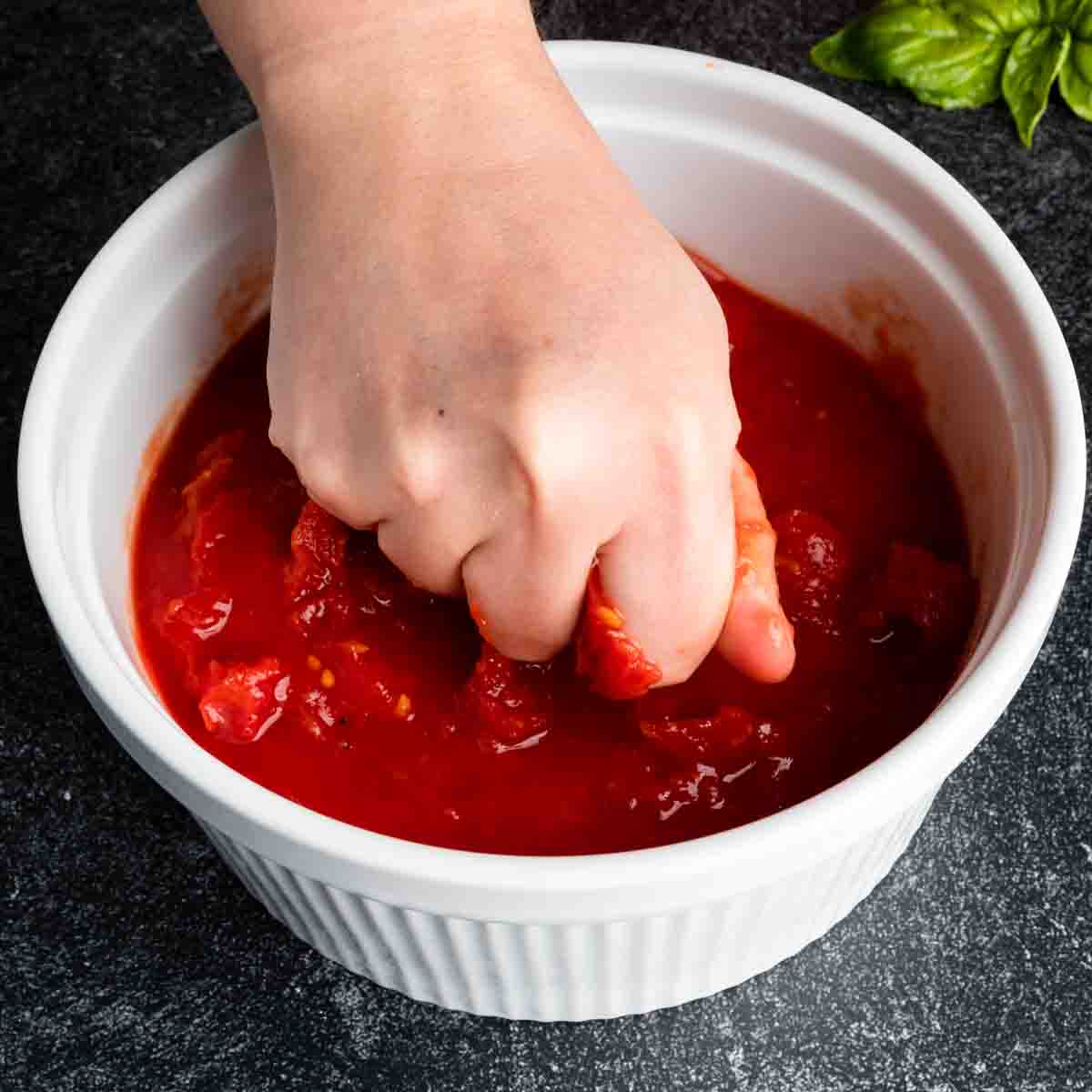 2. Next, heat olive oil in a medium sauce pan over medium heat. Add your garlic (and chili flake/ dried herbs, if using) and sauté for 30 - 60 seconds, until aromatic. Do not brown. Add in tomato paste and use a wooden spoon to combine with the garlic. Cook an additional 1 - 2 minutes, stirring constantly.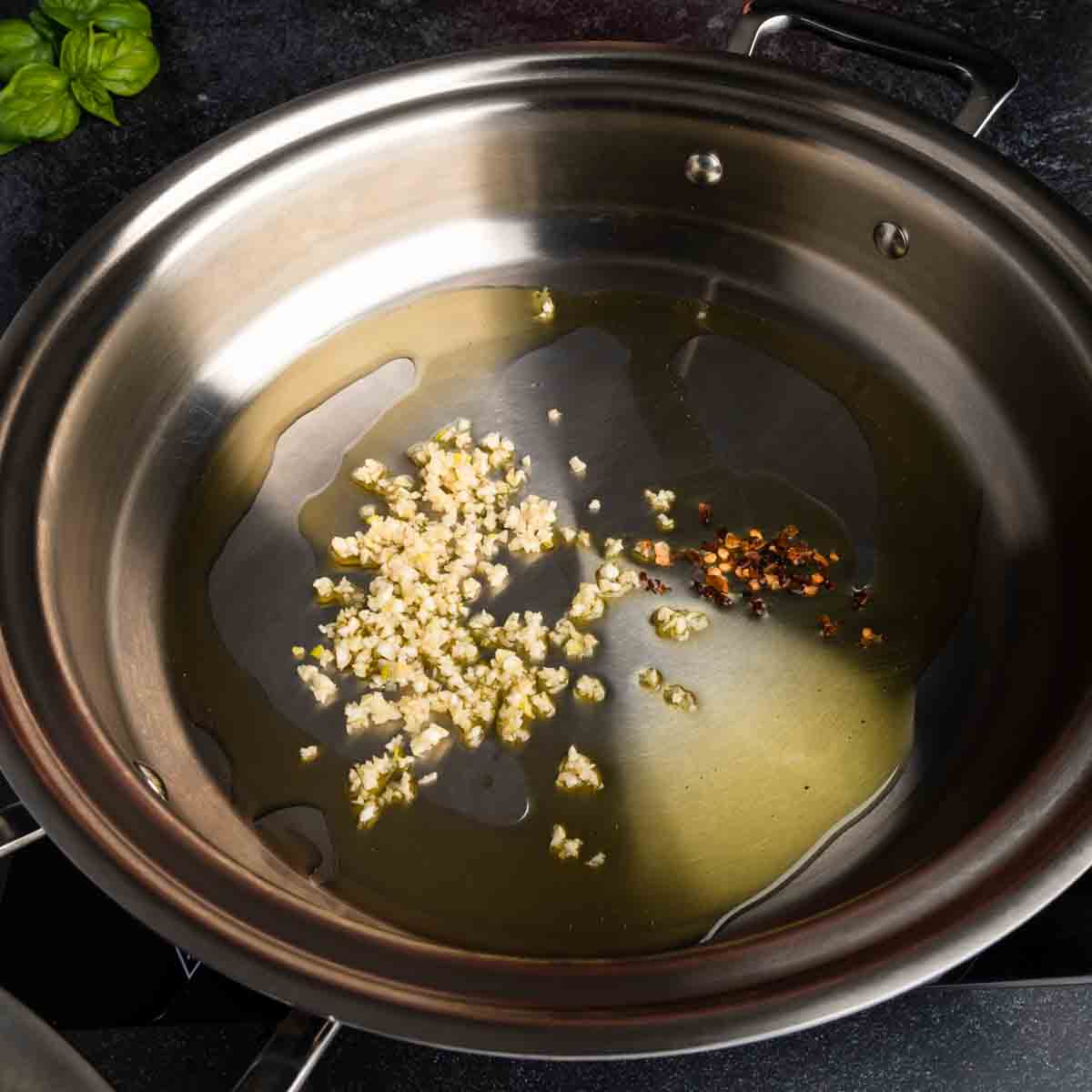 Pro Tip: Avoid Cooking in Reactive Metals - Since tomatoes are a highly acidic food, cooking them in reactive cookware can be the cause of an unpleasant metallic taste. Avoid cooking this sauce recipe in cast iron, copper, aluminum or non-stainless steel pans.
3. Stir in the crushed tomatoes, sugar, salt and pepper.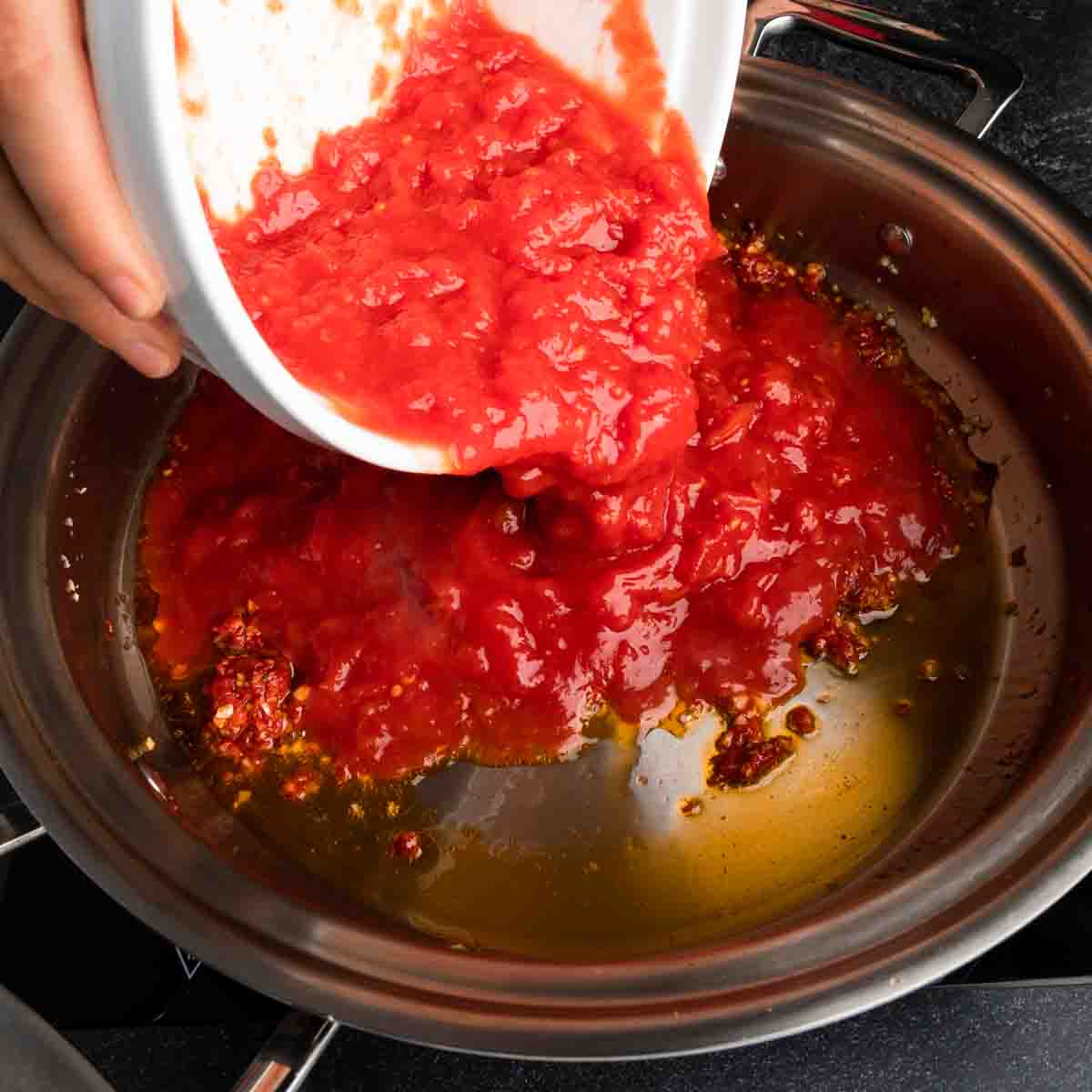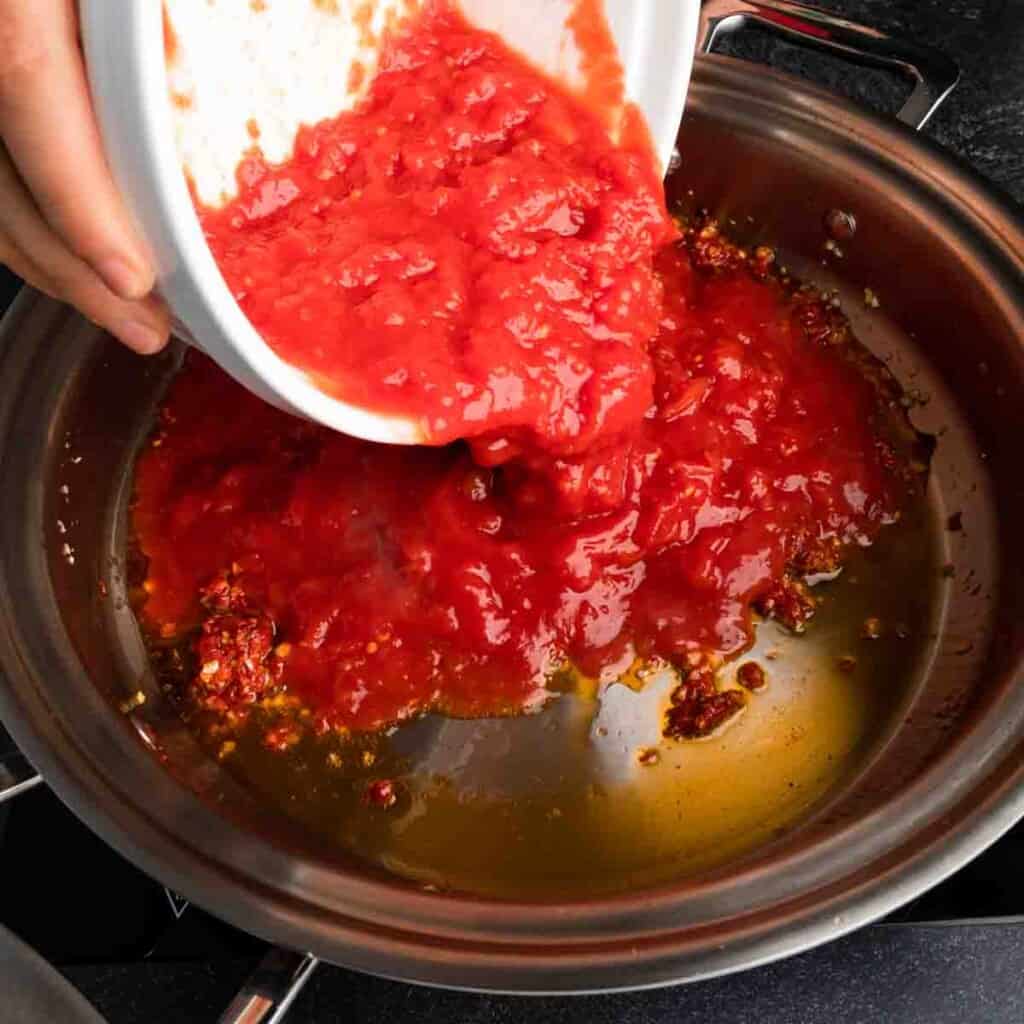 4. If using, add in a section of Parmesan rind, and fresh basil (or oregano). Bring the sauce to a gentle simmer and cook for 15 - 20 minutes, stirring occasionally. Use a pair of tongs to remove the Parmesan rind and fresh herbs (if desired).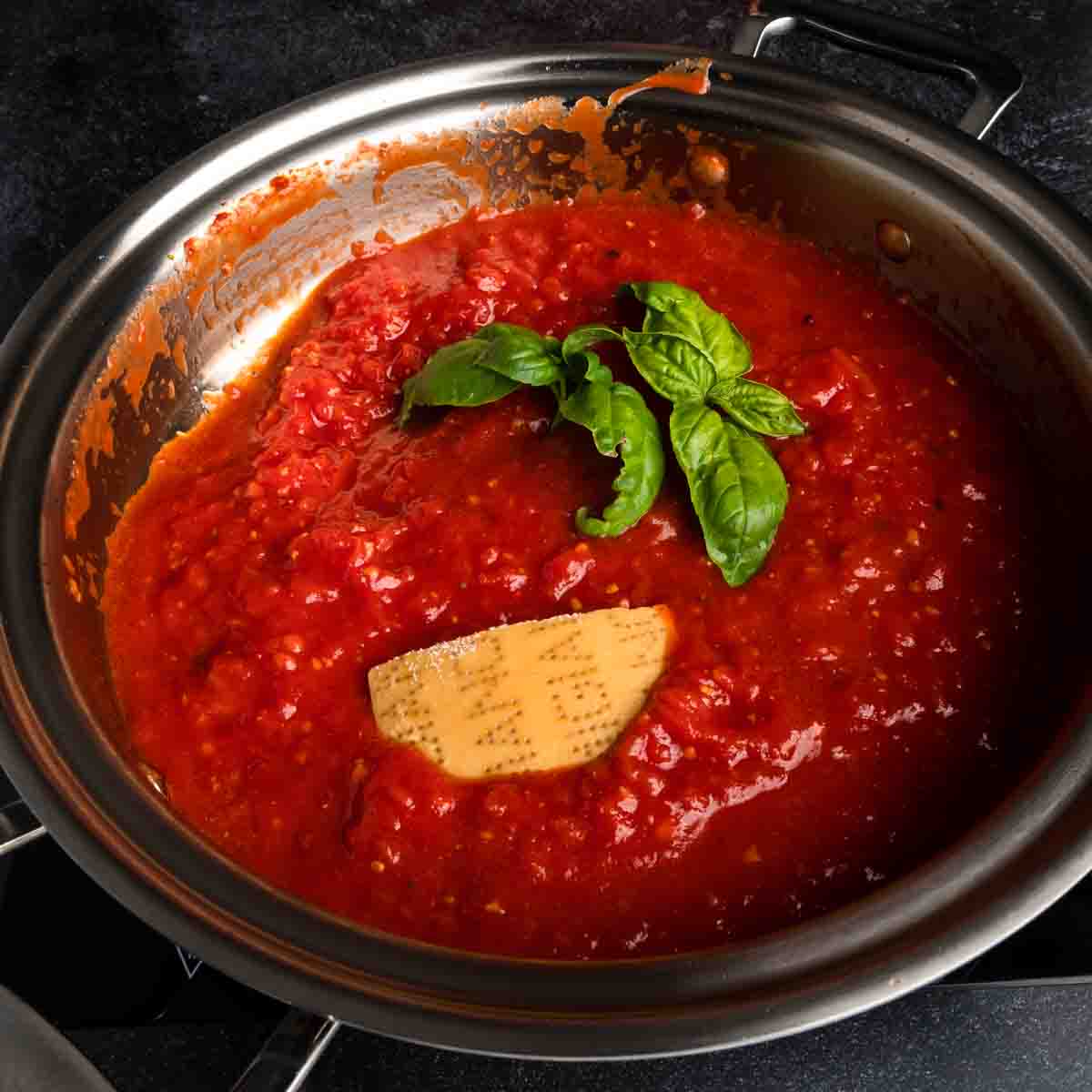 The sauce is ready to be served or saved! For a smooth sauce, puree with an immersion or high speed blender.
Serving Suggestions
This easy tomato sauce recipe is delicious simply with pasta or to use in any of your favorite Italian recipes.
Pasta: I recommend trying this sauce with homemade pasta like our Rigatoni, Farfalle or Fettuccine recipes. It is especially delicious with our Homemade Four Cheese Ravioli recipe.
Pizza: This sauce makes a great base for your favorite pizza recipes.
Italian Red Sauce Favorites: Use this recipe for meatballs, lasagnas, baked ziti, etc.
Italian American Favorites: Use this sauce for chicken, veal or eggplant Parmesan!
Dip: This sauce is awesome for dipping bread sticks, garlic bread, mozzarella sticks and fried ravioli!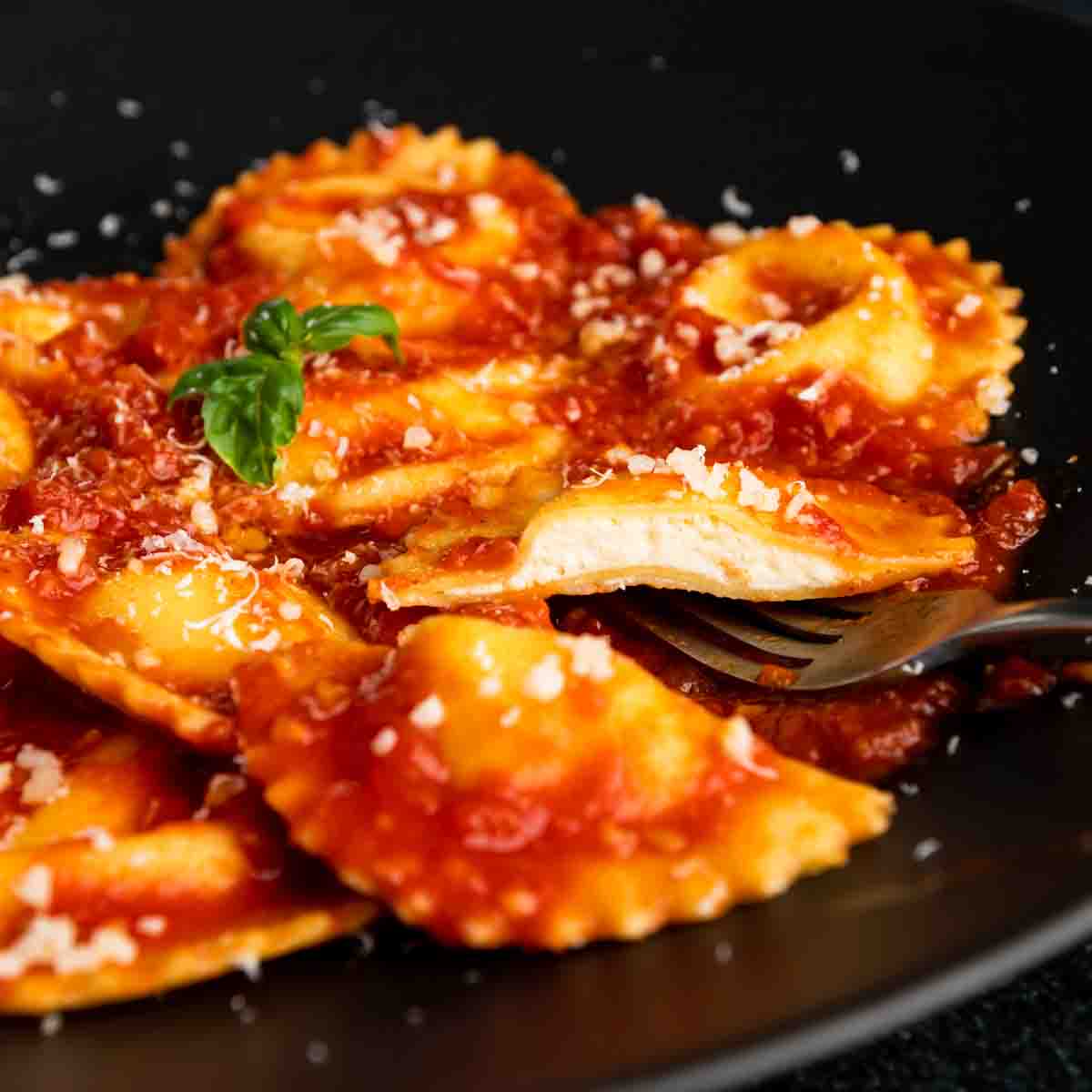 Storing for Later
Refrigerator: This recipe can be made ahead of time and stored in an airtight container in the refrigerator for 1 -2 weeks.
Freezer: To freeze this recipe, allow the sauce to cool completely. Transfer sauce to freezer safe bags and freeze for up to 3 (or more) months.
Reheating: Reheat thawed sauce on the stovetop, sous vide or microwave to a minimum of 165° Fahrenheit.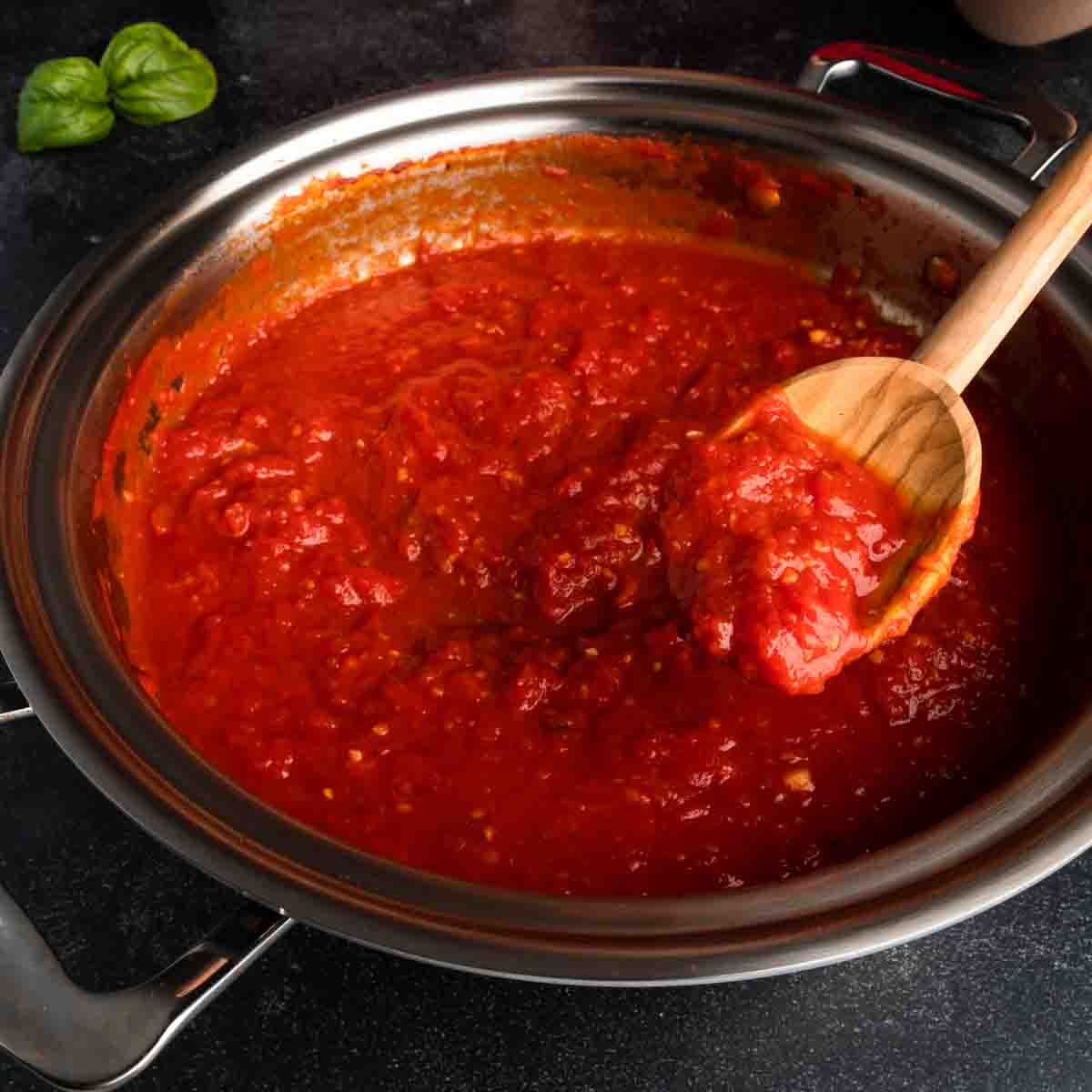 Frequently Asked Questions
Why are San Marzano tomatoes the best for sauce?
San Marzano tomatoes make the best sauce because they are richer and sweeter with less seeds, less water and more concentrated flavor.
What is marinara sauce?
Marinara is a style of Italian tomato sauce that is cooked quickly to preserve the fresh and vibrant flavors of the tomatoes.
What is a substitute for San Marzano tomatoes?
If you can't find (or splurge for) San Marzano tomatoes, another high-quality whole peeled Roma tomato can be used as a substitute.

I prefer to use whole peeled tomatoes packed in juice for their fresher flavor.
What does D.O.P. mean?
D.O.P. stands for the Italian phrase "Denominazion di Origine Protetta" which translates to a "Protected Designation of Origin". It is essentially the Italian government mandated certification that proves an Italian food or wine product has been grown in a specific place while meeting specific requirements.

Some examples of D.O.P. certified products include Parmigiano Reggiano, Balsamic Vinegar of Modena and San Marzano tomatoes.
Recipe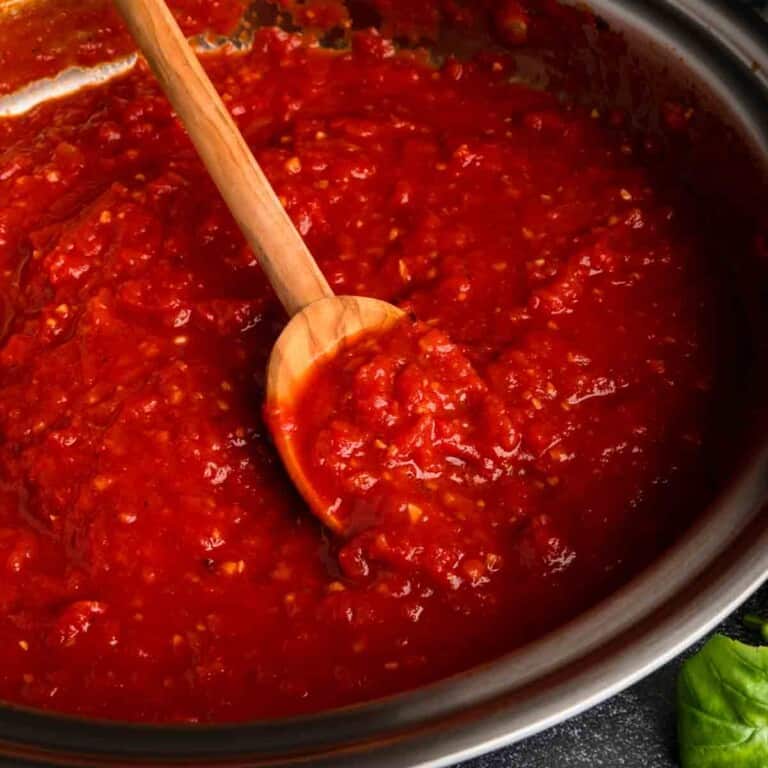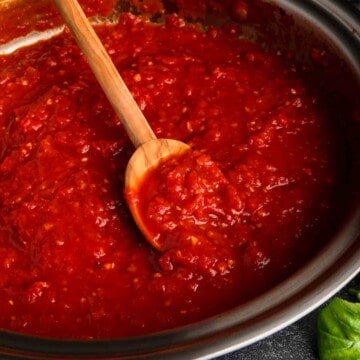 Quick San Marzano Tomato Sauce (Italian Marinara Sauce)
This quick Italian tomato sauce uses San Marzano tomatoes for a sauce that is vibrant and flavorful in less than 30 minutes.
ADJUST SERVINGS
Ingredients
28

ounce can

whole peeled San Marzano tomatoes

preferably D.O.P. Certified

2

Tablespoons

olive oil

2

cloves

garlic

minced

¼

teaspoon

crushed red pepper flakes

optional

½

Tablespoon

granulated sugar

2

teaspoons

fine kosher salt*

1

teaspoon

black pepper

1

sprig

fresh basil and/or oregano

optional (or 1 teaspoon dried basil and/or oregano)

2

inch

Parmesan rind

optional
Instructions
In a medium mixing bowl, crush the whole peeled San Marzano tomatoes with a masher or by hand.

In a medium (non-reactive) sauce pan, heat olive oil over medium heat. Add in garlic, chili flake (if using) and cook for 30 - 60 seconds until aromatic. Add in tomato paste and stir to combine. Cook an additional 1 - 2 minutes, stirring constantly.

Stir in sugar, salt and pepper. Add Parmesan rind and fresh herbs, if using. Bring sauce to a gentle simmer and cook for 15 - 20 minutes, stirring occasionally.

Serve hot with your favorite Italian dishes or cool completely before storing and saving.
Notes
If using dried herbs, I recommend adding them in with the garlic in Step 2.
* A Note About Salt
Unless otherwise noted, all recipes on The Sage Apron are developed using Diamond Crystal Kosher salt. It is a great all-purpose salt for cooking and baking. If using table salt, reduce quantities by about half.
Nutrition
Calories:
116
kcal
|
Carbohydrates:
10
g
|
Protein:
3
g
|
Fat:
8
g
|
Saturated Fat:
1
g
|
Polyunsaturated Fat:
1
g
|
Monounsaturated Fat:
5
g
|
Cholesterol:
2
mg
|
Sodium:
1507
mg
|
Potassium:
392
mg
|
Fiber:
2
g
|
Sugar:
6
g
|
Vitamin A:
319
IU
|
Vitamin C:
19
mg
|
Calcium:
99
mg
|
Iron:
2
mg