This easy tutorial will demonstrate How To Make Farfalle Pasta. Farfalle, otherwise known as bow-tie pasta, is a fun and easy shape that pairs well with lots and lots of recipes.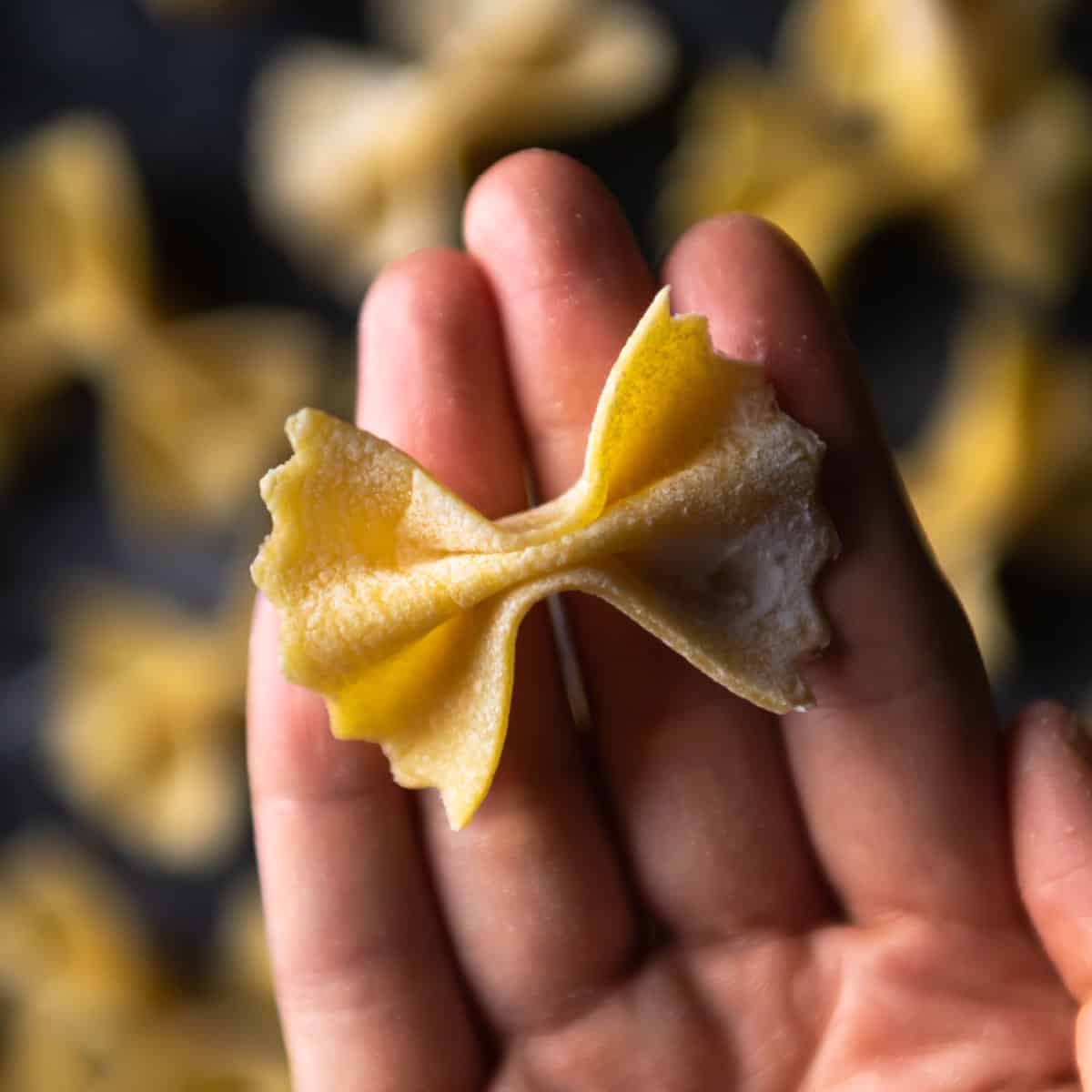 In our home, there is no cozier treat than a big saucy bowl of handmade pasta. We simply adore the endless combinations of shapes, sauces and flavors of fresh pasta dishes.
Among our all time favorite pasta shapes is the beloved bow-tie of Northern Italy! We make homemade farfalle with our Easy Semolina Pasta Dough recipe that creates perfectly chewy, shape-holding, sauce clinging pasta.
How To Make Perfect Pasta
Fresh pasta can be made with just a handful of simple ingredients. The delicious taste is far superior to dried and boxed pastas that you can buy in the store. This tutorial can be used with your favorite fresh pasta dough recipe.
We have tested dozens of pasta recipes and developed our own fresh pasta dough that is easy to make, easy to work with and tastes absolutely delicious. Furthermore, it's a great recipe for beginner pasta makers or tried-and-true noodle connoisseurs.
Our recipe for homemade pasta dough can be made with a mixer or completely by hand. To roll the dough, you can use a pasta machine or a rolling pin. Check out our complete guide and recipe for Homemade Semolina Pasta Dough, here: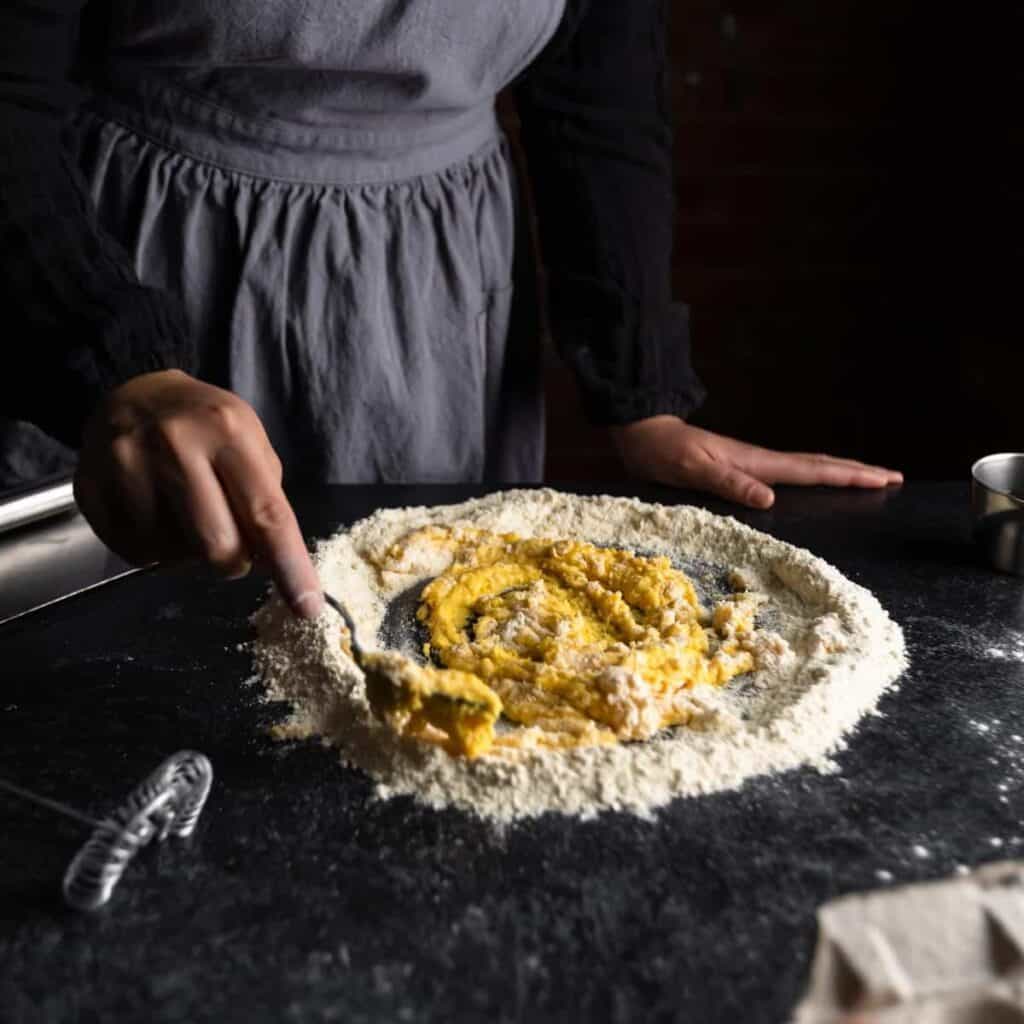 (How To Make Fresh Pasta)
Scratch recipe and guide with Step-by-Step instructions, best practices and How To videos.
This pasta recipe is also fabulous for making other shapes, too! Check out our tutorials for homemade fettuccine, pappardelle, ravioli and tube shaped pastas like rigatoni and paccheri!
Ingredients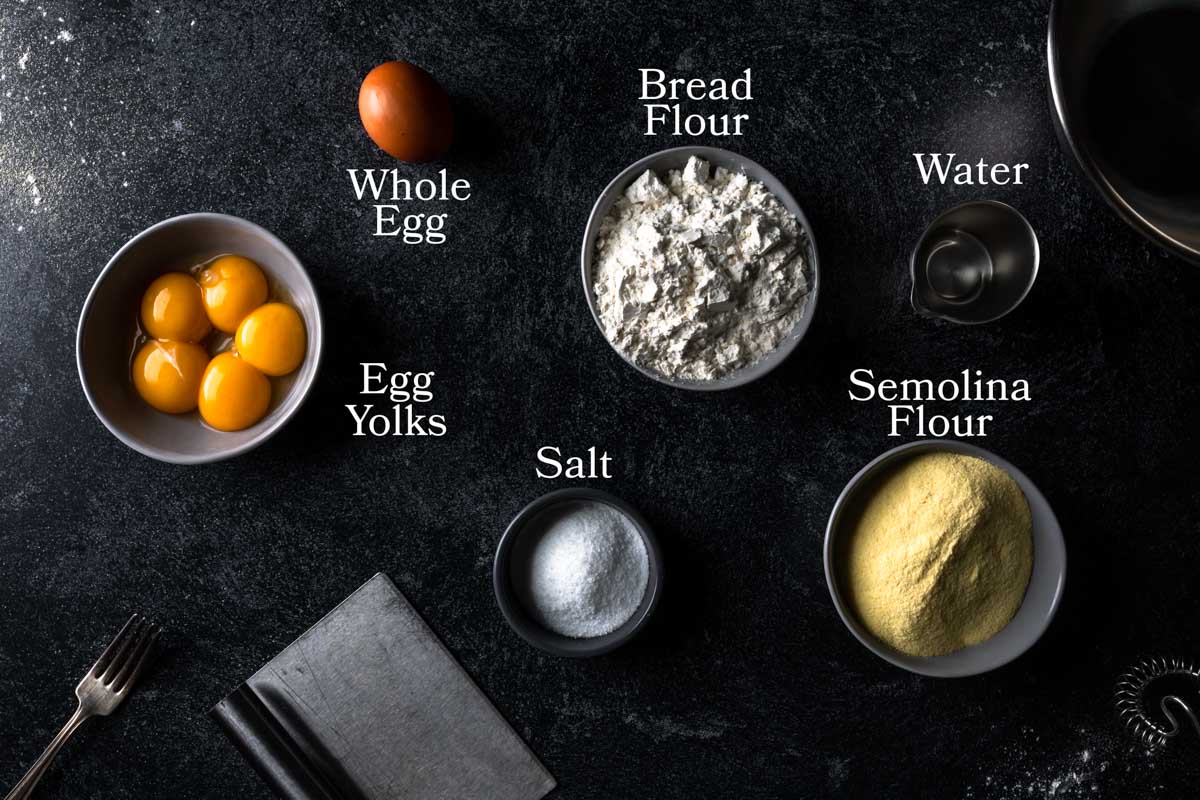 How To Shape Homemade Bow Tie Pasta
Learning how to make and shape farfalle pasta is easy. Be sure to check out our quick video that demonstrates how we fold the pasta for farfalle, below. At first, take your time and keep any remaining dough covered with a damp kitchen towel or plastic wrap to prevent it from drying out. Before you know it, you'll be pinching squares of dough into butterfly pasta in no time, at all!
The Procedure
1. Start with pasta dough that has been sheeted about 1/16 of an inch (1.5 millimeters) thick. We have found that this thickness works well for this pasta shape. This thickness has a nice chewy bite and holds it's shape throughout the boiling and saucing.
Chef's Note: Every pasta machine is a little different but, this dough thickness is achieved on setting #5 on an Atlas pasta roller, setting 4 or 5 on a Kitchenaide pasta attachment. If you are using another machine or rolling by hand aim for pasta dough that is about the width of a US nickel.
2. Measure and cut your sheeted pasta dough into squares. To do this, we typically score our dough gently with a bench scraper, then cut. Use a sharp knife or pasta roller to cut long strips of dough.
We like to make squares that are 2 inches (5 centimeters) on all sides. This makes for a good bite-sized piece. If you'd like you can make them a a little larger, or smaller. Mini farfalle, called "farfalline" in Italian, translates to "little butterfly"!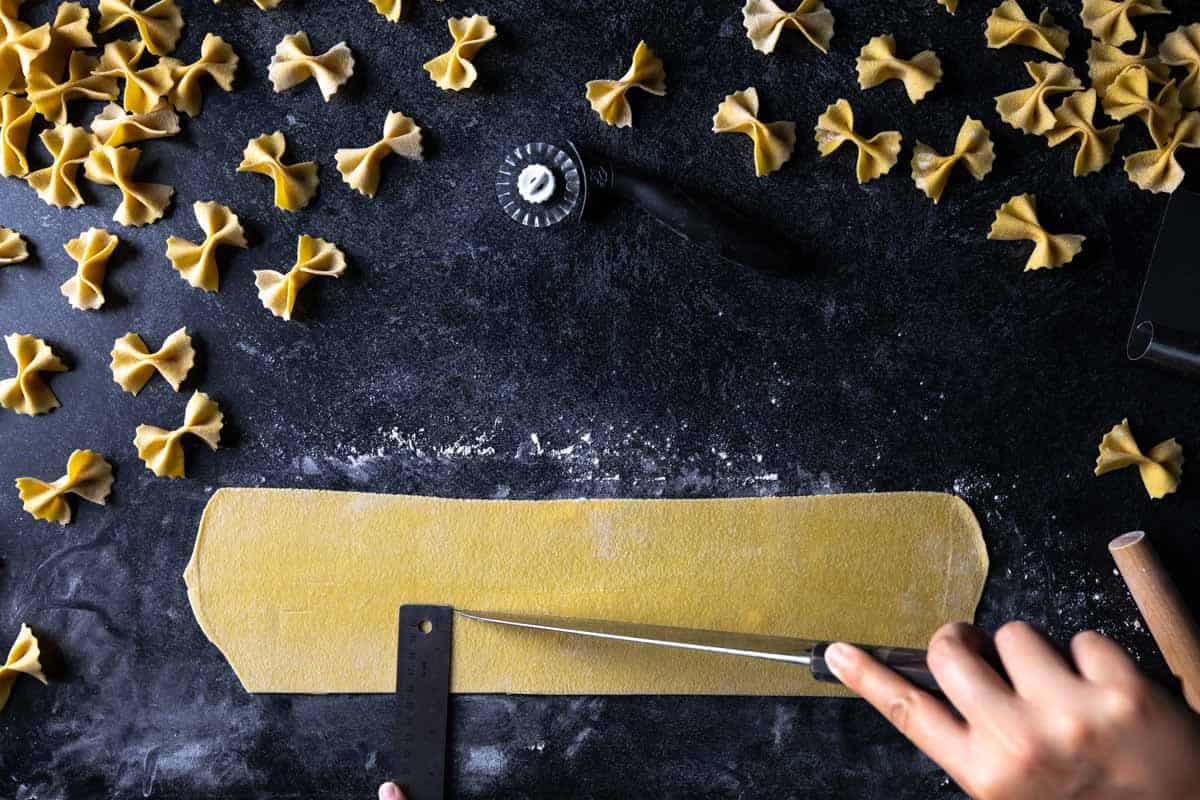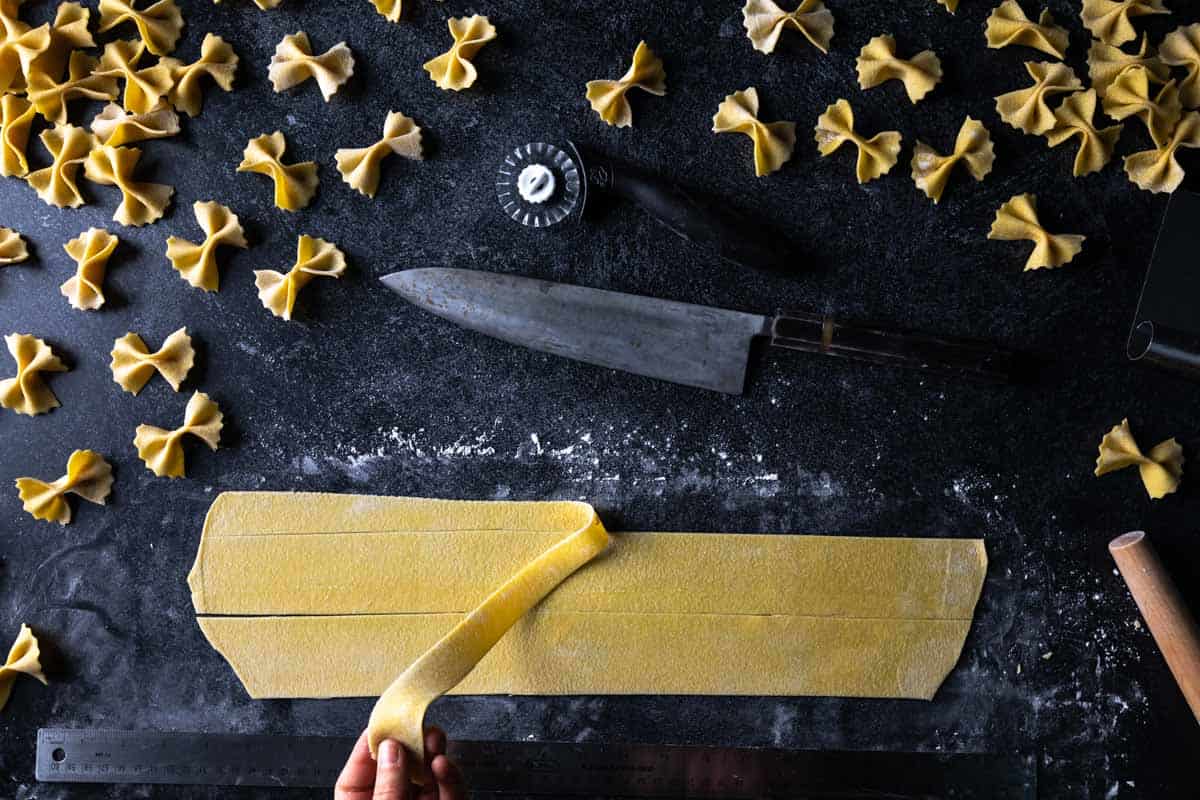 3. Then, use a fluted pasta wheel (straight wheel, pizza cutter, or sharp knife) to cut the strips into individual squares.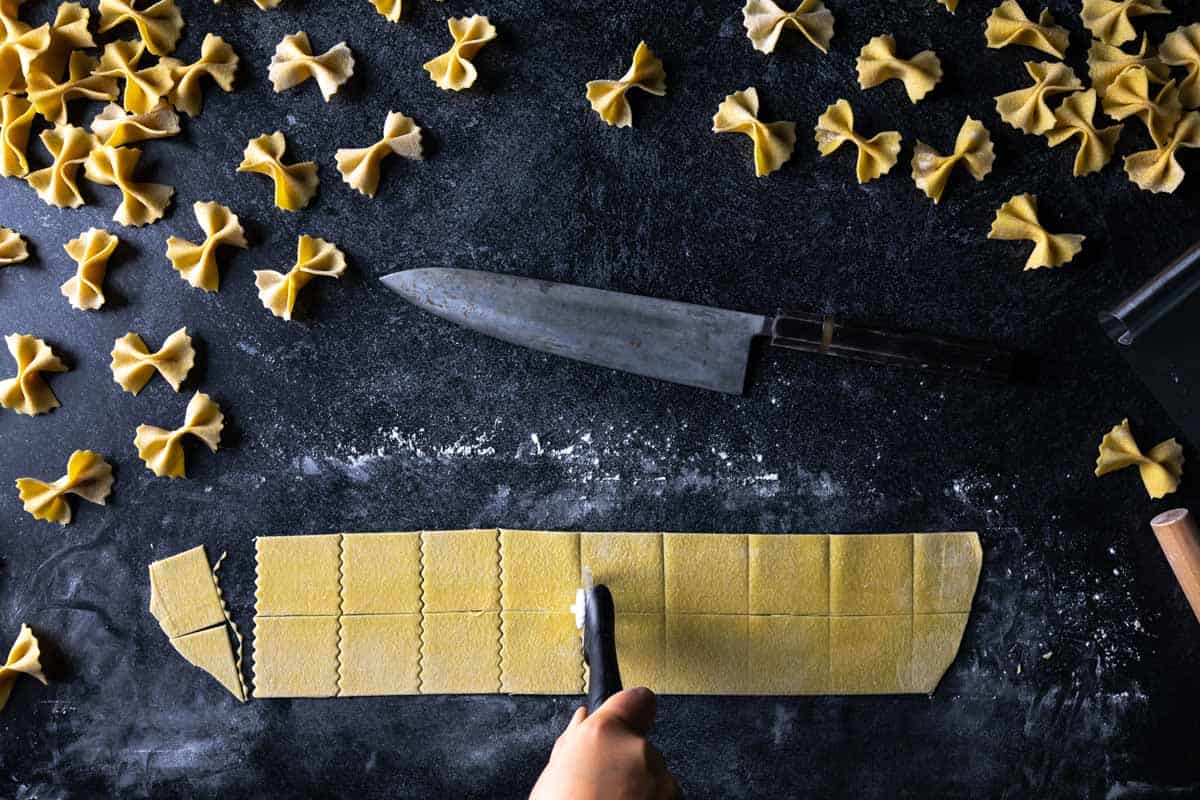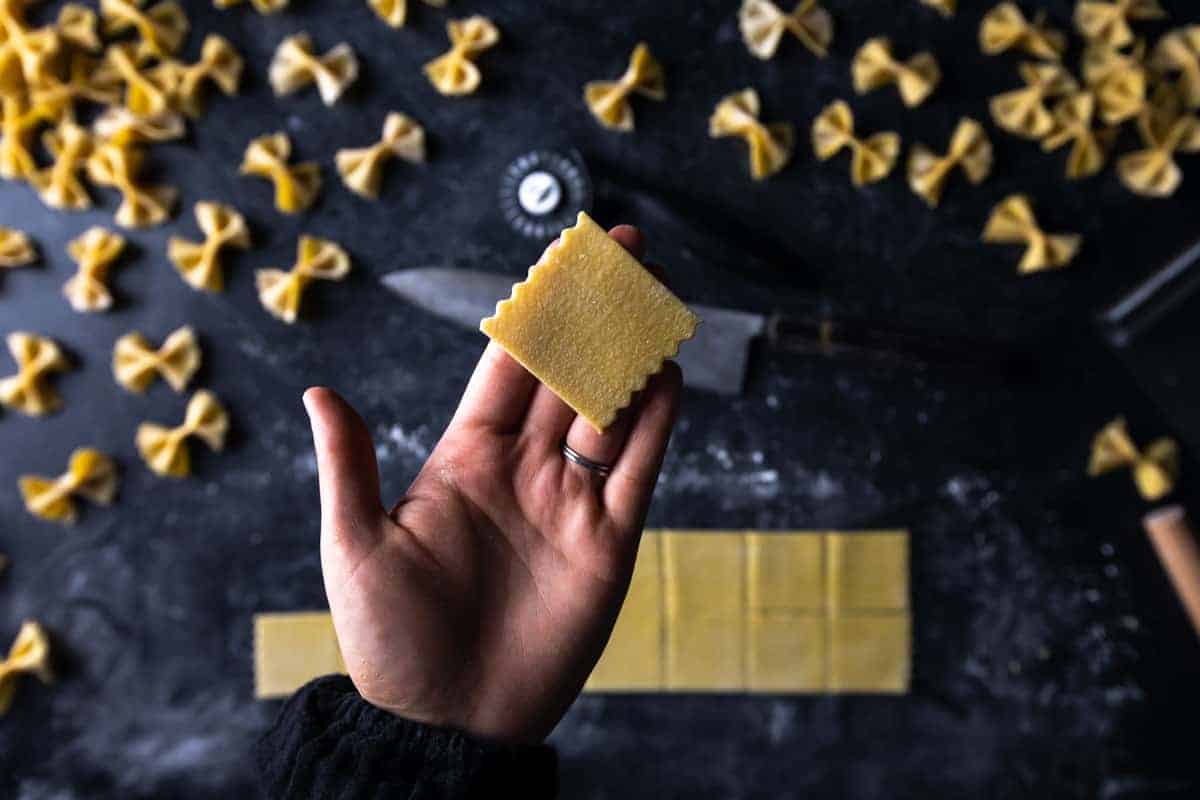 4. Working with one square of dough at a time, pinch the dough into the classic farfalle shape. To do this, fold the straight-cut sides of the squares together, like an accordion. Use your thumb and forefinger to pinch the dough sealed in the center.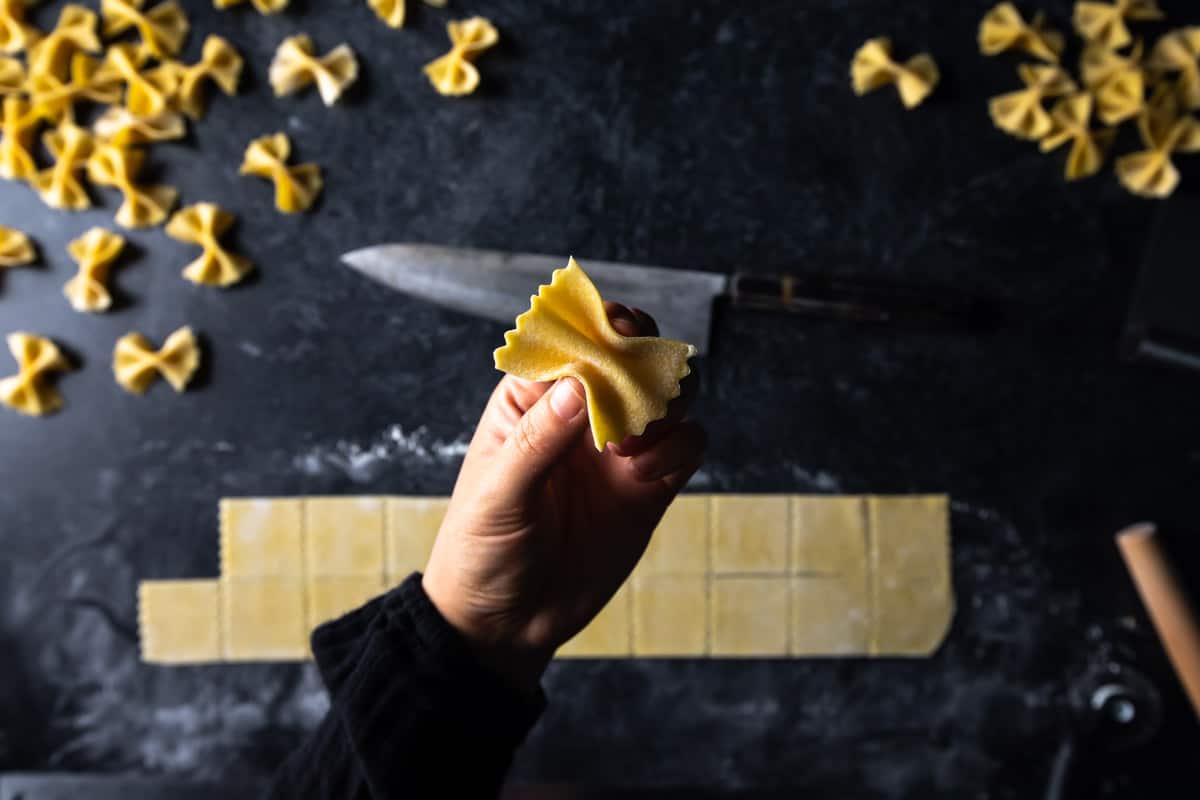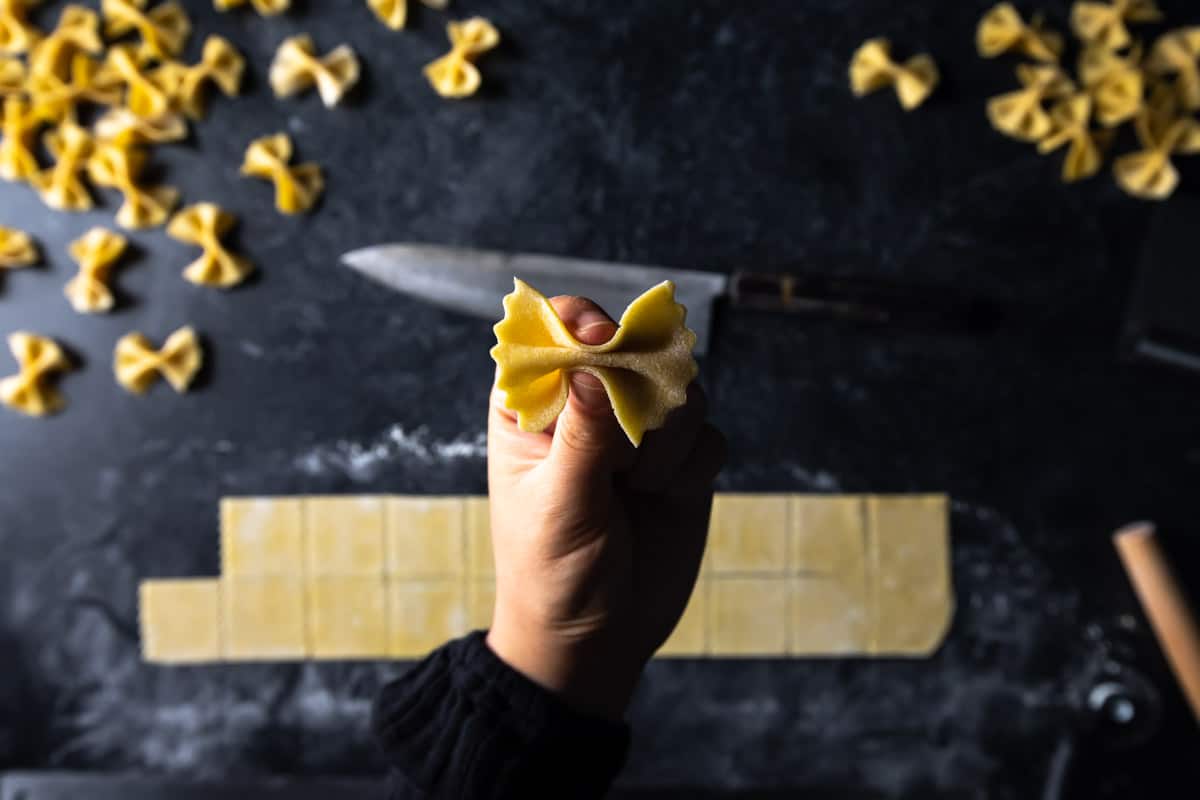 How To Video
If you are using our Semolina Pasta Dough recipe, the dough should pinch and hold together without any any additional moisture. If you are making farfalle with another pasta dough recipe, you may need to seal the dough with a little additional water. Take a look at this video for a visual demonstration:
How To Cook Fresh Farfalle
Fresh, handmade pasta will cook much faster than boxed grocery store pastas. For one pound of pasta, we recommend bringing 4 - 6 quarts of water to a rolling boil. Be sure to add a generous pinch of sea salt to your boiling water. Since fresh pasta boils in the salty cooking water for a much shorter time than boxed pasta, you will need to add more salt to the water to ensure the farfalle is properly seasoned.
Homemade farfalle pasta will need to boil for about 5 - 7 minutes to reach the perfect al dente doneness. Since the exact cooking time will depend on how thick and dry your pasta is, we recommend tasting one piece of pasta to ensure the pasta is cooked to your liking.
Once the farfalle is cooked, do not drain or rinse! Instead, we recommend using a slotted spoon or spider utensil to transfer the cooked pasta directly into your pasta sauce. Finishing the pasta directly in the sauce helps to meld the flavors together and create the perfect, saucy dish. If needed, for your farfalle pasta recipes, you can add a splash of the starchy pasta water to help thicken and bind your sauce with the bow ties.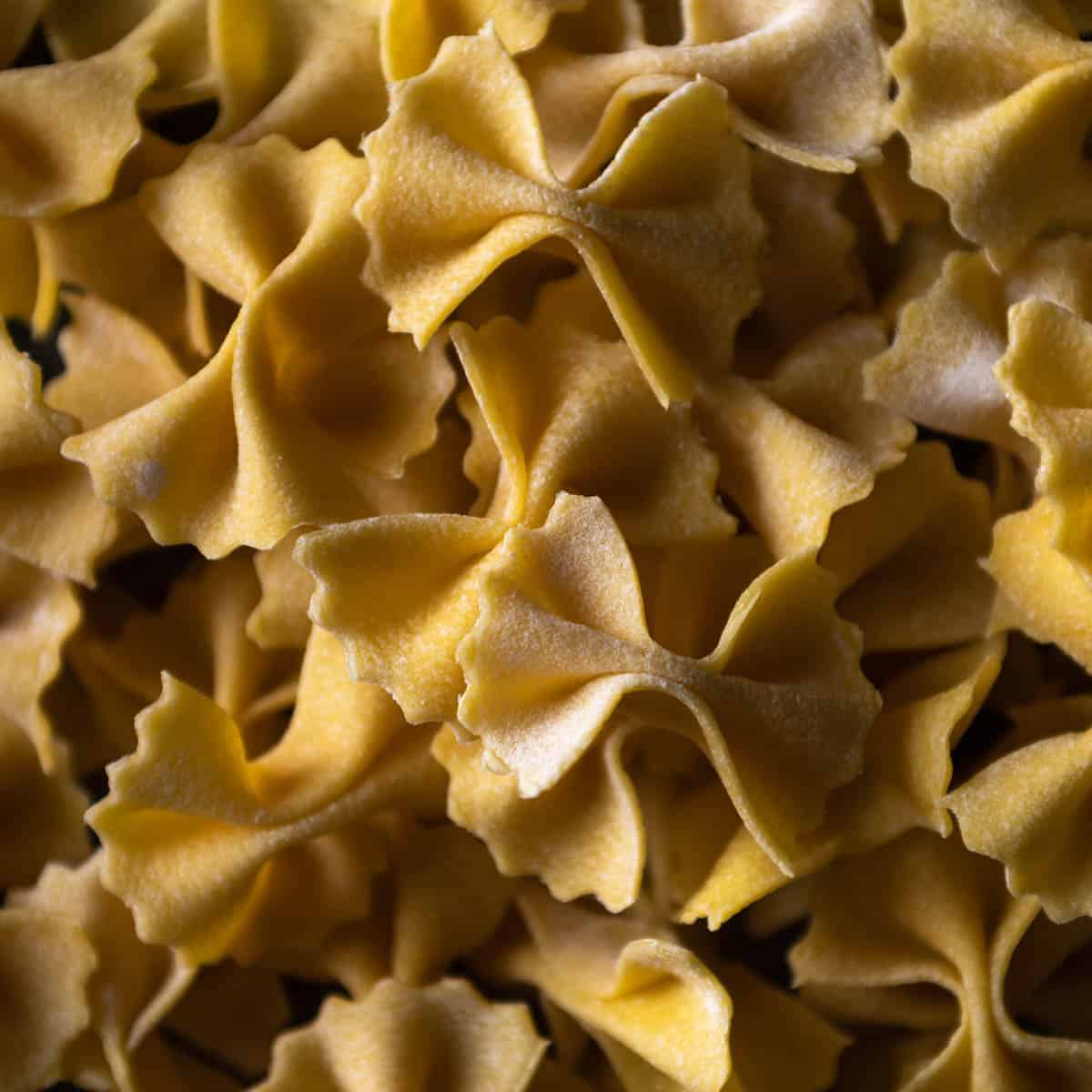 Farfalle Recipes & Ideas
The butterfly-inspired farfalle is one of pasta's most versatile shapes! This Italian favorite is a fun shape that is perfect for a wide variety or preparations, special occasions and even beloved by young children. Here are a few of our favorite ways to dress up our bow ties!
San Marzano Tomato Sauce - Nothing beats the simplicity of marinara with Parmesan cheese and fresh basil leaves!
Creamy Cajun-Style Pasta with Andouille Sausage - This original recipe is creamy, spicy, cozy and so flavorful! It's so good, it's made its way into regular rotation for our weeknight dinners.
Ragu alla Bolognese - This slow simmered beef bolognese sauce is heart, rich and so delicious!
Alfredo-Style Creamy Parmesan Sauce - Bow ties capture all the creamy deliciousness of cheese sauces in there little nooks and crannies!
Mac & Cheese - Personally, we like to use mini farfalle for homemade macaroni and cheese recipes!
Pasta Salad - Farfalle is a great, easy-to eat shape for pasta salad! Try it with our Greek-inspired Halloumi Pasta Salad recipe!
Meatballs! - Farfalle is a fun shape to serve with meatballs. Try homemade farfalle pasta with our 30 Minute Chicken Marsala Meatballs. That creamy mushroom sauce is so good!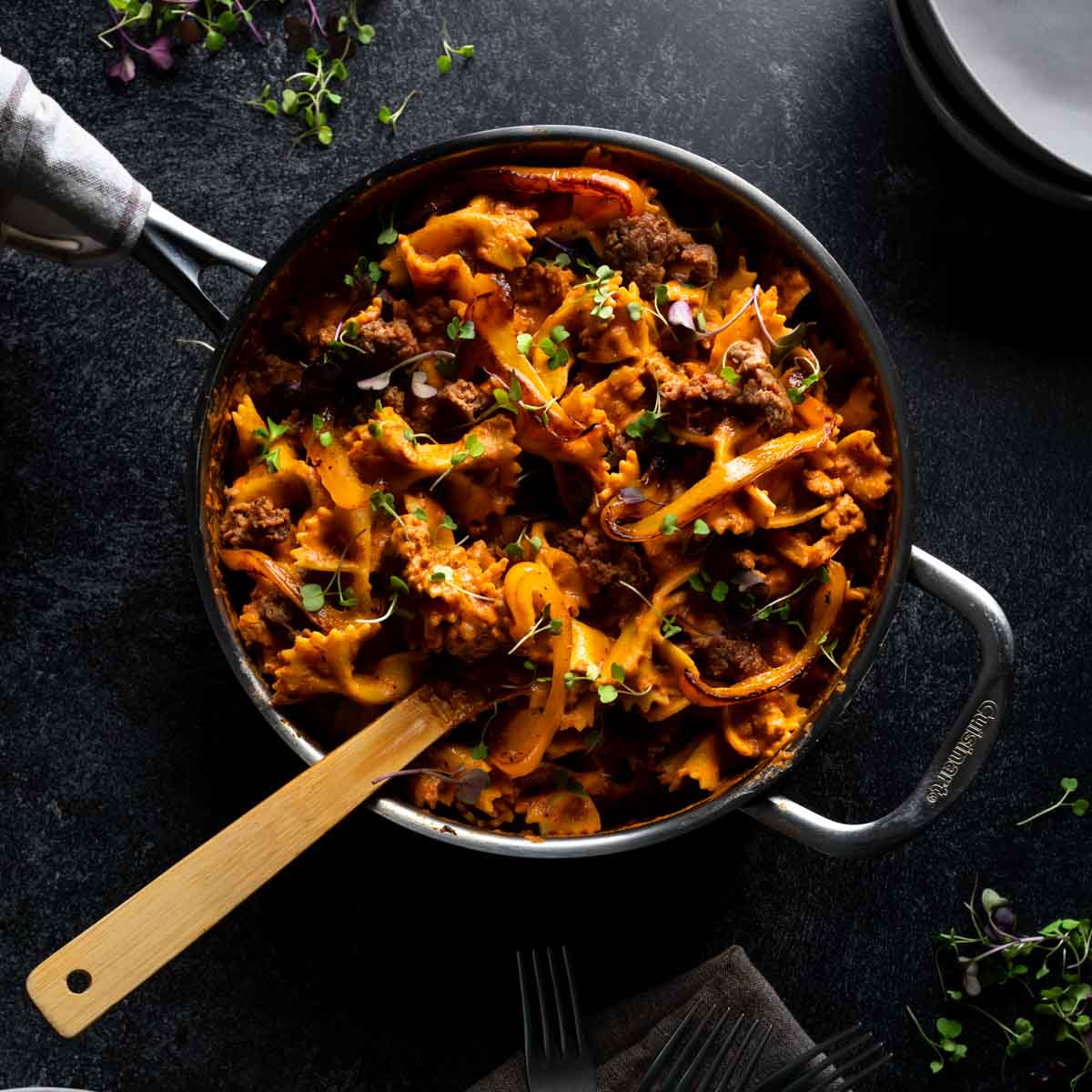 More Pasta Recipes
Check out these other pasta shapes and delicious pairings!
Recipe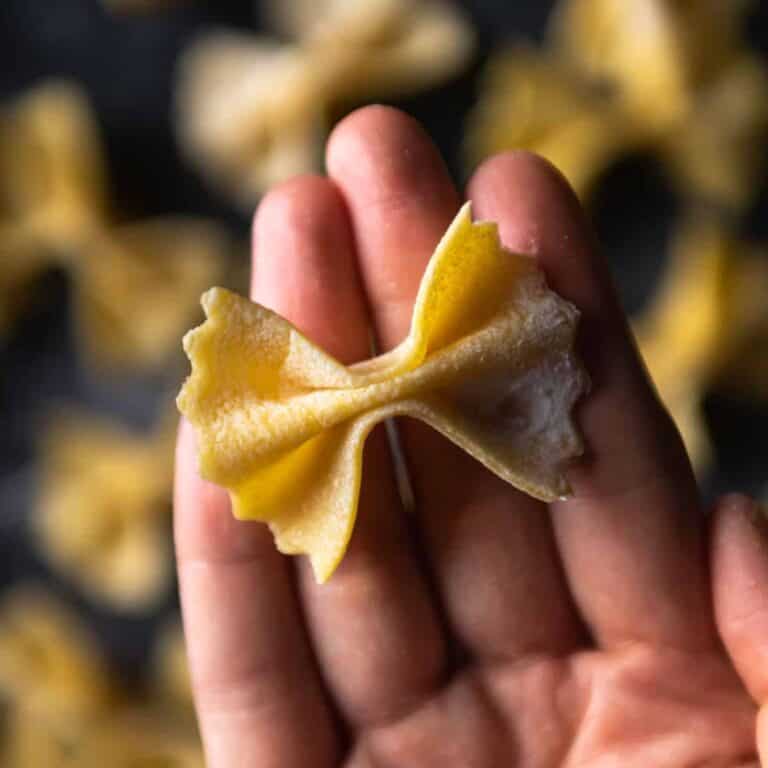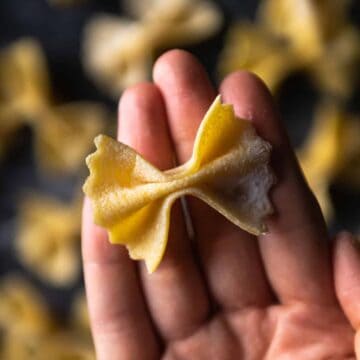 How To Make Farfalle (Homemade Bowtie Pasta)
This How To Make Farfalle tutorial can be used with any fresh pasta dough. Below, we describe how to make this homemade bowtie pasta with our favorite pasta recipe!
ADJUST SERVINGS
Special Equipment
Bench Scraper

Fluted Pasta Wheel

Ruler

Spider Kitchen Utensil (or Colander), for draining
Ingredients
1 Pound (454 grams)

Fresh Pasta Dough (We use this, Semolina Pasta Dough Recipe, See the full post, here.)
1¼

Cups

semolina flour

1¼

Cups

bread flour or all-purpose flour

plus more to prevent sticking

1

large whole egg

room-temperature

5

large egg yolks

room-temperature

Filtered Water

as needed, about 2+ Tablespoons

fine kosher salt*

as desired, for seasoning during boil
Instructions
Fresh Pasta Dough (See Note: a.)
If using our Homemade Semolina Pasta Dough recipe, gather, measure and prepare the recipe ingredients as listed. For the most consistent results, we recommend using metric weight measurements whenever possible.

In a medium mixing bowl, add semolina and bread flours and whisk to combine. Transfer flour mixture in a mound on a smooth, clean work surface. Shape a well in the center of your flour.

Add the egg, egg yolks and about

1 Tablespoon (15 milliliters)

of water to the well.

Using a fork, begin to whisk the eggs and water together until smoothly combined. Continue whisking, while slowly bringing flour into the eggs to form a smooth paste.

Once most of the pasta flour is incorporated and the dough begins to come together, switch from using the fork to using your bench scraper. Scrape the dough up from your work surface and fold it over itself. Use the bench scraper to chop the mixture together and evenly distribute the flour throughout a shaggy dough. If the dough is too dry to come together, drizzle a little additional water over the mass of dough and continue to combine with the bench scraper. 

Use your hands to pull the dough together and knead. Use the mass of dough to pick up any scraggly dough scraps or loose flour on your work surface. The dough should be firm and may be slightly tacky but should not stick to your hands or the work surface.

Once all the flour is incorporated and the dough is homogenous, form into a ball. Cover the dough with a damp towel or plastic wrap to prevent drying. Allow the dough to rest for at least 30 minutes or overnight in the refrigerator. Once rested, you can begin sheeting your pasta to make homemade farfalle.
How To Shape Farfalle Pasta
Using a knife or bench scraper, divide your dough into four equal portions. Work with one portion at a time, keep the remaining dough covered with your damp cloth or plastic wrap to prevent drying. 

Flour your dough, work surface and kitchen tools as needed, to prevent sticking. With a rolling pin, or on the widest setting of your pasta maker, begin to roll out and flatten your dough into an elongated oval. Fold the tapered ends of your oval dough over itself, in thirds (like you would a letter) so your folded dough is approximately the shape of a 13 centimeter (5 inch) square or rectangle (*or the width of your pasta maker, if using). 

Repeat Step 2 twice, for a total of three folds. If your dough seems too moist and is sticking, you can fold in a little extra flour during this process. 

Sheet pasta with a rolling pin or pasta maker to 1/16 inch (1.5 millimeters) thick (about the width of a US nickel).

Once sheeted, use a ruler and a bench scraper to score lines in the dough in 2 inch (5 centimeter) squares. Use a sharp knife to trim away any excess scraps of dough. (See Note: b.).

Use the knife to cut along the horizontal score lines to create long strips of pasta dough. Then, use the fluted pastry wheel to cut the vertical score lines and create squares of dough with two parallel straight edges and two paralles fluted edges.

Fold the straight edges of the square together, like an accordion. Use your thumb and forefinger to squeeze the center of the accordian fold together to create the classic bow tie shape. Be sure to squeeze the center well, so it is about the same thickness as the sheeted pasta (to ensure even cooking). Allow the shaped farfalle pasta to dry on a floured sheet pan or mesh pasta screen. Dried farfalle can be boiled immediately or kept in a paper bag in a cool, dry place for up to one week.
How To Cook Homemade Farfalle Pasta
Bring 4 - 6 quarts (4 - 6 liters) of water to a rolling boil. Season the water with salt, as desired. (We typically use about 2 - 3 Tablespoons of salt).

Add farfalle pasta to the pot and cook for about 5 - 8 minutes or until al dente. The exact cooking time will depend on the thickness and dryness of your pasta. We recommend tasting a piece of farfalle to determine the ideal doneness.

Transfer the cooked pasta from the boiling water directly into your sauce using a spider utensil (or drain pasta using a colander). Enjoy Homamade Farfalle immediately with your favorite sauce and cheeses, quant basta (as desired). Enjoy!
Notes
a. These instructions explain making our Semolina Pasta Dough recipe by hand. If you would like to make this recipe with a stand mixer or food-processor, please head to the Semolina Pasta post for detailed instructions. The original post includes quick, How-To videos and all of our tips and tricks to making delicious, fresh pasta. 
b. Unused scraps of pasta dough can be rerolled to create more pasta. To reuse scraps, brush away any excess flour sticking to the dough scraps. Then, bunch and gather all scraps into a ball. (You can continually add more scraps to the ball.) Keep the scrap dough covered in plastic wrap or a damp kitchen towel to prevent drying. Allow the scrap dough to rest for 15 - 30 minutes before rerolling and sheeting again. 
* A Note About Salt
Unless otherwise noted, all recipes on The Sage Apron are developed using Diamond Crystal Kosher salt. It is a great all-purpose salt for cooking and baking. If using table salt, reduce quantities by about half.
Nutrition
Calories:
282
kcal
|
Carbohydrates:
46
g
|
Protein:
11
g
|
Fat:
5
g
|
Saturated Fat:
2
g
|
Polyunsaturated Fat:
1
g
|
Monounsaturated Fat:
2
g
|
Trans Fat:
1
g
|
Cholesterol:
190
mg
|
Sodium:
18
mg
|
Potassium:
119
mg
|
Fiber:
2
g
|
Sugar:
1
g
|
Vitamin A:
256
IU
|
Calcium:
33
mg
|
Iron:
2
mg