This authentic Italian lasagna recipe with homemade pasta and béchamel sauce is to die for! This alll-from-scratch recipe pairs silky sheets of fresh lasagna noodles, layered with slow-simmered beef Bolognese sauce and creamy Parmesan béchamel topped with melty mozzarella cheese.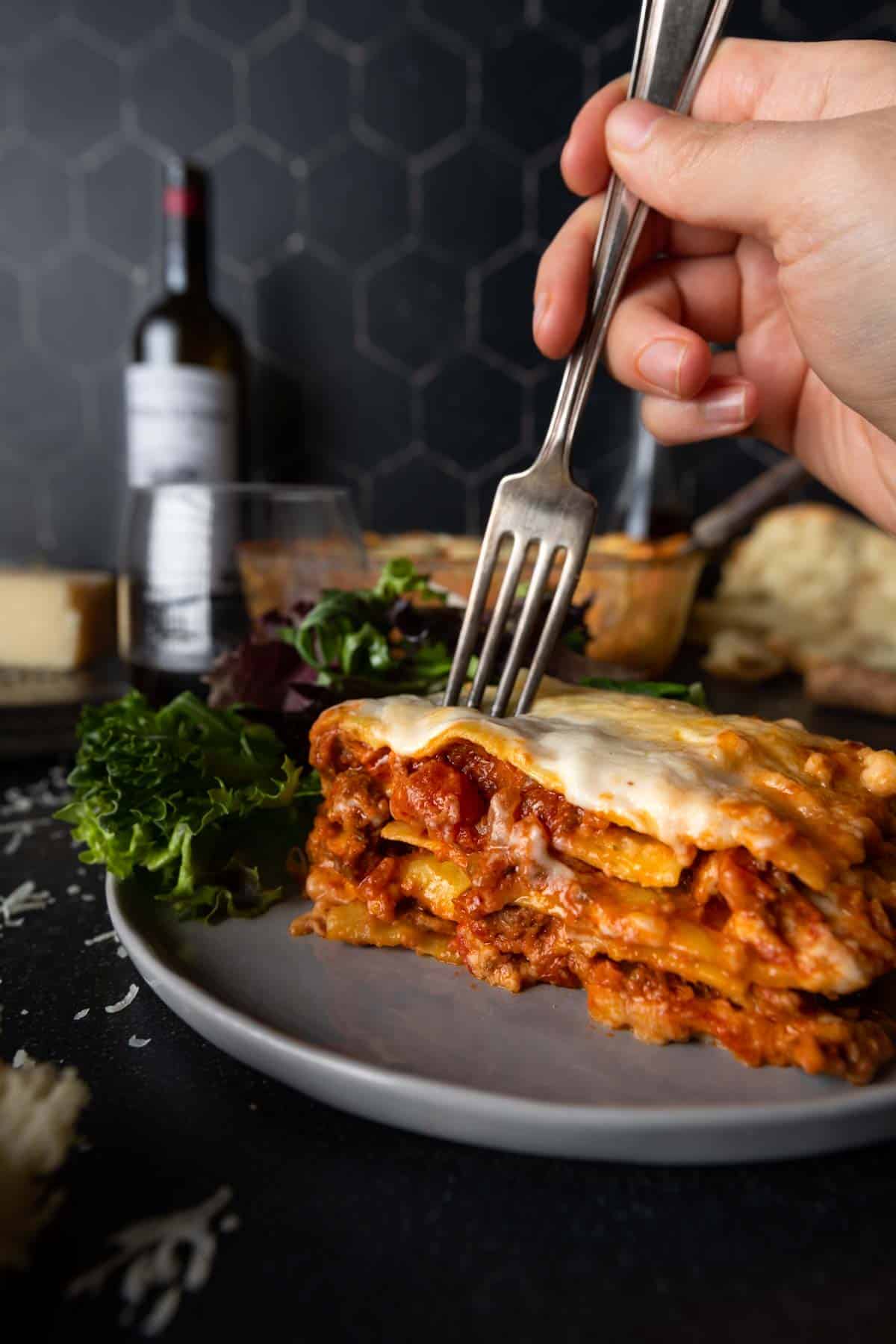 What is Lasagne al Forno?
In Italian, Lasagne al Forno refers to a layered pasta dish that is baked in the oven. This is an Italian style lasagna recipe without ricotta cheese.
How To Make Authentic Italian Lasagna - 4 Main Components
This classic Italian lasagna recipe is made from four major components. To make this lasagna Bolognese recipe you will need: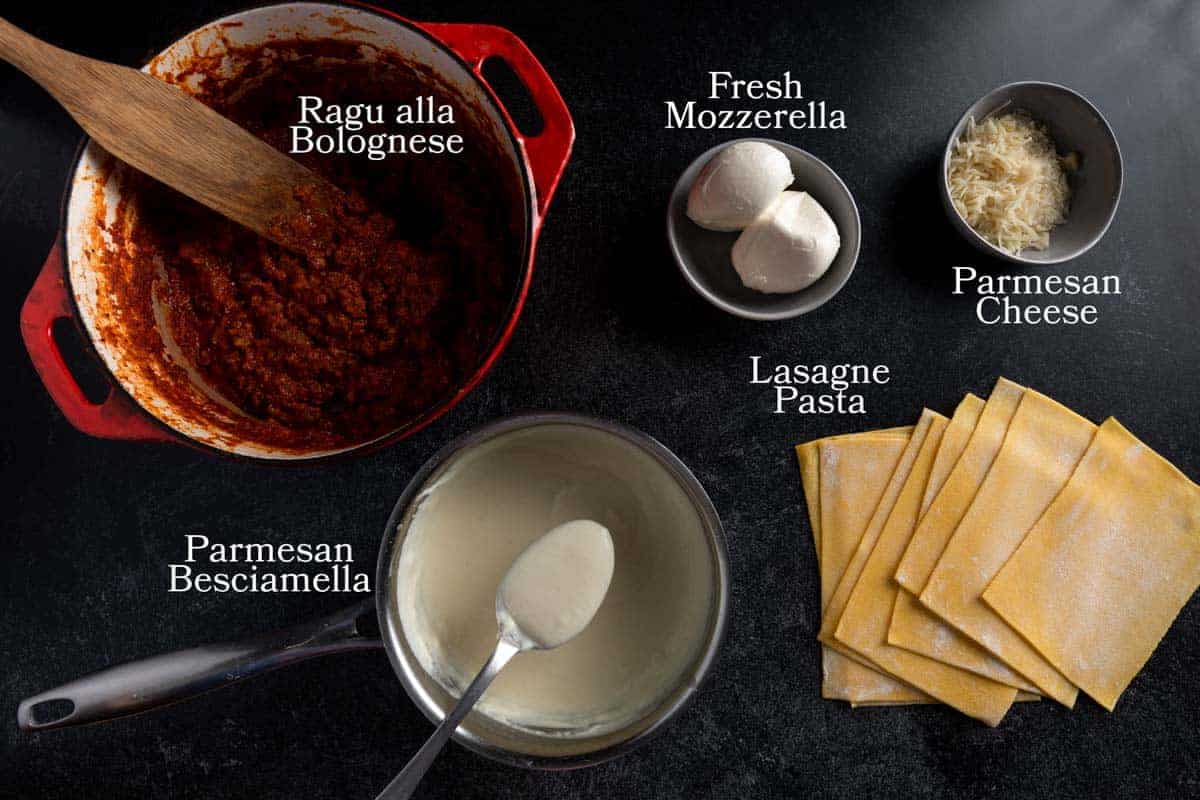 1.) A completed Ragu Alla Bolognese recipe (beef meat sauce).
2.) A creamy béchamel sauce with Parmesan cheese (cheesy white sauce).
3.) Lasagne Pasta - You can use fresh pasta (as pictured), no-boil lasagna sheets or your favorite boiled lasagna noodles.
4.) Cheese! Fresh mozzarella and extra Parmesan for a gooey, cheesy topping.
Keep reading through this post to see step-by-step demonstrations for each component of this traditional lasagna.
1. Ragu Alla Bolognese (Beef Bolognese Recipe)
The hero of this lasagne al forno is a slowly-simmered, full-flavored Ragu all Bolognese. This ground beef tomato sauce is incredible for many recipes but hits it's highest potential in this homemade lasagna.
The secret to this beef Bolognese recipe is to let it simmer slowly with red wine, milk and San Marzano tomatoes. It does require several hours to prepare. However, this Bolognese meat sauce can be prepared ahead of time and layered into the lasagna straight from the fridge.
You can see the entire Ragu alla Bolognese post here, or keep scrolling for a photo demonstration of the simple process.
Bolognese Ingredients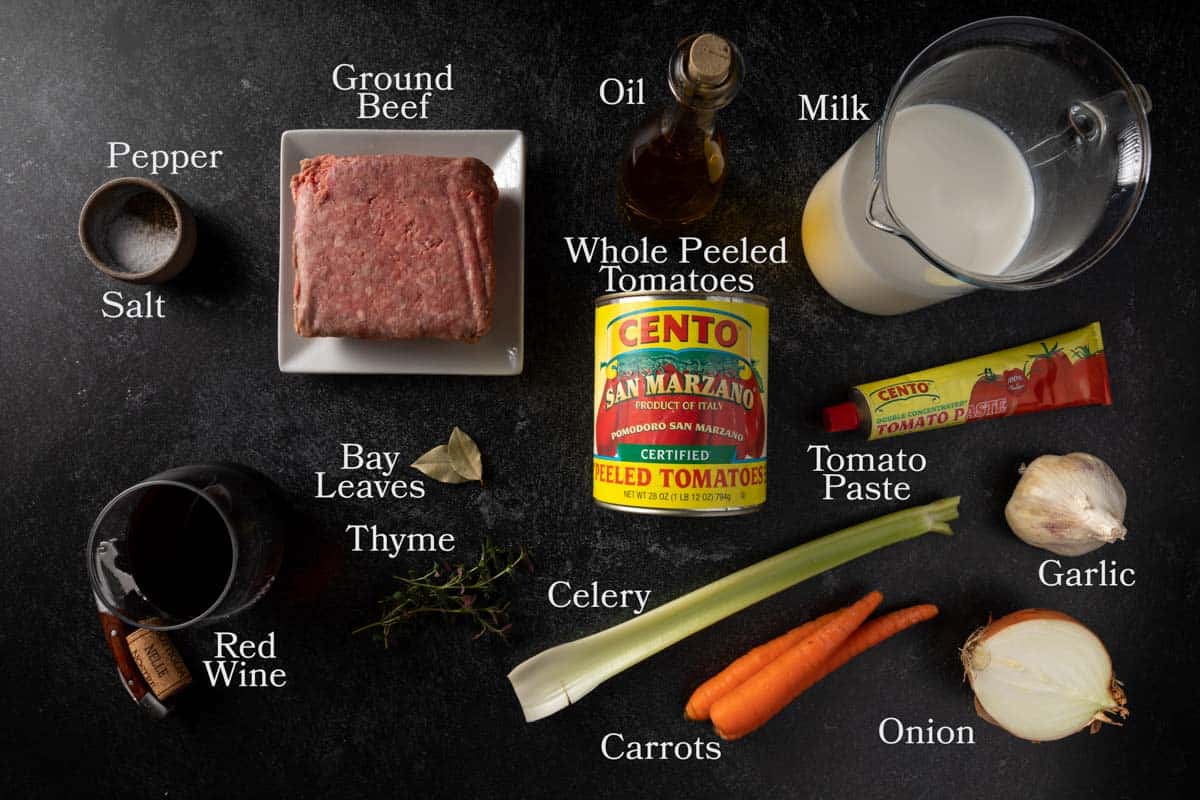 Bolognese Process
1. In a large Dutch oven, sauté the soffrito (carrots, onion, celery and garlic) in olive oil over medium heat until tender and aromatic. Then, add the ground beef and break it up with a wooden spoon. Season with salt and black pepper and cook until the meat has browned.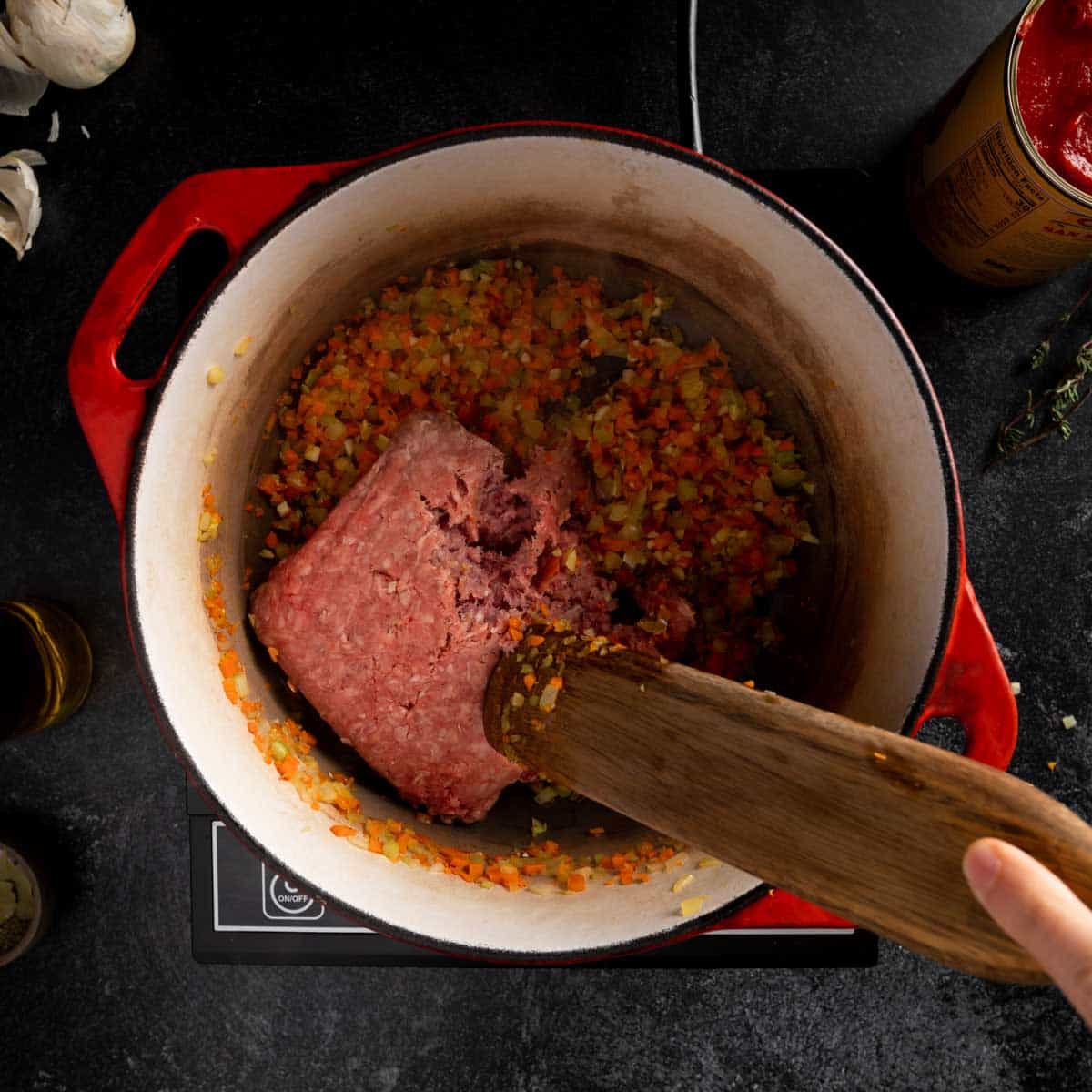 2. Next, add tomato paste. Stir to combine. Stir in a dry red wine (or substitute beef stock) and bring to a simmer for 10 - 15 minutes.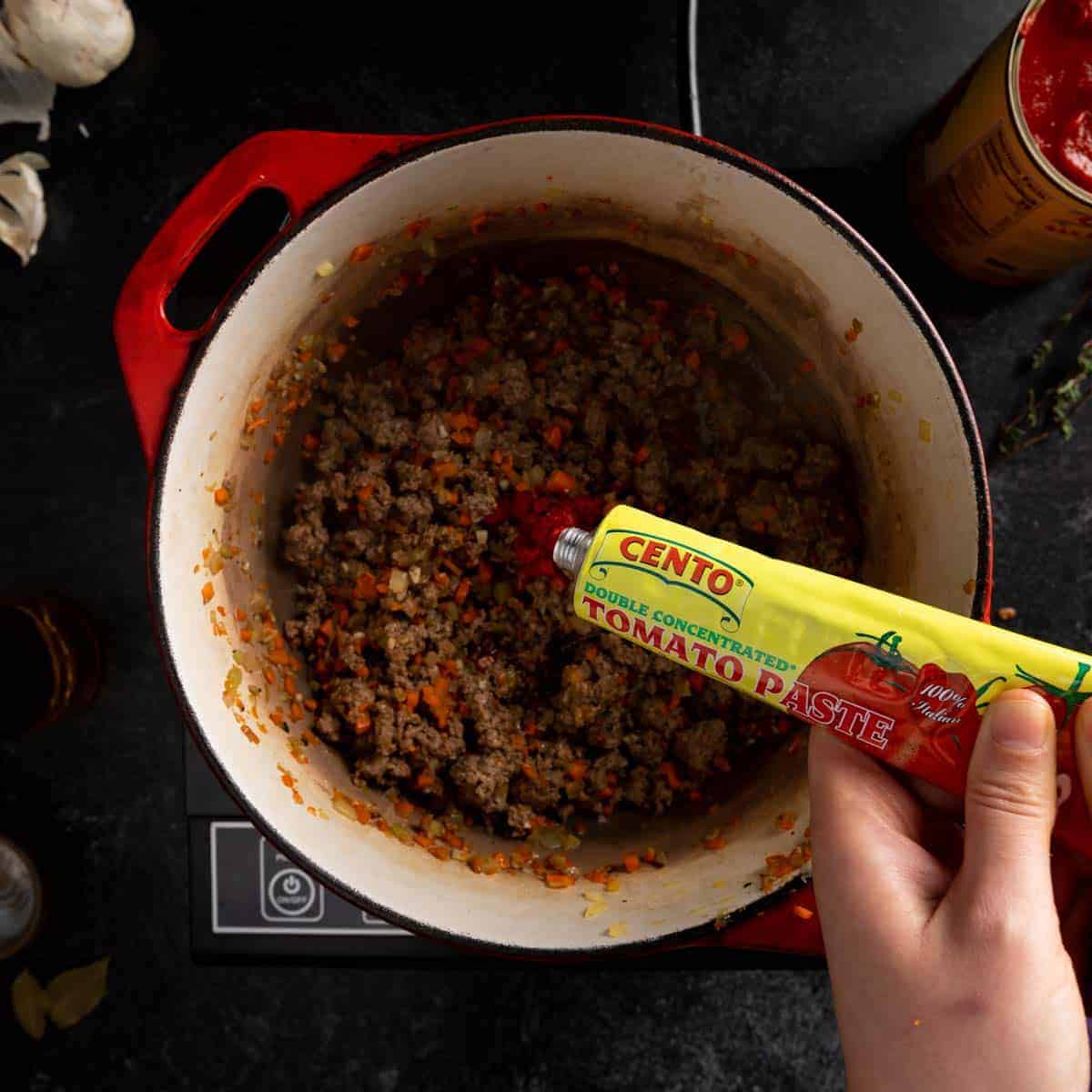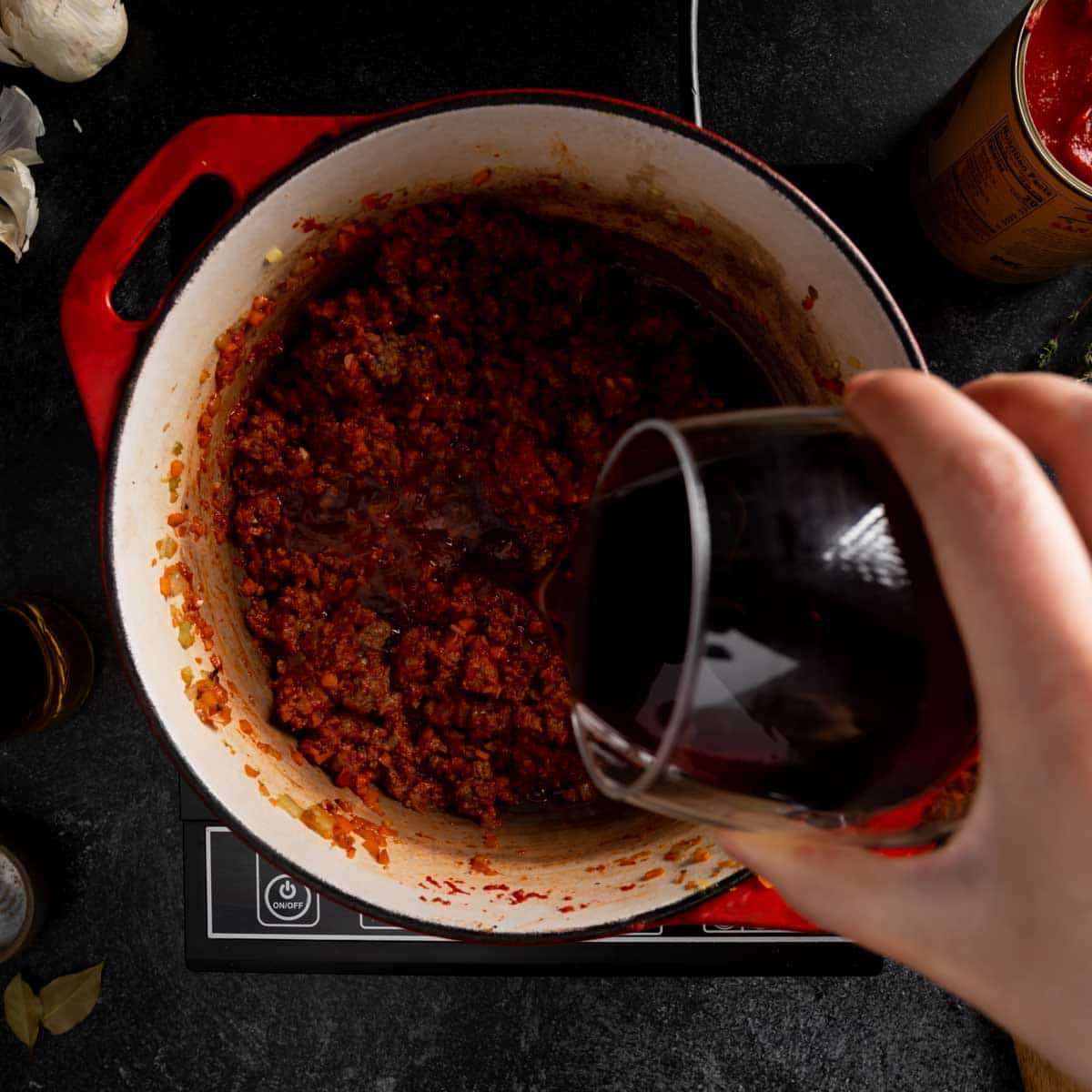 3. Add milk and bring to a simmer for about 30 - 45 minutes.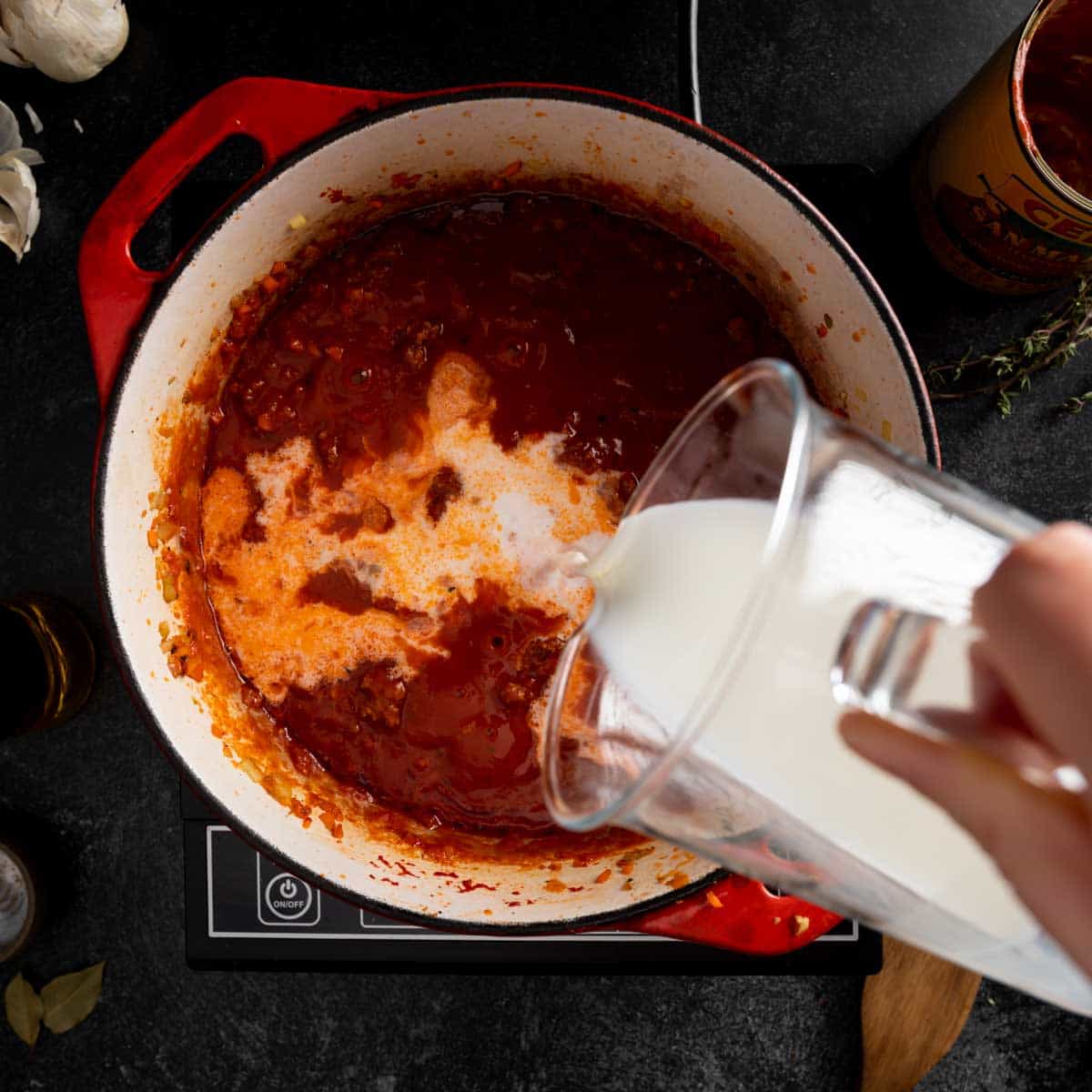 4. Add in whole peeled tomatoes, thyme and bay leaves. Bring to a gentle simmer and cook, uncovered for 2 ½ - 3 ½ hours.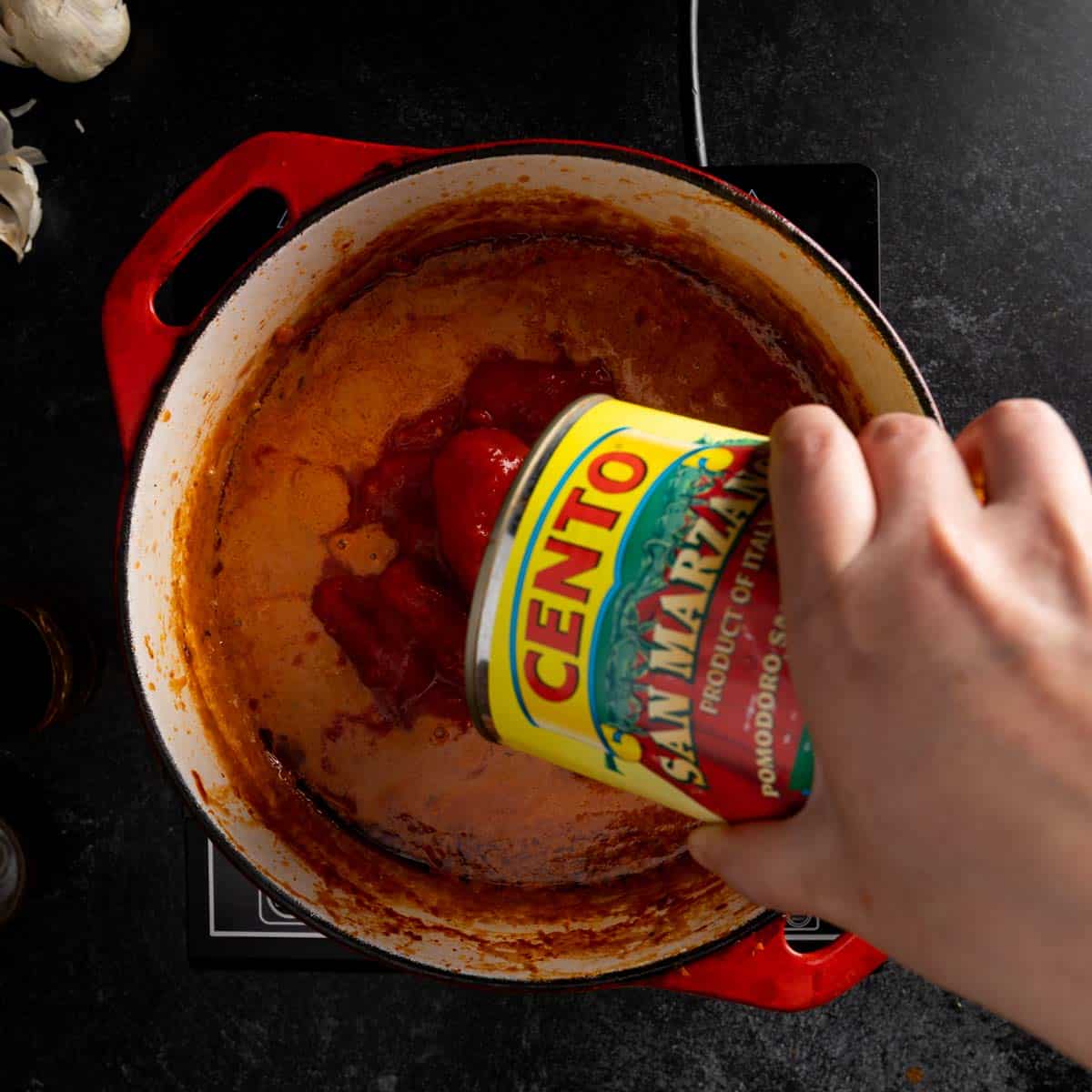 5. After simmering, the Ragu alla Bolognese will have reduced to a thick, hearty sauce that is perfect for layering in this lasagne al forno!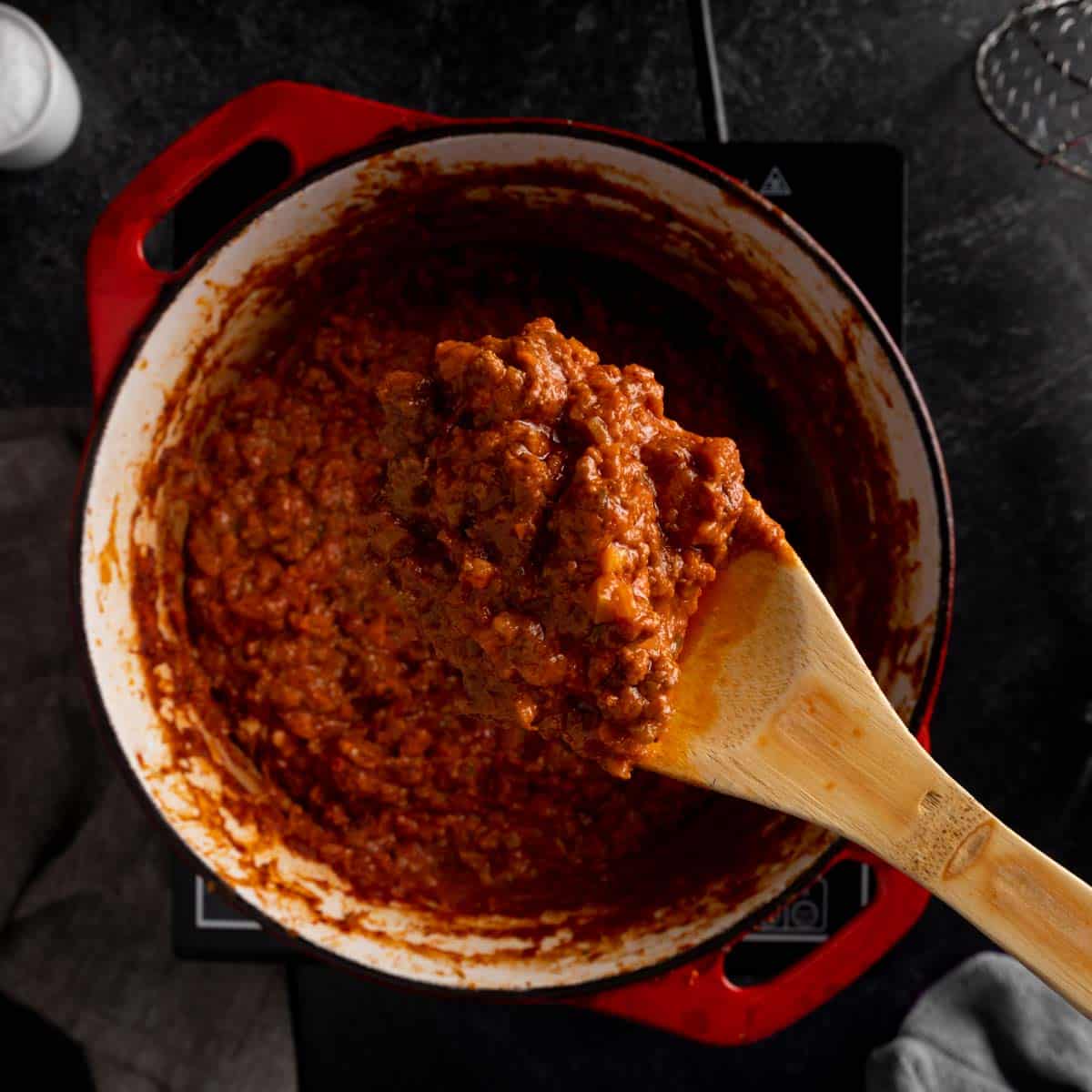 2. Parmesan Besciamella (AKA Béchamel AKA Cheesy White Sauce)
A rich béchamel cream sauce with Parmesan is KEY to this traditional Italian lasagna recipe. Bechamel is often thought of as a French cream sauce. However, it is believed this simple roux-thickened sauce actually originated in Italy.
In Italy, this sauce is called "Salsa Besciamella". This version of the white sauce is thickened and flavored with freshly shredded Parmesan cheese. This creamy white sauce is layered with layers of pasta and beef Bolognese for a silky, cheesy flavor in every bite of lasgana!
Check out the quick How To Video for our homemade Parmesan Besciamella below.
Bechamel Ingredients (Parmesan Besciamella)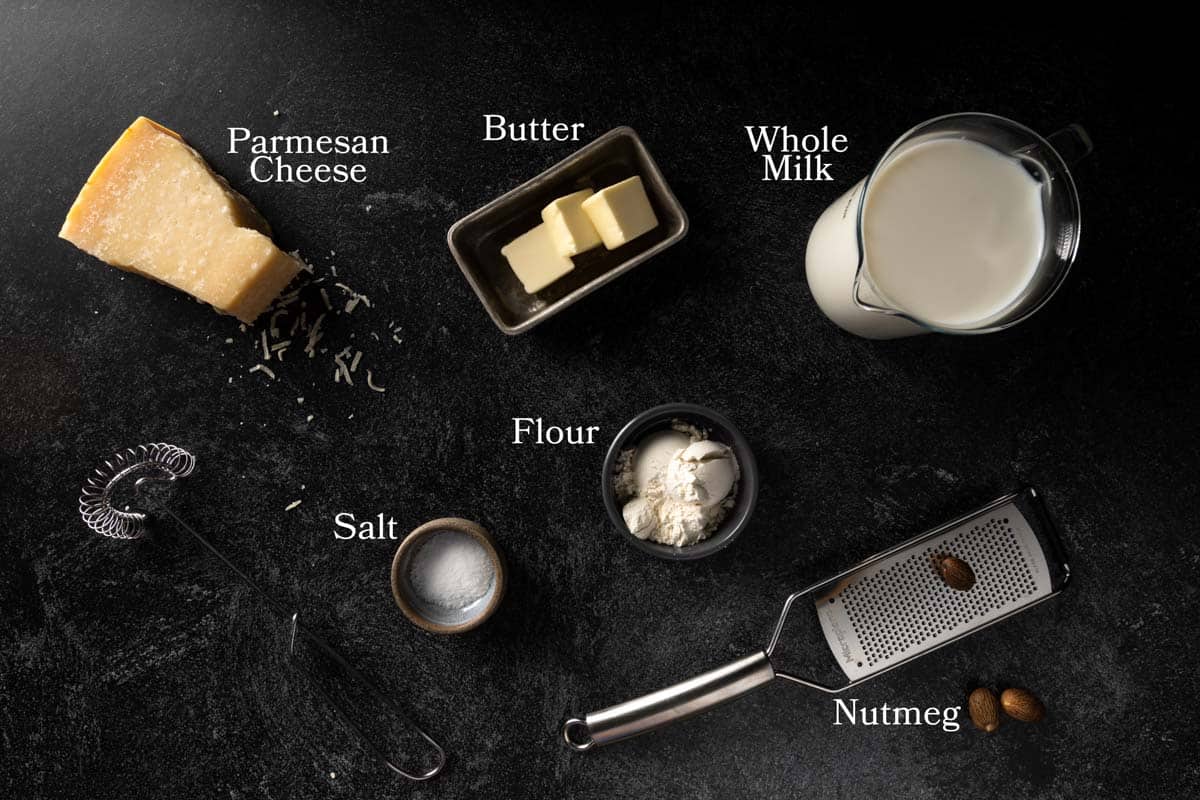 Chef's Note: For the best results, use freshly grated Parmesan cheese. Pre shredded cheeses contain additives that can make the béchamel sauce clumpy or grainy. Freshly shredded Parmesan is KEY to a silky smooth cream sauce.
Parmesan Besciamella How To Video (Parmesan Bechamel Sauce)
3. Fresh Pasta
As you probably know, sheets of pasta are essential to any classic lasagna recipe. For this recipe you can use dried and boiled lasagna sheets or the no-boil lasagna sheets.
However, for the best results, I would encourage you to make homemade fresh pasta.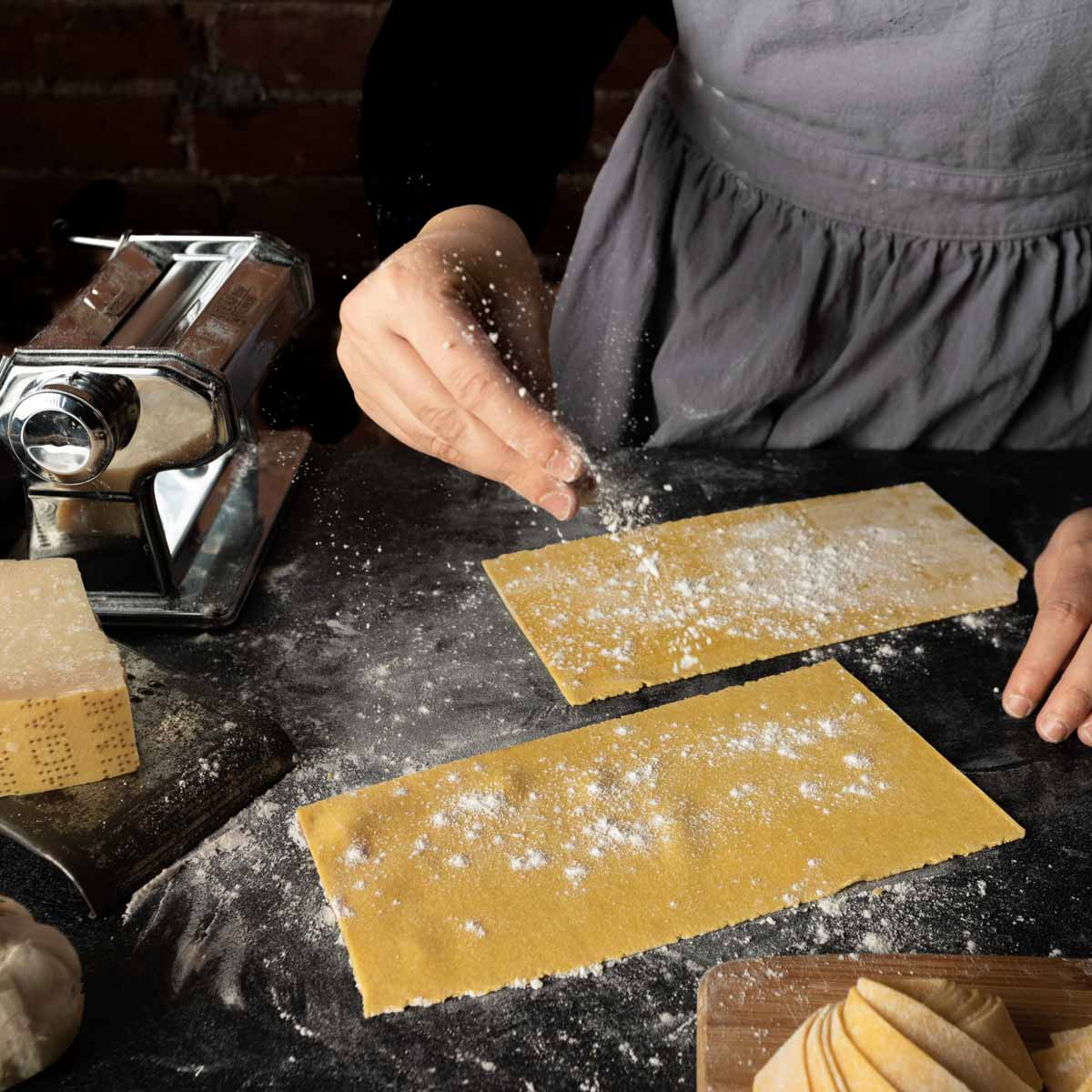 Homemade noodles are a simple way to elevate this lasagna al forno recipe to the next level. Not only do fresh pasta sheets taste better than regular boiled noodles, they are also quick and easy to make.
Some benefits of making homemade pasta for this recipe are:
a.) not having to boil the lasagna noodles
b.) having lasgana noodles that lay perfectly flat and
c.) having a pasta recipe that is quick, easy and requires little fussing.
To make this authentic lasagna the best you've ever had, try our homemade semolina pasta dough recipe!
4. Cheese, Please!
What's a lasagna without an epic cheese pull!? We recommend finishing the top layer of this lasagna with slices of fresh mozzarella and an additional sprinkle of Parmesan. As the lasagna bakes, the top of the lasagna will bubble to golden brown, irresistible perfection!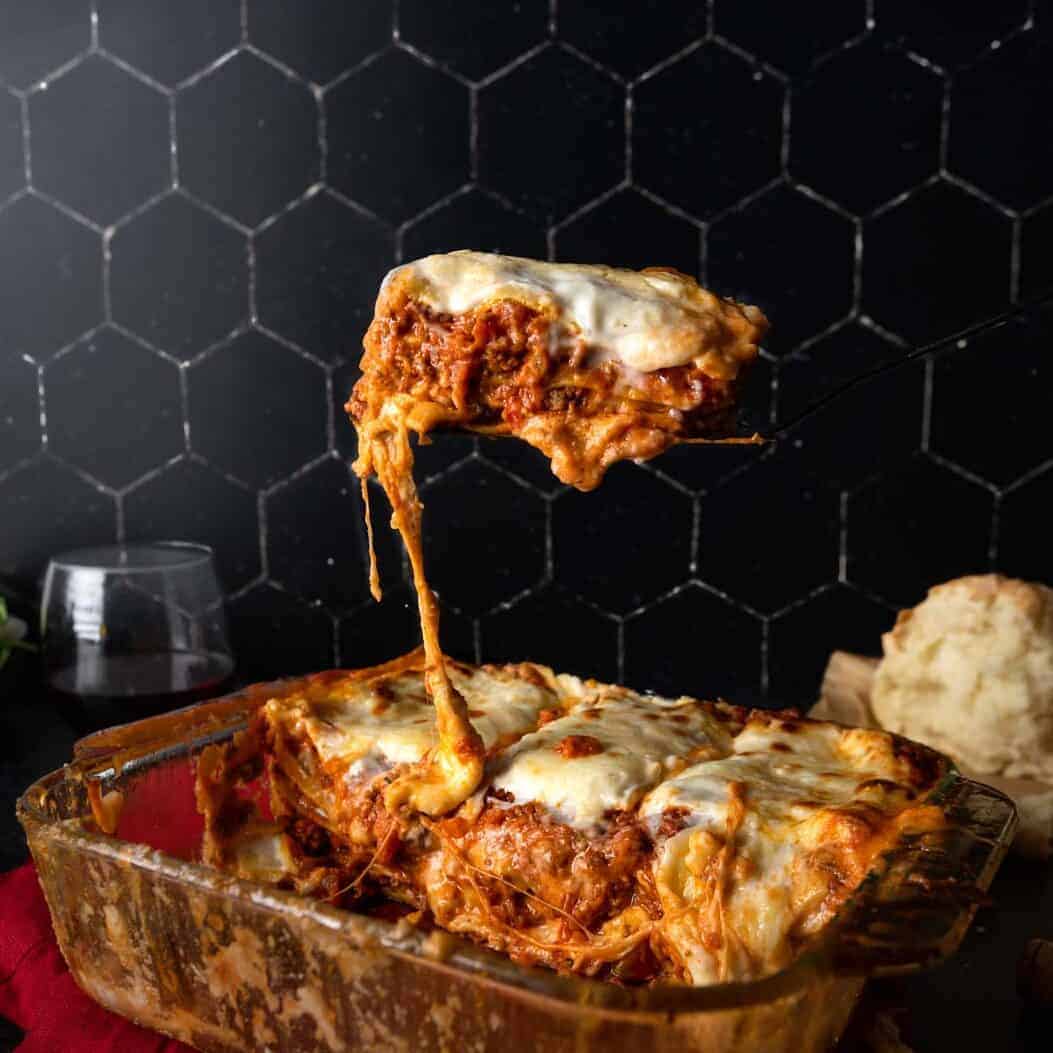 Assembling Lasagne Al Forno
Once all of the components of this authentic Italian lasagne al forno recipe are ready to go, the assembly process is quick and easy. You can go ahead and assemble this lasgane recipe a day ahead of time for one of the best make-ahead dishes around. It always makes for easy entertaining and lots of compliments. Here's how to assemble this lasagna recipe: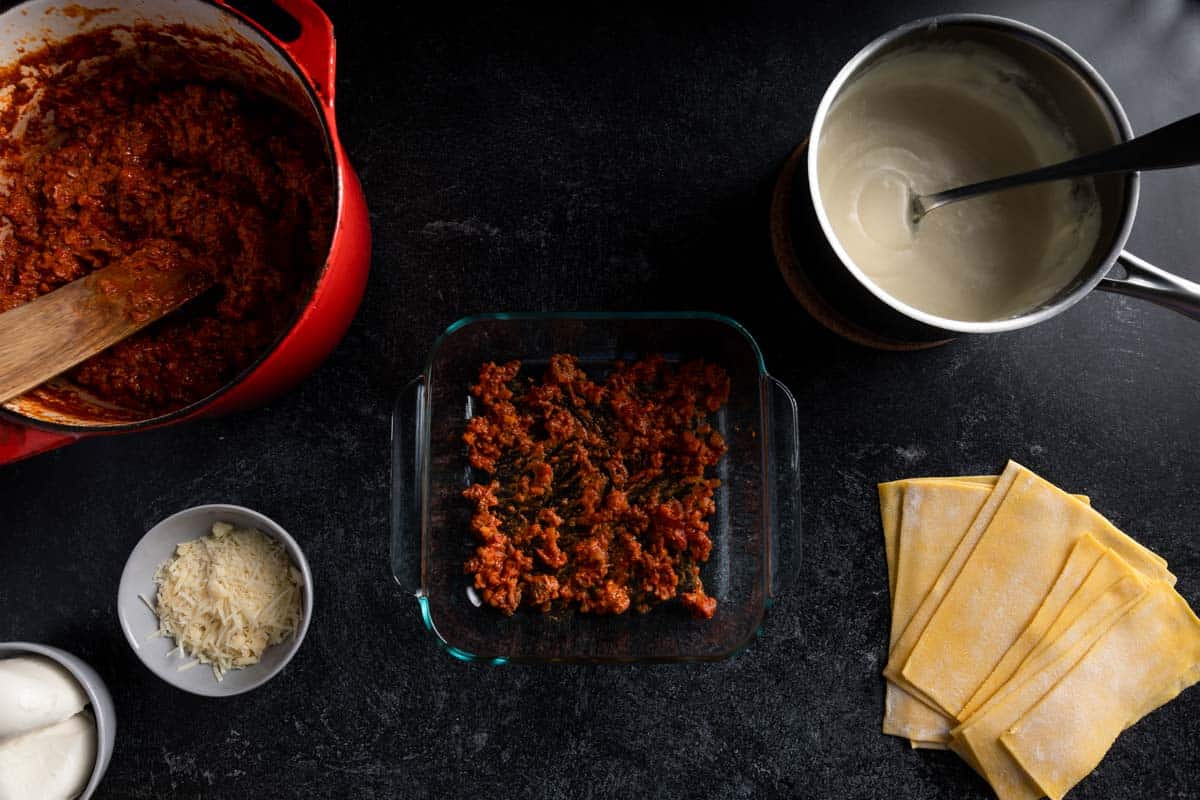 1. Have all of your prepared ingredients ready to go. Start by spreading a small amount of beef Bolognese in the bottom of your lasagna pan. Then, lay your first layer of lasagne pasta sheets in the bottom of your baking dish.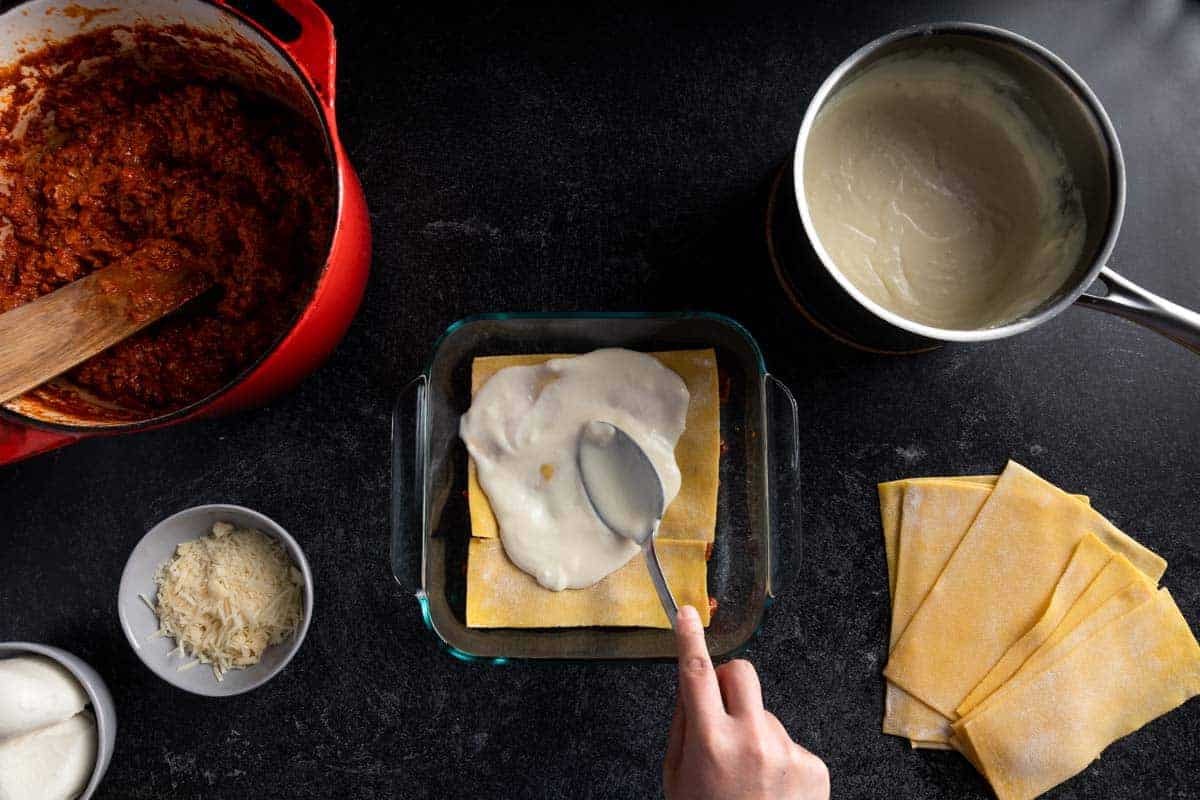 2. Spread a layer of Parmesan béchamel sauce over the lasagna noodles. It is okay if the besciamella has cooled and thickened, it will become saucy again during the baking process. Next, add a thick layer of Ragu Alla Bolognese (Beef Bolognese sauce).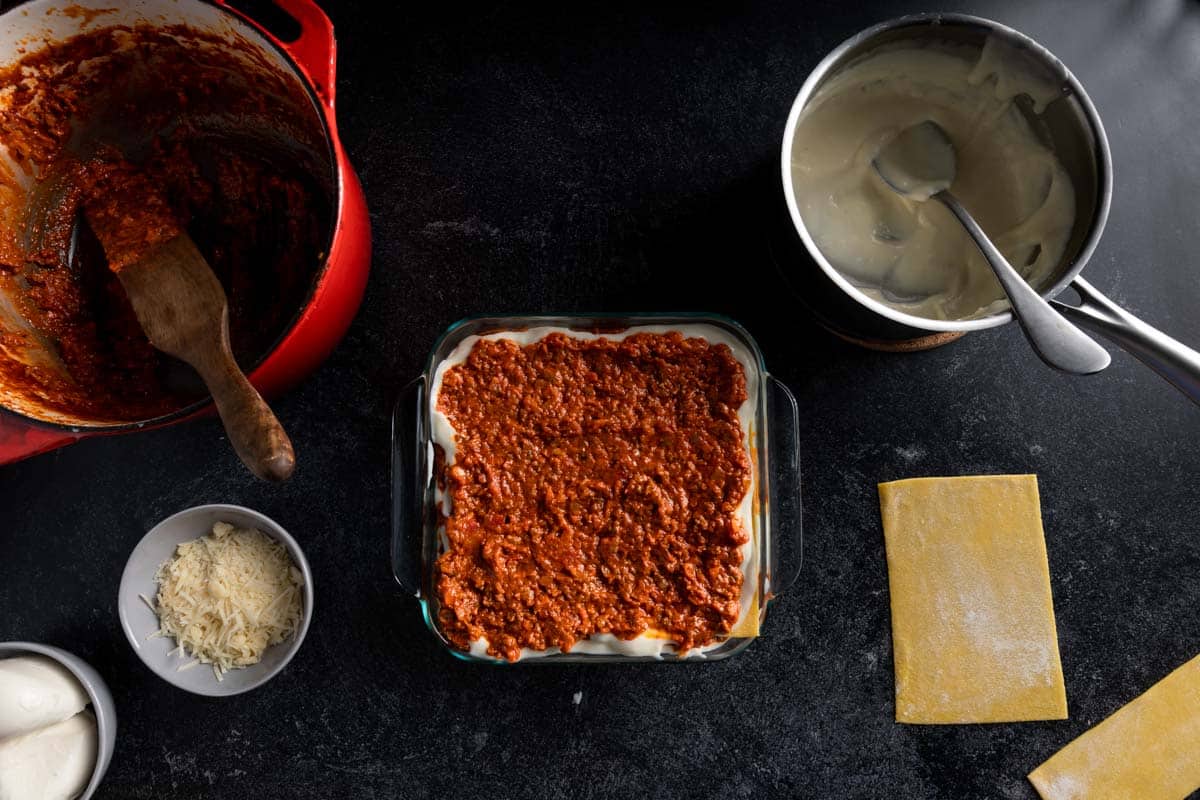 3. Repeat the layering process until the lasagne pan is full. (In our standard Pyrex baking dish, we had 5 layers each of pasta, Bolognese and besciamella). Reserve a little additional besciamella for the top layer of the lasagne.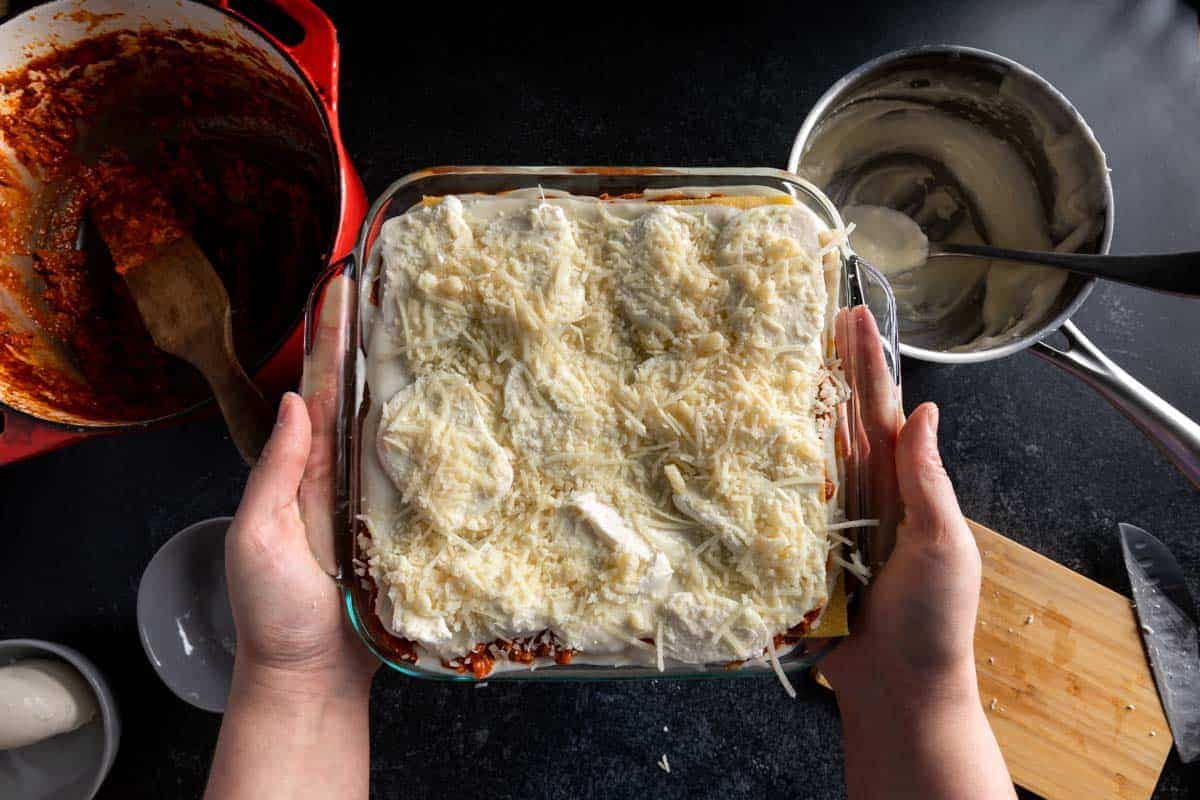 4. Top the lasagne Bolognese with slices of fresh mozzarella and shredded Parmesan cheeses before baking.
Tips For Baking Lasagna
For fool proof lasagna baking, follow these tips and tricks:
Reduce Ragu alla Bolognese until thick. Yes, the beef bolognese component of this recipe takes a long time. But don't rush it! Even if your Bolognese sauce tastes delicious before it is "done", keep going! It is essential that the Bolognese sauce is properly reduced and thickened to avoid a collapsing, soggy lasagna!
Don't layer components piping hot! Your lasagna will keep better layers and shape if the layers are stacked when room-temperature or chilled.
Undercook dried lasagna noodles. If using dried and boiled lasagna noodles, slightly undercook the pasta so that it does not become mushy when baking. We recommend shocking the hot, boiled noodles in ice water for 30 seconds to avoid overcooking.
Cover the lasagna with oil sprayed aluminum foil. Using cooking spray on the foil will prevent the top cheesy layer from sticking.
Bake the casserole dish on top of a foil-line sheet pan. Save the bottom of your oven by baking this recipe on a baking sheet lined with aluminum foil. That way, any cheesy overflow will be caught on the pan for easy clean-up.
Allow the baked lasagne to rest for 10 - 15 minutes before slicing into it. Trust us! It's worth the wait. Let the lasagne cool slightly to set and hold all of those lovely layers.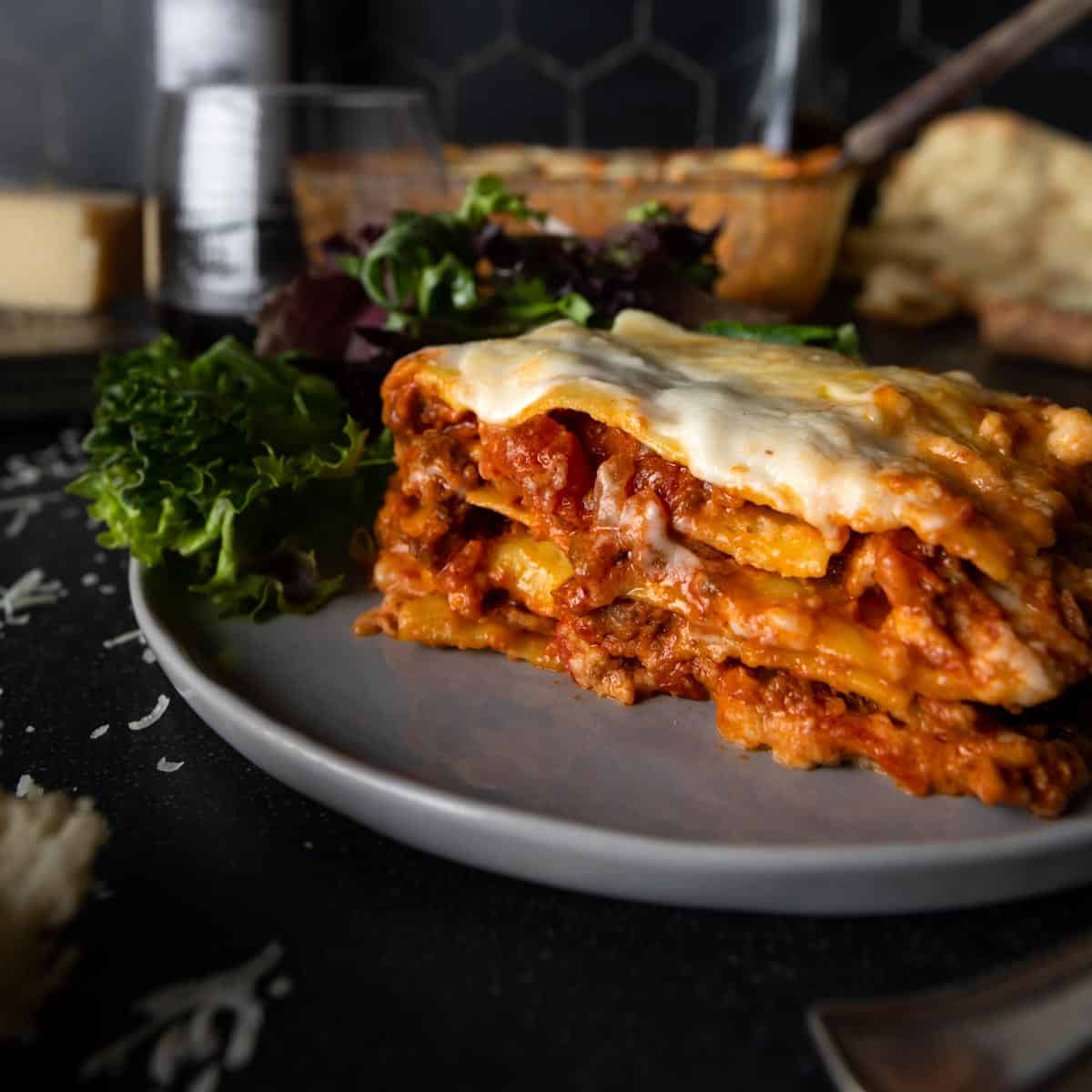 What To Serve With Homemade Lasagna
We recommend serving this recipe with some crusty Italian bread and a fresh green salad paired with our Fig and Balsamic Vinaigrette. It's delicious with our Arugula and Prosciutto Salad or even our Cherry Tomato Caprese Salad.
Wine Pairings
Italian wines with tart acidity pair perfectly with the rich flavors of bolognese and béchamel. I recommend serving this recipe with a nice quality Chianti, a sangiovese dominant Super Tuscan or a barbera from the Piedmont region.
Frequently Asked Questions
Can I make Lasagna al Forno with store bought pasta?
Yes! This recipe can be made with fresh homemade pasta, no-boil lasagna noodles or store-bought dried (and cooked) pasta.

Some Whole Foods and specialty food stores will even sell fresh pasta sheets specifically for making lasagna.
Can Lasagna al Forno be made ahead of time?
Absolutely. This lasagna recipe can be assembled and baked ahead of time. When ready to serve, rebake (covered in foil) at 325° for 30 - 40 minutes or until heated to an internal temperature of 165° Fahrenheit.
What is the difference between lasagna and lasagne al forno?
Unlike Americanized lasagna, this authentic lasagne al forno recipe is made without ricotta cheese. Instead, this recipe used homemade lasagne noodles and a creamy béchamel sauce.
Can this recipe be made vegetarian?
Yes. If you would like to prepare this recipe without the beef bolognese recipe, you can use a vegetarian ragu sauce. We recommend using a sauce substitute that is thick and heavily reduced to avoid being too watery.
What is the difference between lasagna and lasagne
You may have noticed two different spellings for lasagna(e). In the Italian language, lasagna (ending with an 'a') refers to a single lasagna noodle. Lasagne (ending with an 'e') is plural and refers to several sheets of lasagna noodles, or the entire layered lasagne dish.
Recipe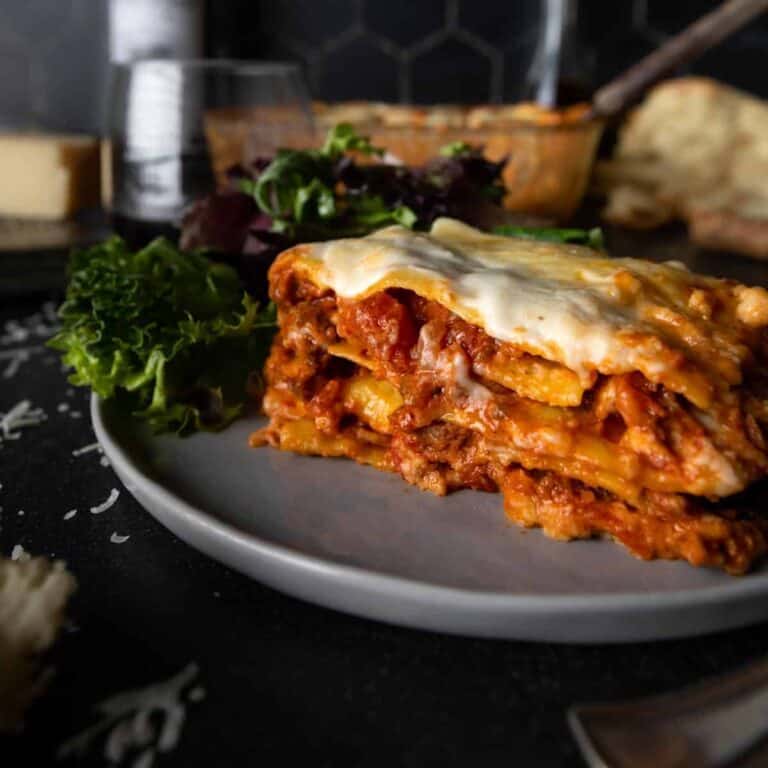 Lasagne al Forno
This authentic Italian lasagna layers fresh lasagna noodles with a Beef Bolognese sauce and a creamy Parmesan bechamel sauce! It's an all day recipe perfect for holidays and slow-cooked Sunday dinners!
ADJUST SERVINGS
Special Equipment
1 Large Dutch Oven

(or Heavy-Bottomed Stock Pot)

1 8x8 inch Baking Dish
Ingredients
Lasagna Al Forno (Lasagna Bolognese)
1

recipe

Ragu Alla Bolognese

slightly or completely cooled

½

recipe

Fresh Lasagna Noodles From our Homemade Semolina Pasta Dough Recipe (or 10 - 15 no-boil lasagna noodles OR dried, cooked and cooled lasagna noodles)

1

recipe

Bechamel Sauce (Parmesan Besciamella)

8

ounce

fresh mozzarella cheese

drained and sliced

½

Cup

Parmesan cheese

freshly shredded or grated
Ragu Alla Bolognese (Beef Bolognese)
¼

Cup

olive oil

½

large

yellow onion

finely chopped

1

medium

carrot

finely chopped

1

stalk

celery

finely chopped

3

cloves

garlic

minced or grated

1

pound

ground beef

or veal

6

ounces

tomato paste

1 small can

1

Cup

dry red wine (or beef stock)

(we used an inexpensive Chianti)

2

Cups

whole milk

28

ounces

whole peeled tomatoes

1 large can, certified San Marzano tomatoes recommended

2

bay leaves

5 - 6

sprigs

fresh thyme
fine kosher salt*

to taste, about 2 - 3 Tablespoons

Freshly-ground black pepper

to taste, about ½ - 1 Tablespoon
Fresh Lasagna Noodles
1 ¼

Cups

semolina flour

1 ¼

Cups

bread flour

or all-purpose flour

1

large

whole egg

(about 1 ¾ ounces) room temperature

5

large

egg yolks

(about 6 ¾ ounces) room temperature

Water

as needed, about 2+ Tablespoons
Bechamel Sauce (Parmesan Besciamella)
3

Tablespoons

unsalted butter

3

Tablespoons

all-purpose flour

2½

Cups

whole milk

1½

Cups

Parmesan cheese

freshly grated or shredded

fine kosher salt*

to taste, about 1 teaspoon

½

teaspoon

nutmeg

freshly grated, optional
Instructions
Ragu Alla Bolognese (Beef Bolognese)
In a large dutch oven or heavy-bottomed stock pot, heat olive oil over medium heat. Add onion, carrot, celery and garlic and sauté about 10 - 15 minutes or until aromatic and tender.

Increase heat to medium-high and add ground beef. Use a wooden spoon to break up the meat, season with salt and pepper and cook until browned. Once browned, add tomato paste and stir to combine.

Add red wine, stir, and bring to a simmer uncovered for 5 - 10 minutes until alcohol has mostly cooked off and the liquid has reduced in the pot. Add milk and stir. Reduce heat and allow the mixture to simmer gently, uncovered, for 30 - 45 minutes until the milk has greatly reduced.

Add whole peeled tomatoes, bay leaves and thyme. Bring to a gentle simmer and cook uncovered, stirring occasionally and breaking up the tomatoes, for 2½ - 3½ hours or until the sauce is very thick and flavorful. Remove thyme and bay leaves. Allow Bolognese to cool slightly, or prepare ahead of time and refrigerate overnight, before layering into the lasagna.
Fresh Lasagna Noodles
In a medium mixing bowl, add semolina and bread flours and whisk to combine. Transfer flour mixture in a mound on a smooth, clean work surface. Shape a well in the center of your flour.

Add the egg, egg yolks and about 1 Tablespoon (15 milliliters) of water to the well. Using a fork, begin to whisk the eggs and water together until smoothly combined. Continue whisking, while slowly bringing flour into the eggs to form a smooth paste. 

Once most of the pasta flour is incorporated and the dough begins to come together, switch from using the fork to using your bench scraper. Scrape the dough up from your work surface and fold it over itself. Use the bench scraper to chop the mixture together and evenly distribute the flour throughout a shaggy dough. If the dough is too dry to come together, drizzle a little additional water over the mass of dough and continue to combine with the bench scraper. 

Use your hands to pull the dough together and knead. Use the mass of dough to pick up any scraggly dough scraps or loose flour on your work surface. The dough should be firm and may be slighlty tacky but should not stick to your hands or the work surface.

Once all the flour is incorporated and dough is homogenous, form into a ball. Cover the dough with a damp towel or plastic wrap to prevent drying. Allow the dough to rest for at least 30 minutes or overnight in the refrigerator. 

Sheet pasta dough into lasagna noodles. Use a bench scraper to divide the dough into 8 portions. Work with one portion at a time, keep the remaining dough covered with your damp cloth or plastic wrap to prevent drying. 

Sheet portions of pasta dough about 1 millimeter thick using a rolling pin or pasta machine. For more details and a visual guide of sheeting homemade pasta dough, visit our Homemade Semolina Pasta Dough recipe post. 

*Fresh lasagne noodles do not need to be cooked before assembling and baking. 
Bechamel Sauce (Parmesan Besciamella)
In a medium sauce pot, melt butter over medium heat. Add flour and whisk to combine. Cook for one minute. While whisking, slowly add whole milk. Bring mixture to a simmer, whisking frequently.

Once simmering, whisk in Parmesan cheese a little at a time until completely melted, thickened and smooth, about 3 - 5 minutes. Season with salt and nutmeg to taste. Set sauce aside until ready to assemble the lasagna.

The sauce will thicken as it cools and it is okay to assemble the lasagna with the cooled sauce.
Assembling the Lasagna Al Forno
Arrange a rack in the center third of the oven and preheat to 375° Fahrenheit (190° celsius).

To assemble the lasagna, start by adding a small amount of Ragu Alla Bolognese to the bottom of your baking dish. Then, add your first layer of lasagna pasta.

Top the pasta with about ⅕ of the Bechamel Sauce. Then, add a thick layer of Ragu Alla Bolognese, about 1 ½ - 2 Cups.

Repeat layering lasagna pasta noodles with Parmesan Besciamella and Beef Bolognese sauce until the pan is nearly full. The top layer of the lasagna should be the last fifth (or so) of the became sauce topped with slices of fresh mozzarella and the

½ Cup (50 grams)

of Parmesan cheese. (See Notes b. & c.)

Cover the lasagne with a piece of tinfoil coated in non-stick cooking spray (to prevent the cheese from sticking). Bake lasagna on a sheet tray for 35 - 40 minutes. Remove foil and continue baking for 5 - 10 minutes or until lasagne is bubbling around the edges and the cheese is golden brown.

Allow the lasagne al forno to rest at room-temperature for 10 - 15 minutes before slicing and serving. Buon appetito!
Notes
foodworthfeed recipes are developed using Diamond brand kosher salt. If using iodized or table salt, reduce quantities by about half.
a. Leftover Semolina Pasta Dough can be frozen and/or used to make various pasta shapes. Search our tutorials for fettuccine, pappardelle, farfalle, rigatoni and more.
If using boxed and dried lasagne pasta noodles, we recommend slightly undercooking the pasta to avoid a mushy lasagna texture. After boiling, transfer the hot pasta noodles into an ice bath for 30 seconds to stop the cooking. The pasta will finish cooking in the oven as the lasagna bakes. 
b. You may have some leftover Bolognese sauce. You can serve the lasagna with the extra sauce or save it for a pizza or pappardelle meal. 
c. The lasagne can be assembled and refrigerated up to 1 day in advance of baking. If baking the lasagne from cold, you may need to increase the baking time by 10 - 20 minutes. 
* A Note About Salt
Unless otherwise noted, all recipes on The Sage Apron are developed using Diamond Crystal Kosher salt. It is a great all-purpose salt for cooking and baking. If using table salt, reduce quantities by about half.
Nutrition
Calories:
1054
kcal
|
Carbohydrates:
82
g
|
Protein:
52
g
|
Fat:
55
g
|
Saturated Fat:
25
g
|
Polyunsaturated Fat:
3
g
|
Monounsaturated Fat:
21
g
|
Trans Fat:
1
g
|
Cholesterol:
140
mg
|
Sodium:
4095
mg
|
Potassium:
1359
mg
|
Fiber:
6
g
|
Sugar:
20
g
|
Vitamin A:
3409
IU
|
Vitamin C:
24
mg
|
Calcium:
912
mg
|
Iron:
6
mg