A Thanksgiving feast is never complete without a pour of turkey gravy drizzled around the plate. This recipe makes the best turkey gravy - without any drippings! You can make this gravy days, weeks or months ahead of time to make your Thanksgiving celebration stress-free and full of flavor!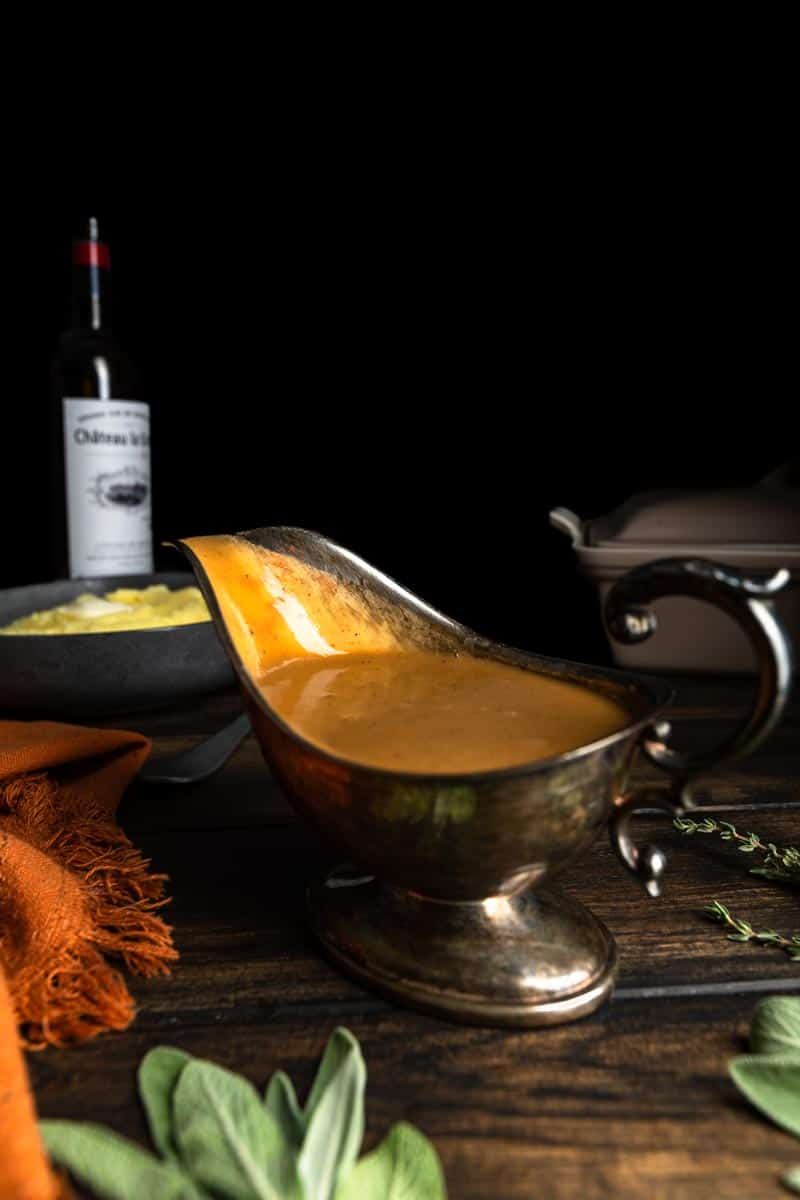 Jump to:
The Key To Fabulous Turkey Gravy
You want to know the secret? The key to making fabulous turkey gravy without the drippings is using a really good stock. A great turkey stock allows you to make a rich and flavorful gravy ahead of time. (If you have drippings later on, feel free to add them for even more flavor.)
We recommend making this gravy with our homemade turkey stock recipe. Around the holidays, butchers and specialty grocers will often carry their own homemade stock - which is a wonderful shortcut. In a pinch, you can use stock from the box... but the flavors just can't compare.
Ingredients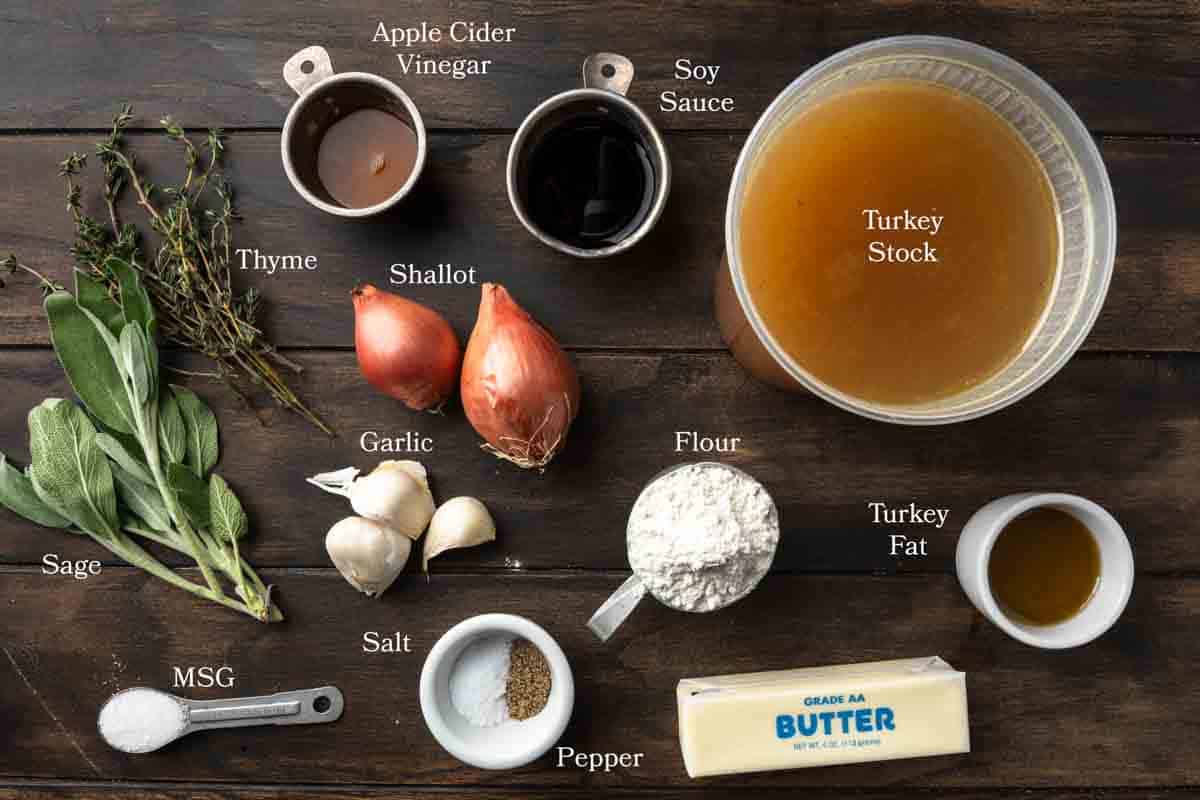 Turkey Fat & Stock - If you are making our homemade turkey stock recipe, each quart will have a couple Tablespoons, or so, of turkey fat. Skim the fat from the top of the cooled stock and use it to help flavor the roux.

If you don't have any turkey fat, substitute 1 Tablespoon of cooking oil.

MSG - Optional. I understand some of you may have varying opinions about cooking with MSG. My opinion is that, in moderation, it is a harmless way to build big, umami-driven flavors fast. I think of it like savory salt and use a dash in most of my soups and sauces. If you don't like it, or don't have it - simply omit it.
Ingredient Spotlight: More About MSG - MSG (monosodium glutamate)is a plant-based seasoning that is used similarly to salt. It has about one-third the sodium of table salt. It is known for enhancing a savory umami flavor. MSG is not an allergen and glutamate is naturally produced within the human body. MSG is found naturally in dozens of foods such as tomatoes, mushrooms, cheese, and even potatoes.
How To Make Turkey Gravy
Once you have a fantastic stock, making gravy just takes a few minutes.
If you have turkey fat, heat it up in a large skillet. (Otherwise, use 1 Tablespoon of cooking oil). Add chopped shallots and smashed garlic and sauté, stirring occasionally until lightly caramelized and aromatic. Be sure to get a bit of color on the onions - it adds a lot of flavor.
Stir in butter until fully melted.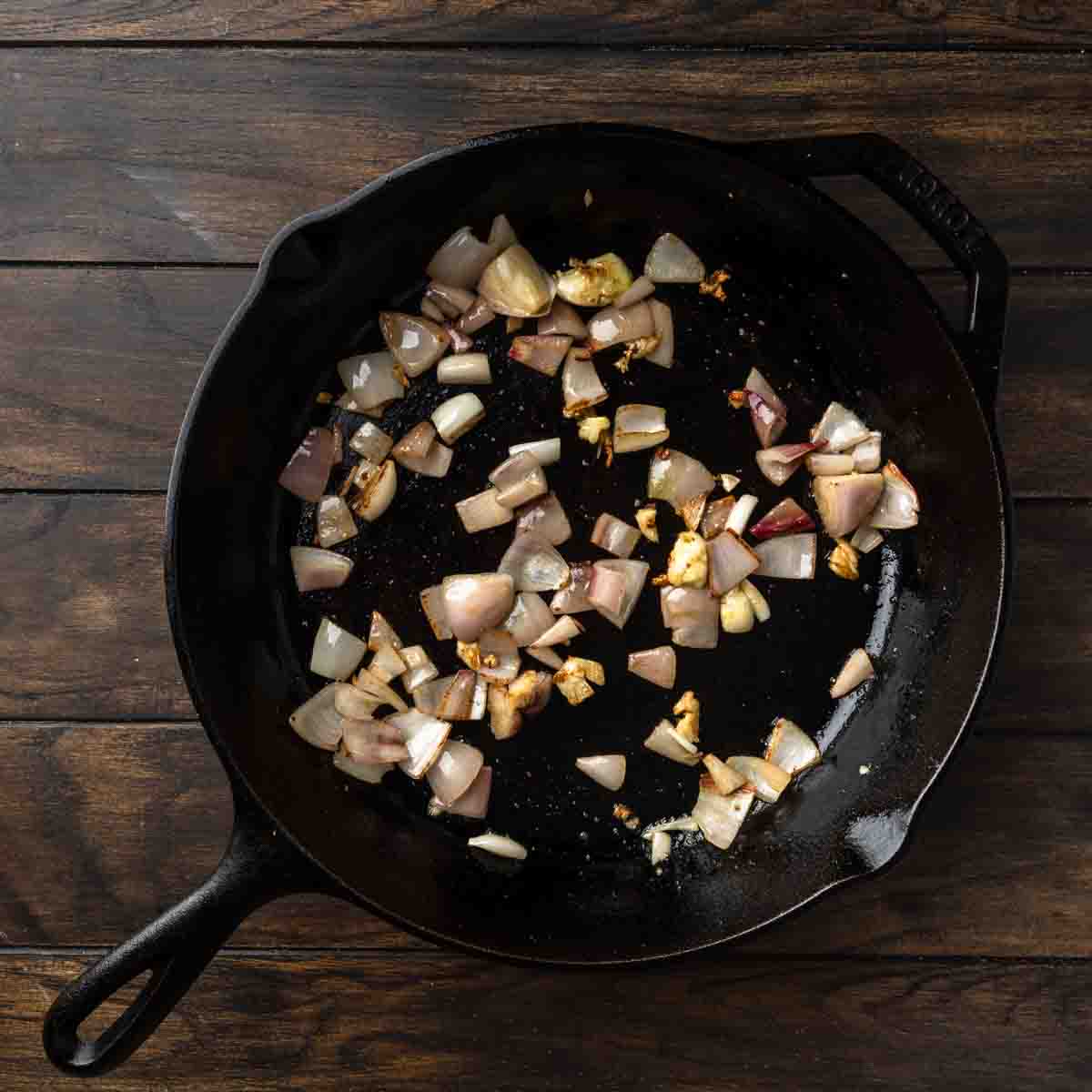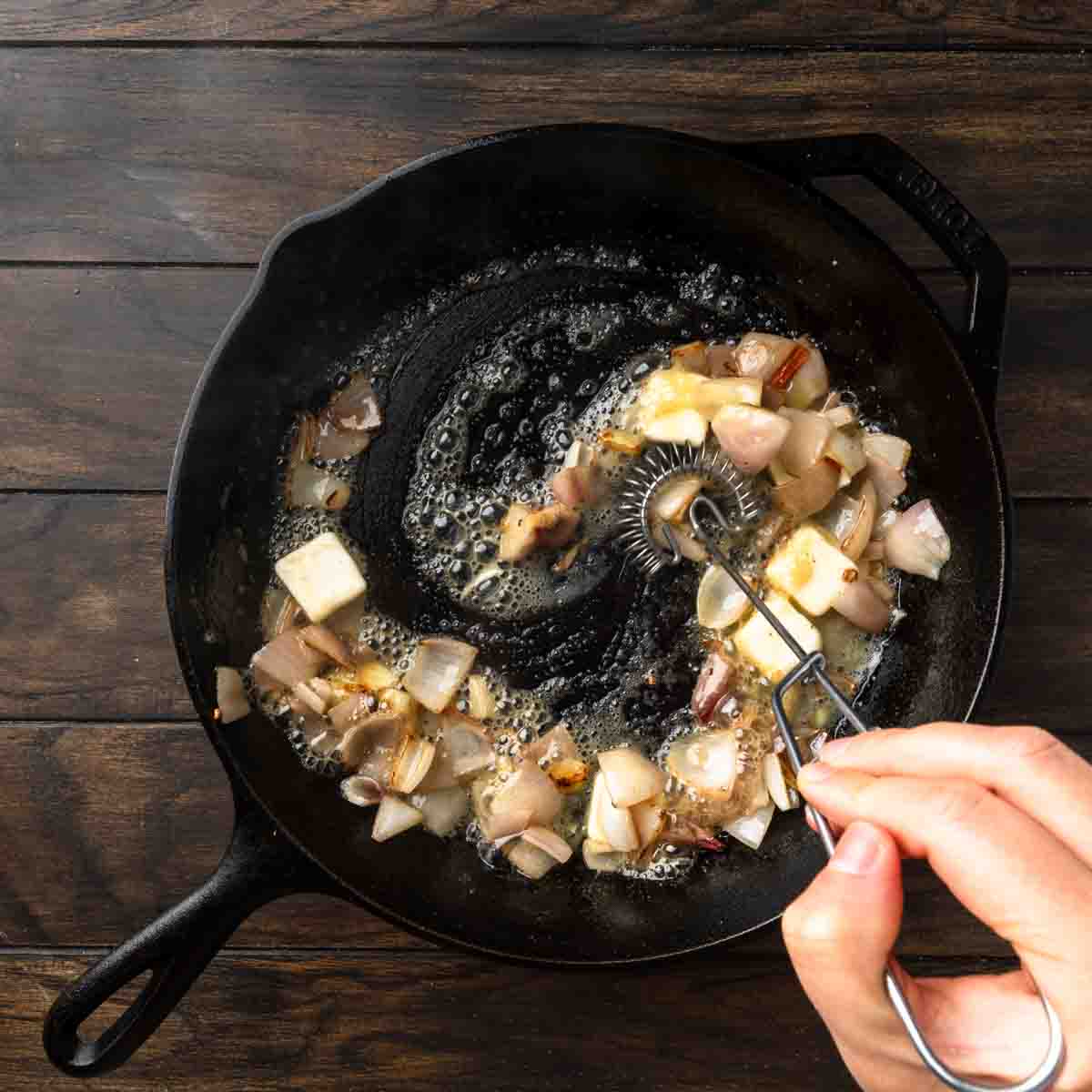 Whisk in the flour, a little at time, to make a roux. It will form a thick paste. Continue cooking and whisking constantly for about 5 minutes, or until the roux has toasted and become a rich golden color.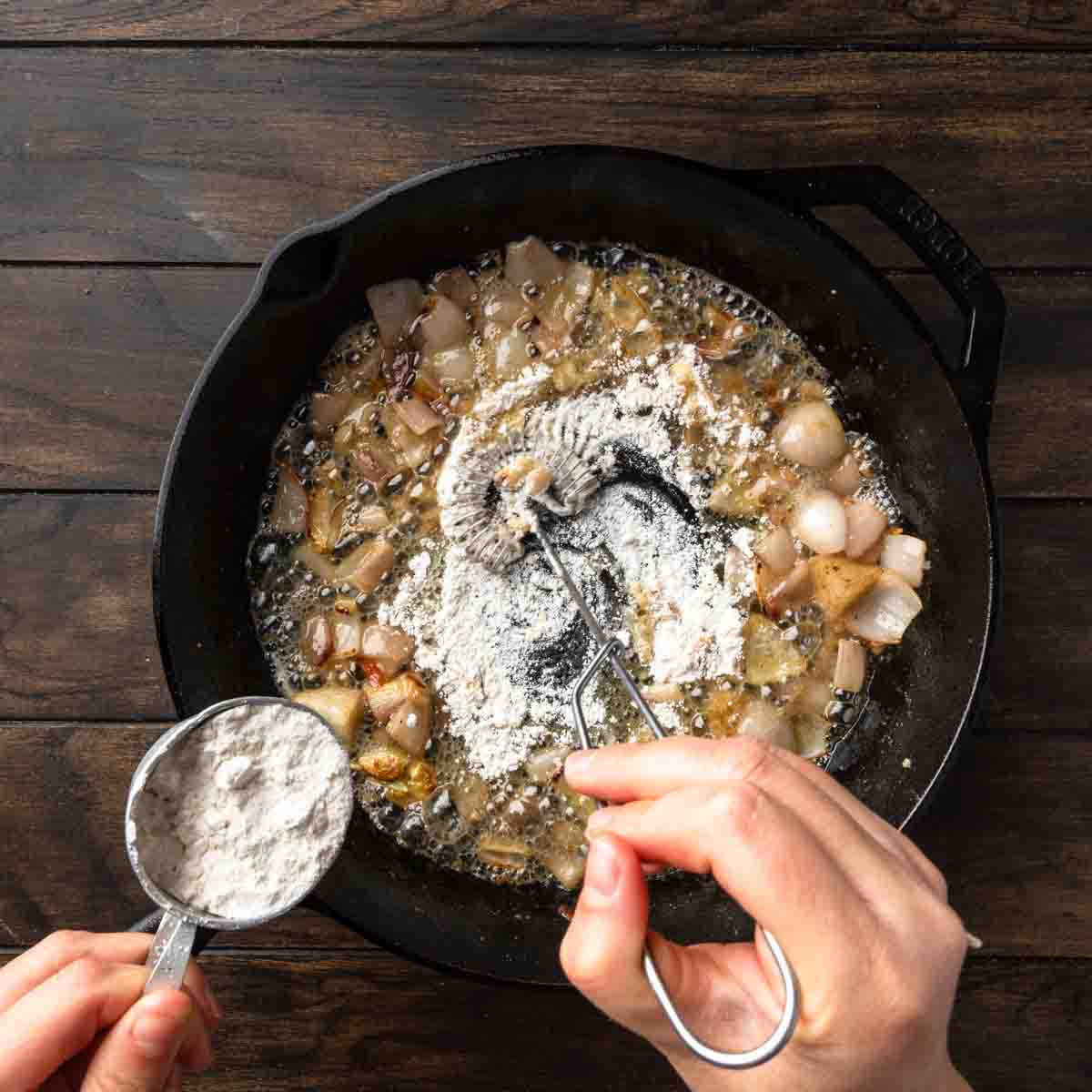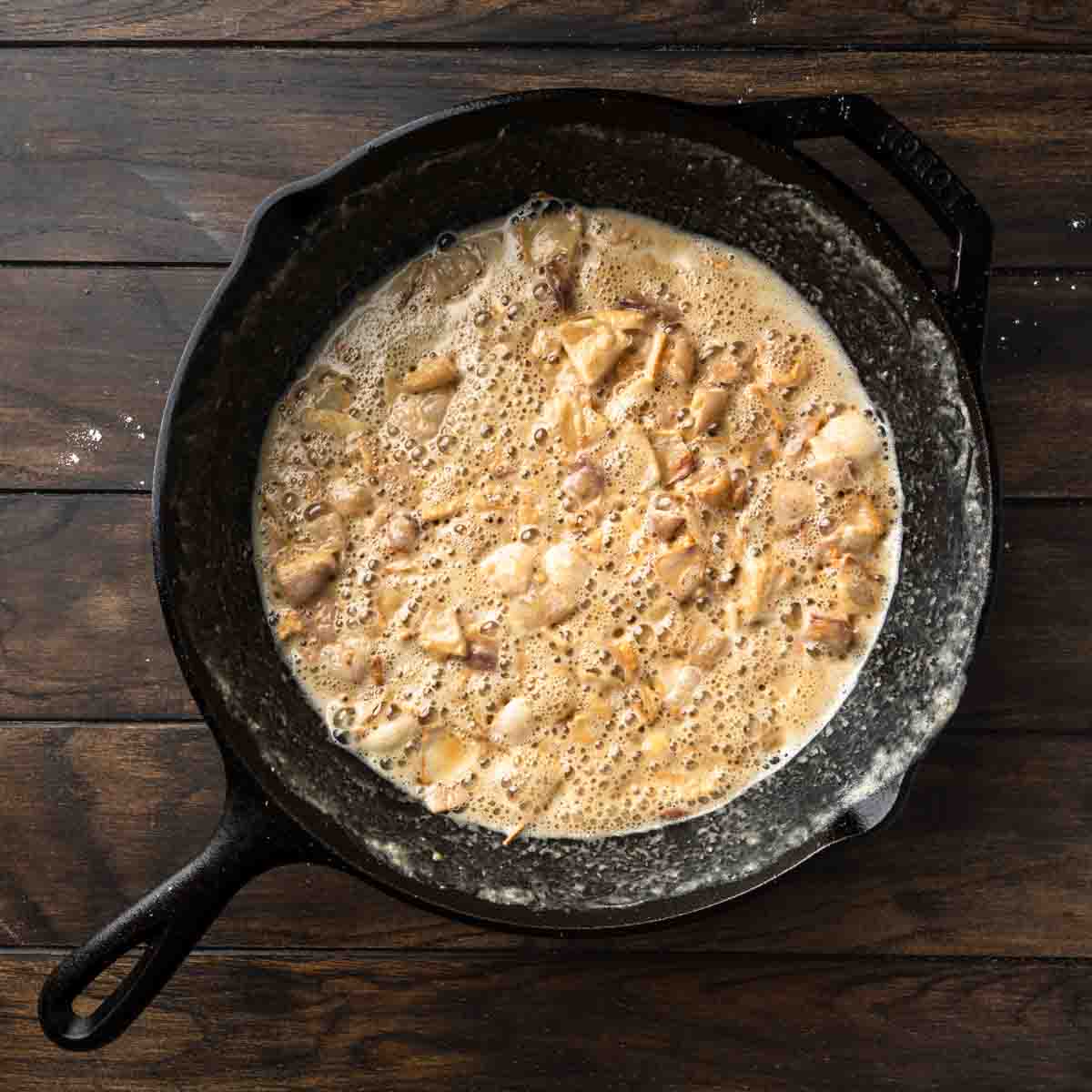 While constantly whisking, add in the fresh herbs. Continue whisking as you slowly stream in the warm turkey stock.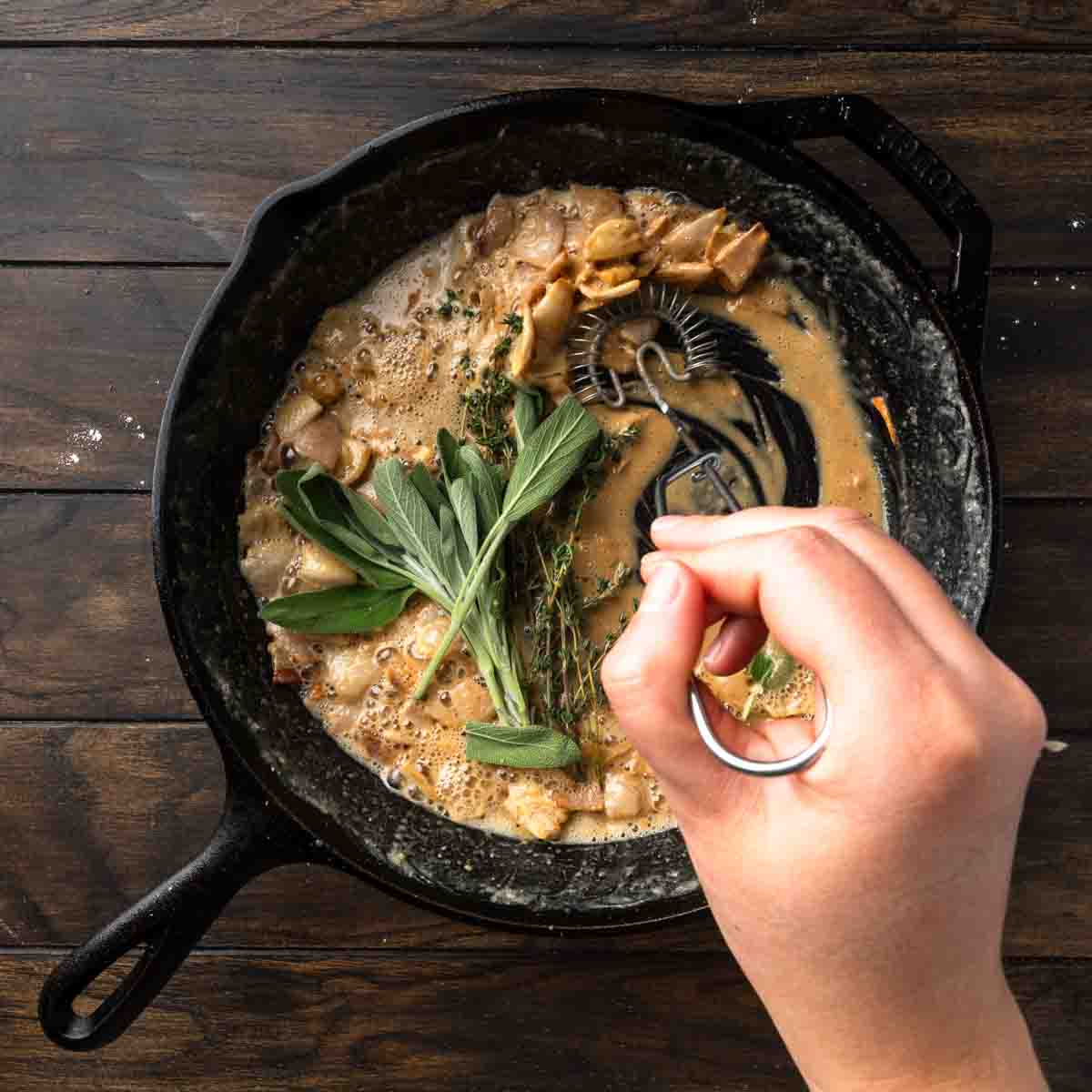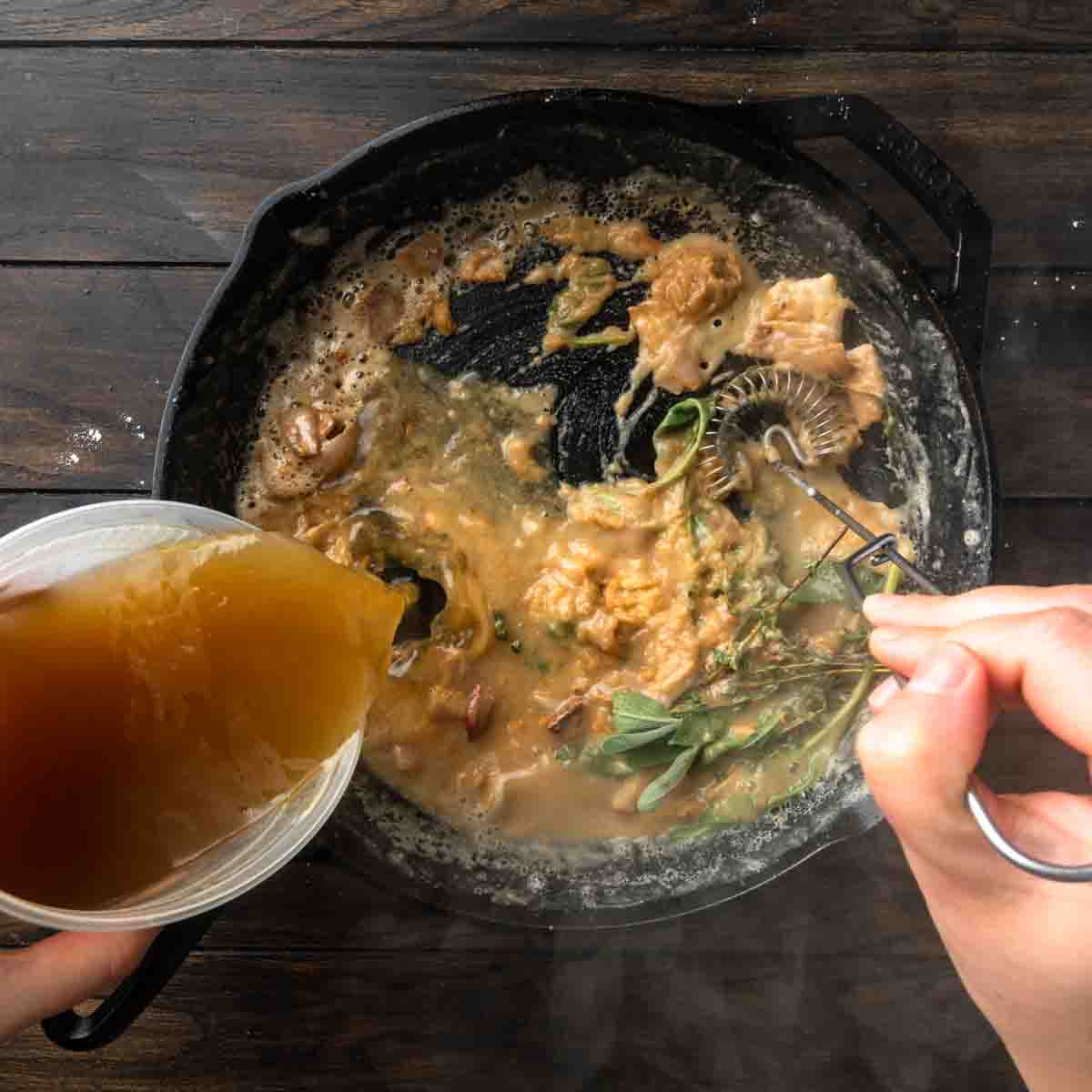 Once all of the stock is incorporated, continue stirring as you bring the gravy to a simmer. Allow to simmer for a few minutes to thicken, or add more stock, as desired, for a thinner gravy.
Stir in apple cider vinegar and soy sauce. Season to taste with salt, lots of black pepper and MSG, if using.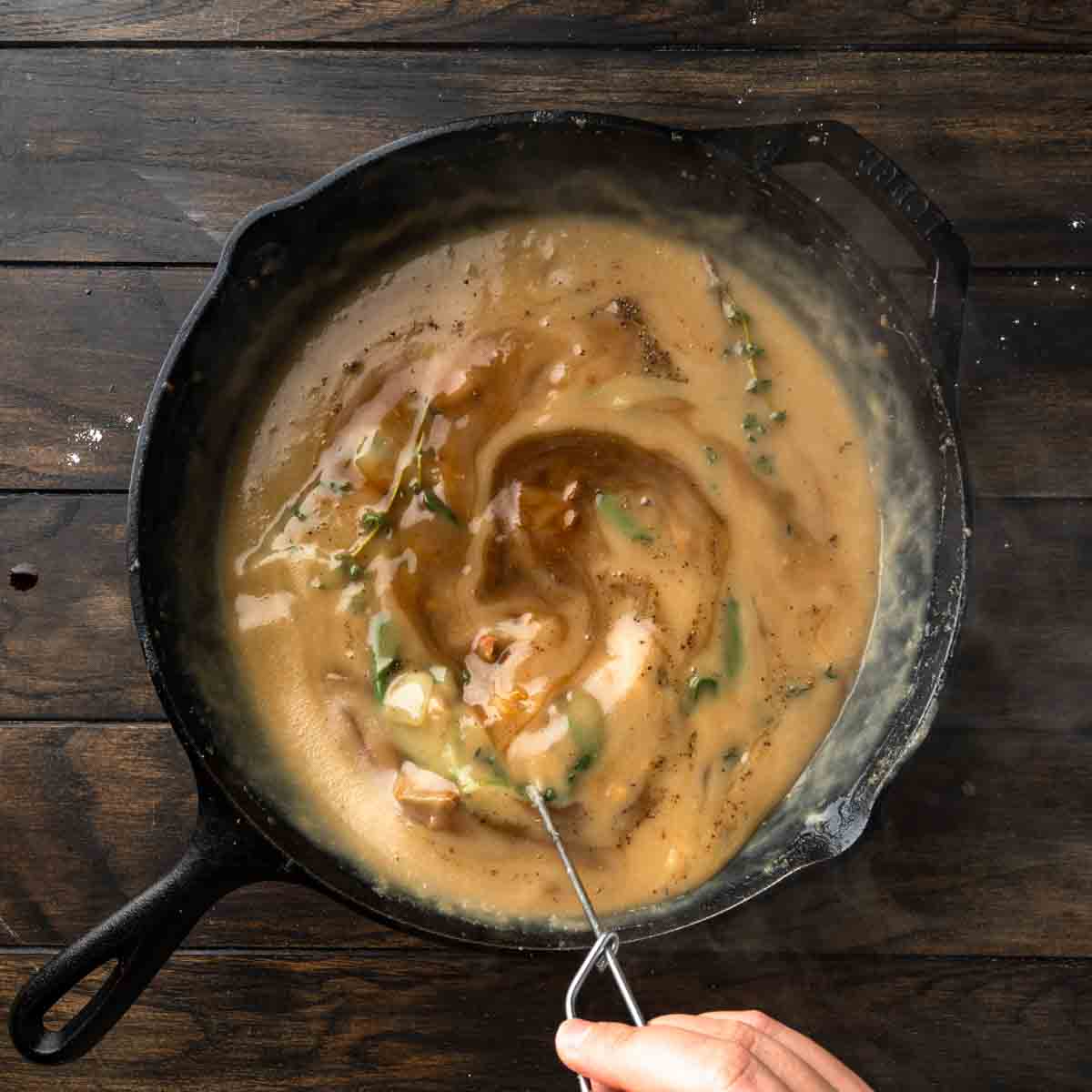 Strain the gravy through a fine mesh strainer. Use a rubber spatula to press and extract as much gravy as possible. Serve immediately or cool and save to be reheated later on.
Pro Tips for Perfect Gravy
Great gravy comes from great stock. Make a delicious turkey stock with this recipe.
Sear the shallots in turkey fat. Getting a little golden color on the shallots adds big flavor.
Toast the roux until rich and golden. Stir the butter and flour together and cook until the color is a toasty golden brown. Don't stop stirring! It will burn quickly.
Use fresh herbs. There is a time and a place for dried herbs and spices - this isn't it. Use fresh sage and thyme to infuse the gravy with herbaceous flavor.
Season boldly. You're making a lot of gravy, don't skimp on the seasonings! Taste the gravy and add a generous amount of freshly ground black pepper and enough salt to enhance the savory gravy flavor.
Serve it in a mini crock pot. This is definitely my favorite tip! Every year we forgo the pretty gravy boat and keep our gravy warm in a little 2 quart slow cooker. It's perfect for large crowds and warm second servings!
Saving & Storing
If you'd like, you can make this turkey gravy on the Tuesday or Wednesday before Thanksgiving and keep it in the refrigerator. To plan even further ahead, freeze the gravy for weeks (or months).
Allow the gravy to cool completely before covering and storing. You can keep the gravy in a deli container, glass jar or freezer safe bag.
Refrigerator: 2 - 3 days
Freezer: 1 - 2 months
Thawing & Reheating
If your make ahead turkey gravy is frozen, I recommend thawing it in the refrigerator for 1 - 2 days. (If it's still a bit frozen on the day of, you can leave it on the countertop for a few minutes until fully thawed).
The gravy will need to be heated slowly, stirring occasionally, in a pan or pot. If at all lumpy, whisk vigorously until silky smooth. Often times, the gravy will thicken during the cooling and reheating process. Whisk in additional warm turkey stock, as needed, to reach your desired consistency. Adjust the seasoning to taste.
Serving
Serve the gravy warm in a big gravy boat or, do like I do, and keep it warm and ready to go in a mini crock pot.
When the time comes, pour it over the whole plate! I like mine on my turkey, mashed potatoes (duh!), and challah and sausage stuffing! Be sure to make some extra to serve with your leftover turkey dip sandwiches!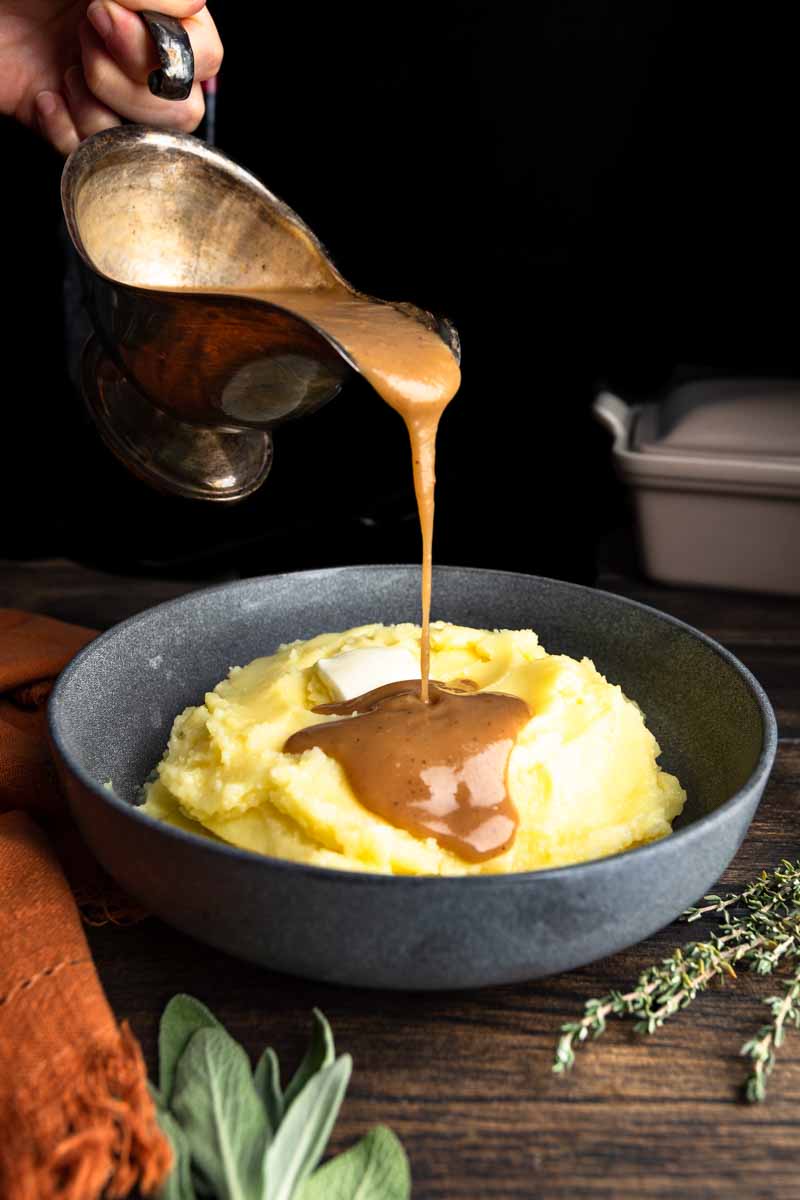 What About My Delicious Drippings?
Okay so, if you're like me, you like to make a big batch of turkey gravy ahead of time. That way you're not juggling whisking up a homemade gravy while the turkey is resting and the side dish chaos ensues.
However if you DID just roast a whole big beautiful bird, you'll likely have a roasting pan of flavorful fond and turkey drippings. Go ahead and whisk any non-fatty drippings into the gravy to further enhance the flavor. (Be careful not to add the rendered turkey fat, though - that will make for a really greasy gravy.)
How Much Turkey Gravy Do I Need?
Good question. In my house, we are gravy lovers. We plan for ½ Cup of gravy per person. I've heard rumor that other houses get by with just a quarter Cup of gravy, per person. That being said, we're also leftover lovers, so we make sure to have enough gravy that we can set some extra aside for leftover Thanksgiving plates and sandwiches.
More Thanksgiving Recipes...
Recipe
Make Ahead Turkey Gravy (Without Drippings)
This easy make ahead recipe makes a rich and flavorful turkey gravy from stock, roux and fresh herbs. It's a Thanksgiving must!
ADJUST SERVINGS
Ingredients
2

Tablespoons

turkey fat

skimmed from homemade stock OR 1 Tablespoon cooking oil

2

medium

shallots

chopped

3

cloves

garlic

smashed

½

Cup

butter

½

Cup

all-purpose flour

½

handful

fresh sage

½

handful

fresh thyme

1

quart

turkey stock

warmed; preferably homemade, plus more as needed for adjusting consistency

2

Tablespoons

soy sauce

regular or low-sodium

1 ½

Tablespoons

apple cider vinegar

1

teaspoon

MSG (monosodium glutamate)

optional

fine kosher salt*

to taste

Freshly-ground black pepper

to taste
Instructions
In a large skillet, heat turkey fat (or cooking oil) over medium-high heat. Add in shallots and garlic. Saute until aromatic and golden around the edges.

2 Tablespoons turkey fat +

2 medium shallots +

3 cloves garlic

Lower heat to medium. Add in butter and cook until melted. While whisking constantly, stir in flour until a paste forms. Continue cooking and stirring for about 5 minutes, or until the roux (paste) is toasted and a rich golden color.

½ Cup butter +

½ Cup all-purpose flour

Add in the fresh herbs. Continue whisking as you carefully stream in the warmed turkey stock. Continue stirring as you bring the gravy to a a simmer for 1 - 2 minutes, or until smooth and thickened.

½ handful fresh sage +

½ handful fresh thyme +

1 quart turkey stock

Stir in the soy sauce and apple cider vinegar. Adjust consistency with more stock, as desired. Add MSG, if using. Season generously, to taste, with salt and lots of black pepper.

2 Tablespoons soy sauce +

1 ½ Tablespoons apple cider vinegar +

1 teaspoon MSG (monosodium glutamate) +

fine kosher salt* +

Freshly-ground black pepper

Strain gravy through a fine mesh strainer. Serve immediately or cool completely before saving and storing.

Reheat gently in a pan or pot, adjusting the seasonings and consistency with more stock, as needed.
* A Note About Salt
Unless otherwise noted, all recipes on The Sage Apron are developed using Diamond Crystal Kosher salt. It is a great all-purpose salt for cooking and baking. If using table salt, reduce quantities by about half.
Nutrition
Calories:
214
kcal
|
Carbohydrates:
12
g
|
Protein:
5
g
|
Fat:
16
g
|
Saturated Fat:
9
g
|
Polyunsaturated Fat:
1
g
|
Monounsaturated Fat:
5
g
|
Trans Fat:
0.5
g
|
Cholesterol:
38
mg
|
Sodium:
518
mg
|
Potassium:
176
mg
|
Fiber:
1
g
|
Sugar:
2
g
|
Vitamin A:
367
IU
|
Vitamin C:
1
mg
|
Calcium:
18
mg
|
Iron:
1
mg