This 20 minute meal is perfect for busy weekdays when you need something fresh, filling and flavorful! Our spaghetti al pesto is a quick and delicious meal that is made with homemade spinach and pistachio pesto sauce.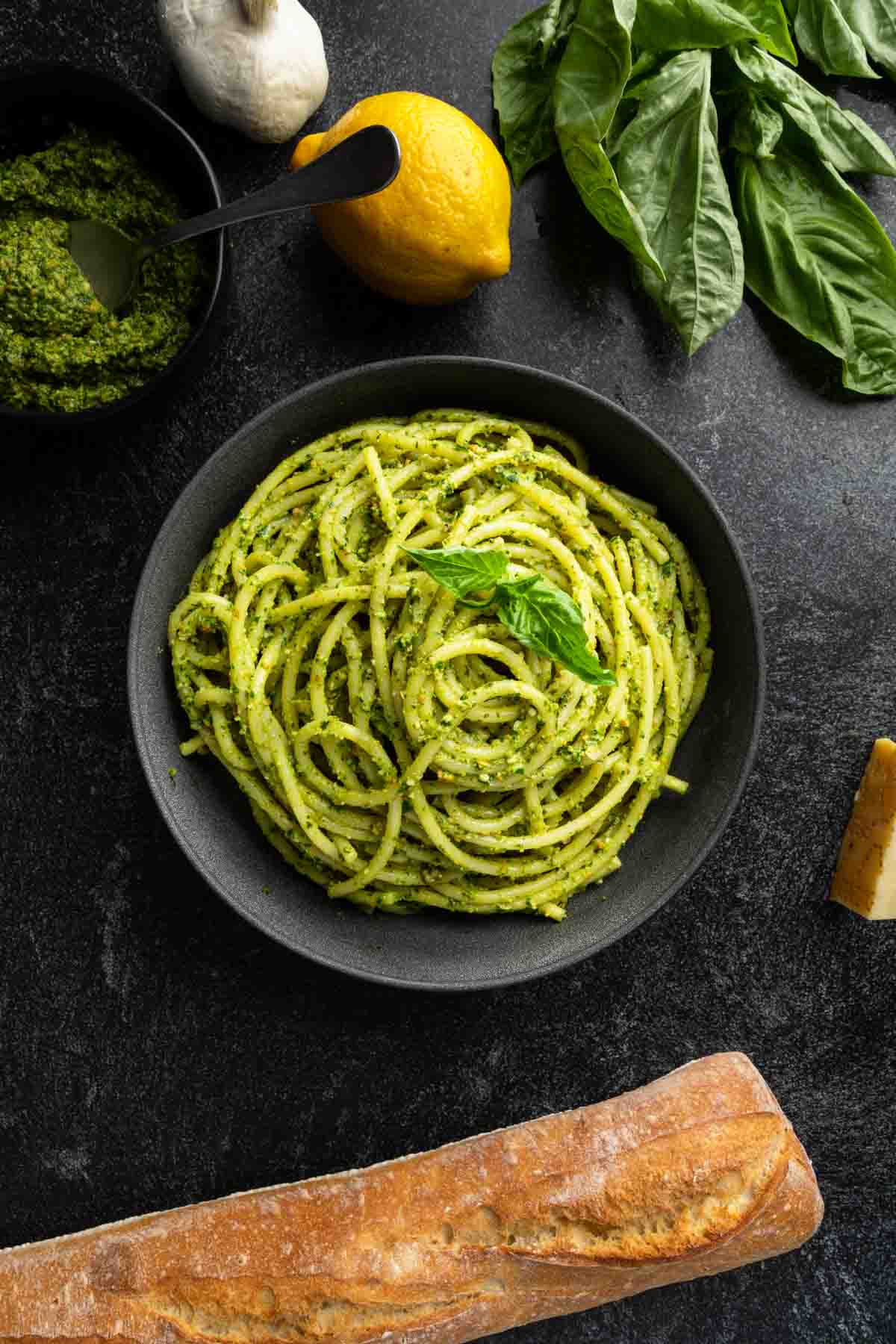 To make this recipe quick and easy, we used a boxed pasta. However, if you have a little more time to make this dish special, it is phenomenal with our Homemade Fettuccine pasta.
For another quick pasta sauce recipe, try our classic San Marzano Marinara Sauce.
Jump to:
Why You'll Love This Recipe
Super easy 20 minute meal! - Spaghetti al pesto is perfect for scratch cooking with busy schedules. We make our pesto sauce in a food processor to keep it quick and so easy.
So flavorful! - Homemade pesto is so much better than the stuff from a jar! It's herbaceous, garlicky, salty, zest and rich! This recipe uses fresh ingredients that are bursting with big flavor.
Pairs with just about everything. - Keep it simple with some crusty bread and a light salad or add proteins like chicken, shrimp or beef.
Specialty diet friendly - This dish can be made with gluten-free pasta and the pesto sauce can easily be altered to be vegan, dairy-free and/or nut-free. (See our FAQs for suggestions.)
Ingredients
For this easy spaghetti dish we made a quick spinach and pistachio pesto sauce. The flavors are bright and fresh balanced with basil, lemon, garlic and lots of Parmesan cheese. Here's what you'll need: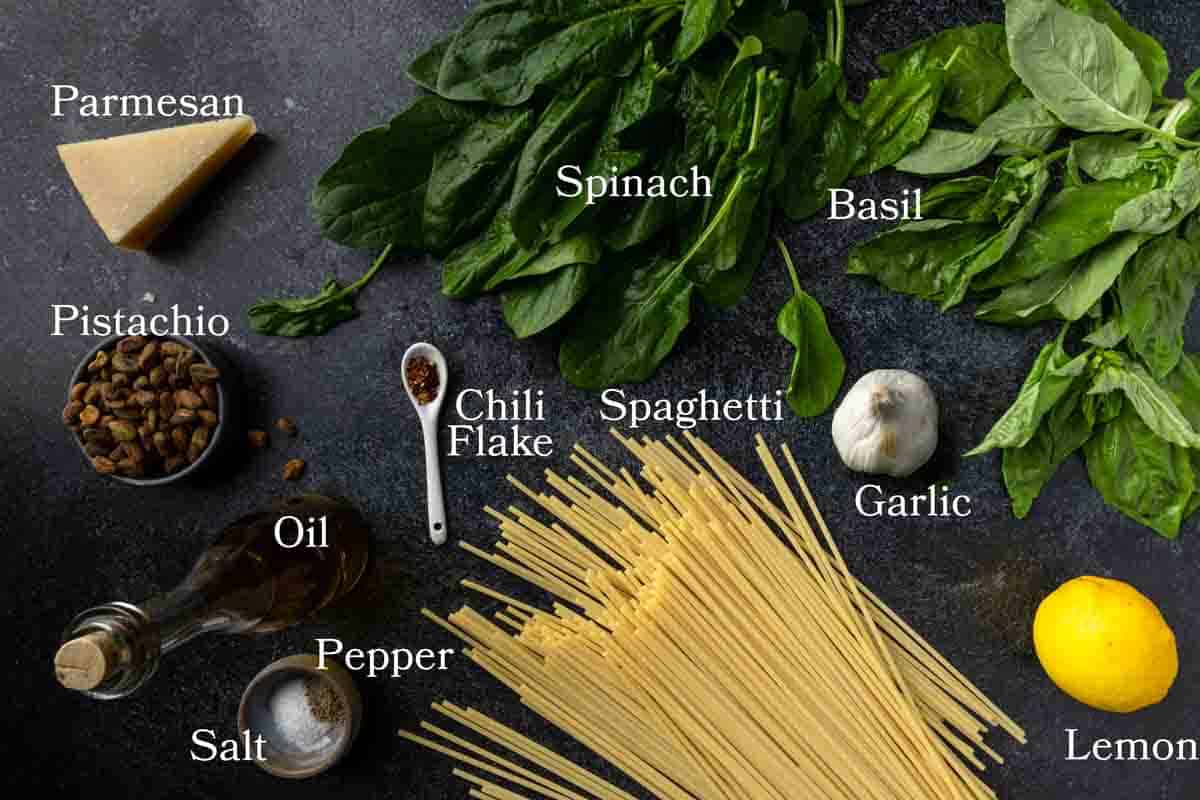 Pasta - We used a boxed bucatini for this recipe, however, any spaghetti, fettuccine, linguine or trenette will be a perfect, classic pairing. To elevate this dish, you can make homemade fettuccine or any shape from our semolina pasta dough recipe. Or course, you can also use a gluten free pasta substitute.
Homemade Pesto - The other ingredients needed for this recipe are all for the simple pesto sauce. You can check out the full spinach pistachio pesto post for ingredient substitutions and other serving suggestions.
Pro Tip: Reviving Wilted Greens - Homemade spinach pesto is best when made from crisp, freshly picked basil and spinach leaves. If your greens are a bit sad and limp, don't worry! To crisp the basil and/or spinach start by trimming the stem ends. Then, submerge the greens in an ice water bath for 15 - 30 minutes. During that time the leaves will perk up and become crisp.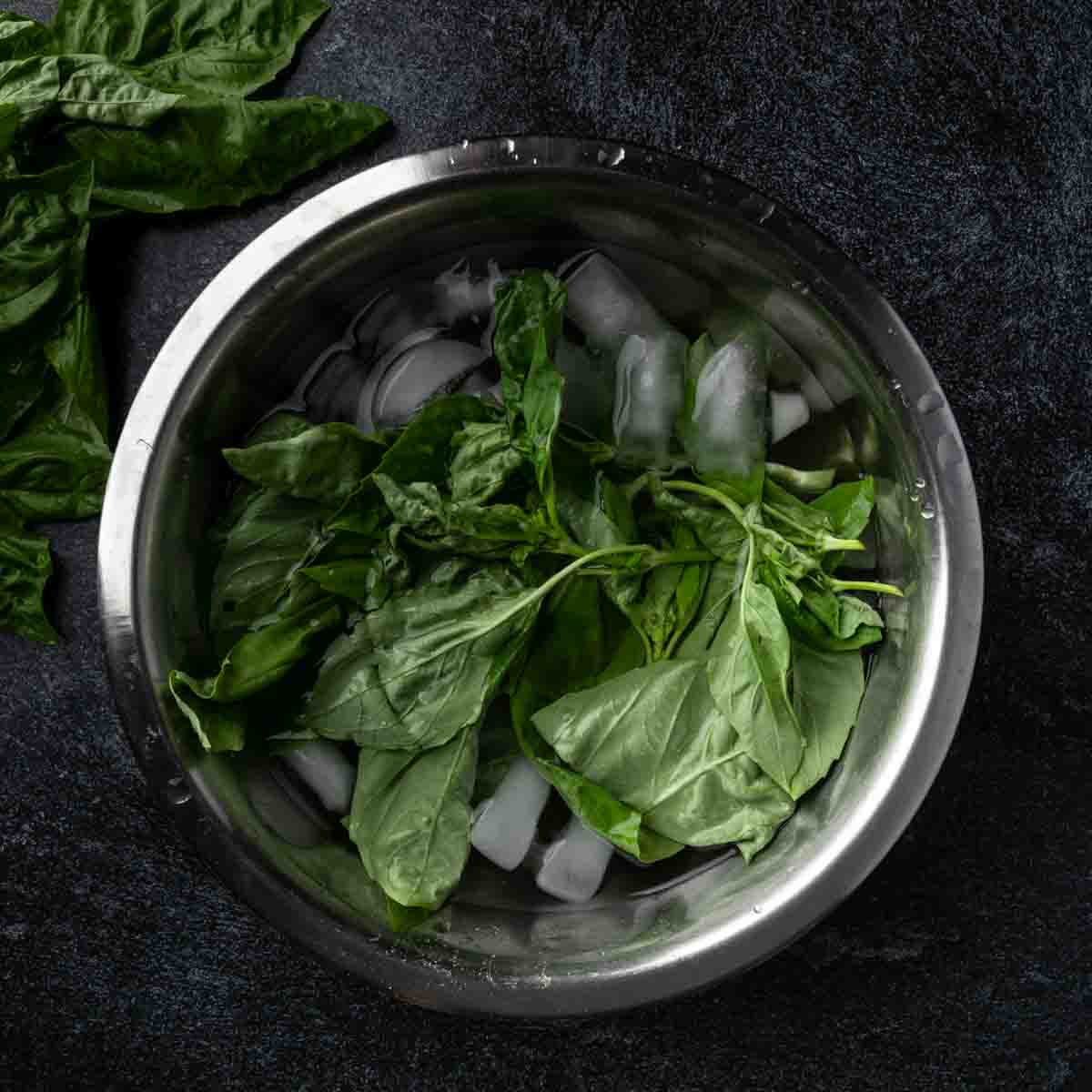 Homemade Pesto Sauce
The key to making this dish so vibrant, fresh and flavorful is to make your own homemade pesto sauce. Pesto is a quick and easy recipe. We make ours in the food processor and it only takes about 5 minutes. Here's how it's done:
1. Start by cubing some Parmesan cheese and adding it to a food processor fitted with the blade attachment. Process the cheese on high speed until finely grated.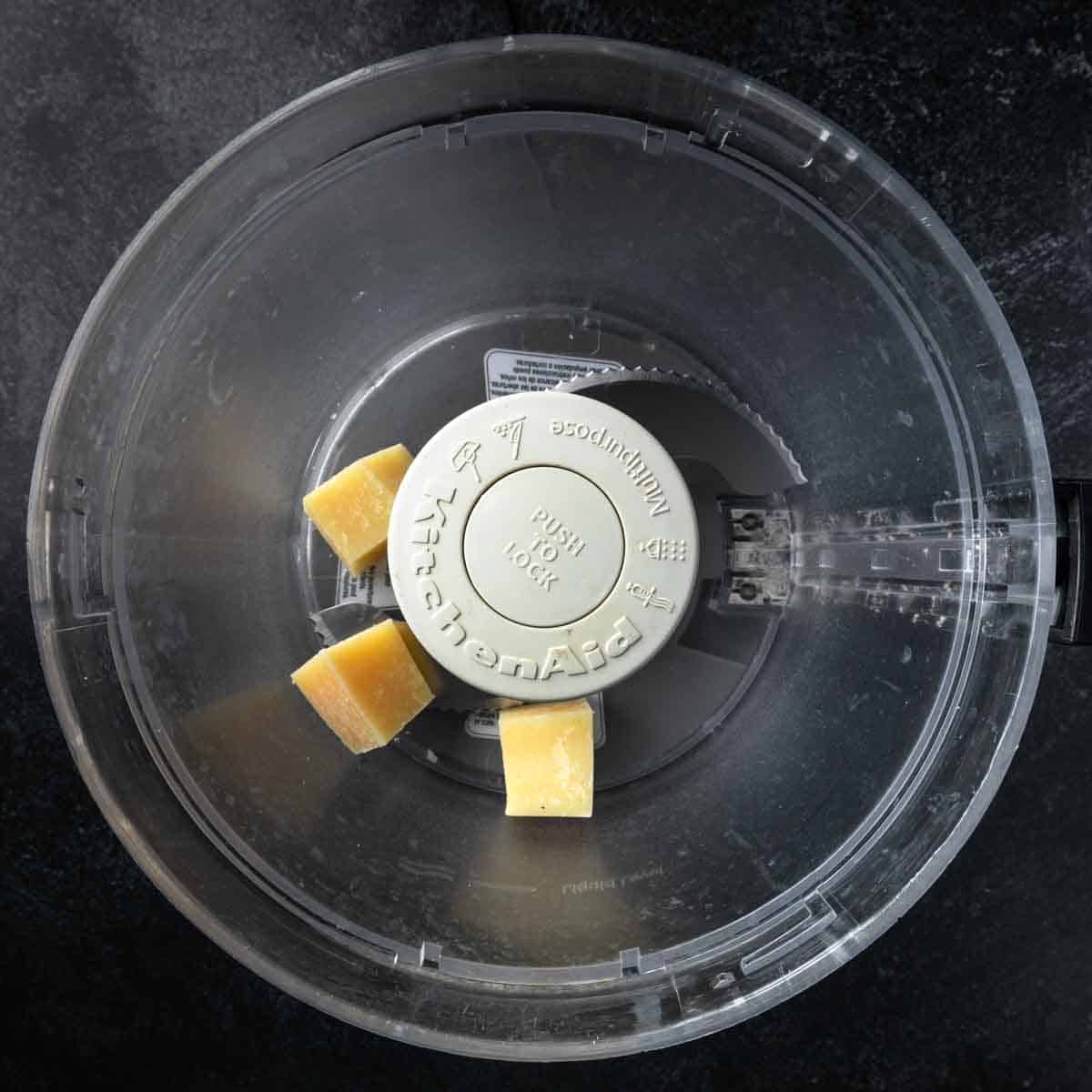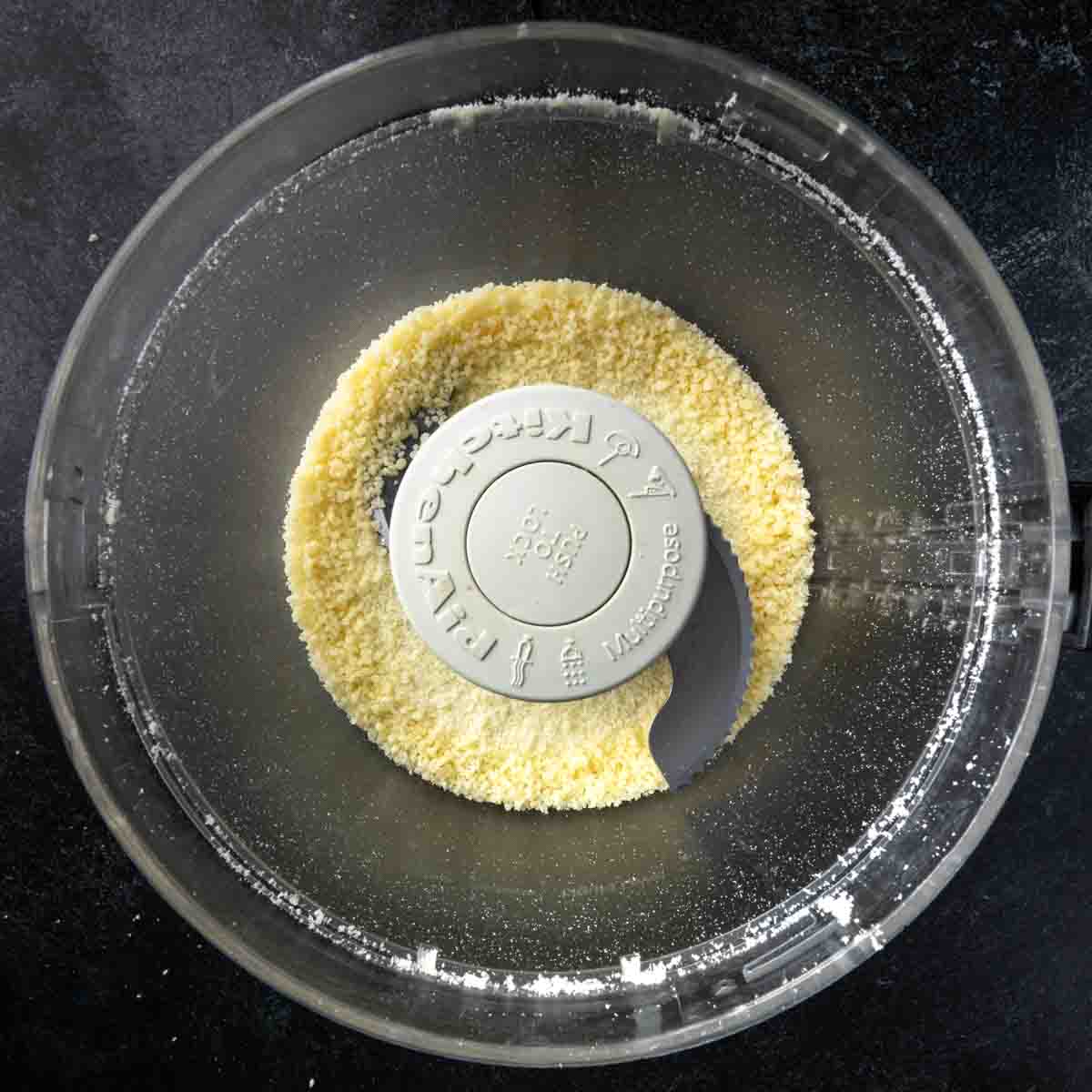 2. Next add the spinach, basil, garlic, pistachios, lemon juice and zest, some salt, black pepper and chili flakes, if using. Pulse the mixture 20 - 30 times or until the ingredients are well integrated and finely ground to the texture of course sand. You may need to scrape the sides of the processor a few times.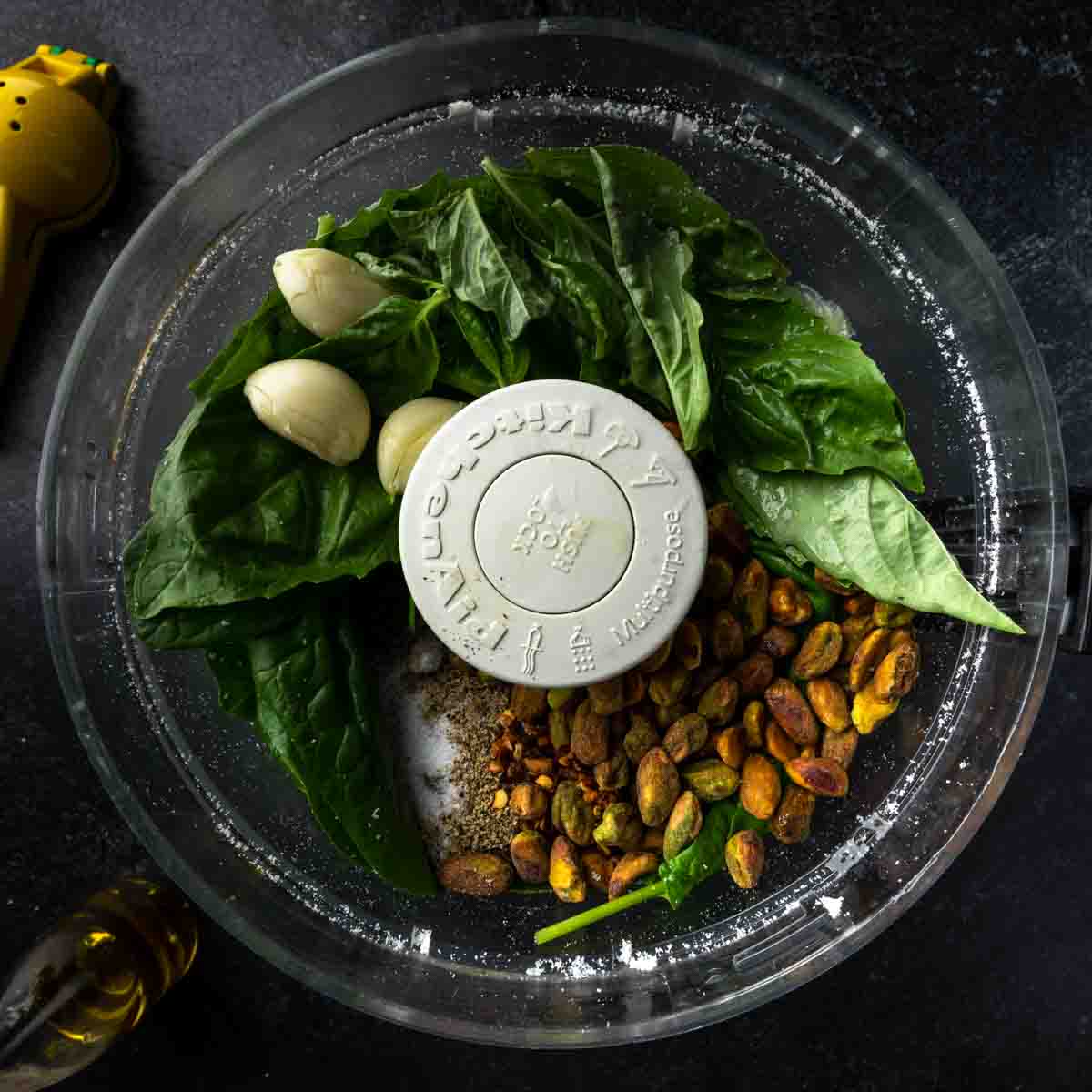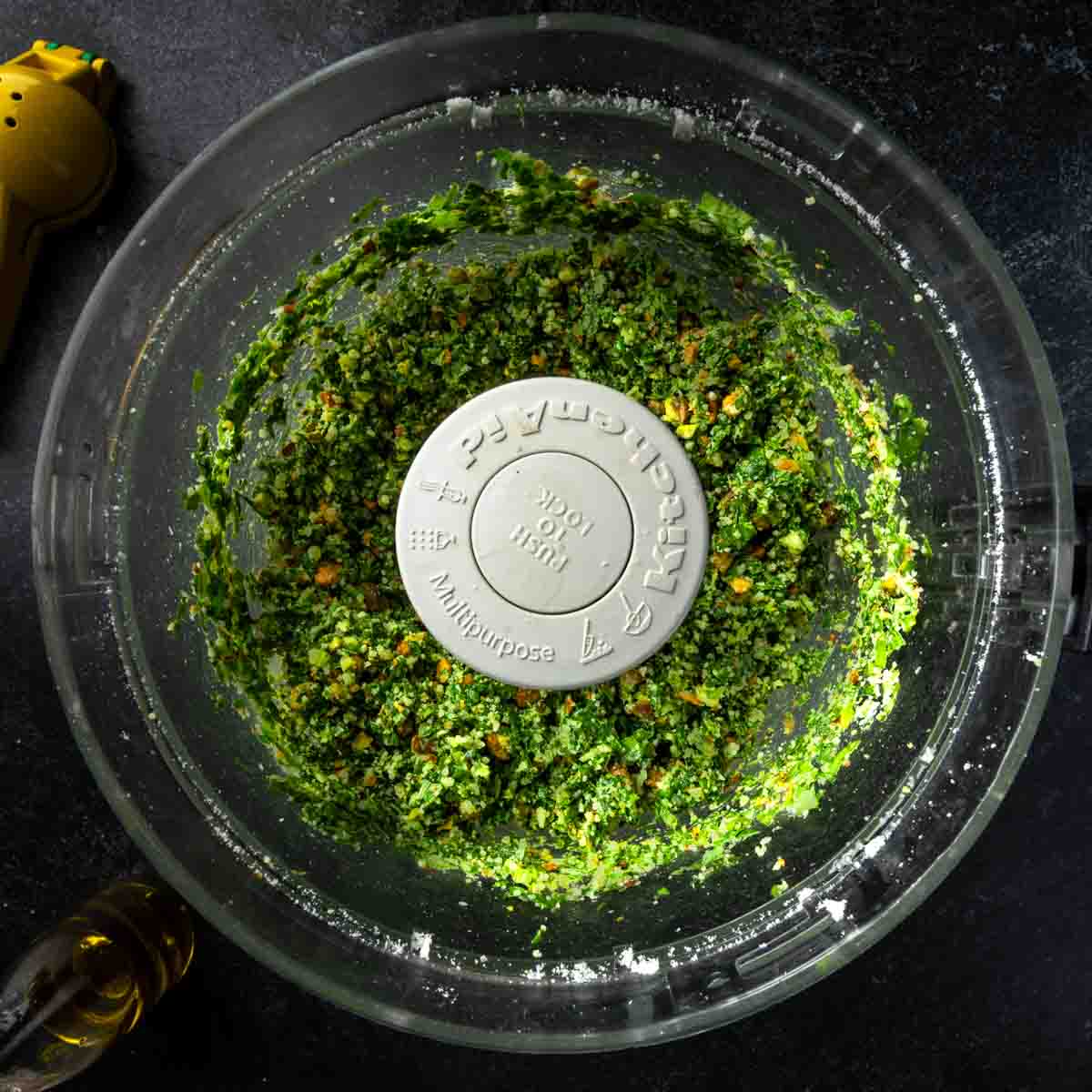 3. Continue to process the pesto on medium speed while slowly drizzling in the olive oil. Adjust salt and pepper to taste.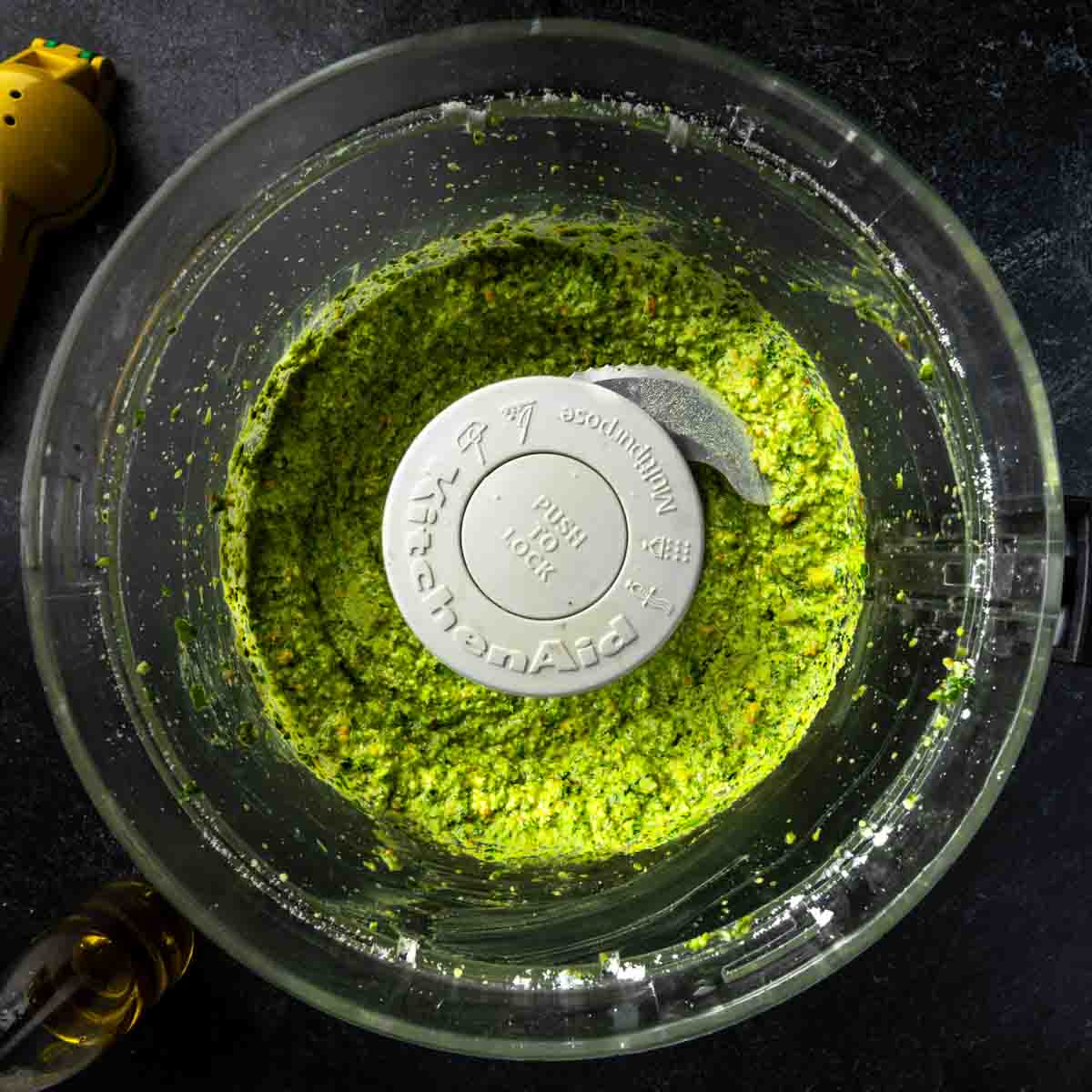 The pesto sauce can be used immediately but is even better if refrigerated for a couple of hours before serving. To prevent oxidation, store the pesto sauce in an airtight jar covered with a thin layer of olive oil.
Chef's Note: Does Blending Olive Oil Make it Bitter? - You may have heard that blending olive oil at high speed will make it unpleasantly bitter. It is true that certain olive oils may release a bitter flavor when blended. However, it is most prevalent in freshly-pressed olive oil that contains high levels of phenols.
Personally, I have never found much of a flavor difference when blending the olive oils that I use. If you are worried about possible bitterness, I recommend processing the pesto until just combined or hand whisking in the olive oil, a little at a time.
How To Prepare Spaghetti al Pesto
The key to making perfect pasta al pesto is to toss the warm pasta in the sauce away from the heat. Pesto sauce is best when you can preserve the fresh raw flavors of uncooked garlic, herbs and lemon.
Make sure that you reserve some of the starchy pasta water before you drain your spaghetti. The pasta water helps to emulsify the pesto to create a rich and creamy texture that clings to every noodle.
1. Cook your spaghetti (or other pasta shape) until al dente (or your desired doneness) in a generously salted pot of boiling water. Reserve about 1 Cup of the starchy pasta water before draining the noodles.
2. In a large bowl, add about 1 Cup of homemade pesto sauce. Add the cooked spaghetti to the bowl. Add in some of the pasta water. Start with about ¼ Cup of pasta water and add more while mixing, as needed, until a creamy consistency is reached.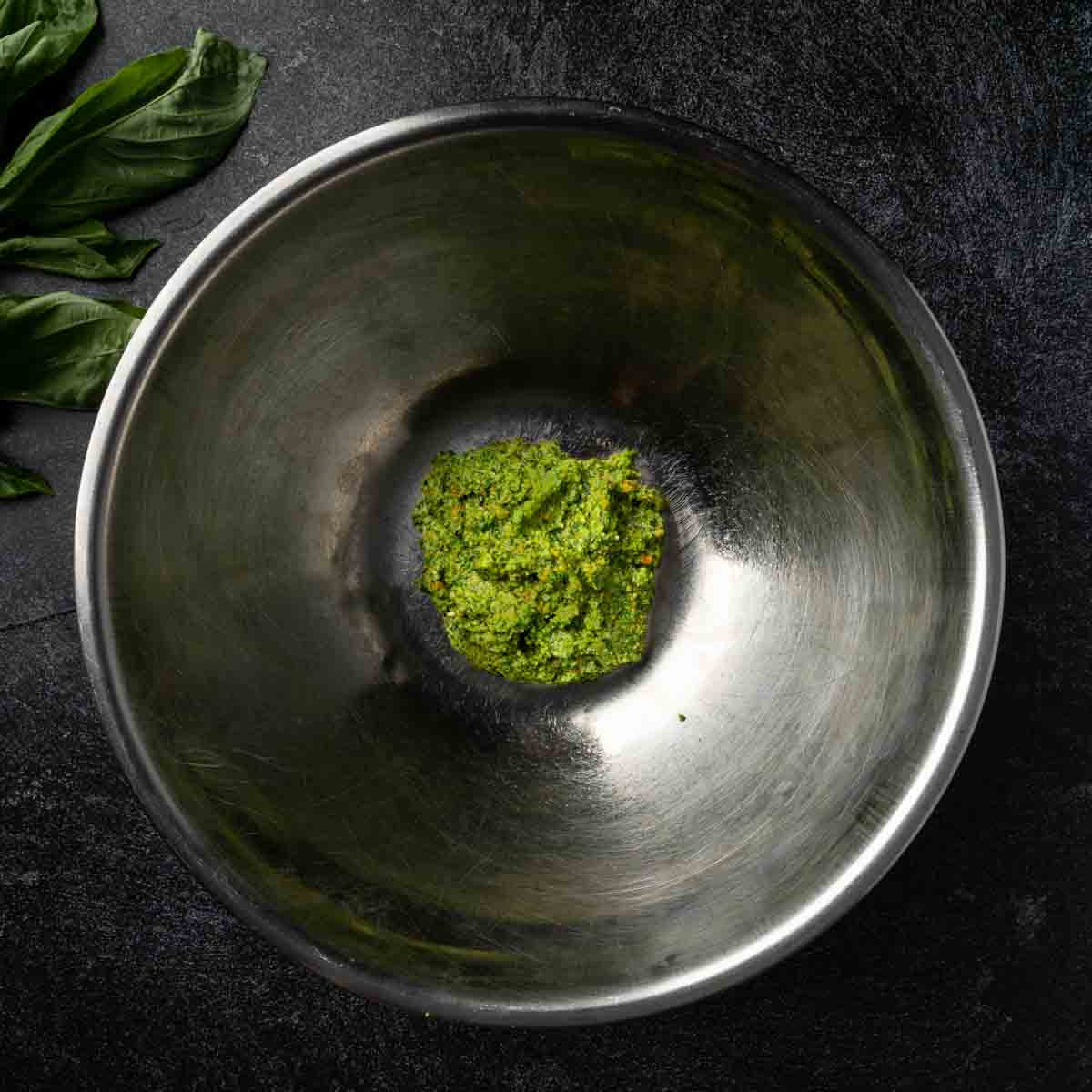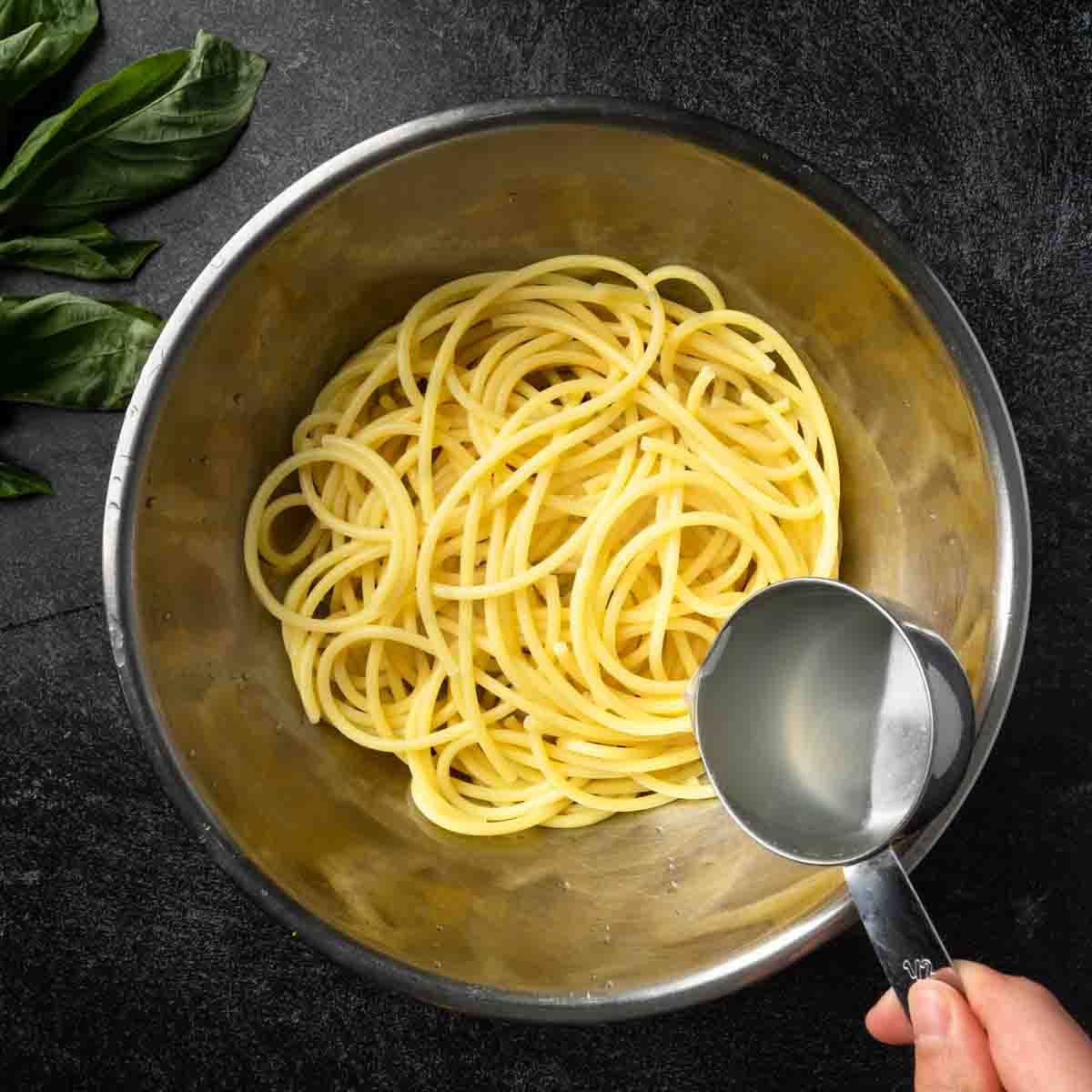 3. Toss the pasta with water and pesto sauce vigorously. If the sauce seems a bit thin, keep tossing and stirring together. After a couple of minutes the starches will bind with the sauce to create a cohesive, richly textured pesto pasta.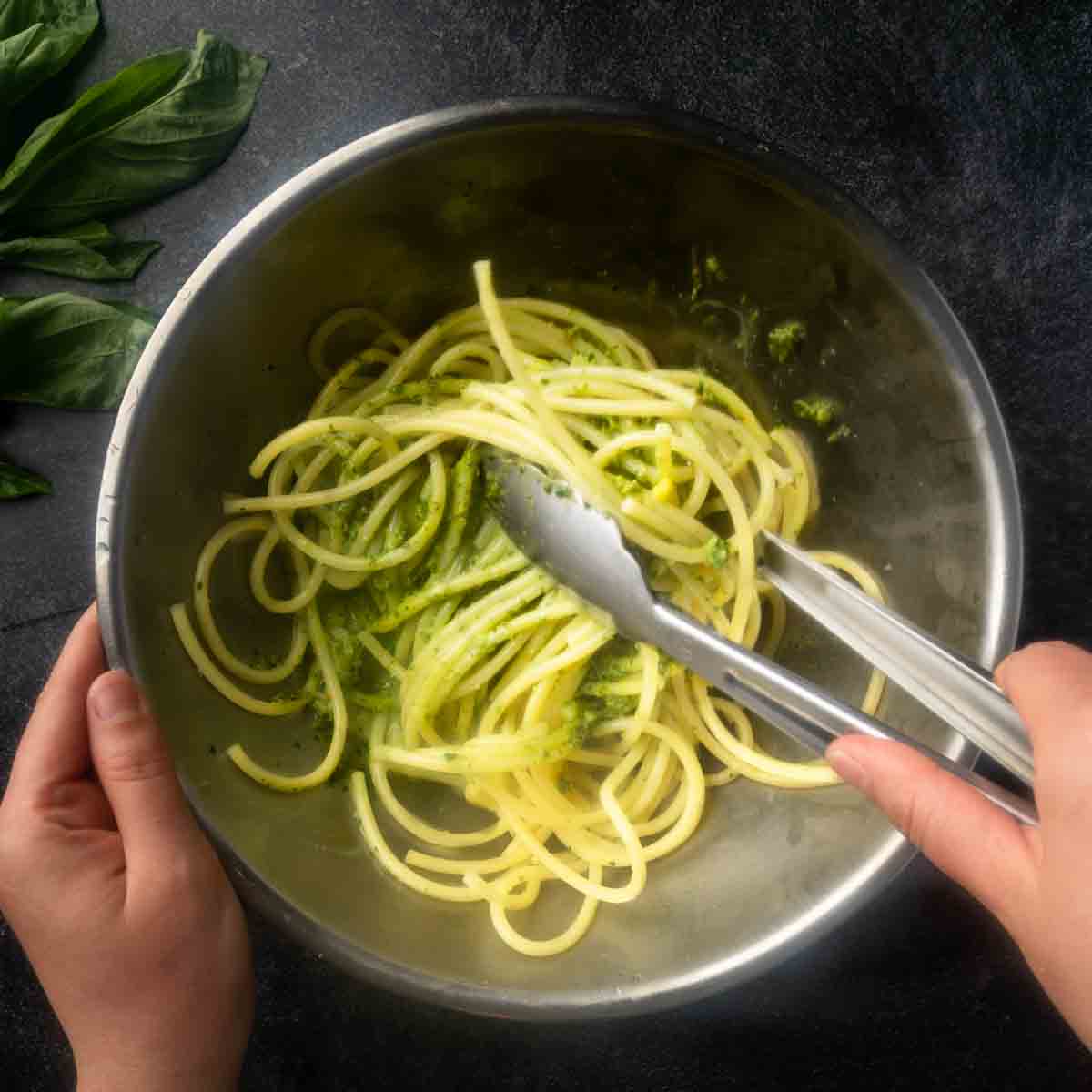 4. Serve immediately topped with fresh basil leaves and extra Parmesan cheese, as desired. Buon appetito!
Serving Suggestions
Spaghetti al pesto is a simple and filling meal on its own but it also pairs well with various proteins. No matter how you will enjoy this dish, I recommend it is served with extra cheese and a nice crusty Italian bread.
Here are some of my favorite proteins to serve with this dish:
Pan Seared Salmon
Grilled or Sautéed Shrimp
Grilled or Roasted Chicken - We often serve this dish at partied with our Honey Balsamic Grilled Chicken.
Roasted Pork - Especially a traditional porchetta roast.
Steak - Perfect with simple grilled cuts like flank or skirt steak.
This dish is also great with added vegetables like roasted broccoli, grilled zucchini or fresh cherry tomatoes. It is also nice when served with a fresh salad like our Cherry Tomato Caprese or our Arugula and Prosciutto Salad.
Saving & Storing
Spaghetti al pesto is best when served warm and fresh. However, if you have leftovers, it is safe to keep them refrigerated for up to 3 - 5 days. Keep in mind, during this time the pasta will dry out a touch and the pesto sauce will likely oxidize, turning a bit brown and dulling in flavor.
For longer storing, I recommend freezing the pesto sauce for up to 2 - 3 months. Frozen pesto will maintain its fresh flavor and can be thawed overnight in the refrigerator.
Frequently Asked Questions
Do you warm up pesto before you put it over spaghetti?
No! Pesto is an uncooked sauce that should not be put over direct heat. Instead, the freshly cooked pasta and a splash of hot pasta water will thoroughly warm the pesto sauce as it is tossed together.
What does 'al pesto' mean?
The term 'al pesto' is an Italian phrase what translates to 'with pesto'. Pasta al pesto is a traditional dish of Genoa in Northern Italy.
Why add pasta water to pesto?
Adding starchy pasta water to the pesto and pasta helps to create an emulsion that, after vigorous stirring, thickens the pesto sauce and allows it to cling to the noodles.
How much pesto do you need for 1 pound of pasta?
We use 1 Cup of pesto per pound of pasta. (About 240 grams of pesto per 454 grams of pasta.)
Can pasta al pesto be made nut free?
Yes! To make this recipe without nuts you can simply omit the pistachios or substitute an equal amount of sunflower or pumpkin seeds.
Can pasta al pesto be made dairy free or vegan?
Yes! To make this recipe vegan and dairy free you can omit the Parmesan cheese or substitute a vegan parmesan or nutritional yeast, to taste.
Recipe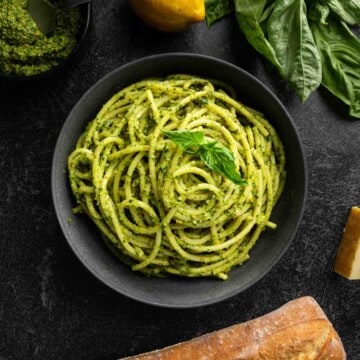 Spaghetti al Pesto (Pasta with Homemade Pesto Sauce)
This simple 20 minute meal is fresh and flavorful with a homemade spinach pistachio pesto sauce!
ADJUST SERVINGS
Special Equipment
1 Food Processor with Blade Attachment
Ingredients
1

pound

spaghetti

or your favorite pasta; pasta water reserved

2

ounces

Parmesan cheese

cut into 1 inch cubes, plus more for serving

½

bunch

spinach

(3 ounces)

washed, dried and thick stems removed

½

handful

fresh basil

(1 ounce)

washed and dried

½

Cup

pistachios

raw, roasted or lightly toasted

3

cloves

garlic

2 - 3

Tablespoons

lemon juice

freshly squeezed, to taste

Zest of

1

lemon

1

teaspoon

fine kosher salt*

to taste, plus more for salting pasta water

½

teaspoon

Freshly-ground black pepper

to taste

½

Cup

olive oil

preferably extra virgin
Instructions
Bring a large pot of salted water to a roaring boil. Add spaghetti and cook to al dente or your preferred doneness. Be sure to reserve about

1 Cup / 240 milliliters

of starchy pasta water before draining.

In the meantime, prepare the spinach pesto sauce.

Spinach Pesto: In a food processor fitted with the blade attachment, add cubes of Parmesan cheese. Process on high speed for 20 - 30 seconds or until finely grated.

Add spinach, basil, pistachios, garlic, lemon zest and juice, salt, black pepper and chili flake to the food processor. Pulse 20 - 30 times, scraping the bowl as necessary, until well incorporated and ground to the texture of coarse sand.

While processing on low or medium speed, slowly stream in olive oil until the desired consistency is reached. Adjust seasonings, as desired.

Transfer about

1 Cup / 240 milliliters

of the pesto into a large bowl, away from any heat sources. Add the freshly cooked, drained pasta to the bowl. Add a generous splash of pasta water and stir vigorously. While stirring, add additional pasta water, as needed, until the pesto sauce and pasta water have emulsified into a rich sauce that coats the noodles.

Serve immediately with extra Parmesan cheese, as desired. Buon appetito!
Notes
This recipe makes about 10 ounces of pesto. I like to use leftover pesto on sandwiches or soups, in chicken salad, or as a condiment for grilled and roasted meats. Save any leftover pesto in an airtight container in the refrigerator covered in a thin layer of olive oil. 
See the full recipe for  Quick Spinach Pistachio Pesto. 
* A Note About Salt
Unless otherwise noted, all recipes on The Sage Apron are developed using Diamond Crystal Kosher salt. It is a great all-purpose salt for cooking and baking. If using table salt, reduce quantities by about half.
Nutrition
Calories:
822
kcal
|
Carbohydrates:
92
g
|
Protein:
24
g
|
Fat:
40
g
|
Saturated Fat:
7
g
|
Polyunsaturated Fat:
6
g
|
Monounsaturated Fat:
25
g
|
Cholesterol:
10
mg
|
Sodium:
858
mg
|
Potassium:
684
mg
|
Fiber:
6
g
|
Sugar:
5
g
|
Vitamin A:
4176
IU
|
Vitamin C:
17
mg
|
Calcium:
257
mg
|
Iron:
4
mg