These spicy mezcal margaritas are bold with a tart, spicy, and smoky flavor! Mezcal margaritas on the rocks will forever be one of my favorite cocktails, and this version - with the spice of a few slices of chili pepper is WOW. So good.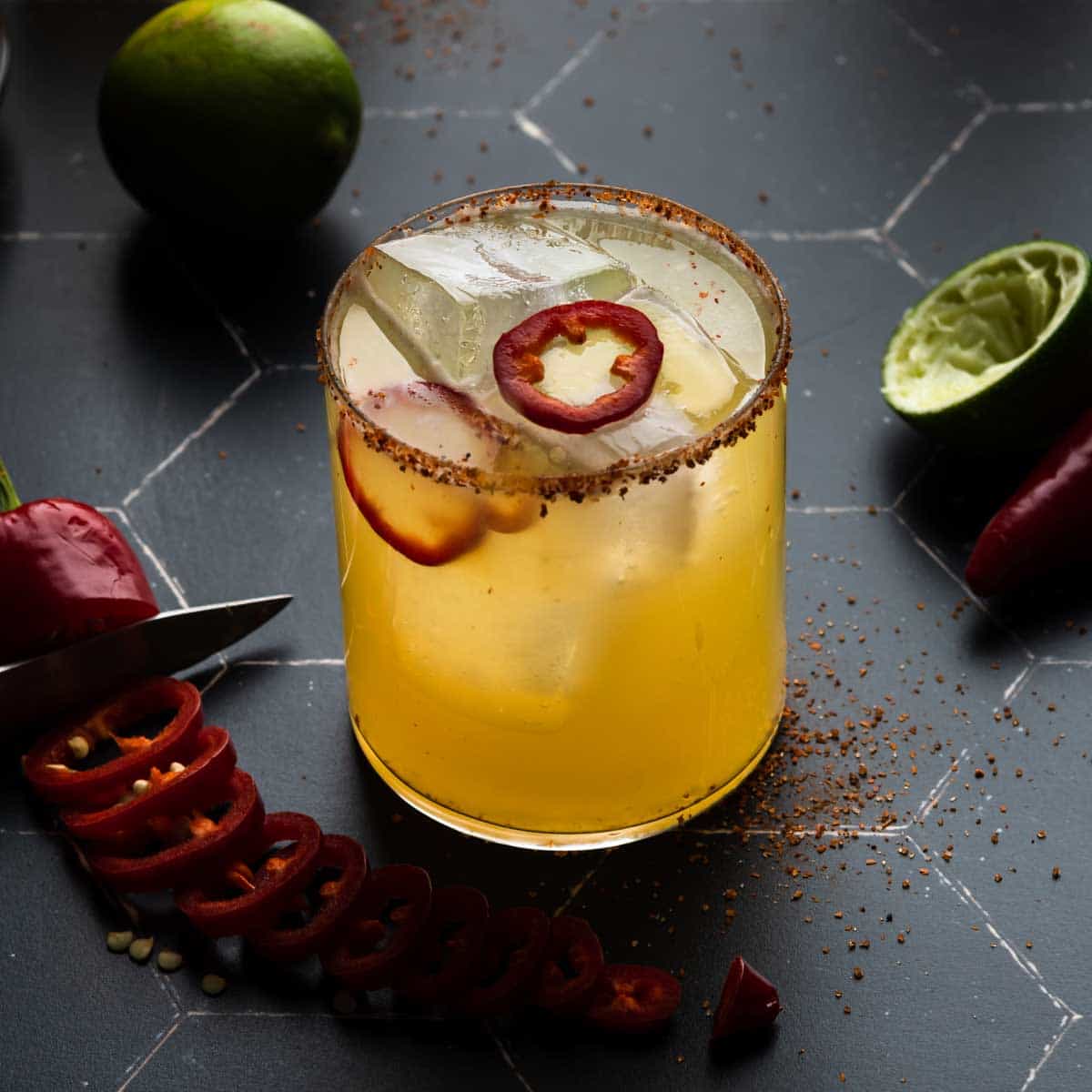 This cocktail recipe has a much bigger flavor than traditional margaritas. The sweet, tart, smoky and spicy flavors make for the most perfect combination! Don't forget to rim the edge with some salty Tajín!
For another spicy agave recipe, try our Watermelon Jalapeño Margaritas!
All About the Ingredients
This Spicy Mezcal Margarita recipe shakes up quick with a few fresh ingredients and a stocked backbar. Here's what you'll need: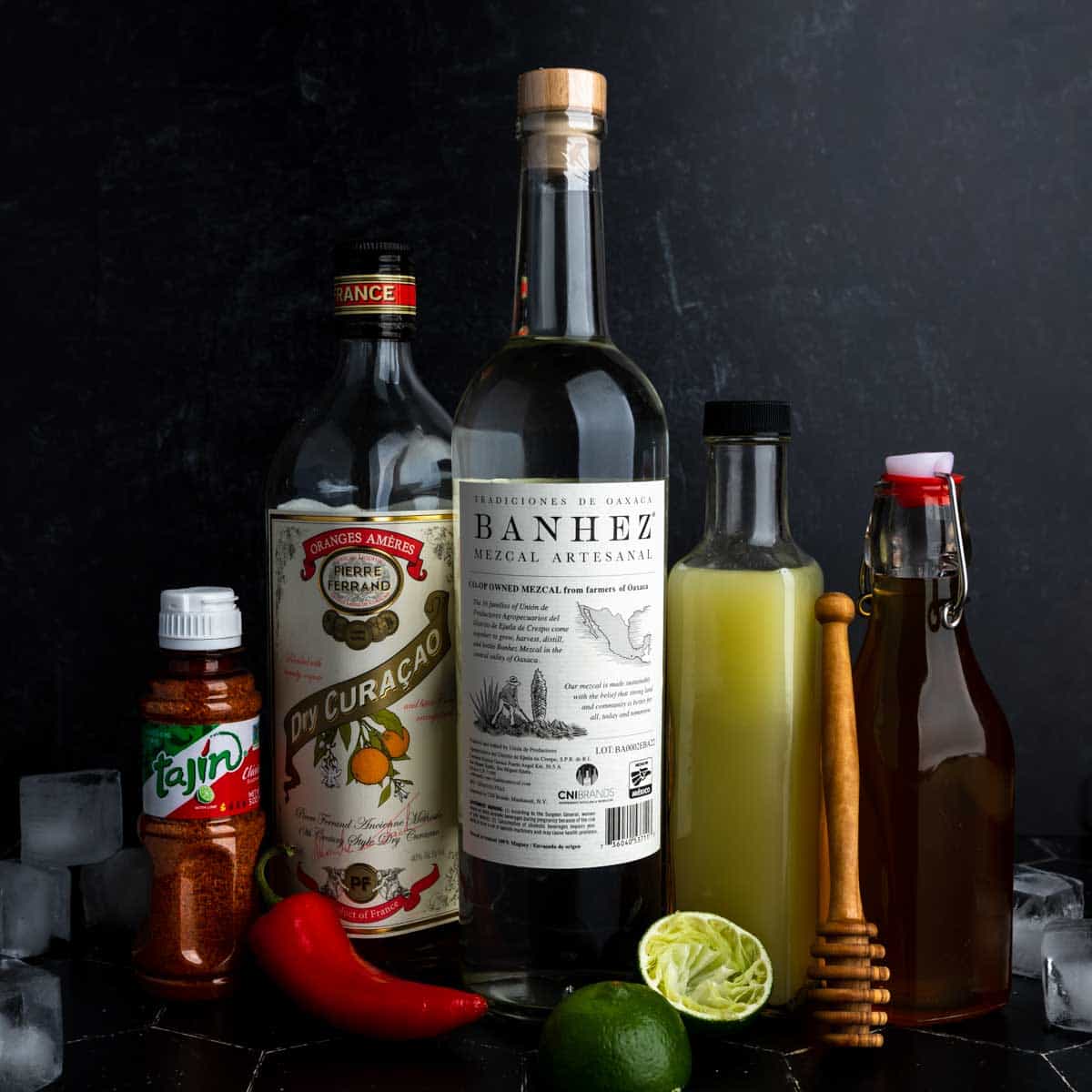 From left to right...
Tajín - Perhaps my favorite Summertime spice blend! If you haven't tried Tajín yet - now is the time! This tangy spice in made from chili powder, citrus and salt. A salted rim is always a delicious option, but a zesty Tajín rim is perfect for this drink.
Chili Pepper - We love the fruity spice of fresno chilis for this recipe. Serrano or jalapeño peppers are also great options!
Orange Liqueur - You can use Triple Sec, Cointreau of Curaçao. This Pierre Ferrand Dry Curaçao is one of our favorite brands to keep on the backbar.
Mezcal - This agave spirit has a smoky and herbaceous flavor. If you haven't had it yet, you can read more about mezcal below.
Fresh Lime Juice - For the tastiest margaritas, squeeze your own!
Honey Syrup - This easy cocktail syrup is made from equal parts honey and hot water. The recipe is included below, but you can also check out the full honey syrup post here. Simple syrup or agave syrup work, too.
Ice Cubes - For shaking & serving!
Choosing a Chili
Spicy Mezcal Margaritas can be made with any of your favorite fresh hot peppers! But be careful, the spiciness of chilis can differ from pepper to pepper! We recommend tasting a small piece of the pepper so you know what you're working with! Typically a few slices (about one-third) of a fresno or jalapeño gives this drink the perfect balance of sweet, tart, smoky and spicy.
Personally, we prefer fresno chilis in our margaritas. They're a good balance of heat with a subtle fruity flavor and nice pop of color! Serrano chilis and jalapeño peppers have a similar range of spiciness - so those work great too. If you wanted something even spicier, you could try a Thai bird chili or a thin slice of habanero! A few extra slices of sliced peppers as a garnish make a nice touch!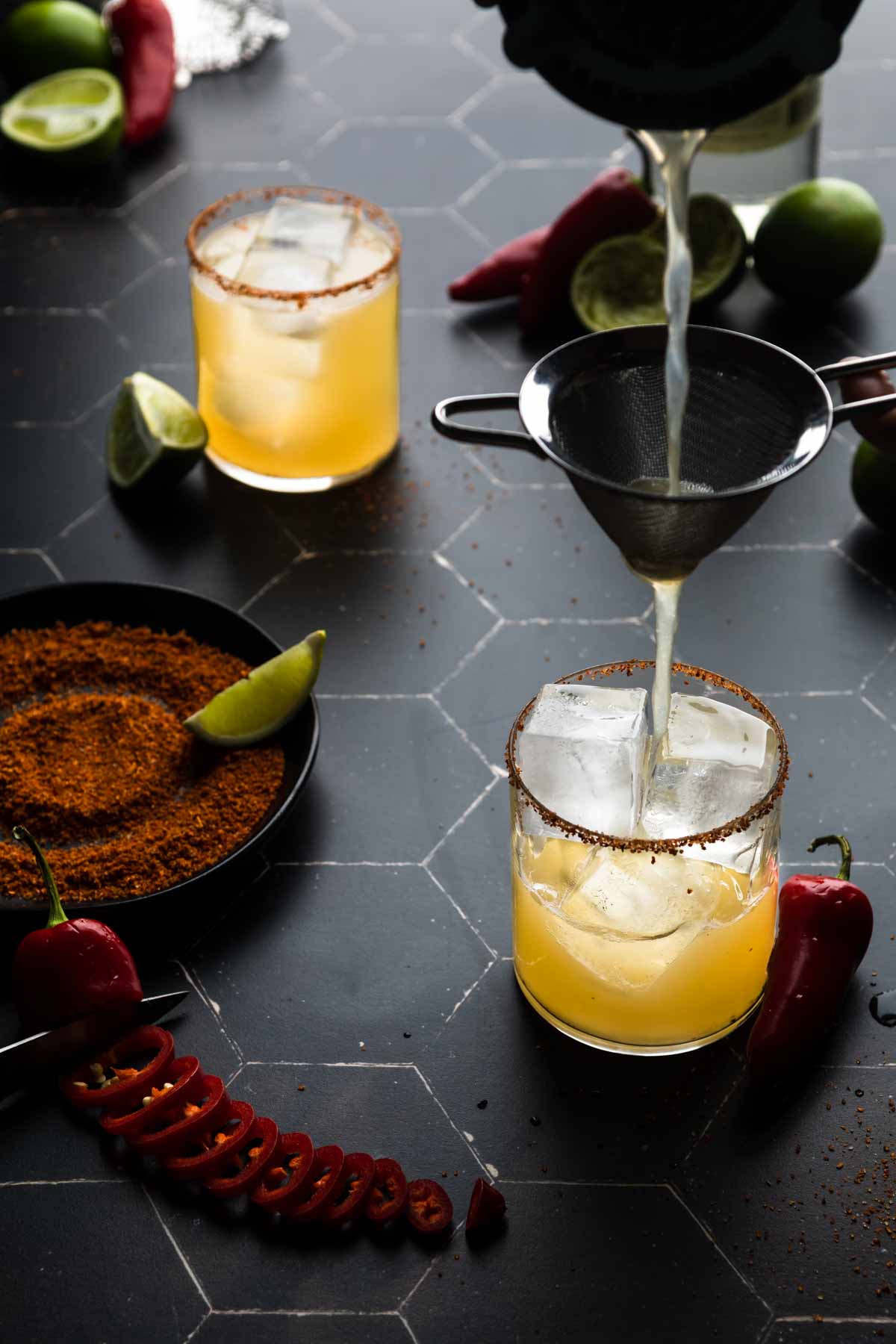 What is Mezcal?
Mezcal is a distilled spirit made from any varietal of roasted agave. Tequila on the other hand is made only from a specific type of agave: blue agave. (Fun Fact: Tequila is actually a type of mezcal!).
The heart of the agave plant (called piñas) are roasted on hot rocks in underground pits. The process creates complex flavors and gives mezcal its characteristic smoky flavor. Then, the roasted agave hearts are mashed. Many mezcalerias throughout Oaxaca are still using the traditional methods and mashing the piñas with a stone wheel turned by a horse or donkey. The mash is then allowed to ferment in vats of water before being distilled in clay or copper pots.
Mezcal production is a cherished tradition of Mexican culture. We highly suggest finding yourself some high-quality, small-production mezcal (made from the traditional methods) for sipping, stirring and shaking!
What Mezcal is Best for Spicy Margaritas?
Mezcal is being made across Mexico from over 200 varieties of agave - so, there are tons of different styles and tasting notes. When purchasing mezcal, we make an effort to choose a small, sustainable producer. You know, so we can support local craft distillers and not, say, George Clooney. Here a few common brands that we know and love:
Del Maguey - Despite Vida being on every backbar in America, this product is actually made with care and attention. We highly recommend checking out some of the single varietals they offer.
Ilegal - Our usual go-to. The Joven is best for mixing.
Sombra - If you can find it, buy it!
Can I Use Tequila Instead?
Of course! If you're not a fan of the smoke, or are hoping for something sweeter - you can substitute equal parts of tequila for mezcal. Spicy tequila margaritas are delicious, too! If you prefer tequila, try our Watermelon Jalapeño Margaritas.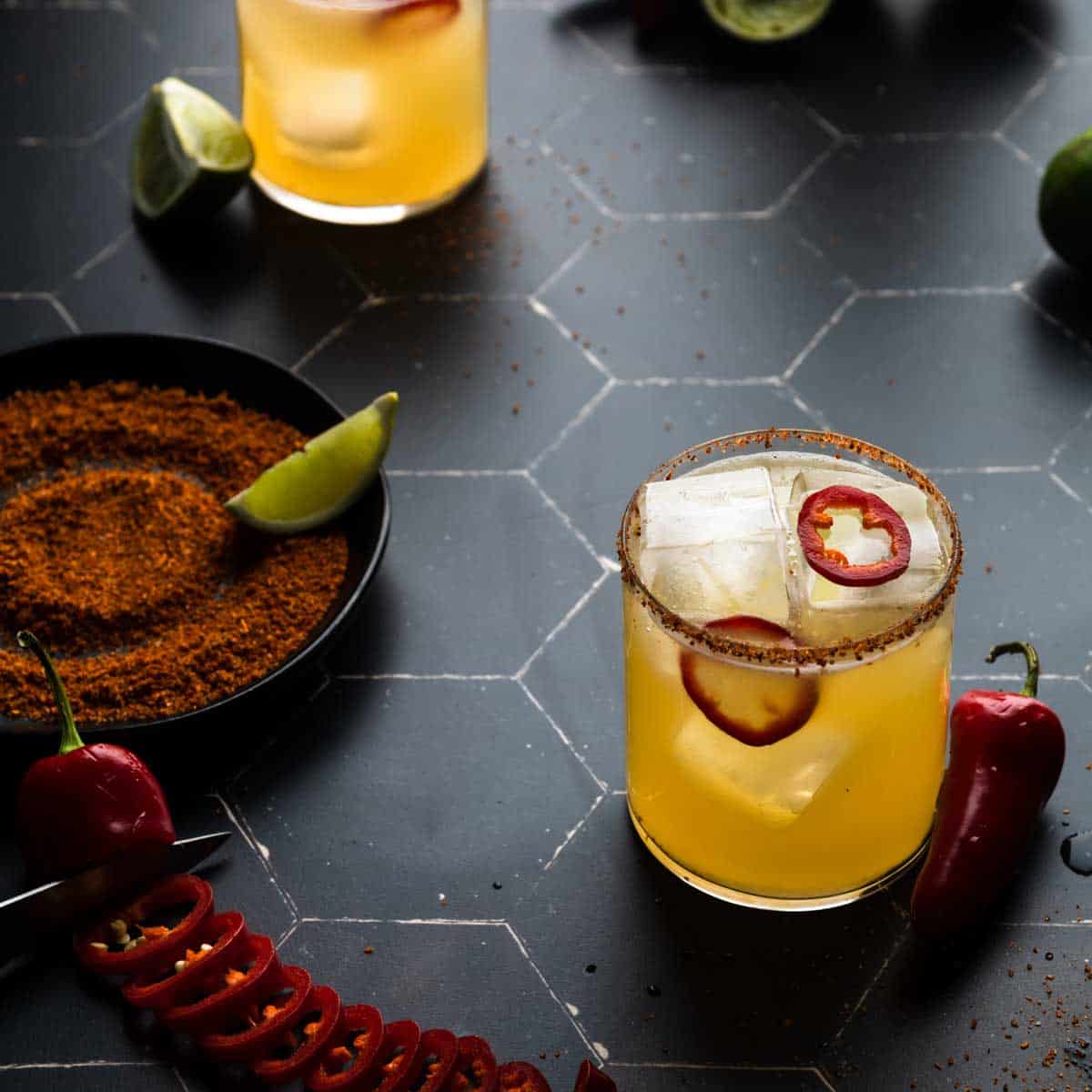 Honey Syrup
To balance the flavors and sweeten this margarita, we like to use a quick, homemade honey syrup. The honey adds a nice flavor that goes great with the agave and chili peppers. The syrup also has a richer mouthfeel - similar to that of agave. (It's healthier and much more sustainable, too!)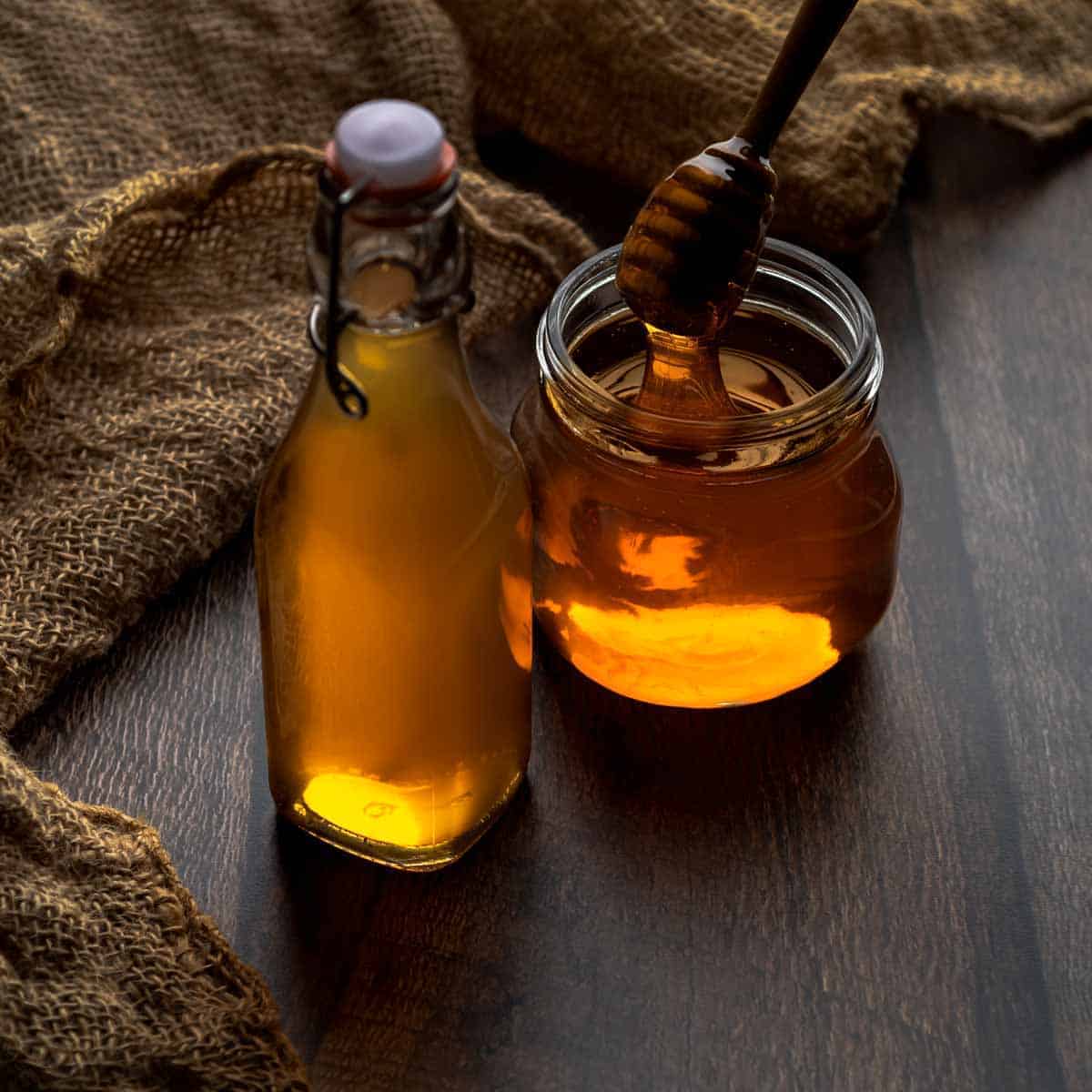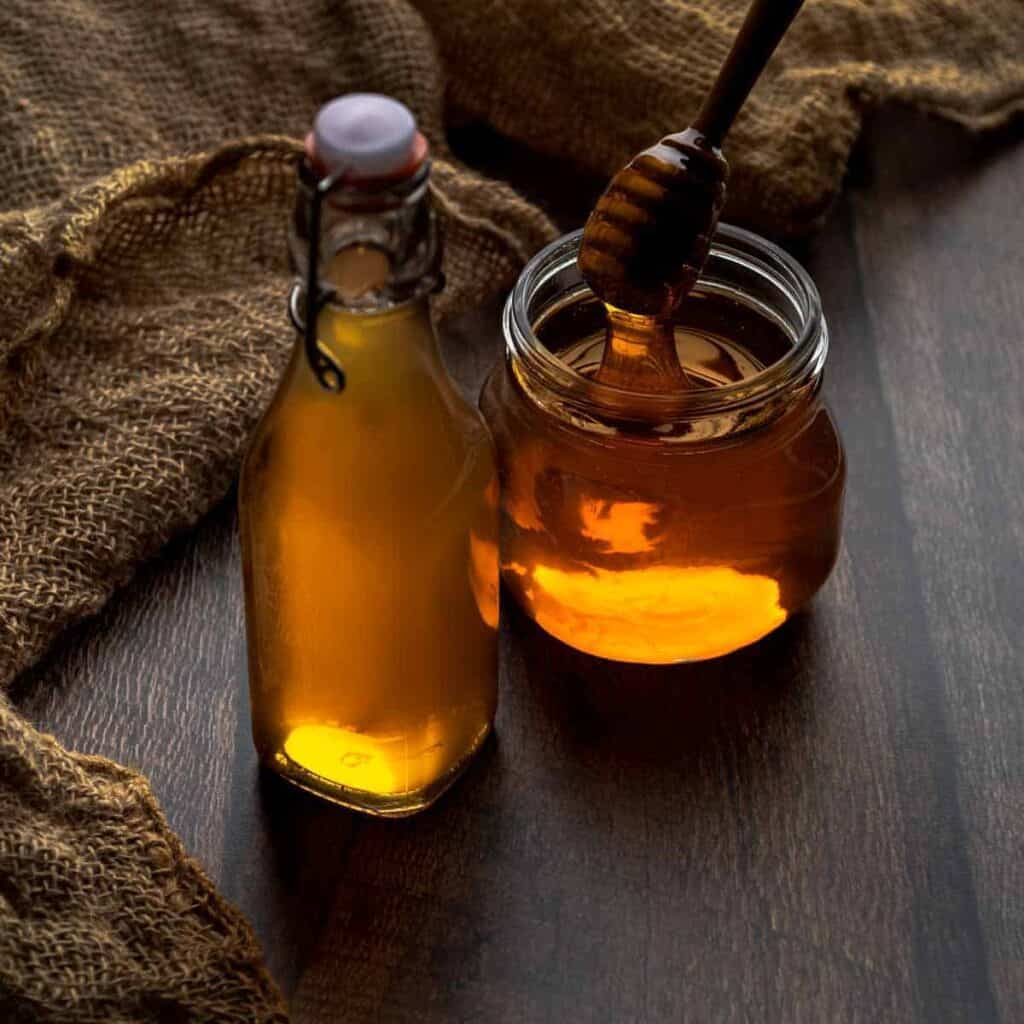 With 5 minutes, honey and water you can make this delicious cocktail syrup! Perfect for sweetening non-alcoholic drinks and cocktails.
Honey syrup is great to use in lots of other cocktails, too! It's great in a classic margarita, a Bee's Knees or a Brown Derby. (Try it in our Blackberry Bee's Knees.) Plus, you can keep the leftovers in an airtight container in the fridge for up to a month.
If you'd like, you can also use a regular simple syrup or agave syrup for this recipe.
More Cocktails You'll Love
Check out these other popular agave based drinks. For more happy hour inspiration, browse our entire collection of cocktails.
Recipe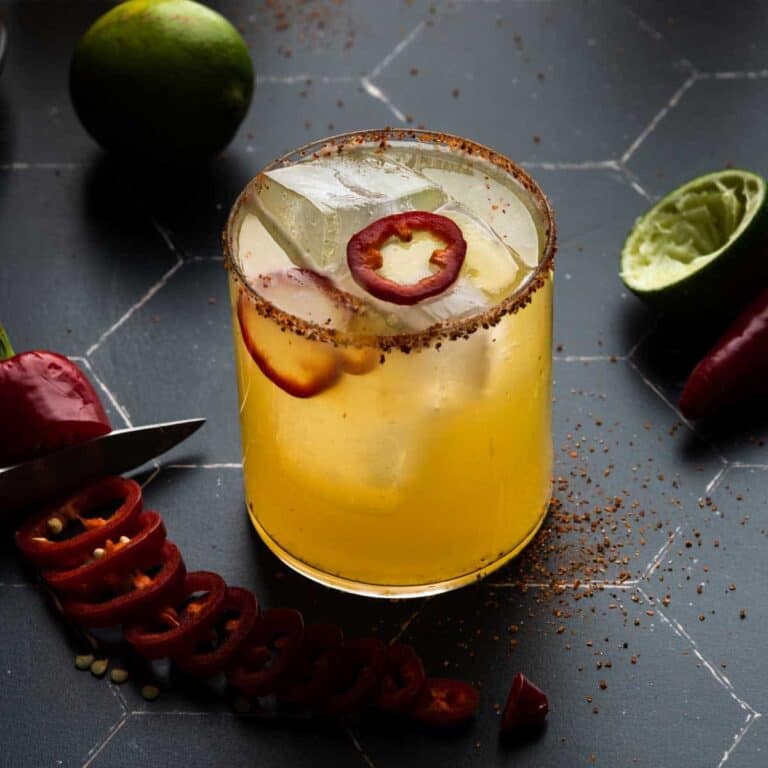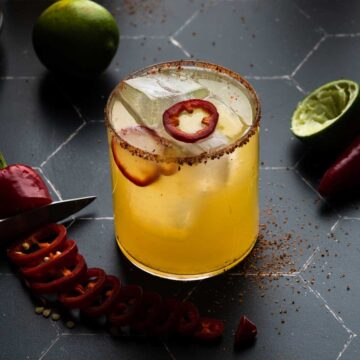 Spicy Mezcal Margaritas
These yummy margaritas are the perfect blend of sweet, tart, smoky, salty and spicy!
ADJUST SERVINGS
Special Equipment
1 Cocktail Shaker (or Mason Jar with Lid)

1 Hawthorne Cocktail Strainer

1 Fine-Mesh Cocktail/Tea Strainer
Ingredients
Spicy Mezcal Margarita
2

ounces

mezcal

1

ounce

lime juice

freshly-squeezed

½

ounce

orange liqueur

Triple Sec, Cointreau or Curaçao

½

ounce

honey syrup

or agave, or simple syrup

¼

- ½

chili pepper

fresno, jalapeño or serrano; sliced, plus more for garnishing

Ice

as needed, for shaking and serving

1

wedge

fresh lime

Optional: as needed, for rimming glasses

Tajín

Optional: or chili salt; as needed, for rimming glasses
Honey Syrup
½

Cup

honey

½

Cup

hot water
Instructions
Spicy Mezcal Margaritas
Gather, measure and prepare the Spicy Mezcal Margarita ingredients as listed.

If rimming your cocktail glass with Tajín (or salt), start by preparing you glasses. Wet the rim of your cocktail glass with a fresh-cut lime wedge. Then, dip the wet rim of the glass into Tajín sprinkled on a shallow plate. Fill glasses with fresh ice cubes.

In a cocktail shaker (or mason jar), combine mezcal, lime juice, orange liquor, honey syrup and sliced chili pepper. Fill tin (or jar) with ice. Cover and shake vigorously for 30 seconds. Strain cocktail through a Hawthorn and fine-mesh strainer directly into the cocktail glass. ¡Salud!
Honey Syrup (Enough for About 16 Cocktails)
Heat water in a kettle, stovetop or microwave until simmering. In a heat-safe container combine water and honey. Stir until honey is thoroughly dissolved. Use immediately or refrigerate for up to 1 month.
* A Note About Salt
Unless otherwise noted, all recipes on The Sage Apron are developed using Diamond Crystal Kosher salt. It is a great all-purpose salt for cooking and baking. If using table salt, reduce quantities by about half.
Nutrition
Calories:
225
kcal
|
Carbohydrates:
19
g
|
Protein:
1
g
|
Fat:
1
g
|
Saturated Fat:
1
g
|
Polyunsaturated Fat:
1
g
|
Sodium:
3
mg
|
Potassium:
48
mg
|
Fiber:
1
g
|
Sugar:
17
g
|
Vitamin A:
17
IU
|
Vitamin C:
9
mg
|
Calcium:
5
mg
|
Iron:
1
mg