This Tuscan kale salad recipe is super simple, and absolute addicting. Shaved kale is tossed in a healthy Parmesan and tahini dressing and piled high with toasty lemon breadcrumbs.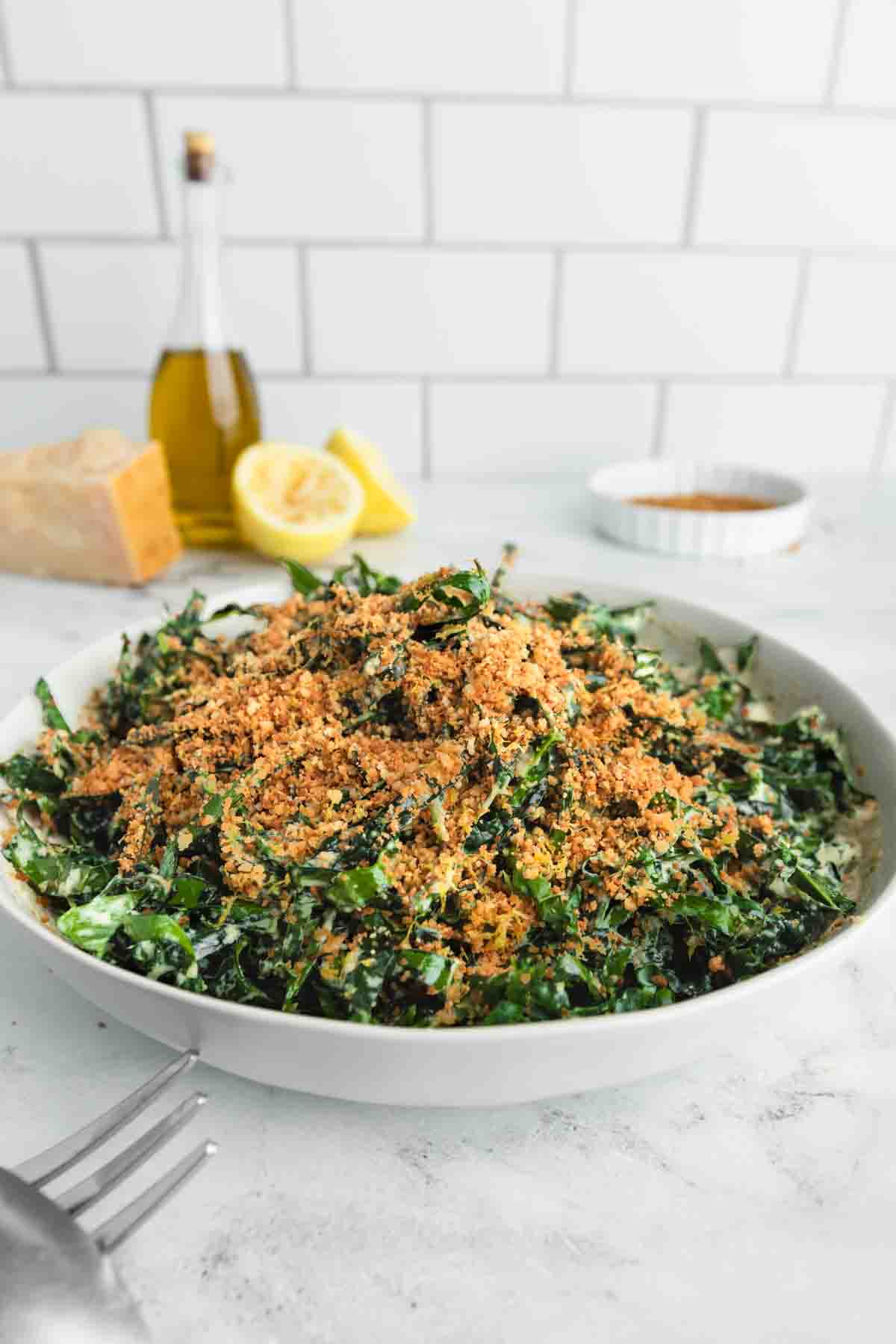 For other yummy salad recipes, try our Citrus Salad with Fennel, Pistachios & Poppyseed Dressing and our Arugula and Prosciutto Salad with Fig and Balsamic Vinaigrette!
Ingredients
Keep it simple! This salad takes just a few fresh ingredients and less than 10 minutes to prepare. It's perfect for a quick and easy lunch or to accompany any meal missing some leafy greens.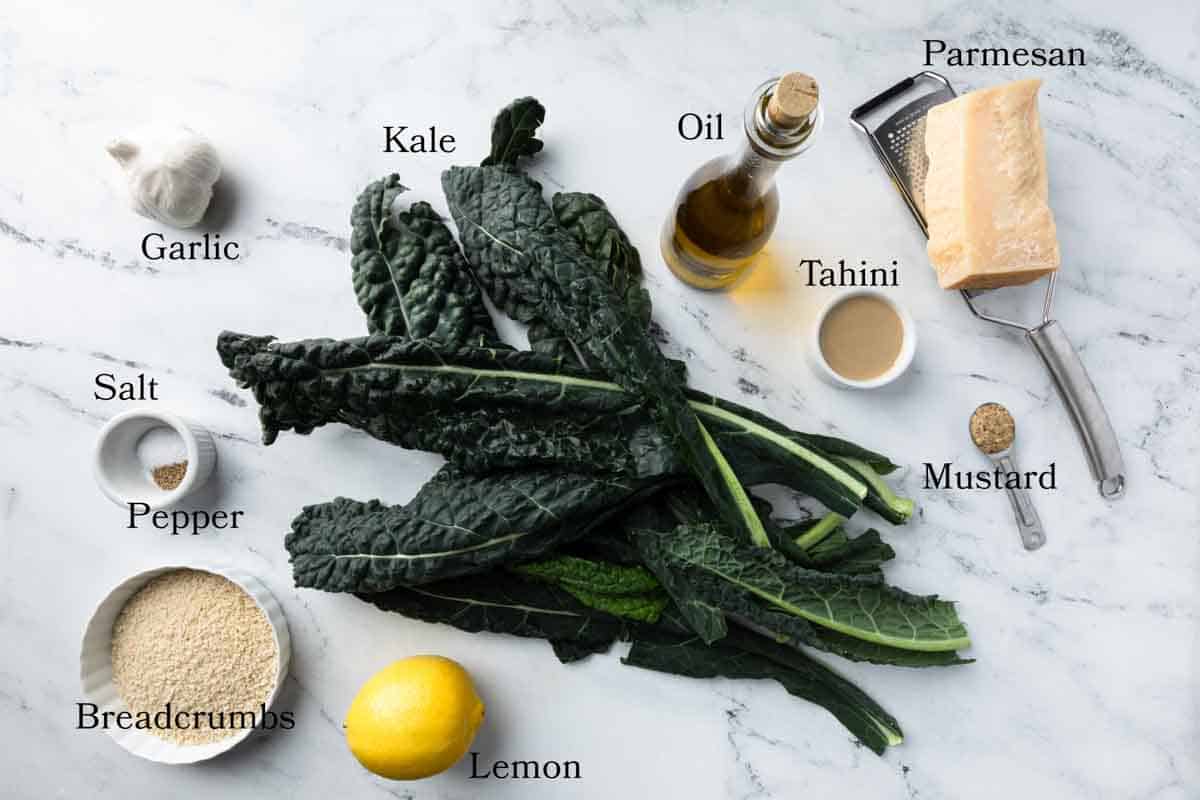 Key Ingredients
Tuscan Kale - Also known as lacinato or dinosaur kale. This varietal of kale has wide dimpled leaves with a dark green coloring. Tuscan kale (as opposed to other types of kale) is perfect for salads because it is easier to cut, has a mild flavor and a more tender texture.
Tahini - Tahini is a paste made from ground sesame seeds. It gives this salad its' Caesar-like creaminess while being loaded with protein and rich, nutty flavors.
Parmesan Cheese - For the best results, I recommend using a freshly grated or finely shaved Parm.
Breadcrumbs - We recommend using homemade or panko breadcrumbs for this recipe. Of course, you can also use gluten-free breadcrumbs, if needed.
Prepping The Kale
Tuscan kale is easy to work with and has a great texture when raw.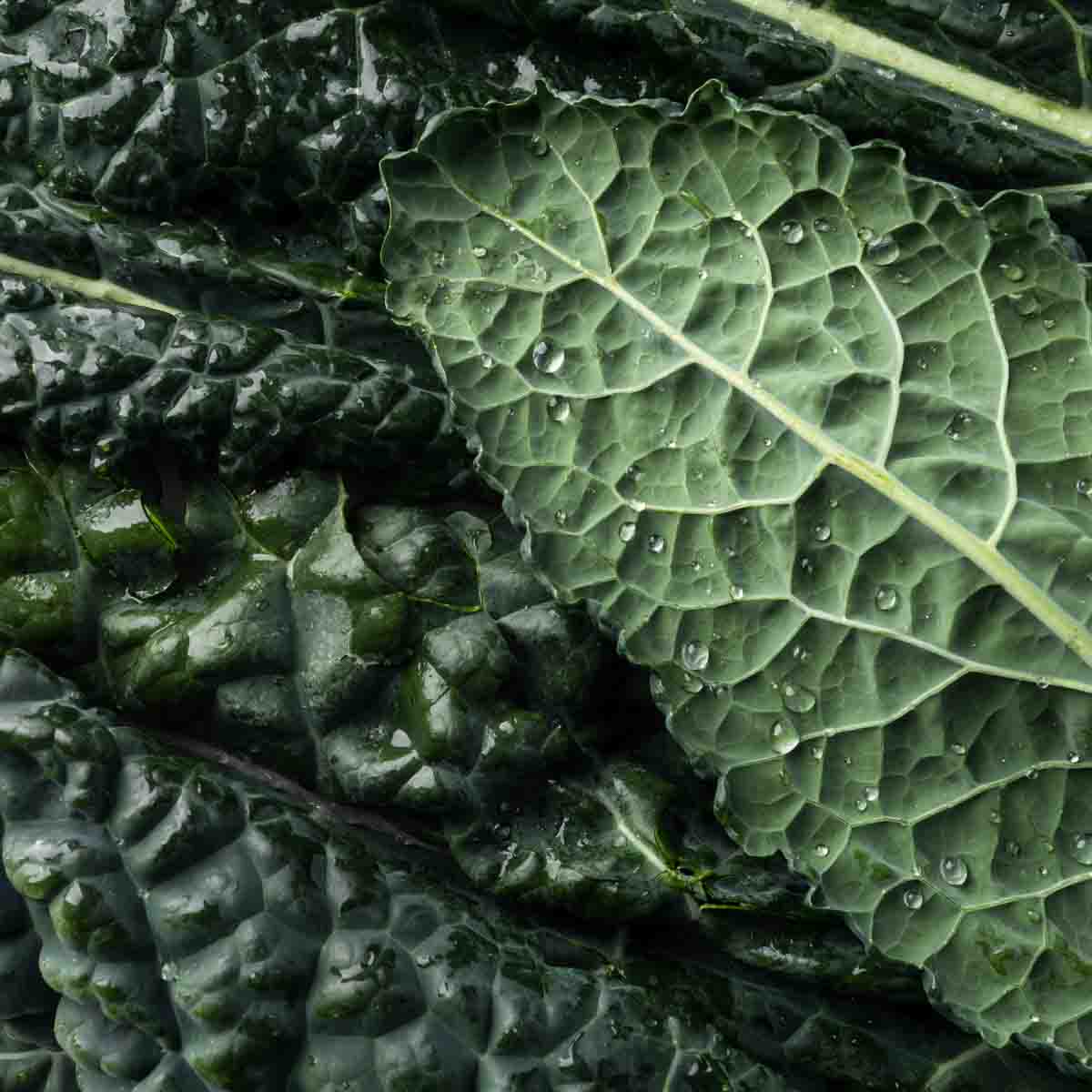 To prepare the leaves, start by washing and drying them. Remove the thick rib either by pulling it with your hands or using a sharp knife.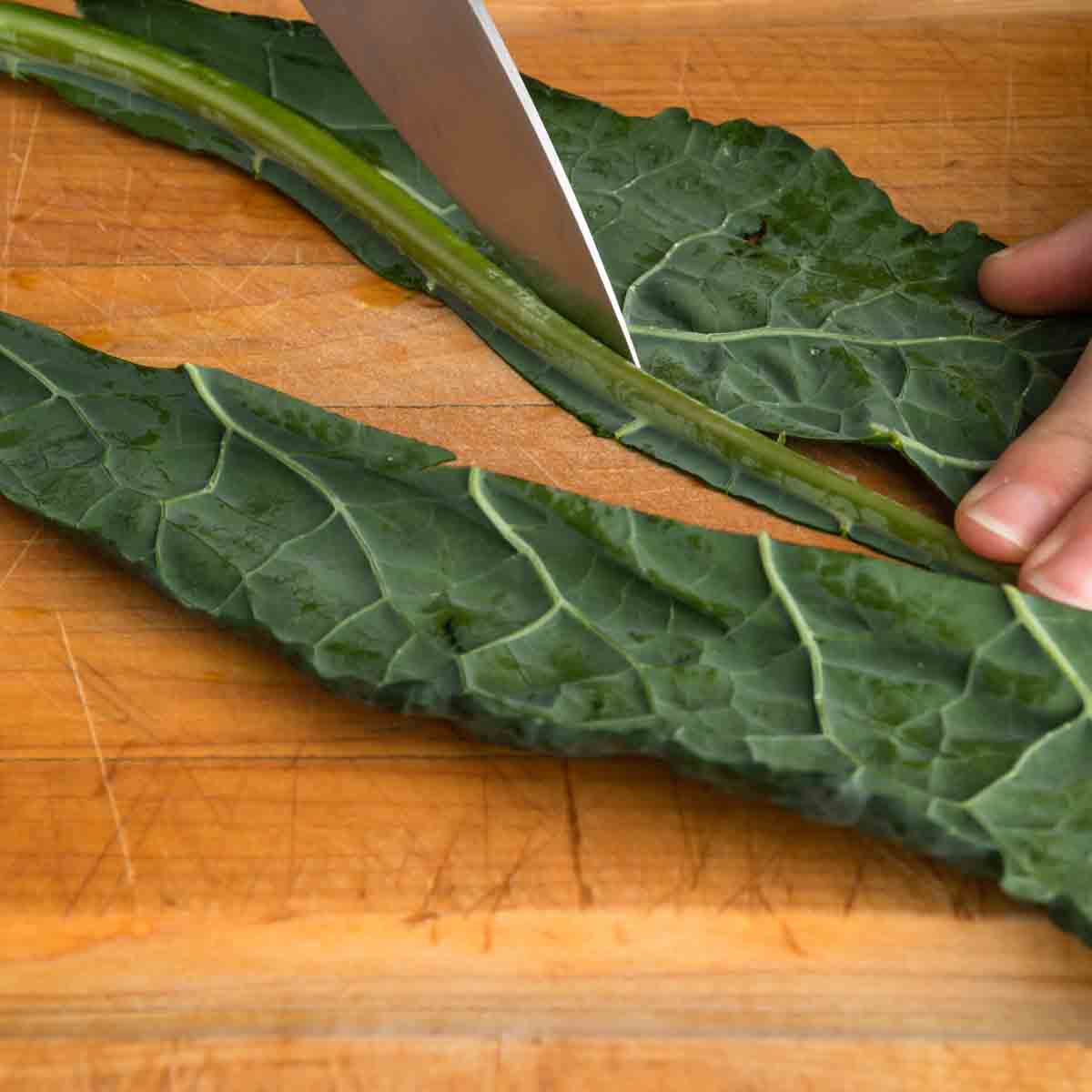 Pro Tip: Reviving Limp Kale Leaves - If your kale leaves are a bit limp, you can revive them by soaking them in an ice water bath. Trim a small piece off of the stems of the leaves. Then, submerge the leaves in an ice water bath. After 30 - 60 minutes the leaves will be crisp.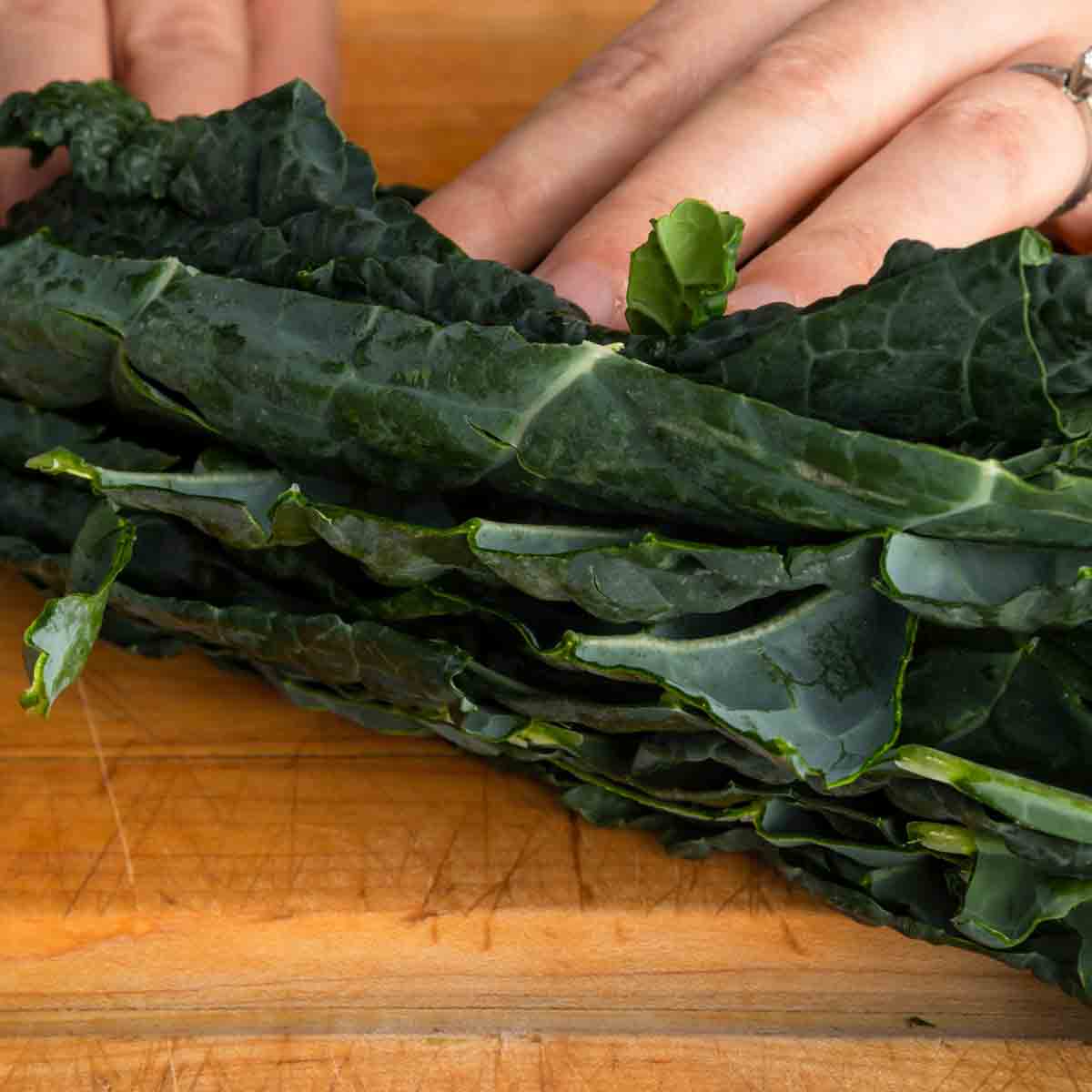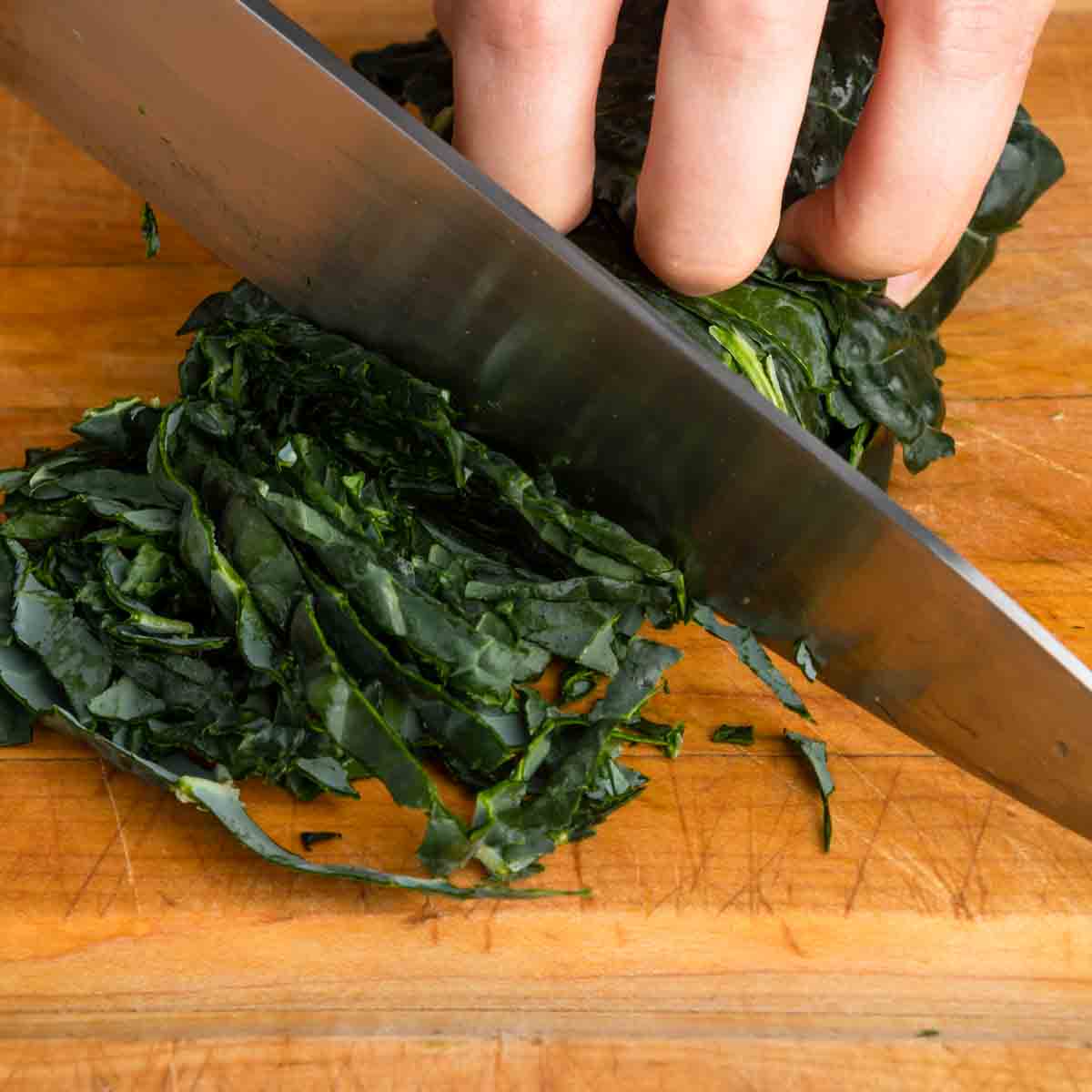 To make the leaves easier to cut, we are going to chiffonade - a fancy name for stacking, rolling and slicing the leaves. Stack the leaves on top of each other, keeping the largest leaf off the bottom. Tightly roll the leaves up to create a log. With a sharp knife, shave the log of kale into skinny strips.
Chef's Note: Curly Kale Salad - If you can't find Tuscan kale and are making this salad with a curly kale, we recommend massaging the chopped leaves by rubbing a little splash of olive oil and lemon juice into the leaves with your hands. This process helps to soften the fibrous leaves, making them more enjoyable to eat.
Parmesan Tahini Dressing
You may be wondering how well Parmesan and tahini work together - I know it might sound a bit odd. I am here to tell you that the sharp and salty notes of Parmesan absolutely SING with the creamy tahini in this dressing. The tahini enhances the nutty quality of the cheese and it is downright delicious.
I love that this dressing looks a bit like Caeser dressing. It has some of the same flavors too, but its' less fussy (no raw eggs, no anchovies) and is much healthier.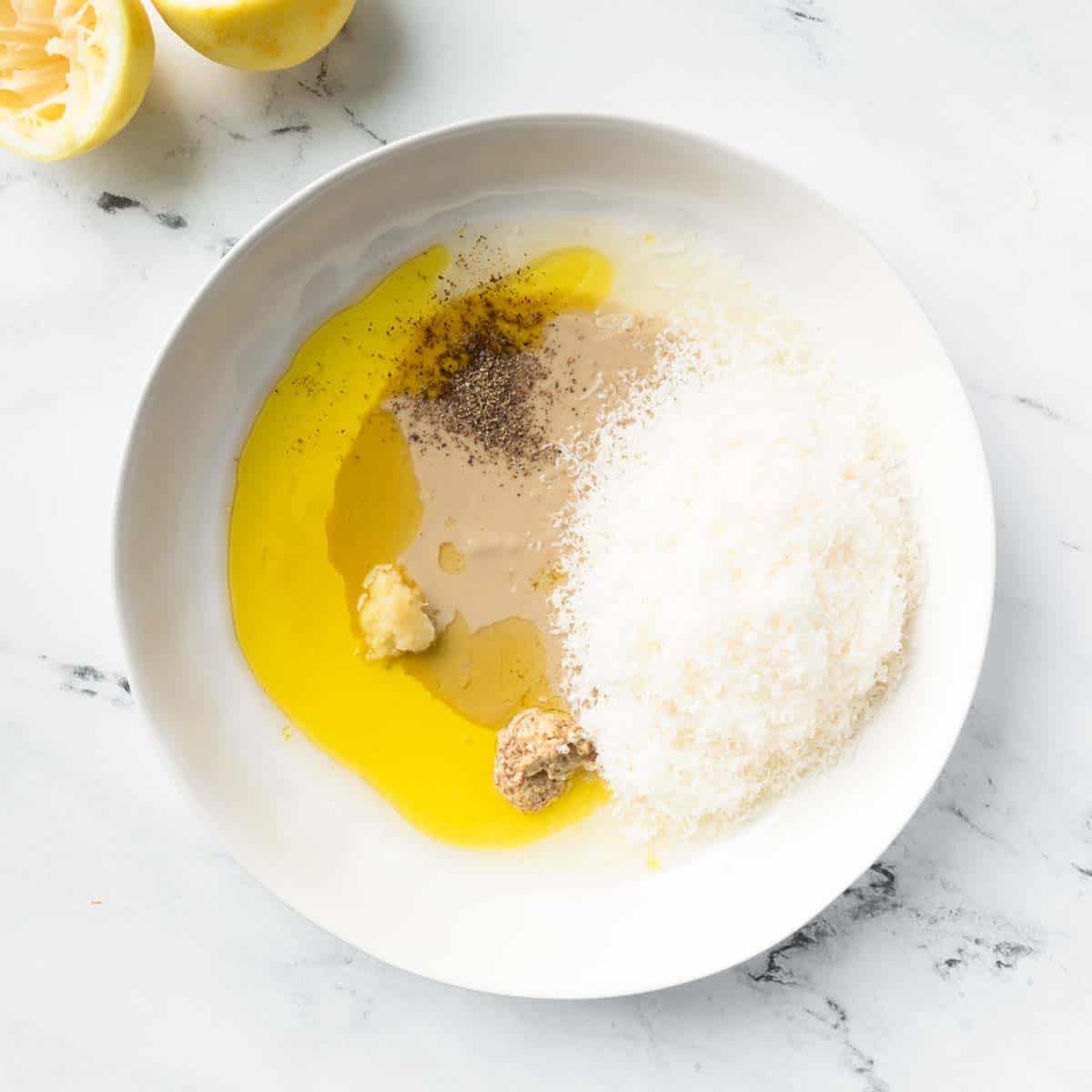 Add tahini, lemon juice, grated garlic, olive oil, mustard, Parmesan cheese and black pepper to your serving dish. (Or a small bowl, if making the dressing ahead of time). Whisk together until a thick paste forms. Thin the dressing with about 1 Tablespoon of cold water until thick and glossy.
Storing: This dressing can be made ahead of time and refrigerated for 3 - 5 days in an airtight container. You may need to whisk in a little additional water when ready to serve.
Lemon Breadcrumbs
The King of this salad is no shortage of toasty, golden delicious lemon breadcrumbs in every bite! I love big flavor and a lot of crunch and my favorite part of this kale salad is using breadcrumbs instead of the croutons.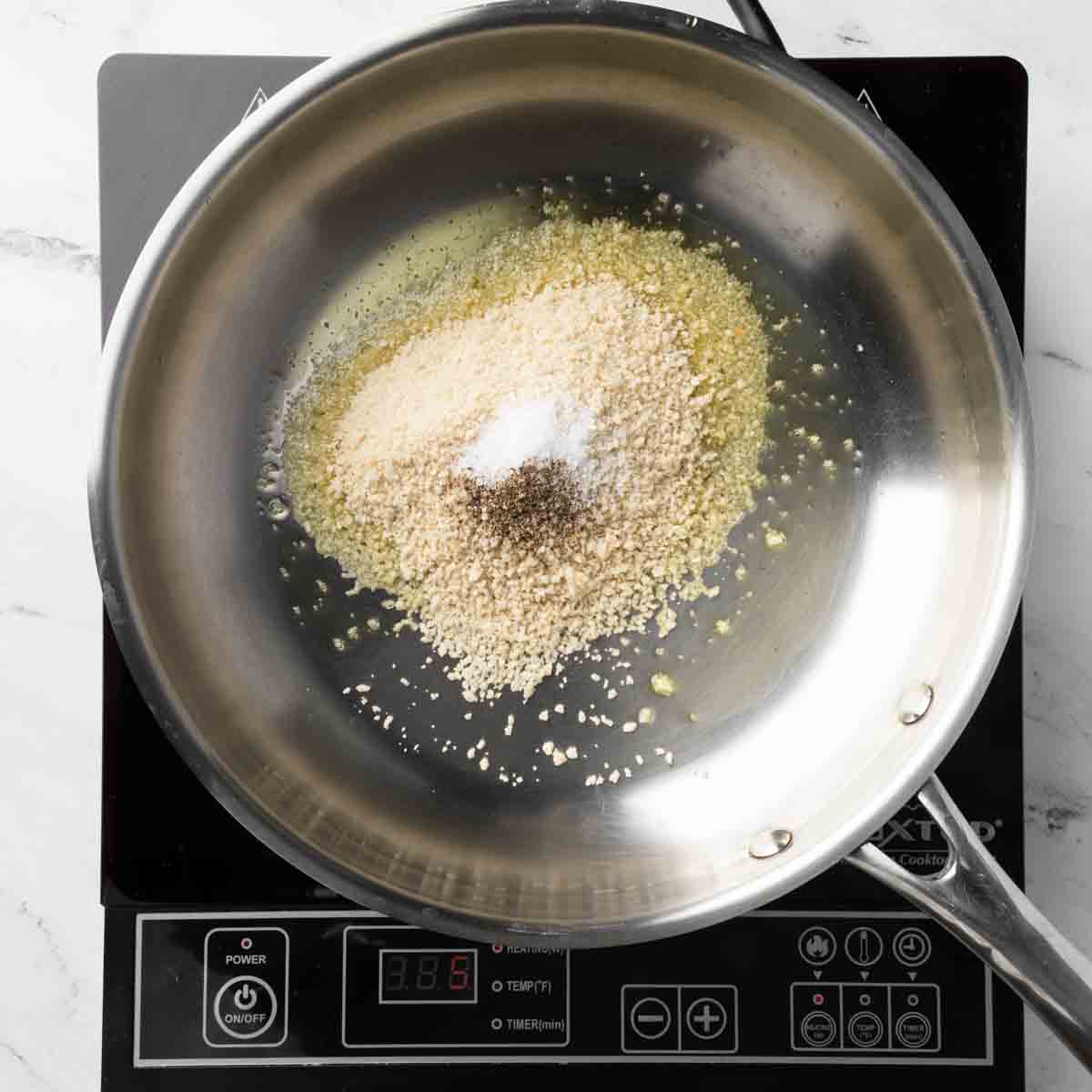 Heat 1 Tablespoon of olive oil in a medium sauce pan. Add breadcrumbs, salt and black pepper. Stir constantly for 3 - 5 minutes or until perfectly golden brown. Immediately transfer the crumbs to a small dish to prevent burning.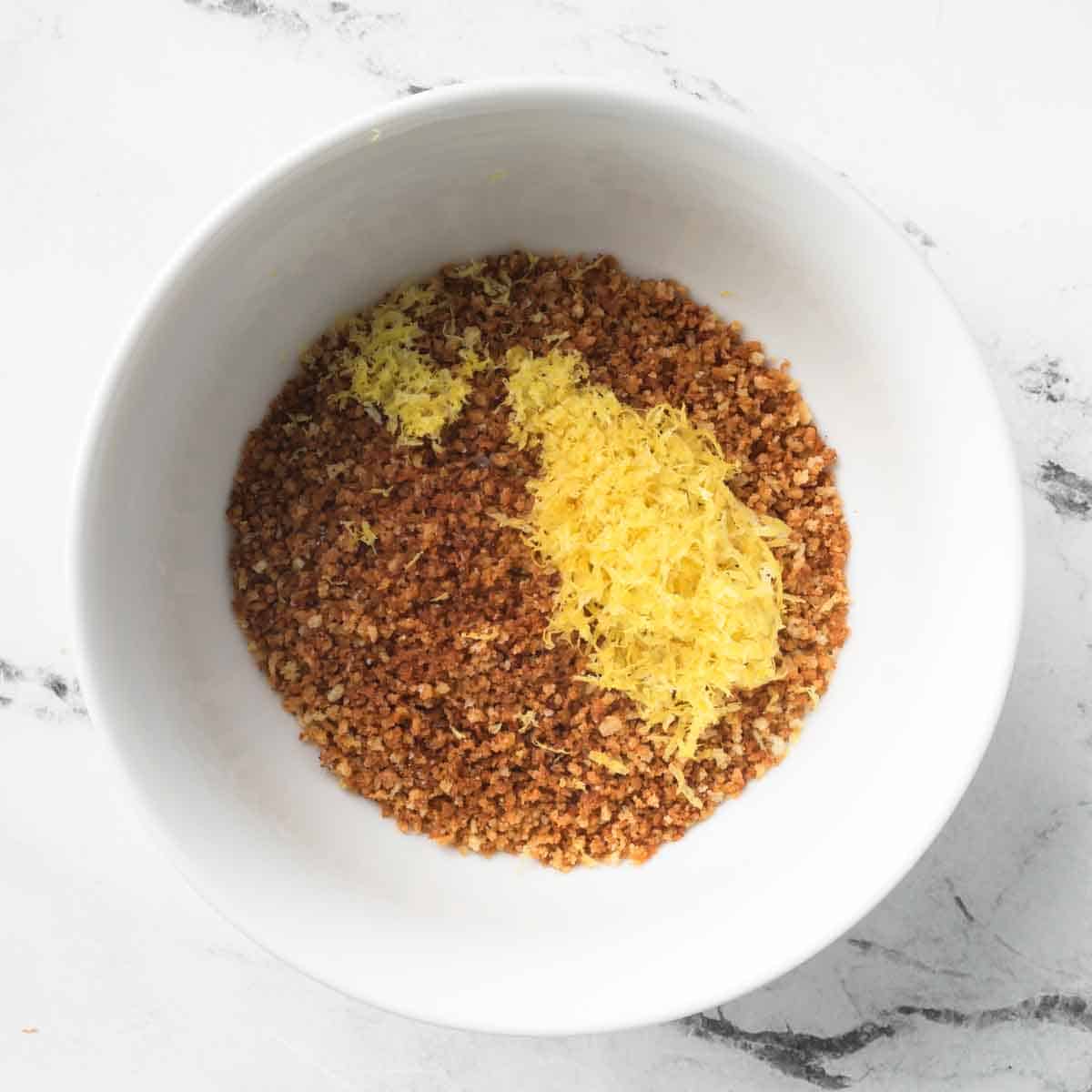 Allow the crumbs to cool slightly and add the zest of an entire lemon. The zest might clump up a bit, so use your hands to evenly distribute the zest throughout.
Assembling The Salad
This salad is best tossed together (as opposed to serving the dressing on the side).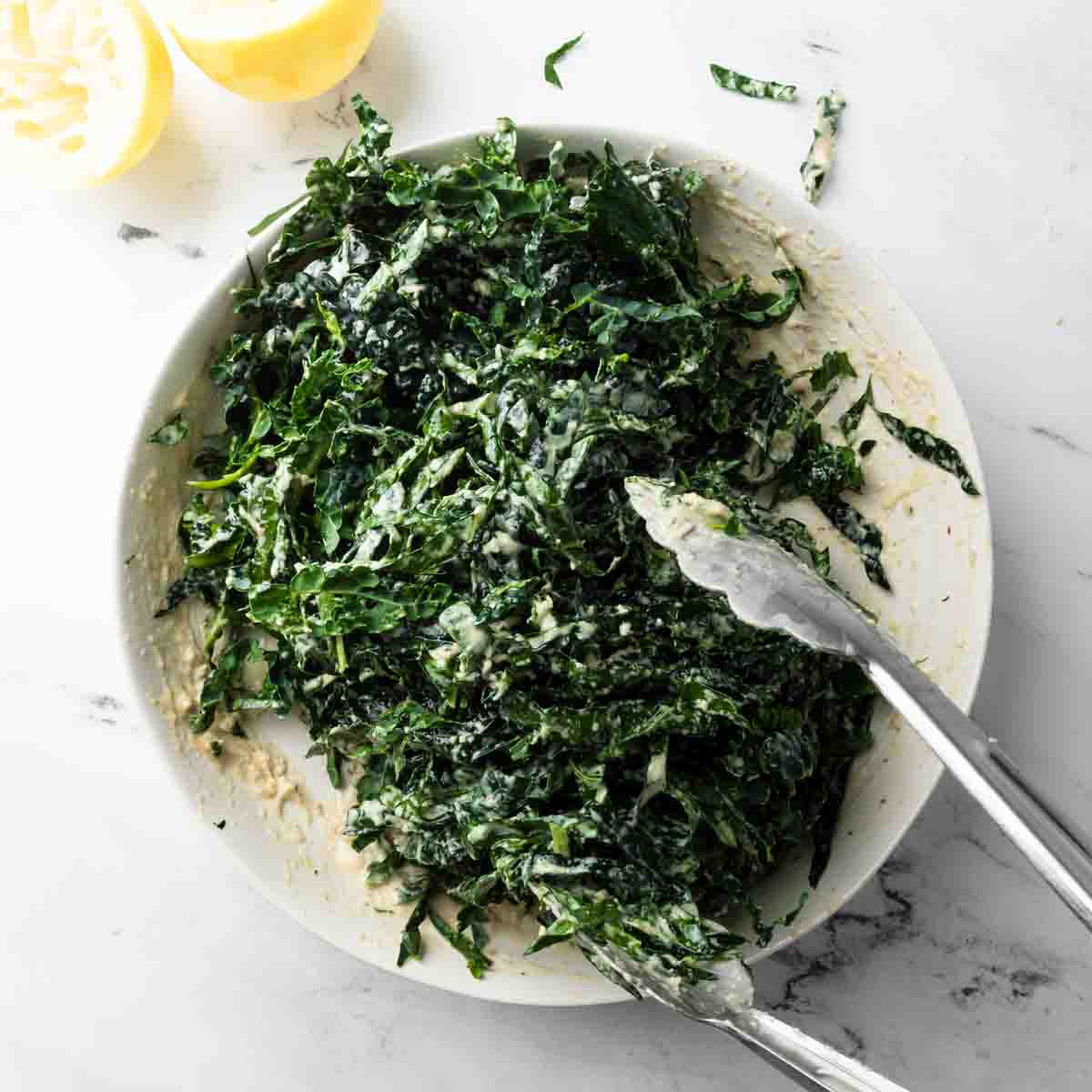 When ready to serve, add all of the shaved kale leaves over the dressing in the serving dish. Toss until well coated.
Note: Due to the nature of kales' thicker leaves, I do prefer a heavier coating of dressing than I would on other green salads. For a lighter salad, feel free to reserve some of the dressing for another time.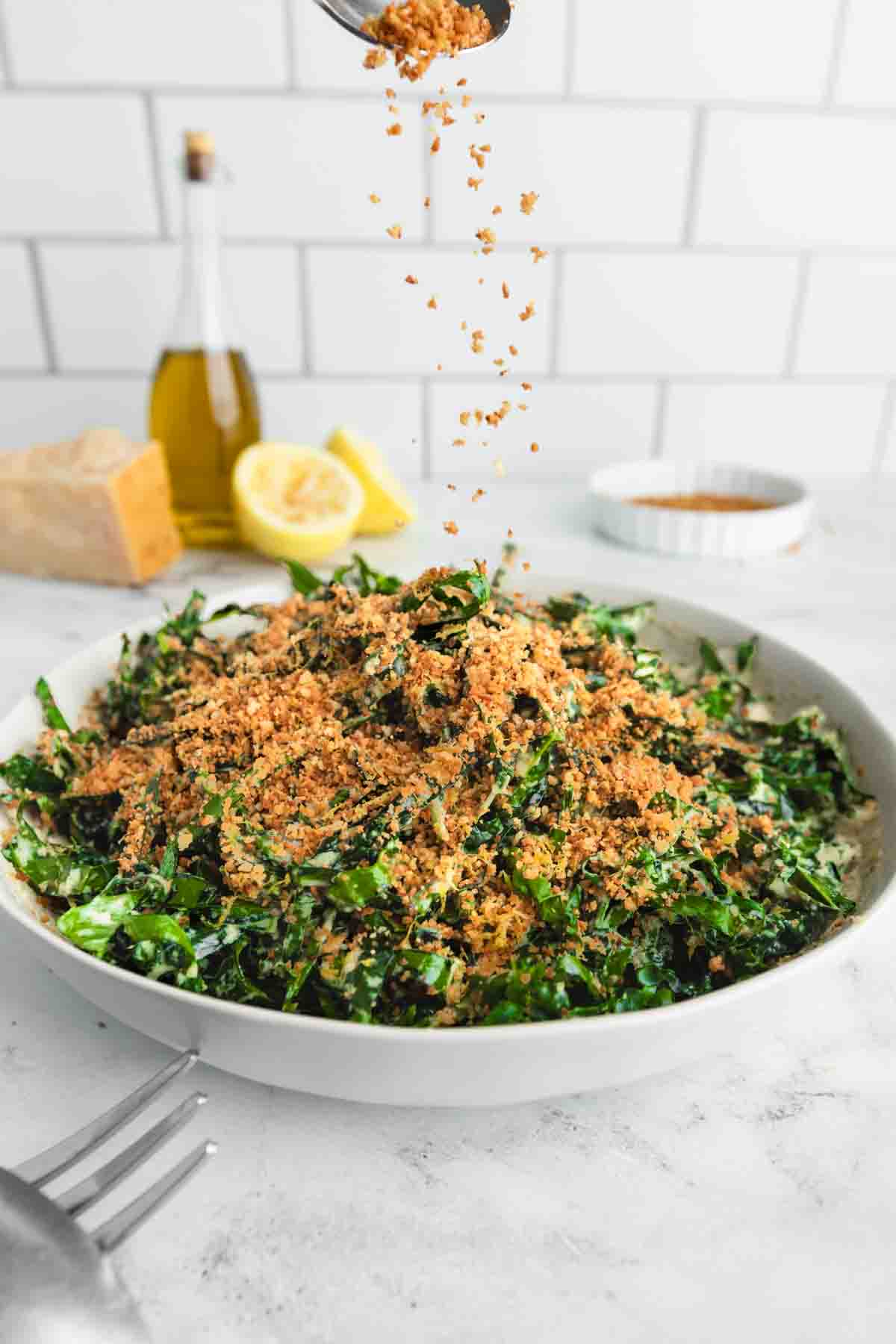 Top the salad with generous amounts of toasted breadcrumbs. Don't be shy! They really make the dish.
Serving Suggestions
This salad is great for a quick lunch or as a hassle-free veggie dish for parties and holidays.
To make this salad a complete meal, we recommend serving it with pan-seared salmon, a grilled chicken breast, chopped bacon or a small piece of flank steak.
Tuscan kale salad is also a great accompaniment to Italian meals. It would be delicious served next to our Lasagna al Forno, 'Nduja Vodka Sauce Pasta or our Chicken Meatballs with Mushrooms and Marsala Cream Sauce.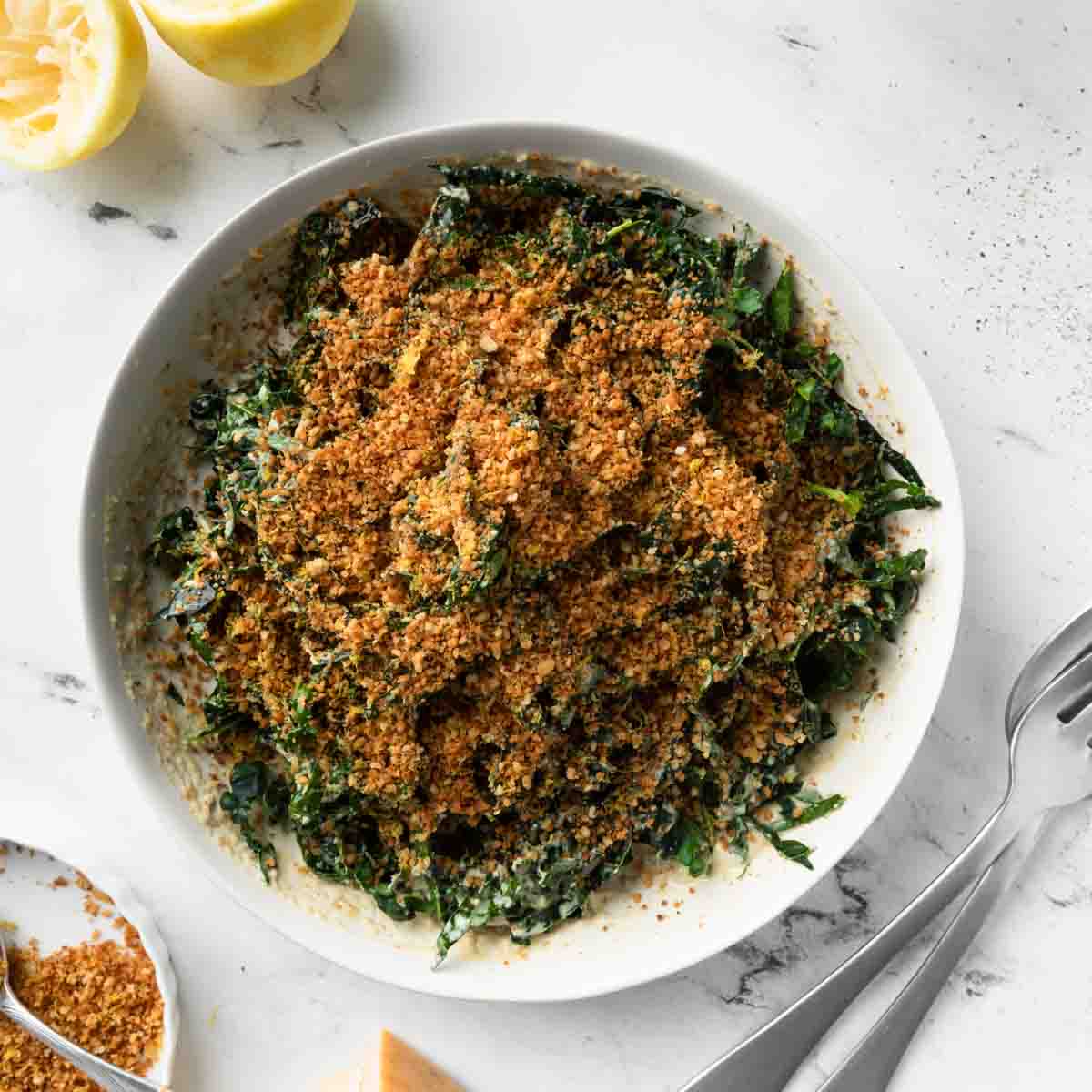 Frequently Asked Questions
What is the difference between Tuscan kale and kale?
Regular (curly) kale has a light green (or purple) color and fringed edges. Curly kale is more fibrous with a strong, bitter flavor. Tuscan kale, on the other hand, is darker in color with wide, dimpled leaves. Tuscan kale is mild in flavor with a softer texture that is perfect to enjoy raw.
Does Tuscan kale need to be massaged?
No! Tuscan kale has a more delicate texture that is pleasant to eat raw without massaging or additional preparations.
Is Parmesan vegetarian?
No, Parmesan cheese is made from a specific place using a specific recipe that includes rennet, an animal product. Therefore, this salad is not vegetarian.

However, some cheese makers make a vegetarian cheese that is similar to the taste and textures of Parmesan. You can also make this recipe with nutritional yeast, if preferred.
Recipe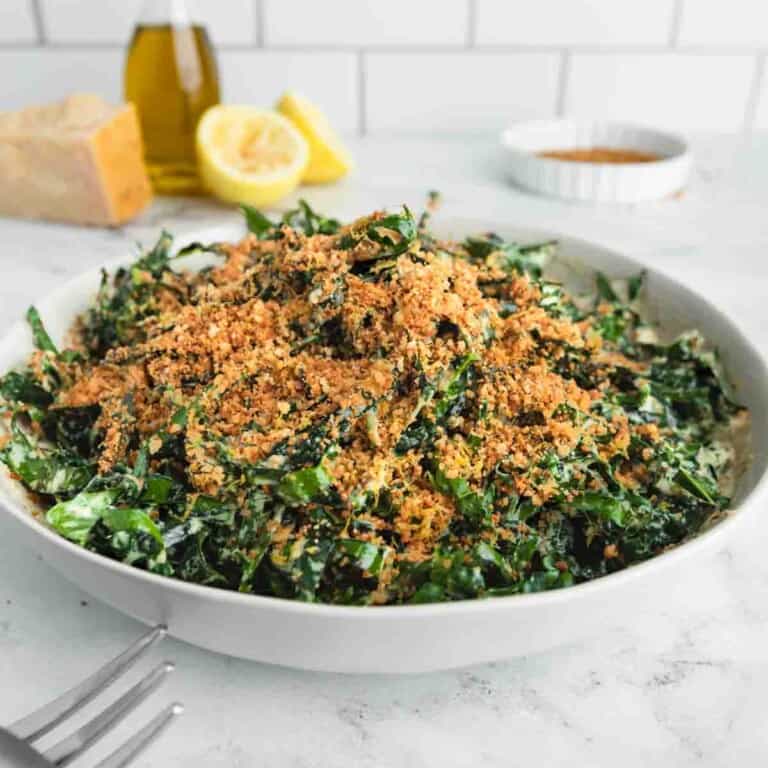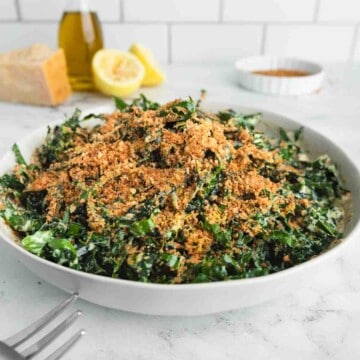 Tuscan Kale Salad with Parmesan Tahini Dressing
This kale salad recipe is creamy, garlicky, packed with flavor and the crunch of lemony breadcrumbs in every bite.
ADJUST SERVINGS
Ingredients
Tuscan Kale Salad
1

bunch

Tuscan kale

washed and dried

1

Tablespoon

olive oil

½

Cup

panko breadcrumbs

½

teaspoon

fine kosher salt*
Freshly-ground black pepper

to taste

Zest of 1 lemon

1

recipe

Parmesan Tahini Dressing
Parmesan Tahini Dressing
3

Tablespoons

tahini

1

ounce

Parmesan cheese

grated or finely shredded

3

Tablespoons

lemon juice

freshly squeezed

2

Tablespoons

olive oil

1

clove

garlic

grated

1

teaspoon

Dijon mustard

we like coarse ground

Freshly-ground black pepper

to taste

1

Tablespoon

cold water

as needed to thin dressing
Instructions
Tuscan Kale Salad
With your hands or a sharp knife, remove the thick stems from each kale leaf. Stack the leaves on top of each other with the largest leaf on the bottom. Roll the leaves into a tight log. Use a sharp knife to shave the rolled log of kale into thin strips. Set aside.

In a medium pan, warm

1 Tablespoon

of olive oil over medium heat. Add breadcrumbs, salt and pepper. Stir constantly for 3 - 5 minutes or until golden brown. Remove from the pan to avoid burning.

When ready to serve, add the shaved kale to the serving dish with dressing. Toss to combine. Top generously with breadcrumbs. Enjoy!
Tahini Parmesan Dressing
In your serving bowl, combine tahini, Parmesan, lemon juice, olive oil, garlic, mustard and black pepper. Whisk to combine. Whisk in about

1 Tablespoon

of cold water until creamy and glossy.

Set aside until ready to toss and serve salad.
* A Note About Salt
Unless otherwise noted, all recipes on The Sage Apron are developed using Diamond Crystal Kosher salt. It is a great all-purpose salt for cooking and baking. If using table salt, reduce quantities by about half.
Nutrition
Calories:
495
kcal
|
Carbohydrates:
25
g
|
Protein:
15
g
|
Fat:
40
g
|
Saturated Fat:
7
g
|
Polyunsaturated Fat:
9
g
|
Monounsaturated Fat:
22
g
|
Cholesterol:
10
mg
|
Sodium:
1037
mg
|
Potassium:
652
mg
|
Fiber:
8
g
|
Sugar:
3
g
|
Vitamin A:
13616
IU
|
Vitamin C:
136
mg
|
Calcium:
578
mg
|
Iron:
4
mg