This simple Cucumber Strawberry Salad recipe is the perfect start to a Spring or Summer meal. Crisp spirals of shaved cucumber are served alongside sweet strawberries on a bed of tangy, whipped goat cheese.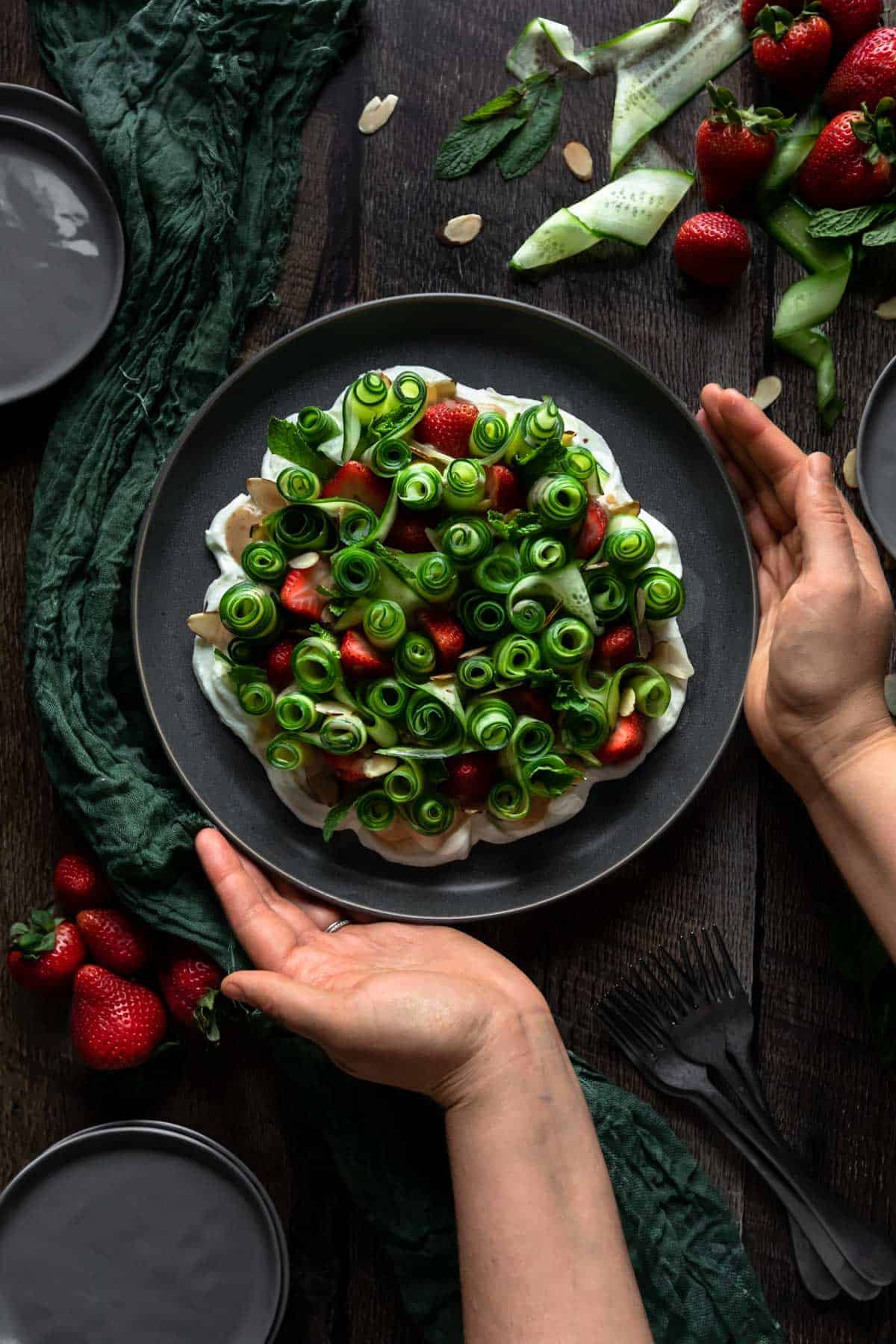 The salad is topped with crunchy toasted almond slices, fresh mint leaves and a generous drizzle of homemade Strawberry Vinaigrette. This appetizer is light, fresh, delicious and so beautiful! Pour the rosé and enjoy!
Another favorite salad recipe with goat cheese is our Golden Beet Salad with toasted walnuts and tarragon!
Jump to:
Cute-cumber Salad
Isn't this Cucumber Salad so pretty? Those bright colors and little spirals of cucumber make this simple recipe perfect for entertaining! When having a dinner party, we assemble individual composed plates of this salad shortly before our guests arrive. When ready to serve, we pull these beauties out of the refrigerator and serve alongside our homemade Strawberry Vinaigrette. It's quite easy but the presentation and melody of flavors make this dish so memorable!
For this recipe, start by peeling thin ribbons of cucumber (more on that below). After draining some of the moisture from the cucumbers (more on that below, too), roll up each little slice into a bite-sized spiral. Then, place each spiral of cucumber and your prepared strawberries into a generous swoosh of whipped goat cheese. The goat cheese will help the cucumber roll-ups to stand up and ensure that each bite has a creamy, tangy finish.
Next, give the dish a little crunch with some toasted almonds. (Pine nuts, pistachios, or sunflower seeds work well, too!). Finish the dish with a few fresh mint leaves and homemade Strawberry Vinaigrette. The dressing is made with strawberry jelly and comes together in two minutes! We like to use it on all sorts of Summer salads - but this one is a perfect pairing!
How To Slice Cucumber Ribbons
The key to this Cucumber Salad's pretty presentation is thinly sliced cucumber ribbons. The process is quite easy. We found this great YouTube video demonstration that we recommend watching if you need a visual. Here's the step-by-step instructions:
Start by cutting off and discarding either end of the cucumber.
Then, using a standard vegetable peeler, peel one strip off of the cucumber. The first strip will be mainly cucumber skin. Go ahead and discard that first piece.
Continue peeling ribbons of the cucumber (from the same starting point) from end to end. When you are nearing the center on the cucumber, flip it over and repeat Steps 2 & 3 until you have as many ribbons as possible.
Chef's Note: We recommend using English cucumbers (the long, skinny ones that are often wrapped in plastic at the grocery store) for this Cucumber Salad recipe. English cucumbers have much smaller seeds that can be eaten and enjoyed. English cucumber ribbons can include the seeds without worry.

If you are using a common slicing cucumber, be sure to cut ribbons that avoid the large seeds. (Those larger cucumber seeds are quite bitter and contain lots of extra water content). When peeling ribbons from a regular slicing cucumber, rotate the vegetable to peel ribbons from 4 sides while leaving the seeded core in the center.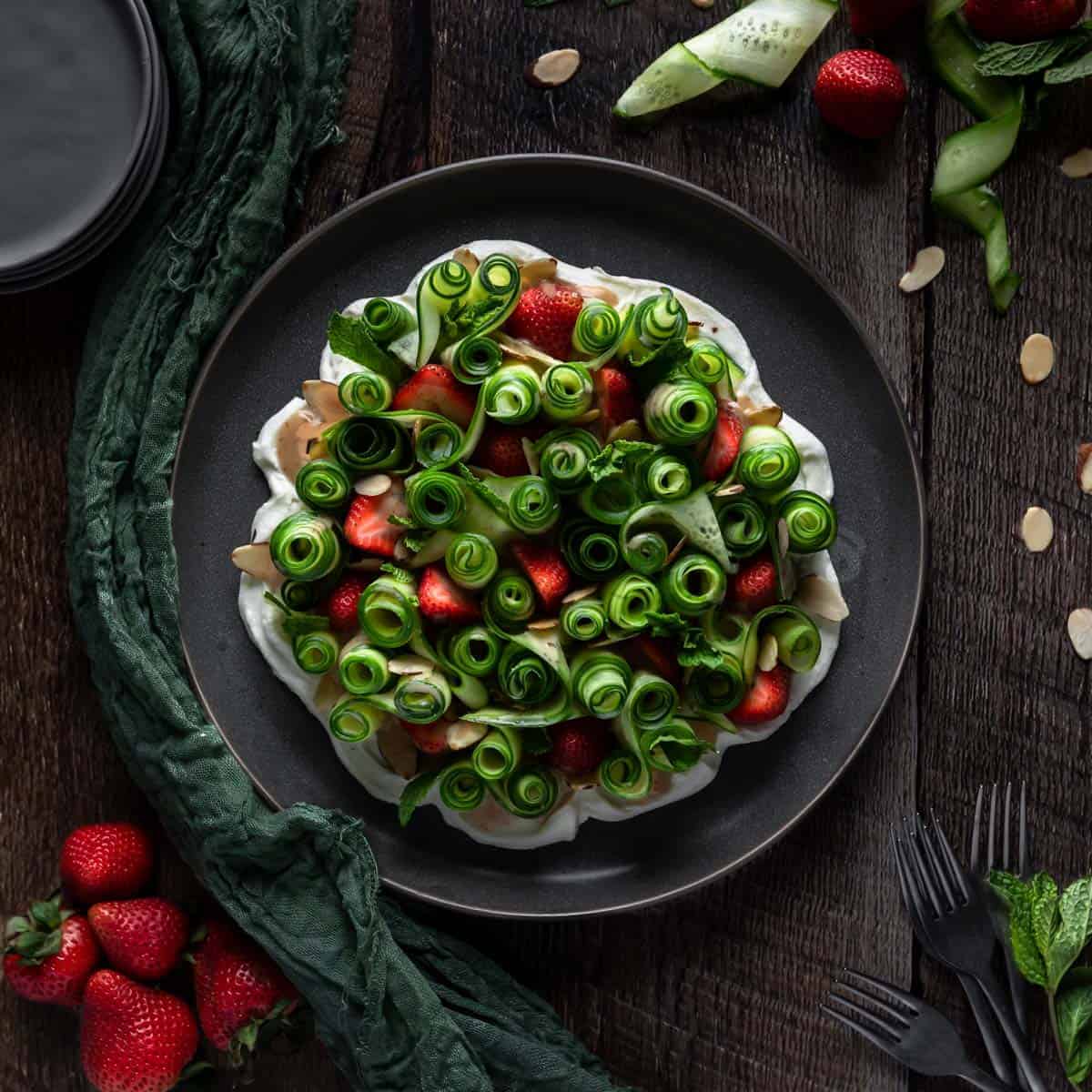 How To Prevent Cucumber Salad from Becoming Too Watery
Since cucumbers are ninety percent water, cucumber salads can quickly turn to soggy soup (yuck!) if not properly treated. For this salad we recommend taking these preventative measures to drain as much excess water out of the cucumbers as possible. Here's the method we use to keep this Cucumber Strawberry Salad crisp and dry:
While slicing cucumbers into ribbons, transfer slices into a colander.
With every layer of cucumber ribbons into the colander, add a sprinkle of salt. The salt will help draw out excess moisture. Don't be too concerned about over seasoning, the salt will be rinsed off in a later step.
Allow the salted cucumber ribbons to drain in the colander for 5 minutes. Rinse the salt off of the cucumbers with very cold water.
Let the rinsed cucumber ribbons drain in the colander for 5 - 10 minutes. Then, gently press on the ribbons to help expel additional moisture. Be careful not to break the ribbons when pressing, they will be a bit fragile.
When preparing the salad, gently blot each cucumber ribbon dry with a clean paper or kitchen towel before rolling. Your cucumber spirals should be dry, crisp and delicious!
How To Style This Salad
This salad shines brightest when it is composed on the plate. (As opposed to a traditional tossed salad.) The styling does take a few extra minutes but the results are stunning and we think it is SO worth it. It also makes those ribbons into the perfect fork-friendly, bite-sized pieces.
Cucumber ribbons are pretty and elegant all on their own, so have fun styling this Cucumber Strawberry Salad with your own flare. (And be sure to tag us on Instagram, so we can feature your glorious work!). To style the dish as photographed, follow these easy steps:
Firstly, we recommend starting with chilled plates. (Just refrigerate your salad plates for 15 - 20 minutes while you are preparing the components.) If possible we suggest plating these salads for each individual guest. Alternatively, you can present this salad on a larger serving platter, but, be aware, it can be difficult to serve this way.
Place a generous dollop of whipped goat cheese on the center of each plate (or platter). With the back of a spoon, or small offset spatula, swoosh the goat cheese into a bed nearing the perimeter of the plate. Be careful not to spread the whipped goat cheese too thin, you will need the cheese to hold the cucumber and strawberries in place.
Then, working with one cucumber ribbon at a time, tightly roll the cucumber ribbons into tight spirals. Place each spiral, standing up, in the whipped goat cheese. Also, place the strawberries intermittently among the cucumber spirals.
Next, tuck a few mint leaves in between some of the cucumber spirals on each plate.
At this stage, you can refrigerate the salad(s) for a short amount of time, until you are ready to serve to your guests. Once ready to serve, sprinkle the toasted almonds around the plate.
Finally, either drizzle the salads with Strawberry Vinaigrette or serve the vinaigrette alongside, to be dressed at the table. Viola!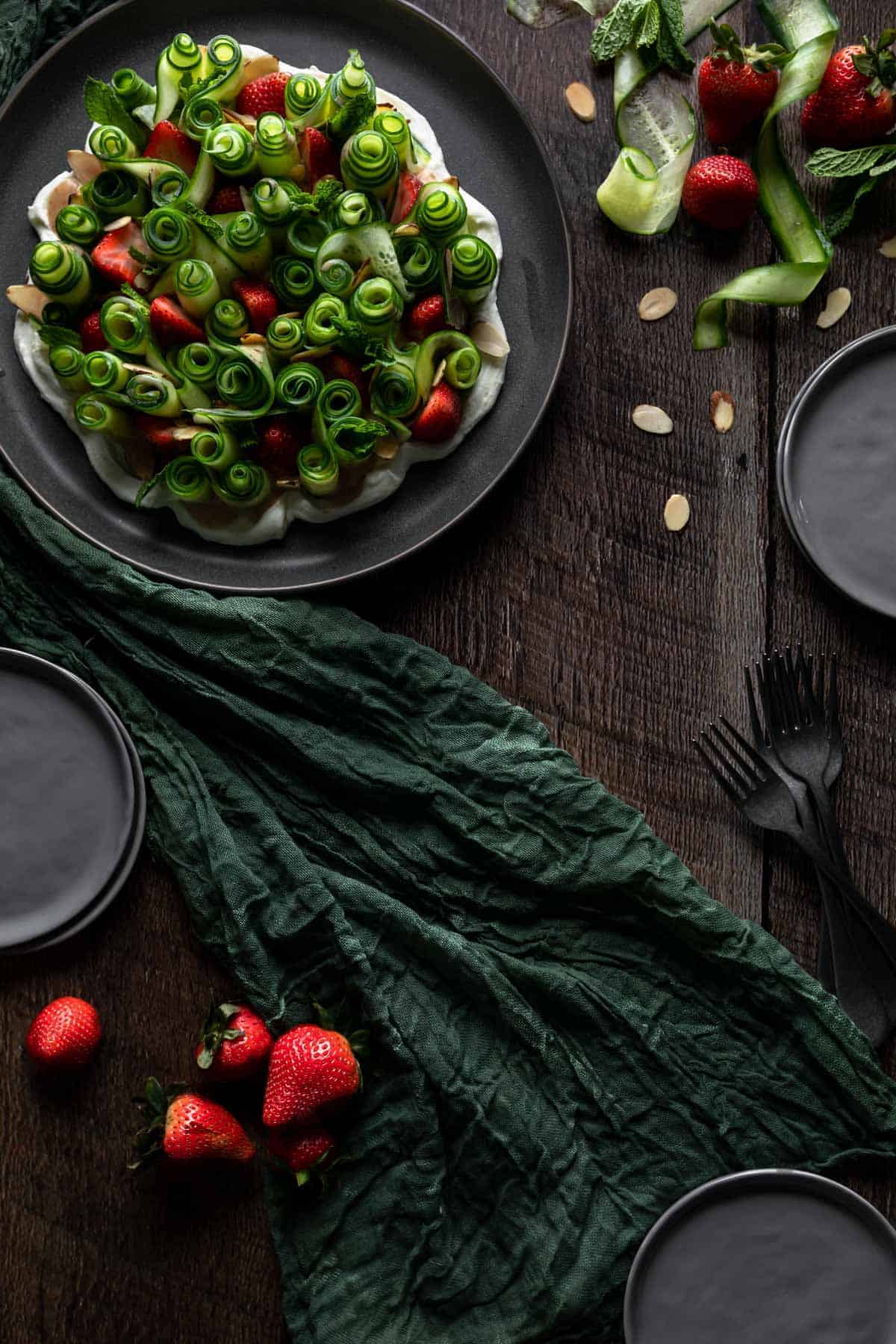 You May Also Like...
Recipe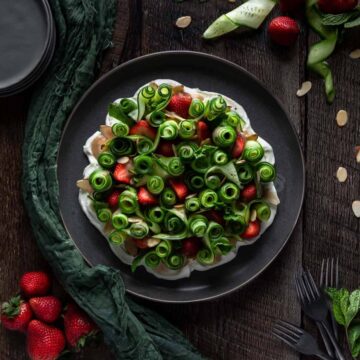 Cucumber Strawberry Salad with Strawberry Vinaigrette
This gorgeous salad is made from ribbons of English cucumber, fresh strawberries, toasted almond and whipped goat cheese. It is served with mint leaves and homemade strawberry vinaigrette. Fresh, simple and delicious! 
ADJUST SERVINGS
Special Equipment
Vegetable Peeler

Stand Mixer with the Paddle Attachment (or Electric Mixer)

Blender (Optional)
Ingredients
Cucumber Strawberry Salad
4

ounces

goat cheese

¼

Cup

heavy cream
Fine kosher salt*

as desired

3

English cucumbers

shaved in ribbons (with a vegetable peeler)

1

pint

strawberries

stems removed (whole, halved or quartered, as desired)

3

Tablespoons

sliced or slivered almonds

lightly toasted

Fresh mint leaves

as desired

1

recipe

Strawberry Vinaigrette
Strawberry Vinaigrette
2

Tablespoons

seedless strawberry jelly

¼

Cup

white wine vinegar

1

Tablespoon

Dijon mustard

(we use coarse-ground)

1

teaspoon

honey

Pinch

fine kosher salt*

½

Cup

olive oil
Instructions
Cucumber Strawberry Salad
Gather, measure and prepare the ingredients as listed. To view metric measurements, toggle the US Customary/Metric switch at the top of this recipe card.

Transfer the cucumber ribbons into a colander and sprinkle with a few generous pinches of salt. Allow to sit for 5 minutes. Carefully, rinse the cucumber in cold water. Gently press on the shaved cucumber to help release any additional liquid. Allow to drain for 5 - 10 minutes. (See How to Prevent Cucumber Salad from Becoming Too Watery text above, for more information.

Meanwhile, in the bowl of a stand mixer fitted with the paddle attachment (or a medium mixing bowl with an electric handheld mixer), combine the goat cheese, heavy cream and a pinch of salt. Whip on medium low speed for 1 - 2 minutes until creamy, smooth and spreadable. 

Transfer the whipped goat cheese evenly to 4 chilled salad plates (or 1 chilled serving platter). With the back of a spoon or small offset spatula, spread the cheese into a thick layer in the center of the plates (or platter). 

Then, working one cucumber ribbon at a time, gently blot the ribbon dry on a clean paper or kitchen towel before rolling each cucumber ribbon into a tight spiral. Place cucumber spirals, standing up, in the goat cheese. Arrange pieces of strawberry, in the goat cheese, around each plate, as well. Continue until all cucumber and strawberries have been plated.

Garnish the plate with toasted almond and fresh mint leaves. Serve immediately or keep chilled briefly, before serving. Serve with Strawberry Vinaigrette. Enjoy!
Strawberry Vinaigrette
Gather, measure and prepare the ingredients as listed.

Blender Method:

In the basin of a blender (or immersion blender vessel), combine strawberry jelly, white wine vinegar, dijon mustard, honey, and salt. Process on medium high speed to combine. While processing, slowly stream in olive oil. Process for an additional 30 seconds to fully emulsify.

Whisk Method:

In a medium mixing bowl, combine strawberry jelly, white wine vinegar, dijon mustard, honey and salt. Whisk to combine. While whisking continuously, slowly stream in olive oil. Whisk vigorously until all oil is incorporated and fully emulsified. 

Serve Strawberry Vinaigrette with Cucumber Strawberry Salad (or salad of your choice!), as desired. If separation occurs, whisk, shake or blend before serving. Leftover Strawberry Vinaigrette can be saved in an airtight container in the refrigerator for up to two weeks. 
* A Note About Salt
Unless otherwise noted, all recipes on The Sage Apron are developed using Diamond Crystal Kosher salt. It is a great all-purpose salt for cooking and baking. If using table salt, reduce quantities by about half.
Nutrition
Calories:
523
kcal
|
Carbohydrates:
28
g
|
Protein:
10
g
|
Fat:
43
g
|
Saturated Fat:
12
g
|
Polyunsaturated Fat:
4
g
|
Monounsaturated Fat:
25
g
|
Trans Fat:
1
g
|
Cholesterol:
34
mg
|
Sodium:
164
mg
|
Potassium:
604
mg
|
Fiber:
5
g
|
Sugar:
17
g
|
Vitamin A:
768
IU
|
Vitamin C:
77
mg
|
Calcium:
130
mg
|
Iron:
2
mg