This Halloumi Pasta Salad recipe is a delicious and colorful addition to any Summertime spread! Pasta, lots of veggies, olives and halloumi cheese make this easy recipe so crave worthy!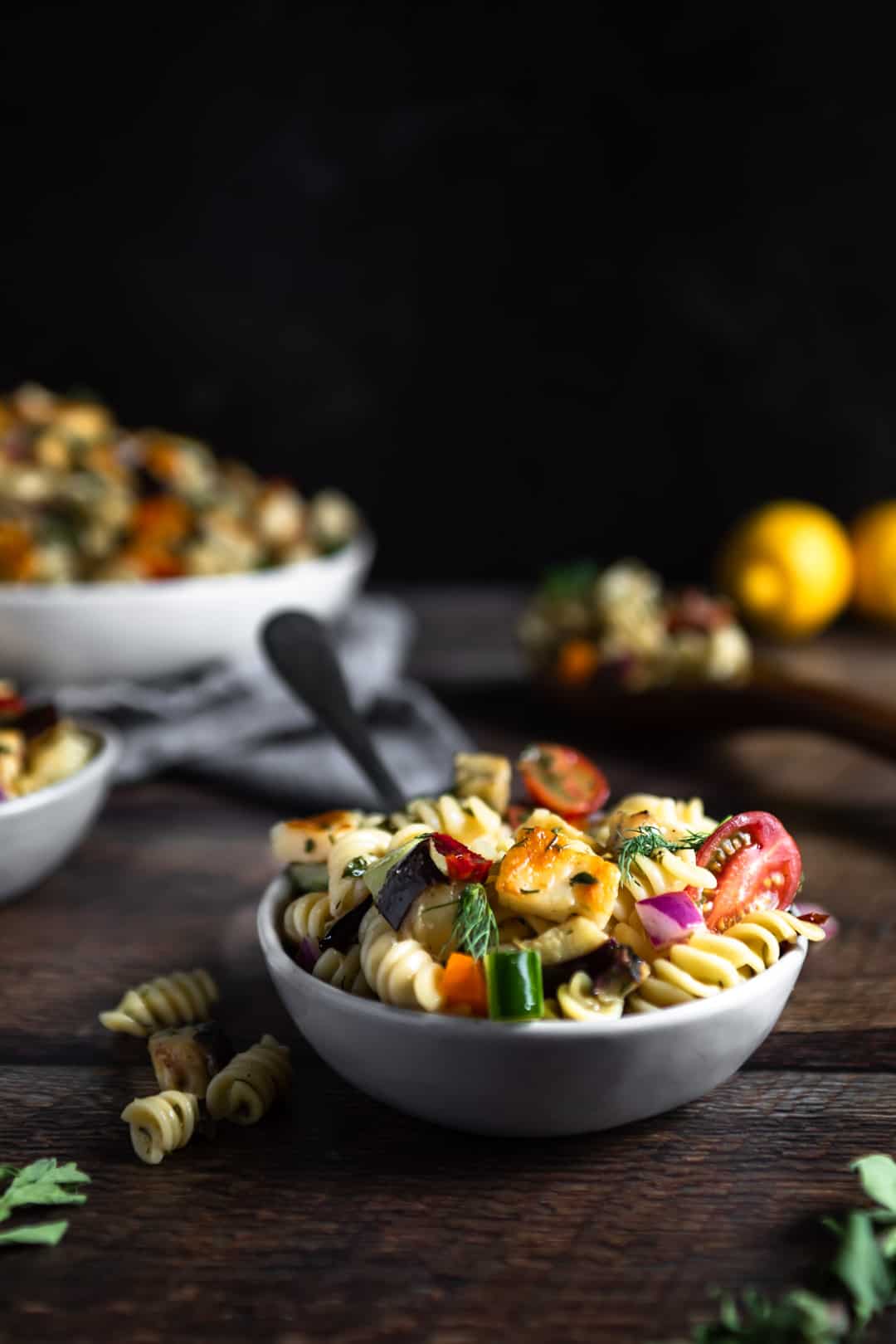 This pasta salad is tossed in a Greek Herb Vinaigrette that adds tons of zippy, herbaceous freshness. Salty, caramelized halloumi takes this pasta salad to a whole new level! It is so good! This recipe is a great make-ahead lunch or crowd-wowing side dish!
For a simple Mediterranean meal, serve this pasta salad with our Grilled Honey Balsamic Chicken!
Jump to:
Ingredients for Halloumi Pasta Salad
Halloumi Pasta Salad is inspired by Greek flavors and is all about pasta and caramelized halloumi cheese being complimented with fresh, crunchy vegetables, grilled eggplant, salty olives, and a zesty Greek Herb Vinaigrette. Of course, like most pasta salads, this recipe is fully customizable to your own tastes! Feel free to add or subtract ingredients to suit your own preferences.
Pasta - This one is essential! Feel free to use any pasta you would like for this recipe. We chose rotini pasta for all of it's Greek Herb Vinaigrette catching ridges and easy fork-stabbing-ability! If you're feeling fancy you can make your own Farfalle with our Semolina Pasta Dough recipe!
Halloumi Cheese - This cheese is the star of this dish! Pan fried halloumi makes the perfect addition to pasta salad.
Eggplant - Grilled eggplant adds a savory, smokey bite that absorbs the vinaigrette and compliments the cheese beautifully!
Cucumber - We like the thinner English or Persian cucumbers for their addicting crunch! However, American cucumbers will work well too!
Cherry or Grape Tomatoes - These little tomatoes add the perfect hint of natural sweetness and bright color to this recipe!
Sun-Dried Tomatoes - Some thinly sliced sun-dried tomatoes add a bite of sweet umami flavor that is so good in this pasta salad! Try them in our Sun-Dried Tomato Alfredo with Chicken too!
Yellow or Orange Bell Pepper - Raw bell peppers had such a nice crunch in pasta salad! We recommend yellow or orange bell pepper for it's beautiful color, flavor and sweetness.
Olives - Use any type of olive you fancy! We chose Kalamata olives to compliment our Greek flavors with a briny, meaty bite.
Greek Herb Vinaigrette - Loaded with oregano, mint and dill this vinaigrette is so vibrant and fresh! Keep reading, more details below!
Greek Herb Vinaigrette
This vinaigrette is addictingly good and the perfect compliment to all of the Summer flavors happening in this Halloumi Pasta Salad. Here's the ingredient list for everything you need to make this Greek Herb Vinaigrette!
Red Wine Vinegar - Red wine vinegar in a lovely acidic base for this zippy dressing.
Lemon Juice & Zest - Lemon brings out all of the herbs flavor and pairs so nicely with all of the pasta salad vegetables.
Garlic - A clove of garlic gives this dressing a delicious little kick!
Honey - A small amount of honey helps to balance the vinaigrette and adds a lovely floral note.
Olive Oil - Use a nice quality Greek olive oil to emulsify this Greek Herb Vinaigrette.
Oregano, Mint & Dill - These fresh Greek herbs add bright vibrant color and fresh green flavors to this vinaigrette and Halloumi Pasta Salad. They compliment the raw vegetables, grilled eggplant and caramelized halloumi so nicely!
Salt & Pepper - A sprinkle of seasoning help to accentuate all of the yummy flavors!
Check out this video to see How To Make Greek Herb Vinaigrette!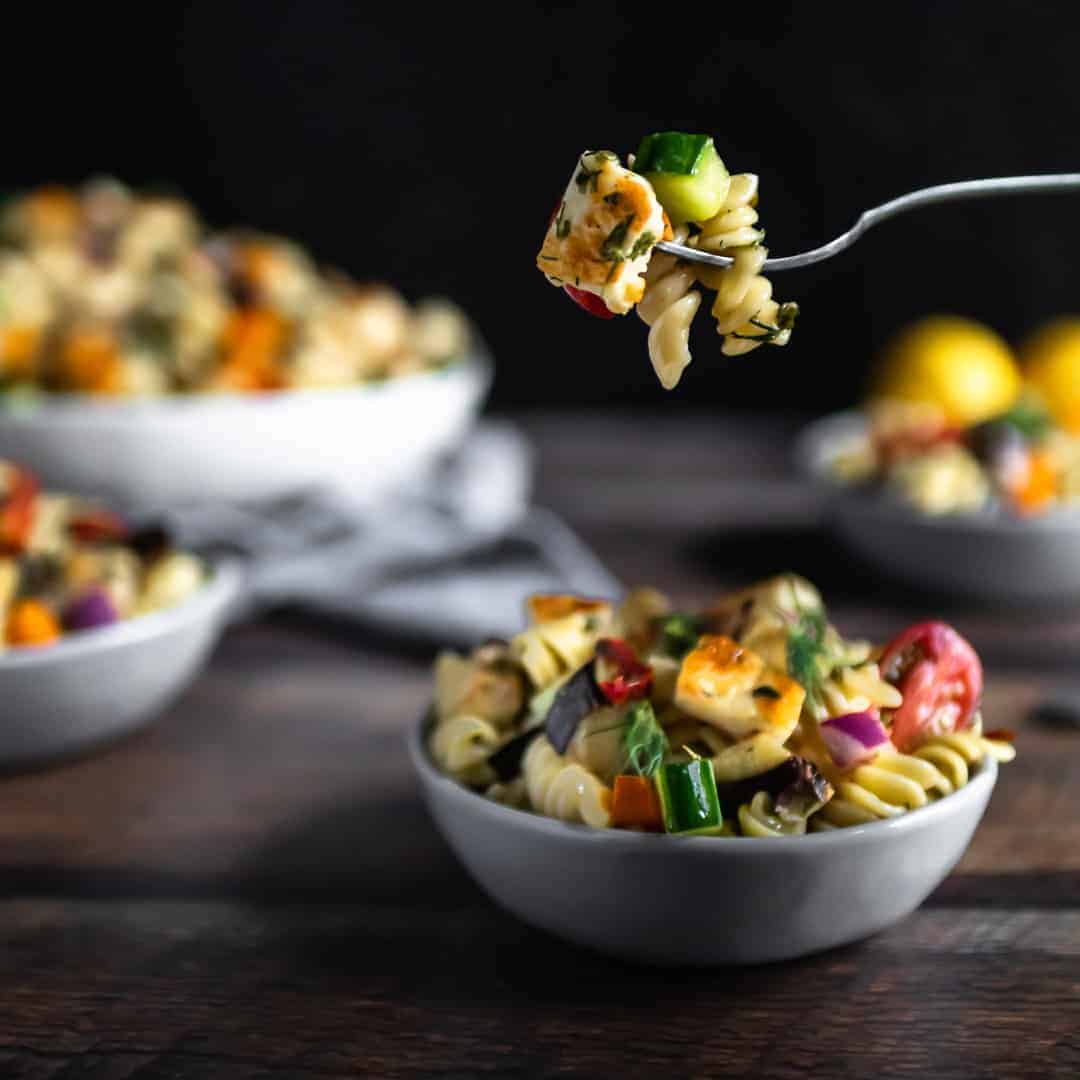 What is Halloumi?
Halloumi is a type of cheese originating from Cyprus, Greece. This unique cheese is semi-firm, rindless and brined. Halloumi can be made from cow's milk but is more often made from a combination of goat and sheep's milks that impart a tangy flavor.
Unlike other cheeses, halloumi has a high-temperature melting point that makes it perfect for grilling or frying. Halloumi can be consumed raw but tends to be a bit rubbery and bland. However, when halloumi is heated the exterior caramelizes and the inside becomes gooey soft and full of flavor.
Halloumi cheese can be found in most cheese shops, Mediterranean grocers and many supermarket grocery stores. We find our halloumi cheese near the feta and mozzarella cheeses in our local Whole Foods or Trader Joe's. If you are vegetarian, you are in luck! Most halloumi is made from vegetarian rennet - but, please, be sure to double check by reading the package label.
What Does Halloumi Taste Like?
When raw, halloumi has a mainly salty flavor, almost similar to feta. The texture is springy and can be a bit chewy. That being said, once halloumi is cooked, the cheese takes on a brand new persona. When grilled or fried, halloumi's saltiness mellows out. The cheese comes to life and the goat and sheep milk flavors evolve into a creamy, tangy center.
The heated surface of the cheese browns to create a golden caramelized surface. It is so good and we highly recommend eating halloumi warm straight from the pan with a drizzle of honey! For this Halloumi Pasta Salad recipe, the halloumi is pan fried to coax out all of those lovely flavors before being diced and tossed in with all of the complimentary herbs and vegetables.
How To Pan Fry Halloumi Cheese
Pan frying halloumi cheese is our preferred method of cooking. If you would like, you can grill the halloumi cheese, instead. We prefer pan-frying to get the best hot-pan-to-halloumi-surface-area caramelization.
Firstly, remove the halloumi cheese from the package and drain of any additional brine. If not already sliced, slice the halloumi into about ¼ inch (½ centimeter) slices.
Then, thoroughly dry each slice of halloumi cheese with paper towels. Wet cheese will not cook properly or turn golden brown!
Meanwhile, heat a small splash of olive oil over high heat until very hot. Once hot, add the sliced cheese to the pan. Halloumi may smoke slightly when cooking at high heat, this is normal and not a concern!
Cook halloumi one to two minutes per side until golden brown and delicious! Because of its high melting point, halloumi cheese will hold it's shape and sear beautifully! Enjoy hot or dice and set aside to be used in Halloumi Pasta Salad!
Check out this quick video demonstrating how we pan sear halloumi cheese!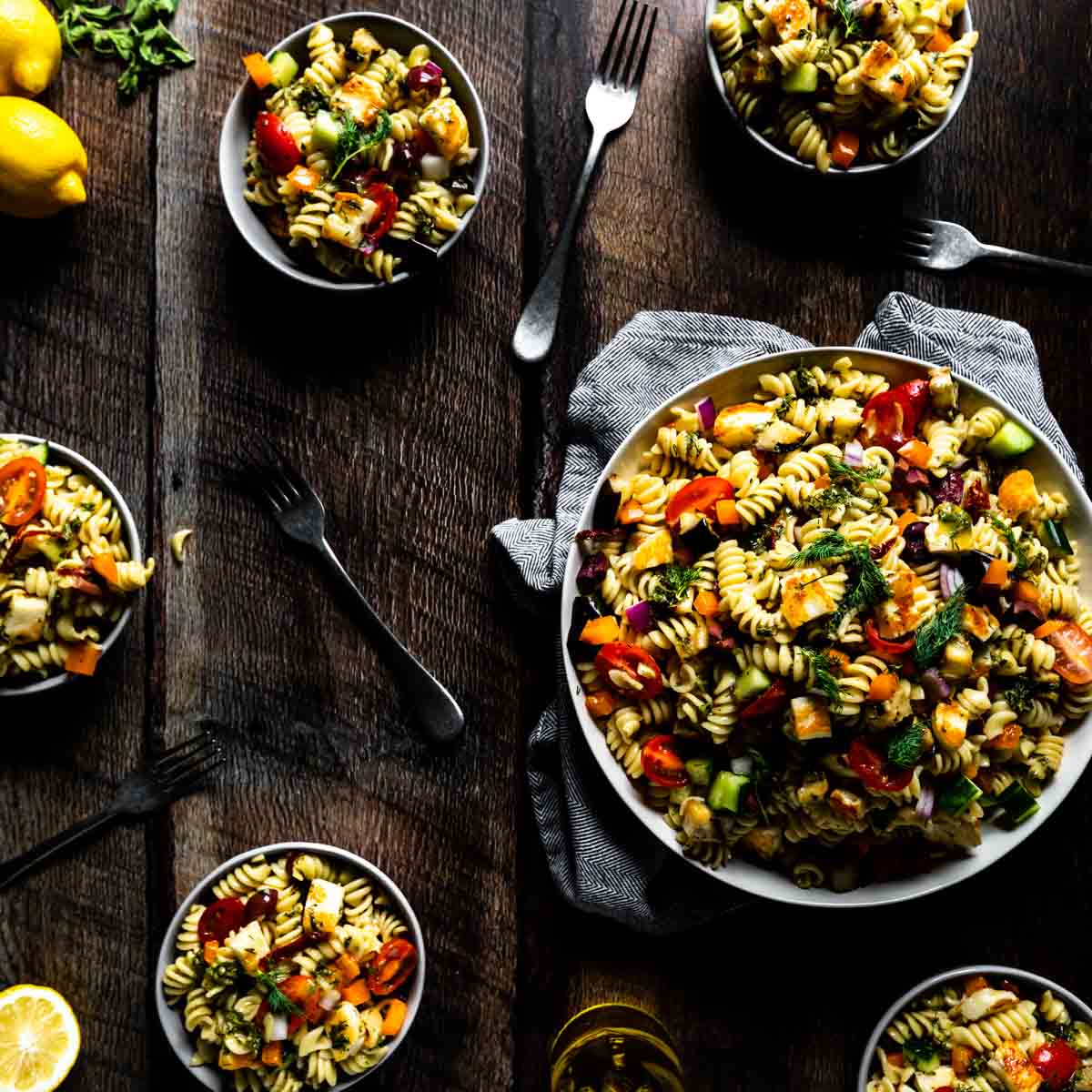 You May Also Like...
Recipe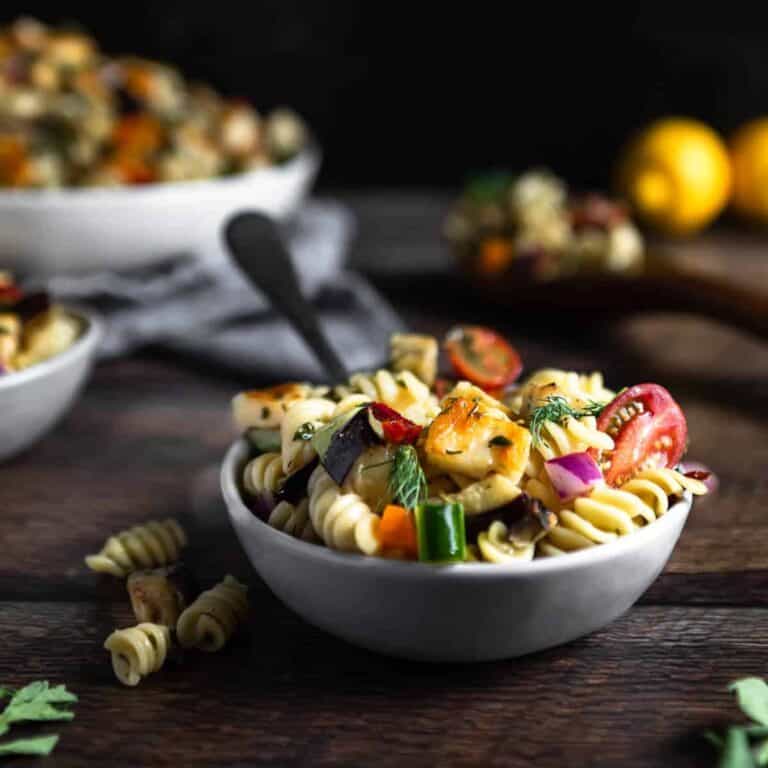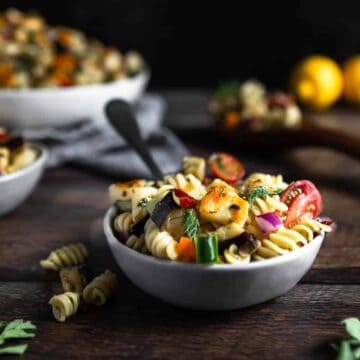 Halloumi Pasta Salad with Greek Herb Vinaigrette
This delicious pasta salad is loaded with fresh veggies, grilled eggplant, olives and pan-seared halloumi cheese dressed in a Greek Herb Vinaigrette! So fresh, so easy and so good! 
ADJUST SERVINGS
Special Equipment
Food Processor

Grill or Grill Pan
Ingredients
Halloumi Pasta Salad
1

pound

dried pasta rotini, farfalle or penne is recommended

1

medium

eggplant

sliced into about ¾ inch (2 centimeter) thick slices

8

ounce package

halloumi cheese

drained and cut into ¼ inch (½ centimeter) thick slices

Olive oil as needed for cooking halloumi and eggplant, about

3 Tablespoons

½

English cucumber or

1

1medium Persian cucumber(s)

medium diced

1

Cup

cherry or grape tomatoes

halved

8

pieces

oil-packed sun-dried tomatoes

thinly sliced

1

medium

yellow or orange bell pepper small diced, (about

1

Cup)

¼

large

red onion small diced, (about

½ Cup

)

1

Cup

Kalamata olives

drained of brine and halved

fine kosher salt*

as needed for cooking eggplant and seasoning to taste

1

recipe

Greek Herb Vinaigrette
Greek Herb Vinaigrette
⅓

Cup

red wine vinegar
Juice and zest of

1 ½

lemons

2

cloves

garlic

1 ½

Tablespoons

honey

⅔

Cup

olive oil

¼

Cup

fresh oregano leaves

¼

Cup

fresh mint leaves

¼

Cup

fresh dill weed
fine kosher salt*

to taste

Freshly ground black pepper

to taste
Instructions
Greek Herb Vinaigrette: See our How To Make Greek Herb Vinaigrette video above for a visual demonstration.
Gather, measure and prepare the Greek Herb Vinaigrette ingredients as listed. To view metric measurements, toggle the US Customary/Metric switch at the top of this recipe card.

In a food processor fitted with the blade attachment, add red wine vinegar, lemon juice, garlic and honey. Set on high speed for about 1 minute, to combine. While continuing on high speed, slowly stream in olive oil. Once combined, continue processing on high speed for 1 minute to emulsify.

Once emulsified, add lemon zest, oregano, mint, dill, salt and pepper. Pulse the food processor 10 - 15 times until herbs are chopped and well distributed. Set Greek Herb Vinaigrette aside. 
Halloumi Pasta Salad
Gather, measure and prepare the Halloumi Pasta Salad ingredients as listed. 

For the pasta, bring a large pot of water to a roaring boil over high heat. Salt the water generously. Cook your pasta according to package instructions or until desired doneness is reached. Drain the pasta in a large colander and immediately rinse with cold water to stop the cooking process and rinse the pasta of any starches. (See Note: a) Transfer pasta to a large mixing bow and set aside.

Meanwhile, grill the eggplant. Preheat the grill over high heat. With a paper towel, pat each slice of eggplant dry and lightly coat with olive oil and a sprinkle of salt. Once preheated, add the slices of eggplant to the grill and cook for about 2 minutes on each side or until eggplant has distinct grill marks and a soft, creamy interior. Allow the grilled eggplant to cool slightly before dicing and adding to the pasta.

Next, pan fry the halloumi cheese. See our How To Pan Fry Halloumi Cheese video above for a visual demonstration. With paper towels, thoroughly dry each slice of halloumi. Meanwhile, in a medium skillet, heat 1 Tablespoon, or so, of olive oil over medium-high heat until shimmering. Add the sliced halloumi to the pan and cook for 1 - 2 minutes per side or until golden brown. Remove the pan-fried halloumi from the pan and dice. Add the halloumi to the pasta.

Add cucumber, tomatoes, sun-dried tomatoes, bell pepper, red onion and Kalamata olives to the pasta. Toss to combine. Once ready to serve, add the Greek Herb Vinaigrette and toss all ingredients to combine. Season with salt and pepper to taste. Enjoy!
Notes
a. When preparing a hot, sauced pasta, we never recommend rinsing after cooking. The pasta starches help the sauce to thicken and stick to the pasta. However, for pasta salad, it is more important to stop the pasta from overcooking. Rinse thoroughly in cold water and toss to allow steam to escape. 
* A Note About Salt
Unless otherwise noted, all recipes on The Sage Apron are developed using Diamond Crystal Kosher salt. It is a great all-purpose salt for cooking and baking. If using table salt, reduce quantities by about half.
Nutrition
Calories:
575
kcal
|
Carbohydrates:
35
g
|
Protein:
15
g
|
Fat:
35
g
|
Saturated Fat:
9
g
|
Polyunsaturated Fat:
3
g
|
Monounsaturated Fat:
21
g
|
Sodium:
1434
mg
|
Potassium:
483
mg
|
Fiber:
7
g
|
Sugar:
11
g
|
Vitamin A:
1334
IU
|
Vitamin C:
42
mg
|
Calcium:
364
mg
|
Iron:
3
mg