Peach panzanella is a vibrant combination of fresh Summer produce. This Tuscan bread salad features olive oil toasted croutons that are tossed with heirloom tomatoes, juicy peaches, raw corn, red onion, garlic and basil. The salad is finished with shavings of Parmesan cheese and tossed in a simple white balsamic vinaigrette.
This panzanella salad has all of the ripe and juicy flavors of a late Summer harvest. For other Summer salads, try our arugula and prosciutto salad or our cherry tomato caprese served with a roasted tomato vinaigrette.
Jump to:
Why You'll Love This Salad
The carbs. I mean this is a bread salad, after all. Those sourdough croutons come in the ideal ratio and are perfect for soaking up all of the delicious flavors.
The easiest. Panzanella is such a quick and easy dish to throw together. If you can toast some bread, you can make this recipe.
Just gorgeous. This salad is a gosh darn showstopper. You and your salad will be the life of the party.
Healthy - Using fresh produce and whole ingredients creates a healthy panzanella that is loaded with feel-good nutrients.
What is Panzanella?
Panzanella is an Italian word that describes a traditional Tuscan peasant dish featuring stale bread mixed with vegetables and served as a salad. A classic panzanella salad generally features cubes of staled bread that are tossed with tomatoes, cucumber, onions, oil and vinegar.
This peach panzanella recipe is a modern take on the Italian classic.
Ingredients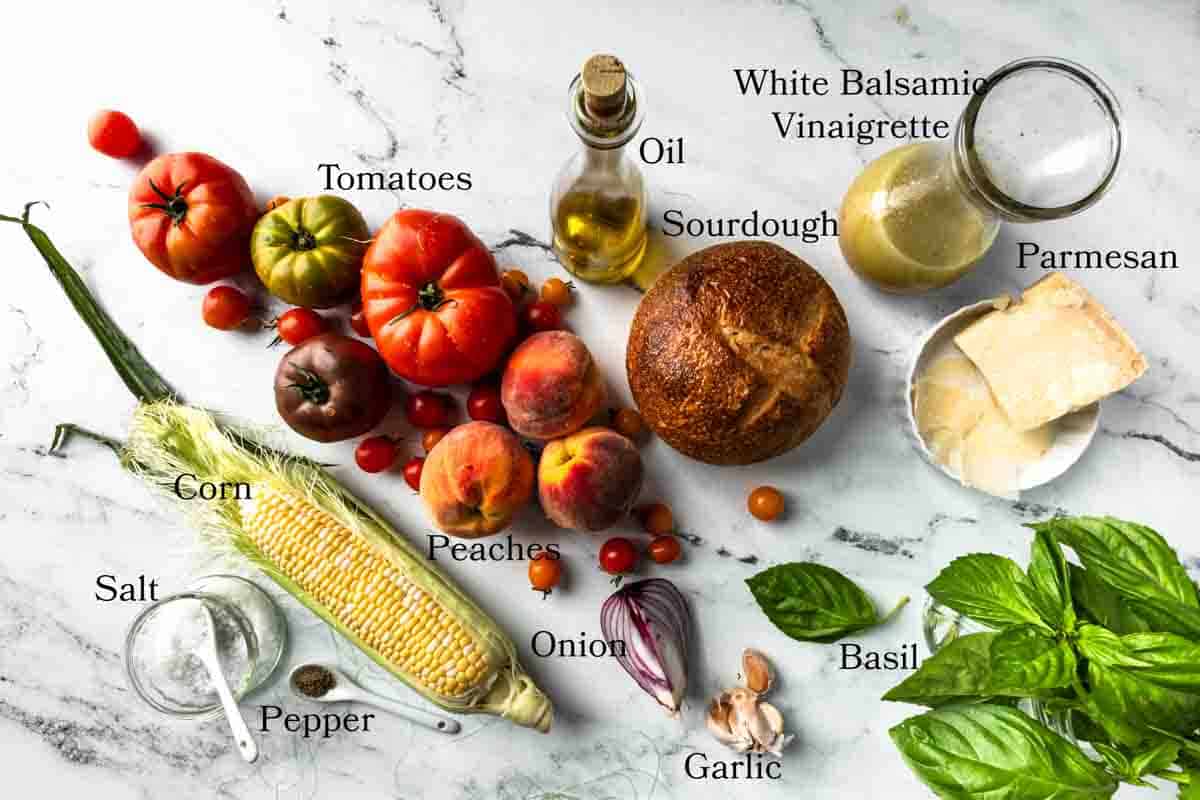 Key Ingredients
Bread - I like to make this recipe with a baby sourdough boule. Other breads like, ciabatta and focaccia work great too. Traditionally panzanella is made with stale bread but since this recipe also calls for toasting the bread, you can use fresh bread or stale bread.
Peaches - Look for the ripest and juiciest peaches you can find! This recipe was inspired by our recent trip to Palisade, Colorado where we found some of the best peaches of our life!
Heirloom tomatoes - I used a few different types of tomatoes and cherry tomatoes for pops of color and variety. Beefsteak or vine tomatoes work well too, but I like the meatier characteristic of heirlooms in this recipe. Anything fresh from the garden will be incredible!
Parmesan - Freshly shaved Parm is the perfect salty accompaniment to these ingredients. For a milder cheese flavor, you could also substitute fresh mozzarella or creamy burrata cheese.
White Balsamic Vinaigrette - We make our own quick and easy dressing for this recipe. It's perfect because it adds just the right amount of sweetness with a tangy finish. We also love how the dressing is lightly colored (as opposed to a traditional balsamic) and keeps the salad looking colorful and vibrant.
How To Make Peach Panzanella
This salad is quick and easy to make. All you need to do is whip up a 2 minute batch of dressing, tear and toast your croutons, and toss everything together with your fresh chopped produce.
White Balsamic Vinaigrette
This dressing recipe is one of our favorite easy go-to's. A half batch of our white balsamic dressing recipe is plenty for this salad but we recommend making a full batch and keeping the rest in the fridge for other salads and veggies.
Dressing Ingredients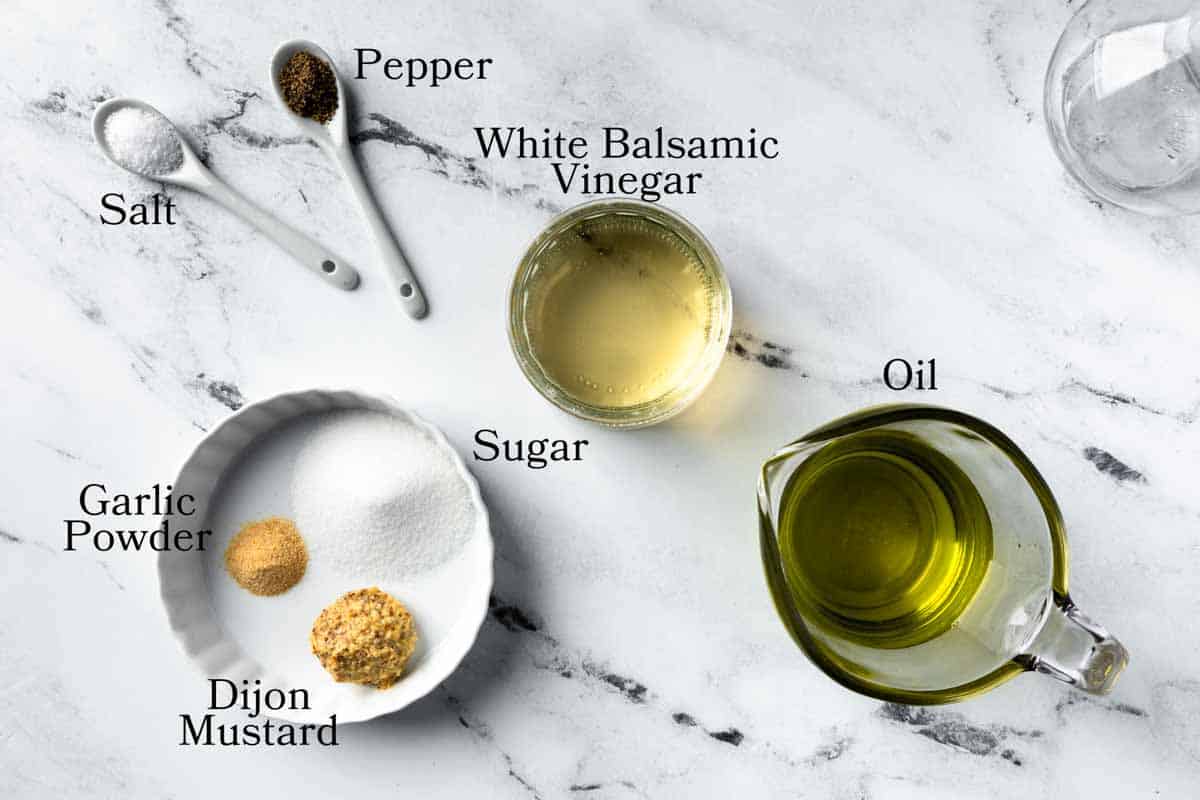 The recipe card includes measurements for a half batch of this dressing, which is plenty for this salad. Check out the entire White Balsamic Vinaigrette post for the full batch, more details and additional serving suggestions.
How To Make The Dressing
In a jar (or small bowl) combine the white balsamic vinegar, Dijon mustard, sugar (or honey), garlic powder, salt and pepper. Blend (or whisk) to combine until cohesive and the sugar has completely dissolved.
While mixing, add a few drops of oil. Continue mixing and slowly streaming in the remaining oil until the ingredients are emulsified and smoothy combined.
Serve immediately of refrigerate in an airtight container for 1 - 2 weeks. The dressing tastes best after having a little time to allow the flavors to meld together.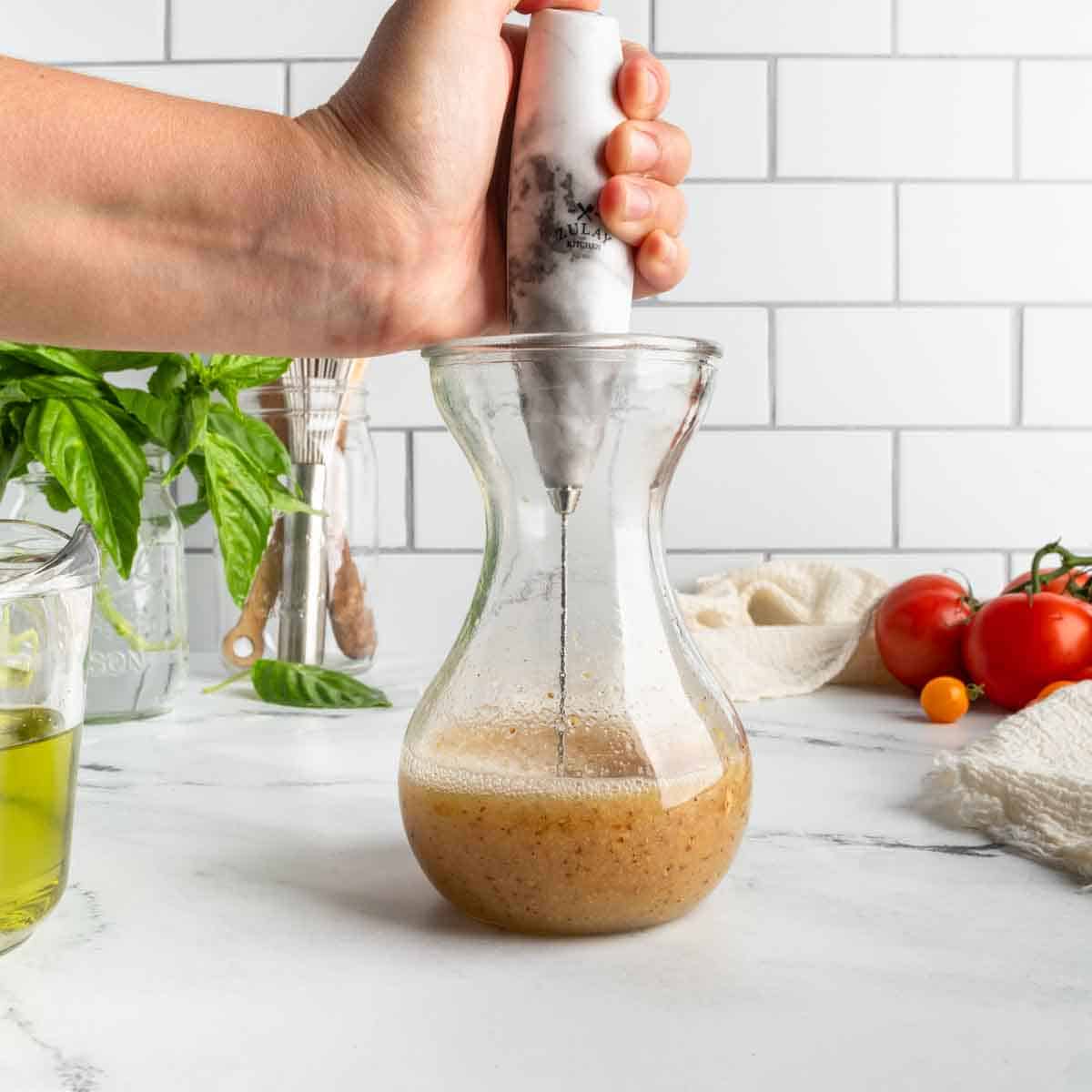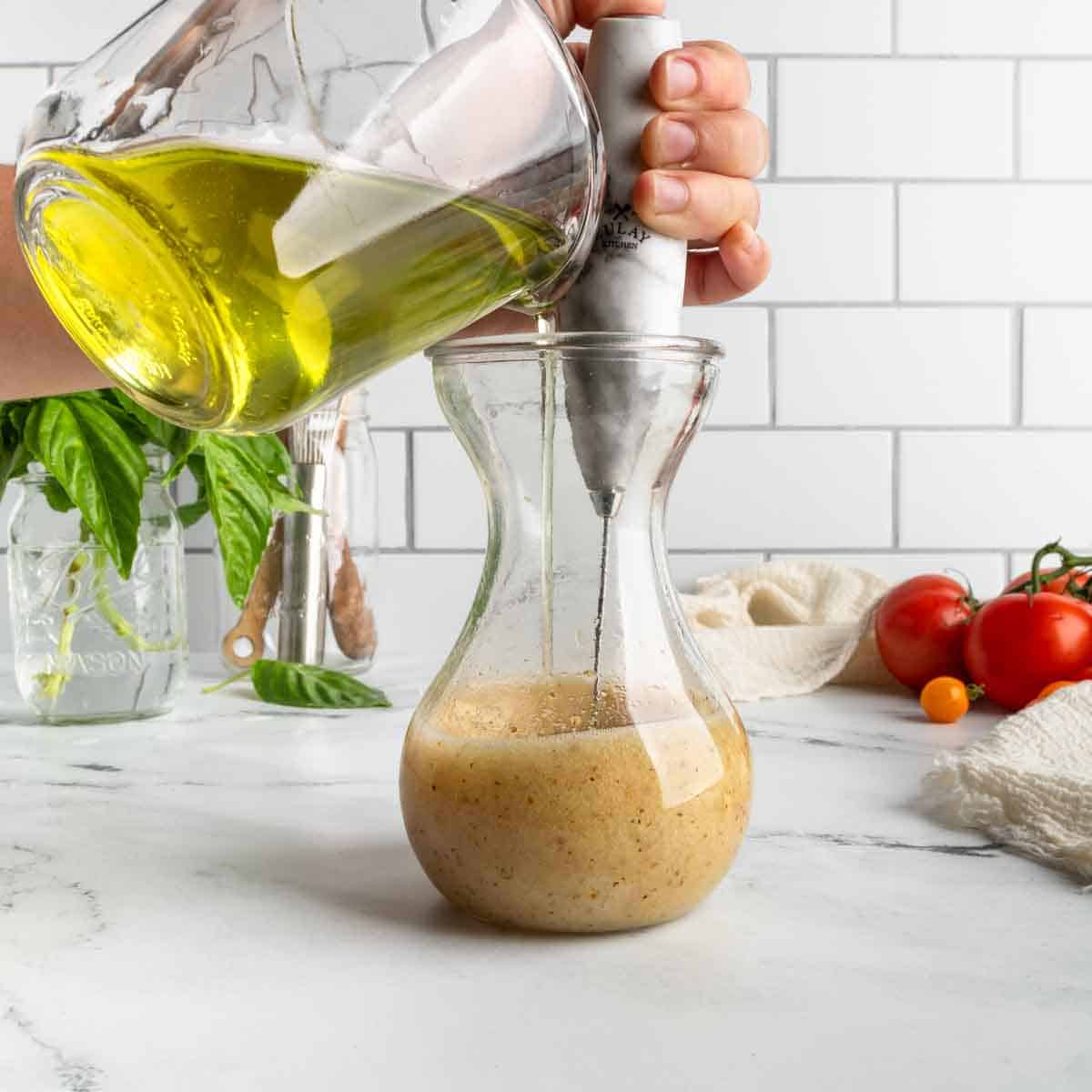 Sourdough Croutons
I love using hand torn croutons for this recipe. You can cube it with a knife if you'd prefer, but tearing the bread makes all these nooks and crannies that crisp up beautifully creating a golden toasted crouton with a superior crunch.
I made this recipe with a 16 ounce loaf of bread - the size of a baby boule from Whole Foods. The salad works well with any artisan style of bread. An Italian loaf, ciabatta or focaccia will all taste great.
Cut or tear your bread into large, 2 inch pieces. Toss the bread in a generous drizzle of olive oil and season with a sprinkle of salt.
Bake at 425° Fahrenheit for 10 - 15 minutes or until the bread is golden brown and crispy. Set aside until ready to assemble the salad.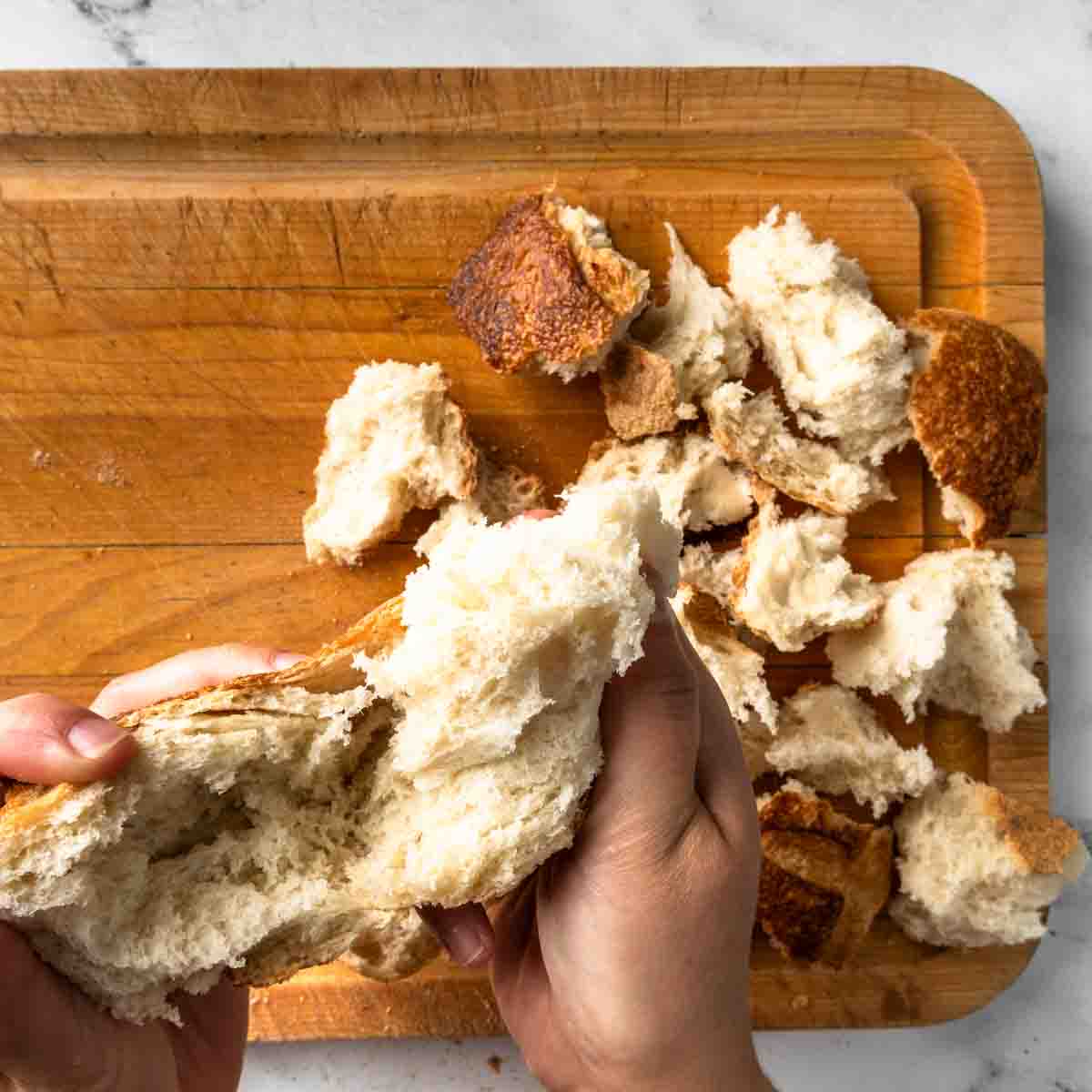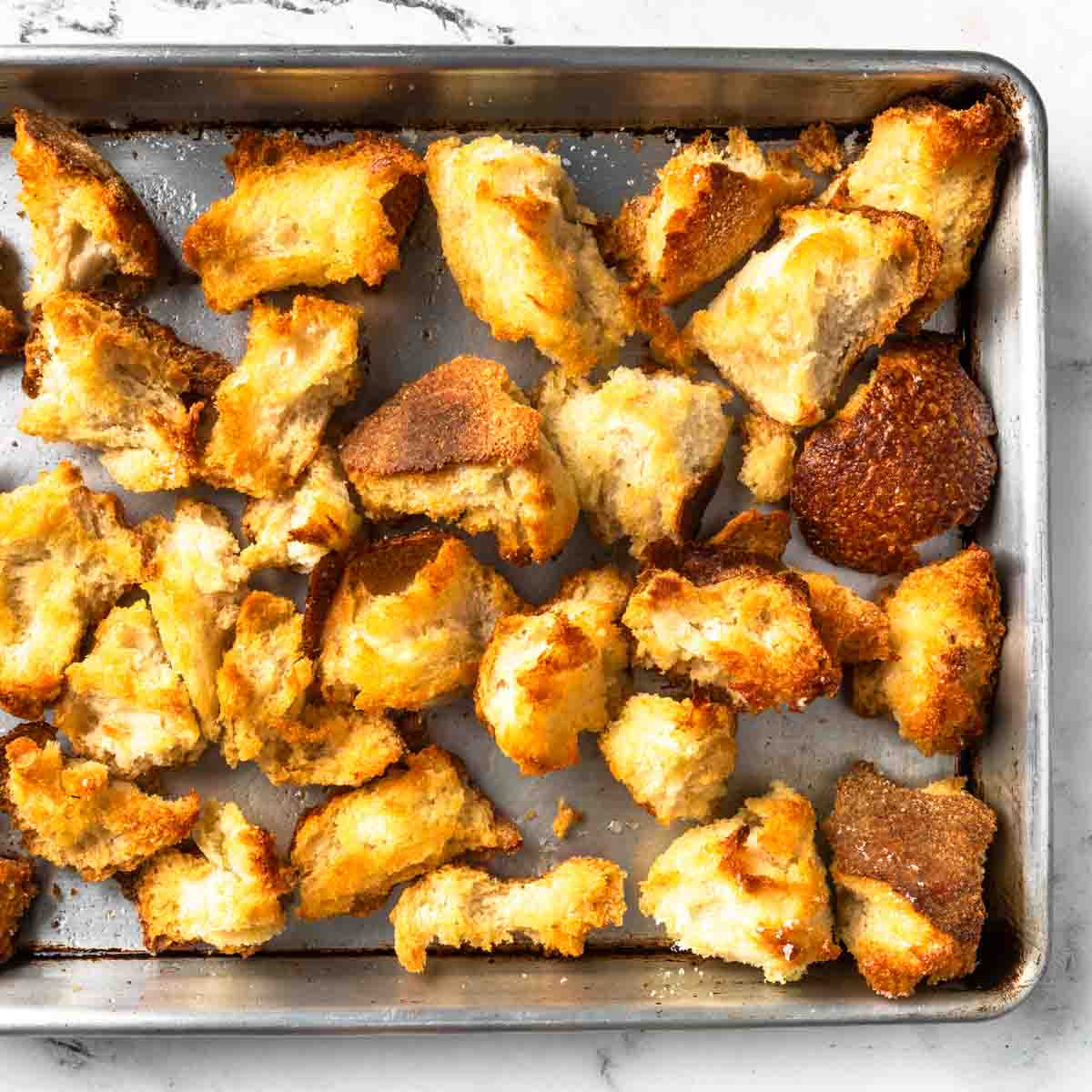 Preparing the Produce
I like to combine all of the produce together, season it well and let it marinate for a while before serving. Occasionally I'll walk by and toss the ingredients, letting the juices marry and the garlic mellow.
Start by washing all of the fresh produce and shucking your corn.
In large bowl, add about half of the white balsamic vinaigrette.
Cut the larger tomatoes into 1 inch pieces. Halve the cherry tomatoes. Add all of the tomatoes and their juices to the bowl with the dressing. Season with a sprinkle of flaky sea salt and black pepper.
Next, prepare your peaches. I like to rub away the fuzz while I'm washing, but leave the skins on. You can peel yours, if you prefer. Slice the peaches and add the slices and juices to the tomatoes. If you'd like, you can reserve a few slices of peaches to fan on top for a pretty presentation.
Cut the corn off the cob and add that to the salad, as well. I like to lay the corn flat on my cutting board and cut the kernels off as closely to the cob as possible. This way, some stick together and make for a pretty cluster of kernels. Cut a few thin slices of red onion and add that in, too.
Finely mince a clove or two of garlic. Add it to the bowl and thoroughly toss everything together. Add additional white balsamic vinaigrette, flaky salt and black pepper, to taste. Set aside to marinade together until ready to serve and assemble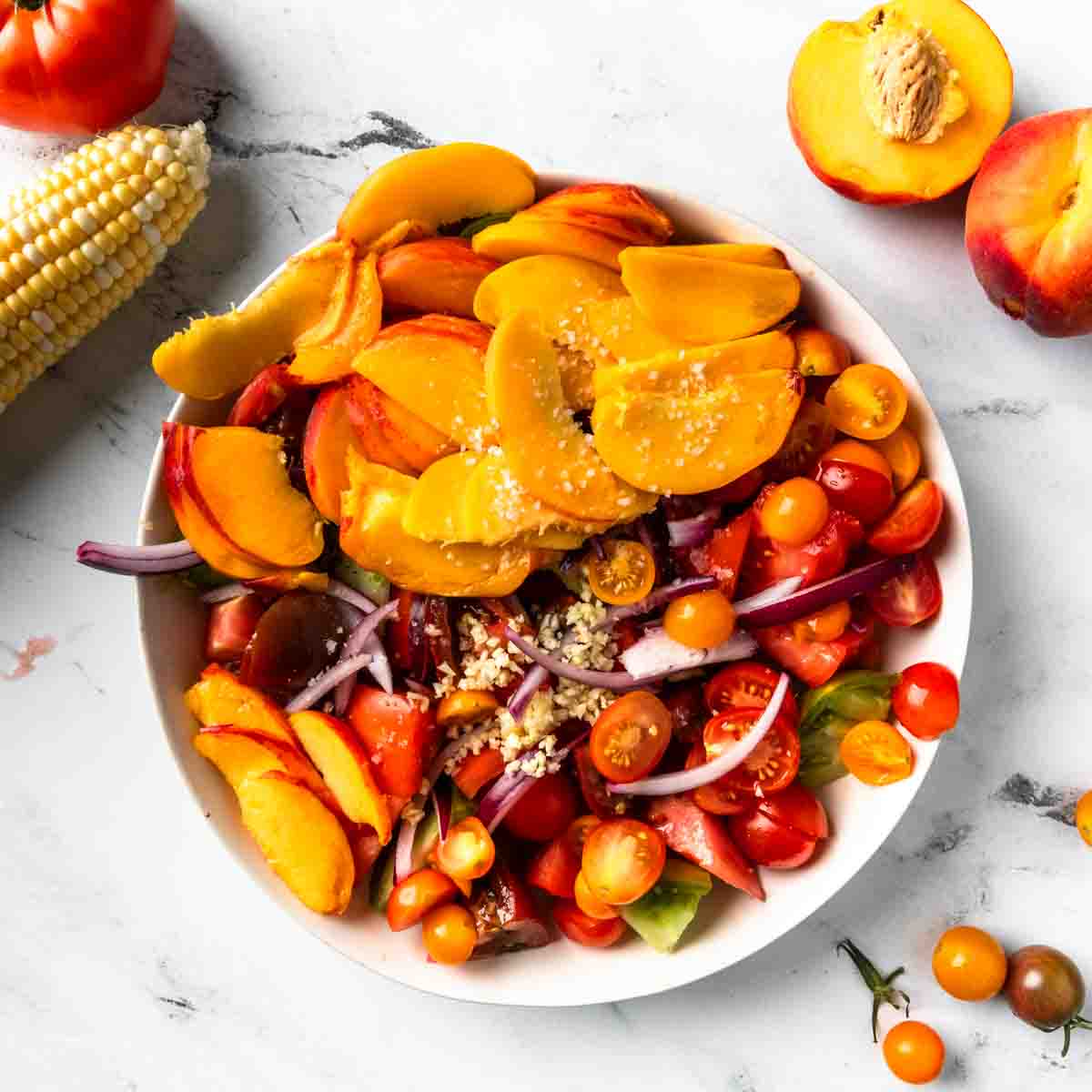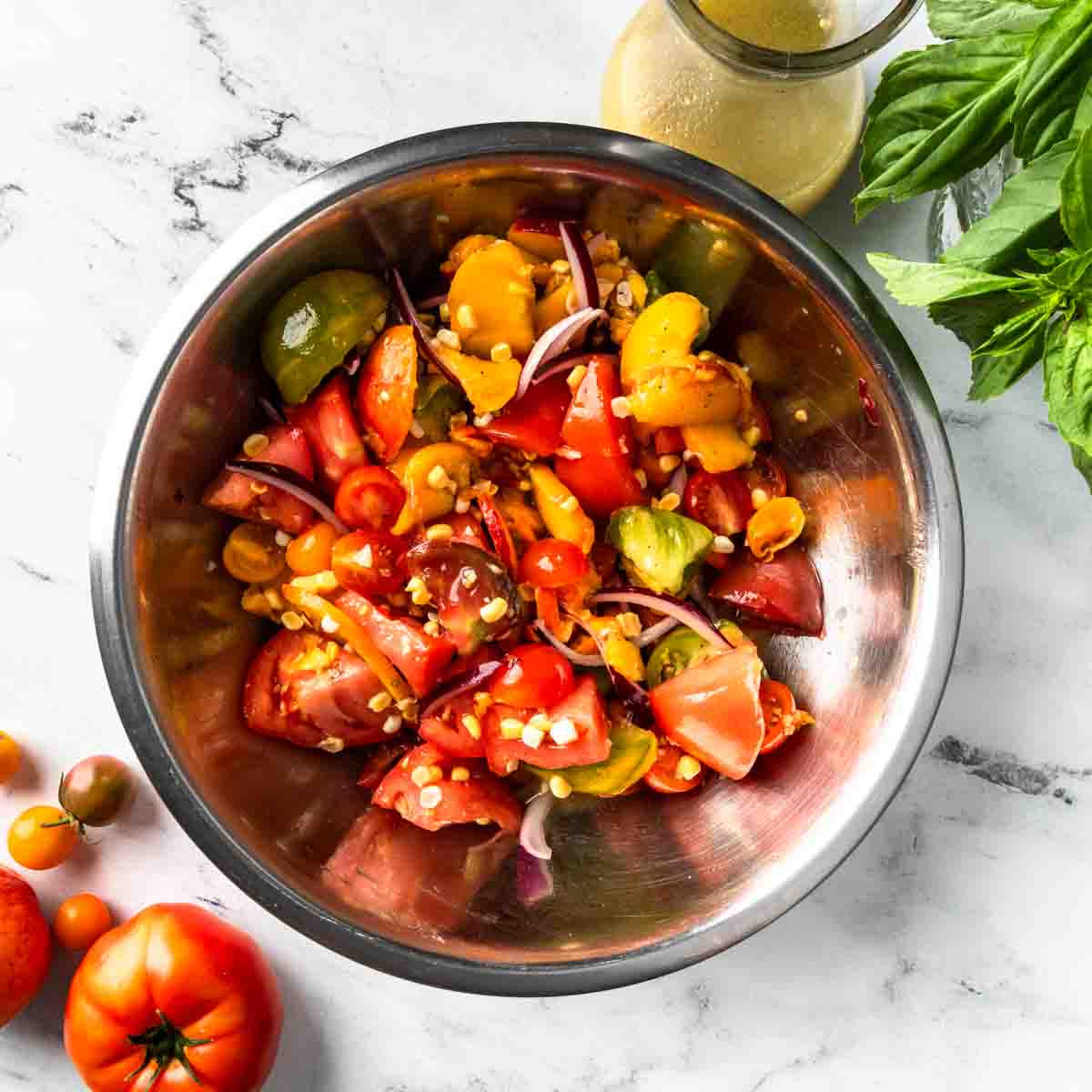 Pro Tip: Reviving Wilted Basil - If your basil looks a bit sad and limp, don't worry! To crisp the basil start by trimming the stem ends. Then, submerge the greens in an ice water bath for 15 - 30 minutes. During that time the leaves will perk up and become crisp.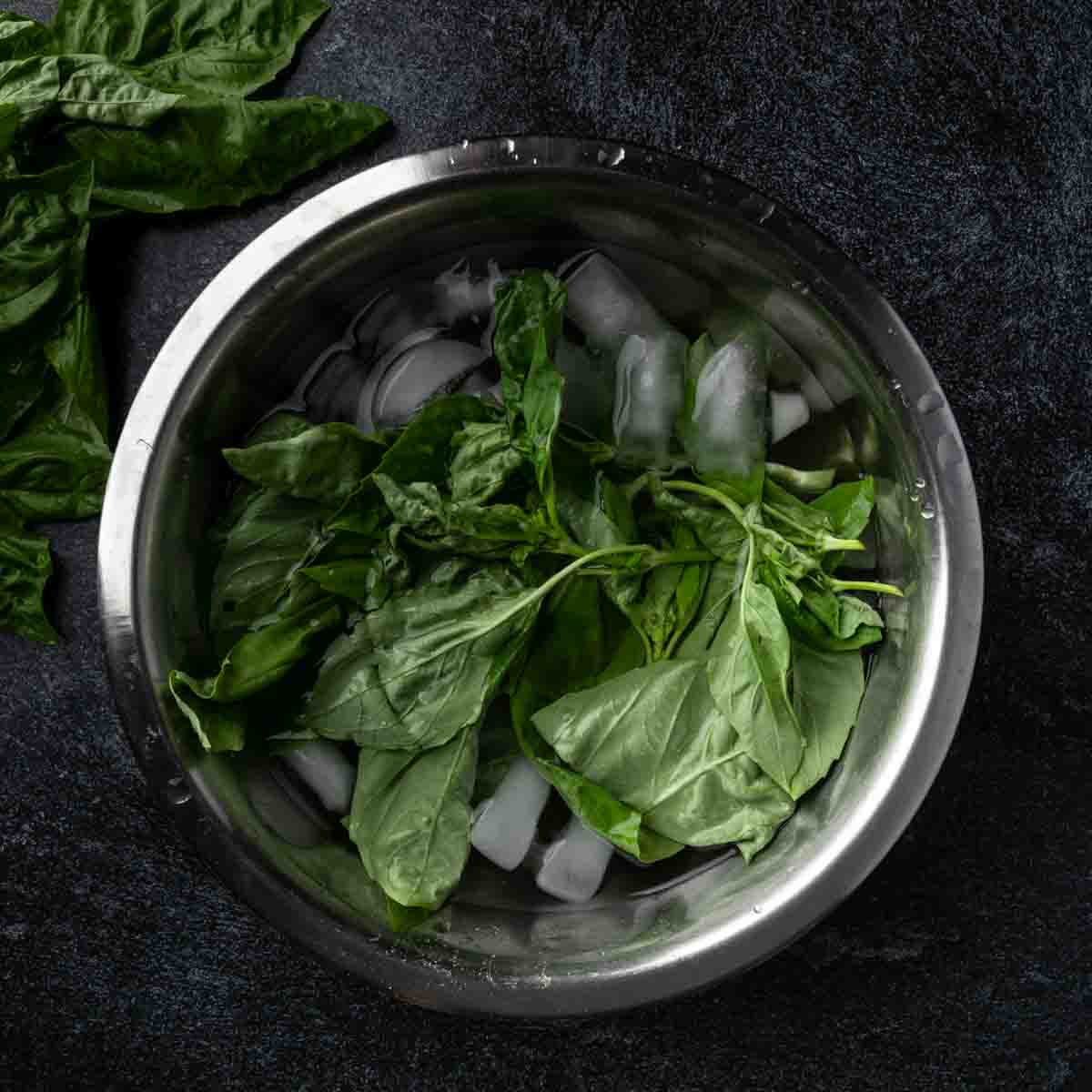 Assembling & Serving
The dressing, croutons and the marinated produce for this recipe can all be made ahead of time. However, I recommend waiting to assemble this salad until 10 - 30 minutes before it will be eaten. This timing allows for the best texture with bread that has had some time to soften and begin absorbing the flavors but has not become overly soggy.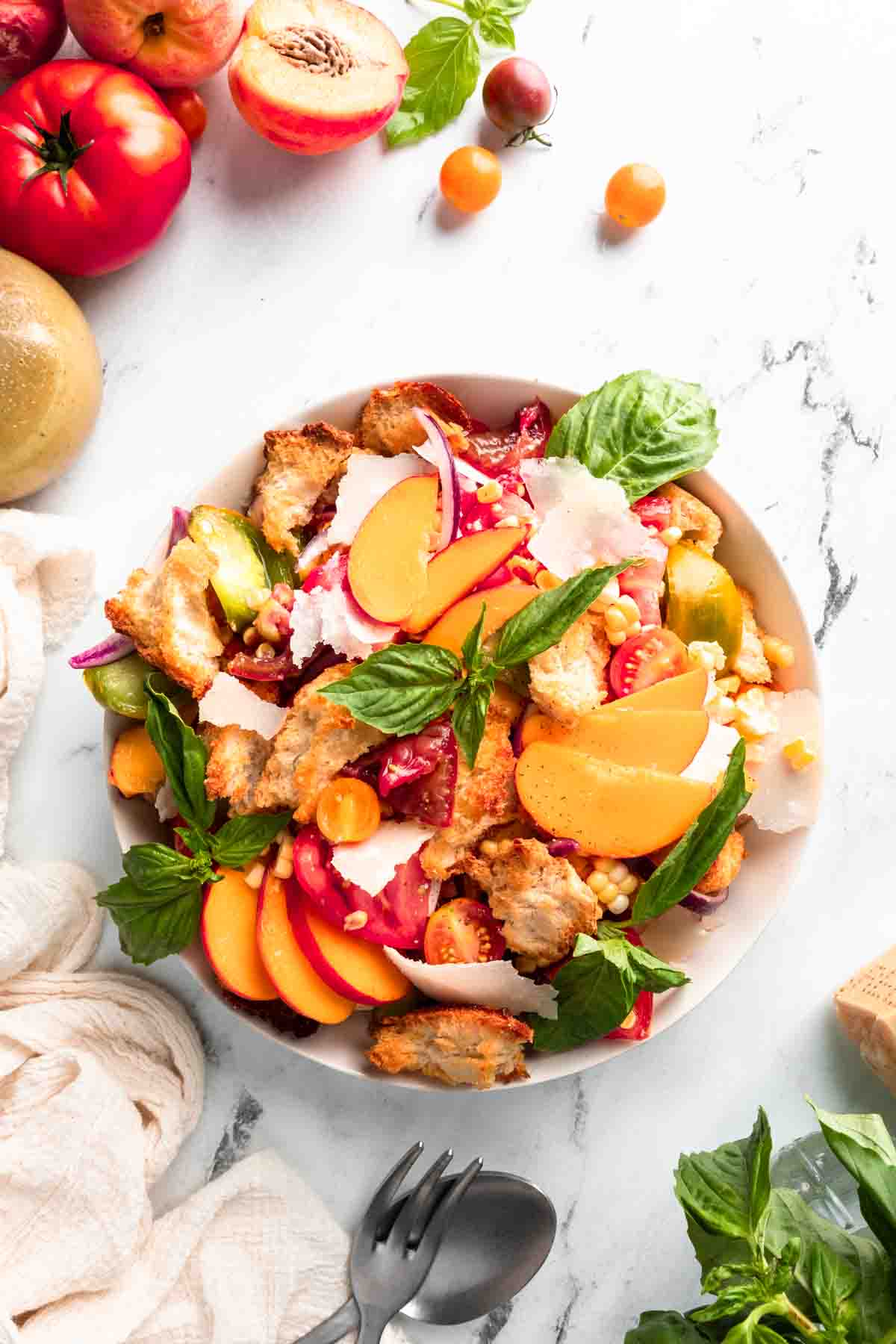 When ready to serve, add the bread and shaved Parmesan to the marinating produce. Toss everything together, including all of the accumulated juices. To serve, top with some additional peach slices, if using. Finish with a sprinkle of fresh ground pepper and lots of fresh basil leaves.
Perfect Pairings & Serving Suggestions
Panzanella salad makes for a perfect meal or appetizer on a hot Summer night. I also love to bring it to cookouts and potlucks as it tends to be an inviting crowd pleaser.
For a full meal, this salad is great with simple grilled proteins. I love it beside our grilled honey balsamic chicken for a light meal or as a refreshing side dish to a perfectly grilled ribeye steak.
This dish is also lovely with a crisp glass of rose wine or alongside a refreshing cocktail like our peach daiquiris or spicy watermelon margaritas.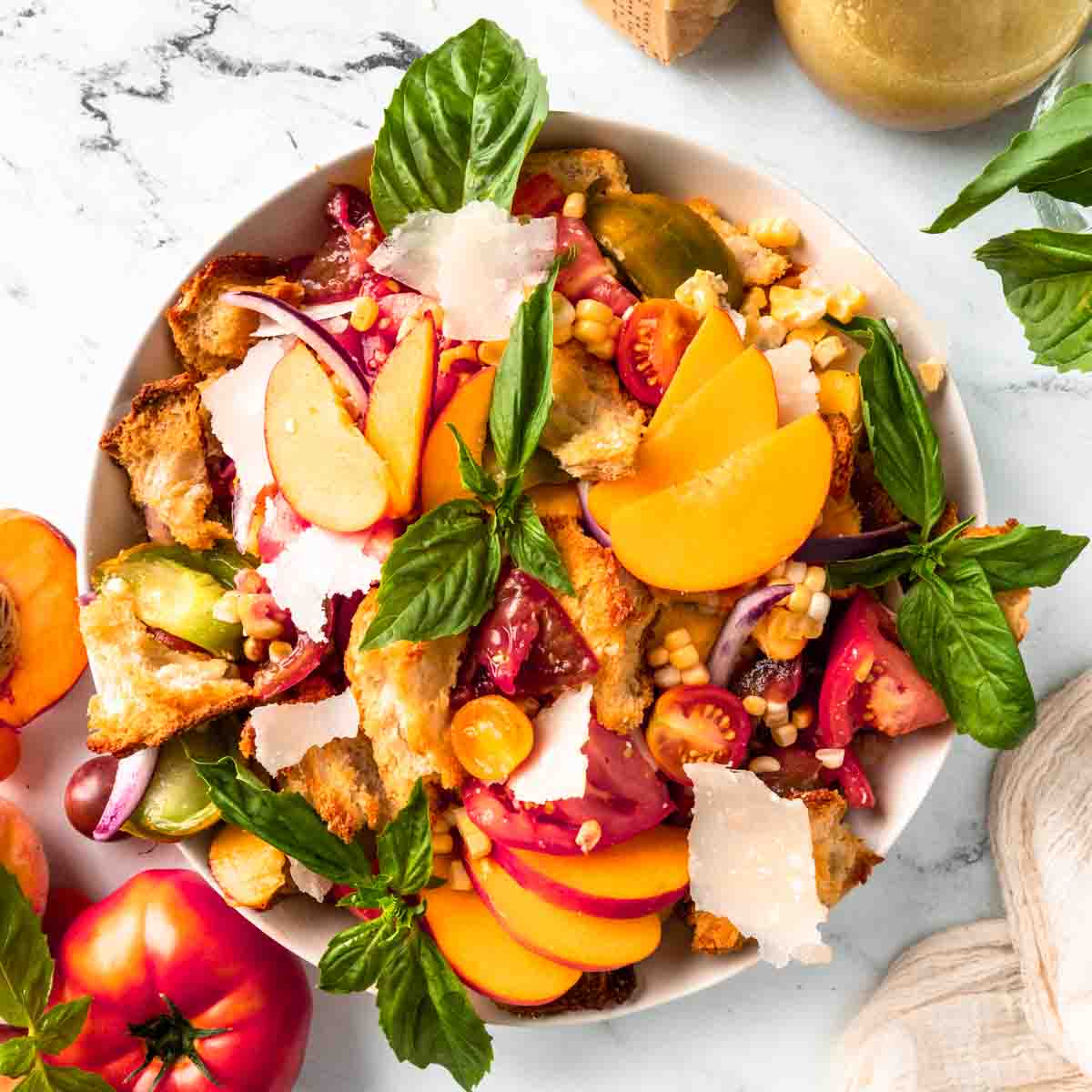 Saving & Storing
This salad is safe to eat after being refrigerated for 3 - 5 days. However, if I am anticipating leftovers, I will refrigerate the marinating produce and store the croutons separately, in a ziplock bag, to avoid sogginess.
Frequently Asked Questions
What is panzanella?
Panzanella is an Italian bread salad that is usually made from stale bread, tomatoes, cucumbers, onions, oil and vinegar.
Is panzanella vegan?
Peach panzanella can be prepared vegan with the simple omission of Parmesan cheese.
You May Also Like...
Recipe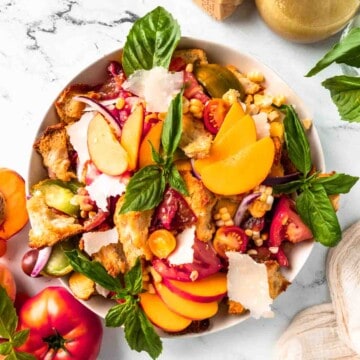 Peach Panzanella Salad
This salad is bursting with the fresh flavors of ripe Summer produce and the toasty crunch of olive oil toasted croutons.
ADJUST SERVINGS
Special Equipment
Electric whisk or Immersion blender

(Optional, for making the dressing)
Ingredients
Peach Panzanella
3

medium

peaches

sliced

2 - 3

heirloom tomatoes

cut into 1 inch cubes

1

handful

cherry tomatoes

halved

1

ear

corn

cut off the cob

¼

medium

red onion

sliced

1 - 2

cloves

garlic

finely minced

flaky sea salt

such as Malden or Fleur de Sel, to taste

Freshly-ground black pepper

to taste

1

baby sourdough boule (

16 ounce

)

OR other artisan bread, torn into 2 inch pieces

2

Tablespoons

olive oil

2

ounces

Parmesan cheese

shaved

fine kosher salt*

to taste

1

handful

fresh basil
White Balsamic Vinaigrette
¼

Cup

white balsamic vinegar

1

Tablespoon

granulated sugar

OR honey

½

Tablespoon

Dijon mustard

¼

teaspoon

garlic powder

½

teaspoon

fine kosher salt*
Freshly-ground black pepper

to taste

⅓

Cup

grape seed oil

OR avocado oil OR olive oil
Instructions
Peach Panzanella
Preheat the oven to 425° Fahrenheit. Meanwhile, prepare the produce.

In a large bowl, combine peaches, heirloom tomatoes, cherry tomatoes (and all of their juices), corn, red onion, and garlic. Season to taste with flaky sea salt and black pepper. Add in about half of the white balsamic vinaigrette and toss to combine. Set aside to marinade for 30 minutes, or until ready to assemble and serve.

On a cooking sheet, combine sourdough bread pieces with olive oil. Toss until the bread is completely coated. Season with a sprinkle of salt. Bake for 10 - 15 minutes or until the bread is toasted golden and crispy. Set aside to cool.

When ready to serve combine the toasted bread and shaved Parmesan with the salad ingredients. Toss to combine and allow the bread to soak up some of the flavorful juices. Adjust seasoning with salt, pepper and remaining vinaigrette as desired. Garnish with lots of fresh basil. Enjoy!
White Balsamic Vinaigrette
In a jar (or bowl) combine the white balsamic vinegar, sugar, mustard, garlic powder, salt and pepper. Blend (or whisk) to combine until the mixture is cohesive and the sugar has fully dissolved.

While mixing, add in 1 - 2 drops of oil. Then, while continuously mixing, slowly stream in the remaining oil until the dressing is smooth and fully emulsified. Use immediately or store in the refrigerator for up to 1 - 2 weeks.
* A Note About Salt
Unless otherwise noted, all recipes on The Sage Apron are developed using Diamond Crystal Kosher salt. It is a great all-purpose salt for cooking and baking. If using table salt, reduce quantities by about half.
Nutrition
Calories:
320
kcal
|
Carbohydrates:
35
g
|
Protein:
9
g
|
Fat:
16
g
|
Saturated Fat:
3
g
|
Polyunsaturated Fat:
7
g
|
Monounsaturated Fat:
5
g
|
Cholesterol:
5
mg
|
Sodium:
618
mg
|
Potassium:
191
mg
|
Fiber:
2
g
|
Sugar:
7
g
|
Vitamin A:
385
IU
|
Vitamin C:
7
mg
|
Calcium:
123
mg
|
Iron:
3
mg