This fig and balsamic vinaigrette is a delicious dressing for all types of salads. This quick recipe is sweet and savory with a creamy mouthfeel and a zippy finish.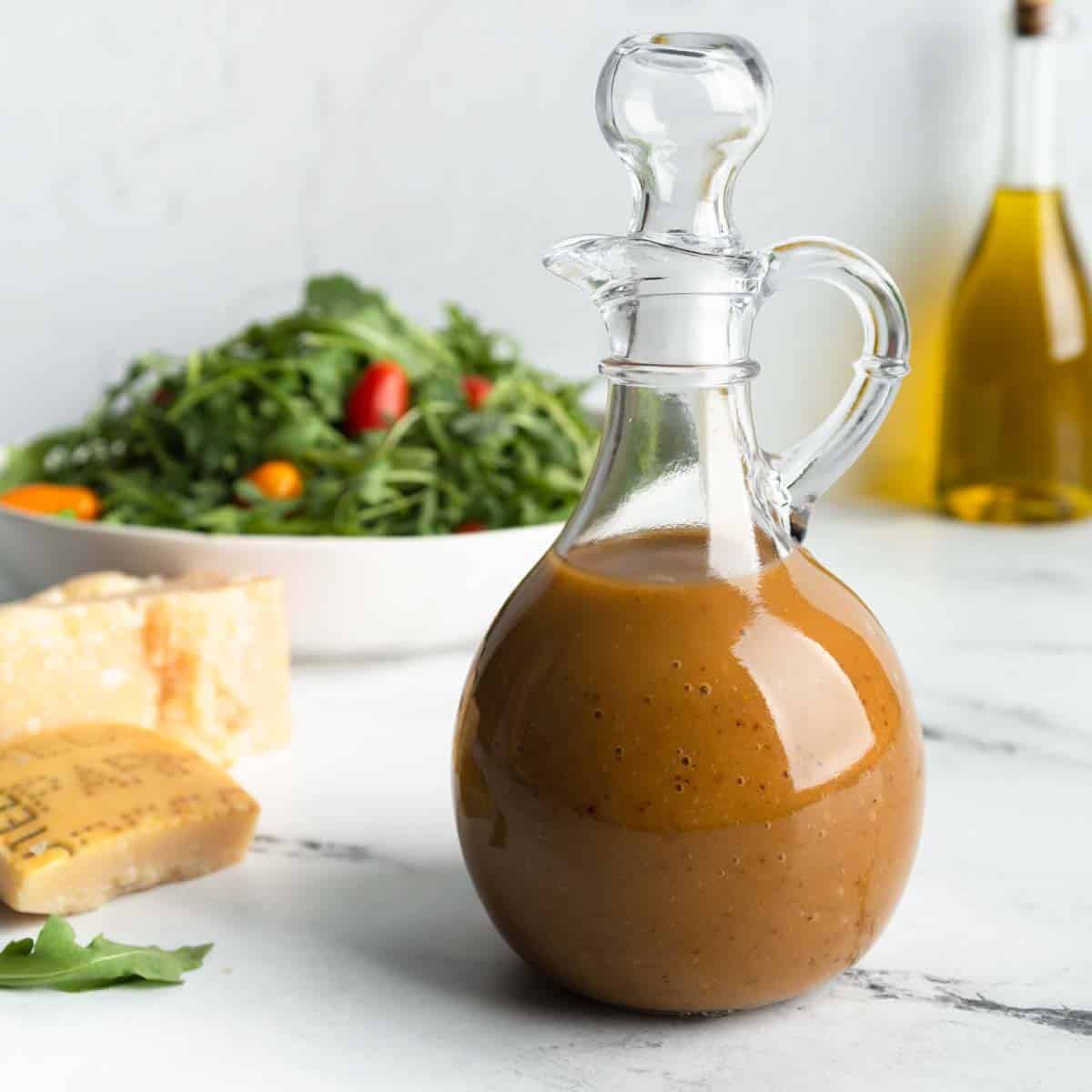 This dressing is part of our delicious Arugula and Prosciutto Salad recipe! For an easy, lighter dressing recipe, try our simple White Balsamic Vinaigrette.
Ingredients
Fig and balsamic vinaigrette requires just a few, simple ingredients. Here's what you'll need: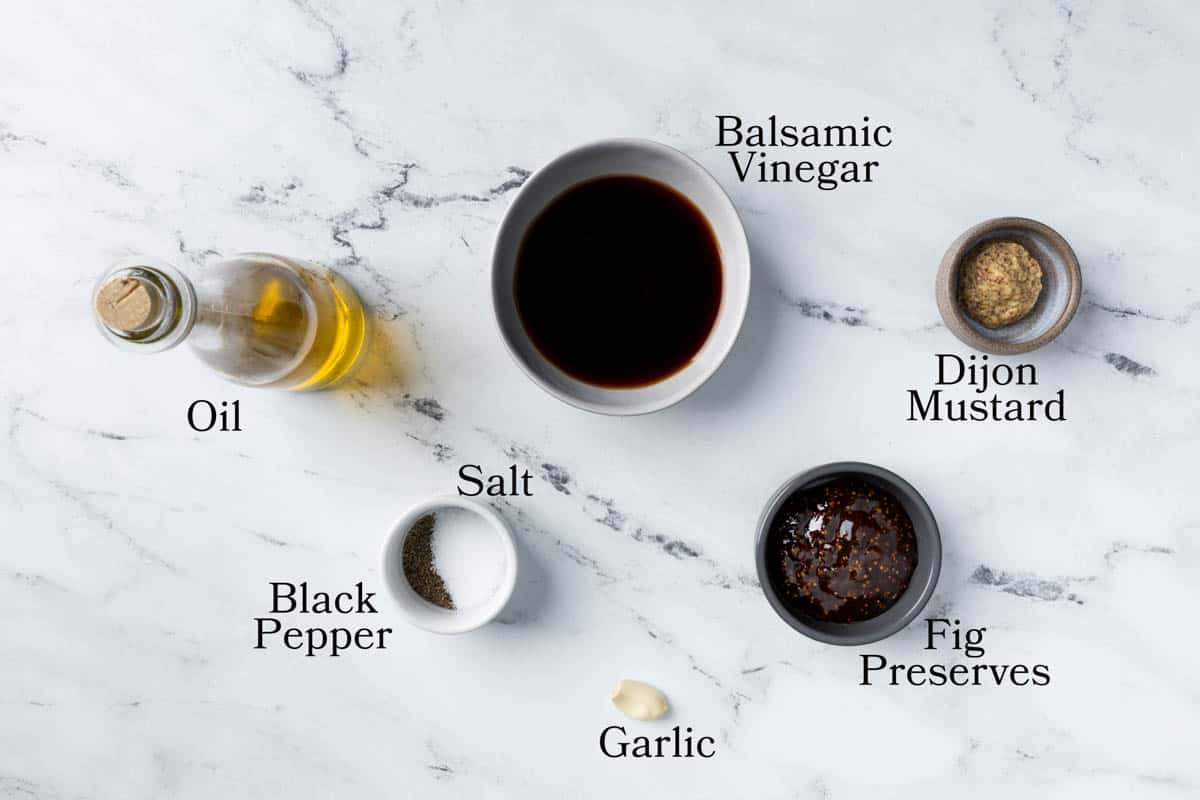 Choosing The Best Balsamic
We recommend investing in a high quality balsamic vinegar, whenever possible. Look for a balsamic vinegar that is labeled from originating from Modena, Italy. These vinegars will be labeled Balsamic Vinegar of Modena IGP.
In general, always try to avoid balsamic vinegars that have additives such as sugar, caramel coloring or flavorings. These inexpensive vinegars are typically watered down and are highly astringent.
For more information regarding purchasing quality balsamic, check out this great How to Buy Balsamic Vinegar article from Eataly Magazine.
How To Make This Recipe
Making homemade fig and balsamic dressing is super simple! I like to emulsify my dressings. Properly emulsifying the oil and other ingredients creates a creamy textured dressing that does not separate.
I like to make my vinaigrettes in a jar with an immersion blender. It makes the process super quick. Of course, you can also make this recipe with a whisk and few minutes of determination.
Chef's Note: Does Blending Olive Oil Make it Bitter? - You may have heard that blending olive oil at high speed will make it unpleasantly bitter. It is true that certain olive oils may release a bitter flavor when blended. However, it is most prevalent in freshly-pressed olive oil that contains high levels of phenols.

Personally, I have never found much of a flavor difference when blending the olive oils that I use. If you are worried about possible bitterness, I recommend hand whisking or substituting a different oil, like grape seed oil.
Step By Step
1. First, combine balsamic vinegar, fig preserves, Dijon mustard, garlic and salt and pepper. If you are whisking by hand, finely mince or grate the garlic. Otherwise, you can leave the clove whole.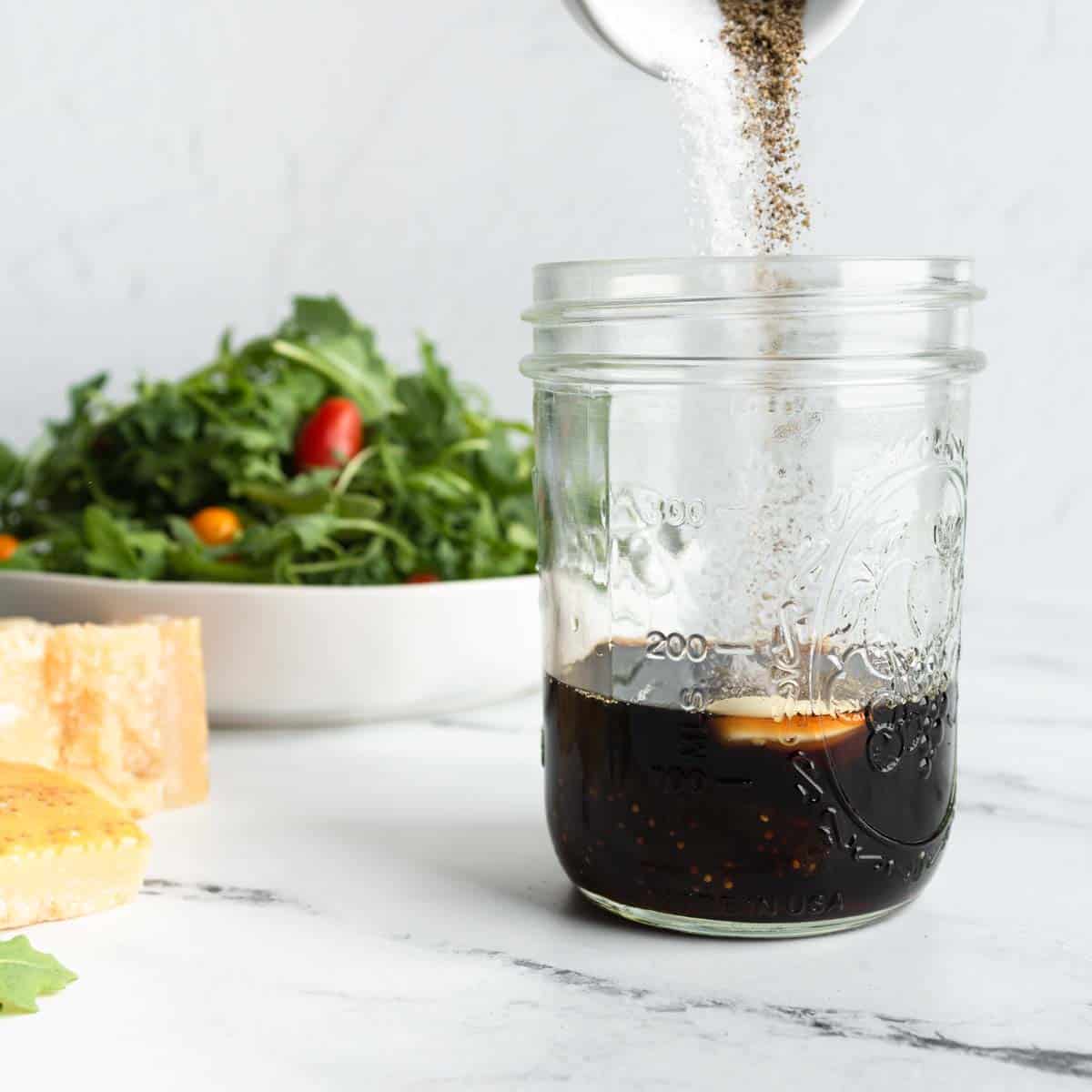 2. Then, whisk or blend to combine. If blending, process until the garlic clove is pureed throughout.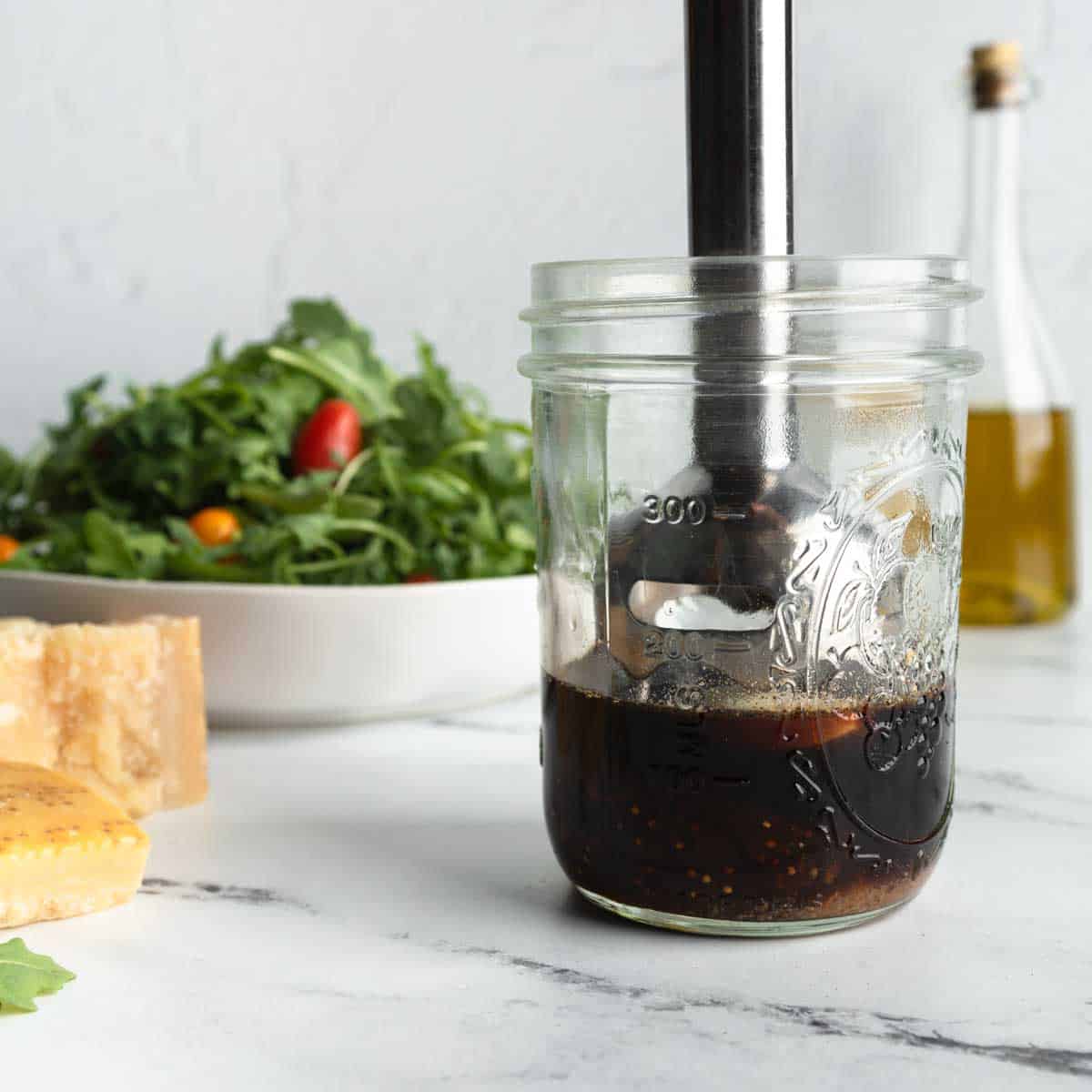 3. Next, SLOWLY start adding the oil while blending (or whisking) constantly. Start by adding just a few drops. Then, continue to slowly stream in the oil. The whole process should take 3 - 5 minutes with constant blending/whisking. The fig and balsamic vinaigrette will come together into a thick, viscous dressing. Adjust seasoning, as desired.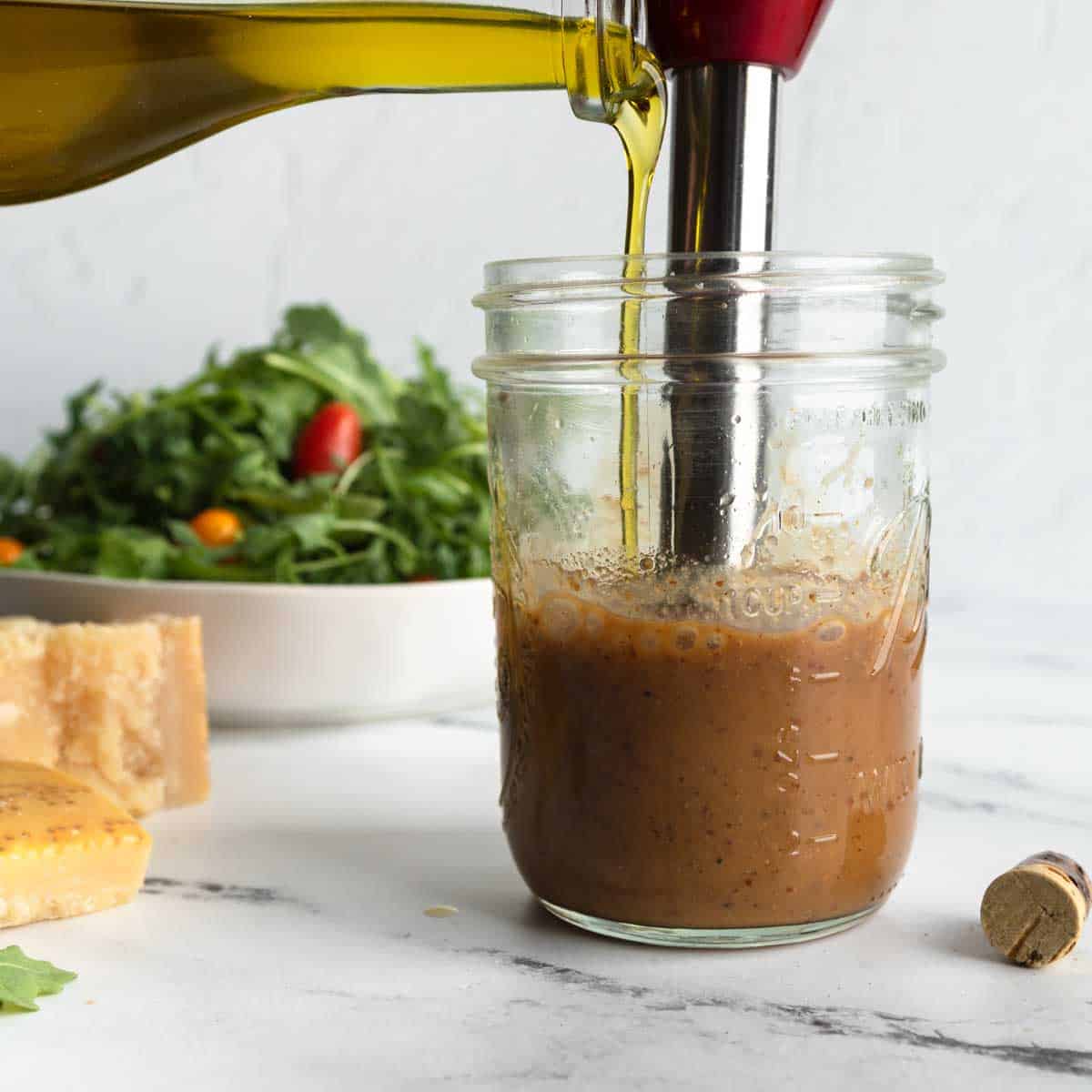 Pro Tip: Mixing Oil and Water
Everyone knows oil and water don't mix, BUT they can be combined through a process called emulsification.
Emulsification is a simple chemistry process. An emulsifying ingredient attaches to both oil particles AND water particles. In this process, the oil particles are broken into teeny tiny droplets and then suspended in water (or water-based ingredients, like vinegar).
Emulsifying ingredients are food products that have water-friendly molecule AND an oil-friendly molecule. Common emulsifying ingredients are eggs, honey, garlic paste and mustard.
The 3 KEYS to Emulsification (like mayonnaise, hollandaise, aioli or salad dressing)...
Use an emulsifying ingredient.
Add the oil slowly! Start by adding just a couple drops of oil. Then, slowly whisk in a thin stream of the remaining oil.
Whisk or blend constantly. The oil needs to be consistently agitated when being added to the mixture.
What If My Dressing Separates?
Over time, your fig and balsamic vinaigrette may separate. Don't worry, it can be saved! Transfer a small amount of the dressing to a new jar or bowl. Whisk (or blend) until the small amount of dressing is cohesive again
Then, slowly stream the remaining dressing in while continuing to whisk (or blend). Basically, treat the rest of the dressing as if it were all oil. After a few minutes of slow streaming and constant agitating, your vinaigrette should come together again.
Saving & Storing Leftover Vinaigrette
Fig and balsamic vinaigrette can be made ahead of time and saved for later! Store leftover dressing in an airtight container in the refrigerator for up to two weeks. Allow to come to room temperature before serving.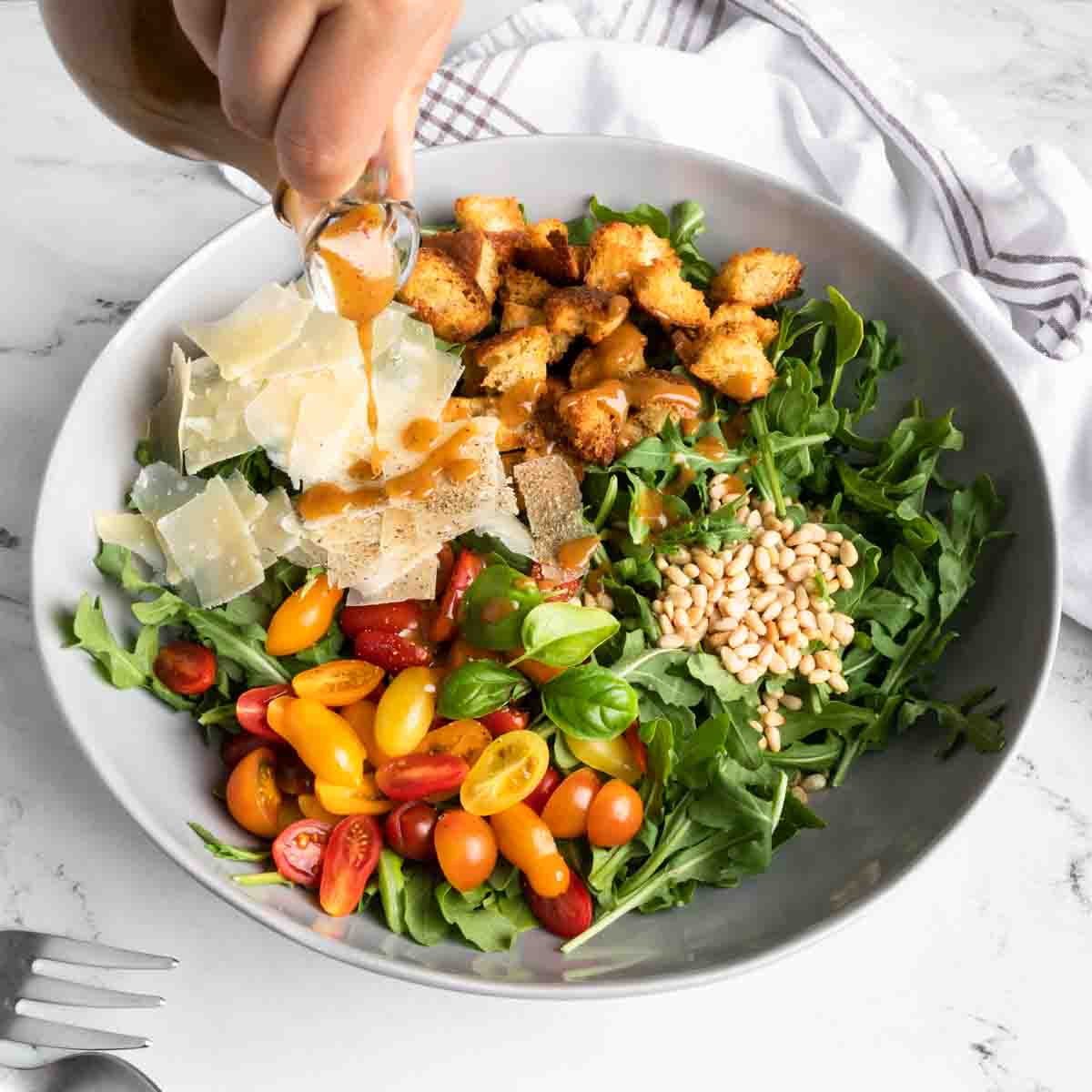 Serving Suggestions
This is my go-to dressing for so many different salads. I just love the sweet and tangy combo of fig jam and balsamic vinegar. Here are a few ways I love to use this vinaigrette:
Green Salads - Try it with our recipe for our Arugula and Prosciutto Salad Recipe, for a simple side of greens or any leafy salad needing a tangy vin.
Marinades - This dressing make a great marinade for proteins. Try using it for grilled chicken, pork, or a nice flank steak.
Bruschetta & Caprese - This fig and balsamic dressing is a great compliment for tomatoes and basil.
Pasta Salad - Use this recipe instead of mayonnaise for a chilled, Italian style pasta salad.
Sandwiches - This oil and vinegar based dressing is delicious on sandwiches too! I would use this dressing on cold cut Italian subs or paninis with mozzarella and roasted red peppers.
Recipe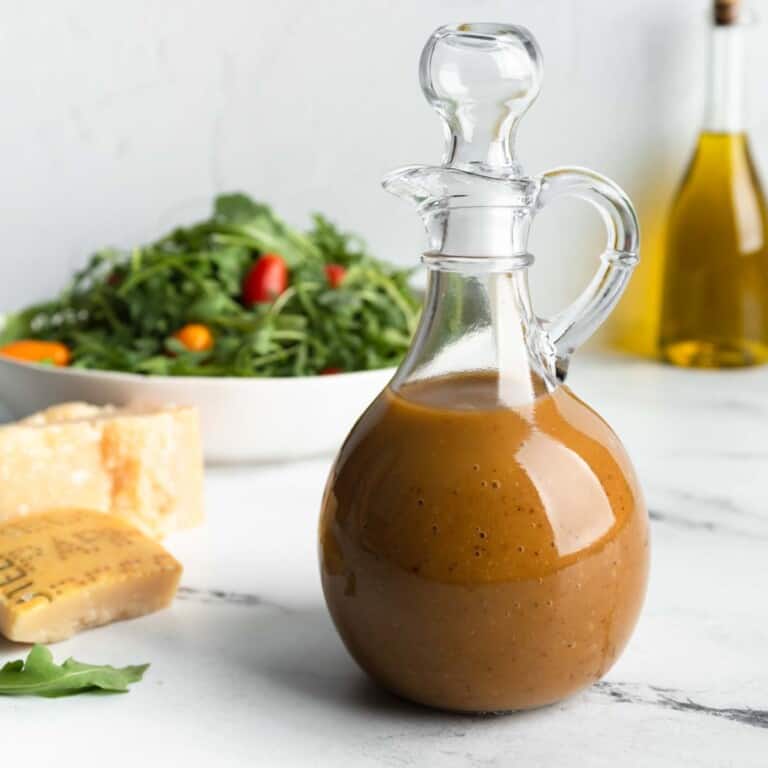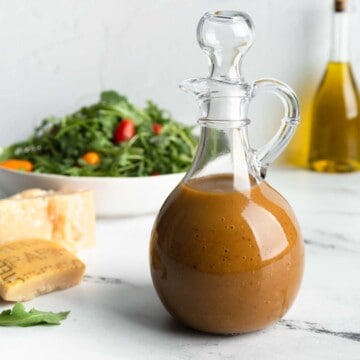 Fig and Balsamic Vinaigrette
This sweet and tangy emulsion is the perfect creamy dressing for salads, sandwiches or marinades!
ADJUST SERVINGS
Special Equipment
1 Immersion Blender

((Optional))
Ingredients
½

Cup

balsamic vinegar preferably of Modena

2½

Tablespoons

fig preserves

1

Tablespoon

Dijon mustard

1

clove

garlic

finely minced if hand-whisking

1

teaspoon

fine kosher salt*

½

teaspoon

Freshly-ground black pepper

⅔

Cup

olive oil
Instructions
In a jar (or bowl) add balsamic vinegar, fig preserves, Dijon mustard, garlic, salt and black pepper. Combine with an immersion blender (or whisk).

Add a few drops of olive oil while blending (or whisking). Continue to slowly stream oil into the mixture while constantly blending (or whisking vigorously). Continue until all oil is incorporated and the dressing is thick and emulsified. Adjust seasonings to taste.

Serve immediately or store in the refrigerator for up to 2 weeks.
* A Note About Salt
Unless otherwise noted, all recipes on The Sage Apron are developed using Diamond Crystal Kosher salt. It is a great all-purpose salt for cooking and baking. If using table salt, reduce quantities by about half.
Nutrition
Calories:
185
kcal
|
Carbohydrates:
5
g
|
Protein:
1
g
|
Fat:
18
g
|
Saturated Fat:
3
g
|
Polyunsaturated Fat:
2
g
|
Monounsaturated Fat:
13
g
|
Sodium:
320
mg
|
Potassium:
22
mg
|
Fiber:
1
g
|
Sugar:
4
g
|
Vitamin A:
2
IU
|
Vitamin C:
1
mg
|
Calcium:
7
mg
|
Iron:
1
mg