This Golden Beet Salad is bursting with bold flavor and vibrant colors. It's the perfect way to enjoy beets throughout the seasons.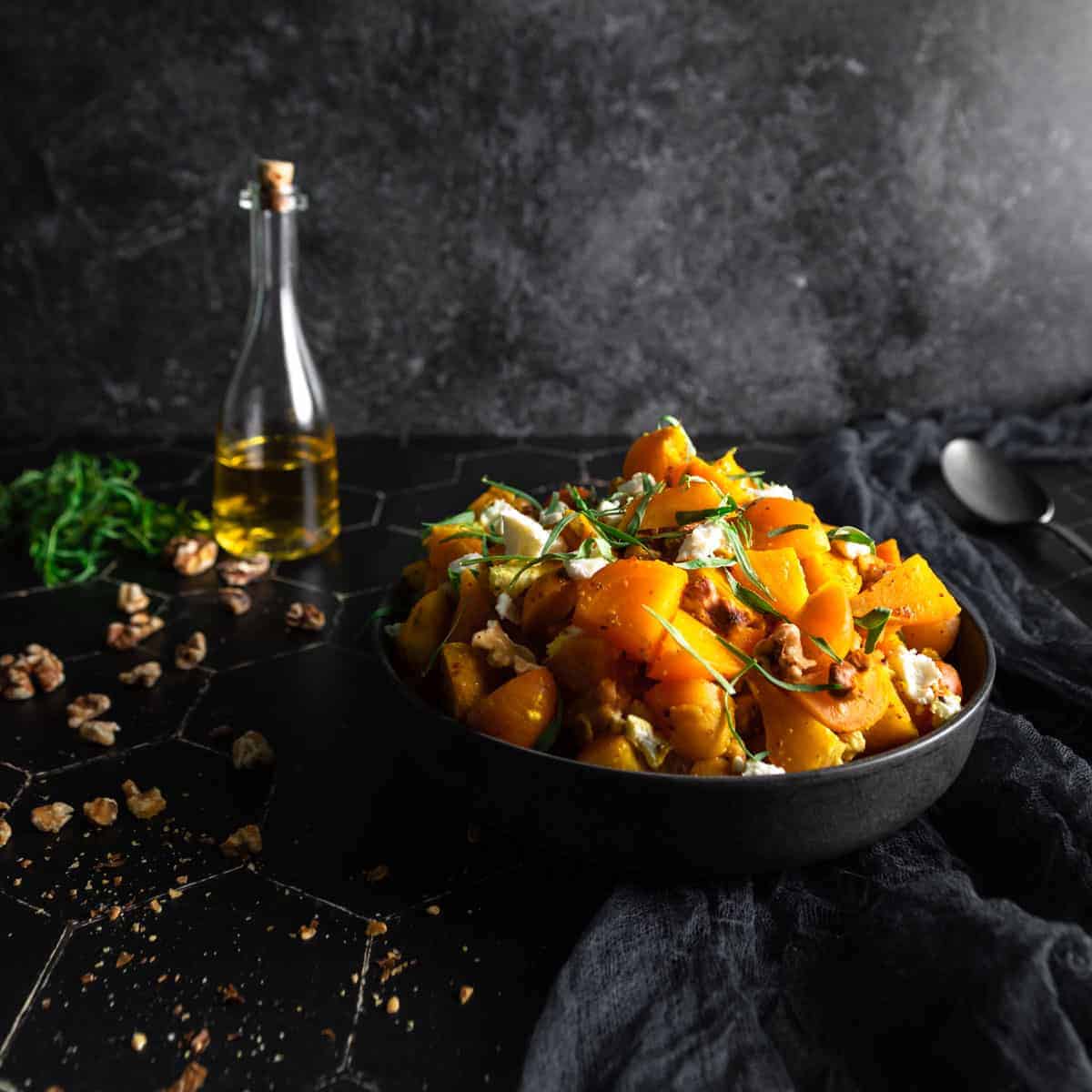 This recipe features beets that have been roasted, and are then marinated in orange juice and white balsamic vinegar. The marinated golden beets are tossed with golden raisins, toasted walnuts, goat cheese and finished with fresh tarragon and a drizzle of walnut oil. It's a delicious salad recipe that's perfect for a special gathering, as an appetizer, Thanksgiving side dish or dinner tonight!
In my house, we love roasting the beets as a side dish, serving them in salads and even adding them to fresh-pressed juices, from time to time. We like to eat them all year round, but in the Fall and warmer months - we're drawn to the golden beets. Something about the vibrant color of yellow beets mimicking the golden sun and changing leaves is just so beautiful. Needless to say, when I saw these golden beets at the local farmer's market - I couldn't help myself from dreaming up this delicious salad.
Jump to:
Ingredients
This Golden Beet Salad Recipe requires only a handful of ingredients.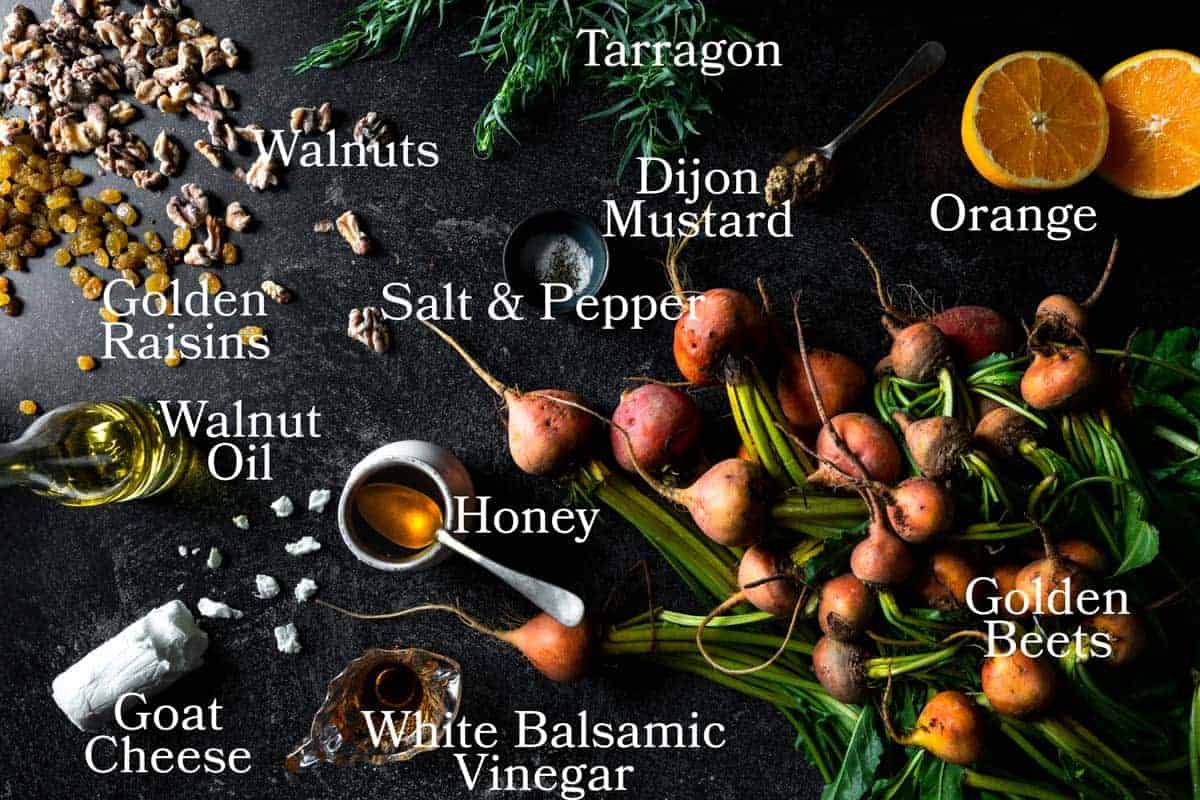 Golden Beets: Aside from being downright delicious, beets are a tremendous source of nutrients and offer several health benefits. Golden beets also offer high levels of Vitamin C and Vitamin A. If you would like, you can also make this salad with traditional red beets. All types of beets are great sources of fiber, beneficial to skin health and help lower blood pressure. A healthy and tasty win:win!
Walnut Oil: We love the nutty flavor of walnut oil for this recipe. Walnut oil has great flavor that compliments the beets so nicely. However, if you don't have any walnut oil, you can go ahead and substitute a good quality extra virgin olive oil, instead.
Golden Raisins: Sometimes called 'Sultana' raisins, these raisins are sweeter and juicier than regular raisins. For this recipe, we plump the golden raisins in the vinaigrette while the beets are marinating.
Goat Cheese: We like to crumble a few ounces of goat cheese into this salad for a little creamy tang. You can omit the cheese for a vegan salad or substitute blue cheese or feta cheese for a slightly different flavor.
How to Roast & Peel Beets
Firstly, you will need to roast and peel the golden beets for this salad. Roasted beets develop a rich, concentrated flavor that we much prefer to boiled beets. To roast and peel your beets, follow this simple procedure:
Preheat the oven to 400° Fahrenheit (205° celsius).
Then, prepare the beets for roasting. Start by scrubbing the beets clean under running cold water. If you are lucky enough to have fresh beets with the beet greens still attached, remove them with a sharp knife and reserve for another recipe! (We love this fellow blogger's recipe for Zero Waste Garden Scraps Pesto). Leave a small amount (about ½ inch or centimeter) of the green tops still attached to the beets. If you have very large golden beets, halve them lengthwise before roasting. 
Next, either place beets in a lidded baking dish or enclose them in an aluminum foil pouch on a foil-lined baking sheet. Enclosing the beets helps to capture steam that will keep the beets moist and tender throughout the roasting process.
Roast beets until fork tender and the middle of each beet is easily pierced with a paring knife. Depending on the size of your beets, they will need to roast for about 30 - 60 minutes.
Once roasted, remove the lid of the baking dish or carefully vent the foil packet. Be cautious, the escaping steam will be very hot. Allow the beets to cool until easily handled.
Once cooled enough to handle, it is time to remove the skins. Place each beet in a paper towel (beware, while not as territorial as red beets, golden beets will still stain your kitchen towel!). Use the towel to gently rub the skins off of the beets. The beet skins should remove easily, but use a vegetable peeler, if needed. See how simple it is in this quick video:
Golden Days: Marinating the Beets & Raisins
Marinating the beets is an easy way to add layers of bright flavor to this Golden Beet Salad recipe. Once the beets are roasted and peeled, dice them in bite-sized pieces and transfer to a large bowl. Season the diced beets with a little sea or kosher salt and black pepper. Then, toss the beets in freshly-squeezed orange juice, orange zest, dijon mustard, honey, white balsamic vinegar and golden raisins.
Golden raisins can be found right next to the regular raisins in most grocery stores. They tend to be a little sweeter and retain more moisture than regular raisins. To help coax the golden raisins into their full-potential-deliciousness, we add them directly to the marinade.
Allow the beets and raisins to soak up the flavor, tossing occasionally, for at least thirty minutes, or up to several hours ahead of serving. This marinating process makes this recipe such a great salad. For the best results, be sure not to add the other ingredients (especially the oil!) until after the marinating process.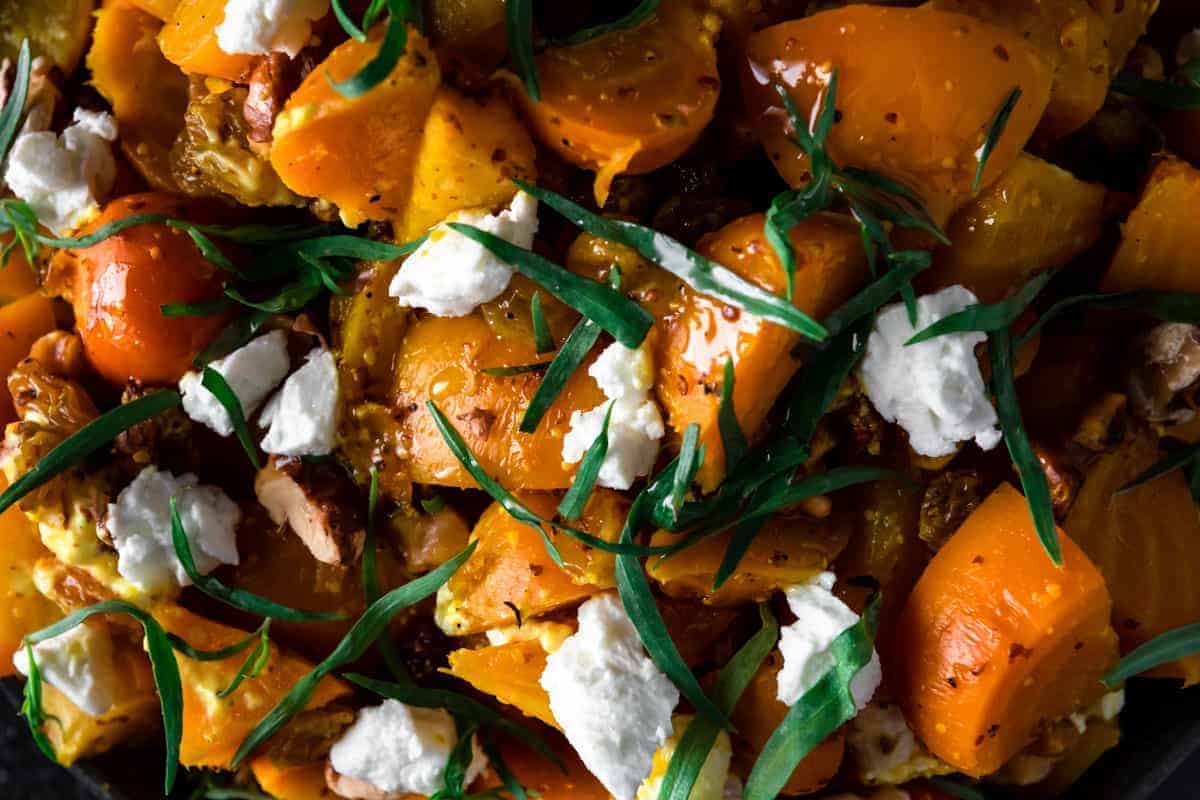 Finishing Touches
When ready to serve, finish this Golden Beet Salad by tossing the marinated beets and raisins with crumbled goat cheese and crunchy, toasted walnuts. Then, finish this colorful beet salad with a drizzle of walnut oil. The oil will bind with the marinade to complete the simple but great dressing that ties these flavors together in the perfect way! Finally, garnish with a generous sprinkle of fresh tarragon leaves.
You May Also Like...
Recipe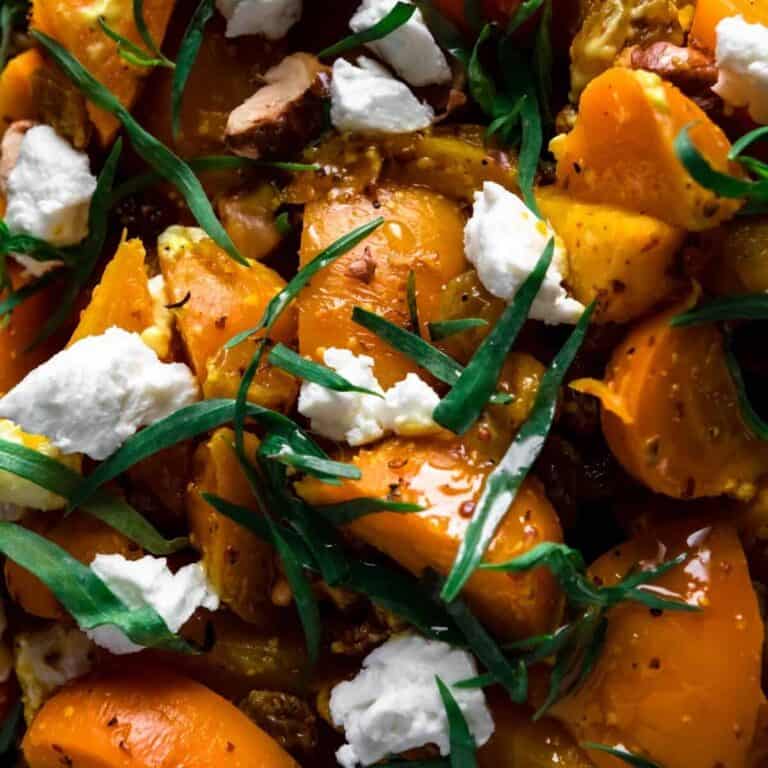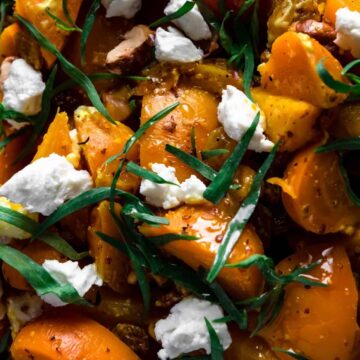 Golden Beet Salad
This Golden Beet Salad is made with roasted and marinated golden beets, tangy goat cheese, toasted walnuts, golden raisins, walnut oil and fresh tarragon! It's healthy, delicious and beautiful!
ADJUST SERVINGS
Ingredients
Golden Beet Salad
2½ - 3

pounds

golden beets

scrubbed clean

1

Cup

walnuts

3

Tablespoons

white balsamic vinegar

3

Tablespoons

orange juice

freshly-squeezed preferred

Zest of 1

orange

1

Tablespoon

dijon mustard

we like coarse-ground

1

Tablespoon

honey

1

teaspoon

fine kosher salt*

¼

teaspoon

freshly-ground black pepper

⅓

Cup

golden raisins

2

ounces

goat cheese

crumbled

2 -3

Tablespoons

walnut oil

or olive oil

1

bunch

fresh tarragon

as desired
Instructions
Golden Beet Salad
Gather, measure and prepare the Golden Beet Salad ingredients as listed. To view metric measurements, toggle the US Customary/Metric switch at the top of this recipe card.

Arrange a rack in the center third of the oven and preheat to 400° Fahrenheit (205° celsius). Meanwhile, prepare your beets for baking. Either place them into a heavy-lidded baking dish or wrap the beets in a tin foil pouch. Enclosing the beets in this way helps to steam the beets and keep them tender during the raosting process. We recommend placing the tin foil pouches of beets on a sheet pan lined with foil, to capture any additional moisture/drippings. (See Note: a)

Roast the beets for 30 - 60 minutes or until beets are tender and easily pierced with a pairing knife.

Allow the beets to cool slightly until able to be handled. Then, with a paper or kitchen towel, rub the skins off of the beets to peel. See our quick, How To Peel Roasted Beets video in the post text. Dice the beets into bite-sized pieces. And set aside.

Meanwhile, toast the walnuts in the hot oven for 5 minutes or until slightly golden and aromatic. Once cooled, roughly chop or crush the walnuts. Set aside.

In a medium mixing bowl, combine white balsamic vinegar, orange juice, dijon, honey, salt, and pepper. Whisk to combine. Add golden raisins and beets into the bowl and toss to combine. Allow the beets to marinade, tossing occasionally for, at least, 30 minutes or up to several hours before serving.

Once ready to serve, add the walnuts and goat cheese to the beet salad and toss to combine. Finish the salad with a drizzle of walnut oil and a generous sprinkle of fresh tarragon leaves. Serve immediately and enjoy!
Notes
a. As pictured, our beets were two distinctly different sizes. About half of our beets were very small, baby beets that were about the size of a golf ball. Our other beets were larger, about the size of the palm of my hand. Since the smaller beets will cook much faster, I made two tin foil pouches and kept the smaller beets separate from the larger ones. The small beets roasted tender in about 30 minutes and I removed that pouch from the oven. The larger beets took about 45 minutes in total. If I had very large beets, I would have halved them before roasting. 
* A Note About Salt
Unless otherwise noted, all recipes on The Sage Apron are developed using Diamond Crystal Kosher salt. It is a great all-purpose salt for cooking and baking. If using table salt, reduce quantities by about half.
Nutrition
Calories:
682
kcal
|
Carbohydrates:
85
g
|
Protein:
18
g
|
Fat:
34
g
|
Saturated Fat:
5
g
|
Polyunsaturated Fat:
21
g
|
Monounsaturated Fat:
6
g
|
Cholesterol:
7
mg
|
Sodium:
1177
mg
|
Potassium:
2362
mg
|
Fiber:
21
g
|
Sugar:
61
g
|
Vitamin A:
461
IU
|
Vitamin C:
55
mg
|
Calcium:
176
mg
|
Iron:
7
mg