Homemade Peach Syrup is a sweet Summertime treat! This easy simple syrup recipe is made with fresh peaches and can be used in cocktails, or to sweeten iced tea and mocktails.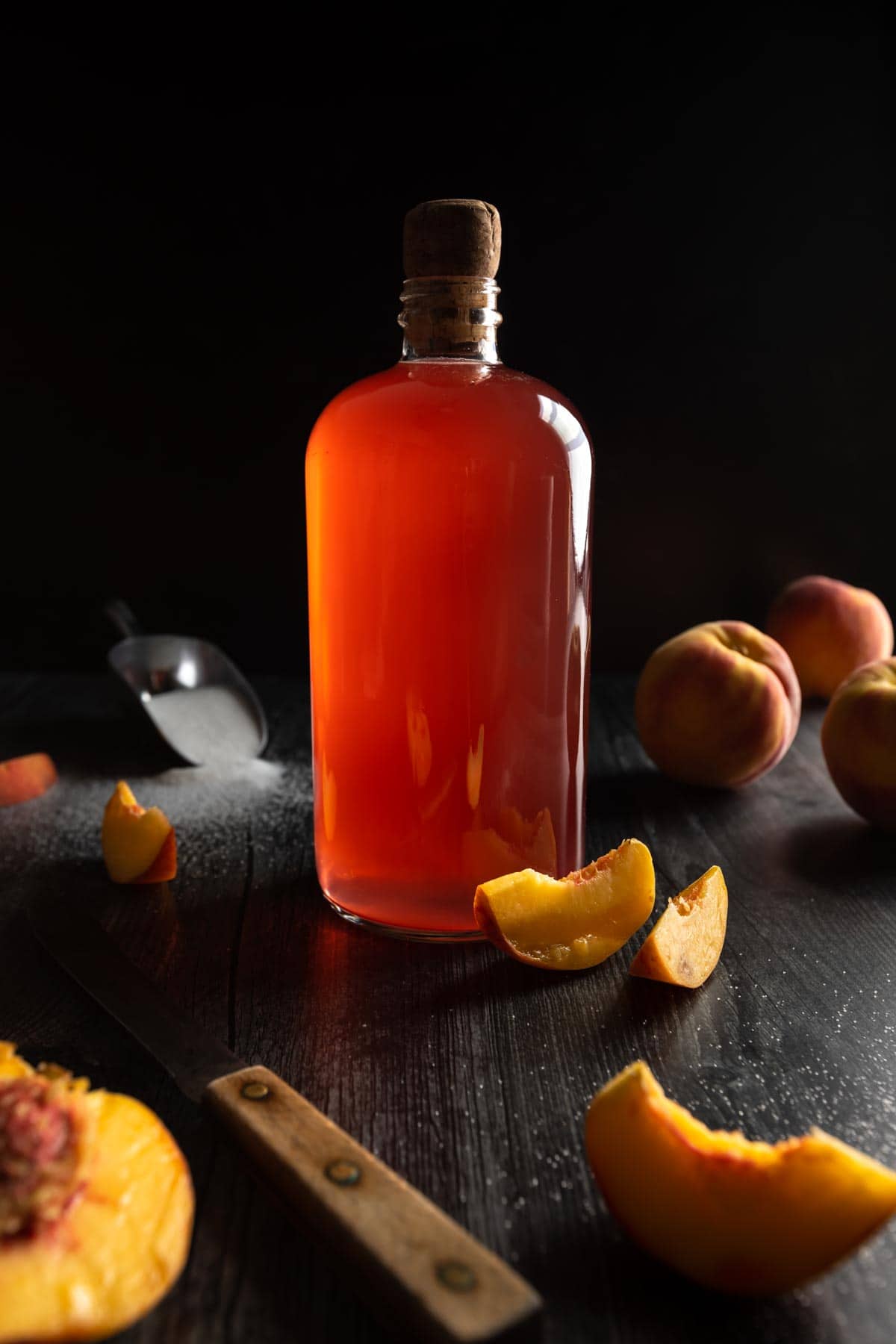 This homemade syrup recipe is a sweet and simple way to celebrate peach season! Try it in our delicious shaken Peach Daiquiri a refreshing Peach Moscow Mule or a tiki-style Peach Pie Punch!
For another yummy Summer syrup recipe, make a batch of Plum Syrup, too!
Ingredients
Peach syrup requires just two simple ingredients (and water)! It's an easy way to enjoy your fresh Summer peaches!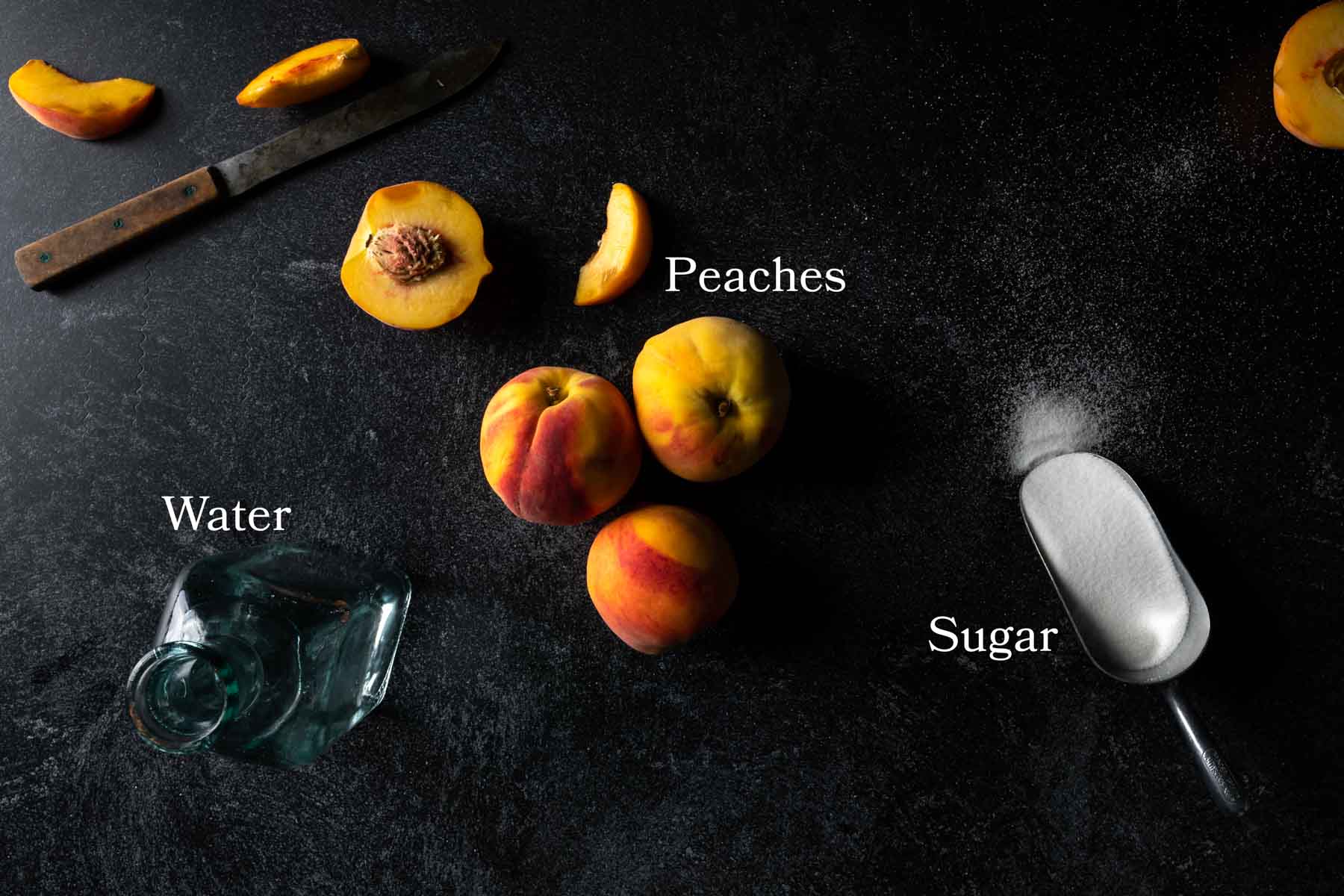 Peaches - We recommend using the best ripe and juicy peaches you can find. If flavorful ripe peaches aren't in season, this recipe works great with frozen peaches, too.
Sugar - We usually make this recipe with granulated cane sugar. However, this recipe can also be made with coconut sugar or brown sugar for a deeper, more caramelized flavor.
Flavoring Variations
This peach syrup is fantastic as is. However, there are many ways you can enhance the flavor. Here are a few ideas of ingredients you can add while simmering this syrup:
Vanilla Bean - Split lengthwise
Fresh Ginger Root - A 1 - 2 inch piece is plenty.
Cinnamon Stick
Star Anise, Cloves, Mace and/or Allspice Berries
Other Fruits - Try making this syrup using half peaches and half mango, pineapple, plums or berries.
Fresh Herbs - Thyme and rosemary taste wonderful with peaches.
How To Make This Recipe
This Peach Simple Syrup is so easy to make. You will need a medium pot, a fine mesh strainer (and/or cheesecloth) and a clean, sterilized jar.
Start by combining the sliced peaches, sugar and water in a medium saucepan. Set the pot over medium-high heat and bring to a boil, stirring occasionally.
Bring the syrup to a boil and reduce to simmer for 3 - 5 minutes. While cooking, use a wooden spoon to break up the softened peaches. Remove the syrup from the heat and allow the hot syrup to cool to room temperature.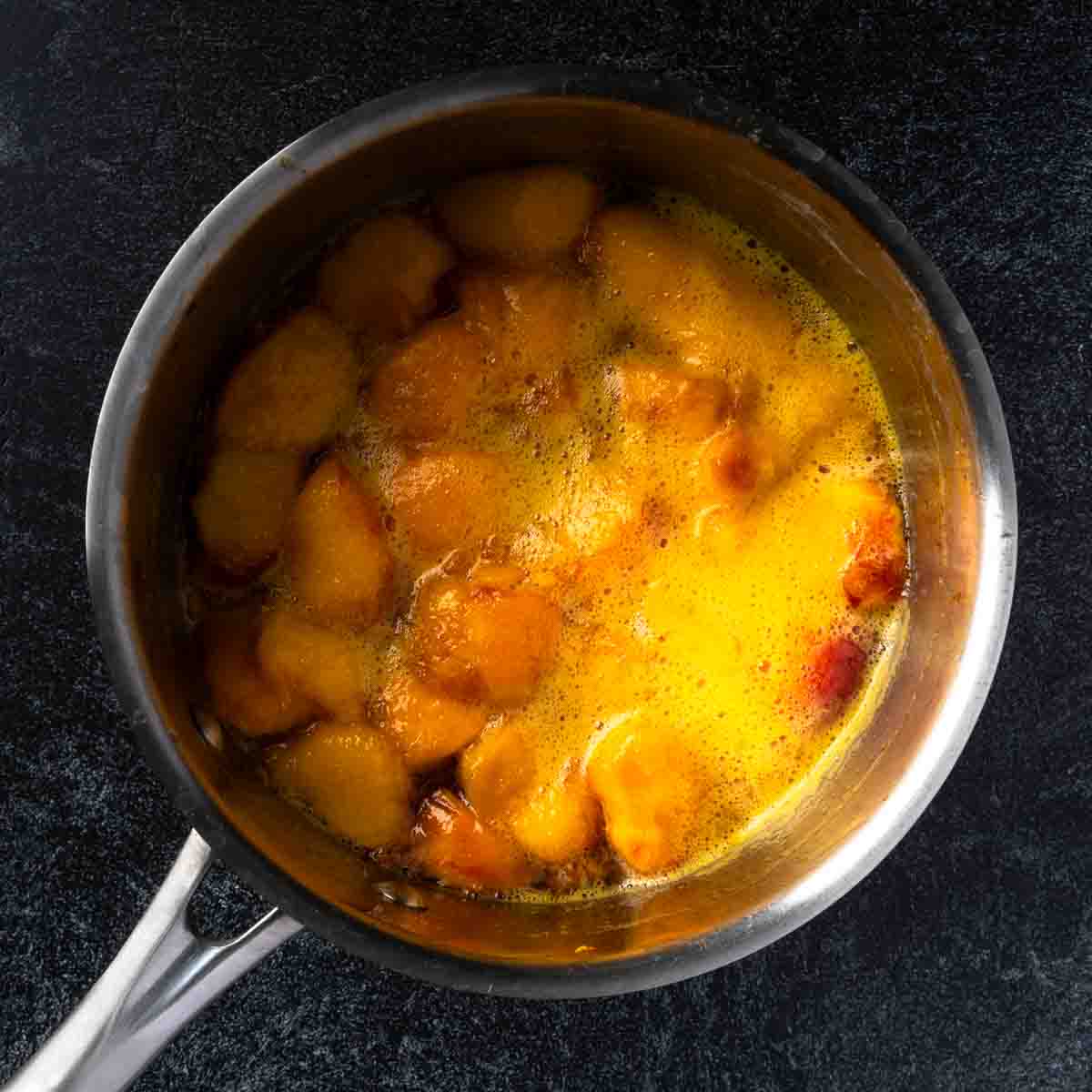 When cooled enough to handle, strain the syrup through a fine mesh strained lined with cheesecloth. Finally, gently squeeze the cheesecloth to release all the flavorful peach juice into the tasty syrup!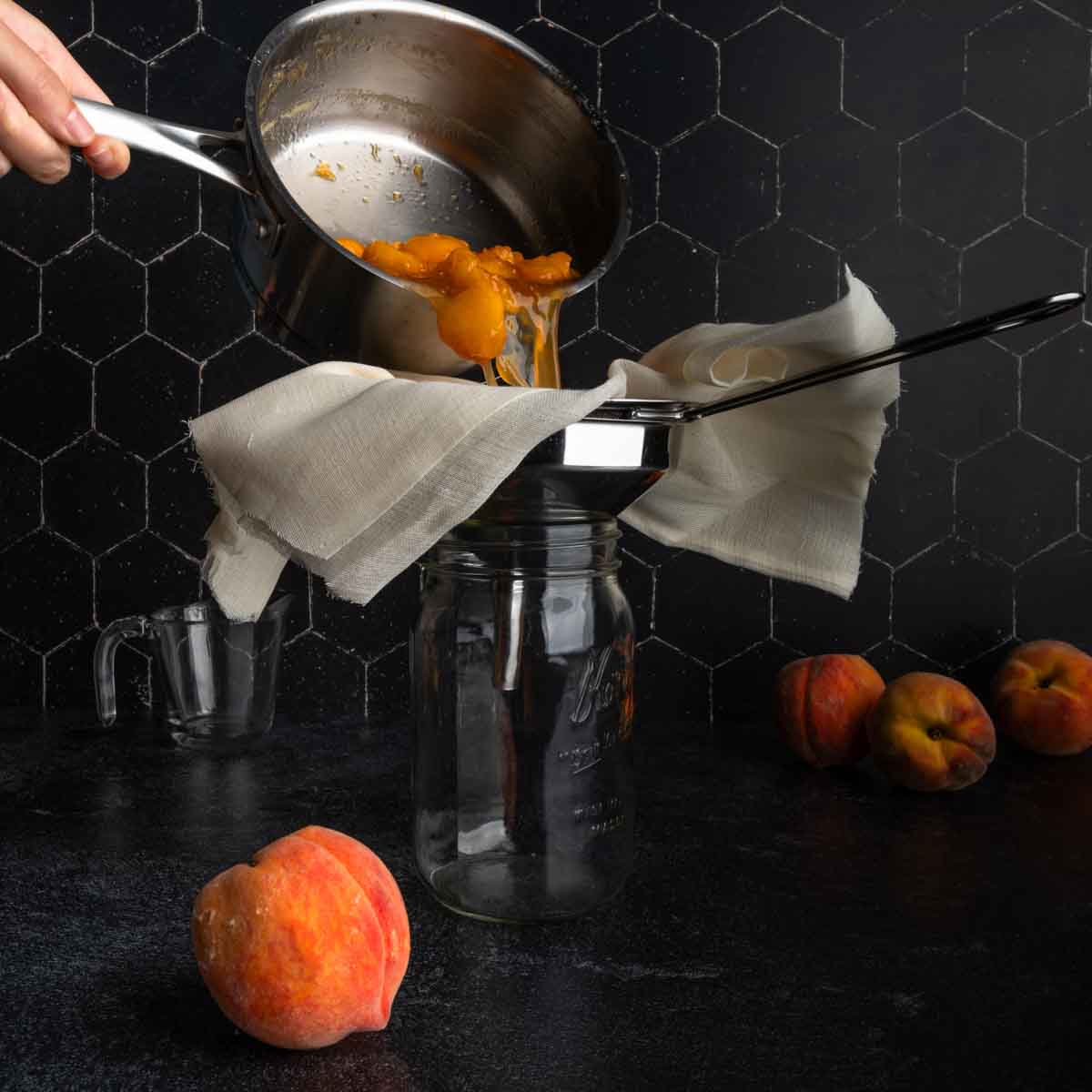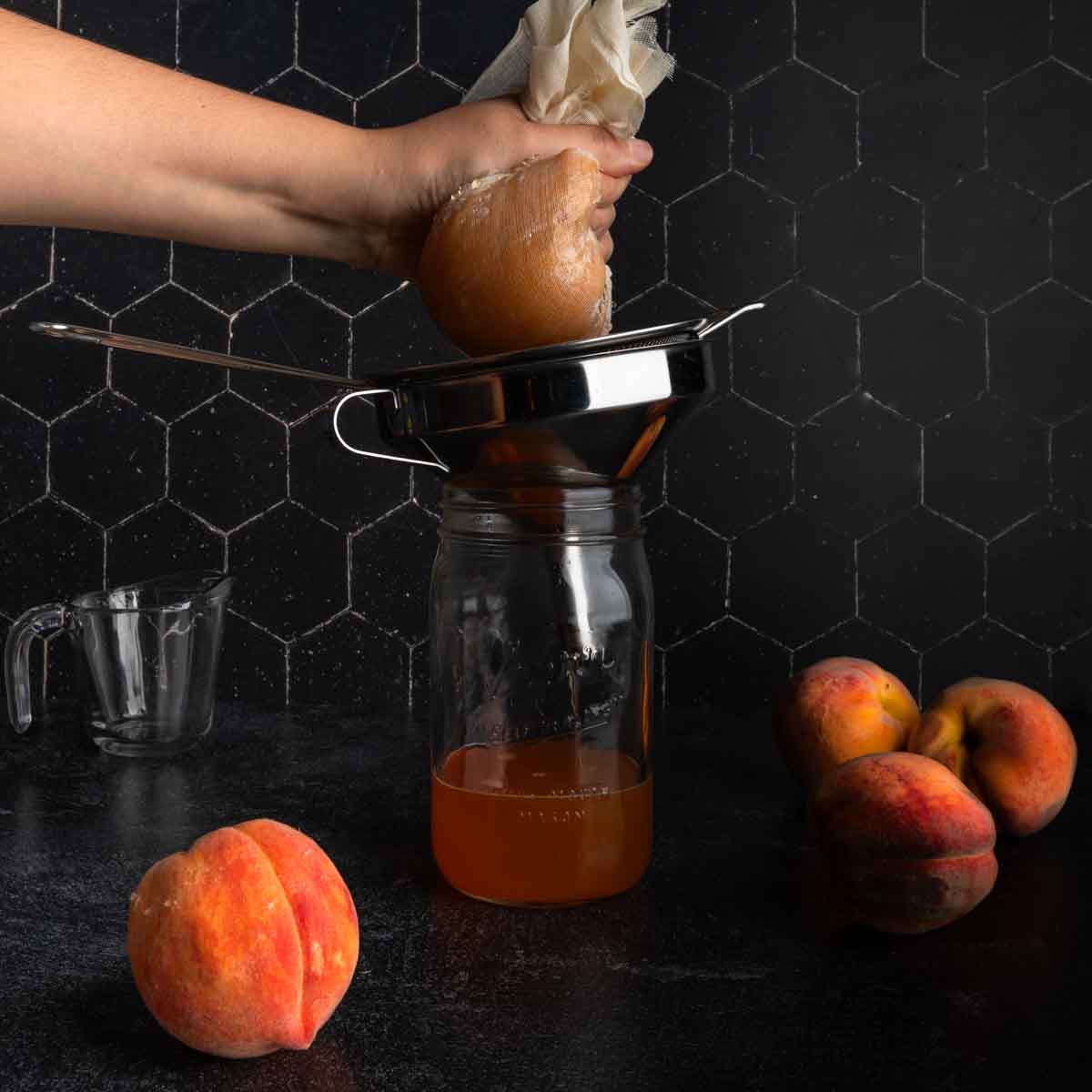 How To Make a Thicker Syrup
Peach simple syrup is a great way to enjoy your peaches in cocktails, homemade Italian sodas and sweet tea. However, for a syrup suitable for pancakes and desserts, we recommend thickening the simple syrup.
The best way to thicken the syrup is to add a small amount of gelatin to the mixture.
To thicken the syrup, bloom one teaspoon of powdered gelatin in one Tablespoon of cold water.
Meanwhile, return the strained simple syrup to a small pot and heat to simmer.
Once simmering, remove the syrup from the heat and stir in the bloomed gelatin mixture until fully dissolved. As the syrup cools, it will thicken to a richer corn-syrup-like consistency.
More Simple Syrup Recipes...
See our entire collection of Simple Syrup Recipes for more inspiration.
Saving & Storing this Syrup
Peach Syrup can be used immediately or stored in the fridge or freezer.
Refrigerator: Once the syrup has been strained, transfer syrup to an air-tight container. We typically use a mason jar. Syrup can be stored in the refrigerator for up to two weeks. We recommend shaking the syrup well, before using.
Freezer: Simple syrup can also be frozen and enjoyed weeks or months after peach season is over. Once the syrup has cooled completely, transfer the syrup to a freezer ziplock bag. The syrup can be frozen for up to 3 months (or more).

For easy use in cocktails, the syrup can be frozen in one ounce portions in an ice cube tray for quick and easy thawing. Once solid, transfer cubes to a freezer bag.
*Discard any syrup that smells off or has any cloudy discoloration.
Pro Tip: Saving & Storing Syrup - Adding a small amount of alcohol to fruit syrups can help extend the shelf life by days or weeks. Simply stir in an ounce of high proof spirit to the cooled syrup. Vodka is a neutral choice that won't affect the flavor or color. For peach syrup, I like to use a touch of bourbon for the subtle notes of vanilla and caramel.
Serving Suggestions
Peach Syrup is a versatile Summer treat that can be enjoyed in a number of ways! Here are a few of our favorite uses:
Cocktails - Try this recipe in your favorite Summer libations! For instance, this syrup works great in a margarita or our Peach Moscow Mule! Our shaken Peach Daiquiri recipe that uses this syrup is one of our all time favorite drinks!
Mocktails & Sodas - Stir this syrup into a club soda or ginger beer for an easy refreshing mocktail! Add a splash of cream for a homemade Italian peaches and cream soda!
Sweet Peach Tea - Use this simple syrup recipe to sweeten some freshly brewed black tea! Add sliced peaches and lemons for a beautiful and delicious presentation.
Lemonade - Simply replace the recipe's sugar with peach syrup.
Ice Cream or Yogurt - Pour a drizzle of this syrup over vanilla ice cream or yogurt! Add extra peach slices, strawberries and blackberries for a simple Summer dessert!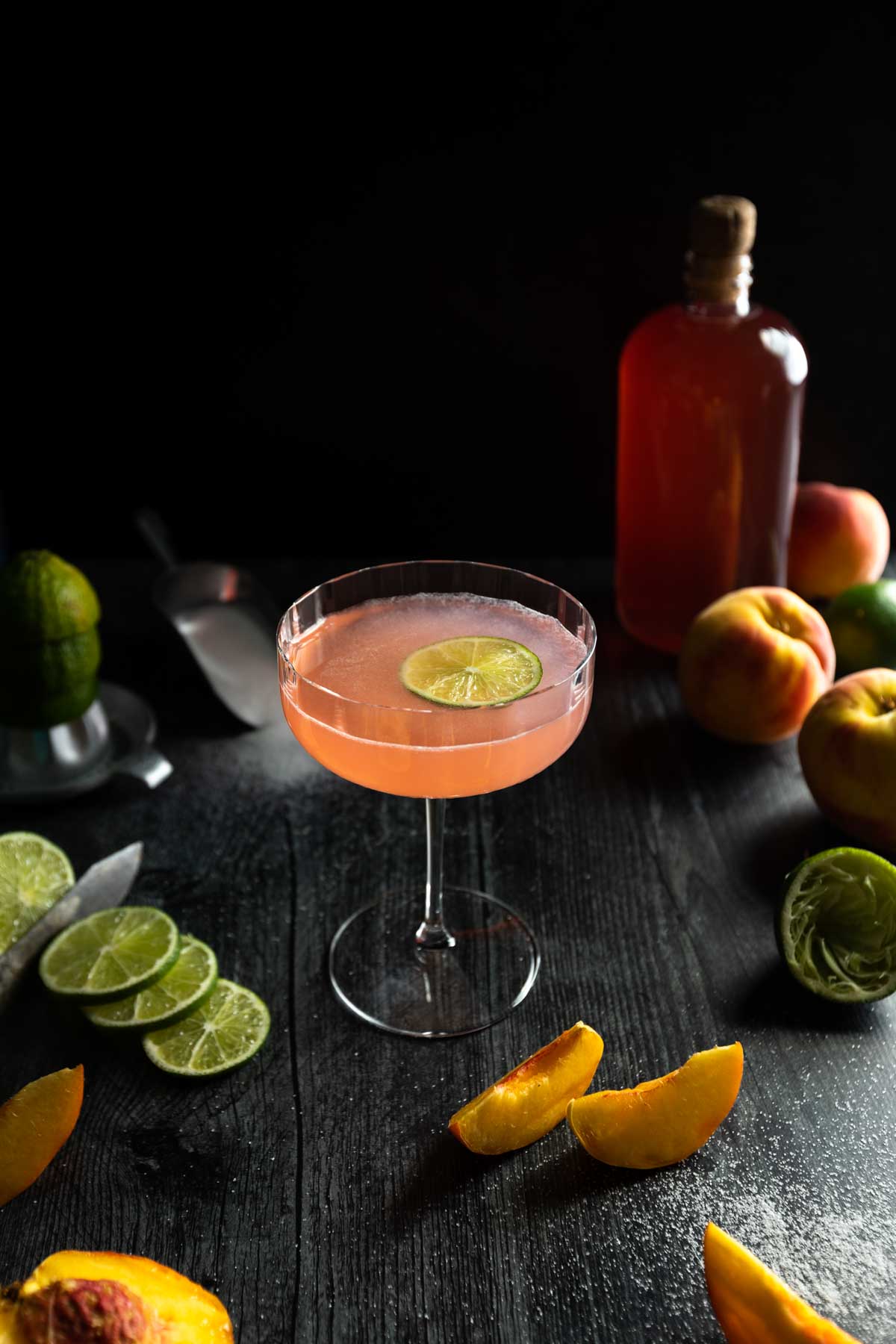 Frequently Asked Questions
Do peaches need to be peeled for peach syrup?
No! There is no need to peel the peaches. In fact, the peach skins will help to enhance the syrups flavor and color.
Can you use frozen peaches for peach syrup?
Yes! If ripe peaches are not available to you, frozen peaches make delicious syrup. For the best results, allow the peaches to thaw before using.
What peaches make the best simple syrup?
Peach syrup can be made from any varietal of peaches. I like to use yellow freestone peaches that make for a flavorful syrup with beautiful coloring and easy prep.

Clingstone varietals, white peaches, doughnut peaches and even nectarines are all suitable choices for making syrup.
More Peach Recipes
Recipe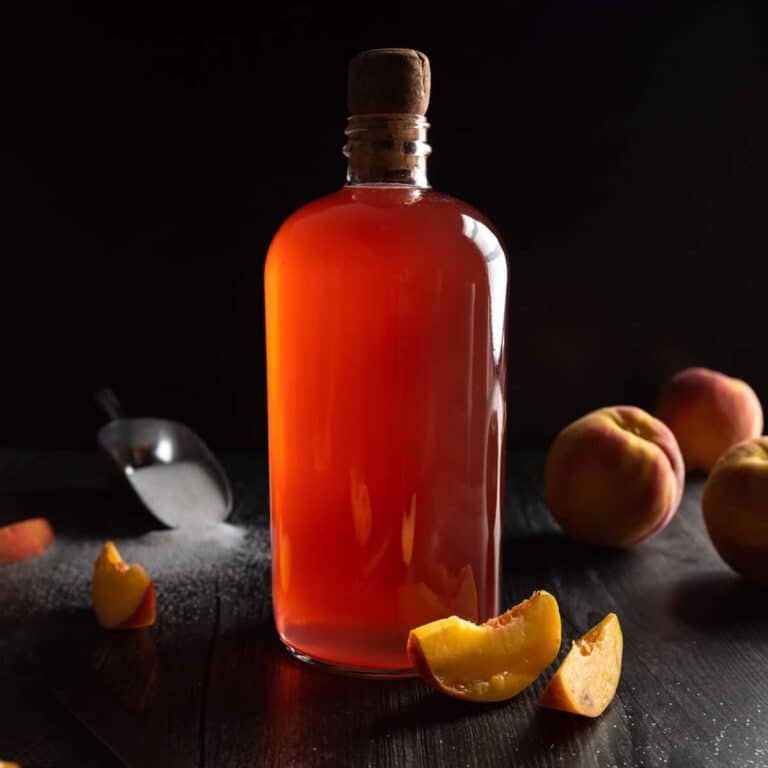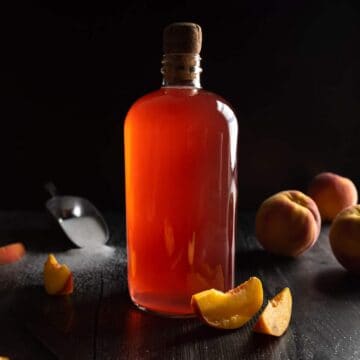 Peach Syrup (for Cocktails, Sweet Tea & More)
This easy-to-make Peach Syrup is the perfect way to perserve any enjoy this Summer's fresh peaches! Use this recipe in cocktails, sodas, iced tea or poured over pancakes, buttered biscuits, oatmeal or ice cream!
ADJUST SERVINGS
Special Equipment
Fine-Mesh Strainer

Cheesecloth
Ingredients
3

medium

peaches (about

8 - 10 ounces or 225 - 285 grams

) washed, pitted and quartered

1

Cup plus

2 Tablespoons

granulated sugar

½

Cup

water
Instructions
Combine the peaches, sugar and water in a medium sauce pot. Set the mixture over medium-high heat, stirring occasionally. Bring mixture to boil and reduce heat to simmer for 3 - 5 minutes. While simmering, use a wooden spoon to break up the peaches a bit. Remove from heat and set aside to cool.

Once syrup has cooled enough to be handled, strain the syrup through a fine mesh strainer lined with cheesecloth. Squeeze the peaches through the cheesecloth to extract as much syrup as possible.

Peach Syrup can be used immediately or store in an airtight contianer in the fridge or freezer. (To thicken the syrup, See Notes, below.) Enjoy!
Notes
To Thicken Peach Syrup (for pancakes, French toast & desserts!):
Sprinkle

1 teaspoon

of gelatin powder over

1 Tablespoon

of cold water.
Meanwhile, return the strained Peach Syrup to the cooking pot on the stovetop. Set over medium-heat and bring to a simmer.
Once simmering, remove the syrup from the heat and stir in the gelatin mixture until fully dissolved. The Peach Syrup will continue to thicken as it cools. 
* A Note About Salt
Unless otherwise noted, all recipes on The Sage Apron are developed using Diamond Crystal Kosher salt. It is a great all-purpose salt for cooking and baking. If using table salt, reduce quantities by about half.
Nutrition
Calories:
79
kcal
|
Carbohydrates:
20
g
|
Protein:
1
g
|
Fat:
1
g
|
Saturated Fat:
1
g
|
Polyunsaturated Fat:
1
g
|
Monounsaturated Fat:
1
g
|
Sodium:
1
mg
|
Potassium:
72
mg
|
Fiber:
1
g
|
Sugar:
20
g
|
Vitamin A:
122
IU
|
Vitamin C:
2
mg
|
Calcium:
3
mg
|
Iron:
1
mg