This quick and easy Plum Syrup recipe is perfect for using in cocktails, mocktails and desserts.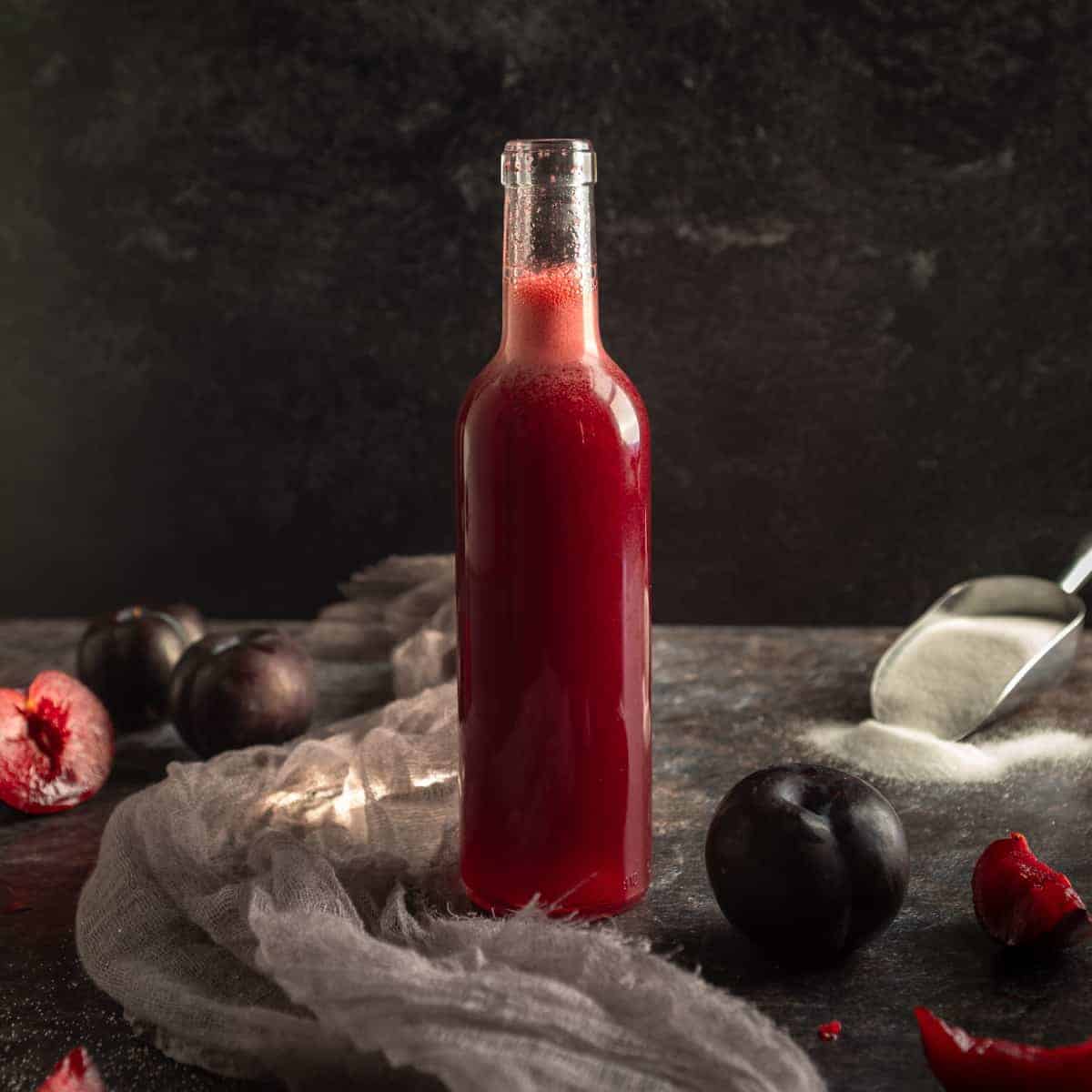 This recipe uses fresh plums, sugar and water (that's it!) to create a deliciously flavored purple syrup! This recipe is a great way to transform plums into a sweet, versatile syrup. Try this recipe in our Plum Rum Old-Fashioned or simply poured over homemade vanilla ice cream!
Jump to:
How To Make & Store This Syrup
This Plum Simple Syrup recipe could not be any easier! The ingredient checklist consists of just an equal ratio of plums, sugar and water! To make this syrup, simply dissolve equal parts of sugar and water in a small saucepan. Then, add sliced plums and bring to a boil over medium-high heat.
Next, reduce the heat to simmer and cook for a few minutes. All that's left is to puree the hot syrup with a standard or immersion blender, strain, cool to room temperature and enjoy! Syrup can be made ahead of time and stored in a glass jar or airtight container for up to a couple of weeks. Shake well before serving!
This recipe was designed to be enjoyed fresh. If you are hoping to can this recipe in a water bath canner, we recommend adding lemon juice or citric acid for higher acidity. Always test the pH of your product to ensure safe canning practices.
What Type of Plums Should I Use For This Recipe?
This recipe is great to use with several types of plums and stone fruits. Black plums, purple plums, red plums, Japanese plums, wild plums or plums harvested straight from your backyard plum tree can all make delicious syrups. The strong flavor and color of your syrup will depend on the type of plums you use to make this recipe.
As photographed, we used black splendor plums for this batch of syrup. That being said, this recipe is dependent on great, fully-ripe fruit and (even with the same varietal of plums) may look and taste a little different from batch to batch. Don't worry - it's all delicious!
Note: To clarify, this recipe is not suitable for ume plums (Korean green plums). Ume Plum Syrup (AKA Japanese or Korean plum extract) is actually made from a specific variety of apricot with a distinctly tangy taste. While it is also quite yummy, it takes about a week to prepare and has a much different flavor profile than this simple recipe.
Serving Suggestions
Plum Syrup is one of our favorite ways to enjoy this delicious stone fruit. Here are some of the ways we use this excellent recipe at home.
Mocktails: This recipe is great for using in non-alcoholic refreshments. We like to pour a splash over some sparkling water for a quick plum soda or mix with lemon juice and water for a refreshing plum lemonade.
Cocktails: Plum syrup is a great way to add unique Summer flavors to your cocktail repertoire. Try it in a bellini, vodka soda or a stronger Plum Rum Old Fashioned.
Ice Cream: A luscious drizzle of this plum sauce over a scoop of our Old Fashioned Vanilla Bean Ice Cream makes for an easy and extraordinary dessert course!
Breakfast & Brunch Recipes: Replace maple syrup with this recipe to give breakfast a whole new look! For a thicker, richer pancake syrup, double the sugar in this recipe. Plum Syrup is delicious on our Easy Lemon Pancakes!
Snow Cones - Pour this syrup over shaved ice for an irresistible frozen novelty! This is such a fun treat for kids and adults at cookouts and barbecues!
Flavoring Variations
Plum Syrup compliments several flavors that can be added for a little more pizazz! Here are a few of our favorites:
Vanilla - Add half a scraped vanilla bean or a splash of vanilla extract
Cinnamon - Steep in a cinnamon stick during the boil and simmer time. Be sure to remove it before pureeing!
Ginger - For a spiced Plum Syrup, add a coin of fresh ginger or a teaspoon ground ginger to this recipe.
Summer Fruits - Add in a combination of plums, apricots, cherries or pluots, etc. to give this recipe layers of flavor!
Brown Sugar - For a deeper molasses flavor, substitute some or all of the sugar in this recipe for brown sugar. (This is especially delicious in bourbon drinks!)
More Simple Syrup Recipes...
To use up more of those delicious plums, try our Plum and Apple Crumble!
Recipe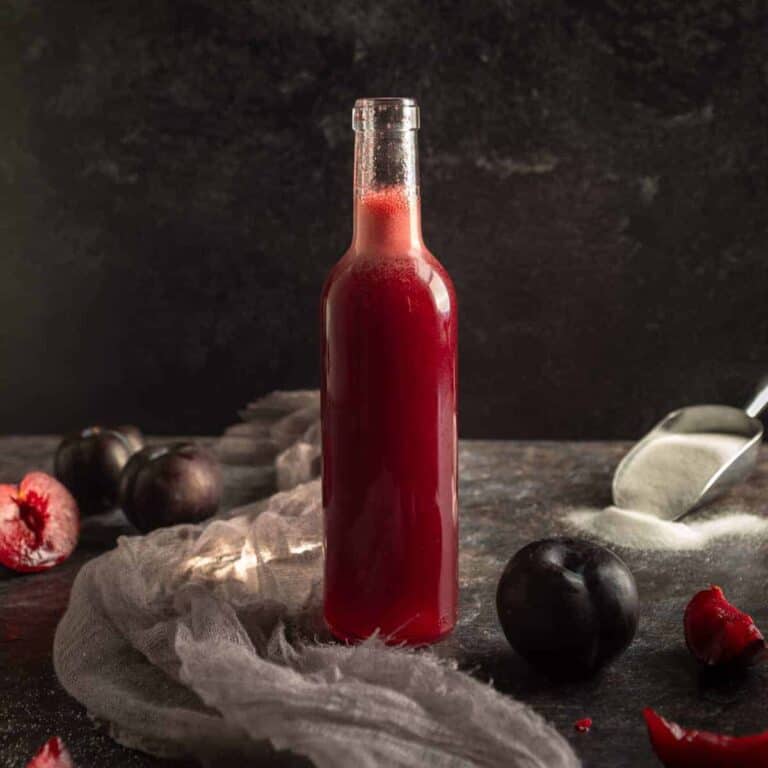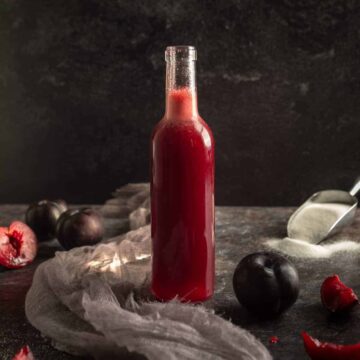 Easy Plum Syrup Recipe (for Sodas, Cocktails & Sweets!)
This simple Plum Syrup recipe requires only 3 ingredients and is delicious in cocktails, mocktails & more!
ADJUST SERVINGS
Special Equipment
Standard or Immersion Blender

Fine-Mesh Strainer
Ingredients
1

Cup

granulated sugar

1

Cup

filtered water

8

ounces

plums (About 4 plums)

washed, pitted, sliced
Instructions
Gather, measure and prepare the Plum Syrup ingredients as listed. To view metric measurements, toggle the US Customary/Metric switch at the top of this recipe card.

In a small saucepan, dissolve sugar in water over medium-high heat. Once sugar is dissolved, add sliced plums and bring to a boil. Reduce heat to simmer and cook for 5 minutes.

With a standard or immersion blender, puree Plum Syrup until smooth. Strain syrup through a fine mesh strainer. We like to strain our syrup twice, to remove any fine particles.

Allow syrup to cool to room-temperature. Serve syrup as desired immediately or store in an airtight container in the refrigerator for up to two weeks.
* A Note About Salt
Unless otherwise noted, all recipes on The Sage Apron are developed using Diamond Crystal Kosher salt. It is a great all-purpose salt for cooking and baking. If using table salt, reduce quantities by about half.
Nutrition
Calories:
74
kcal
|
Carbohydrates:
19
g
|
Protein:
1
g
|
Fat:
1
g
|
Saturated Fat:
1
g
|
Polyunsaturated Fat:
1
g
|
Monounsaturated Fat:
1
g
|
Sodium:
1
mg
|
Potassium:
30
mg
|
Fiber:
1
g
|
Sugar:
19
g
|
Vitamin A:
65
IU
|
Vitamin C:
2
mg
|
Calcium:
2
mg
|
Iron:
1
mg