This easy, homemade simple syrup recipe is naturally-colored and flavored with dried hibiscus flowers.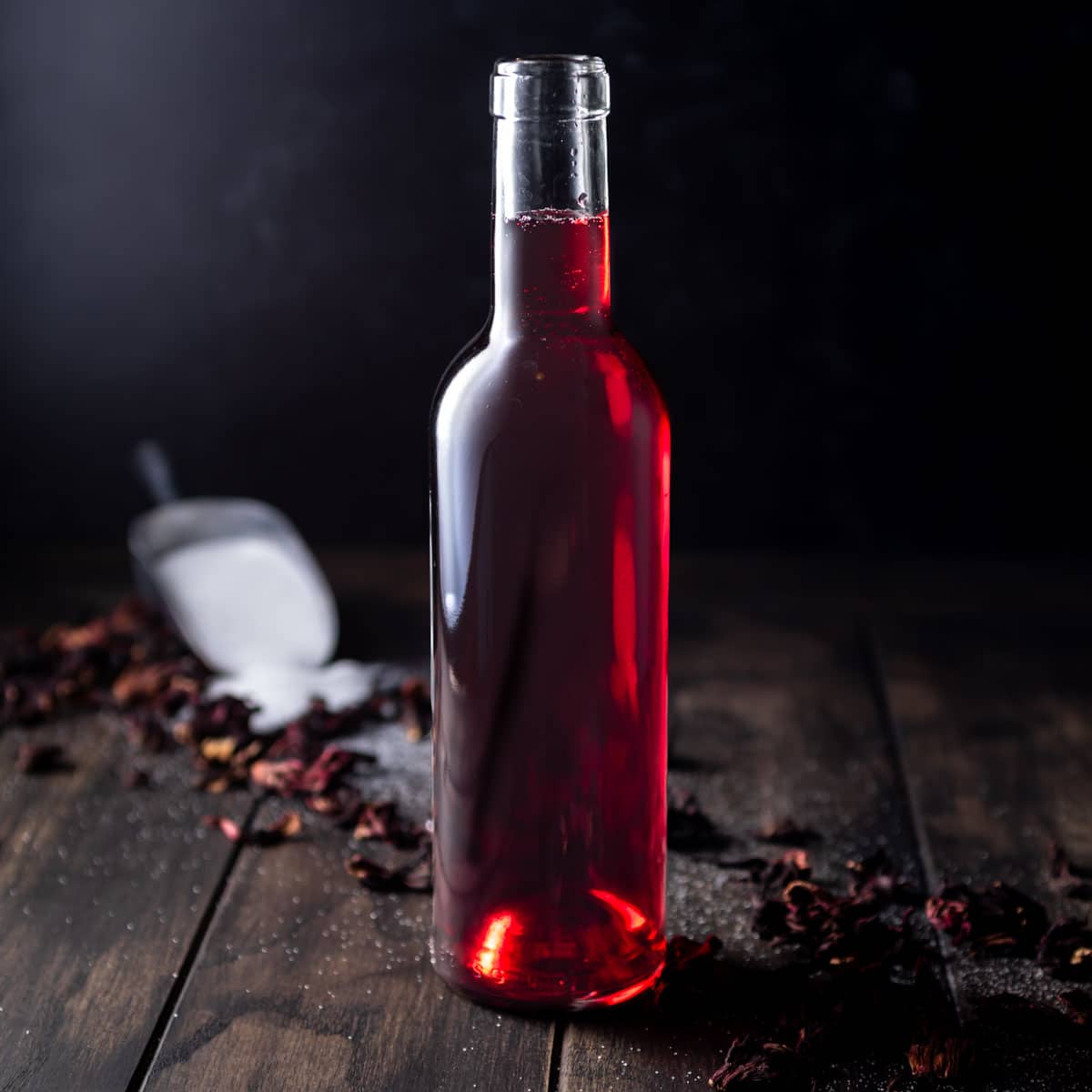 Hibiscus syrup has a vibrant color and floral flavor that pairs lovely in cocktails, non-alcoholic beverages (like our Hibiscus Limeade!), on tropical fruits and in sweet desserts. Hibiscus syrup also makes for an elegant substitution for grenadine.
Jump to:
What is Hibiscus?
Hibiscus is a type of flower that grows naturally and ornamentally throughout temperate, subtropical and tropical regions around the world. There are hundreds of species of hibiscus flowers. The flowers range in color from whites, yellows, and oranges to pinks, reds and purples.
Hibiscus flowers are also know as Jamaican sorrel, rose mallow or rose of sharon. Aside from their natural beauty, hibiscus flowers are also know for making lovely teas. Hibiscus tea, in particular, is prized for its high levels of Vitamin C, rich antioxidants and medicinal properties - like lowering blood pressure and cholesterol.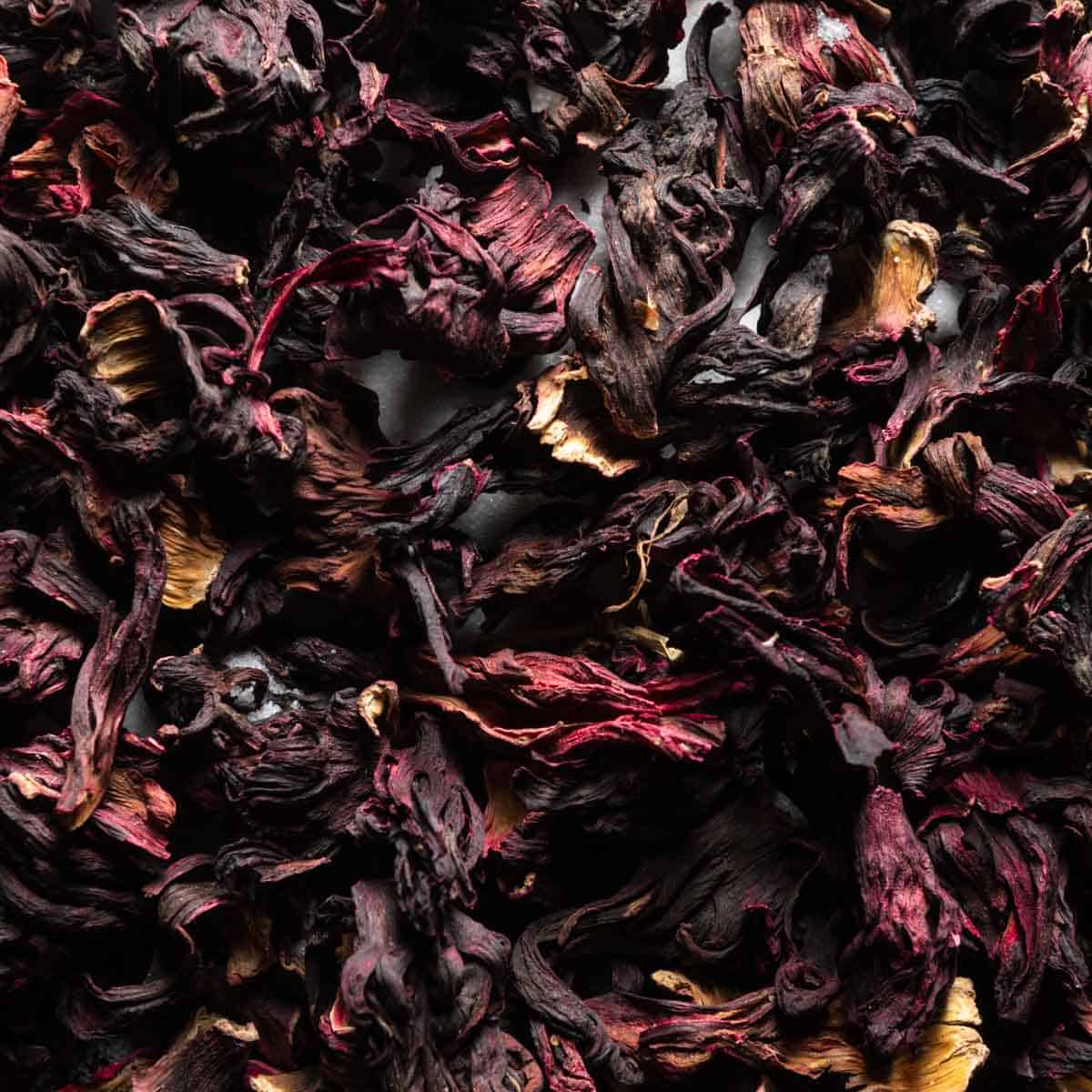 What Does Hibiscus Taste Like?
Hibiscus has a nice flavor that is pleasant to drink on its own or in sweet (or sometimes savory) preparations. The beautiful flowers have a touch of sweetness, floral flavors, and hints of tart fruit - like cranberry and/or pomegranate.
When made into this hibiscus syrup, the added sugar helps to accentuate hibiscus's natural flavors. The syrup is a nice balance of sweet, tart, floral and fruity.
Where Can I Buy Dried Hibiscus Flowers?
The loose, dried hibiscus flowers used in this recipe can easily be found online. They may also be available in a specialty grocer or health food store. We recommend using organic hibiscus leaves to omit unnecessary preservatives.
Hibiscus flowers come in a variety of colors. Any color of dried hibiscus flowers can be used for this syrup recipe. However, for hibiscus cocktails and drinks, we tend to prefer the vibrant coloring of red hibiscus.
Can I Make This Recipe with Hibiscus Tea Bags?
Yes. To make this recipe using hibiscus tea bags, prepare 1 Cup of hibiscus tea according to package instructions. (You may want to extend the steeping time for a more concentrated hibiscus flavor and color.) Then, while still hot, add 1 Cup of granulated sugar. Stir until the sugar dissolves completely.
Bartender's Note: Hibiscus tea bags are often overly processed and may contain other herbs and botanicals that will lend a different flavor to this syrup recipe. We recommend using the whole dried flowers instead of tea bags.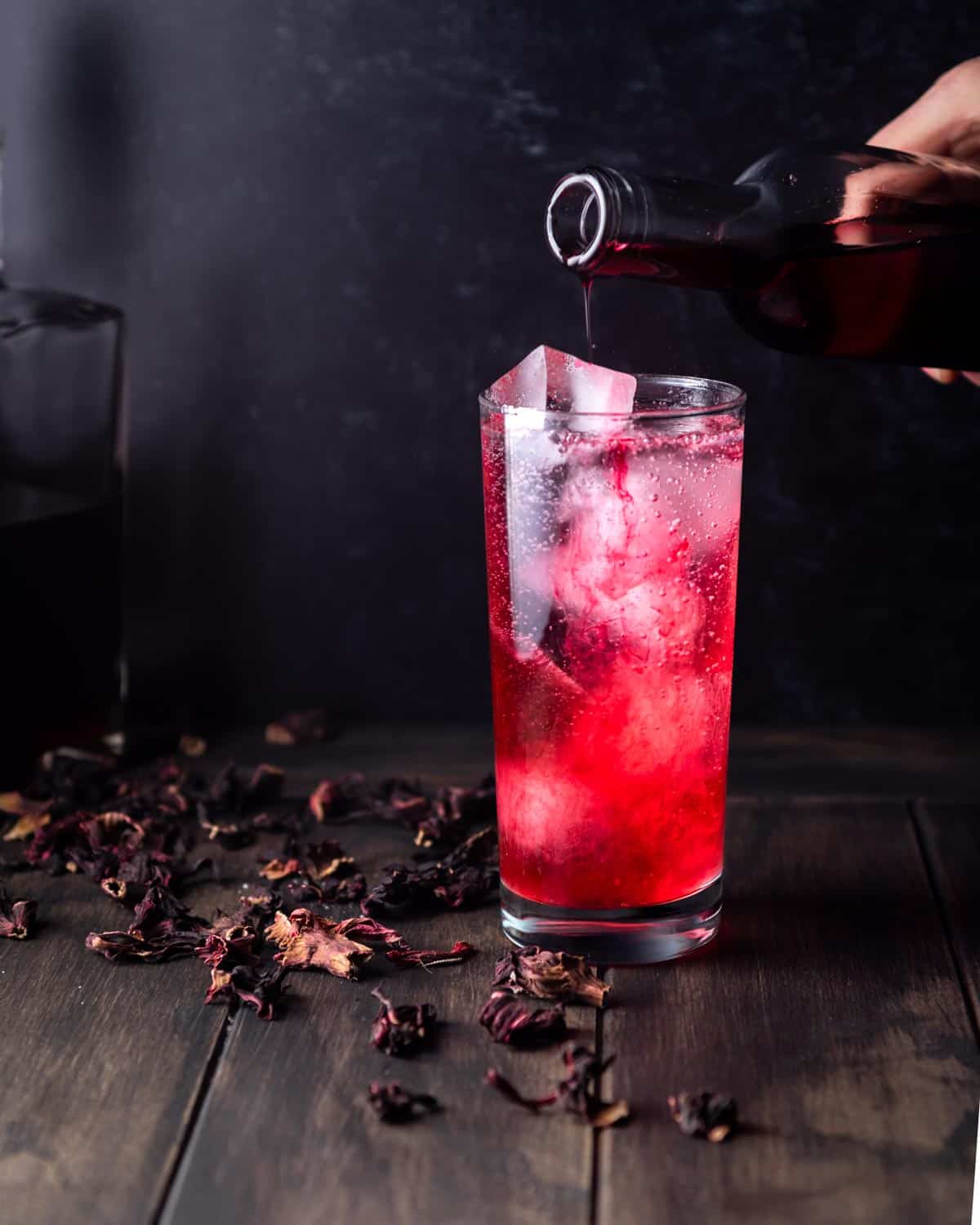 How To Make This Syrup
Ingredients
Hibiscus syrup is made with three simple ingredients:
Dried Hibiscus Flowers
Granulated Sugar
Water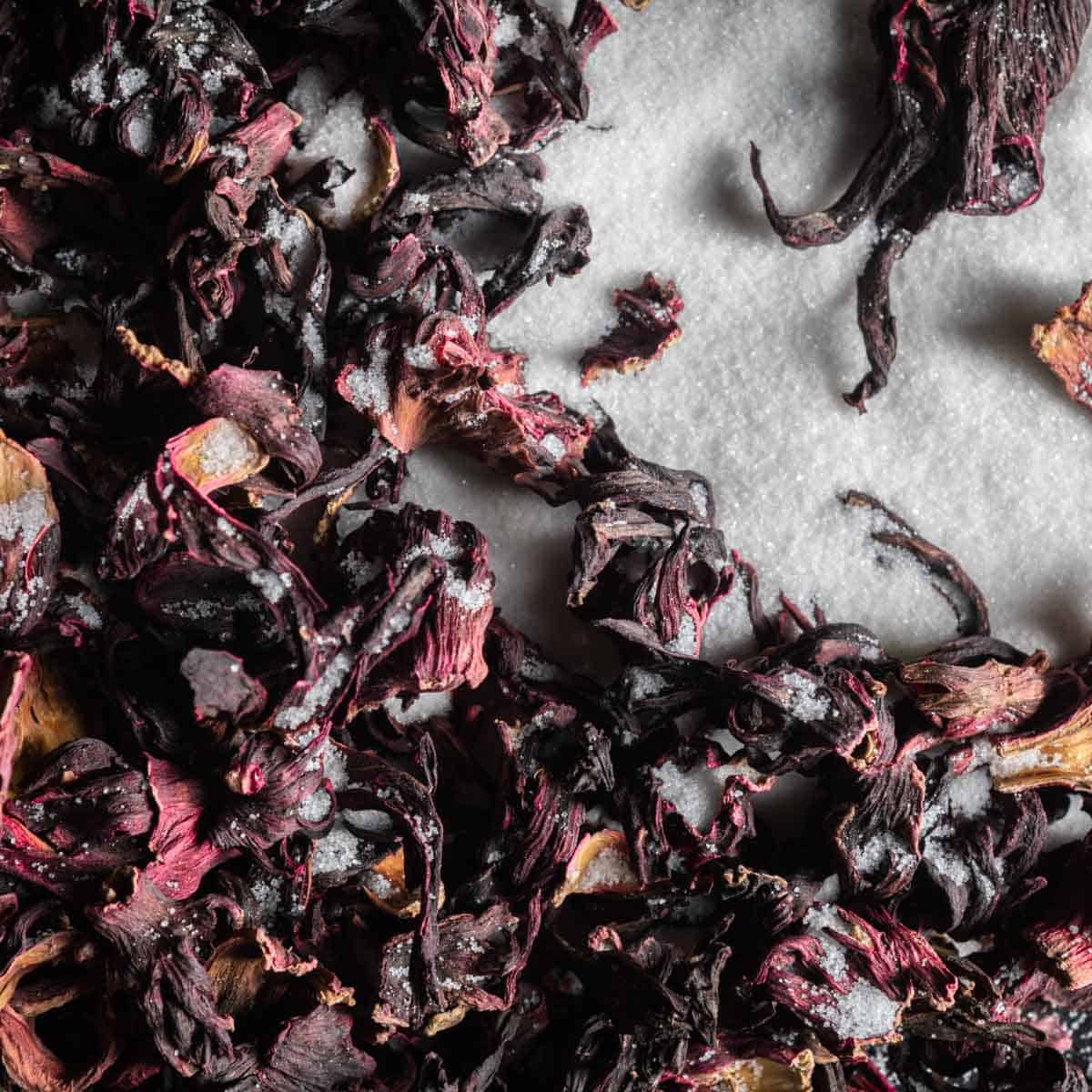 Aside from these three ingredients, you will need a small saucepan, a fine wire-mesh strainer and a few hours of down time.
Procedure
1. To start, make a basic 1:1 simple syrup. In a small sauce pot, bring a cup of water to a boil. Then, remove the water from the heat source and add one cup of sugar. Stir until the sugar is completely dissolved and the syrup is clear. This is a basic simple syrup.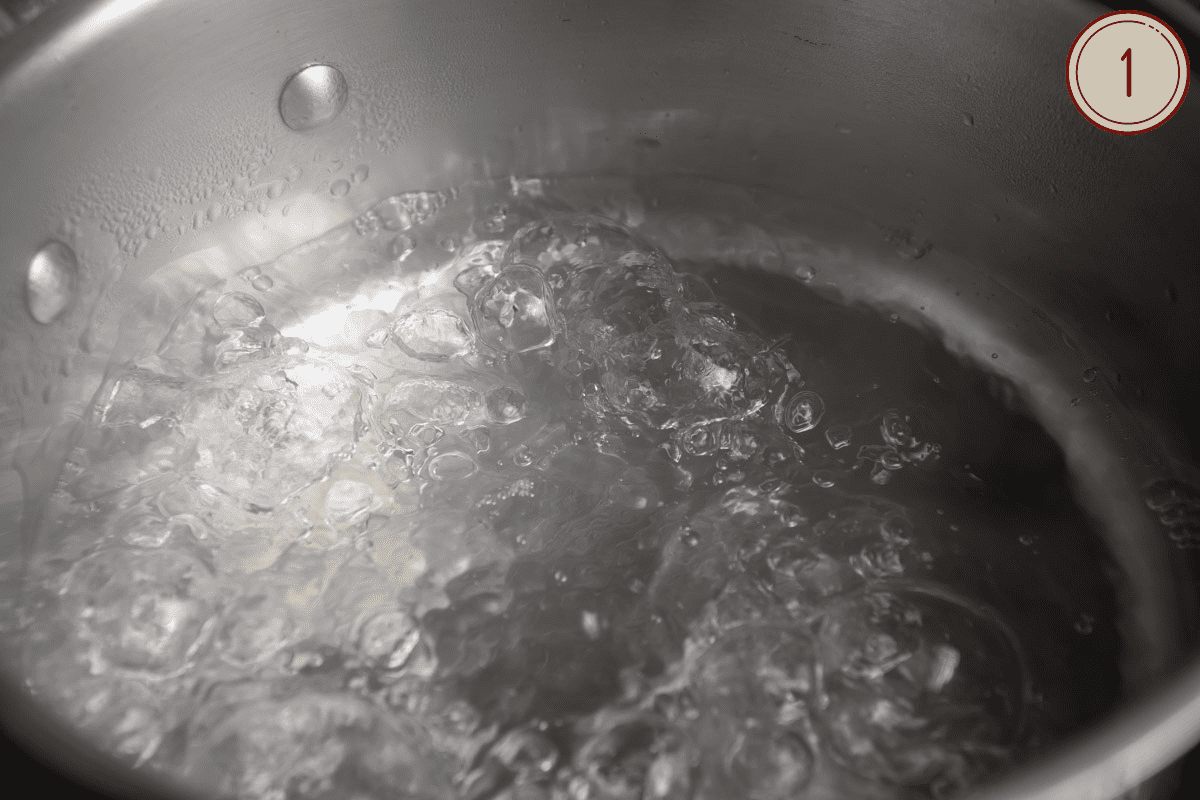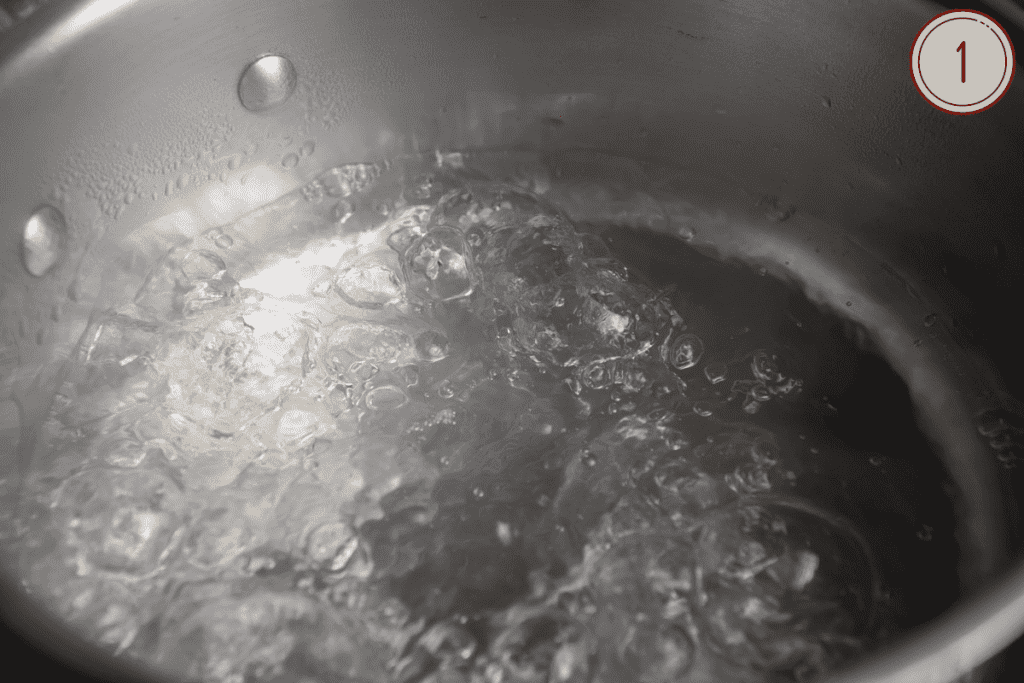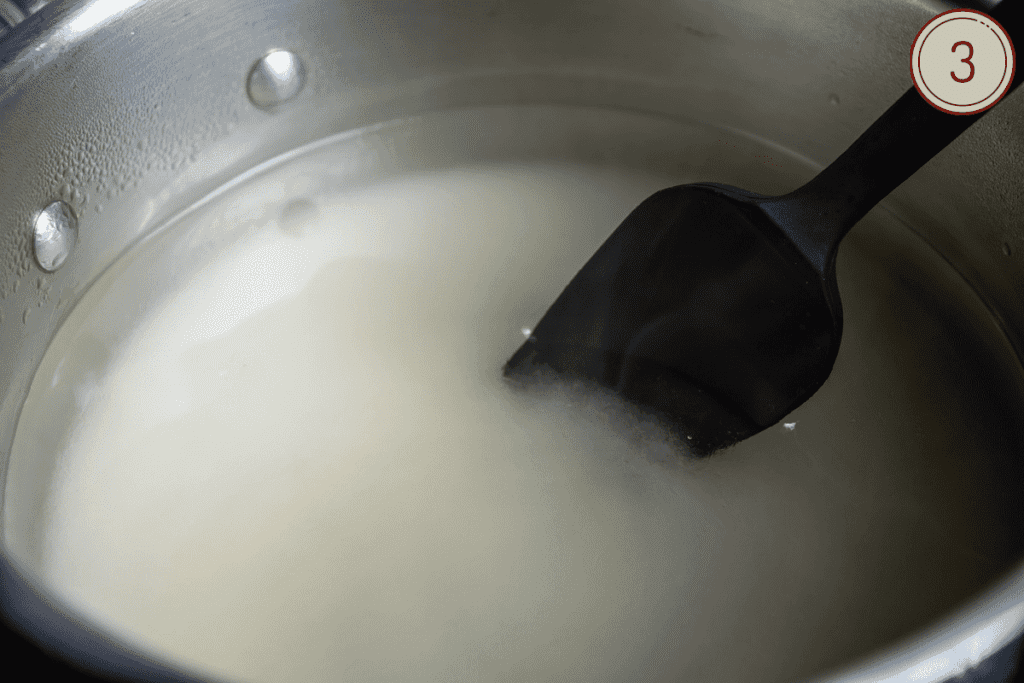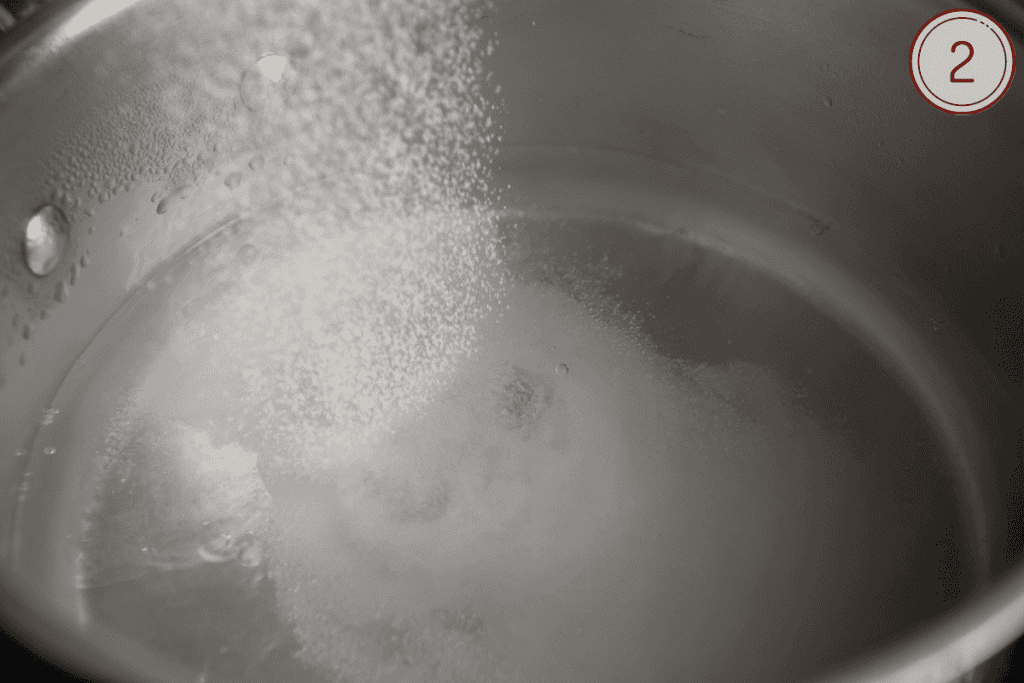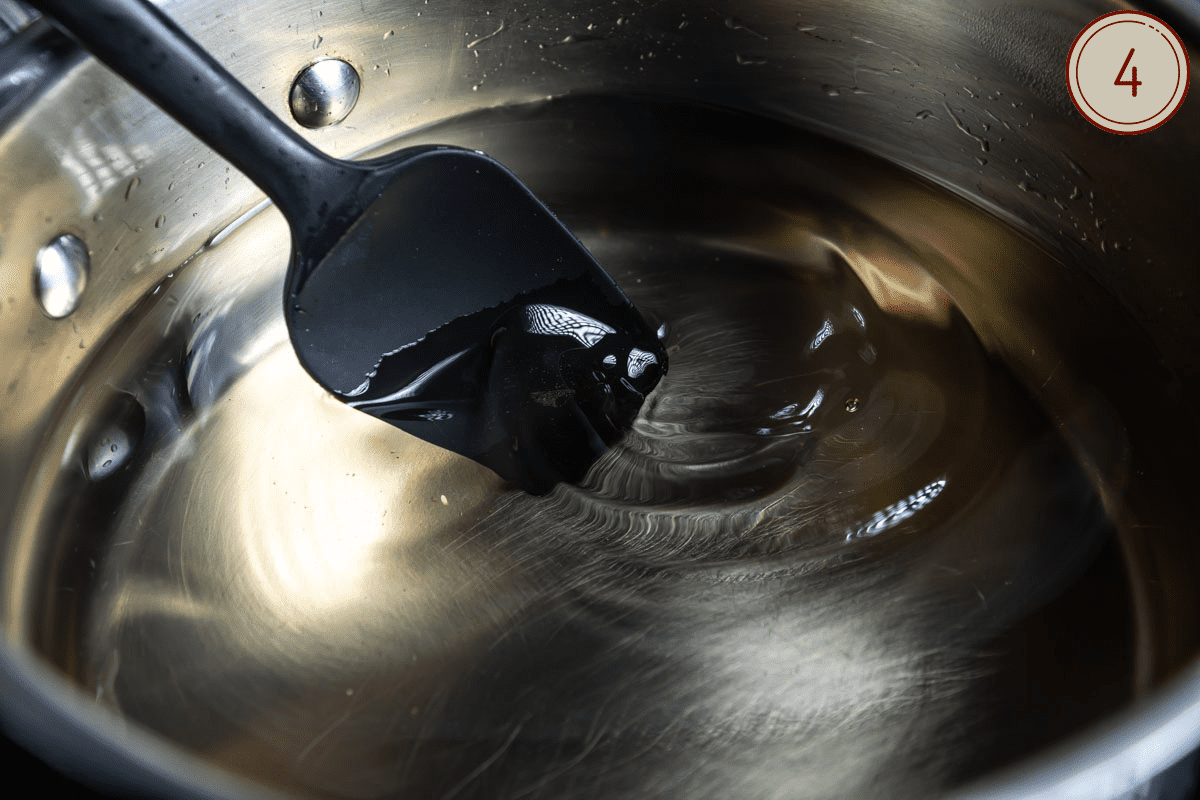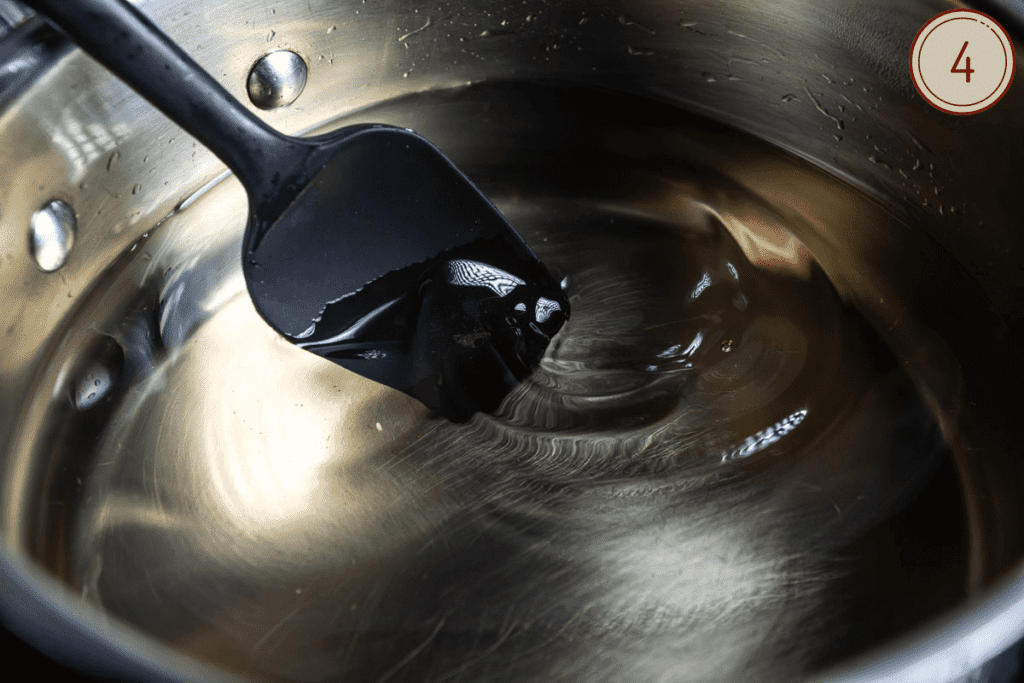 2. Next, add in dried hibiscus flowers. Stir to fully saturate the flowers in syrup. (At this stage, you can add in other flavoring variations, too. Check out some suggestions below.) Allow the syrup to steep for 2 - 4 hours. The longer the syrup steeps, the brighter the color and stronger the flavor. (Beyond 4 hours, the syrup can take on a more bitter, astringent flavor.)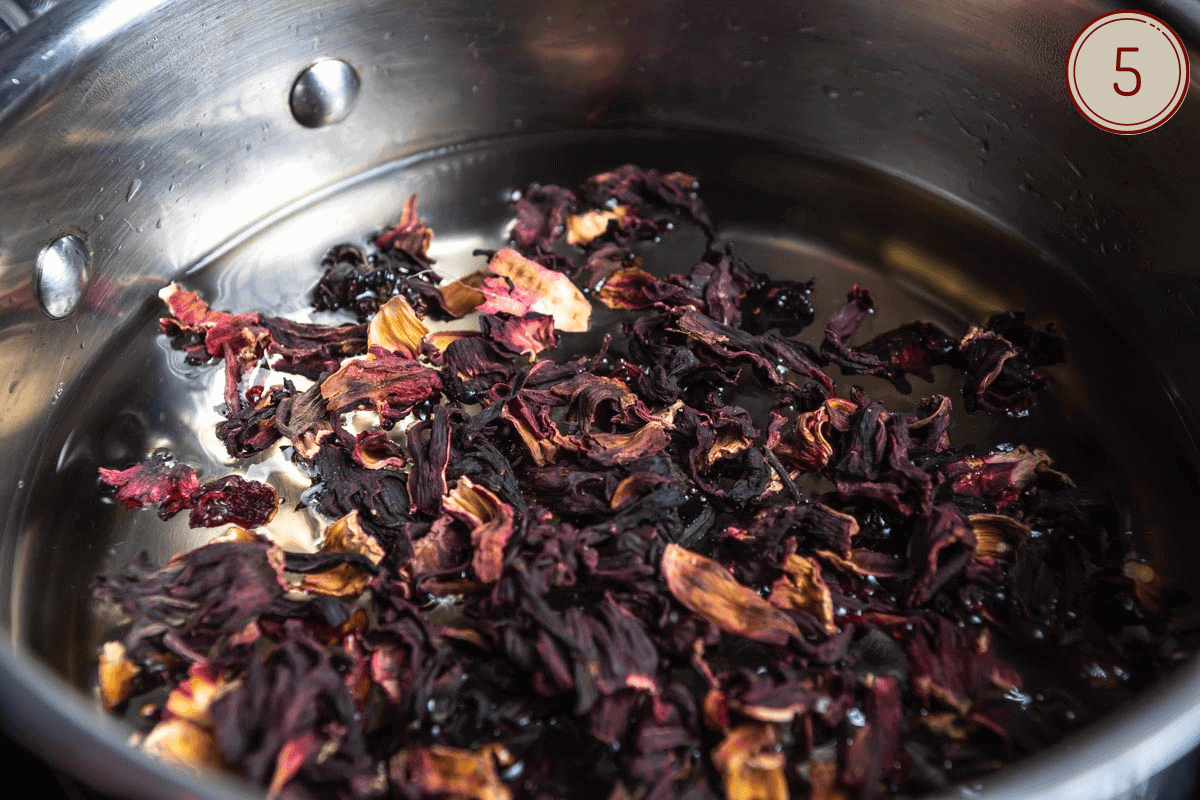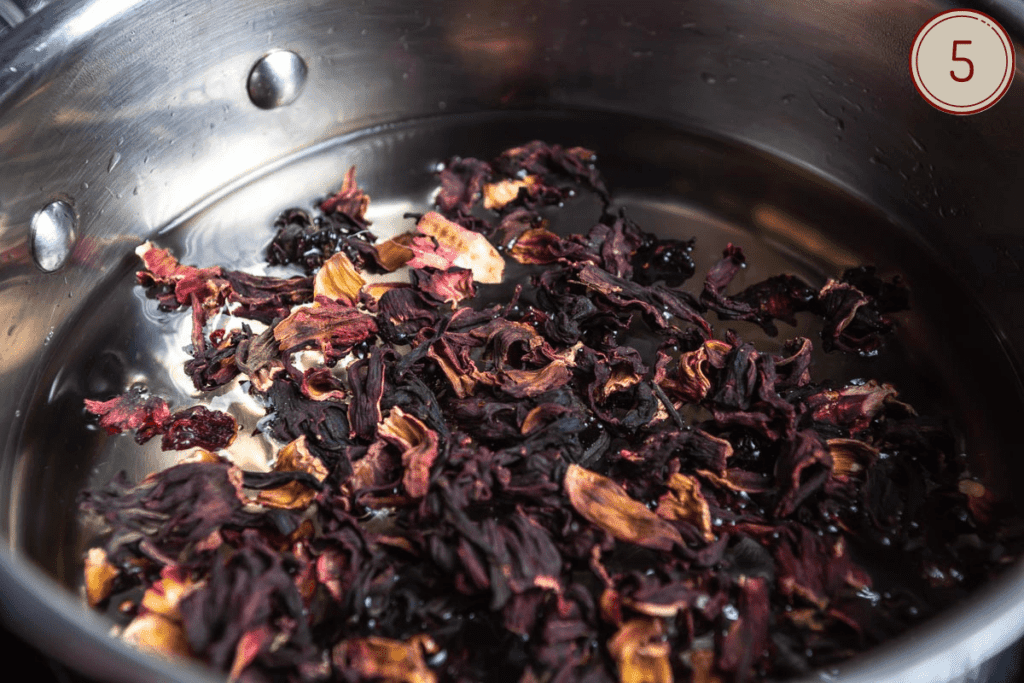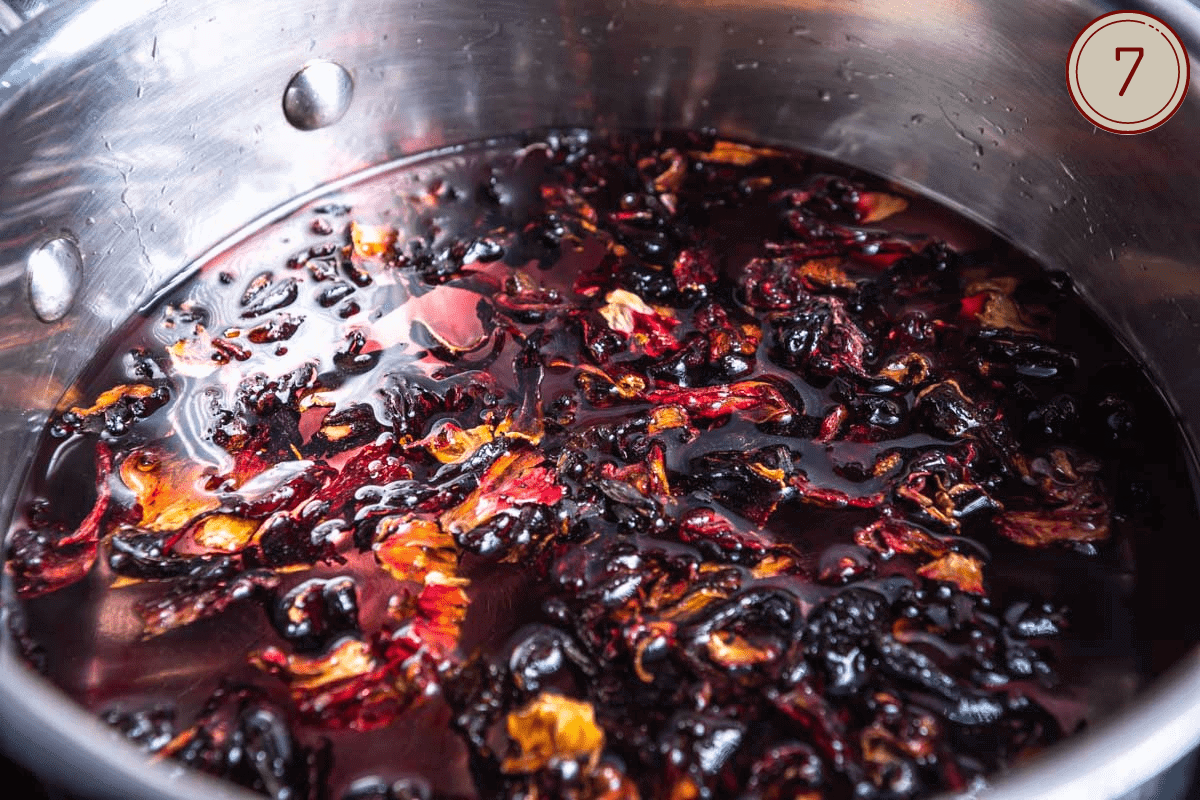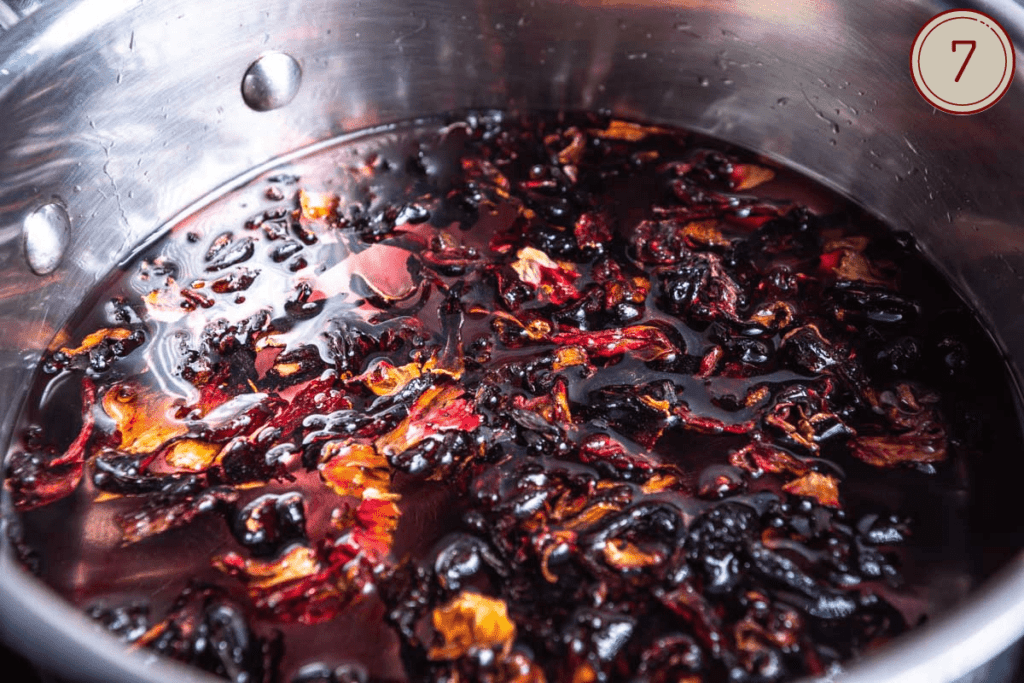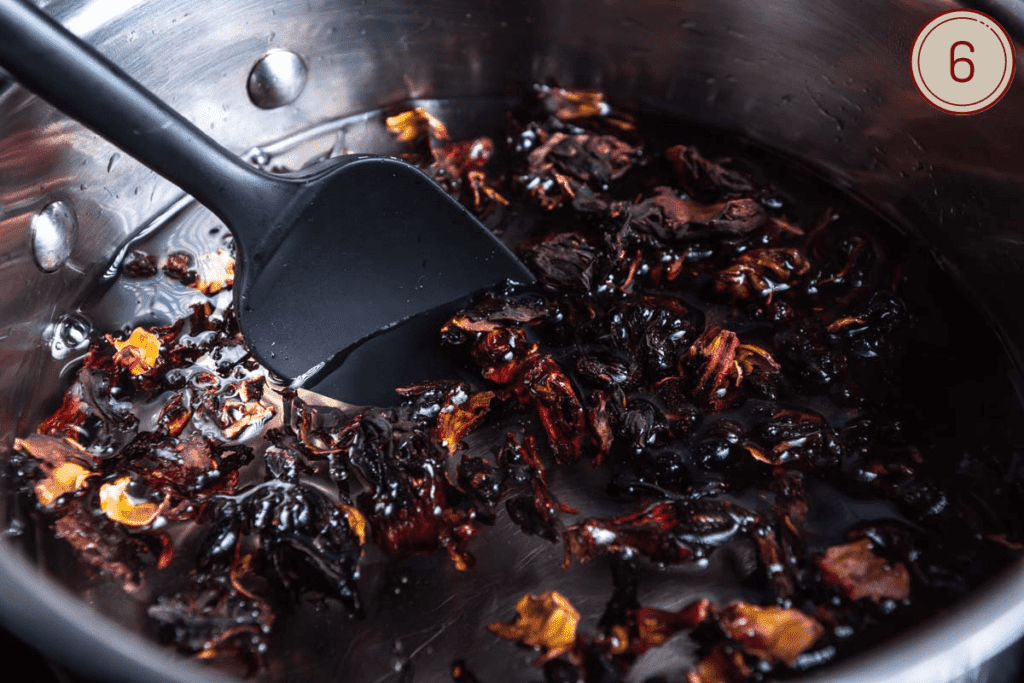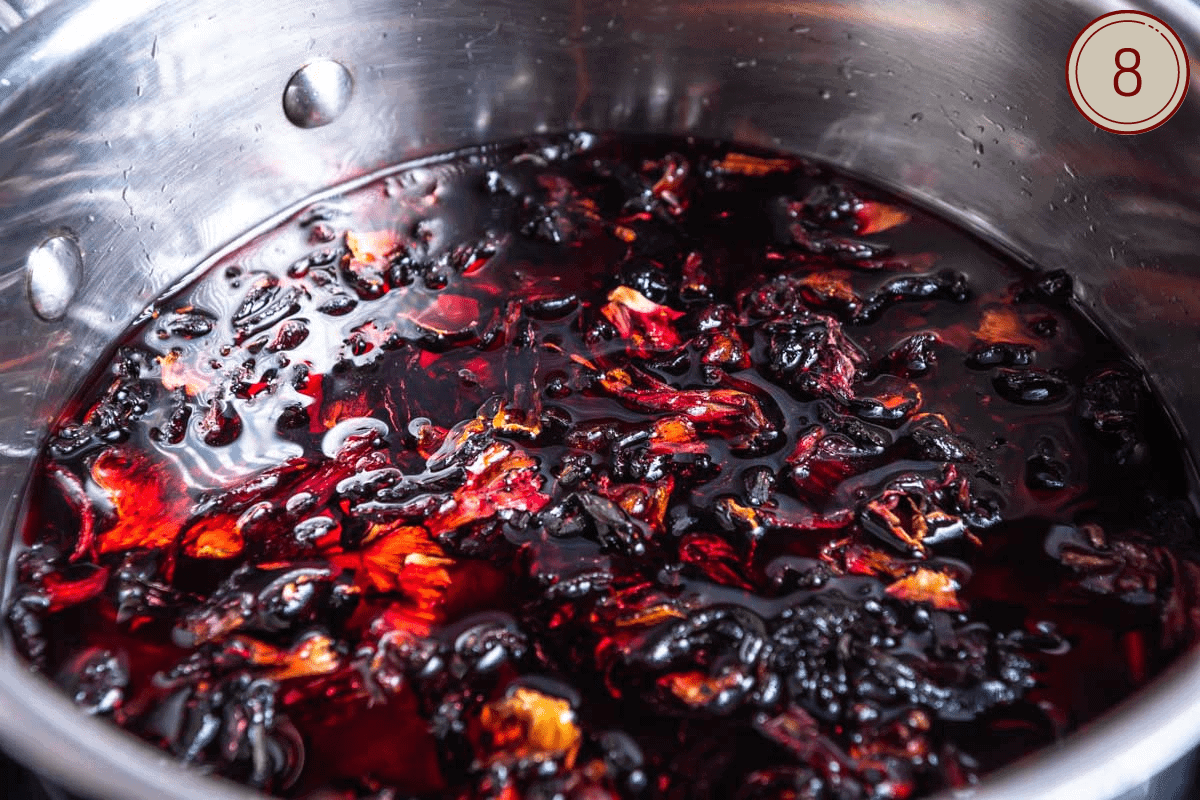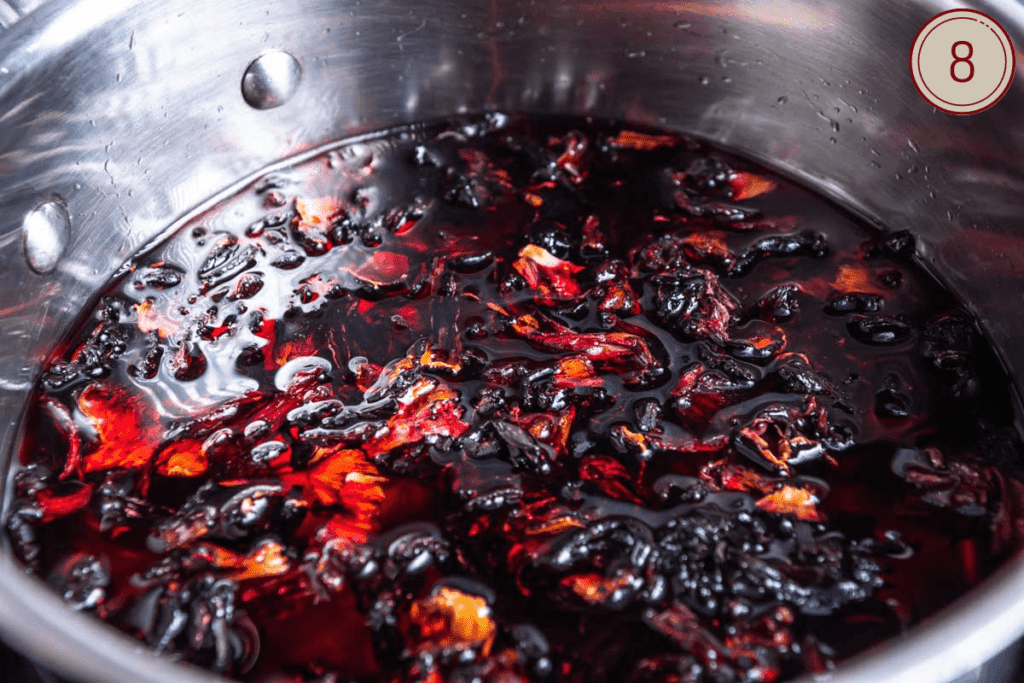 3. Finally, strain the hibiscus syrup through a fine wire-mesh strainer. You can use a rubber spatula to help press and remaining liquid from the saturated flowers. Discard the flowers and get your cocktail shaker and ice! Hibiscus syrup is ready to be served or stored for later.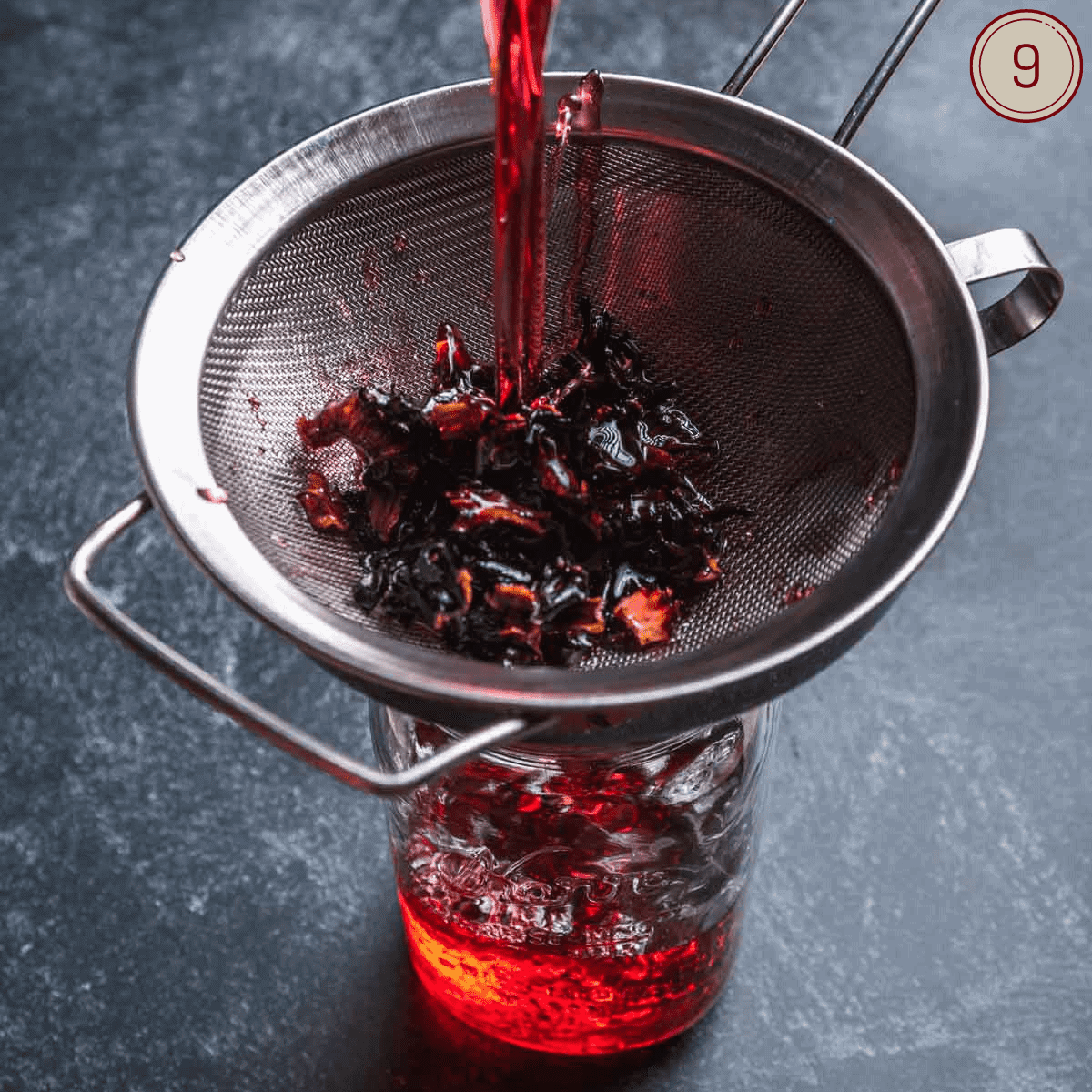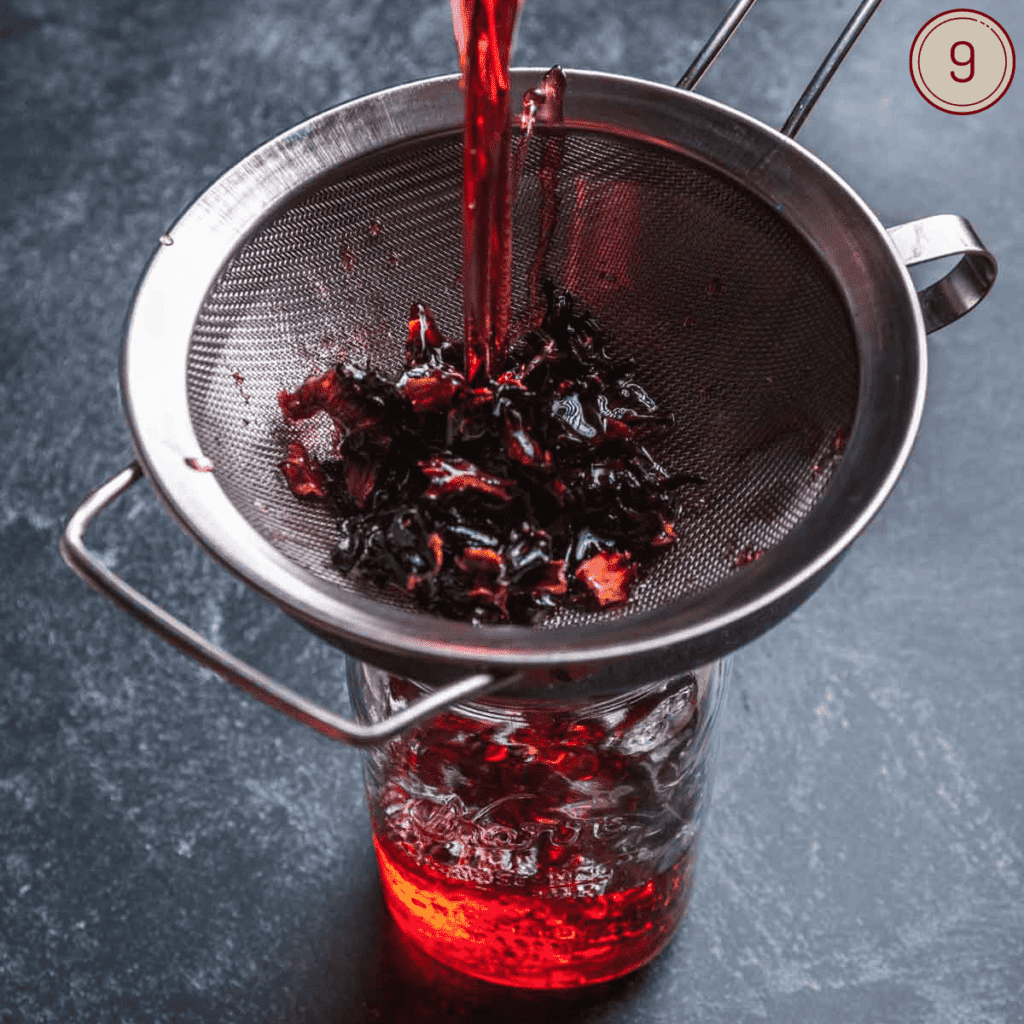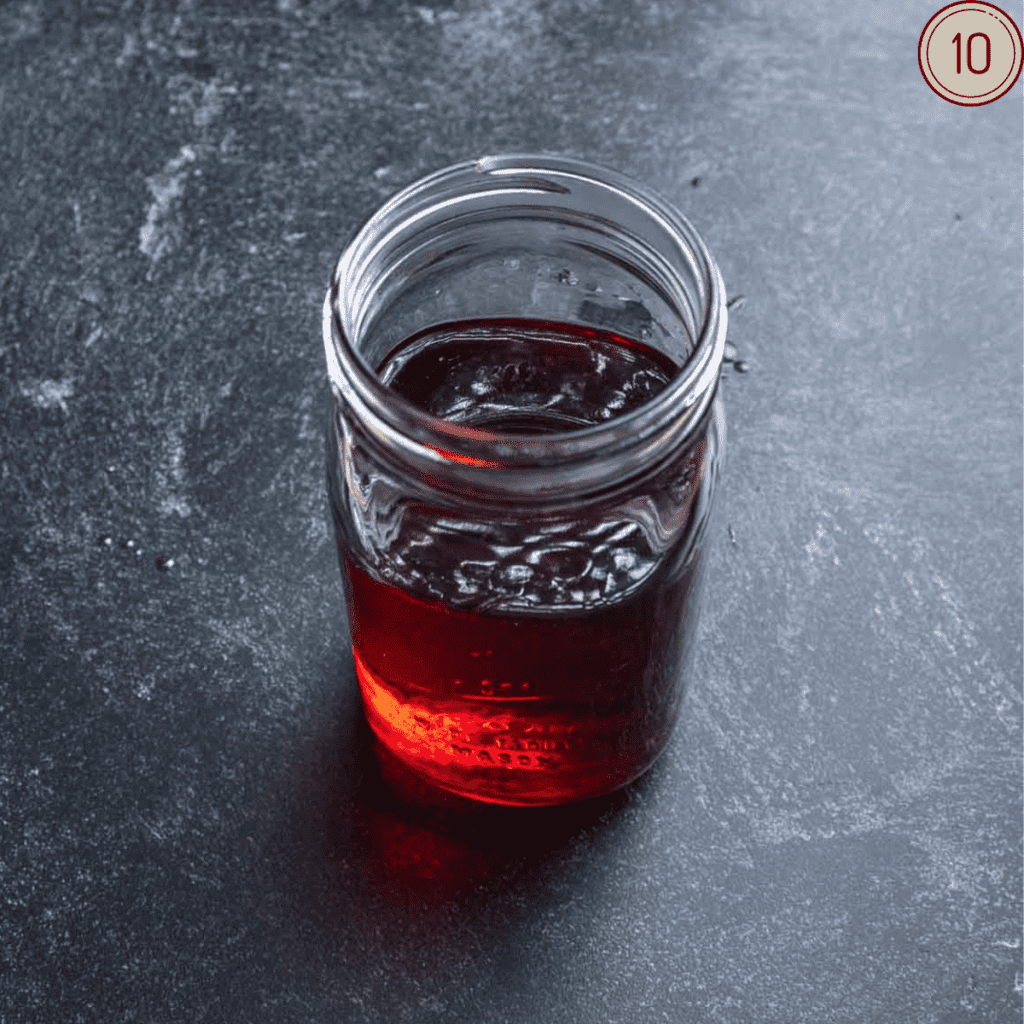 Flavor Variations
Depending on what you will use your hibiscus syrup for, you may want to play around with different flavor variations. To do this, you experiment adding different herbs or spices to the syrup during the steeping process. Here are some ideas for flavors that work well in this hibiscus syrup:
Cinnamon Stick - This is an especially delicious addition when making tropical drinks, like our Hibiscus Rum Punch!
Star Anise - One small piece of star anise adds a subtle licorice-like flavor
Vanilla Bean - Especially for using hibiscus syrup on pancakes or in desserts! Split a fresh Grade A or Grade B vanilla bean lengthwise before adding it to the syrup with the flowers.
Lemongrass - Lightly crush the heart of a fresh lemongrass stalk with the side of a knife to help release its aromatic oils before adding it to the syrup.
Mint Sprig
Lemon Peel
Chili - A dried chili pepper can add a nice spice and complexity to this syrup. Delicious in a Hibiscus Margarita!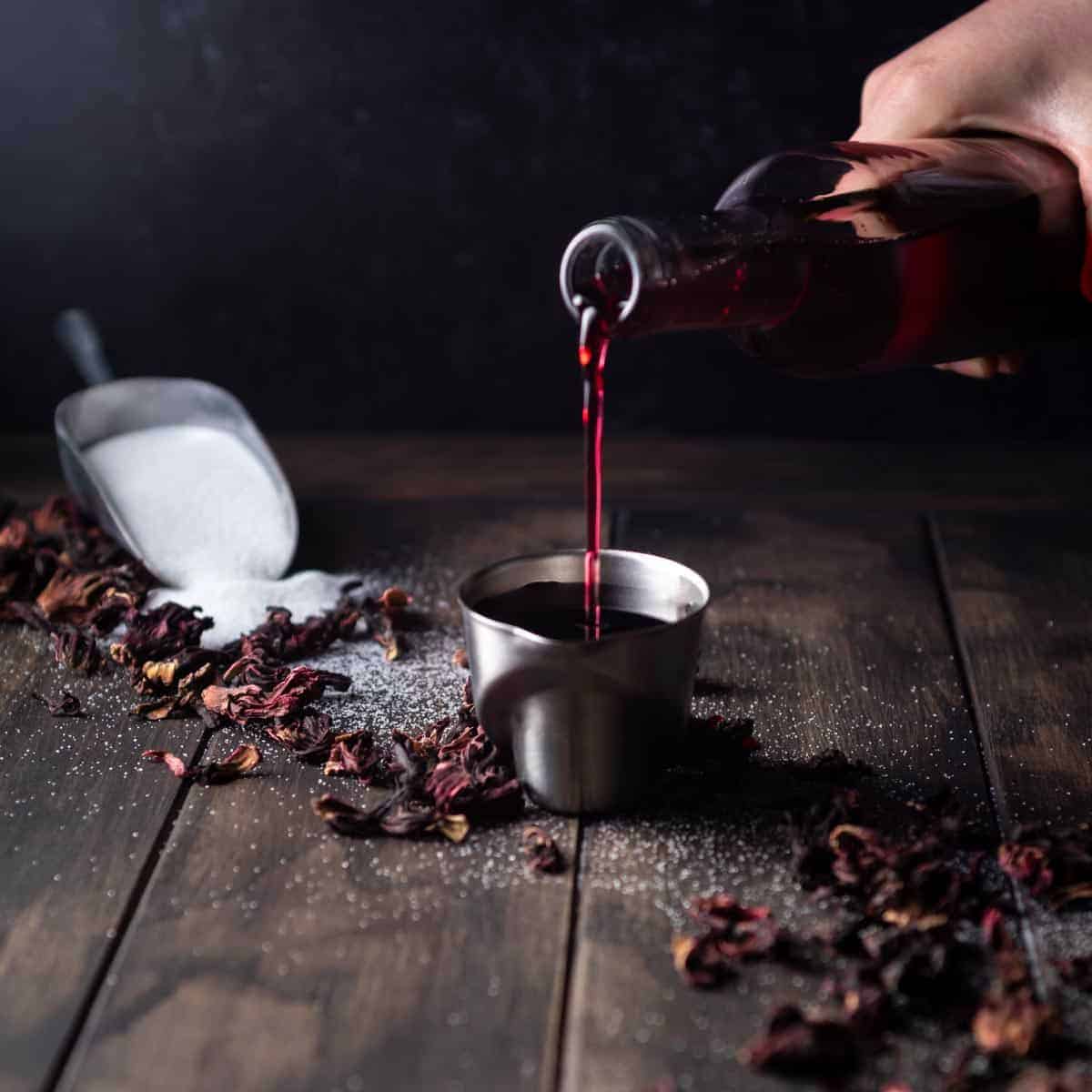 Serving Suggestions - Cocktails, Mocktails and More!
Our favorite way to enjoy hibiscus syrup is in a delicious drink! Hibiscus syrup makes for the prettiest pink cocktails, delicious sodas and unique mocktails. Here's a few of our favorites:
Hibiscus Rum Punch - This is one of our favorite drinks inspired by our travels to Belize! This rum punch uses pineapple juice, freshly-squeezed lime juice, and curacao. The hibiscus syrup gives this drink a pretty pink color and a tart and tangy twist!
Classic Cocktails - This syrup is one of our favorite ingredients to shine new light on a classic! Simply replace equal parts of hibiscus syrup for simple syrup in any cocktail recipe. Try it in our Hibiscus Margaritas, a Hibiscus Whiskey Sour, a Tom Collins, or mojitos!
Hibiscus Mimosa - Substitute the orange juice for a splash of hibiscus syrup. Perfect for holiday brunches, like Mother's Day!
Tequila Sunrise - Use hibiscus syrup instead of grenadine in this classic California cocktail. Or check out our other recipe: Strawberry Rose Tequila Sunrise
Hibiscus Soda - Simply add a little hibiscus syrup into soda water for a simple and delicious drink! Gorgeous, too! - Scroll up to see the pic.
Hibiscus Limeade - A super simple, refreshing recipe that kid's and adults will love all Spring and Summer long! Follow the link for our recipe.
Ice Tea - Use this syrup to sweeten tea or lemonade!
Hibiscus Shirley Temple - Use this recipe in place of grenadine for a sophisticated twist on a classic!
Dessert Topping - Try this recipe poured over vanilla ice cream, coconut sorbet or fresh pineapple!
Icings & Glazes - Hibiscus syrup can be used as a natural food dye for pink icings and glazes. Simply whisk with powdered sugar!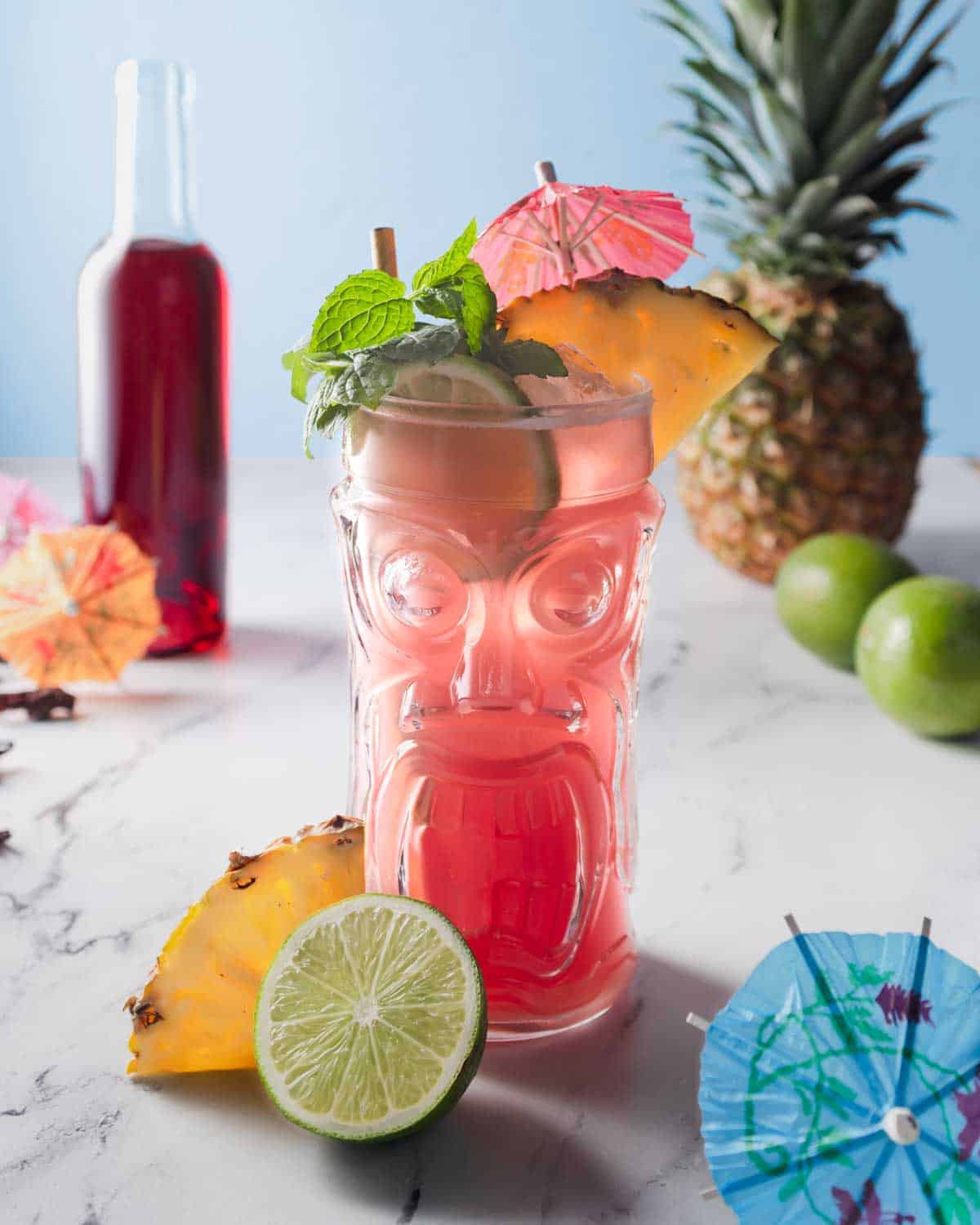 Storing The Syrup
Hibiscus syrup can be stored in an airtight container in the refrigerator for up to two - three weeks.
We recommend storing this syrup in a mason jar (or other glass container) to prevent staining.
Recipe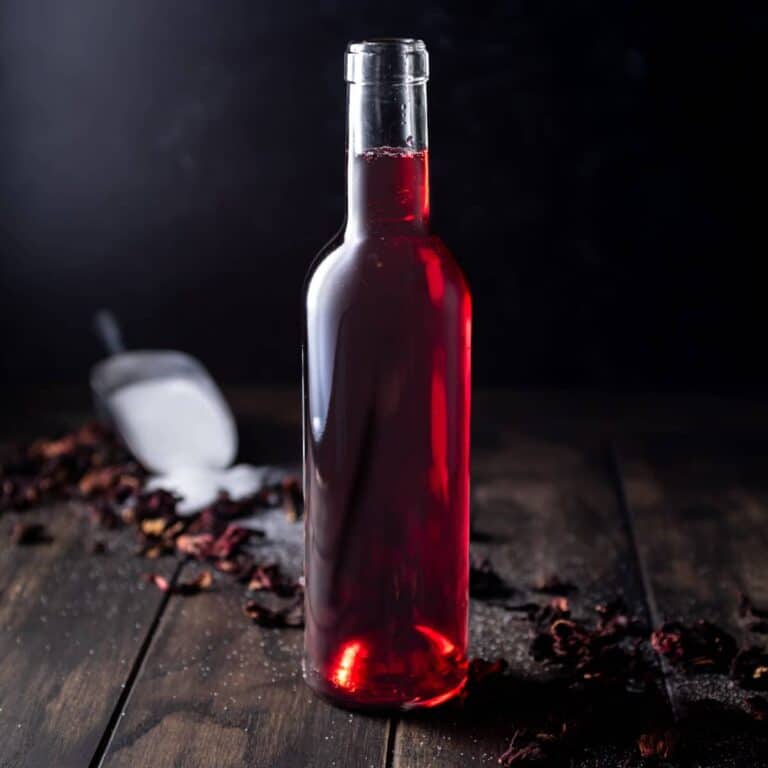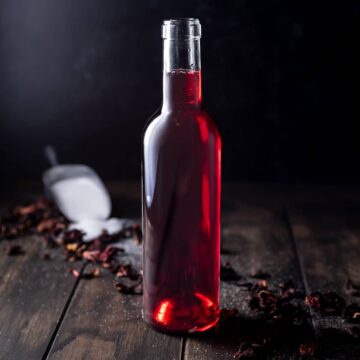 Hibiscus Syrup (Flavored Simple Syrup Recipe)
This tart and floral syrup is great for adding unique flavor to non-alcoholic beverages and cocktails! Check out our original hibiscus cocktail and mocktail recipes or use this syrup for a floral twist on a Shirley Temple or Tequila Sunrise!
ADJUST SERVINGS
Ingredients
½

Cup

dried hibiscus flowers

preferably organic

1

Cup

granulated sugar

1

Cup

water
Instructions
Gather, measure and prepare the Hibiscus Syrup ingredients as listed.

In a small sauce pot, bring

1 Cup (250 milliliters)

of water to a boil. Remove from heat and add in granulated sugar. Stir until sugar is completely dissolved and the syrup is clear.

Add in dried hibiscus flowers and stir to saturate. (See Note: a.) Allow to steep at room temperature for 2 - 4 hours. Strain syrup through a fine mesh strainer to remove the hibiscus flowers and discard. Syrup can be used immediately or stored in the refrigerator for up to 2 - 3 weeks. Enjoy!
Notes
a. At this stage, different flavor variations can be added to the syrup for the duration of the steeping time. See post text for additional different flavoring suggestions. 
* A Note About Salt
Unless otherwise noted, all recipes on The Sage Apron are developed using Diamond Crystal Kosher salt. It is a great all-purpose salt for cooking and baking. If using table salt, reduce quantities by about half.
Nutrition
Calories:
101
kcal
|
Carbohydrates:
26
g
|
Protein:
1
g
|
Fat:
1
g
|
Saturated Fat:
1
g
|
Polyunsaturated Fat:
1
g
|
Monounsaturated Fat:
1
g
|
Sodium:
2
mg
|
Potassium:
1
mg
|
Fiber:
1
g
|
Sugar:
26
g
|
Vitamin A:
22
IU
|
Vitamin C:
1
mg
|
Calcium:
1
mg
|
Iron:
1
mg