Honey simple syrup is a quick, 2 ingredient recipe that is great to use in cocktails and drinks.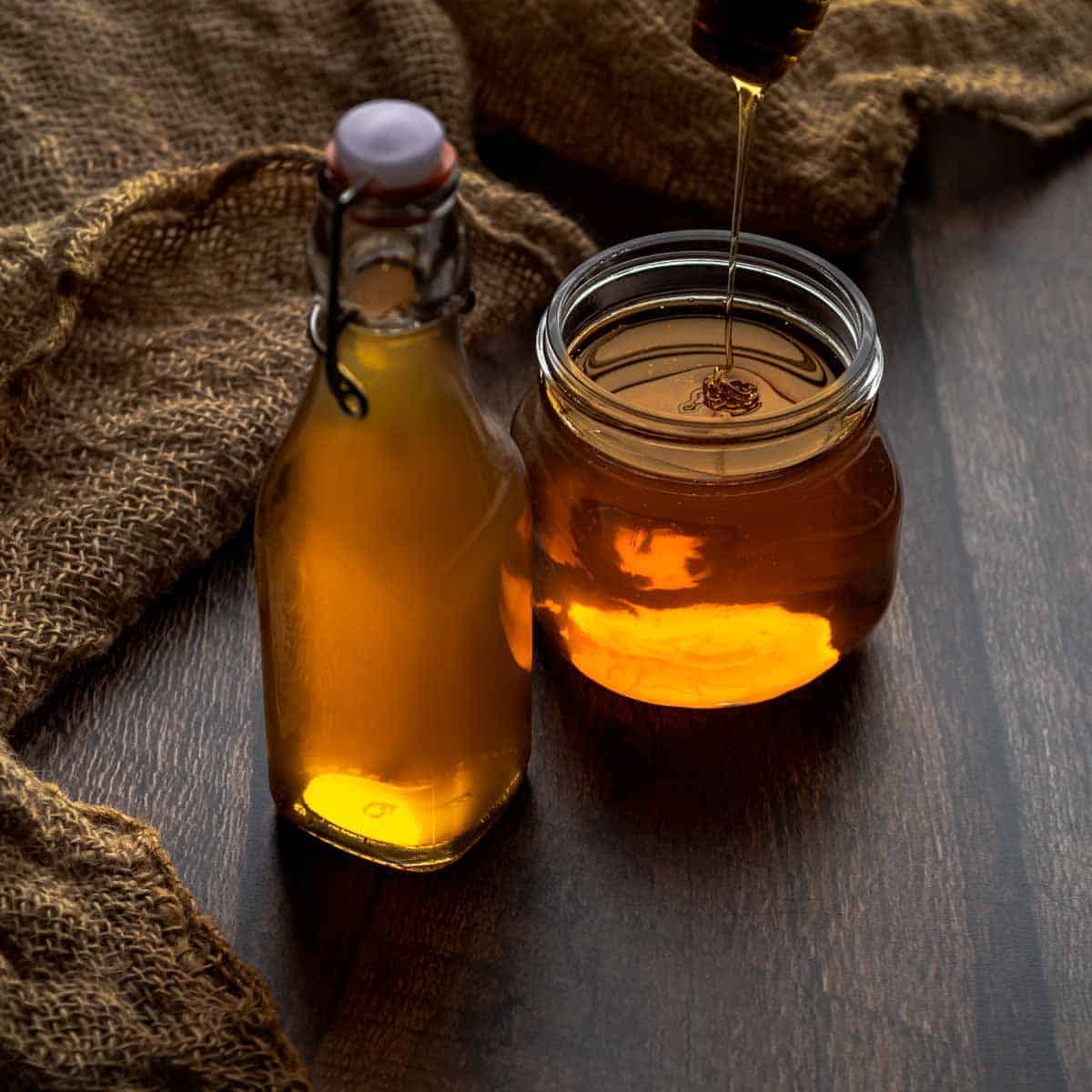 This easy simple syrup recipe, sometimes called honey water, has been used for cocktails since the post-prohibition era.
Honey syrup is used in classic cocktails as well as in many modern day concoctions. Try it in our delicious Spicy Mezcal Margarita or our fruity Blackberry Bee's Knees!
What is Honey Syrup?
Honey syrup is a type of sweet simple syrup. Honey syrup uses equal parts of water and honey (instead of simple syrups equal parts of water and sugar). The honey gives the syrup a nice sweetness with a bit more flavor and complexity.
Serving Suggetions
Honey syrup is perfect to use for sweetening non-alcoholic drinks and cocktails. You can substitute simple syrup with the same amount of honey syrup in any of your cocktail recipes. Here are a few of our favorite ways to use this recipe:
Sweet Iced Tea
Hot Tea
Lemonade
Bee's Knees Cocktail - gin, honey syrup and lemon juice. Try it in our Blackberry Bee's Knees
Gold Rush Cocktail - bourbon, honey syrup and lemon juice
Brown Derby - bourbon, honey syrup and grapefruit juice
In place of agave syrup - Honey syrup is a sustainable, healthier alternative to agave. Plus, the honey syrup mimics agave's rich mouthful and tastes delicious with Tequila and Mezcal! See for yourself in our Spicy Mezcal Margarita!
Original cocktails - Feel free to play around with this syrup in other concoctions as well! The flavors of honey go great with nearly every spirit and a wide variety of fruits and flavors.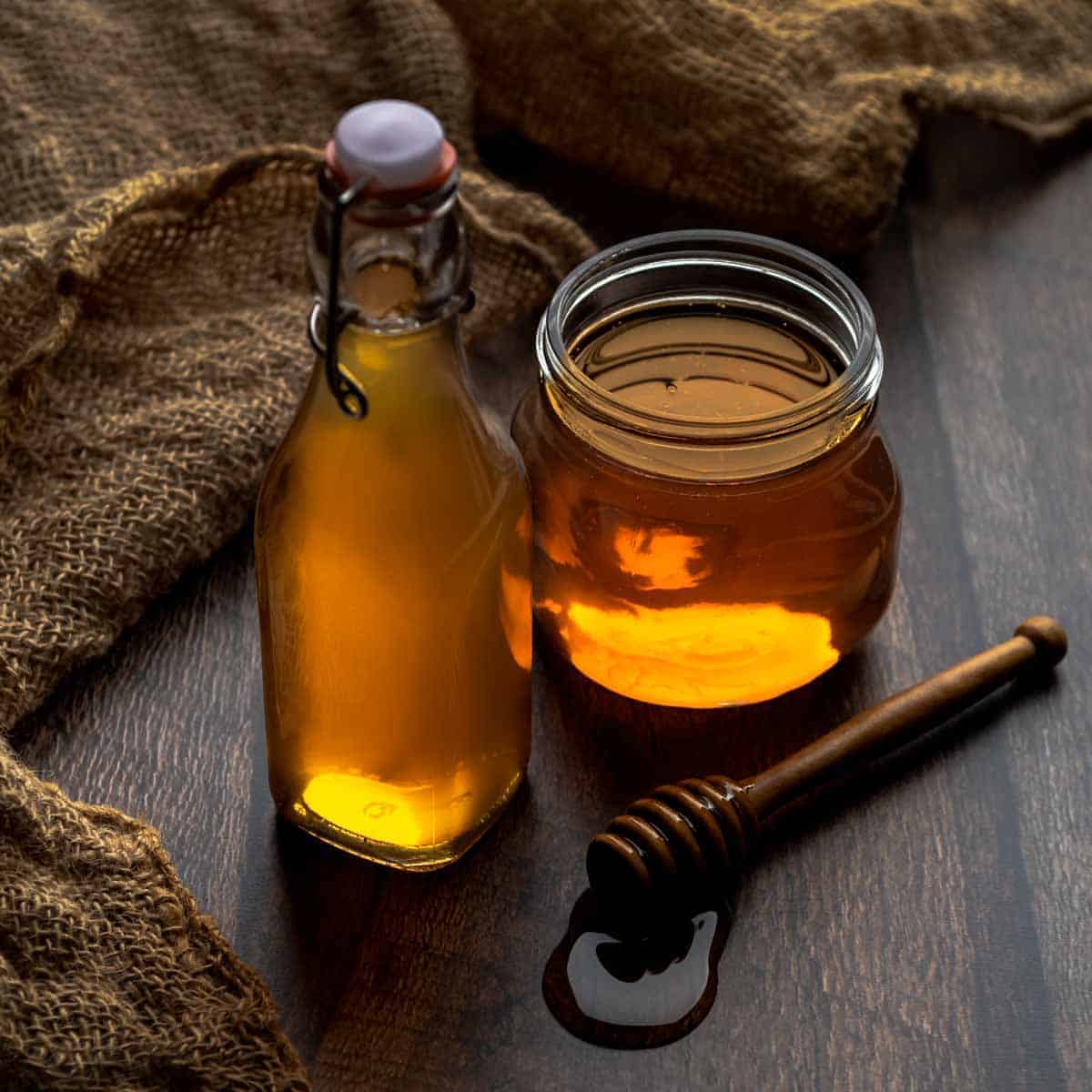 What Type of Honey Should I Use?
Honestly, if preparing honey syrup to be used in cocktails - it doesn't really matter. For other recipes we would almost always suggest using raw honey (the straight-from-the-beehive kind). Raw honey is healthier, has more complex flavors, uses no artificial colors or added sugars, and can even help battle seasonal allergies. However, it's also quite expensive.
Since honey syrup is almost always mixed with additional flavorings (like citrus and/or booze), the flavor complexity isn't as important. So that, and since we don't drink cocktails for their health benefits - we typically use an inexpensive regular-old grocery store honey. It's still delicious!
Of course, if it matters to you - you can make this syrup with any varietal of honey, or flavored honey, that you choose.
Storing
Honey syrup should be stored in a mason jar (or other airtight container) in the refrigerator for up to one month. Do not store honey syrup at room-temperature.
Recipe
Honey Syrup
This quick recipe is perfect for sweetening cocktails and non-alcoholic beverages
ADJUST SERVINGS
Instructions
Heat water in a kettle, stovetop or microwave until simmering. In a heat-safe container combine water and honey. Stir until honey is thoroughly dissolved. Use immediately or refrigerate for up to 1 month.
* A Note About Salt
Unless otherwise noted, all recipes on The Sage Apron are developed using Diamond Crystal Kosher salt. It is a great all-purpose salt for cooking and baking. If using table salt, reduce quantities by about half.
Nutrition
Calories:
65
kcal
|
Carbohydrates:
18
g
|
Protein:
1
g
|
Sodium:
2
mg
|
Potassium:
11
mg
|
Fiber:
1
g
|
Sugar:
18
g
|
Vitamin C:
1
mg
|
Calcium:
2
mg
|
Iron:
1
mg