This sweet and tart Rhubarb Syrup is easy to make and perfect for use in cocktails, mocktails, sodas and sweets!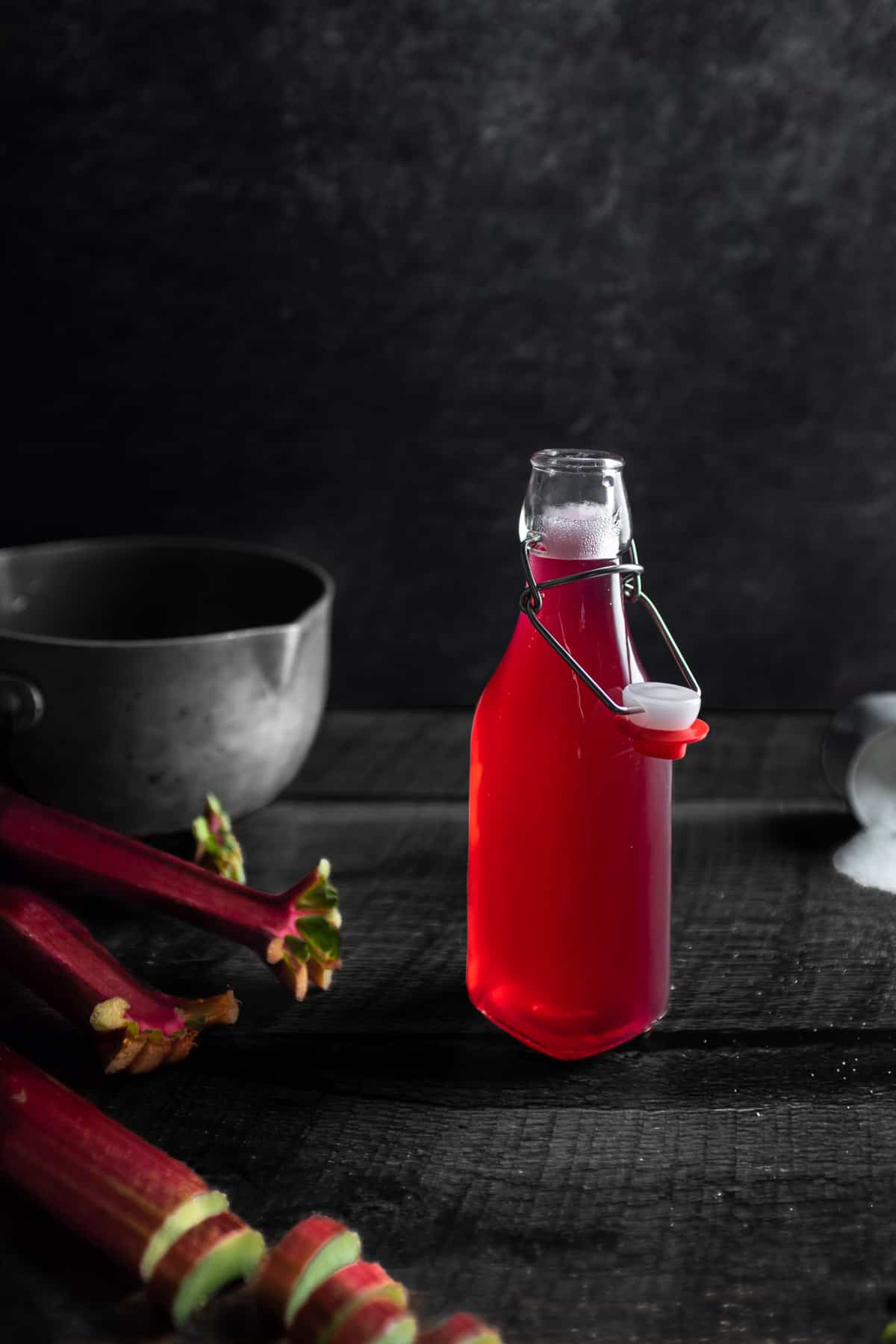 I'll never forget the first time I tried rhubarb...I was on a playdate in the third grade. My friend's parents had a little garden where they were growing rhubarb. I'll admit, I was a bit apprehensive (I've never been a fan of raw celery and the rhubarb was looking suspiciously similar). Never the less, they gave me a stalk of rhubarb and a cup with a little sugar in it. We took turns dipping the fresh stalks of rhubarb into the granulated sugar and I was instantaneously in love with the lip-puckering tartness and satisfying crunch.
Many years later, rhubarb season always brings a smile to my face! I love enjoying rhubarb in sweet foods, savory foods and, of course, beverages! Scott and I developed this simple Rhubarb Syrup recipe and it tastes just like the after-school snack I was enjoying nearly twenty years previous! Have fun trying this recipe in your favorite cocktails , non-alcoholic concoctions and dessert preparations! We especially love it in our Strawberry Rhubarb Whiskey Sour!
Jump to:
What is Rhubarb?
Rhubarb is an herbaceous vegetable (but is often paired with, and treated more like, a fruit). In the culinary world, rhubarb is known for its glossy stalks that range in color from vibrant pink, to a deep red, to green. The rhubarb stalks are known for their distinctively tart flavor that pairs wonderful with sweets such as pies, tarts and crisps.
For us, the first market sighting of rhubarb is a sign that Spring has arrived and all of the wonderful growth and abundance to come. This Rhubarb Syrup recipe makes it easy to enjoy rhubarb, whenever the mood strikes!
How to Select the Best Rhubarb
When cooking or baking with fresh rhubarb, it is important to know how to select the highest quality product. The best rhubarb has a natural balance of sweet and tart flavors.
When selecting rhubarb for a recipe, we like to look for rhubarb that has thin, long stalks. These thinner stalks of rhubarb contain higher levels of sugar and make the vegetable more desirable. Look for thinner stalks of rhubarb that are deeply colored red. The stalks should be crisp and shiny.
For this Rhubarb Syrup (and other fresh rhubarb recipes) avoid stalks that are matte, limp, overly dried or appear damaged. Furthermore, if you are lucky enough to be harvesting your own rhubarb, ALWAYS avoid the leaves. Rhubarb leaves contain high levels of oxalic acid that can be poisonous when handled or consumed.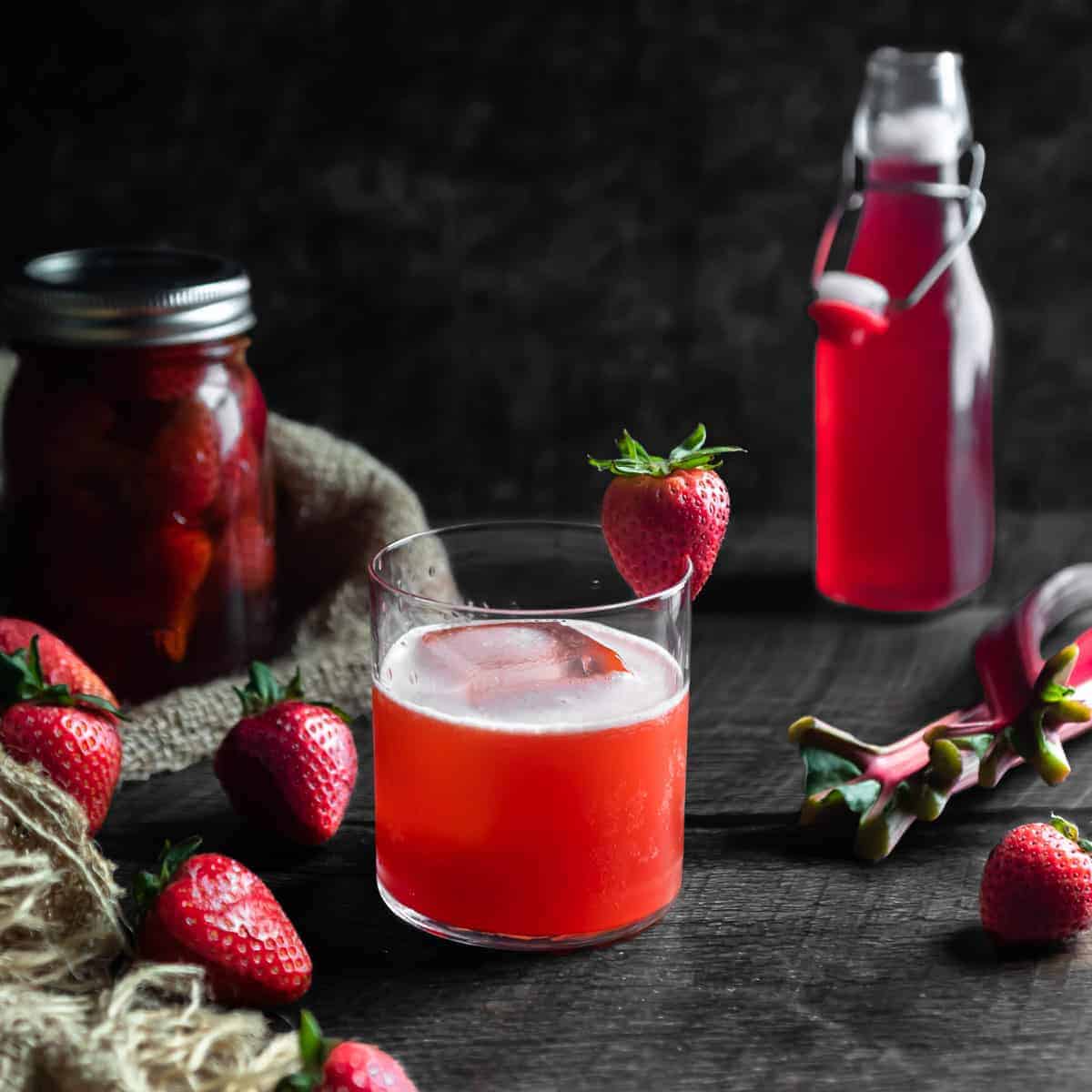 Our Favorite Ways to Enjoy Rhubarb Syrup
Rhubarb Syrup is truly a Springtime delight! We originally developed this recipe to be used in cocktails. However, we soon discovered this syrup is so versatile! Here are some of our favorite ways to enjoy this recipe!
Craft Cocktails & Mixed Drinks! - Swap out Rhubarb Syrup for the simple syrup in your favorite cocktails! We have fun experimenting with different flavor combinations and you should too! Some of our favorite cocktails to use this syrup for include a Bee's Knees, Tom Collins or Strawberry Rhubarb Whiskey Sour! This syrup is also delightful when added to simple mixed drinks like a vodka soda! (White Claw, who!?)
Bellinis, Spritzers & Mimosas! - Add a splash of Rhubarb Syrup to a glass of Prosecco, or an Aperol Spritz for a fun, Springtime sipper! Try it in our sparkling French 76 Cocktail!
Non-Alcoholic Drinks - Rhubarb Syrup added to club soda makes for a pretty-in-pink seasonal soda that the whole family can enjoy. We also love using this recipe to sweeten our fresh-squeezed lemonade or sweet iced tea!
Dessert! - This recipe is a lovely topping for vanilla ice cream, angel food cake or yogurt and berries.
Breakfast or Brunch - Rhubarb Syrup for breakfast? Why not!? Try this recipe in place of maple on pancakes or waffles! (See Note: a). Rhubarb syrup can also be whisked with a little powdered sugar to make a drizzle-worthy icing perfect for doughnuts, morning buns, muffins and crumb cakes! It's delightful on our Rhubarb Bread with Cinnamon Streusel!
Variations & Other Flavoring Options
Like other simple syrups, Rhubarb Syrup is easily infused with other flavors. Try these unique flavor combinations by adding these additional ingredients during Step 2 of this recipe.
Orange or Lemon Zest - Try not to include too much of the white pith to avoid bitter flavors!
Fresh Ginger - Just a couple slices of fresh ginger will do. No need to peel!
Vanilla - Use half of a split vanilla bean or a splash of vanilla extract.
Thyme - A few sprigs of thyme will add a nice savory note!
Cinnamon - We love a little cinnamon in rhubarb desserts... why not this syrup? Add a cinnamon stick for a warmer spiced flavor.
Cardamom - Similar to cinnamon, a few pods of dried cardamom will add a nice warm undertone to this recipe
Flowers - Try infusing this recipe with a touch of lavender or rose for a pretty floral flavor.
More Syrup Recipes
Check out the entire collection for more syrup recipes.
Recipe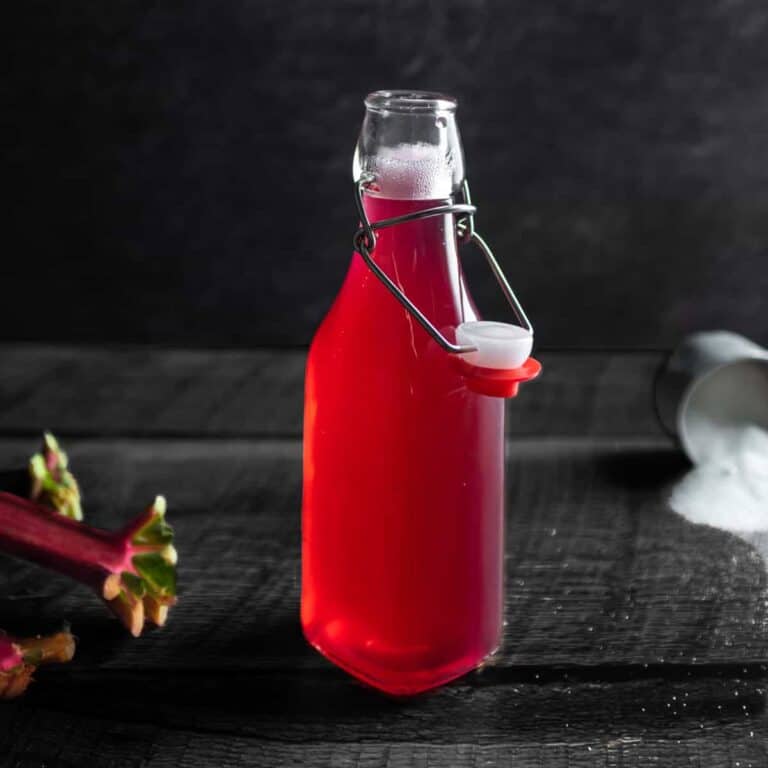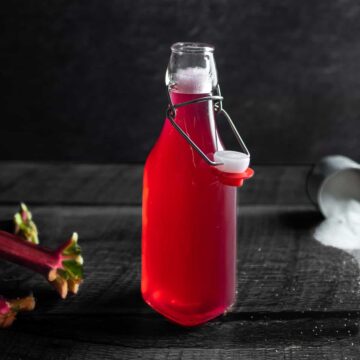 Rhubarb Syrup - For Cocktails, Mocktails & Sweets
This sweet and tart Rhubarb Syrup is easy to make and perfect for use in cocktails, mocktails, sodas and sweets!
ADJUST SERVINGS
Special Equipment
Fine-Mesh Strainer

Cheesecloth
Ingredients
1

pound

fresh (or frozen) rhubarb

about 6 - 8 thin stalks, washed, medium diced

2

Cups

filtered water

1

Cup

granulated sugar
Instructions
Gather, measure and prepare the ingredients as listed. To view metric measurements, toggle the US Customary/Metric switch at the top of this recipe card.

Add the diced rhubarb and water to a medium sauce pot. Set the pot over high heat and bring to a boil. Once boiling, reduce to simmer.

Simmer the rhubarb and water until the liquid has reduced by half, about 20 - 25 minutes. (See Note: a) The rhubarb should be soft and have lost it's red coloring. 

Reserve the liquid in the saucepan by straining the rhubarb and liquid through a fine mesh strainer lined with a cheesecloth. With the back of a spoon, gently press on the rhubarb to expel as much liquid as possible. Discard the rhubarb.

While still warm, add the sugar to the rhubarb liquid and stir to dissolve.

Allow the Rhubarb Syrup to cool before using. Rhubarb Syrup can be made ahead of time and kept in the refrigerator for 7 - 10 days. 
Notes
a. For an even thicker syrup that is suitable for serving with pancakes or waffles, further reduce the liquid to about ⅓ Cup (80 milliliters) before proceeding. 
* A Note About Salt
Unless otherwise noted, all recipes on The Sage Apron are developed using Diamond Crystal Kosher salt. It is a great all-purpose salt for cooking and baking. If using table salt, reduce quantities by about half.
Nutrition
Calories:
110
kcal
|
Carbohydrates:
28
g
|
Protein:
1
g
|
Fat:
1
g
|
Saturated Fat:
1
g
|
Polyunsaturated Fat:
1
g
|
Monounsaturated Fat:
1
g
|
Sodium:
6
mg
|
Potassium:
164
mg
|
Fiber:
1
g
|
Sugar:
26
g
|
Vitamin A:
58
IU
|
Vitamin C:
5
mg
|
Calcium:
51
mg
|
Iron:
1
mg