This simple homemade watermelon syrup recipe is bursting with the flavor of fresh watermelon! It's absolutely perfect for easy entertaining and making refreshing Summer cocktails and sodas.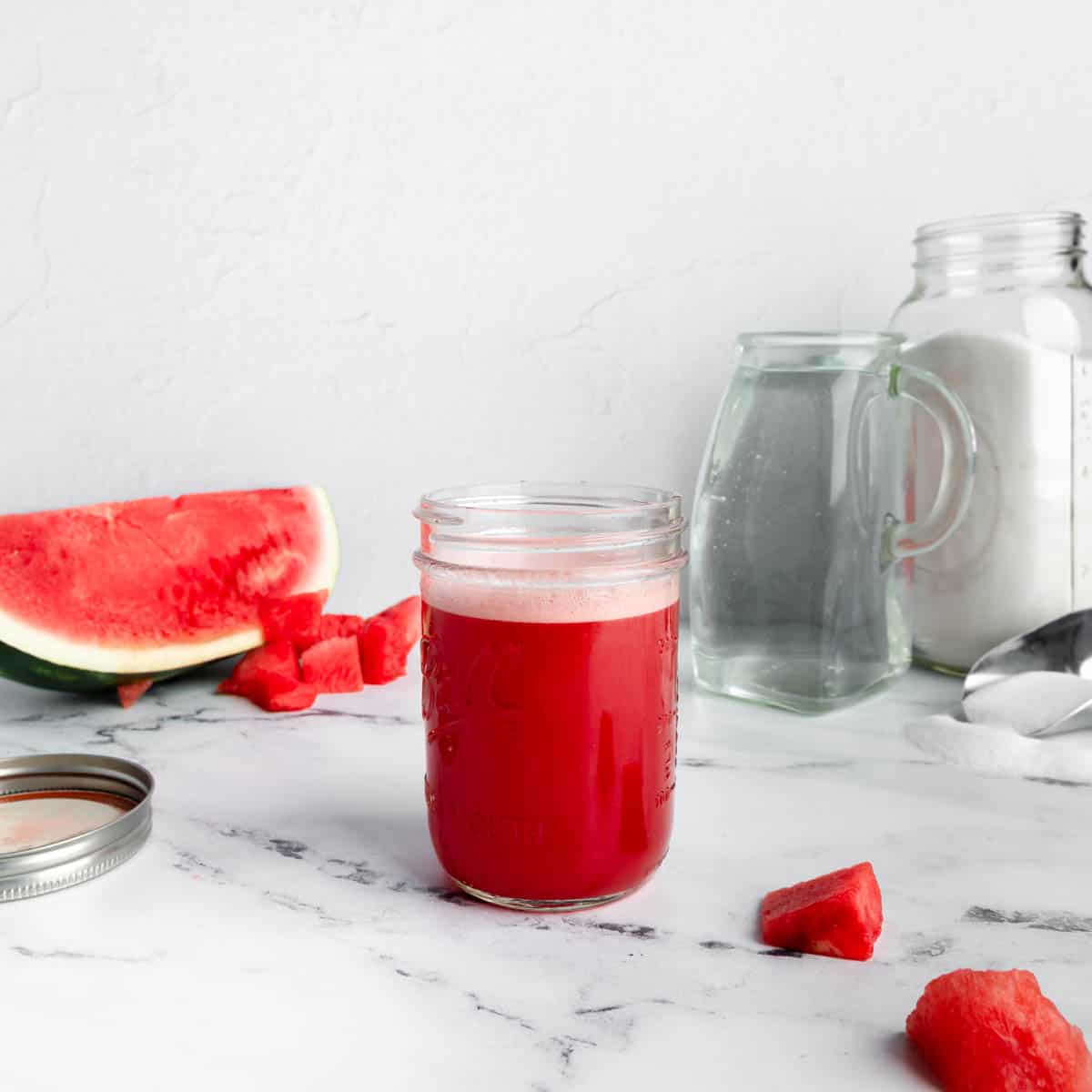 This quick, no-cook recipe is a fun addition to Summer holidays, barbecues and pool parties. It's so yummy! Try it in our Watermelon Martinis or Watermelon Jalapeño Margaritas!
Ingredients
To make this simple syrup recipe all you need is a fresh, seedless watermelon and some pure cane sugar.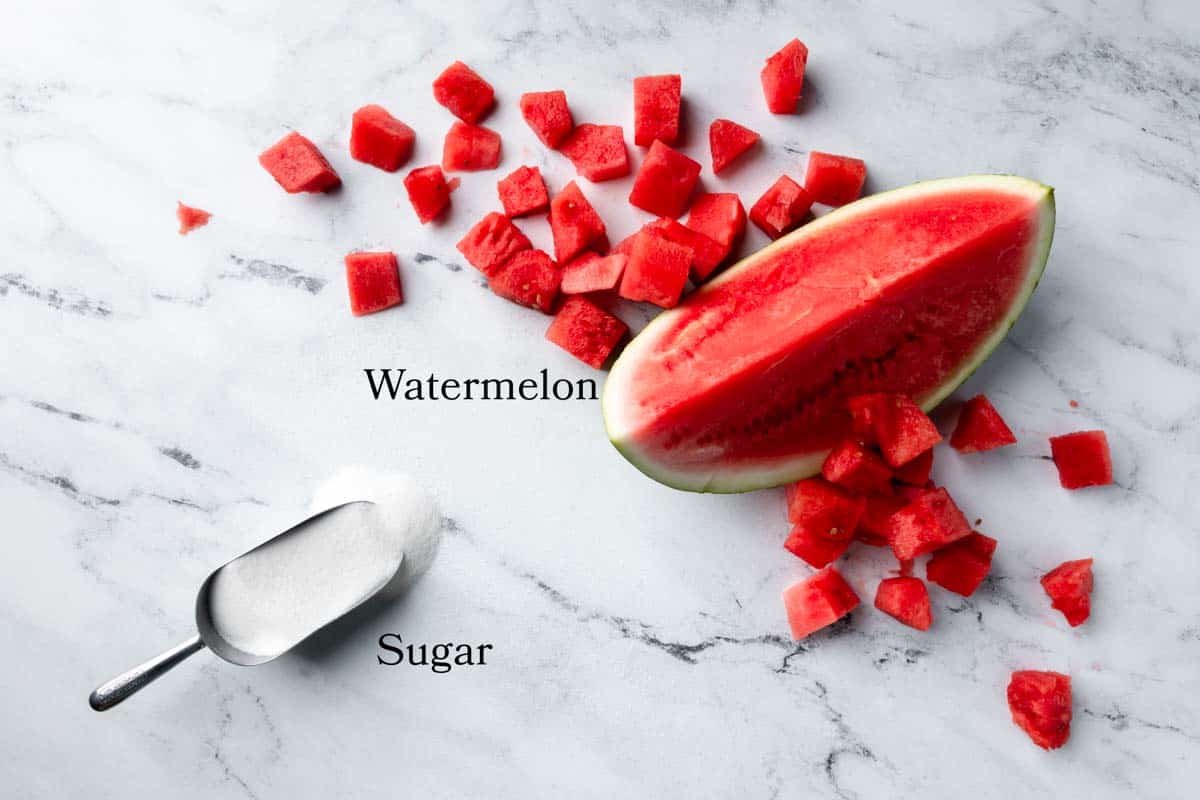 Pro Tip: How To Pick A Perfect Watermelon
The best watermelon syrup comes from the sweetest, ripest watermelons. We recommend making this recipe in the Summer months, during the peak of watermelon season. Here are a few tips for selecting the best whole watermelons at the market:
Look for round melons. Round, ball-shaped melons are sweeter and juicier. Elongated watermelons tend to be more watery and have less sugar and less flavor.
Find a melon with a golden yellow or orange field spot. The color of the field spot (the side of the watermelon that grew on the earth) can be a good indicator of how ripe it is. Creamy yellow and orange field spots are a good sign that the watermelon was allowed to fully ripen before being cut from the vine. Watermelons with a white field spot are not ripe.
Chose a melon with lots of webbing! The webbing pattern on watermelon rinds is a good thing! Those criss-cross lines on the exterior of the fruit are actually scarring from pollination. The more webbing, the sweeter the fruit!
Avoid shiny rinds and green stems! For the ripest watermelons, look for dried brown stems and darkly colored, dull rinds.
Procedure
The best part of this recipe is that it is SO QUICK and SO EASY. This recipe is for a cold process watermelon syrup that does not use any heat. This method gives you the freshest watermelon flavor with a vibrant pink coloring. Here's how to make watermelon syrup:
Step By Step
1. First, start by cutting your watermelon in chunks or cubes. Remove any hard black seeds, but don't worry about the white ones - those will get strained out later. Add your watermelon chunks to a blender (or food processor). Puree on high speed until smooth.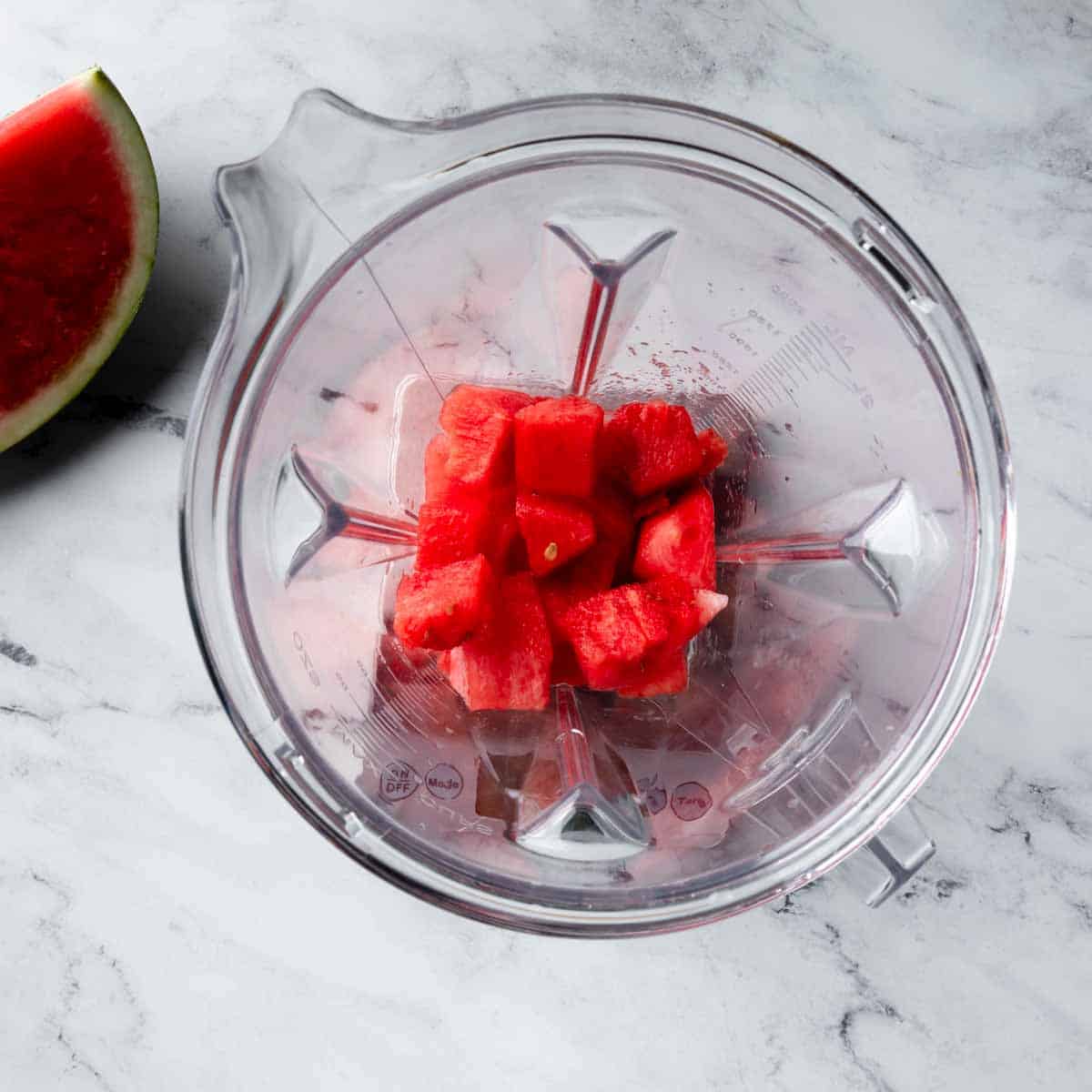 2. Next, add your measured sugar to a mason jar (or other tightly-lidded container). Set a funnel and a fine-mesh sieve over the jar. Strain the fresh watermelon into the jar. Discard of any remaining watermelon pulp.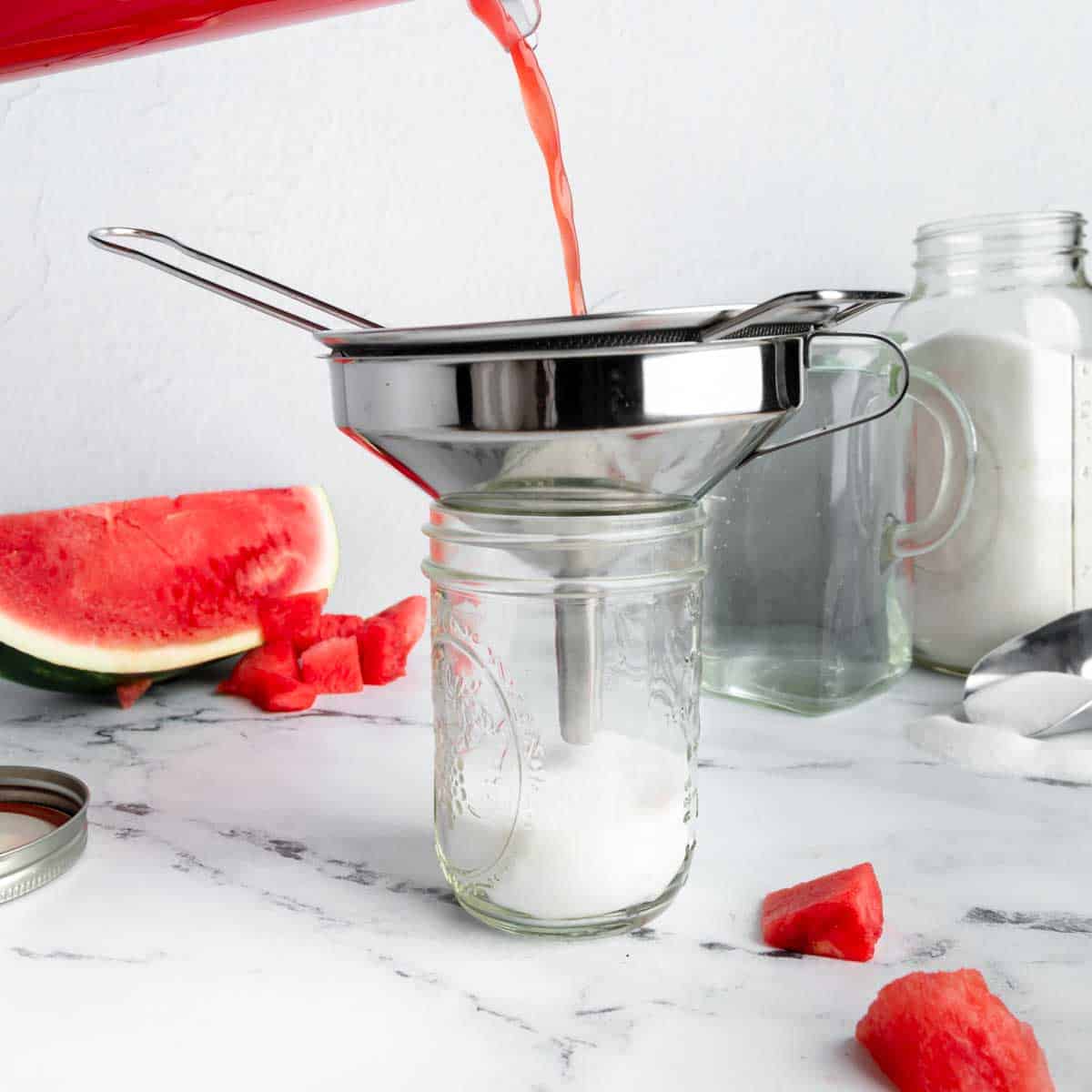 3. Finally, secure the lid on the mason jar. Shake vigorously for 30 - 60 seconds, or until the sugar dissolves completely. Viola! You're very own watermelon syrup is ready to use!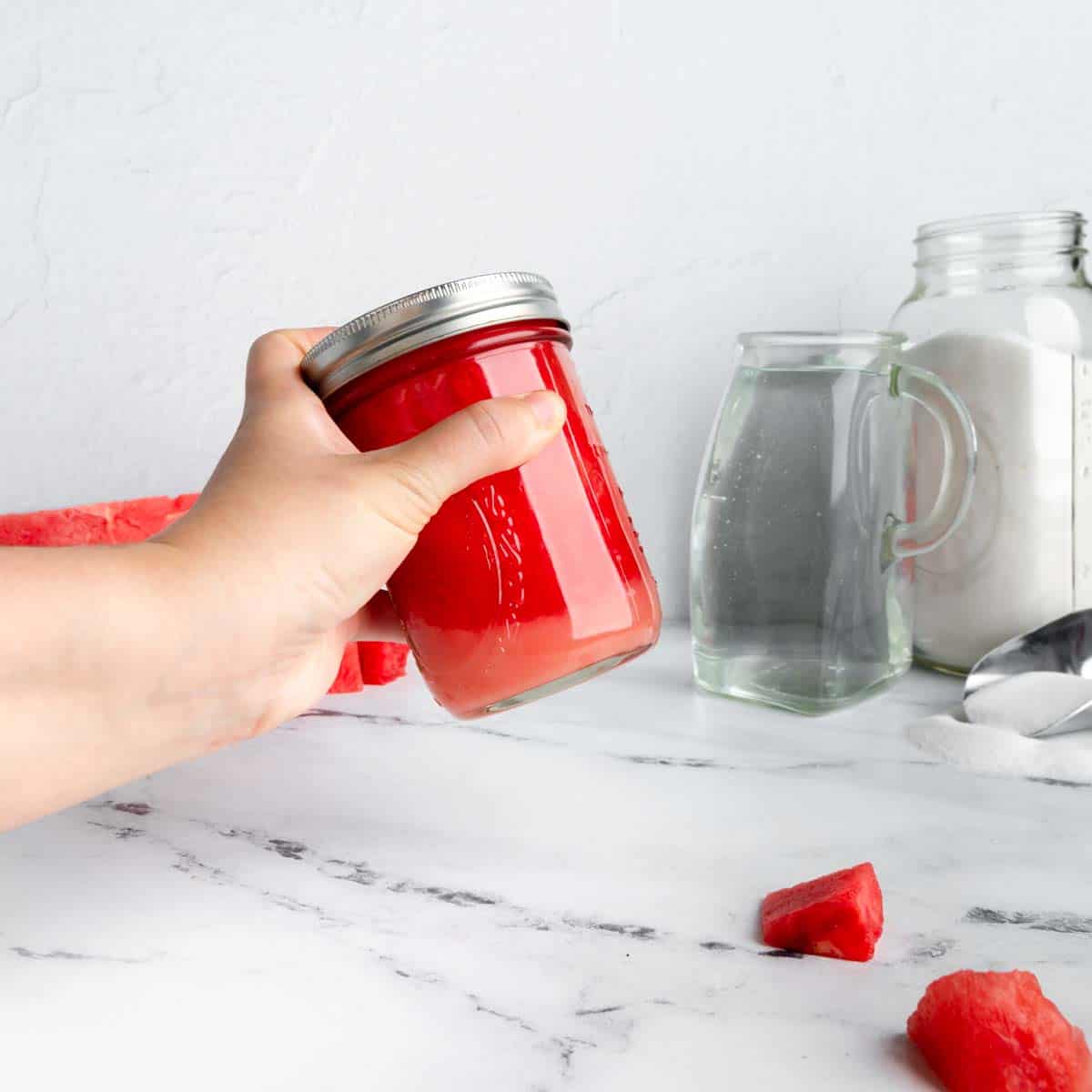 Serving Suggestions
Watermelon syrup is delicious for use in lots of cold beverages! Here are a few of our favorites:
Watermelon Martini - This original martini recipe is such a tasty cocktail! Made with your choice of gin or vodka.
Watermelon Jalapeño Margarita - Perhaps our all time favorite watermelon drink! The fresh lime juice and spicy jalapeno kick make this watermelon margarita absolutely irresistible!
Watermelon Bellini - For the easiest watermelon cocktail, just add a splash of this syrup into a cold glass of Prosecco. Cheers!
Watermelon Soda - Pour watermelon syrup over an ice cold soda water for a tasty mocktail!
Lemonade & Iced Tea - For a special Summer treat, use watermelon syrup as the sweetener for iced tea or freshly-squeezed lemonade.
Ice Cream - Watermelon syrup is a delicious treat poured over some Old Fashioned Vanilla Ice Cream. Garnish with some tart, fresh fruit!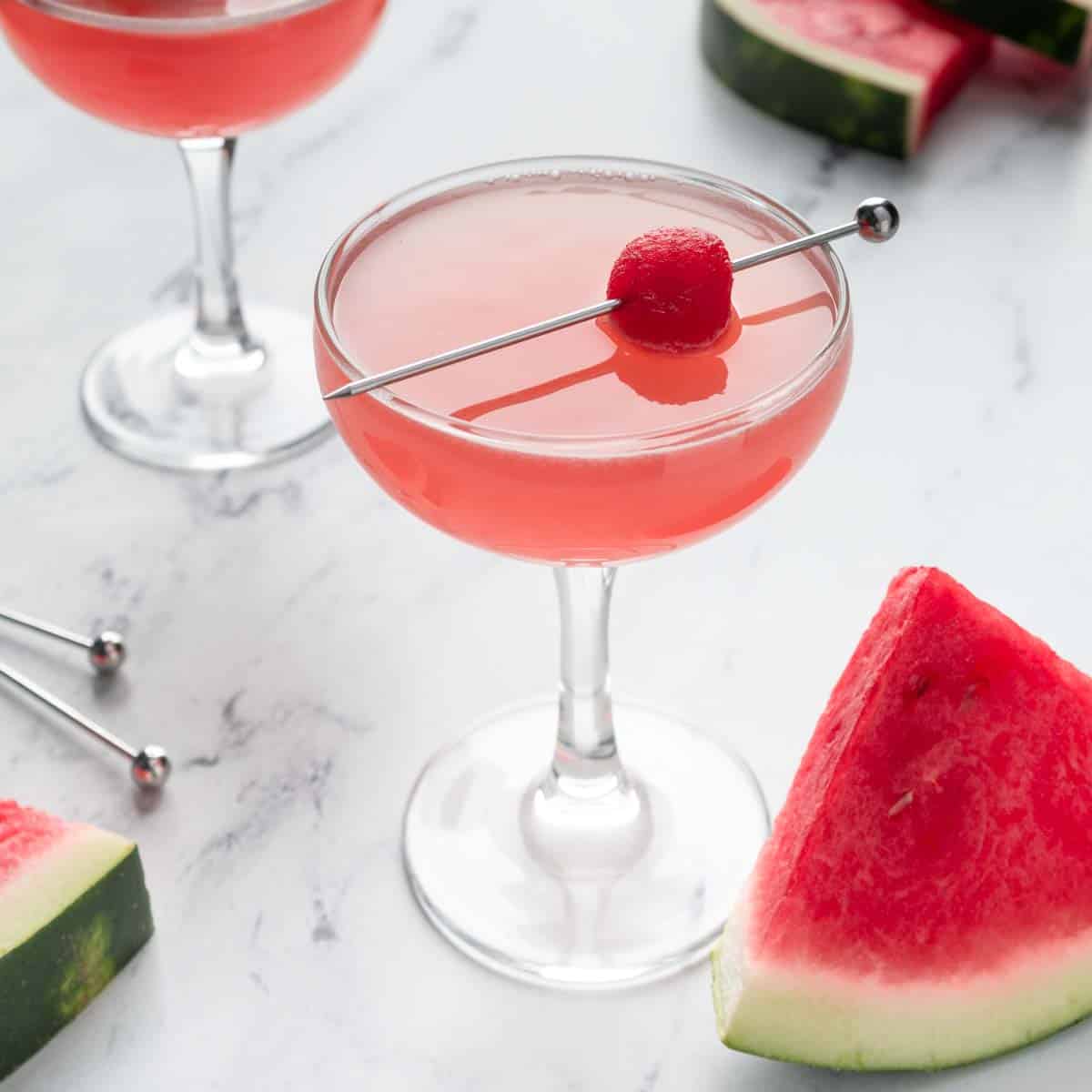 Other Homemade Syrup Recipes
Try these other simple syrups in our unique cocktail recipes:
Saving & Storing Fruit Syrups
Refrigerator: Watermelon syrup can be stored in an airtight container in the refrigerator for 1 - 2 weeks. Shake well before using.
Freezer: This recipe can be frozen to enjoy well beyond the Summer months. We recommend freezing the syrup in an ice cube tray for easy portioning and thawing. Once frozen solid, transfer watermelon cubes to a freezer bag and store for up to 2 - 3 months.
Summer Cocktail Recipes You May Like
Check out these other favorite Summertime refreshments.
Recipe
5 Minute Watermelon Syrup
This cold process watermelon syrup is perfect for Summer cocktails and sodas!
ADJUST SERVINGS
Special Equipment
1 Blender or Food Processor

1 Funnel

(optional, but recommended)

1 Fine-Mesh Strainer

1 Mason Jar
Ingredients
1

pound

cubed seedless watermelon

About 3 Cups

(See Note: a.)

4

ounces

granulated sugar

½ Cup plus 1 Tablespoon
Instructions
Add watermelon to a blender (or food processor) and process on high speed until puréed. Set aside.

Add sugar to a mason jar. Arrange a funnel and fine mesh strainer over the jar. Strain fresh watermelon puree into the jar with the sugar. Secure the lid and shake vigorously for 30 - 60 seconds or until the sugar is completely dissolved.

Use immediately or keep refrigerated for up to 1 - 2 weeks.
Notes
a. This recipe ratio was determined by weight measurements (4 parts watermelon to 1 part sugar). We found this ratio to have the perfect balance of sweetness, fresh watermelon flavor and light syrup consistency. 
* A Note About Salt
Unless otherwise noted, all recipes on The Sage Apron are developed using Diamond Crystal Kosher salt. It is a great all-purpose salt for cooking and baking. If using table salt, reduce quantities by about half.
Nutrition
Calories:
18
kcal
|
Carbohydrates:
5
g
|
Protein:
1
g
|
Fat:
1
g
|
Saturated Fat:
1
g
|
Polyunsaturated Fat:
1
g
|
Monounsaturated Fat:
1
g
|
Sodium:
1
mg
|
Potassium:
16
mg
|
Fiber:
1
g
|
Sugar:
4
g
|
Vitamin A:
81
IU
|
Vitamin C:
1
mg
|
Calcium:
1
mg
|
Iron:
1
mg