This Cajun-Style Andouille Sausage Pasta recipe is a quick and delicious solution for easy weeknight dinners!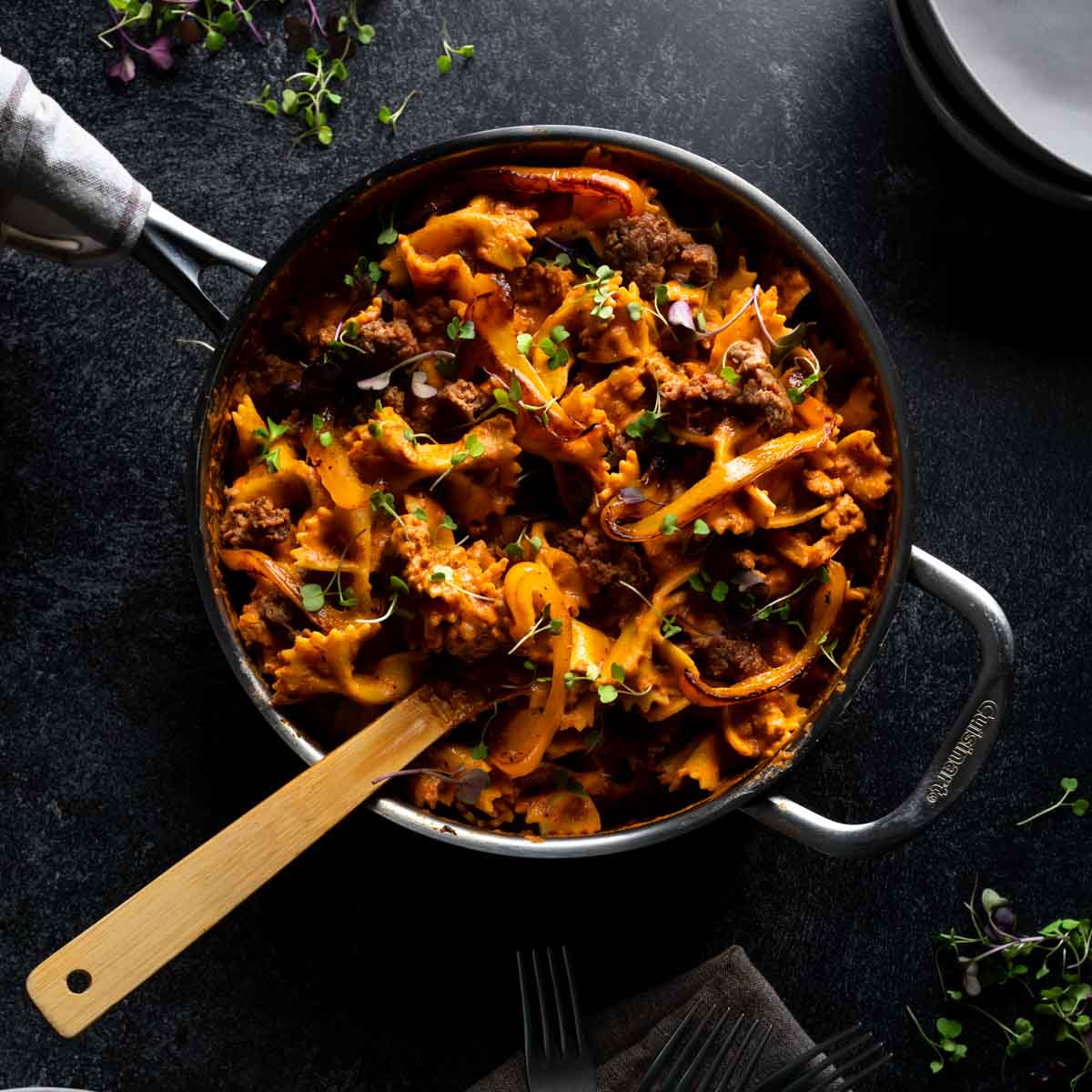 Smoky andouille sausage is cooked with Cajun inspired vegetables and spices and tossed with pasta in a spicy tomato cream sauce. It's a simple skillet meal loaded with a ton of bold flavor. Best of all this recipe is a comforting dish that can feed a crowd and be on your dinner table in just thirty minutes!
Fora another quick any easy dinner recipe, try our 30 Minute Chicken Marsala Meatballs!
Ingredients for this Recipe:
This creamy Cajun pasta with Andouille sausage comes together with just a handful of ingredients. If you'd like, you can top this pasta dish with an optional sprinkle of green onions, sharp cheddar or Parmesan cheese!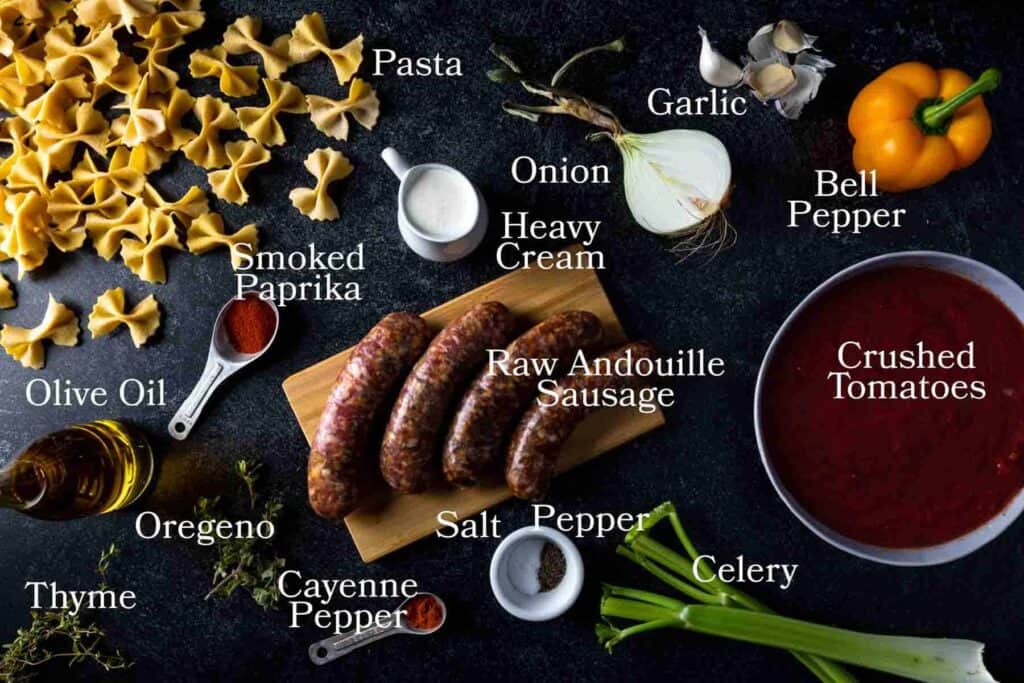 Raw Andouille Sausage - This pasta recipe was developed using raw andouille sausage that we removed from the casing. Raw andouille is commonly found in the butcher cases of local grocery stores. (We bought ours from Whole Foods.) However, andouille sausage is often sold twice smoked and fully-cooked. If you can only find fully cooked andouille (Trader Joes makes a yummy chicken andouille sausage), see Note: a.
Pasta - You can make this dish with whatever type of pasta you choose. We recommend using a bite-sized option, like rigatoni or penne pasta. As pictured, we used a Homemade Farfalle Pasta from our Semolina Pasta Dough recipe. It's the best!
Bell Pepper - In Cajun cooking, green pepper is the most authentic option. That being said, this recipe works with red bell pepper, orange, yellow or green. Personally, we opted for the sweeter flavors of orange and yellow bell peppers for this recipe.
Spices - For this recipe we made our own spice blend. However, feel free to use your favorite brand of Cajun seasoning, or a more herbaceous Creole seasoning for this recipe.
Cayenne Pepper - Adding cayenne is optional but a delicious addition for a spicy food lover!
Herbs - For this recipe, we used fresh thyme and oregano. However, feel free to use dried herbs, instead.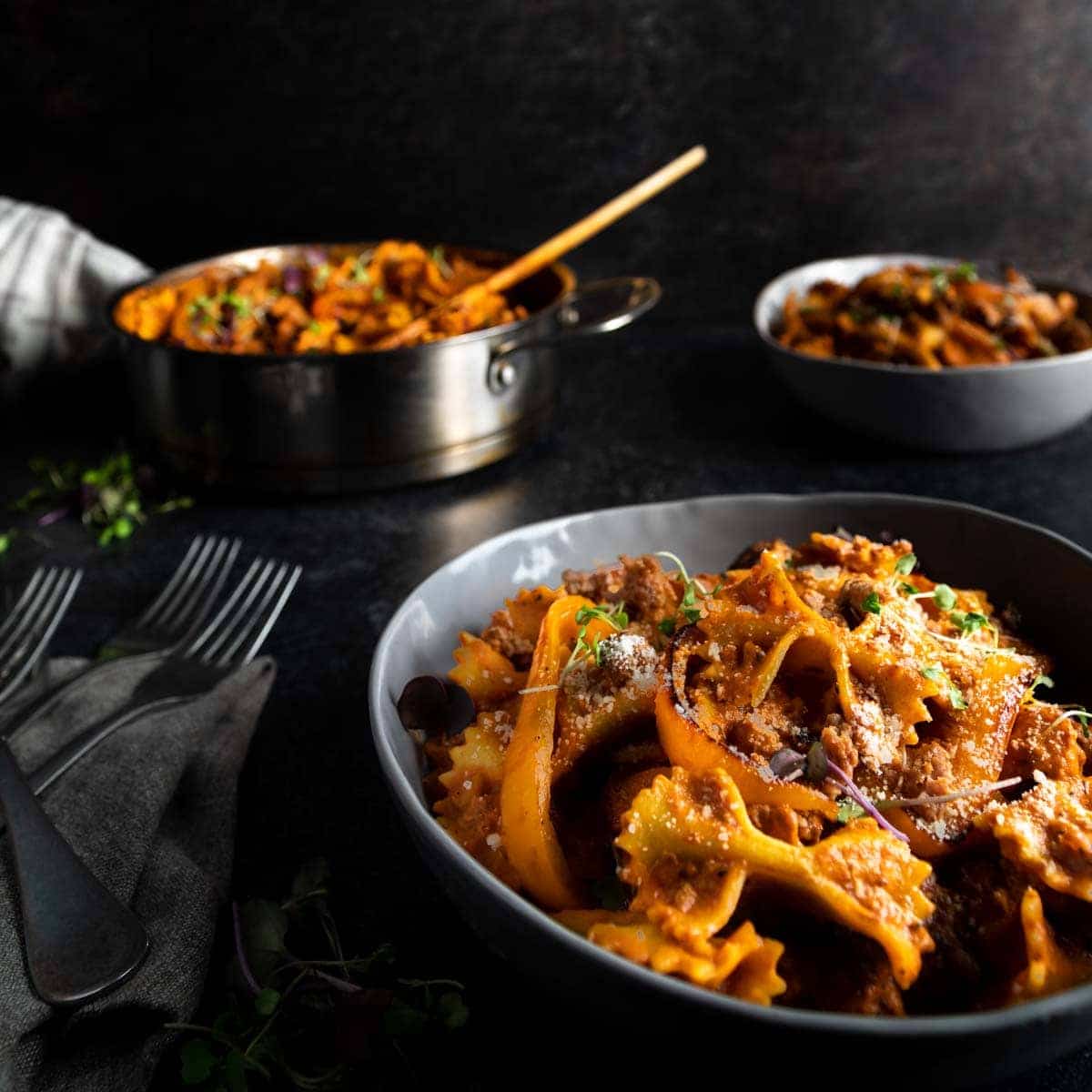 Creole & Cajun Flavor
Since the first time we tried the amazing flavors hailing from Louisiana, we fell in love with the bold flavors of both Cajun and Creole cuisines. Creole and Cajun food includes the famous dishes of gumbo, jambalaya and crawfish étouffé.
While Cajun people and Creole people are separate ethnic groups with their own cultures, traditions and histories, their foods yield similar flavors with influences from French, Spanish and West African cuisines.
This Cajun sausage pasta recipe is by no means authentic! However, it was inspired by the soulful dishes of these cultures. While the use of andouille sausage leans more towards Cajun tradition, the use of tomato products in this recipe's pasta sauce is more common in Creole cuisine.
Both cultures embrace dishes with a ton of flavor thanks to a generous use of dried spices. Paprika, dried oregano, thyme, chili peppers, onion and garlic powder are common in both cuisines.
What is Andouille Sausage?
Andouille sausage is a smoked pork sausage originating from France. In Louisiana, the "Andouille Capital of the World", andouille, is typically seasoned with wine, vinegar and cayenne pepper before being hung and twice smoked. It's one of America's favorite sausages, and is packed with so much flavor.
The sausage is smoky, garlicky, herbaceous and finishes with a spicy kick. This recipe calls for raw andouille sausage, that has not been fully cooked. If you are using a more authentic Cajun twice smoked sausage, see Note: a to slightly alter this recipe.
If andouille is not available in your area, feel free to substitute this sausage with chorizo or even a spicy Italian sausage for this pasta recipe. For a dish with less spice, mild Italian or chicken sausage can be used, instead.
The Holy Trinity
In Creole and Cajun cuisine, The Holy Trinity refers to a combination of equal parts of green bell pepper, yellow onion, and celery. Like a mirepoix in French cuisine, or a soffrito (commonly used in Spanish cooking), The Holy Trinity is an aromatic base that is used in several of this region's local dishes (i.e. gumbo and jambalaya).
For this spicy Cajun pasta, we cooked The Holy Trinity and Cajun spices in the rendered andouille fat to create a rich, flavorful base for this pasta sauce. Then, we deglazed the pan (scraped up the browned bits) with heavy cream and crushed tomatoes.
Meanwhile, the pasta is cooked to al dente while the sauce simmers. Finally, the sausage, pasta and a splash of pasta water is combined and tossed and the saucy, spicy andouille sausage pasta is complete! Bon appetit!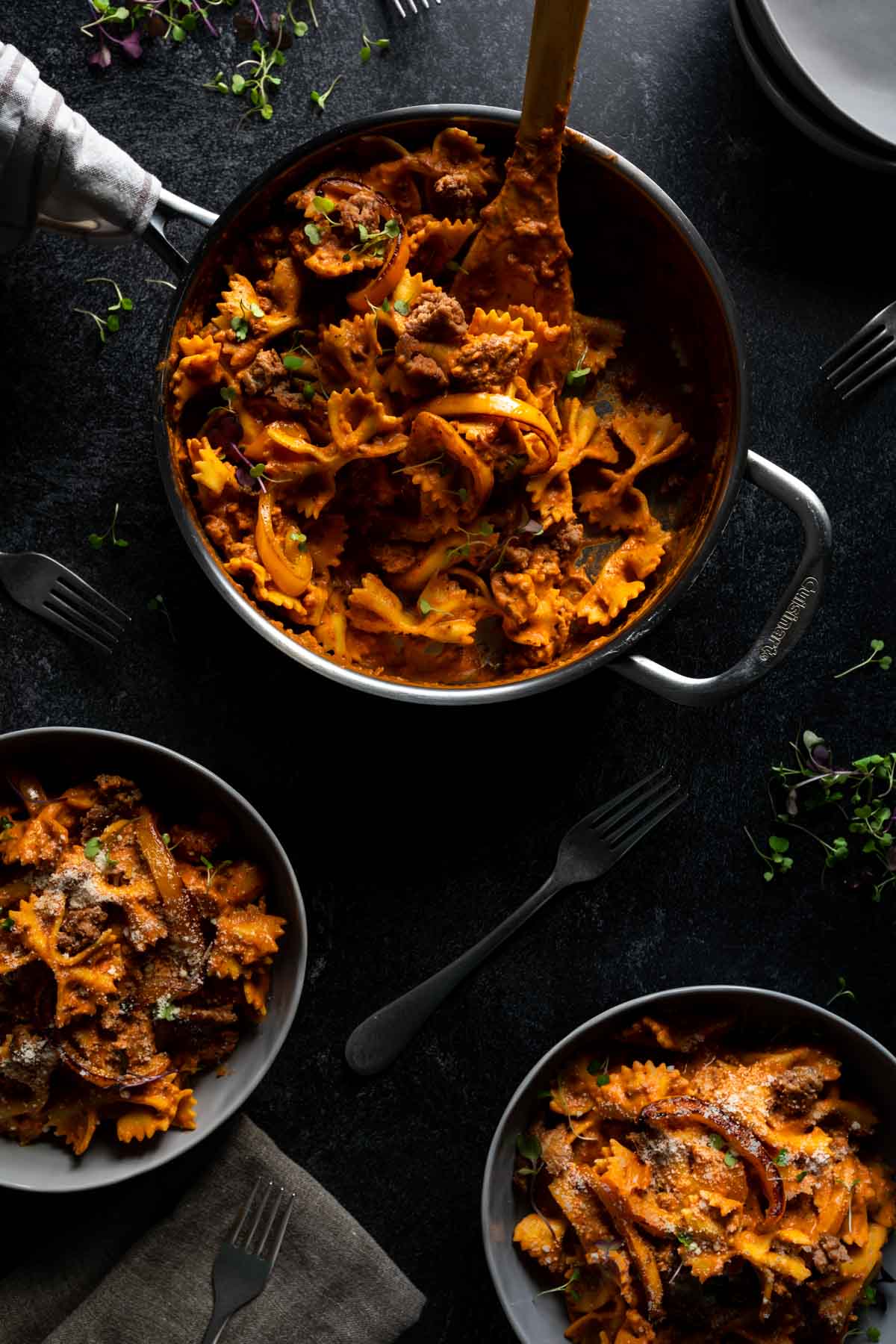 You May Also Like...
Recipe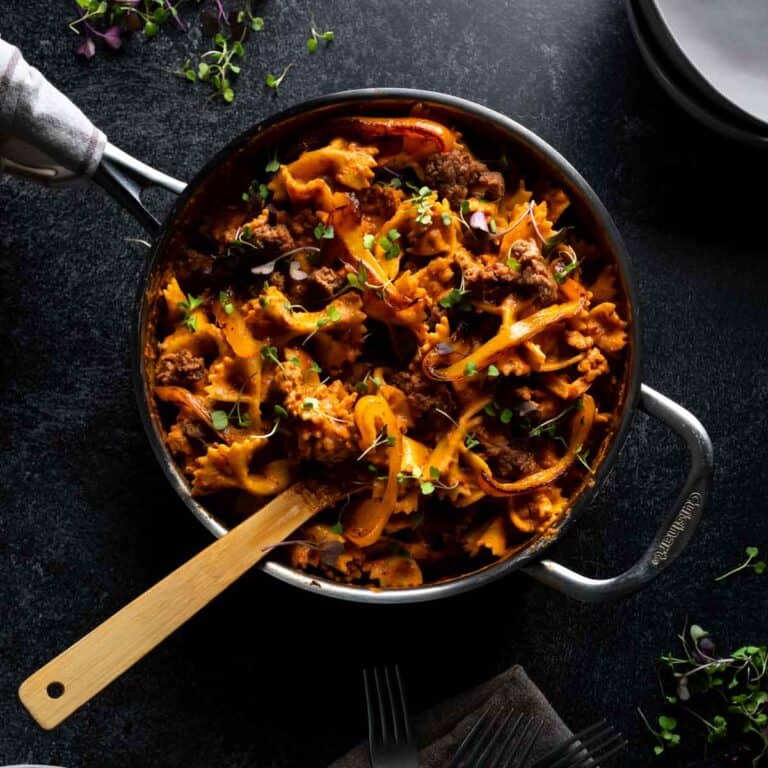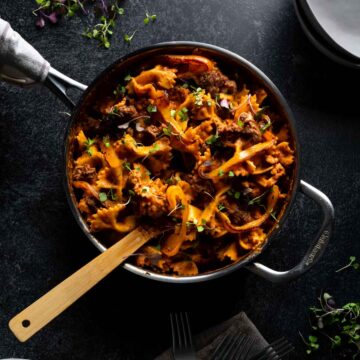 Creamy Cajun-Style Pasta with Andouille Sausage
This Cajun and Creole inspired pasta dish features smoky andouille sausage and bell peppers tossed with pasta in a spicy tomato cream sauce!
ADJUST SERVINGS
Ingredients
1

pound

raw andouille sausage (about 4 links)

(See Note: a.)

1

Tablespoons

olive oil

1

medium

bell pepper

seeded and sliced; red, green, yellow or orange bell peppers will work for this recipe

½

medium

yellow onion

finely diced

2

stalks

celery

finely diced

2 - 4

cloves

garlic

minced

1½

teaspoons

smoked paprika

¼ - ½

teaspoon

cayenne pepper

optional, as desired for spiciness

1

Tablespoon

fresh oregano

minced; OR 1 teaspoon dried oregano

½

Tablespoon

fresh thyme

minced; OR ½ teaspoon dried thyme

fine kosher salt*

to taste

Freshly-ground black pepper

to taste

1

Cup

heavy cream

1

28 ounce can

crushed tomato

(We like fire-roasted crushed tomato)

1

pound

pasta of your choice (We used handmade farfalle made from our Semolina Pasta Dough recipe)
Micro greens, scallion, sharp cheddar or Parmesan

option garnish, as desired (We used spicy micro greens and Parmesan)
Instructions
Gather, measure and prepare the Creamy Cajun-Style Pasta with Andouille Sausage ingredients as listed. To view metric measurements, toggle the US Customary/Metric switch at the top of this recipe card.

For the pasta, set a large pot of water over high heat and bring to a rapid boil. Once boiling, salt pasta water generously, to taste.

Meanwhile, use a sharp knife to slice the andouille sausage lengthwise and peel away the casings to discard. Heat olive oil over medium-high heat in a large skillet or dutch oven. Add loose andouille to the pan and cook until golden borwn. Use a wooden spoon or spatula to crumble the sauasge in the pan. Transfer cooked sausage to a paper-towel lined plate and set aside.

Drain all but

2 Tablespoons

of rendered sausage fat from the pan. Add the sliced bell peppers and cook, one to two minutes until begining to caramelize. Remove peppers from pan and place with sausage. Set aside.

Lower the heat to medium. Then, add yellow onion, celery, garlic, smoked paprika, cayenne (if using), oregano, salt and pepper to the pan. Saute three to four minutes, stirring often, until vegetables are soft.

Add heavy cream and stir while scraping up any browned bits from the bottom of the pan. Then, add crushed tomatoes and stir to combine. Bring mixture to a boil and reduce heat to a low simmer.

While the sauce is simmering, cook pasta to al dente using recipe or package instructions. While the pasta is cooking, return the andouille sausage and bell pepper to the simmering sauce.

Once pasta is cooked, use a spider utensil to transfer pasta directly into the simmering pasta sauce. Add a splash of the salted pasta water to the pan, as well. Stir the pasta into the sauce for one - two minutes until the sauce has thickened and coated the pasta. Season to taste.

Serve Cajun-Style Pasta immediately with a sprinkle of micro greens, scallion, shredded cheddar, or Parmesan cheese, as desired. Bon appetit!
Notes
a. This recipe calls for raw andouille sausage that can be removed from its casing. Raw andouille can be found in many butcher shops or in the meat cases at most Whole Foods. However, andouille sausage is often sold twice smoked and fully-cooked. If you can only find fully-cooked andouille sausage, adjust this recipe accordingly: Step 3. Instead of removing the sausage from it's casing, slice it thinly. Then, sear the sliced sausage until golden brown. You may need to add additional olive oil to the pan for Steps 4 and 5. Otherwise, proceed with recipe steps as normal. 
* A Note About Salt
Unless otherwise noted, all recipes on The Sage Apron are developed using Diamond Crystal Kosher salt. It is a great all-purpose salt for cooking and baking. If using table salt, reduce quantities by about half.
Nutrition
Calories:
718
kcal
|
Carbohydrates:
62
g
|
Protein:
26
g
|
Fat:
40
g
|
Saturated Fat:
17
g
|
Polyunsaturated Fat:
4
g
|
Monounsaturated Fat:
16
g
|
Trans Fat:
1
g
|
Cholesterol:
119
mg
|
Sodium:
710
mg
|
Potassium:
553
mg
|
Fiber:
4
g
|
Sugar:
4
g
|
Vitamin A:
1633
IU
|
Vitamin C:
29
mg
|
Calcium:
84
mg
|
Iron:
3
mg