A Hibiscus Margarita is the perfect refreshing cocktail! This Mexican inspired drink recipe is made with tequila, fresh-squeezed lime juice, orange liqueur and a homemade hibiscus syrup.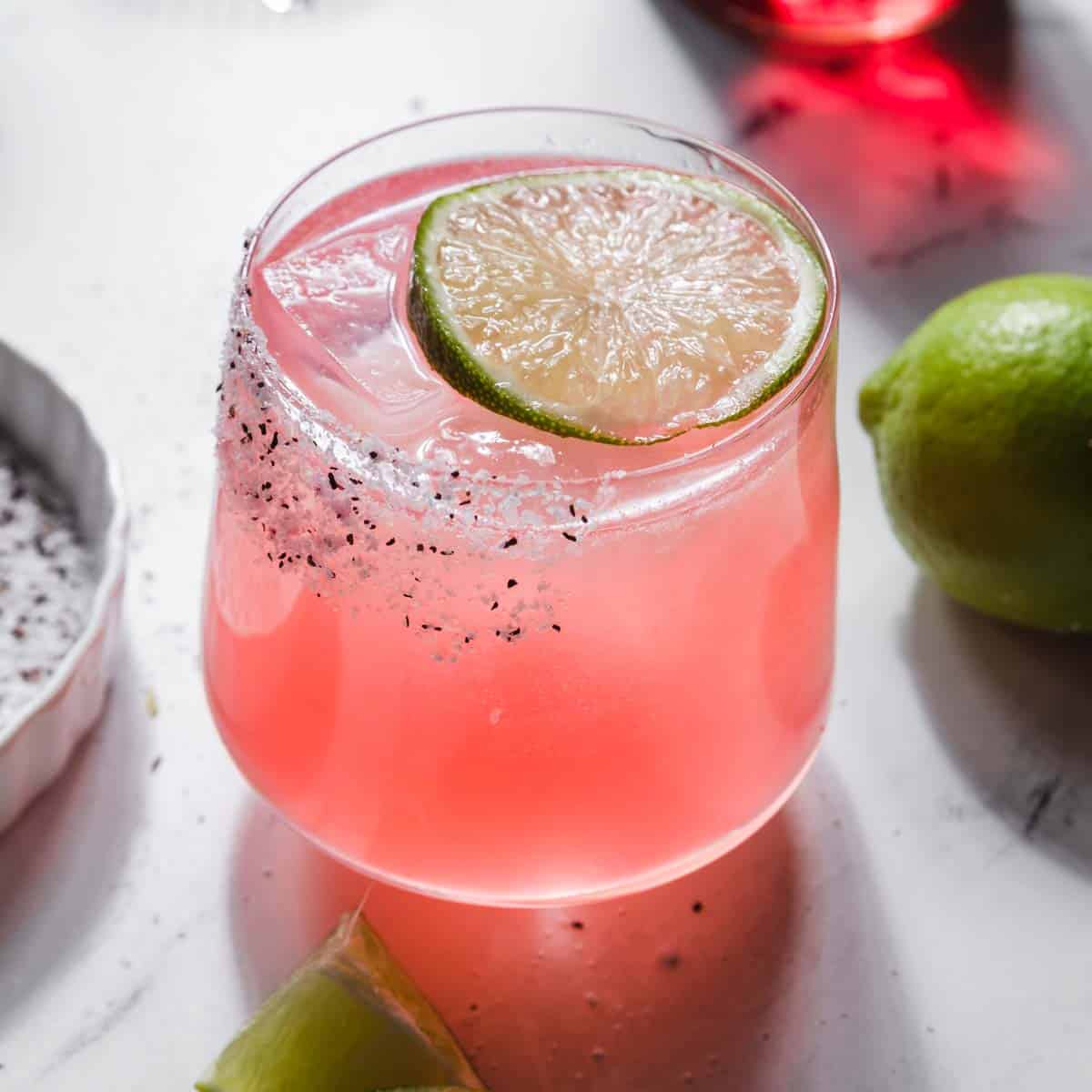 This pretty pink drink is tart and floral. Enjoy hibiscus margaritas on the rocks with a hibiscus salted rim!
For another delicious Summer marg, try our Spicy Watermelon Jalapeño Margaritas!
Jump to:
Ingredients & Equipment for this Cocktail
Hibiscus Margaritas are easy to make! This recipe is based off of a classic margarita but substitutes our homemade hibiscus syrup in place of the traditional simple syrup or agave. You can see how to make hibiscus syrup below, or check out the full hibiscus syrup post for more details and drink ideas!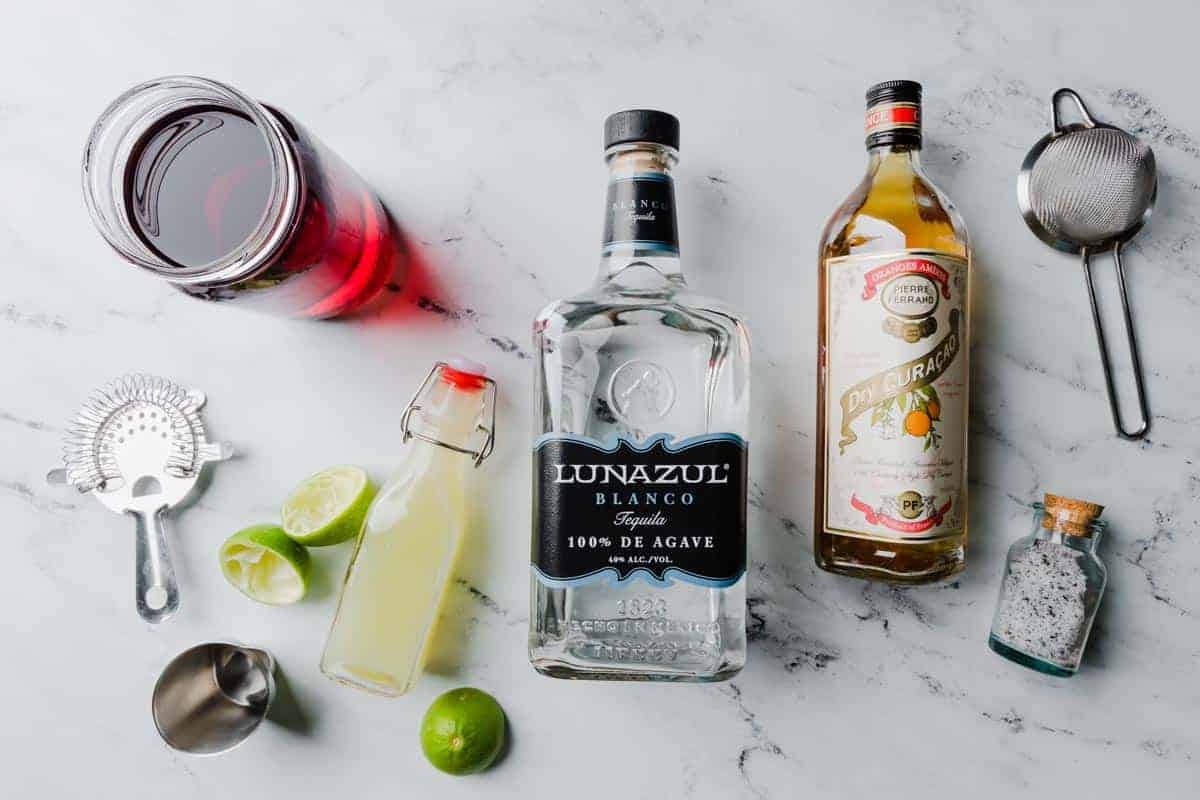 Ingredients:
Tequila - (We use a blanco or silver tequila)
Lime Juice - Freshly squeezed is always best!
Hibiscus Syrup - Made from dried hibiscus flowers, sugar and water
Orange Liqueur - Triple Sec or Cointreau [Dry Curaçao (as pictured) is a type of Triple Sec. Typically, we prefer a brandy-based orange liqueur (AKA cointreau) but triple sec is a great, inexpensive option for home bartending.]
Hibiscus Salt - Optional! (Pictured in that corked jar!) Plain salt or Tajín are also great options
Ice - For shaking and serving!
Equipment:
Jigger - (Or other measuring tool, i.e. 2 Tablespoons = 1 ounce)
Cocktail Shaker
Hawthorne Strainer
Tea Strainer - Optional, but preferred, to strain out pulp and ice crystals.
What Type of Tequila Should I Use?
Tequila is a distilled alcohol made from blue agave primarily in the state of Jalisco in Mexico. Today, there are hundreds of tequila producers and different tequilas will range in quality, color, alcohol content, price point and flavor.
We recommend using a decent-quality blanco (also known as 'silver') tequila for this Hibiscus Margarita recipe. When using tequila in margaritas and other citrus-driven cocktails, un-aged blanco tequilas are generally preferred. Silver tequila has a more-neutral, grassy flavor profile that will not over power the flavors of lime and hibiscus.
Your favorite brand of tequila will work great for hibiscus margaritas! We tend to prefer Mexican-owned and/or family-owned companies. Some brands of tequila that we can recommend include:
Lunazul Blanco - This is our go-to brand for our home bar!
Fortaleza Blanco
Suerte Blanco
Codigo 1530 Blanco
Beyond Blanco...
Some drinkers prefer an aged reposado tequila for margaritas. You are welcome to use a lighter reposado tequila, if that's what you have. However, aged tequilas (reposado, anejo and extra anejo) tend to be more expensive and are not necessarily produced for mixing into cocktails.
Mezcal (made from roasted or smoked agave throughout Mexico) tends to have a stronger, often smoky flavor. Lighter styles of Mezcal can also be suitable for this recipe - but the flavor will be different and probably a bit more savory and intense.
If you are looking for a mezcal cocktail, try our Spicy Mezcal Margaritas.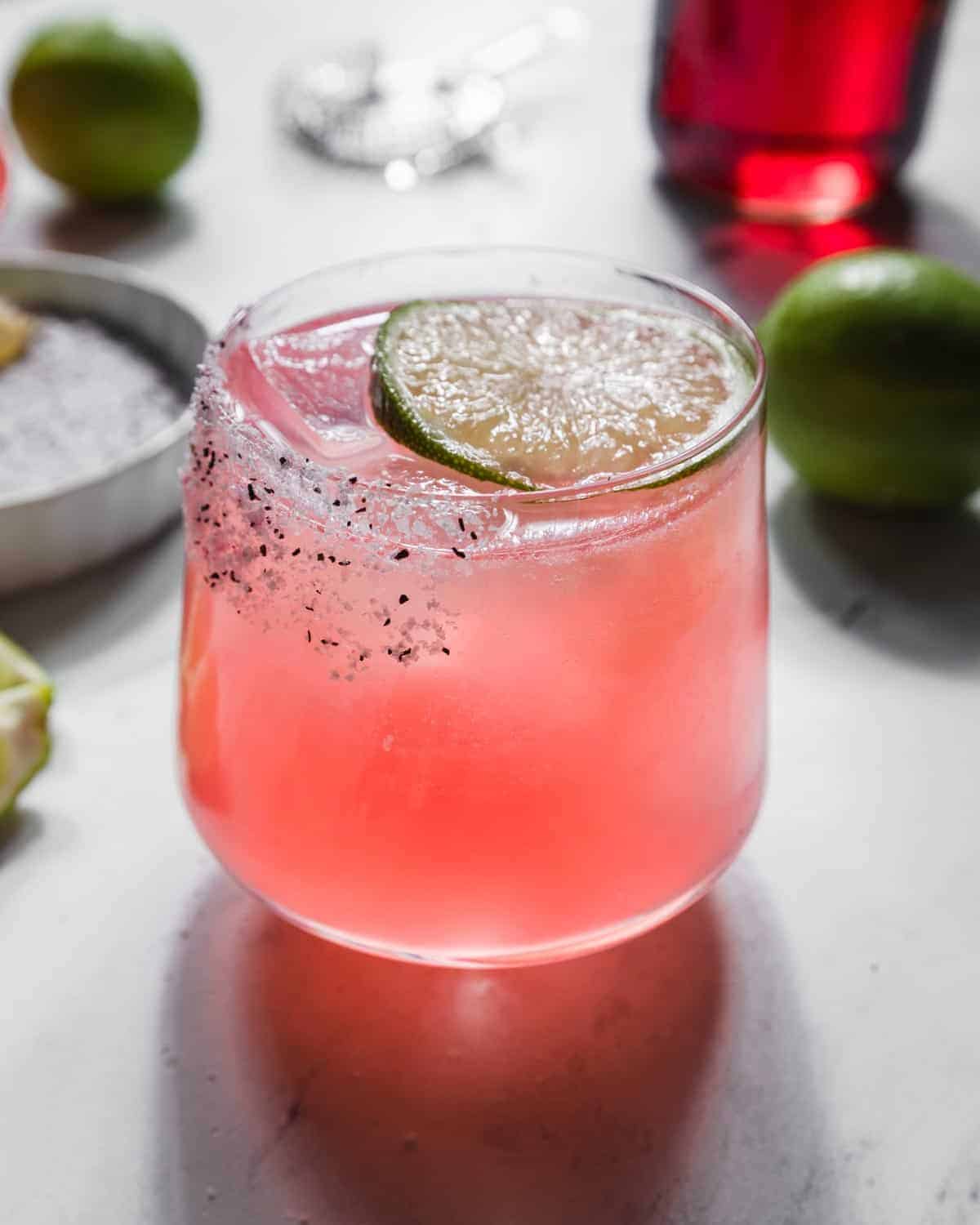 How To Make Hibiscus Syrup
Hibiscus syrup is key to this yummy pink margarita! It's easy to make and can be used in numerous different cocktails. It's amazing in our Hibiscus Rum Punch. For a non-alcoholic offering, try it in our easy Hibiscus Limeade.
First, bring a cup of water to a boil. Once boiling, remove from heat.
Add in equal parts sugar.
Stir until completely dissolved and the syrup is clear.
Next, add dried hibiscus flowers.
Stir the flowers into the syrup until completely saturated.
Allow the flowers to steep into the syrup for about 3 hours.
Finally, strain the syrup through a fine-mesh sieve or cheesecloth-lined funnel. Discard the pieces of hibiscus.
The syrup is ready to add into hibiscus limeade, desserts or cocktails!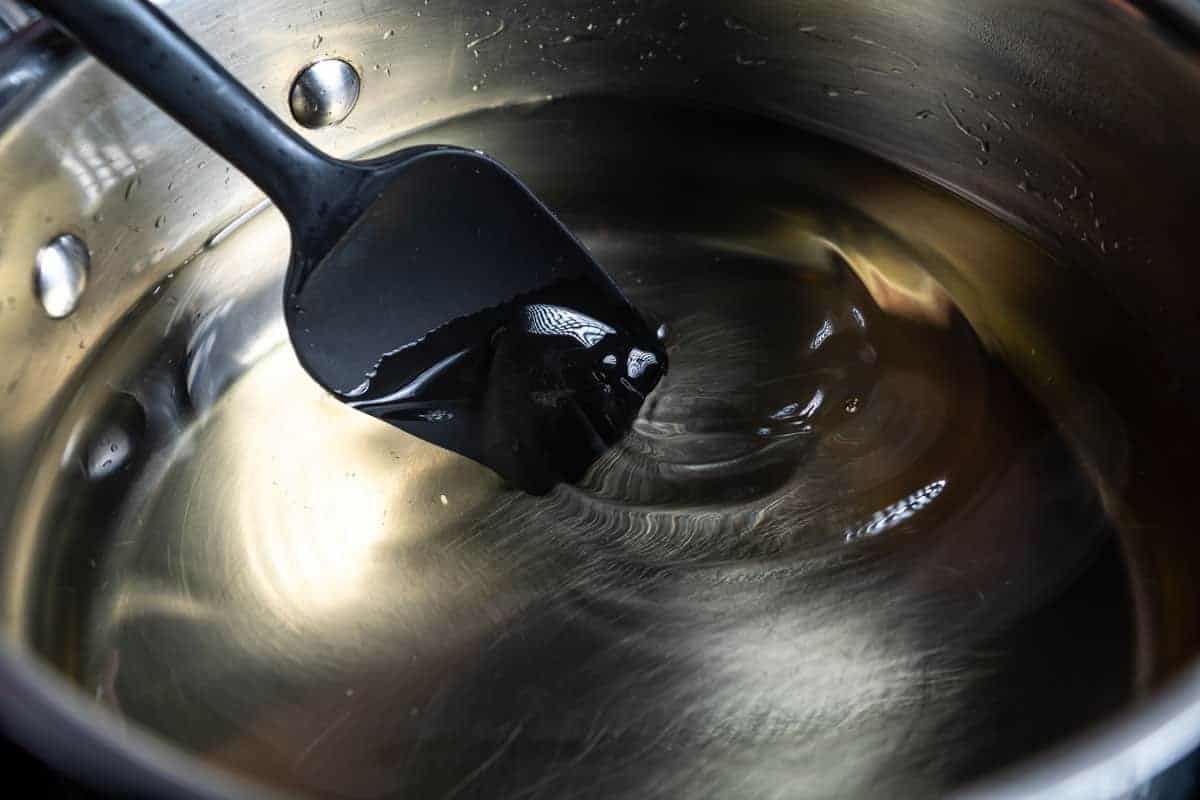 Check out our full Hibiscus Syrup post for more details and ideas: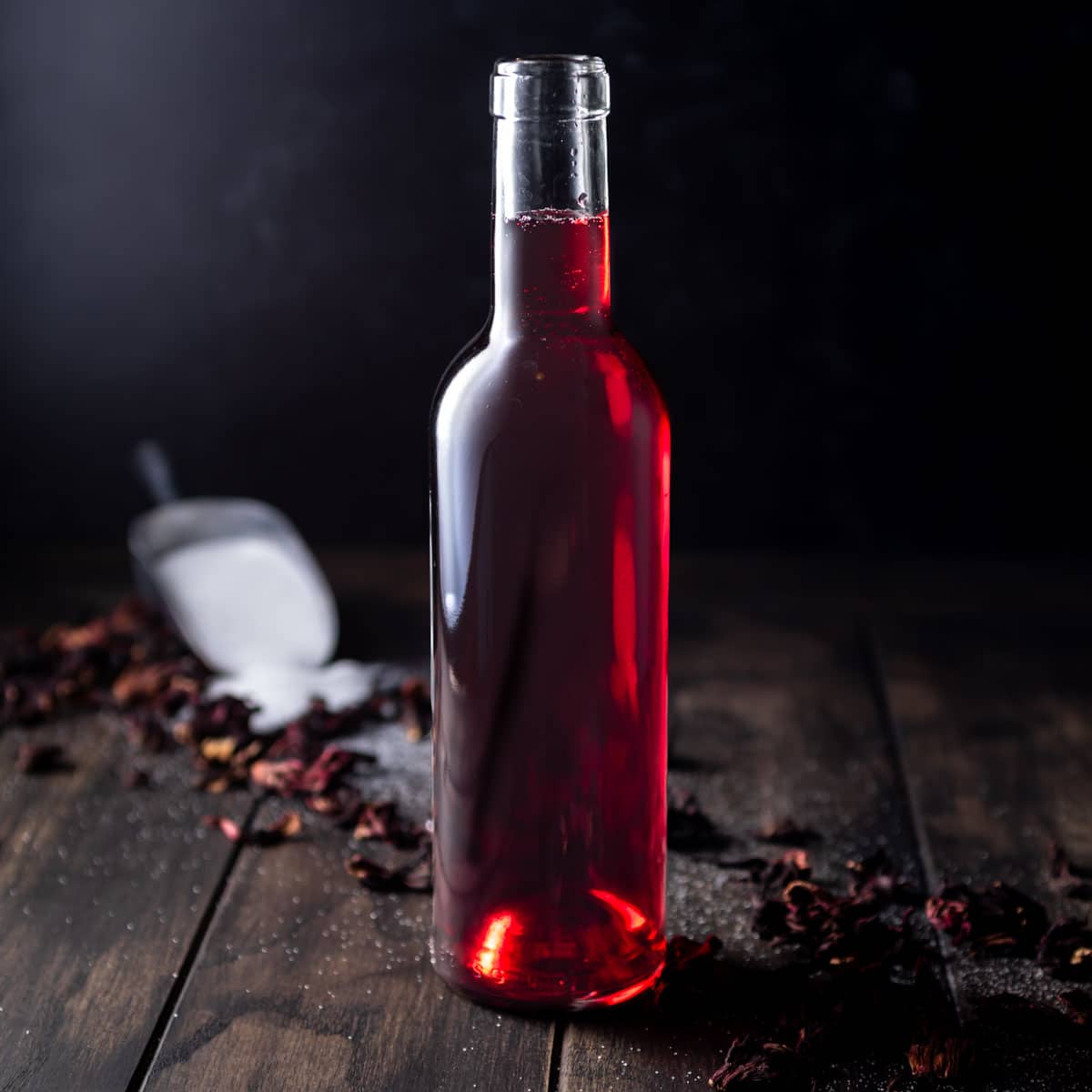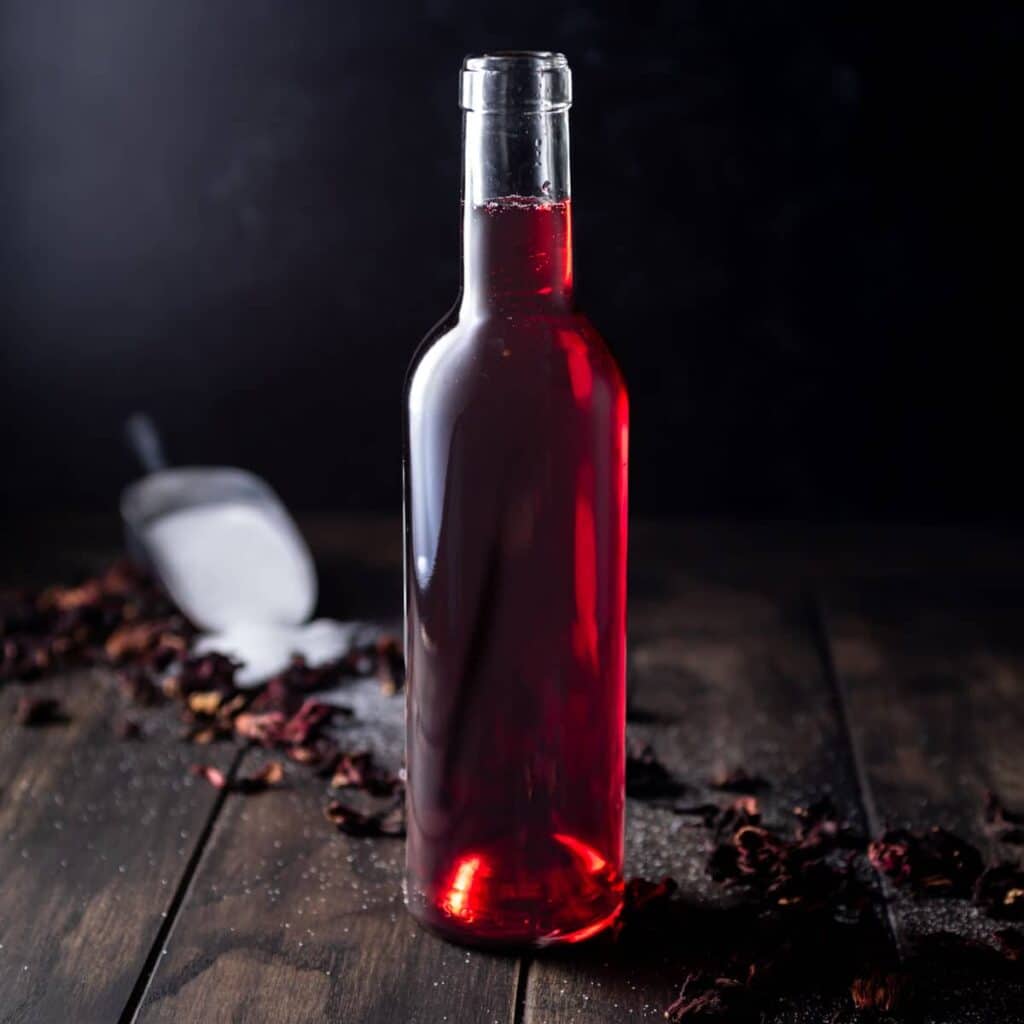 Hibiscus Syrup
Check out our entire hibiscus syrup recipe post for more information on hibiscus, detailed instructions and unique flavor variations!
Hibiscus Salted Rim
Salt and tequila go together like peanut butter and jelly! Of course, a salted rim is optional. I usually do a half rim of salt so that I can go back and forth between sweet and salty sips.
For a beatiful look and a little more hibiscus flavor, this cocktail is adorned with a hibiscus salt. To make this salt, simply add a few dried organic hibiscus flowers into a spice or coffee grinder. Then, blend the flowers into a fine powder. Finally, combine the hibiscus powder with a bit of fine, flaky salt.
Pro Tip: Margarita Salt - Not all salt is the same! Different types of salt have different levels of density. Denser salts taste "saltier"! Iodized table salt is dense and intense where something like Himalayan pink salt has a more subtle salty flavor. For margaritas, we like Diamond brand kosher salt because it has small, quickly dissolvable crystals that are light, flaky and more mildly flavored.
You could also rim this hibiscus margarita with a regular unflavored salt or Tajín for a spicy bite!
How To Salt The Glass
To adhere the salt to the glass, wet the rim of an empty glass with a small piece of fresh cut lime. Then dip or roll the glass rim into the salt (or Tajin). Shake up your hibiscus margarita, add ice to the salted glassware and strain the drink directly into the glass. ¡Salud!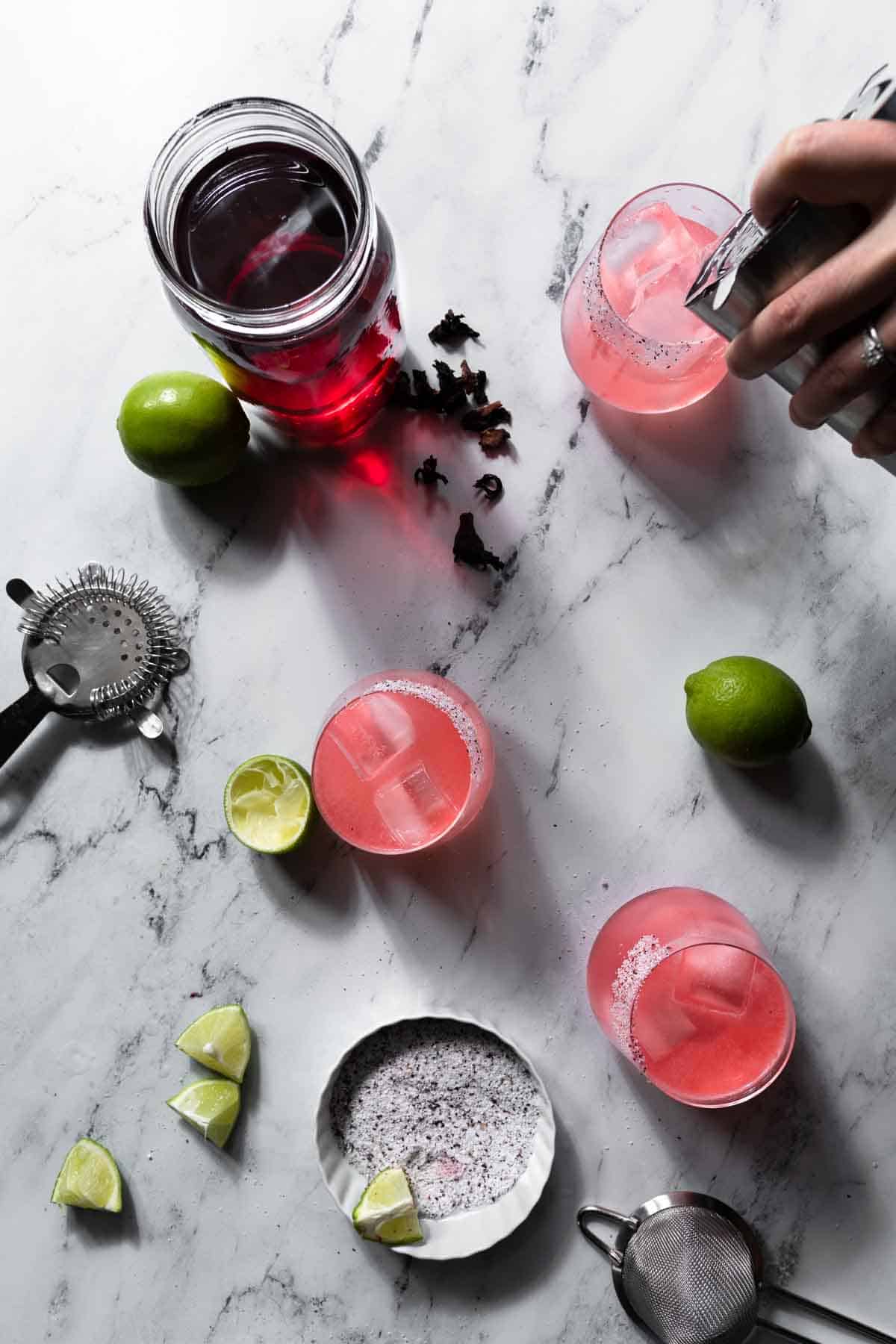 Still Thirsty?
Check out these other favorite cocktails:
Recipe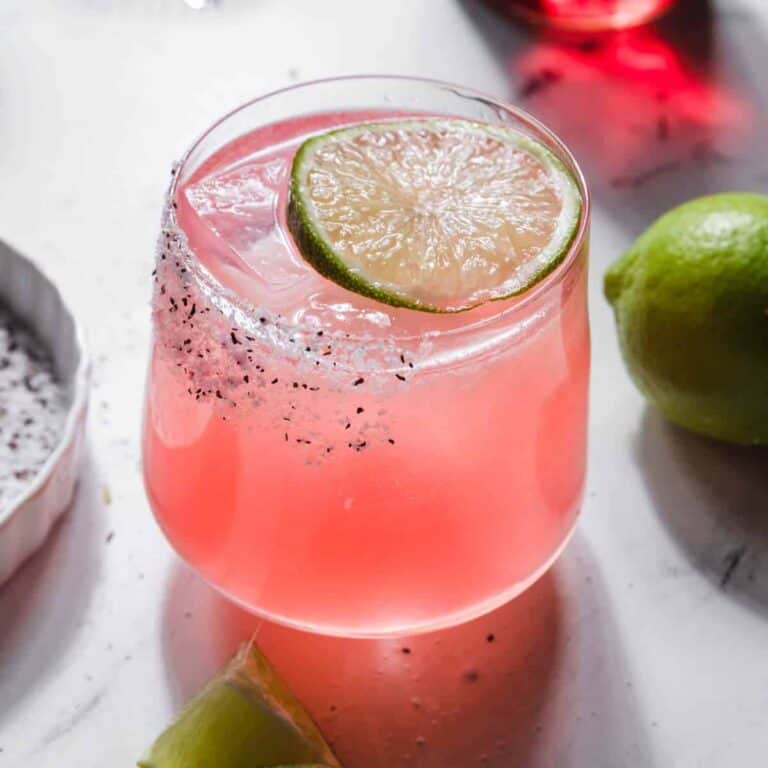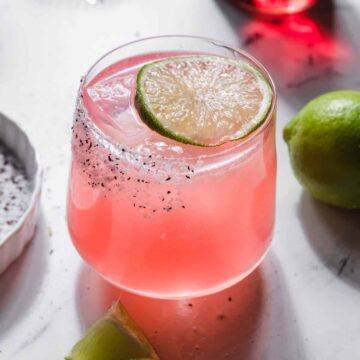 Hibiscus Margarita
These refreshing margaritas get their pretty pink color and tart floral flavor from an easy-to-make homemade hibiscus syrup! Serve these cocktails for taco night, patio parties or even Valentine's Day!
ADJUST SERVINGS
Special Equipment
1 Fine-Mesh Strainer

(Or cheesecloth (for Hibiscus Syrup))

1 Cocktail Shaker

1 Hawthrone Cocktail Strainer

1 Fine-Mesh Cocktail/Tea Strainer

1 Spice or Coffee Grinder

(Optional for Hibiscus Salt)
Ingredients
Hibiscus Syrup
½

Cup

dried hibiscus flowers

organic

1

Cup

granulated sugar

1

Cup

water
Hibiscus Margarita (1 Cocktail)
2

ounces

Blanco (silver) tequila

½

ounce

Triple Sec or Cointreau

(We used Dry Curaçao)

¾

ounce

Hibiscus Syrup

1

ounce

lime juice

freshly-squeezed

Ice

As needed for shaking and serving

1

Lime wheel or wedge

optional garnish
Hibiscus Salt (Optional)
4 - 5

dried hibiscus flowers

¼

Cup

flaky, sea or kosher salt

As needed

Fresh lime

As needed for adhering salt to glassware
Instructions
Hibiscus Syrup
Gather, measure and prepare the Hibiscus Syrup ingredients as listed.

In a small sauce pot, bring water to a boil. Remove from heat and add in granulated sugar. Stir until sugar is completely dissolved and the syrup in clear.

Add in dried hibiscus flowers and stir to saturate. Allow to steep at room temperature for 2 - 4 hours. Strain syrup through a fine mesh strainer (or cheesecloth lined funnel) to remove the hibiscus flowers and discard. Syrup can be used immediately or stored in the refrigerator for up to 2 - 3 weeks. Enjoy!
Hibiscus Margarita
Gather, measure and prepare the Hibiscus Margarita ingredients as listed.

Combine tequila, triple sec (or cointreau), Hibiscus Syrup, lime juice and ice in a a cocktail shaker. Shake vigorously for 30 seconds or until ice cold. Strain Hibiscus Margarita through a Hawthorne and fine-mesh cocktail strainer into a salted glass with ice. Garnish with fresh lime and enjoy immediately. Cheers!
Hibiscus Salt (Optional)
Gather, measure and prepare the Hibiscus Salt ingredients as listed.

Add dried hibiscus flowers into a spice or coffee grinder. Grind on high speed until flowers become a fine powder. Mix hibiscus flower powder with salt. Store in an airtight container until ready to use.

To salt glasses, pour salt into a shallow dish. Cut a small piece of fresh lime. Rub the cut lime against the rim of the glass. (We like to do half salted rims.) Dip the wet edge of the glass into the salt. When ready to serve, fill glasses with ice and pour margaritas directly into the salted glassware.
* A Note About Salt
Unless otherwise noted, all recipes on The Sage Apron are developed using Diamond Crystal Kosher salt. It is a great all-purpose salt for cooking and baking. If using table salt, reduce quantities by about half.
Nutrition
Calories:
239
kcal
|
Carbohydrates:
23
g
|
Protein:
1
g
|
Fat:
1
g
|
Saturated Fat:
1
g
|
Polyunsaturated Fat:
1
g
|
Sodium:
15
mg
|
Potassium:
54
mg
|
Fiber:
1
g
|
Sugar:
21
g
|
Vitamin A:
41
IU
|
Vitamin C:
9
mg
|
Calcium:
8
mg
|
Iron:
1
mg