This pretty drink is a simple play on the classic tequila sunrise cocktail. However, instead of using the traditional grenadine syrup, this recipe uses a homemade syrup made from strawberries and dried rose petals. It's just the sophisticated touch this drink needed!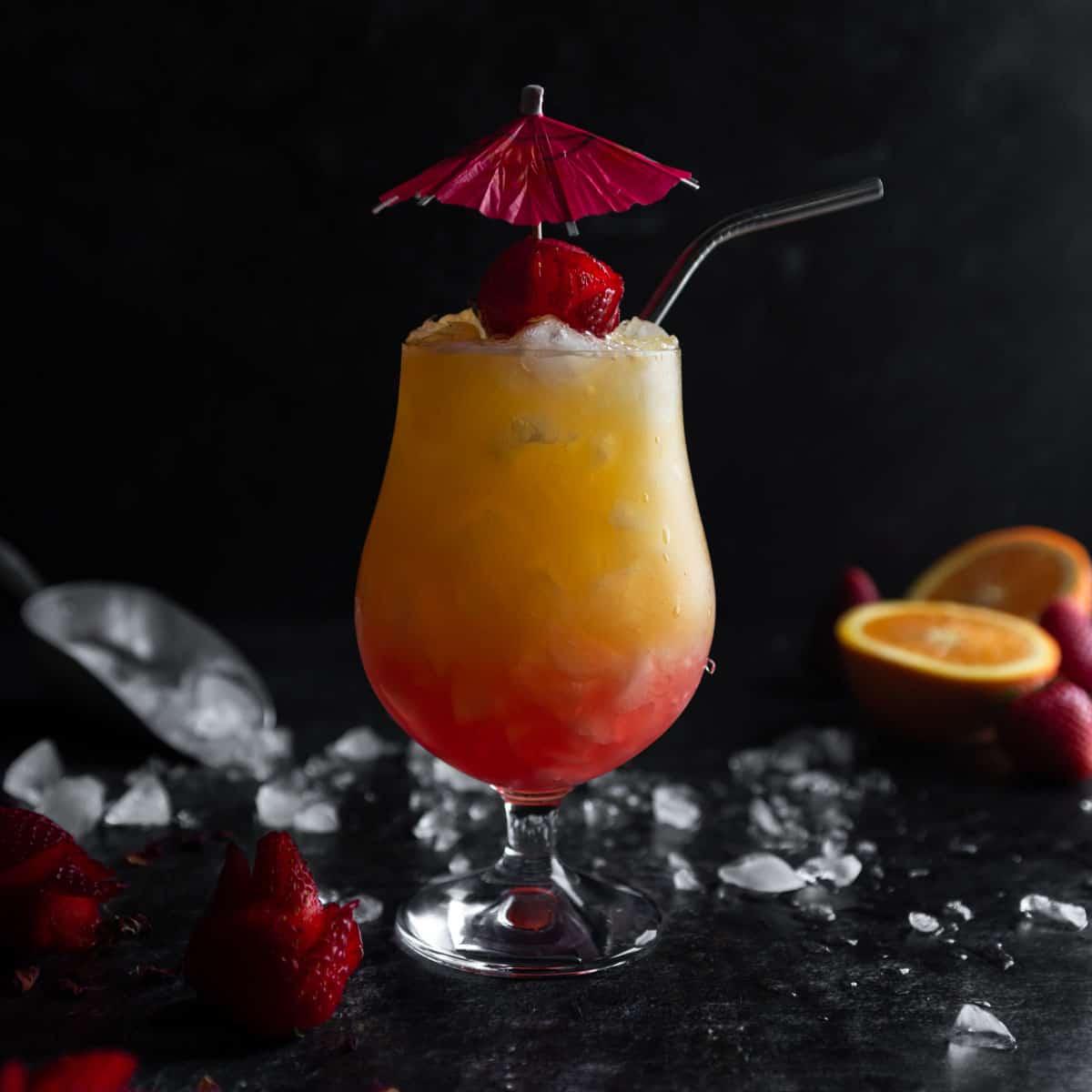 For more tequila cocktails, check out our Hibiscus Margaritas and herbaceous Matcha Margaritas!
Jump to:
What is a Tequila Sunrise?
The tequila sunrise cocktail became popular in the 1970's. It is a layered drink using tequila, orange juice and grenadine. The grenadine is usually poured over the top of the drink, as opposed to mixing all of the ingredients together. Within moments, the grenadine pours through the drink and settles on the bottom of the glass. As the red grenadine mixes with the tequila and orange juice, a colorful gradient, reminiscent of sunrise, is created in the glass.
Many variations of a the beloved tequila sunrise have been served, over the years. Personally, we are not huge fans of the super-sugary grenadine. So, instead of keeping it classic, we developed a more flavorful grenadine substitute to be used in this Strawberry Rose Tequila Sunrise.
In place of the bottled, red-dyed grenadine, we made a similarly looking, all-natural Strawberry Rose Syrup. Our syrup adds a sweet berry flavor and subtle floral note. The Spring-inspired flavors compliment a nice, silver tequila and fresh-squeezed orange juice quite well!
If you're a tequila lover, like we are, be sure to check out our Hibiscus Margarita and Ultimate Matcha Margarita, as well!
Strawberry Rose Syrup
This Strawberry Rose Syrup has so much more delicious flavor than grenadine! To make this syrup, we simply cook fresh strawberries with sugar, water. Then, the syrup is blended, strained smooth and steeped with rose petals overnight.
To finish, we add in just a touch of aromatic rose water. Rose water (a tincture of rose petal steeped water) is very potent, so be careful not to add too much! Rose water can be purchased online, or in many grocery or liquor stores.
Several cocktails and sweets could pair nicely with this Strawberry Rose Syrup. However, using this syrup, as intended, for a Strawberry Rose Tequila Sunrise is near perfection! This syrup can be made ahead of time and be stored in the refrigerator for up to one week. Shake well before using.
For more cocktail syrup recipes, check out our syrup recipe collection!
Peddling Petals: Where to Find Dried Rose Petals
This Strawberry Rose Tequila Sunrise recipe requires dried rose petals, which you probably don't have lying around the pantry. (But, hey! Kudos, if you do!) If not, no worries! Dried rose petals are readily available. We first came up with this idea when perusing a local botanical shop near our home, in Denver.
There, and at similar herb and botanical shops, edible rose petals were sold by the half ounce. You may also have luck finding rose petals in specialty tea shops. If you don't have a local shop to support, dried rose petals can be purchased online.
Furthermore, if you are interested in drying your own rose petals, this is also an option. Please be sure your roses are edible or medical grade and safe for consumption. Many roses sold in supermarkets, garden centers and floral shops have been treated with chemicals such as pesticides or preservatives and are not safe for consumption. Fresh rose petals can be air-dried, dried in a dehydrator, low temperature oven, or even a microwave! Check out this article for more information on DIY rose petal drying.
Life Under the Cocktail Umbrella
Bring the vacation to you with a Strawberry Rose Tequila Sunrise whenever the mood strikes!
The Perfect Pour
For a superior layering effect, we do not pour the syrup over the top of this cocktail (as is common with a classically prepared tequila sunrise). Instead, here is how we build and style the beverage:
Firstly, pour the Strawberry Rose Syrup directly into the bottom of the glass.
After that, we fill the glass to the brim with ice. (We like crushed ice)
Then, top the ice and Strawberry Rose Syrup with the shaken orange juice and tequila.
Next, insert a bar spoon into the drink and gently stir the bottom to create a gradual, ombre effect.
Finally, garnish, sip and enjoy!
Ice Puns are the Coolest
For this cocktail, we like keeping it ice cold on crushed ice. Since we don't have a fancy ice-crushing refrigerator, we use a lewis bag and mallet. A lewis bag (basically just a canvas bag with reinforced stitching) is a great tool for the home bartender. That being said, it's not at all necessary for this Strawberry Rose Tequila Sunrise.
Tequila sunrise cocktails served over cube ice are just as delicious. For the best coloring effect, however, we recommend using a tall highball (sometimes called Collins glass) or hurricane style glass. These taller glasses allow for better coloring variation and a prettier sunrise effect.
Stop & Smell the (Strawberry) Roses
We love having fun with a playful cocktail garnish! For this Strawberry Rose Tequila Sunrise, we couldn't chose a better garnish than a strawberry rose basking under a cocktail umbrella! Strawberry roses are super easy to make!
To make your own strawberry roses, all you need are some fresh strawberries, a skewer (or fork), and a sharp pairing knife. Learn how by checking out this step-by-step tutorial by Monique from Divas Can Cook. She even has a quick, How To video!
Thirsty for More?
Recipe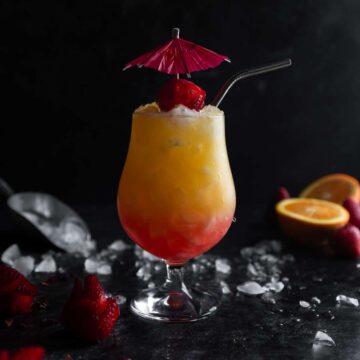 Strawberry Rose Tequila Sunrise (Craft Cocktail Recipe)
This Strawberry Rose Tequila Sunrise is an instant-vacation using tequila, orange juice & homemade Strawberry Rose syrup! Cheers!
ADJUST SERVINGS
Special Equipment
Blender

Fine-Mesh Strainer
Ingredients
Strawberry Rose Syrup (Enough for 12+ Cocktails)
1¾

Cups

strawberries

sliced

1½

Cups

granulated sugar

1

Cup

filtered water

3

Tablespoons

dried rose petals

⅛

teaspoon

rose water
Strawberry Rose Tequila Sunrise (1 Cocktail)
½

ounce

Strawberry Rose Syrup

2

ounces

silver Tequila

4

ounces

orange juice

not from concentrate, preferably freshly-squeezed

Ice

cubed (for shaking) plus crushed or cubed, as needed for serving

Strawberry rose, orange slice and/or cocktail umbrella

optional, as desired for garnishing (See the Stop & Smell the (Strawberry) Roses text above for more information on how to make your own strawberry rose garnish!)
Instructions
Strawberry Rose Syrup
Gather, measure and prepare the Strawberry Rose Syrup ingredients as listed. To view metric measurements, toggle the US Customary/Metric switch at the top of this recipe card.

In a medium saucepan, combine the strawberries, sugar and water. Set over medium high heat, stirring occasionally to dissolve the sugar. Bring the syrup to a boil and reduce to simmer. Simmer for 5 minutes.

Allow the syrup to cool slightly and transfer to a blender. Blend on medium speed, for 30 seconds. To remove the pieces of strawberries, pass the syrup through a fine mesh strainer, twice. You may need to tap the sides of the strainer to help shake the syrup through.

After straining, while the syrup is still warm add rose petals to the syrup and stir to combine. Steep the rose petals in the syrup, in the refrigerator overnight.

Once steeped, use a fine mesh strainer to strain the rose petals from the syrup. Add rose water and stir to combine. The Strawberry Rose Syrup is ready to be used immediately or can be stored in the refrigerator for up to one week. 
Strawberry Rose Tequila Sunrise
Gather, measure and prepare the Strawberry Rose Tequila Sunrise ingredients as listed. 

Add the Strawberry Rose Syrup to an empty tall glass. (Highball or hurricane style glasses are recommended).

In a cocktail tin, combine tequila and orange juice. Fill with cubed ice and shake for 10 - 15 seconds, until chilled. 

Add crushed or cubed ice over the Strawberry Rose Syrup to nearly fill the glass.

Pour the tequila and orange juice over the ice. With a bar spoon (or swizzle stick), gently stir the syrup in the bottom of the glass to create a gradient effect. 

Garnish with a strawberry rose, orange slice and/or cocktail umbrella, as desired. 
* A Note About Salt
Unless otherwise noted, all recipes on The Sage Apron are developed using Diamond Crystal Kosher salt. It is a great all-purpose salt for cooking and baking. If using table salt, reduce quantities by about half.
Nutrition
Calories:
288
kcal
|
Carbohydrates:
39
g
|
Protein:
1
g
|
Fat:
1
g
|
Saturated Fat:
1
g
|
Polyunsaturated Fat:
1
g
|
Monounsaturated Fat:
1
g
|
Sodium:
14
mg
|
Potassium:
261
mg
|
Fiber:
1
g
|
Sugar:
36
g
|
Vitamin A:
240
IU
|
Vitamin C:
70
mg
|
Calcium:
23
mg
|
Iron:
1
mg