This homemade ravioli primavera pasta dish is the perfect celebratory meal packed fresh of colorful confetti-inspired Spring vegetables and served in a classic white wine, lemon and butter sauce. This recipe is so much fun and may even be enough to get your kiddos to eat their veggies!
I don't know about you, but in our house, National Ravioli Day falling on the first day of Spring is cause for a celebration. And, well, since the 21st of March is my birthday, I'm already party-ready. What better way to celebrate than with creamy ricotta cheese enveloped in fresh pasta dough?
Making ravioli is one of my favorite kitchen past-times. Try our classic Cheese Ravioli recipe, too! Keep reading for everything you need to know to join me in this celebratory meal!
If you're new to making homemade ravioli, check out my How To Make Homemade Ravioli Step by Step. This tutorial demonstrates 5 easy methods for making ravioli and you can use any of them for this recipe. (Even our easy wonton wrapper hack!)
Jump to:
How to Make Ravioli From Scratch
The only thing we like more than homemade pasta is homemade pasta filled with cheese. (Duh.) In this section you'll find all of our recommendations for making this ravioli primavera recipe.
For the best results, we recommend you use our Homemade Semolina Pasta Dough recipe. If you are new to pasta making, please check out the full recipe post. There, we'll get you acquainted with everything we wish we knew when we began our lifelong pasta-making adventure.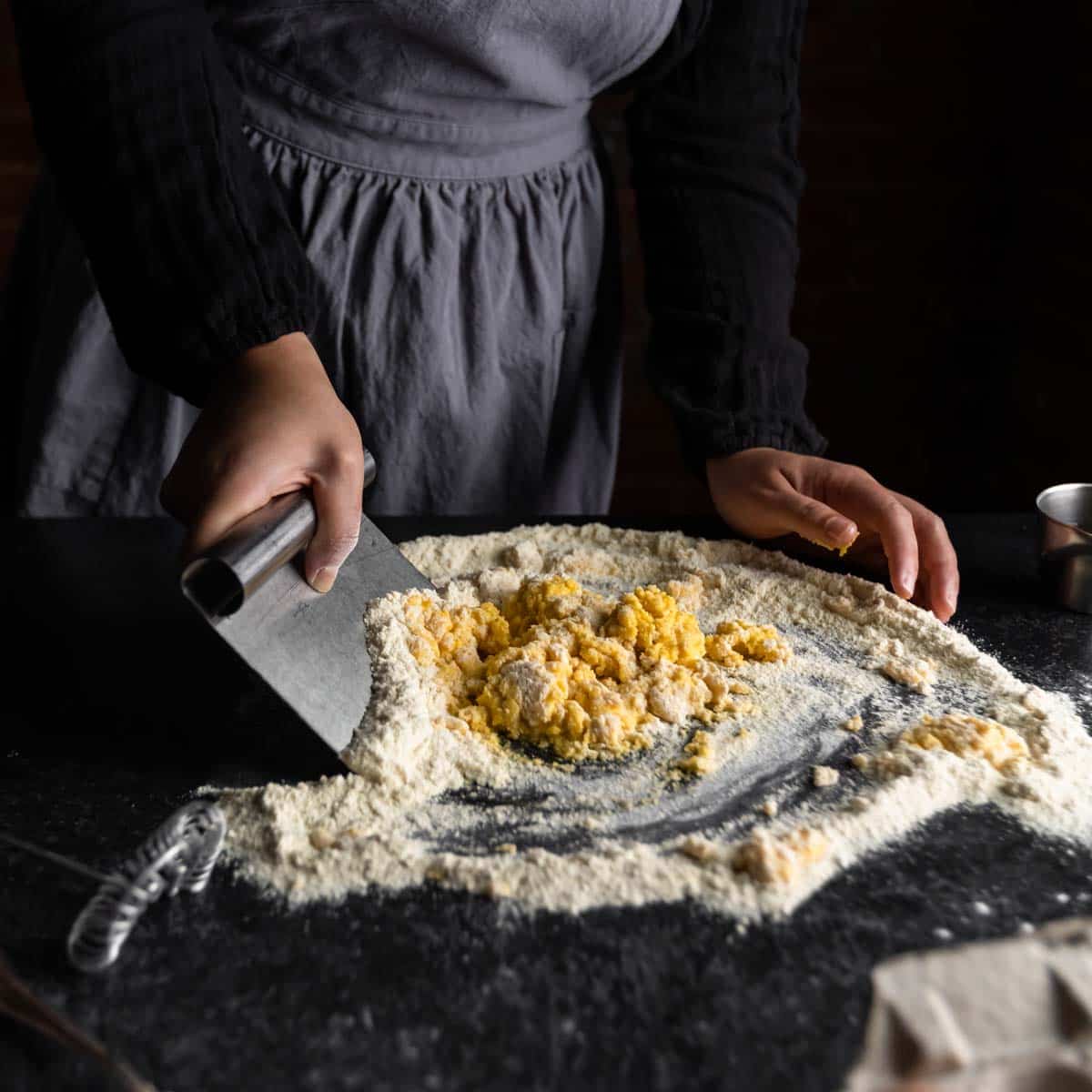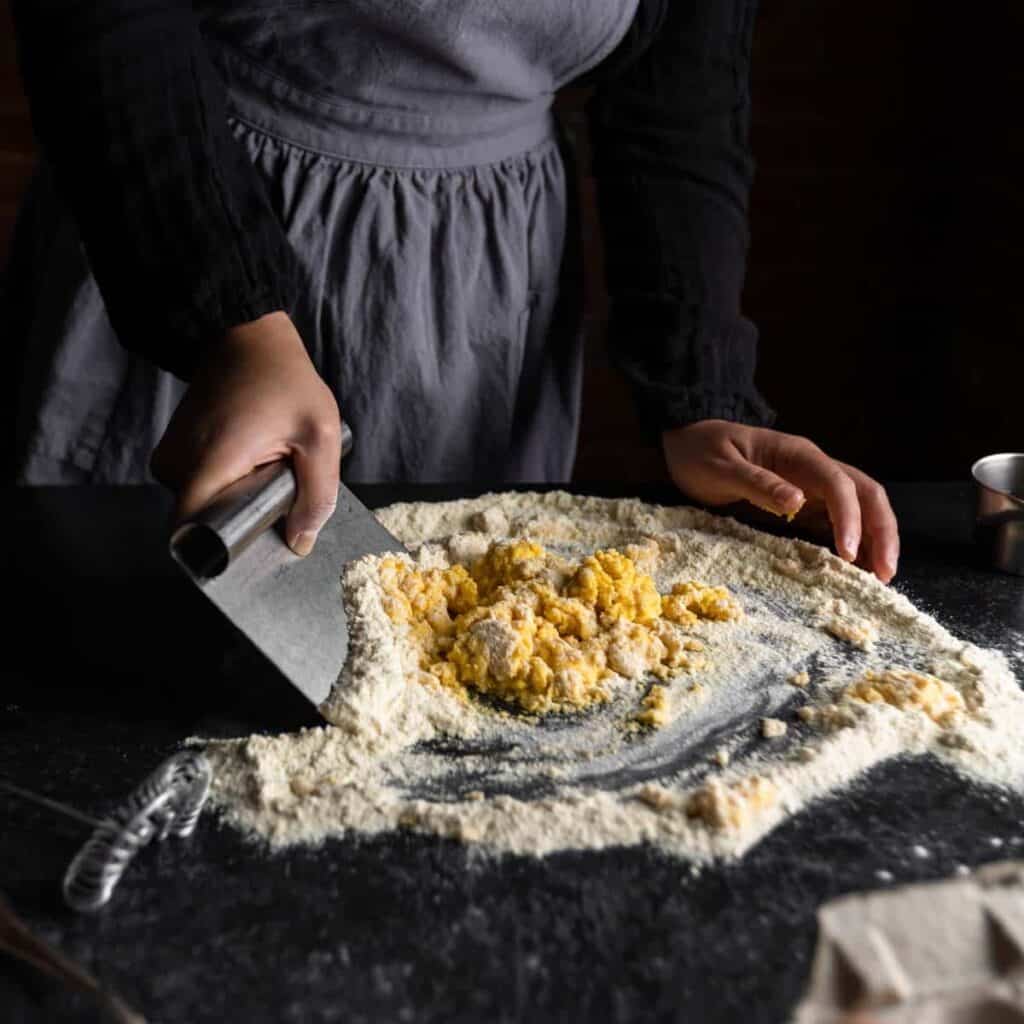 (How To Make Fresh Pasta)
Follow the link for our scratch pasta recipe and guide with Step-by-Step instructions, best practices and How To videos!
What Equipment Do I Need To Make Ravioli?
You do not need a bunch of fancy tools to make ravioli. In fact, no matter how bare your kitchen - you probably have everything you need to make this ravioli primavera recipe. While we certainly recommend a pasta maker, hand-rolled pasta is certainly achievable with a rolling pin (or even a sideways bottle of wine)!
Some tools, however, will make this process easier and faster. Here are our go-to tools for making this recipe:
Bench Scraper - (for mixing homemade pasta dough)
Pasta Machine - We use a hand-crank Marcato Atlas 150. For hand rolling, check out this section of our semolina pasta post.
1 Tablespoon Scoop or Pastry Bag - You can make a makeshift pastry bag by cutting the corner of a ziplock gallon bag.
Pastry Brush - A wet fingertip will work, too.
Ravioli Stamp...

Ravioli stamps can be purchased online for a few dollars. Otherwise, you can use a circular (or scallop-edged) cookie cutter. You could also make square (or triangular ravioli) with a sharp knife, or pastry wheel. I'm not a huge fan of the ravioli tray molds...but that is also an option if you have one.
Step-by-Step Procedure
Prepare the pasta dough and farce (ravioli filling).
Roll the pasta dough into sheets.
Scoop the filling onto a sheet of pasta dough.
With a wet pastry brush, lightly wet the dough surrounding the filling.
Lay a second sheet of pasta over the scoops of filling.
Using your fingertips, seal the sheets of dough together around each scoop of filling.
Using a ravioli stamp, cookie cutter or pizza wheel, cut out each individual ravioli.
Allow ravioli to dry on a mesh drying rack or cookie sheet sprinkled with semolina flour.
Repeat with remaining dough and dough scraps.
Boil in salted water, drain, sauce and enjoy homemade ravioli at home!
Advice for Perfect Parcels of Pasta
Keep primavera ricotta filling dry. This is SO important! We lost a few of our first batches of ravioli to wet ricotta. If your ricotta is loose (or has any liquid piling in the container), we recommend straining the cheese. Simply put the ricotta into a fine mesh strainer and allow to sit for 5 - 10 minutes until liquid had drained and you are left only with thick, creamy curds. If it still seems too moist, fold in 1 - 2 Tablespoons of fine breadcrumbs. The breadcrumbs will help to absorb any additional moisture.
Roll pasta dough thin. Ravioli has two sheets of pasta. To avoid overly thick pasta that will not cook through, roll your dough very thinly. We use a popular home pasta maker, a hand-crank Atlas 150 Marcato. On this machine, we roll pasta to the setting labeled '7'. This gives us sheets of pasta that are 1.3 millimeters thick.
Use ample filling. Ravioli is all about that filling, baby! Don't skimp! We use a rounded Tablespoon scoop, for consistency. If you don't have a scoop, we recommend using a piping bag (or ziplock bag with the corner cut off) to portion your filling.
Avoid trapping air. Be careful not to seal air inside your ravioli pockets! Air will expand during the boil and cause your ravioli to burst! If it is easier for you, cut the second sheet of pasta dough in large squares and seal around each lump of filling individually. (As opposed to doing a whole sheet at a time).
Seal well with a small amount of moisture. You will need a little moisture to seal the dough together. However, be careful not to overdue it! We like to use a barely wet pastry brush to lightly moisten the dough around the filling.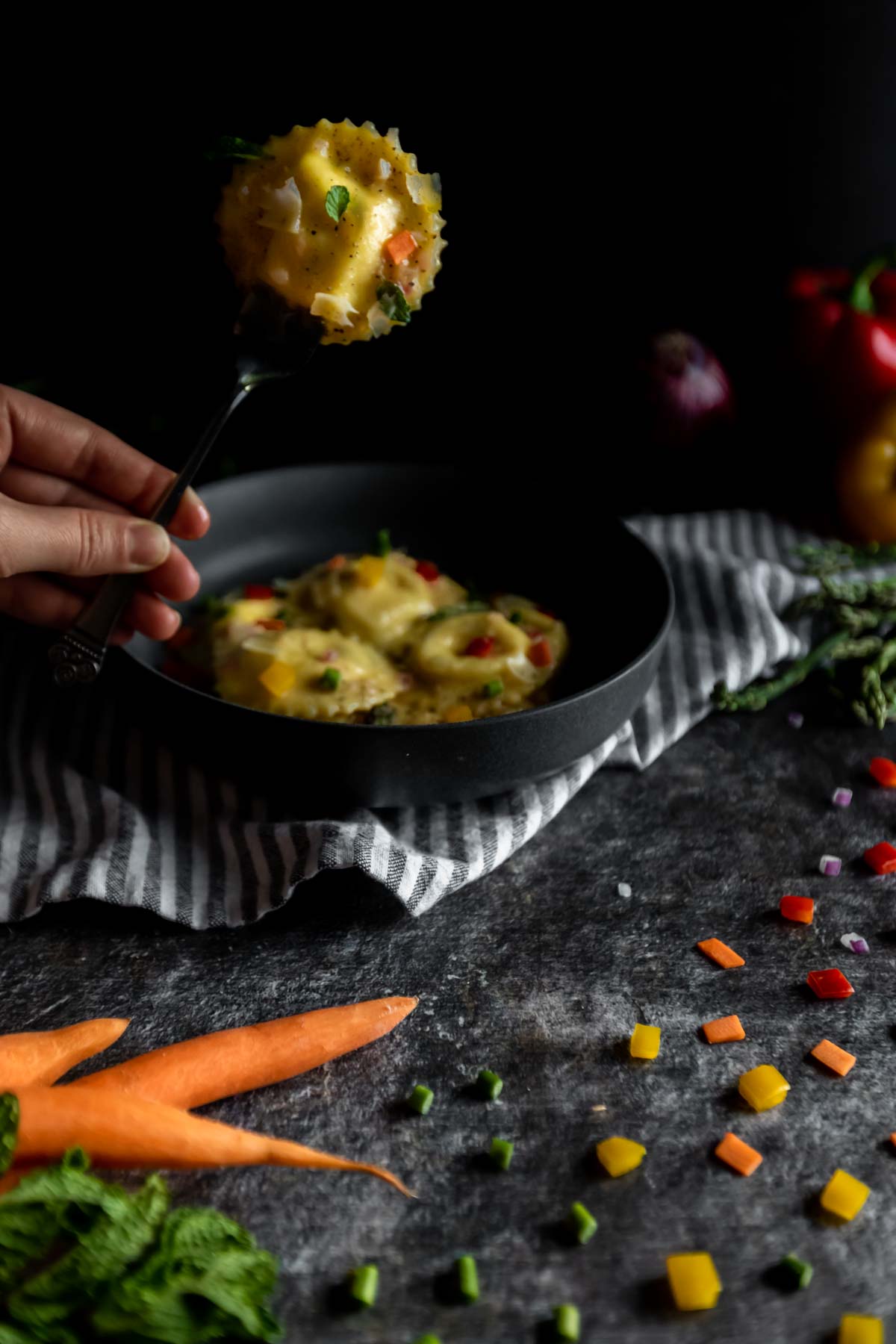 Advice for Perfect Parcels of Pasta, Continued...
Keep your surface well-floured to avoid sticking. Keep your station well-floured and wiggle your dough sheet around the floured surface to make sure your ravioli come up with ease.
Dry ravioli on rack or sheet pan before cooking. Drying pasta helps to ensure even cooking. The drying process also causes some microscopic cracking in the surface of the dough. Those teeny-tiny cracks help to soak up more of your delicious sauces!
Use a spider utensil to remove ravioli from the pot. We recommend using a spider utensil to gently strain your ravioli from the pot without any damage to your pasta (and while reserving your starchy pasta water!). If using a colander, be very careful to dump your ravioli as slowly and gently as possible.
Finish cooked ravioli directly in the sauce. We recommend taking your cooked ravioli primavera directly from the boiling water into your sauce pan. The pasta starches will bind with your pan sauce and create thick, saucy-goodness that will cling to every bite!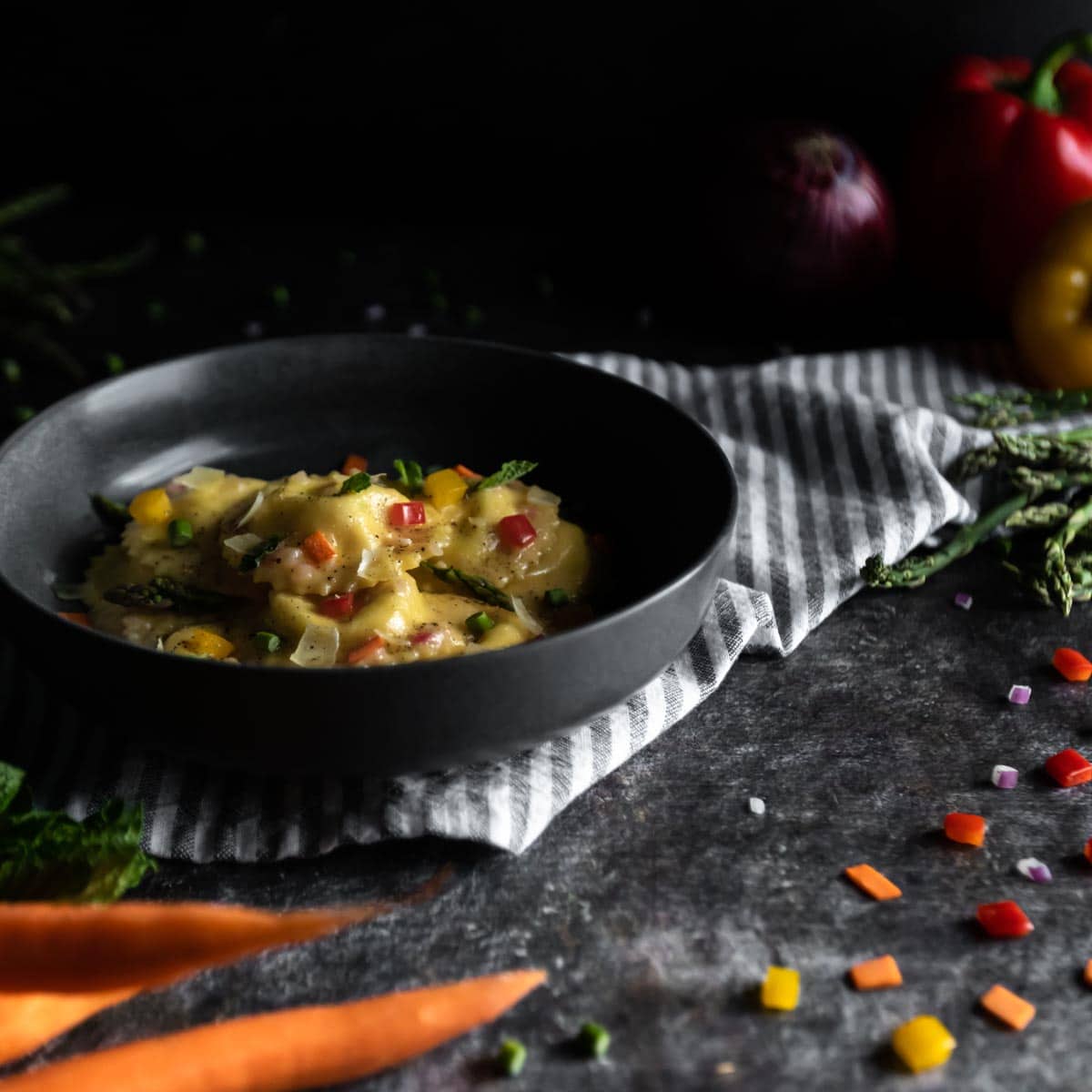 Primo Primavera
In Italian, Primavera means 'Spring". Here, in the United States, we use the word Primavera to refer to a dish abundant with fresh, Spring vegetables. This Ravioli Primavera is just that.
For the rainbow effect, we used red and yellow bell peppers, shaved carrots, asparagus and red onion. (Shouldn't we call those purple onions!?) We stuffed little flecks of these veggies right into the creamy ricotta filing. Then, we sprinkled even more diced vegetables over the top. The raw garnish veggies add a bright pop of color and a fresh, crunchy bite.
How to Cut Confetti Veggies for Funfetti Primavera Filling
Instead of using sprinkles to vibrantly speckle this pasta, I cut tiny squares of "confetti" vegetables. For the filling, I wanted the vegetables to be very small, as not to effect the creamy texture. Here's how I did it:
Firstly, I cut the bell peppers and red onion into teeny 2 x 2 millimeter cubes. (This old-school French technique, called brunoise, requires a sharp knife and a lot of patience!) To save on time, you could simply mince (or even food-process) the onion and bell peppers.
For the carrots, I used a vegetable peeler to slice long ribbons of carrot, first. Then, I cut each ribbon into tiny squares.
For the asparagus, I started by removing (and reserving) the tips. Then, I sliced each stalk into quarters, lengthwise, before fine dicing. (The asparagus we had were very skinny. For thick stalks of asparagus, you could treat it like the carrot by peeling ribbons prior to fine dicing).
To cook the vegetables, I heated a little butter in a skillet. The goal is to sauté the vegetables quickly, as not to overcook. First, add the onion and cook until translucent. The onion will need to be cooked slightly more than the other vegetables. Next, add the peppers and sauté briefly. Finally, toss in the asparagus, give it a quick swirl and immediately remove the vegetables from the heat. Stir the confetti veggies into your ricotta filling immediately, to stop the cooking and keep the colors vibrant.
Finishing Touches
For the vegetables used to garnish the ravioli primavera, I kept the "confetti" slightly larger and completely raw. (Except for the red onion, which is cooked in the sauce).
For the red and yellow bell peppers, a small-dice sized square (¼ x ¼ inch, or 6x6 millimeters) is perfect. Since the carrots will be raw, as well, I shaved them with a vegetable peeler and cut them into small squares - a similar size to the peppers. Finally, for the asparagus, I cut small rounds of the stalks and reserved the feathery tops, for garnishing, as well.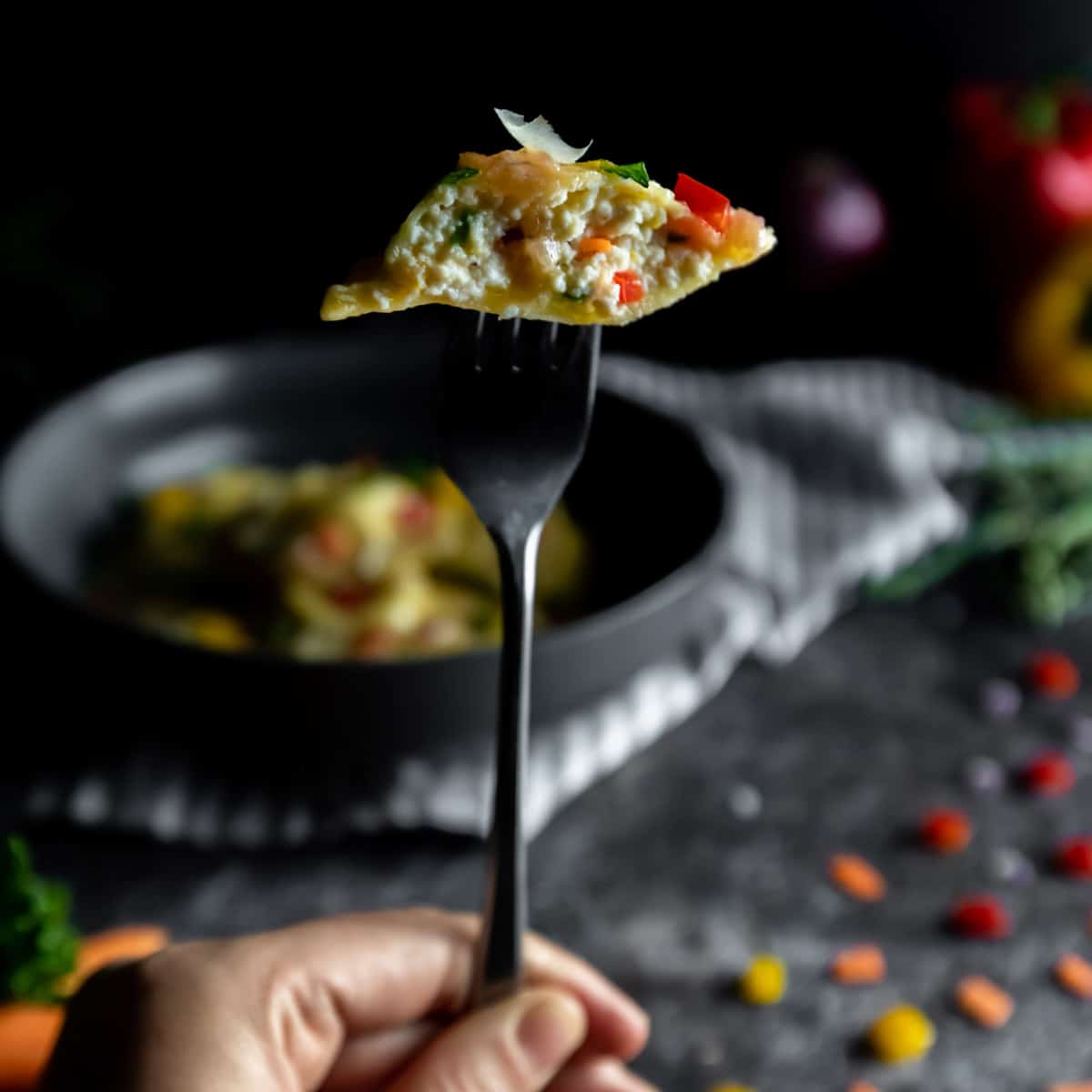 Butter Sauce
Butter sauce on everything, please! The sauce for this Ravioli Primavera recipe is a classic white wine-butter-lemon sauce. It's a Primavera pairing from Heaven.
First, a little red onion and garlic is sautéed in olive oil. Then, comes the white wine and a little starchy pasta water. After a quick reduction, the sauce is finished with a squeeze of lemon a sprinkle of salt and a couple pats of butter are whisked in. Sweet, sweet simplicity - at it's finest.
You May Also Like...
Recipe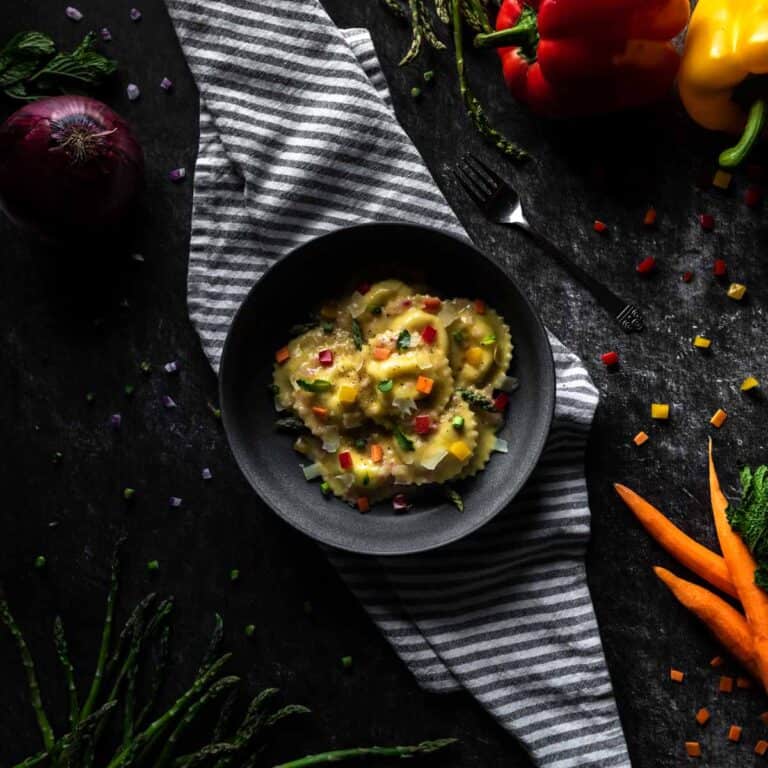 Ravioli Primavera with Lemon Butter Sauce
This Ravioli Primavera recipe has fresh pasta stuffed with ricotta & Spring vegetables and served in a yummy white wine, lemon & butter sauce!
ADJUST SERVINGS
Ingredients
Homemade Pasta Dough
1 ¼

Cups

semolina flour

plus more to prevent sticking

1 ¼

Cups

bread flour

1

large

whole egg

room-temperature

5

large

egg yolks

room-temperature

Water

as needed, about 2+ Tablespoons

sea or kosher salt

as desired, for seasoning during boil
Funfetti Ravioli Primavera Filling
½

Tablespoon

unsalted butter

3

Tablespoons

finely diced red onion

3

Tablespoons

finely diced carrot

3

Tablespoons

finely diced red bell pepper

3

Tablespoons

finely diced yellow bell pepper

brunoise (finely diced) or minced

3

Tablespoons

finely diced asparagus stalks

tops reserved and fibrous ends removed

1

pound

whole milk ricotta cheese

strained if necessary (See Note: a)

¼

Cup

Parmesan

1

large

egg yolk
Zest from ½ lemon

1

teaspoon

fine kosher salt*

1 - 2

Tablespoons

breadcrumbs

if needed (See Note: b.)
Butter Sauce
3

Tablespoons

olive oil

3

Tablespoons

finely diced red onion

brunoise (finely diced) or minced

2 - 3

cloves

garlic

minced

1

Cup

dry white wine

1

Cup

pasta water

See Note c.

3 - 5

Tablespoons

lemon juice

freshly-squeezed, About 1 lemon

¼

Cup

unsalted butter

cold, cubed

fine kosher salt*

to taste
Confetti Garnish
½

medium

red bell pepper

small diced

½

medium

yellow bell pepper

small diced

1

carrot

peeled, shaved and cut in small squares (See Confetti Primavera for Pretty Pasta Text, above)

Asparagus tops

reserved from Funfetti Ravioli Filling

3 - 6

asparagus stalks

fibrous ends removed, small diced

1

handful

mint leaves

optional, as desired

¼

Cup

Parmesan

shaved or grated, optional, as desired

Fresh-ground black pepper

optional, as desired
Instructions
Homemade Pasta Dough
Gather, measure and prepare the Semolina Pasta Dough ingredients as listed. For the most consistent results, we recommend using metric weight measurements whenever possible. To view metric measurements, toggle the US Customary/Metric switch at the top of this recipe card.

In a medium mixing bowl, add semolina and bread flours and whisk to combine. Transfer flour mixture in a mound on a smooth, clean work surface. Shape a well in the center of your flour.

Add the egg, egg yolks and about 1 Tablespoon (15 milliliters) of water to the well.

Using a fork, begin to whisk the eggs and water together until smoothly combined. Continue whisking, while slowly bringing flour into the eggs to form a smooth paste. (Note: a.)

Once most of the pasta flour is incorporated and the dough begins to come together, switch from using the fork to using your bench scraper. Scrape the dough up from your work surface and fold it over itself. Use the bench scraper to chop the mixture together and evenly distribute the flour throughout a shaggy dough. If the dough is too dry to come together, drizzle a little additional water over the mass of dough and continue to combine with the bench scraper.

Use your hands to pull the dough together and knead. Use the mass of dough to pick up any scraggly dough scraps or loose flour on your work surface. The dough should be firm and may be slighlty tacky but should not stick to your hands or the work surface.

Once all the flour is incorporated and dough is homogenous, form into a ball. Cover the dough with a damp towel or plastic wrap to prevent drying. Allow the dough to rest for at least 30 minutes or overnight in the refrigerator. 
Funfetti Ravioli Primavera Filling
Gather, measure and prepare the Funfetti Ravioli Filling ingredients as listed.

In a medium skillet, heat butter over medium-low heat until melted. Add the red onion and sauté until translucent, about 1 - 2 minutes. Then, add the carrot and sauté for an additional minute. Next add the peppers and sauté for a minute longer. Finally, add the asparagus and sauté 30 seconds - 1 minute or until the asparagus is vibrantly green.

 As soon as the vegetables are done cooking, immediately remove them from the pan and transfer them into a medium mixing bowl. To the bowl, add ricotta, Parmesan, egg yolk, lemon zest and salt. Stir to combine. If the filling seems wet, stir in

1 - 2 Tablespoons

of breadcrumbs to help absorb moisture. Refrigerate prepared filling while prepping and rolling pasta dough.
Shaping Funfetti Ravioli Primavera
On a floured work surface, divide prepared pasta dough into eight equal portions. Work with one or two portions at a time, while keeping the remaining dough covered with a damp kitchen towel or plastic wrap.

With a pasta maker or rolling pin, roll two portions of dough very thin, about 1.3 millimeters (setting #7 on at Marcato pasta machine). If the dough springs-back or resists lengthening, at any point, cover (to prevent drying) and allow the gluten to relax for ten minutes before continuing. 

On a well-floured work surface, lay one sheet of your rolled pasta dough flat. Be sure to move the dough around, from time to time, while you are working to ensure that the ravioli are not sticking to the surface. With a small scoop (or piping bag), portion rounded Tablespoons of Funfetti Ravioli Filling onto the dough. Leave enough space between each portion to properly seal. (You will be able to re-roll dough scraps several times, so do not worry about any dough waste.) You should be able to fit about 5 -6 ravioli on a sheet of pasta this size. 

With a barely wet pastry brush or fingertip dipped in water, lightly moisten the dough around each portion of filling. You just a very small amount of moisture to seal the dough.

Carefully, lay the second sheet of rolled pasta dough over the first sheet and ravioli filling. (If it is easier for you, you can cut the second sheet of pasta into individual squares and cover and seal your ravioli one at a time). With floured fingertips, gently stretch and form the top layer of dough over the filling, pressing to seal around the edges. Take care to avoid trapping any air inside your ravioli pocket.

Pro Tip: Imagine the circular portion of ravioli filling as the face of a clock. Gently press the two layers of dough together, starting at 6 o'clock. Then, begin working your pointer fingertips in the opposite directions (your left hand working towards 9 o'clock and your right hand working towards 3 o'clock) to continue sealing the dough around the filling. Seal the dough tightly around the filling, leaving no additional space. As you are approaching 12 o'clock,  use one finger to lift the top layer of dough away from the bottom layer (to allow any air bubbles to escape). Use your other finger to seal the layers together snuggly. You are better off to have a small pleat or fold in your dough's seal than you are to have trapped air. 

With a floured cookie cutter, ravioli stamp or brass pasta wheel, cut out the individual ravioli and transfer to a mesh pasta drying rack or sheet pan dusted liberally with semolina flour. 

Gently brush any excessive flour off of the remaining dough scraps. Bunch the scraps into a ball and cover with a damp kitchen towel or plastic wrap. Allow scraps to relax 10 - 15 minutes before re-rolling. 

Repeat Steps 3 - 8 until all Funfetti Ravioli Filling is used. You should easily have enough dough and filling for 36 - 40 ravioli.
Butter Sauce
Gather, measure and prepare the Butter Sauce ingredients as listed.

In a medium skillet, heat olive oil over medium heat until shimmering (flowing like water and showing wavy lines on the surface). Add red onion and sauté until translucent, about 1 - 2 minutes. Add garlic and sauté an additional 30 seconds. 

Add dry white wine and starchy water. Bring to a boil and reduce heat to simmer, whisking occasionally. Reduce liquid to ¼ of volume

(about 118 milliliters or ½ Cup)

.

While whisking constantly, add cold cubes of butter one or two at a time. Continue whisking until all butter is incorporated and emulsified into a smooth sauce. Finish by whisking in lemon juice and salt, to taste.
Finishing Funfetti Ravioli Primavera with Confetti Garnish
To cook ravioli, bring a large pot of water to a rolling boil. Generously salt the water. Carefully, drop ravioli into the pot one at a time, to prevent sticking and cooking together. Boil ravioli for 4 minutes. Using a kitchen spider to remove ravioli from the pot.

When sauce is ready, transfer the ravioli directly in the sauce and stir for 1 - 2 minutes until the sauce has thickened. 

Transfer ravioli to plates or serving dish. Drizzle with any remaining sauce, as desired. Garnish Funfetti Ravioli Primavera with Confetti Garnish (bell peppers, carrots, asparagus tops and dice, fresh mint, Parmesan and black pepper). Serve immediately and enjoy!
Notes
a. Ricotta cheese can, sometimes, be packaged with a lot of additional liquid (whey). The added liquid will oversaturate your pasta dough and can prevent your ravioli from properly sealing, drying and cooking. To prevent this, strain liquidy ricotta through a fine mesh strainer for 5 - 10 minutes, or until it appears dry.
b. If (after you've mixed your filling) the filling appears to be very moist, you can add a small amount of breadcrumbs. The breadcrumbs will help absorb any additional moisture. Since the breadcrumbs are bland and will be saturated, they will not effect the ravioli's texture or flavor. 
* A Note About Salt
Unless otherwise noted, all recipes on The Sage Apron are developed using Diamond Crystal Kosher salt. It is a great all-purpose salt for cooking and baking. If using table salt, reduce quantities by about half.
Nutrition
Calories:
1063
kcal
|
Carbohydrates:
94
g
|
Protein:
41
g
|
Fat:
54
g
|
Saturated Fat:
26
g
|
Polyunsaturated Fat:
4
g
|
Monounsaturated Fat:
20
g
|
Trans Fat:
1
g
|
Cholesterol:
430
mg
|
Sodium:
622
mg
|
Potassium:
747
mg
|
Fiber:
7
g
|
Sugar:
6
g
|
Vitamin A:
7091
IU
|
Vitamin C:
87
mg
|
Calcium:
592
mg
|
Iron:
6
mg