Our Green Pea Pasta with Burrata recipe is a lovely, simple Springtime meal! This thirty minute meal is made with your favorite type of pasta, a green pea blender sauce and a decadent portion of creamy burrata cheese!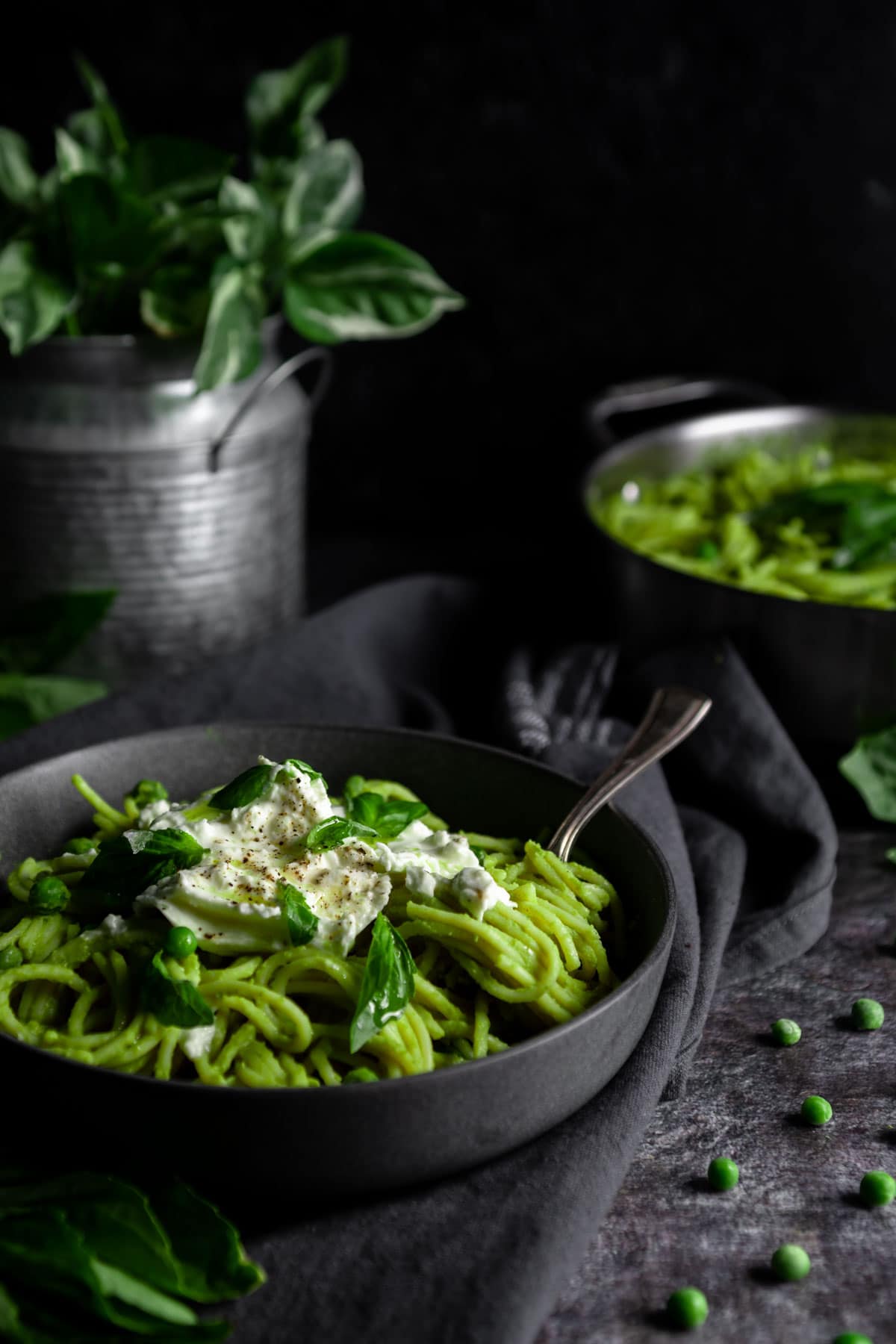 This healthy vegetarian pasta dish is vibrantly green, naturally a little sweet, and flavored with lemon and a hint of vanilla. (Trust.) It's an easy dish that is quick and simple enough for midweek dinners and yet, still special enough to wow your weekend dinner guests! Check out our quick How To video below!
Try this pea pasta with our Homemade Semolina Pasta recipe! For another quick and simple spaghetti recipe, try our spaghetti al pesto.
Jump to:
Ingredients for Green Pea Pasta (Pasta e Piselli)
This easy recipe for Italian pasta with peas and green pea sauce only requires a handful of simple ingredients. Here's what you need:
Pasta - This quick Italian recipe can be made with any of the pasta shapes you love. Fresh pasta is always encouraged but dried pasta makes a quick and easy meal for busy weeknights. As pictured, we opted for a fork-twirling spaghetti made from our Homemade Pasta Dough.
Green Peas - If you're lucky to have fresh peas in season - use those! However, we typically make this recipe with a bag of frozen peas.
Fresh Garlic
Lemon Juice
Vanilla Extract or Fresh Vanilla Bean - OPTIONAL but, wow. Trust us. A hint of vanilla pairs so beautifully with sweet peas.
Butter or Olive Oil
Burrata Cheese - The creamy star of this easy pasta dish! For an extra pop of flavor, top the burrata with a dash of olive oil, some flaky sea salt and a touch of fresh lemon zest.
Basil - Optional Garnish. You could also add a little toasted breadcrumbs, Parmesan cheese and/or crushed pistachios.
Vegan Variation: To make this recipe vegan, simply use olive oil instead of butter. Then, omit the burrata cheese. Instead of burrata you can use a cashew cream, vegan mozzarella, a sprinkle of nutritional yeast or keep it light and bright with lots of fresh herbs and toasted breadcrumbs.
How to Make Green Pea Pasta Sauce
This delicious pasta dish is all thanks to this easy blender sauce. The sauce can even be made a day or two ahead of time. Here's how it's done:
First, start by blanching a couple cloves of garlic. By bringing them to a boil, you can remove some of the garlic's sharp and bitter qualities and create a more mild garlic flavor.
Then, in the same boiling water, blanch the fresh or frozen peas until they are bright green and beginning to float. Immediately transfer the peas and garlic into an ice water bath for 30 - 60 seconds. (See the Chef's Note, below.)
Next, add the blanched peas, garlic, lemon juice, vanilla, salt and a bit of ice water to the blender. Puree on high speed for 2 - 3 minutes or until completely smooth.
When the pasta is prepared and you are ready to serve the dish, heat a large pan over medium heat. Transfer the Green Pea Pasta Sauce to the pan and add the butter or olive oil. Heat until the sauce is warmed and butter is melted. Finally, add some additional peas and add your drained pasta al dente to the pan. Give it a good stir to combine and serve topped with burrata cheese and fresh basil. So easy! Check out our recipe card for the full instruction below.
Chef's Note: Transferring the peas from the boiling water into an ice water bath is a process called blanching and shocking. This easy process prevents your peas from overcooking and helps to maintain the vibrant green color and fresh flavor. It also helps the garlics sharper, spicier qualities mellow into a more mild garlic flavor that won't over-power the peas.
Choosing Your Noodle
This Green Pea Pasta can be made with any pasta shape you desire. If you'd like, you can prepare this dish with gluten-free pasta or whole wheat pasta for a healthier substitution. This recipe works well with short cut pasta shapes like orecchiette pasta or our homemade farfalle (bowties). However, for this recipe, we like to use a long noodle like spaghetti or linguini so we can twirl every bite through the melty burrata cheese. So yummy!
For a simple way to elevate this dish, use a fresh or homemade pasta. To make homemade spaghetti, sheet the dough to about 1/16 of an inch (1 ½ millimeter) thick before hand-cutting or running it through a machine's spaghetti extension.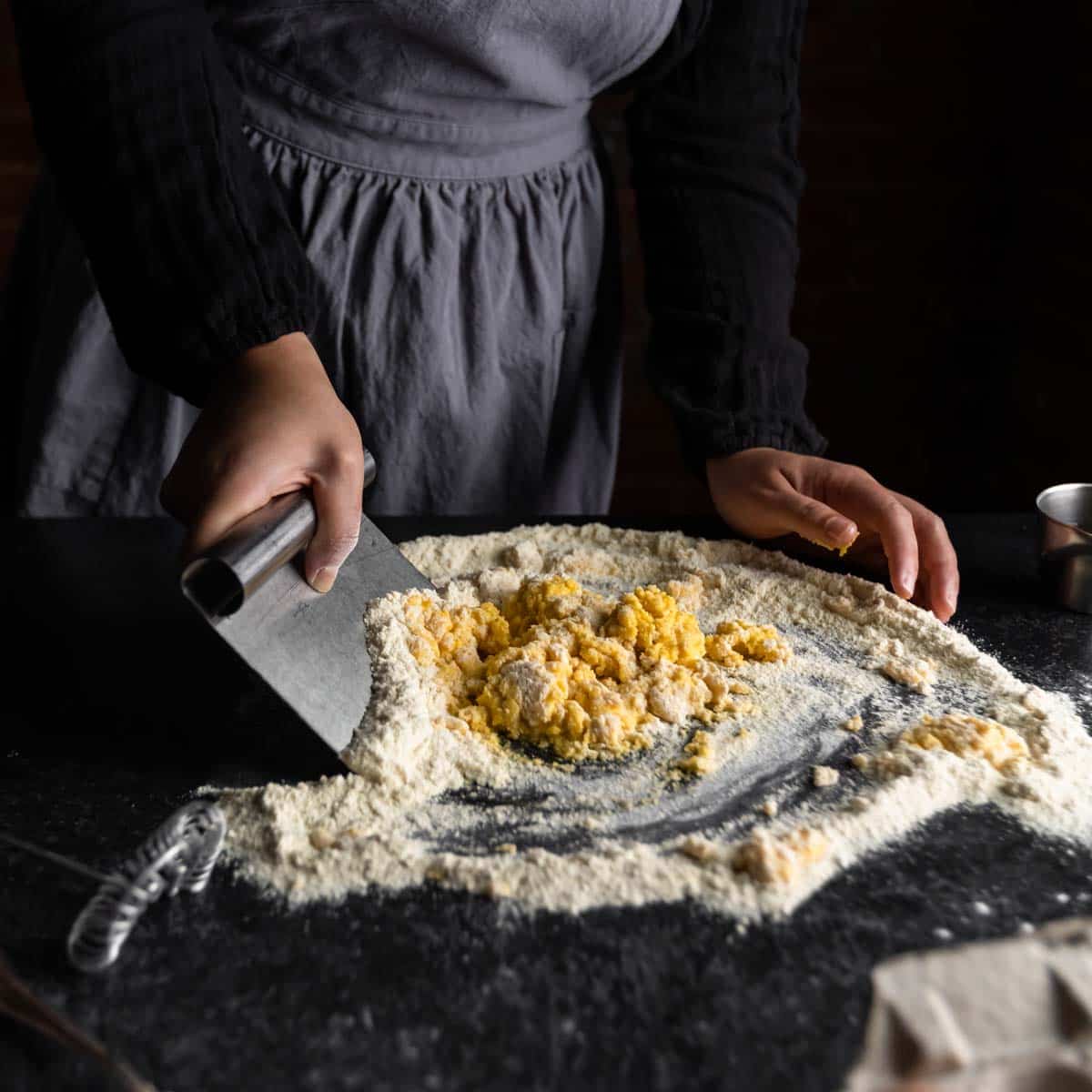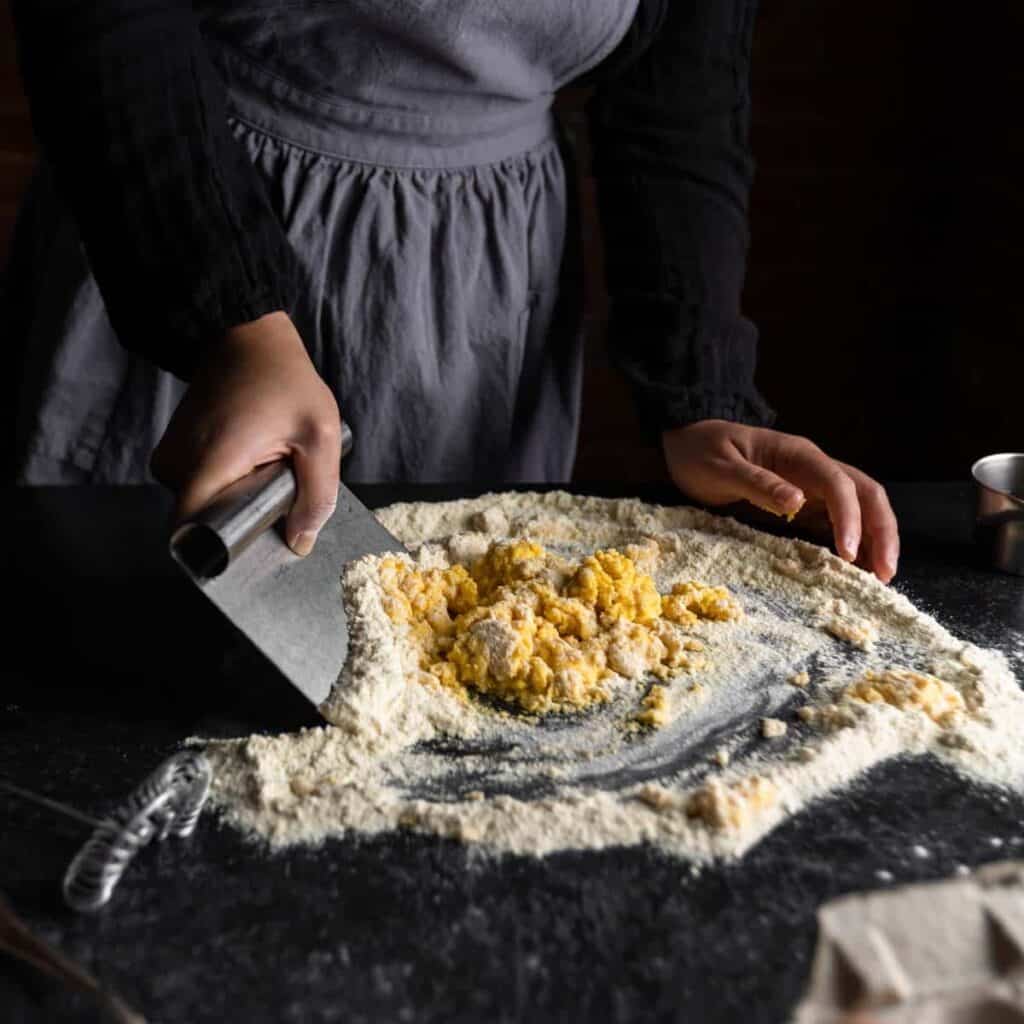 (How To Make Fresh Pasta)
Follow the link for our scratch pasta recipe and guide with Step-by-Step instructions, best practices and How To videos!
Pasta Al Dente
Whichever pasta you choose, we recommend cooking the pasta until it is barely al dente! Be careful not to overcook!
Once drained, add the cooked pasta directly into a large skillet of your warmed pea sauce. If the pasta is still a little too firm, you can always add a splash of pasta water to the skillet and continue to cook for a couple of minutes. Stir constantly until the pasta is the desired doneness, and the water has reduced to thicken the sauce and cling to each noodle.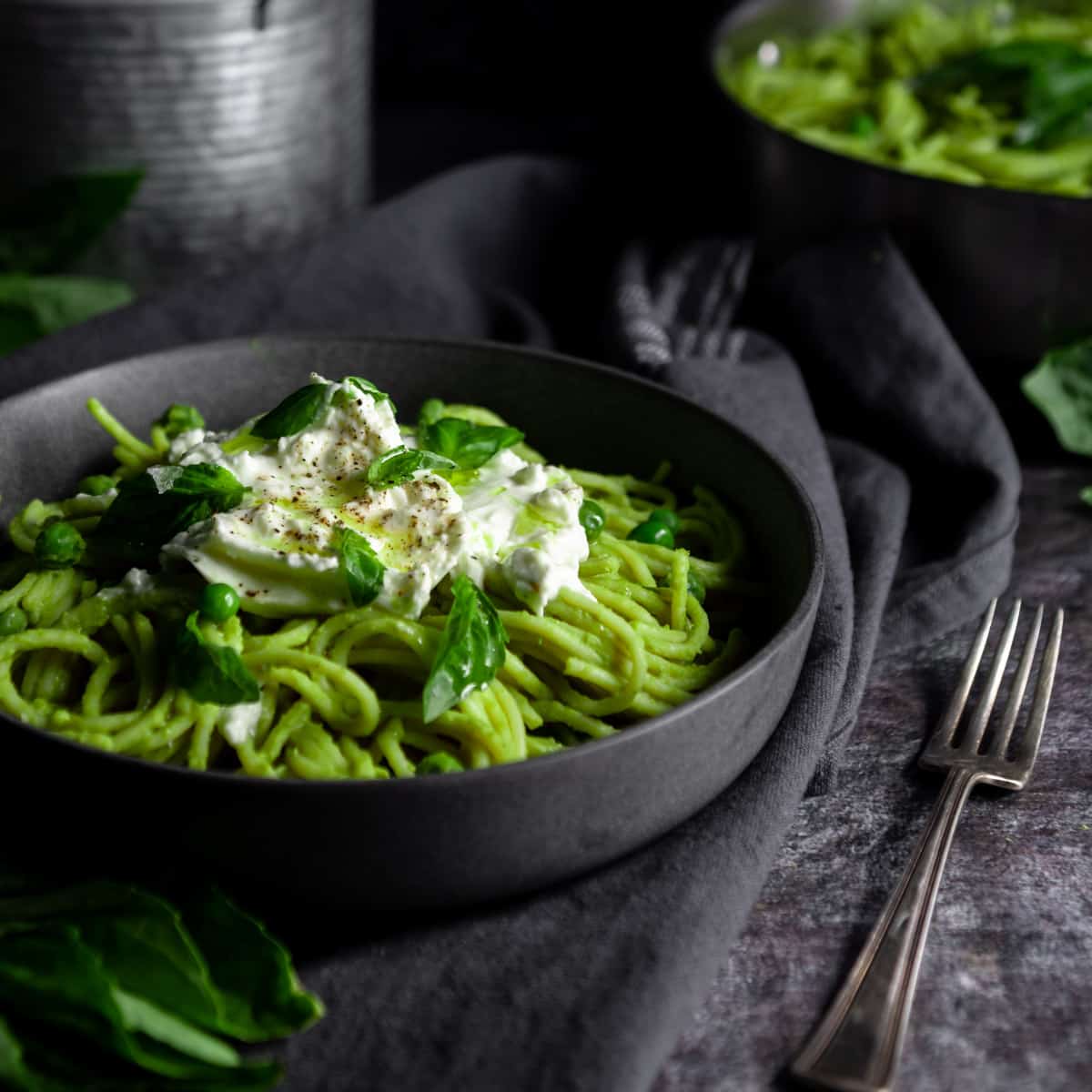 Burrata The Beautiful
Peas are the star of this dish but the burrata cheese steals the show! It's a good idea to allow the burrata cheese to temper to room temperature before topping directly on the hot pasta. This way, the burrata will be creamy, rich and easily melt into the green pea sauce.
What is Burrata?
Burrata is a fresh cow's milk cheese made of mozzarella and cream. This sphere-shaped Italian cheese has a mozzarella exterior that encases a gooey, cream-filled center. It is a decadent, mildly-flavored cheese that is the perfect compliment for this easy pasta recipe! For the finishing touches, we season the burrata with a pinch of flaky sea salt, a drizzle of extra virgin olive oil and a dash of cracked black pepper.
You don't need a fancy cheese shop or Italian importer to enjoy some yummy burrata cheese! You can find a good quality burrata cheese near the fresh mozzarella and ricotta in the refrigerated section of most grocery stores. If you love burrata, try it on our Grilled Peach and Burrata Bruschetta with Prosciutto recipe. It's the perfect Summer snack or appetizer!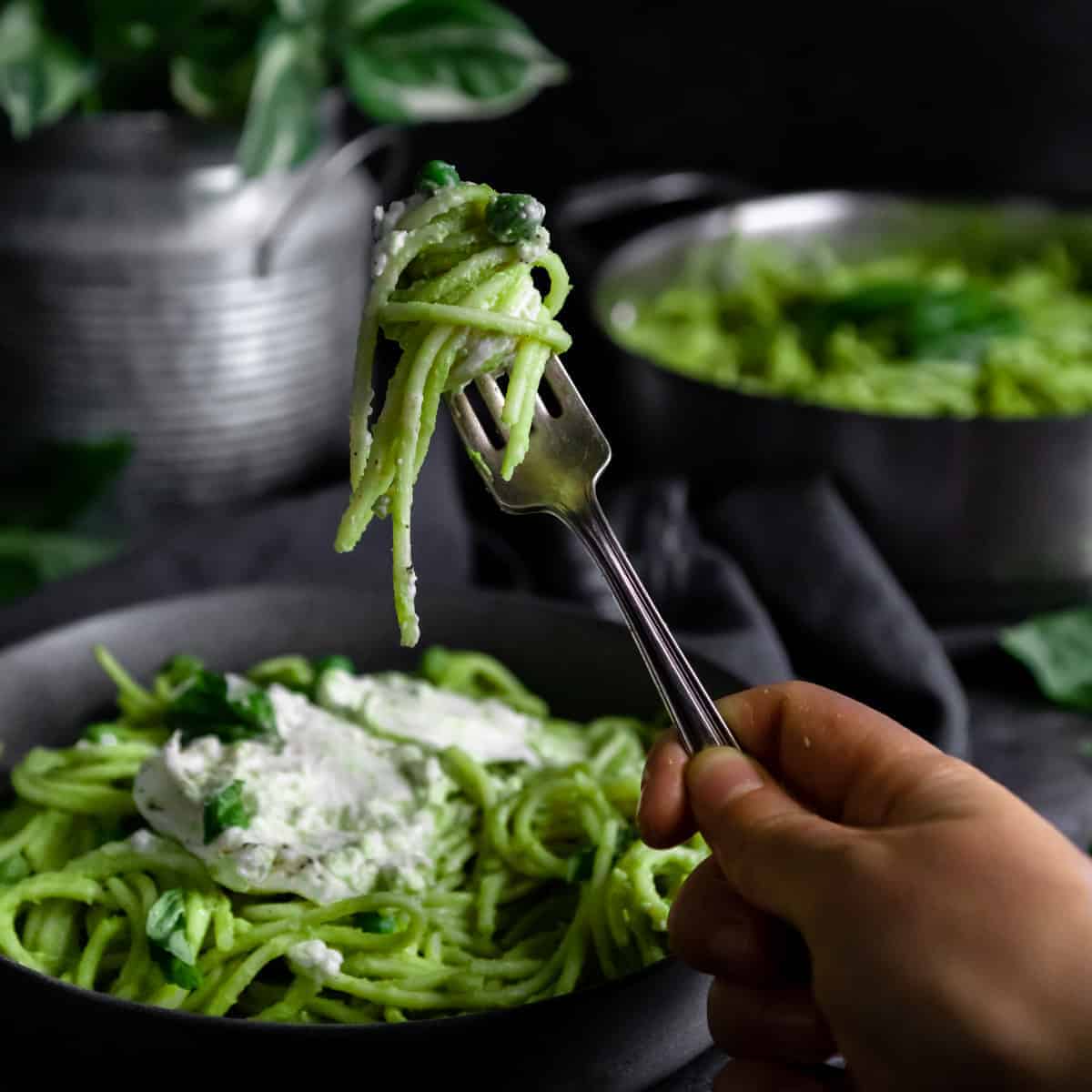 You May Also Like...
Recipe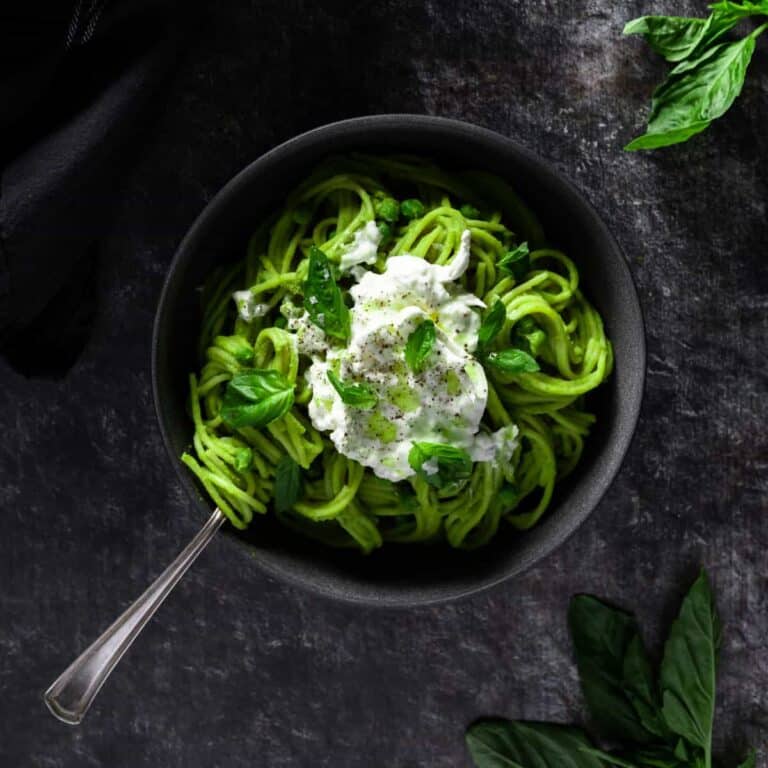 Green Pea Pasta with Burrata
This Green Pea Pasta with Burrata is a simple Italian dinner that is perfect for Springtime! Your favorite pasta is tossed in a quick Green Pea Pasta Sauce and topped with creamy burrata cheese! It is quick, simple and delicious!
ADJUST SERVINGS
Ingredients
Green Pea Pasta with Burrata
1

pound

spaghetti (or other pasta) To make homemade pasta, check out our easy recipe

1

recipe

Green Pea Pasta Sauce

½

Cup

fresh or frozen peas

(See Note: a)

4 - 6, 2

ounce

balls of burrata cheese

(1 per person), room-temperature

Olive oil

as desired for finishing

Flaky finishing salt

as desired

Freshly-ground black pepper

as desired

Fresh basil leaves

as desired
Green Pea Pasta Sauce
2

cloves

garlic

3

Cups

fresh or frozen peas

¼

Cup

lemon juice

½

Cup

water

iced; plus more for an ice water bath

1

teaspoon

vanilla extract OR ½½ fresh vanilla bean seeds

optional

fine kosher salt*

to taste; plus additional salt, as desired, for salting blanching water

Ice

as needed

2

Tablespoons

unsalted butter

room-temperature
Instructions
Green Pea Pasta with Burrata
Gather, measure and prepare the Pea Pasta Sauce and Green Pea Pasta with Burrata ingredients as listed. To view metric measurements, toggle the US Customary/Metric switch at the top of this recipe card.

For the Green Pea Pasta Sauce: Fill a medium stock pot with cold water. Add garlic and bring to a boil over high heat. Meanwhile, prepare an ice bath in a medium mixing bowl lined with a strainer or colander.

Once boiling, use a slotted spoon or spider kitchen utensil to remove the garlic from the pot. Transfer the garlic to the ice water bath to stop cooking. Then, salt the boiling water, generously. Add peas to the boiling water and cook for 1 - 2 minutes or until the peas are bright green and beginning to float. Just as you did with the garlic, use a slotted spoon or spider kitchen utensil to remove the peas from the pot. Immediately transfer the peas into the ice water bath to stop cooking. This process is called "blanching and shocking" and helps to maintain the peas vibrant color and prevent overcooking. 

Remove the garlic and peas from the ice water bath and transfer to a blender. Add the lemon juice,

½ Cup

of iced water, vanilla and salt to the blender. Process on high speed for 2 - 3 minutes or until completely smooth. 

For the Pasta: Meanwhile, prepare you pasta to package (or recipe) instructions until just barely al dente. Do not overcook. If using our homemade pasta dough recipe, boil spaghetti for 90 - 120 seconds. Drain pasta and set aside. Do not rinse.

Once ready to serve, heat a large, heavy-bottomed pan over medium heat. Transfer Green Pea Pasta Sauce to the pan and begin to warm. Add the sauce and butter to the pan and stir until melted.

Then, add the reserved peas and stir to combine. Add your cooked pasta to the pan and, using tongs, toss the pasta in the sauce. Once the pasta is thoroughly heated, remove the pan from the heat and portion immediately.

Once portioned, top each serving with a ball of burrata cheese. (We like to tear each ball of burrata in half to expose the creamy interior.) To serve, drizzle each serving with olive oil, and season with flaky sea salt and black pepper. To finish, garnish each dish with fresh basil leaves, as desired. Serve immediately and enjoy! 
Notes
a. If using fresh peas, they will need to be blanched and shocked (boiled briefly and transferred to an ice water bath). Simply add these peas to the blanching process for the Green Pea Pasta Sauce. Once shocked in the ice bath, reserve the

½ 

Cup (72 grams) of peas to be used during Step 7. 
* A Note About Salt
Unless otherwise noted, all recipes on The Sage Apron are developed using Diamond Crystal Kosher salt. It is a great all-purpose salt for cooking and baking. If using table salt, reduce quantities by about half.
Nutrition
Calories:
797
kcal
|
Carbohydrates:
105
g
|
Protein:
36
g
|
Fat:
29
g
|
Saturated Fat:
16
g
|
Polyunsaturated Fat:
1
g
|
Monounsaturated Fat:
2
g
|
Trans Fat:
1
g
|
Cholesterol:
76
mg
|
Sodium:
16
mg
|
Potassium:
592
mg
|
Fiber:
10
g
|
Sugar:
11
g
|
Vitamin A:
1758
IU
|
Vitamin C:
58
mg
|
Calcium:
513
mg
|
Iron:
3
mg