This homemade Rhubarb Coffee Cake recipe makes for a lovely breakfast or snack cake! This simple recipe uses a moist sour cream coffee cake layered with a tart rhubarb filling and topped with a crumbly cinnamon streusel.
If you love this recipe, you should also try our Strawberry Shortcake Crumb Cake! It uses the same sour cream bake base flavored with freeze dried strawberry powder.
Jump to:
Ingredients
This Rhubarb crumb cake recipe is made with fresh rhubarb and just a handful of common baking ingredients!
Making This Recipe in One...Two...Three...
This recipe is made from 3 simple components. Here's the ABC's of it:
Quick Bread Batter
Rhubarb Compote
Cinnamon Streusel
1. Quick Bread: Measuring, Mixing & The Ribbon Stage
This sour cream coffee cake batter is a versatile, old-fashioned favorite that we use as the base for several muffins, breads and coffee cakes. If you don't have a loaf pan, you can bake this recipe in a 9x9 square pan, like we do with our Strawberry Shortcake Crumb Cake.
When mixing this crumb cake batter, the first step is to mix the sugar and eggs together until the ribbon stage is reached. This first step is the most important technique in this recipe. It can be done by hand - with a whisk and determination, or in the bowl of a stand mixer fitted with the whisk or paddle attachments. Make sure to temper your egg to room temperature before mixing.
Baker's Journal: The Ribbon Stage - The ribbon stage refers to a certain texture achieved when whipping egg(s) and sugar together. At this stage, the egg(s) and sugar will be very pale, aerated, and fall in thick ribbons from the whisk or paddle attachment. The air incorporated into the egg and sugar mixture helps to leaven the bread and create a tender, fluffy cake.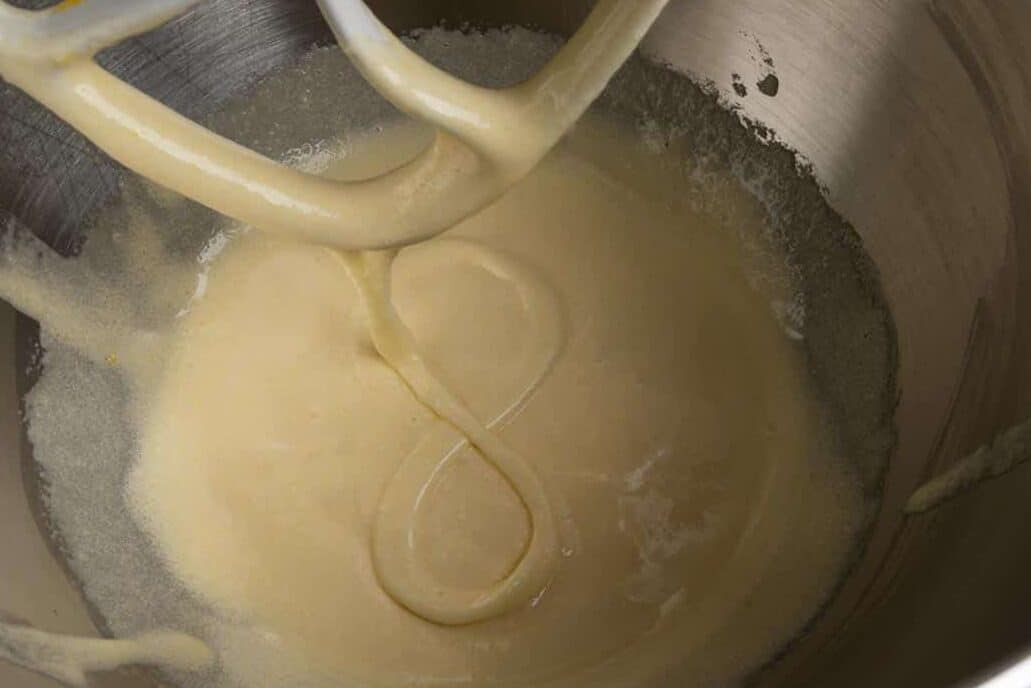 When done correctly, ribbons of batter will sit on the batter's surface for several seconds before blending in. Try drawing a figure 8 in the batter to test if your mixture has reached the ribbon stage.
Mixing the Batter
Furthermore, it is important that you do not over-mix the batter. Personally, I like to make the batter in a stand mixer. Once I add the dry ingredients, in the final step of mixing, I use the machine's lowest speed until about 90% of the flour mixture is incorporated. Then, I always finish by hand, mixing in the last bits of flour and scraping the bottom of the bowl with a rubber spatula. Using this method, I can ensure that the bread is never over-mixed and that I don't over-develop the gluten.
If this thick batter is over-mixed it will become tough, rubbery and prevent proper leavening (rising). If severely over-mixed, these style of breads will result in tunneling, or tubular gaps in the crumb structure that will cause an uneven rise and gummy texture.
Baker's Journal: Weighing the Odds - As with any baking recipe, we strongly suggest you measure your rhubarb coffee cake batter ingredients by weight, not volume. Yes, yes. I understand this is not the standard in most US kitchens. However, it actually makes baking easier and will ensure your results are MUCH more precise.

While I have converted this recipe to the State's more common cups and spoonfuls, you should know that this recipe was developed and tested using weight measurements. In my kitchen, one cup of all-purpose flour weighs 130 grams when spooned and leveled. In King Arthur's kitchen, one cup only weighs 120 grams. It may seem like an insignificant difference, but the science of baking is a finicky beast!
2. Homemade Rhubarb Compote
This rhubarb coffee cake recipe gets its tart any tangy flavor from a thick layer of homemade rhubarb compote. This compote, like a jam, is made simply by boiling fresh, chopped rhubarb with sugar and a hint of vanilla extract. In just fifteen, or so, minutes, the rhubarb mixture cooks down, thickens and caramelizes with the sugar. The result is a thick, sweet and tart compote. If it's too sweet, feel free to add a squeeze of lemon juice.
It's an easy recipe with many uses. (It's delicious spread on a biscuit with your morning coffee, or topping a big scoop of vanilla ice cream, for example). This compote recipe in the bottom of this post makes the perfect amount to layer into the loaf pan and can be made a day or two ahead of time, if necessary.
Can I Use Frozen Rhubarb?
Absolutely. One of the best things about fresh Spring rhubarb is that it is super hearty and freezes very well! Extra rhubarb can be frozen in whole stalks or chopped prior to freezing. Fully or partially thaw the frozen rhubarb before making the compote for this recipe.
3. Cinnamon Streusel
This simple crumb topping takes this recipe from good to soo good! It's a super easy portion of the recipe that adds a crave-able texture and a little cinnamon-y spice! We like to mix the streusel topping and set it aside before we make the batter. This way, the flour has a few minutes to be absorbed into the butter and makes for a superb crunchy streusel with a crumbly texture.
Rhubarb Glaze
If you'd like to enhance this easy rhubarb cake recipe with a drizzle of glaze...welp, we've got you covered. I made this simple icing with powdered sugar and our homemade rhubarb syrup. (The syrup is a 10, by the way. Tart, electrically pink and perfect for lemonade or one of our favorite rhubarb recipes: Strawberry Rhubarb Whiskey Sour!)
You could also finish the top of the cake with a dusting of powdered sugar or a simple glaze of whisked powdered sugar, vanilla, lemon zest and milk or water. Or, go full-on dessert mode with a scoop of our home-churned Old Fashioned Vanilla Bean Ice Cream.
Storing and Saving for Later
Room Temperature: Truth be told, rhubarb coffee cake is at its best when enjoyed the same day it was baked. That being said, this recipe can be stored on the countertop, in an airtight container for 2 - 4 days. If you're like us, you'll leave the knife by the pan and help yourself to a thin slice of cake whenever you walk by. After storing, we recommend microwaving a slice of cake for 15 - 20 seconds for a little warmth and to help it spring back to a soft, tender texture.
Freezer: Rhubarb coffee cake also freezes well! For the best results, we recommend slicing and freezing cooled cake on the same day it was baked. For the best results, tightly wrap the bread in plastic wrap, twice. Personally, we like to wrap individual slices for easy on-the-go sorts of mornings. The individual slices thaw quickly and are perfect to throw in the lunchbox, quickly nuke for a speedy breakfast or pull out for the perfect midnight snack. 🙂
You May Also Like...
Recipe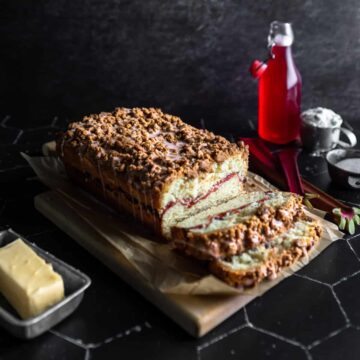 Rhubarb Coffee Cake with Cinnamon Streusel
This delicious Rhubarb Coffee Cake recipe is a moist, sour cream crumb cake layered with a tart rhubarb filling and topped with a cinnamon crumble.
ADJUST SERVINGS
Special Equipment
Stand Mixer with Paddle Attachment (or Electric Mixer)

(Optional, but recommended)

Standard Loaf Pan (Typically about 8½ x 4½ x 2½ inches)

(OR 8x8" OR 9x9" Square Pan)

Parchment Paper
Ingredients
Rhubarb Compote
1

pound

fresh (or frozen) rhubarb

medium diced

½

Cup

granulated sugar

1

Tablespoon

vanilla extract

or about 5 centimeters [2 inches] of a split vanilla bean
Cinnamon Streusel
1

Cup

all-purpose flour

⅓

Cup lightly-packed

light brown sugar

1

teaspoon

ground cinnamon

¼

teaspoon

fine kosher salt*

¼

Cup

unsalted butter

melted
Quick Bread
2¼

Cups

all-purpose flour

1

Tablespoon

baking powder

½

teaspoon

fine kosher salt*

1

large egg

room-temperature

1

Cup

granulated sugar

¼

Cup

unsalted butter

melted and cooled slightly

1

Tablespoon

vanilla extract

1 Cup plus 3

Tablespoons

full-fat sour cream

room-temperature

Rhubarb Compote
Rhubarb Glaze (Optional) 
1

ounce

Rhubarb Syrup

< recipe linked

¼

Cup

powdered sugar

plus more as needed
Instructions
Rhubarb Compote
Gather, measure and prepare the Rhubarb Compote ingredients as listed. To view metric measurements, toggle the US Customary/Metric switch at the top of this recipe card.

In a medium sauce pan, combine the diced rhubarb and sugar. Set over medium heat and stir to combine. Continue stirring frequently while sugar liquifies and begins to boil. 

Cook Rhubarb Compote at a low boil, stirring frequently for 15 - 20, minutes or until the the rhubarb has been cooked very soft and spreadable. If the compote seems very liquidy, continue cooking until the thickened consistency of jam is reached. (a.)

Remove the Rhubarb Compote from heat and stir in vanilla extract. Refrigerate to cool while mixing the Cinnamon Streusel and Quick Bread. Rhubarb Compote can be made 1 - 2 days ahead of time, if desired.
Cinnamon Streusel
Gather, measure and prepare the Cinnamon Streusel ingredients as listed.

In a medium mixing bowl, combine flour, brown sugar, cinnamon and salt. Whisk to combine. Pour melted butter over dry ingredients and stir to combine. Set the Cinnamon Streusel mixture aside to hydrate until ready to top on the Rhubarb Coffee Cake batter.
Quick Bread
Gather, measure and prepare the Rhubarb Coffee Cake ingredients as listed. For the most consistent results, we recommend using metric weight measurements whenever possible.

Arrange a rack in the center of the oven. Preheat to 350° Fahrenheit (180° celsius). Meanwhile, prepare a loaf pan with parchment paper (or grease and flour well). 

In a medium mixing bowl, combine flour, baking powder and salt. Whisk to combine and set aside. 

In the bowl of a stand mixer fitted with the paddle attachment (or medium mixing bowl with an electric handheld mixer or whisk) combine the egg and sugar. Mix on medium low speed until pale, aerated and the ribbon stage (batter falls in thick "ribbons") is achieved. (b.)

While mixing on medium-low speed, drizzle in melted butter and vanilla. Then, add the sour cream in 2 - 3 additions, mixing to incorporate between each addition.

Add the flour mixture to the stand mixer and mix on the lowest speed until just incorporated. If necessary, finish mixing in any dry flour with a rubber spatula. Batter will be very thick.

Spread one half of the batter into the bottom of the prepared loaf pan. Level the batter with a rubber spatula or small, offset spatula. 

Next, spread the Rhubarb Compote in an even layer over the batter. Top with remaining batter and spread until leveled. 

Crumble the Cinnamon Streusel over the Rhubarb Coffee Cake batter. Press lightly into the top of the loaf to secure the crumble.

Bake the bread, for about 55 - 65 minutes (c.) or until the center of the loaf springs back when lightly poked. (Be careful, it's hot!)

Once baked, remove the Rhubarb Coffee Cake from the oven and cool for 10 minutes. Use the parchement papaer to lift the Rhubarb Bread from the pan and transfer to cooling rack to cool completely. Meanwhile, make the Rhubarb Glaze, if using.

To serve, slice Rhubarb Coffee Cake with a sharp knife. Spread with some softened butter, if desired. Enjoy!  
Rhubarb Glaze (Optional) 
Gather, measure and prepare the Rhubarb Glaze ingredients as listed.

In a small mixing bowl, whisk the Rhubarb Syrup and powdered sugar until combined. The glaze should be a thick, consistency that is easy to drizzle. Add a little more powdered sugar 1 teaspoon at a time, if needed, to thicken. Once the Rhubarb Bread has cooled completely, drizzle the glaze over the top of the loaf, as desired.
Notes
* A Note About Salt
Unless otherwise noted, all recipes on The Sage Apron are developed using Diamond Crystal Kosher salt. It is a great all-purpose salt for cooking and baking. If using table salt, reduce quantities by about half.
Nutrition
Serving:
1
loaf
|
Calories:
377
kcal
|
Carbohydrates:
60
g
|
Protein:
6
g
|
Fat:
12
g
|
Saturated Fat:
7
g
|
Polyunsaturated Fat:
1
g
|
Monounsaturated Fat:
3
g
|
Trans Fat:
1
g
|
Cholesterol:
49
mg
|
Sodium:
354
mg
|
Potassium:
101
mg
|
Fiber:
1
g
|
Sugar:
24
g
|
Vitamin A:
387
IU
|
Vitamin C:
1
mg
|
Calcium:
113
mg
|
Iron:
2
mg