Introducing the perfect start to your day: Easy Lemon Pancakes with Earl Grey Crème Anglaise! We're talking about tall, fluffy stacks of citrusy homemade pancakes adorned with a silky, Earl Grey custard sauce.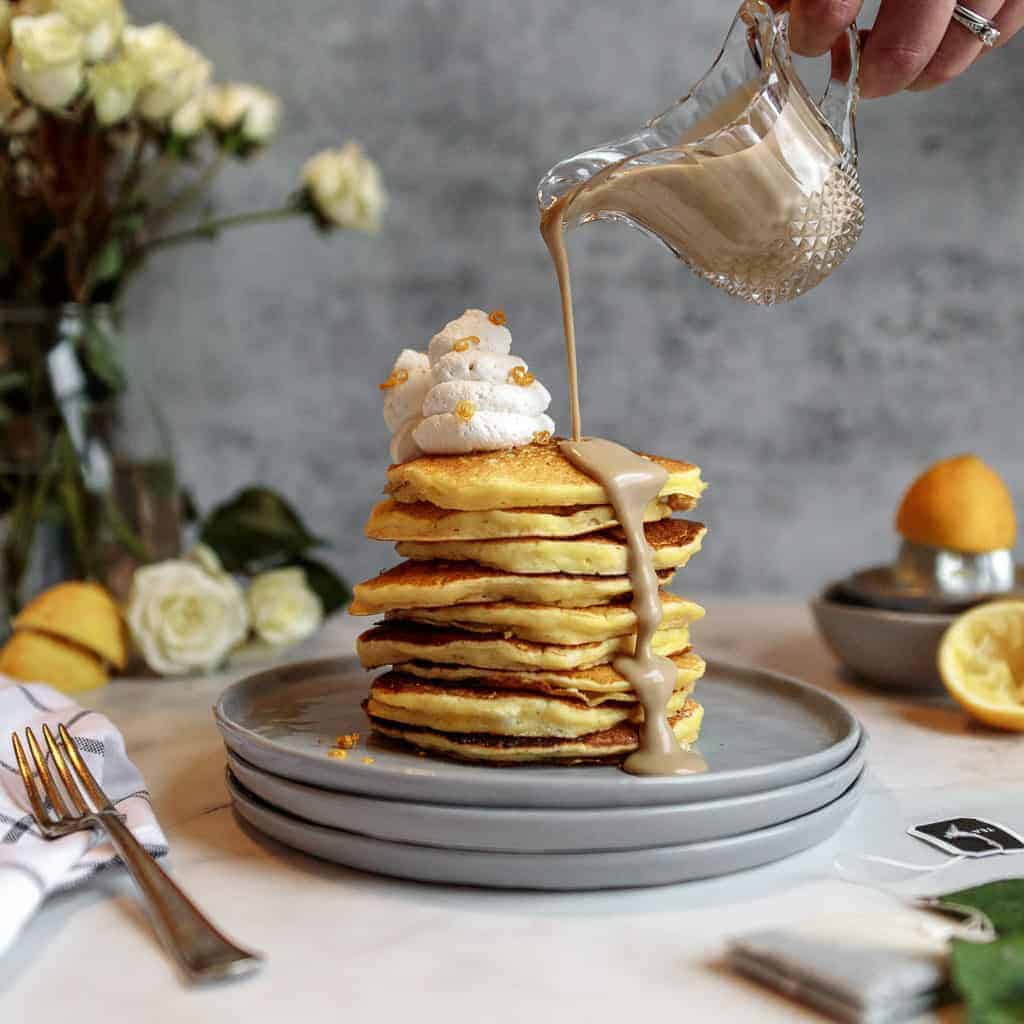 That sauce is rich, floral and creamy with an oh-so-smooth texture that can't be beat. Step aside, syrup. We topped ours with a dollop of fresh whipped cream, which is optional, but always encouraged. The good news? These fluffy pancakes and crème anglaise come together in just 35 minutes! They're posh enough for an elaborate Sunday brunch and quick and simple enough for a snoozy Monday morning.
For another yummy breakfast recipe, try our Ultimate Monkey Bread French Toast!
Jump to:
Fluffy, Lemony Goodness: How To Make Lemon Pancakes
This classic Lemon Pancake recipe makes for a great breakfast! We adapted one of our favorite recipes for traditional buttermilk pancakes with lots of bright lemon flavor! The simple addition of lemon juice and fresh lemon zest elevates this easy pancake recipe to a zesty next level. Try it with regular lemons or Meyer lemons for a little different flavor!
First, start by combining the dry ingredients (all-purpose flour, baking soda, baking powder, sugar and salt) in a large mixing bowl. Create a well in the center of the ingredients.
Then, pour the wet ingredients (eggs, buttermilk, lemon juice, zest and melted butter) into the flour mixture and stir to combine. Don't over-mix! It's okay if there are some small lumps in the batter!
Meanwhile, heat a frying pan or electric griddle. Add a touch of butter or nonstick cooking spray to the pan to help prevent the Lemon Pancakes from sticking.
Ladle pancake batter onto the hot griddle. (We use about one-third of a cup of batter per pancake.) Cook pancakes about two minutes, or until the glossy batter has become matte and the griddle-side is golden brown. Flip the pancakes to cook on the second side for an additional two minutes, or so.
Serve this easy recipe with our Earl Grey Creme Anglaise or your other favorite toppings! For inspiration, take a look at our other serving suggestions, below.
Tips for Perfectly Griddled Pancakes
Preheat your pan or griddle! - An evenly-heated, hot cooking surface is KEY to perfectly-golden pancakes with a fluffy texture. We find the best way to cook this Lemon Pancake batter is with an electric griddle or heavy-bottomed cast iron frying pan. Ideally, you want your pan to to be a consistent temperature that is not too hot and not too cold. We've found that around 375 degrees Fahrenheit (190 degrees celsius) is just right. Be patient, Goldilocks! Allow your pan to heat over medium-low heat for several minutes before adding your batter.
Adjust heat, as needed! - As you are cooking, the pan or griddle may continue to increase in temperature. To prevent burning, you may need to lower the heat in subsequent batches.
Grease the pan or griddle to prevent sticking! As for grease, we love to griddle our cakes in a little bit of butter. That extra fat adds so much yummy, buttery flavor and results in slightly crispy, lacey pancake edges. If you're more about those soft, cloud-like cakes – use a little spritz of nonstick cooking spray to keep your tender-edged pancakes from sticking.
Why Use Buttermilk in Pancakes?
We always use buttermilk in our pancakes. The hint of tangy flavor can't be beat and buttermilk always results in fluffy, delicious pancakes. One reason is because buttermilk's acidity quickly reacts with your batter's baking soda resulting in tons of tiny bubbles that lead to the fluffiest of stacks. Meanwhile, that added acidity is working overtime by cutting glutinous strands and keeping your cakes fork-tender. If you don't have buttermilk kicking around (and who does!?) – no worries. Simply 0substitute whole milk. Add your fresh lemon juice to the milk and let it sit for a few minutes before mixing your batter. The lemon juice will cause your milk to curdle and result in a tangy buttermilk substitute.
Crème An-Who?: What is Crème Anglaise?
Crème Anglaise (French for English cream) is the silky smooth, pourable custard that dreams are made of. Just a few humble ingredients – egg yolks, sugar, and warm cream and milk – come together to a rich, creamy dessert sauce.
It's a simple process, but one that must be done with care. The eggs must be tempered, or heated very slowly, to avoid scrambing your eggs in the warm cream and milk. Slowly streaming the warm dairy into your eggs with constant whisking will ensure a gradual, even temperature increase that is absolutely KEY to velvety textured crème anglaise.
Silky Drizzles on Everything
Crème anglaise is so versatile! It can be paired with dozens of sweets and served hot or cold. For this recipe, we are infusing the warm milk and cream with Earl Grey tea to lend an earthy, floral note that pairs perfectly with the lemony goodness in our pancakes. We increased the sugar, just a touch, to help give this crème anglaise a little more body and to help replicate the more classic sweet maple pairing.
Don't be intimidated, this sauce is easy-peasy and comes together in a few minutes, still perfectly warm to drizzle on your pancakes. However, if you'd prefer, you can go ahead and make this sauce the day before. When the time comes, gently warm it on the stove (whisking on low heat) or in the microwave (stirring between fifteen second intervals) before serving.
Have some leftover? Try pouring this Earl Grey Crème Anglaise, still chilled from the fridge, over a scoop of vanilla ice cream and be transported to pure bliss. Better yet, swirl some into your morning latté for a sweet, caffeinated variation of a London Fog.
Spot of Tea?: Why Earl Grey is the Perfect Custard Sauce Companion
For this Lemon Pancake recipe, we chose Earl Grey tea specifically for it's floral bergamot undertones. Earl Grey can be made from several types of black tea. However, it's the addition of dried bergamot rind (or bergamot essential oils) that lend it to pairing SO well with these Easy Lemon Pancakes.
Bergamot is an intensely aromatic citrus fruit similar to an orange or lime. While a bit too bitter to be enjoyed fresh, bergamot lends itself nicely to sweet preparations and absolutely SINGS with the black tea in this custard sauce.
How to Infuse your Custard with Earl Grey Tea
For the perfect amount of subtle-but-present earl grey flavor, we found that two tea bags and ten minutes was the perfect combination. This method resulted in a sweet, flavorful custard that didn't overpower our lemony griddle cakes. Beware, Earl Grey can be pretty intense and, sometimes, unpleasantly bitter if over-steeped. These simple guidelines will ensure a perfectly balanced Earl Grey Crème Anglaise that compliments your Lemon Pancakes just so.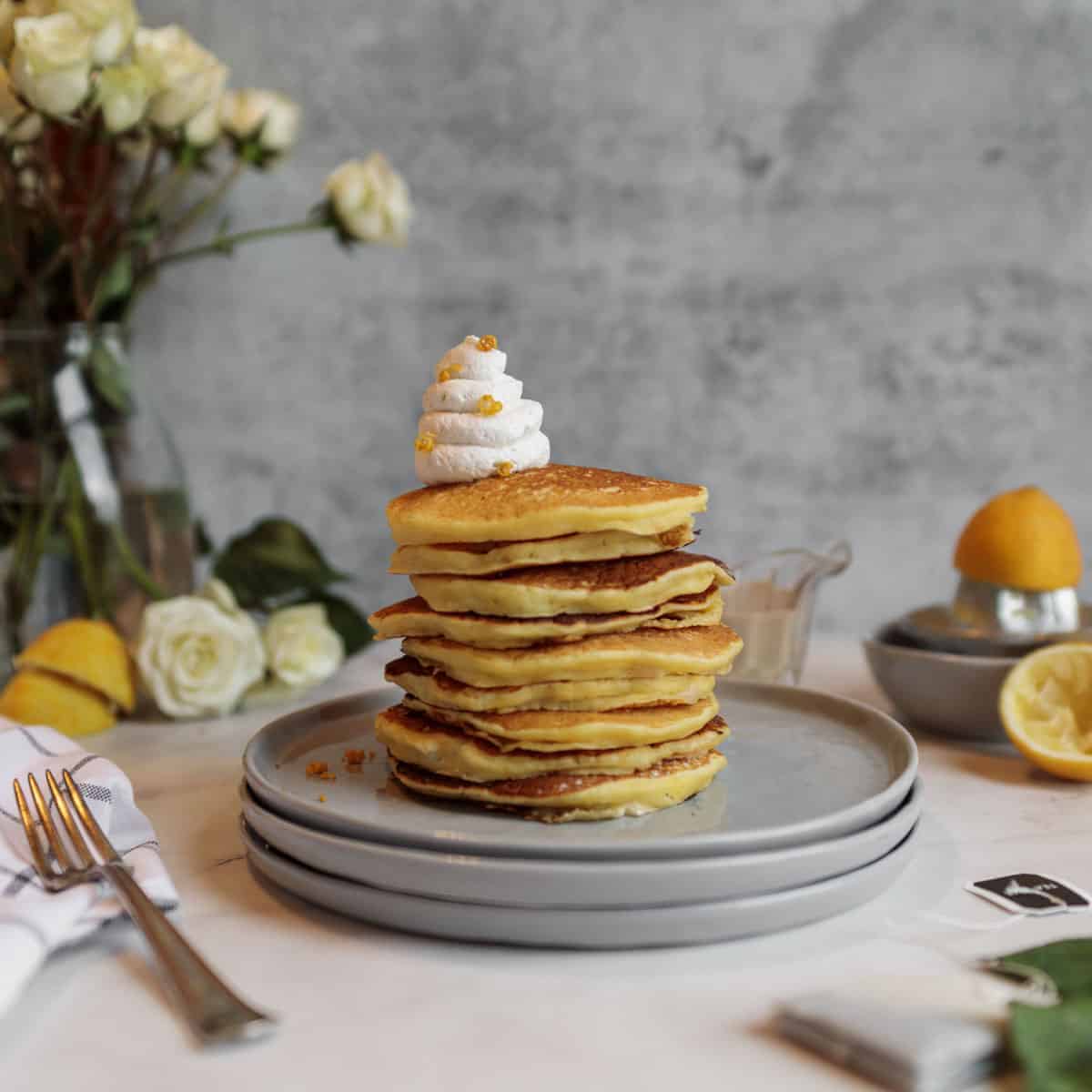 Other Serving Suggestions for Easy Lemon Pancakes
Trust us, topping your Easy Lemon Pancakes in Earl Grey Crème Anglaise is a great way to start the day. That silky custard sauce compliments this lemon lovers breakfast so beautifully! However, these pancakes are so good, they can be enjoyed in a number of different ways! Check out theses other serving suggestions, too...
Classic - Top Lemon Pancakes with a pat of butter and pure maple syrup!
Lemon Blueberry Pancakes - Add a handful of fresh blueberries into the batter while griddling or top with a warm blueberry compote!
Lemon Poppyseed Pancakes - Add 2 - 3 Tablespoons of poppy seeds to the pancake batter before mixing!
Berries & Cream Lemon Pancakes - Pile these pancakes tall with fresh berries and whipped cream!
Lemon Ricotta Pancakes - In lieu of Earl Grey Crème Anglaise, top this recipe with some ricotta cheese whipped with a splash of vanilla extract and a hint of sweetness. (Powdered sugar, maple syrup or a little jam would all taste great!)
You May Also Like...
Recipe
Easy Lemon Pancakes & Earl Grey Crème Anglaise
These Easy Lemon Pancakes with Earl Grey Crème Anglaise recipe is perfect for snoozy weekday mornings or a special Sunday brunch!
ADJUST SERVINGS
Ingredients
Earl Grey Crème Anglasie
4

egg yolks

room-temperature

6

Tablespoons

granulated sugar

¾

Cup

whole milk

¾

Cup

heavy cream

2

earl grey tea bags

Pinch

fine kosher salt*
Easy Lemon Pancakes
1¾

Cups plus 1½ Tablespoons

all-purpose flour

See Note: a

½

teaspoon

baking soda

2

teaspoons

baking powder

2

Tablespoons

granulated sugar

1

teaspoon

fine kosher salt*

2

eggs

room-temperature,lightly beaten

2

Cups

buttermilk

room-temperature

2

Tablespoons

unsalted butter

melted and cooled slightly

Juice of 2

lemons

fresh-squeezed

Zest of 2

lemons
Extra butter or cooking spray for griddling (See How to Griddle Your Pancakes Text Above)
Optional
Fresh Whipped Cream

as desired
Instructions
Earl Grey Crème Anglaise
Gather, measure and prepare the Earl Grey Crème Anglaise ingredients as listed. For the most consistent results, we recommend using metric weight measurements whenever possible. To view metric measurements, toggle the US Customary/Metric switch at the top of this recipe card.

In a medium bowl, combine egg yolks and sugar and whisk until combined. Set aside.

In a small, heavy-bottomed saucepan, combine your milk and cream and warm over medium heat, stirring often. When milk mixture begins to scald (reaching 180° fahrenheit or 82° celsius), turn off the heat. Add both tea bags to the milk mixture being sure to swirl them around the pan until they are completely saturated and submerged. Cover the pot with plastic wrap or a kitchen towel and allow it to steep, undisturbed, for ten minutes. (You can prepare your pancake batter during this time - Lemon Buttermilk Pancakes: Steps 1 - 4).

Once your tea has steeped into the milk mixture, remove the cover and with the back of a spoon or rubber spatula, gently squeeze the remaining liquid from the tea bags into the milk mixture and stir to combine. Discard the tea bags.

Slowly stream your warm milk mixture into the egg yolks to temper, whisking constantly. Once fully combined, return your custard to your saucepan and set over medium-low heat, continuing to whisk constantly. 

Add a pinch of salt to your custard (this will help bring out more flavors and provide balance, so don't skip it!). Continue whisking and cooking your crème anglaise until the mixture begins to bubble and is thick enough to coat the back of a spoon.

Remove crème anglaise from heat and strain through a fine mesh-sieve into your serving vessel. The Earl Grey Crème Anglasie will continue to thicken slightly as it cools. (Time to finish your pancakes - Beginning at Step 4).

Serve warm and generously over Zesty Lemon Pancakes. 
Lemon Buttermilk Pancakes
Gather, measure and prepare the Lemon Buttermilk Pancakes ingredients as listed. For the most consistent results, we recommend using metric weight measurements whenever possible

In a large mixing bowl, combine all-purpose flour, baking soda, baking powder, sugar and salt and whisk to combine. Pushing the flour mixture towards the sides of your bowl, create a well in the center.

Add eggs, buttermilk, lemon juice, lemon zest and butter to the well in your mixing bowl. Using a wooden spoon or rubber spatula stir until ingredients are just combined, taking care not to overmix. Batter will be thick and may be lumpy.

Set batter aside to rest. (You can finish preparing the Earl Grey Creme Anglaise - Beginning at Step 4 - during this time). If you will need to keep your pancakes warm before serving, preheat your oven to 200° Fahrenheit (93° celsius).

Heat a non-stick frying pan or electric griddle over medium-low heat. Once the pan has had a couple minutes to preheat, add butter or cooking spray to prevent sticking. Ladle batter onto pan with a ⅓ Cup (80 milliliter) scoop. Pancakes are ready to flip when the glossy batter has become matte around the edges and the griddle side is golden brown - about two minutes on each side. Fully cooked pancakes will spring back when gently poked in the center. 

Keep cooked pancakes warm on an oven-safe plate or baking sheet in the oven. Continue the griddling process until all batter has been used.

Serve pancakes immediately with fresh whipped cream, if using, and Earl Grey Crème Anglaise. Enjoy!
Notes
a. When using this recipe's multiplier feature (1x/2x/3x), the all-purpose flour measurement will not adjust appropriately. For 2x this recipe, use 3 ½ Cups plus 3 Tablespoons (480 grams) of all-purpose flour. For 3x this recipe, use 5 ½ Cups plus ½ Tablespoon (720 grams) of all-purpose flour. 
* A Note About Salt
Unless otherwise noted, all recipes on The Sage Apron are developed using Diamond Crystal Kosher salt. It is a great all-purpose salt for cooking and baking. If using table salt, reduce quantities by about half.
Nutrition
Calories:
300
kcal
|
Carbohydrates:
40
g
|
Protein:
8
g
|
Fat:
12
g
|
Saturated Fat:
7
g
|
Polyunsaturated Fat:
1
g
|
Monounsaturated Fat:
4
g
|
Trans Fat:
1
g
|
Cholesterol:
126
mg
|
Sodium:
384
mg
|
Potassium:
165
mg
|
Fiber:
1
g
|
Sugar:
12
g
|
Vitamin A:
520
IU
|
Vitamin C:
10
mg
|
Calcium:
137
mg
|
Iron:
2
mg