When it comes to steaks, nothing beats a perfectly cooked, melt-in-your-mouth ribeye. This recipe and guide will teach you exactly how to grill a ribeye steak with a crispy milliard crust and a juicy interior!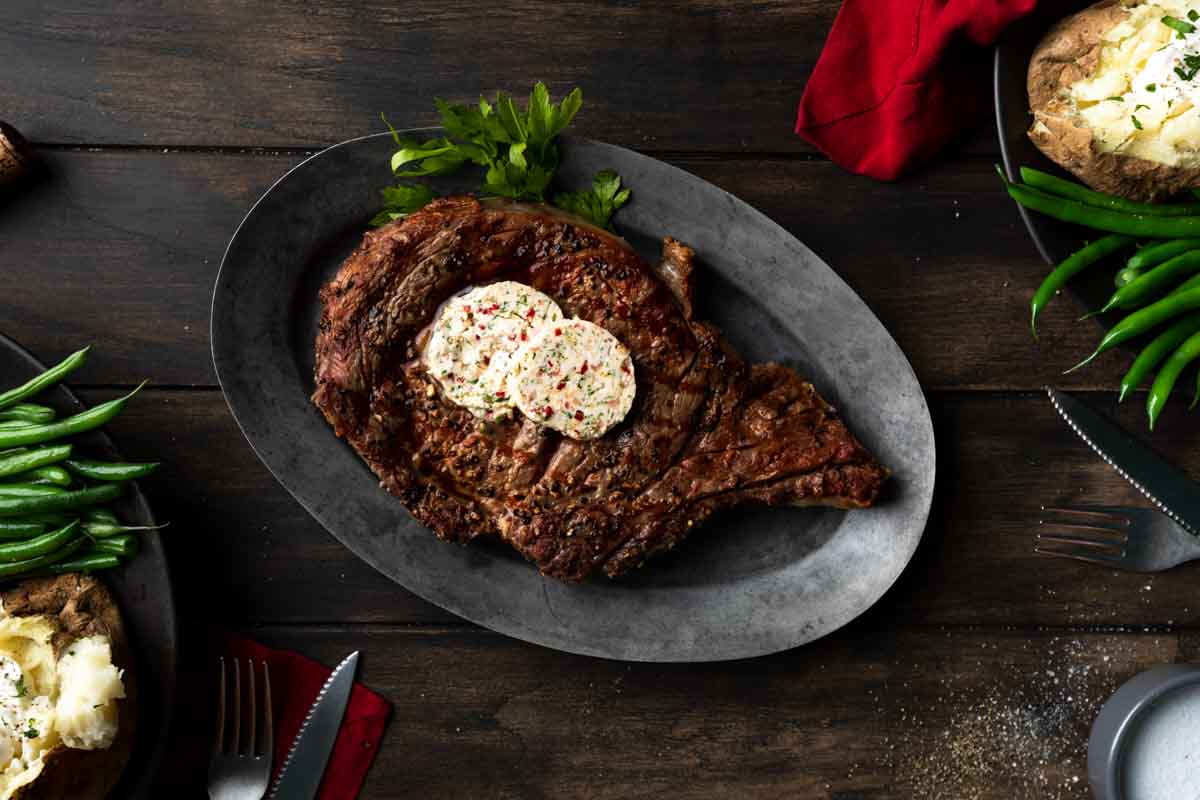 Try this classic grilled rib steak with our rich and zesty Chimichurri Compound Butter!
All About Ribeye Steaks
When you're peering into the meat counter at your grocery store or local butcher shop, it's easy to become overwhelmed with all of the options. Different cuts of steak have distinctly different characteristics.
A filet mignon, for example, is lean and mildly flavored with almost no marbling. A ribeye, on the other hand, is prized for its' rich swirls of fat. The higher fat content in a ribeye steak allows it to be seared at a high temperature while remaining juicy and full of flavor. It's perfect for grilling.
Ribeye steaks are a cut of beef from ribs 6 - 12 on the cow. It's almost the same cut of meat that is used for a prime rib roast (ribs 5 - 11). When cut into steaks, they can be sold as boneless, or still be attached to the bone. More on that below.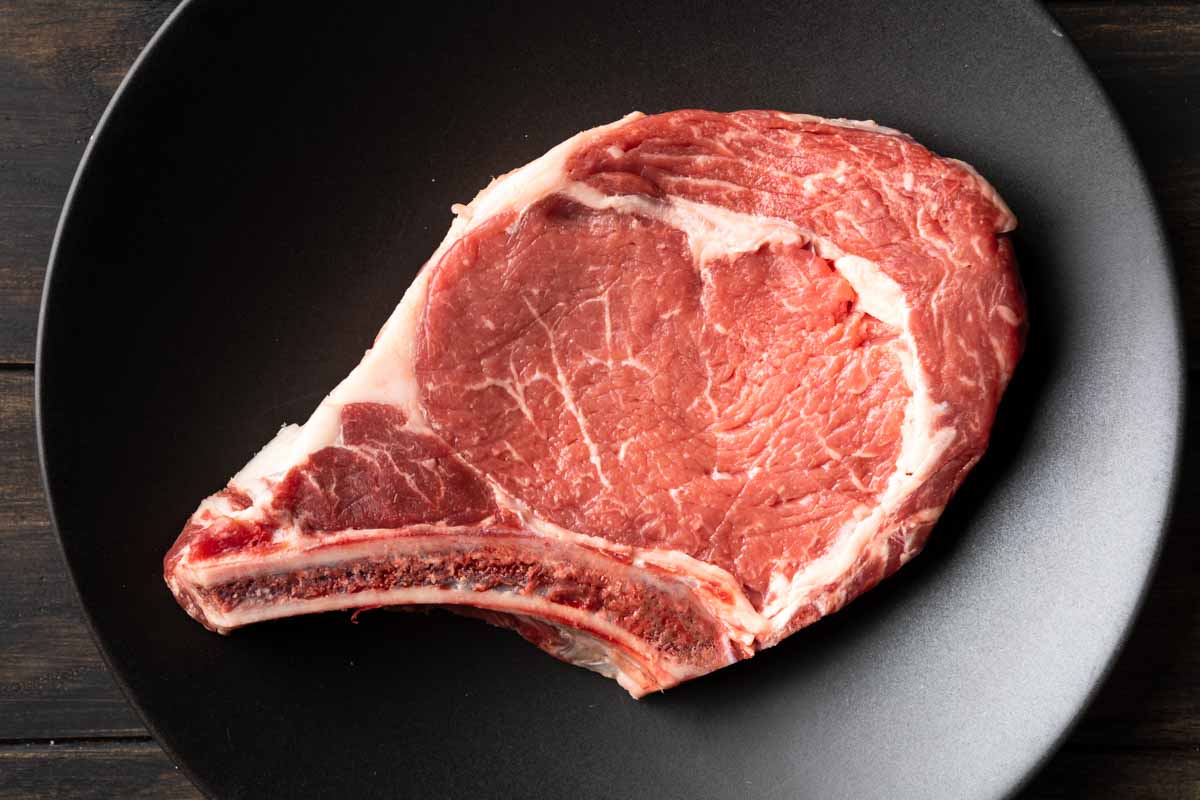 How To Chose A Ribeye
When selecting a ribeye steak from your butcher there are a few things you will want to look for. Keep in mind that a ribeye is supposed to be fatty - that's where all the flavor comes from!
For the best quality ribeye, keep these things in mind:
Choose a Prime steak. In the United States, beef is graded based off of its' marbled fat content. Remember, fat is flavor! The highest quality beef in the US is labeled "Prime" and has lots of fat marbling. It's what you'd fine in most high-end butchers and quality steak houses. If you can't splurge for prime, "Choice" beef is your next best option. We used a choice steak for these photos and it was delicious!
Even marbling. Look for a ribeye steak that has an even webbing of creamy white fat dispersed throughout the meat. As the ribeye is being grilled, the fine lines of fat melt into the meat creating an irresistible juiciness.
Bright red coloring. A bright red steak is a good indicator that the steak has been freshly cut. After time, less-fresh steaks will oxidize and take on a brown/grey color. The exception is for dry-aged beef! A dry-aged ribeye will have a darker coloring that is expected and no cause for concern.
Buy a thick-cut steak. Thicker steaks, less mistakes! Look for a ribeye that is at least one inch thick. The thicker cut allows you to get a crispy sear without overcooking the interior.
Go grass-fed, if you can. Grass-fed ribeye steaks have superior flavor to grain-fed. Though it is often a more expensive cut, it's worth it. Grass feeding creates deep and complex flavors within the beef fat. While grain-fed cattle may appear to have more marbling, the fat often has a blander flavor.
Pro Tip: Bone-In or Boneless?
This ribeye steak recipe will work for boneless, bone-in or even the caveman-appropriate tomahawk rib steaks.
However, we recommend choosing a bone-in steak whenever it is available. Ribeye steaks are actually composed of three different muscles. The largest portion of the steak (the longissimus dorsi muscle) contains the star (or eye) of fat that gives the ribeye its' name.
When you purchase a bone-in (or tomahawk cut steak), the bone is still attached to that ribeye muscle. So, when grilling the steak, not only does the bone help protect it from over cooking, the bone also releases some of its' flavorful yellow marrow into the beef. It essentially self-bastes itself with an extra rich and robust flavor.
Have The Best Steaks Delivered To Your Door
To have a melt-in-your-mouth ribeye delivered right to your doorstep, look no further than Snake River Farms. Snake River Farms is our go-to vendor for quality beef. Their beef is kobe-style American wagyu (AKA the BEST marbling). They take their beef so seriously, you can find it being served in some of the best restaurants all over the world.
What we love about Snake River Farms (aside from their unmatched quality) is the way they hand-cut their steaks. Instead of cutting by predetermined weight, Snake River Farms cuts their ribeyes to a 1.5 inch thickness. It makes for the absolute best ribeye to grill and use for this recipe.
They have several options for ribeyes. Our favorites are the Prime thick-cut boneless ribeye from Double R Ranch and our favorite special occasion splurge: The American Wagyu Tomahawk.
How To Grill A Perfect Ribeye Steak
There is no meal I love more than a perfectly cooked, juicy steak. Grilling a ribeye is easy, but there is a lot to consider! Follow these steps for the best results!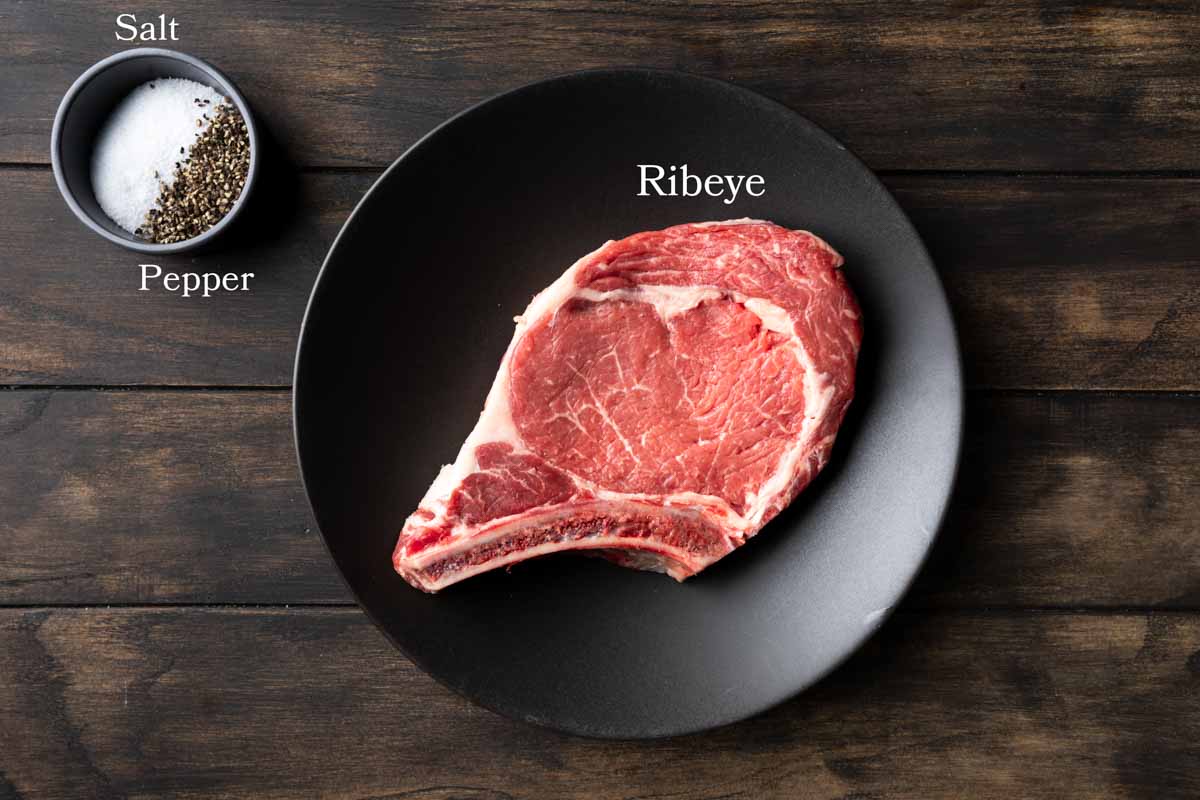 Seasoning
To season a grilled steak use fine kosher salt and coarse black pepper. That's it! A good steak requires no additional seasonings, or marinades. Some people rub steaks with a little olive oil, too. You are certainly welcome to use a bit of oil but honestly - a ribeye has enough fat and doesn't require any extra. If you'd like, you can also add additional seasonings, like garlic, fresh herbs or a dry rub.
Start by allowing the steak to come to room temperature for 40 - 60 minutes (depending on thickness) before grilling. Cold steaks cannot cook evenly.

Then, use paper towels to pat the steak dry on all sides.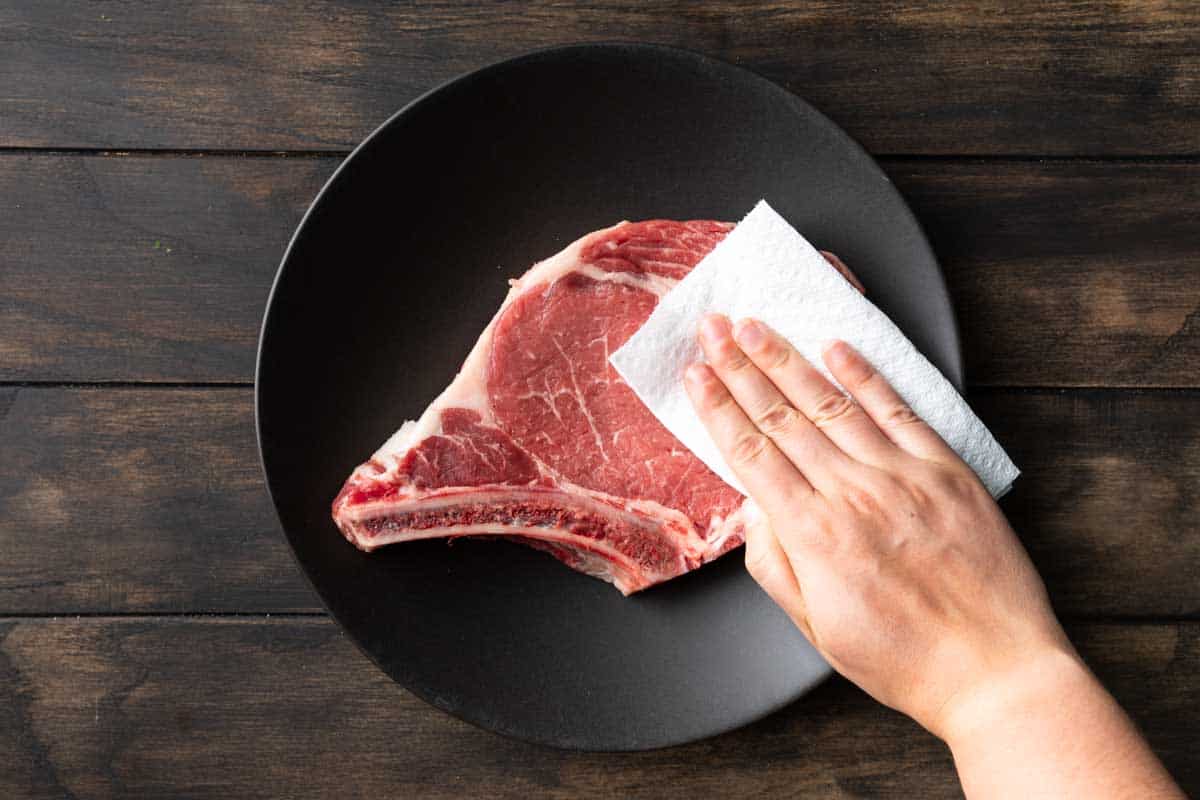 Next, season steaks generously! Remember, while you can only season the outer surface of the steak, that seasoning has to be enough to flavor the thick interior, too. Be sure to coat the top of the steak, the bottom of the steak and all sides of the steak with ample seasoning.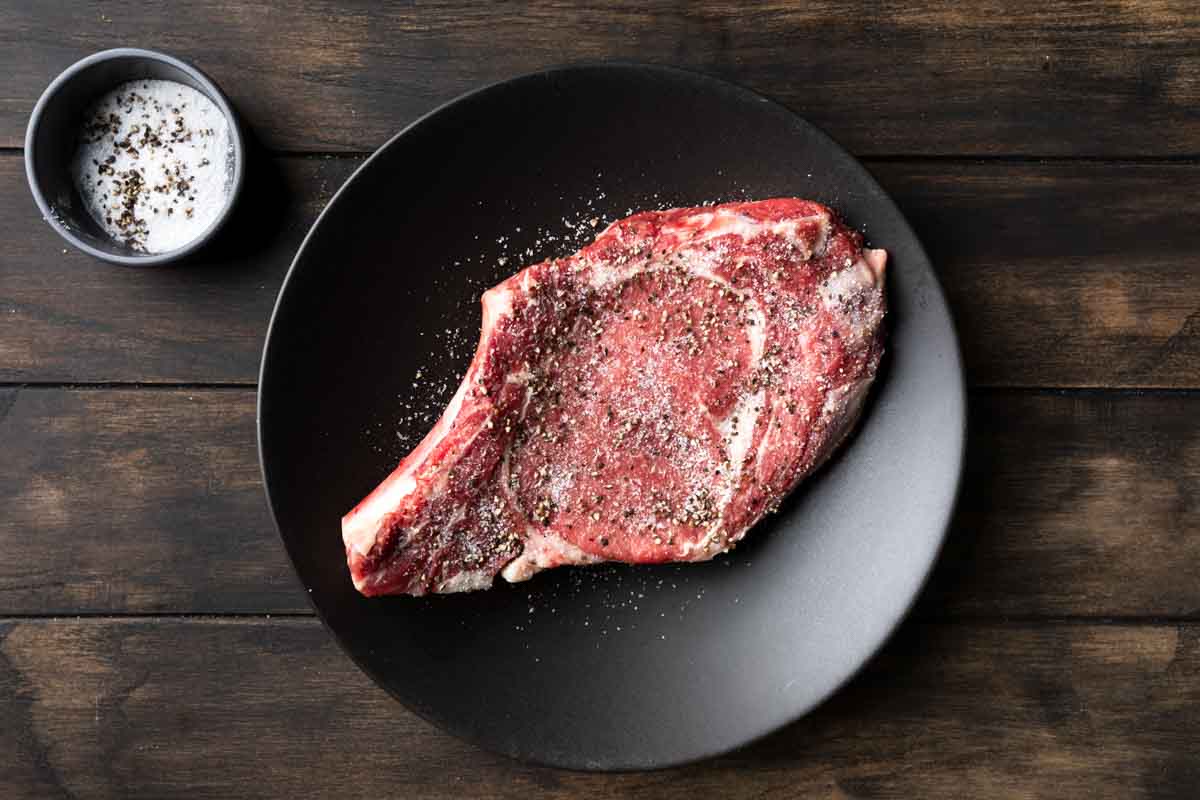 Pro Tip: When To Season the Steak
We recommend seasoning your steak when removing it from the fridge, about 40 - 60 minutes before grilling. When you season a piece of meat with salt, initially the salt begins to draw moisture out of the meat. You will notice that a few minutes after patting dry and seasoning, your ribeye appears moist again.
However, after about 40 or so minutes, the muscles relaxes and begins to reabsorb that moisture. As the liquid is reabsorbed, it pulls the dissolved salt content into the meats' tissue and helps to add flavor throughout. With time, the surface of the meat naturally dries again and allows for the coveted crispy, maillared crust.
If you don't have the time to rest your steak for at least 40 minutes, it is best to season the steak immediately before grilling.
Two Zone Grilling
The key to grilling a perfect ribeye steak is to use the two zone grilling method! The two zone grilling method is when one half of your grill has high-heat and the other half of your grill is off. This method creates different temperatures that allow you to get a great sear on the hot side and finish cooking the steak gently from indirect heat.
Gas Grill - As pictured, we cooked this steak on a gas grill. Since our grill has three burners, we put the burners on the left and center onto the highest heat setting. The right burner is off.
Charcoal Grill - To use the two-zone grilling method on a charcoal grill, push all of the coals to one side. Sear the steak on the coal side and finish cooking on the lower-heat side without the charcoal.
1. To begin grilling, start by allowing the grill to preheat until hot, about 10 - 15 minutes. Once hot, transfer the seasoned ribeye(s) directly over the flames onto the hot zone of the grill and close the lid. Be careful, the melting fat can cause flare-ups. Keep a close eye.

Sear the first side of the steak for about three - five minutes until caramelized with a bit of char. If you want, you can rotate the steak half way through for classic cross-hatch grill marks. Once you have a good sear, flip and sear the other side for the same amount of time.
Pro Tip: How To Handle A Flare-Up
Whenever you're dealing with fat and fire you run the risk of creating a flare-up. A flare-up is a sudden burst of fire that will reach up above your hot grill grates. While they're usually not too dangerous, they can ruin your dinner.

While searing the ribeye, pay attention. If a flare-up occurs, move the steak to another portion of the hot zone on the grill. When controlled, it's not a big deal. The fat will soon burn off and the flare-up will extinguish itself.
Of course, if the flare-up is large, scary or gets out of hand - remove the steak from the grill and turn it off (if it's gas). To be safe, it's never a bad idea to know where your nearest fire-extinguisher is located.
2. After the steak is properly seared, take the steaks temperature (a thinner steak may be nearly done) and transfer the ribeye onto the side of the grill with a lower temperature. If using a three burner gas grill, like ours, turn off the center burner and lower the (left) high-heat burner to medium.

The goal now is to bring up the temperature of the ribeye steak slowly, to gently render the fats within the piece of meat. Close the lid and allow the grill's smoke to circulate around the meat, creating a gentle convection of heat and amazing flavor.

If you are using a bone-in ribeye, position the bone towards the heat source. This helps to further insulate the meat.
How Would You Like That Cooked?
If you are new to cooking steaks my biggest recommendation is to invest in an instant read thermometer. A digital meat thermometer is the best way to ensure a perfectly cooked steak. I bought mine on Amazon for less than $15 USD. Be sure to temp the ribeye in the thickest part of the meat and not the star of fat.
Here is a guide to steak temperatures that will help you achieve your desired doneness.
| Desired Doneness | Remove From Grill at... | Final Temperature |
| --- | --- | --- |
| Rare | 108º | 120º |
| Medium-Rare | 118º | 130º |
| Medium | 128º | 140º |
| Medium Well | 138º | 150º |
| Well Done | 148º | 160º |
This chart is only a guide and based off of cooking a 1 ½ inch thick, bone-in ribeye. A thinner steak will have less carryover cooking and a thicker steak will have more carryover cooking.
Pro Tip: Medium-Rare Ribeye - Generally, we recommend serving grilled ribeye at medium-rare. Black and blue (AKA Pittsburg-style) is not recommended for grilled ribeye because the steak will not get hot enough to render the fat. Meanwhile, at medium-well and beyond, so much fat will render out of the meat that the steak will be left dry and chewy.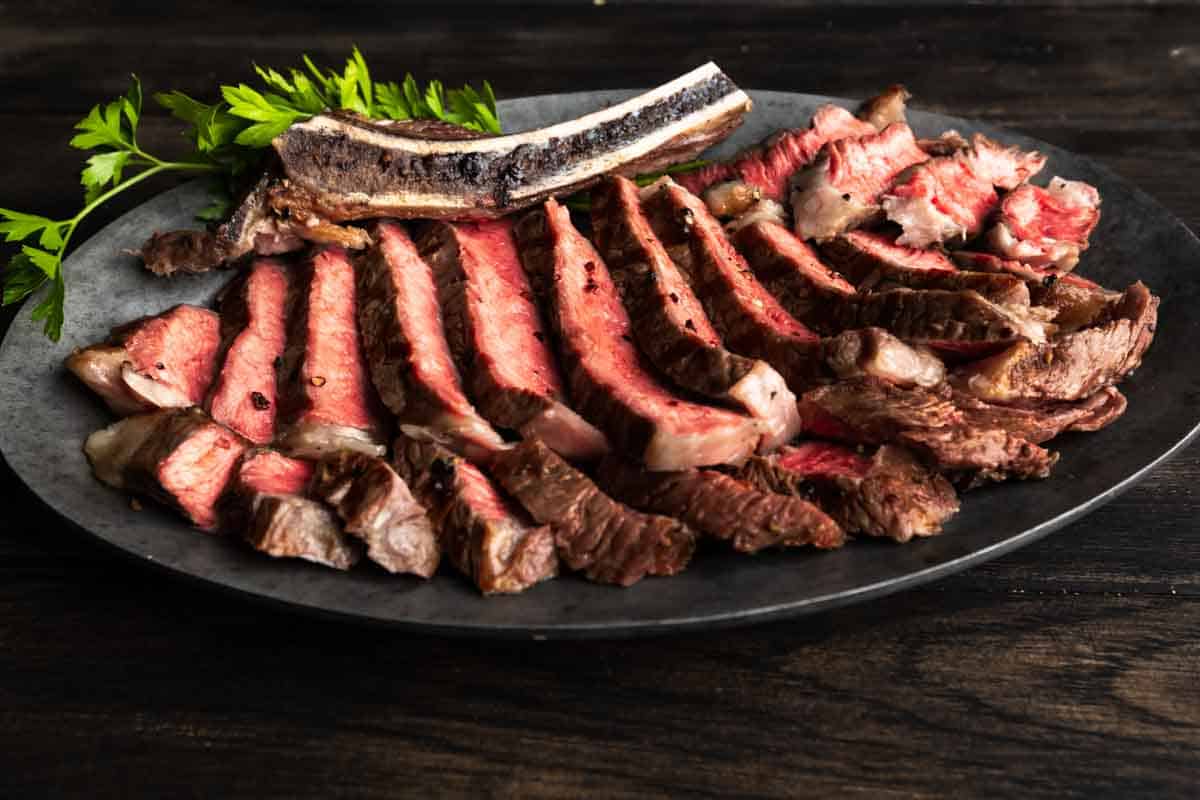 Understanding Carryover Cooking
Carryover cooking refers to the cooking that will continue to happen after the meat is removed from the grill. Since it is still hot, it will still cook. With a large piece of meat, like a thick-cut ribeye, you can expect the internal temperature to raise between 10 and 15° Fahrenheit.
Be sure to take the ribeye off the grill at a lower temperature than your desired doneness. When in doubt, we recommend slightly under cooking, rather than over cooking. You can always throw it back on the grill, if needed.
How To Carve A Grilled Ribeye Steak
Once your grilled ribeye has reached the suggested temperature, it needs to rest. Transfer the steak to a cutting board and allow for it to rest for ten minutes. You can tent it with aluminum foil, to help keep it hot. During this resting period, the steak will reabsorb its juicy fats and finish cooking to your desired degree of doneness.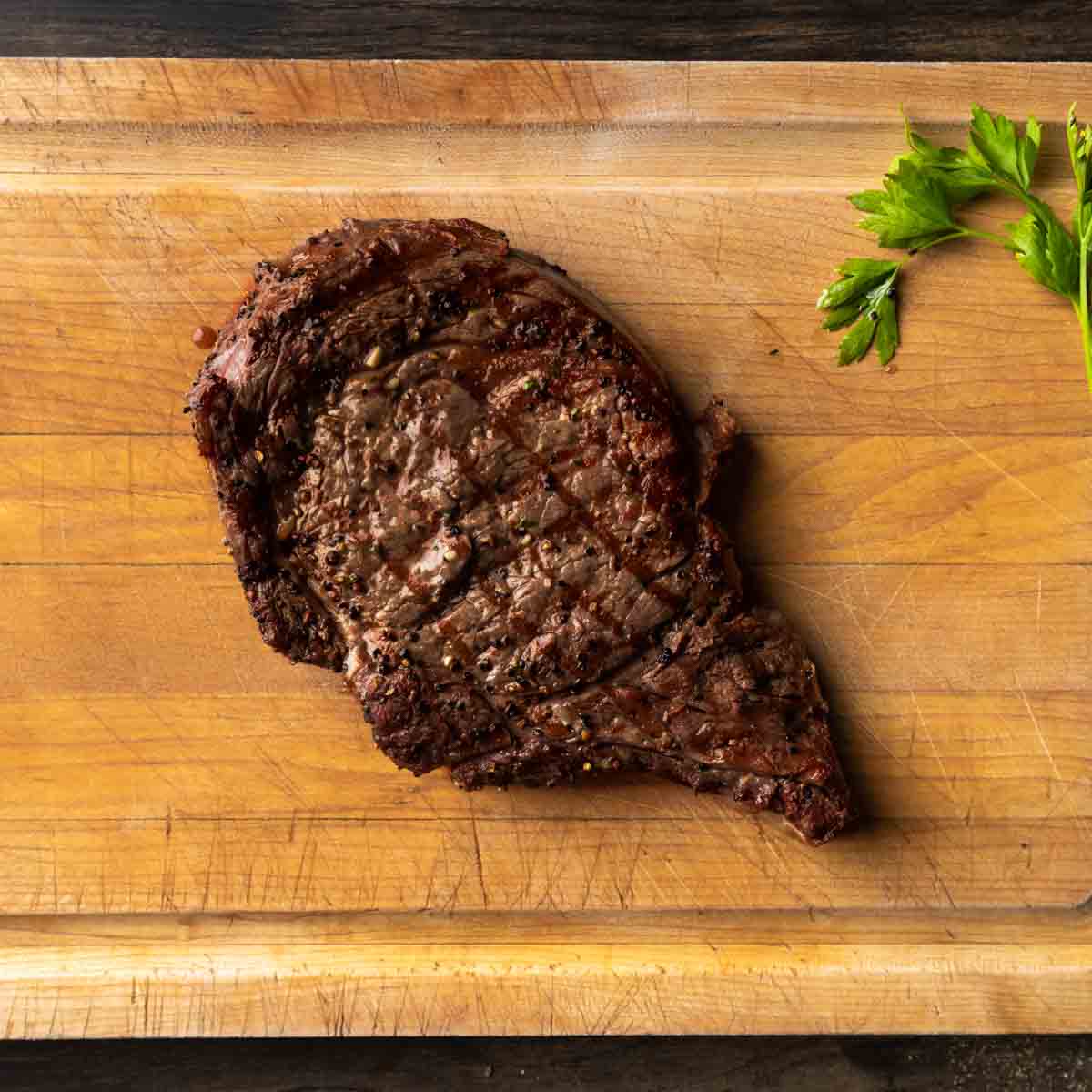 After resting, it is time to carve the steak! As mentioned, a ribeye is comprised of three muscles. Each muscle should se separated and then cut against the grain. Here's how it's done:
If you are carving a tomahawk or bone-in ribeye, start by cutting the meat off the bone. (Bottom left of the steak pictured above.)
Then, you will want to remove the long and slender spinalis muscle, known as the rib eye cap. (Top left of the steak pictured above.) There will be a thin layer of fat that separates and defines the muscles. Run a sharp knife through the fat.
Finally, remove the small, sometimes triangular shaped muscle, called the complexus. (Bottom right of the steak pictured above.) If you are grilling a boneless ribeye, your steak may not include the complexus muscle.
Once the muscles are separated, each piece can be sliced individually. It is important to slice against the grain of the meat. Slicing against the grain helps to promote tenderness and that melt-in-your-mouth texture.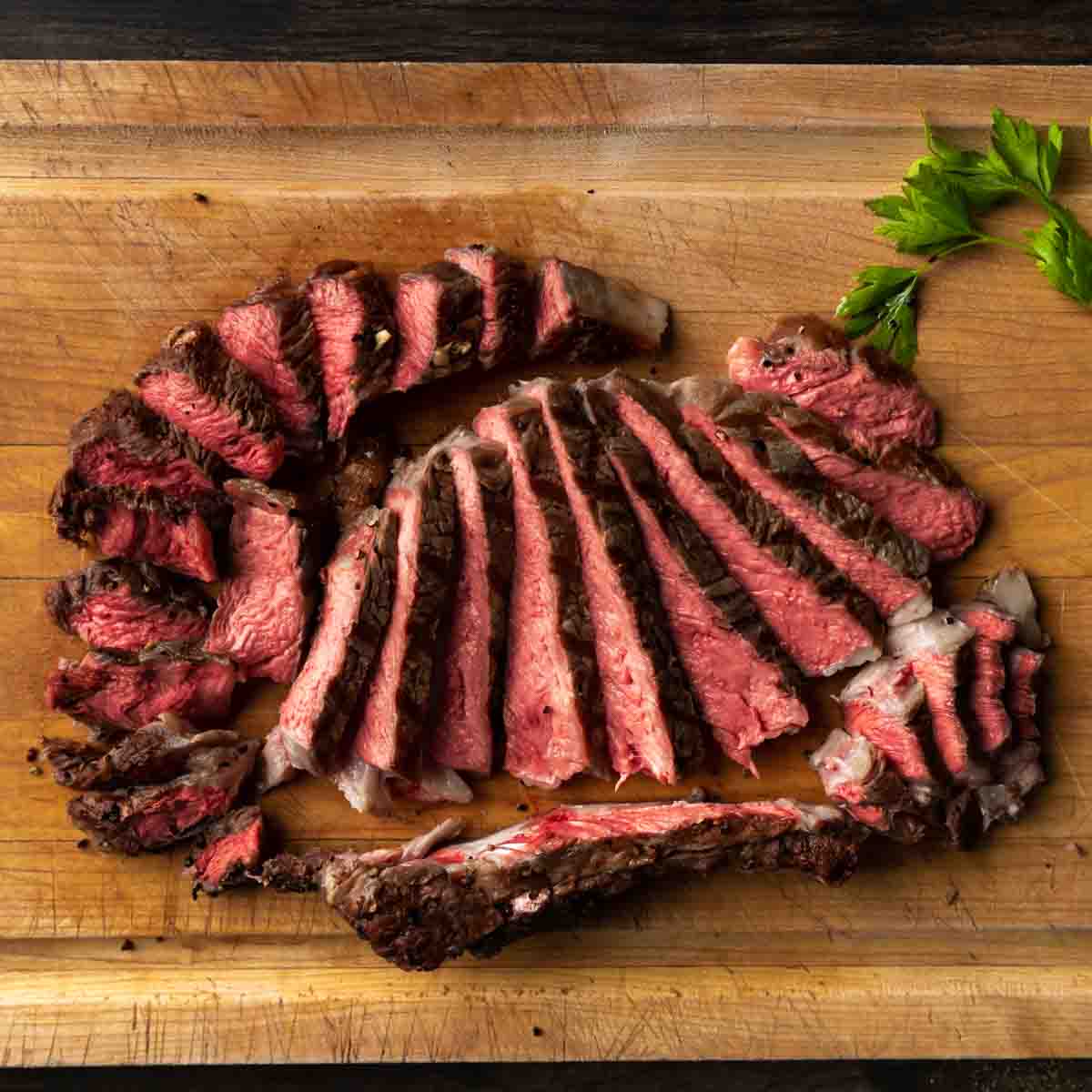 Serving Suggestions
Truth be told, a perfectly grilled ribeye is a great steak that doesn't need much else. However, I usually like to indulge and let a bit of butter melt over my steak.
Feel free to enjoy your steak however you like. A bit of steak sauce, demi glacé, bernaise or au poive sauces are great, classic choices.
For a quick and simple topping to elevate this meal - I recommend making a compound butter. Garlic butter, herb butter or blue cheese butter can be whipped up with a few simple ingredients.
You can also try our recipe for Chimichurri Butter. It's a bright and herbaceous compound butter that marries the zippy tang of Argentinian chimichurri sauce with the richness of butter. Serve it with our Grilled Chimichurri Shrimp for an incredible surf and turf.
For a couple of easy side dishes, serve this steak with some Grilled Fingerling Potatoes and French Green Beans.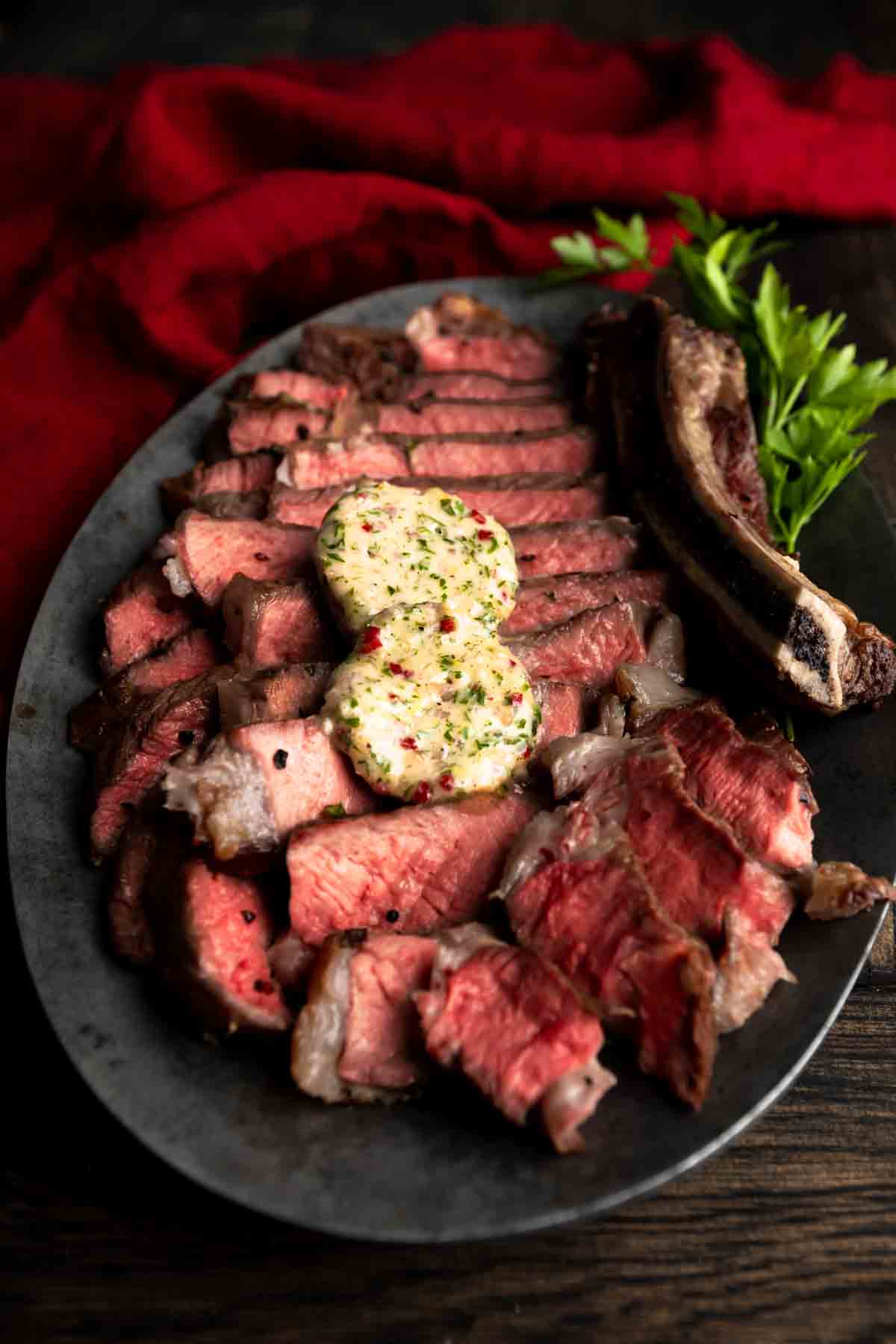 More Recipes You May Like...
Looking for some side dishes for your steak? Check out these other recipes:
Recipe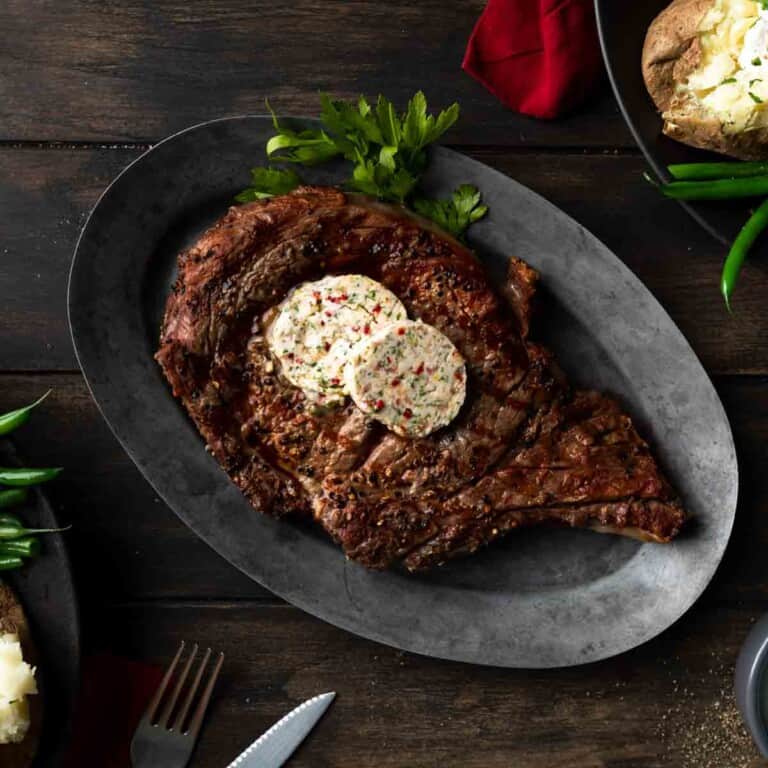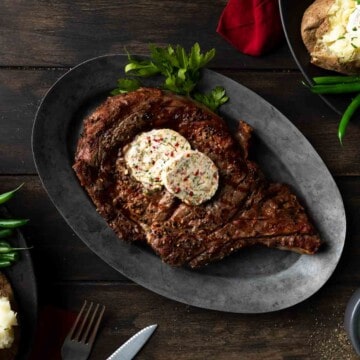 How To Cook A Perfectly Grilled Ribeye
There is nothing better that a properly cooked steak! Follow this guide for a juicy and delicious grilled ribeye!
ADJUST SERVINGS
Instructions
Start by removing the ribeye steak from the fridge. Remove from packaging and use paper towels to pat dry on all sides. Season generously with salt and pepper on all sides. Allow to come to room-temperature for 40 - 60 minutes (depending on size).

Meanwhile, preheat half of your grill using the two-zone grilling method.

For gas grills, turn half of the grill on high-heat (See Note: a). Leave the other half of the grill off.

For charcoal grills, arrange and heat coals under one half of the grill.

Once hot, sear the ribeye over the hot side of the grill. Flip once, searing each side for about 3 - 5 minutes or until lightly charred and caramelized.

While searing each side, try to leave the ribeye undisturbed but keep watch for flare-ups. If a flare-up occurs move the steak away from the flame to another section on the hot side of the grill.

Move the ribeye to cool half of the grill. If using a gas grill, lower the heated side to medium (See Note: b.). Temp the thickest part of the steak with an instant read thermometer. Close the lid and allow to cook to your desired temperature.

Cook until your desired doneness keeping in mind that carryover cooking will occur. For medium-rare, we recommend removing the ribeye from the grill at an internal temperature of 120° Fahrenheit (50° celsius).

Remove the ribeye from the grill and allow to rest for ten minutes. You can tent the steak in foil to help keep it hot.

Carve the ribeye to serve. If using a tomahawk or bone-in ribeye, start by cutting the eat away from the bone. Then, separate each muscle individually. Cut each part of the ribeye against the grain. Serve immediately and enjoy!
Notes
a. For a three burner grill, we recommend turning the left and center burners on high heat. Leave the right burner off.
b. For a three burner grill, move the steak to the right side, away from the flame. Turn the center burner off. Lower the left burner to medium.
* A Note About Salt
Unless otherwise noted, all recipes on The Sage Apron are developed using Diamond Crystal Kosher salt. It is a great all-purpose salt for cooking and baking. If using table salt, reduce quantities by about half.
Nutrition
Calories:
479
kcal
|
Carbohydrates:
2
g
|
Protein:
46
g
|
Fat:
32
g
|
Saturated Fat:
14
g
|
Polyunsaturated Fat:
2
g
|
Monounsaturated Fat:
15
g
|
Cholesterol:
138
mg
|
Sodium:
7196
mg
|
Potassium:
650
mg
|
Fiber:
1
g
|
Sugar:
0.02
g
|
Vitamin A:
51
IU
|
Calcium:
34
mg
|
Iron:
4
mg