Grilled honey balsamic chicken breasts are grilled juicy and glazed in a sweet and tangy marinade! This grilled chicken recipe is perfect for your next barbecue and can be enjoyed on its own or in salads, pastas and sandwiches.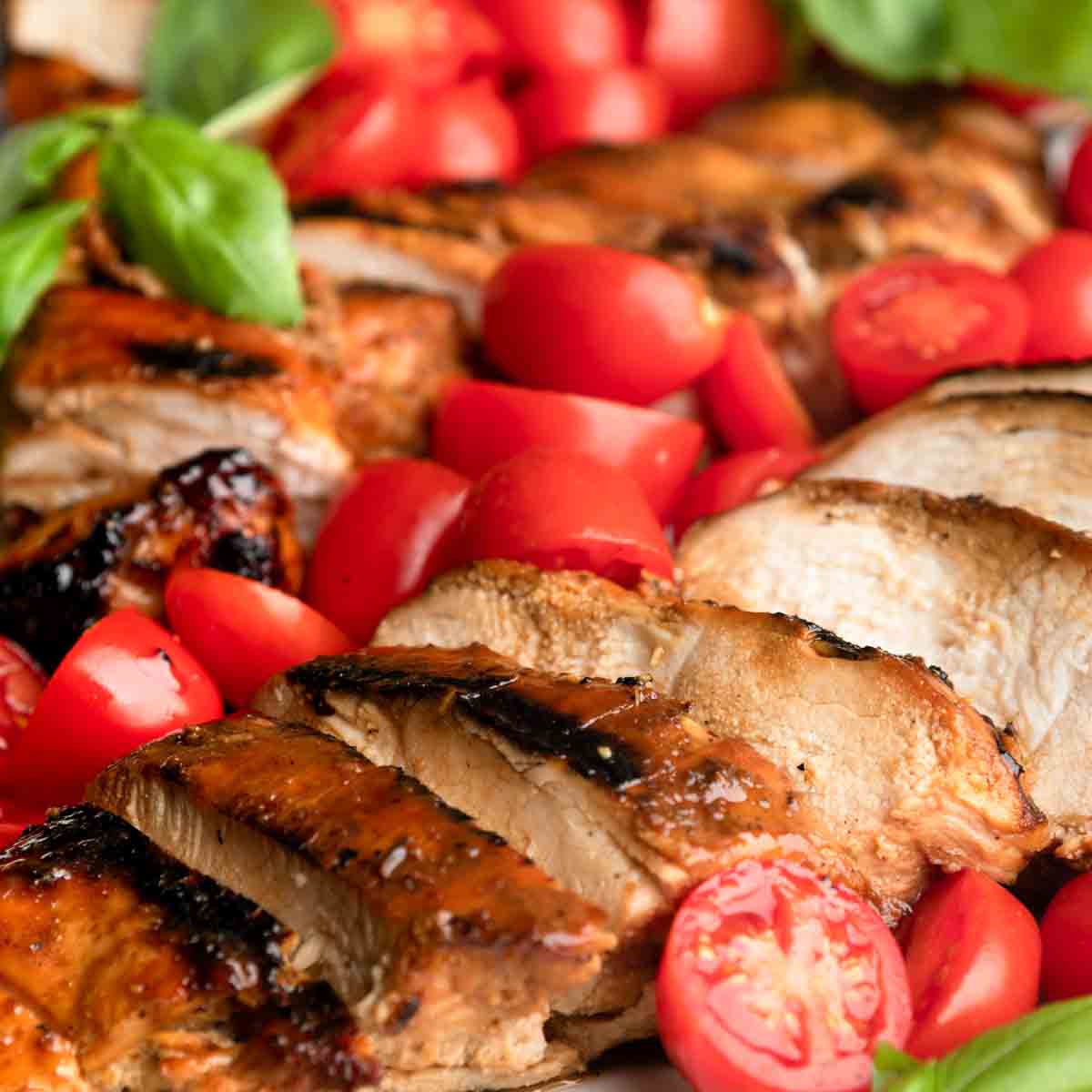 For a perfectly paired side dish, try our Cherry Tomato Caprese Salad! For another great grilling recipe, head to our Perfectly Grilled Ribeye with Chimichurri Butter!
Ingredients
The best part about this chicken recipe is that it only requires a few ingredients and you likely already have them all in your pantry!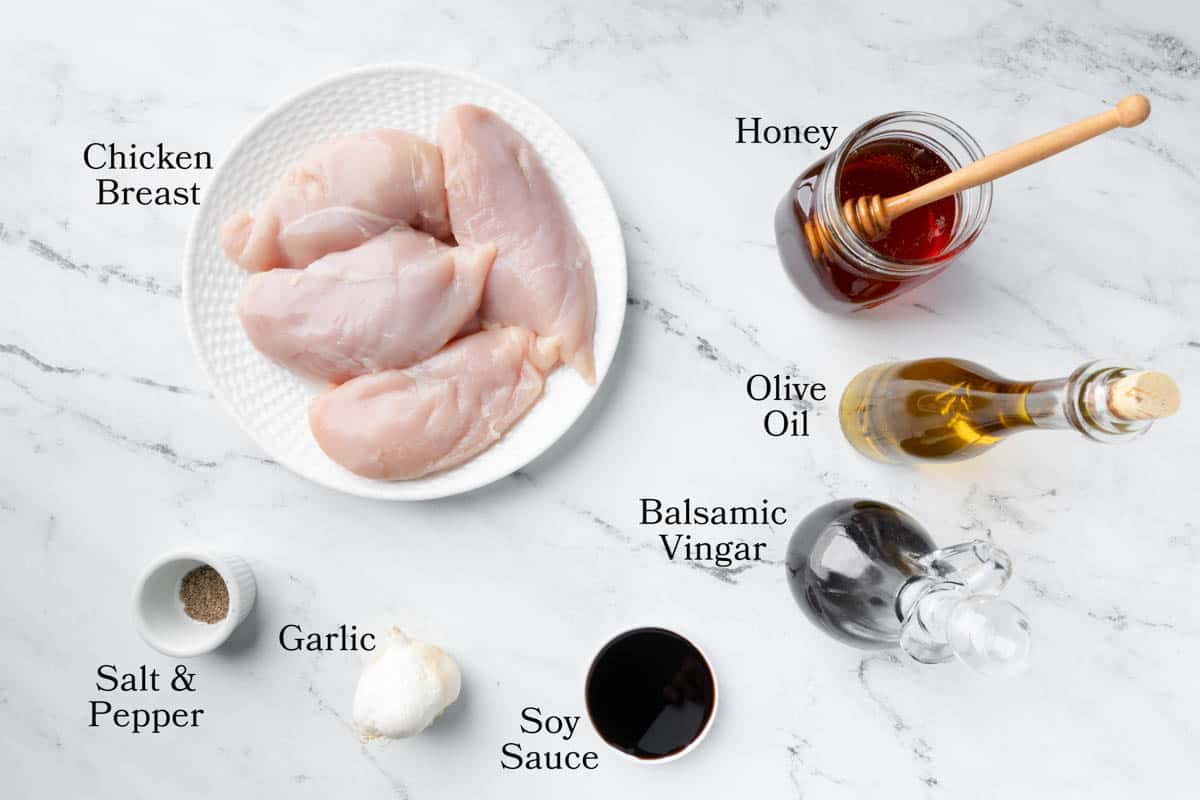 Chicken Breasts - If you prefer dark meat, this recipe can also be made with 6 - 8 boneless skinless chicken thighs. Adjust the cooking time, as needed.
Soy Sauce - I use regular soy sauce because that's what I keep in my pantry. You can also use low-sodium soy or tamari to make this recipe gluten-free.
How To Make This Recipe
This grilled honey balsamic chicken is super simple to prepare. It makes for a quick and easy weeknight meal or a delicious addition to a BBQ gathering. It does take a little planning, since the chicken breasts (or thighs) do need to marinate for a bit.
Honey Balsamic Marinade
1. To make the marinade, simply combine all ingredients and blend together. I like to make this marinade in a jar with an immersion blender. Blending the ingredients helps to incorporate the garlic and oil so that it does not separate and creates a smooth, shiny glaze.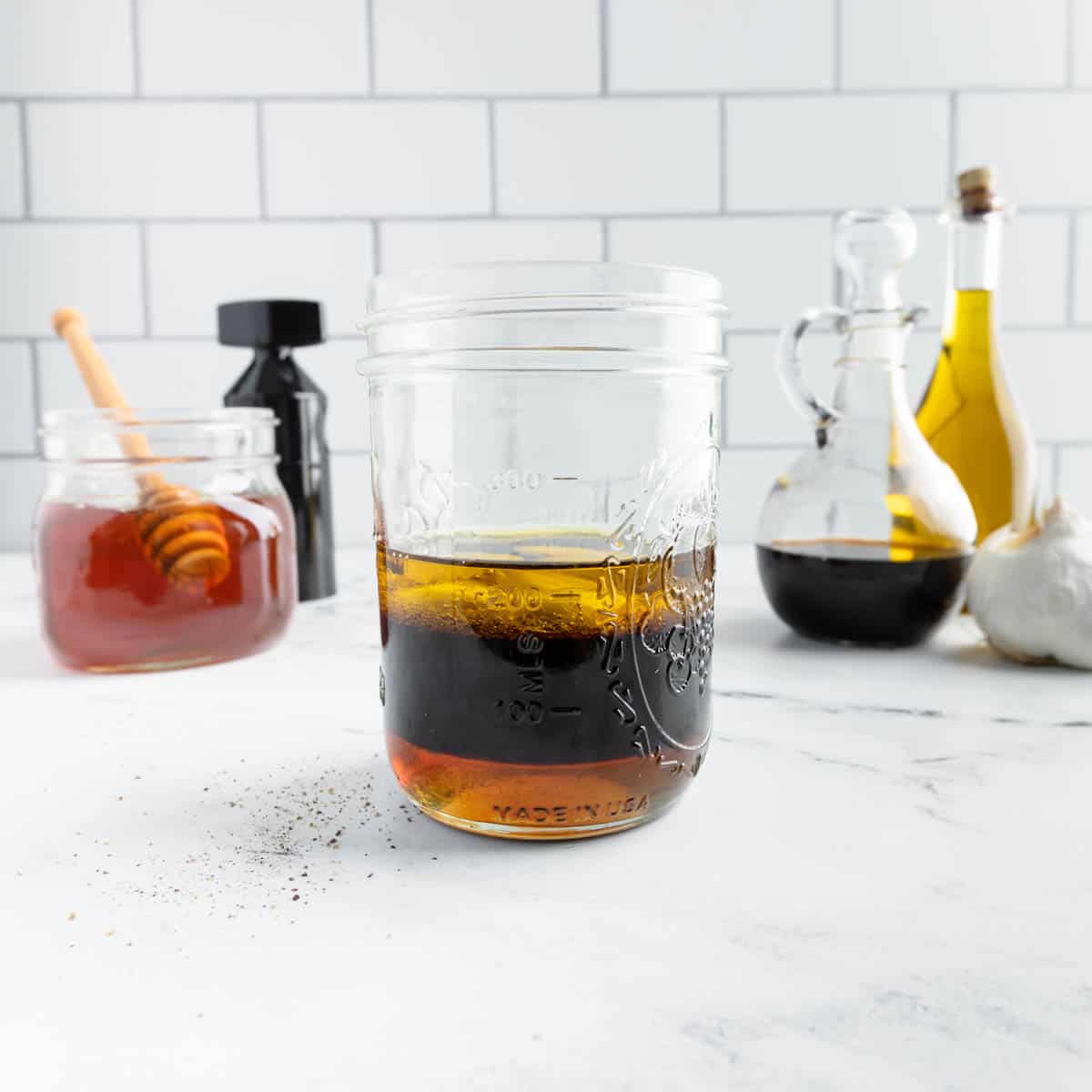 2. Add half of the honey balsamic marinade to a bowl or ziplock bag with the chicken. (Reserve the other half of the marinade for glazing, later on!) Make sure the chicken is completely covered in the marinade and refrigerate for at least two hours or overnight.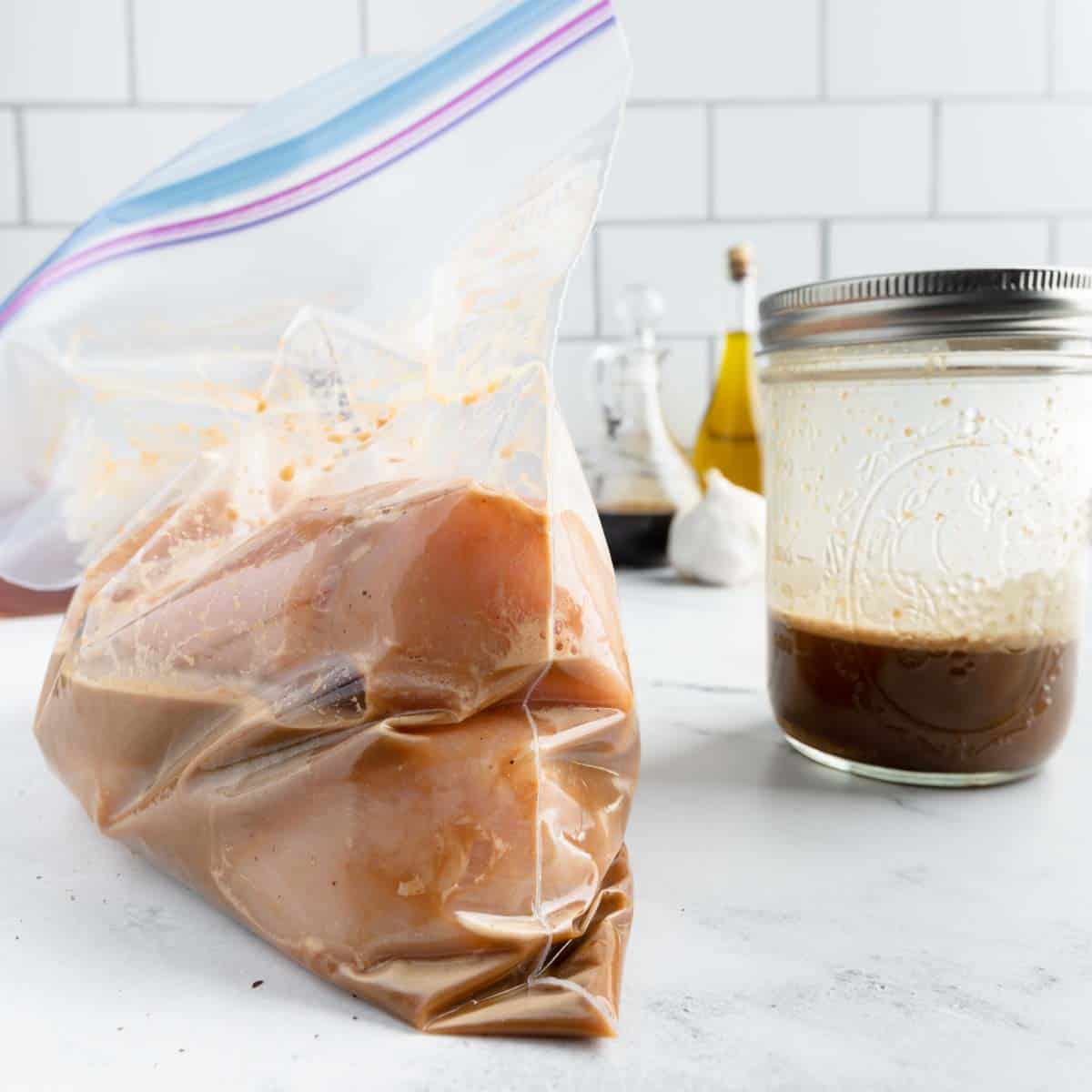 Pro Tip: Timing the Marinade - The acid in the marinade (in this case, balsamic vinegar and soy sauce) helps to tenderize the chicken while also imparting flavor through osmosis. If you have the time, I recommend marinading the chicken for at least 4 hours and up to 24 hours. After 24 hours the chicken is generally still safe to eat, however, the acidity can cause the meats' fibers to break down and become undesirably soft.
Juicy Grilled Chicken
Thirty minutes before grilling the chicken, remove the marinating chicken from refrigerator and allow it to come to room temperature. Meanwhile, preheat the grill to medium heat. Scrape the grill grates clean, as necessary.
Allow excess marinade to drip off the chicken and place on the clean grill grates. Close the grill lid to allow the heat to properly circulate. Let chicken cook over medium heat for 5 - 7 minutes before flipping. If the chicken is still sticking to the grates, you can give it another minute or two.
After flipping, use the reserved marinade to begin glazing the chicken. Use a pastry brush to glaze the chicken with the extra honey balsamic marinade a few times (every 1 - 2 minutes) until the chicken reaches an internal temperature of 155° Fahrenheit.
Remove the chicken from the grill and allow to rest for 5 - 10 minutes before serving. During the resting time the grilled chicken will continue to cook slightly (bringing the internal temperature to 165°) and allow the juices to reabsorb. It's an essential step for juicy grilled chicken! Slice, serve and enjoy!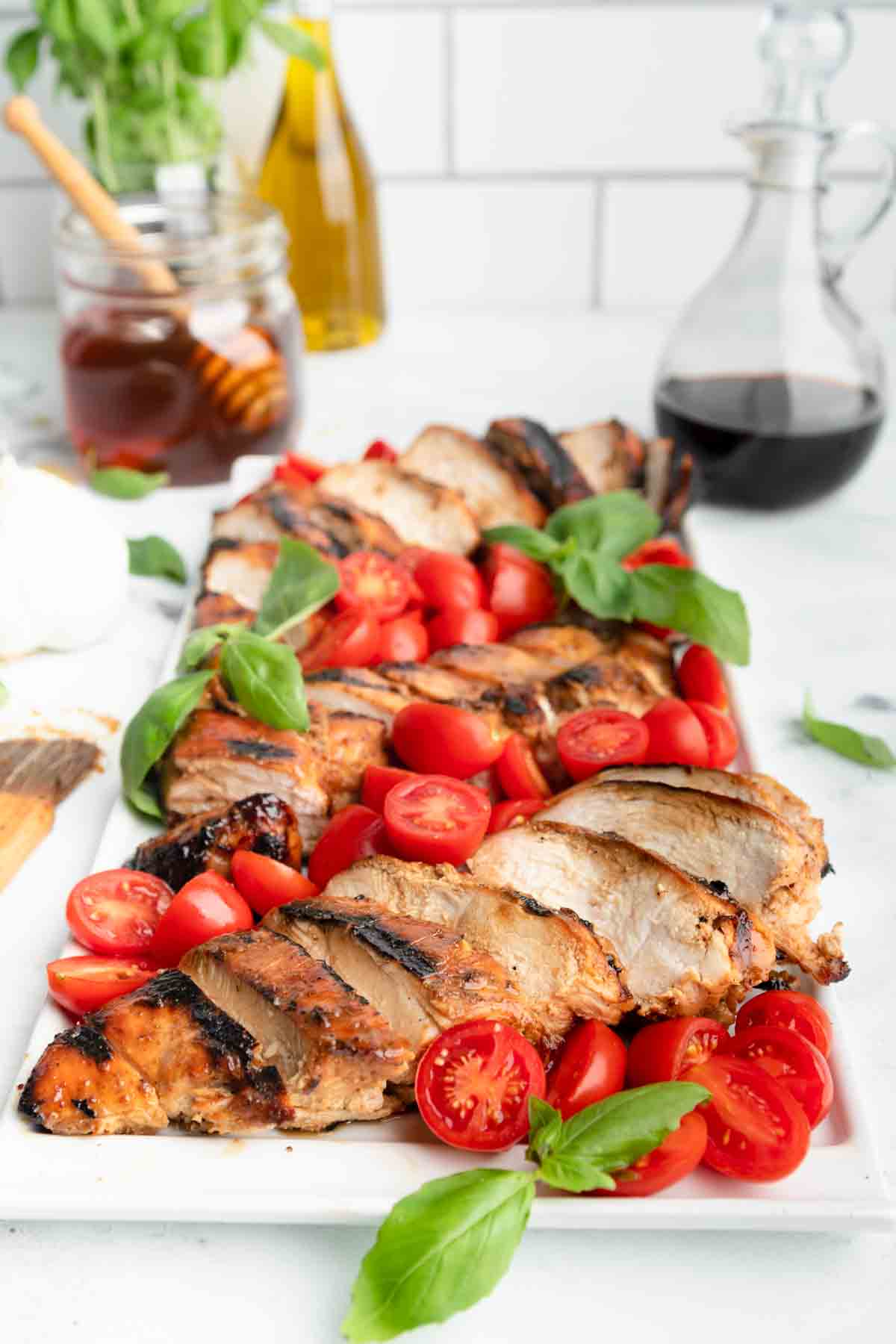 Serving Suggestions
This honey balsamic chicken recipe is so good! We love to make it whenever we're having an outdoor cookout with friends and family. It's a great recipe to make on Summer holidays like 4th of July, Memorial Day and Labor Day.
Classic Cookout - This is a great white meat BBQ addition to the classic burgers and hot dogs menu! It's also great for a mixed grill with our Perfectly Grilled Ribeye Steak recipe. Serve this recipe with your favorite BBQ sides like our Fried Potato Salad with Bacon and Sweet Skillet Cornbread.
Sandwiches - I love using this chicken for a sandwich filling! It goes great with lots of flavors. Make it casual on a bun with coleslaw or luxe it up on foccacia with mozzarella, roasted red peppers and arugula.
Salads - I usually make some extra grilled chicken to use in meal prep for my salads throughout the week. You can make additional marinade to use as a green salad dressing or serve this recipe alongside our Cherry Tomato Caprese.
Pasta - This chicken is a great addition to a hot pasta dish or chilled pasta salad. We eat balsamic grilled chicken with fettuccine alfredo, spaghetti al pesto, or in a pasta salad with artichoke hearts and sun dried tomatoes. Yum!
Recipe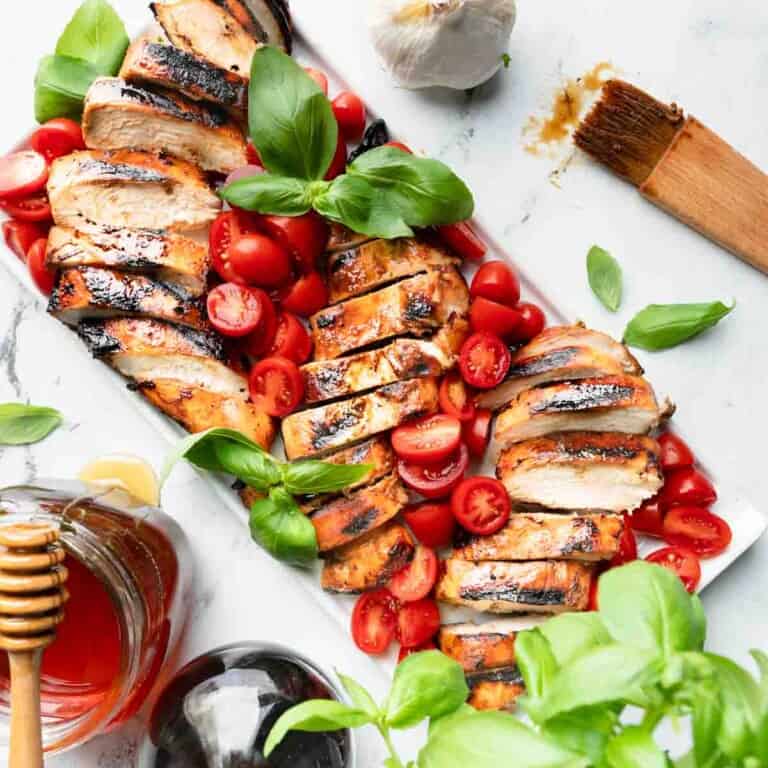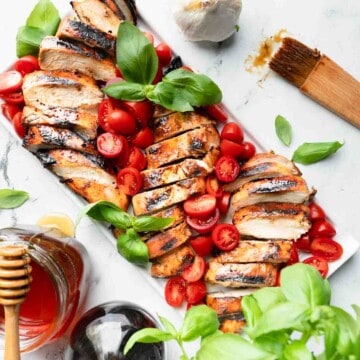 Grilled Honey Balsamic Chicken
This simple grilled chicken recipe is sweet and tangy! It's perfect for BBQs, sandwiches, and simple Italian inspired meals!
ADJUST SERVINGS
Special Equipment
1 Blender or Immersion Blender

1 Pastry Brush
Ingredients
⅓

Cup

balsamic vinegar

¼

Cup

olive oil

¼

Cup

honey

3

Tablespoons

soy sauce

regular, low-sodium or tamari

3

cloves

garlic

or ½ teaspoon garlic powder

¼

teaspoon

freshly-ground black pepper

1

teaspoon

fine kosher salt*

4

medium

boneless skinless chicken breasts

or 6 - 8 boneless skinless chicken thighs
Instructions
Honey Balsamic Marinade: In a wide-mouth jar or blender, combine balsamic vinegar, olive oil, honey, soy sauce, garlic, salt and pepper. Blend until garlic is pureed and the marinade is emulsified.

Add chicken to a bowl or large sealable bag. Add half of the marinade to the chicken and toss to coat completely. Reserve the remaining half of the marinade until ready to grill. Marinate the chicken in the refrigerator for at least 2 hours, or overnight.

Grilling the Chicken: After marinating, remove the chicken from the refrigerator and allow to come to room-temperature for 30 minutes. Meanwhile, prepare the grill and preheat to medium heat (about 350° - 375° Fahrenheit).

Place chicken on the hot grill grates and close the lid. Allow the chicken to cook, undisturbed for 5 - 7 minutes. (If using chicken thighs, this may require less time.)

Flip the chicken on the grill. (If chicken is sticking to the grates, it may need an additional 1 - 2 minutes before releasing cleanly.) After flipping, use a pastry brush to glaze the chicken with reserved marinade.

Continually glaze the chicken with the remaining marinade every 1 - 2 minutes (closing the lid in between) for 5 - 8 minutes or until the chicken reaches an internal temperature of 155° Fahrenheit.

Remove the chicken from the grill and tent with foil. (Carryover cooking will continue to cook the chicken to an internal temperature of 165° Fahrenheit.) Allow the chicken to rest for 5 - 10 minutes before slicing and serving. Enjoy!
* A Note About Salt
Unless otherwise noted, all recipes on The Sage Apron are developed using Diamond Crystal Kosher salt. It is a great all-purpose salt for cooking and baking. If using table salt, reduce quantities by about half.
Nutrition
Calories:
346
kcal
|
Carbohydrates:
23
g
|
Protein:
26
g
|
Fat:
17
g
|
Saturated Fat:
3
g
|
Polyunsaturated Fat:
2
g
|
Monounsaturated Fat:
10
g
|
Trans Fat:
0.01
g
|
Cholesterol:
72
mg
|
Sodium:
1492
mg
|
Potassium:
493
mg
|
Fiber:
0.2
g
|
Sugar:
21
g
|
Vitamin A:
35
IU
|
Vitamin C:
2
mg
|
Calcium:
21
mg
|
Iron:
1
mg