This easy white balsamic dressing recipe is sweet and tangy - perfect for pairing with a variety of salads. Best of all, it only takes 2 minutes and 7 basic ingredients.
White balsamic vinaigrette is a great option for simple green salads. We love to pair it with the late Summer flavors in our Peach Panzanella. For another zippy balsamic dressing, try our all time favorite Fig & Balsamic Vinaigrette.
Ingredients
My favorite part about this recipe is that it only uses a few basic ingredients. I keep white balsamic on hand so I can whip up a batch of homemade dressing whenever the mood strikes. It adds the perfect tangy sweetness to my salads and is so much tastier than most grocery store dressings.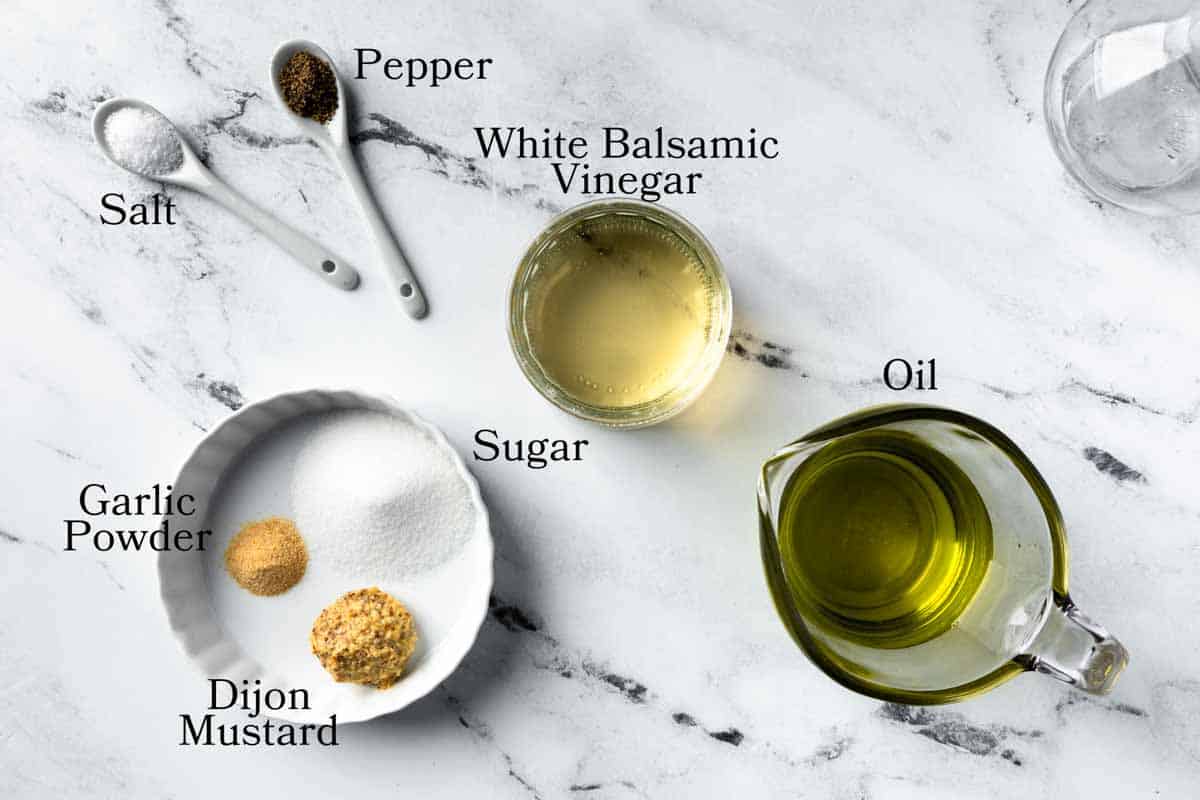 White balsamic vinegar
Oil - I used grapeseed oil for this dressing because it is lightly colored and neutrally flavored - perfect for lighter vinaigrettes. You can also use vegetable oil, avocado oil or olive oil. Using olive oil will impart a slightly bolder flavor with a touch of bitterness.
Dijon mustard - I like using coarse ground Dijon but any mustard will work. Don't skip it! Aside from providing flavor, mustard is an emulsifier that helps to bind the oil and vinegar together and create a viscous, cohesive dressing.
Garlic powder - I use fresh minced garlic in a lot of recipes, but personally prefer just a smidge of garlic powder in this one. For a stronger flavor, use fresh.
Granulated sugar or honey - I usually use white sugar to sweeten this dressing and let the white balsamic flavors shine. Equal parts of honey or agave also work well, with a slightly different flavor.
Salt & Black Pepper
What is White Balsamic?
Like regular balsamic vinegar, white balsamic is a product made from grapes. Trebbiano grape must (crushed grapes, skins and seeds that are generally a byproduct of wine production), are further processed to create vinegar.
With a classic balsamic, the Trebbiano grape musts are cooked down and reduced to a sweet, syrupy consistency before being aged in oak barrels. White balsamic vinegar, however, uses a pressure cooking technique to process the grape must without caramelization. The result is a lighter, less-sweet version of balsamic that is golden in color and brighter in flavor.
How To Make This Dressing
You can make this dressing in a bowl with a whisk, with an immersion blender or, as I like to, with a tiny motorized whisk/milk frother.
Start by combining all ingredients except the oil (vinegar, mustard, sugar or honey, garlic powder, salt and black pepper). Whisk or blend until the sugar has filly dissolved.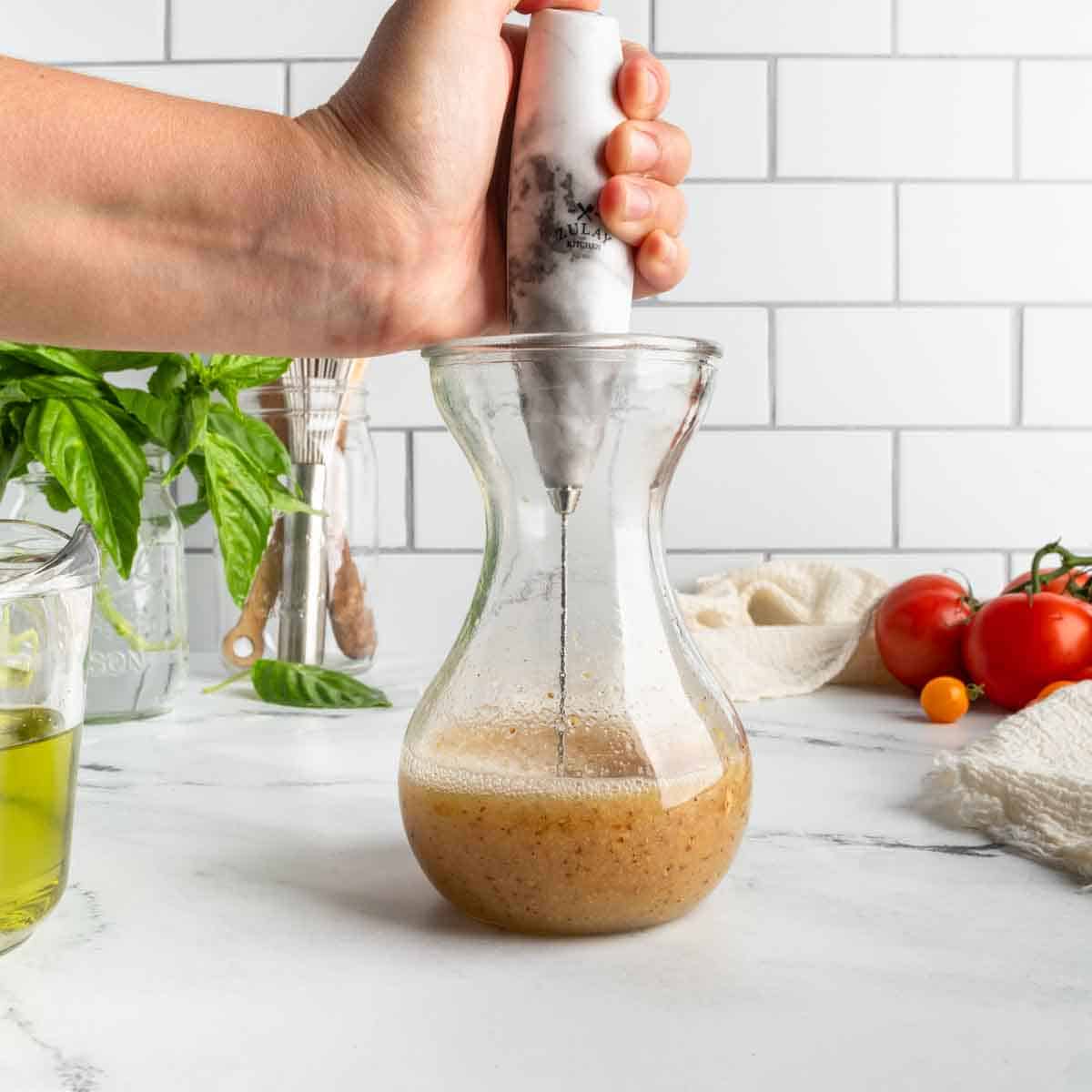 While whisking (or blending) add 1 - 2 drops of oil. Mix vigorously. Continue mixing while slowly streaming in a small amount of oil. Continue until all oil is incorporated and the dressing has a smooth, creamy consistency. Adjust salt and pepper seasoning, to taste.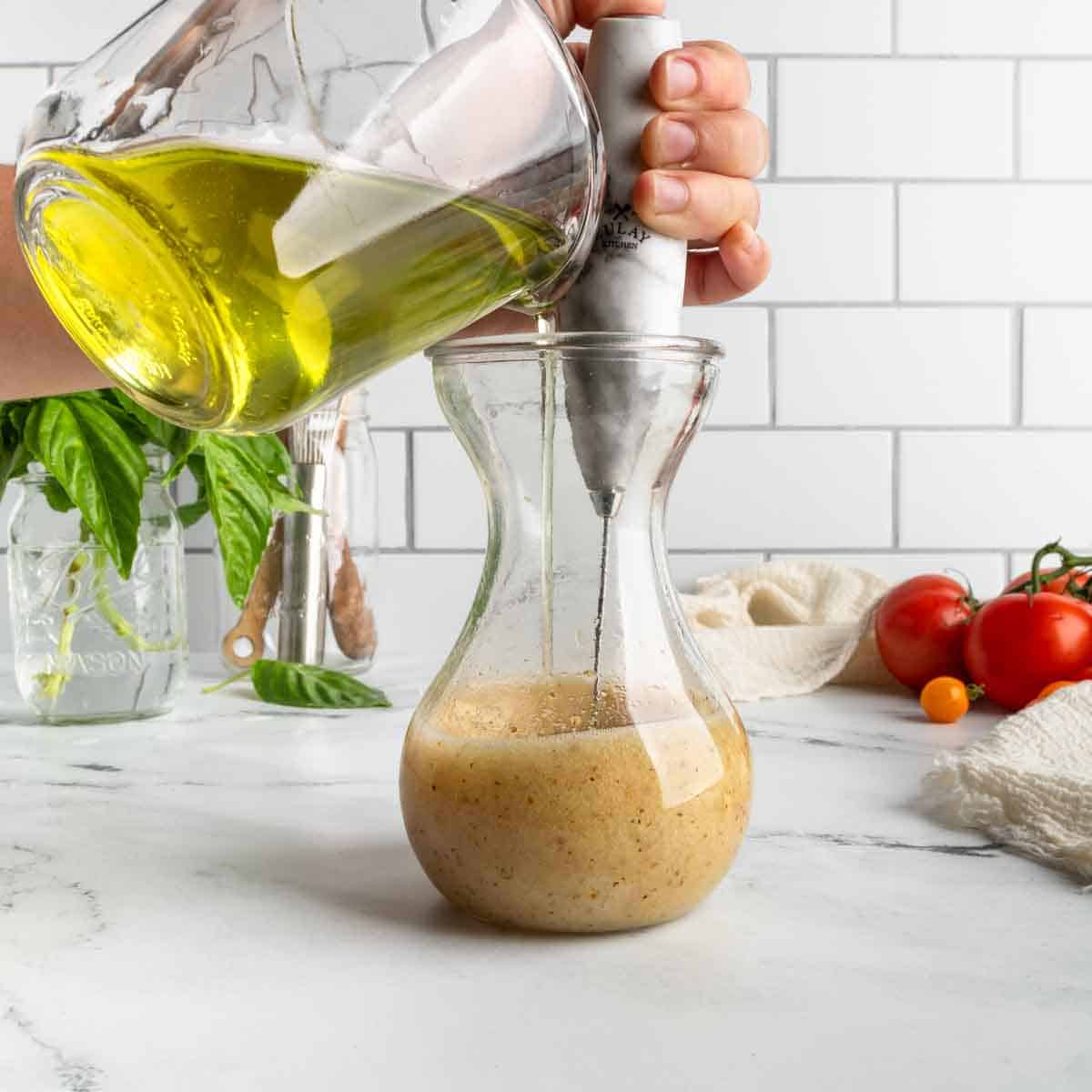 Use immediately or refrigerate until ready to use. I find the dressing tastes better after refrigeration when the flavors have had time to meld together.
Saving & Storing
White balsamic vinaigrette can be stored in an airtight container in the refrigerator for 1 - 2 weeks.
Separation may occur. If needed, shake, whisk or blend the dressing to re-emulsify before serving.
Serving Suggestions
This dressing is a great go-to, dress-any-salad kind of recipe. I enjoy it on any green salad - especially salads with fruit.
My favorite way to enjoy this dressing is in the late Summer with our peach panzanella salad. This recipe features olive oil toasted sourdough with ripe peaches, basil, heirloom tomatoes and Parmesan. The white balsamic is the perfect pairing and I've been know to dream about it all Winter long.
I also love this dressing as a hit of acidity to roasted vegetables. It's a great agrodolce (sweet and sour) condiment to add to crispy Brussels sprouts, artichokes or roasted cippolini onions.
Frequently Asked Questions
What is white balsamic?
White balsamic vinegar is made from Trebbiano grape musts that have been pressure cooked. The vinegar is lightly sweet and tangy. It has a golden color and has subtle flavors of honey, pear and apricot.
What is white balsamic vinaigrette made of?
White balsamic vinaigrette is made from white balsamic vinegar, oil, Dijon mustard, sugar, garlic powder, salt and black pepper.
What is the difference between white balsamic and regular balsamic vinegar?
White balsamic vinegar has a lighter flavor, is slightly less sweet with a crisp finish and golden color. Regular balsamic vinegar is sweeter and more caramelized with notes of oak, figs, and chocolate.
You May Also Like...
Recipe
White Balsamic Vinaigrette
This quick and simple dressing is lightly sweet, bright and tangy - perfect for paring with salads and roasted veggies.
ADJUST SERVINGS
Ingredients
½

Cup

white balsamic vinegar

2

Tablespoons

granulated sugar

OR honey

1

Tablespoon

Dijon mustard

½

teaspoon

garlic powder

1

teaspoon

fine kosher salt*
Freshly-ground black pepper

to taste

⅔

Cup

grape seed oil

OR avocado oil OR olive oil
Instructions
In a jar or bowl, combine white balsamic vinegar, sugar, Dijon mustard, garlic powder, salt and pepper. Whisk, or blend until the sugar has dissolved and all ingredients are cohesive.

While whisking or blending, add in a couple drops of the oil. Mix vigorously while slowly streaming I the remaining oil. Mix until the dressing is fully emulsified and smooth. Adjust seasonings, as desired.

Serve immediately or refrigerate until ready to use. The dressing tastes best after some time when the flavors have had a chance to meld together. Enjoy!
* A Note About Salt
Unless otherwise noted, all recipes on The Sage Apron are developed using Diamond Crystal Kosher salt. It is a great all-purpose salt for cooking and baking. If using table salt, reduce quantities by about half.
Nutrition
Calories:
153
kcal
|
Carbohydrates:
5
g
|
Protein:
0.2
g
|
Fat:
15
g
|
Saturated Fat:
1
g
|
Polyunsaturated Fat:
10
g
|
Monounsaturated Fat:
2
g
|
Sodium:
256
mg
|
Potassium:
19
mg
|
Fiber:
0.1
g
|
Sugar:
4
g
|
Vitamin A:
1
IU
|
Vitamin C:
0.01
mg
|
Calcium:
5
mg
|
Iron:
0.1
mg