This simple oven roasted cherry tomatoes recipe transforms juicy, fresh tomatoes into sweet, tangy tomatoes that are like natures' candy!
This easy recipe for roasted cherry tomatoes is a great way to preserve the Summer season or transform Winter greenhouse tomatoes into something fabulous! These tasty roasted tomatoes mimic the intense flavors of sun-dried tomatoes.
They are fabulous to use in salads, pastas, pizzas and more! Try using this recipe for the dressing in our Cherry Tomato Caprese recipe!
Ingredients
All you need to make this recipe is a few ingredients, a baking sheet and an hour of your time.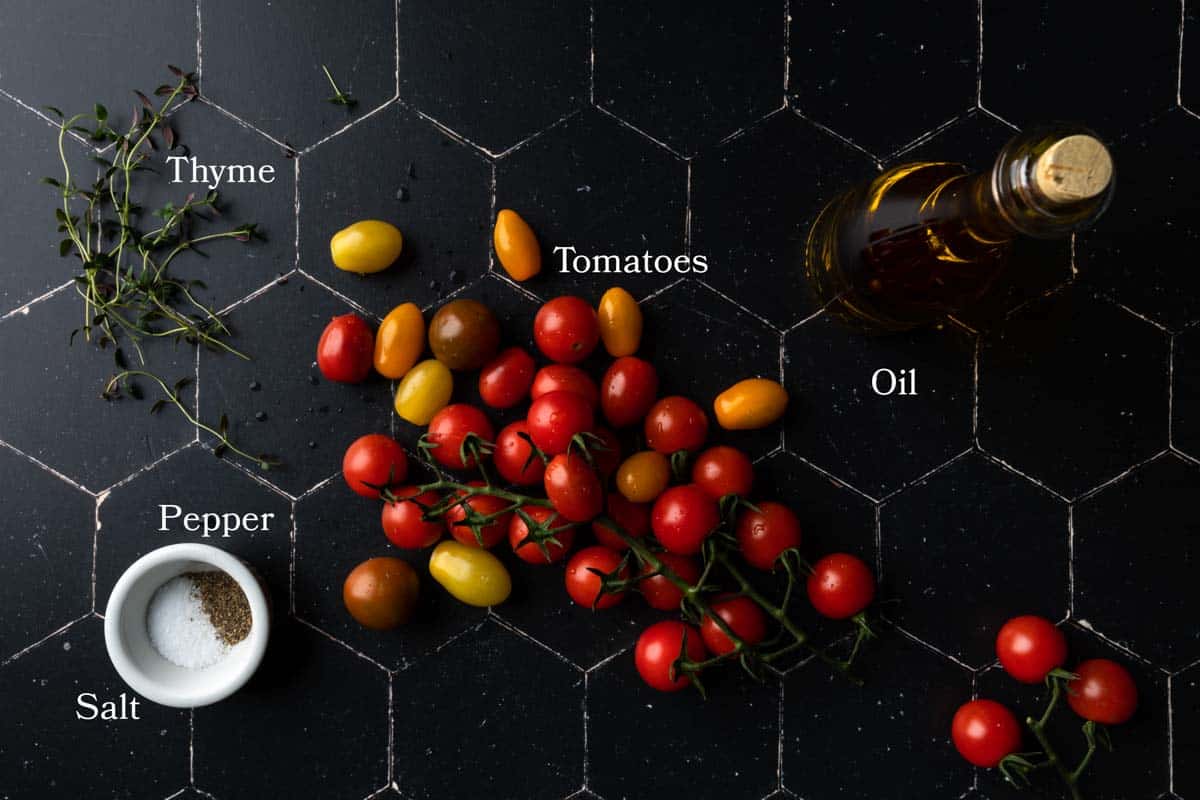 Cherry Tomatoes - You can make this recipe with any color and varietals of cherry or grape tomatoes. Here we used a combination of heirloom, on-the-vine Sweetie tomatoes and an assortment of colorful grape tomatoes.
Olive Oil
Salt and Black Pepper
Thyme or Oregano - Optional!
How To Oven Roast Cherry Tomatoes for Ultimate Sun-Dried Flavor
This recipe could not be any easier! Simply slice, season and roast your tomatoes! We like to roast our tomatoes at a lower oven temperature to slowly bake away the water content and deeply concentrate the flavors - just like the sun would do! The roasted cherry tomatoes take on a sweet and tangy flavor with a chewy texture! It'll be worth turning your oven on - even in the Summer heat!
1. First, use a sharp knife to halve your tomatoes. If you prefer, you can leave them whole. However, whole tomatoes will take longer to roast and tend to burst in the oven.
Pro Tip: How To Cut Cherry Tomatoes Efficiently- To quickly halve several tomatoes at once, use two same-sized plastic lids. Place the first lid down, rim-side-up on your cutting board. Fill the lid's rim with your cherry (or grape) tomatoes. Then, place the second lid rim-side-down, over the tomatoes. Hold the top lid in place with your palm and, using a serrated knife, gently saw through the tomatoes between the two lids. Voila! A dozen or more perfectly halved tomatoes in seconds!
2. Then, drizzle your tomatoes with a healthy dose of olive oil. Season with salt and freshly ground black pepper and toss in the oregano or thyme sprigs, if using.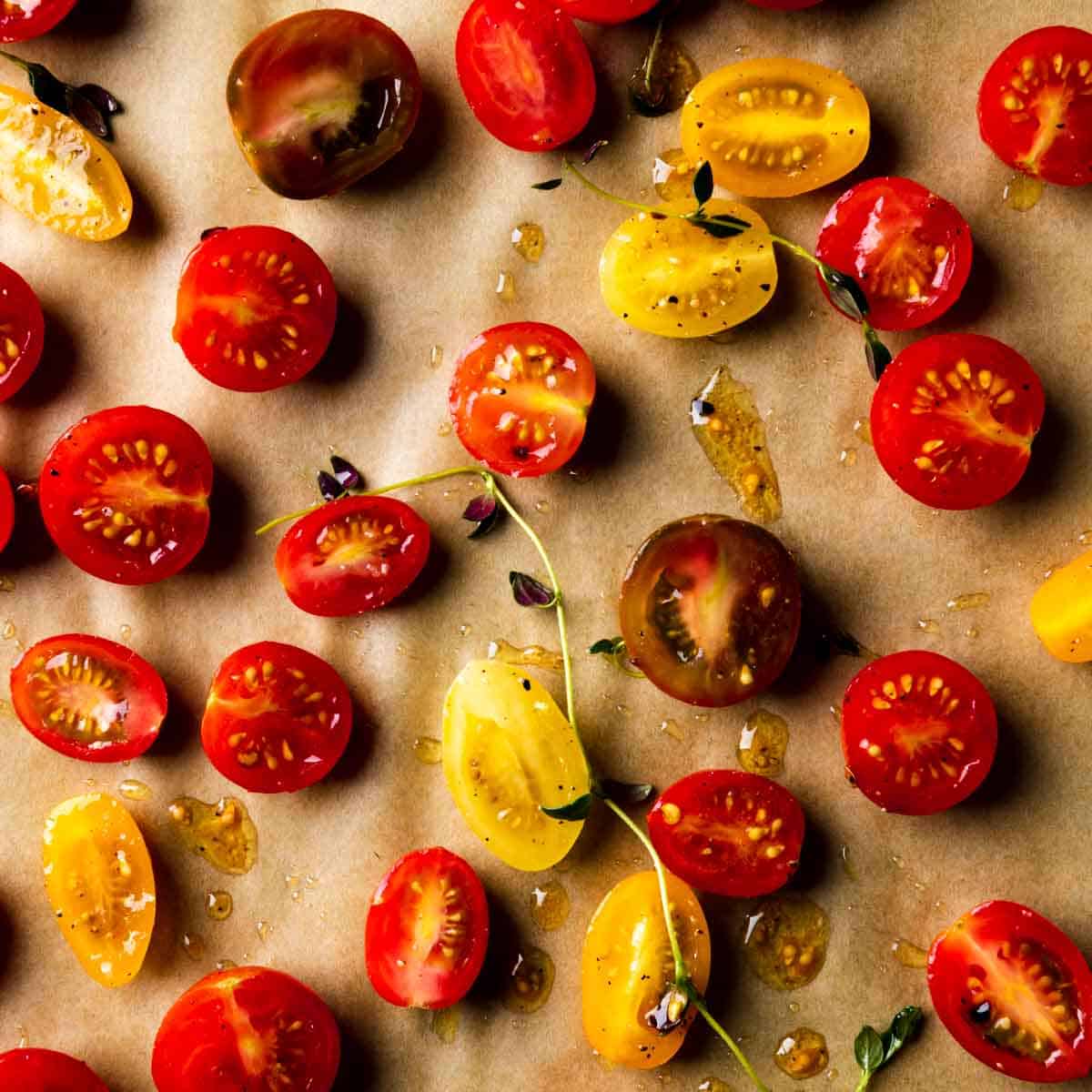 3. Arrange your tomatoes on a parchment lined baking sheet. I like to arrange the tomatoes cut-side up to allow the steam to escape and encourage that irresistible chewy texture.
4. Roast the tomatoes for 90 - 120 minutes, until the desired doneness. The longer you roast, the deeper the flavor and chewier the texture. You can snack on these tomatoes straight off the tray, enjoy them as a simple side dish, preserve them in oil, or use them in your favorite tomato recipes.
Serving Suggestions
These oven roasted cherry tomatoes are so versatile there are endless options for how you can enjoy them. They are a safe-bet for entertaining because they are healthy, allergen-friendly (dairy and gluten free, vegetarian, etc.), super easy to make and are supremely delicious! Here are a few of our favorite ways to use this recipe:
Side Dish - These tomatoes are delicious on their own and make for a fabulous, simple side dish. Serve them warm with a drizzle of balsamic vinegar reduction and fresh basil.
Bruschetta - Adding these tomatoes to a simple bruschetta recipe adds an umami rich flavor that can't be beat! Try is with a little homemade ricotta cheese and a drizzle of spinach pistachio pesto. YUM!
Grilled Chicken, Fish or Steak - So good as a rustic topping on any simple grilled protein.
Salads - These tomatoes add a lovely sweet bite to fresh green salads. They also make an amazing, zippy vinaigrette. Check out our Roasted Tomato Vinaigrette recipe that we serve on our Cherry Tomato Caprese Salad.
Pizzas - A great pizza topping!
Pastas - Sensational on simple pasta dishes like agilo olio, spaghetti al pesto and even pasta salads! You can even use these tomatoes in place of sun-dried tomatoes in our Sun-Dried Tomato Chicken Alfredo recipe!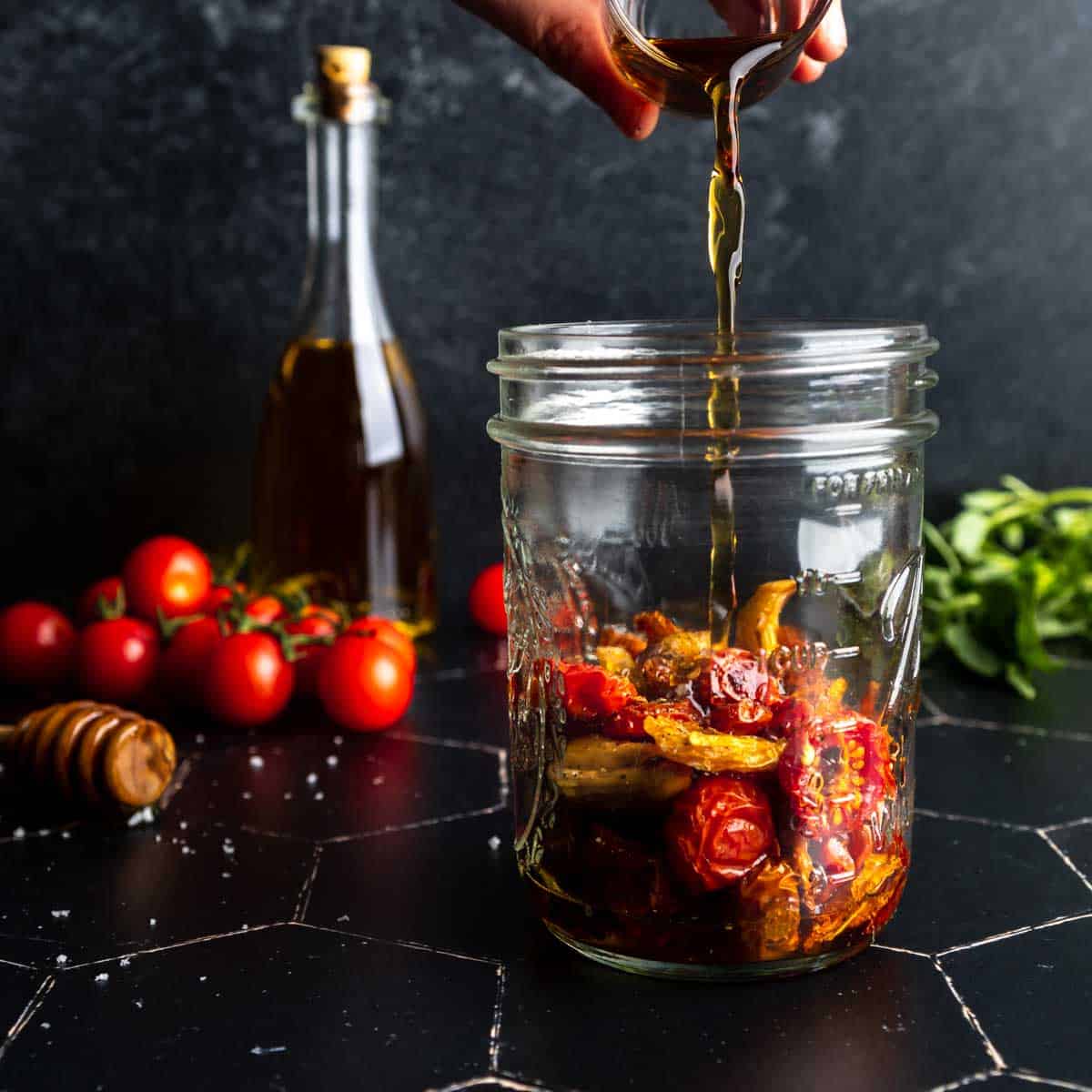 Saving & Storing
This tomatoes recipe is perfect for preserving fresh Summer tomatoes to use for later. Here's what we recommend:
Refrigerator - Place your leftover roasted tomatoes in a mason jar and cover in olive oil. Make sure the tomatoes are completely submerged in the olive oil and refrigerate for up to 18 (or more!) days.

The oil will solidify in the fridge but will re-liquify at room temperature. The oils' natural fat will keep the tomatoes fresh and flavorful for weeks! Plus, you can use the remaining tomato-y olive oil for dressings and marinades.

Freezer - Place the roasted cherry tomatoes in an airtight, freezer-safe bag for up to 2 - 3 months.

These tomatoes freeze well and are great to keep on hand throughout the year. We like to make a big batch at the end of Summer and enjoy peak-season tomatoes for special occasions throughout the Fall and Winter.
Recipe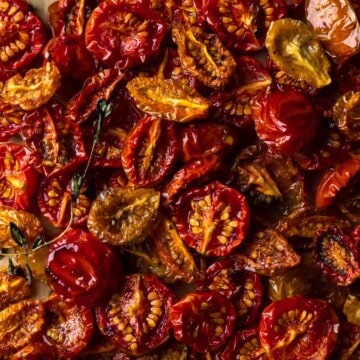 Oven Roasted Cherry Tomatoes
This easy recipe mimics the flavors of sun-dried tomatoes and makes for a yummy side dish or tangy addition to salads, pastas, pizzas and more!
ADJUST SERVINGS
Ingredients
10

ounces

cherry tomatoes

halved

2

Tablespoons

olive oil

plus more for storing, as needed

Fine kosher salt*

to taste

Freshly-ground black pepper

to taste

3

sprigs

fresh thyme or oregano

optional
Instructions
Gather, measure and prepare the ingredients as listed. Arrange a rack in the center third of the oven and preheat to 250° Fahrenheit (About 120° celsius). Prepare a baking sheet with parchment paper.

In medium mixing bowl, combine all ingredients and toss to evenly coat tomatoes in the oil and seasoning. Transfer tomatoes (and herbs, if using) to the baking sheet, cut-side up.

Roast tomatoes for 1½ - 2 hours or until tomatoes have shriveled and are mostly dried. Serve hot, room-temperature, chilled or in any of your favorite tomato recipes.

To store for later, add tomatoes to a jar with a tight fitting lid. Completely submerge tomatoes in additional olive oil and cover. Refrigerate for up to 18 or more days.
* A Note About Salt
Unless otherwise noted, all recipes on The Sage Apron are developed using Diamond Crystal Kosher salt. It is a great all-purpose salt for cooking and baking. If using table salt, reduce quantities by about half.
Nutrition
Calories:
158
kcal
|
Carbohydrates:
7
g
|
Protein:
2
g
|
Fat:
14
g
|
Saturated Fat:
2
g
|
Polyunsaturated Fat:
2
g
|
Monounsaturated Fat:
10
g
|
Sodium:
6993
mg
|
Potassium:
346
mg
|
Fiber:
2
g
|
Sugar:
4
g
|
Vitamin A:
775
IU
|
Vitamin C:
35
mg
|
Calcium:
35
mg
|
Iron:
2
mg