Balsamic glaze is a sweet and tangy condiment made from just one ingredient - balsamic vinegar!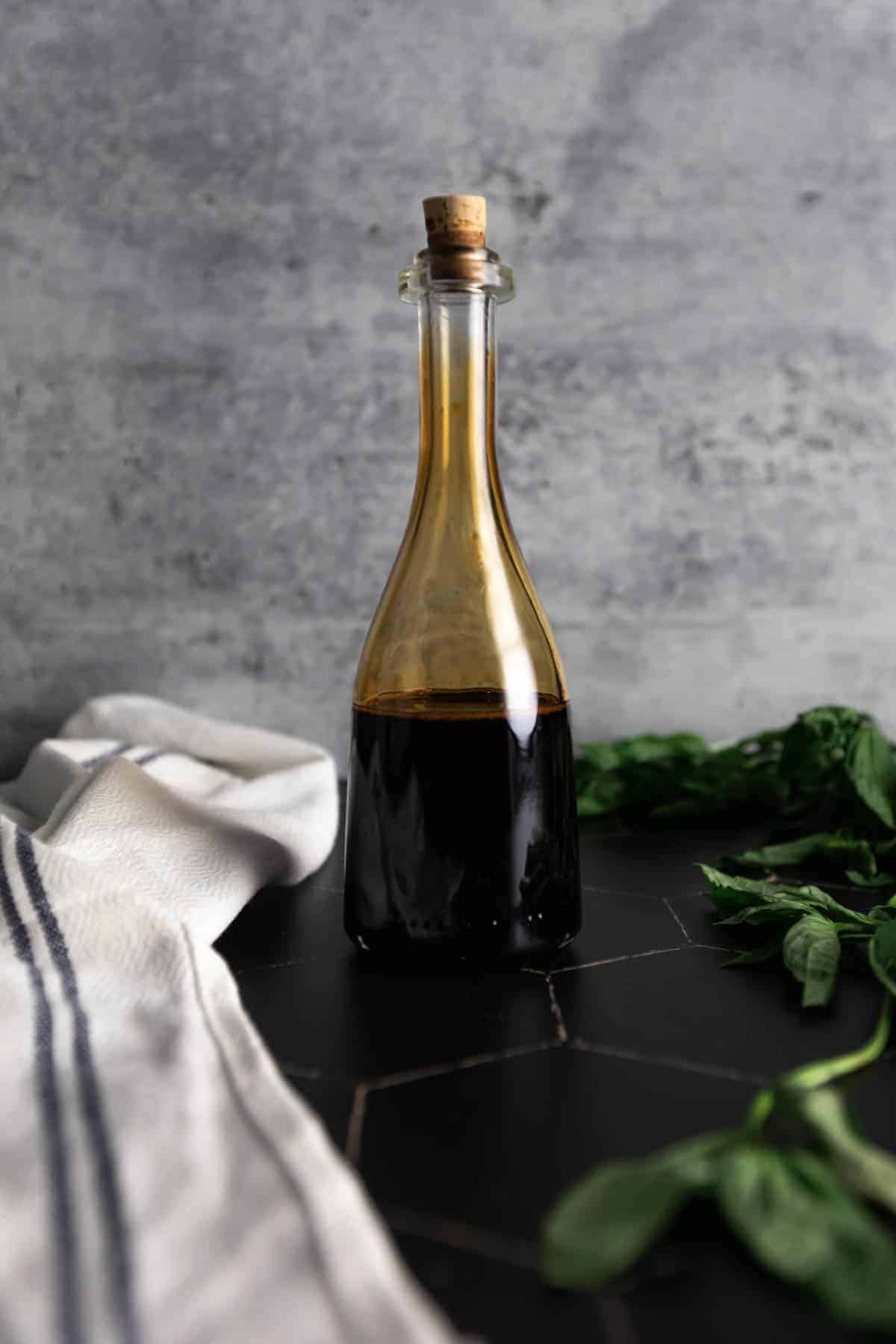 This quick and easy Balsamic Glaze recipe adds the perfect finishing touch to steaks, pastas, pizzas and more!
This classic balsamico sauce is made by caramelizing the natural sugars in balsamic vinegar without any additional sugar or honey. This glossy glaze has the perfect balance of sweetness and acidity that adds a drizzle of elegance to endless food options!
Choosing a Nice Balsamic Vinegar
We recommend investing in a high quality balsamic vinegar, whenever possible. Balsamic vinegar that is labeled from originating from Modena, Italy is usually testament to high quality production. Young balsamic vinegar from Modena is best suited for making this recipe. These vinegars will be labeled Balsamic Vinegar of Modena IGP.
Some of the highest quality balsamic vinegar has been aged. Like many wines, balsamic vinegar becomes more complex and desirable after an extended aging process. The best (and most expensive) balsamic vinegars have been aged for 12 to 25 years. Aged vinegars already have a thick, syrupy consistency. These special vinegars are phenomenal but are not suitable for heating, as needed for this recipe.
In general, always try to avoid balsamic vinegars that have additives such as sugar or caramel color or flavorings. These inexpensive vinegars are typically watered down. They are highly astringent and will result in a much smaller yield of balsamic glaze.
For more information regarding purchasing quality balsamic, check out this great How to Buy Balsamic Vinegar article from Eataly Magazine.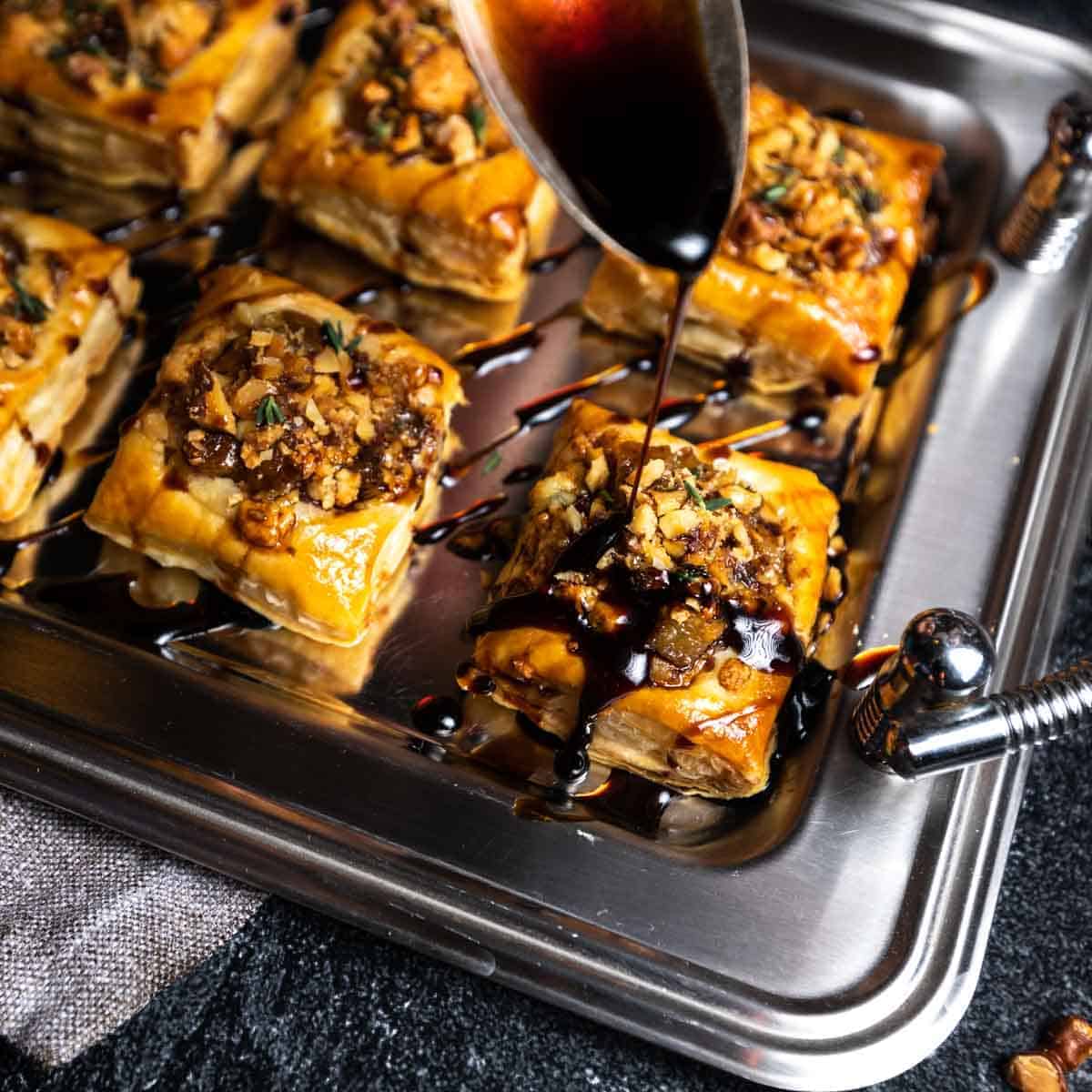 How To Make This Recipe
With just one ingredient and a little time you can be drizzling homemade Balsamic Glaze on whatever your heart desires!
Depending on the quality and quantity of the vinegar you choose, the reduction process time may vary slightly. Focus on reducing the balsamic to a syrup-like consistency that coats the back of a spoon. Remember, the balsamic reduction will continue to thicken as it cools.
Here's a quick video:
How To Use Balsamic Reduction
Balsamic Glaze can add a ton of flavor to SO many different dishes. Here are a few of our favorites: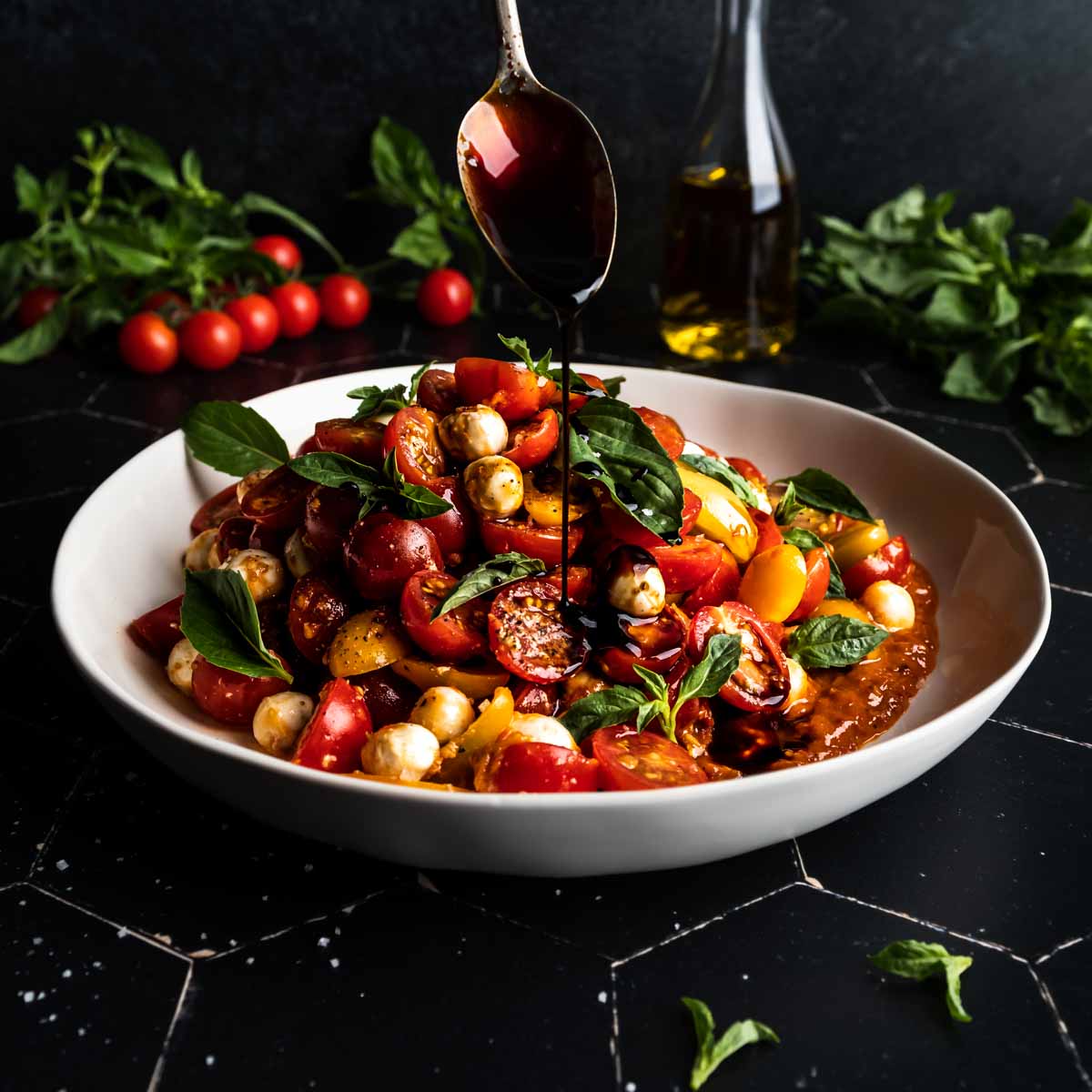 How Long Does it Last?
This Balsamic Glaze recipe can be stored in the refrigerator for up to two months. (But we doubt it will last that long!)
Keep this glaze in a glass jar or bottle and liberally drizzle any and everything you please!
Recipes That Use Balsamic Glaze
Recipe
Easy Balsamic Glaze: The Perfect Finishing Touch!
A sweet and tangy balsamic reduction os the perfect way to enhance a simple appetizer or entree! This easy recipe only takes 1 ingredient and lasts for up to 2 months!
ADJUST SERVINGS
Ingredients
1

bottle

balsamic vinegar Preferably labeled Balsamic Vinegar of Modena IGP
Instructions
Gather, measure and prepare the Balsamic Glaze ingredients as listed.

To prepare the balsamic vinegar reduction, add balsamic to a small, shallow pan and bring to a boil.

Once boiling, reduce heat to simmer and cook until thick enough to coat the back of a spoon, about 15 -20 minutes or until the balsamic has reduced to about ¼ it's original volume. Remove from the heat and set aside. The vinegar will continue to thicken as it cools.

Serve immediately or store in a glass container in the refrigerator for up to 2 months.
Notes
a. This recipe can be made with any quantity of balsamic you desire. The bottle we used was 17 fluid ounces and yielded about

½

 

Cup of Balsamic Glaze. 
* A Note About Salt
Unless otherwise noted, all recipes on The Sage Apron are developed using Diamond Crystal Kosher salt. It is a great all-purpose salt for cooking and baking. If using table salt, reduce quantities by about half.
Nutrition
Calories:
27
kcal
|
Carbohydrates:
5
g
|
Protein:
1
g
|
Sodium:
7
mg
|
Potassium:
34
mg
|
Sugar:
5
g
|
Calcium:
8
mg
|
Iron:
1
mg