These French-style green beans in garlicky herb butter make for a delicious fresh side dish! They are quick, easy, healthy and so flavorful - seasoned simply with fresh herbs and lemon juice.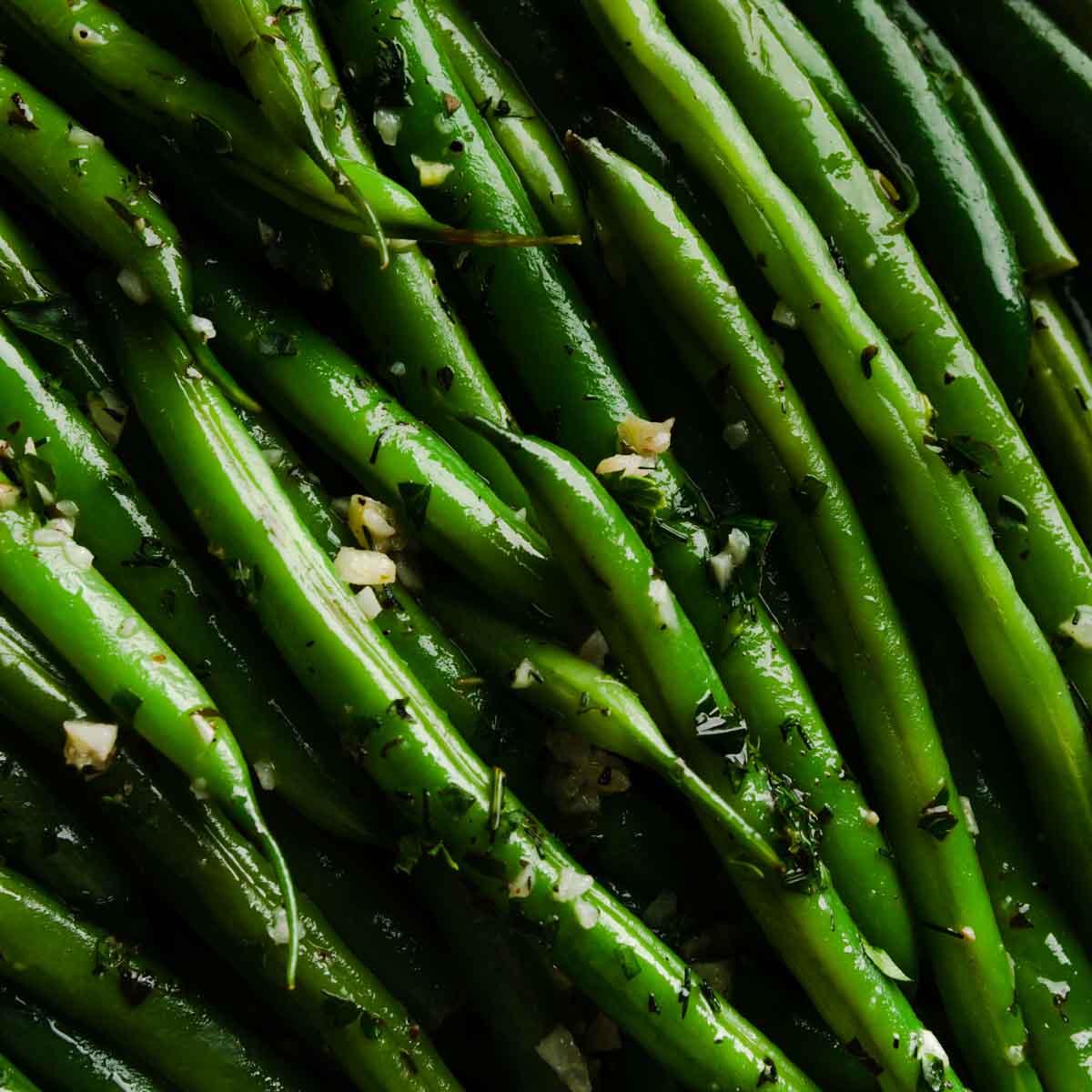 These green beans pair perfectly with our Herbs de Provence Roast Chicken recipe. For another classic French side dish, try our Lyonnaise Potatoes recipe!
Ingredients
This simple French green beans recipe is made with just a handful of ingredients. Here's what you need: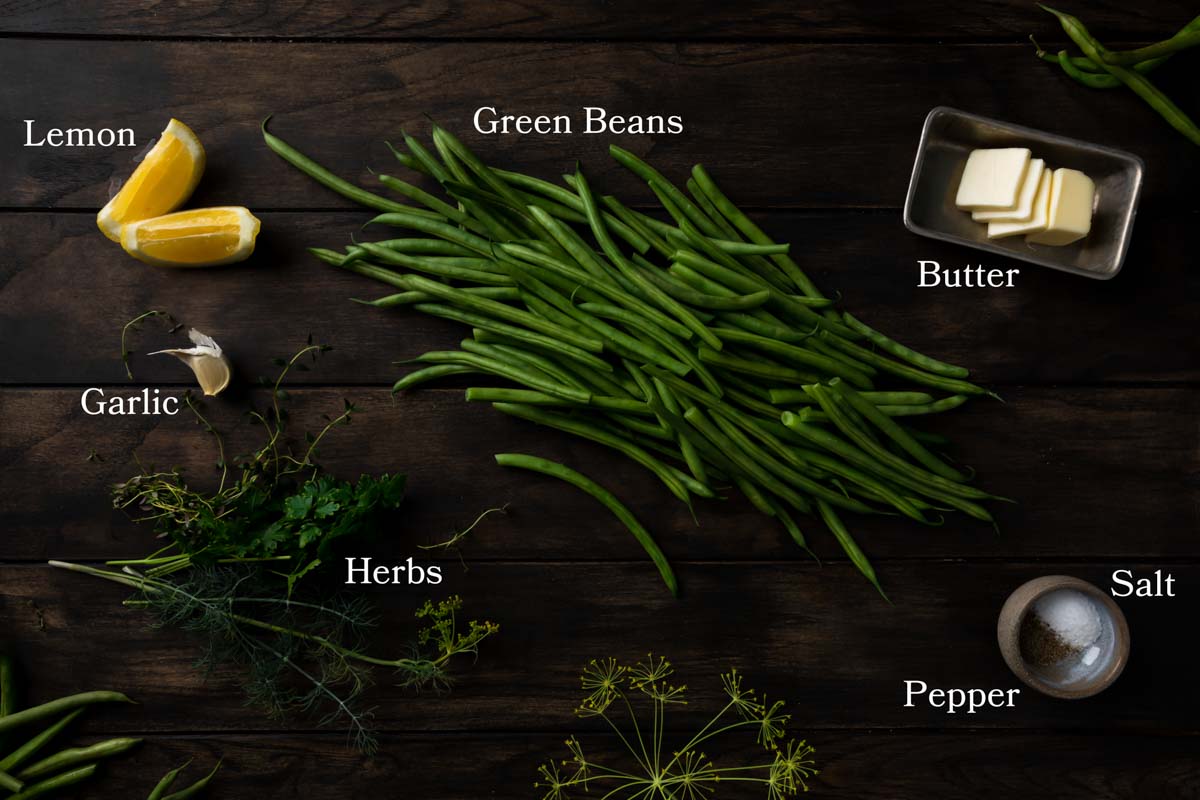 Green Beans - We recommend using French green beans (known as haricot verts, in French) but, you can also make this recipe with regular green beans.
Fresh Herbs - You can use whatever combination of fresh herbs you like. See below to check out a few of our favorite herbs to pair with green beans.
What Is The Difference Between French Green Beans and Regular Green Beans?
French green beans (haricot verts) look similar in appearance to regular American green beans. French green beans tend to be thinner, longer and more tender. Haricot verts (French green beans) are usually harvested earlier and are prized for being more flavorful and having superior texture.
On the other hand, you can certainly make this recipe with regular, American cultivated green beans. If using regular string beans, we recommend using a paring knife to trim the stem end and pull any woody strings from the seam of the beans. You may also need to extend the cooking process for the regular green beans for an extra minute, or two, until tender.
Chef's Note: Where to Find Haricot Verts- French green beans (often labeled haricot verts) can sometimes be more expensive, or difficult to find in your local grocery store. We usually purchase ours from our local farmers' markets or pre-packaged from Whole Foods or Trader Joes.
What Herbs Go Well With Green Beans?
You can make this French style green bean recipe with any fresh herbs that will compliment your main dish. As pictured, we used a combination or flat-leaf parsley, thyme and dill. Here are some of our favorite herb combos:
Fines Herbes - parsley, chive, tarragon and chervil

This quintessential French herb blend work perfectly for this recipe!

Herbs de Provence - parlsey, thyme, marjoram and sometimes lavender

These South of France inspired herb blends are perfect for seasoning this easy green beans recipe.

Parsley, Mint & Dill - This is our favorite combination for light Mediterranean meals!
Italian Herbs - basil, rosemary, oregano and thyme

Great for serving with any Italian or Mediterranean inspired meals!

Poultry Herbs - Sage, rosemary & thyme

Perfect for serving with roast chicken or to round out your Thanksgiving table feast!

Parsley - All you really need is a bit of chopped parsley to make the perfect green beans side dish!
How To Make This Recipe
Fresh French green beans are quick and easy to prepare! Here's how it's done:
1. Start by trimming stem ends and discarding any soft or discolored beans. Meanwhile, prepare a steam basket over medium-high heat. Once hot, add the beans to the basket over the boiling water and cover to steam. Steam the French beans for about 6 minutes (7 minutes for regular green beans) until vibrantly green. Be careful not to overcook, the beans will continue to cook for a couple minutes while they are sautéed.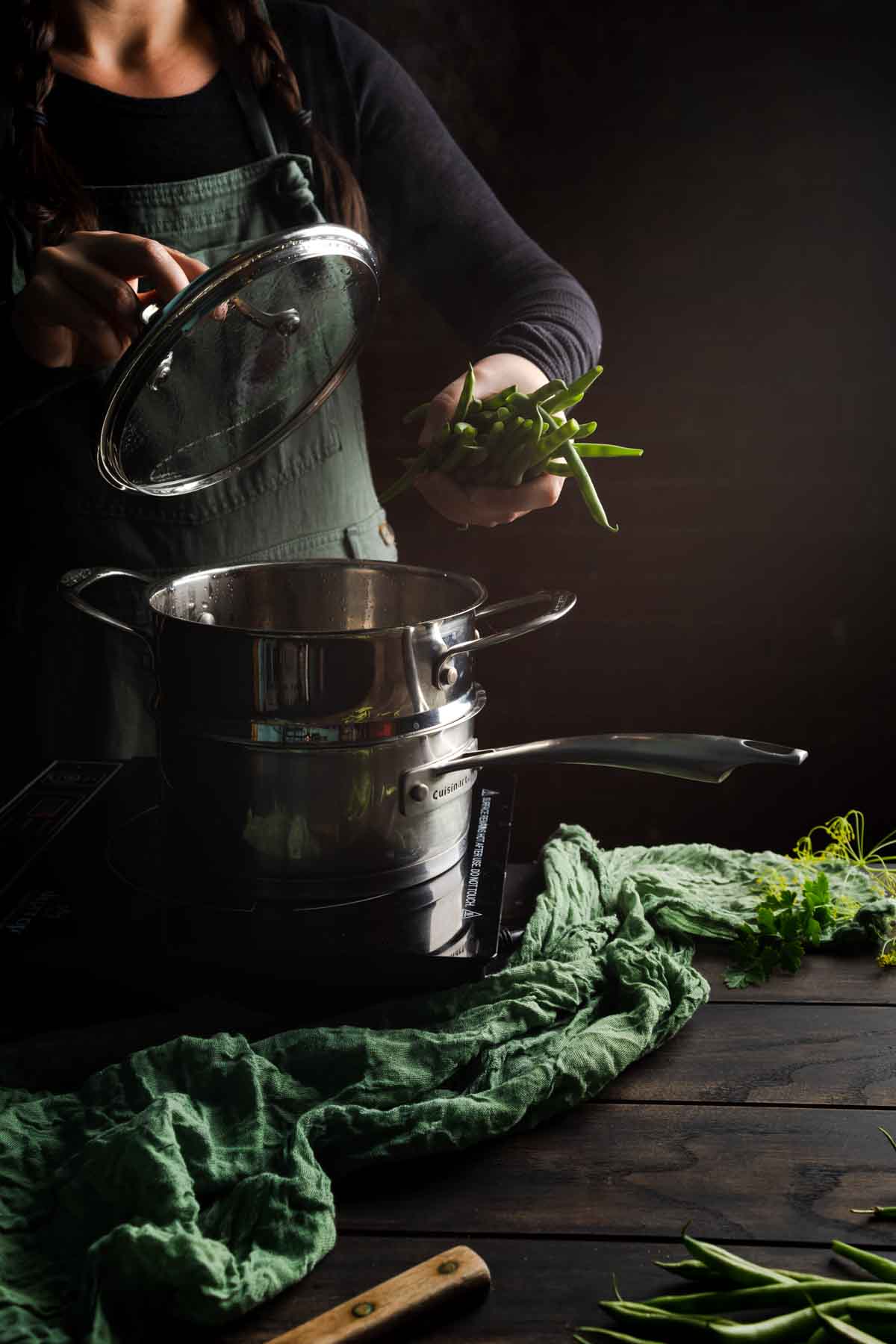 2. While the beans are steaming, prepare a large bowl of ice water. After steaming, transfer the beans to the ice bath to cool immediately. Chill for 1 - 2 minutes to stop the cooking and drain. You can allow the beans to dry completely in the strainer or, if preparing immediately, dry the steamed green beans with a clean dish rag or paper towels.
3. Next, melt butter in a large skillet over medium high heat. Add the garlic and sauté for 1 - 2 minutes until the garlic is aromatic.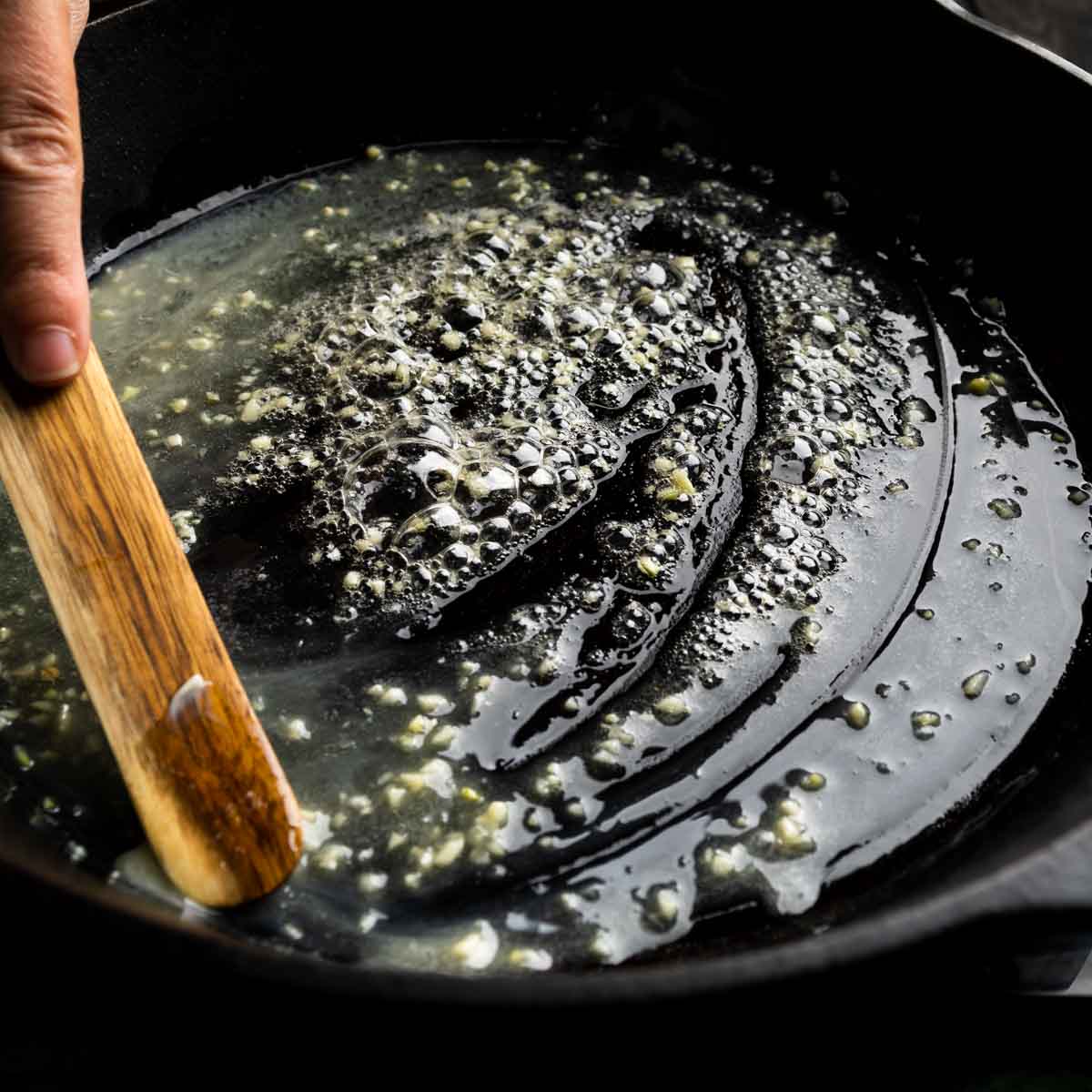 4. Add the steamed green beans and half of the fresh chopped herbs. Season with salt, freshly-ground black pepper and a squeeze of fresh lemon juice. Use tongs to toss everything together and coat the beans in butter. Sauté an additional 1 - 2 minutes or until the green beans are cooked to your desired doneness. Personally, we like this recipe to be cooked al dente, so the sautéed green beans are brightly colored, and tender but have a toothsome bite and aren't dull, soft or mushy.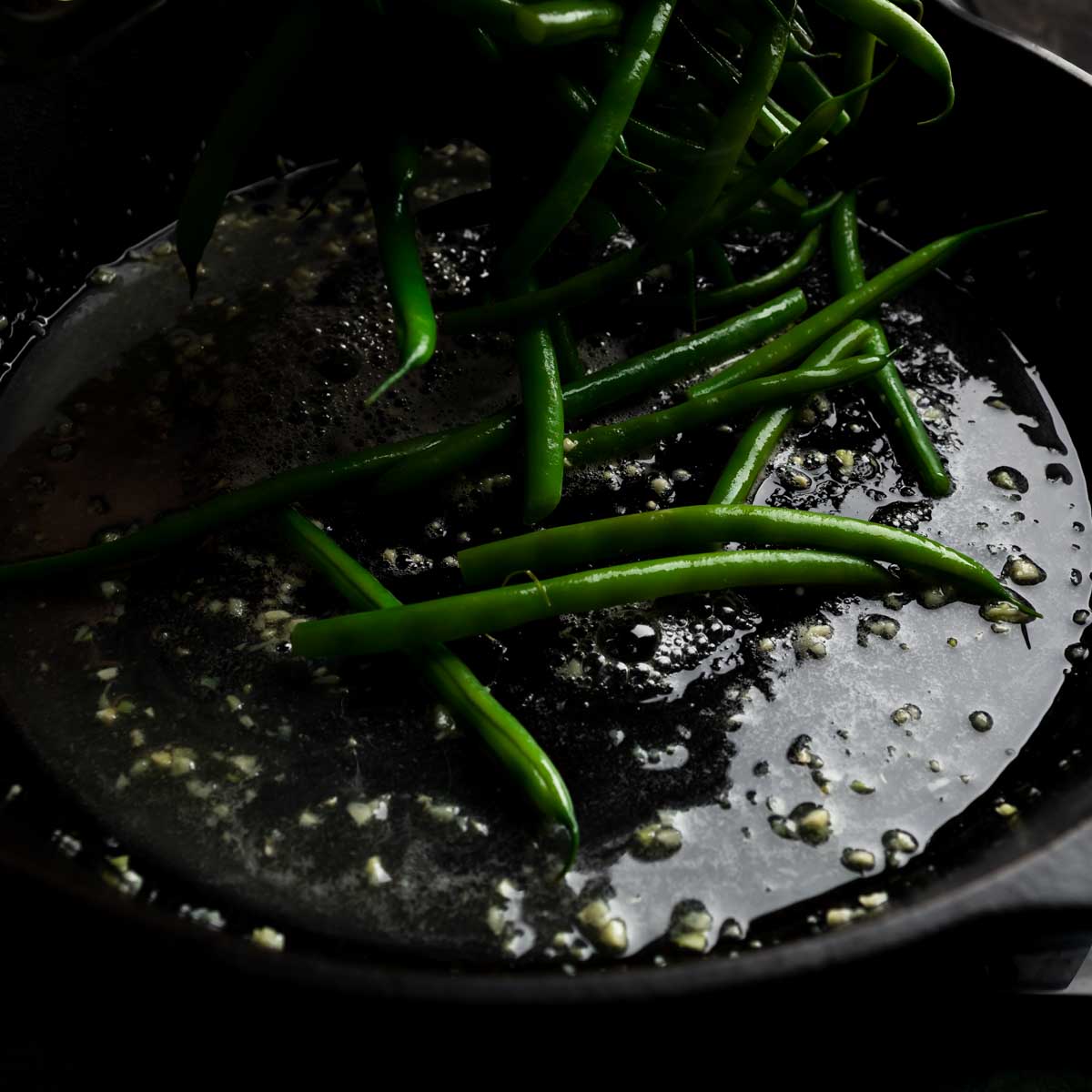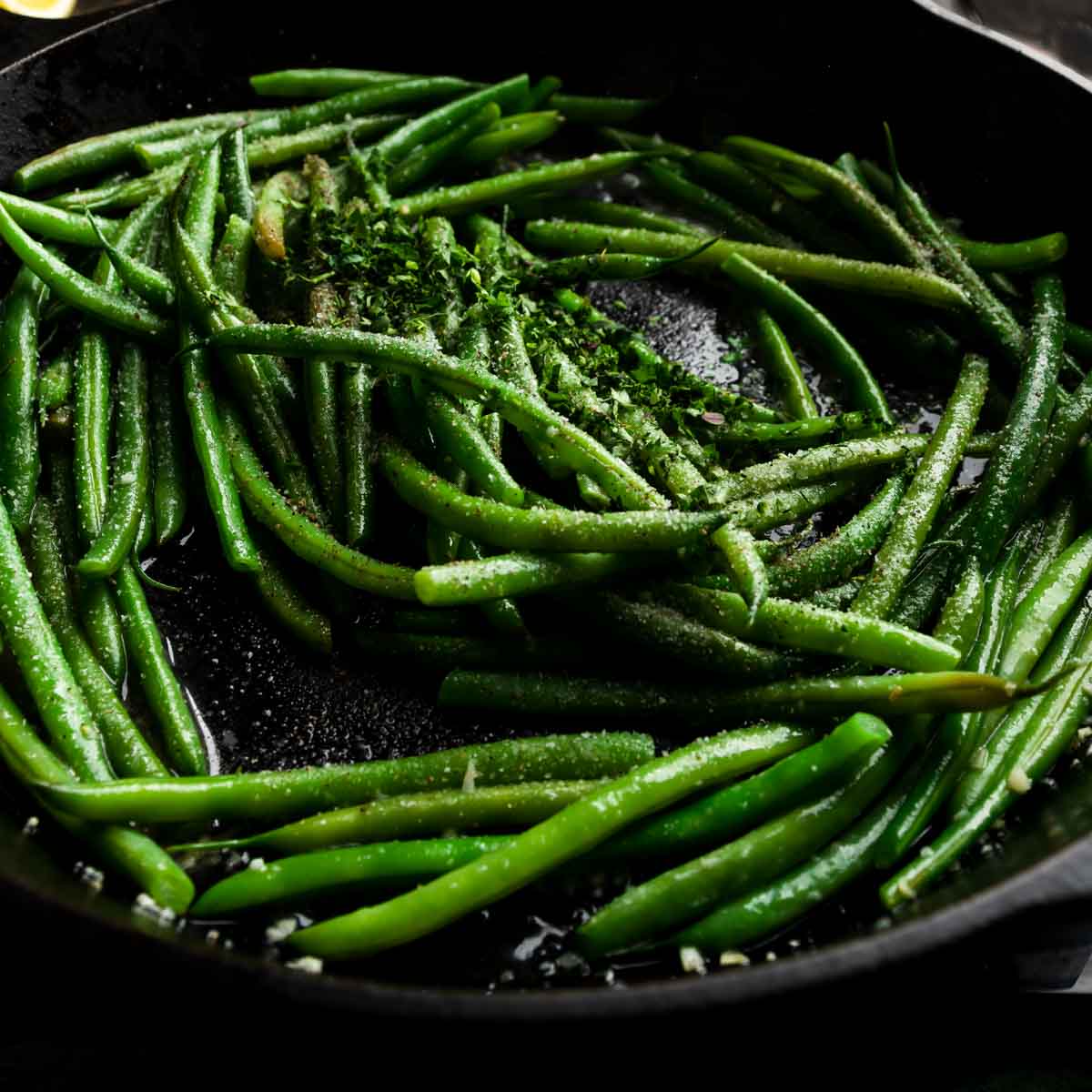 5. Transfer the beans to your serving bowl and top with the remaining herbs. Serve this perfect side dish immediately, while still hot and delicious!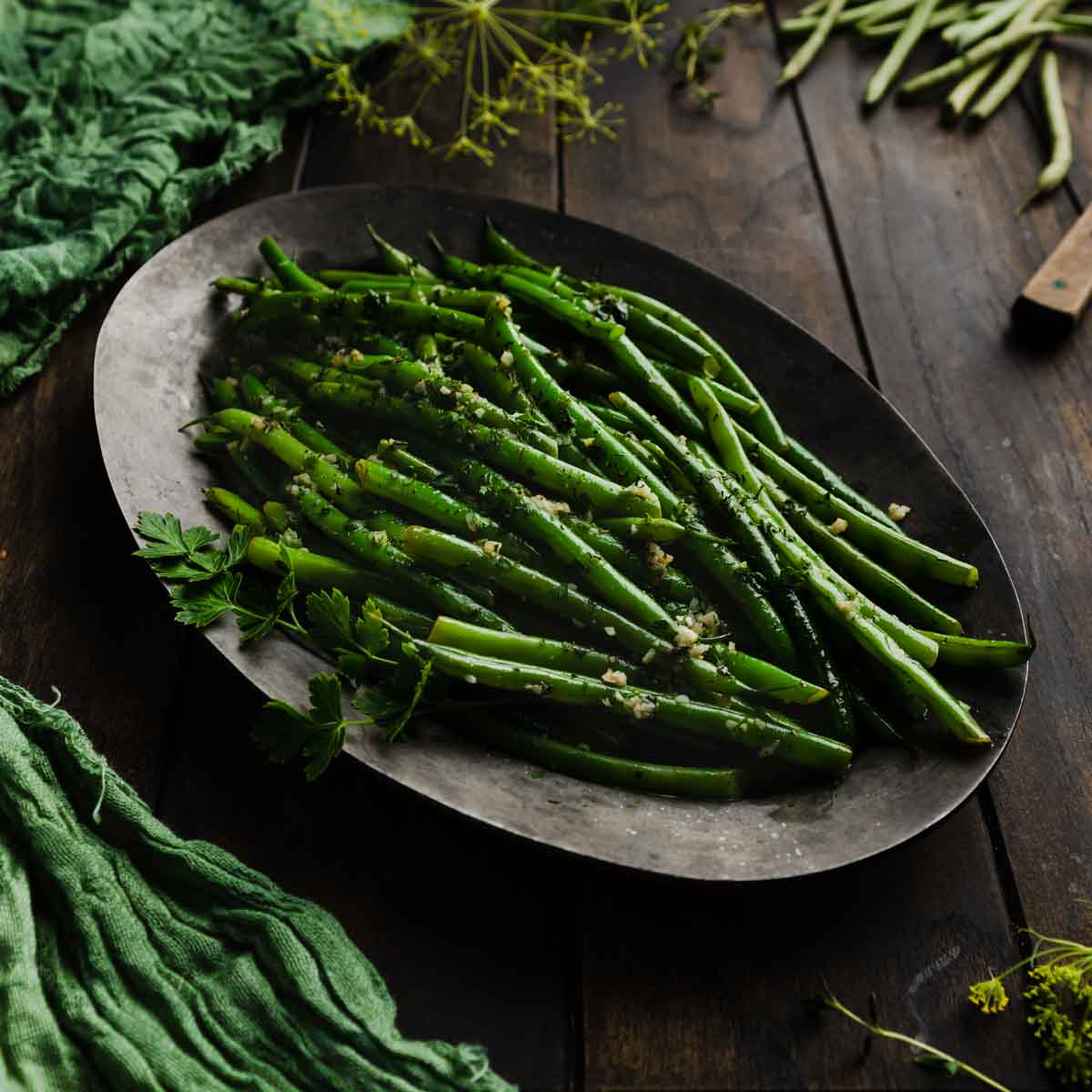 What to Serve with French Green Beans
These fresh green beans are a wonderful way to compliment some of your favorite meals! They are quick and easy enough to make with a busy weeknights dinner, and delicious enough to spruce up a holiday feast! Here are a few of our favorite ways to enjoy this recipe:
Roast Chicken - Try this recipe with one of our favorite family meals: Herbs de Provence Roast Chicken with White Wine Pan Sauce
Pan-Seared Salmon - Our favorite combination for fresh, healthy eating!
Chicken Marsala Meatballs - These green beans are the perfect fresh, herbaceous dish to pair with one of our most popular recipes!
Pork Chops
Steak
Roast Beef
Thanksgiving, Christmas & Other Holidays - This simple recipe makes the perfect side dish for busy holidays! Steam, chill in cold water and drain the beans the morning or day before, and quickly finish sautéing these green beans when ready to serve!
Recipe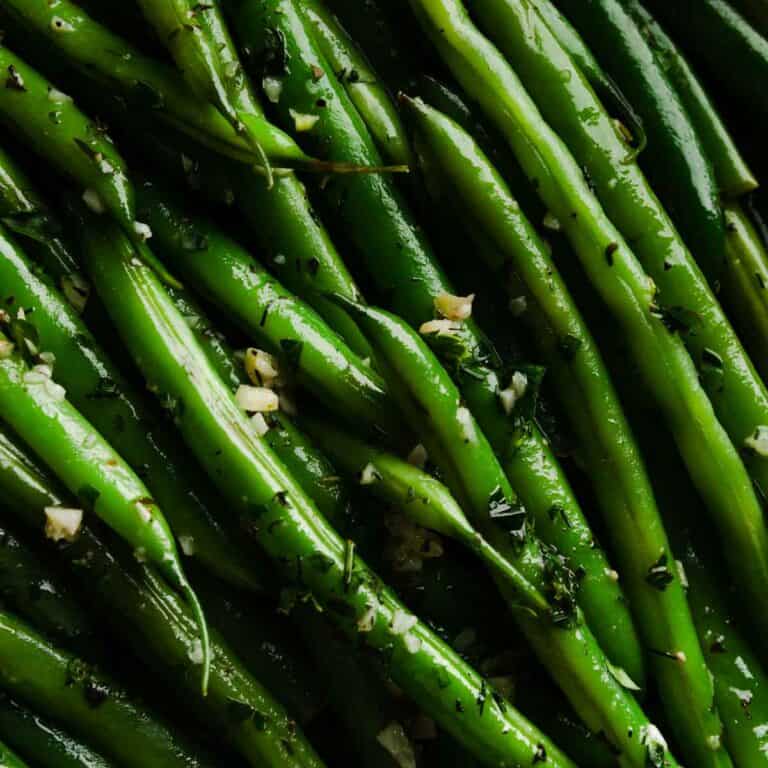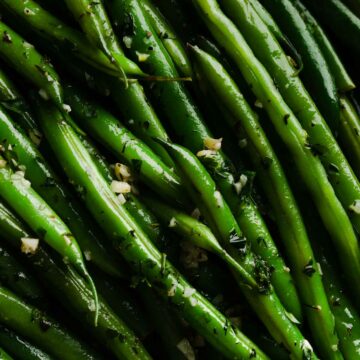 French Green Beans with Herb Butter
This simple recipe features steamed French green beans sautéed in a garlicky herb butter. Quick, healthy and delicious!
ADJUST SERVINGS
Special Equipment
1 Stovetop Steamer Basket
Ingredients
1

pound

French green beans

stem ends trimmed; or regular green beans, trimmed and strings removed

3

Tablespoons

butter

1

clove

garlic

minced

2

Tablespoons

fresh chopped herbs

Any combination of parsley, thyme, dill, basil, sage, tarragon, etc.; divided

1 - 2

Tablespoons

fresh lemon juice

to taste; About ¼ - ½ of a lemon

fine kosher salt*

to taste; About 1 Tablespoon

Freshly-ground black pepper

to taste; About 1 teaspoon
Instructions
Gather, measure and prepare the ingredients as listed. To view metric measurements, toggle the US Customary/Metric switch at the top of this recipe card.

Set up a steamer basket in a lidded pot on the stovetop. Add an inch, or so, of water and bring to a rapid boil. Add the green beans and cover. Steam for 6 minutes. (a.)

Meanwhile, set up an ice water bath in a large bowl. Transfer steamed green beans to submerge in the ice water bath and chill for about 1 minute. Drain and dry the beans on a clean kitchen towel.

In a large skillet, melt the butter over medium heat. Add the garlic and sauté for 1 - 2 minutes until aromatic. Add the dried green beans to the skillet and toss to combine.

Season with half of the herbs, lemon juice, salt and pepper to taste. Toss the beans while continuing to cook for 2 - 3 minutes or until the beans are cooked to your desired tenderness.

Transfer the green beans to a serving platter and top with remaining herbs. Serve immediately.
Notes
a. Regular (American) green beans may need to steam for an additional 1 - 2 minutes. 
* A Note About Salt
Unless otherwise noted, all recipes on The Sage Apron are developed using Diamond Crystal Kosher salt. It is a great all-purpose salt for cooking and baking. If using table salt, reduce quantities by about half.
Nutrition
Calories:
118
kcal
|
Carbohydrates:
10
g
|
Protein:
2
g
|
Fat:
9
g
|
Saturated Fat:
6
g
|
Polyunsaturated Fat:
1
g
|
Monounsaturated Fat:
2
g
|
Trans Fat:
1
g
|
Cholesterol:
23
mg
|
Sodium:
3565
mg
|
Potassium:
282
mg
|
Fiber:
3
g
|
Sugar:
4
g
|
Vitamin A:
1226
IU
|
Vitamin C:
21
mg
|
Calcium:
56
mg
|
Iron:
1
mg