This matsutake mushroom recipe is a simple 5 ingredient recipe that highlights this Autumnal delicacy! Matsutake mushrooms (also known as pine mushrooms) are one of Fall's special flavors and deserve to be celebrated!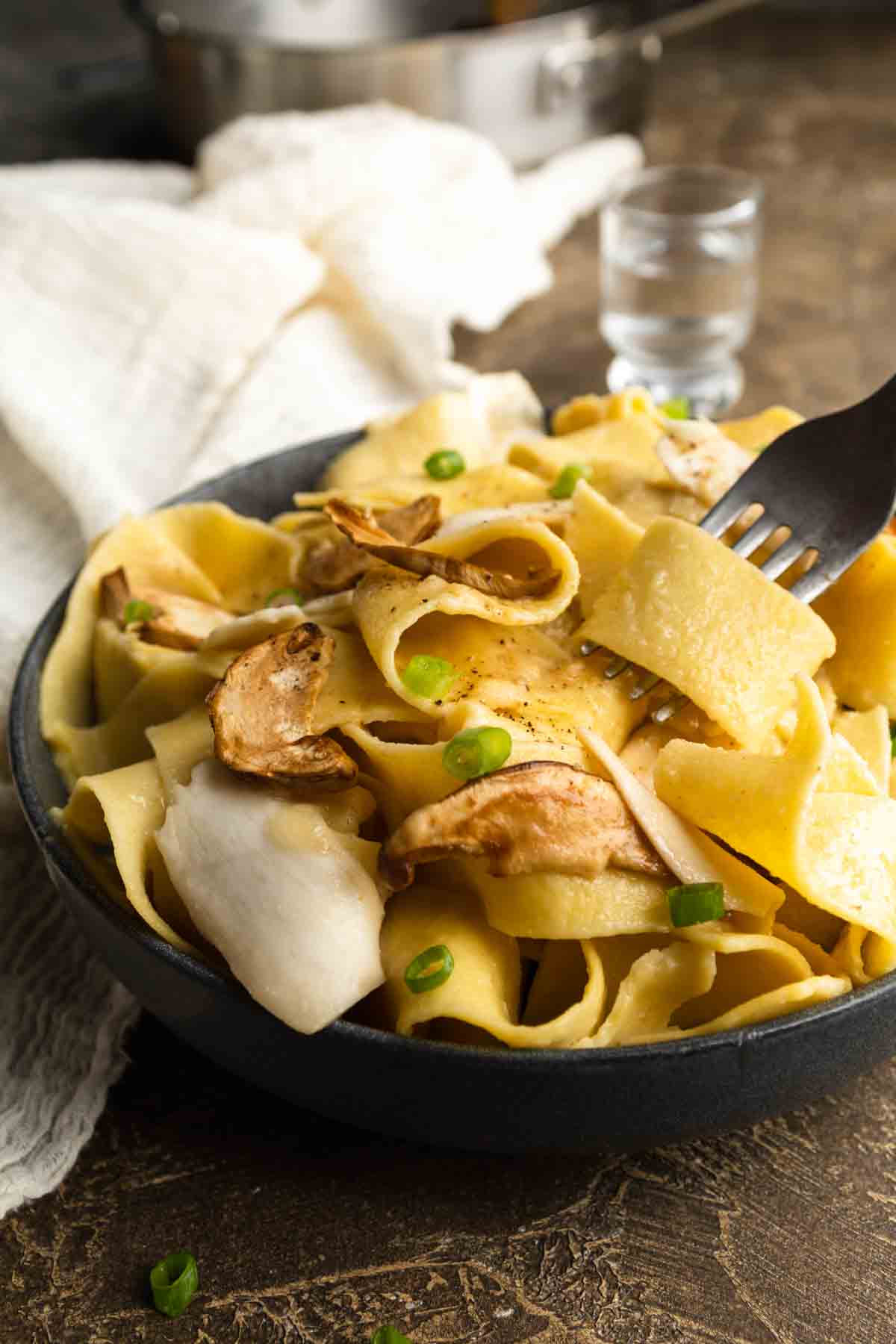 This recipe is a modern FWF take on itameshi cuisine. Itameshi recipes are a fusion of Italian and Japanese cuisine. Here, we are taking typical Japanese ingredients, like matsutake mushrooms and miso, and marrying them with fresh Italian pasta and butter.
What are Matsutake Mushrooms?
Matsutake mushrooms are an edible fungi that are cherished for their unique flavor and aroma. The mushrooms originated in Asia and are a prized ingredient in Japanese cuisine. Today, they can also be found in forests of the United States and Canada.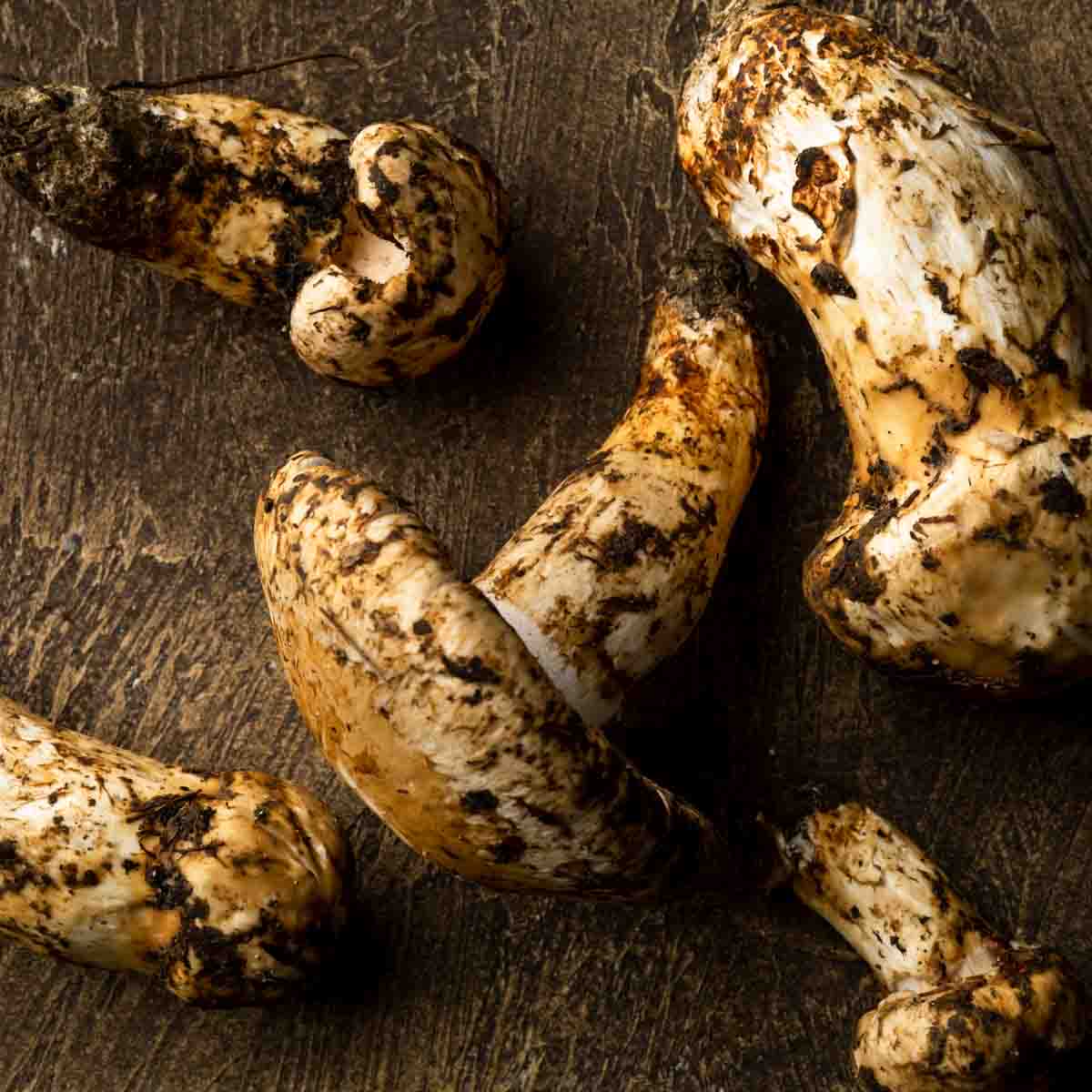 Matsutake mushrooms are some of the rarest and most expensive edible mushrooms in the world. They grow at the roots of pine forests but are often threatened by a species of invasive worms. They are also extremely difficult to cultivate. Should you be lucky enough to get your hands on some matsutakes, cherish the moment! For mushroom lovers, it's a true delight.
What Do Matsutake Mushrooms Taste Like?
Matsutake mushrooms have a firm, meaty white flesh and a pungent, earthy flavor and aroma. When fresh, these mushrooms can also have a cinnamon-like spice. These mushrooms are rare, expensive and best prepared simply to highlight their unique flavors. For some, they are the pinnacle of fine Fall cuisine.
In Japanese cuisine, it is common to see these mushrooms prepared simply in a clear broth (like dashi) or steamed into rice. Some may avoid using dairy with this ingredient but, personally, we love this recipe that pairs the earthy flavors with a simple miso butter and fresh pasta.
How To Clean Matsutake Mushrooms
Like other varietals of mushrooms, matsutakes will likely be covered in dirt and need to be thoroughly cleaned! When fresh from the ground, I like to clean moist soil from mushrooms with a dry pastry brush.
Since these mushrooms were harvested a few days prior to cleaning, I had to use a damp paper towel to remove the dirt and debris. Matsutake mushrooms are firm, and can handle a decent scrubbing. Try to avoid running mushrooms under water, unless completely necessary. (Dry immediately, if you do.)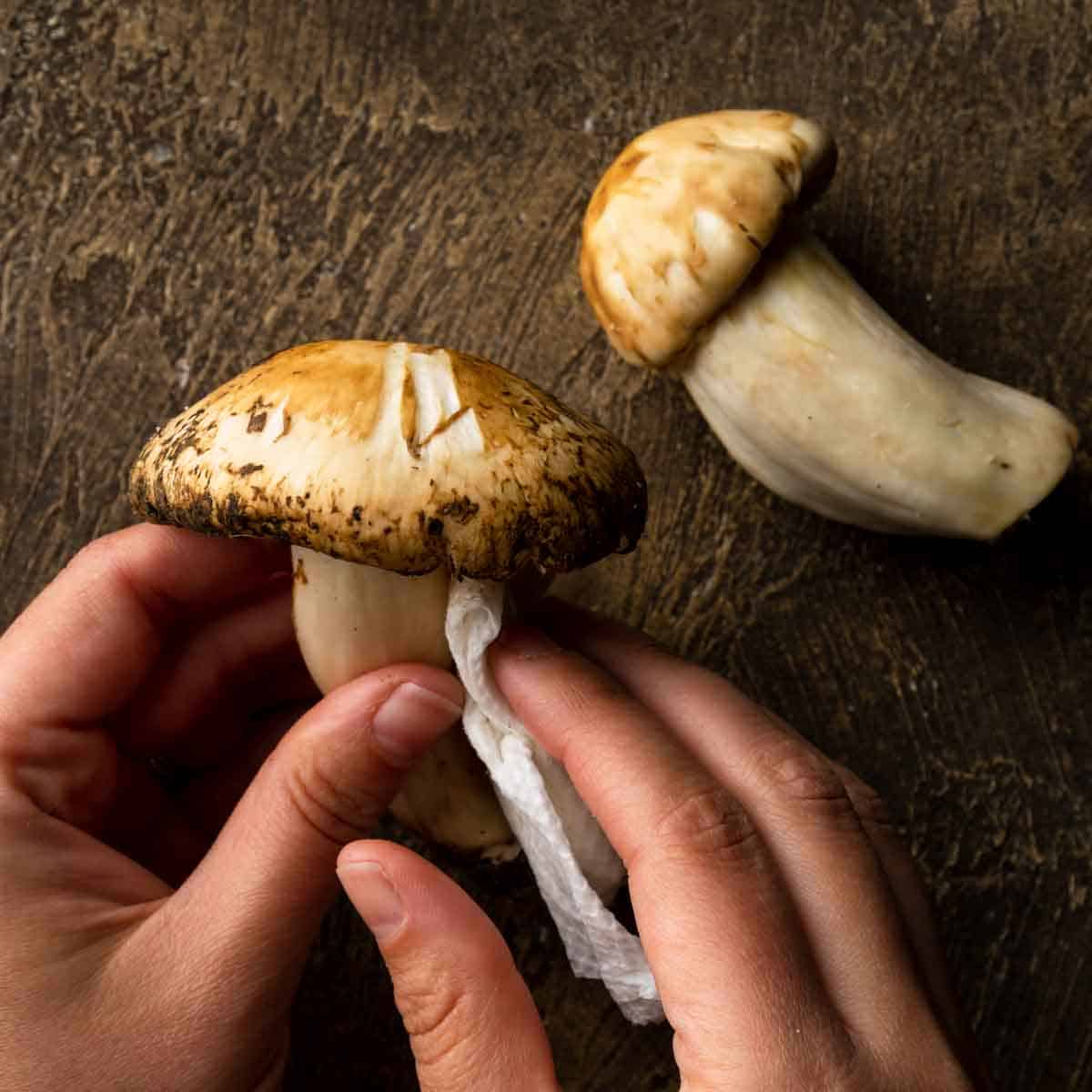 Be sure to clean under the cap of the mushroom, too. If very dry and hardened soil is present, you may need to use a sharp paring knife to carefully peel the mushroom stem. Use this as a last resort. Be cautious and remove as little of the mushroom as possible.
Finally, you'll want to remove the dried and hardened end of the matsutake. (The piece that was deepest in the ground and hardest to clean.)
Ingredients
Matsutake Mushrooms (Also known as pine mushrooms) - Ours were foraged from the forests of Maine by my cousin, Mushroom Jeff. Such a treat!
White Miso
Butter
Pasta - We used fresh pasta from our Homemade Italian Pappardelle recipe. You can use any shape fresh or dried pasta. We recommend using a long and wide noodle like papardelle, tagliatelle or fettuccine.
Pasta Water - Don't dump the starchy cooking water! It will help to make this miso butter sauce silky smooth.
Scallions
How To Make This Recipe
1. To highlight the flavors of the matsutake throughout this dish, I've incorporated them in two ways. First, the stems are finely shaved and added directly to the pasta. The nearly raw texture mimics the papardelle pasta and perfumes the dish with rich aromatics. Second, the sliced mushroom caps are lightly seared and served over top. The seared matsutake is thickly cut and highlights the mushrooms' meaty texture.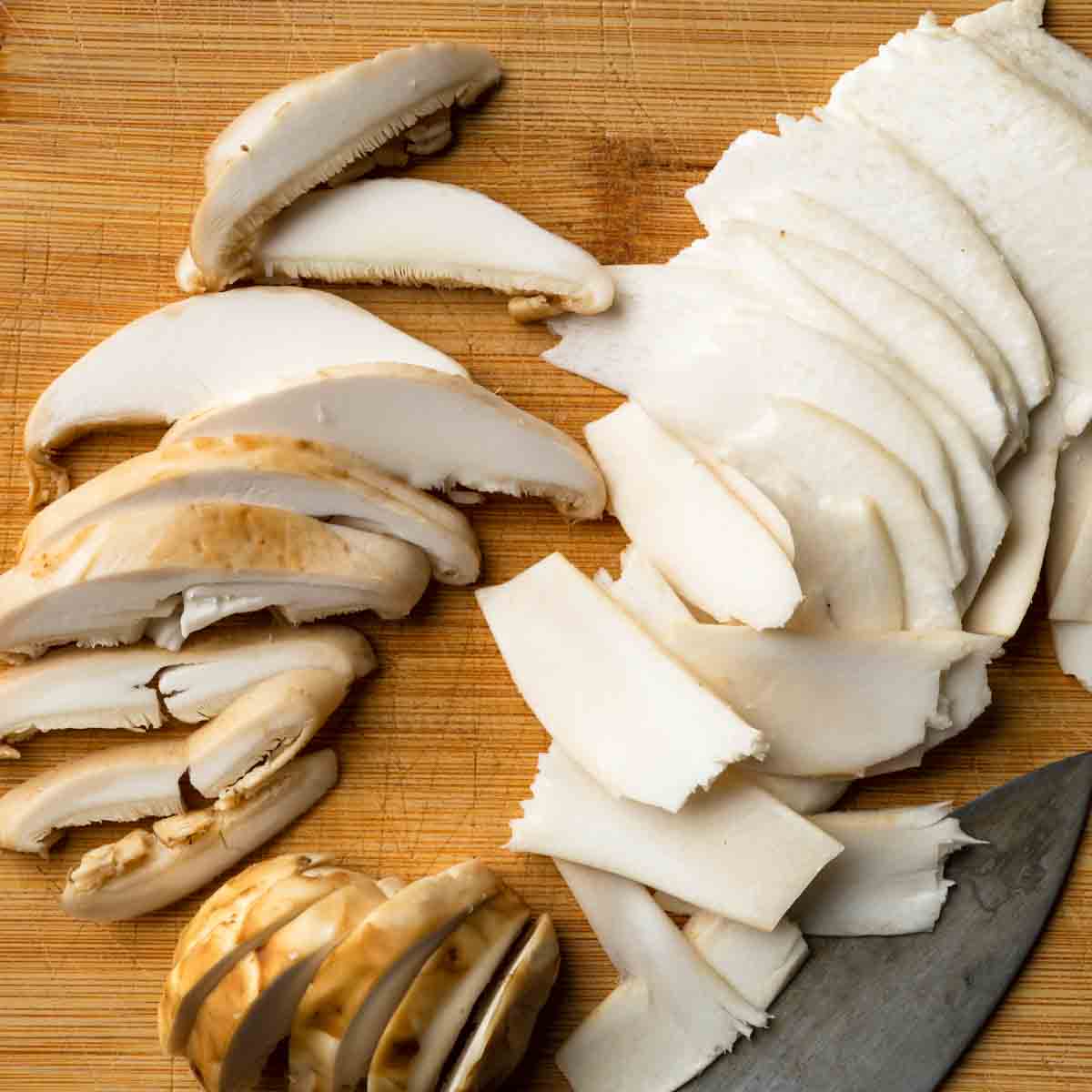 The way the mushrooms are cleaned and cut are the most important steps of this recipe. Be mindful, and take your time - especially when thinly slicing the stems.
2. To begin making the sauce, melt butter in a deep skillet over medium heat. Add miso paste and whisk until thick and emulsified. Keep warm while the pasta is cooking.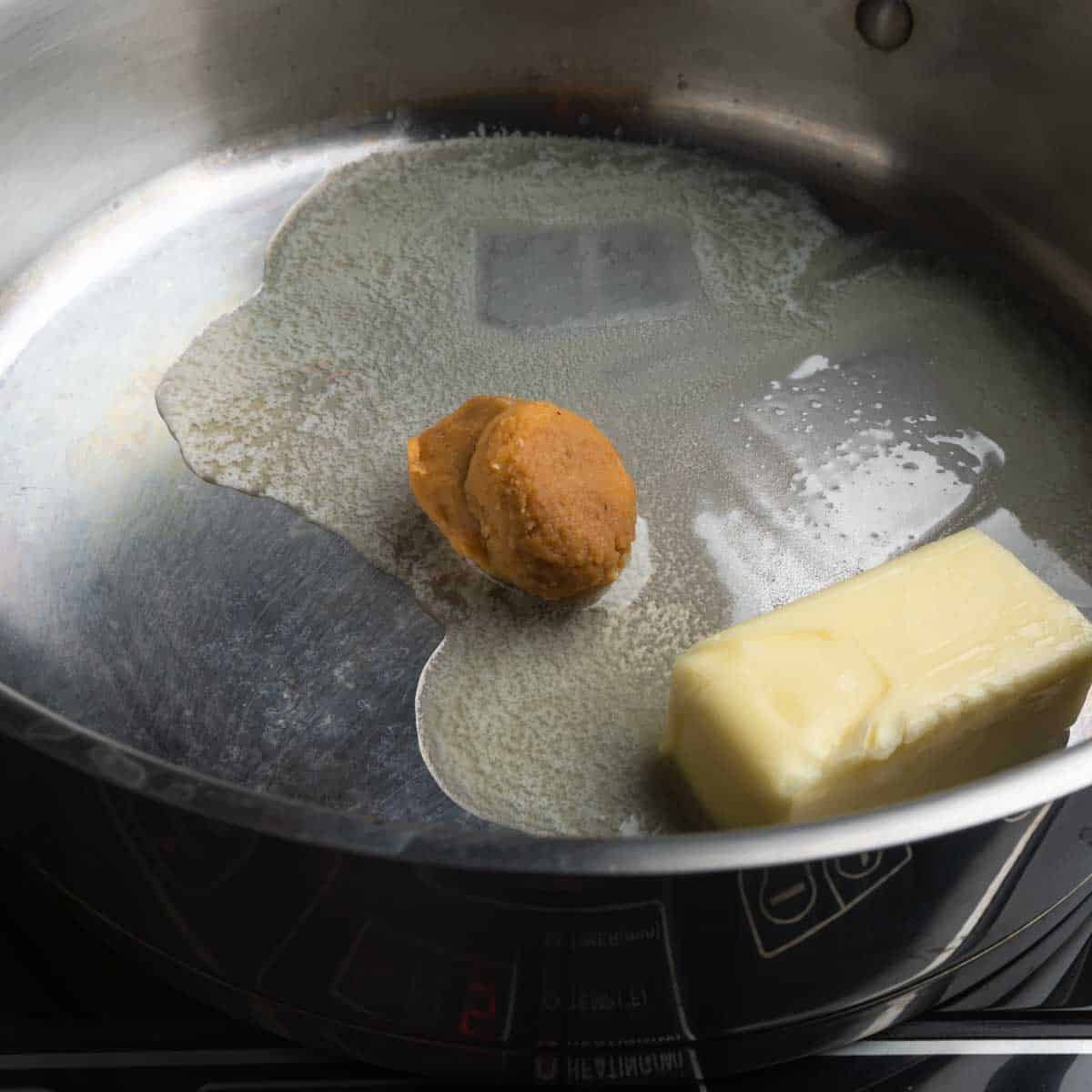 3. Meanwhile, boil the pasta until just under al dente tenderness. Reserve some of the starchy pasta water before draining the pasta.
4. Add about ¼ Cup of pasta water to the sauce. Whisk to emulsify into a silky pan sauce.
5. Add the thinly shaved matsutake stems, then the cooked pasta. Stir vigorously to combine. Continue cooking, while stirring, until the pasta reaches the desired doneness and the sauce is clinging to the noodles. Add additional pasta water, a couple Tablespoons at a time, as needed.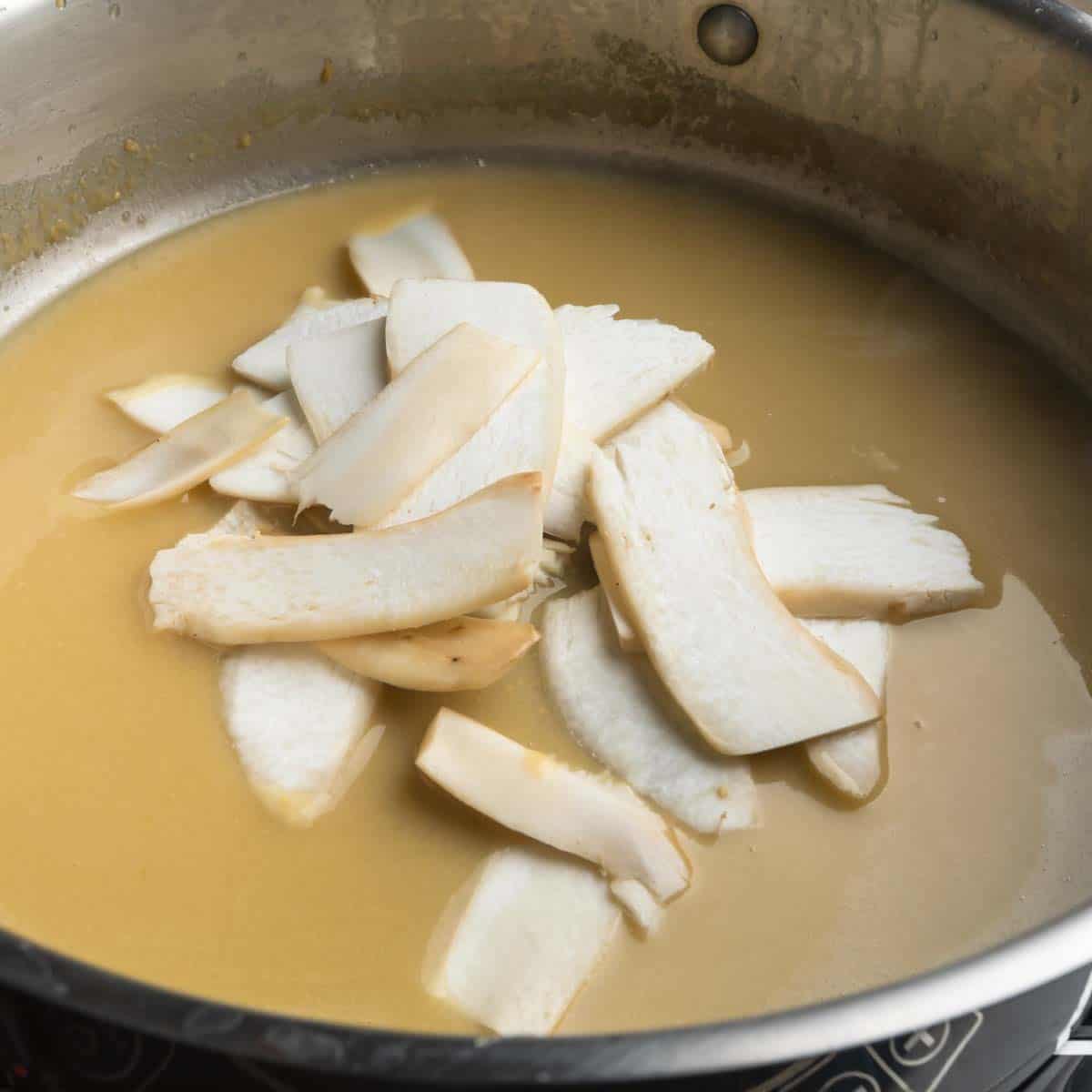 Pro Tip: Season to Taste - For this dish I seasoned the pasta with it's own salty pasta water and with the natural saltiness of the miso paste. I found that additional salt wasn't needed, for my tastes. By all means, taste the dish and season to your personal preferences. Freshly ground black pepper is a nice finishing touch.
6. Meanwhile, in a separate pan, sauté the sliced mushroom caps in a dry pan over medium high heat until lightly seared and aromatic. Season with a sprinkle of salt, to taste.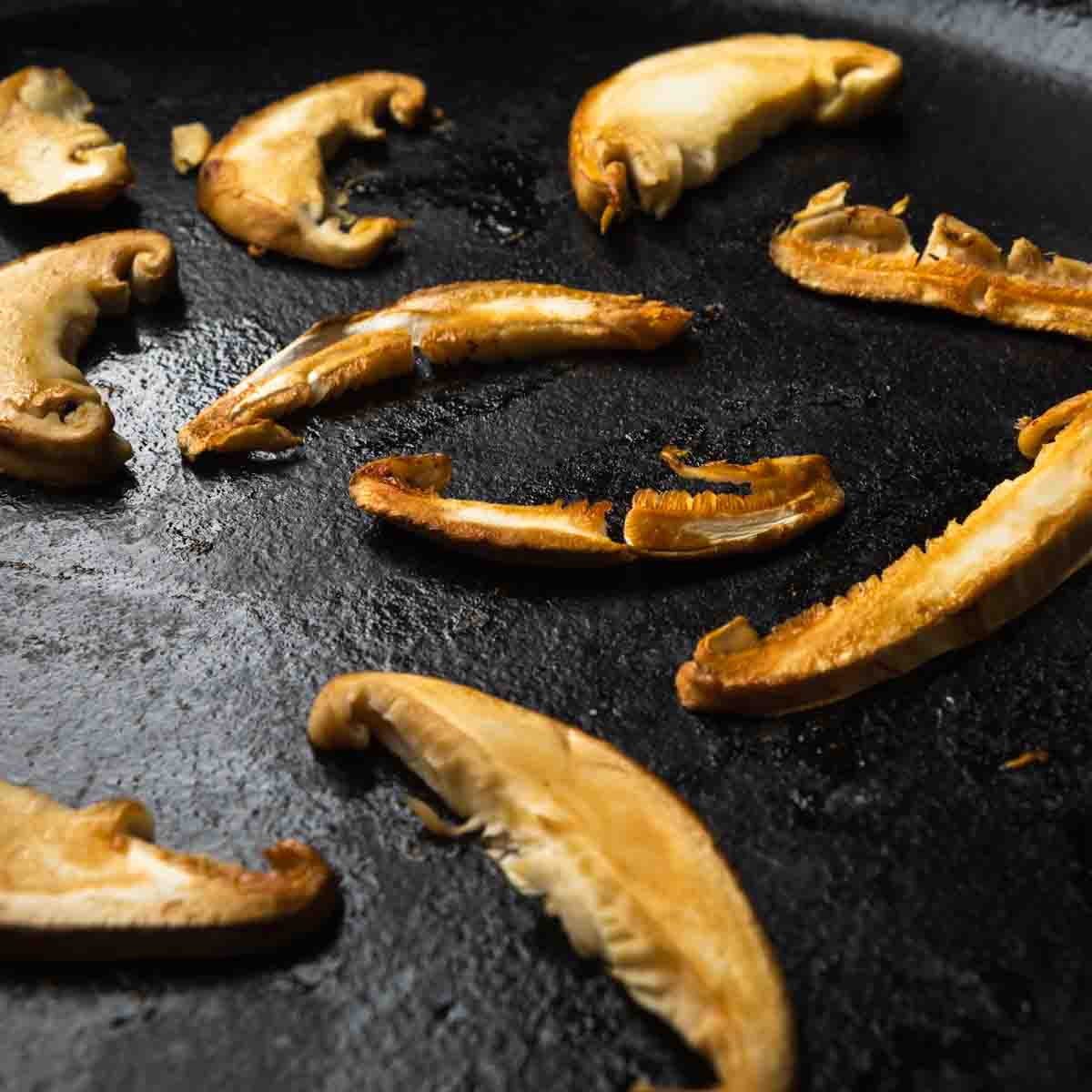 7. Serve the seared matsutake caps over big bowls of the miso butter pasta. Finish with cracked black pepper and chopped scallion, as desired. Enjoy with a glass of dry sake. Itadikimasu!
Recipe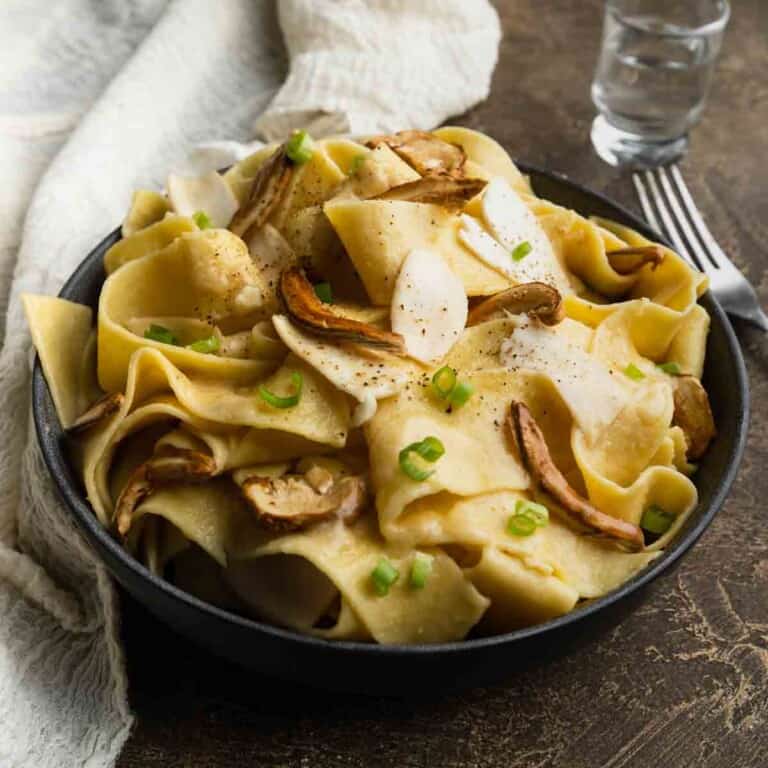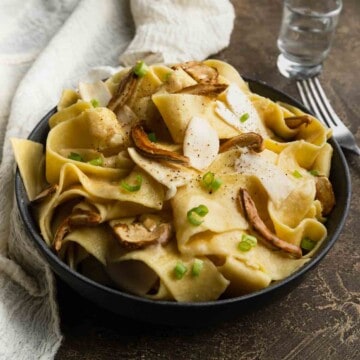 Matsutake Pasta with Miso Butter
This simple pasta recipe highlights the special flavors of foraged matsutake mushrooms in a light miso butter sauce!
ADJUST SERVINGS
Ingredients
½

ounce

matsutake mushrooms

cleaned

fine kosher salt*

to taste

4

Tablespoons

butter

2

Tablespoons

white miso paste

½

pound

pasta We used fresh pappardelle pasta

¼ - ½+

Cup

salted pasta water

reserved from cooking the pasta

1

scallion

chopped

Freshly-ground black pepper

to taste
Instructions
Start by prepping your matsutake mushrooms. After cleaning, thinly shave the mushroom stems. Then, slice caps about ¼ inch thick. Set aside. Set a large pot of water (for pasta) to boil over high heat. Salt to taste.

In a large, deep skillet, melt butter and miso paste over medium low heat. Whisk the miso into the butter. Meanwhile, cook pasta until nearly al dente. Reserve about 1 Cup (240 milliliters) of the starchy salted pasta water before draining.

Whisk about ¼ Cup (60 milliliters) of pasta water into the sauce until smooth and silky. Add the thinly shaved matsuatake stems and stir to coat in the sauce. Then add the drained pasta. Stir vigorously for 1 - 2 minutes or until the sauce has thickened and the pasta is cooked to your liking. While stirring, add in additional pasta water, 2 Tablespoons at a time, as needed.

Meanwhile, lightly sear the matsutake caps in a dry skillet over medium high heat. Season with a sprinkle of salt.

Serve the pasta in big bowls topped with the seared matsutake caps, a sprinkle of chopped scallion and freshly ground black pepper, to taste.
* A Note About Salt
Unless otherwise noted, all recipes on The Sage Apron are developed using Diamond Crystal Kosher salt. It is a great all-purpose salt for cooking and baking. If using table salt, reduce quantities by about half.
Nutrition
Calories:
269
kcal
|
Carbohydrates:
11
g
|
Protein:
4
g
|
Fat:
24
g
|
Saturated Fat:
15
g
|
Polyunsaturated Fat:
2
g
|
Monounsaturated Fat:
6
g
|
Trans Fat:
1
g
|
Cholesterol:
61
mg
|
Sodium:
1386
mg
|
Potassium:
420
mg
|
Fiber:
3
g
|
Sugar:
5
g
|
Vitamin A:
1276
IU
|
Vitamin C:
9
mg
|
Calcium:
38
mg
|
Iron:
2
mg