Nothing beats the sweet and buttery flavors of homemade caramel sauce! This easy recipe uses the wet method for making homemade caramel with no corn syrup! This recipe needs only five ingredients and is ready in less than 15 minutes!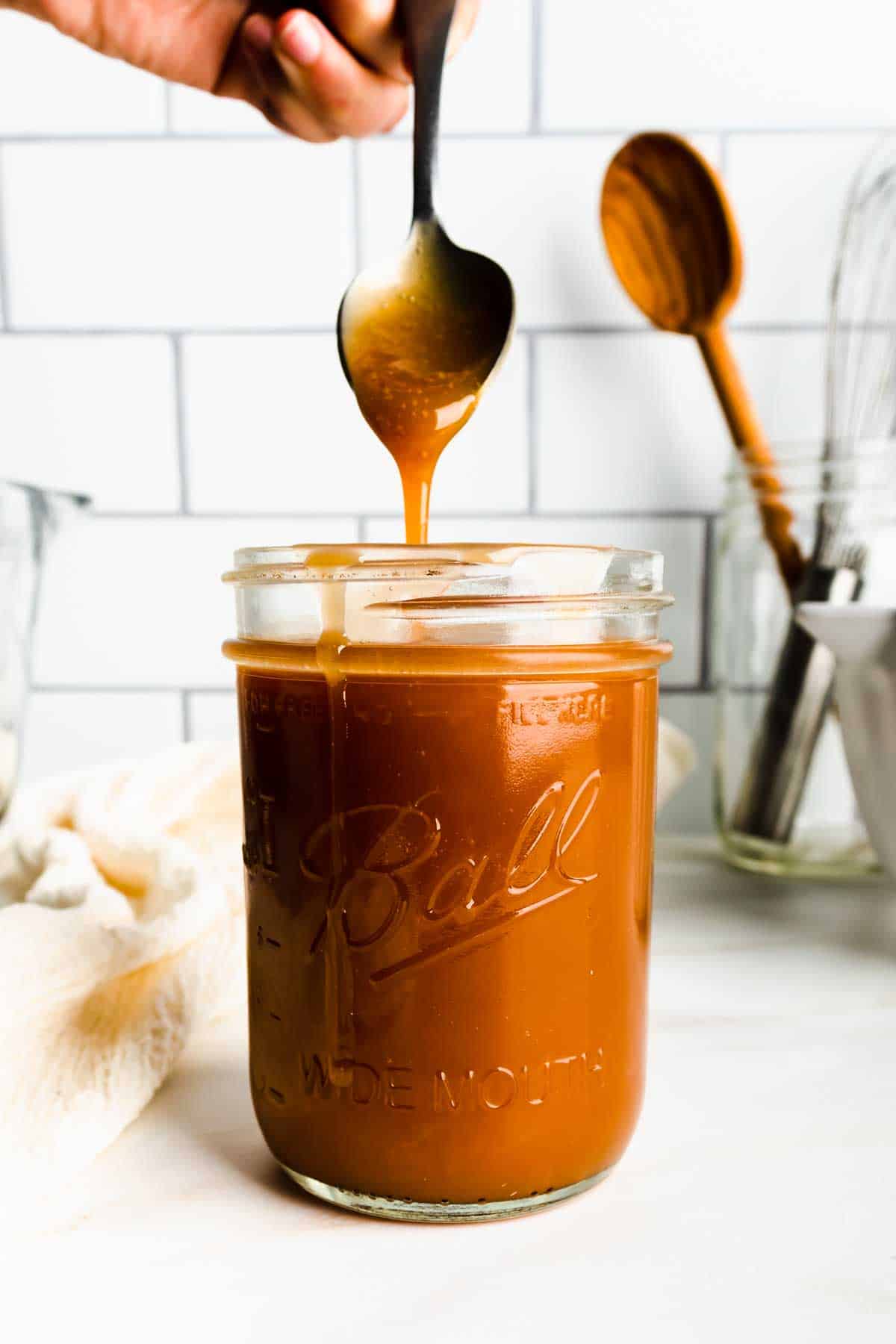 Homemade caramel is good on just about anything! Try it drizzled on brownies or Vanilla Bean Ice Cream, stir it into your morning coffee or use it in recipes like our No Bake Pumpkin Pie with Salted Caramel! YUM!
Ingredients
This is an old fashioned caramel recipe with no corn syrup! For a simple caramel sauce all you really need is sugar, butter and cream. I also like to add vanilla extract and a little salt to enhance the flavors. For a classic sweet caramel, a tiny pinch of salt will do. Of course, you can can add more salt, to taste, to make a salted caramel.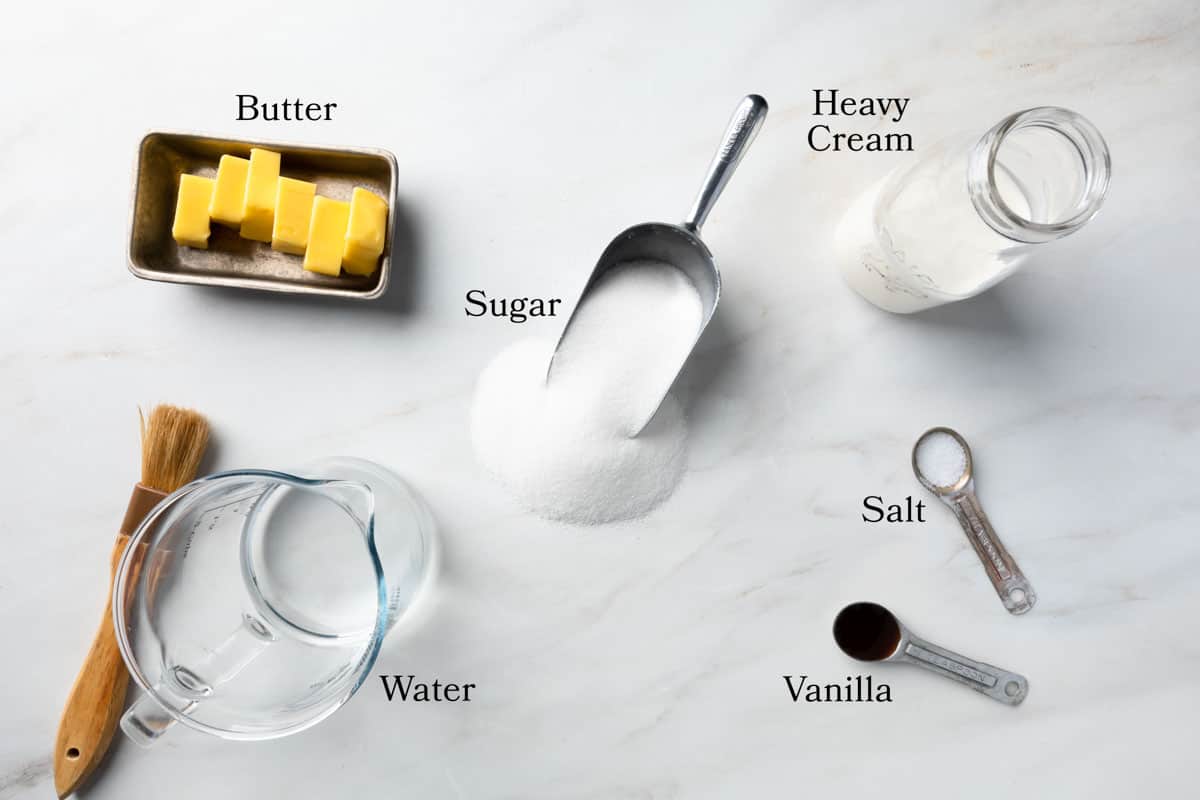 How To Make Caramel Sauce
Making caramel is easy to do and only takes about 10 - 15 minutes. Make sure you are using a sturdy, heavy bottomed pot. I like to use a lightly colored pot so that I can observe the color of the caramel more easily.
For the most foolproof results, I recommend using an instant read thermometer. I love my Thermoworks thermometer because it gives an accurate temperature reading in seconds and now I never burn anything! For making caramel, I like it better than a standard candy thermometer or other leave-in temperature probe that can actually cause crystals (think about making rock candy when you were a kid.)
Step By Step
1. Combine sugar and water in a heavy bottomed pot set over medium heat. Use a medium pot, larger than you think you may need, to account for molten hot bubbling! Stir gently to help dissolve the sugar into the water and create a clear syrup. Be mindful to avoid splashing the sugar onto the sides of the pot - that's how crystals form!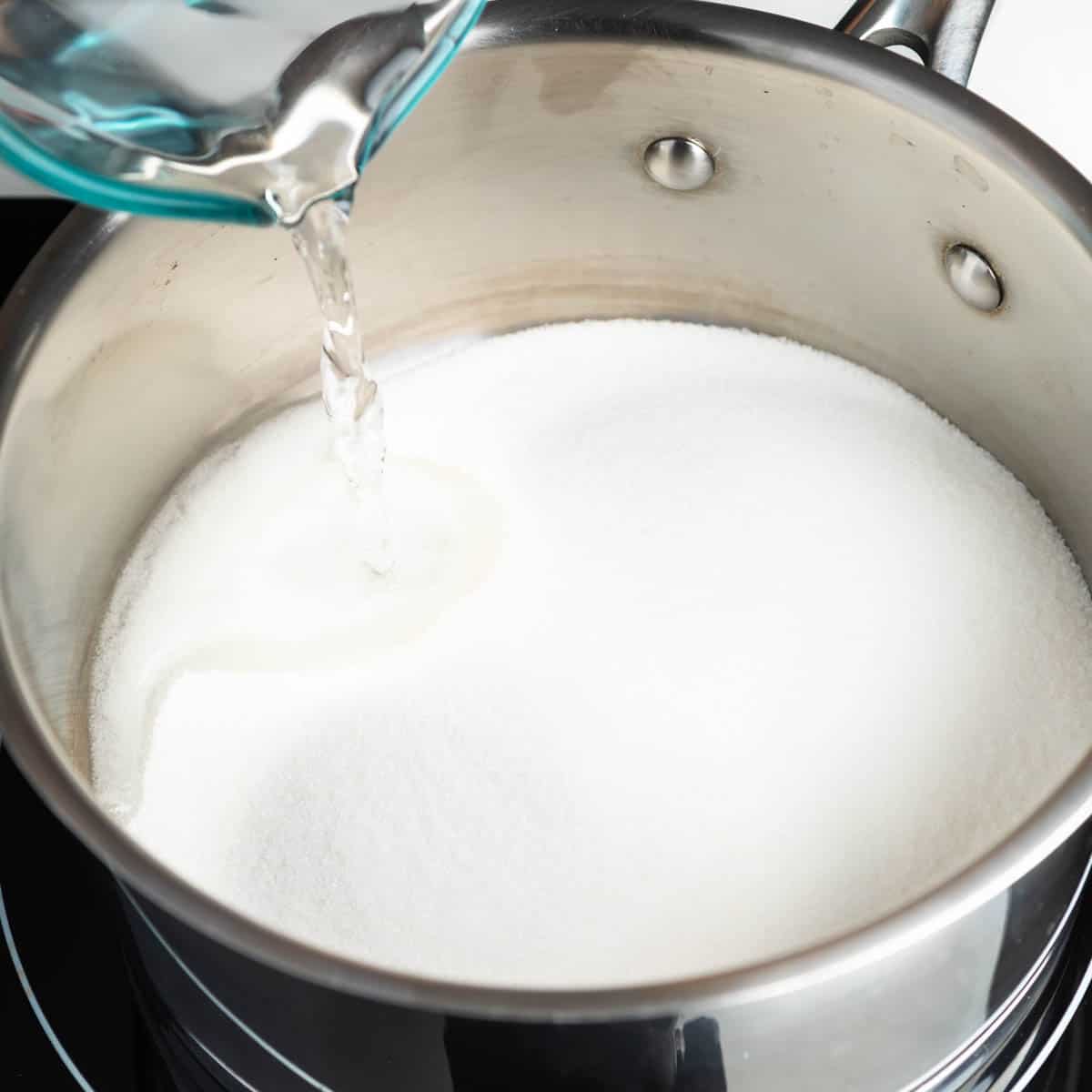 Baker's Journal: Caramel Catalysis - Some caramel makers swear by adding corn syrup, inverted sugar syrup, lemon juice or cream of tartar to their caramel. These inverted sugars or acids can help to prevent the caramel from crystallizing or seizing. The addition of these catalysts help convert sucrose to glucose and fructose - which is what you want for caramel sauce! However, I typically omit adding a catalyst because caramel doesn't really need it. Of course, it's up to you.
2. Once the sugar has dissolved - STOP STIRRING! This is key to avoiding crystallization. Use a wet pastry brush to wipe down the edges of the pot. The water from the brush will wipe any granules of sugar back down into the syrup. Don't worry about additional water getting into the mixture, it's all going to evaporate out anyway.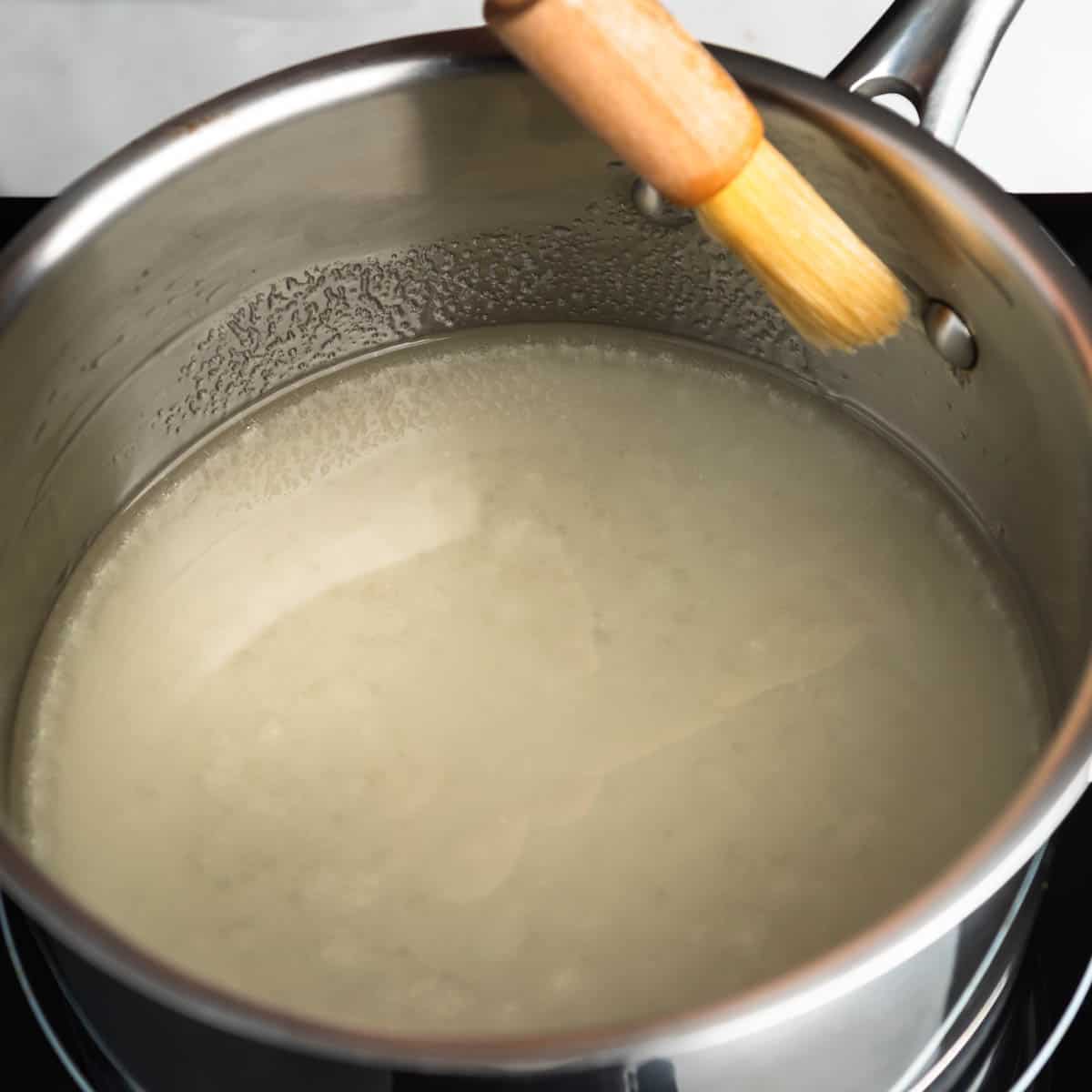 3. Let the sugar and water boil. Avoid stirring or swirling the pot. After about 8 - 10 minutes, the boiling mixture will begin to caramelize. (If you are using an instant read thermometer, caramelization begins at about 320° Fahrenheit.)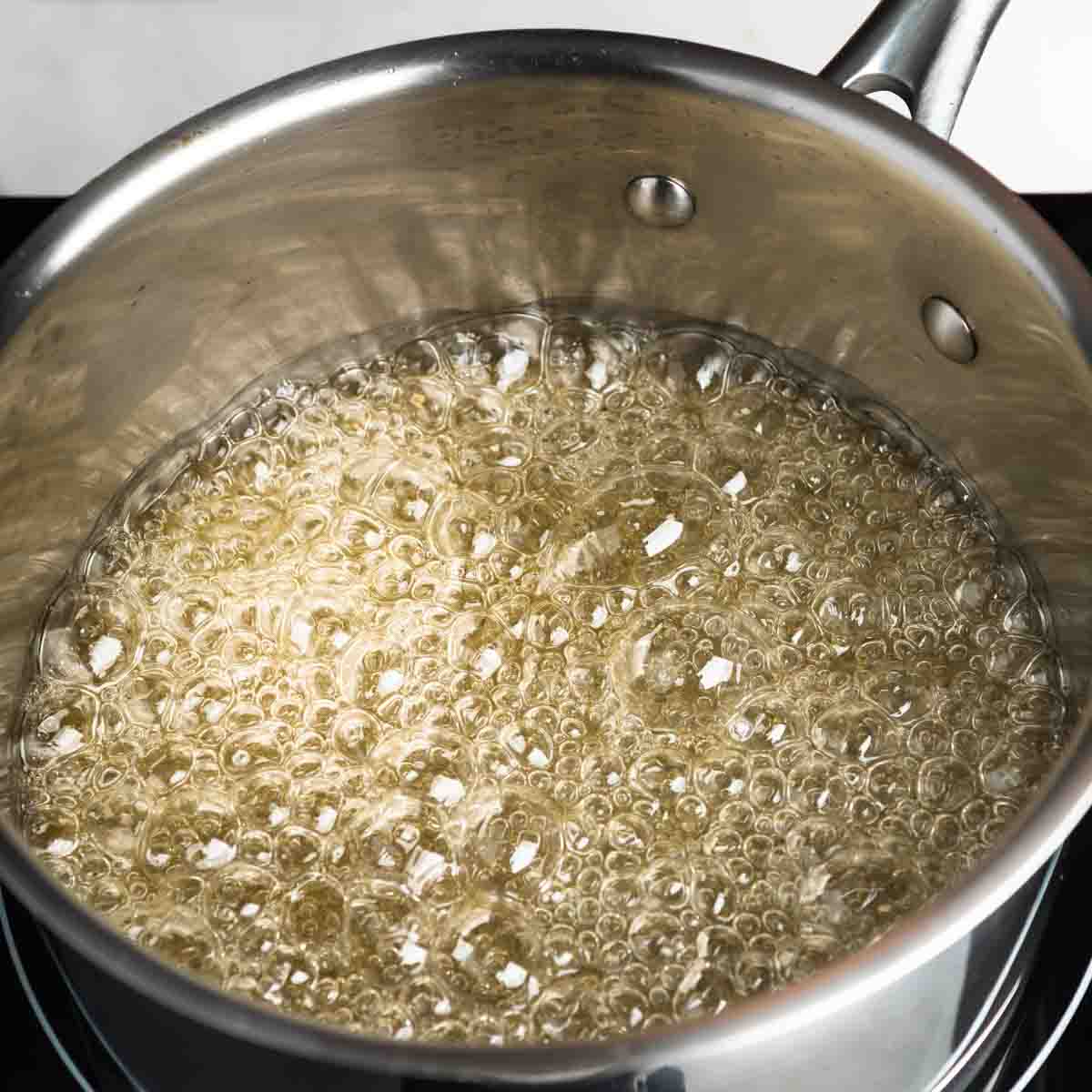 4. Watch closely! The caramel will deepen in color rather quickly. Cook the caramel until it is a rich amber color and between 330° - 335° Fahrenheit.
5. Immediately remove the caramel from the heat source. Whisk in butter, one Tablespoon at a time. Be careful! It will bubble and foam up, this is normal. Meanwhile, warm the heavy cream in the microwave, for about one minute.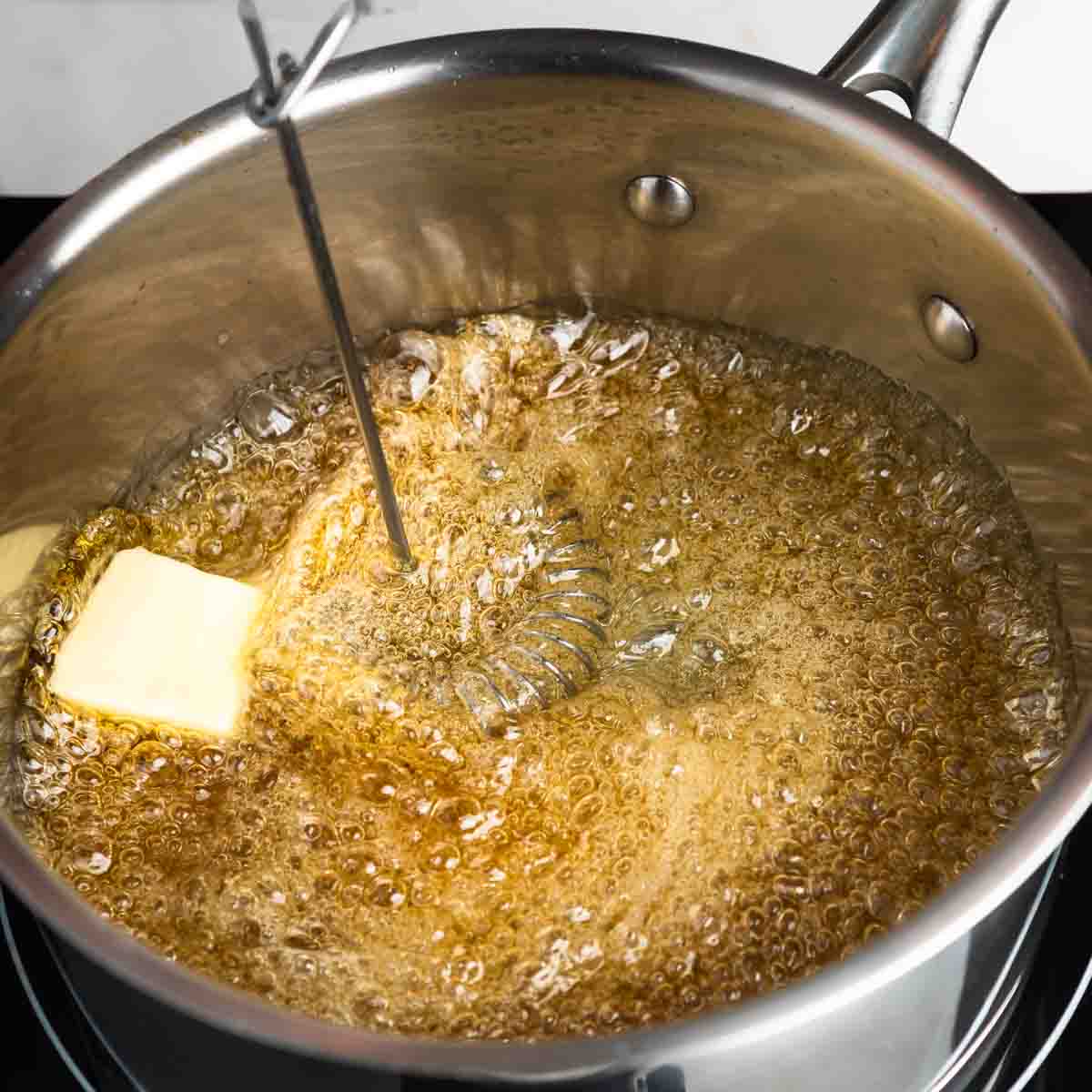 6. After the butter has been incorporated, whisk in the warm cream, a little at a time. Again, be careful, the hot caramel will bubble and spit - keep whisking until the bubbles die down. The caramel sauce should we smooth and glossy. Whisk in vanilla and salt, if using.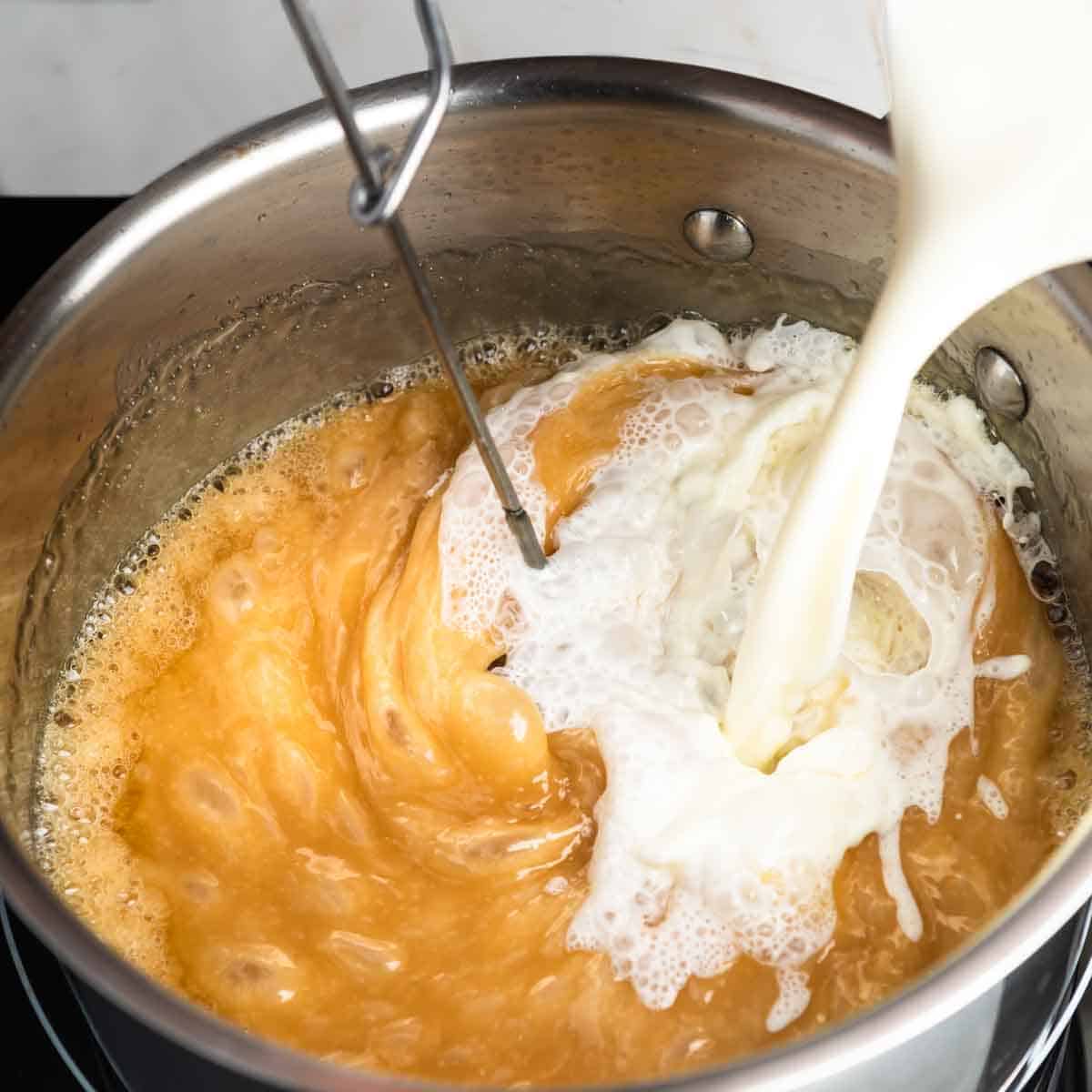 * If it clumps up at all, the temperature was lowered too quickly. Put it back on low heat and whisk just until melted and smooth. (Longer cooking will make the caramel thicker and firmer than desired for this recipe.)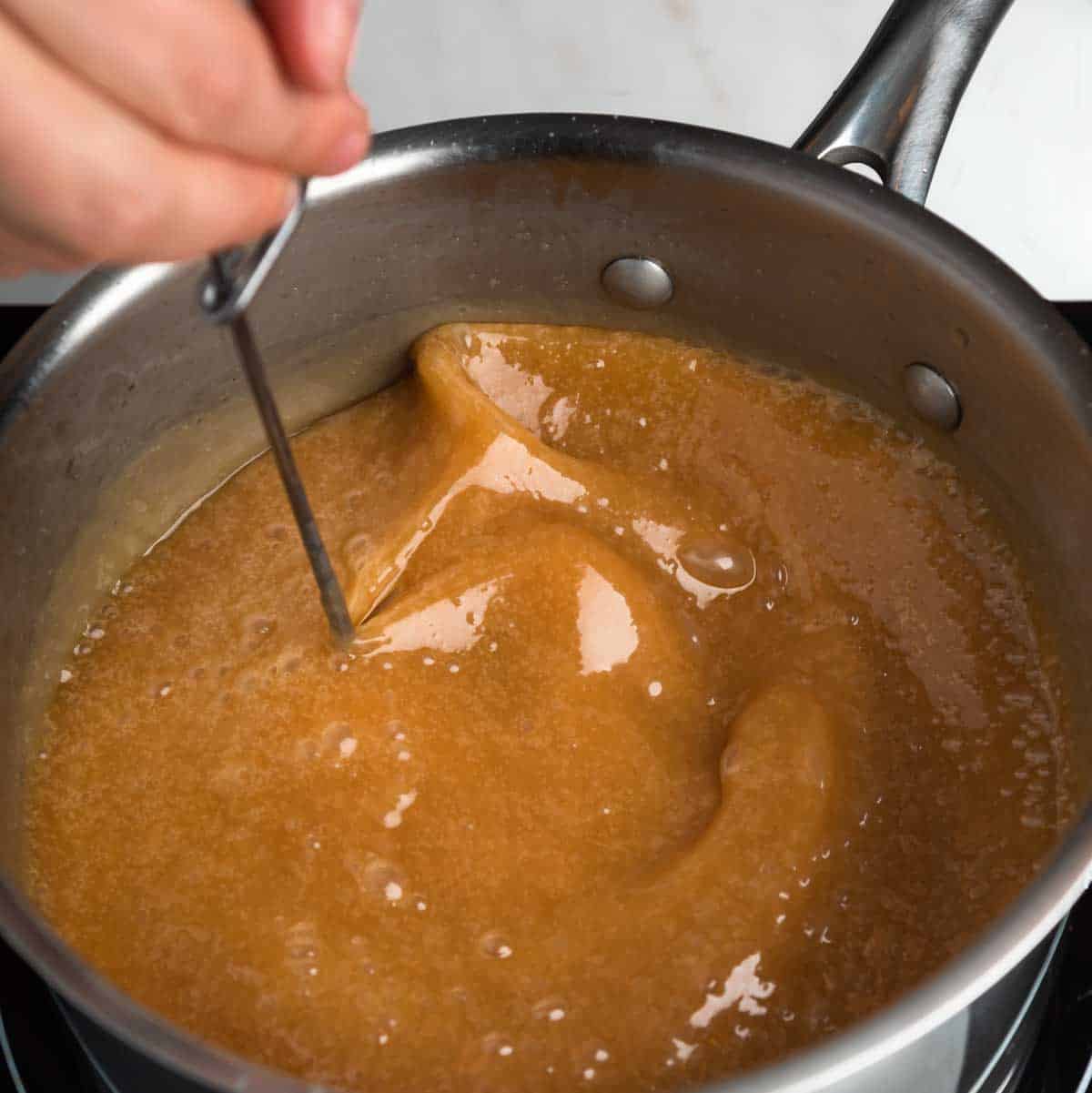 7. Allow the caramel to cool slightly. Then, transfer caramel to a heat safe jar. If any hardened sugar remains on the side or bottom of the pot - leave it! Scraping it up and into the caramel can be the cause a grainy texture.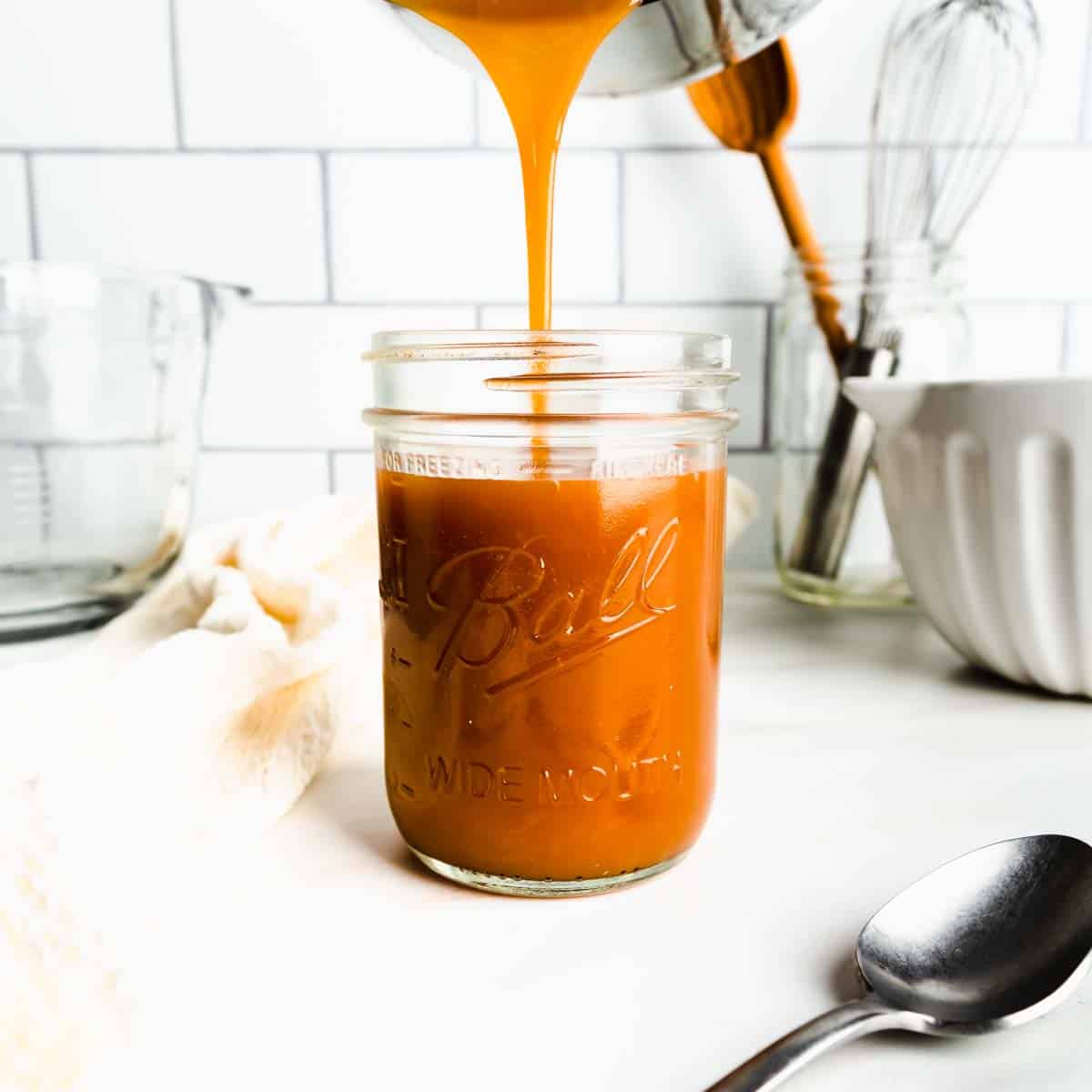 How Long Does Homemade Caramel Sauce Last?
Homemade caramel sauce can be kept in an airtight container in the refrigerator for up to one week.
Once refrigerated, the caramel sauce will thicken significantly. To revive the caramel to a pourable consistency, microwave it in short ten second intervals. Stir between microwaving until the desired consistency is reached.
Serving Suggestions
What isn't caramel sauce delicious on!? You can use this sauce to enhance all of your favorite dessert recipes. Here are a few of our favorite ways to use caramel sauce:
Caramel Apple Dip - Serve caramel sauce with sliced Granny Smith apples for a scrumptious sweet and tart snack!
Sundaes - Drizzle over ice cream for a simple sweet treat! We love making salted caramel brownie sundaes with our Old Fashioned Vanilla Bean Ice Cream and whipped cream!
Pies - Try this recipe paired with our No Bake Pumpkin Pie or as a topping to a fresh baked Dutch apple pie!
Cakes - Once cooled, this caramel sauce is the perfect consistency for adding irresistible drips to cake decorations! It would be a delicious compliment to our Carrot Spice Cake with Brown Butter Frosting
Coffee - Use unsalted caramel sauce as a sweetener for special coffee and espresso drinks!
A Spoon! - I'd be lying if I said I didn't sneak a bite of caramel sauce straight from the jar!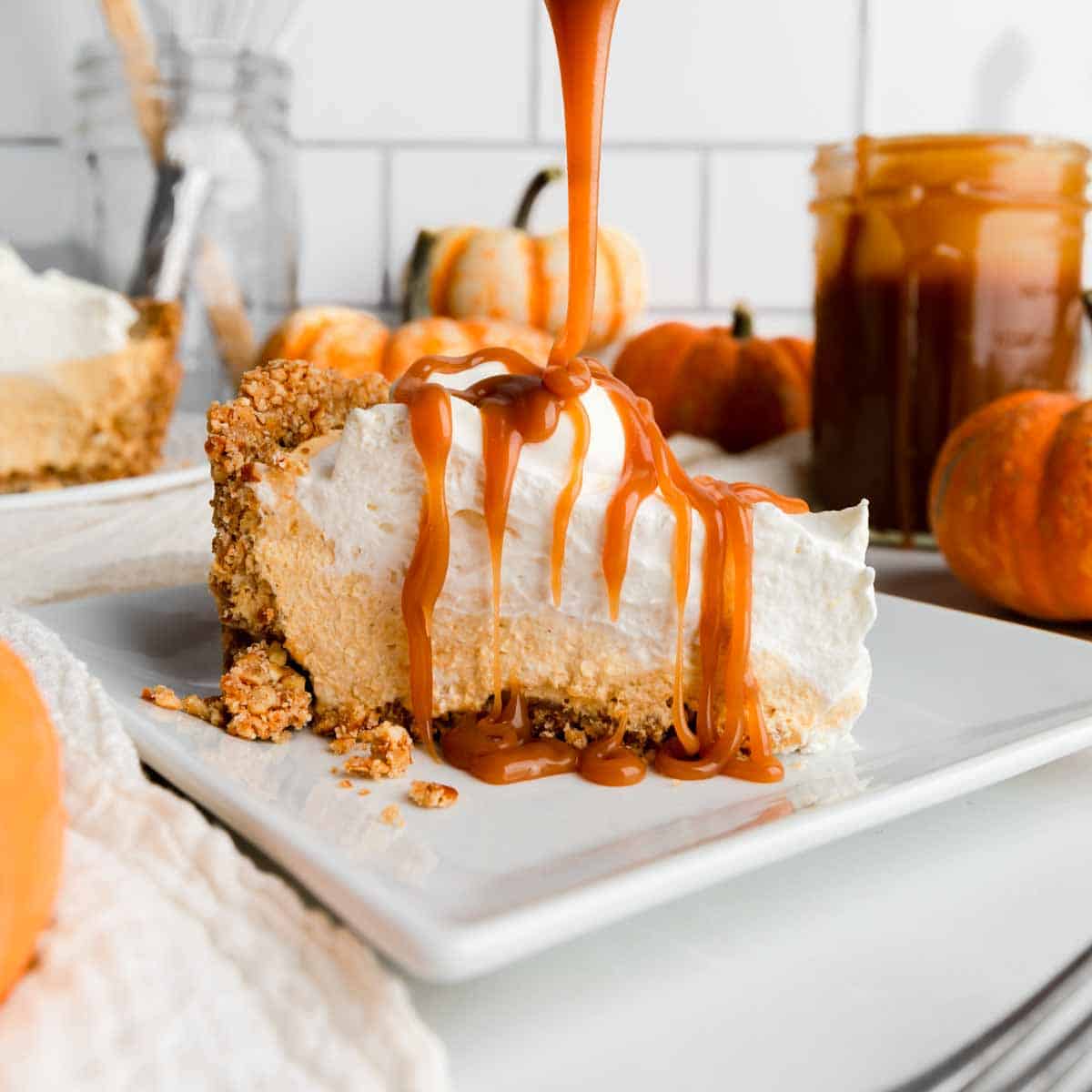 Recipe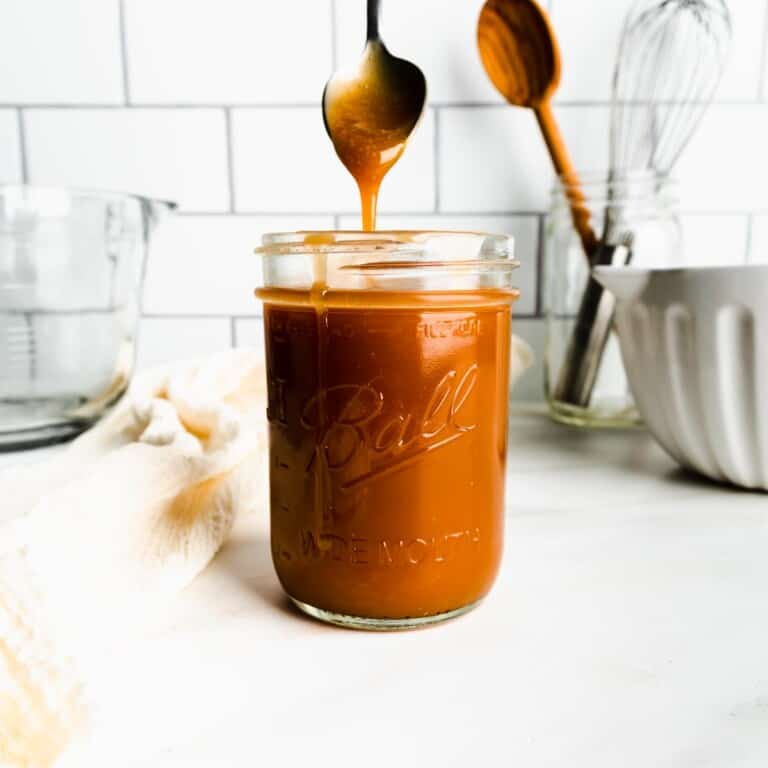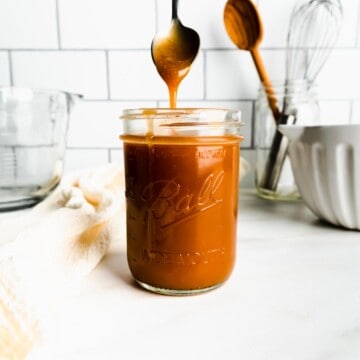 Homemade Caramel Sauce (Without Corn Syrup)
Sweet and gooey homemade caramel sauce is easy to make and delicious to add onto countless delicious desserts and baking recipes!
ADJUST SERVINGS
Ingredients
1 ½

Cups

granulated sugar

½

Cup

water

plus extra for brushing the pot

6

Tablespoons

butter

Cut into 1 Tablespoon pieces (We use unsalted butter)

¾

Cup

heavy cream

warmed

1

teaspoon

vanilla extract

optional

1

pinch - 1 teaspoon

fine kosher salt* or flaky salt

optional, to taste
Instructions
In a medium heavy-bottomed pot, combine granulated sugar and water over medium heat. Stir gently until sugar is just dissolved. Stop stirring.

Use a wet pastry brush to brush any granules of sugar from the sides of the pot. Let the water wash the sugar crystals down into the syrup, repeat as necessary. Do not stir the syrup. Allow the syrup to boil.

Watch closely. After about 8 - 10 minutes the syrup will reach 320° Fahrenheit and begin to caramelize. Quickly, the color will change to a deeply caramelized amber color. I recommend using an instant read thermometer. Once the mixture has reached 330° - 335° Fahrenheit, remove it from the heat.

Whisk in butter, 1 Tablespoon at a time. Be careful, the caramel will foam and bubble up. Meanwhile, warm the heavy cream in the microwave for 1 minute.

Once the butter is fully incorporated, stream in the warmed cream while whisking. Again, be carful, the caramel will continue to bubble and spit. Whisk until the cream is fully incorporated and the bubbles die down. Whisk in vanilla and salt, if using. (Even for sweet caramel sauce, I recommend adding a pinch of salt. For salted caramel, add a little at a time, to taste. I usually use about 1 teaspoon for salted caramel.)

Cool slightly then, transfer caramel sauce to a heat-safe jar or container. Caramel sauce will thicken significantly as it cools.

Homemade caramel sauce can be kept refrigerated for up to one week. When ready to serve, microwave caramel sauce in 10 second intervals until the desired consistency is reached. Enjoy!
* A Note About Salt
Unless otherwise noted, all recipes on The Sage Apron are developed using Diamond Crystal Kosher salt. It is a great all-purpose salt for cooking and baking. If using table salt, reduce quantities by about half.
Nutrition
Calories:
151
kcal
|
Carbohydrates:
19
g
|
Protein:
0.4
g
|
Fat:
8
g
|
Saturated Fat:
5
g
|
Polyunsaturated Fat:
0.3
g
|
Monounsaturated Fat:
2
g
|
Trans Fat:
0.2
g
|
Cholesterol:
24
mg
|
Sodium:
62
mg
|
Potassium:
13
mg
|
Sugar:
19
g
|
Vitamin A:
299
IU
|
Vitamin C:
0.1
mg
|
Calcium:
9
mg
|
Iron:
0.02
mg