This Carrot Spice Cake is perfectly spiced, fluffy and beautifully complimented with a brown butter frosting!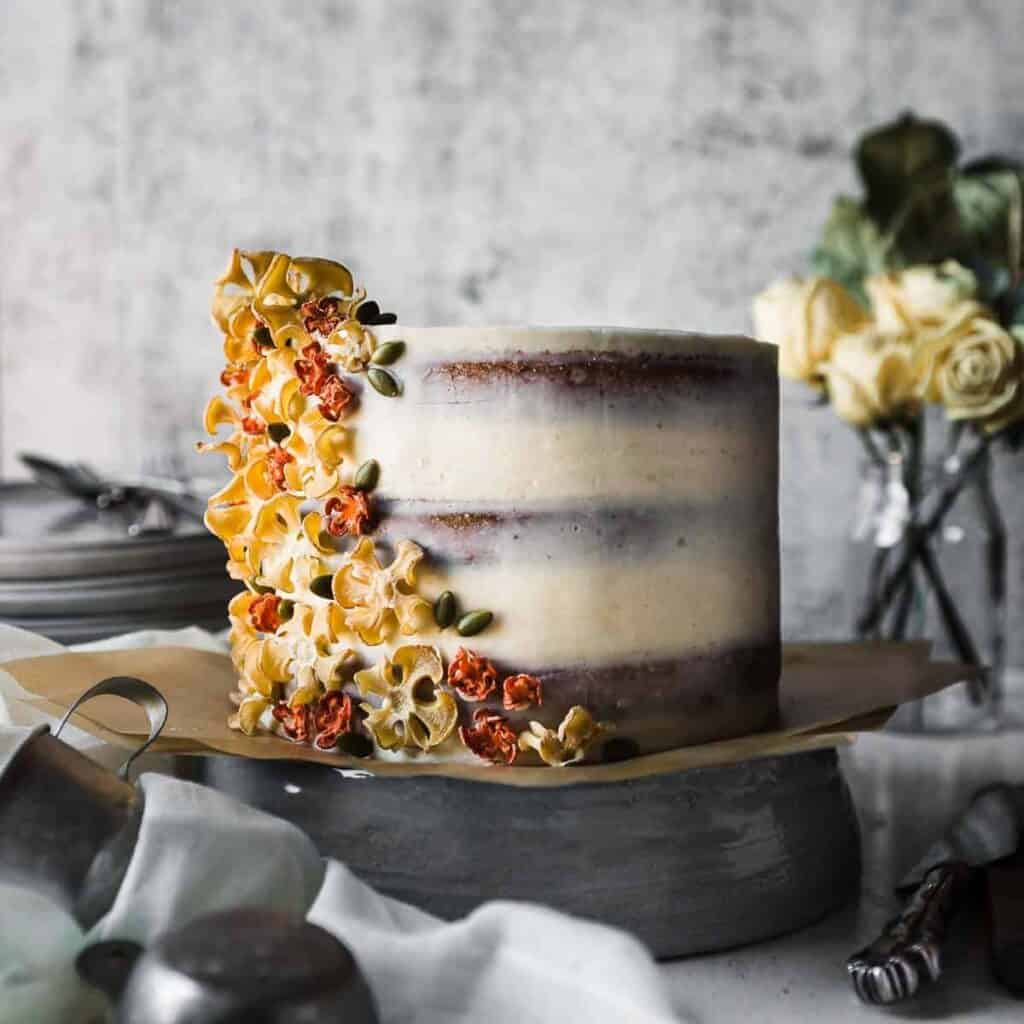 This unique recipe uses a puree of roasted carrots, apple and buttermilk for a richly flavored carrot cake with natural sweetness and a tender, moist crumb. The homemade buttercream frosting uses brown butter to perfectly compliment the spice and flavors.
You may also enjoy our Cinnamon Streusel Muffins and Apple Cake with Cider Glaze recipes!
Jump to:
Sugar, Spice and Everything Nice - Why You'll Love This Recipe
The warm baking spices that flavor this Carrot Spice Cake are what all our fondest memories are made of. What is it about cinnamon and sugar that brings us right back to licking the spoon as a child?
This homemade Carrot Spice Cake has no shortage of cozy baking spices ready to be remembered. The rich quantities of cinnamon, ground ginger, clove and nutmeg compliment the roasted carrot and apple just so.
As for sweetness, we chose to use a combination of light brown and granulated sugars. Baking this cake with light brown sugar adds a subtle note of caramel-like molasses flavor. Meanwhile, granulated white sugar helps keep the cake light, fluffy and springy.
Brown Butter Frosting ties all of these delicous flavors together like a nice, little bow.
Roasted Carrot & Apple Spice Cake
This unique Carrot Spice Cake recipe features a roasted apple and carrot puree that is baked right into the batter. Most carrot cakes call for raw, grated carrot, however, I can assure you - roasting the carrot is the way to go!
Roasting the carrots and apple for this cake helps to concentrate the flavors and coax our the carrot and apples' natural sweetness. The flavor is phenomenal. After roasting, the carrot and apple and pureed in buttermilk before being added to the spiced cake batter. The results are delicious - tender and moist with just a hint of tang and sweet carrot flavor.
What Spices are in Carrot Cake?
Cinnamon: Ground cinnamon is essential to complimenting the roasted carrot and Brown Butter Frosting in this cake.
Ginger: Ground ginger root adds an almost citrus-like spice to this homemade Carrot Spice Cake recipe.
Clove: Cloves are best known for adding warmth and aromatics to baked goods. Be sure to measure with care, too much clove can easily over-power your bake. Just enough clove, as in this recipe, will add in enticing warming spice and leave your kitchen smelling amazing.
Nutmeg: We recommend using freshly grated nutmeg, whenever possible. While not quite as intense as the other spices for this cake, nutmeg lends lovely nutty, floral notes.
Spice Substitution
Pumpkin Pie Spice: Pumpkin Pie Spice is often made up of these same spices listed, but in slightly different ratios. We tweaked and tested several spice ratios to perfect this scratch carrot cake recipe. However, spices can be expensive and we understand you may not have all these things on hand. If pumpkin pie spice is what you keep in your cupboards, feel free to substitute about two tablespoons for slightly different results.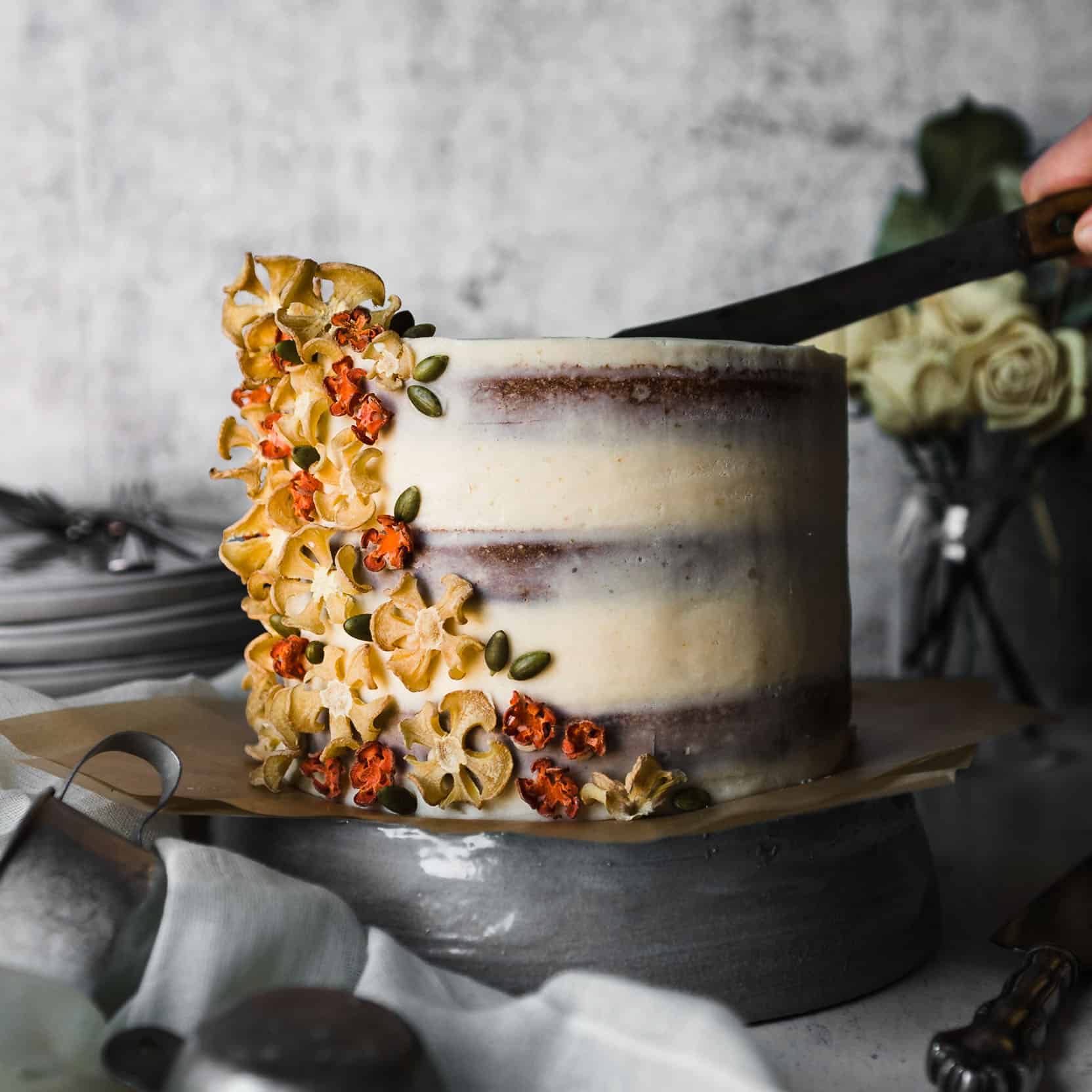 How To Make This Cake Batter
While many carrot cake recipes call for vegetable oil, I have found that the creamed butter method produces the lightest and most flavorful results for this recipe.
1. Cream your room temperature butter and sugars together in a stand mixer fitted with the paddle attachment (or with an electric mixer) on no-higher-than medium speed. Properly creamed butter and sugar takes 5 - 8 minutes and should be pale, light and fluffy.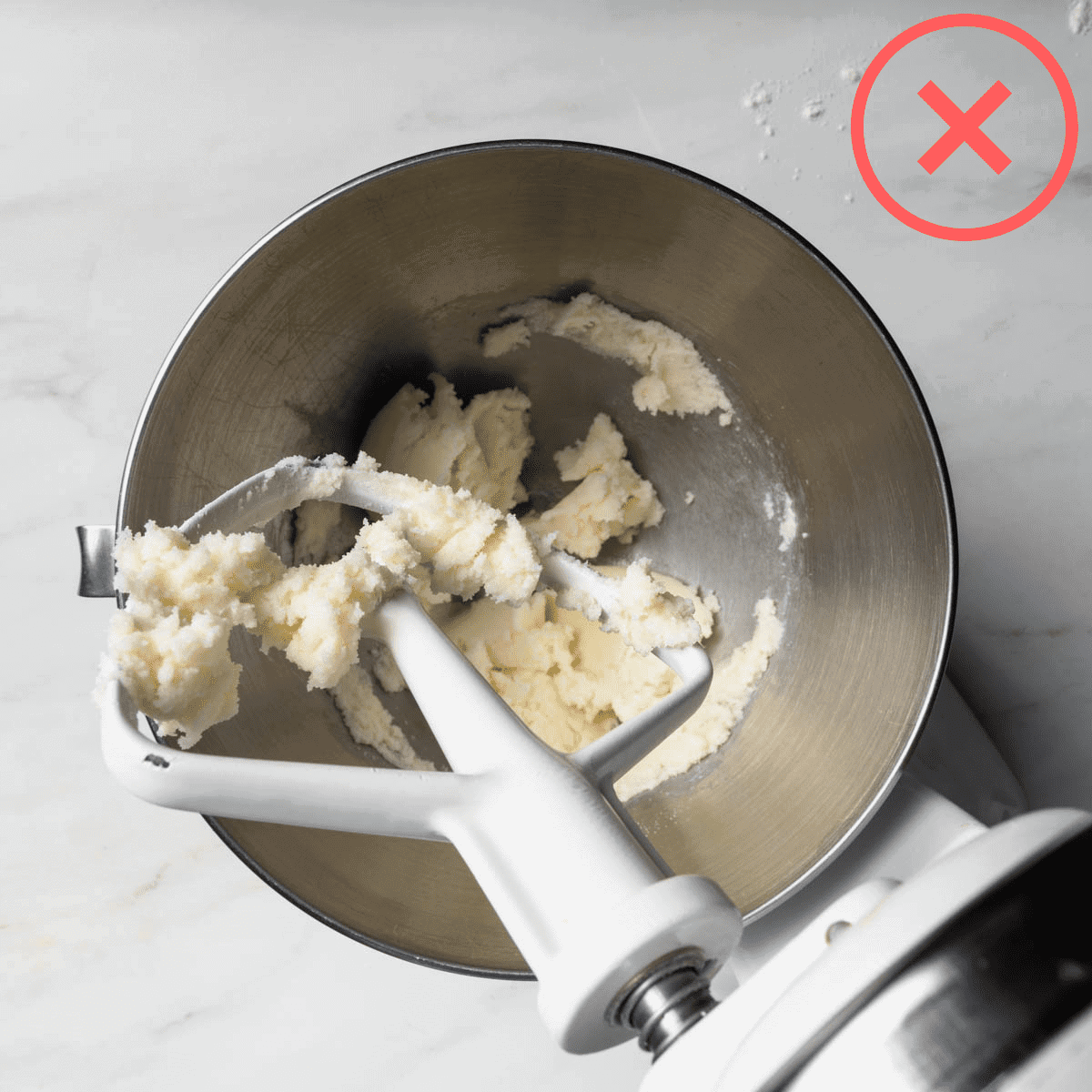 2. Then, add the large eggs one at a time being sure to allow them to fully incorporate into the batter before adding the vanilla extract.0
3. Finally, alternate adding the roasted carrot mixture and sifted dry ingredients while mixing on low speed. Be careful not to over-mix the cake!
Baker's Journal: Avoid Over Mixing - I like to finish the last moments of mixing with a rubber spatula to fold in any of the remaining flour mixture without overworking the batter.
4. If adding chopped nuts, use a rubber spatula to gently fold the nuts into the batter.
Nuts about Spice Cake: Adding Pecans or Walnuts
We love the buttery pecan crunch studding this moist cake recipe, but you are welcome to omit the nuts, if you prefer. You are also welcome to substitute walnuts in this Carrot Spice Cake, for a more delicate texture.
Pro Tip: Toasting Nuts - Chop first, THEN Toast! When baking with chopped nuts, we recommend measuring first, chopping second, and then toasting. After chopping, shake the chopped nuts in a mesh sieve or strainer to remove the fine dusty particles that will burn in the oven. Transfer to a baking sheet and toast in a hot oven for 4 - 5 minutes, or until lightly golden and aromatic. Toasting helps to awaken aromatic oils in the nuts and enhances their flavor greatly.
Brown Butter Frosting
A good frosting can take a great cake from everyday to extraordinary and that's exactly what's going on with this Brown Butter Frosting. This is a simple American-style buttercream of whipped fats and powdered sugar. (No melted sugar syrups or stiff peaks required!)
Here we are using brown butter and some cream cheese for a hint of that classic, tangy cream cheese frosting flavor! If you have a nice maple syrup on hand, as we New Englanders always do, we recommend whipping a bit of that in, too. So good!
Liquid Gold: Brown Butter
Just like how roasting brings out the best in your nuts and carrots, browning your butter takes this humble staple to a whole other level. Gently cooking your butter to caramelize the milk solids brings out tons of toasty, nutty, flavors. This toffee-like richness is the perfect compliment to our homemade Carrot Spice Cake.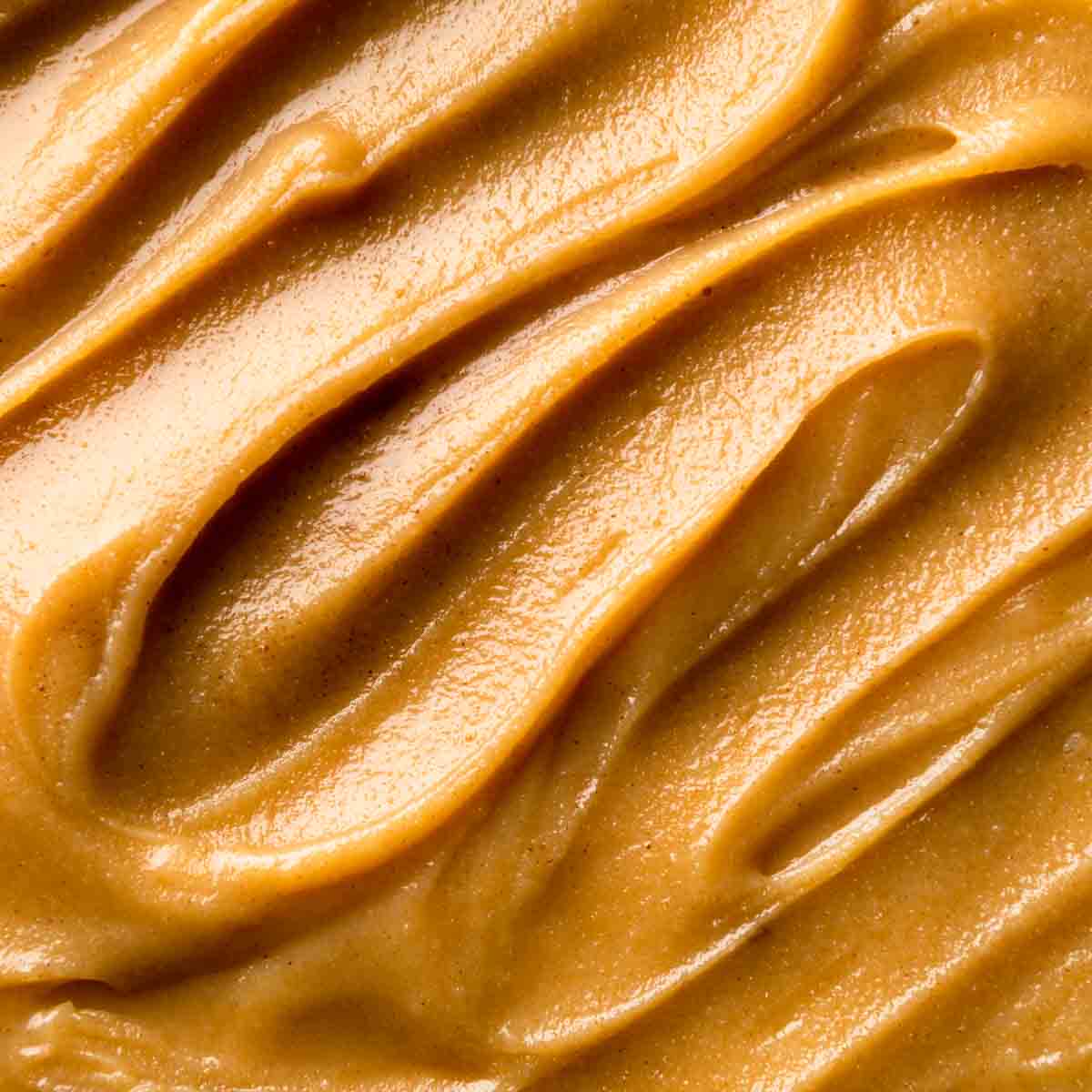 The process of making brown butter requires your undivided attention (to prevent burning) but only takes a couple of minutes to make. Check out our full post on How To Make Brown Butter for step by step instructions and more recipe inspiration.
For the Brown Butter Frosting, chill the butter back to a softened state before proceeding. All of those beautiful little caramelized bits will subtly speckle your frosting like stars in the city sky.
The recipe below makes a smaller amount of frosting used to achieve the naked frosted look, as pictured. If you prefer a sweeter, more generous swoosh of frosting, and who could blame you - feel free to make a double batch.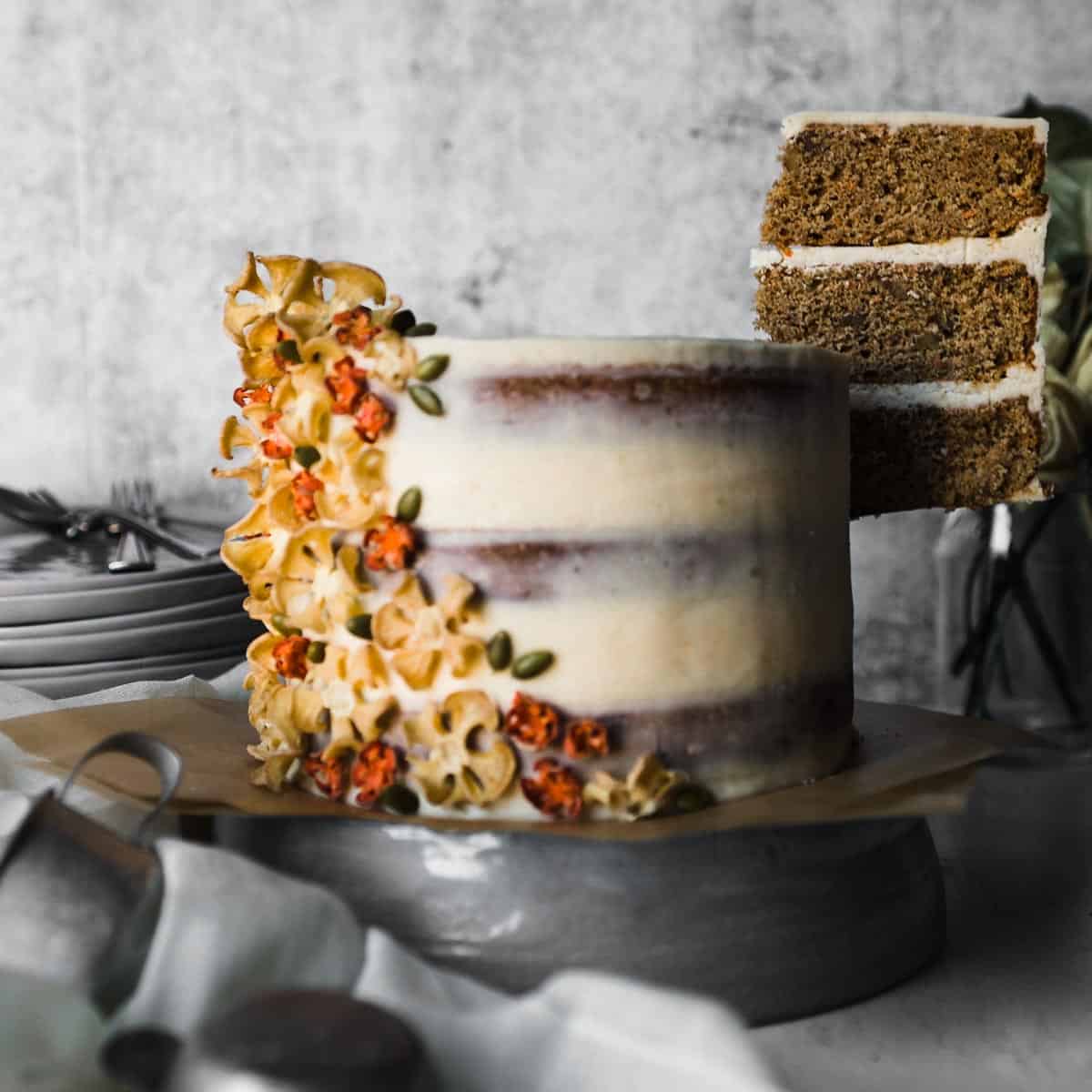 Keep Cakes Moist with Simple Syrup
If you will be baking the cake a day or two before consumption (or displaying a naked cake for a while before slicing), we recommend brushing the surface of the cool cakes with simple syrup before frosting.
Simple syrup is just sugar melted into water and can be done with a kettle, stovetop or microwave. This technique is used by most commercial bakeries and is an easy way to avoid dry cakes. We usually use a 2:1 sugar to water ratio but a diluted maple syrup could also work wonders for this Carrot Spice Cake.
King of Carrot Flowers - Dehydrated Carrot Decoration
As seen in the photos, we decorated this Carrot Spice Cake with pumpkin seeds and dehydrated carrot and parsnips that were cut to look like flowers. In all honesty, the dehydrating process is very long and, while beautiful, not terribly edible. However, if you'd like to tackle this show-stopping garnish at home, it is quite possible. (Assuming you don't need your oven for any other tasks!)
How To Make Carrot Flowers
Preheat your oven to its' lowest setting - around 125° Fahrenheit (52° celsius). If your oven doesn't go quite that low, as ours does not, slightly prop open your oven's door with a kitchen towel for the duration of baking.
Slice rounds of fresh carrots and parsnips very thin, about 1/16 inch. We used the widest carrots and parsnips we could find to help account for shrinkage in the oven. Even still, our carrots flowers were teeny-tiny, about the size of a dime.
Dip the sliced roots in a boiling water bath for one minute before plunging them into ice water. This boiling and chilling process, called "blanching and shocking", will help to preserve the color of your vegetables, particularly the carrots, during dehydration. Dry your sliced carrots and parsnips between two clean dish towels.
Cut slits, (we did about five slits per) like spokes of a bicycle tire through each round. Be careful not to cut completely into the center. You can stack a few slices or similarly sized rounds to help speed up this process, but it is rather tedious. Line sliced rounds on a parchment or silicone lined baking sheet.
Bake the sliced carrots and parsnips for five to seven hours, turning once or twice, until all the moisture has evaporated. You will be left with crunchy, dry "flowers". These flowers can be prepared well ahead of time and stored in an airtight container for several weeks.
More Baking Recipes You'll Love
Recipe
The Best Carrot Spice Cake with Brown Butter Frosting
This Carrot Spice Cake is fluffy, moist, flavored with warm baking spices, studded with toasted pecans and frosted with homemade Brown Butter and Cream Cheese Buttercream! Simply divine!
ADJUST SERVINGS
Special Equipment
Immersion or Standard Blender

Stand Mixer with the Paddle Attachment (or Electric Mixer)

2, 9 inch Cake Pans

(or 3, 7 inch Cake Pans (as pictured, See Note: a.))
Ingredients
Carrot Spice Cake
3 -5

medium

carrots

peeled, ends removed, cut into 1 inch (2½ centimeter) segments

1

medium

apple

cored, halved (We recommend using a Honeycrisp apple that is about 150 - 200 grams)

½

Cup

buttermilk

room-temperature

2⅓

Cups

all-purpose flour

2

teaspoons

baking powder

½

teaspoon

baking soda

2 ½

teaspoons

ground cinnamon

2

teaspoons

ground ginger

½

teaspoon

ground clove

½

teaspoon

nutmeg

fresh-grated

1

teaspoon

fine kosher salt*

1

Cup

unsalted butter

softened, room-temperature

1 Cup plus 2½

Tablespoons

light brown sugar

½

Cup

granulated sugar

4

eggs

room-temperature

1

teaspoon

vanilla extract

¾

Cup

pecans or walnuts

chopped and toasted, optional
Brown Butter
1 Cup plus 2

Tablespoons

unsalted butter

cut into Tablespoon sized pieces
Brown Butter Frosting
1

Cup

brown butter

½

Cup

cream cheese

room-temperature

3 ½

Cups

powdered sugar

2

tablespoons

maple syrup or whole milk

1

teaspoon

vanilla extract

Pinch

fine kosher salt*

½

Cup

simple syrup

optional
Instructions
Carrot Spice Cake
Arrange a rack in the center of your oven and preheat to  350° Fahrenheit (177° celsius). Prepare your cake pans with parchment paper rounds, butter and flour to prevent sticking.

On a small parchment or silicone lined baking sheet, roast your carrots and apple until easily smashed with a fork, about 35 minutes. Allow to cool slightly. Add carrot and apple to buttermilk and puree with an immersion blender, standard blender until no lumps remain. Set aside.

On a sheet of parchment or medium mixing bowl, sift flour, baking powder, baking soda, cinnamon, ginger, clove, nutmeg and salt together. Set aside.

In the bowl of a stand-mixer fitted with the paddle attachment (or in a medium mixing bowl with an electric mixer) combine butter, brown sugar and sugar. Cream butter and sugars together on medium speed until pale, light and fluffy, about 5 - 8 minutes. On medium speed, add eggs, one at a time, scraping bowl to incorporate between additions. Add vanilla and mix to combine.

Add half the flour mixture and mix on low speed until just combined. Add the carrot puree and mix on low speed to combine, scraping the bowl and paddle as necessary. Add the remaining flour and pulse on low speed until the flour is incorporated into the batter about ninety percent. Remove the batter from the stand or electric hand mixer and use a rubber spatula to gently fold and finish incorporating the flour while being sure to scrape the bottom of the bowl. Fold in pecans or walnuts, if using. 

Evenly distribute the batter between pans and level the cakes with an off-set spatula before placing in the oven to bake. To avoid disturbing the bake, resist the urge to open the oven door and check your cakes for thirty minutes. Cakes are fully baked when they spring-back when gently poked in the center, about 30 - 40 minutes (depending on your oven). 

Allow cakes to cool in baking pans for 5 minutes before transferring to a cooling rack to cool completely. Cakes must be completely cooled before frosting. 
Brown Butter (See Note: b.)
Melt butter in a light colored pan over medium heat. Stir often. The butter will seperate into milk solids and butter fat. At first the butter will be foamy, then boil or simmer and finally begin to caramelize as the foam subsides. (If the butter begins to boil rapidly, reduce heat to simmer).

After 10, or so minutes the milk solids (white specks) will begin to caramelize and become brown in color and nutty in aroma. Continue stirring until the butter is brown, nutty and very aromatic. Watch closely to avoid burning and remove from heat immediately.

Chill the hot butter on the counter or refrigerator until in a room-temperature, softened-solidified state proper for creaming.
Brown Butter Frosting (See Note: c.)
In the bowl of a stand-mixer fitted with the paddle attachment (or in a medium mixing bowl with an electric mixer) combine softened brown butter and cream cheese and beat on medium speed until light, about 5 minutes.

Add powdered sugar and mix on low until incorporated, scraping the bowl and paddle as necessary. Increase the mixer speed, slowly, to medium-high and whip for three minutes.

Add maple syrup or milk, vanilla extract and salt to frosting and whip on medium-high speed until fluffy, smooth and spreadable, 3 - 5 minutes.  

Brush simple syrup on cakes, if using. Frost completely cooled Roasted Carrot Spice Cakes and decorate, as desired. Slice, serve and enjoy! 
Notes
a. To prepare a three layer, 7 inch cake, as pictured, follow all steps exactly, only decreasing the bake time to 25 - 30 minutes.
b. Due to evaporation, brown butter will loose about 12% of its' original volume. Therefore, 1 Cup plus 2 Tablespoons of butter will yield about 1 Cup of brown butter, as needed for this frosting recipe. For more information about measuring brown butter, see our full How To Make Brown Butter post.
c. The frosting measurements provided will provide a small batch of icing, perfect for frosting this cake in the naked style, as pictured. If you would prefer more frosting for an overall sweeter cake, double the frosting recipe.
* A Note About Salt
Unless otherwise noted, all recipes on The Sage Apron are developed using Diamond Crystal Kosher salt. It is a great all-purpose salt for cooking and baking. If using table salt, reduce quantities by about half.
Nutrition
Calories:
4297
kcal
|
Carbohydrates:
508
g
|
Protein:
39
g
|
Fat:
246
g
|
Saturated Fat:
134
g
|
Polyunsaturated Fat:
19
g
|
Monounsaturated Fat:
73
g
|
Trans Fat:
7
g
|
Cholesterol:
884
mg
|
Sodium:
2407
mg
|
Potassium:
1329
mg
|
Fiber:
15
g
|
Sugar:
373
g
|
Vitamin A:
27472
IU
|
Vitamin C:
12
mg
|
Calcium:
645
mg
|
Iron:
15
mg