Step aside, Bezos. There's a new king in town. All hail the Billionaire Alfajores with Toasted Coconut! These soft, buttery, crumbly cookies sandwich a thick layer of homemade dulce de leche and are finished with a dark chocolate drizzle and toasted coconut. They are so rich and luxurious you'll feel like a billion bucks the moment you sink your teeth in!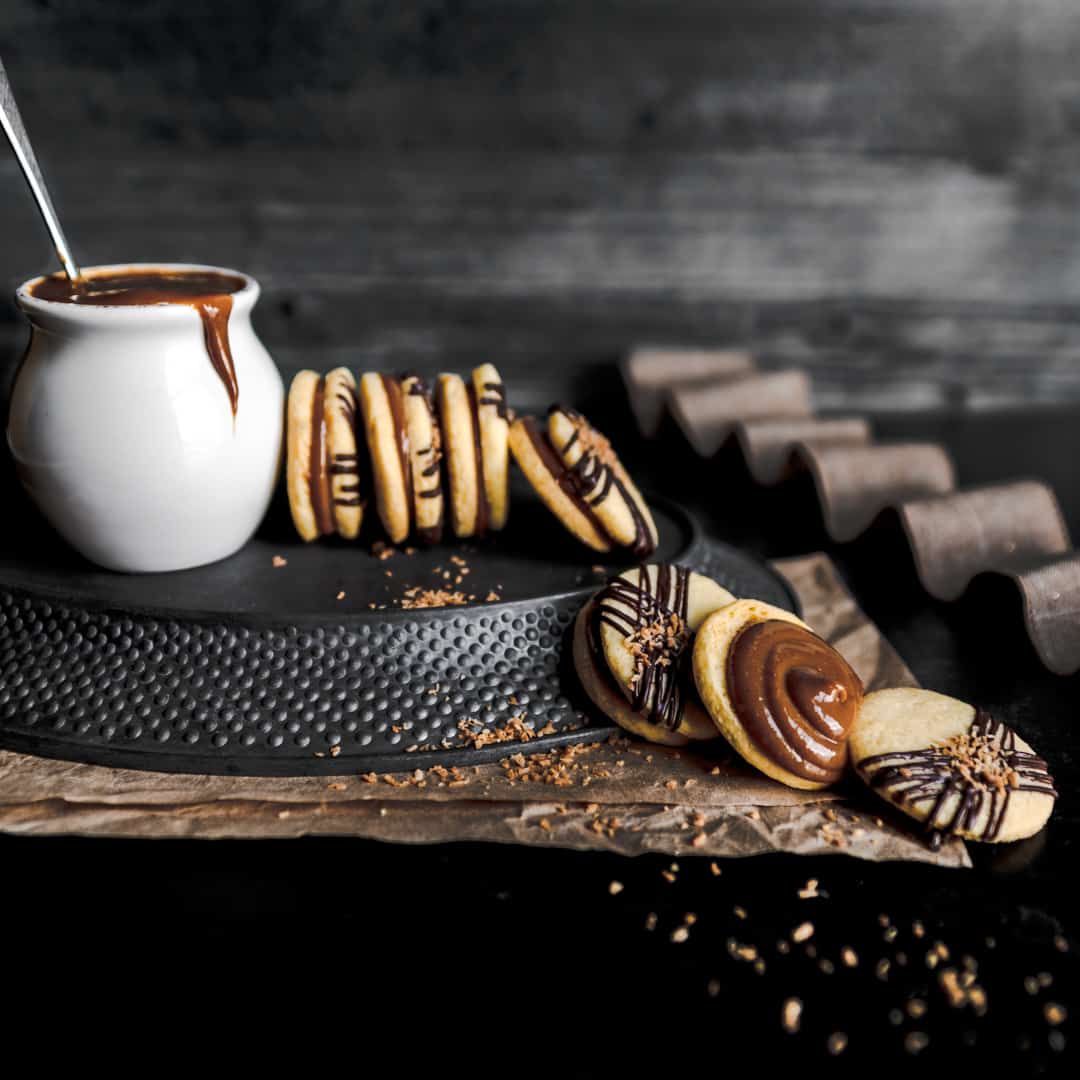 This recipes adapts a Christmas cookie favorite: Millionaire Shortbread Bars, with one of the most beloved cookies of lands abroad: Alfajores!
For another toasted coconut cookie recipe, try our Chewy Dark Chocolate, Coconut & Pecan Cookies!
Jump to:
What are Alfajores?
A Brief History of Alfajores (Cookies)
Alfajor cookies have a long history and have been making appearances across the globe for centuries. In fact, the word alfajor (albeit using a different spelling) was first noted by a Spaniard back in 1492. For all we know, Christopher Columbus had a fanny pack full of these bad boys when he arrived to the New World! ...Okay, probably not. However, these cookies DID find their way to the New World and WOW, are we thankful!
Admittedly, the New World variations of these cookies look a lot different than their European ancestors. Spanish variations of alfajores are cylindrical confections made of breadcrumbs, flour, nuts, honey and spices.
This Billionaire Alfajor recipe best resembles the dulce de leche sandwich cookies found in Latin America. Alfajores are a beloved cultural tradition and consist of two shortbread style cookies filled with dulce de leche. Today, they are gaining popularity all over the world but are best known in South American countries like Peru, Bolivia and Argentina.
Ingredients For Billionaire Alfajores
The only thing better than one cookie is two cookies! And the only thing better than two cookies is two cookies sandwiched with dulce de leche! Facts.
Here's what you need to make these dulce de leche sandwich cookies with coconut:
Cookie Dough:
The cookie dough for this Billionaire Alfajores recipe is a lot like a shortbread cookie: lots of butter, not too sweet, and easy as pie. (Or should we say cookie?)
The main difference between this recipe and our go-to shortbread recipe is the addition of coconut and almond flours (for flavor!) and cornstarch (for texture!). The addition of cornstarch to this recipe results in tender, melt-in-your-mouth cookies with a delicate, sandy crumb. They almost don't need the dulce de leche. Almost.
All-Purpose Flour
Almond Flour (or additional coconut flour)
Coconut Flour
Cornstarch
Baking Powder
Baking Soda
Salt
European Butter - European butter has a higher fat content that makes these cookies melt in your mouth! Brands like Kerrygold and Plugra are widely available in the US. If using standard butter, we recommend increasing the butter by 1 Tablespoon.
Sugar - We recommend using powdered confectioners sugar for a finer texture. However, you can use regular granulated sugar, if needed.
Egg Yolks
Vanilla Extract
Filling & Toppings:
Sweetened Condensed Milk - For homemade dulce de leche! See instructions for 3 Ways To Make Dulce De Leche below!
Vanilla Extract
Salt
Dark or Bittersweet Chocolate - You can use chocolate chips or chopped chocolate bar
Coconut Oil
Unsweetened Coconut
Tips For Making Alfajores
Sift the dry ingredients. For the smoothest dough and best texture, sift all of your dry ingredients together for even baking with no lumps or clumps!
Cream the butter and sugar until light and fluffy. Use butter that is room-temperature and cream with sugar for about 5 minutes, or until the mixture is pale and fluffy.
Chill the dough completely! Chilling the dough allows the flours to fully hydrate while making the dough firm and easy to roll evenly.
Use dowel (or rolling pin spacers) to help roll the dough evenly! (See image below.) By placing quarter-inch dowels on either side of the cookie dough, we ensure we can roll the dough to the perfect, even thickness.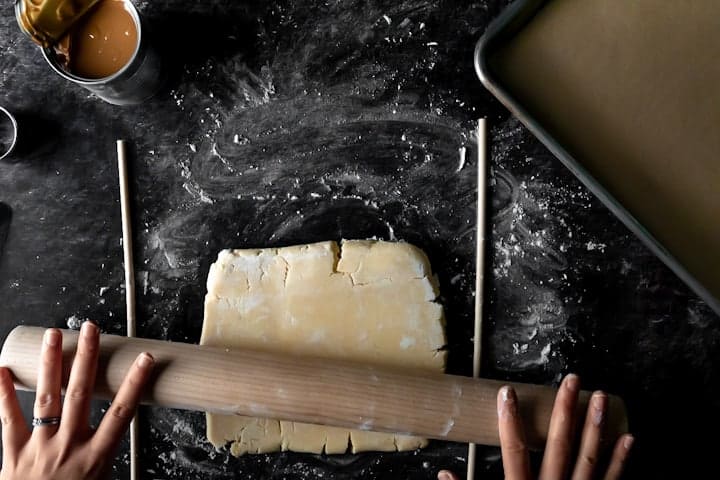 Keep the dough cold throughout the shaping process. If the dough starts to warm up and become soft, pop it back in the refrigerator to chill. The Billionaire Alfajores cookie dough needs to be cold when rolling, cutting and before baking.
Once cookies are cut, chill again! This is an important step to make sure that your cookies keep their uniform shape and do not spread in the oven.
Don't over bake! Keep a close eye on the baking cookies! These cookies are best when tender and soft. The alfajores are done when the dough looks matte, dry and the edges are just barely picking up any golden color.
Cool completely before filling and decorating! The gooey filling and chocolate decorations will melt off of warm cookie!
Filling The Cookies: All About That Dulce de Leche
What is Dulce de Leche?
Dulce de leche is the gooey, caramelized confection made from sweetened condensed milk.
Dulce de Leche verses Caramel: What are the differences?
car·a·mel (noun): a sweet dessert sauce or candy made of sugar or sugar syrup that is cooked until browned. Butter and cream may be added to create softer, richer variations.
dul·ce de le·che (noun): candy made from milk; a Latin American confection made from slowly heating and reducing sweetened milk until non-enzymatic browning occurs
Depending on which side of the Andes you fall on, you may know this sugary treat better as manjar blanco. Meaning "candy of milk", dulce de leche (or manjar blanco for the Westerners) closely resembles caramel.
Caramel, however, can be made quickly with nothing more than granulated sugar. The richer and creamier confection of dulce de leche takes several hours on the stovetop (or in the oven) to achieve the deep color and desired flavor.
For the Billionaire Alfajores with Toasted Coconut, we like to cook the dulce de leche until it is deeply browned and a scoop-able thickness. While lighter, runnier dulce de leche makes a lovely dessert sauce, thick, shape-holding dulce de leche is essential for binding these alfajores together.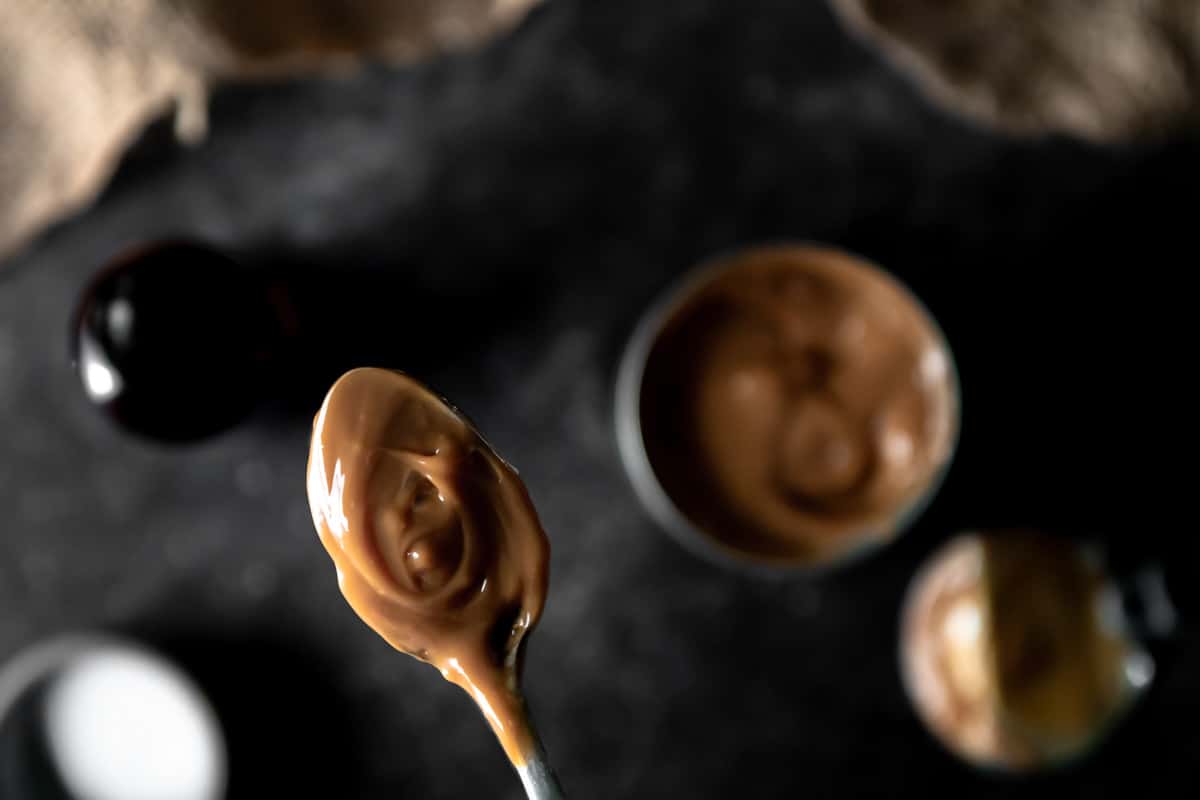 How to Make Homemade Dulce de Leche (3 Ways!)
Here are three of our favorite easy ways to make dulce de leche right in your own kitchen. (We recommend using the pressure cooker method!) Feel free to make a few cans ahead of time and keep them ready-to-go in the pantry for whenever inspiration strikes. Get the full instructions in our recipe card below.
Pressure Cooker or Instant Pot: If you are tight on time the pressure cooker is the fastest method for making dulce de leche! The pressure cooker/instant pot can transform your sweetened condensed milk in just 40 minutes! Keep reading for a few safety tips!
Stovetop: Dulce de Leche can be made in the can on the stovetop! Even though is takes 3 - 5 hours to complete, this is the easiest method and produces creamy, lump-free candy. Check out our safety tips below!
Oven: If you are not comfortable boiling the whole can of sweetened condensed milk, you can use the oven to make dulce de leche! With this method, you will transfer your sweetened condensed milk into an oven-safe dish. Cook the sweetened condensed milk in a water bath for several hours, stirring occasionally. This method is a great way to monitor the caramelization, coloring and thickness of your dulce de leche but can create a few scorched lumps.
Is it Safe to Boil a Can of Sweetened Condensed Milk? YES!
We understand you may be a little hesitant to throw that canned good on the fire for so long. However, we assure you it is totally safe and could not be any easier! Read these tips and tricks to ensure your safety!
Safe Practices for Boiling Dulce do Leche on the Stovetop or Pressure Cooker
Remove the label and sticky adhesive from the can of sweetened condensed milk (NOT evaporated milk)!
Check the can for any dents, improper seals or deformities. DO NOT BOIL ANY DAMAGED CANS!
For the stovetop method: Lay the can on its side! Yup, the round part! Standing the can upright will result in a terrible rattling sound that WILL drive you cuckoo for the next 4 hours. *More of a sanity tip than a safety tip, we suppose.
Make sure the can is CONSTANTLY covered with water. Uncovered cans will create uneven temperatures that run the risk of explosion! For the stovetop method, we set a timer to top off our boiling water every 30 minutes. For the pressure cooker method, fill your pot to the MAX water level before processing.
Allow the can to cool in the water completely before proceeding. Not only is that can HOT but it is also filled with boiling sugar. If you are using the pressure cooker, release all of the pressure, remove the lid and then let cool. Furthermore, the dulce de leche will continue to thicken as it cools and needs to be thick and room (or refrigerator) temperature before filling your alfajores. It's worth the wait! We promise.
Dark Chocolate and a Sprinkle of Toasted Coconut
A drizzle of melted chocolate and a sprinkle of toasted coconut give these cookies a chic and elegant presentation!
The modern day pastalero (pastry chef) has come up with endless variations of the crowd-pleasing alfajor cookie. For this Billionaire Alfajores recipe, we are pairing the buttery flavors of shortbread, the nutty toffee-like flavor of dulce de leche with toasted coconut and the subtly-bitter richness of dark chocolate. The flavors are decadent and divine!
For a more classic South American appearance, roll the edges of your cookie in toasted coconut. For even more decadence, melt a little extra chocolate and dip half (or all!) of the alfajores in dark chocolate. However you choose to decorate, we know you'll love bringing this delicious bake into your own family's traditions.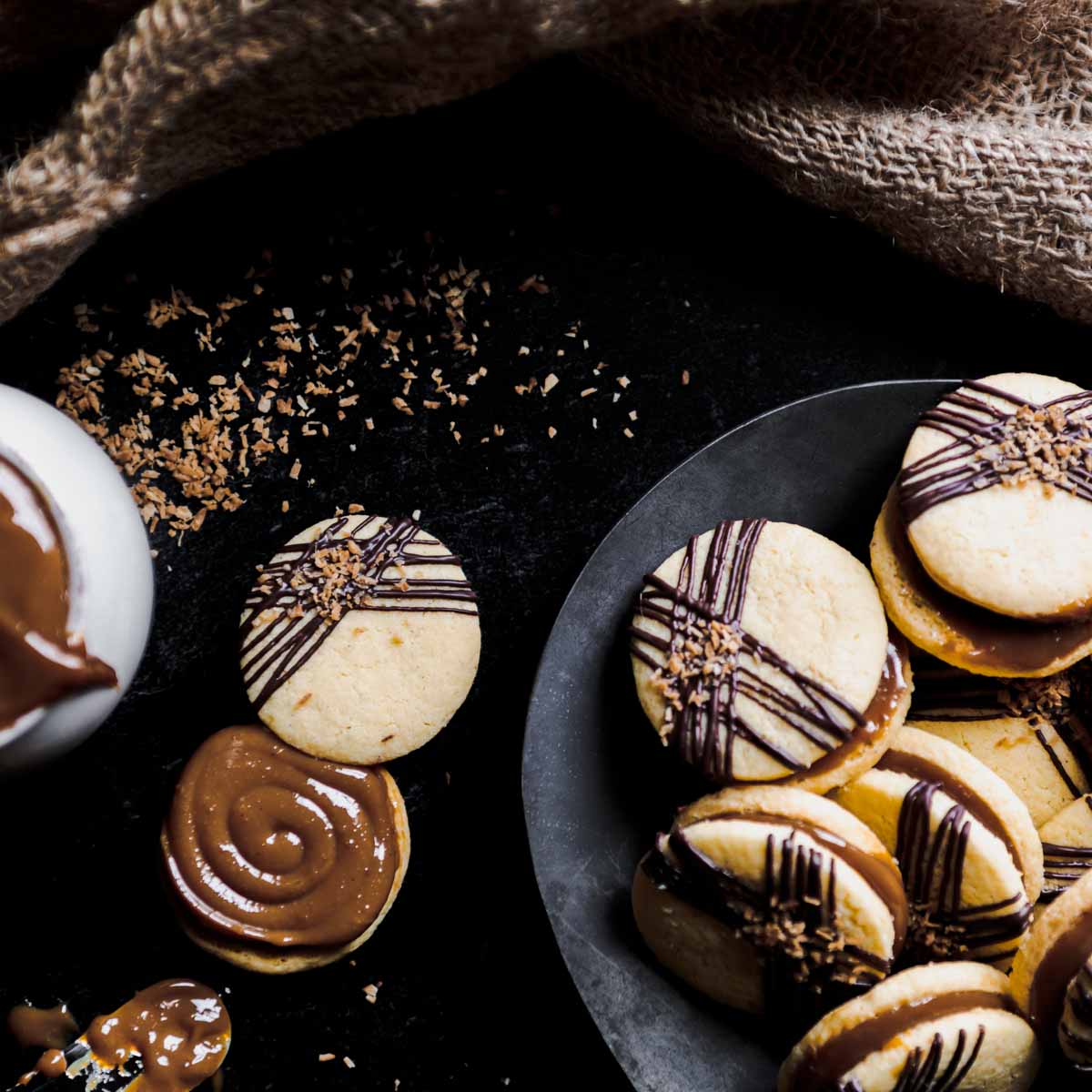 Storing Cookie Dough or Leftover Cookies
Cookie Dough: Billionaire Alfajores cookie dough can be made ahead of time.

Refrigerator: Keep the dough tightly wrapped in plastic in the refrigerator for up to 2 - 3 days, until ready to bake.
Freezer: Keep the dough tightly wrapped in plastic in the freezer for up to 2 months. Thaw dough completely (in the refrigerator or at room-temperature) until ready to bake.
Leftover Alfajores: We rarely have any leftover alfajores but if you do, here's what to do!

Refrigerator: Dulce de leche filled sandwich cookies need to be stored in the refrigerator. Store the assembled Billionaire Alfajores in an airtight container in the refrigerator for up to 1 week.

We recommend allowing the cookie to temper at room-tempearure before serving!
More Holiday Baking Recipes
Recipe
Billionaire Alfajores with Toasted Coconut
Billionaire Alfajores with Toasted Coconut: These tender, buttery cookies are sandwiched with dulce de leche and drizzled with dark chocolate!
ADJUST SERVINGS
Special Equipment
1 Stand Mixer with the Paddle Attachment

((or Electric Mixer))

1 Rolling Pin

2 ¼ Inch Dowels

(Optional)

1 1½ Inch Cookie Cutter

((3 -4 centimeter))

2 Piping Bags

(Optional (for dulce de leche and chocolate decoration))
Ingredients
Alfajor (Cookie) Dough
⅓ Cup plus 1

Tablespoon

all-purpose flour

plus more to prevent sticking

½

Cup

finely ground almond flour

(See Note: a.)

3

Tablespoons

coconut flour

⅓ Cup plus 1

Tablespoon

cornstarch

1

teaspoon

baking powder

¼

teaspoon

baking soda

½

teaspoon

fine kosher salt*

½ Cup plus 2

Tablespoons

unsalted European butter

softened to room-temperature (See Note: b)

½

Cup

powdered sugar

or granulated sugar

2

egg yolks

2

teaspoons

vanilla extract
Dulce de Leche (Filling)
14

ounces

sweetened condensed milk

(1 can)

1

teaspoon

vanilla extract

Pinch

fine kosher salt*
Toppings
¼

Cup

dark or bittersweet chocolate

chopped or morsels, tempered (See Notes: c. below & the How to Temper Dark Chocolate text above)

1

teaspoon

coconut oil

(if needed to thin microwaved chocolate)

¼

Cup

unsweetened shredded coconut

toasted
Instructions
Alfajor (Cookie) Dough
Gather, measure and prepare the Alfajores (Cookies) ingredients as listed. For the most consistent results, we recommend using metric weight measurements whenever possible. To view metric measurements, toggle the US Customary/Metric switch at the top of this recipe card.

In a medium mixing bowl, sift all-purpose flour, almond flour, coconut flour, cornstarch, baking powder, baking soda and salt to combine. Set Aside.

In the bowl of a stand mixer or medium mixing bowl, cream the butter and sugar together until pale and fluffy, about 5 minutes. 

Add egg yolks one at a time and mix on medium-low speed until fully incorporated. Add vanilla extract and mix to combine. 

Add flour mixture and gently mix on low speed until just combined. Do not over-mix.

Tightly wrap the dough in plastic and refrigerate for at least thirty minutes, overnight, or up to two days ahead of time.

Meanwhile, arrange two oven racks in the center third of your oven. Preheat the oven to 350° Fahrenheit (177° celsius) and prepare two baking sheets with nonstick silicone baking mats or parchment paper.

Once chilled, transfer dough to a lightly floured work surface. You may need to let the dough temper for a few minutes before rolling. Roll dough to ¼ inch (about ½ centimeter) thick. (We use ¼ inch dowels beneath either end of our rolling pin to ensure even thickness.) Using a 1 ½ inch ( 3 - 4 centimeter) cookie cutter, cut as many rounds as possible from the dough. (See Note: d.)

Transfer cut cookies to your prepared baking pan and chill in the refrigerator for an additional 20 minutes before baking.

Bake the alfajores (cookies) for 7-10 minutes, rotating the pans halfway through the cook time. Your cookies are done when the dough appears dry and matte and the edges are just beginning to turn lightly golden. These cookies are best when blonde so that they stay soft and tender. 

Transfer cookies to a cooling rack and allow to cool completely.
Dulce de Leche (Filling)
We have included 3 Easy Ways to prepare dulce de leche. We prefer the pressure cooker/ instant pot method. Please be careful and read the Safe Practices for Boiling Dulce de Leche text in the post.

Pressure Cooker/Instant Pot Method: Remove the label from the can of sweetened condensed milk and inspect for any damage to the can. Do not proceed with a damaged can.

Place the can of sweetened condensed milk in your pressure cooker and fill the pot with water to the maximum level. Heat your pressure cooker to high pressure or canning mode. Once pressure is achieved, process the sweetened condensed milk for 40 minutes.

Release the pressure and allow the can and water to cool completely before removing. Canned dulce de leche can be stored unrefrigerated in your pantry for several months. Once ready to use, stir in vanilla extract and salt. 

Stovetop Method: Remove the label from the can of sweetened condensed milk and inspect for any damage to the can. Do not proceed with a damaged can.

Place your can of sweetened condensed milk in a large stock pot. Add water to cover the can by, at least, one inch (2 ½ centimeters) of water.

Bring water to a boil. Set a timer in 20 - 30 minute increments to continually top off the water and ensure the can in completely covered. Boil for about 4 hours. (See Note: e.) Allow the can and water too cool completely before removing.

Canned dulce de leche can be stored unrefrigerated in your pantry for several months. Once ready to use, stir in vanilla extract and salt. 

Oven Method: Arrange a rack in the center of your oven. Preheat the oven to 400° Fahrenheit (204° celsius).

Set up a water bath to cook your sweetened condensed milk: Place a few paper towels inside a large, oven-safe baking dish. Place a smaller, oven-safe baking dish on the paper towels (to avoid sliding). (See Note: f.) Meanwhile, boil some water. 

Pour your sweetened condensed milk into the smaller baking dish and cover with tin foil. Place both baking dishes in the oven. Carefully, pour boiling water into the larger pan until the water level reaches about halfway up the smaller, sweetened condensed milk filled dish. Take care not to get any water in the sweetened condensed milk.

Every 35-40 minutes, carefully stir the dulce de leche with a rubber spatula and return the tin foil to the best of your ability. (It will be hot!) When necessary, replenish the boiling water to maintain it's level halfway up the smaller baking dish. 

Cook for a total of 3 - 4 hours or until the sweetened condensed milk has transformed into a deeply caramelized dulce de leche. Remove from oven and allow to cool at room-temperature. Stir in vanilla extract and salt. Cooked dulce de leche that is not in the can will need to be refrigerated and can be kept refrigerated for up to two weeks.  
Assembling Billionaire Alfajores
Scoop, spread or pipe about 2 teaspoons of dulce de leche onto half of your cookies. Top with the remaining half of the cookies.

In a microwave safe bowl (or double boiler) melt chocolate in 30 second intervals, stirring in between, until smooth. If too thick, stir in coconut oil until drizzling consistency is achieved.

Arrange cookies on a cooling rack or parchment lined baking sheet. With a fork or piping bag, drizzle cookies with melted chocolate. While the chocolate is still wet, sprinkle with toasted coconut. Allow the chocolate to set and enjoy!
Notes
*foodworthfeed recipes are developed using Diamond brand kosher salt. If using iodized or table salt, reduce quantities by about half.
Prep Time and Cook Time for this recipe will vary greatly depending on your dulce de leche method. If you have a pressure cooker, we recommend choosing that method of preparation for consistent, time-saving results. 
a. Almond flour is often sold made from either blanched almonds (without the skins) or whole almonds (with the skins). For this recipe, you can use either. Whole almond flour is darker and the almond skin will speckle your dough. In the photos, we used blanched almond flour to keep our cookies blonde and uniform in color. Feel free to substitute additional coconut flour in place of the almond flour to accommodate allergies or preferences. 
b. European butter is classified by its higher fat content. Though typically more expensive, these high-quality butters have less water added and create superior baked goods. Since this cookie depends on butter for it's superior flavor and texture, we recommend using the European butter. If you will be using a US grocery store standard butter with lower fat content, you may want to increase to butter by 1 Tablespoon (14 grams).
c.If you would like to dip half or all of your cookies in chocolate, triple or quadruple the amount of chocolate. 
d. You can reuse your first round of dough scraps to create more cookies. Be careful not to overwork your dough or incorporate too much added flour. To do this, we use a pastry brush to brush away any excess flour left on the scraps from the rolling process. Then, we gently gather and press the scraps in our hands. If the dough is too soft, tightly cover the dough in plastic wrap. Re-chill the dough in the refrigerator for about ten minutes before re-rolling and cutting your cookies. 
e. The amount of time it takes to process dulce de leche will vary depending on the size of your pot (smaller pots will require more additions of water that will disrupt the boil) and sea-level. [We live in Denver, Colorado (5,280 feet or 1609 meters) and have to process our dulce de leche for about 5 hours.] If, when you open the can, your dulce de leche is too thin, you can continue processing the dulce de leche using the oven method until the desired consistency is achieved. Keep in mind, the dulce de leche will continue to thicken as it cools. 
f. The water surrounding your inner dulce de leche baking dish will moderate the temperature and ensure that the sweetened condensed milk does not burn during the extended cook time. We used a 9x13" Pyrex as our larger pan and a 8x8" Pyrex as our smaller baking dish. 
* A Note About Salt
Unless otherwise noted, all recipes on The Sage Apron are developed using Diamond Crystal Kosher salt. It is a great all-purpose salt for cooking and baking. If using table salt, reduce quantities by about half.
Nutrition
Calories:
184
kcal
|
Carbohydrates:
20
g
|
Protein:
3
g
|
Fat:
10
g
|
Saturated Fat:
6
g
|
Polyunsaturated Fat:
1
g
|
Monounsaturated Fat:
2
g
|
Trans Fat:
1
g
|
Cholesterol:
39
mg
|
Sodium:
165
mg
|
Potassium:
103
mg
|
Fiber:
1
g
|
Sugar:
15
g
|
Vitamin A:
224
IU
|
Vitamin C:
1
mg
|
Calcium:
80
mg
|
Iron:
1
mg