Pasta frolla is a classic Italian pastry dough that makes buttery tender pie crusts, classic crostata recipes and scrumptious cookies.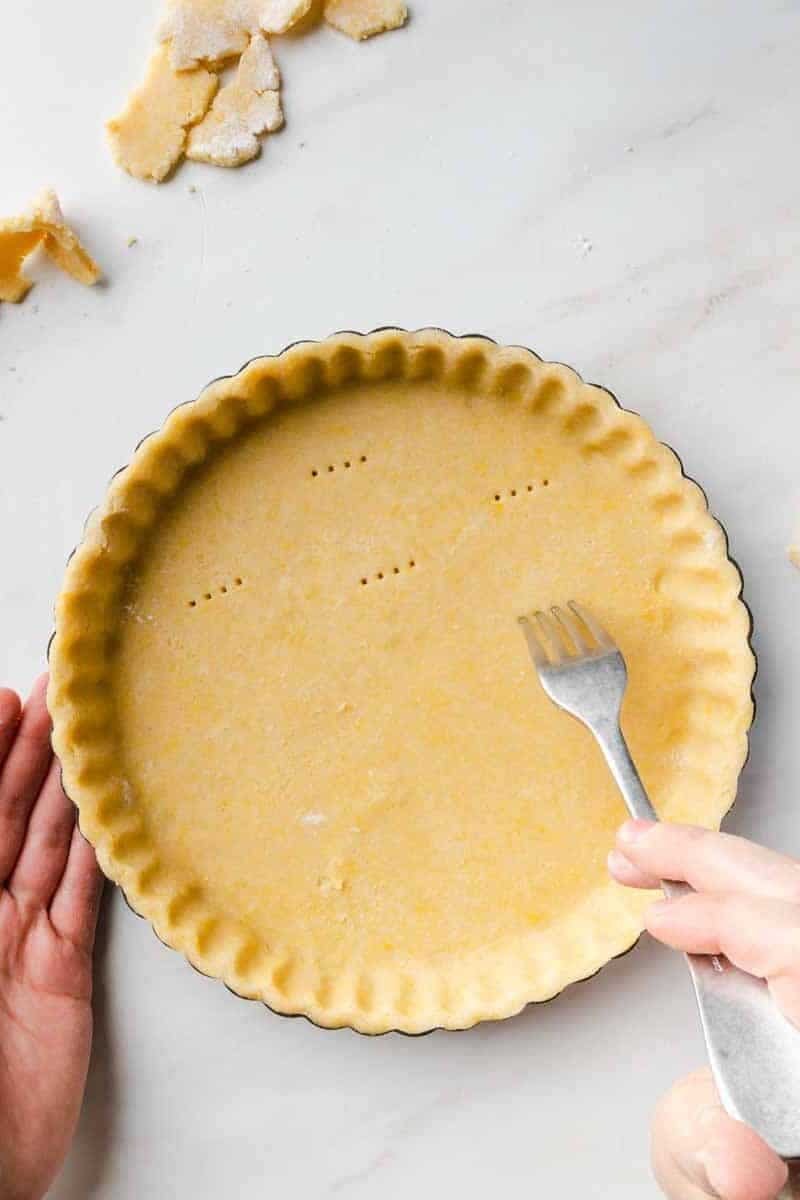 Pasta frolla is a versatile pastry that can be flavored with lemon, almond or vanilla and used for pies, tarts, crostata and even cookies.
This recipe is best made in a food processor has a soft and tender texture similar to a shortbread cookie. For a classic, handmade American pie dough with a flaky texture, try Our Favorite Easy Pie Crust Recipe.
Ingredients
Flavoring The Dough
This recipe for pasta frolla is lightly sweet with a delicate buttery flavor. It's a neutral base that can easily take on different flavors. As photographed, I used vanilla extract that gives the crust a subtle vanilla flavor and is what I used for the crust of my ricotta pie recipe.
Classic Flavoring Options:
1 teaspoon of vanilla extract (or fresh vanilla bean)
Zest of 1 lemon
1 teaspoon almond extract
You can also experiment using orange zest and other flavorings/extracts.
How To Make Italian Shortcrust Pastry
I love to make this recipe using a food processor because it is super fast, easy and keeps the ingredients cold.
If you don't have a food processor you can make this recipe in a bowl with a pastry cutter. If processing by hand, make sure to cut the butter into the flour until it has very fine, sandy crumbles.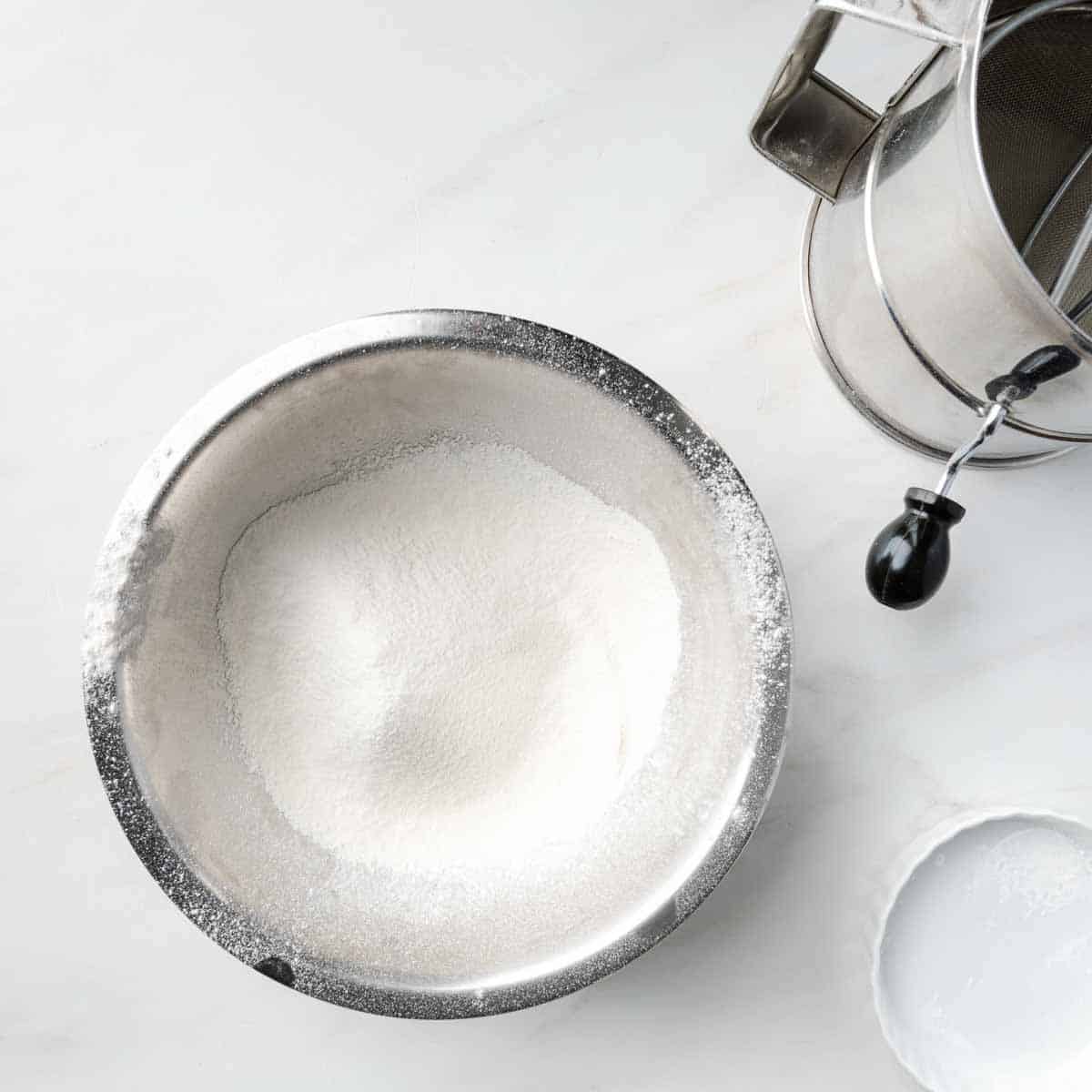 1. Start by sifting the flour, cornstarch, baking powder and salt together. Add to a food processor fitted with the blade attachment. Add the granulated sugar and cubes of cold butter. Pulse 20 - 30 times or until the butter is finely cut throughout the mixture and the mixture has a crumbly sandy texture.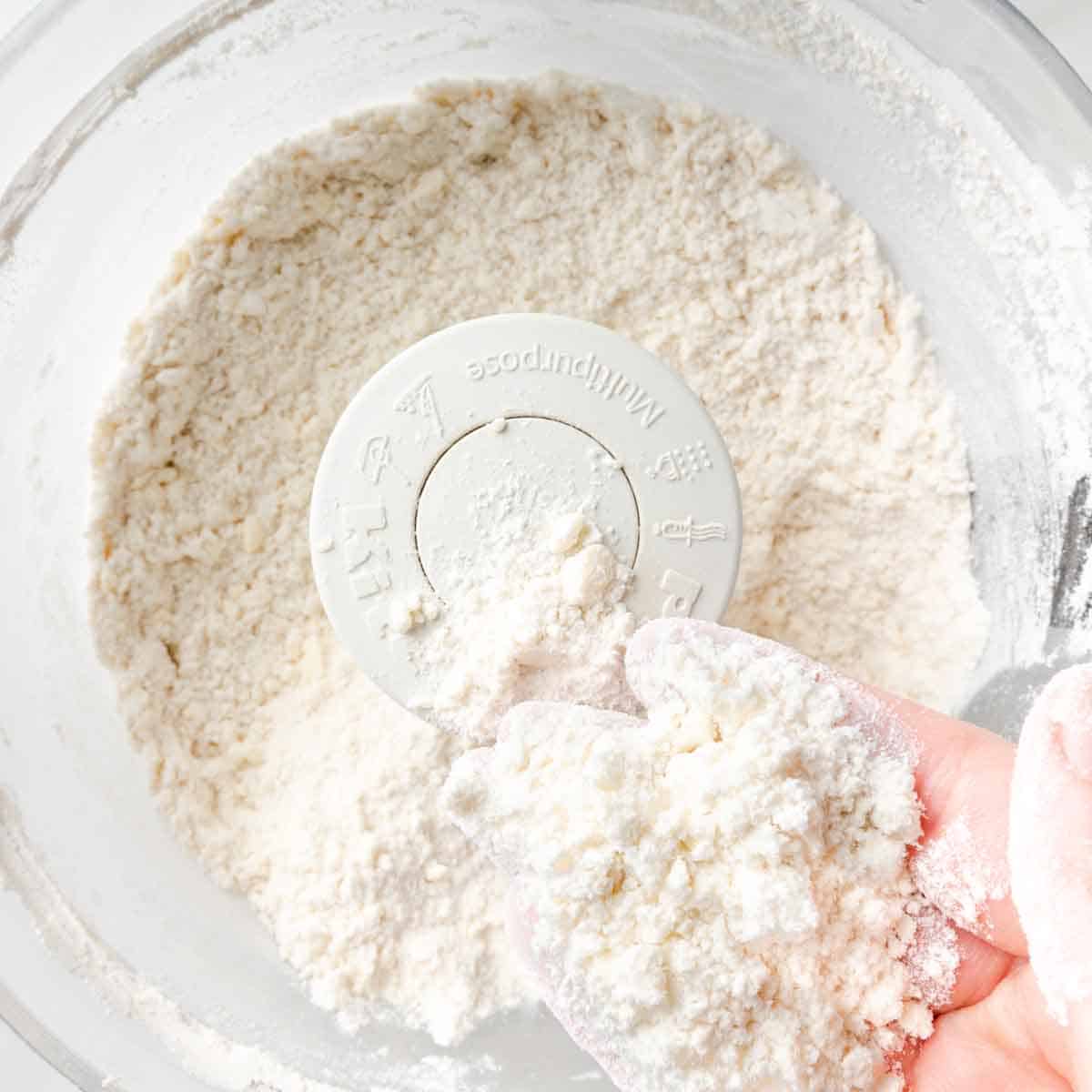 2. Add in the eggs and vanilla extract, lemon zest or almond extract. Process on high speed for 15 - 30 seconds or until the egg has hydrated the dough and the crumbly mixture holds together when pressed between your fingers.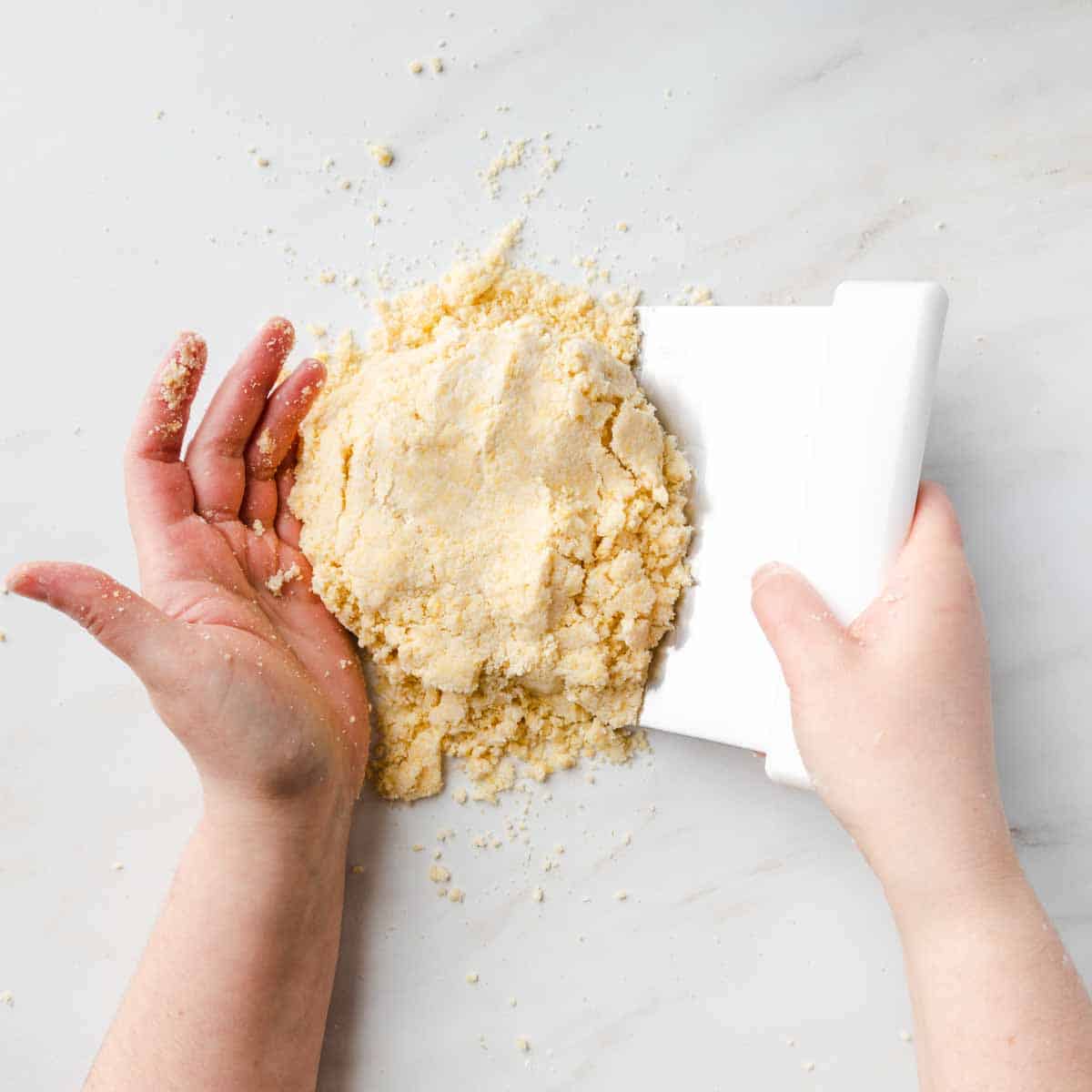 3. Turn the crumbly dough mixture out onto a clean work surface. Use your hands and a bench scraper to pull the dough together into a cohesive mass. You can knead once or twice but avoid overworking the dough. Shape the dough into a disk, wrap in plastic, and refrigerate for at least 30 minutes before rolling and baking.
Blind Baking (for Pies & Tarts)
If using pasta frolla dough for cookies or crostata recipes, you can skip this section. However, if you will be using this recipe as a pie crust or tart shell, I recommend blind baking the dough prior to filling. Blind baking is baking the empty pie crust to ensure that the dough cooks all the way through and never has a soggy bottom!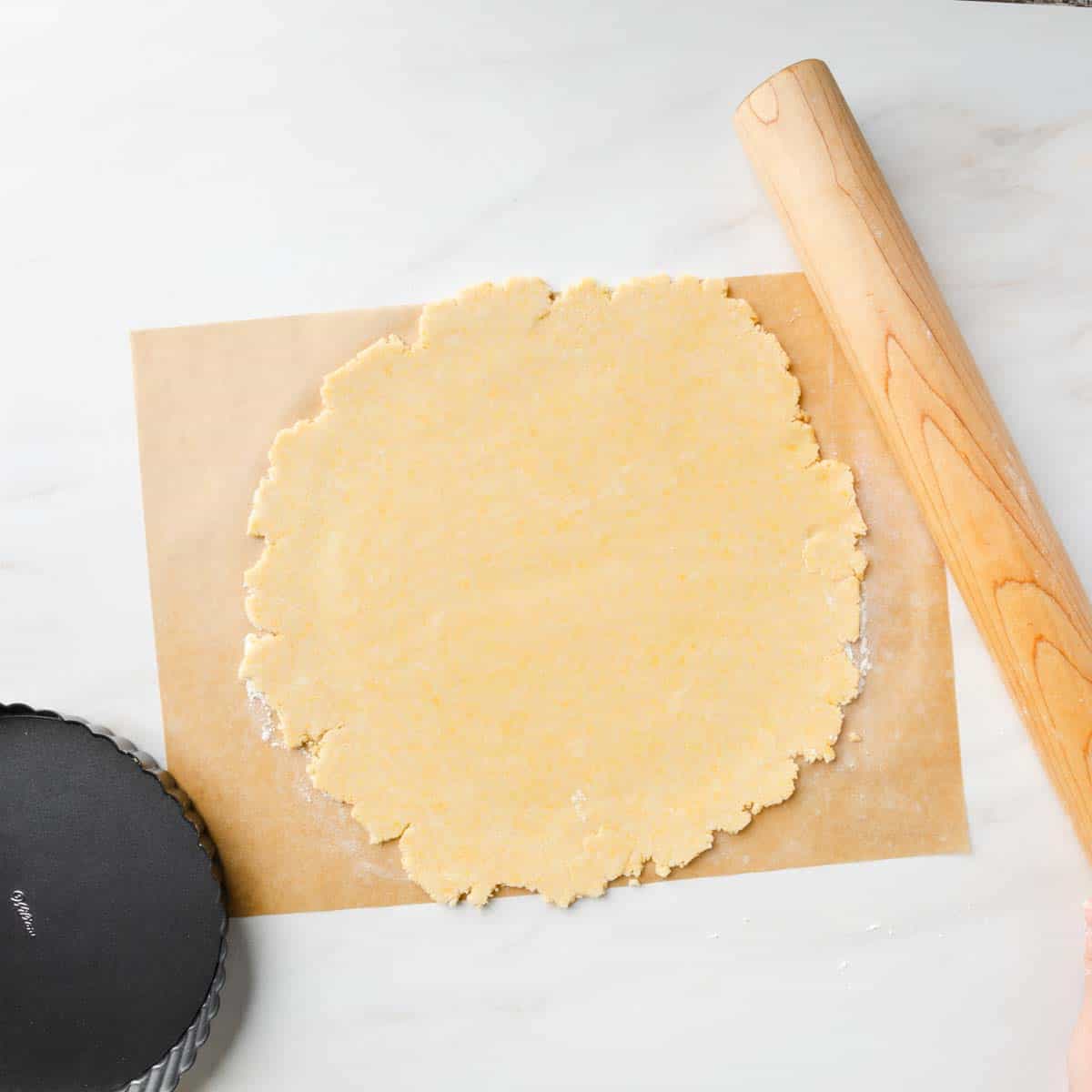 1. Start by rolling the chilled dough to your desired thickness. I recommend rolling the dough directly on a piece of parchment paper so that it is easy to transfer into your pie plate or tart shell. This recipe works especially well in pie/tart pans that have a removable bottom.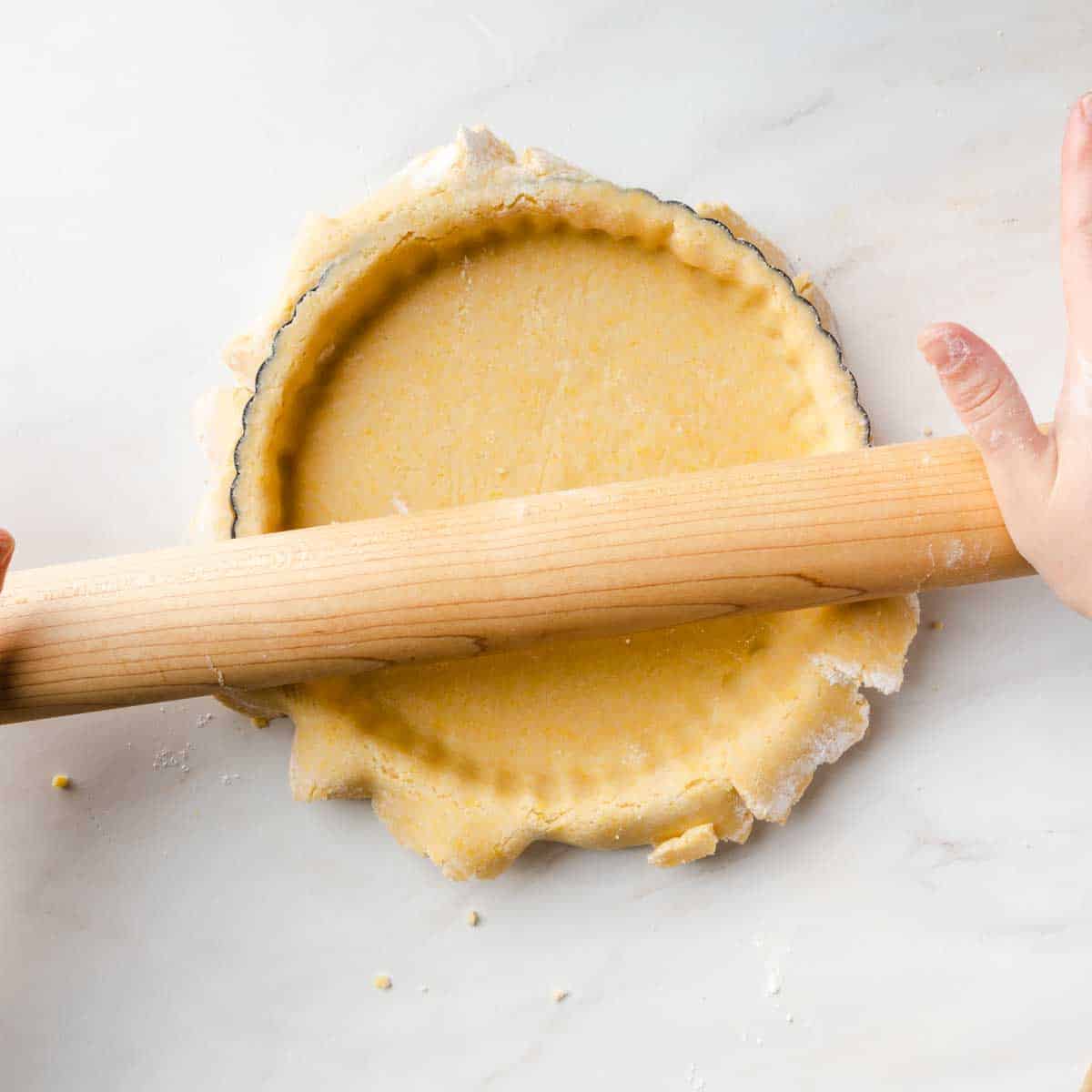 2. Fit the dough to your pie plate and cut away any excess dough. If the dough has any tears, you can simply patch them up - this pastry is very forgiving. Chill the dough completely (in the refrigerator or freezer) until firm. In the meantime, preheat the oven to 350° Fahrenheit.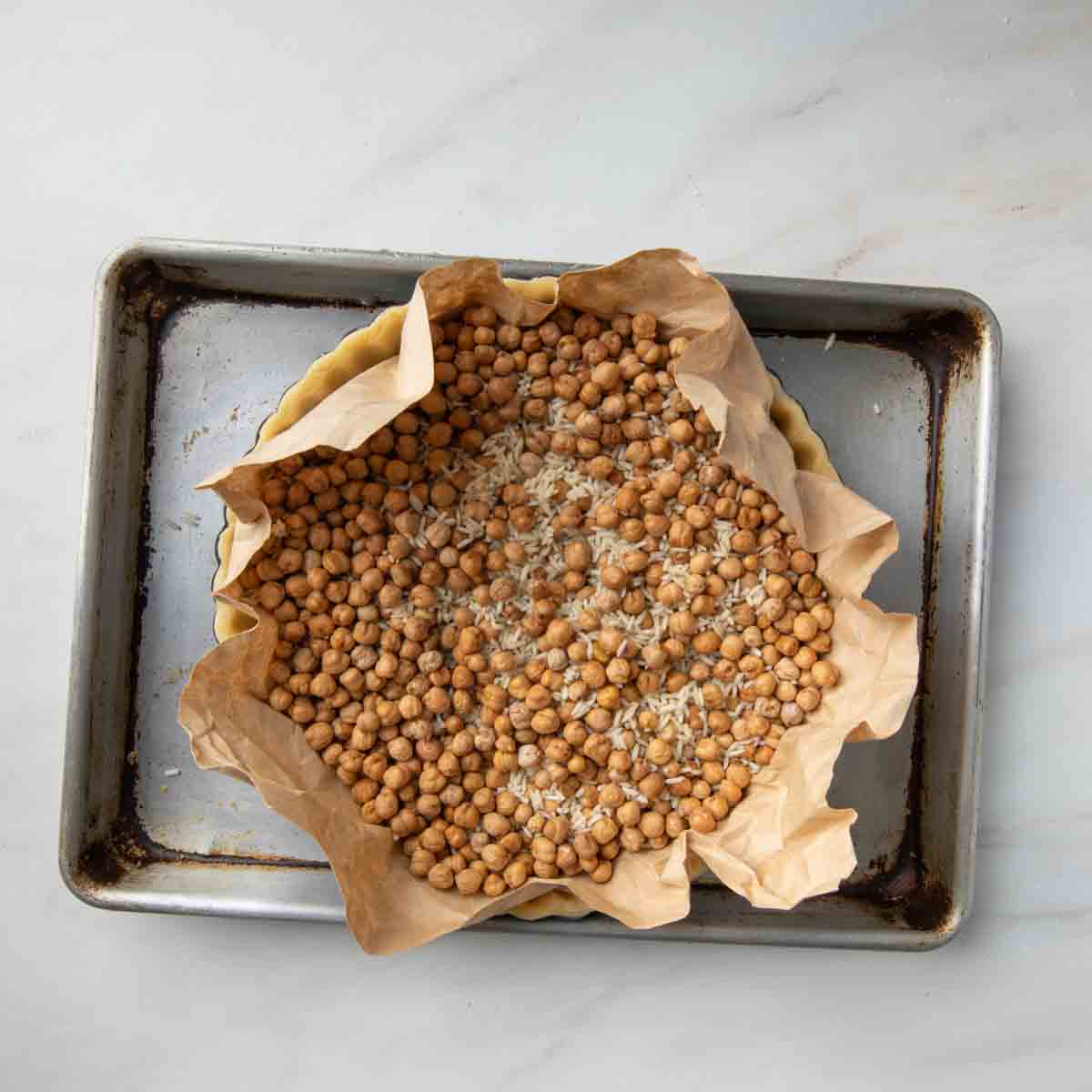 3. Once the dough is completely chilled, it is ready to be baked. Use parchment paper (or a large coffee filter) to line the crust. Fill with pie weights (you can use ceramic pie weights or dried rice and/or beans). Bake the crust for 20 minutes. Remove from the oven and carefully remove the parchment and pie weights. Return the empty pie crust to the oven to continue baking for 5 - 7 additional minutes.

Allow the baked pie crust to cool completely before adding any fillings.
Pro Tips For Perfect Pastry
Keep the ingredients cold! This pastry will have the best crumbly texture if it is kept chilled throughout the mixing and rolling process. Use cold butter and work quickly. If the dough become soft or greasy, allow it to chill in the fridge before continuing.
Don't over mix! Like other shortcrust recipes, pasta frolla can become tough when overworked. Work the dough just enough so that it holds together.
Roll on parchment! If using this dough as a crust for a pie or tart, roll the pastry on parchment paper to make it easy to transfer.
Blind bake the dough for pies and tarts. Listen, I know how tempting it can be to add the fillings to raw dough and just bake! For thin tarts and crostata recipes - that will probably work out fine! However, for traditional fruit and custard pies... I really recommend bling baking to ensure the dough is fully cooked.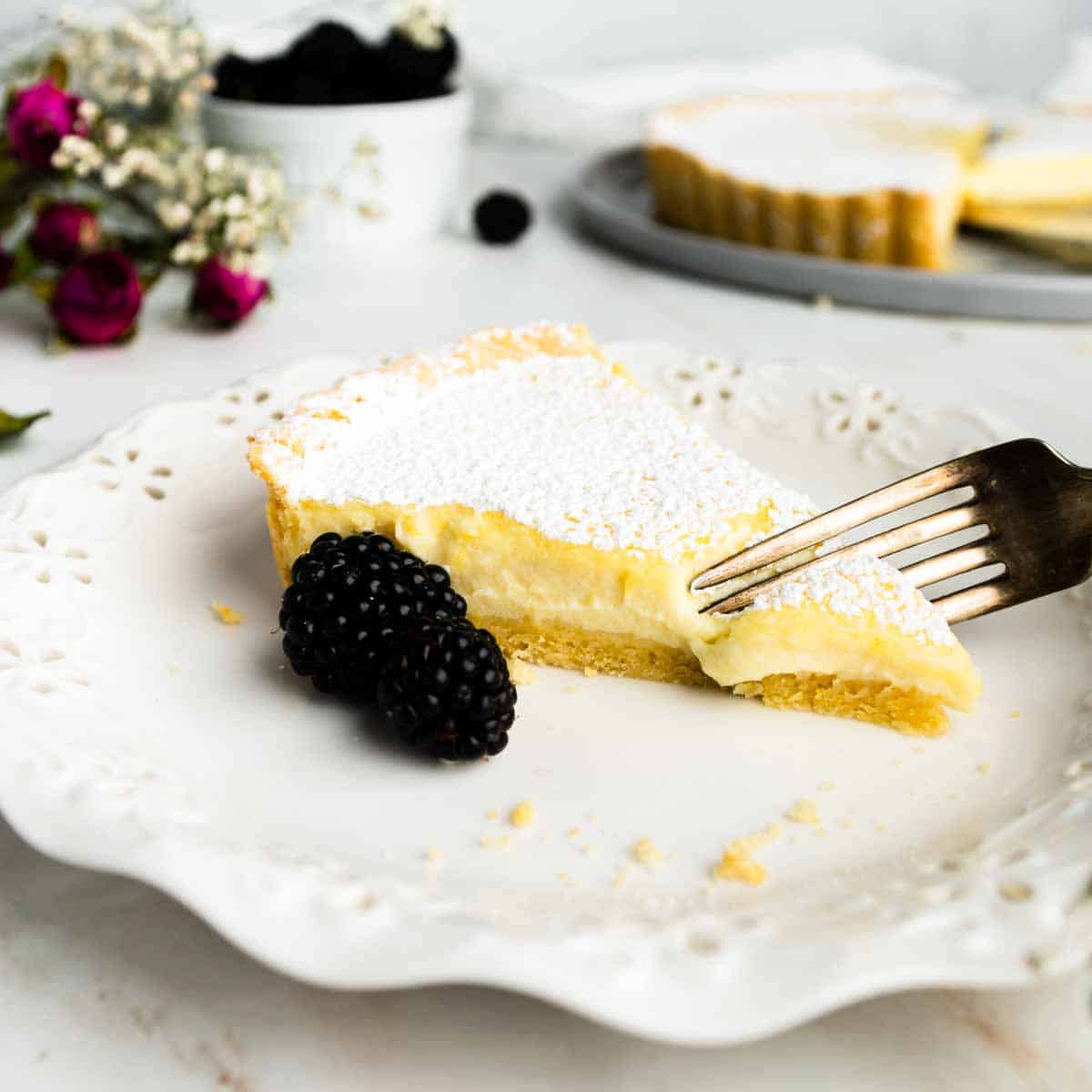 Saving & Storing
Refrigerator - Pasta frolla can be kept tightly wrapped in the refrigerator for 2 - 3 days before baking.
Freezer - This pastry dough can be made weeks ahead of time and kept twice wrapped in the freezer for 2 - 3 months. Thaw the dough overnight in the refrigerator a day or two before baking.
Baked Pasta Frolla - Once baked, pasta frolla can be kept covered at room temperature (depending on fillings). Cookies and fruit pies/crostata can be kept on the countertop for 3 - 5 days. Fillings requiring refrigeration generally have a shorter shelf life of about 2 - 3 days.
Frequently Asked Questions
What is pasta frolla?
Pasta frolla is an Italian shortcrust pastry that is traditionally used for pies, crostata and biscotti (cookies).
Why did my crust shrink in the oven?
When making pies and tarts, shrinking crusts are usually the results of overworking the pastry dough and creating too much gluten. For tender pastry that does not shrink in the oven, avoid kneading or overworking the dough.

If the dough resists rolling or springs back when being shaped, allow the dough to rest, covered with a kitchen towel, for ten minutes to allow the gluten to relax.

Bake tarts and pies from cold and use pie weights to help the dough keep its shape while baking.
What is the difference between a crostata and a pie?
Pie and crostata are similar pastries consisting of a dough filled with fruit, custard or other sweet or savory fillings.

Pies are typically baked in a pan with defined sides. Crostata (also know as a galette) are flatter and thinner and generally baked on a sheet tray with the edges folded over the open-faced fillings.
Recipe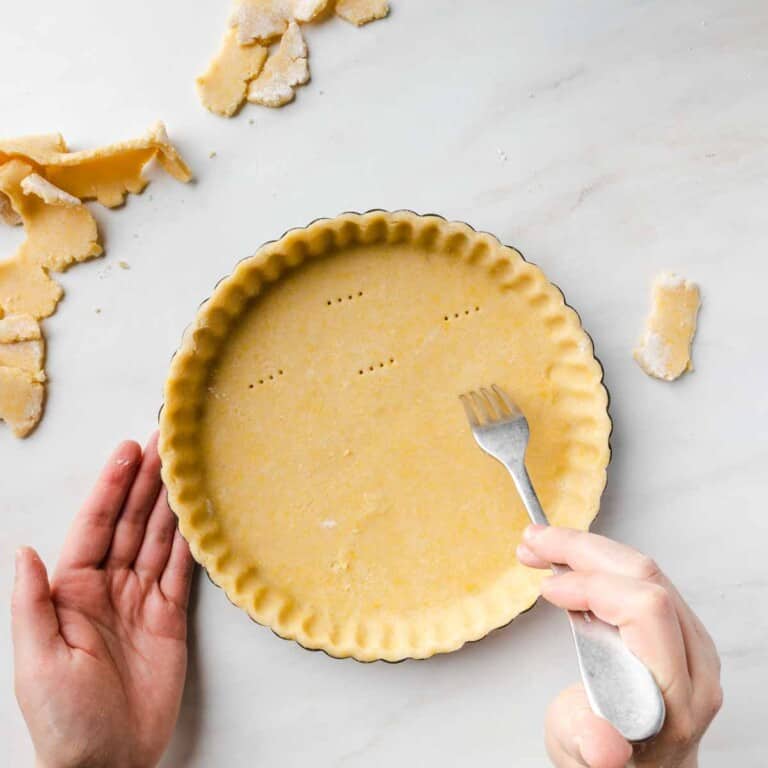 Pasta Frolla (Italian Shortcrust Pastry for Pies, Crostata & Cookies)
This tender and buttery pastry is the perfect base for pies, tarts, crostata and simple Italian cookies.
ADJUST SERVINGS
Special Equipment
Food Processor with Blade Attachment

(or a pastry cutter, See Note: a.)

Rolling Pin

9 inch Tart Pan with a Removable Bottom

(Optional for tarts and pies)

Pie Weights (We use dried rice or beans)
Ingredients
1 ½

Cups

all-purpose flour

2

Tablespoons

cornstarch

½

teaspoon

baking powder

½

teaspoon

fine kosher salt*

¼

Cup

granulated sugar

½

Cup

unsalted butter

(1 stick)

cold, cubed

1

large

whole egg

whisked

1

teaspoon

vanilla extract OR almond extract OR zest of

1

lemon
Instructions
Sift flour, cornstarch, baking powder and salt together. Add flour mixture and sugar to a food processor fitted with the blade attachment. Process briefly to combine.

Add cold cubed butter to the food processor. Pulse about 20 - 30 times until the butter is finely integrated and the mixture resembles sand. Add the whisked egg and vanilla extract. Process 15 - 30 seconds until the dough is hydrated and holds together when squeezed. 

Turn the dough onto a clean work surface and use your hands and a bench scraper to form a cohesive dough. Do not over work. Shape the dough into a disk, wrap in plastic and refrigerate for at least 30 minutes or up to 2 days before baking. 
Blind Baking (Optional for Pies & Tarts)
Arrange a rack in the bottom third of the oven and preheat the oven to 350° Fahrenheit (176° celsius).

On a sheet of parchment paper, roll the dough into a large circle about ¼ inch (6 millimeters) thick. Use the parchment paper to help transfer the dough into a 9 inch tart shell with a removable bottom (or another pie plate). Press the dough into the edges of the tart. If torn, patch the dough as necessary, it is very forgiving.

Dock the base of the dough by using a fork to poke a few holes. Chill the shaped pie dough in the fridge or freezer until fully chilled and firm.

Line the crust with crumpled parchment (or a large coffee filter). Fill with pie weights (I use dried rice and beans). Bake the weighted crust for 20 minutes. Carefully remove the weights and parchment from the pie shell and continue baking for 5 more minutes. 
Notes
a. This dough can be made by hand in a large bowl with a pastry cutter. If making this dough by hand, be sure to cut the butter into the flour mixture until very fine, sandy crumbs are formed. Keep the mixture cold. Then, fold in the egg and flavorings with a rubber spatula. 
b.

This recipe can be used with the instructions for most pie, tart and crostata recipes. If using this dough in place of another style of pie dough, you may want to bake at a lower temperature (350° - 375° F) and adjust baking times accordingly.
* A Note About Salt
Unless otherwise noted, all recipes on The Sage Apron are developed using Diamond Crystal Kosher salt. It is a great all-purpose salt for cooking and baking. If using table salt, reduce quantities by about half.
Nutrition
Calories:
232
kcal
|
Carbohydrates:
26
g
|
Protein:
3
g
|
Fat:
13
g
|
Saturated Fat:
8
g
|
Polyunsaturated Fat:
1
g
|
Monounsaturated Fat:
3
g
|
Trans Fat:
0.5
g
|
Cholesterol:
54
mg
|
Sodium:
186
mg
|
Potassium:
39
mg
|
Fiber:
1
g
|
Sugar:
6
g
|
Vitamin A:
393
IU
|
Calcium:
26
mg
|
Iron:
1
mg