An ooey-gooey, ready-in-minutes, adult-approved grilled cheese sandwich designed to satisfy all the world's cheesiest cravings. This Raclette Grilled Cheese is all about everybody's favorite fondue cheese paired with mushrooms, thyme, garlic and grain mustard sandwiched between butter-slathered bread and grilled to golden brown, melty perfection. A childhood favorite, all-grown-up with nowhere to go but your belly.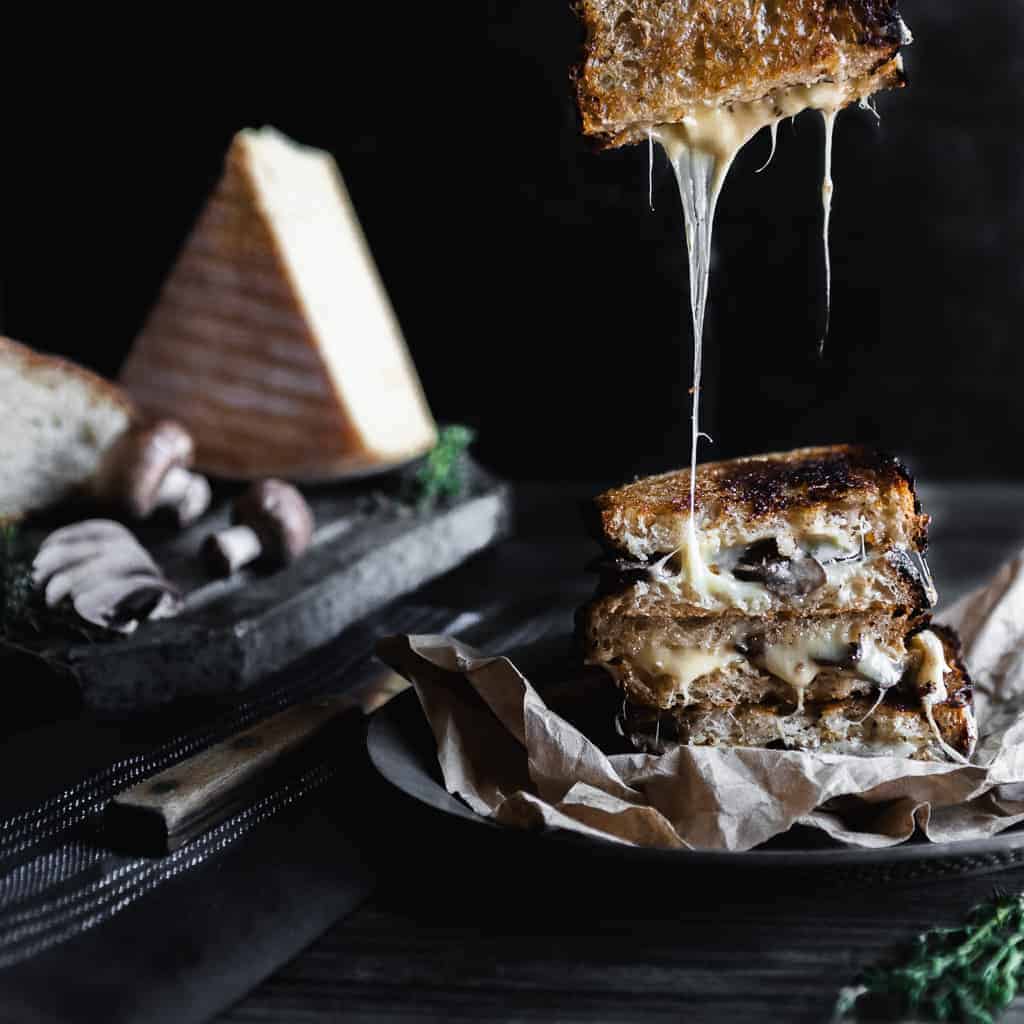 For another delicious mushroom recipe, try our Mini Mushroom Pies with Thyme!
Jump to:
So, What is Raclette?
If you are not yet familiar with the almighty Raclette cheese, there is no better time or place to acquaint you. Raclette, a semi-hard cow's milk cheese, has a long-standing history deriving from the Alpine regions of France and Switzerland.
Named for yesteryear's usual preparation, Raclette translates roughly to "to scrape". Back then, peasants would warm the wheels of Raclette by their fireplaces. Once warmed, they could be found scraping the melty edges of cheese directly onto their plates of bread, potatoes, pickles and other vegetables.
Today, Raclette is better known (at least by Americans) by baller dinner-party-goers as an engaging meal gathered around an electric teflon grill and paired with copious amounts of wines and charcuterie. More on this in a future post, we promise.
If you love raclette cheese as much as we do, be sure to check out some of our other raclette recipes like the cheesy fondue sauce for our Crispy German Schnitzel or our Butternut Squash au Gratin!
Scraping Together a Gourmet Grilled Cheese
As for the grilled cheese sandwich, Raclette is the perfect, super-meltable, full-flavor cheese option. Say goodbye to the cheese-food-singles of your childhood and embrace this lunch-break-show-stopping, grown-up grilled cheese sandwich. Say Raclette and smile! You. Are. Adulting.
Raclette style cheese can be found in most cheese shops and many larger grocery stores. We love the stronger, funkier notes of longer-aged Swiss Raclette cheeses. However, there are some wonderful, milder, (often younger) versions of Raclette hailing from France and, more rarely, the United States.
If you can't find Raclette, a high-quality gruyere, Comté or Emmental can make a lovely substitution.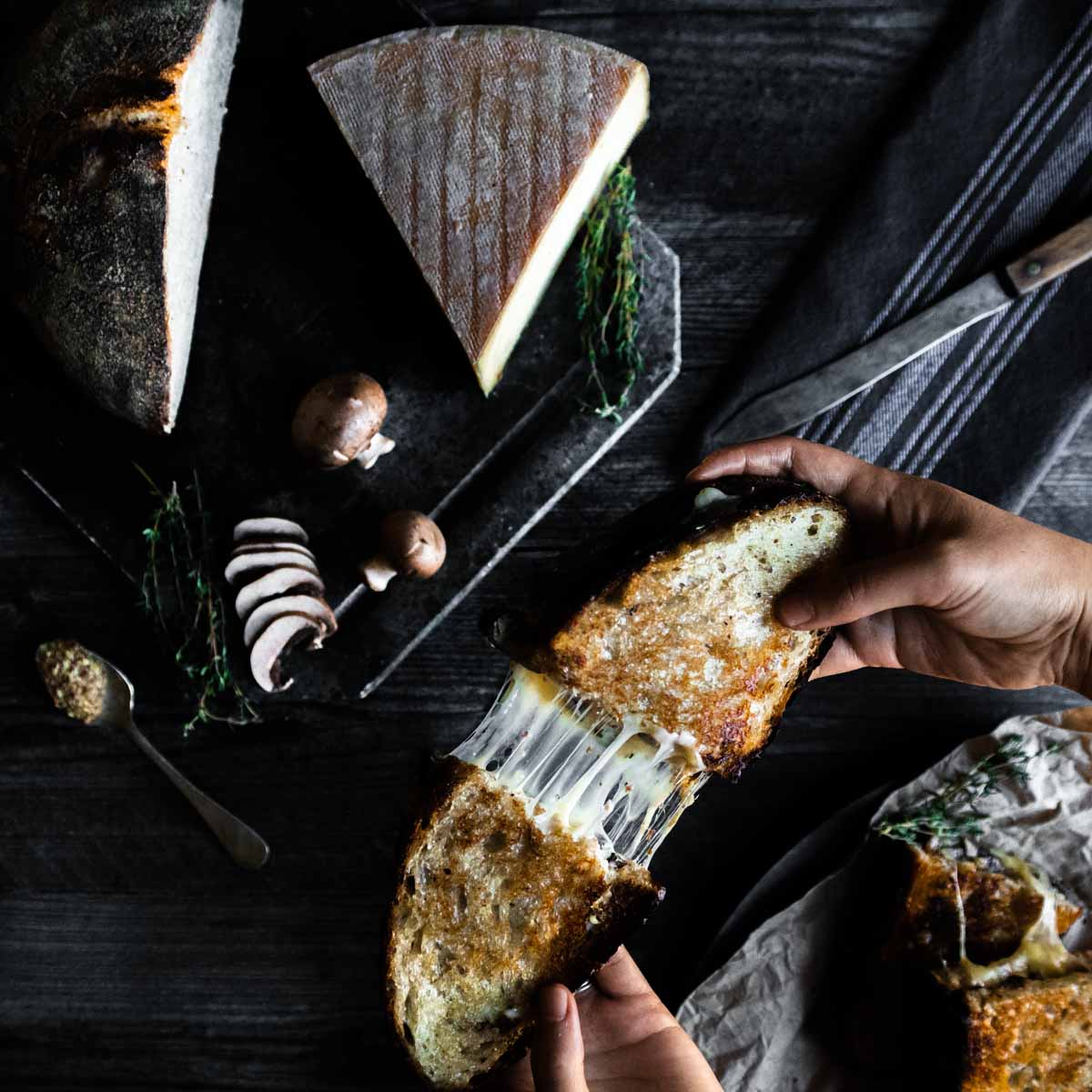 Not Mushroom To Go Wrong
Sautéing some mushrooms to be encased in the melty goodness of this sophisticated Raclette sandwich makes all the difference.
Here, we used simple cremini mushrooms but dozens of other varieties would work well. Hen of the woods mushrooms, for instance, will lend an earthy tone to the grilled cheese. Instead, Autumn's golden chanterelles will make for an enchanting peppery bite.
Whatever mushroom you choose, we recommend sautéing them first in a dry pan, without fat or liquid. Cooking the mushroom with dry heat causes the moisture to evaporate. In turn, the mushrooms will shrink considerably, crisp beautifully and save you from any undesirable slimy textures.
Once your mushrooms have shrunk and browned, a splash of vinegar brings a nice acidity to the sandwich. Next, chopped fresh thyme and minced garlic add layers of savory flavor.
A Little Thyme, a Lot of Love: Tips and Tricks for Perfect Grilled Cheese Sandwiches
In our novice days of adulthood we might be quick to crank up the heat beneath our grilling sandwich. Perhaps you, too, have once known the disappointment of blackened bread enveloping barely melted cheeses.
The tricks for ultimate meltability and perfectly golden brown bread are simple and essential! First of all, start with a heavy-bottomed pan with a snug fitting lid. Trapping the heat with a lid helps to get that gooey cheese melted all the way through. Second, rely on a thick slather of edge-to-edge butter. No need to be butter shy, you earned it.
Finally, take your time with a low-and-slow approach. Gently grilling your sandwich on medium-low heat will give your Raclette cheese enough time to properly melt while crisping your buttery bread to the ultimate golden standard.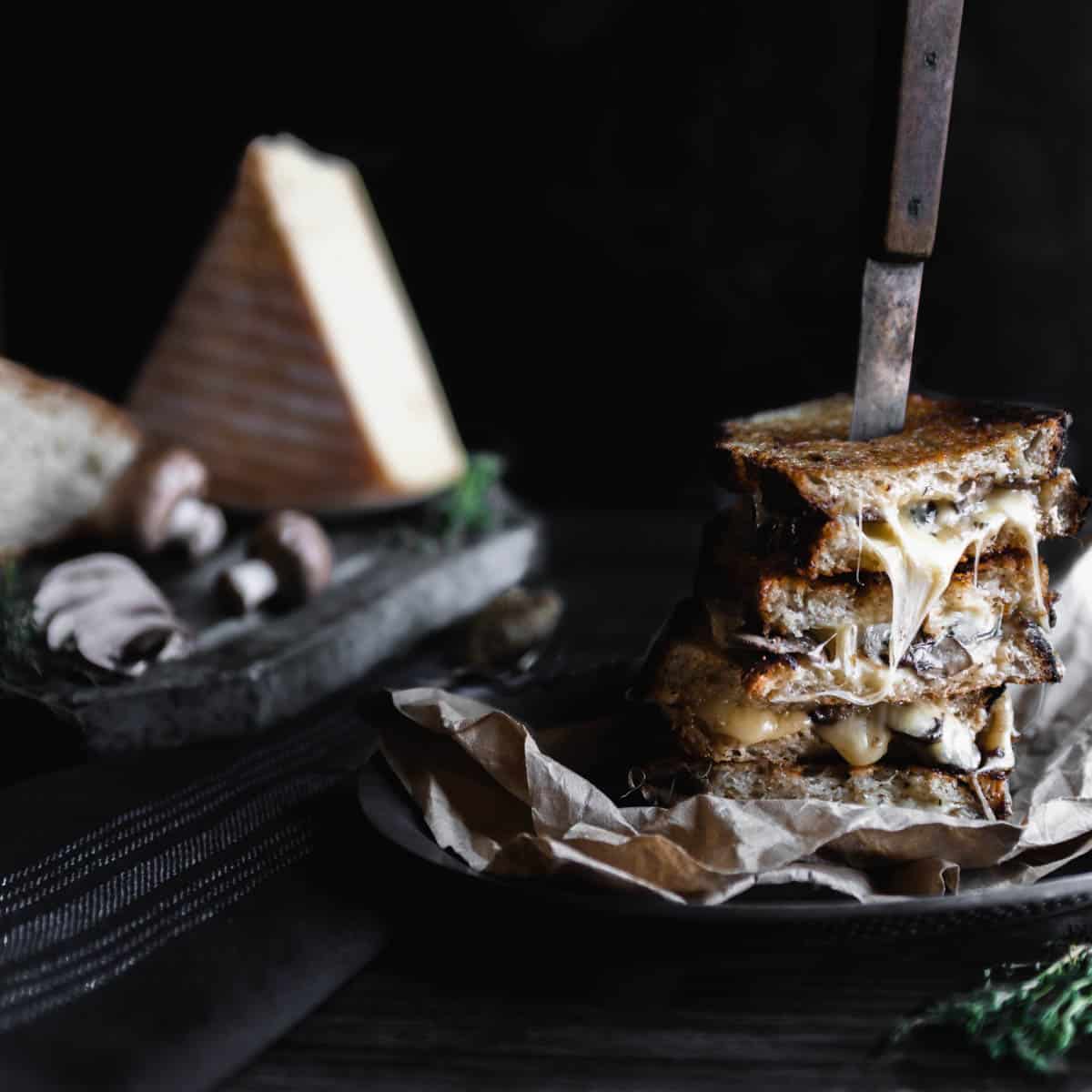 Going with the Grain: Great Bread and a Mustard Schmear
A key element in any great sandwich is choosing the proper bread to compliment your fillings. This grown-up Raclette Grilled Cheese with Mushrooms and Thyme is no different. We recommend going with something hearty, flavorful and fresh-baked. Furthermore, choose a sturdy, chewy bread that can stand up to the warm, melty filling. A more rustic, country-style loaf is preferred and we personally chose to go with a house-baked sourdough.
We recommend spreading one slice with a coarse-ground or whole-grain mustard to provide a little extra acidity that will compliment the cheeses' creamy richness and add a zippy layer of flavor.
Hungry For More?
Recipe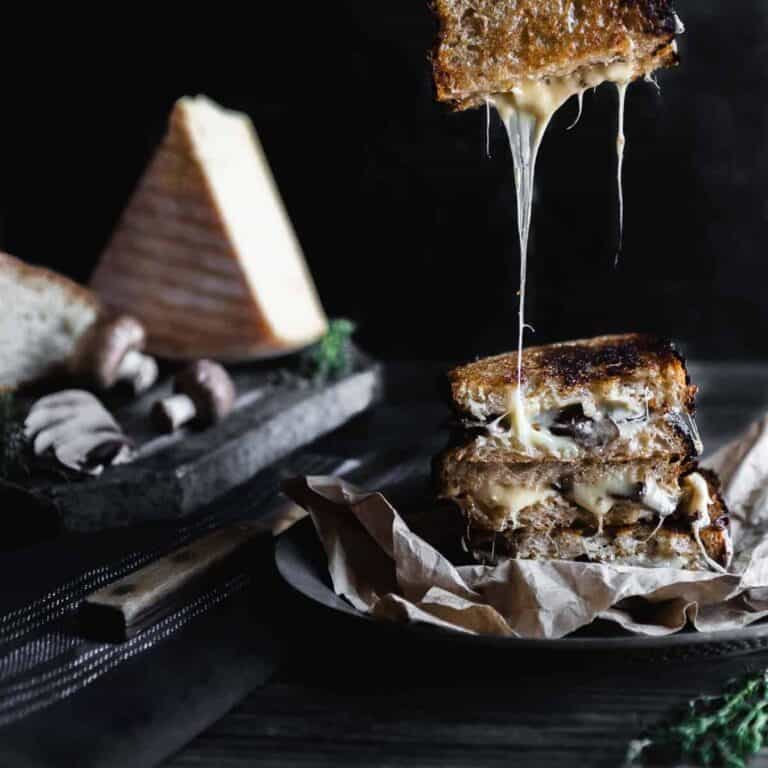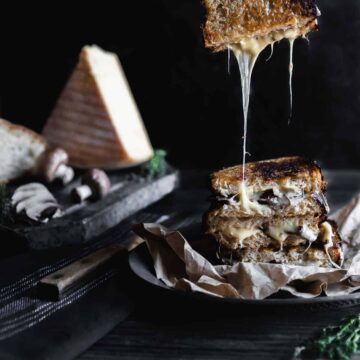 Raclette Grilled Cheese with Mushrooms and Thyme
This Raclette Grilled Cheese is all about everybody's favorite fondue cheese paired with mushrooms, thyme, garlic and grain mustard sandwiched between butter-slathered bread and grilled to golden brown, melty perfection.
ADJUST SERVINGS
Ingredients
2

thick-cut slices of hearty bread

we use sourdough

2

Tablespoons

unsalted butter

room-temperature

¾

Cup

Raclette cheese

thinly sliced

1

Tablespoon

whole grain or coarse-ground dijon mustard

optional

3 - 4

cremini mushrooms

sliced

½

garlic clove

minced or grated

1

teaspoon

fresh thyme leaves

chopped

Fine kosher salt*
Freshly-ground black pepper

2

Tablespoons

red wine vinegar
Instructions
Gather, measure and prepare the Raclette Grilled Cheese ingredients as listed.

Start by preparing the mushroom filling. Heat a dry medium, cast iron or heavy-bottomed skillet over medium-high heat. Add mushrooms and cook, stirring occasionally, for 5 minutes or until moisture has evaporated and the mushrooms are deeply browned and crispy. (See Note: a.) 

Once the mushrooms are cooked, add the garlic and thyme and stir. Season with salt and pepper to taste. Add red wine vinegar to the pan and sauté until the liquid has evaporated. Work quickly to be sure not to burn the garlic. Remove the mushroom mixture from the pan. Remove the pan from the heat for a moment to cool.

Meanwhile, build the sandwich. Prepare your bread by spreading butter liberally over one side of each slice. Place bread, butter-side-down on a clean work surface. Spread mustard on the inside of one slice of bread. Arrange half of the sliced Raclette cheese over the mustard. Top with the mushroom mixture, remaining raclette cheese and the the other slice of bread (butter side out).

Return the pan to low/medium-low heat and add your sandwich. (See Note: b.) Cover the pan and allow the sandwich to cook for about 5 minutes on each side, or until bread is golden brown and cheese is thoroughly melted. After flipping the sandwich, use the back of your spatula to press the sandwich into the pan. Once golden, serve immediately and enjoy!
Notes
a. If the mushrooms are sticking to your pan you can add a splash of water or stock. Stir the liquid into the pan, while scraping up the sticking mushrooms. We do not recommend adding any fat to the pan while the mushrooms are crisping.
b. If your butter sizzles when entering the pan, your pan is too hot. Allow your pan cool for a moment away from the heat. Low and slow heat is the key to thoroughly melting your cheese without burning your bread.
* A Note About Salt
Unless otherwise noted, all recipes on The Sage Apron are developed using Diamond Crystal Kosher salt. It is a great all-purpose salt for cooking and baking. If using table salt, reduce quantities by about half.
Nutrition
Calories:
937
kcal
|
Carbohydrates:
85
g
|
Protein:
42
g
|
Fat:
49
g
|
Saturated Fat:
30
g
|
Polyunsaturated Fat:
3
g
|
Monounsaturated Fat:
13
g
|
Trans Fat:
1
g
|
Cholesterol:
137
mg
|
Sodium:
1001
mg
|
Potassium:
912
mg
|
Fiber:
5
g
|
Sugar:
7
g
|
Vitamin A:
1499
IU
|
Vitamin C:
4
mg
|
Calcium:
760
mg
|
Iron:
6
mg