Fried Morel Mushrooms are as delicious as they sound and make for a lovely Springtime snack or appetizer!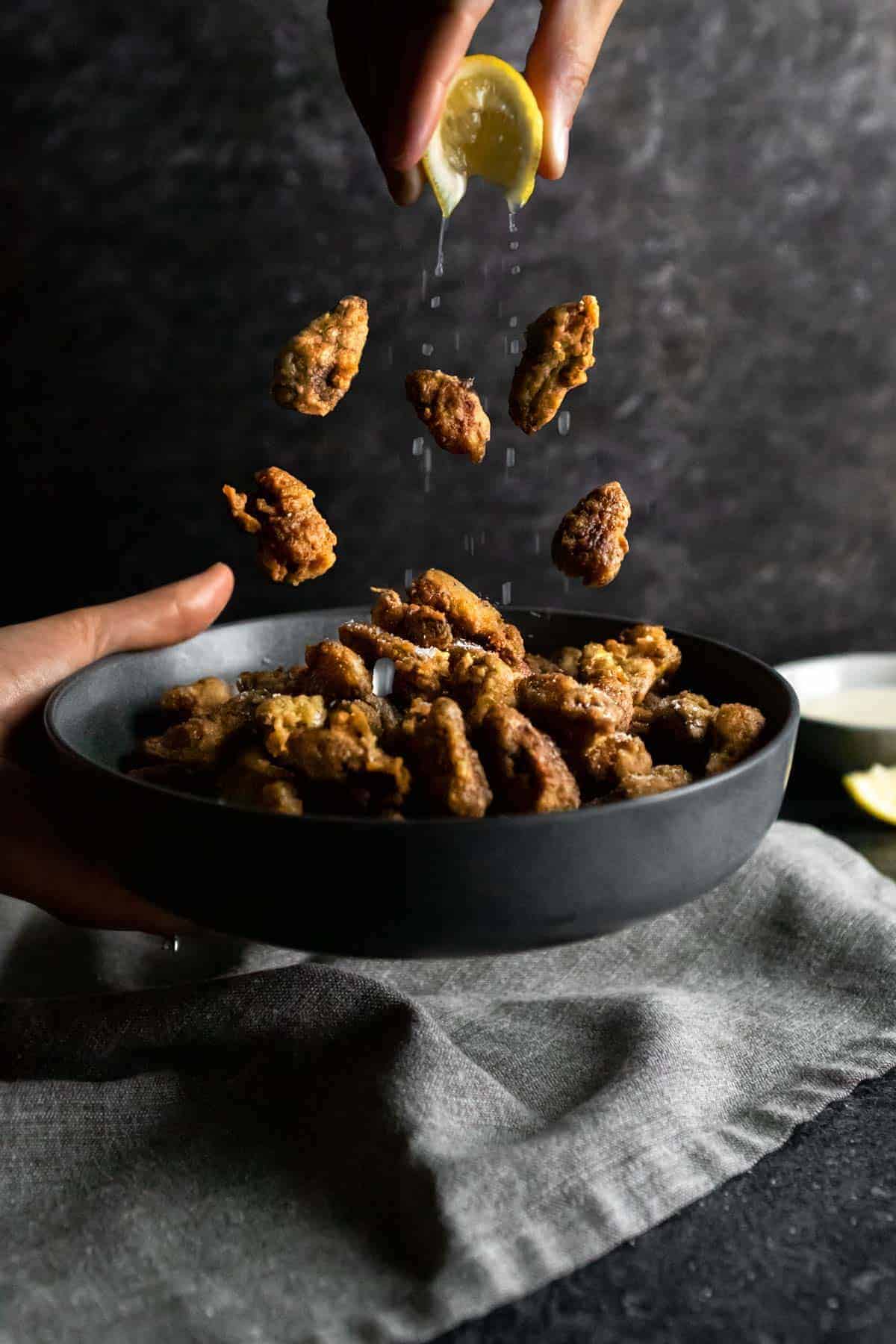 This recipe features fresh morels that are dredged in seasoned flour, pan-fried and served with a tangy Lemon Crema for dipping! It's one of the simplest mushroom recipes ever! It's our new favorite way to indulge in this delicious Spring mushroom! So good!
Morel mushrooms are one of nature's most elite Springtime treasures. These delicacies are foraged in wooded areas all over the Northern hemisphere. Here, in Colorado, we are lucky to have morel mushrooms throughout the Spring season. While not many of these mushrooms make it to the grocery store, we are able to find them in farmer's markets or, as in this case, directly through a mushroom hunter.
If you are a fan of unique mushroom recipe, try our Matsutake Pasta with Miso Butter!
Jump to:
Everything You Need To Make This Recipe
Fried Morels and Lemon Crema are quick and easy to make! Here's what you'll need: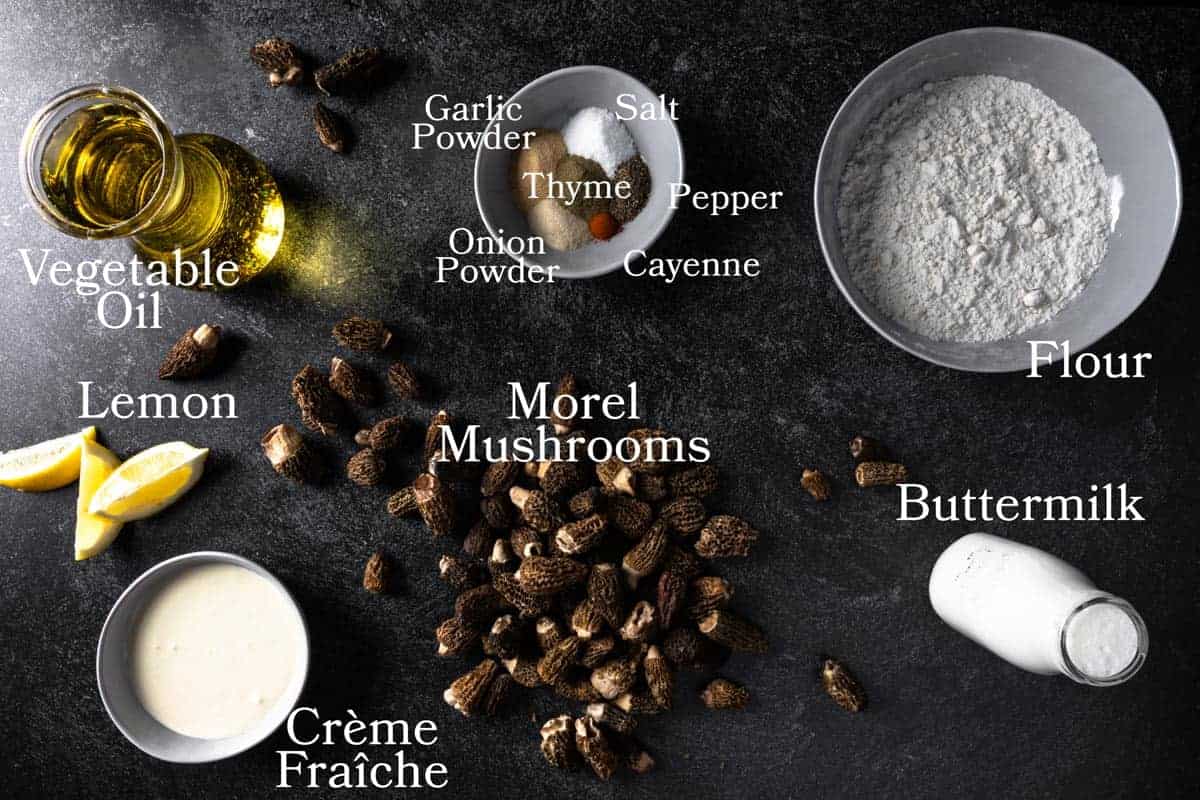 How To Clean Morel Mushrooms
Hooray! You've scored some delicious fresh morel mushrooms! Now what? Well, first things first. Before you jump into making these Fried Morels, they will need to be cleaned. While that distinctive honeycomb pattern is beautiful, all those nooks and crannies make perfect pockets for dirt, debris and, sometimes, tiny bugs.
Generally speaking, we would recommend cleaning mushrooms with a damp paper towel. However, that method just doesn't cut it for fresh morels. Instead, we recommend swishing the morels in cold water. Here's the best way we have found to clean morel mushrooms:
First, cut any large mushrooms in half lengthwise. Smaller mushrooms can remain whole. If there are large clumps of dirt clinging to your mushrooms, start by gently shaking or using a dry pastry brush to brush the mushrooms clean.
Then, fill a large bowl with cold water. Add your morels to the water and gently swish them around for a few seconds. Dirt and grit will be released from the morel's crevices. If the water becomes excessively dirty, repeat this step with fresh water a couple of times until the mushrooms are thoroughly cleaned. Do not leave or soak the mushrooms in the water! Morels are like tiny sponges that will absorb the water and dull their delicious flavor.
Once cleaned, transfer the mushrooms to a clean, dry kitchen towel, while shaking off extra water. Thoroughly dry the morel mushrooms one by one in the towel. Proceed to the frying process as soon as morel mushrooms have been cleaned. (Cleaning these mushrooms before ready to use can promote mold growth!)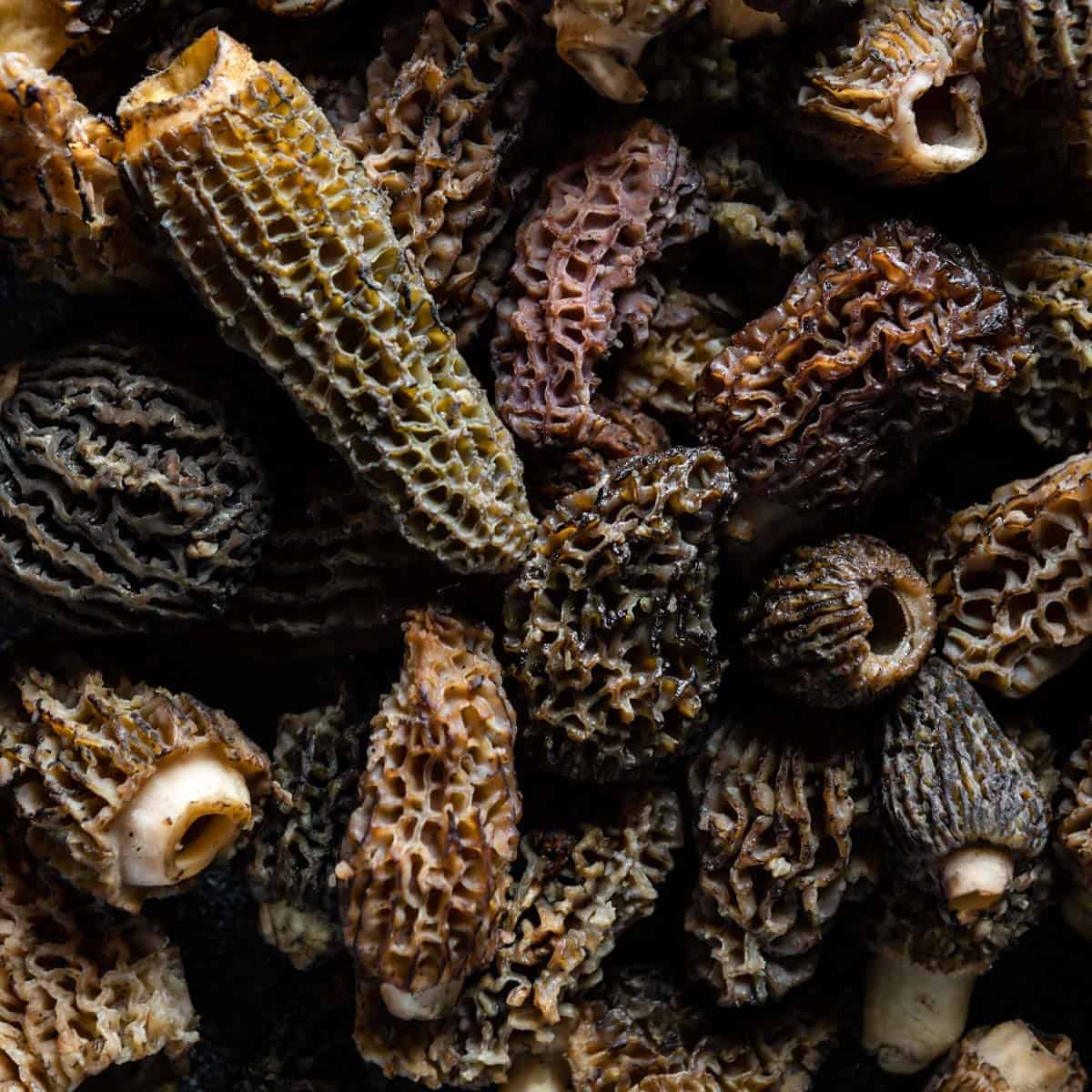 How To Fry Morels
Once your morel mushrooms are cleaned and dried, it is time to fry the morels! We tested several different ways for frying morel mushrooms. We tried tempura batters, egg washes and breadcrumb breaded mushrooms but, ultimately, the best Fried Morel Mushrooms were the easiest. Plus, who doesn't love an ultra simple recipe?
For this recipe, the fresh mushrooms are dredged first in buttermilk and then coated in seasoned flour. You can season the all-purpose flour mixture however you would like. We recommend complimenting the flavor of the mushrooms with a little garlic powder, onion powder, ground thyme, salt, black pepper and a pinch of cayenne.
Meanwhile, while you are dredging the mushrooms, heat vegetable oil in a large skillet. Once the oil is hot, add your coated mushrooms in small batches and fry, flipping once, until golden brown and delicious. It's that easy!
Please be careful to ensure that morel mushrooms are thoroughly cooked before consuming. Like many mushrooms, raw morels are toxic and need to be fully cooked for six, or more, minutes.
When I Dip, You Dip, We Dip: Lemon Crema Edition
Truth be told, this morel mushroom recipe is so good, a sprinkle of salt and squeeze of lemon is all you really need. That being said, we never say no to a dip! This Lemon Crema is made from crème fraîche seasoned with freshly-squeezed lemon juice. That's it! It's tangy, creamy, lemon-y and so tasty with Fried Morels!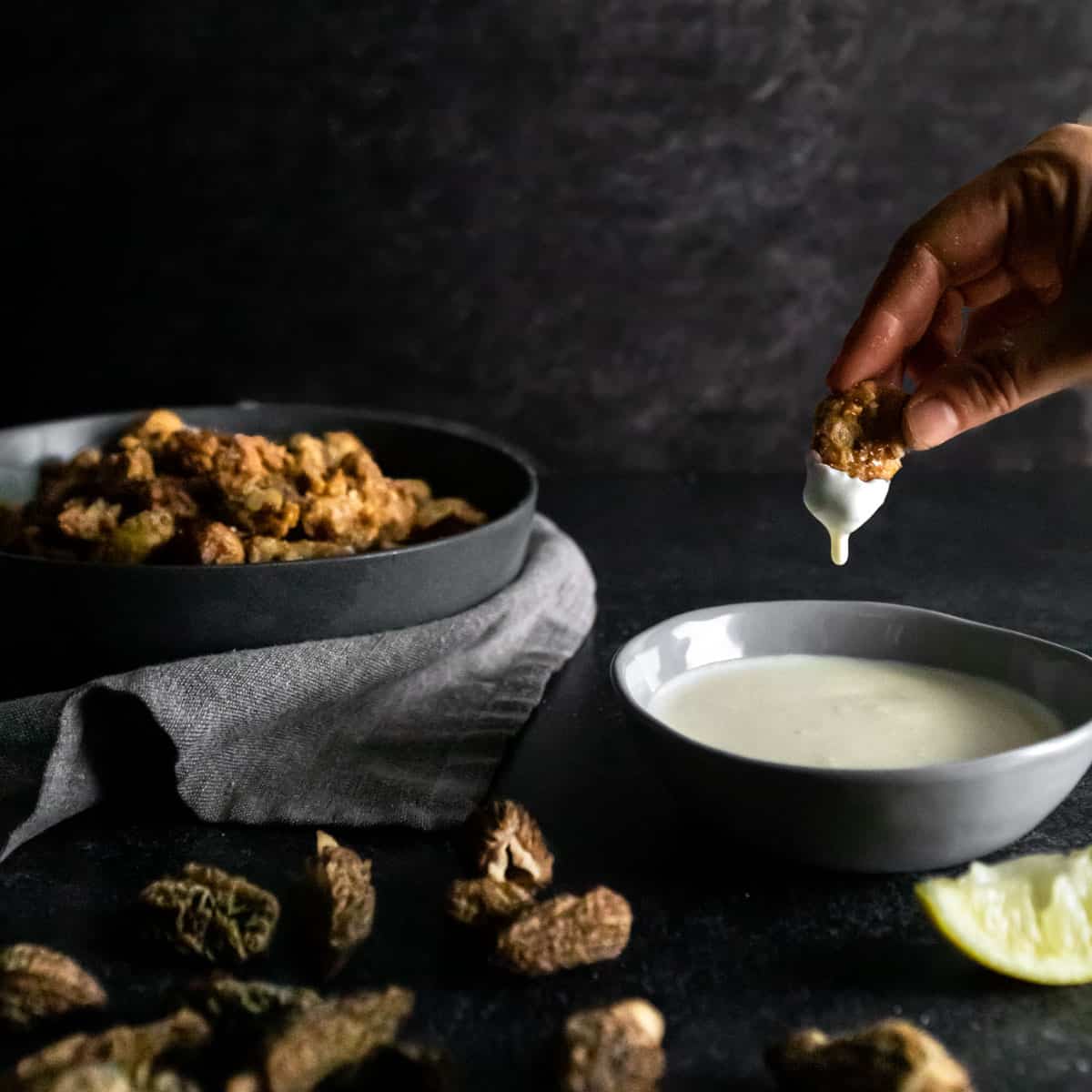 More Spring Recipes
Find just what you're looking for in our entire collection of food and beverage recipes.
Recipe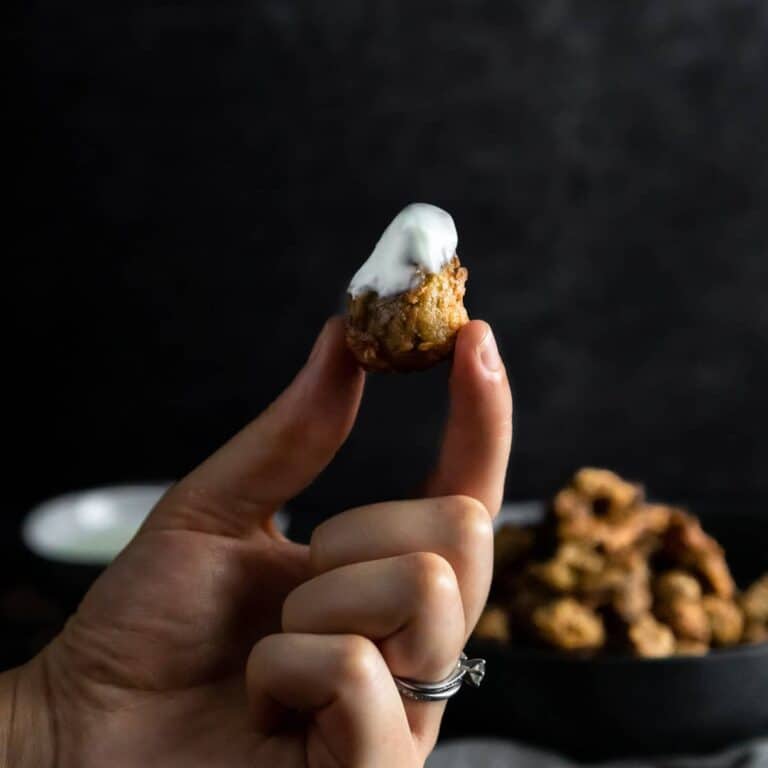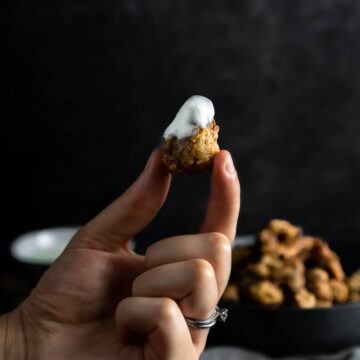 Fried Morels & Lemon Crema (How to Fry Morel Mushrooms)
These Fried Morel Mushrooms with Lemon Crema are perfect for celebrating a bountiful Spring forage!
ADJUST SERVINGS
Ingredients
Fried Morels
½

pound

fresh morel mushrooms

cleaned (For more information, See How To Clean Morel Mushrooms text above)

About 1½

Cups

vegetable oil (for frying)

about ½ inch (1+ centimeters) of oil in the pan

1½

Cups

all-purpose flour

1

Tablespoon

fine kosher salt*

plus more for sesoning

1

Tablespoon

garlic powder

1½

teaspoons

onion powder

1½

teaspoons

ground thyme

1

teaspoon

black pepper

¼

teaspoon

cayenne

optional

1

Cup

buttermilk
Lemon wedges

optional
Lemon Crema
6

ounces

crème fraîche
Freshly-squeezed lemon juice

to taste

fine kosher salt*

to taste
Instructions
Fried Morels
Gather, measure and prepare the Fried Morels ingredients as listed.

In a large, deep skillet, heat oil ½ inch (1+ centimeter) of oil over high heat. Heat oil to 350° Fahrenheit (180° celsius). We recommend using an instant-read thermometer to ensure your oil is at the correct temperature for frying.

Meanwhile, in a shallow bowl, combine flour, salt, garlic powder, onion powder, thyme, pepper and cayenne (if using). Whisk to combine and set aside.

Add buttermilk to a seperate bowl. Then, drop clean morel mushrooms in buttermilk and toss to coat. With one hand (your "wet" hand) remove morels from buttermilk, shaking off any excess. Add wet morel mushrooms directly to the flour mixture. Using your other hand (your "dry" hand) toss the mushrooms to coat generously in seasoned flour.

Once the oil is hot, carefully drop mushrooms into the oil in batches. Do not overcrowd the pan. Fry mushrooms for three or more minutes before flipping. Fry the morels for an additional three or more minutes or until golden brown and fully cooked. Cut into a larger mushroom to test for doneness. Raw morel mushrooms are toxic and must be fully cooked through before consuming.

Transfer Fried Morels to a paper towel lined plate to drain off any excess oil. Season with salt, to taste, immediately. Fry remaining mushrooms in batches. Serve immediately with lemon wedges and/or Lemon Crema.
Lemon Crema
Gather, measure and prepare the Lemon Crema ingredients as listed.

Place creme fraiche in a small serving bowl. Add lemon juice to taste and stir to combine. Season to taste with salt. Keep chilled until ready to serve with Fried Morel Mushrooms.
* A Note About Salt
Unless otherwise noted, all recipes on The Sage Apron are developed using Diamond Crystal Kosher salt. It is a great all-purpose salt for cooking and baking. If using table salt, reduce quantities by about half.
Nutrition
Calories:
637
kcal
|
Carbohydrates:
30
g
|
Protein:
6
g
|
Fat:
57
g
|
Saturated Fat:
46
g
|
Polyunsaturated Fat:
1
g
|
Monounsaturated Fat:
7
g
|
Cholesterol:
4
mg
|
Sodium:
1232
mg
|
Potassium:
274
mg
|
Fiber:
2
g
|
Sugar:
2
g
|
Vitamin A:
114
IU
|
Vitamin C:
1
mg
|
Calcium:
78
mg
|
Iron:
7
mg