Chimichurri butter is the perfect condiment for steaks, grilled vegetables and crispy potatoes! This simple compound butter recipe melds the zippy and herbaceous flavors of chimichurri with the richness of butter! So good!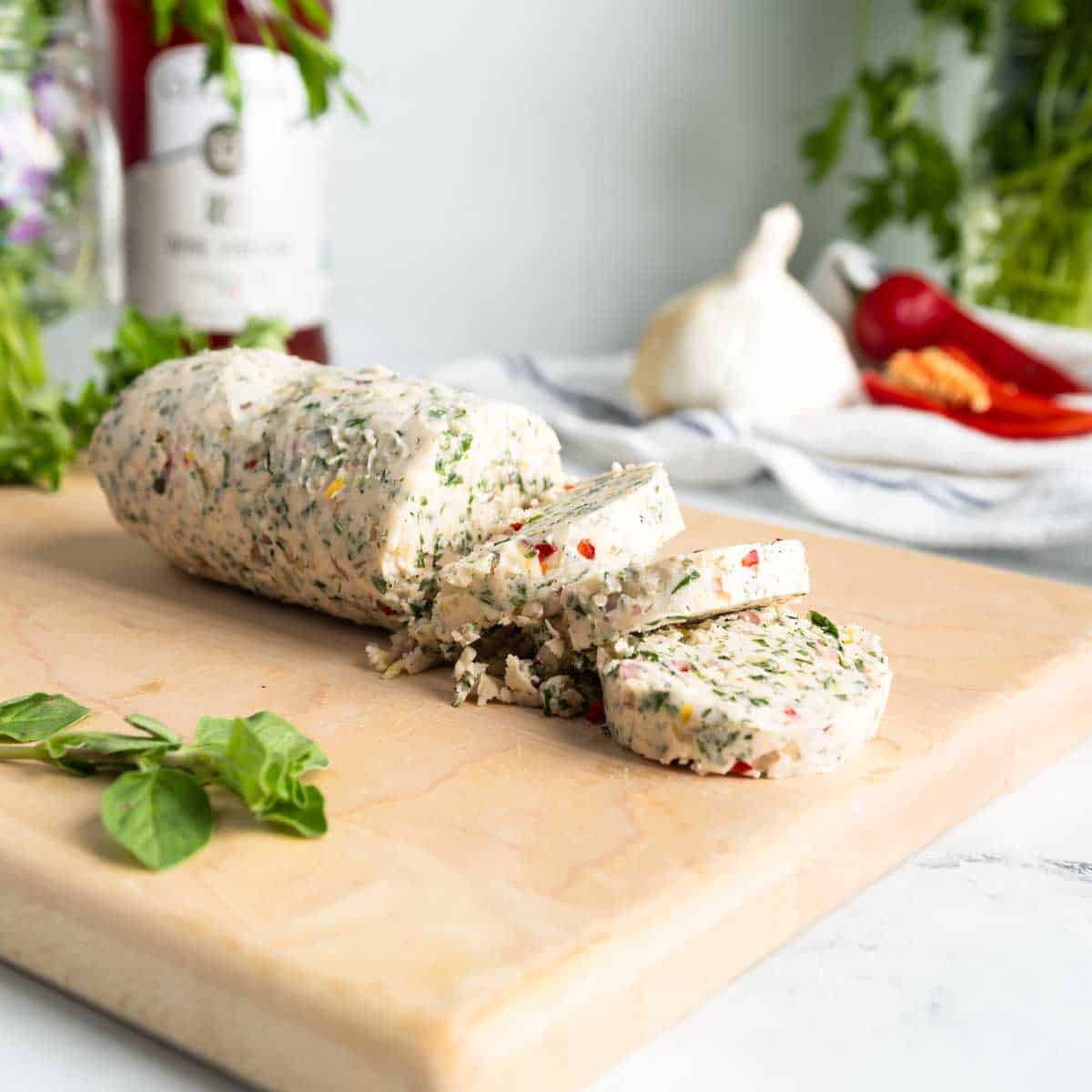 Try this recipe melted over our Perfectly Grilled Ribeye or on our Grilled Chimichurri Shrimp recipe!
What is Chimichurri Butter?
Chimichurri is a saucy condiment popular in Argentinian and Uruguayan cuisine. It is an un-cooked sauce that is made from fresh herbs, garlic, chili, vinegar and olive oil. The flavors are bright and herbaceous with a hint of spice. It is a tangy, acid-driven sauce that is typically paired with meats and vegetables.
For this recipe, instead of using the traditional ingredient of olive oil - we are using butter. Both ingredients lend a fatty, rich mouthfeel. The butter imparts a fabulous flavor and tastes great melting over hot food.
Aside from tasting delicious, the butter also helps to extend the shelf life of the fresh herbs in this recipe. While olive oil based chimichurri will oxidize quickly, this chimichurri butter will stay fresh in the fridge for 2 - 3 weeks.
Ingredients
Chimichurri butter is loaded with bright flavors from fresh ingredients. Here's what you'll need: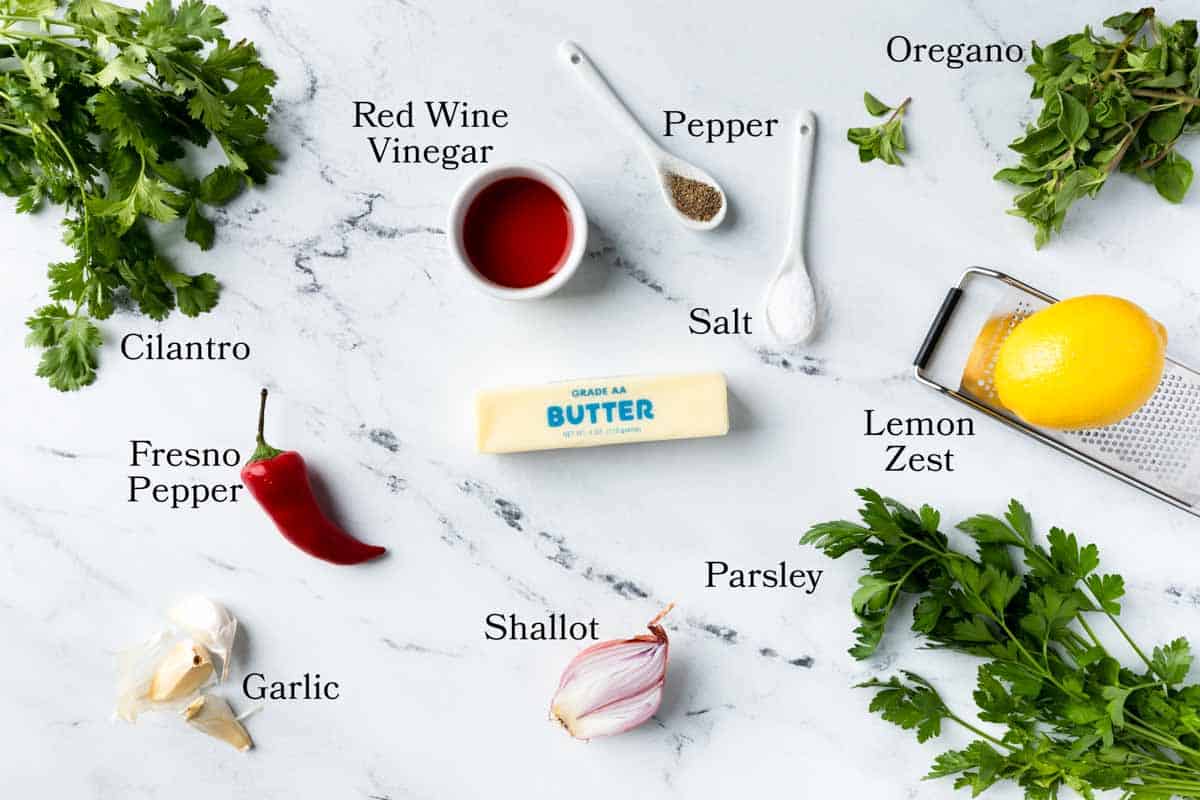 Butter - We keep unsalted butter at home but a nice salty European butter would be best for this recipe. We like Kerrygold.
Red Wine Vinegar - Chimichurri gets its' characteristic zippiness from red wine vinegar.
Fresh Herbs - For a classic South American flavor, we used a combination of parsley, oregano and cilantro. The parsley and cilantro add a vibrant freshness while the oregano adds some earthy herbaceous flavors. If you are one of the many who are sensitive to cilantro, feel free to omit it.
Shallot & Garlic - Freshly minced shallot and garlic cloves are the backbone of this condiments' savory flavor.
Fresno Pepper - Finely minced chili adds a nice kick of spice to this butter. You can adjust the quantity to suit your desired spice levels, and/or substitute red chili flakes, if needed.
Lemon Zest - I add citrus zest to this recipe to help accentuate the bright, acidic flavors.
Salt & Pepper
Procedure
Chimichurri butter is easy to make and can be done completely by hand, or in a food processor. Either way, it should take less than ten minutes.
The key to making a compound butter that melts into a saucy condiment is finely mincing the ingredients. The tiny pieces of garlic, chili and herbs need to be evenly distributed throughout the butter.
You can add the ingredients to a food processor, or use a sharp knife to finely mince the garlic, shallot, chili pepper and herbs.

Personally, I prefer hand mincing the ingredients. It's therapeutic, great practice, and helps to keep the individual ingredients vibrant and defined.
After mincing, use butter that is completely softened and squishy. Add all of the ingredients, except vinegar, to the butter and mix until well combined.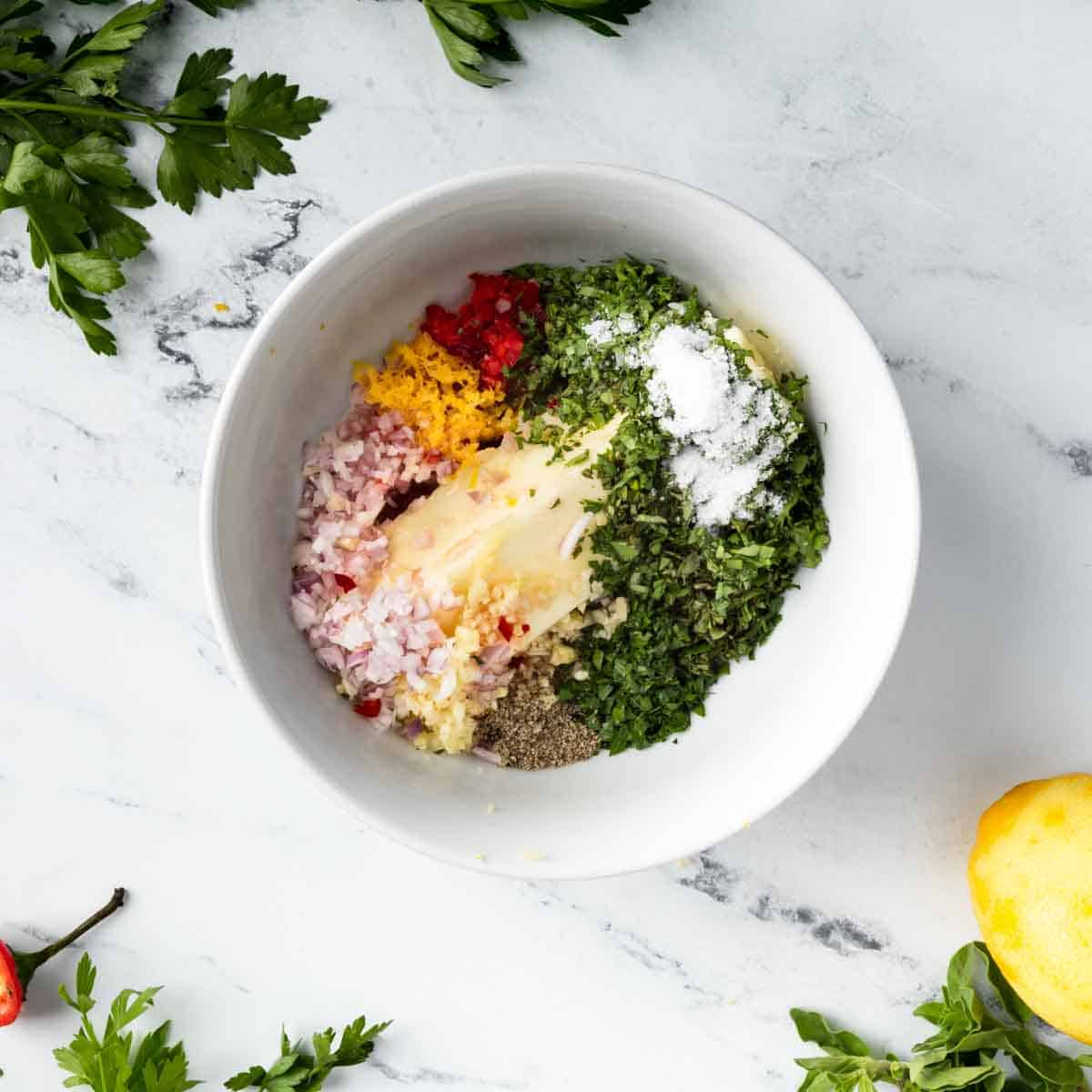 Since the vinegar and butter don't mix well, you will need to add the vinegar a splash at a time. It's easier in a stand mixer or food processor, but I usually do it by hand anyway. Add a small splash and mix vigorously until combined. Repeat until all of the vinegar is combined into the chimichurri butter.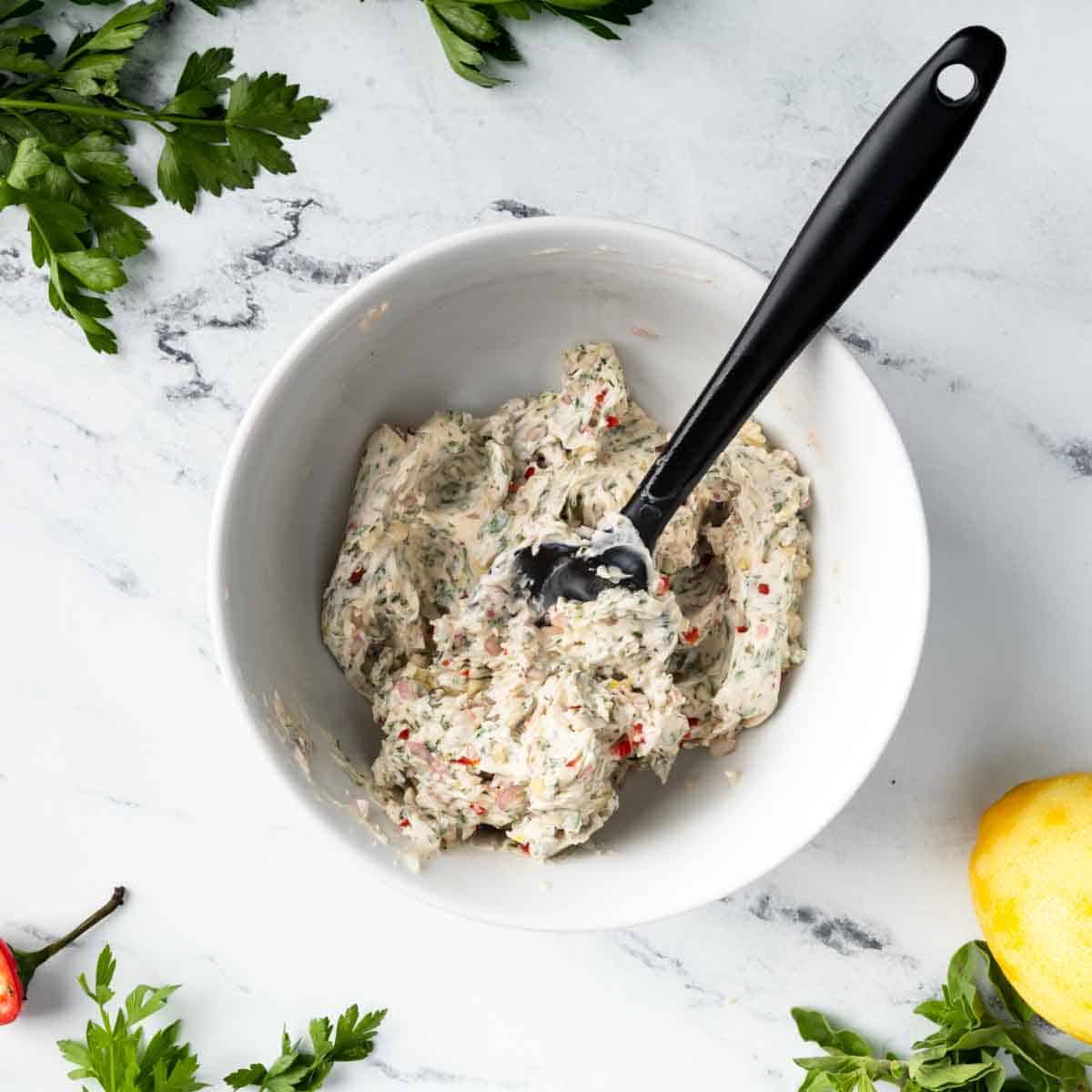 The butter is ready can be served as is, tempered and ready to melt over a hot steak!
If saving for later, you can torchon the butter, allow it to chill and later portion into disks. Torchon is a fancy French term that translates to "wet rag" (essentially an outdated term for a basic culinary process). Today, it refers to shaping something into a log, usually with plastic wrap.
Shaping & Saving Compound Butter
To save and store the butter, lay a sheet of plastic wrap out over a clean work surface. Use a rubber spatula to scoop the butter onto the plastic, mimicking the size and shape of a stick of butter.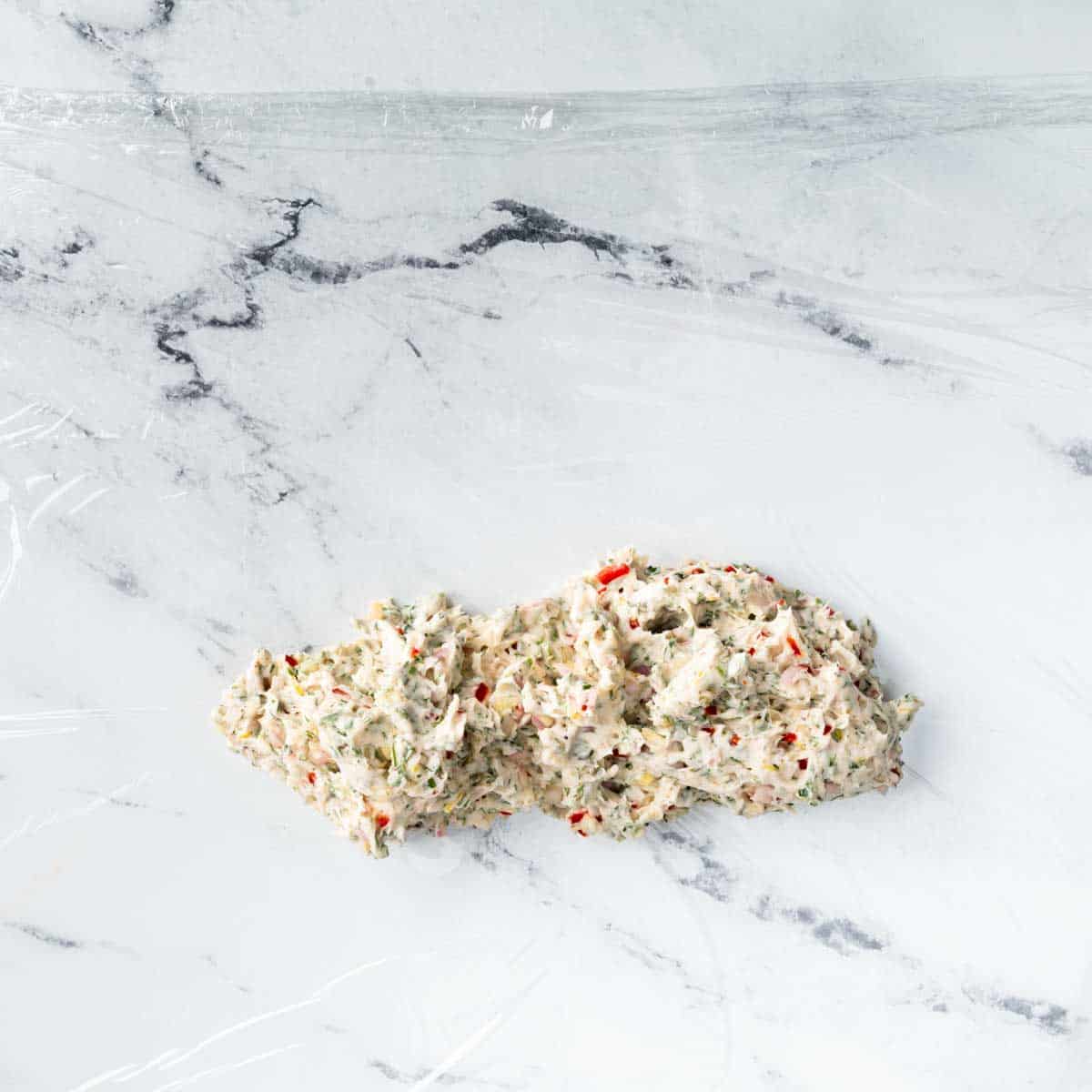 To torchon (or shape the chimichurri butter into a log), roll the plastic wrap around it. Try to wrap the butter tightly, avoiding trapping any potential air bubbles. Then, while holding either end of the plastic wrap, roll the butter away from you, into a log. It helps it your work surface is ever so slightly dampened, with a moist kitchen towel. As you roll away from you, the plastic will twist at either end, securing it firmly.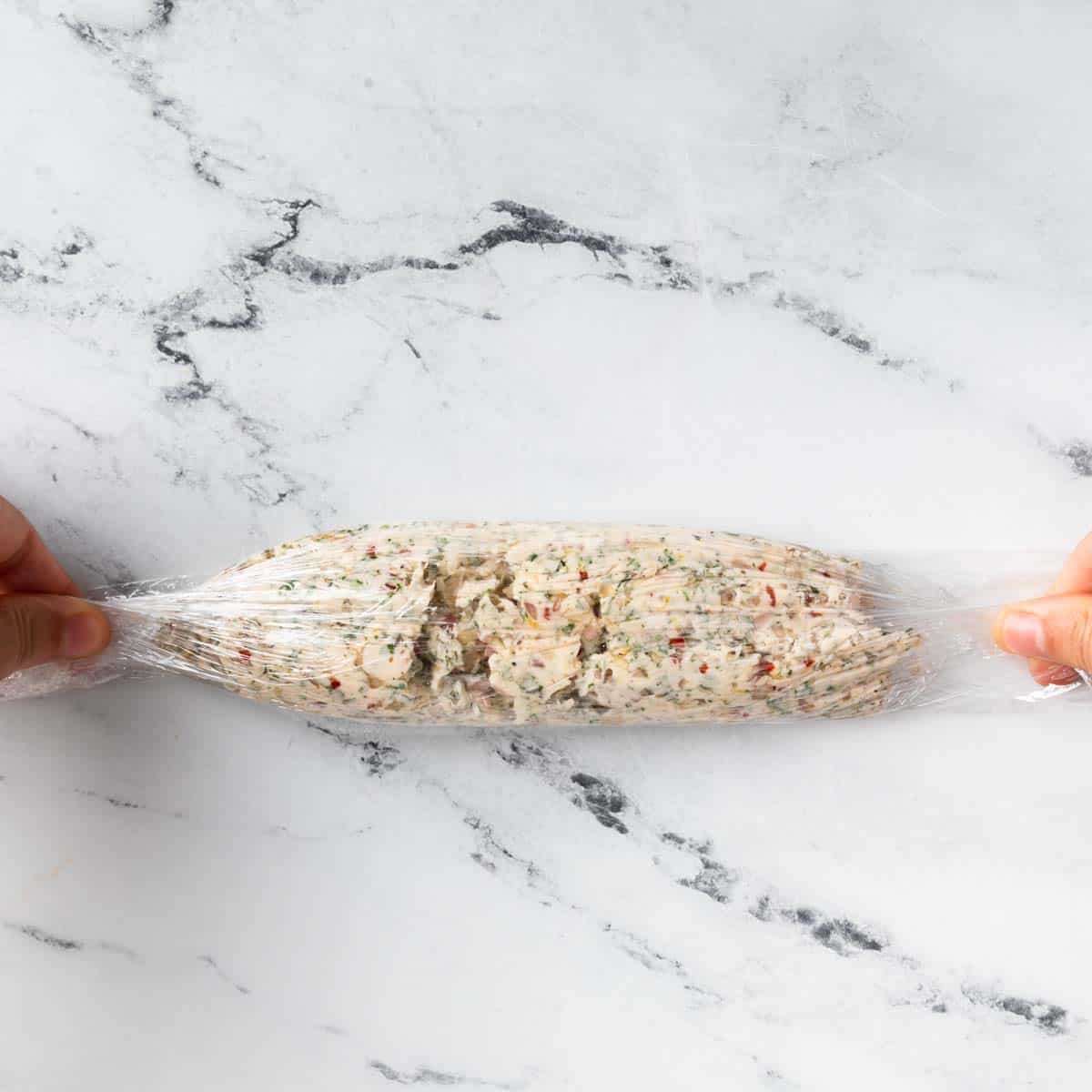 Once tightly wrapped, chill the butter in the refrigerator until firm. The fat from the butter works to preserve the fresh ingredients. The chilled chimichurri butter can be stored in the refrigerator for 2 - 3 weeks.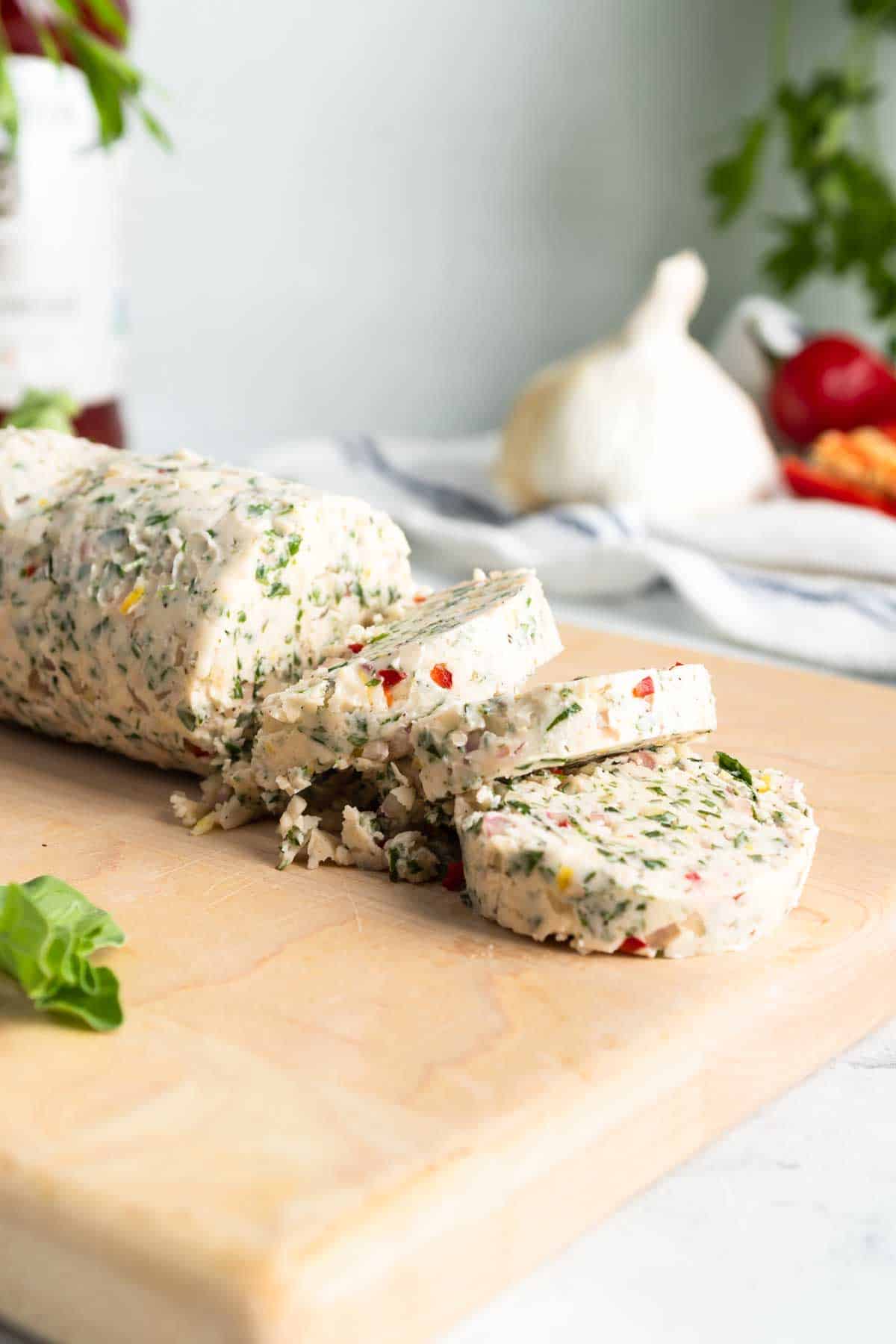 When ready to serve, slice one - two disks of butter, per portion. You may want to allow the disks of chilled butter to temper a few minutes, to promote quicker melting.
Serving Suggestions
Chicmichurri butter is a versatile condiment that can add fat, acidity and freshness to several dishes. We like it best on grilled meats, vegetables and crispy potatoes. Let us know in the comments how you are using this recipe!
Try this recipe with…
Grilled Steaks - Traditionally you might see chimichurri with a flank or skirt steak. Personally, we love it melting over our Perfectly Grilled Ribeye recipe.
Pork Chops
Shrimp - Try this butter slathered over our grilled chimichurri shrimp!
Chicken - Great on grilled chicken or melted over crispy skillet chicken dishes.
Crispy Potatoes - Grilled, smashed and baked or pan-fried!
Grilled Vegetables - Chimichurri butter is awesome for corn on the cob, grilled asparagus, squash and more!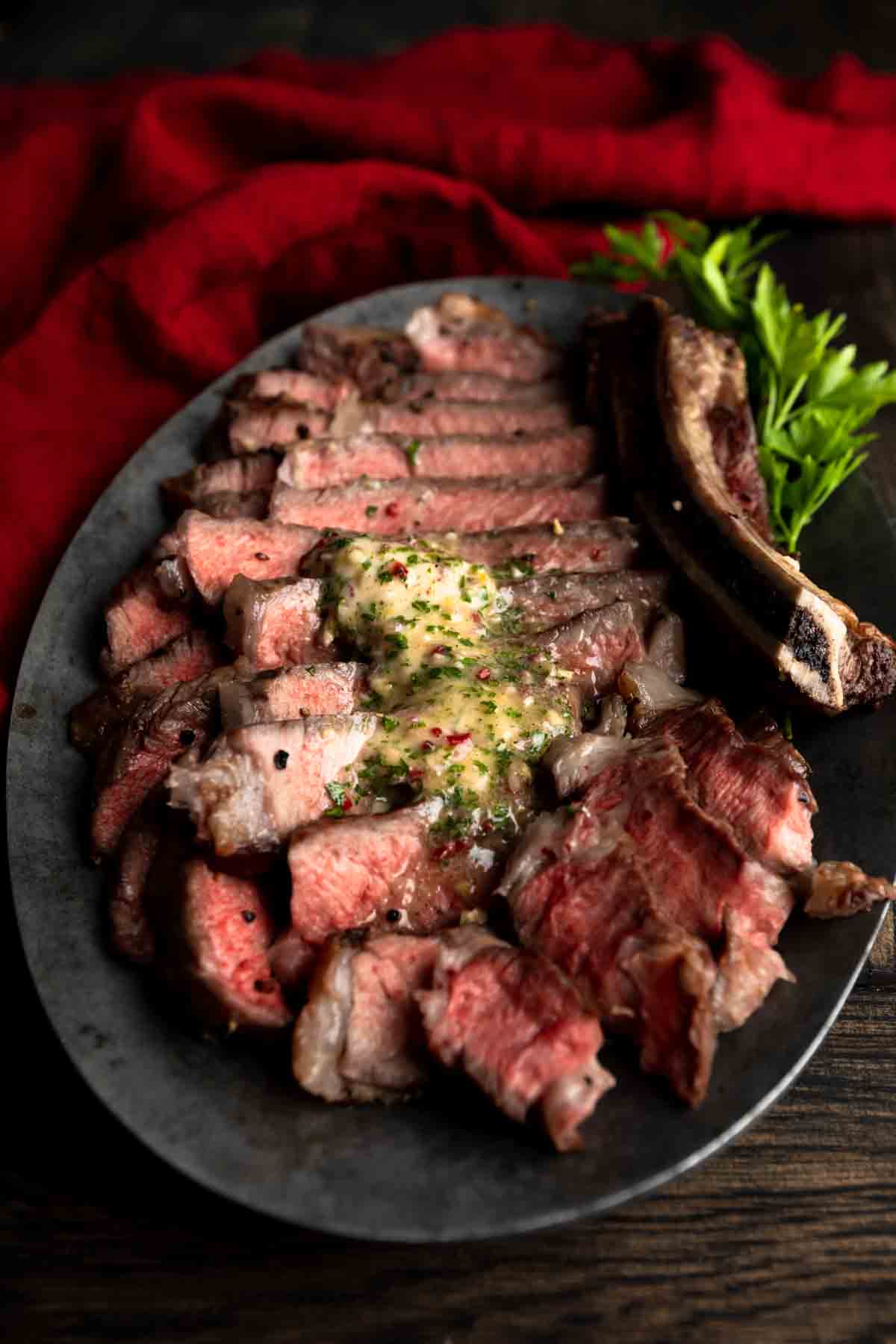 Recipe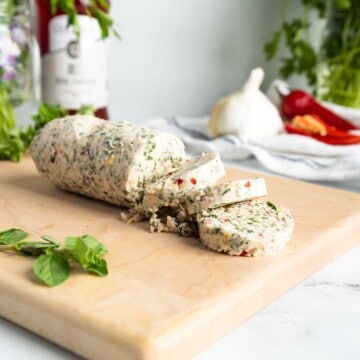 Chimichurri Butter
This compound butter recipe is full of fresh herbs, garlic and zippy vinegar finish! It's perfect for steaks, grilled meats and vegetables.
ADJUST SERVINGS
Ingredients
8

Tablespoons

butter

softened to room temperature (1 stick)

¼

Cup

fresh herbs, we used a combination of oregano, parsley and cilantro

finely chopped

½

small

shallot

minced

3

cloves

garlic

minced

½

fresno chili

seeds removed, minced

lemon zest

from ½ of a lemon

2

teaspoons

fine kosher salt*

to taste (less if using salted butter)

½

teaspoon

Freshly-ground black pepper

to taste

2

Tablespoons

red wine vinegar
Instructions
In a small mixing bowl combine butter, herbs, shallot, garlic, fresno, lemon zest and salt and pepper. Mix until well combined. Add red wine vinegar a small splash at a time, mixing after each addition. Serve immediately or refrigerate until chilled.

To torchon for refrigeration: Place a large piece of plastic wrap on a clean, slightly moistened work surface. Place the chimichurri butter on the center of the plastic. Fold the plastic away from you, over the butter. Try to avoid trapping any air bubbles. With each respective hand, hold either side of the plastic wrap. Roll the butter away from you, into a log, while the plastic twists to secure either end. Refrigerate until firm and slice disks, as needed for serving.
* A Note About Salt
Unless otherwise noted, all recipes on The Sage Apron are developed using Diamond Crystal Kosher salt. It is a great all-purpose salt for cooking and baking. If using table salt, reduce quantities by about half.
Nutrition
Calories:
107
kcal
|
Carbohydrates:
1
g
|
Protein:
0.3
g
|
Fat:
12
g
|
Saturated Fat:
7
g
|
Polyunsaturated Fat:
0.4
g
|
Monounsaturated Fat:
3
g
|
Trans Fat:
0.5
g
|
Cholesterol:
31
mg
|
Sodium:
683
mg
|
Potassium:
29
mg
|
Fiber:
0.2
g
|
Sugar:
0.2
g
|
Vitamin A:
525
IU
|
Vitamin C:
4
mg
|
Calcium:
10
mg
|
Iron:
0.2
mg