This recipe for Turkish style lamb skewers features a homemade baharat spiced marinade. The skewers are easy to make, have a delicious Middle Eastern inspired flavor and are grilled until perfectly tender.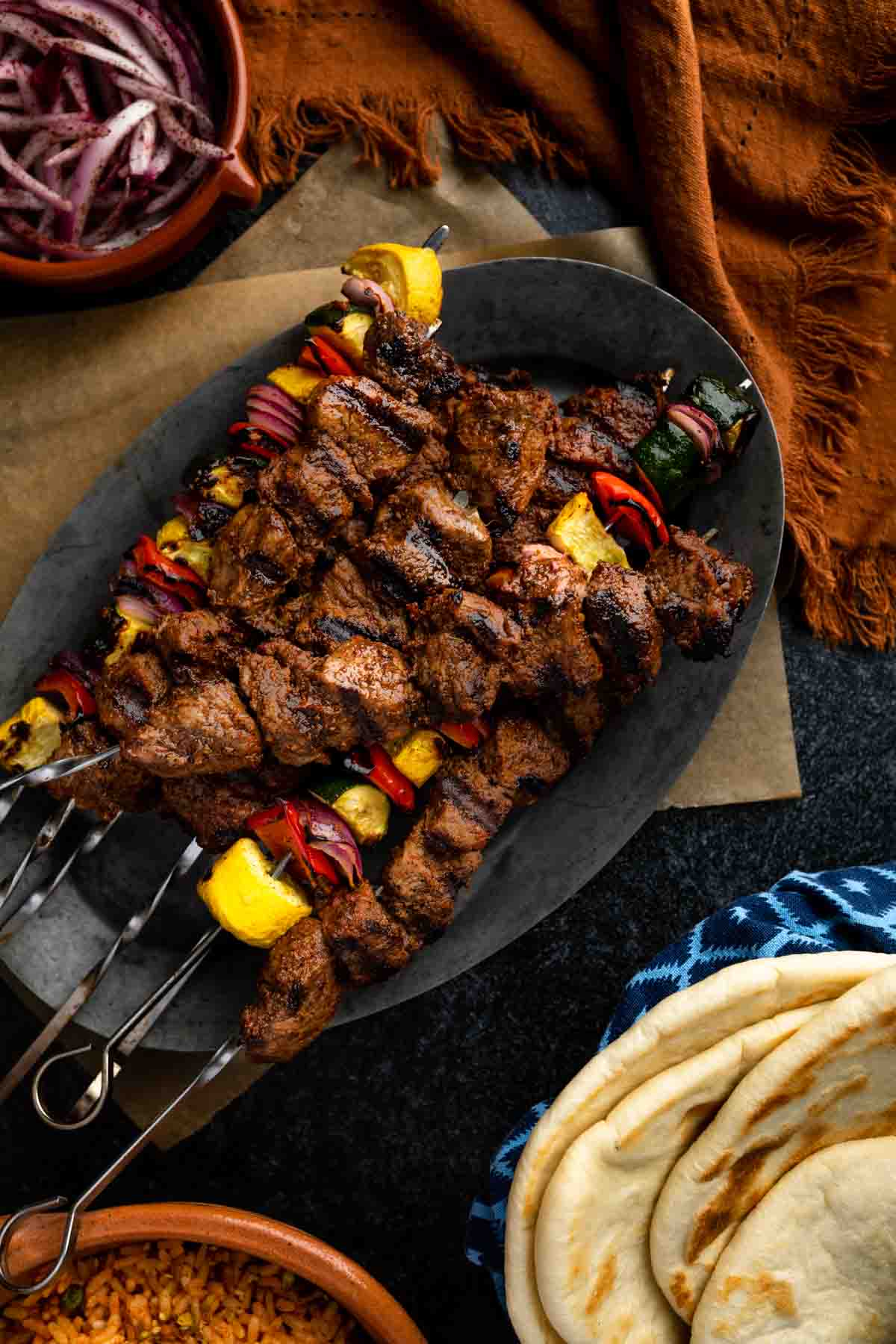 This shish kebab recipe is perfect for making street food inspired wraps with homemade pita, sumac onions, feta and tomato. They also make a great sit down meal with rice, salad and grilled vegetables. For another protein option, serve these shish with our Turkish-style chicken kofta kebabs.
This recipe was inspired by my time working at Oleana restaurant under Chef Ana Sortun.
Jump to:
Why You'll Love This Recipe
Perfectly spiced for big flavor. These kebabs are anything but bland. The lamb pairs so perfectly with this blend of baharat spice. It's balanced with warm spices, a kick of heat and savory dried herbs.
So easy - My favorite thing about this recipe is that it packs such a big punch with minimal effort. The marinade comes together in minutes and you can even make a big batch of the baharat spice blend to use in other recipes or to make this meal even easier for next time.
Tender lamb - I love lamb but depending on how it is prepared, grilled lamb can be a bit notorious for being tough, dry and chewy. Not these shish! Using the right cut of lamb and pairing it with an overnight marinade creates perfectly tender bites.
What Are Shish Kebabs?
Shish kebabs refer to several varieties of skewered and grilled cubes of meat. There are many, many styles of this dish and shish kebabs are a staple of cuisine throughout the Middle East and Mediterranean.
Shish comes from the Turkish word şiş meaning 'sword' or 'skewer'. The word kebab refers to any type of cubed or ground meat. Kebabs can be skewered (like shish) but can also be un-skewered and refer to ground meat shaped into logs, patties or meatballs.

Lamb is commonly used for shish kebabs but you will also see chicken, beef, veal, goat and even fish. (Pork kebabs are less common, but exist where it is complaint with religious laws). Kebabs are most commonly grilled but can also be pan fried, oven baked or cooked on a vertical rotisserie, as with the beloved doner kebab (gyro meat).
This recipe uses cubes of lamb marinated in a flavorful baharat spice blend. It is a Turkish inspired recipe that can be served with rice and vegetables or wrapped in flatbread, which is a traditional street food known as a dürüm.
Ingredients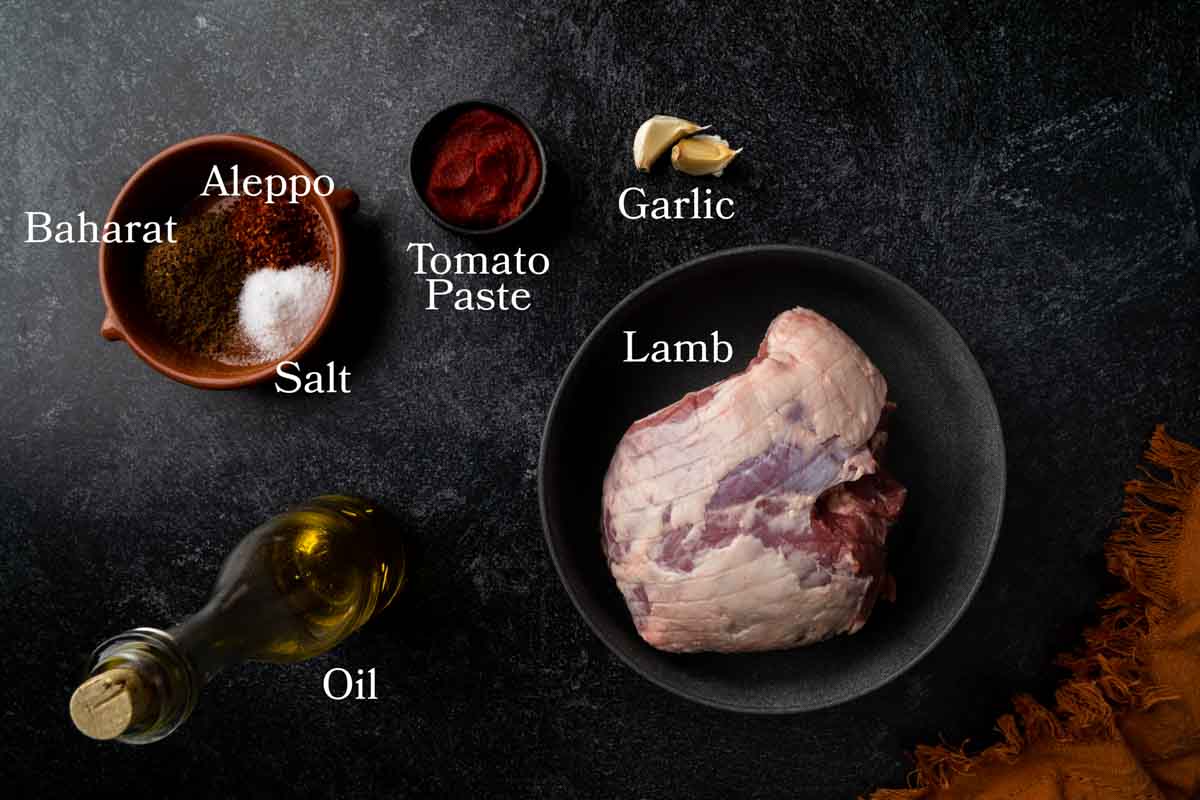 Lamb Shoulder, Lamb Sirloin or Leg of Lamb
Tomato Paste
Olive Oil
Garlic - I like to use fresh grated garlic but you can also substitute 1 teaspoon of garlic powder.
Homemade Baharat - A blend of dried spices including aleppo, cumin, coriander, cinnamon, allspice, dried mint, salt and pepper. You can check out the full post and make a larger batch of homemade baharat to use in various recipes, or make just enough for this recipe. Both ways are listed in the recipe card below.
Aleppo pepper or Smoked Paprkia - There is a little paprika or Aleppo pepper in the baharat seasoning but I like to add a little extra to this recipe. Traditionally, Turkish lamb marinades will use a spiced red pepper paste. The red pepper paste can be found online, however, it's rather expensive and I found a little additional Aleppo pepper (or paprika) worked as a good substitute.
Ingredient Spotlight: What is Aleppo pepper? Aleppo pepper (also known as halaby pepper), is a mild red chili that originates from Aleppo, Syria. This chili has an earthy flavor with a fruity finish. Aleppo pepper has a mild heat (more than paprika but only about half the spice of a common red chili flake). High quality Aleppo has a deep red color and a slightly oily appearance.
Aleppo pepper is a versatile seasoning. The peppers are partially dried, deseeded and ground to a course powder. It is a common ingredient throughout Middle Eastern cooking, especially in Turkey and Syria. If you can't find it in your local grocery store, aleppo can easily be sourced online.
Homemade Baharat (Middle Eastern Spice Blend)
Baharat (Arabic for 'spices') refers to an aromatic spice blend that is common throughout Middle Eastern cuisine. The flavor is earthy, with warm aromatics, and a subtle sweet smoky finish. It's fabulous on many foods but pairs especially well with lamb.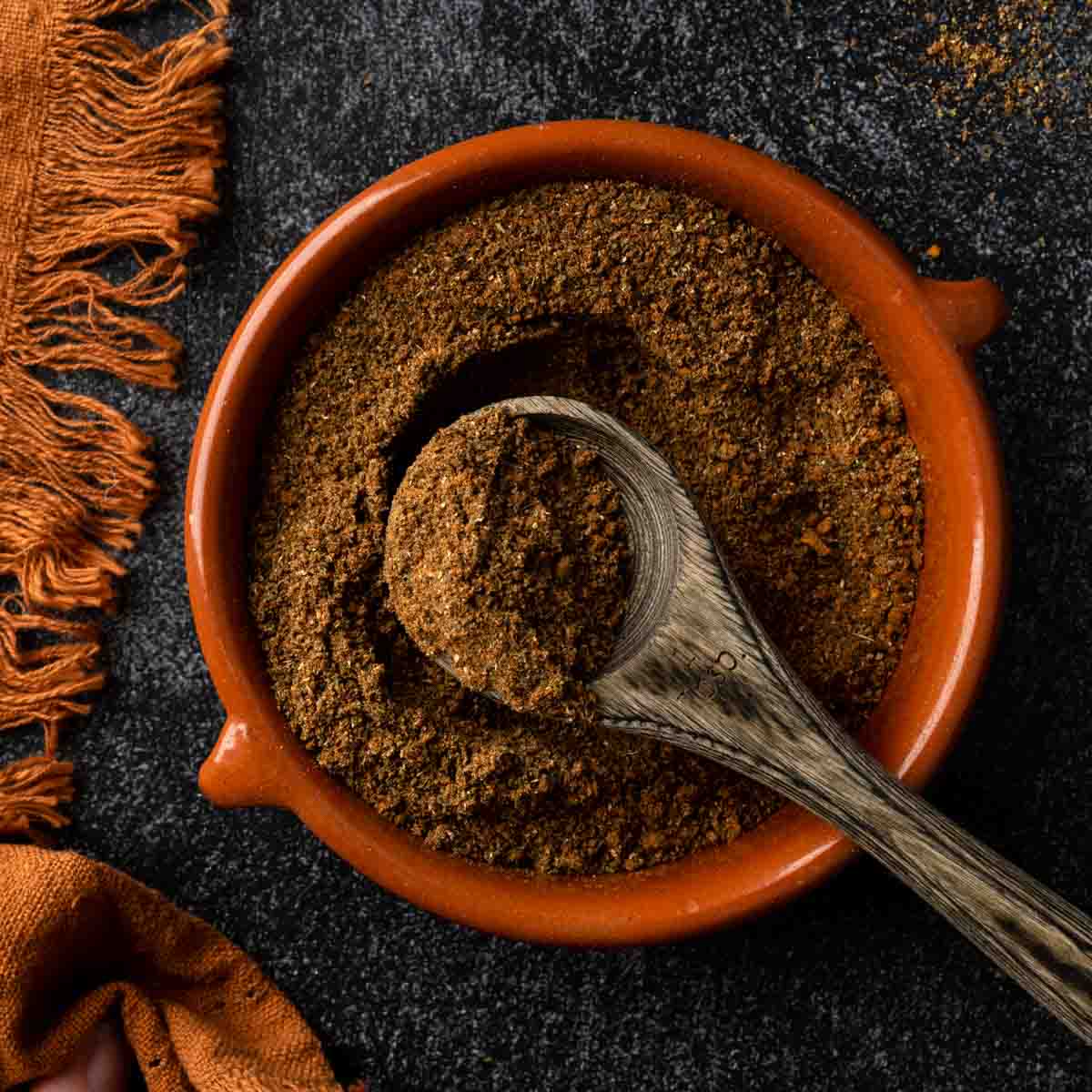 Like all good spice blends, the spices used in baharat will vary from region to region. You can purchase yours in spice shops, specialty stores and online. I like to make my own!
My homemade baharat recipe is a Turkish style, including dried mint. I have included the recipe with the lamb below, but check out the entire baharat post for more information and lots of serving ideas - you can really enjoy it all year round with so many different foods and cooking techniques.
Choosing The Best Lamb for Kebabs
Lamb is a flavorful game meat that is popular for making kebabs. Different cuts will yield different results - with some cuts being too lean, too dry and/or too tough for grilling.
The short answer is to look for grass-fed 'Spring lamb' shoulder or leg. (We buy ours at Trader Joe's.) Using Spring lamb (that is about 1 year old), as opposed to mutton (that is generally 2 - 3 years old) is the key to creating tender, juicy lamb kebabs.
For a more detailed explanation, check out our article on the differences between lamb vs mutton to better understand how lamb meat is classified and what to look for.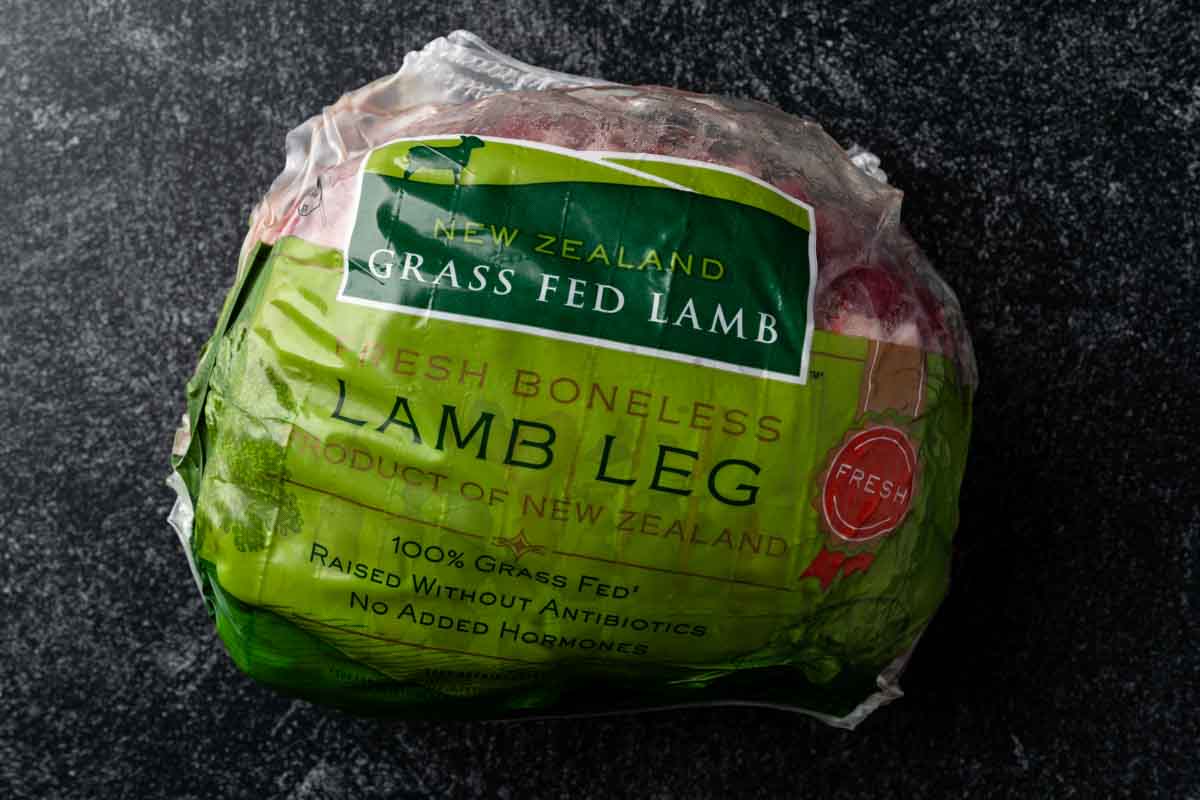 Marinating The Lamb
This lamb marinade is so delicious and super easy. It provides the perfect balance of Middle Eastern spice and unctuous flavor. For the most flavorful shish, I recommend marinating overnight. However, anywhere in the 4 - 24 hour range will yield tasty results.
Start by cutting the lamb into 1 inch cubes. Use a sharp knife to cut away any white fat or silver skin (shiny connective tissue that appears like a skin on the meats' surface).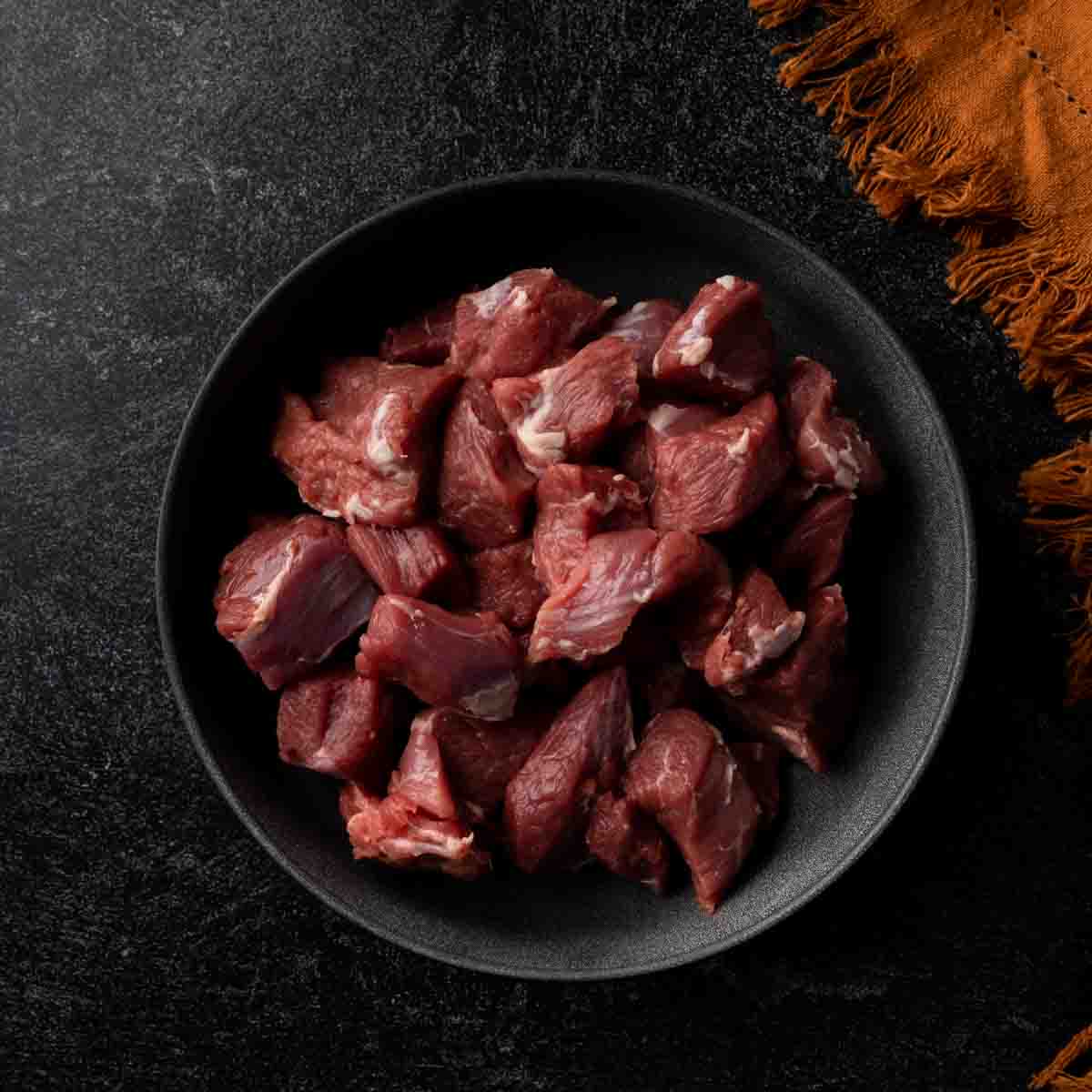 Add all baharat marinade ingredients to the bag (or bowl) with the lamb. Mix (or massage the sealed ziplock) until the lamb is evenly coated. Refrigerate for at least 4 hours, or preferably overnight.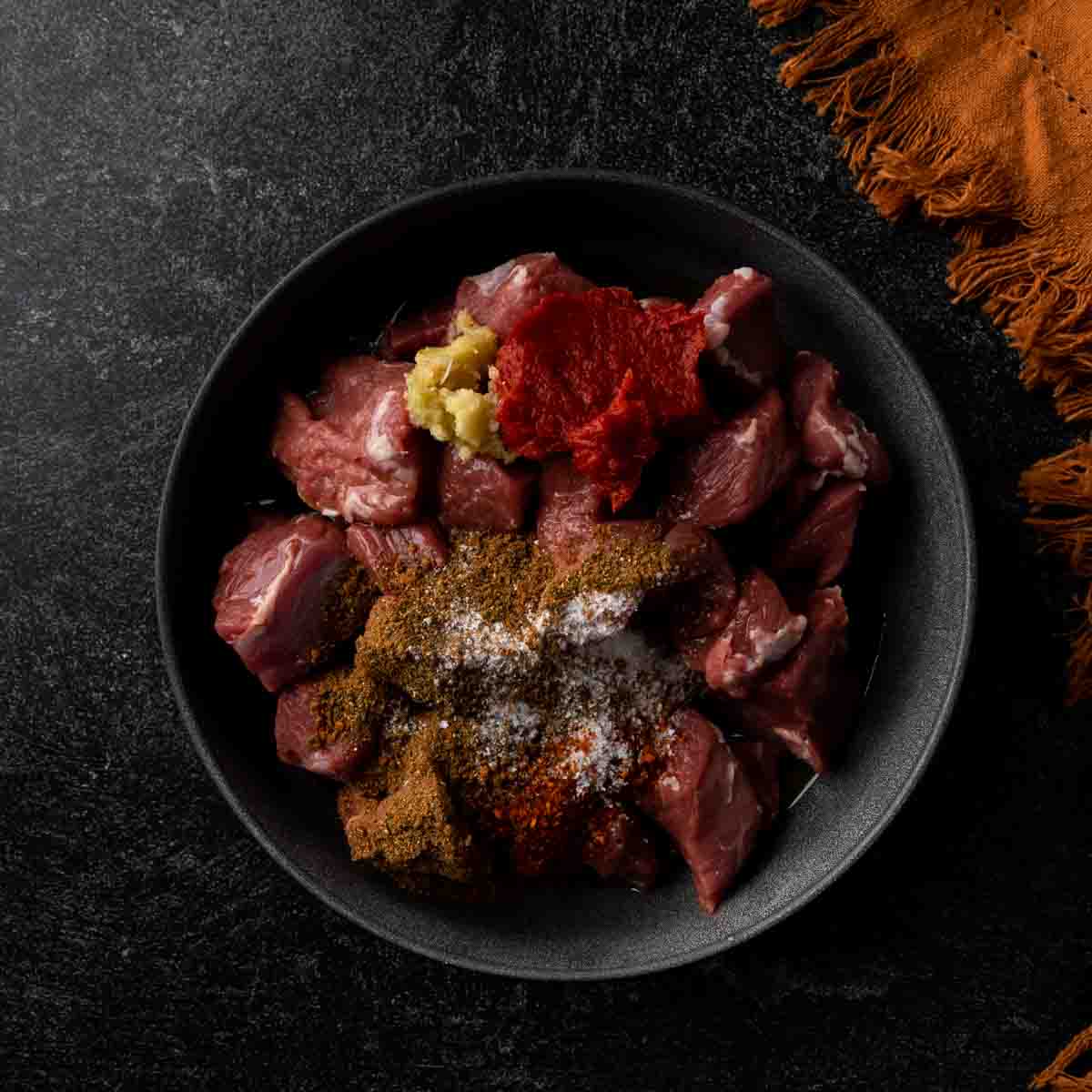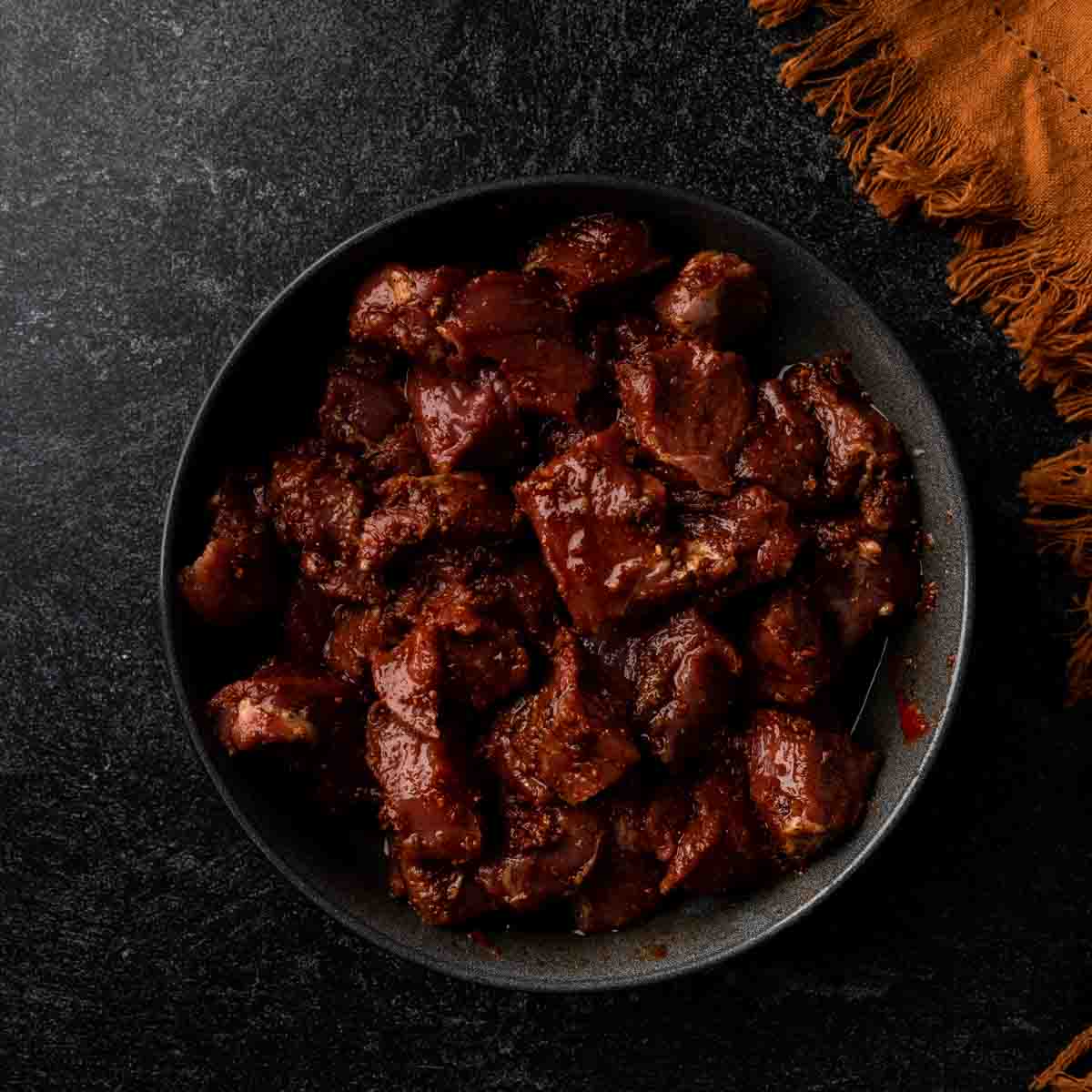 Skewering & Grilling
Once the lamb has fully marinated, remove it from the refrigerator and allow it to temper for 30 - 60 minutes. Cooking the meat from room temperature will help to ensure even cooking and juicy meat.
Preheat the grill to 400° - 425° Fahrenheit for 10 - 15 minutes before grilling. (We only have a gas grill, but these kebabs are especially flavorful over charcoal.)
In the meantime, it's time to skewer the lamb. If using metal skewers, rub each skewer with a sliced lemon, to help prevent the meat from sticking. Skewer the lamb, leaving a little space between each cube of meat. I used 6 (12 inch) skewers that work out as nice quarter pound servings.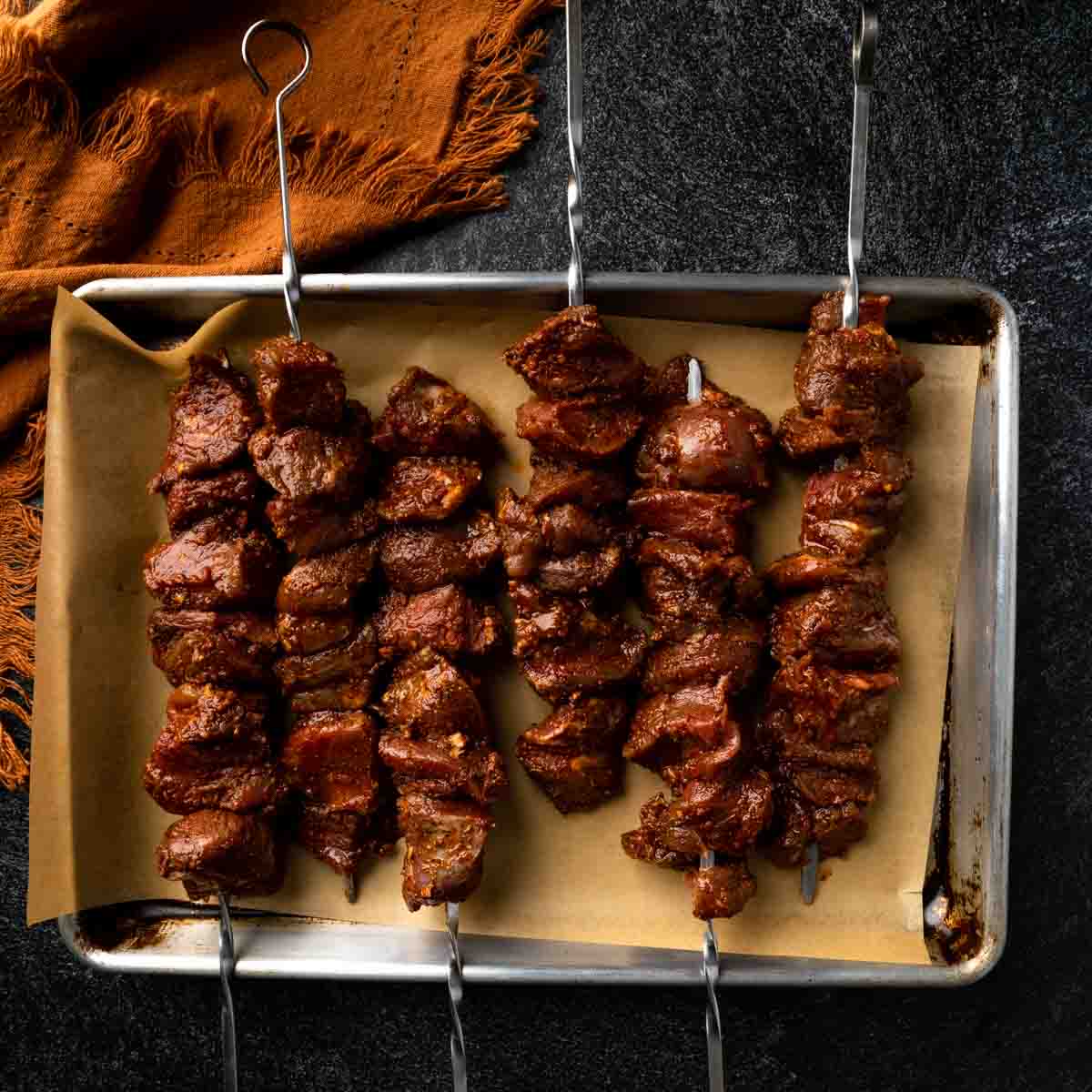 Grill the skewers for 3 - 4 minutes per side. When the skewers are ready to flip, they will release easily from the grill top. (If they are sticking, they are not ready to flip quite yet.) Cook the lamb until the largest pieces on the skewers reach an internal temperature of 135° - 140° Fahrenheit (medium) or to your desired doneness. (Get our favorite instant read thermometer here.)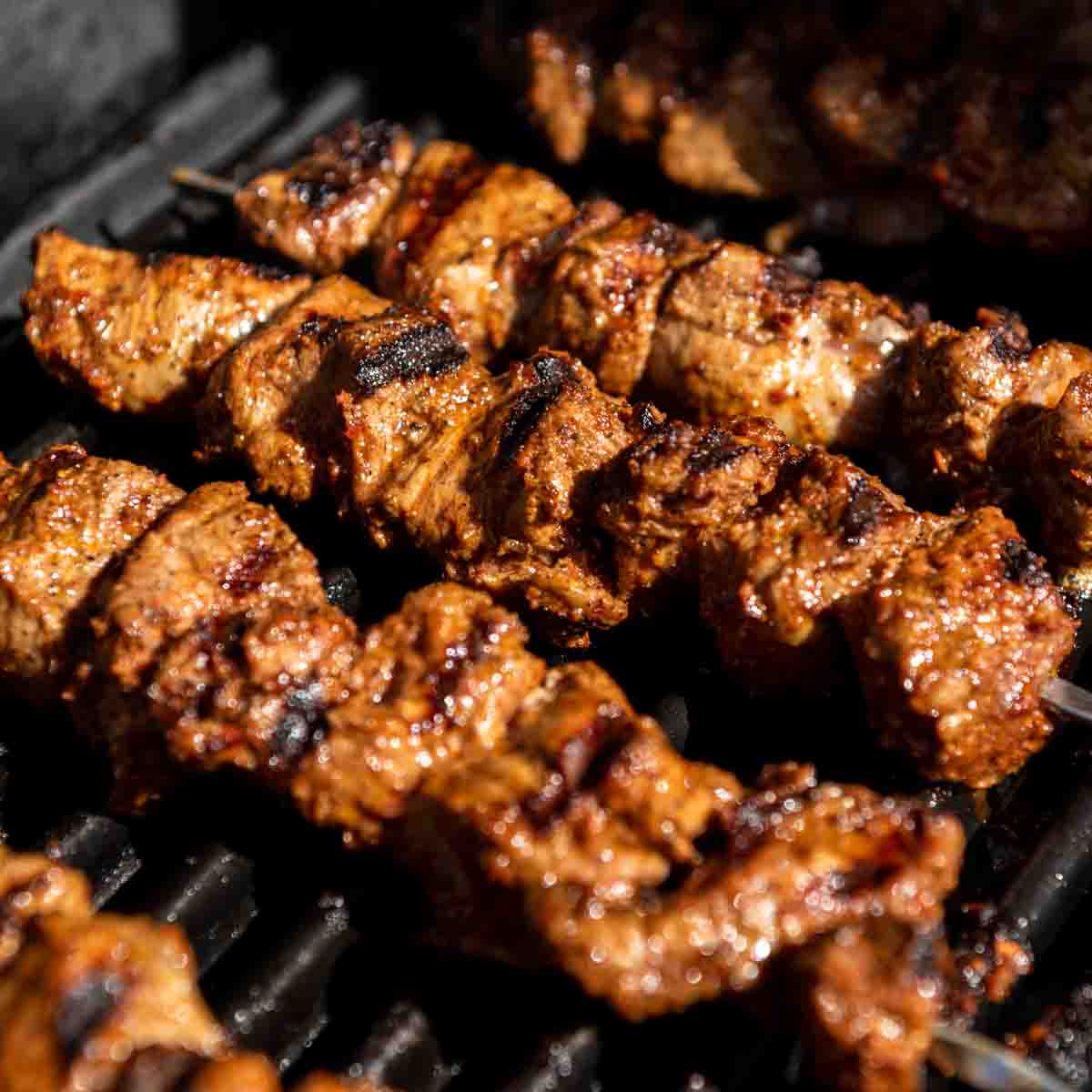 Note: We usually eat beef at medium rare but have personally found these lamb skewers to have the best texture when prepared medium.
Allow the skewers to rest for 5 minutes. If making a flatbread wrap, it is traditional to rest the lamb directly on your lavash (or pita) to allow the bread to absorb the flavorful juices. Enjoy!
Pro Tip: Best Skewers for Successful Shish
We recommend using flat metal skewers for grilling. They are an inexpensive reusable option and the flat prong helps to keep the meat from spinning when being flipped on the grill.
If using wooden or bamboo skewers, soak the skewers in a lukewarm water bath for 30 minutes before skewering. Soaking the skewers will help them to avoid burning on the grill.
Serving Suggestions
These lamb shish kebabs make for a fabulous Summer dinner and they're great for adding some Turkish flare to any barbecue. They can pair simply with any of the usual barbecue potluck sides, but are especially delicious in wraps or paired with other Middle Eastern flavors.
Here are a few of my favorite pairings:
Flatbread
My favorite way to enjoy marinated lamb shish is in a wrap or pita pocket. Shish kebab are often served as a street food, wrapped in lavash (flatbread) with fresh toppings. I like to serve mine with our homemade pita pocket recipe, feta, salad and sumac onions!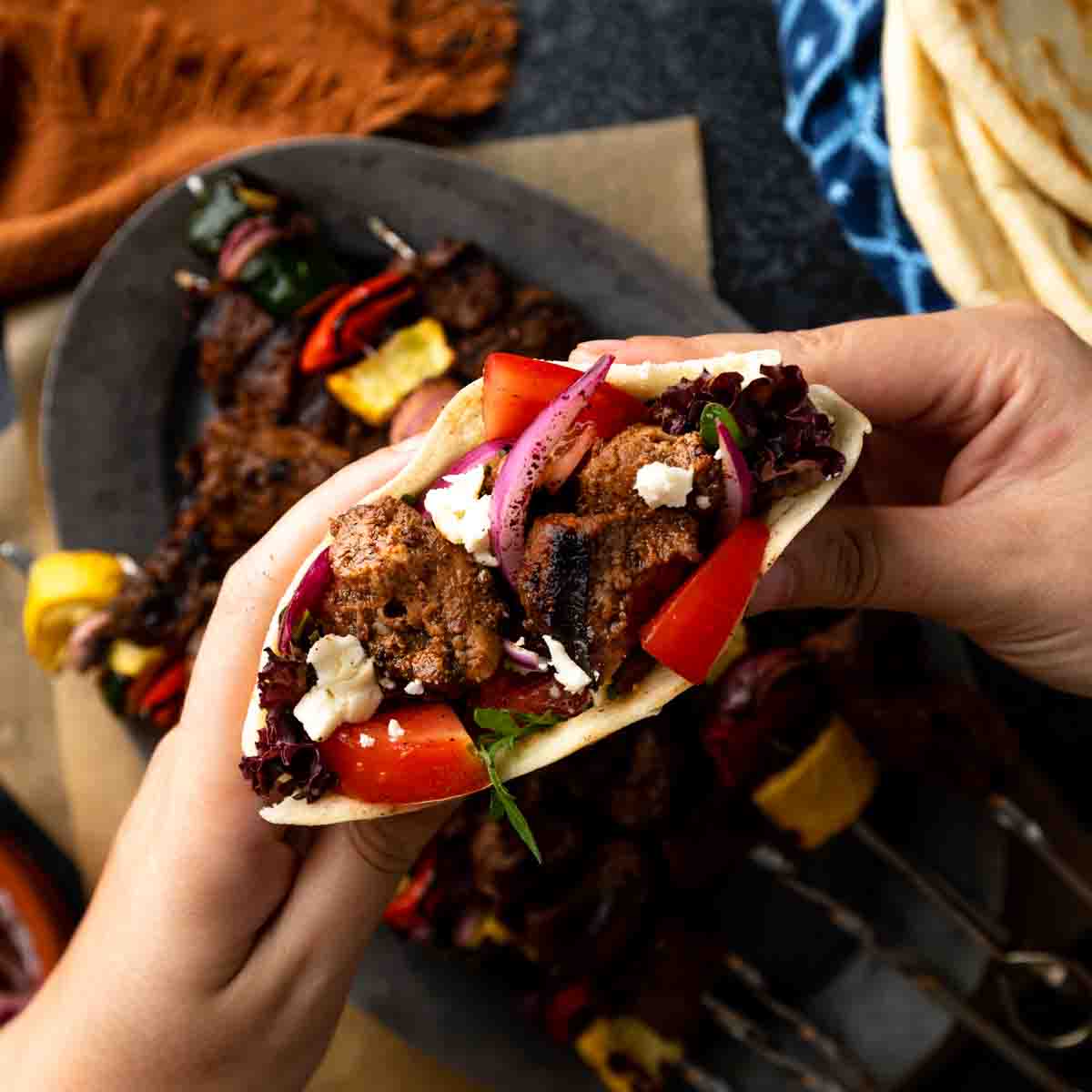 Sumac Onions
Sumac onions are a popular Turkish condiment made from red onions. I keep mine really simple by tossing red onions with sumac and a little lemon juice. After a few minutes, the onions take on a tart, lightly pickled flavor that pairs perfectly with kebabs of all sorts.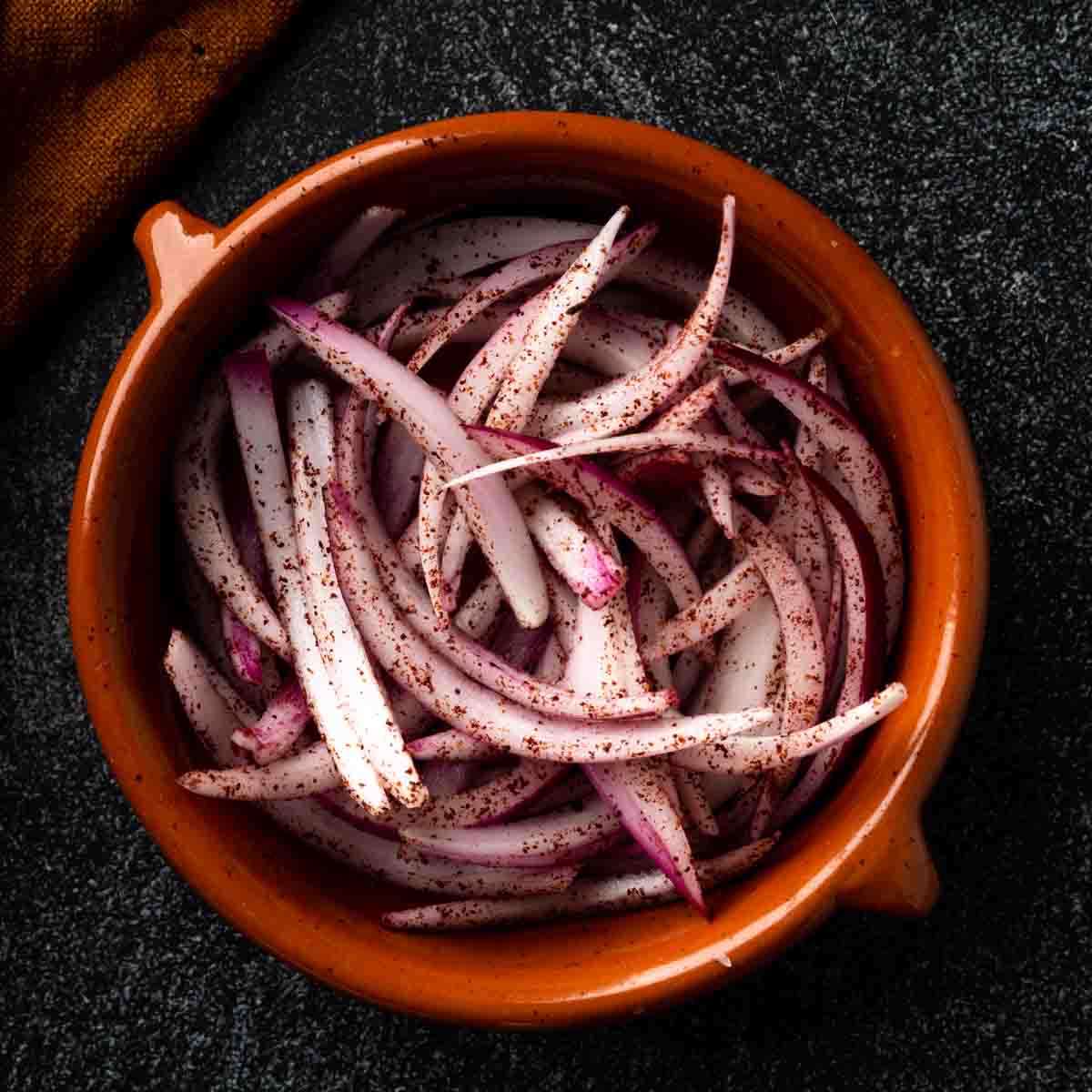 Ingredient Spotlight: What is sumac? - Sumac is a type of shrub that produces brightly red colored berries. These berries are tart and citrusy with a fruity flavor and an acidity similar to lemon. The berries are dried and ground to a powder that is used as seasoning throughout Middle Eastern and Mediterranean cuisines.
Sumac is a common ingredient used to add acidity to several foods. It is commonly used in dry rubs and marinades, to garnish dips like hummus, in bread seasonings (like za'atar) or on salads (like fattoush).
Other Serving Suggestions
Grilled Vegetable Skewers - Whenever I make shish kebab, I like to make mixed vegetable skewers, too. Use whatever you like including onions, bell peppers, mushrooms, tomatoes, eggplant, Summer squash and zucchini. Keeping the meat and vegetables separate helps to ensure everything is evenly cooked.
Rice or Couscous - I like to make this recipe with a jeweled couscous with saffron butter, golden raisins and pistachio.
Salads - Baharat spiced lamb is a great source of protein to add to salads - especially with ripe tomatoes and feta cheese.
Labneh/Yogurt - Labneh and other yogurt sauces make for a delicious condiment for lamb shish. Try it with the garlicky yogurt sauce from our chicken kofta recipe.
Hummus - Either in a pita or just a big bowl with crispy chickpeas and sumac.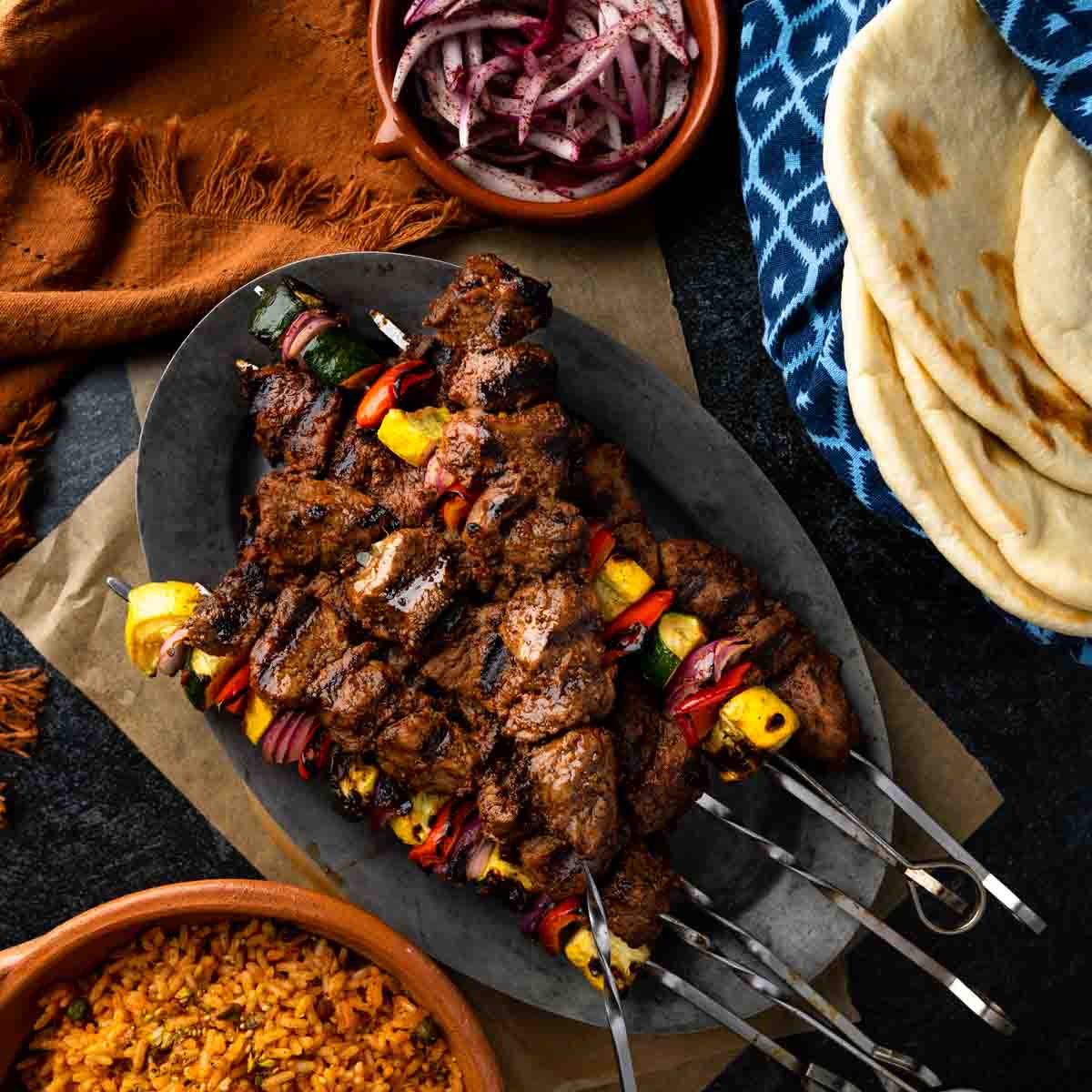 Saving & Storing
Leftover lamb skewers can be refrigerated or frozen. It is recommended to reheat leftovers to an internal temperature of 165° Fahrenheit.
Refrigerator: 3 - 5 days
Freezer: 2 - 3 months
Frequently Asked Questions
What is the difference between shish kebabs and kebabs?
Shish kebabs refer to skewered cubes of meat that are typically grilled over an open fire.

Kebabs, in general, can refer to any type of cubed or ground meat either skewered, cooked on a vertical rotisserie or ground and shaped into logs, patties or meatballs.
What cut of lamb is best for shish kebabs?
Look for grass-fed lamb shoulder or leg of lamb that is labeled 'Spring Lamb'. It should be small, light pink and have a mild grassy scent. Avoid using mutton, if possible.
Why are my lamb shish tough and chewy?
Tough and chewy grilled lamb is usually from using tough cuts of mutton (lamb that is 24+ months old). Ask your butcher for baby or Spring lamb.

Tough and chewy lamb can also be the result of overcooking or lamb that was not properly trimmed of fat and silver skin.
You May Also Like...
Recipe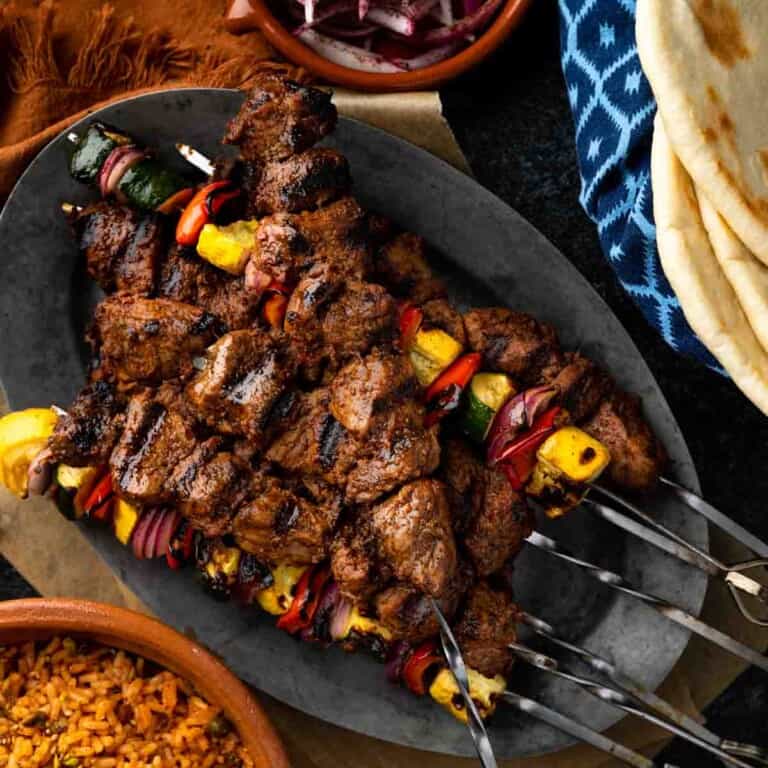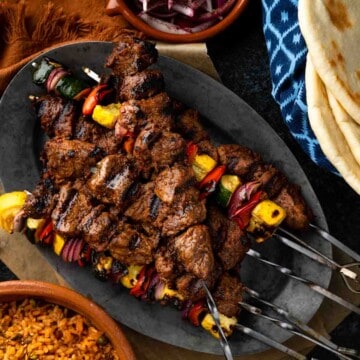 Turkish Lamb Skewers (Shish Kebab with Baharat Marinade)
These easy lamb skewers are marinaded in a Middle Eastern spice blend (baharat) and served with grilled vegetables and sumac onions. So good!
ADJUST SERVINGS
Special Equipment
Fine-Mesh Cocktail/Tea Strainer

6 Flat Metal Skewers

(or bamboo skewers soaked in water for 30 minutes)
Ingredients
Lamb Shish Kebabs (If using our Homemade Baharat recipe, See Note: a.)
2

pounds

lamb shoulder, leg or sirloin

trimmed of fat, cut into 1 inch cubes

3

Tablespoons

tomato paste

2

cloves

garlic

grated or minced

⅓

Cup

olive oil

2

teaspoons

fine kosher salt*

1

teaspoon

Freshly-ground black pepper

1

Tablespoon

Aleppo pepper or smoked paprika

(See Note: a.)

1

teaspoon

dried mint

sieved (See Note: b.)

½

teaspoon

ground cumin

½

teaspoon

ground coriander

½

teaspoon

ground cinnamon

¼

teaspoon

ground nutmeg

¼

teaspoon

ground allspice

1

slice

lemon

optional to prevent sticking to skewers
Sumac Onions (Optional)
½

medium

red onion

sliced

1 ½

teaspoons

sumac
lemon juice

freshly-squeezed, to taste

fine kosher salt*

to taste
Instructions
Lamb Shish Kebabs
In a ziplock bag (or medium mixing bowl) combine all ingredients except lemon (cubed lamb, tomato paste, garlic, olive oil, salt, black pepper, Aleppo or paprika, mint, cumin, coriander, cinnamon, nutmeg, and allspice.)

Massage the sealed bag (or mix thouroughly) until the marinade is well combined and coating the lamb entirely. Refrigerate for at least 4 hours, preferably overnight.

Remove the marinated lamb from the refrigerator, to temper, about ½ - 1 hour before grilling. Preheat the grill to 400° - 425° degrees Fahrenheit for 10 - 15 minutes. In the meantime, prepare the skewers.

Rub metal skewers with a slice of lemon to help prevent sticking (or use soaked wooden/bamboo skewers). Skewer cubes of lamb onto the skewers leaving a little space between each piece.

Grill the skewers for 3 - 4 minutes on each side. (If the skewers are sticking to the grill, they are not ready to be flipped yet.) Cook the lamb to an internal temperature of 135° - 140° Fahrenheit (medium, or to your desired doneness).

Allow the skewers to rest for 5 minutes before serving with sumac onions and your favorite Middle Eastern sides. Enjoy!
Sumac Onions
In a small bowl, combine sliced onion and sumac. Toss together. Add lemon juice and salt, to taste. Set aside to allow the onions to "pickle" for 10 or more minutes. Serve with kebabs, as desired.
Notes
a. If using our Homemade Baharat recipe (or your favorite baharat spice blend), marinate the lamb with

1 Tablespoon

plus

2 teaspoons

of baharat,

2

(additional) teaspoons of Aleppo pepper (or smoked paprika),

2 teaspoons

of fine kosher salt,

3 Tablespoons

of tomato paste,

2

cloves of garlic, and

⅓

Cup of olive oil.
Homemade Baharat Recipe (See the full baharat post for more details, whole spice quantities and step by step instructions.)
2 Tablespoons black pepper
2 Tablespoons aleppo pepper (or smoked paprika)
2 Tablespoons dried mint (b.)
1 Tablespoon ground cumin 
1 Tablespoon ground coriander 
1 Tablespoon ground cinnamon 
2 teaspoons grated nutmeg
2 teaspoons ground allspice
b. Rub dried mint through a fine-mesh strainer to grind it to a fine powder and remove any tough stems.
* A Note About Salt
Unless otherwise noted, all recipes on The Sage Apron are developed using Diamond Crystal Kosher salt. It is a great all-purpose salt for cooking and baking. If using table salt, reduce quantities by about half.
Nutrition
Calories:
253
kcal
|
Carbohydrates:
4
g
|
Protein:
20
g
|
Fat:
17
g
|
Saturated Fat:
4
g
|
Polyunsaturated Fat:
2
g
|
Monounsaturated Fat:
11
g
|
Cholesterol:
61
mg
|
Sodium:
940
mg
|
Potassium:
415
mg
|
Fiber:
1
g
|
Sugar:
2
g
|
Vitamin A:
539
IU
|
Vitamin C:
3
mg
|
Calcium:
32
mg
|
Iron:
3
mg