This Fried Potato Salad with bacon is the best side dish! This unique potato salad features baked russet potatoes that are diced, pan-fried in bacon fat and tossed with thick-cut bacon, a little red onion and scallion.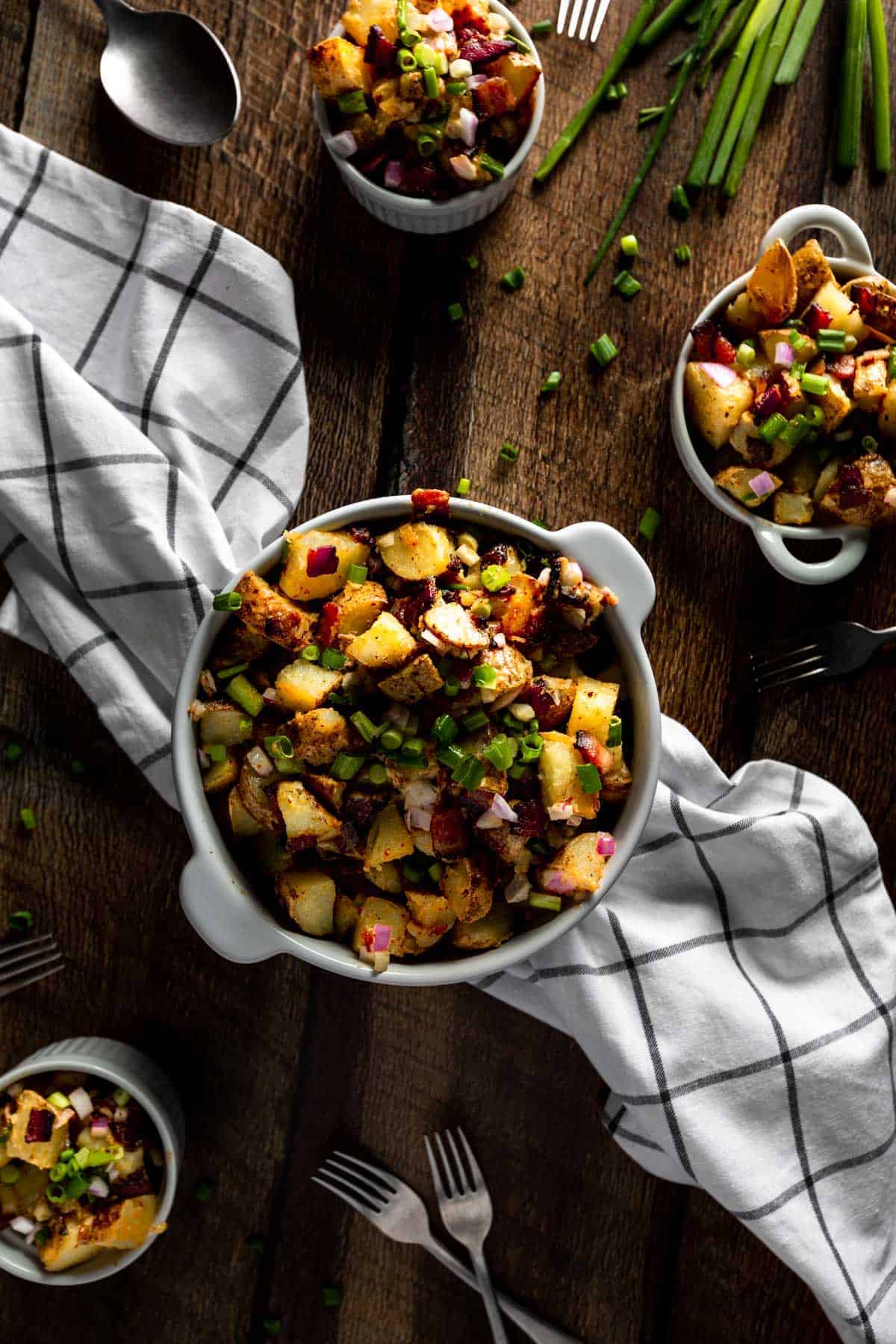 This Fried Potato Salad recipe is all about bacon fat fried potatoes tossed in homemade Smoked Paprika Aioli. Unlike your traditional potato salad, this recipe is tangy, smokey, flavorful and has great textures. The potatoes get a little crispy and absorb all that bacon-y flavor.
Meanwhile, a little diced red and green onions provide a nice freshness, satisfying crunch and pop of color. Smoked Paprika Aioli adds a creamy mouthfeel with a bit of garlic and zippy, acidity.
For other barbecue side dishes, make our Halloumi Pasta Salad & Sweet Skillet Cornbread with Honey Butter!
Jump to:
Ingredients for This Recipe
This Fried Potato Salad with bacon recipe comes together in under thirty minutes with just a handful of common ingredients. It makes for such a great side dish! Try it with our Smoked Chicken Quarters with Tangy Apricot BBQ Sauce!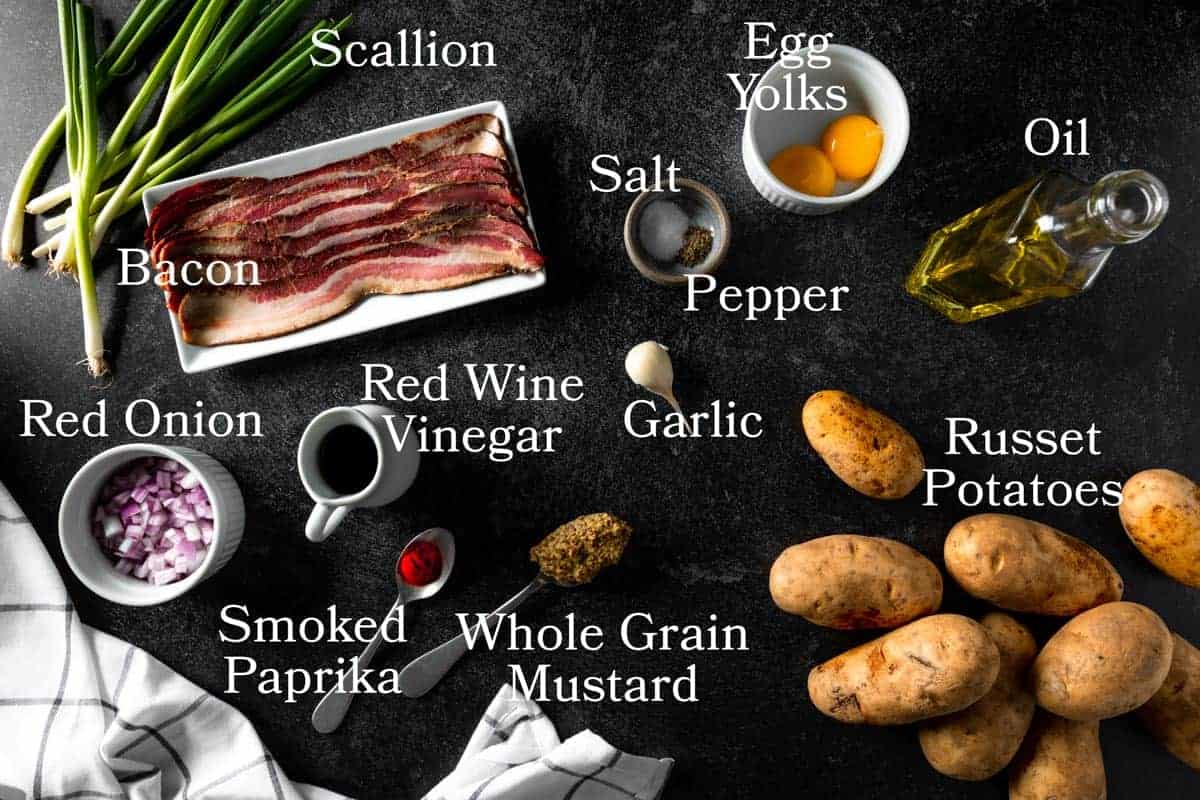 Potatoes - For this recipe, we like to use russet potatoes. You can use left-over baked potatoes, fresh-baked potatoes, or (for ease, time and convenience) potatoes "baked" in the microwave.
Pro Tip: Too hot to turn on your oven? - If you'd rather not use the oven and don't like the microwave method, you can boil the potatoes instead. Place potatoes (whole and unpeeled) in a pot of cold water. Set over high heat to boil until easily pierced with a fork. Once cool enough to handle, the skins should easily peel away and the potato is ready to be diced and fried!
How To Make Fried Potato Salad with Bacon
Check out our quick how-to video to watch it all come together! So easy!
Process: Start by preparing the Smoked Paprika Aioli in a food processor. The aioli can be made a day or two ahead of time and tossed together when serving. Then, cook the bacon in a large skillet. Remove the bacon with a slotted spoon leaving all the bacon fat in the pan. Fry the potatoes in batches to keep them crispy.
When ready to serve, combine all of the potatoes, bacon, onions and aioli in a large bowl. Season with kosher salt and freshly cracked black pepper to taste.
Tips for Bacon Fat Fried Potatoes
For the star of this side dish, baked russet potatoes are pan-fried in rendered bacon fat. For the best results, we recommend the following:
Start with a good-quality, thick-cut bacon. We like to use a nitrate-free bacon, when possible.
Cook your bacon on medium-low heat and start in a COLD pan. Cooking the bacon low and slow will help to gently melt the fat and leave you with bacon that is properly crisped. All that rendered bacon fat that is left in the pan will be perfect for frying the potatoes!
Cut and fry potatoes from cold or room-temperature. Leftover baked potatoes are perfect for this recipe! If you will be baking (or microwaving) potatoes fresh for this recipe, allow them to cool for a few minutes in the fridge or freezer. Cooler potatoes will be easier to dice and will fry better in the bacon fat.
Fry potatoes in small batches. Don't overcrowd the pan! Like anything, potatoes need a little space to properly crisp up! Crowded potatoes will steam, not fry, and you'll never get that golden brown deliciousness!
Transfer cooked bacon and potatoes to a paper towel-lined plate. Allow the excess grease to be absorbed on the paper towels (or recycled brown paper bag) before mixing this Fried Potato Salad with Bacon.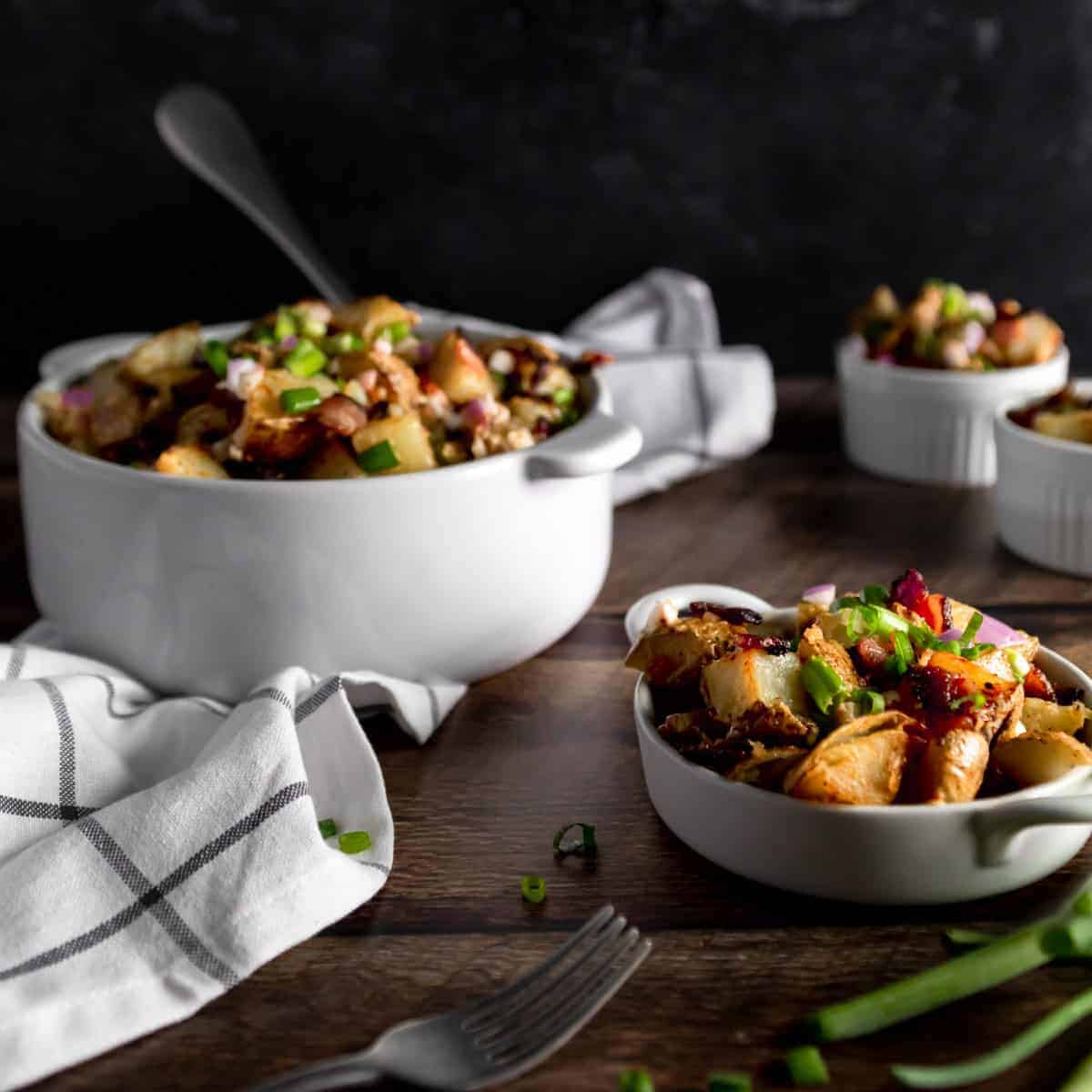 Smoked Paprika Aioli - Easy Homemade Mayonnaise
Once you make your first homemade aioli, you'll never want to go back to the jar of mayonnaise! Making fresh mayonnaise (often called aioli) is so easy and so tasty! Aioli (aka mayonnaise) is an emulsion of egg yolks and oil. Use a neutrally flavored oil like vegetable, canola or avocado oil. Olive oil will work in a pinch, but it will have a different flavor.
For this Fried Potato Salad with Bacon recipe, we flavored the aioli with garlic, coarse-ground dijon mustard, red wine vinegar and, of course, smoked paprika. The flavors work so well with the bacon and potatoes! This recipe is not as heavy as pre-made mayonnaise and is somewhere between a zippy vinegar dressing and a creamy aioli spread.
As seen in the video above, we made this Smoked Paprika Aioli using a food processor. You could also make this aioli in a traditional blender or in a jar with an immersion blender. The KEY to properly thicken aioli is to incorporate the oil gradually. First, add just a couple drops of oil then, stream the oil in very slowly while processing on high speed. If the oil is added too fast, the aioli will not thicken.
This recipe makes about one cup of Smoked Paprika Aioli. Personally, we prefer our Fried Potato Salad with about half of this aioli recipe. Add this aioli to the salad a little bit at a time to suit your mayo-binding preferences. Leftover aioli is delicious on sandwiches and wraps, or as a dip for French fries or the like. It can be kept in the refrigerator for 3 - 4 days.
Serving Suggestions
Pair this fried potato salad with these other great BBQ recipes!
Recipe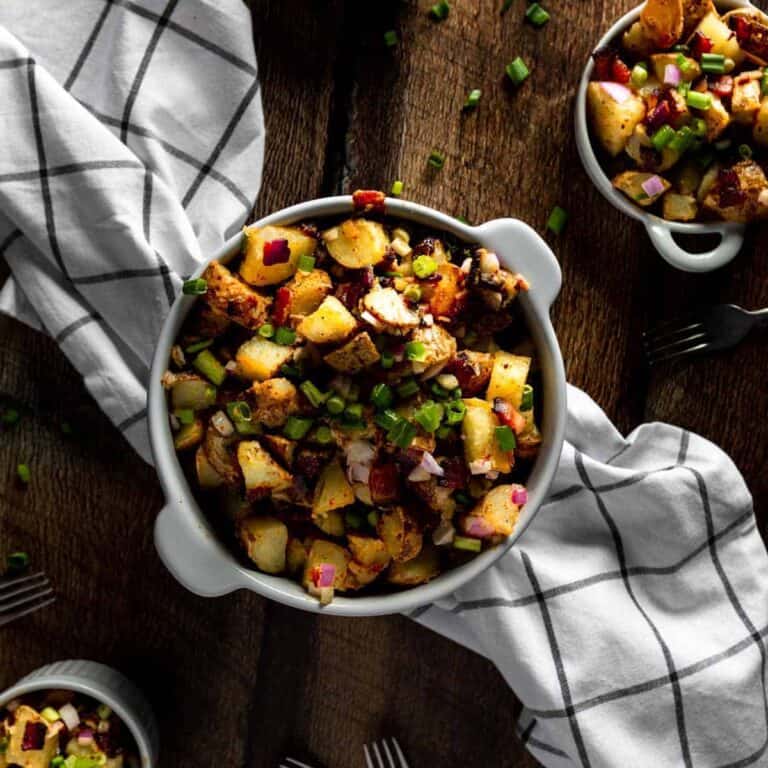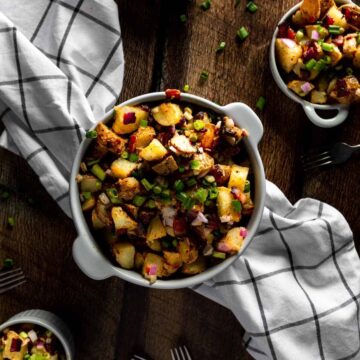 Fried Potato Salad with Bacon & Homemade Aioli
This Fried Potato Salad features bacon fat pan-fried potatoes that are tossed with bacon, scallion, red onion and a homemade Smoked Paprika Aioli! This recipe is a delicous Summer side dish that is perfect for cook-outs, barbeques, gatherings and potlucks!
ADJUST SERVINGS
Special Equipment
Food Processor, Blender or Immersion Blender
Ingredients
Fried Potato Salad
3

pounds

raw or baked russet potatoes

if using leftover baked potatoes, skip Step 2

½

pound

thick-cut bacon

diced

fine kosher salt*

to taste

Neutral cooking oil

as needed, vegetable oil, canola oil, or avocado oil recommended

⅓

Cup

red onion

small diced, optional

4 - 8

scallions

small diced, divided to reserve some for garnishing, if desired

½ Cup - 1

Cup

Smoked Paprika Aioli

as desired
Smoked Paprika Aioli
2

egg yolks

¼

Cup

red wine vinegar

2

Tablespoons

coarse-ground dijon mustard

1

clove of garlic

½

teaspoon

smoked paprika

1

teaspoon

fine kosher salt*

½

teaspoon

freshly-ground black pepper

¾

Cup

neutral cooking oil

vegetable oil, canola oil, or avocado oil recommended
Instructions
Fried Potato Salad
Gather, measure and prepare the Fried Potato Salad ingredients as listed. To view metric measurements, toggle the US Customary/Metric switch at the top of this recipe card. Check out our How To Make Fried Potato Salad with Bacon video for a visual demonstration.

If using previously baked potatoes, skip this step. To cook your potatoes in the microwave, start by thouroughly washing your potatoes. Then, using the tines of a fork, poke several holes in the skins of your potatoes. In 2 batches (for microwave space), microwave the potatoes on high power for 5 minutes. Carefully flip the potatoes over and microwave on high power for an additional 5 minutes. It is okay if the potatoes still seem a bit firm, they will continue to cook when they are pan-fried. Transfer the potatoes to the fridge or freezer to allow to cool for a few minutes before proceeding.

If desired, peel the potatoes. (Personally, we like to keep the potato skins on.) Dice the potatoes into bite-sized pieces and set aside. If still warm, keep the diced potatoes in the refrigerator until ready for frying (Step 5).

In a large, heavy-bottomed skillet, add the diced bacon. Heat the pan to medium-low. Cook the bacon, stirring occasionally, until desired doneness. Remove the bacon from the pan and transfer onto a paper towel lined plate. Keep the rendered bacon fat in the pan.

Increase the heat of the skillet to medium. Carefully add about one third of the potatoes to the pan. Allow to sear, undisturbed, for 2 - 3 minutes or until golden brown. Toss to flip and sear an additional 2 - 3 minutes. Season to taste with salt. Transfer fried potatoes to a paper towel lined plate. Repeat this step with remaining potatoes. Add an additional splash of neutral cooking oil to the pan, as needed, for frying subsequent batches.

Transfer fried potatoes and bacon to a large bowl. Add red onion and scallions. Add about half of the Smoked Paprika Aioli. Toss to combine. Add additional aioli and salt to taste, as desired. Garnish with reserved scallions, if using. Serve while still warm or keep refrigerated until ready to serve chilled. Enjoy!
Smoked Paprkia Aioli
Gather, measure and prepare the Smoked Paprika Aioli ingredients as listed.

In a food processor fitted with the blade attachement (blender or jar with immersion blender), combine egg yolks, red wine vinegar, mustard, garlic, smoked paprika, salt and pepper. Process on high speed for 15 - 30 seconds until combined.

While processing on high speed, add a tiny splash of neutral cooking oil. Allow to continue processing for 15 seconds. Then, while still processing on high speed, very slowly stream in the remaing oil. The mixture will thicken as the oil is slowly incorporated

Keep the Smoked Parika Aioli refrigerated in an airtight container until ready to be used in this recipe. Leftover aioli is delicious on sandwiches, wraps or as a dip for French fries and can be kept refrigerated for 3 - 4 days. Enjoy!
* A Note About Salt
Unless otherwise noted, all recipes on The Sage Apron are developed using Diamond Crystal Kosher salt. It is a great all-purpose salt for cooking and baking. If using table salt, reduce quantities by about half.
Nutrition
Calories:
385
kcal
|
Carbohydrates:
26
g
|
Protein:
7
g
|
Fat:
29
g
|
Saturated Fat:
5
g
|
Polyunsaturated Fat:
7
g
|
Monounsaturated Fat:
16
g
|
Trans Fat:
1
g
|
Cholesterol:
54
mg
|
Sodium:
434
mg
|
Potassium:
681
mg
|
Fiber:
4
g
|
Sugar:
2
g
|
Vitamin A:
259
IU
|
Vitamin C:
30
mg
|
Calcium:
37
mg
|
Iron:
2
mg