Pickled mustard seeds make for a fun and tangy condiment for charcuterie boards, sandwiches, roasts and more!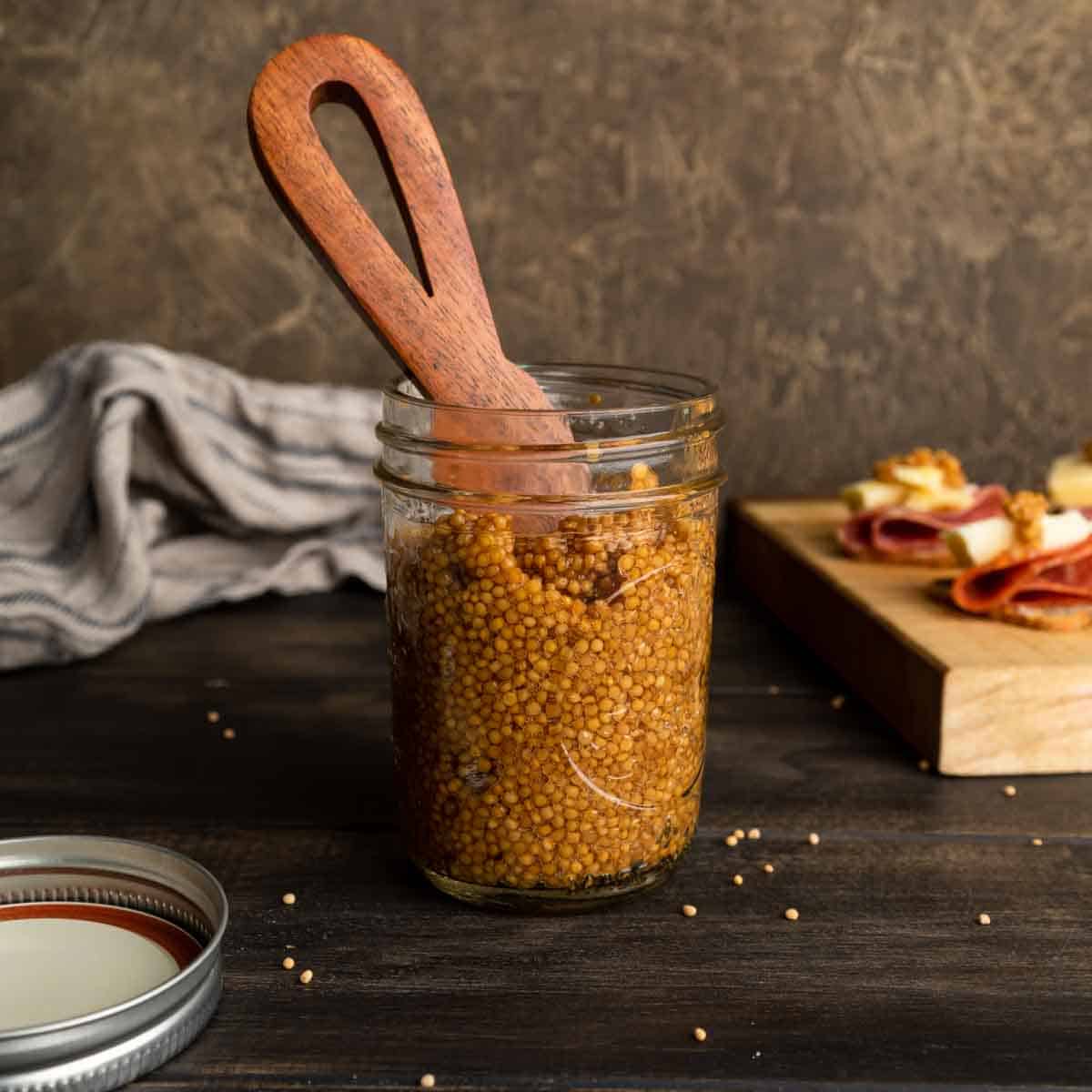 Growing up, I wasn't a major mustard lover. However, as they say, somewhere along the lines my tastes changed and today - I simply can't get enough. Amongst my favorite of mustard variations are these pickled mustard seeds.
Sometimes called mustard caviar (ooh-la-la!), this condiment is all sorts of fun and sophisticated with vibrant, vinegar-y bursts of mustard popping in your mouth. It's my go to for a charcuterie board, the viral 2022 butter board sensation or a simple sandwich.
Ingredients
Pickled mustard seeds are super easy to make using just mustard seeds, vinegar, honey, salt and water.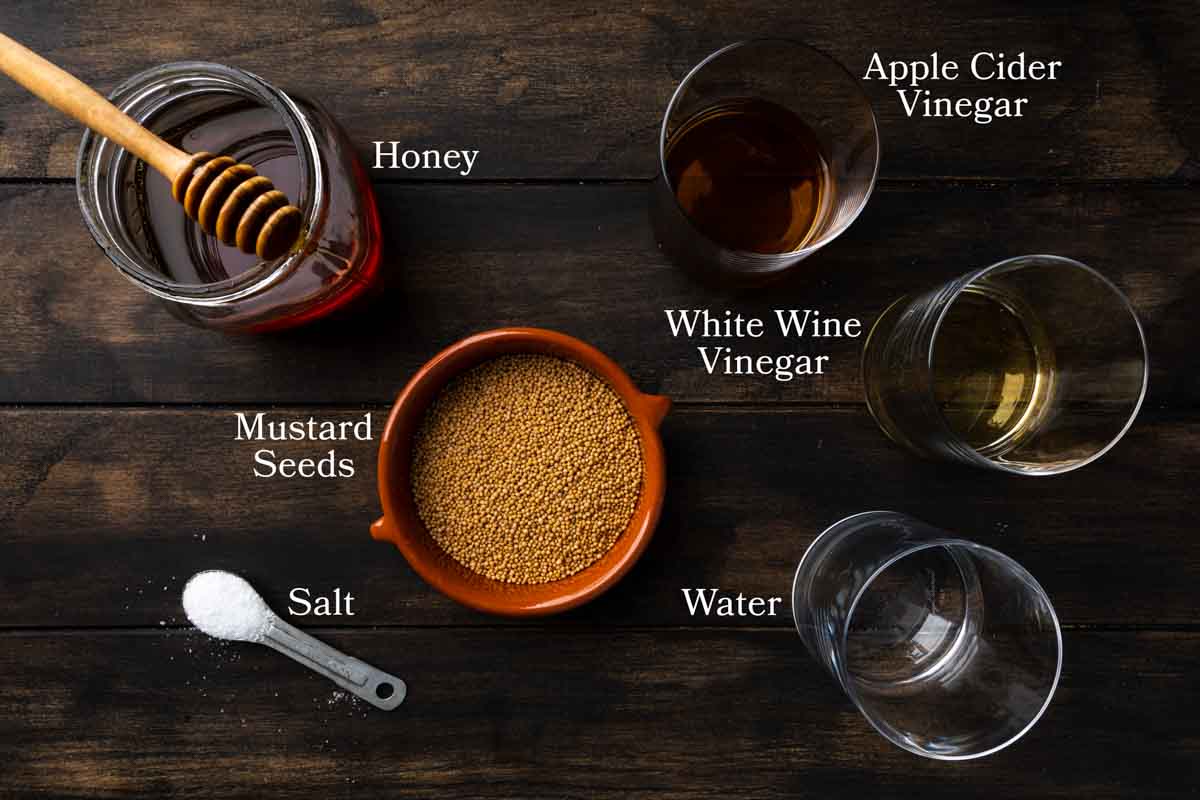 For this recipe, I like to use both white wine vinegar (for a zippy punch) and apple cider vinegar (for a sweet, cider-like flavor). However, you can experiment making this recipe using any type of vinegar that you like.
What Type of Mustard Seeds Should I Use For This Recipe?
I prefer to use yellow mustard seeds for this recipe. You can certaintly make this recipe with brown or black mustard seeds, too. However, beware that brown and black mustard seeds tend to be more pungent and excessively bitter.
For my own tastes, yellow mustard seeds have a lovely mild balance of slight bitterness paired with a touch of spice and vibrant aromatics. When plumped with vinegar and a touch of honey, they make a perfectly balanced condiment that can add just the touch of acidity your palette is craving!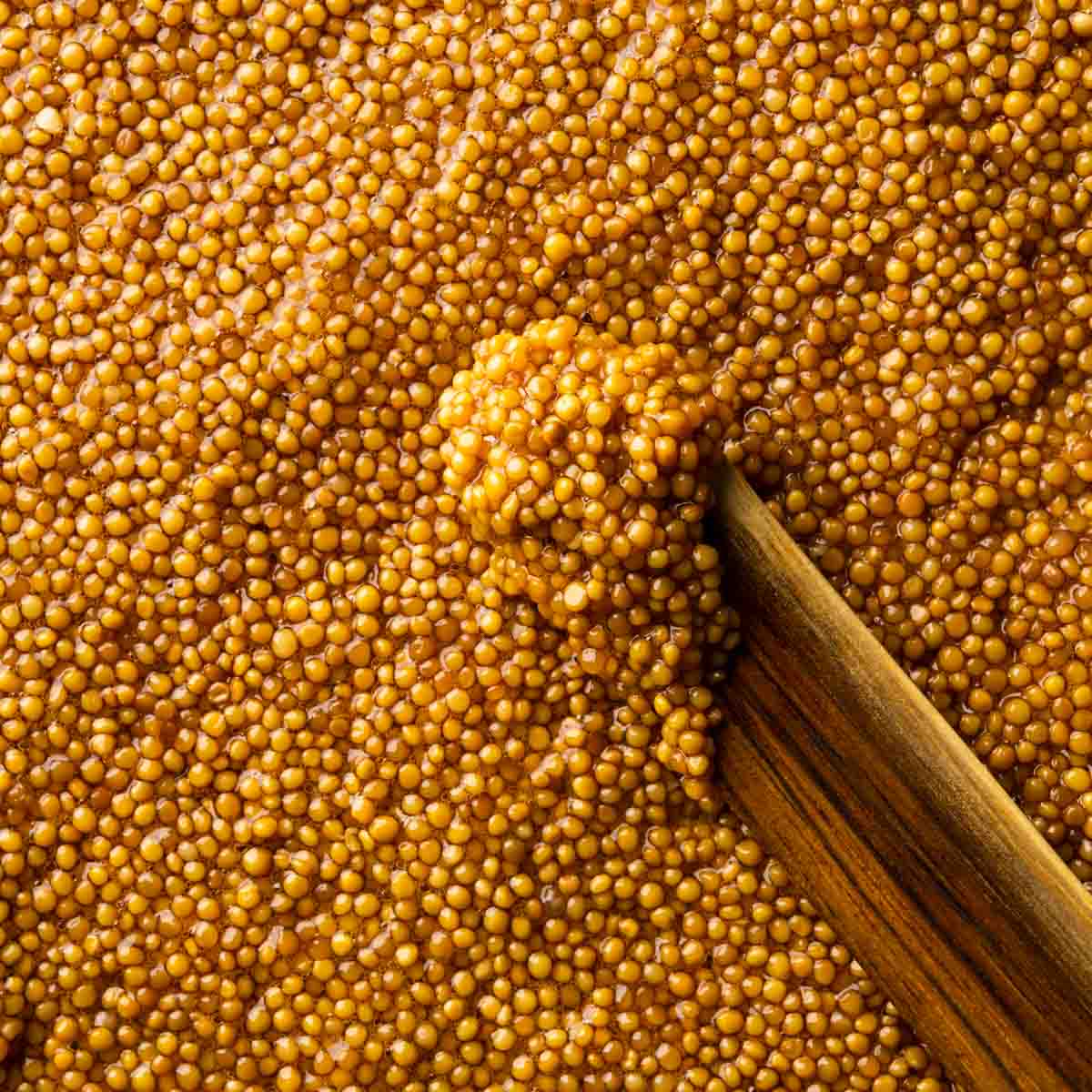 How To Make Pickled Mustard Seeds
The best part about pickled mustard seeds is that it is super easy to make. Keep in mind that while you can eat it right away, the pickled mustard will continue to develop deeper flavors over the course of 3 - 5 days.
1. First, start by rinsing and draining the mustard seeds in cold water. Then, in a small sauce pot, combine the mustard seeds, both vinegars, salt and water. Stir well to combine and allow the mustard seeds to soak for two hours.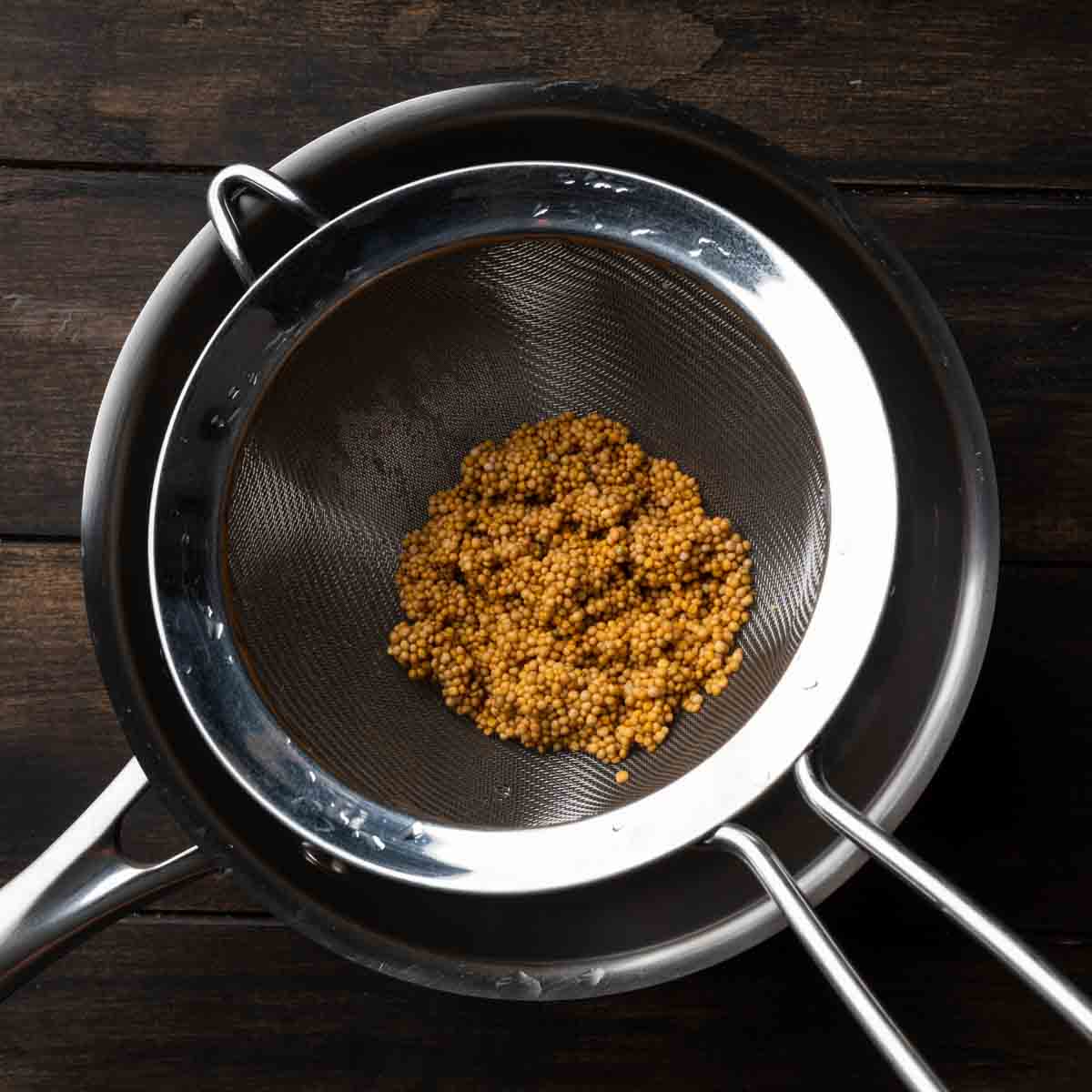 2. After soaking, place the pot over a low flame and bring to a simmer. Add the honey and stir until completely dissolved. Allow the mustard seeds to simmer gently for 30 minutes while stirring occasionally. During this time, the seeds will plump up and absorb most of the liquid.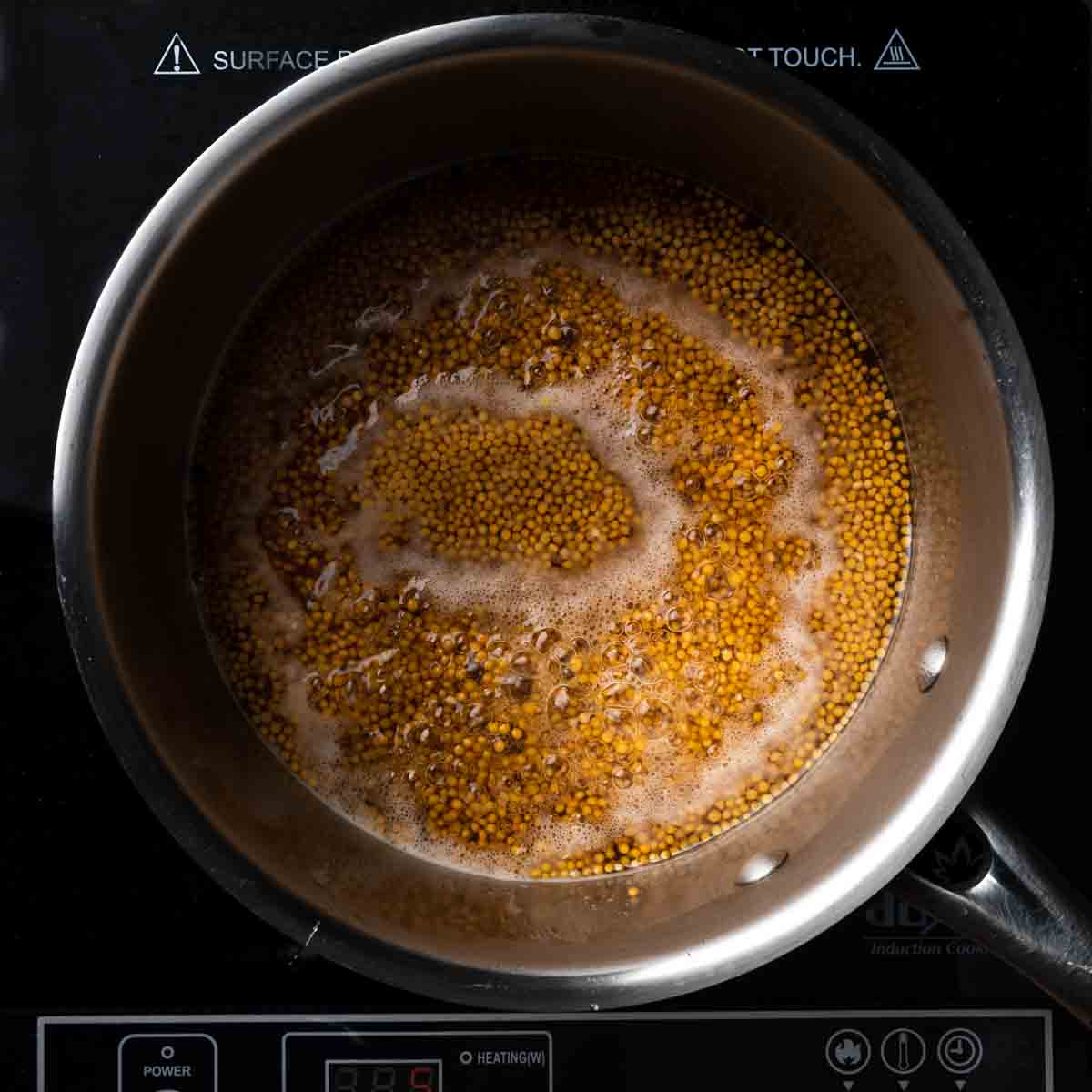 3. Allow the seeds to cool completely. Again, you can use them right away but I recommend storing them overnight or for a few days to develop optimal flavor.
How Long Does Pickled Mustard Last?
Pickled mustard seeds can be kept in an airtight container in the refrigerator for 2 - 3+ months.
Ours usually doesn't last that long but feel free to make a double batch and enjoy it all season long!
Flavoring Variations
There are several ways you can tweak this recipe to fit your personal tastes. Here are a few ideas:
Use different vinegar. For a punchier pickled mustard, use all white wine vinegar. You can also experiment with fruitier flavors by using flavored vinegar, balsamic, or red wine vinegar.
Make it sweeter. For a sweeter condiment you can add an extra tablespoon (or more) of honey. You can also substitute granulated sugar or maple syrup for a slightly different flavor.
Add aromatics. *Keep in mind, pickled mustard with added aromatics may not last as long as plain pickled mustard seeds.

Shallots, red onion or garlic: For pickled mustard seeds with an onion-y undertone, feel free to add some alliums. For shallots and red onions, very thinly slice about ¼ Cup. For garlic, simply add 1 - 2 whole cloves. After simmering the mustard seeds, pour the hot mustard and vinegar mixture over the shallot, onion or garlic. Allow to cool completely before storing.
Herbs: While simmering, feel free to add aromatic herbs such a fresh thyme, rosemary or bay leaves.

Make it spicy! To add a bit of heat add ¼ - 1 teaspoon of chili flakes or dried chopped chilis. You can also substitute some of the vinegar for a vinegar-based hot sauce, like Frank's.
Serving Suggestions
Honest to goodness, I love pickled mustard seeds on just about anything that could use a little acidic punch! It's an especially amazing complimentary flavor for rich foods that have lots of animal fat or butter. Here are a few of my favorite serving suggestions:
Charcuterie Boards - Pickled mustard is the perfect accoutrement for cheeses, salumi and deli meats. It's also our favorite pairing with chicken liver mousse!
Butter Boards - If you haven't indulged in the TikTok famous butter boards excursion, this is your chance! Check out our classic butter board recipe using pickled mustard, spicy honey, garlic and thyme!
Sandwiches - You can use pickled mustard on any sandwich where you'd typically enjoy mustard. Personally, we love it with ham, and on fancy grilled cheese sandwiches. It's amazing on a croque monsiuer or monte cristo!
Potatoes - Add pickled mustard to you favorite potato salad recipe or just toss onto some hot roasted potatoes for an easy, rustic side dish.
Deviled eggs - Make it fancy with a tangy little mustard caviar topping!
Bone Marrow - Have you even roasted your own bone marrow? My goodness, it is a treat! Round out those unctuous flavors with this recipe and some fresh picked herbs.
Ham, Beef & Pork - Rich proteins pair perfectly with this condiment. Try it with a roasted pork tenderloin. Bonus points if you add a little to a cream sauce (like our sauce Mornay) for a mouth-watering pop!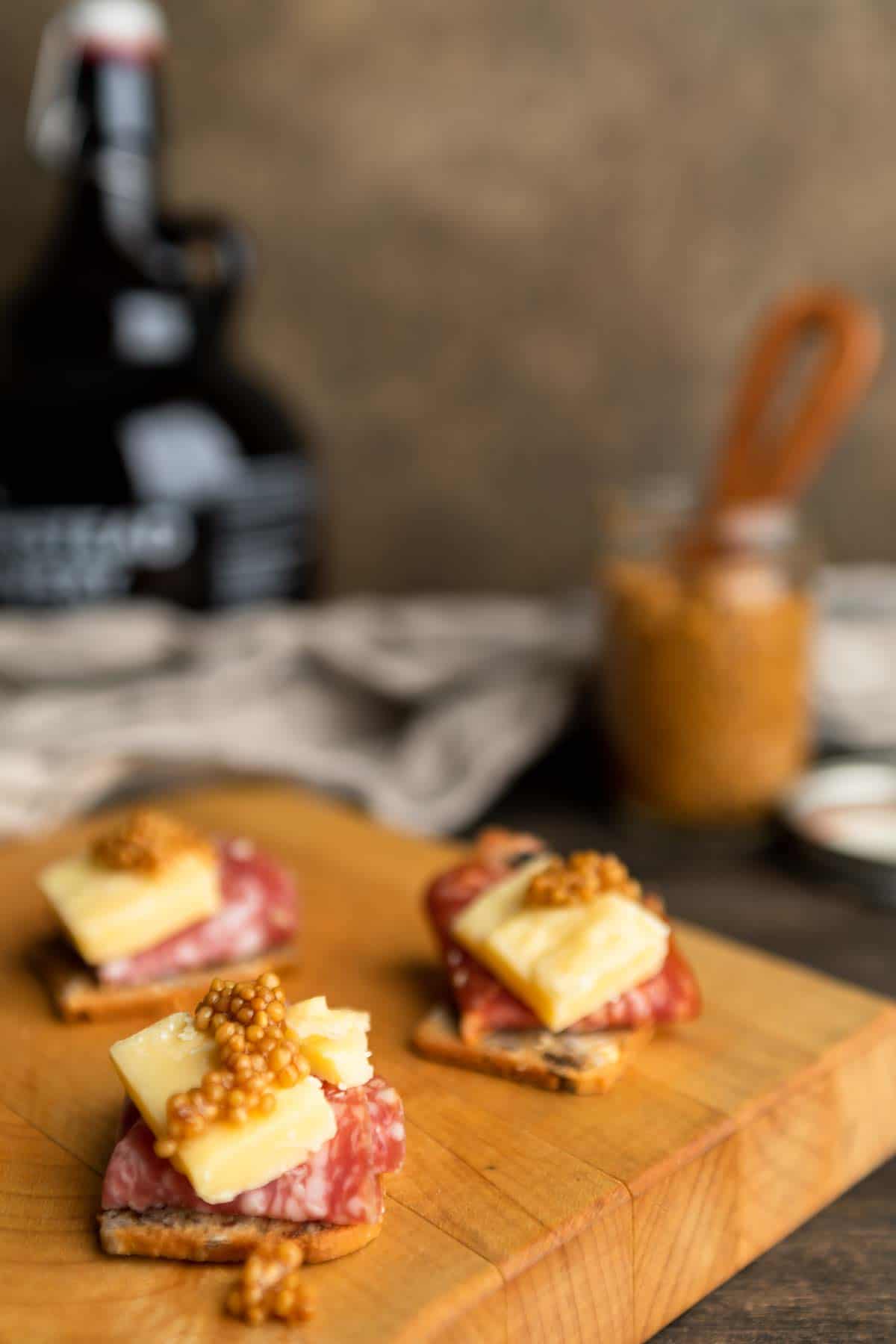 Other Easy Condiment Recipes
Everything's better with dips, dressings and gravies! Check out these other recipes you may like:
Recipe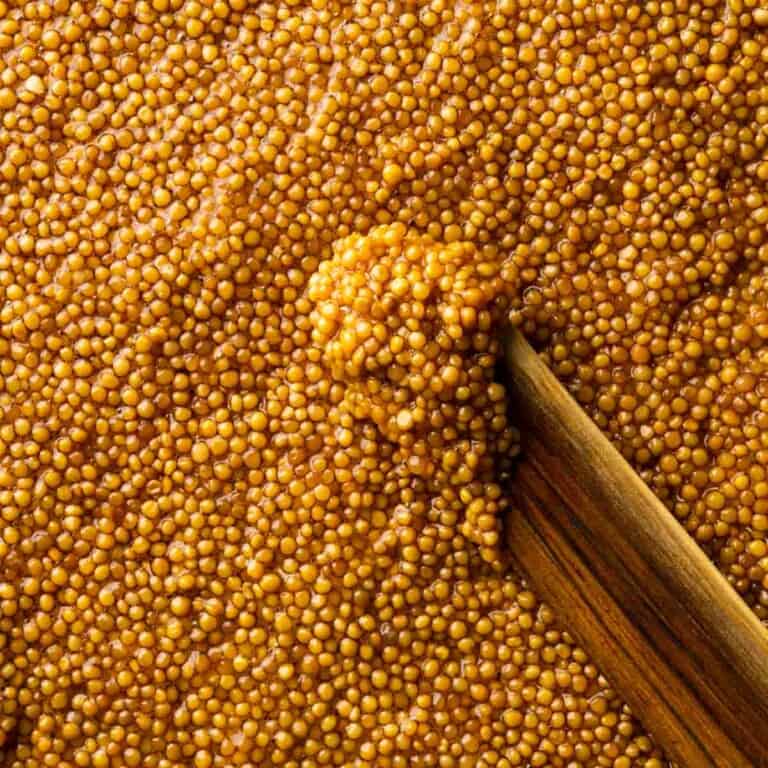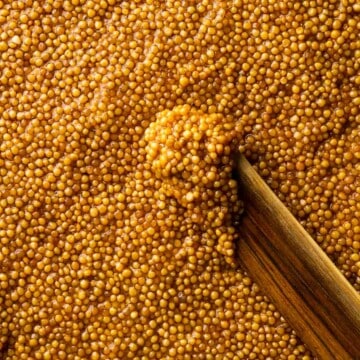 Easy Pickled Mustard Seeds
This simple condiment adds the perfect tangy pop to charcuterie boards, sandwiches, deviled eggs and so much more!
ADJUST SERVINGS
Ingredients
⅓

Cup

mustard seeds

We prefer yellow mustard seeds

⅓

Cup

white wine vinegar

⅓

Cup

apple cider vinegar

⅓

Cup

water

1

teaspoon

fine kosher salt*

2

Tablespoons

honey or granulated sugar
Instructions
In a fine-mesh strainer, rinse the mustard seeds in cold water. Transfer mustard sees to a small pot and add white wine vinegar, apple cider vinegar, water and salt. Stir to combine. Allow to soak at room-temperature for 2 hours.

Set the pot over low - medium-low heat. Add in honey (or sugar) and stir until completely dissolved. Bring to a gentle simmer (do not boil) and allow to cook for 30 minutes or until the seeds are plump and most of the liquid had been absorbed.

Allow the pickled mustard seeds to cool completely. Transfer to a mason jar or other airtight container. Pickled mustard can be kept refrigerated for 2 - 3 + months.
Notes
Pickled mustard seeds can be consumed immediately but will continue to develop deeper flavors over the course of 3 - 5 days. 
* A Note About Salt
Unless otherwise noted, all recipes on The Sage Apron are developed using Diamond Crystal Kosher salt. It is a great all-purpose salt for cooking and baking. If using table salt, reduce quantities by about half.
Nutrition
Calories:
17
kcal
|
Carbohydrates:
3
g
|
Protein:
0.2
g
|
Fat:
0.2
g
|
Saturated Fat:
0.01
g
|
Polyunsaturated Fat:
0.1
g
|
Monounsaturated Fat:
0.2
g
|
Sodium:
198
mg
|
Potassium:
14
mg
|
Fiber:
0.1
g
|
Sugar:
3
g
|
Vitamin A:
0.2
IU
|
Vitamin C:
0.1
mg
|
Calcium:
3
mg
|
Iron:
0.1
mg