Are you team butter board? When we saw TikTok's latest trend we just knew we had to partake. Our version of a butter board is made with a garlic herb butter with pickled mustard seeds, spicy honey and a generous sprinkle of flaky salt. YES PLEASE!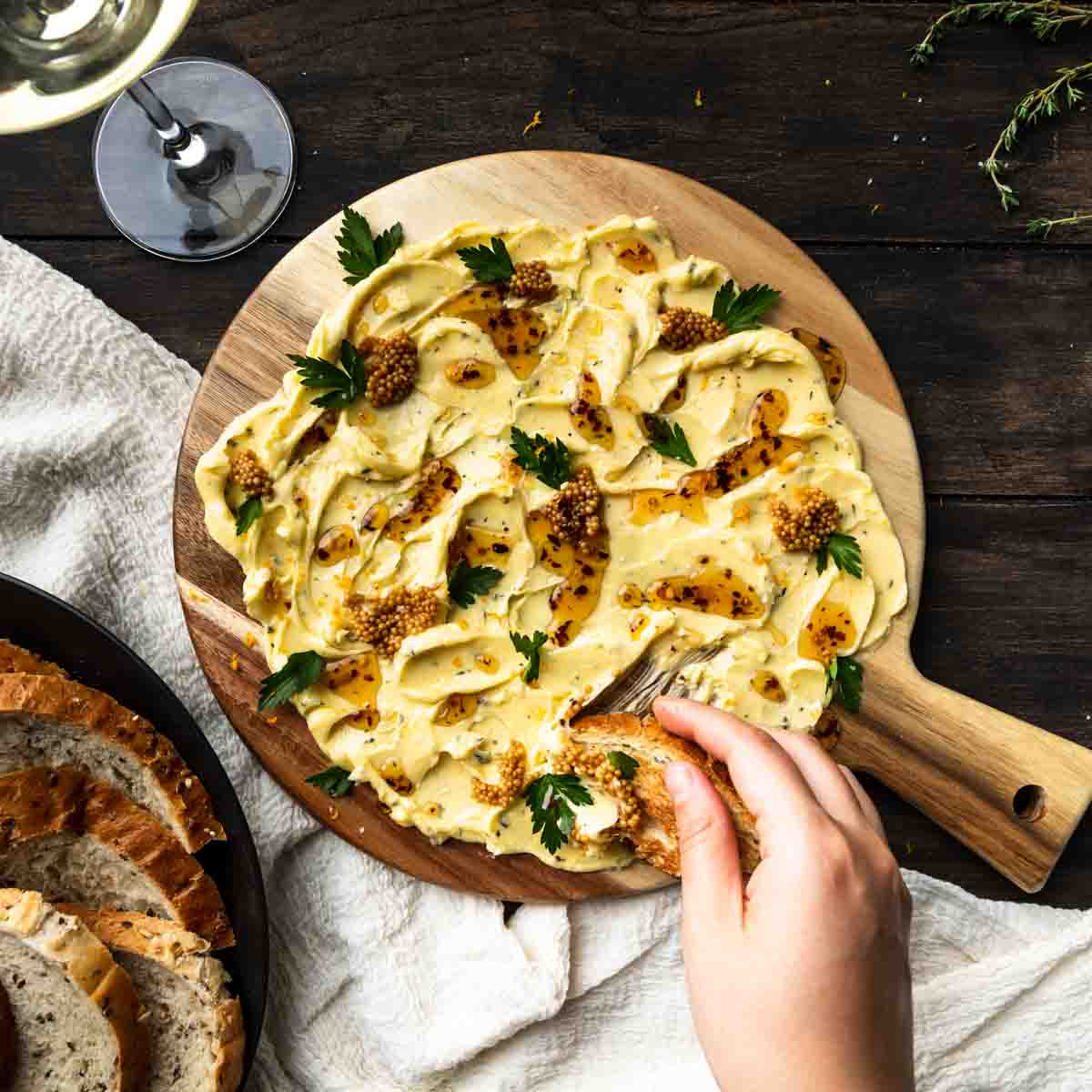 At The Sage Apron, we make lots of recipes that are perfect for entertaining. Check out our Appetizer and Cocktail collections for more recipes to get the party started.
What is a Butter Board?
A butter board is an inventive way of serving bread and butter where softened butter is thickly smeared on a serving platter or board and decorated with any (and all!) of your favorite toppings. It is a fun, communal way of serving butter where guests are encouraged to scoop or spread butter with lots of crusty bread!
This trend became popular on Instagram and TikTok when creator Justine Doiron posted her butter board reel and made high claims that the butter board was "the next charcuterie board". Well, as meat and cheese board enthusiast - I'm not sure we'd go that far, BUT a butter board makes a damn good sidekick.
You can bet we'll be showcasing infinite variations of butter boards at all our dinner parties and holidays from here on out.
Ingredients
The best part about butter boards is that they can be anything you want them to be. Add nuts, seeds, dried fruits, jam, honey, mustard, herbs, pickles…YOU NAME IT! I mean, what isn't better with a little butter!?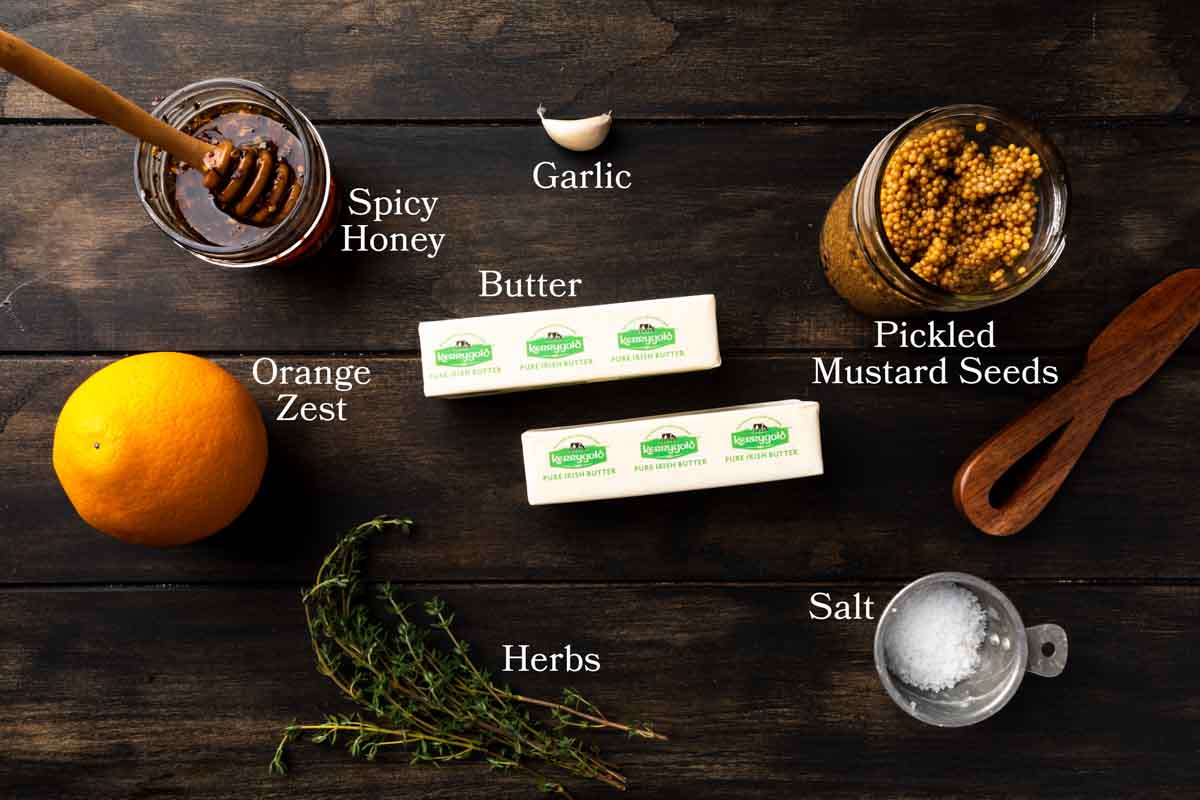 For this board I'm going crowd-pleasing classic. Real good, salty butter swirled with garlic, orange zest and fresh chopped herbs. Spicy honey for that sweet and spicy kick. Pickled mustard seeds for that tangy, satisfying pop of acidity.
I seriously can't get enough. It's a good thing we're sharing.
What Type of Butter Should I Use?
You can make a butter board with any type of butter you like, but remember, butter is the star! I recommend using a really good, high-quality, salted butter. For this recipe, we used Kerrygold Irish butter. Kerrygold is a super flavorful grass-fed cow's milk butter that is available in most US grocery stores.
For a different flavor, you can also use butter made from goats', sheep, or buffalos' milk.
Cultured butter has a beautiful tangy flavor that can pair well with lots of different toppings (perfect for a brunch butter board)!
Amish butter has a higher fat content that makes it extra creamy and rich.
Local, dairy farm churned butter is always a special treat and can have flavors unique to your specific terroir.
Brown butter is butter that has been cooked to toast the milk solids and has a dreamy, nutty flavor. This will take a little longer since you have to melt the butter, then let it solidify again but WOW. Sounds incredible.
I like to use salted butter for this recipe but you can always use unsalted and add your own seasoning, as desired.
How To Make A Butter Board
Now comes the fun! Butter boards are quick and easy to make. Let your imagination go wild! The most important part is that you start with room-temperature, softened butter. Once your butter is soft and spreadable, you're ready to go!
For this recipe, we decided to make a compound butter by mixing flavoring directly into our softened butter. We used fresh chopped thyme, grated garlic and orange zest. This combination is BOMB but you can make it your own using different herbs, roasted garlic, and/or lemon zest.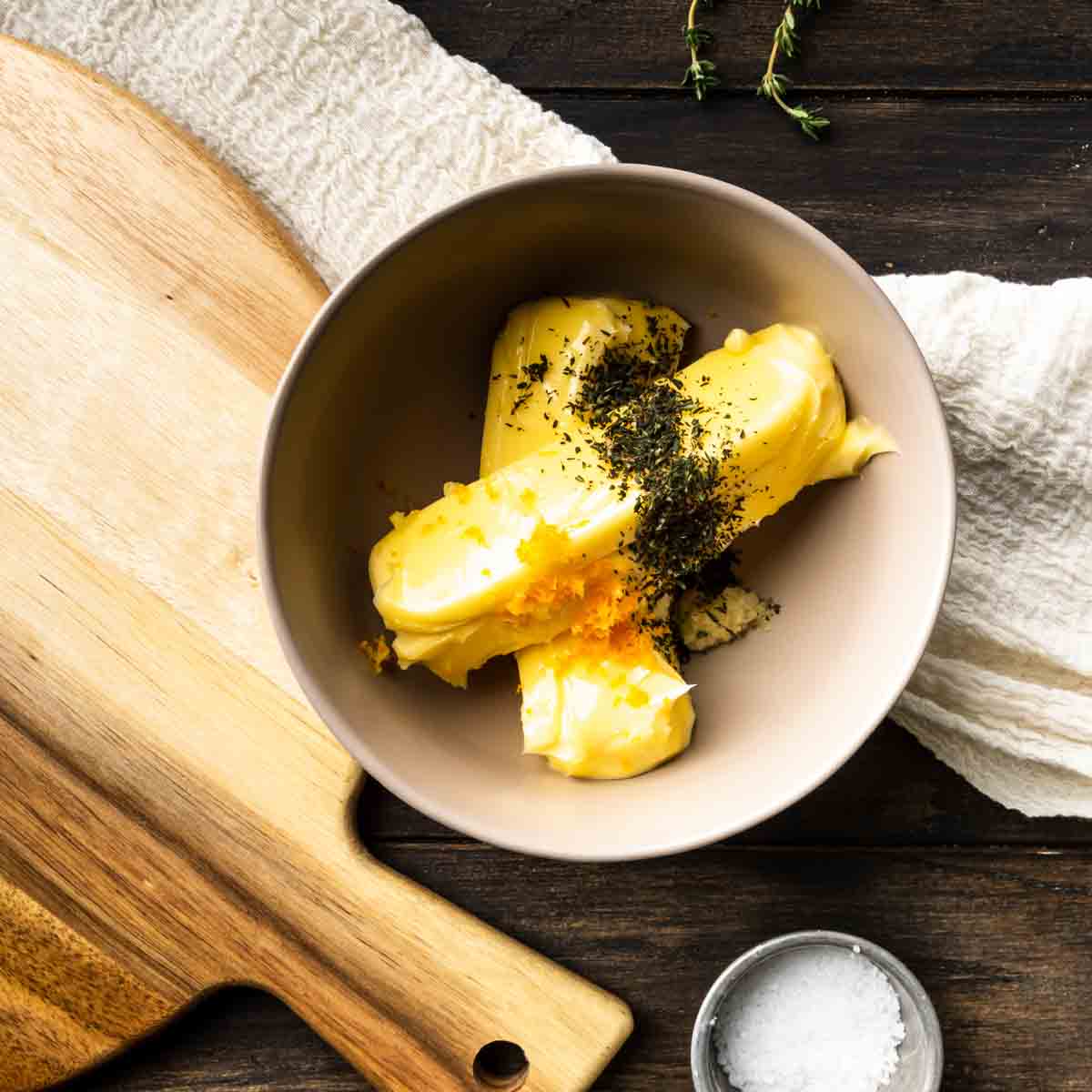 Once your butter is all mixed together, spread it thickly over your board (or serving platter). It doesn't have to be perfect, in fact, butter boards look best with thick swooshes of butter swirling in all directions.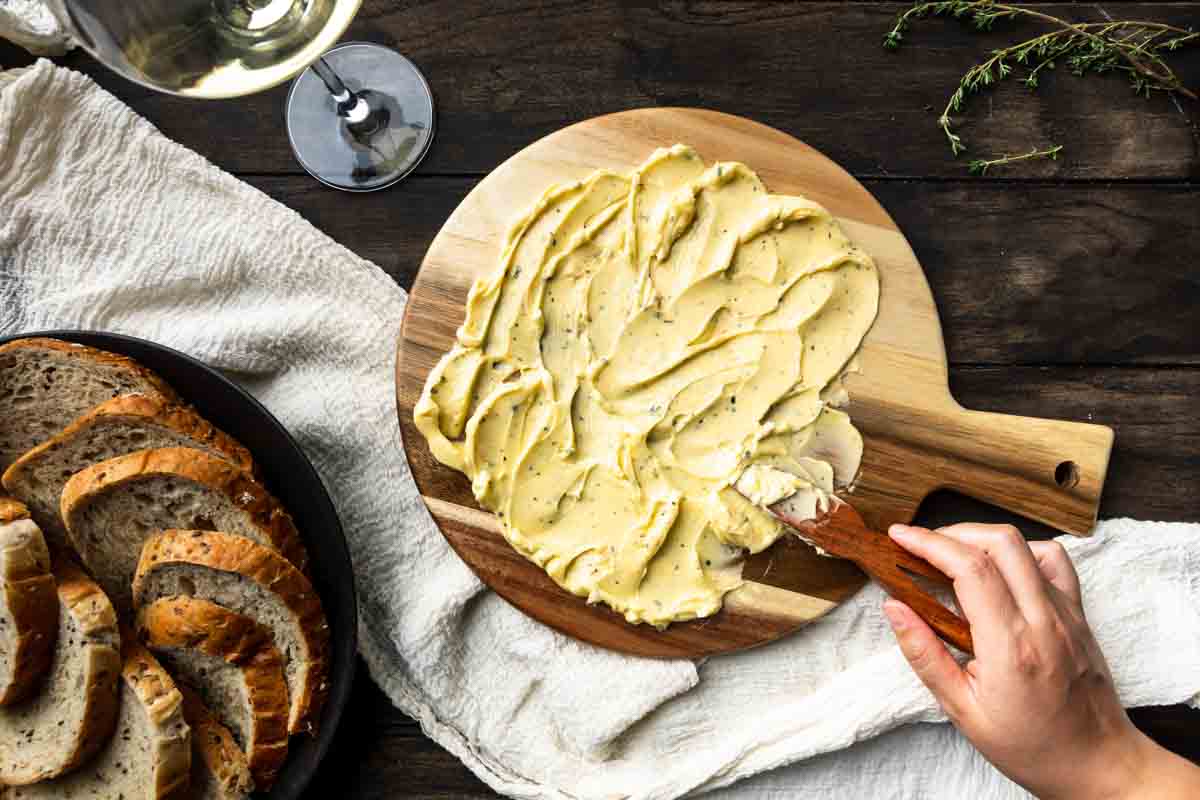 Next, choose your toppings. We used spicy honey and pickled mustard seeds because YUM. Finish with a few herbs to make it pretty, a generous sprinkle of flaky salt and voila!! Pass the bread!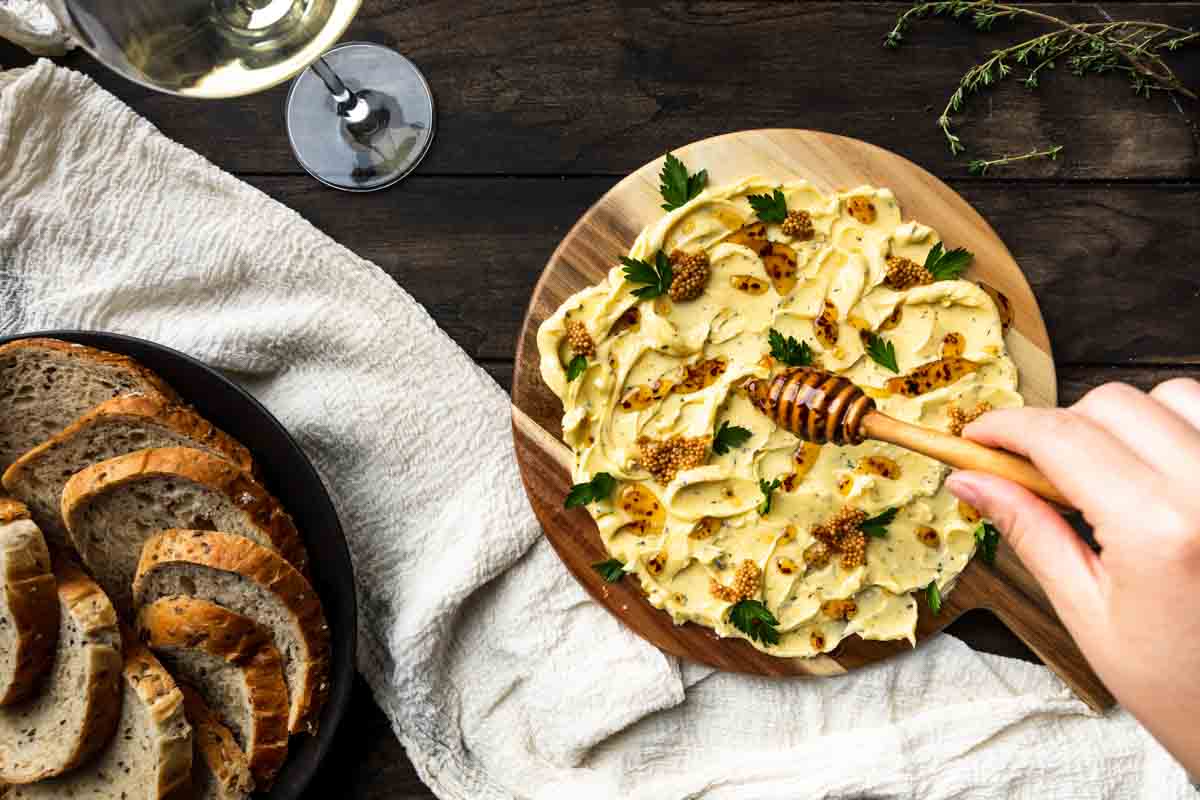 Pickled mustard seeds are one of my all time favorite condiments. It is super easy to make with just a few ingredients. It lasts in the refrigerator for months and goes good on just about anything. The recipe is included below but you can check out the full Pickled Mustard Seeds post for step-by-step photo instructions and tons more serving ideas.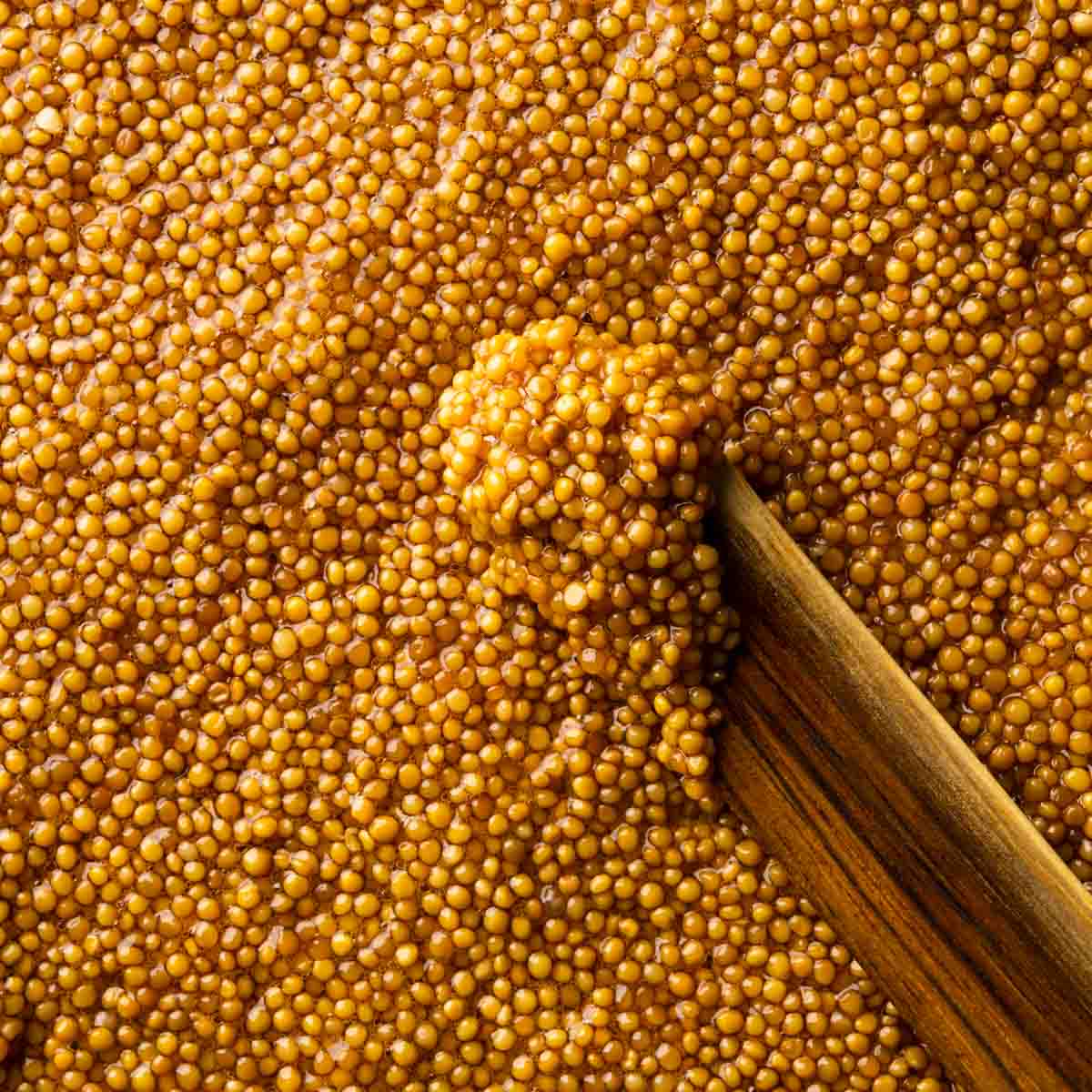 Spicy Honey
Spicy honey is simply honey, chili flakes and a splash of vinegar that is brought to a simmer to infuse a spicy chili kick throughout the sweetness. Pair it with butter and dang: heaven. The spicy honey is also great for a charcuterie board, or on fried chicken and can be kept in the pantry nearly forever.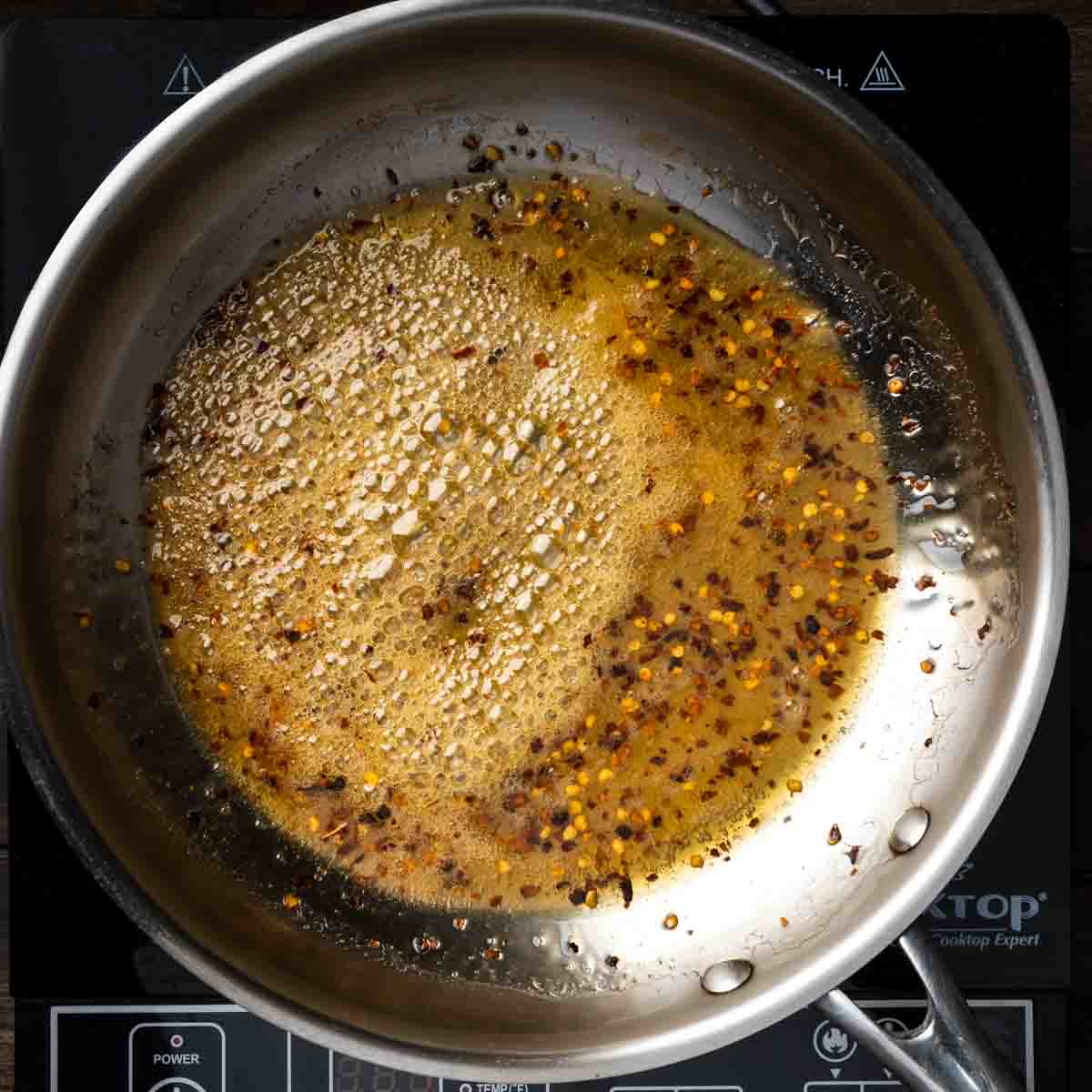 Variations & Ideas
Like I've mentioned there a million and one butter board combinations and honestly, we're down to try them all. Here are a few ideas I'm looking forward to testing:
Cinnamon honey butter, fig jam & candied hazelnuts
Brown butter, spicy maple, fried sage, dried apricots & pepitas
Gorgonzola thyme butter, honey & toasted walnuts
Goat's milk butter, dried cherries and toasted walnuts
Chimichurri Butter, oregano, lemon zest & pickled fresno peppers - How fun would this be at a mixed grill BBQ!?
Tell us your top butter board creations in the comments!
The Bread
So obviously you're going to need a lot of crusty bread for this endeavor! A fresh baked French baguette is the obvious choice! However, there are SO MANY great bread options. Here's a few other ideas:
Sourdough
Seeded bread/toast - This is what we used, 'twas delish!
Pumpernickel
Dinner Rolls
Bagels and bagel chips
English Muffins - Hello, brunch butter board!!!
Cornbread - Our Sweet Skillet Cornbread would be so good with this recipe!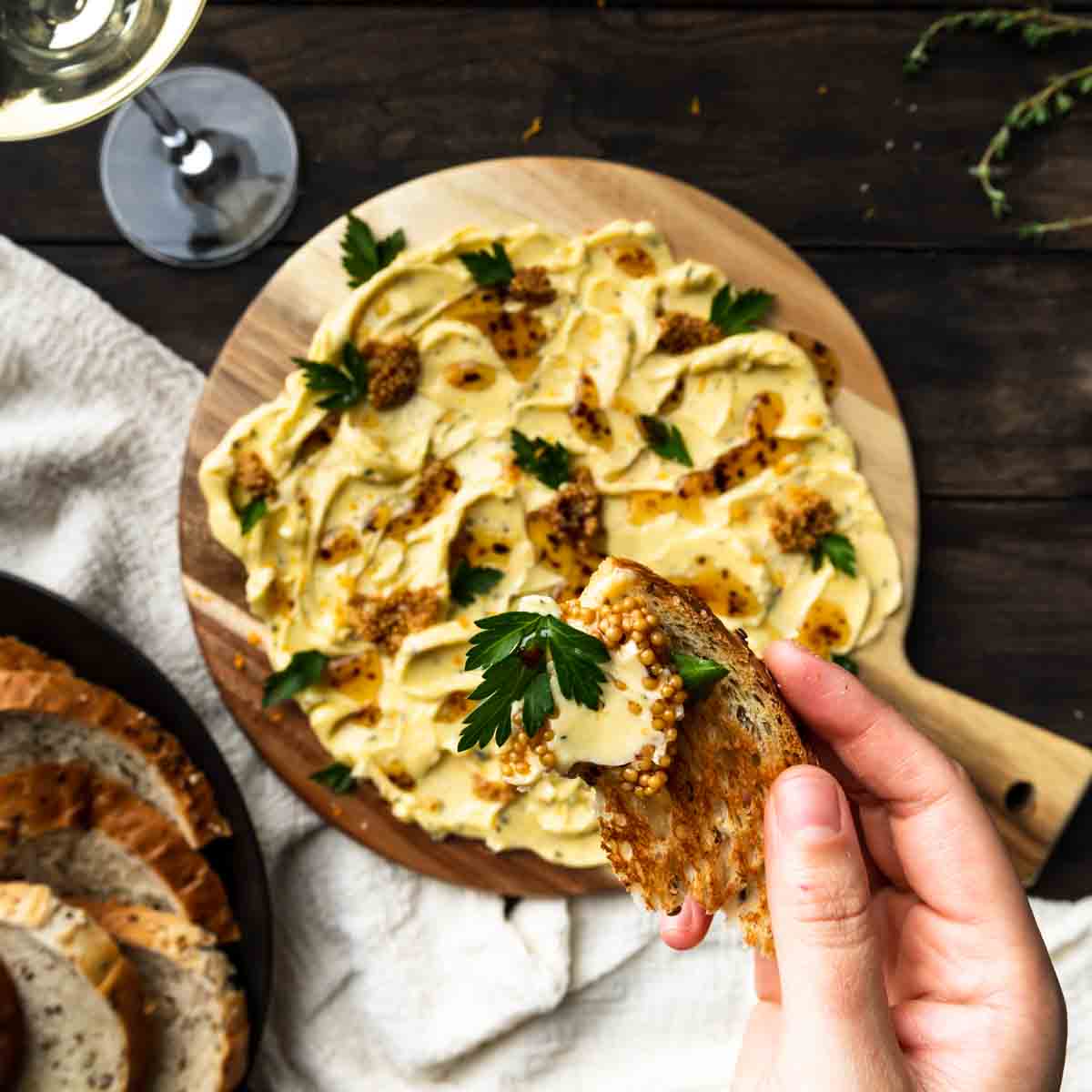 When To Serve a Butter Board
Okay, when not to serve a butter board is the better question. In our house, bread and butter is never a bad idea. While you'll definitely being seeing these at our holidays and gatherings….there's a good chance you can catch us scooping butter on quiet movie nights, too. No judgement here.
Dinner Parties
Birthday Parties
Thanksgiving
Christmas
Brunch Gatherings
Easter
Buffets
Baby Showers
Girl's Night
We could go on…
More Dinner Party Apps
Here are some other apps and snacks that are perfect for sharing with a crowd.
Recipe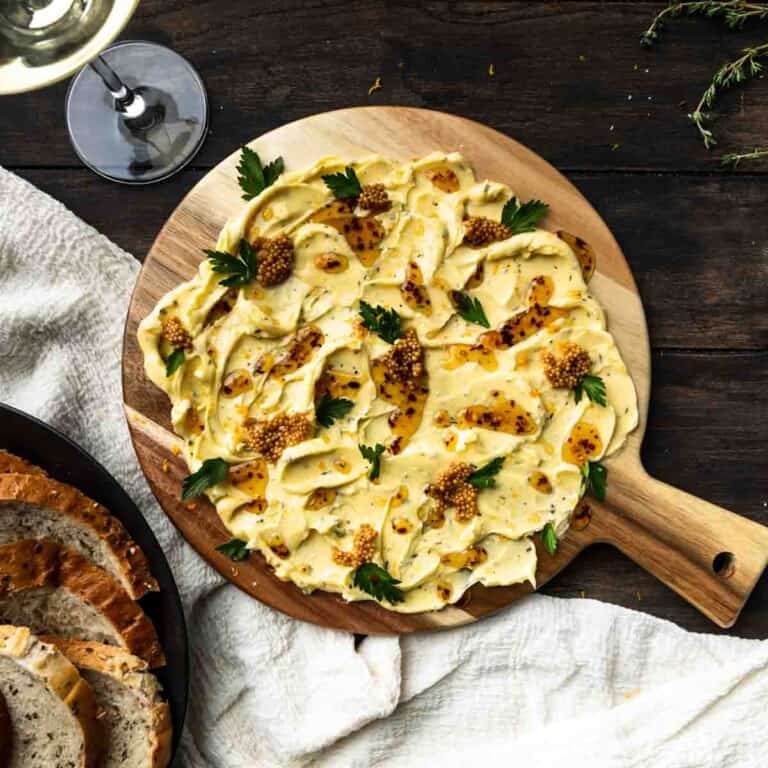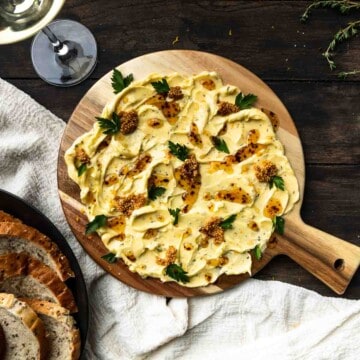 Best Butter Board for a Dinner Party
Salty softened garlic butter, spicy honey and pickled mustard seeds!? Pass the bread, please!
ADJUST SERVINGS
Special Equipment
1 Fine-Mesh Strainer

(Or cheesecloth)

1 Medium serving board or serving platter
Ingredients
Butter Board
1

Cup

butter

softned to room-temperature; We used Kerrygold salted butter

1

clove

garlic

grated or minced

1

teaspoon

orange zest

or lemon zest

1

Tablespoon

finely chopped herbs

We used thyme

2

Tablespoons

Pickled Mustard Seeds

2

Tablespoons

Spicy Honey
Fresh parsley

optional garnish

Flaky finishing salt

such as fleur de sel or Malden, as desired
Pickled Mustard Seeds
⅓

Cup

mustard seeds

We recommend yellow mustard seeds

⅓

Cup

apple cider vinegar

⅓

Cup

white wine vinegar

⅓

Cup

water

1

teaspoon

fine kosher salt*

2

Tablespoons

honey

or granulated sugar
Spicy Honey
½

Cup

honey

1

teaspoon

chili flakes

1

teaspoon

apple cider vinegar
Instructions
Butter Board
In a small mixing bowl, combine the softened butter, garlic, chopped herbs and orange zest. Stir until well combined. Use a small spreader or spatula to thickly spread the butter on your serving board or platter.

Top board with dollops of pickled mustard seeds, drizzles of spicy honey, parsley leaves and flaky finishing salt, as desired. Serve at room-temperature with plenty of bread.
Pickled Mustard Seeds
In a fine-mesh strainer, rinse the mustard seeds in cold water. Transfer mustard sees to a small pot and add white wine vinegar, apple cider vinegar, water and salt. Stir to combine. Allow to soak at room-temperature for 2 hours.

Set the pot over low - medium-low heat. Add in honey (or sugar) and stir until completely dissolved. Bring to a gentle simmer (do not boil) and allow to cook for 30 minutes or until the seeds are plump and most of the liquid had been absorbed.

Allow the pickled mustard seeds to cool completely. Transfer to a mason jar or other airtight container. Pickled mustard can be kept refrigerated for 2 - 3 + months.
Spicy Honey
In a small skillet, combine honey and chili flakes. Bring to a simmer and cook for 2 - 3 minutes. Turn off heat and stir in the vinegar.

Transfer honey to a small jar and allow to cool before covering and storing in a cool, dark place.
* A Note About Salt
Unless otherwise noted, all recipes on The Sage Apron are developed using Diamond Crystal Kosher salt. It is a great all-purpose salt for cooking and baking. If using table salt, reduce quantities by about half.
Nutrition
Calories:
227
kcal
|
Carbohydrates:
5
g
|
Protein:
0.5
g
|
Fat:
23
g
|
Saturated Fat:
15
g
|
Polyunsaturated Fat:
1
g
|
Monounsaturated Fat:
6
g
|
Trans Fat:
1
g
|
Cholesterol:
62
mg
|
Sodium:
227
mg
|
Potassium:
23
mg
|
Fiber:
0.3
g
|
Sugar:
4
g
|
Vitamin A:
765
IU
|
Vitamin C:
2
mg
|
Calcium:
14
mg
|
Iron:
0.3
mg