This creamy fondue sauce recipe is delicious on just about everything! With just a few simple ingredients you can make this silky smooth cheese sauce that is the perfect accompaniment to many meals and side dishes!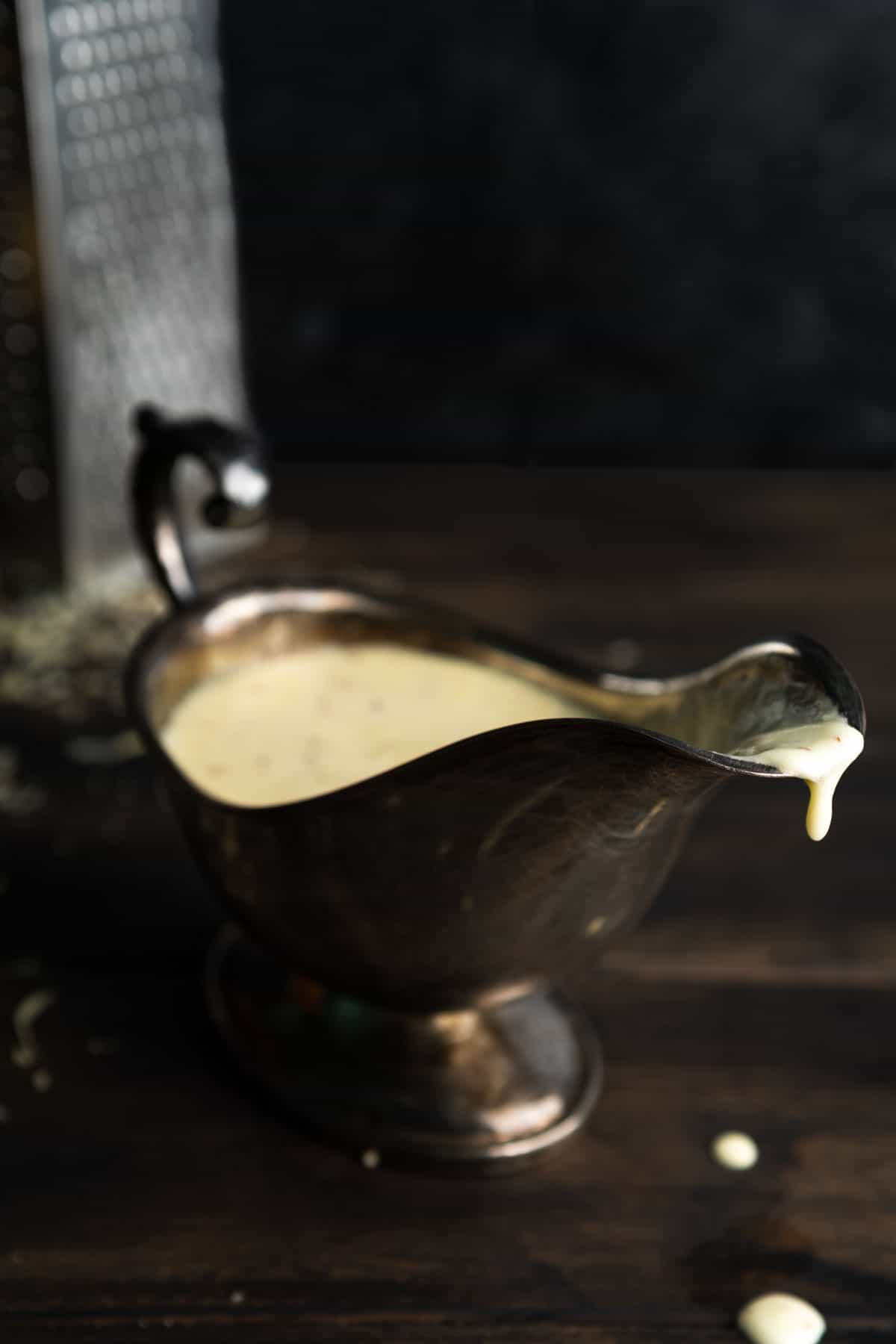 There are endless variations of this classic French sauce! For a fun German variation, try it on our Crispy German Schnitzel with Alpine Fondue Sauce!
Ingredients for This Recipe
This cheese sauce recipe is a culinary school classic! This recipe is called Sauce Mornay in French. It is a creamy white sauce (called béchamel) that has the addition of melted cheese (mornay).
Inspired by Swiss fondue recipes, we've added an optional hint of coarse Dijon mustard and lemon juice for additional flavoring.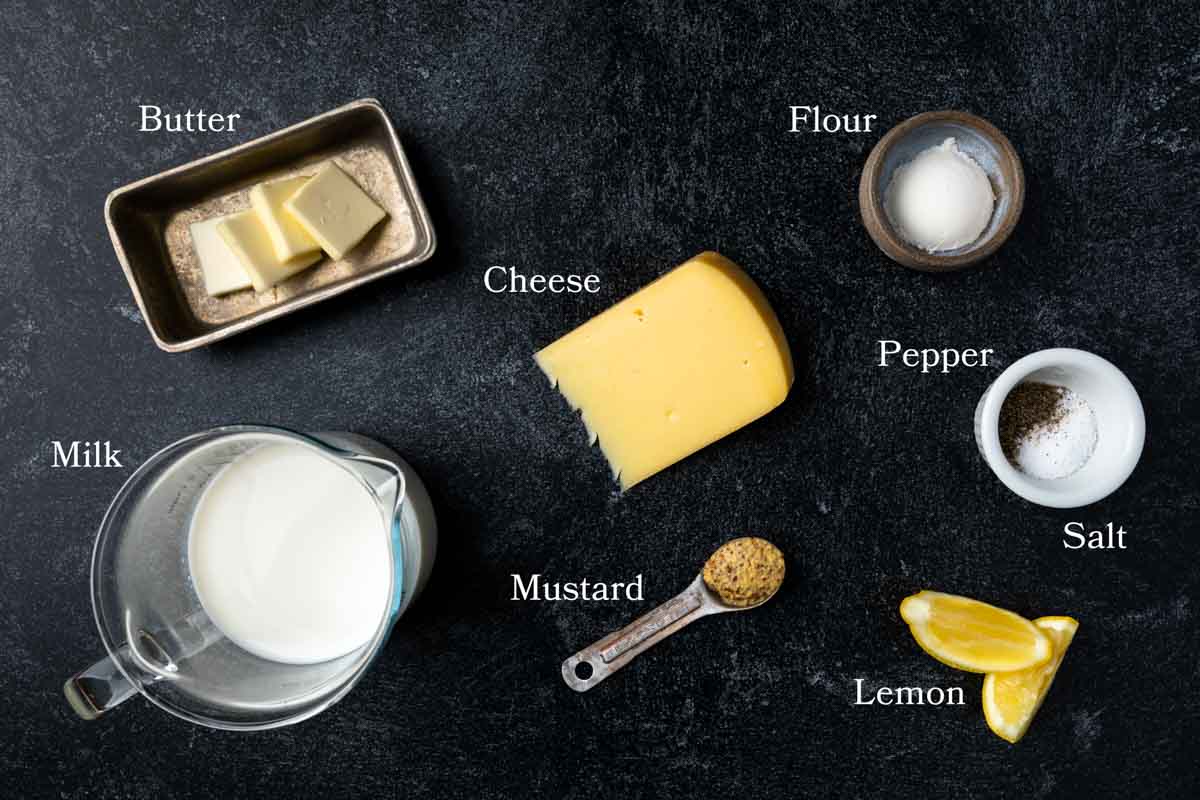 Our Favorite Cheese(s) for This Recipe
This easy cheese sauce recipe can be made with any nice melting cheese you like. Using a flavorful, high-quality cheese is key to making a delicious fondue sauce. Try experimenting with different cheeses (or combinations of cheeses) to create a more mild, sharp or nuttier flavor.
Our favorite varieties of cheeses for fondue sauce are Alpine cheeses. Alpine cheeses are typically semi-firm to hard cow's milk cheeses coming from the Alpine mountain regions of Switzerland, France, Austria or Italy. (However, Alpine-style cheeses can also be made in other regions, throughout the world.) These cheeses are known for their smooth, nutty flavors and ultimate meltability!
Here are a few of our favorites:
Gruyere - Easily everybody's favorite Alpine cheese! Good quality gruyere is available in most grocery stores and cheese shops and makes for the best Swiss cheese sauce!
Emmentaler - This classic Swiss cheese has the characteristic Swiss cheese holes with a naturally sweet and savory flavor.
Raclette Cheese - This ultimate fondue cheese is our absolute favorite! French raclette is usually sold younger with a mild, more subtle, grassy flavor. Personally, we love the distinct funkiness of a longer-aged Swiss raclette! Try raclette in our Raclette Grilled Cheese recipe, too!
Jarlsberg Cheese - Actually hailing from Norway this Swiss-style cheese has become a standard in fondue and creamy cheese sauces!
Comté - Coming from France's Jura region, comté cheese is creamy and rich with notes of brown butter and hazelnut. Perfect for a Croque Monsieur!
Fontina - This Italian melting cheese creates perfectly smooth, gooey, creamy sauce! Fontina is great for cheese sauces to be used on pastas and other Italian dishes.
Parmesan Cheese - Although Parmesan is not technically an Alpine cheese, it can be a great addition to a fondue sauce. Parmesan adds a nice salty bite and can be delicious when blended in with Swiss-style cheeses or all by itself. Try our Parmesan Besciamella cheese sauce in our authentic Lasagna al Forno recipe.
Cheddar Cheese - For an American twist - use a nice, sharp cheddar cheese! Toss the sauce in some cooked pasta for easy homemade mac & cheese or for the ultimate cheesy fries!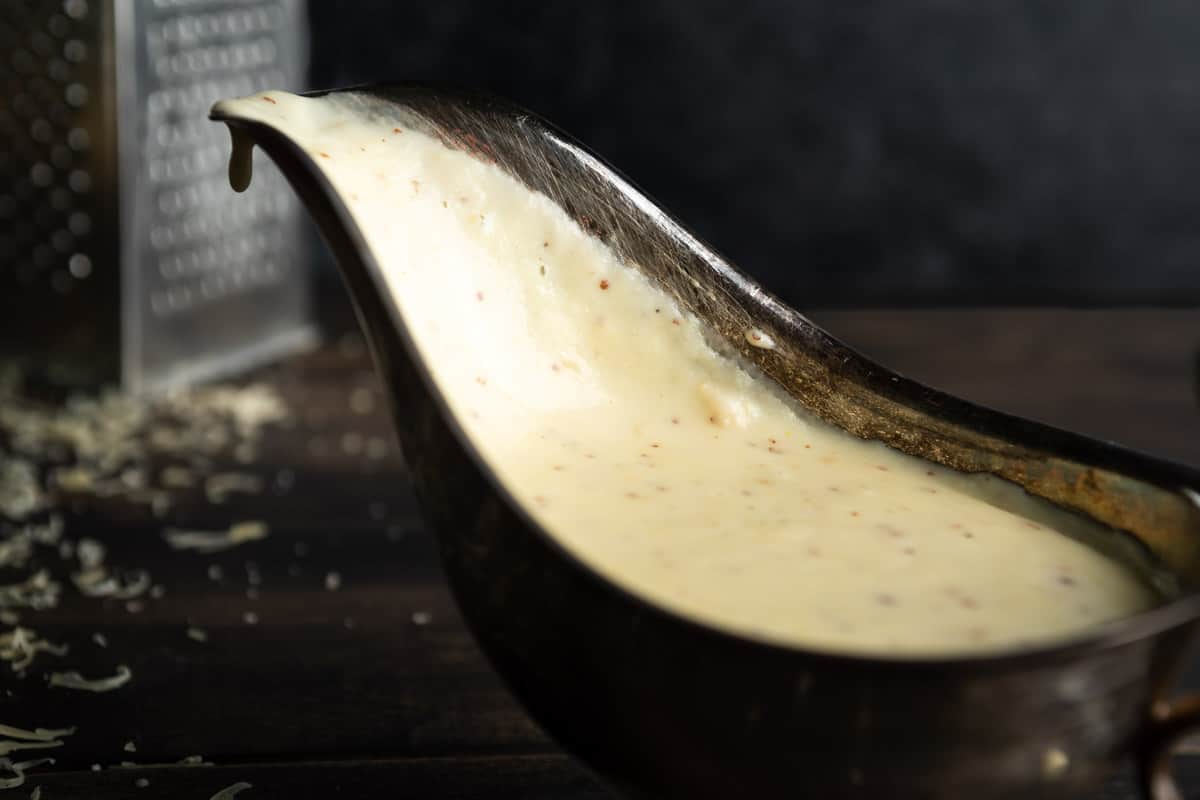 How To Make Homemade Cheese Sauce
Unlike other classic Old World sauce recipes that can take hours of prep time - sauce mornay comes together in just a few minutes! Here's how it's done: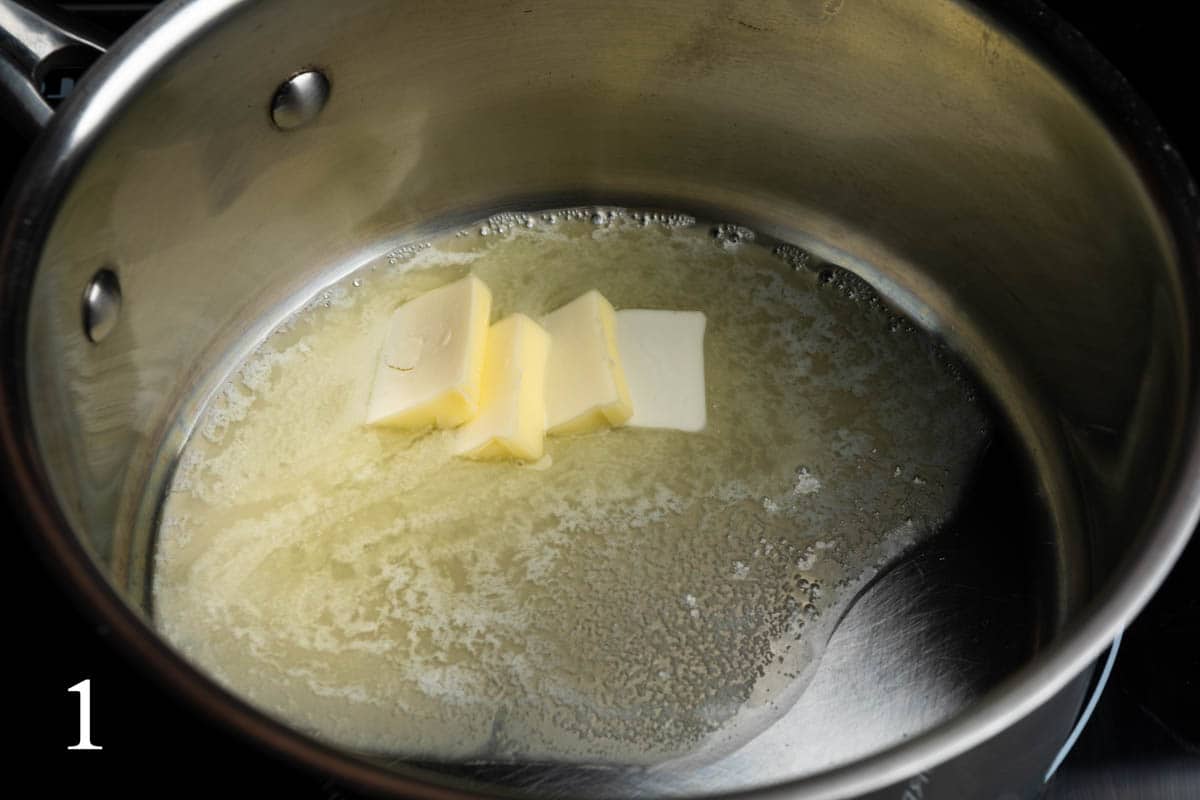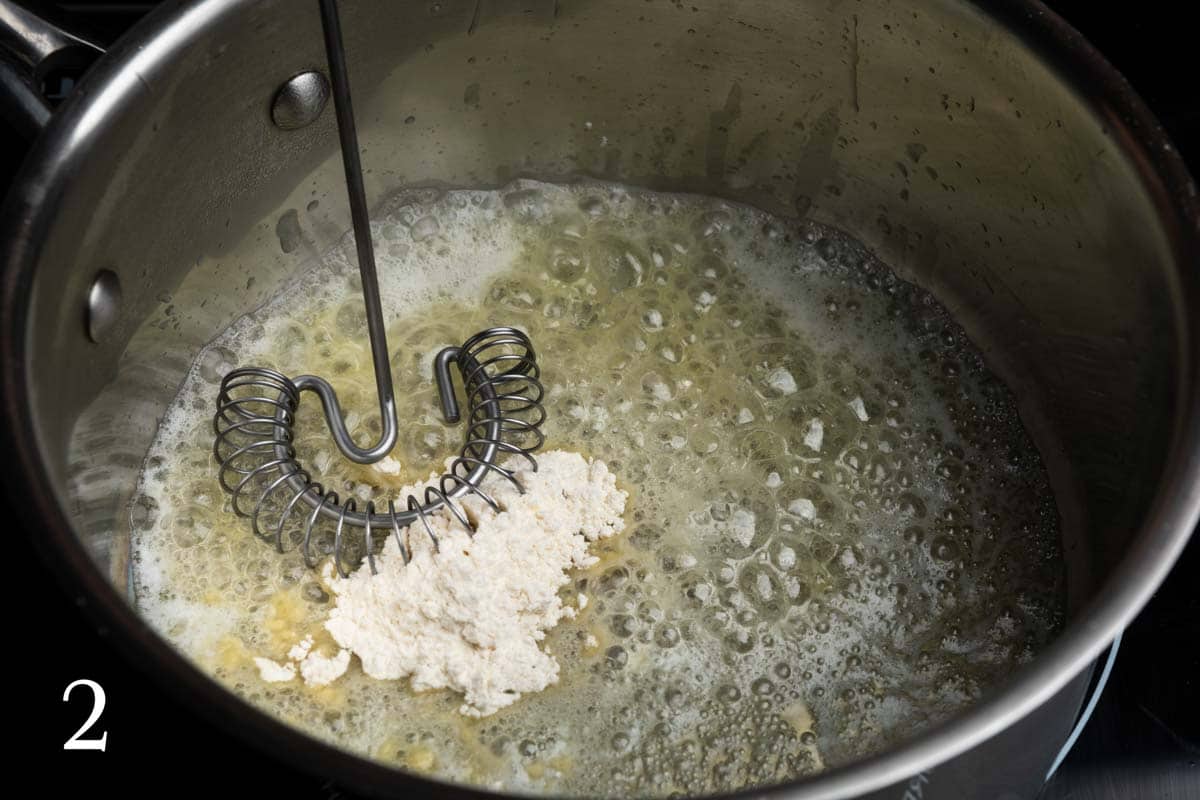 First, make the roux (flour butter mixture). In a heavy-bottomed medium saucepan, melt a couple tablespoons of butter over medium heat. Add in equal parts of all-purpose flour and whisk to combine. Cook for one minute.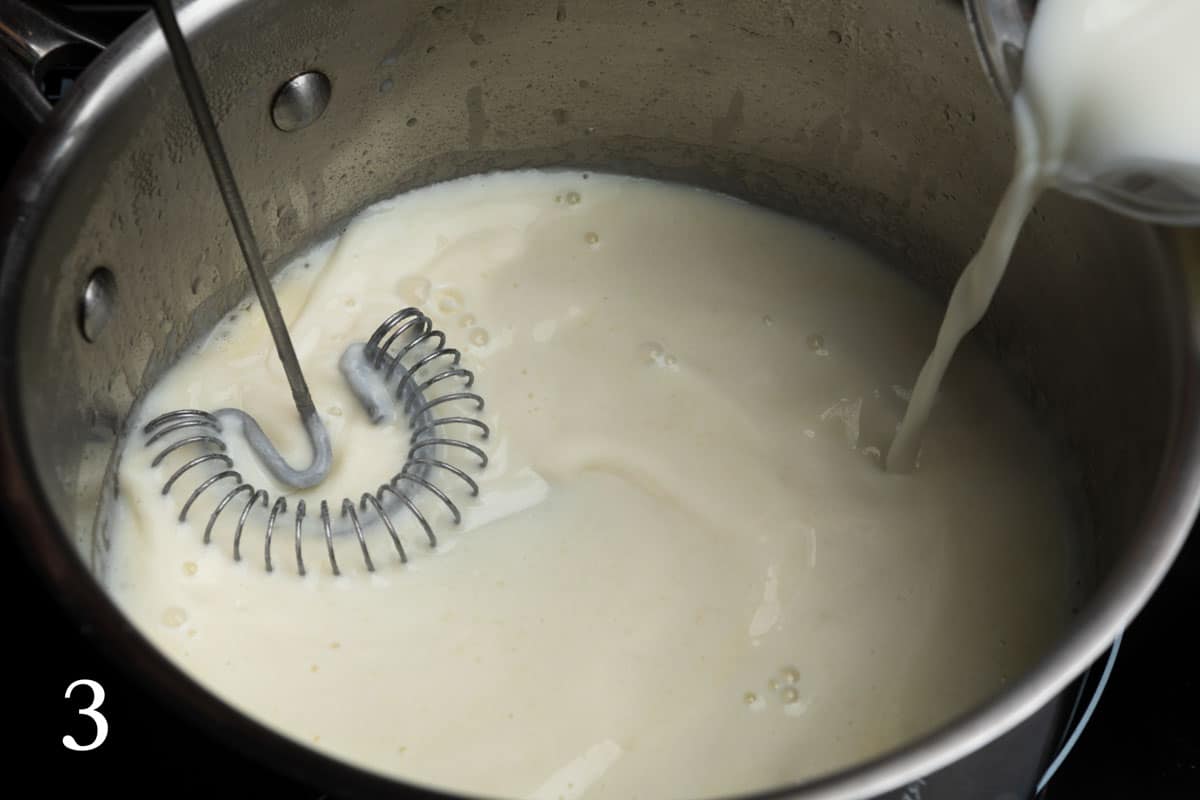 Slowly stream milk into the roux and whisk constantly to combine. Bring mixture to a simmer but, to avoid curdling, do not boil. Reduce to medium-low heat and simmer gently for 5 - 10 minutes. The sauce should be perfectly smooth. If at all clumpy, strain the sauce through a fine-mesh sieve and return to the heavy saucepan.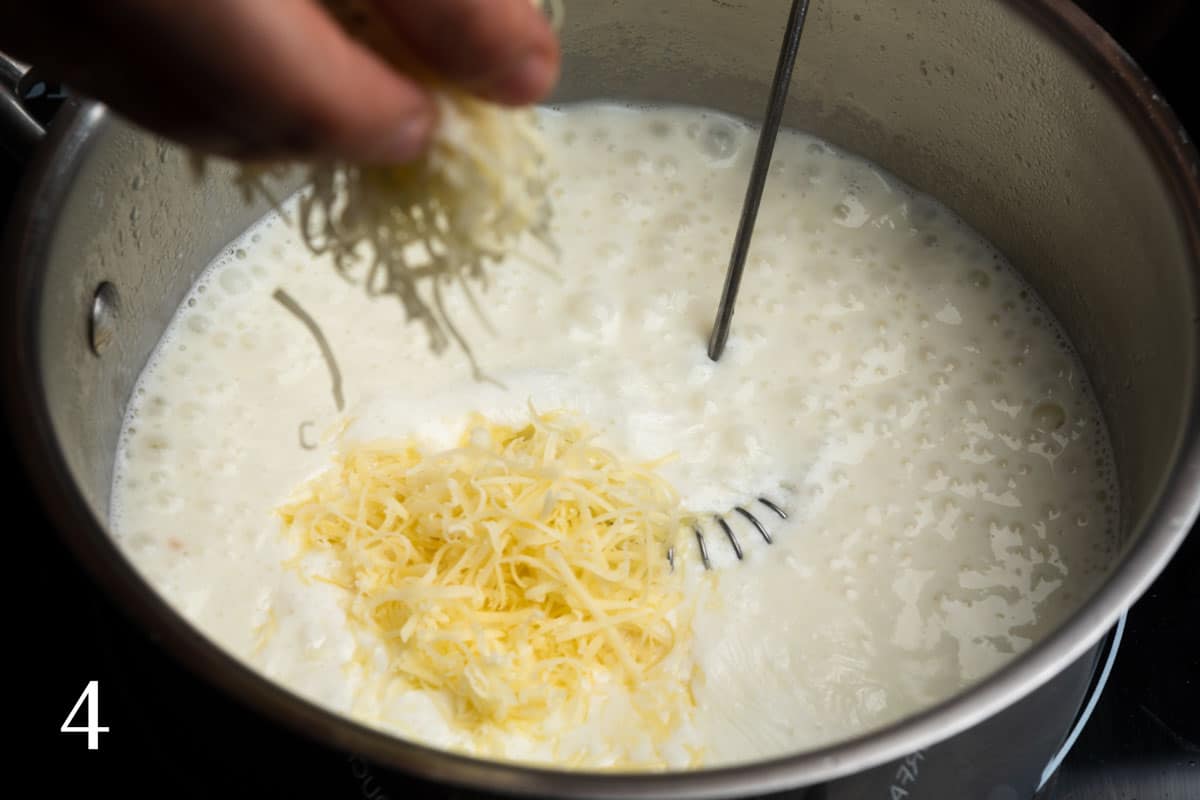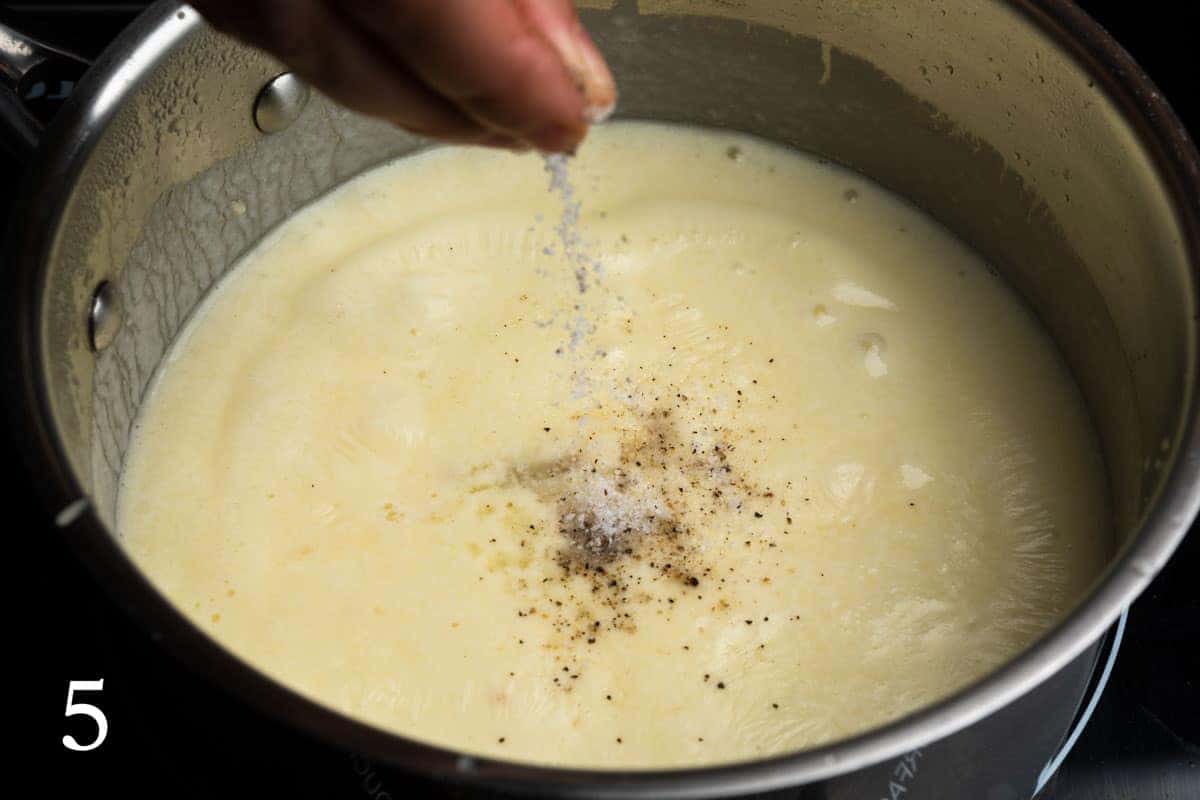 Over low heat, add in shredded cheese a small amount at a time. Stir constantly as the cheese melts. If any separation occurs, whisk vigorously to combine. Cook gently until the sauce is velvety smooth and thick enough to coat the back of a wooden spoon.
At this stage, the sauce can be seasoned to your liking, depending on how it will be served. Serve hot immediately or see below for our storing recommendations.
Chef's Note: The Perfect Consistency - Sauce Mornay is easy to adjust to your preferences. For a thinner sauce, simply add more milk. For a thicker sauce, add more cheese. Thin fondue sauces are great for pasta dishes (like spätzle) that will continue to absorb moisture. Slightly thicker fondue sauce is great for classics, like a Croque Madame, or for using as a sauce for proteins or vegetarian recipes. Even thicker, cheesier fondue sauce can be a yummy Swiss dip for soft pretzels or French fries.
Seasoning The Fondue Sauce
Since some cheeses will be saltier than others, be sure to taste the sauce and season to your personal preferences. A pinch of salt and a dash of white pepper or freshly-ground black pepper is all you really need. For these photos, we seasoned our sauce with whole grain mustard and a squeeze of lemon juice for a yummy Swiss cheese sauce recipe. You can be creative and season as you wish. Some other ideas include:
Nutmeg - A small amount of nutmeg is a classic addition to sauce mornay and adds a lovely, subtle complexity.
Hot Pepper Sauce, Paprika or Cayenne - For a hint of spice!
Onion or Shallot - For a classic French preparation, simmer a piece of an onion or shallot in the milk (and then remove it) before adding the cheese!
Worcestershire Sauce - Adds a nice pop of umami!
White wine - Cook off a splash of wine (or beer!) for a classic Swiss fondue flavor! Reduce a couple ounces of the alcohol into the roux before proceeding to add the milk.
Mustard - As pictured, mustard adds a great flavor, especially for French, German and Austrian inspired dishes! We like to use whole grain Dijon for the pretty speckle!
Lemon Juice or Vinegar - A little acidity can help bring out some of the cheese's rich flavors. Sherry and white wine vinegars work well.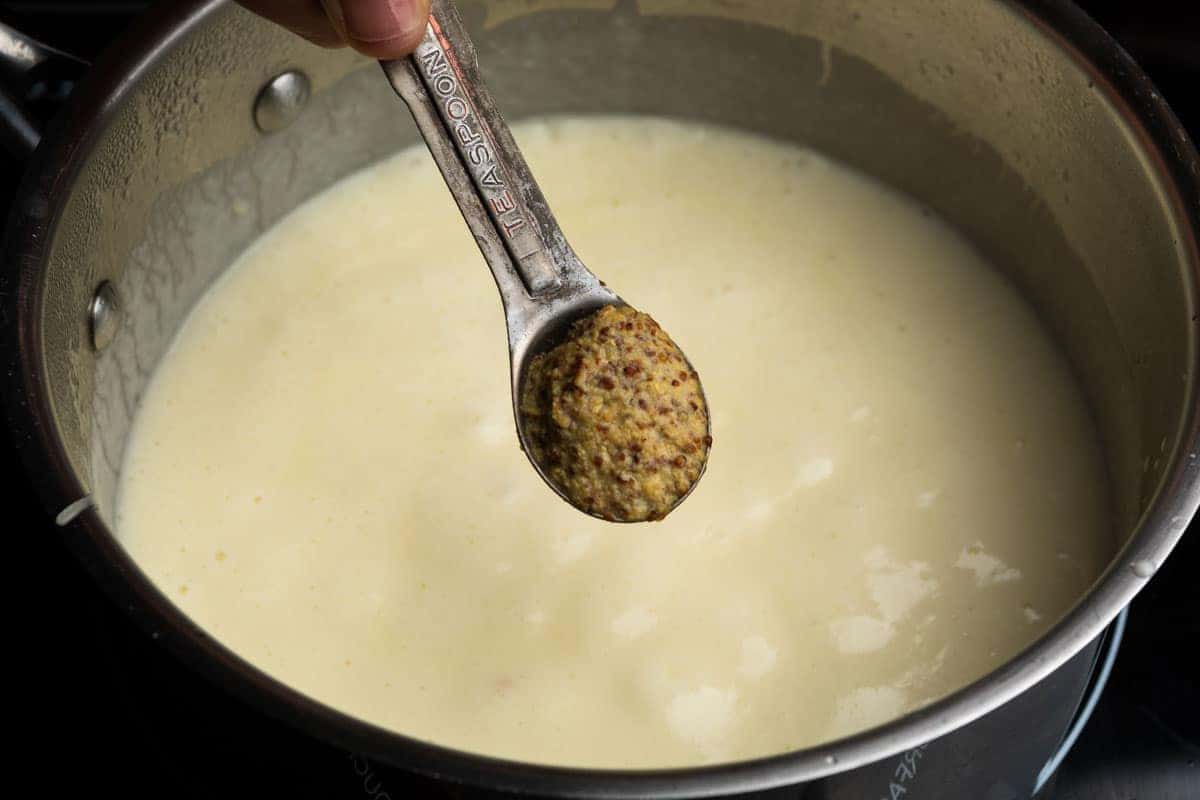 3 Tips & Tricks for Silky Smooth Fondue Sauce
Shred Your Own Cheese! For velvety smooth sauce avoid using pre-shredded cheeses. Pre shredded cheeses have anti-clumping additives that will give your sauce a grainy texture.
Do not overcook. High heat can cause the dairy to curdle and/or the cheese to separate and become gritty. Low and slow heat is best for cheese sauces.
Use cold milk. To avoid clumping, slowly stream cold (or room-temperature) milk into the roux while whisking constantly. While some recipes call for warm milk, we have found that if the mixture is too warm it can boil quickly and cause lumps of undispersed roux.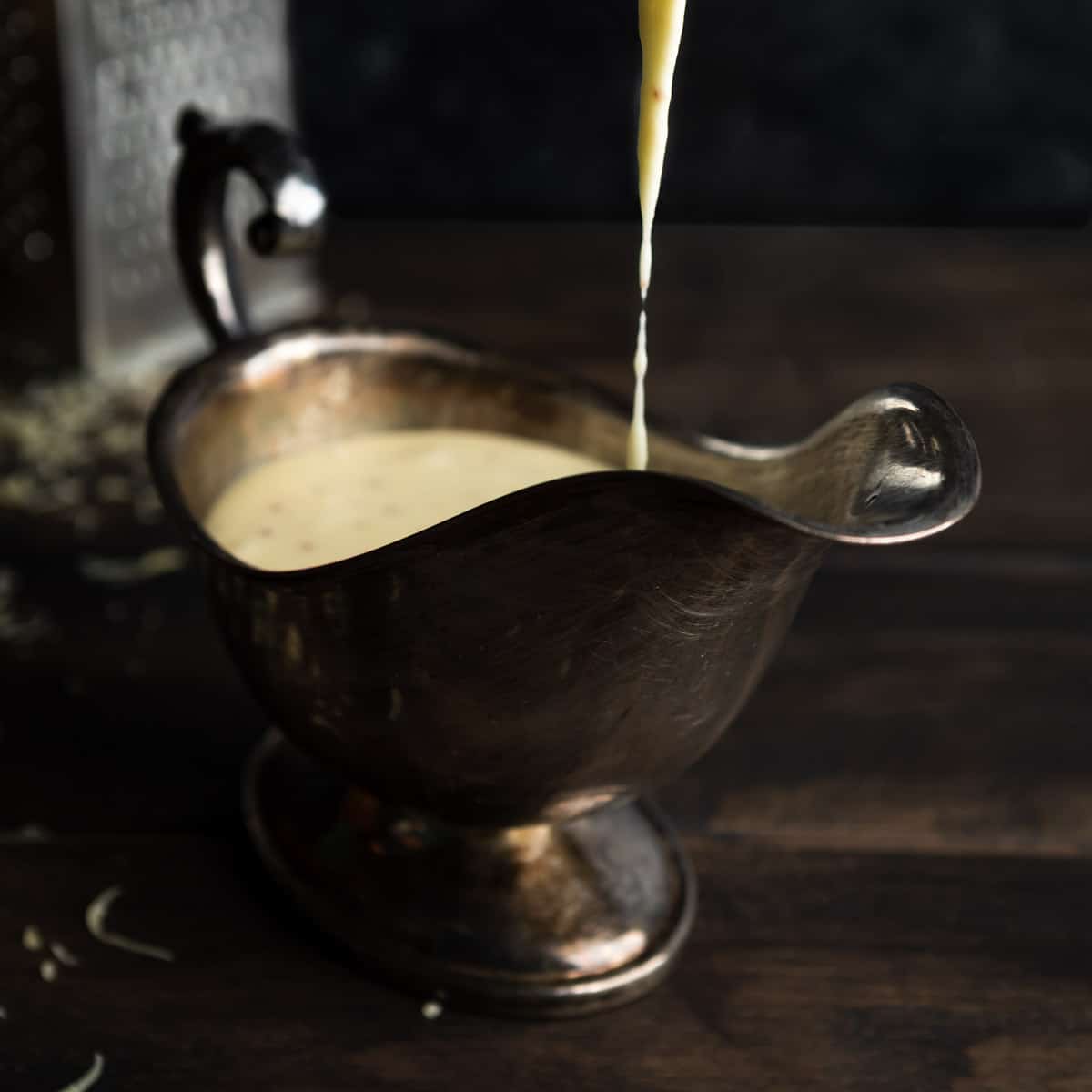 Serving Suggestions
There are SO MANY different ways to enjoy this fondue sauce! It's an easy recipe to elevate your main dishes, appetizers or sides! Here are a few of our favorite ways to enjoy sauce mornay:
Croque Monsieur (or Madame) - Perhaps the most quintessential way to enjoy this recipe is smothered over an open-faced ham sandwich!
Chicken Cordon Bleu - This cheese sauce is perfect with this classic, as well! Save yourself some time by breading and frying a chicken breast and topping it with warm ham and a drizzle of sauce mornay!
Schnitzel - This creamy fondue sauce is SO GOOD on a simple schnitzel! Check out our recipe for Crispy German Schnitzel with this fondue sauce.
Chicken Fried Steak - So indulgent! So worth it!
Au Gratin - All of the classic au gratin recipes can use this creamy cheese sauce! Try it with potatoes, pearled onion, cauliflower or in our Butternut Squash au Gratin.
Lasagna - An authentic Italian lasagna uses an Italian Parmesan fondue sauce (besciamella) in lieu of ricotta. Try it in our Lasagna Bolognese recipe next!
Mac & Cheese - American macaroni and cheese is even better with a homemade cheese sauce. Experiment with different combinations of cheese to find your perfect blend!
Queso - Thicker fondue sauces work great as queso dips and sauces for chips, tacos, pretzels and more! Top with some sour cream and chopped green onions as a delicious garnish.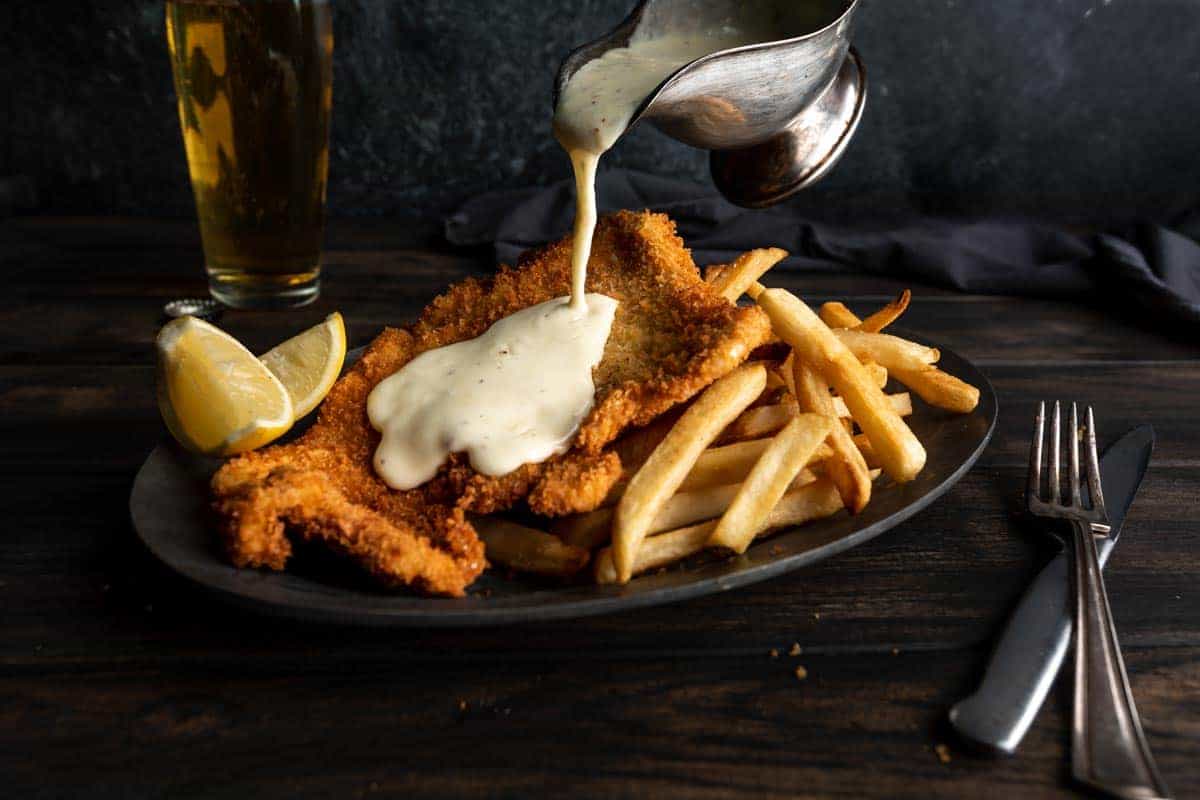 Saving, Storing & Reheating
Fondue sauce can be made ahead of time and heated when ready to eat.
Refrigerator - Transfer sauce mornay into an airtight container and cover the surface of the sauce with plastic wrap. Allow to cool slightly at room-temperature before sealing the container and refrigerating. The cheese sauce can be safely refrigerated for 3 - 5 days.
Freezer - Allow the sauce to cool to room temperature before transferring to a freezer-safe container. The fondue sauce can be frozen for 2 - 3 months. Thaw overnight in the refrigerator before reheating.
Reheating - The best way to reheat the cheese sauce is in a saucepan over low heat. Stir often until thoroughly heated and glossy. If separation occurs, whisk vigorously to combine. The sauce may need to be thinned with an additional splash of milk until the desired consistency is achieved.
You May Also Like...
Recipe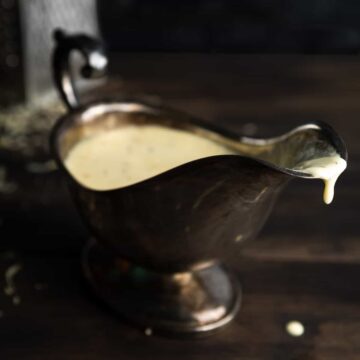 Cheese Fondue Sauce (Sauce Mornay)
This classic cheese sauce recipe is a simple and delicious was to elevate protiens, pastas, vegetables and more!
ADJUST SERVINGS
Ingredients
2

Tablespoons

unsalted butter

2

Tablespoons

all-purpose flour

1¼

Cups

whole milk

cold or room-temperature

4

ounces

high-quality melting cheese

freshly shredded (About 1 Cup); Gruyere, Parmesan, Raclette and Cheddar work well.

1

pinch

fine kosher salt*

to taste

1

pinch

freshly-ground black or white pepper

to taste

1

teaspoon

whole grain mustard

optional*

1

squeeze

lemon juice

optional*, to taste
Instructions
Gather, measure and prepare the Cheese Fondue Sauce ingredients as listed.

In a heavy medium-bottomed saucepan, melt butter over medium heat. Add flour and whisk to combine. Cook one minute.

Add cold milk a couple Tablespoons at a time (or in very a slow, steady stream) while whisking constantly. Bring to a simmer and cook gently for 5 - 10 minutes until the sauce has reduced slightly and is beginning to thicken. If there are any lumps, strain through a fine mesh strainer and return to a cleaned pot.

Lower heat to it's lowest setting. Add shredded cheese, a little at a time, while stirring. Once cheese is completely melted and the sauce is velvety smooth, remove from heat and season with salt and pepper to taste. Stir in mustard and lemon juice (or other seasonings*), if using. Serve hot or store in the refrigerator or freezer until intended use. Enjoy!
Notes
*Additional flavoring variations suggested in post text. 
For a thinner fondue sauce, add more milk. For a thicker fondue sauce, add less milk and/or more cheese. You can also adjust the quantity or roux (equal parts butter and flour) to create thinner and thicker mornay. (More roux = thicker sauce)
* A Note About Salt
Unless otherwise noted, all recipes on The Sage Apron are developed using Diamond Crystal Kosher salt. It is a great all-purpose salt for cooking and baking. If using table salt, reduce quantities by about half.
Nutrition
Calories:
197
kcal
|
Carbohydrates:
7
g
|
Protein:
9
g
|
Fat:
15
g
|
Saturated Fat:
9
g
|
Polyunsaturated Fat:
1
g
|
Monounsaturated Fat:
4
g
|
Trans Fat:
1
g
|
Cholesterol:
47
mg
|
Sodium:
232
mg
|
Potassium:
146
mg
|
Fiber:
1
g
|
Sugar:
4
g
|
Vitamin A:
496
IU
|
Vitamin C:
1
mg
|
Calcium:
242
mg
|
Iron:
1
mg